As one of the team of feature writers for Love My Dress, I am so blessed to be privy to the incredibly stunning work of talented photographers from around the world. One of these is Green Antlers Photography run by the creative duo Sam and Diana who specialise in their passions of nature and wildlife, and whenever I view their images I feel a sense of calm and the urge to go exploring in the wilderness. Trust me, you'll feel the same, after you take in these utterly beautiful shots of bride Krystle and groom Eric.
Krystle is a yoga instructor and creative entrepreneur, with her own small business Earth & Fern Designs, whilst Eric works as a mechanical engineer. The couple married on the 1st of September 2016, planned their entire day themselves, and wed against the brilliant backdrop of The Drakestone in Northumberland National Park.
"Nature is everything to both of us. We both grew up spending loads of time surrounded by its beauty. One could say it fosters our connection to something greater and bigger than us. We couldn't imagine making our marriage official anywhere else other than in and amongst a natural setting."
Photography by Green Antlers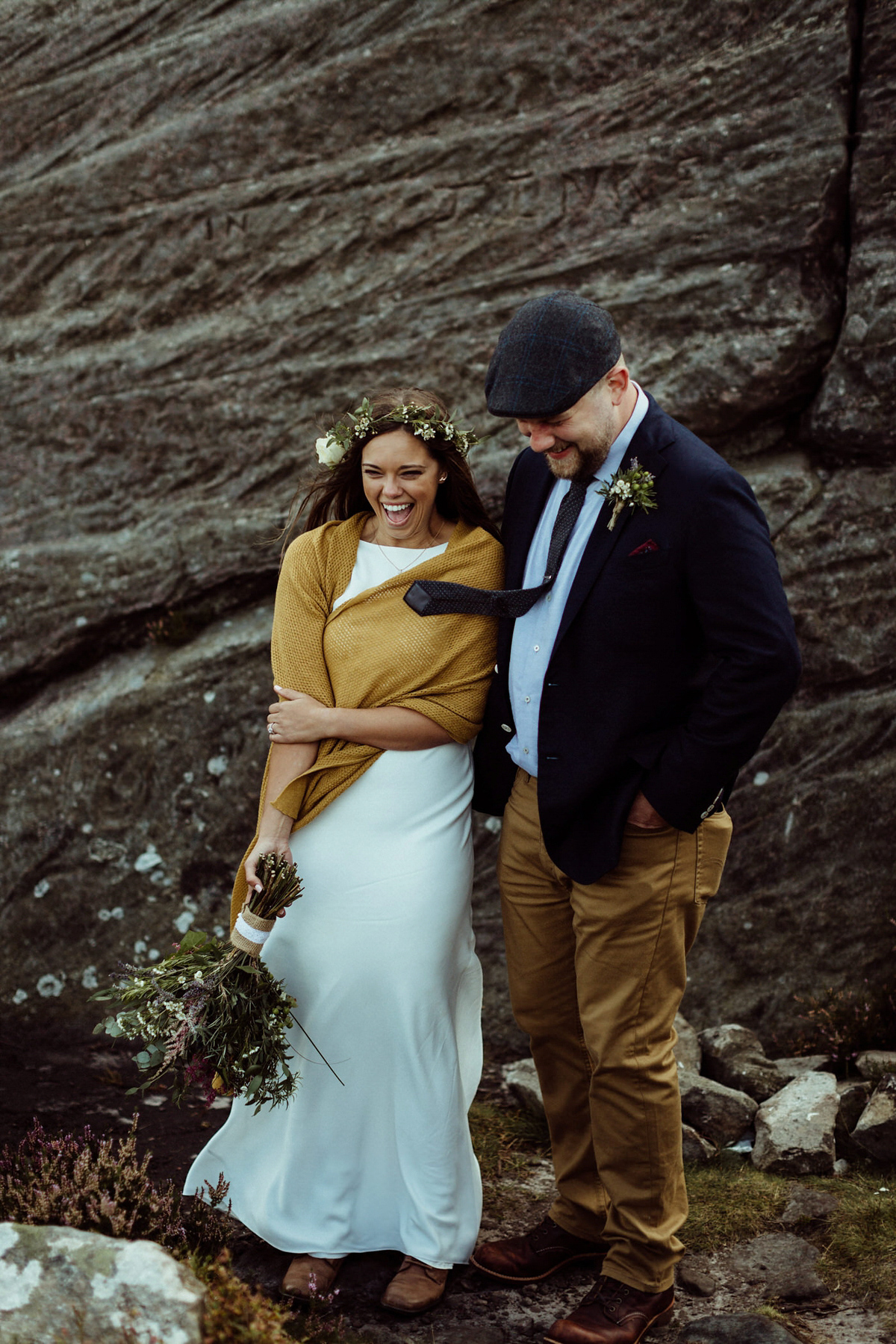 Krystle donned a gorgeous and timeless dress by the talented Charlie Brear, a firm favourite of us all at headquarters, which she purchased at Glitter and Grit.
"It was the most comfortable, luxurious piece of easy fabric that I had ever felt on my body. It was also a perfect, simple, timeless silhouette that I knew would be easy to accessorize according to the weather (as every part of our day was outside). I loved following Love My Dress on Instagram, especially when I was searching for the perfect dress for our unique day. It features many designers that I hadn't yet heard of, so it was nice to see a taste of all different styles.""I made the wooden-etched invitations and name cards myself through my personal design business Earth & Fern Designs."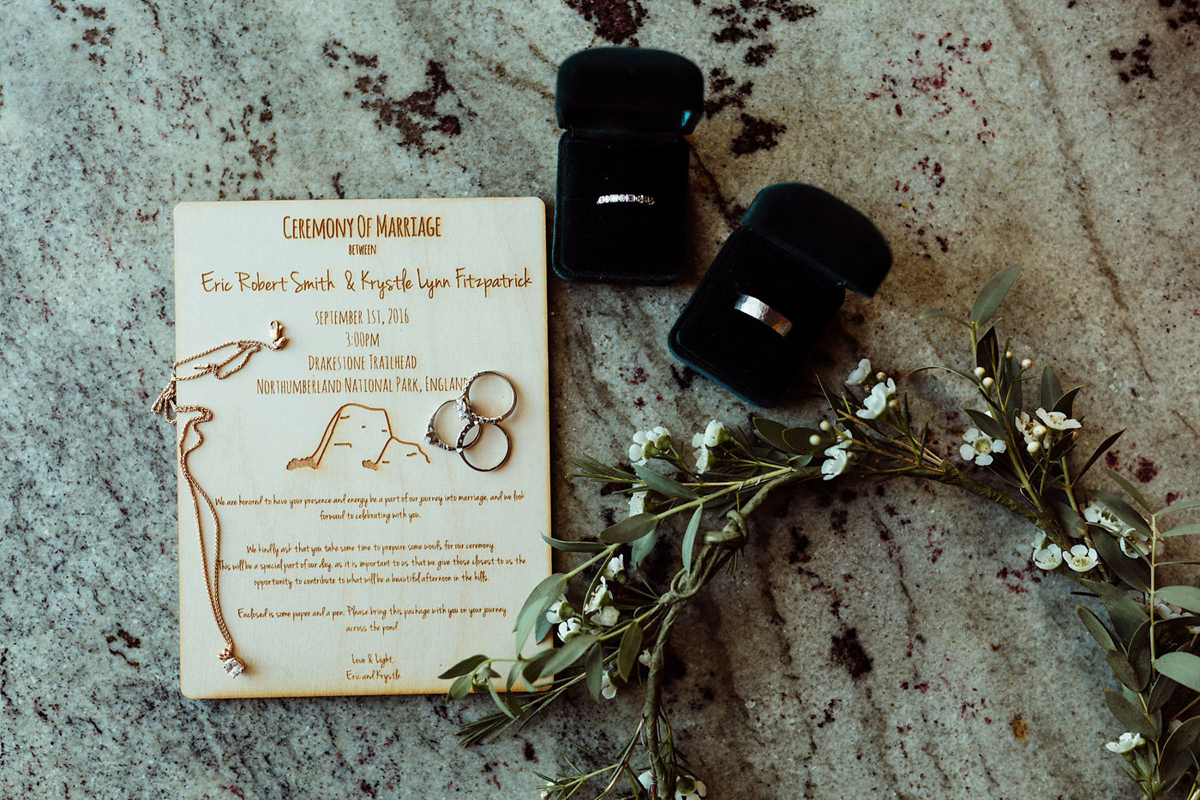 One of my favourite things to hear about the real couples on the blog are their little meeting stories. Krystle and Eric's story is simply beautiful.
"Funny enough, we both met at age 10, in an after-school performing arts program. We grew up together, may have shared a pubescent kiss or two along the way, but remained friends through high school and university. Once we both moved back to our hometown of Pittsburgh, we quickly realised we had more in common than ever before! We were practically inseparable for five years."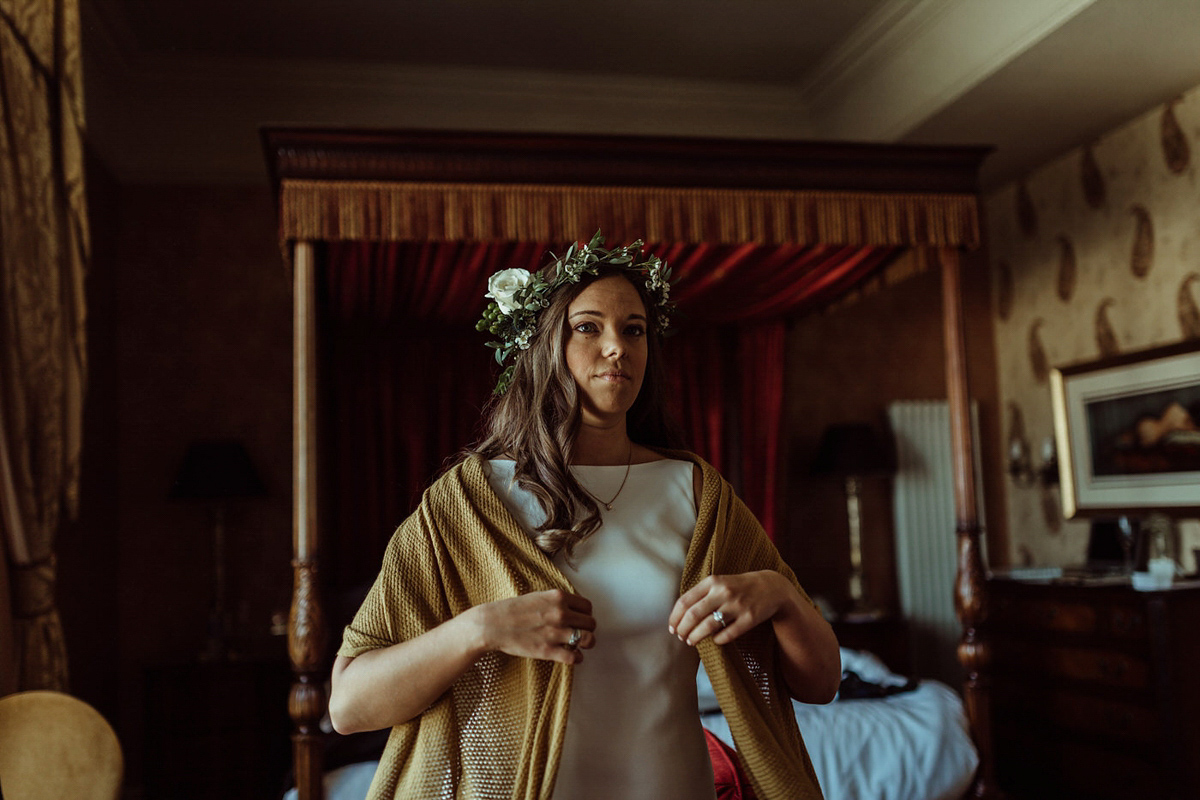 "In May of 2014, Eric decided to bring me to his favourite place in the Cheviots (UK) for a holiday filled with some hiking and exploring. At the very same place where he took his very first hike with his great uncle Eric (who he happens to be named after), he proposed once we reached the border of England and Scotland, as we posed for a picture amidst the incredible view."
"We were in no hurry to get married, as we have always felt like marriage wouldn't change anything and that we were life partners already."
"We were engaged for about 2 and a half years before we signed the piece of paper that made it official in our own unique and unconventional way."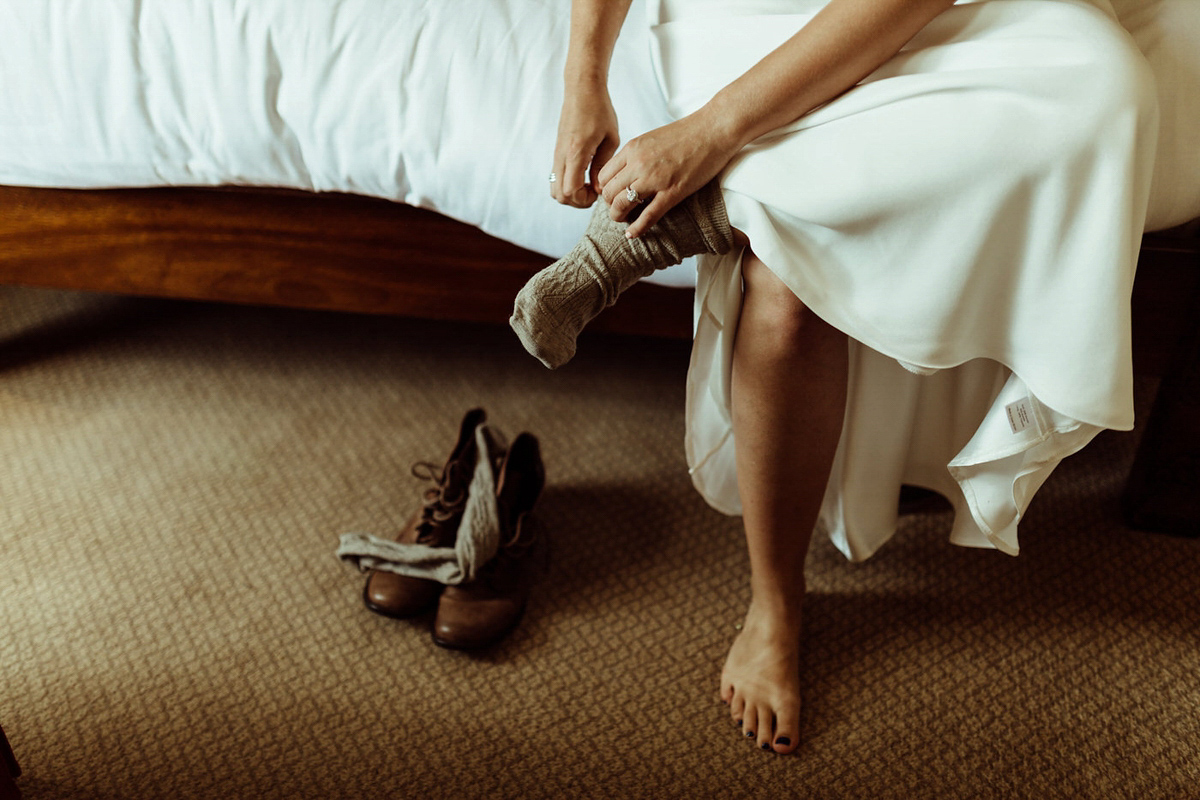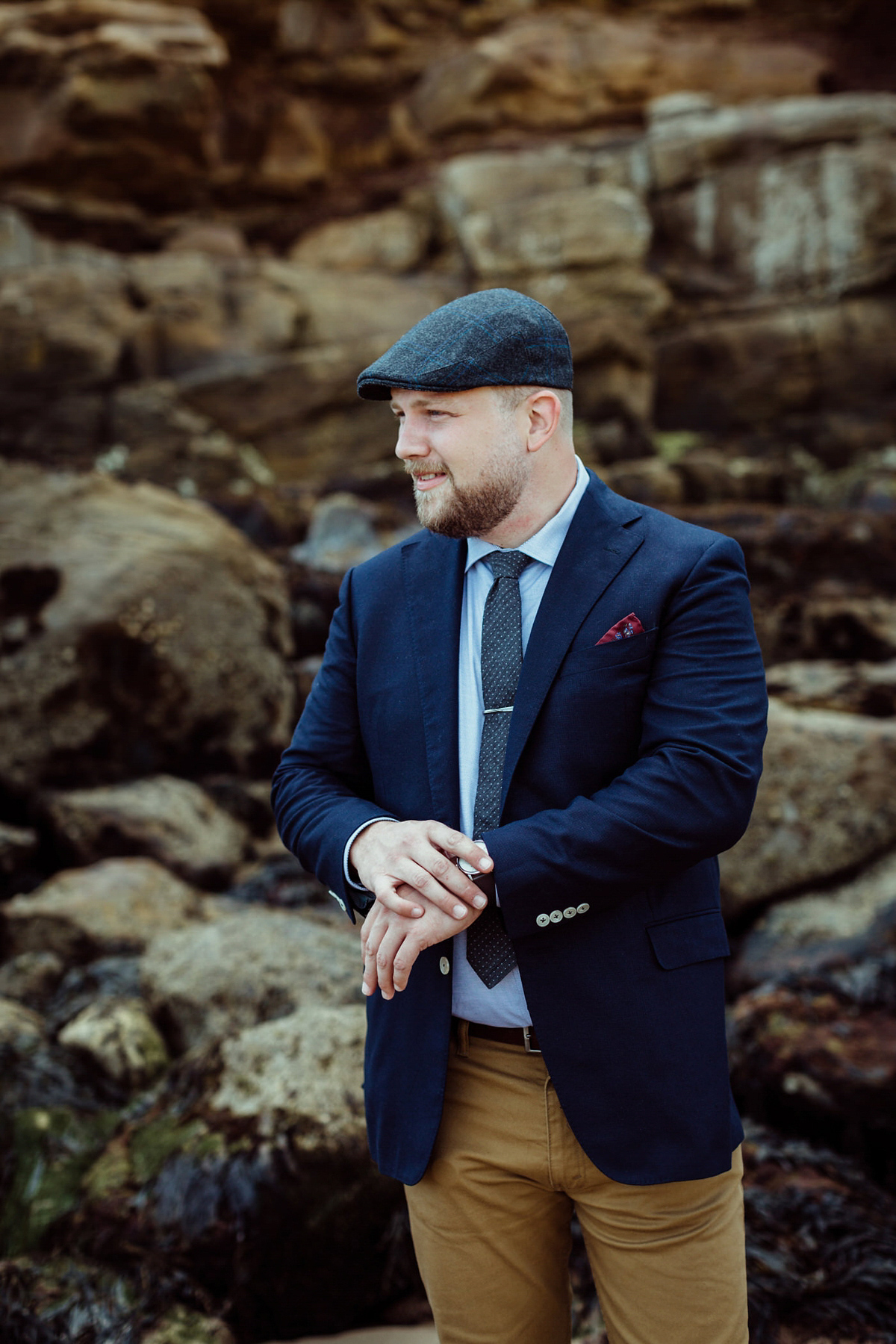 "Sam and Diana from Green Antlers Photography are truly the most incredible and inspiring couple! The nature of our day was small and intimate and they both fit in perfectly and made us feel so comfortable and at ease. Their enthusiasm and kindness added to the beautiful and loving atmosphere of the day."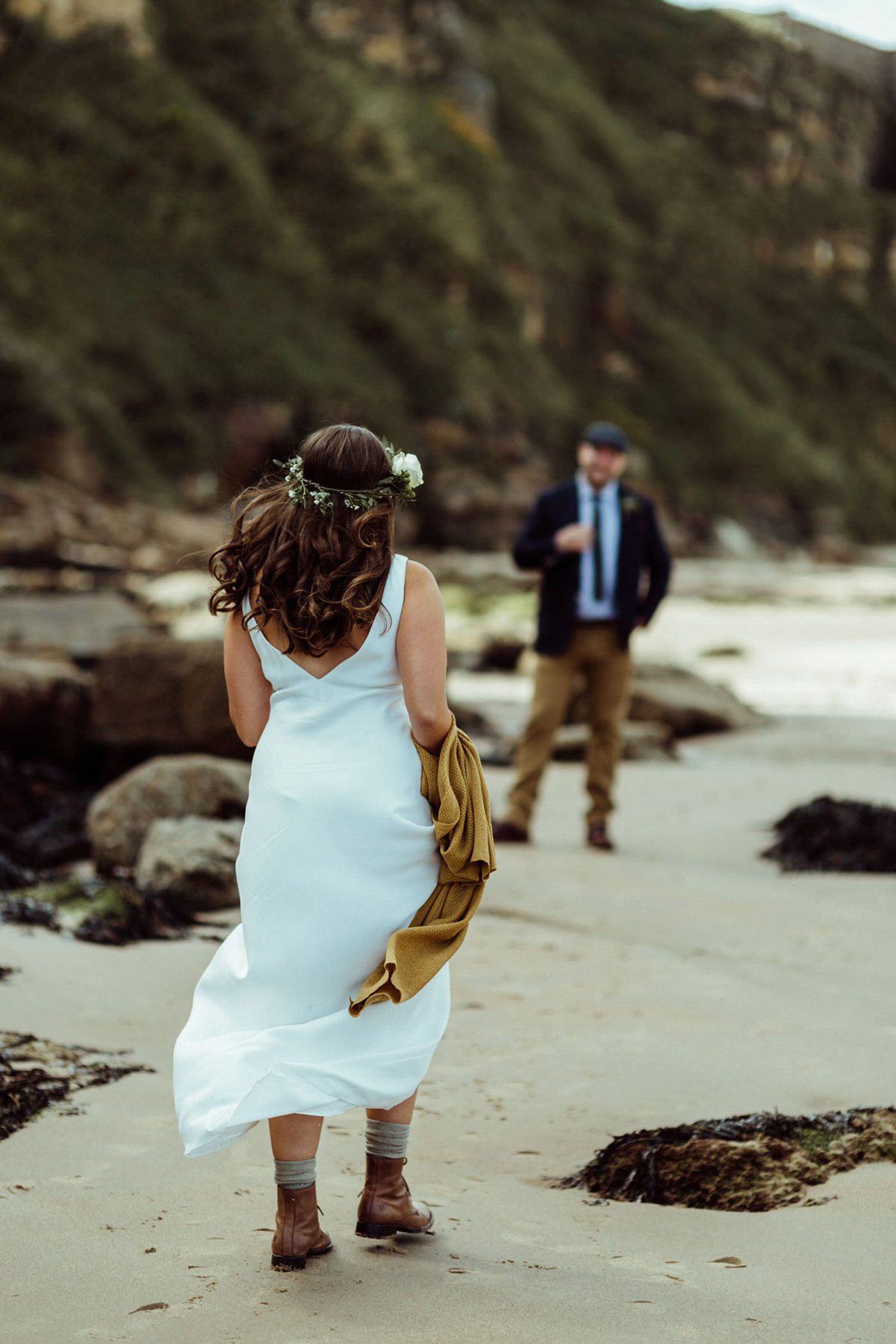 "They have shared such an important part of our lives with us and we truly feel as though they are like family. Their professionalism mixed with smiles, humour, and love for each other makes for the perfect team to have around on your wedding day. Diana even picked blueberries as she photographed us."
"It doesn't get any more magical than that. Their true talent of capturing moments shows in their photographs. We truly can't say enough wonderful things about them!"
The couple chose to do a 'first look' and I adore these images of Eric seeing his beautiful bride for the first time on their wedding day. Krystle also checked out her handsome groom, who looked very suave in his attire. Eric's pants were a pair of Levi's, his jacket, shirt, tie and pocket-square were from GOT STYLE and boots by Red Wing Shoes, and he added a tie-clip via Studebaker Metals and a funky Goorin Brothers hat.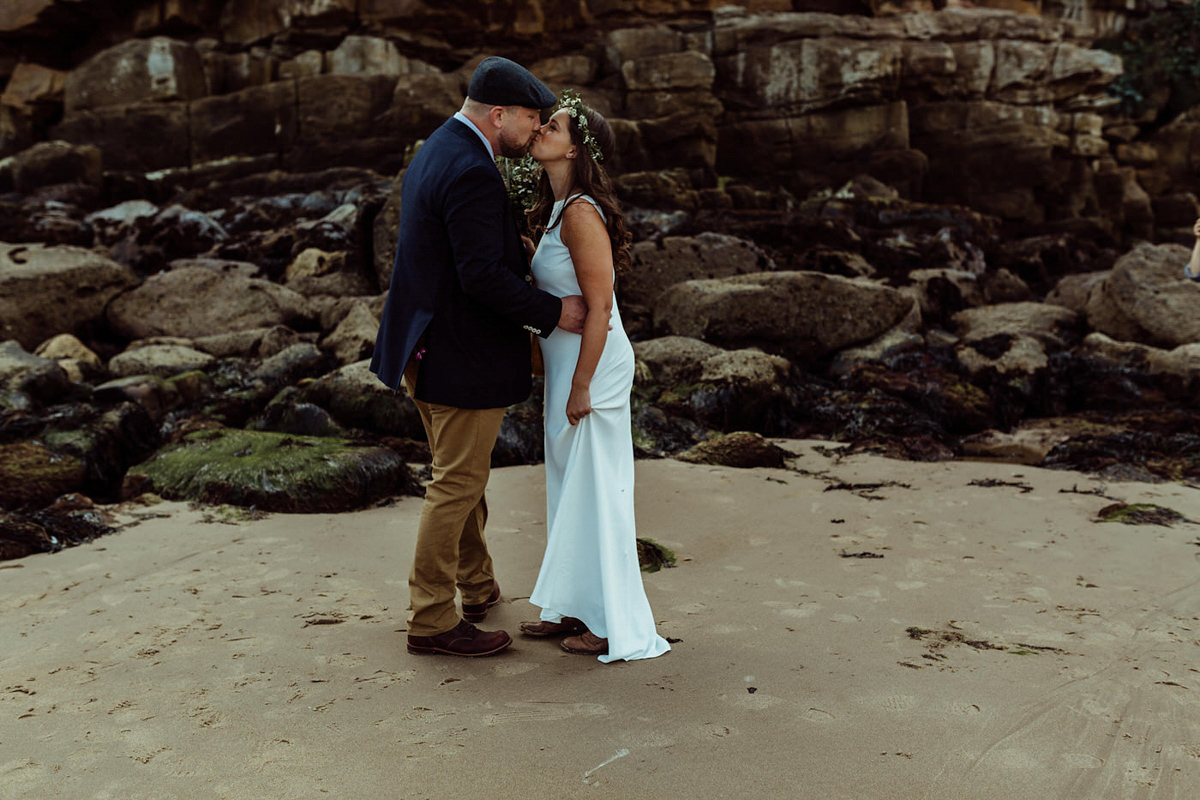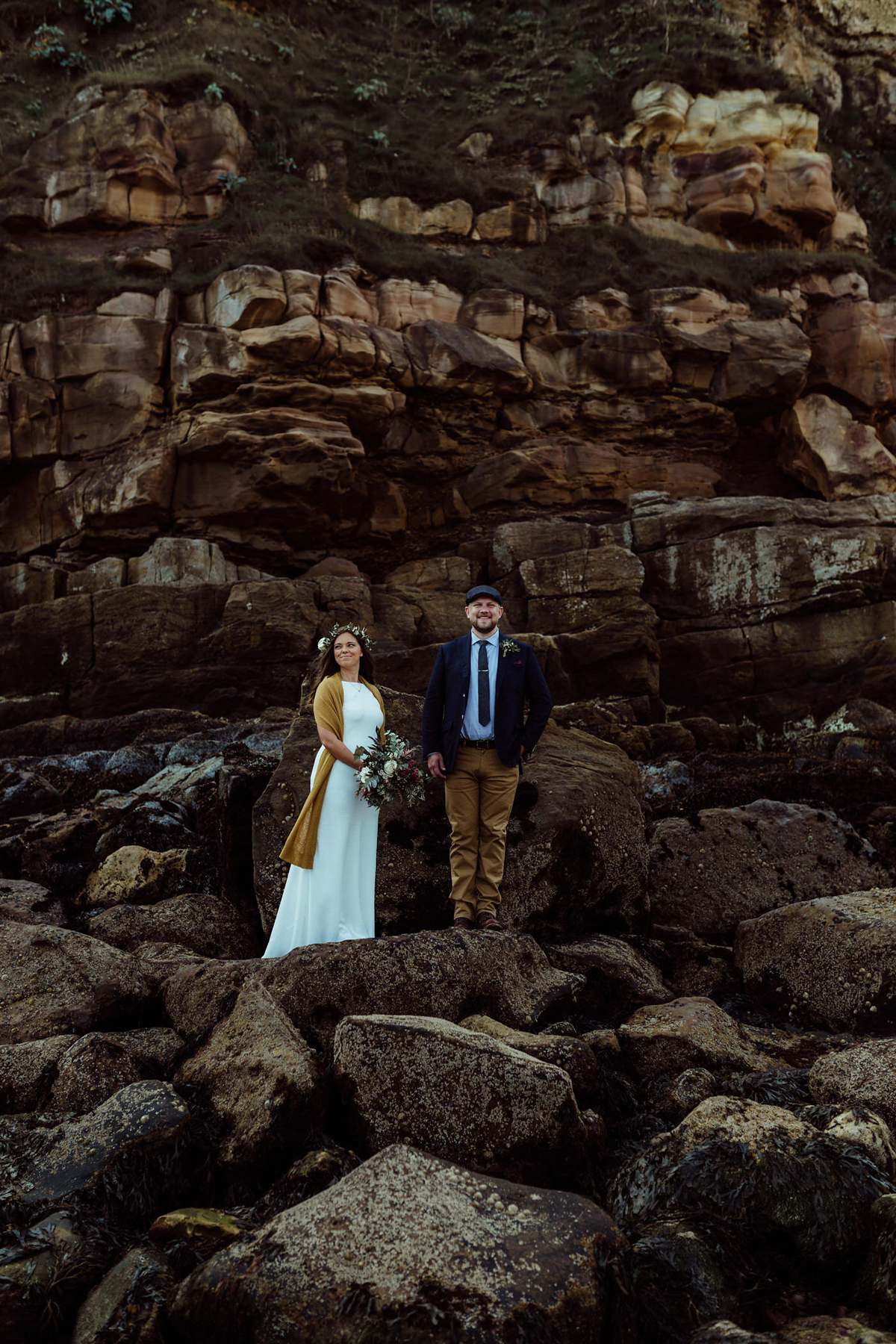 With a pretty flower crown by florist Jules Fleur atop her hair (styled by Church Hairdressing with make-up by Halo Beauty Haven), Krystle added custom earrings by Frost Finery Jewelery and a custom necklace by Trinity Jewelers. The pièce de résistance were her groovy (and practical!) brown boots from Born – and to keep warm, Krystle rugged up in a mustard wrap that blended into the natural colours of the landscape and later a brown leather jacket. Utter boho brilliance.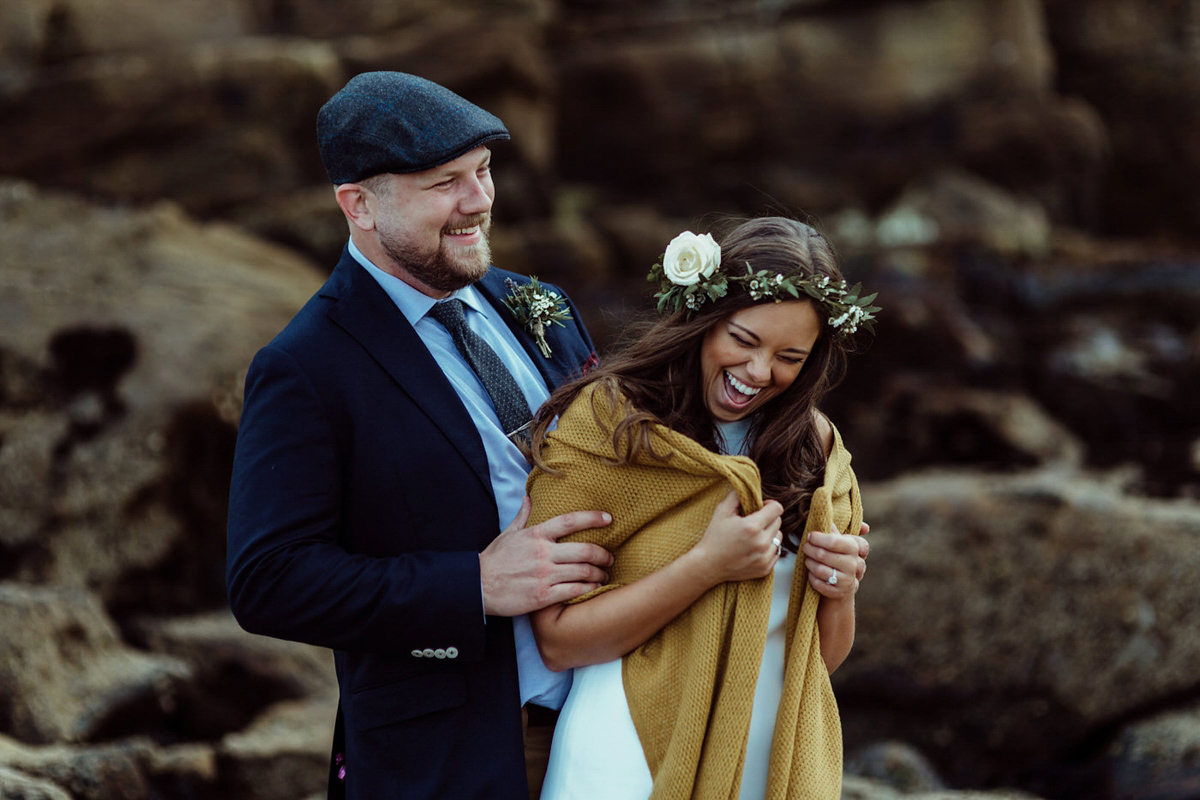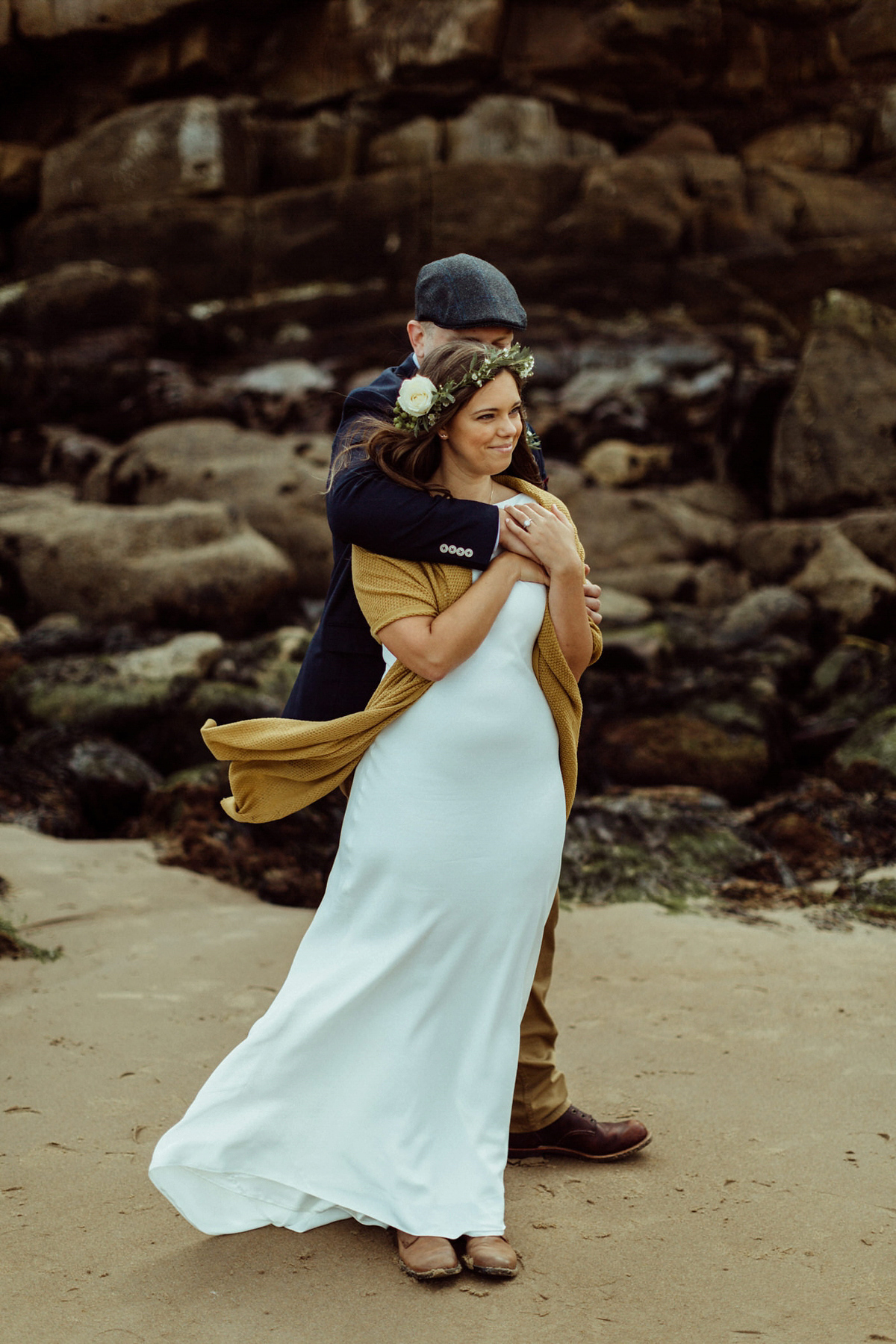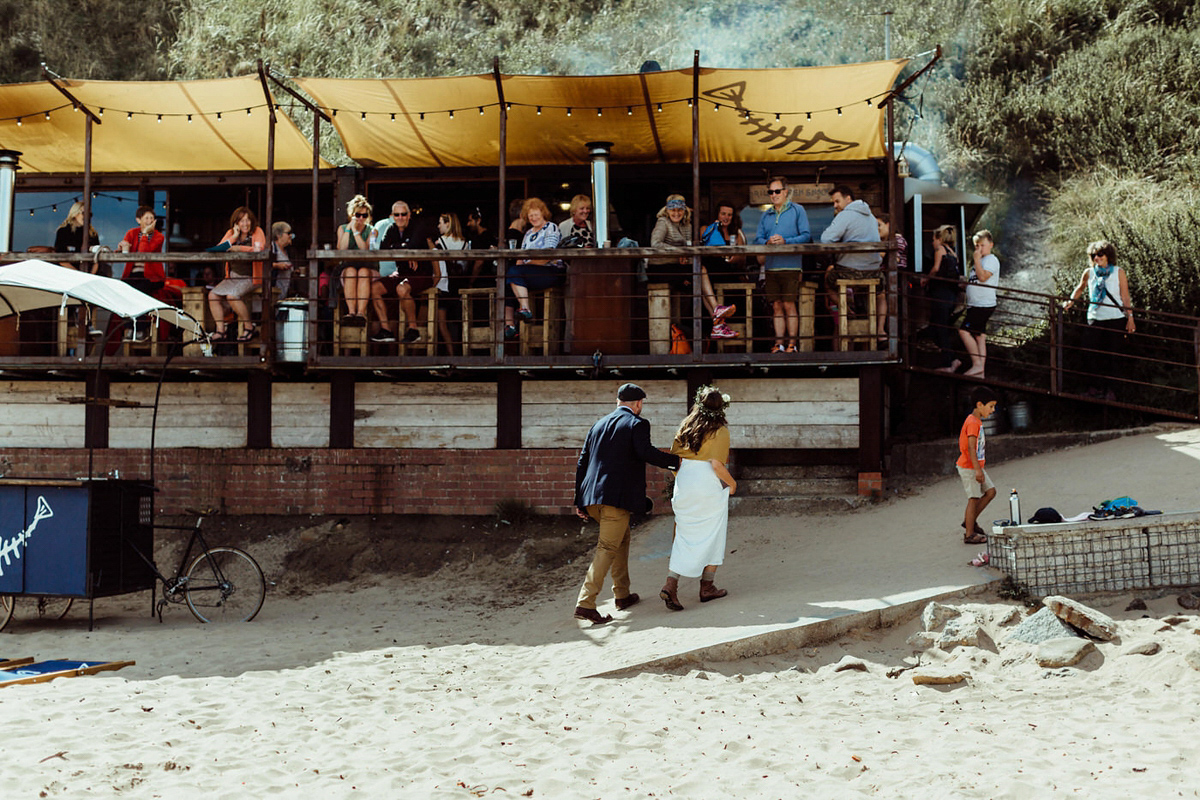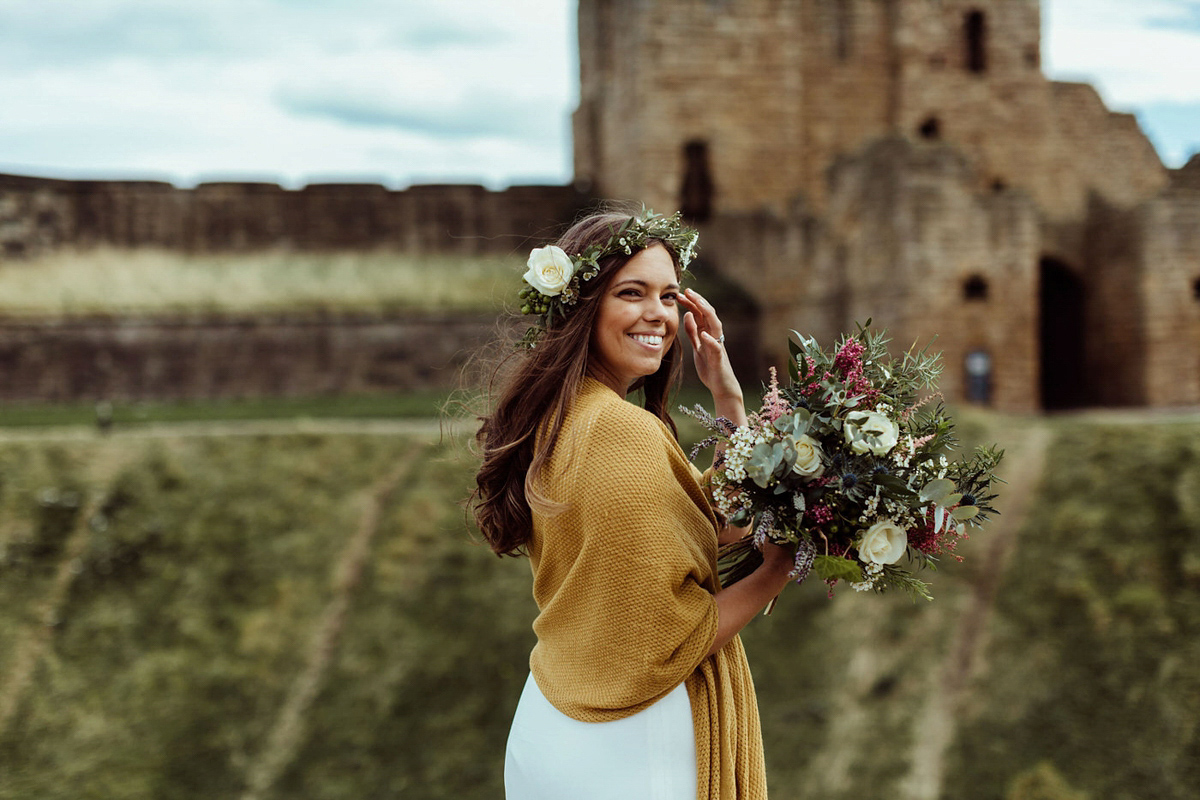 "Our florist Jules Fleur was incredible! I wasn't very specific in what flowers I wanted, other than I wanted them to look like they were picked along the hike. I gave Jules some photos of the Drakestone in September, and when she showed up with my bouquet the morning of the ceremony I literally couldn't believe my eyes. All the flowers were beyond perfection. She just did such a brilliant job!"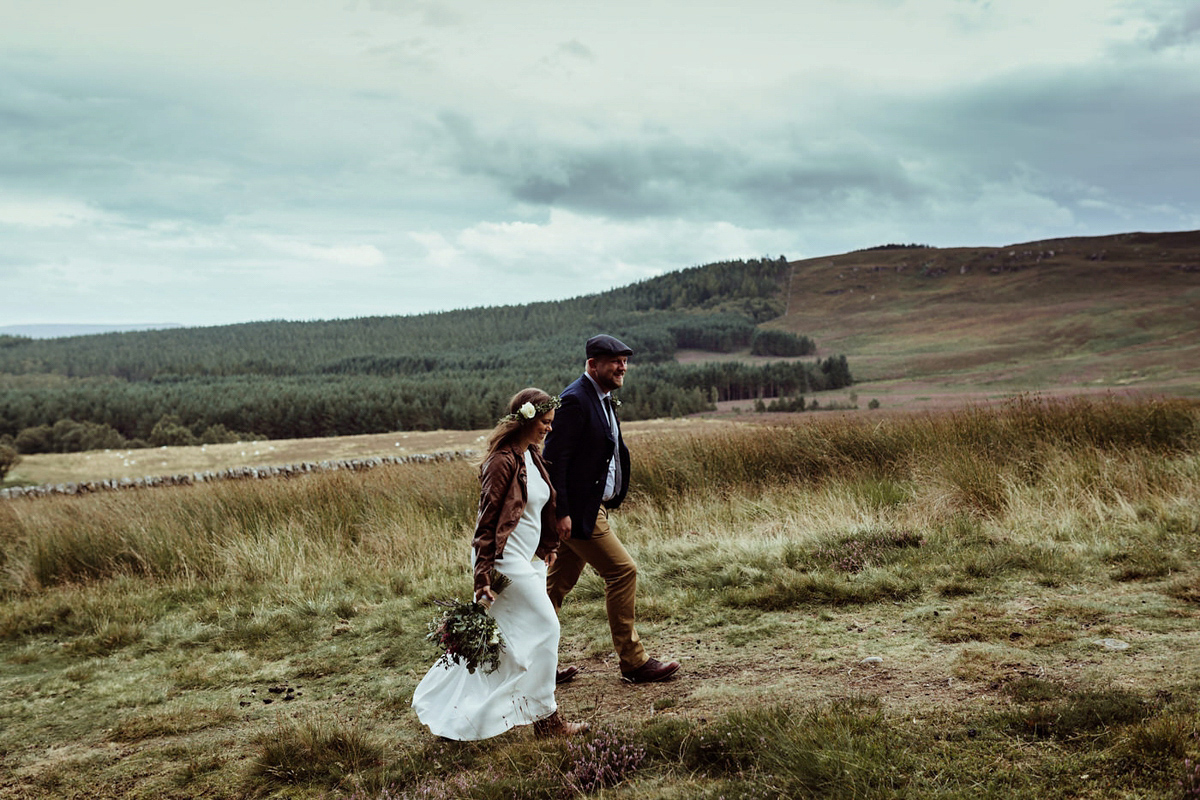 The couple did not have bridesmaids or groomsmen – instead, guests were given a colour palate, some inspiration photos, and the freedom to choose what they felt comfortable in for the day.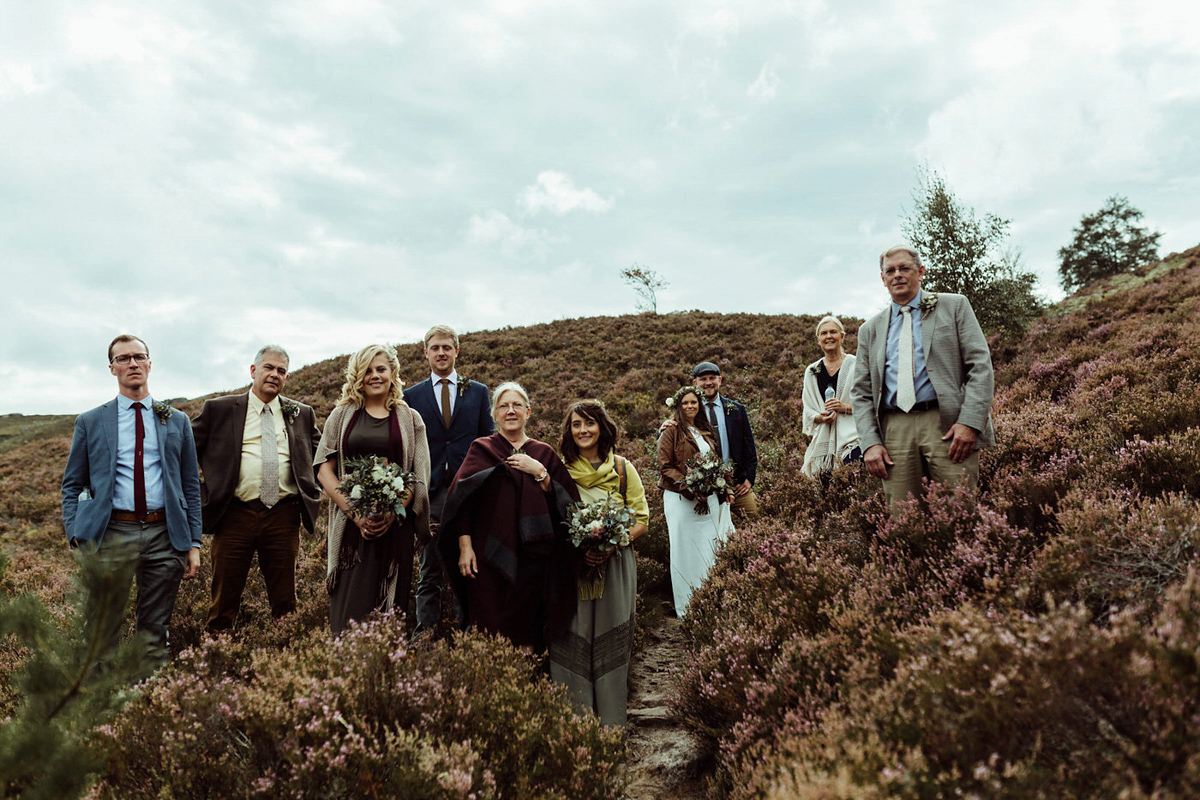 "The Drakestone has always been an important place in Eric's life – he's taken many hikes there with his family. We'd even been there a few times ourselves. We both just felt it had such a beautiful significance and provided the perfect natural backdrop for a ceremony."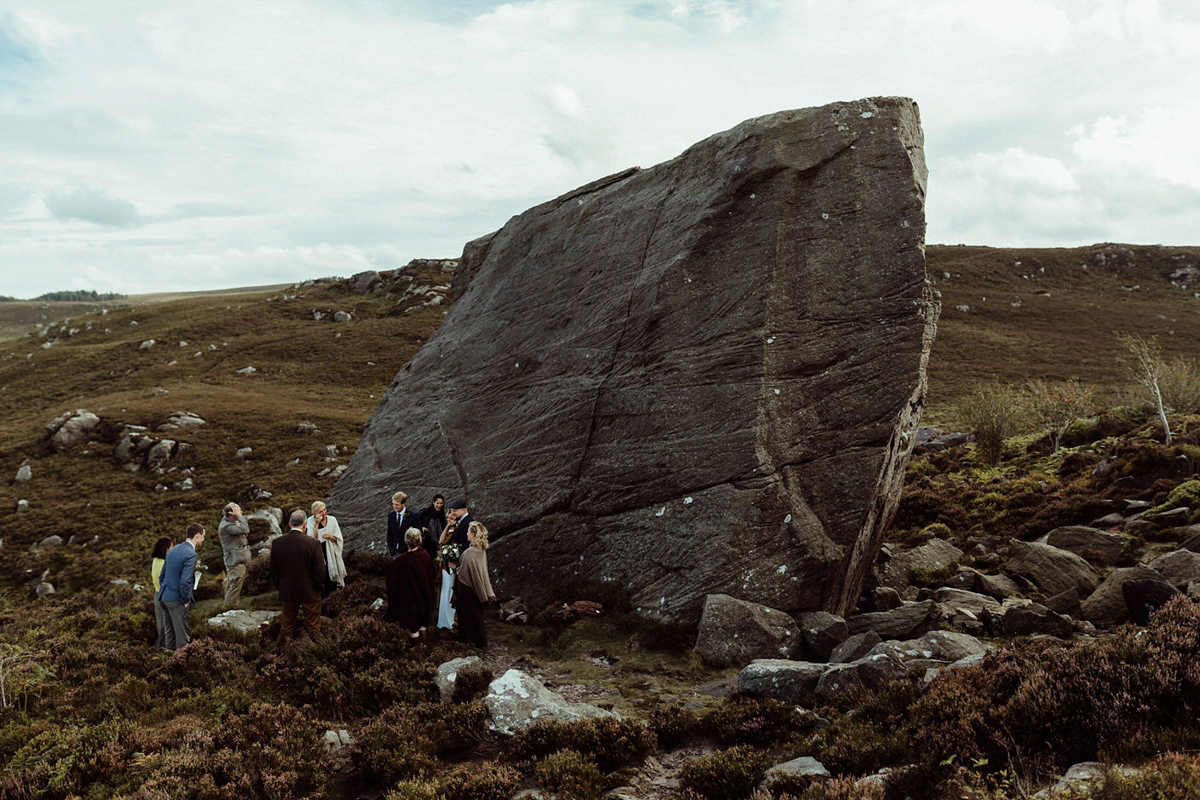 "We chose September in the Cheviots because of the chance of favourable weather and more importantly, the blooming heather and orange hue of the ferns preparing for autumn and winter. We wanted to blend in with the setting surrounding, so choosing colours and flowers that looked like nature intended them to be was the common thread through our theme of the day."
The intimate ceremony took place by the Drakestone and was such a special moment for the couple – these photos beautifully capture the emotion felt by all.
"Our aisle was a hiking trail! It was important to me that all of our immediate family members 'accompany' us in our walk to our wedding ceremony. The state that we live in in the US allows us to apply for and perform a 'Self Uniting Marriage.' Because of this, we were able to create and tailor our own ceremony to what was important and made sense to start our new chapter together in a special way."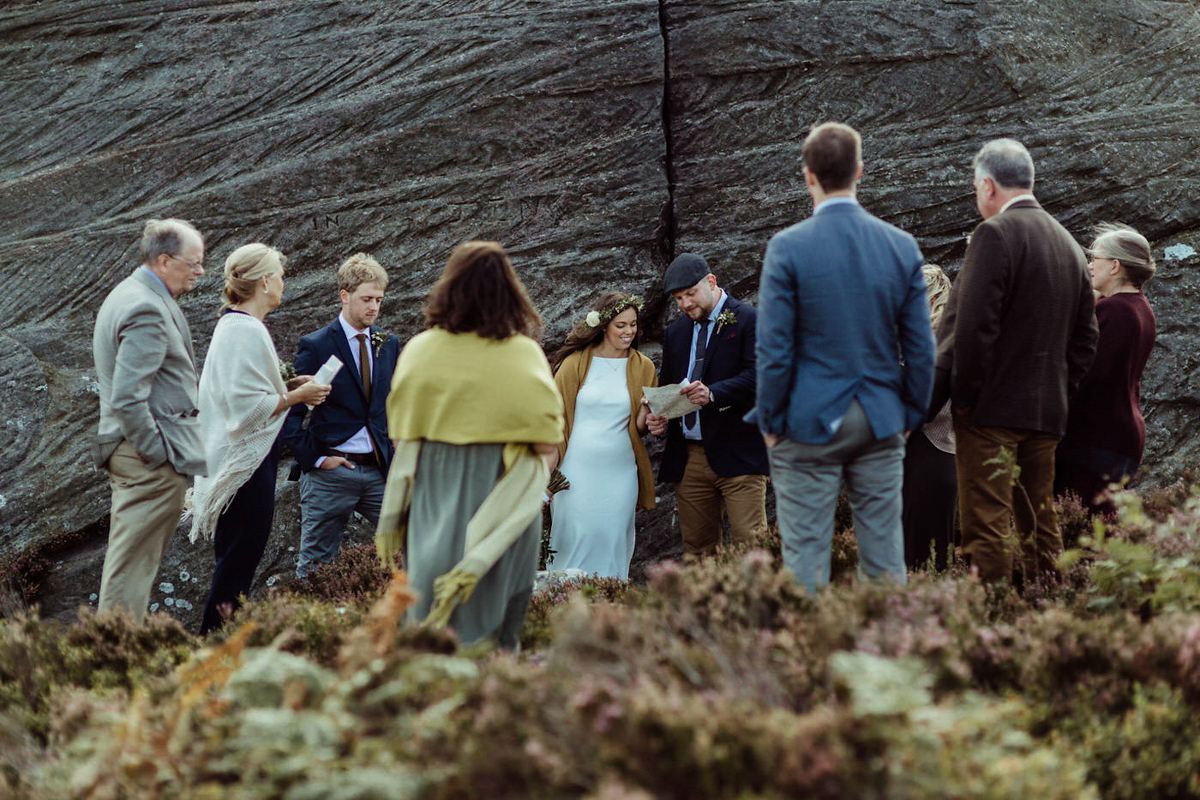 "We both wrote our own vows (and even added to them leading up to the morning of the ceremony). We wanted to speak from the heart to each other in the moment. Sometimes it's hard to find a place to start when putting your feelings on paper knowing the importance and significance of them."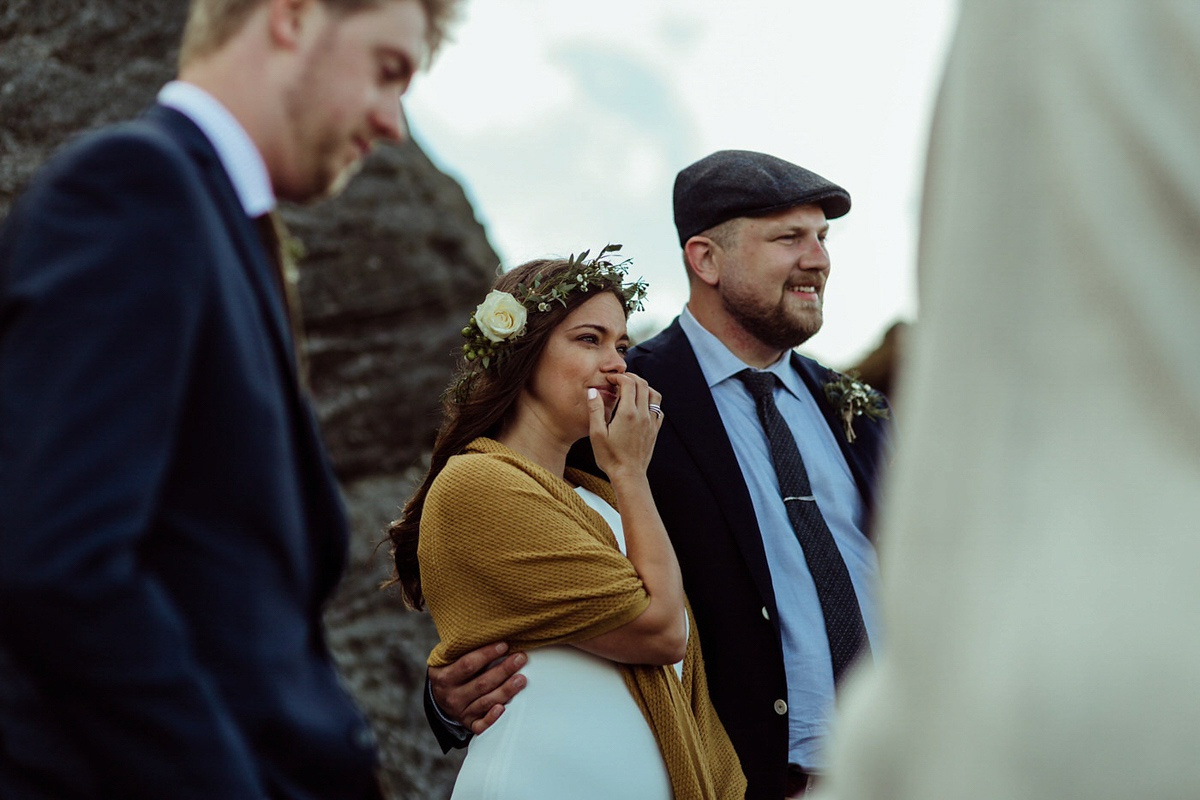 "However, for inspiration we used the starting point of these questions: What does the other person mean to me? How has this person enhanced my life significantly? What promises will I make to this person for the future? What does forever look like with this person? When you ponder these questions – the thoughts flow and turn into something meaningful, beautiful, and truly personal. I started my vows with a poem and Eric actually sang the lyrics from a song throughout his vows and the last line of his vows he spoke in Gaelic."
"Only eight of our close family and friends were present for the ceremony. This gave us the opportunity to ask every person to prepare his or her own blessing to be written and read and placed in a box that we keep in our home. We gave no parameters or guidelines, we wanted each blessing to be personal and heartfelt, and they were. Many tears were shed and many smiles and laughs were had. For us, it was the most important and special part of our day; something we'll never forget."
Eric and Krystle's rings were beautifully crafted by Trinity Jewelers.
"They are a small multi-generation, family-run business. All the individuals there are extremely helpful, caring, and kind."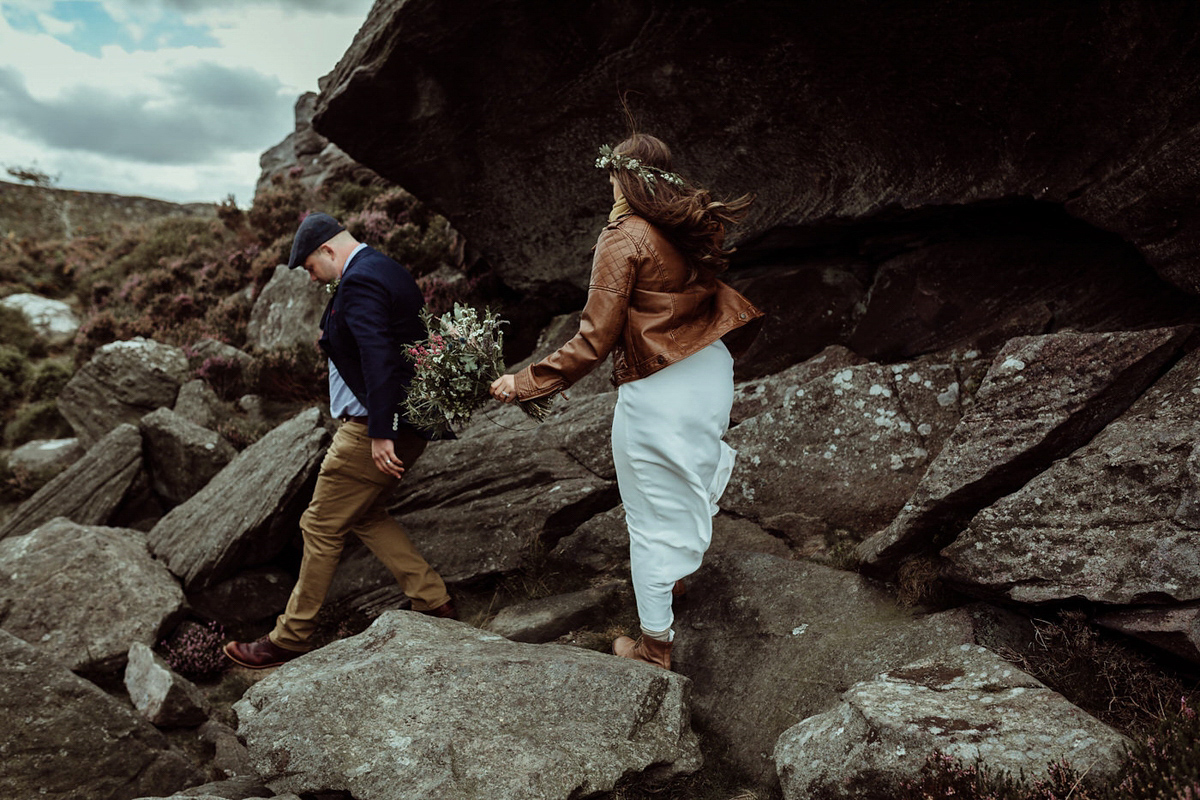 "All of it was so wonderful, it's hard to choose. However, we'd probably both say that spending the evening together, and having the time to share with each other to reflect on the day was our favourite part. After having a meal with our closest family and friends, we took the time to walk along the sea front from the restaurant back to our hotel. After one of the longest, event-filled days, it was lovely to have that moment alone together to wind down and reflect on everything that had happened."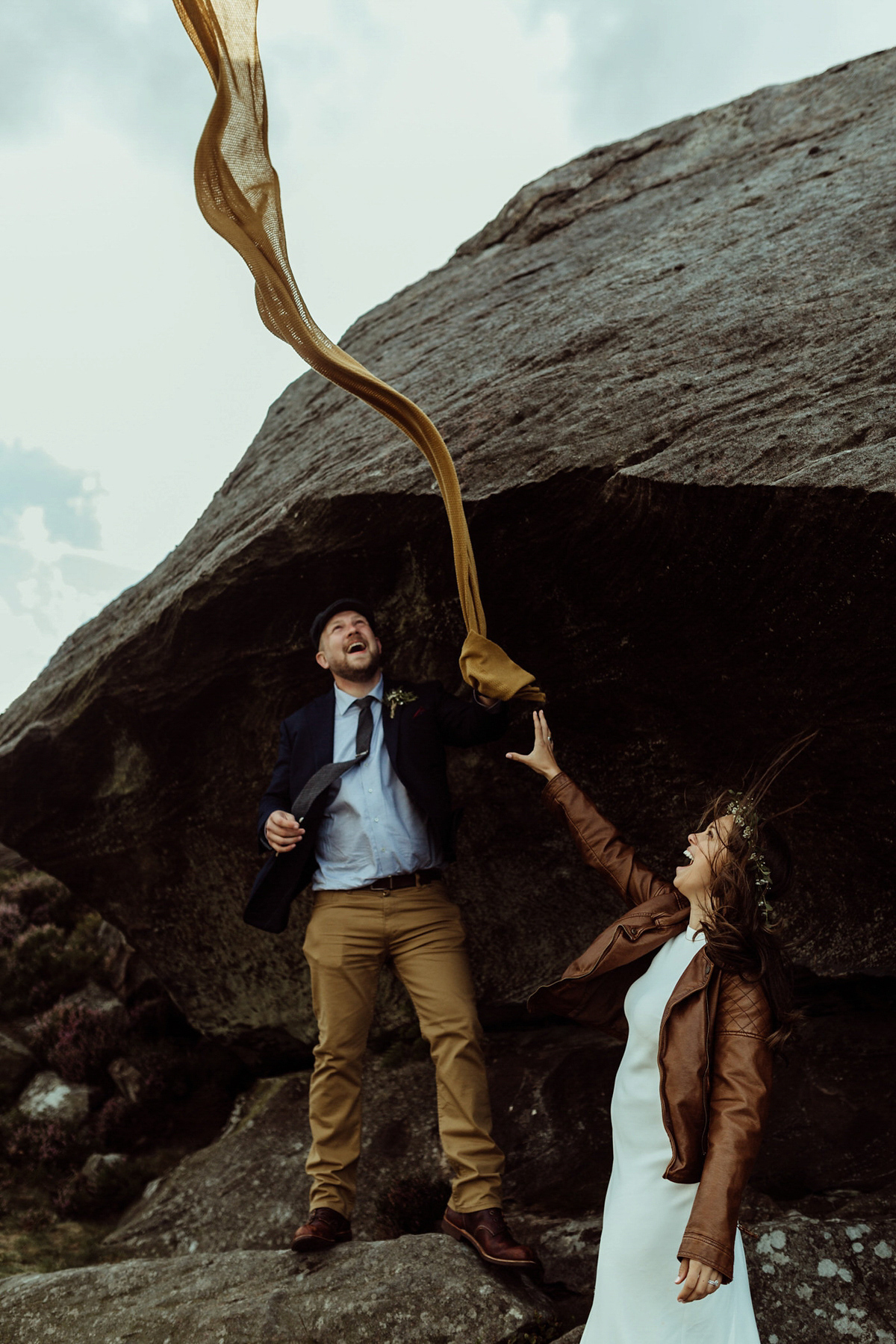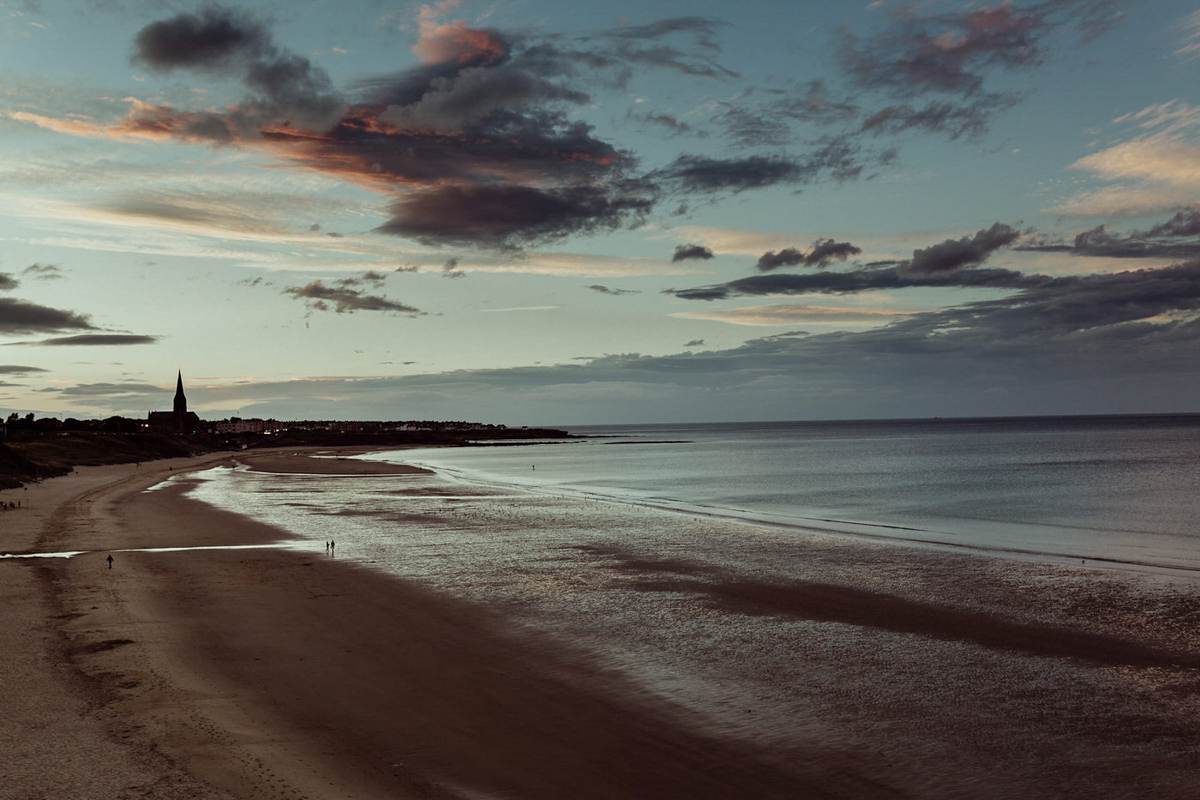 Words of Wedded Wisdom
"Stay true to you. Stay true to your partner and remember why you are doing what you are doing. Even in the moments of uncertainty or overwhelming stress, find presence in what you are cultivating and creating.
Don't be afraid to question wedding traditions if they don't fit your vision or feel like they have a place in making your day personal. No one can tell you what makes your marriage sacred or important. That is for you and your partner to discover and plan together. Do you!
We wouldn't have done anything differently. Not. A. Thing. It was perfection and felt like a complete representation of us."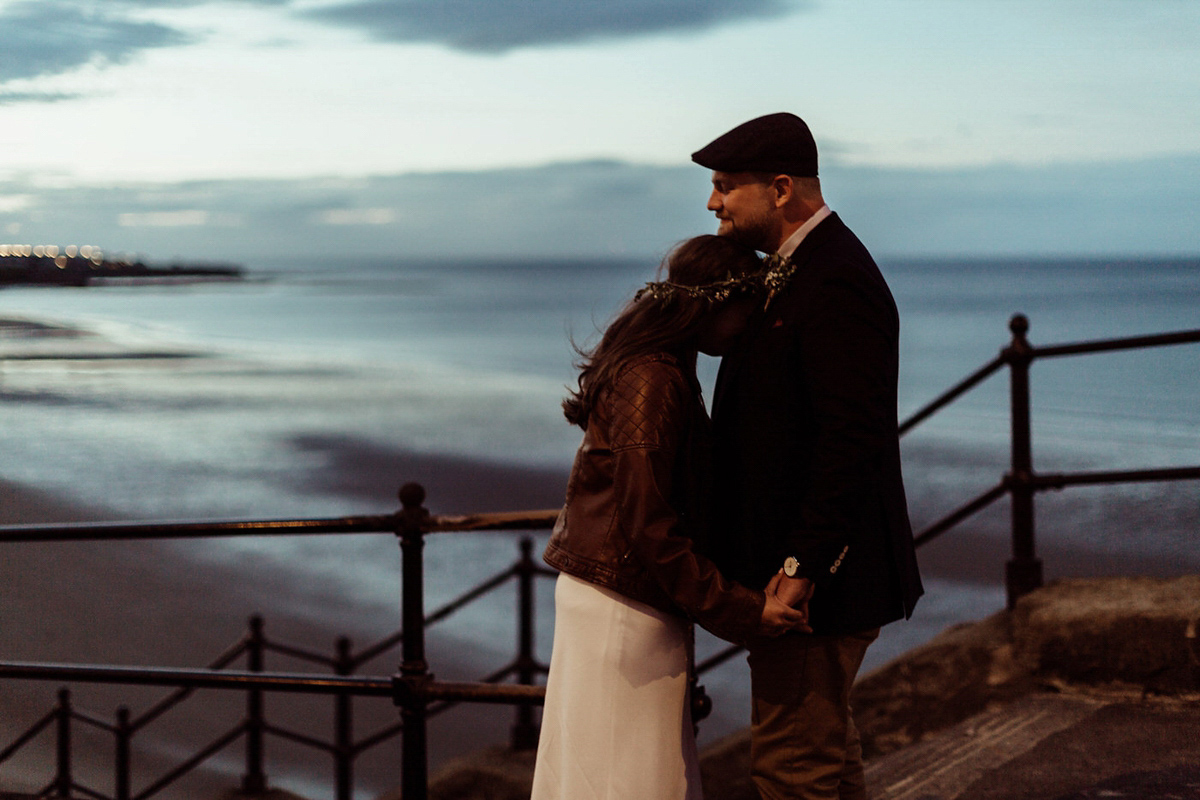 Thank you thank you thank you lovely Krystle and Eric for giving our readers a sneak peek into your beautiful union – it was a privilege to prepare and I wish you both a lifetime of love, light and happiness. And to Sam and Diana from Green Antlers Photography – keep on capturing divine locations to inspire the nature lovers amongst us. Readers, be sure to bookmark these other stunning weddings we've previously highlighted on this very beautiful blog by the creative couple.
Right, I'm off to research more about the stunning stone setting and add it to my growing list of 'must-do's' on my next trip over the seas!
Love Jo -xo-