A very happy sunny Tuesday hello to all you bridal babes! Anyone else braving stepping out with bare legs for the first time? I genuinely look like Casper I haven't seen the sun in so long. Today's wedding is so full of sunshine and joy that it's making me feel warm just looking at these gorgeous images. The lovely Laura Fisher, a wedding photographer and former blogging bride/Lovettes member for Love My Dress, wed Jon Weber, a radiology resident at Northwestern Memorial Hospital, on 16th April 2016 at Greenacres Arts Center in Cincinnati, Ohio. Take a peek at their sweet wedding film captured by David Schmaus of Studio 213 Films.
Laura and Jon chose Greenacres Arts Center as the base for their sunny spring celebrations; boasting a 20th century historic mansion styled after a French château and eighty acres of rolling hills and trees, it was the perfect dreamy setting for their big day.
Film by Studio 213 Films
Laura wore a beautifully soft and flowing gown from the Allure Bridals range, which she paired with shoes from Benjamin Adams London, purchased at BHLDN in Chicago. I so love the way the dress is completely transformed with a statement, modern necklace and then made even more feminine and whimsical with the addition of pretty, draping cap sleeves after the ceremony.
"I wore an Allure Bridals gown, purchased from Wendy's Bridal in Cincinnati. The flow of the fabric was my most important factor in a dress. I knew I wanted something simple with a fluid, ethereal feel – this was surprisingly difficult to communicate to bridal consultants. But the woman who helped me at Wendy's Bridal totally understood what I was seeking and pulled a few gowns from Allure. This one was my favourite as the English netting was incredibly soft and flowed with me in a really beautiful way."
Photography by Ross Harvey
The newlyweds were immortalised both on film and in sketch through their talented wedding photographer, Ross Harvey, and by the bride herself, who produced the beautiful watercolour on their save the dates. There's just something so dazzlingly magical about images captured during that incredible golden hour.
"We adore Ross. He was super fun to hang out with over the days leading up to the wedding (yes, our photographer came out drinking with our friends!) and we were completely blown away by the images he captured on the day. There's no better wedding photographer on the planet, words can't express how thankful we are that he captured our love and our wedding so beautifully.""Since our venue had a plein-air French countryside feel, we chose a clean, whimsical aesthetic inspired by the time I spent in Bourgogne as an artist-in-residence. Our colour scheme was light and neutral, using tones of white, cream, grey, and dusty blue, with simple, fresh flowers and handcrafted decor."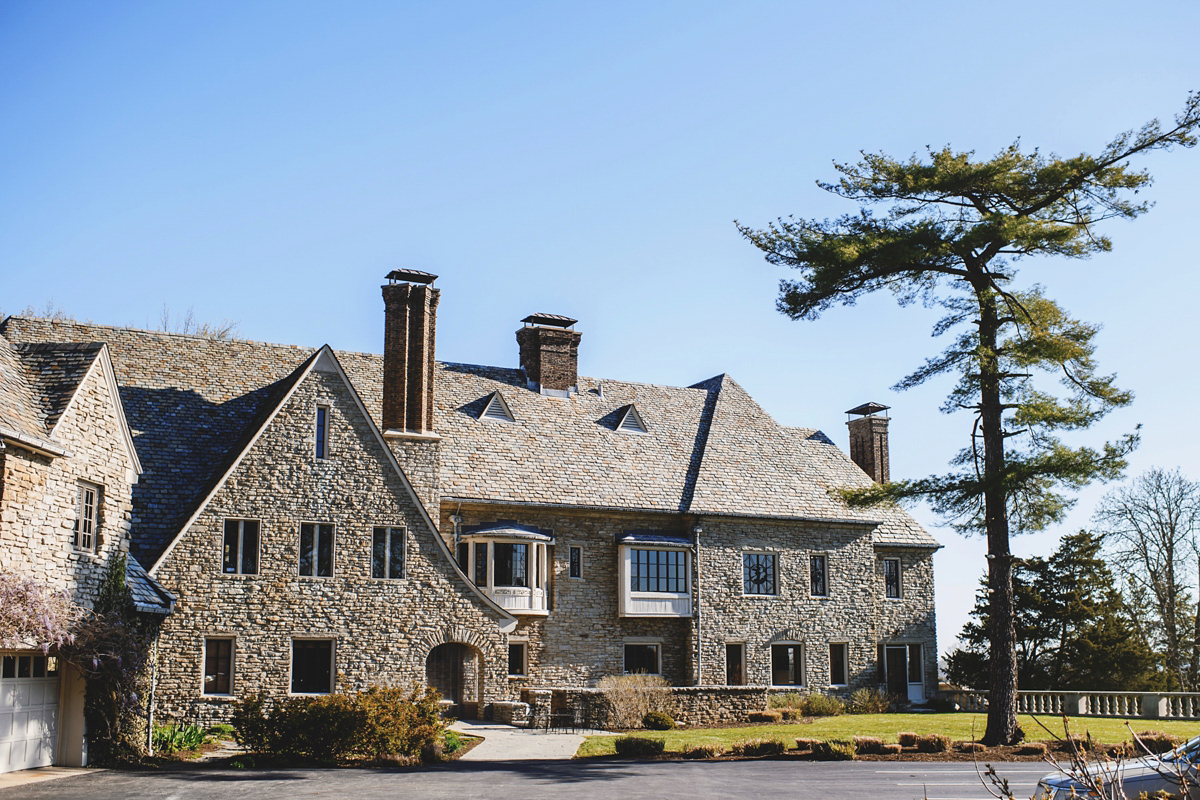 "We wanted to spend as much of the wedding day outside on Greenacres' beautiful grounds as possible, our first look, ceremony, cocktail hour, and dinner and boy, did we luck out on weather."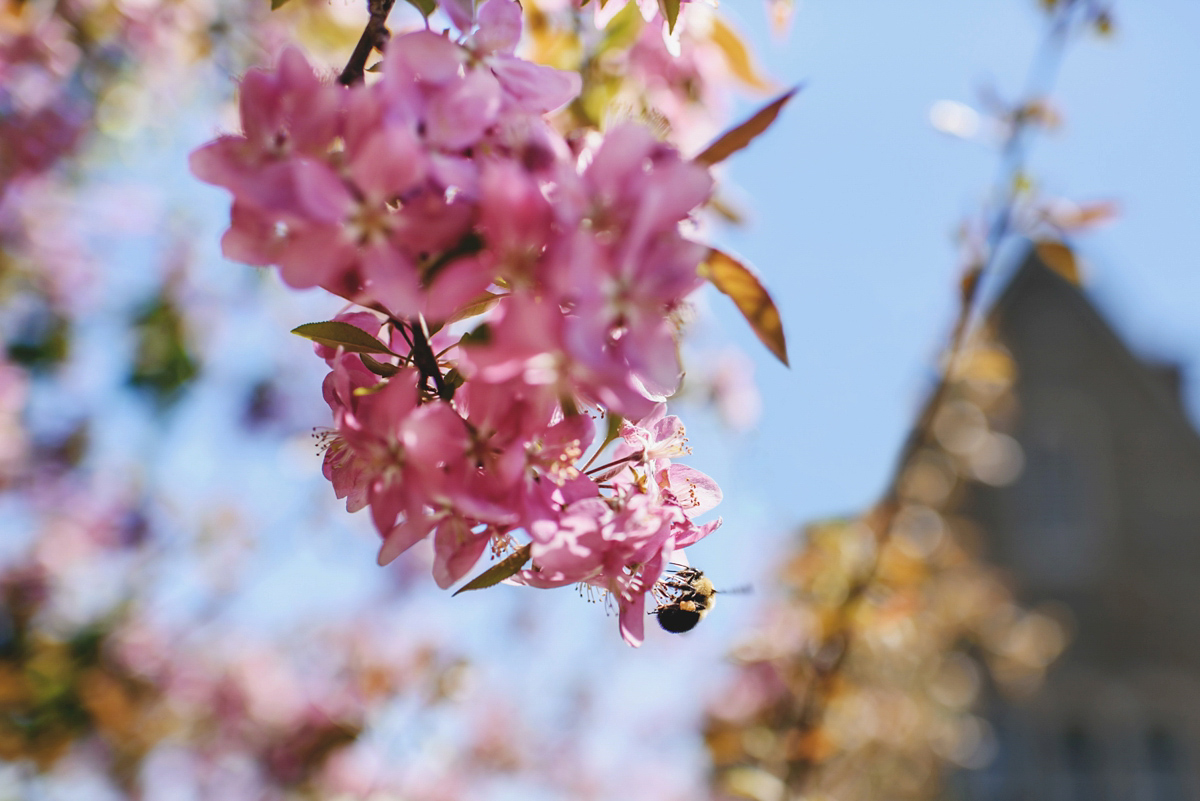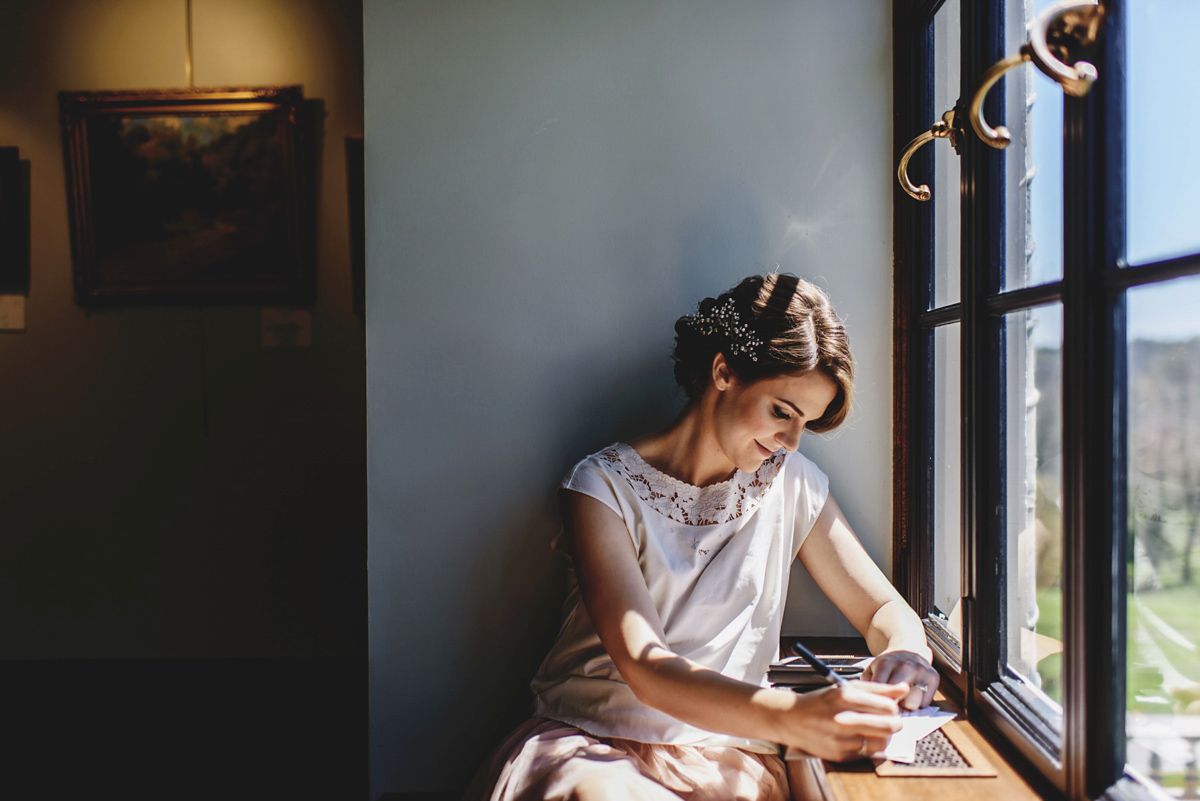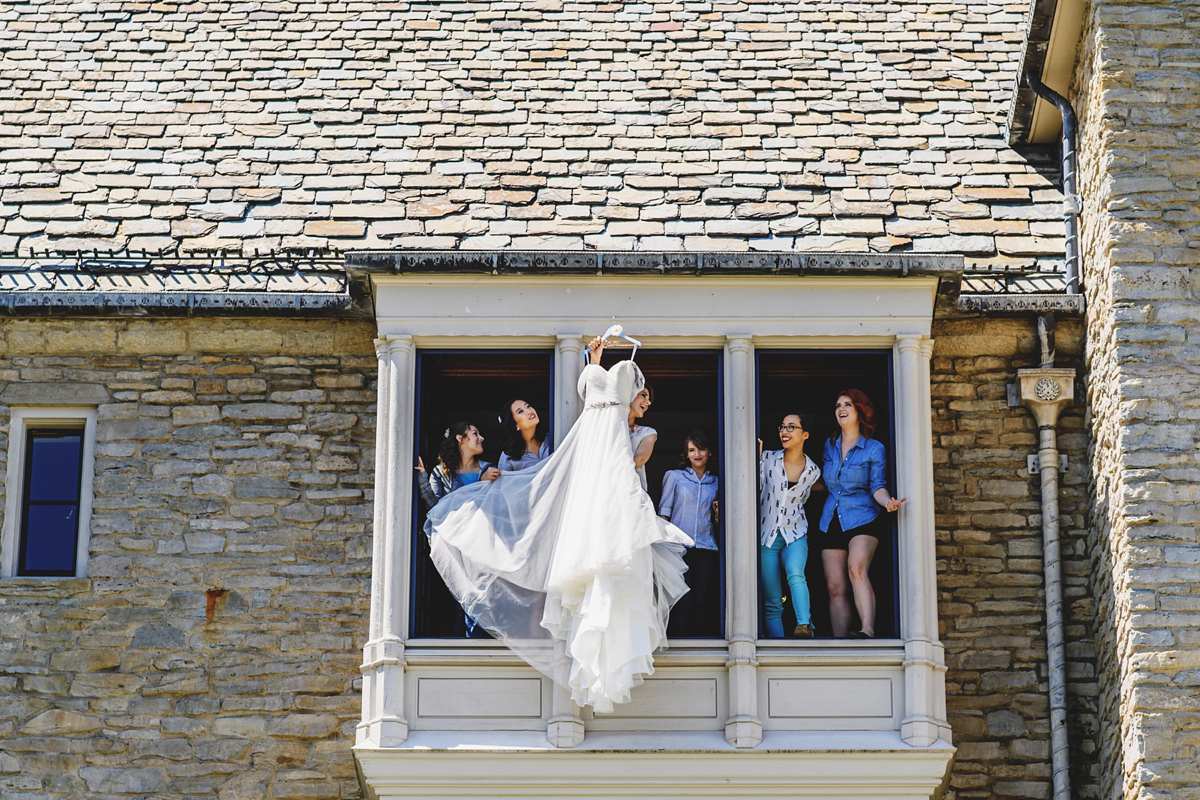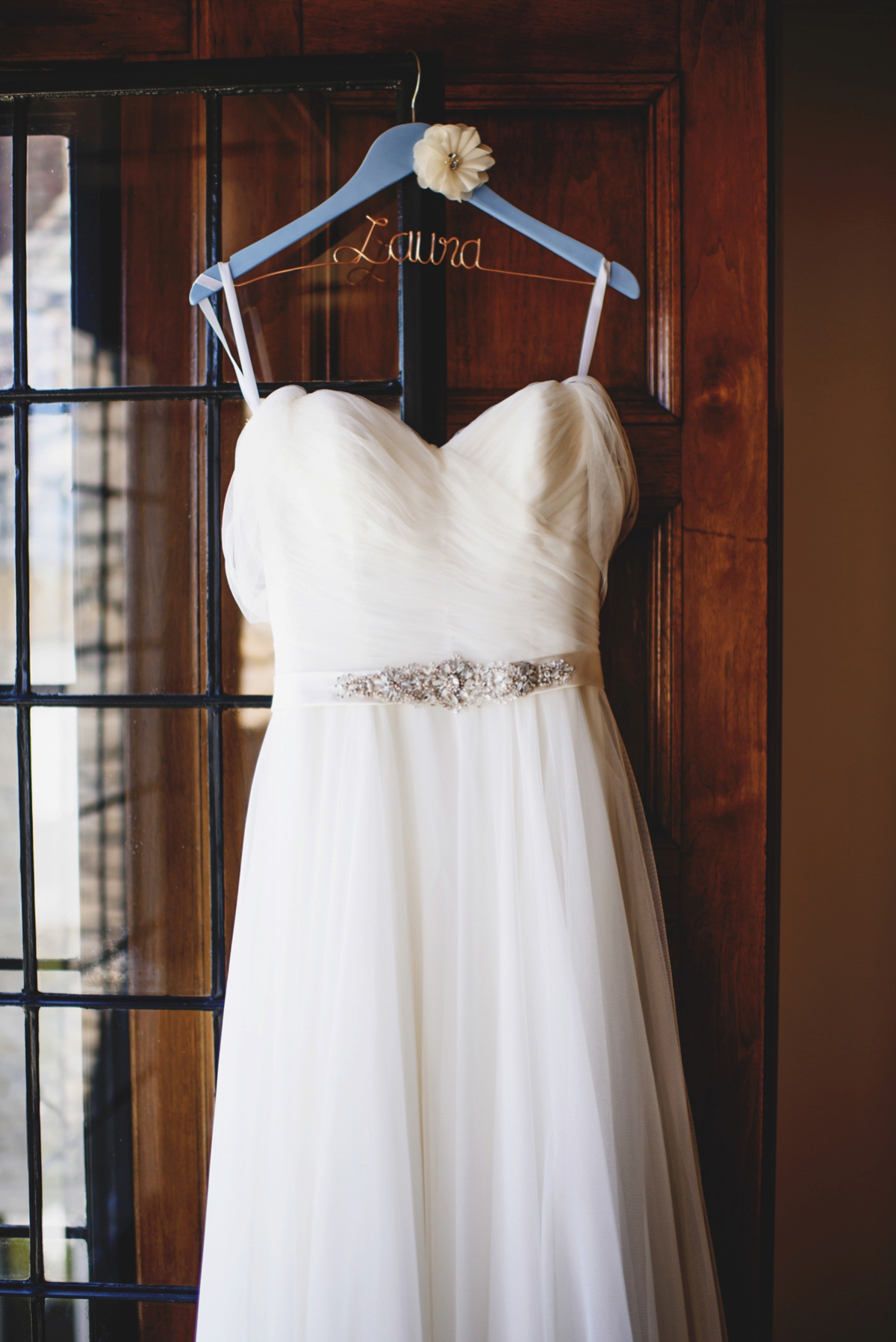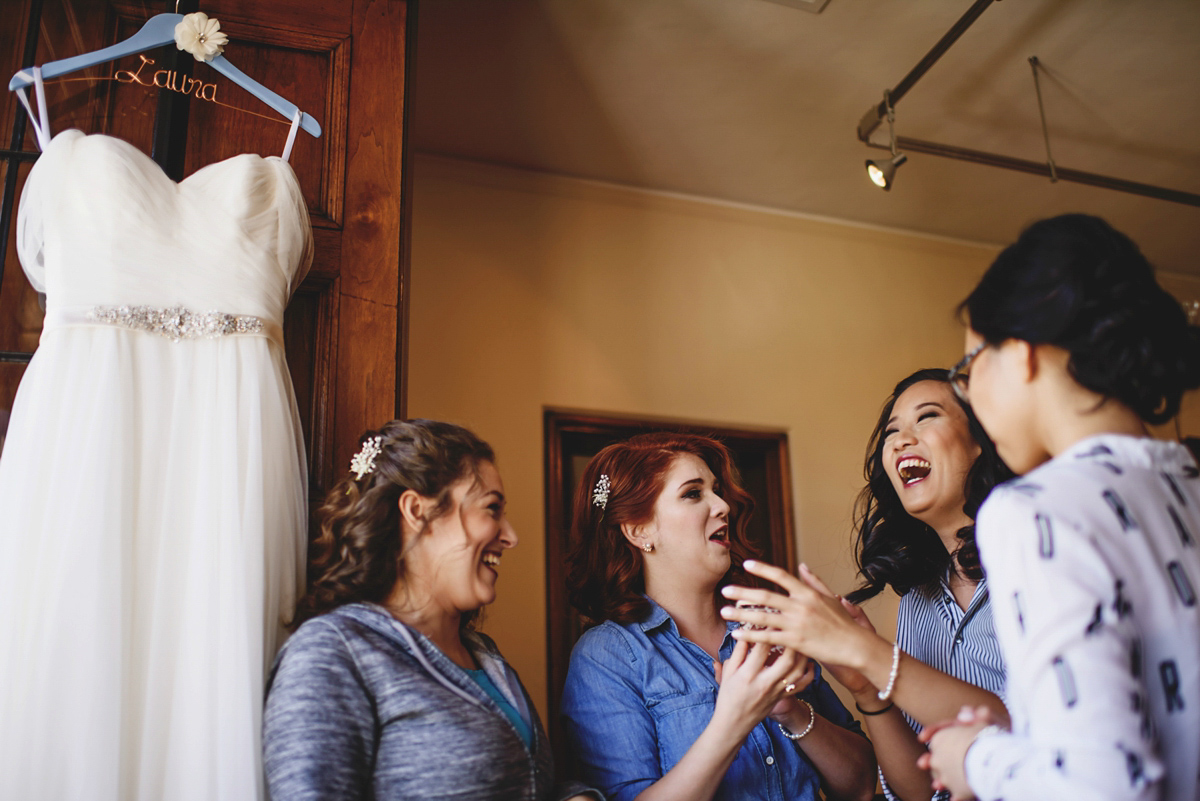 Liz Newitt of Makeup By Elizabeth took care of Laura's glowing make-up while Ashley Hurley of Trinity Salon & Spa crafted a perfectly soft up-d0, studded with a beautiful headpiece from Handmade by Sara Kim.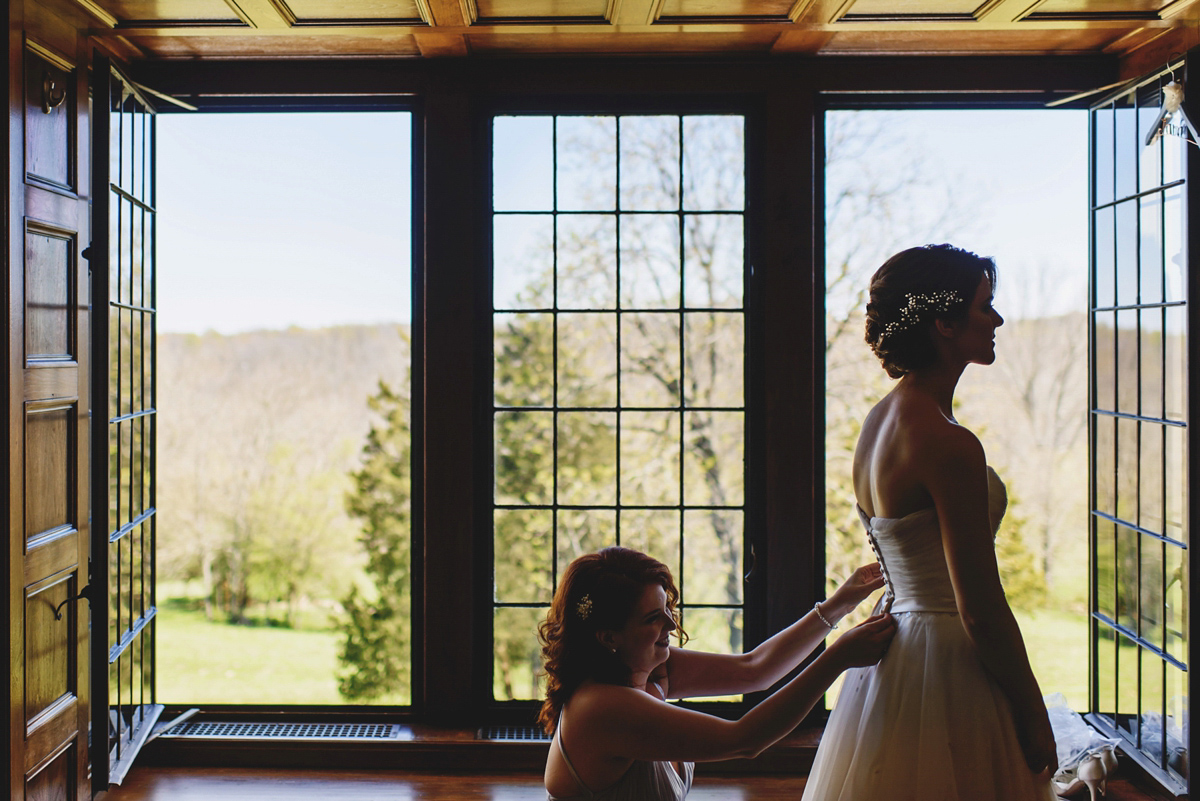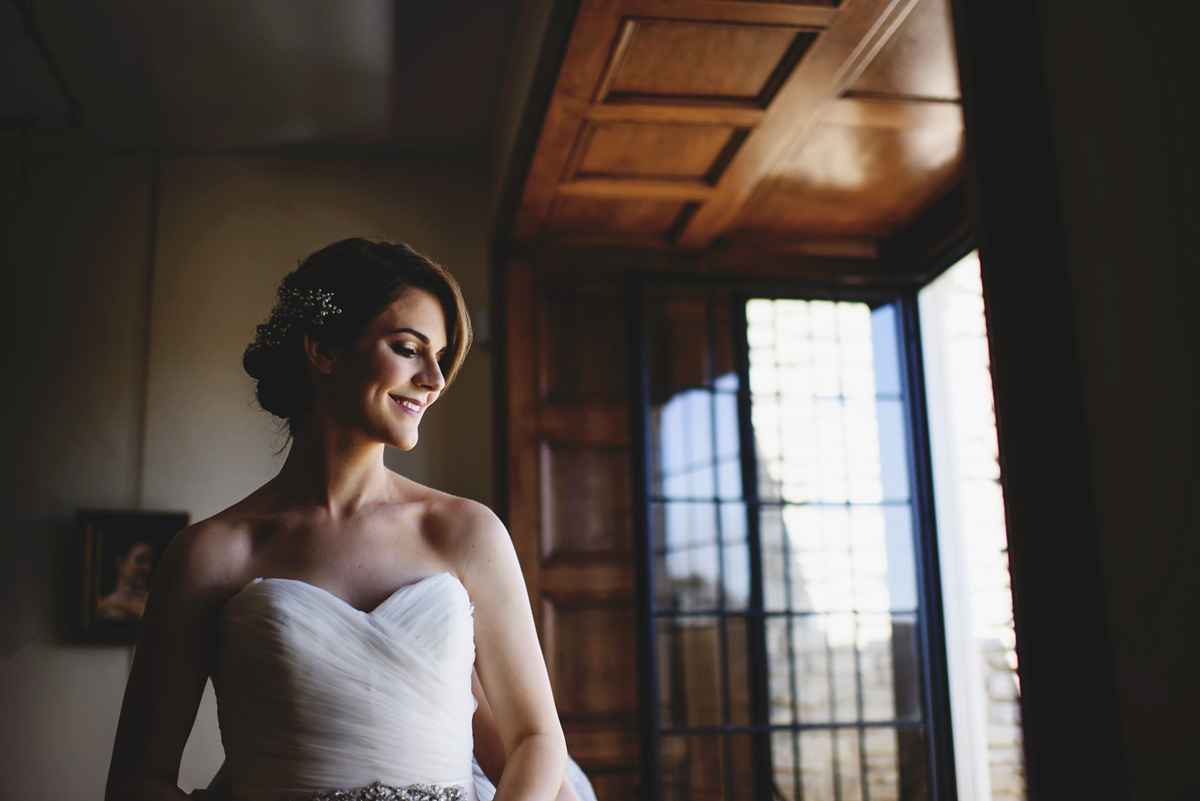 "I borrowed the shoulder jewellery from our officiant's daughter; it's the Josephine necklace by Sara Gabriel, and I borrowed earrings from my mother. I, uh, forgot to wear my veil on the wedding day.  Someday, I'll look back on this as hilarious. My hairpiece was crafted by Handmade by Sara Kim, the style is 'shifting branches' in silver."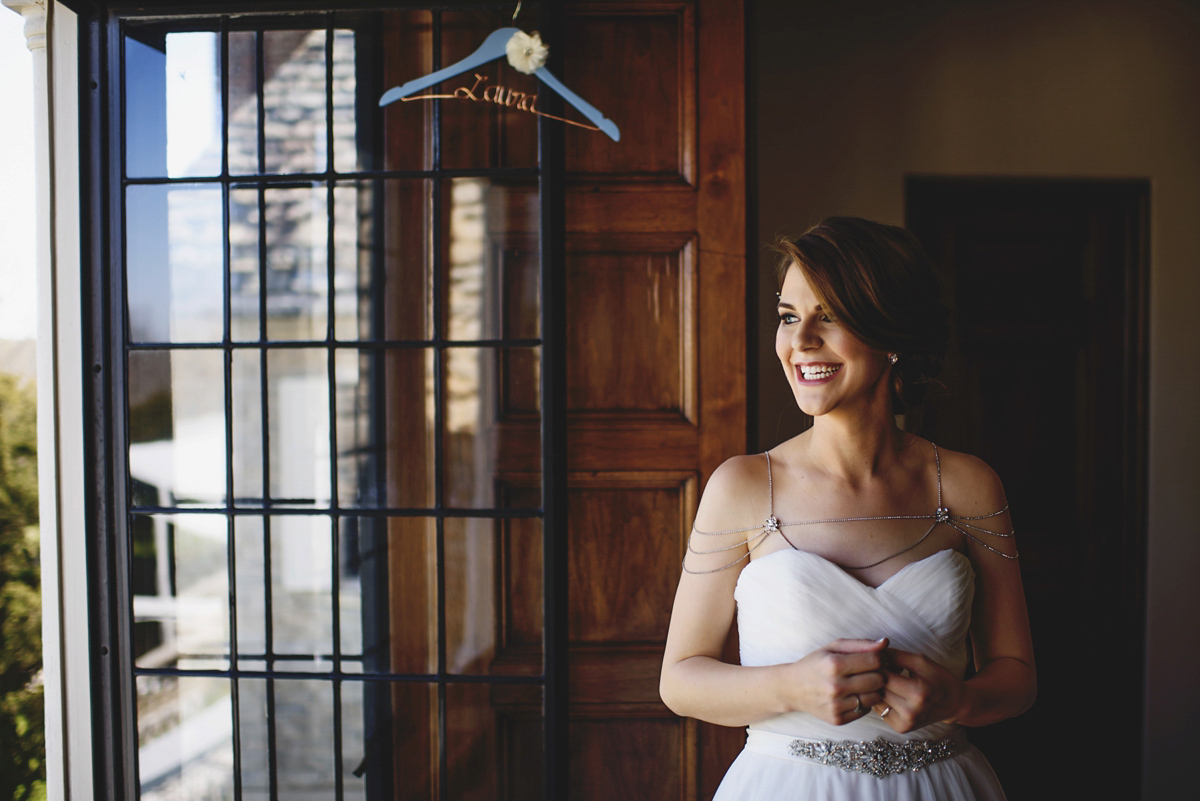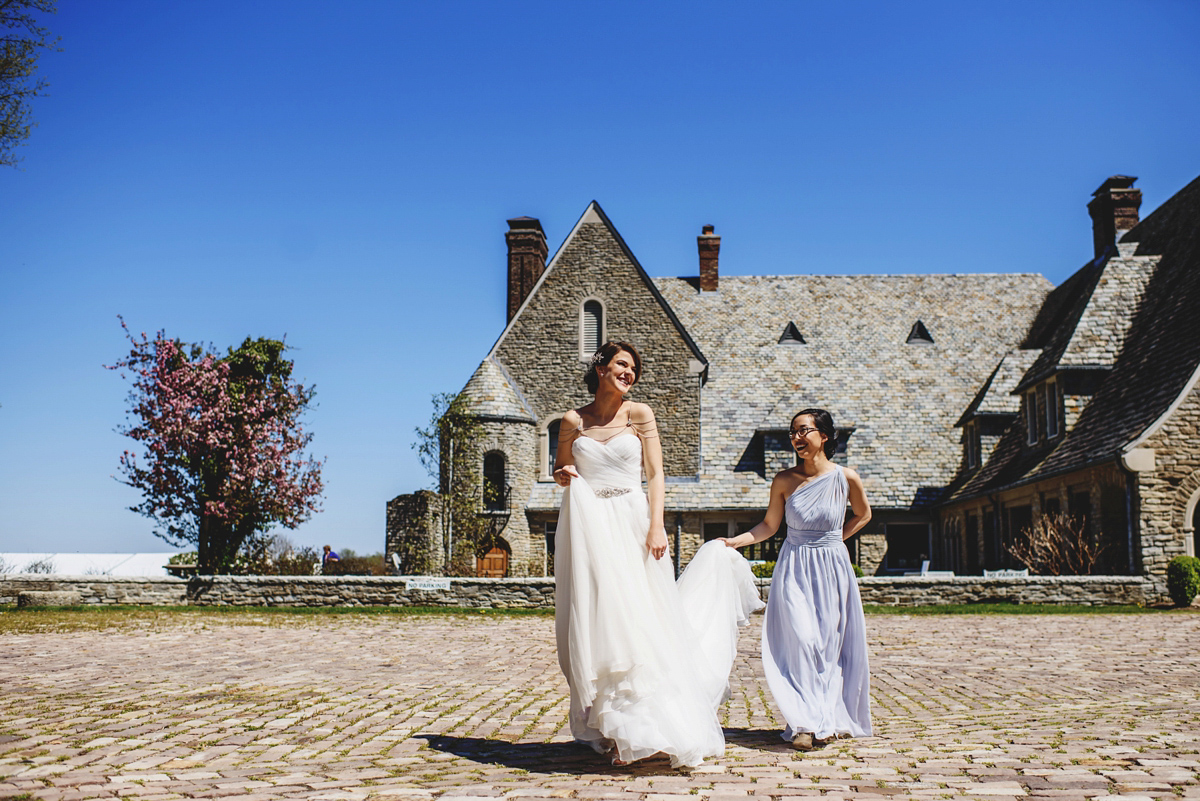 I have grown to love a first look more than any other modern wedding tradition – the precious, fleeting time together before the ceremony, the heart-juddering anticipation, the sweetest expressions of surprise and joy.
Laura waited to meet Jon, a vision of calm serenity, as her future husband walked towards her in his gorgeous ensemble from Men's Warhorse. I love the silk spring blooms of his buttonhole, tying in his light blue tie.
"Jon and I met each other in English class at the University of Cincinnati (the exact same way my parents met forty years ago—no joke) and were friends throughout college before our first date in spring of 2011. After three years of dating, Jon made a scrapbook of our memories together and proposed in September 2014 while we were on vacation. There were tiny Jon and Laura Lego figurines involved, it was awesome."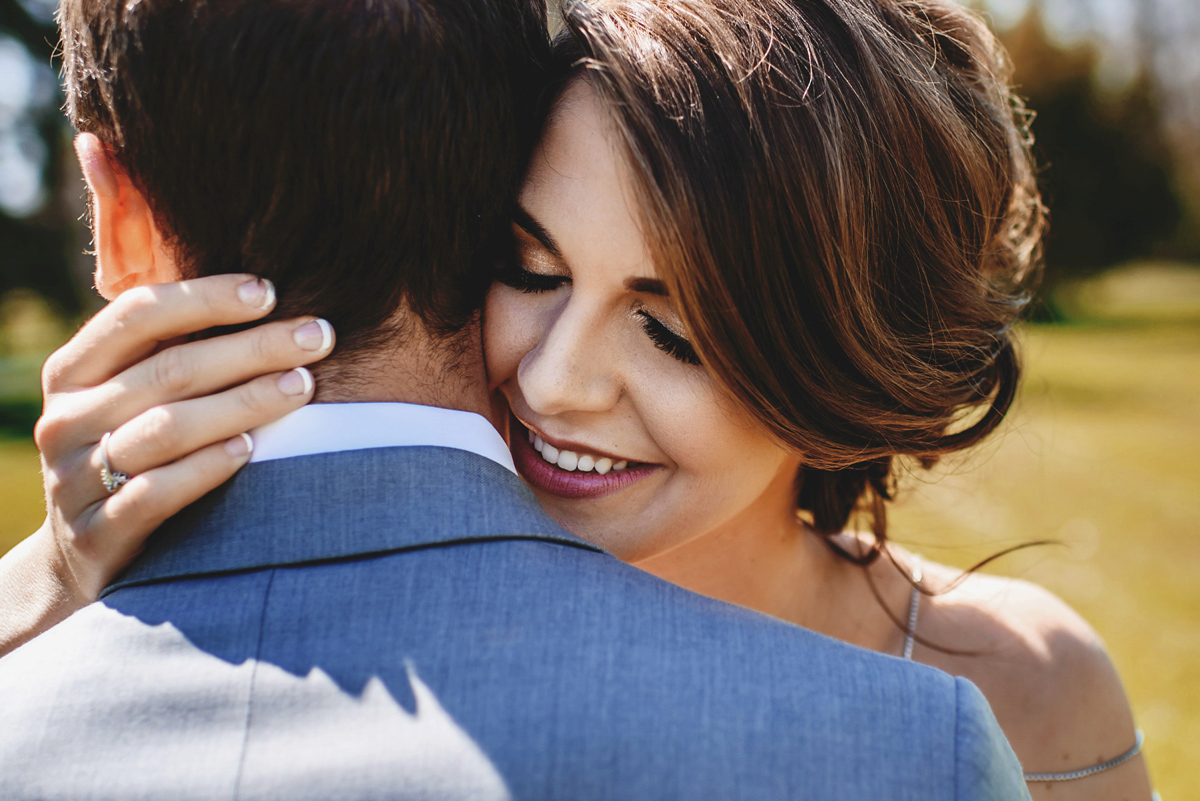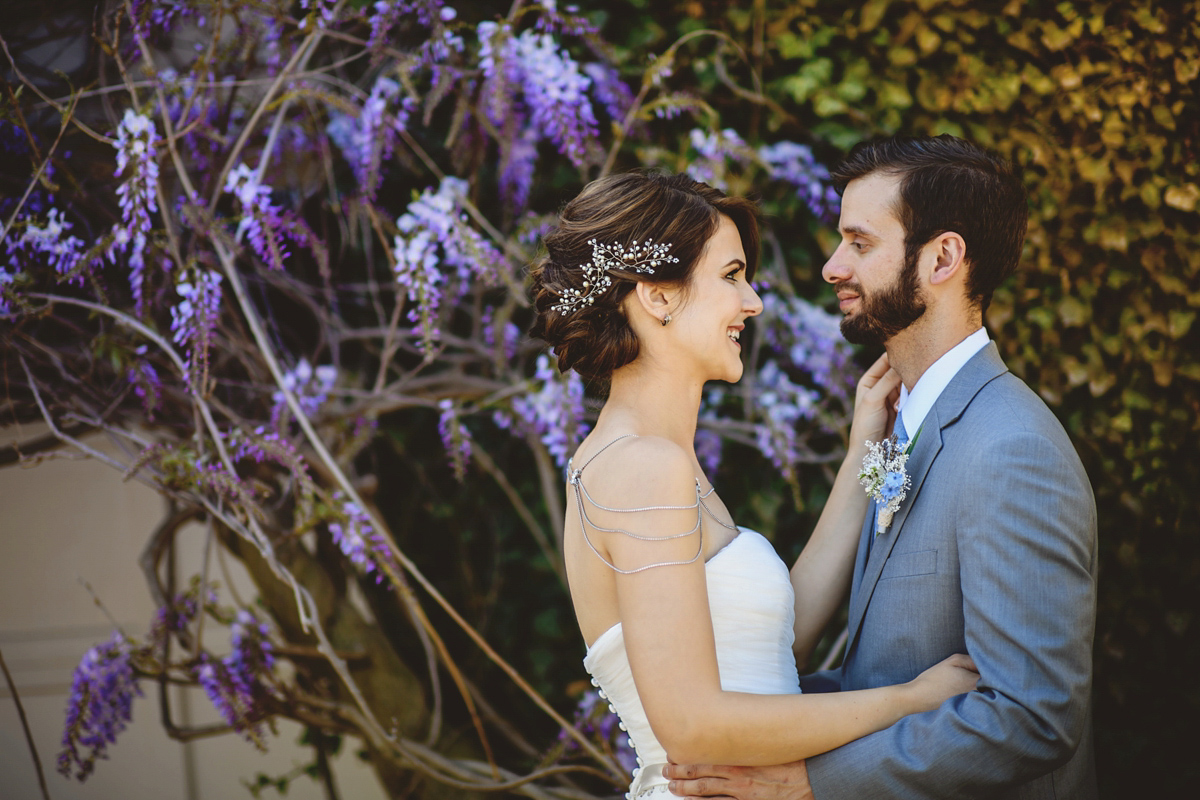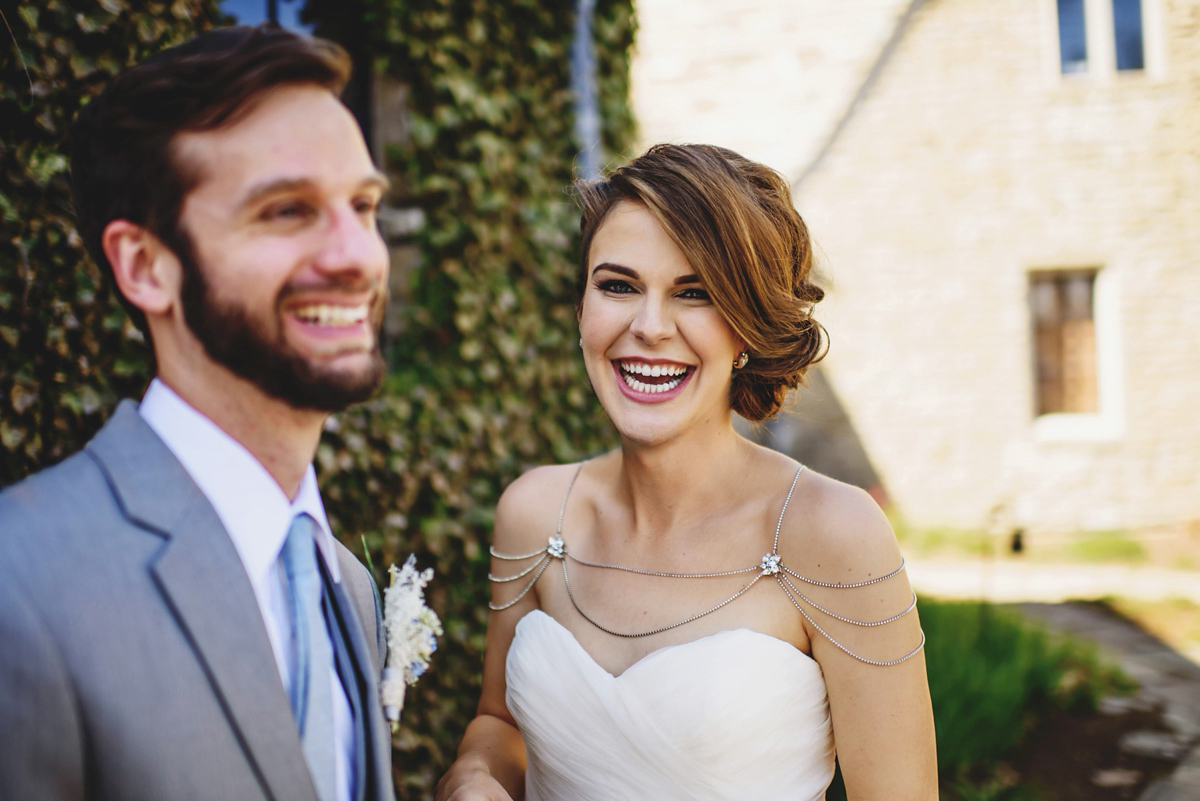 "My bridesmaids wore custom designs by Renz Rags and I handmade a pearl baby's breath hairpiece for each of them to complement the style of my hairpiece. I also made the bridesmaids' bracelets, to match their hairpieces and picked out earrings based on what I thought they would like."
"Jon picked out each groomsman's cufflinks to match their personality and interests through different sellers on Etsy. He also ordered a custom shaving kit for each man as a wedding day gift. I made all of their boutonnieres myself out of silk flowers and extra ribbon from the bridesmaids' dresses."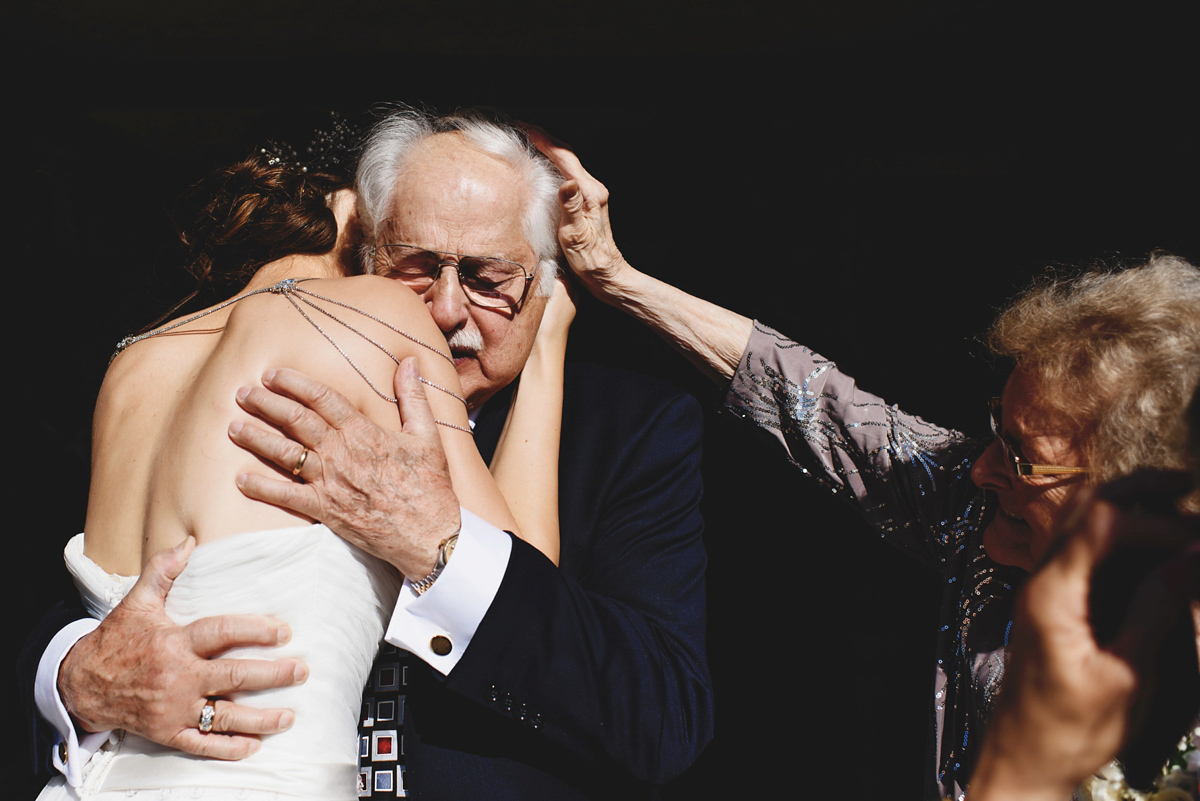 "Our florist, Vickie Wenstrup at Amelia Florist, is one of the loveliest people I've had the pleasure to work with."
"I'd seen her arrangements in person a few times at past weddings I'd photographed and thought that she had a very whimsical, 'undone' artistic sense of style."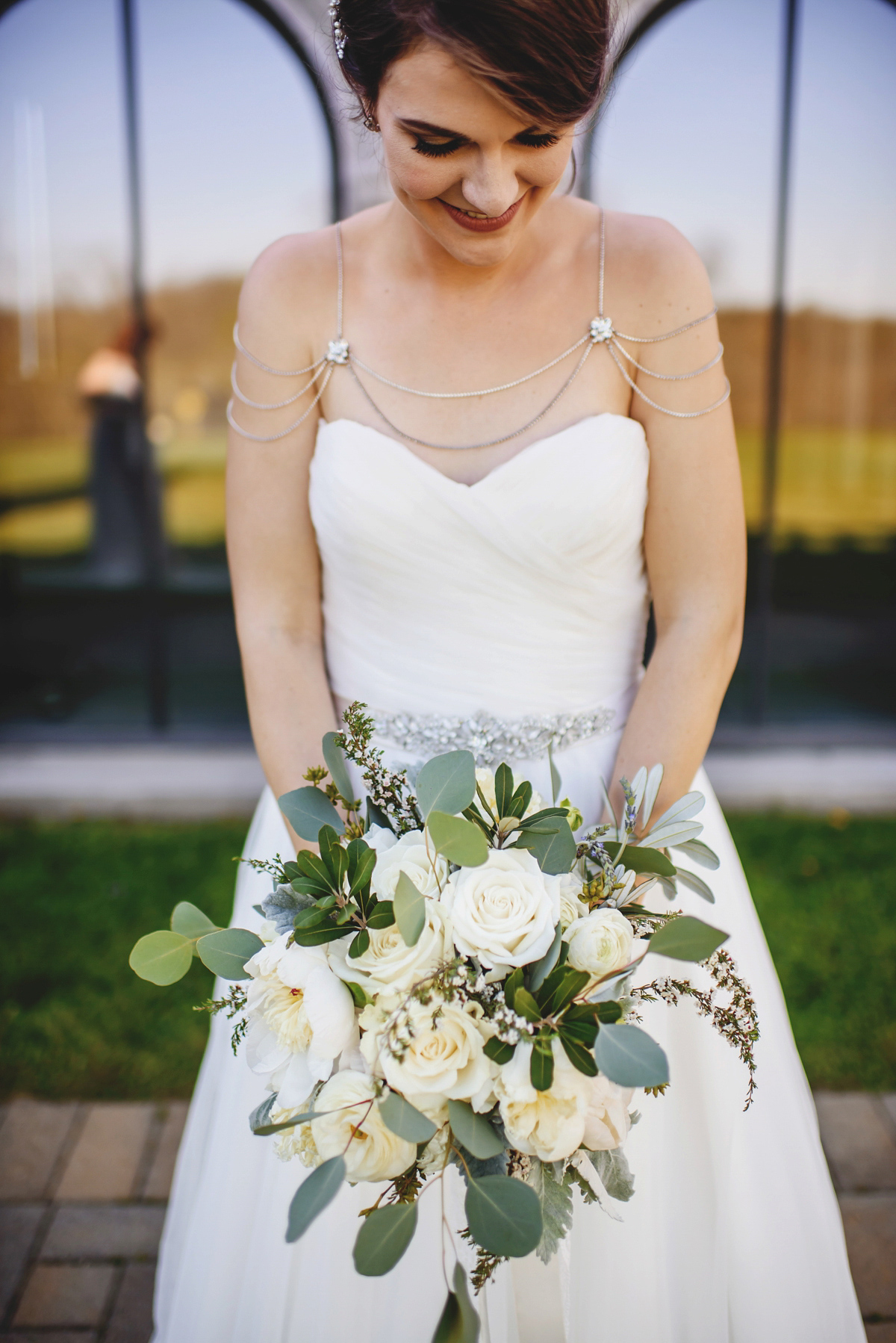 "Joy Fairclough of Studio French Blue did the custom calligraphy and hand lettering for our save-the-dates and invitations and I printed them out on heavy watercolour paper. I designed the menus, reception signage, and programmes myself and I also did the little watercolour of us on the front and printed them the same way."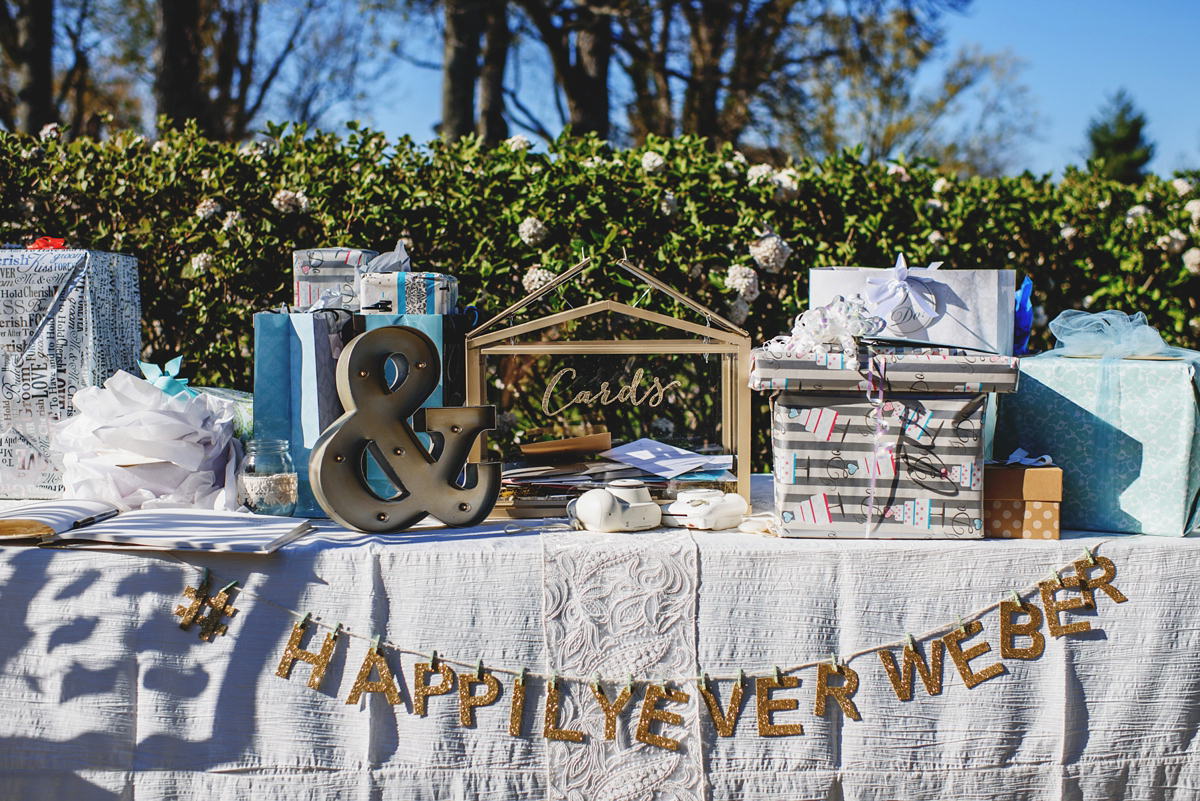 Laura walked down the aisle with her mum and dad on either side of her, such a touching tribute to her beloved parents. Jon waited under a glorious organic arch of hydrangea, gypsophila and foliage, flanked by pretty pastel maids and dapper groomsmen, all smiling in the spring sunshine.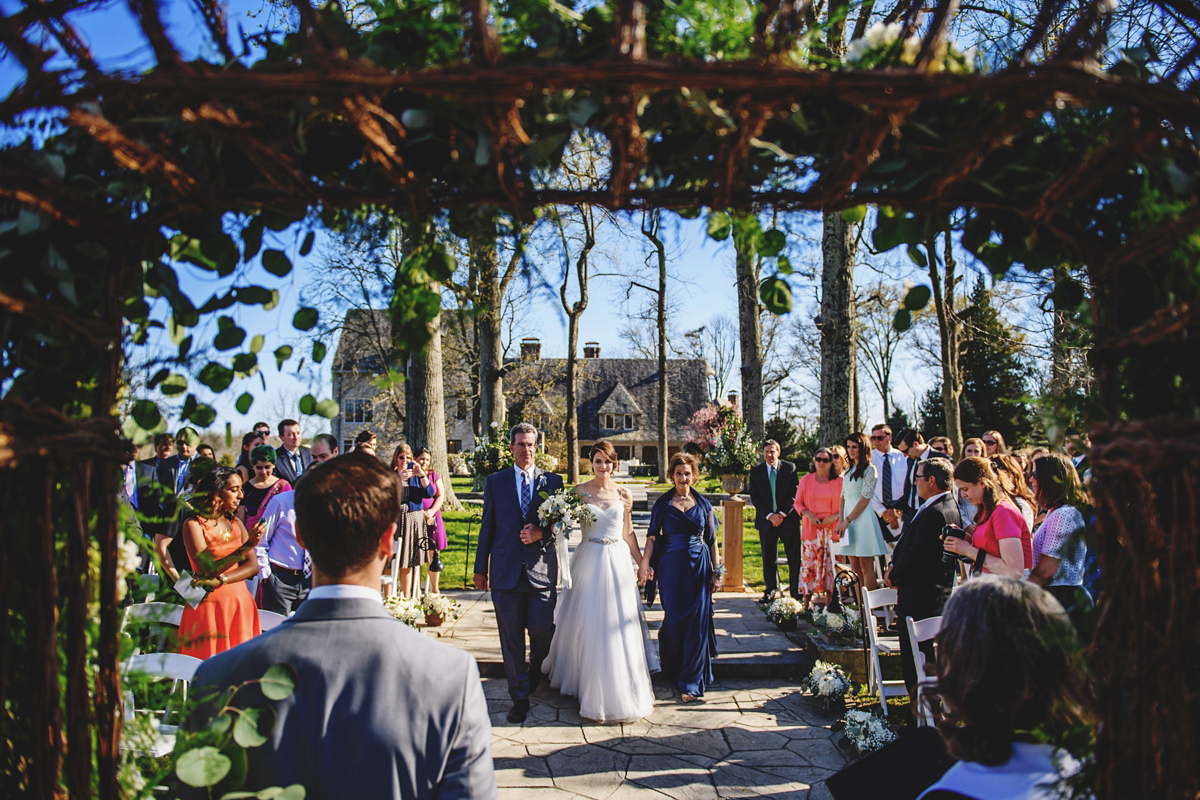 "Personally, I don't like the custom of only the bride's father walking the bride down the aisle; both of my parents raised me, after all."
"I connected much more with a tradition I'd witnessed at Jewish weddings where both parents accompany the bride, and my parents liked the idea too. The string trio played an instrumental rendition of 'Quelqu'un m'a dit' by Carla Bruni, such a beautiful song and very personal to me."
Laura and Jon wrote their own vows, personal emotional words penned in handmade 'his and hers' books, which are now the most beautiful mementos. Laura incorporated a passage opined by Anthony Kennedy for the Equal Marriage Rights Supreme Court Decision in June 2015:
"No union is more profound than marriage, for it embodies the highest ideals of love, fidelity, devotion, sacrifice, and family. In forming a marital union, two people become something greater than once they were…marriage embodies a love that may endure even past death."
"We included two significant readings during our ceremony. Our officiant, Janie, is very important to me, I've worked for her for nine years as a studio assistant and consider her a dear friend and mentor.  She recited a poem during the ceremony that she had written for her daughter's graduation from the Waldorf School."
"There was a also a reading by my bridesmaid Anna, an Eastern European Studies Librarian at Yale, from a 1958 letter penned by John Steinbeck to his son dispensing love advice. She had shared it with me one night as something of interest, and I liked it so much I asked if she would be willing to read it at our wedding. Steinbeck wrote:"
"First—if you are in love—that's a good thing—that's about the best thing that can happen to anyone. Don't let anyone make it small or light to you. 
Second—There are several kinds of love. One is a selfish, mean, grasping, egotistical thing which uses love for self-importance. This is the ugly and crippling kind.
"The other is an outpouring of everything good in you—of kindness and consideration and respect—not only the social respect of manners but the greater respect which is recognition of another person as unique and valuable.
The first kind can make you sick and small and weak but the second can release in you strength, and courage and goodness and even wisdom you didn't know you had.
And don't worry about losing.  If it is right, it happens—the main thing is not to hurry. Nothing good gets away."
Jon chose both his and Laura's rings at Thurber's Jewelers, a local shop in his hometown of Wadsworth; Laura's wedding band added to her touchingly sentimental engagement ring – the centre diamond taken from Jon's late grandmother's ring.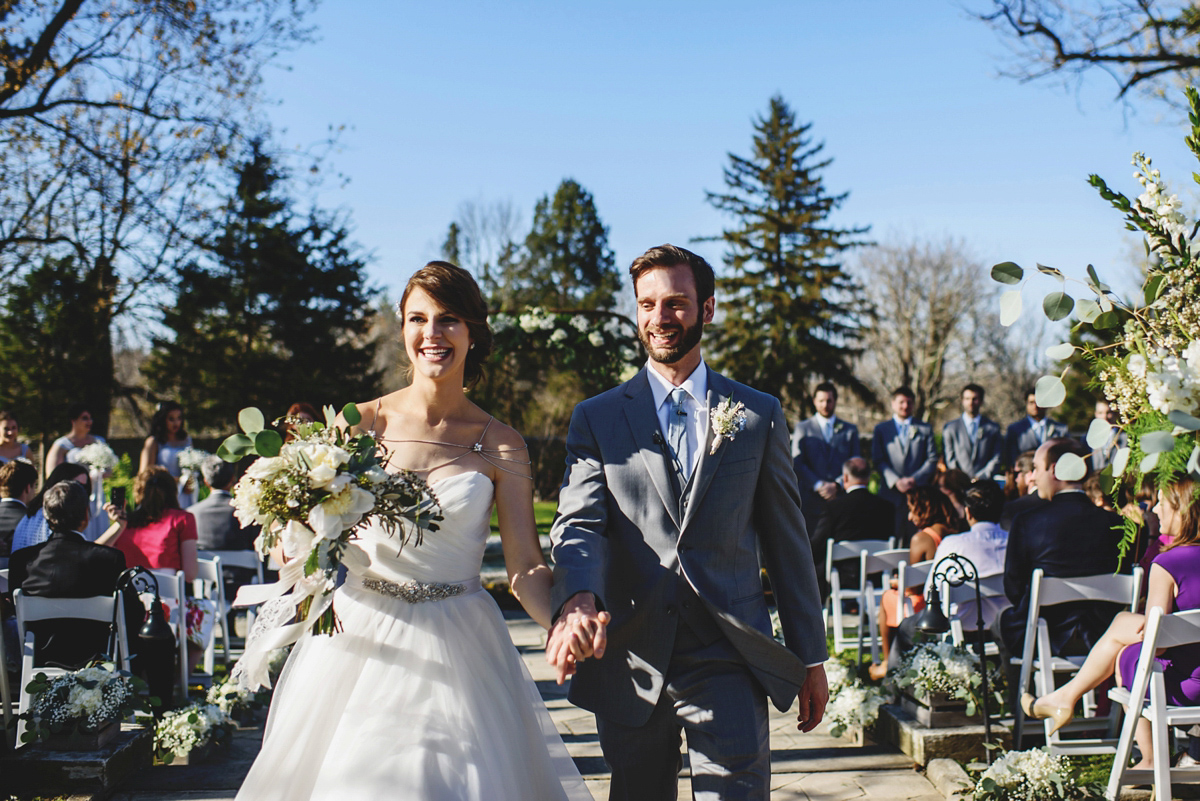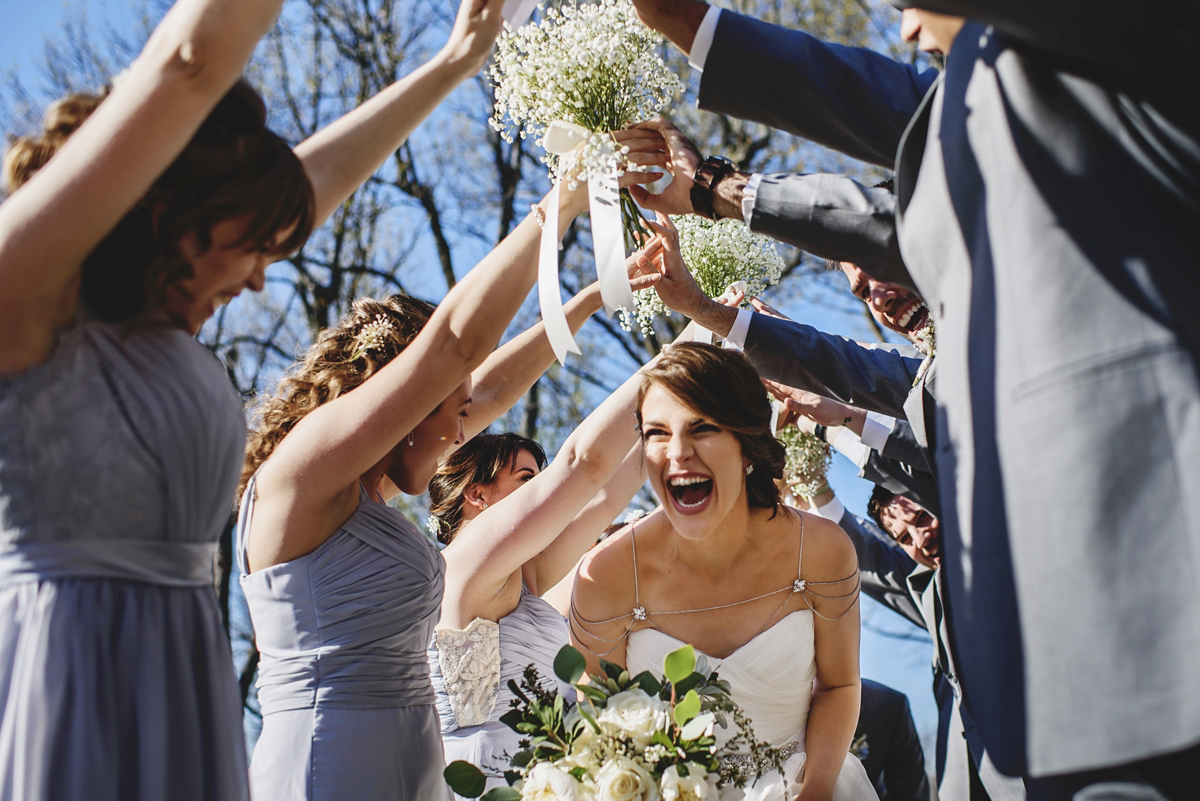 Event rentals company All Occasions provided the tables and much else besides for Laura and Jon's celebration, the whole day expertly co-ordintaed by Beth Celenza of Cincinnati Sophisticate. Laura had worked with Beth at weddings and developed a close friendship with her talented colleague, who was the very first vendor Laura called after she and Jon became engaged.
"We crafted a lot of the décor ourselves. The wooden wine boxes and crates were donated from a local bar where I had worked as a pub quiz host; the name cards and frames were a DIY project that my bridesmaid Sunny and I threw together the night before the rehearsal. The guest book, 'hell yeah' doughnut toppers, wooden ring box, 'love always' chair garnishes, terrarium card box, and banners were all DIY projects I put together throughout the winter. Other things were borrowed from friends and family who had recently gotten married or made and gifted to us by friends."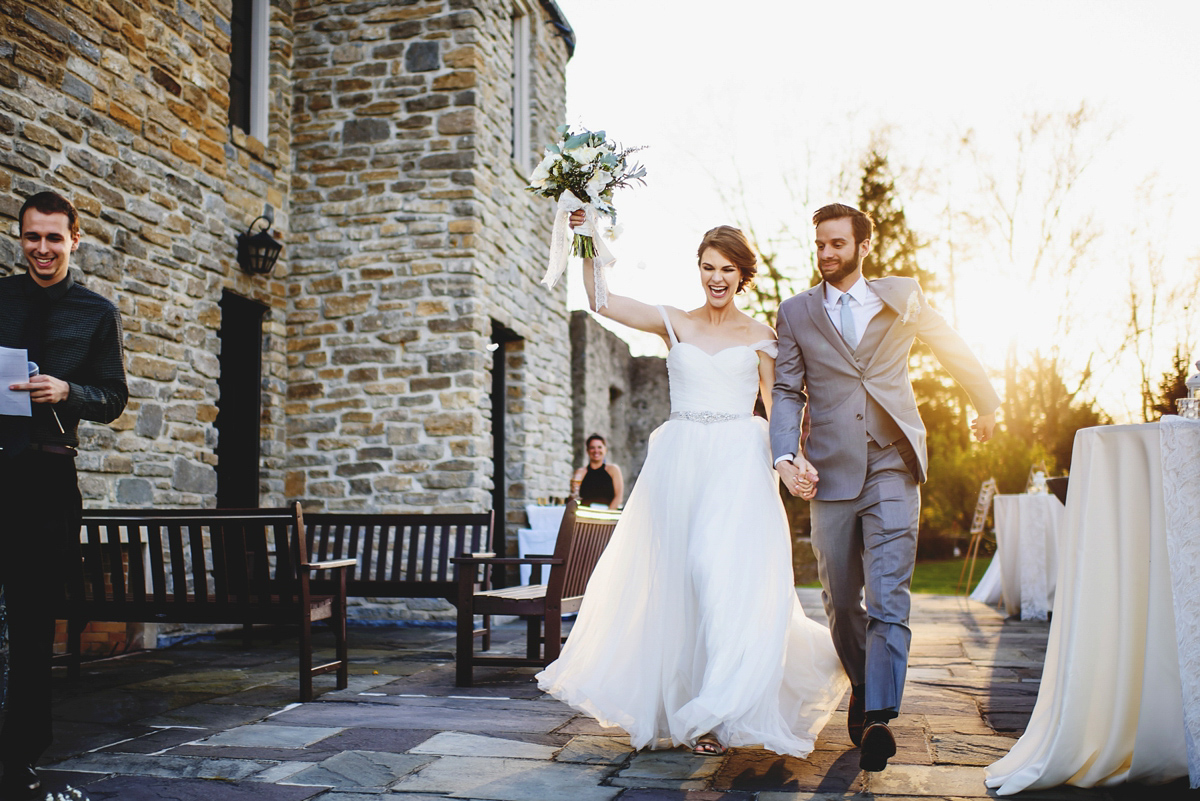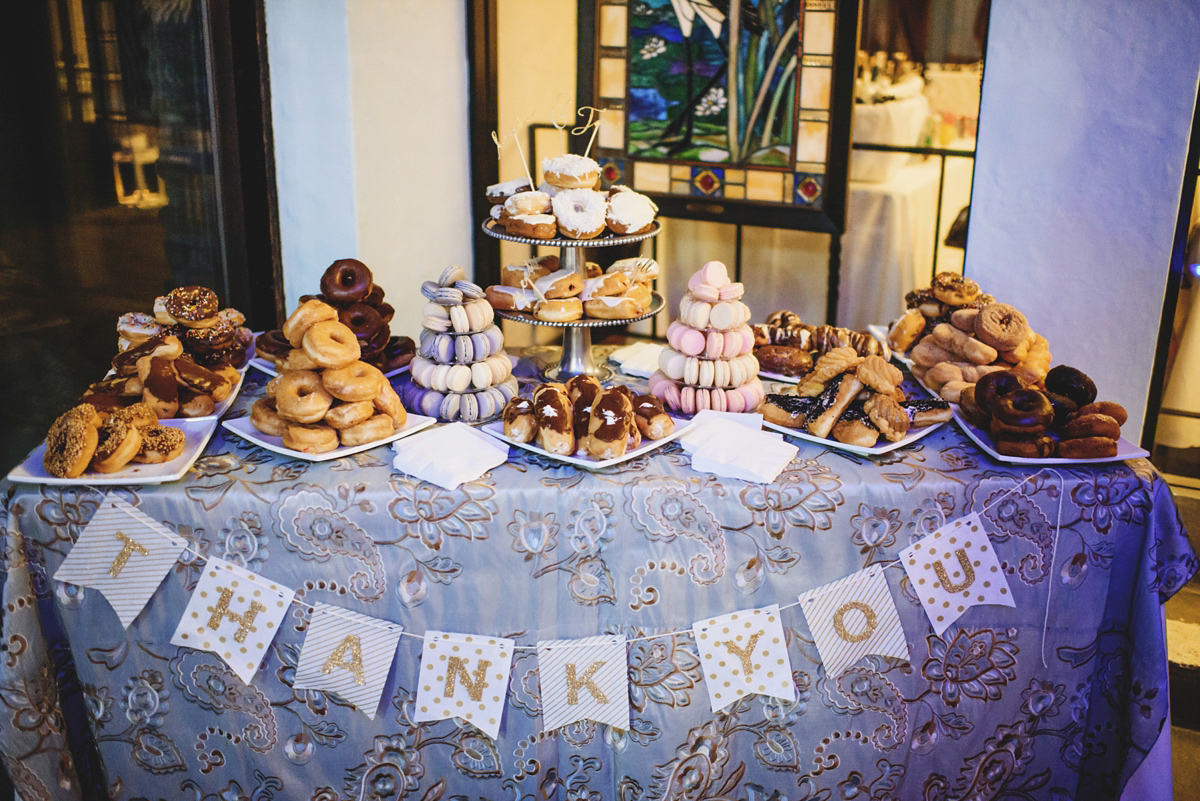 Elegant Fare catered an al fresco wedding breakfast, all topped off with delicious doughnuts from Holtman's in Cincinnati. Guests absolutely loved trying the different flavours, such a fun alternative to a traditional wedding cake. The revellers moved indoors to dance the night away to the musical stylings of Dave Frederick from Columbus Pro DJs, Laura and Jon swaying in each other's arms to Iron & Wine's acoustic cover of Such Great Heights by The Postal Service for their first dance.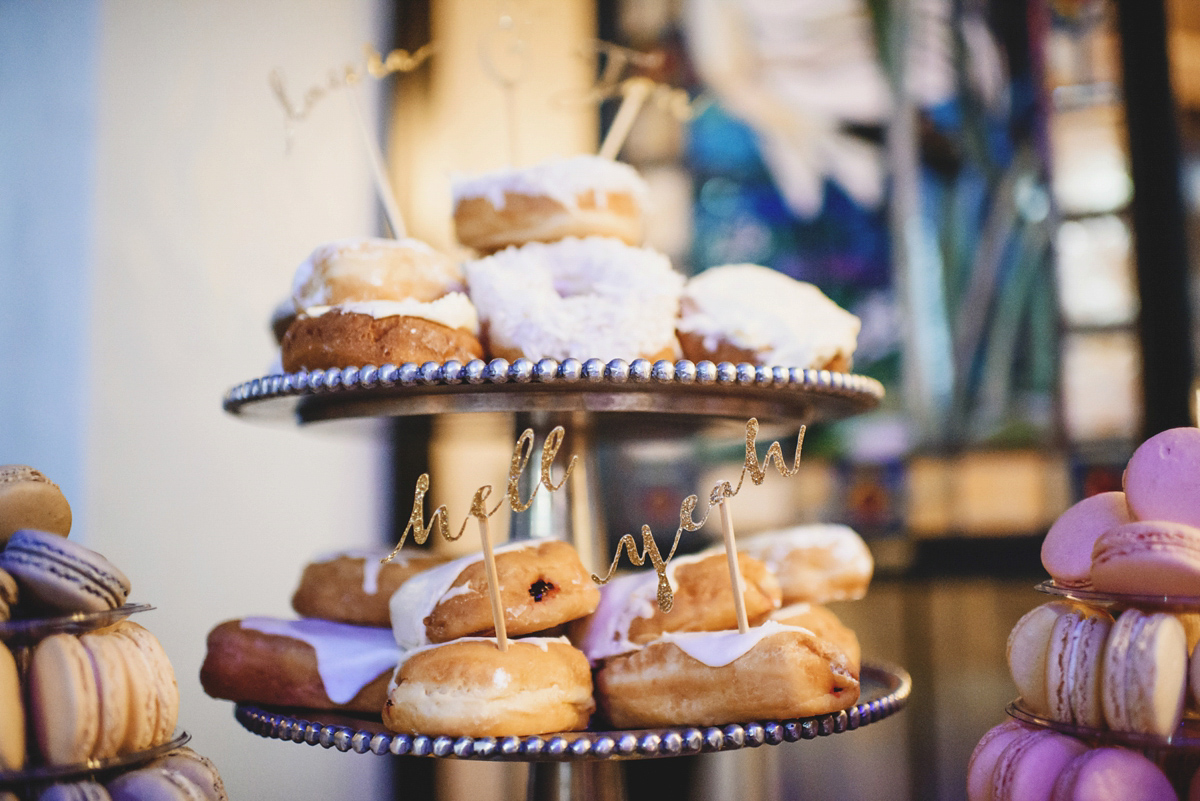 "I loved all of it, every moment. I loved feeling nervous and anxious in the morning, buzzing around trying to get ready and writing notes to Jon and my parents  I loved seeing Jon for the first time and getting to spend a moment to ourselves before all of our guests arrived. I loved our short little ceremony and bawling my eyes out during the vows. I loved our warm, sunny cocktail hour in the garden, and eating dinner outside on the terrace."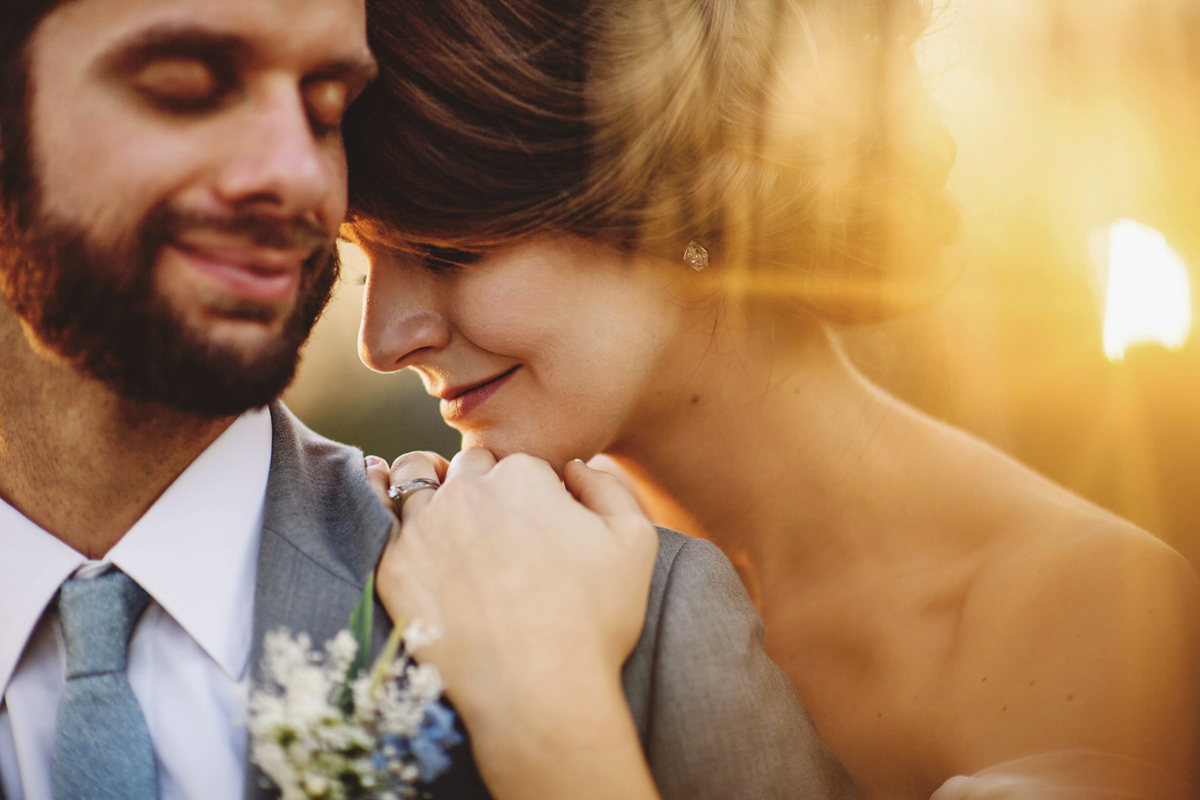 "I loved twirling in the light for photos during golden hour, and dancing the night away at the reception with all of the loud and crazy energy that we and our friends had inside. I remember I snuck outside by myself toward the end of the night and looked at the mansion from a distance, and the big bright moon, and thought about this crazy day that we had planned for over a year that had gone by in a whirlwind."
"I love what you ladies are doing so much more than any other wedding blog. The fact that you ask for real, emotional moments in your photo submissions and that you really delve into the meaning of your couples' wedding inspiration speaks volumes."
Words of Wedded Wisdom
"As a wedding photographer, I'm constantly reiterating the importance of choosing your wedding photographer with care. Now that I've experienced this for myself, I can honestly say it's so, so true. I loved our wedding day and tried to cling to all the memories of celebrating with our dear guests, but it fades. I can't describe to you how much I treasure the emotions I get looking at our photographs.
The way Ross captured certain things just connects me right back to that moment – the way the air felt warm and the morning was quiet and the breeze was fragrant. I love looking at Jon and our family and friends, and remembering how giddy and joyous we all felt. It makes me wish I could transport back to that day.
Choose a photographer whose work you absolutely love and whom you connect with on a personal level. The relationship makes all the difference – if you're comfortable with your photographer being around you on your wedding day, they will feel like a guest or friend rather than paparazzi, and will make it easier for them to capture natural moments and open, candid emotions.
One last piece of advice: don't sweat the small stuff. Embrace it for what it is – how you will feel about your wedding both on the day and afterwards depends entirely on what you make of it. Dance in the rain! Let things run behind schedule! Forget to wear your veil! You're marrying the person you care about more than anything else in the world, and that's what really matters."
Oh Laura, you're so wise! I wholeheartedly second this wonderful advice and want to extend a huge thank you to both Laura and Jon for sharing their beautiful day with us. Last and by no means least, a very big thanks to Ross Harvey Photography for these sublime images, so full of love and redolent with the joy of sunny spring days to come.
With love,
Em x