In November 2010 I did something I hadn't done for over 20 years. I headed to the local park in Barnes, London on a chilly Saturday night with my flatmate … for Bonfire Night! Now, this may sound a little strange to you all, but hailing from Australia where this celebration had been banned since I was a kid meant that I was just a little bit excited (cue an enormous amount of screeching at first sight of the magnificent bonfire burning so high and bright before my eyes). So I can see why the bride and groom featured here were keen to hold their wedding on the party night of nights. On the 5th of November 2016, Persephone and James married at the Council Chamber at Islington Town Hall with an intimate ceremony, then continued onto The Prince Albert pub in Camden, London to begin their celebrations.
"We wanted our wedding to be a reflection of how we like to spend our time with friends and family – we love to eat, drink, and party – and that was the aim for the wedding day. It felt like an amazing night out, with the bonus that the pub was packed with just our favourite people. Everything flowed very simply from that point: red is my favourite colour, and it suited the season, so it was an easy decision to put the bridesmaids in red, and then we kept everything else quite simple with golds, blacks and whites."
Photography by Joanne Crawford
Persephone donned the most fabulous short and sequinned dress from J. Crew and was the first – and only – wedding dress she tried on.
"I knew a traditional full length gown would never be my style and I always wanted something with a bit of sparkle – so when I came across this online and they only had one left in my size I took a chance and ordered it online (maybe less of a risk than sounds since J. Crew have a 90-day return policy!). It arrived from the US within a week, and even trying it on in our bathroom hidden away from my fiancé just before Christmas, I knew I had found my dress. I still felt like me, but just an extra special version of myself. Several frantic Whatapps and pictures to my mum and bridesmaids later, I knew it was a keeper and then just had to keep it hidden away for 10 months."
The beautiful blooms were ordered online from Great British Florist and the mix of vibrant reds in Persephone's bouquet look absolutely incredible.
"I loved the idea of using seasonal British blooms, and them just turning up the day before. I wanted very unstructured bouquets with lots of foliage, and asked them to add fresh herbs into mine since I am normally found in the kitchen cooking."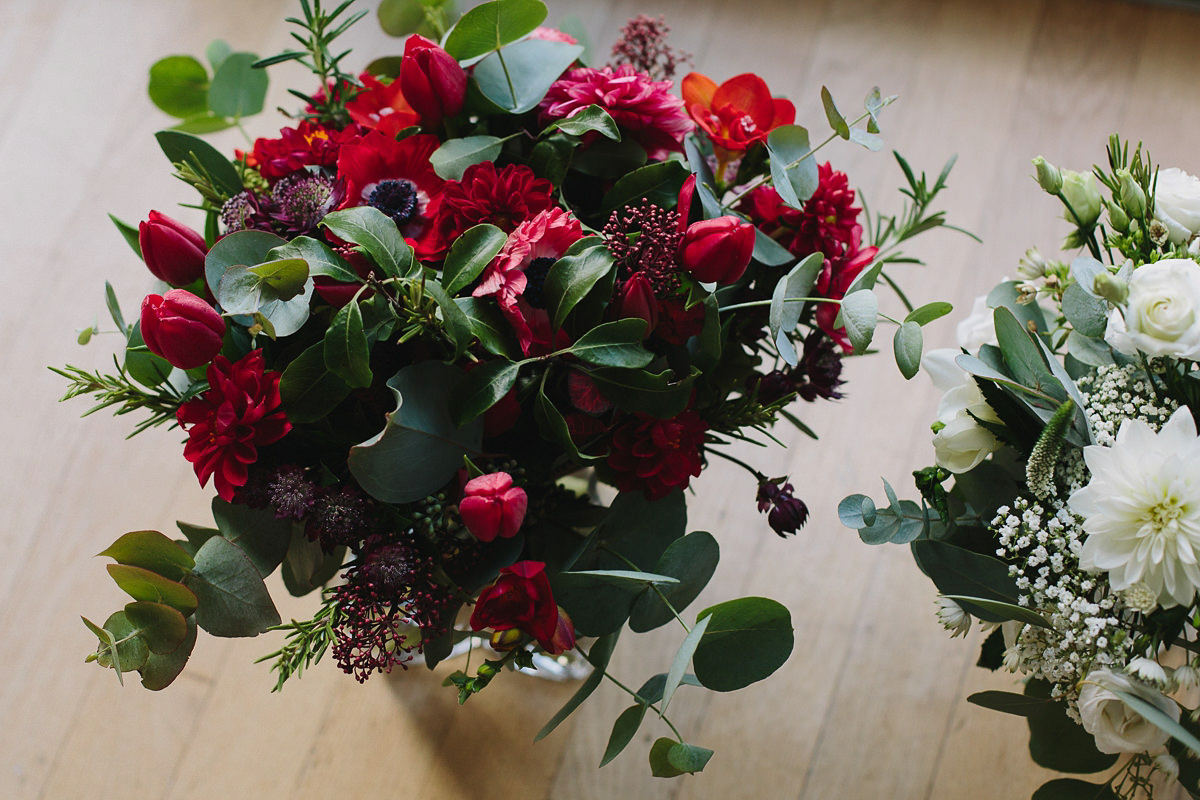 "We kept it simple with white flowers for the bridesmaids and red for me so they contrasted against our dresses."
"Although we didn't get buttonholes, since we were getting married close to Remembrance Sunday a lot of the men were wearing poppies, which ended up matching the poppies in my bouquet."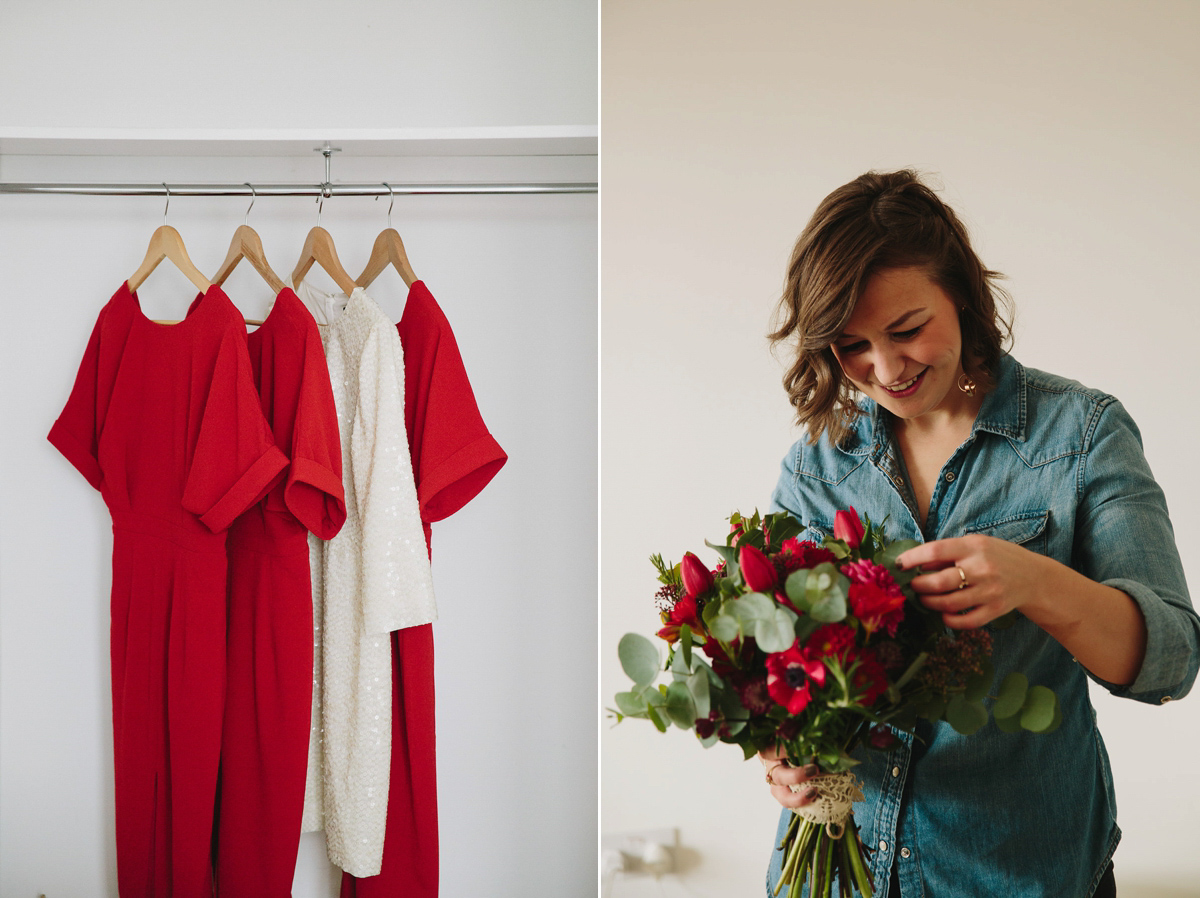 We discuss all things wedding-ey via the private Love My Dress Facebook group; everything from make-up suggestions to how to help our mum's with their wedding attire, and it was this very group who helped Persephone with her beautiful starry hair clip.
"With two weeks to go, I still hadn't found anything for my hair, but another bride from the Love My Dress Facebook group suggested a gold clip from ASOS, covered in stars. It seemed only fitting with our wedding being on bonfire night."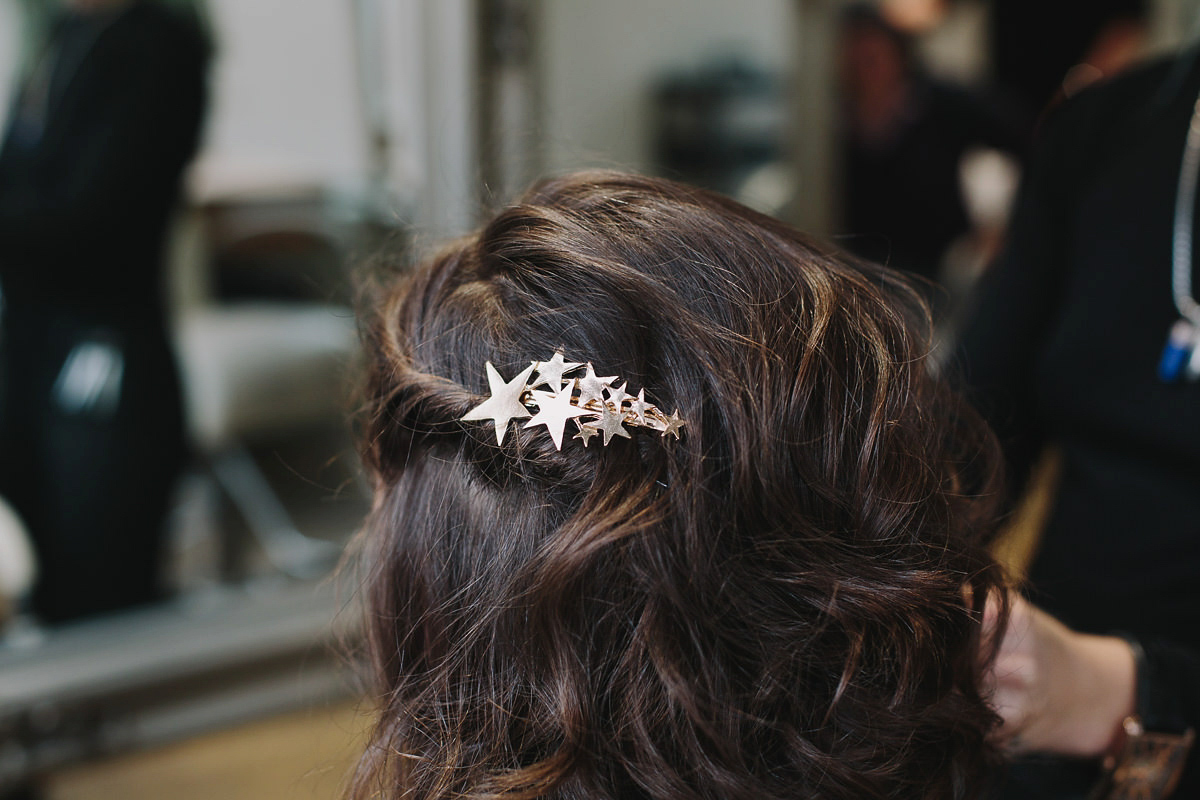 The bride and her beautiful maids had their hair done in loose curls and waves by the team at The Chapel in Islington. Persephone did her own make-up; preparing ahead of the wedding with a Bobbi Brown make-up classes for tips. The maids wore striking red short dresses to complement the bride's gown.
"Since I was in a short dress it seemed logical the bridesmaids were too, so that we didn't look too unbalanced – thank goodness they were willing to brave bare legs in November! We managed to find these wiggle dresses from ASOS which were very budget friendly, but suited them all so well. The girls each wore necklaces they already owned, and I gave them each a plain gold bangle on the morning of the wedding as a thank you gift."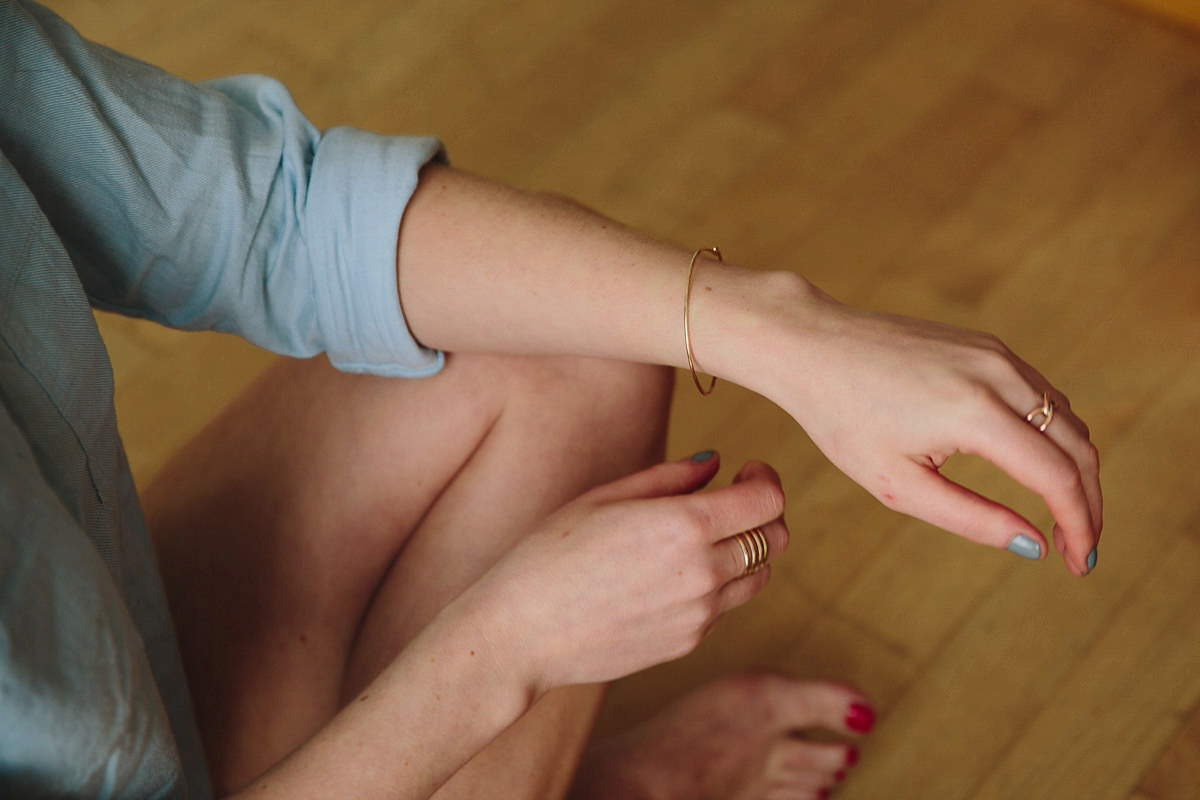 "Given I was in a short dress, I wanted a bit of oomph to elongate my legs, so went for a very high pair of plain court shoes from Faith. Perhaps unsurprisingly, I switched to a pair of white Converse that James bought me especially halfway through the meal, as my feet couldn't take it any more!"
 To finish off her gorgeous look, the bride added a spritz of 'Mimosa and Cardamom' by Jo Malone perfume, a watch given to her by her mum for her 21st birthday and a pair of simple gold drop earrings from Marks & Spencer.
"We had actually known each other for 10 years before our wedding (from the time I dated one of his school friends) but only got together 5 years ago; in the summer before we both went back to university for our final year."
"We were engaged almost exactly a year before getting married – James proposed on the 13 November 2015 by the sea in Padstow, Cornwall, and so we were married exactly 51 weeks later." 
The couple chose plain and simple wedding bands that would still look classic many years down the line. I love this heartfelt gesture by the bride's dad of the addition made to his suit for the special day.
"My dad had a suit specially made for the day and when he arrived to pick me out it turns out he had asked them to embroider the date and our names into his collar. Dad walked me down the aisle (although I was keen to point out to anyone who listened that he wasn't actually giving me away) to the orchestral version of Sigur Ros' 'Hoppipolla'."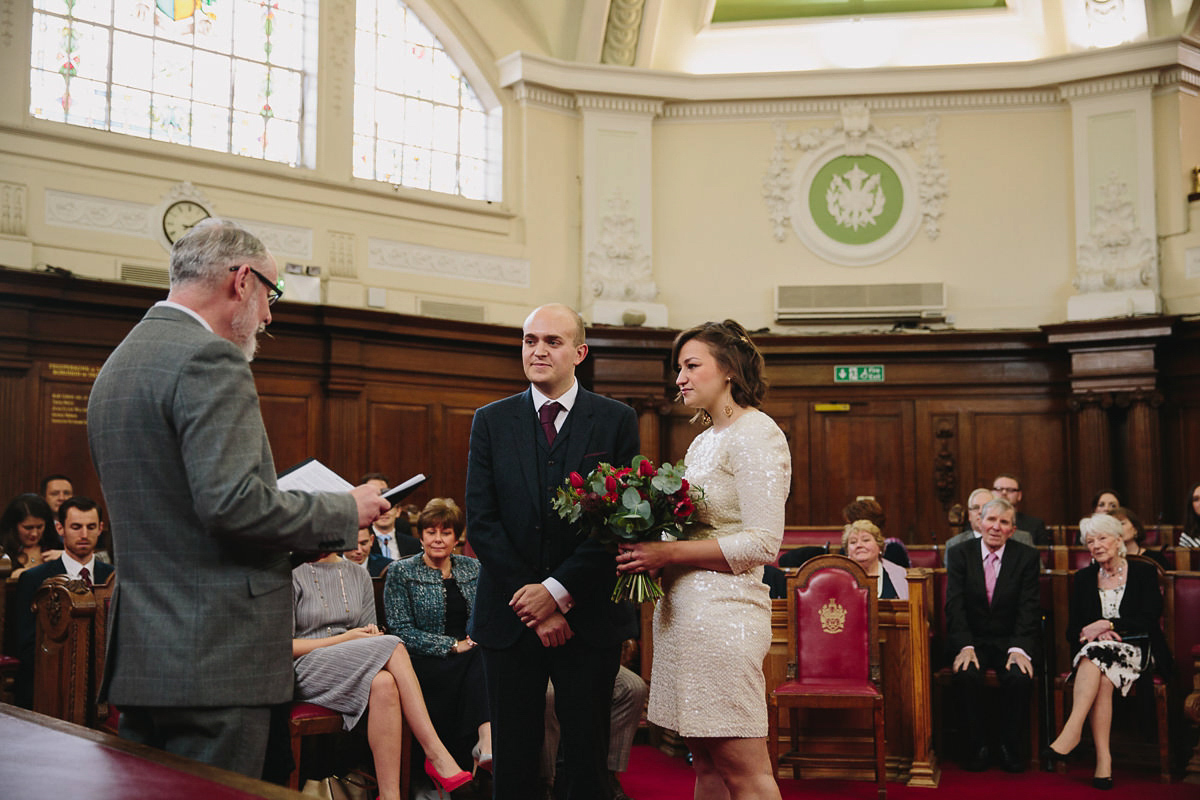 "James and I had a spent long weekend in Iceland about 18 months ago and this is one of the songs we both really remember listening to whilst driving around those incredible landscapes."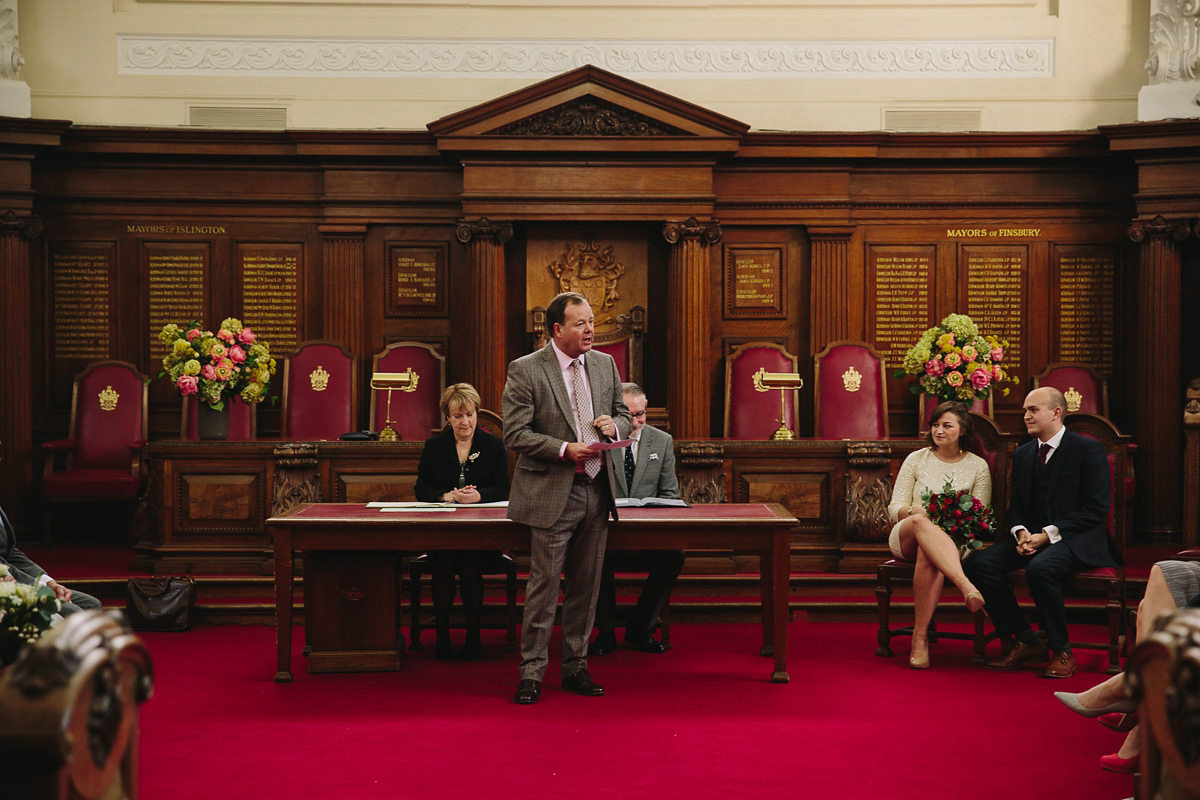 "We had two readings – one from Captain Correlli's Mandolin which is one of my favourite novels, read by one of my friends, and then James' dad read 'He's Not Perfect' by Bob Marley. The Bob Marley one in particular seemed especially fitting as we loved the sentiment that 'Because perfect guys don't exist, but there's always one guy that is perfect for you.'"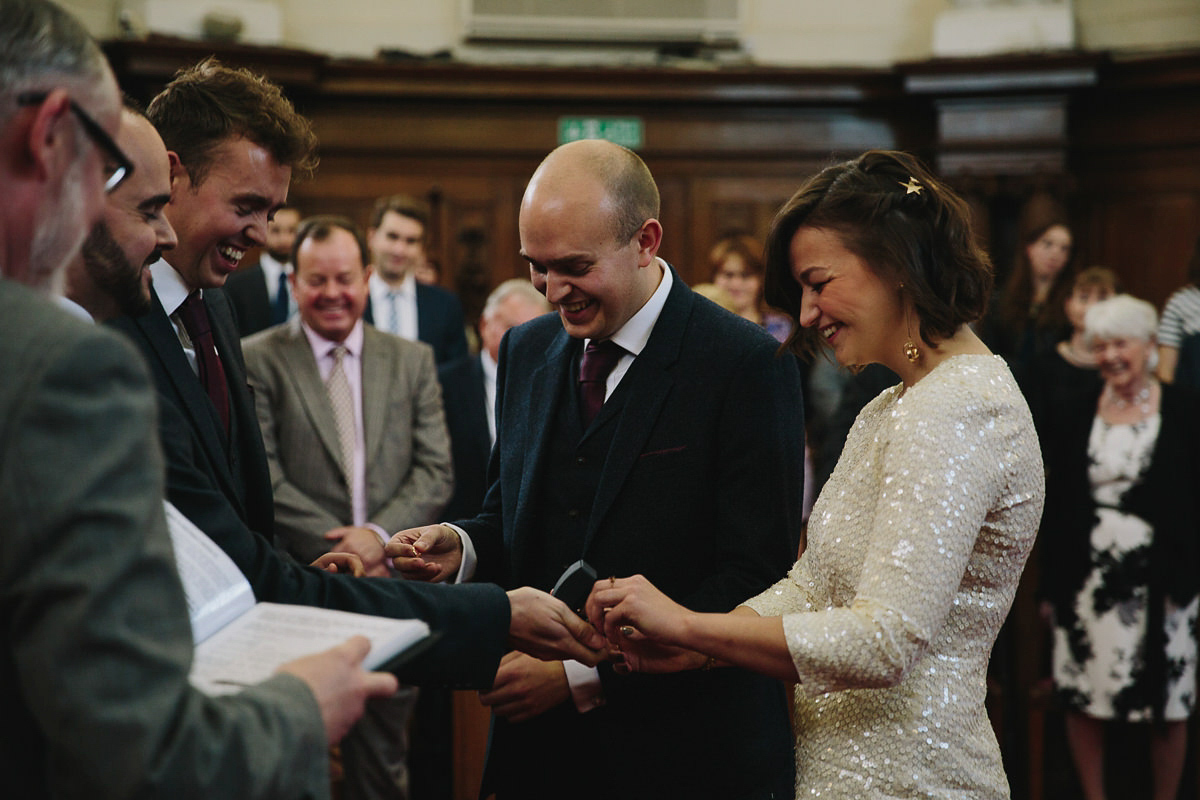 "After trying on more suits than I did dresses, James went for a simple navy blue wool suit from John Lewis, with a matching waistcoat underneath. Although I have never been a huge fan of waistcoasts, on the day I did eventually admit it was the right choice."
"There were so many favourite moments! It's hard to pick out just one, but the moment when we came out of the Council Chamber and just looked at each and realised we were officially married was so special. Our photographer Jo grabbed us for some very quick portraits just off to one side at that point and we both just look so happy in them."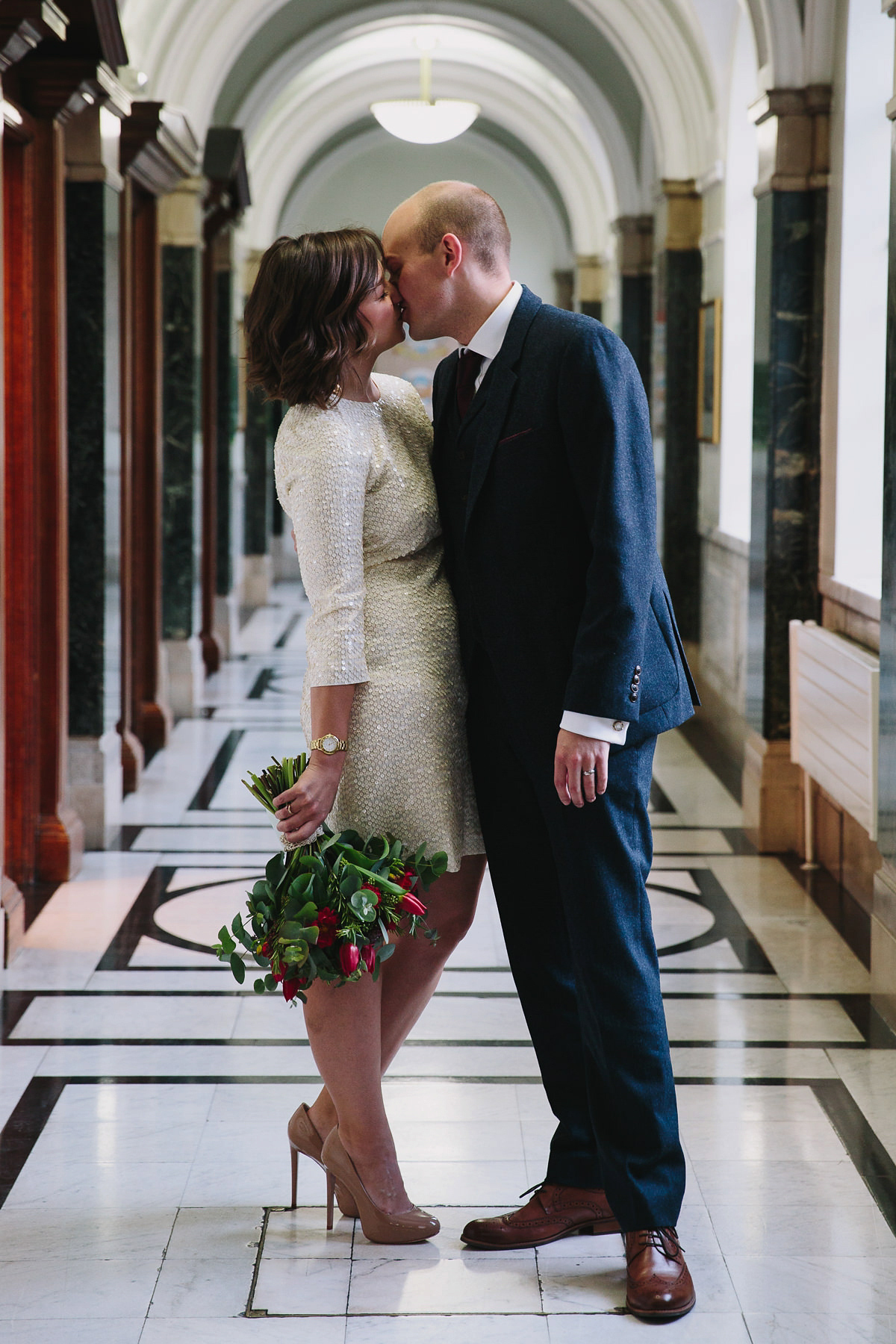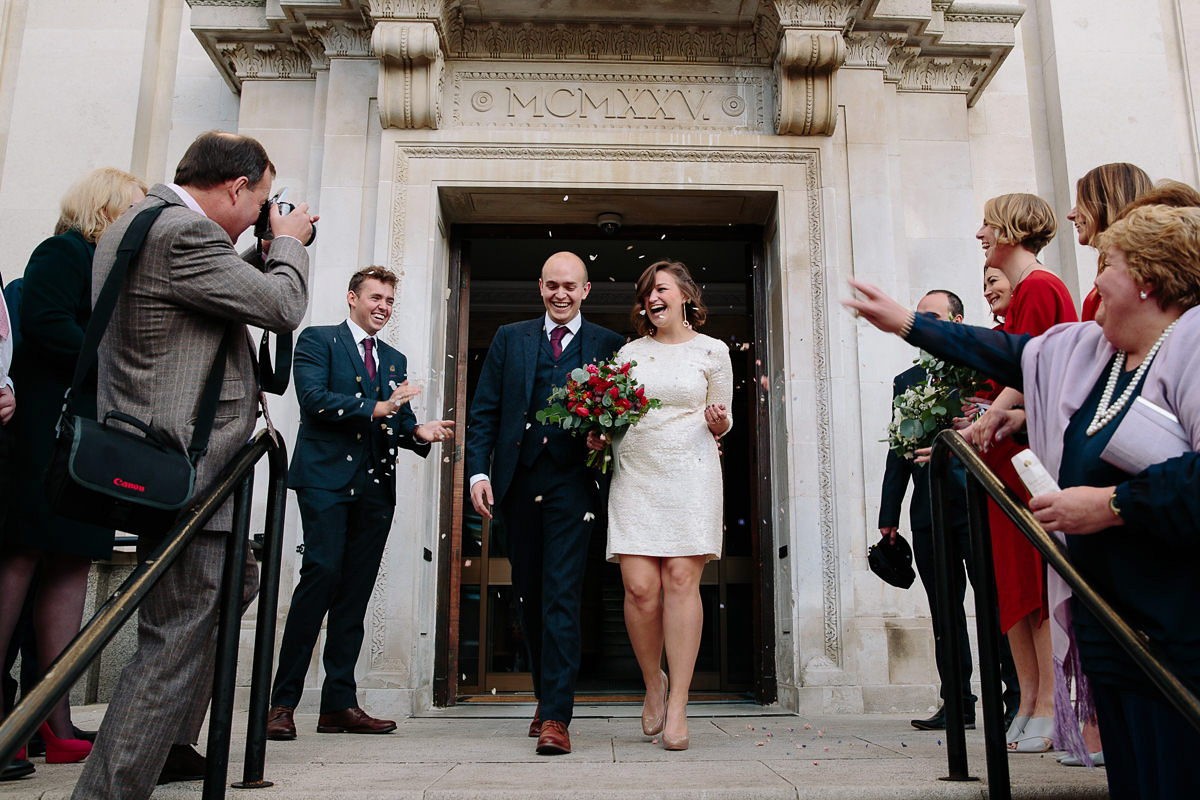 "James went for a classic pair of brown brogues from Dune to contrast with this suit. We managed to find very similar suits to James for the best men but from Next, which meant they were able to keep them afterwards. They then all wore match ties and pocket squares in burgundy."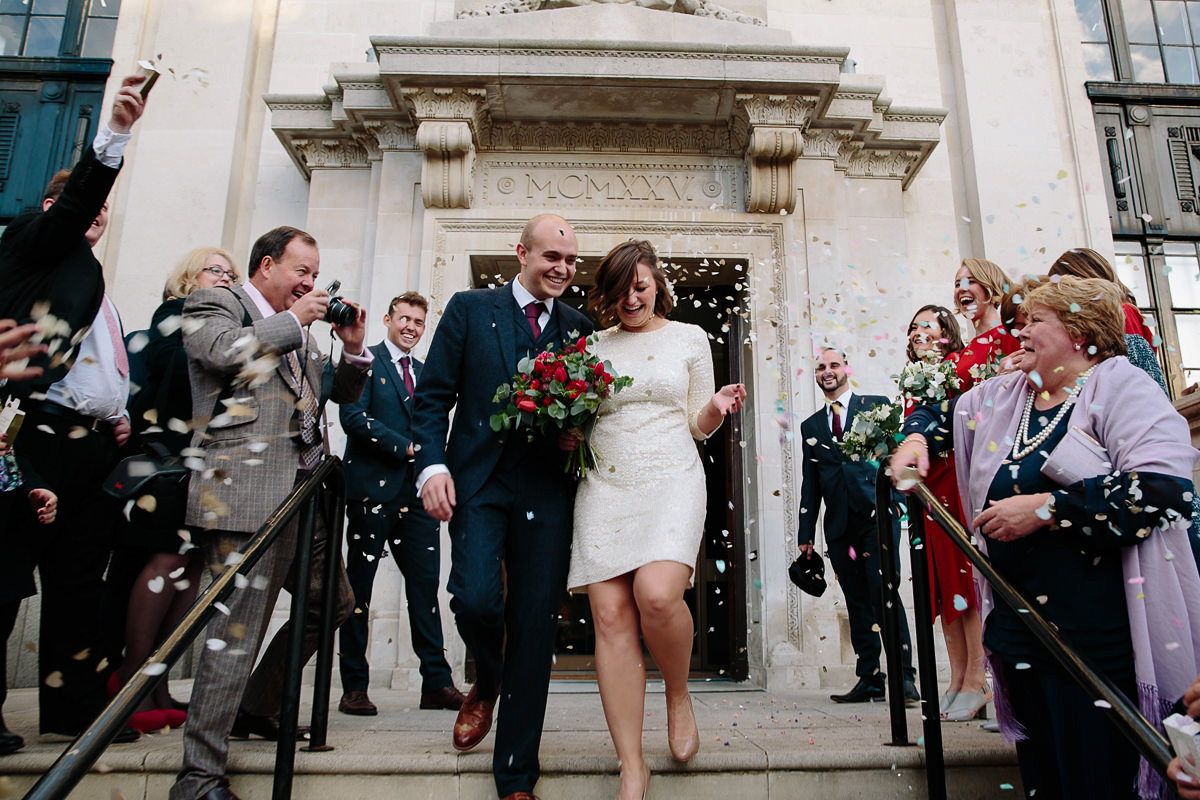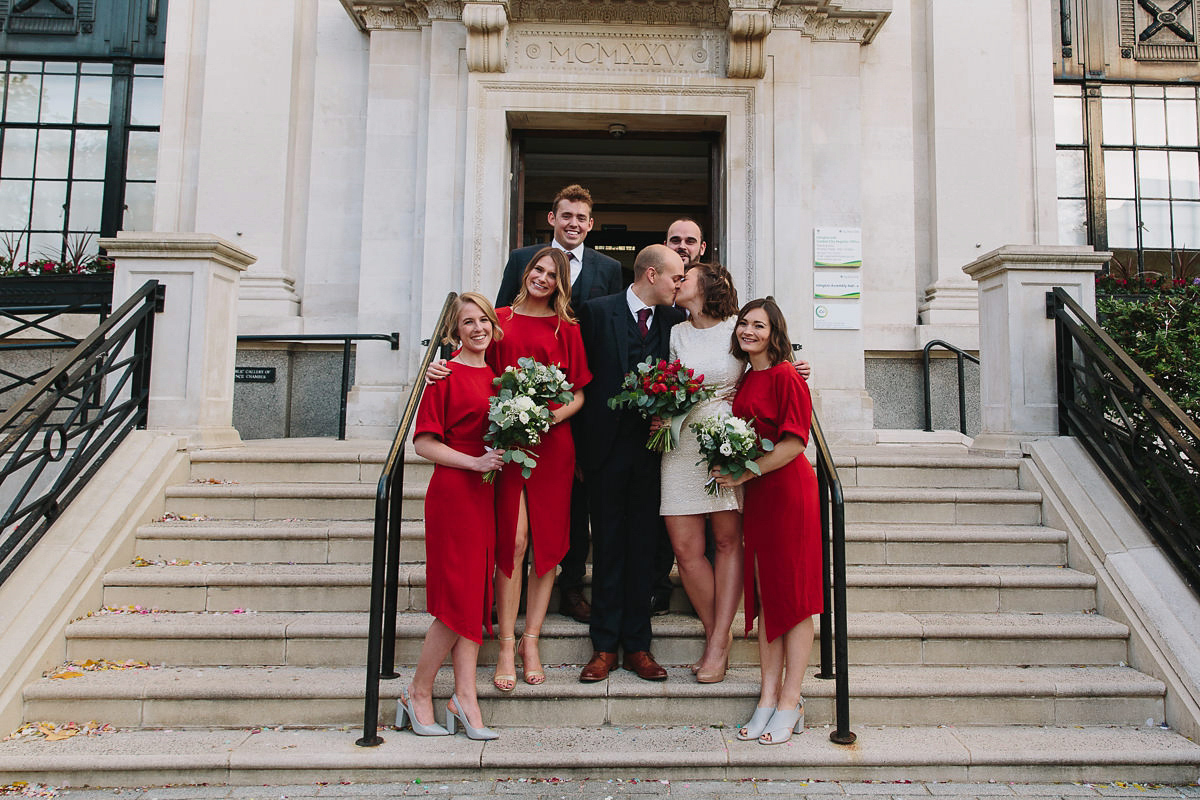 The couple hired a classic red Routemaster bus from This Bus for all of their friends and family to transport them from the town hall to the pub – and then utilised this time for some special newlywed moments.
"We used the travel time to sneak off on our own which was perfect – it meant we could soak in the 'just married' feeling and briefly get some quick portraits done with Jo while all our guests were unloading themselves off the bus at the pub."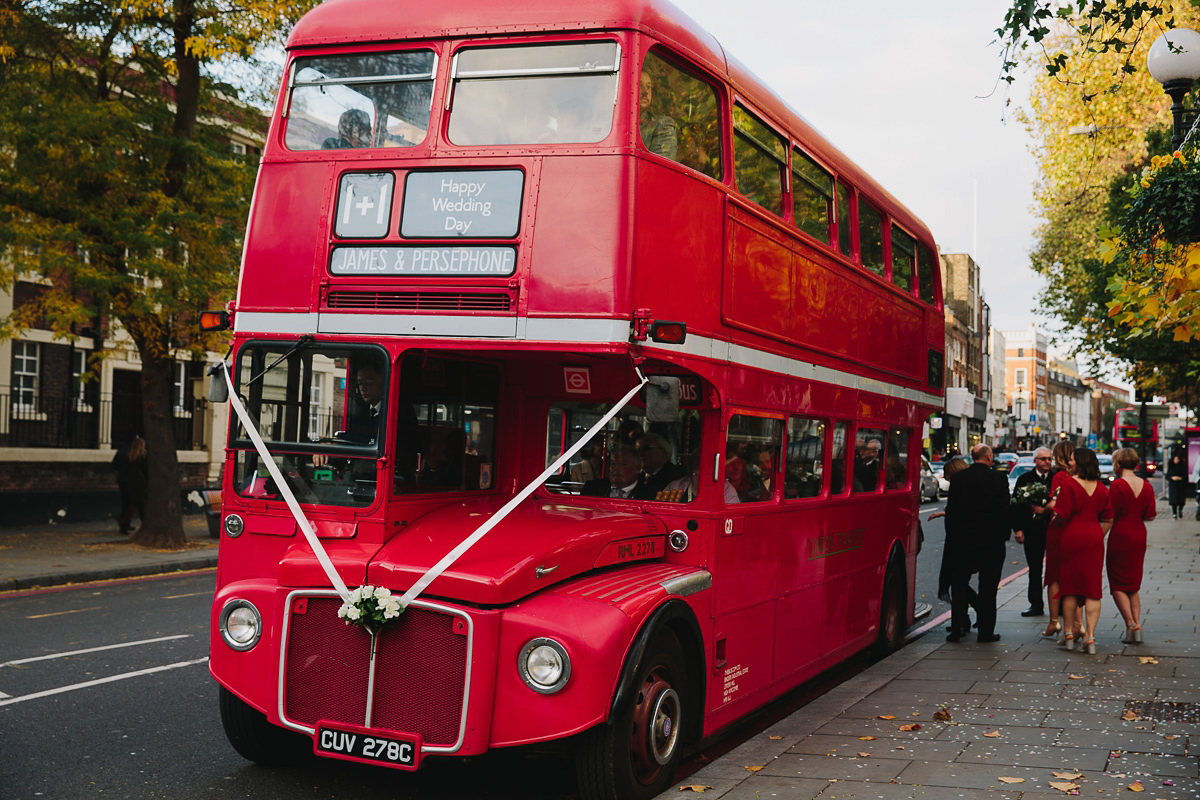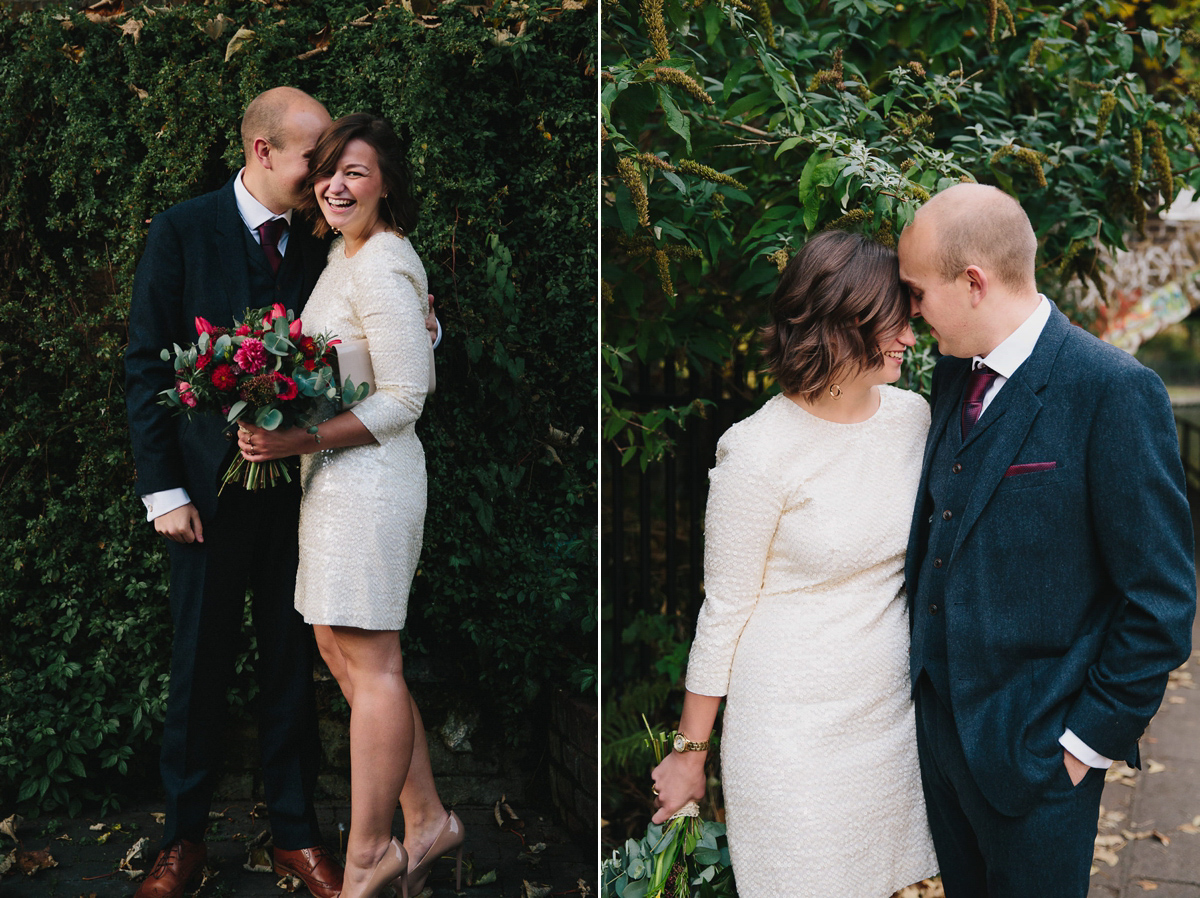 Photographer Joanne Crawford captured some beautifully relaxed images of Persephone and James and they were so happy with the results.
"Jo was the perfect choice for our wedding day – we both loved her colourful photos and informal approach, and she blended in seamlessly into the background on our wedding day meaning she was able to capture lots of the little moments that would have otherwise gone unnoticed."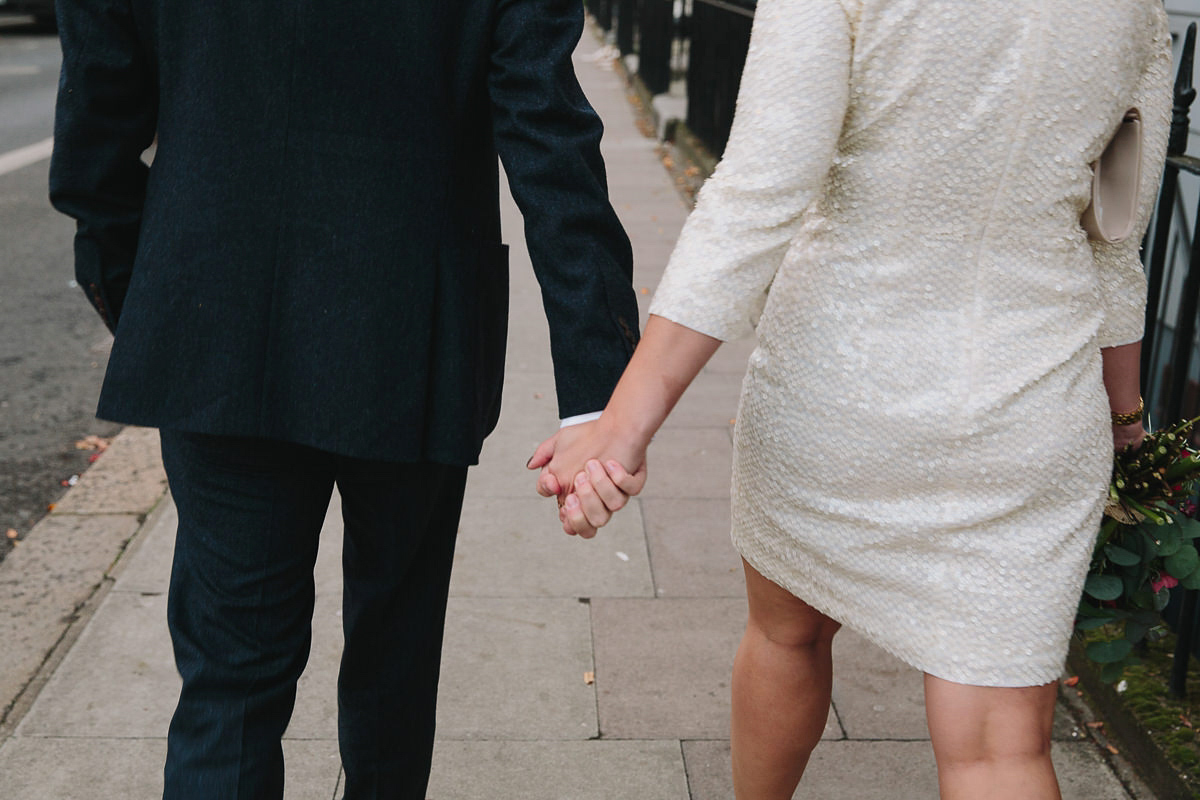 "Given we were getting married at 3pm in November we really appreciated Jo's attitude of just making the best of whatever light and weather came our way on the day – we had spoken to a few other photographers initially who tried to tell us our wedding should be at 12pm! Fortunately, we had a beautifully clear day for our wedding and still managed to sneak in quite a few portraits just before the sun went down."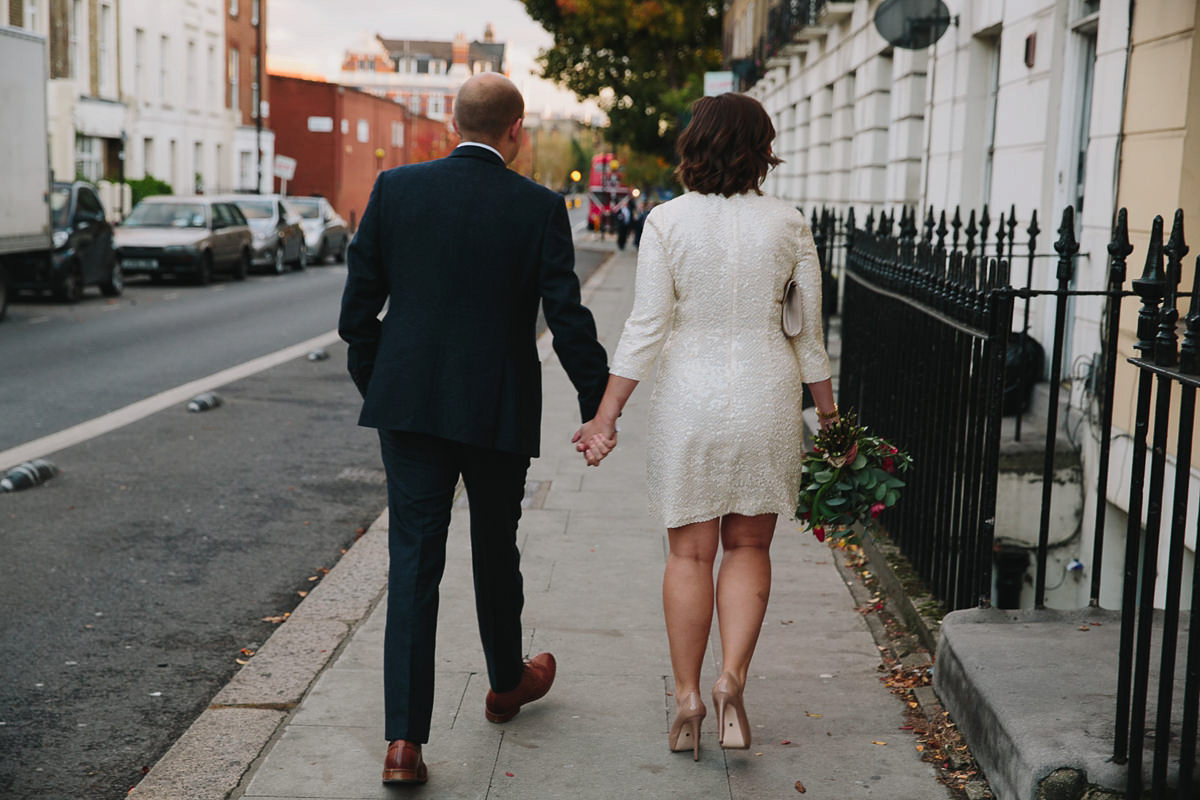 The Prince Albert venue provided the party vibe and relaxed style the couple were after for their celebrations – and also didn't require much additional decor.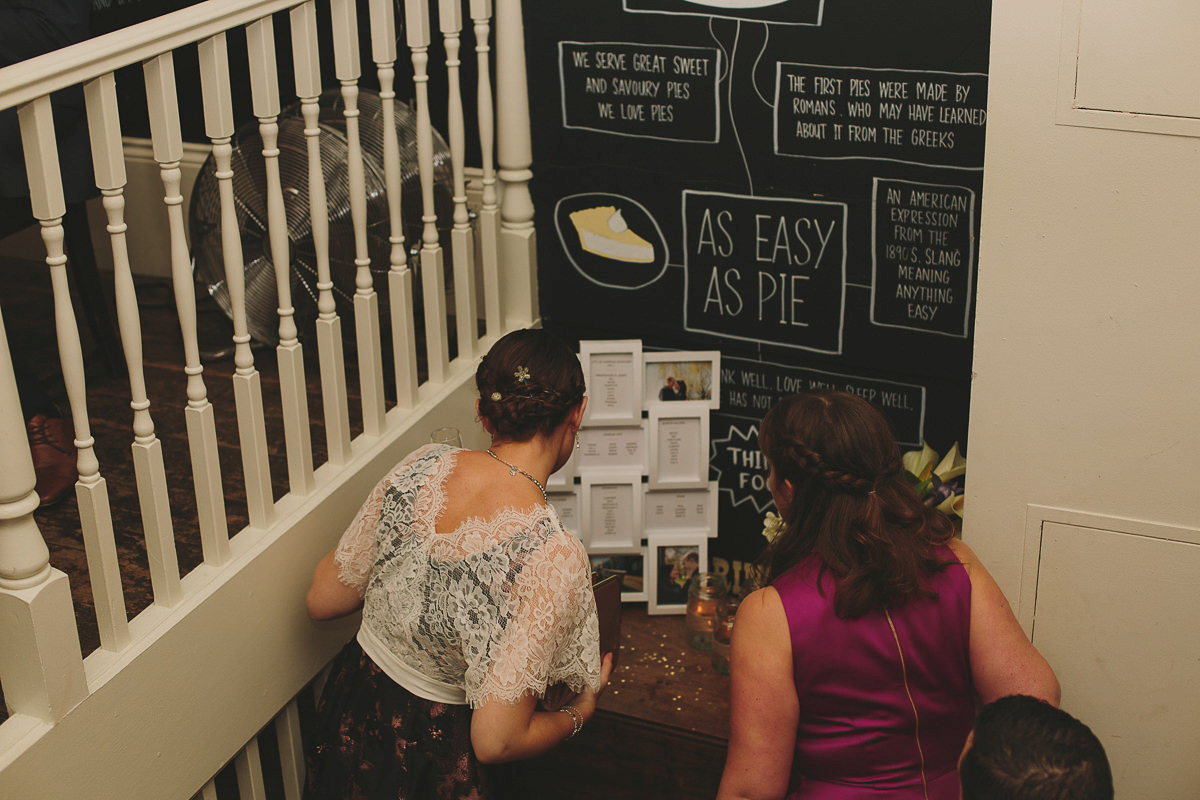 How utterly delectable does their wedding cake – a tower of chocolate brownie's – look?
"James actually proposed with a Pret chocolate brownie as I'd always said I wanted to be able to choose my own ring, so the obvious choice for our wedding cake was a giant tower of brownies which two of our talented friends made for us. Despite the fact they both claim to have now been put off making brownies for life, it was the most delicious thing to tuck into in the evening! Another family friend also made us a chocolate cake (notice a theme?) for us to cut into."
"The team at the pub were so relaxed and friendly, their food is incredible (and well portioned!), and as the pub is split over two floors the party flowed very easily – canapés and arrival drinks were downstairs, we went upstairs for the meal and could then come back downstairs for more drinks and to dance the night away."
"I am admittedly not one for details, so for me it was a bonus that the pub was so quirky in its own way – the big food mural wall upstairs was part of the appeal, plus all the hanging lights downstairs."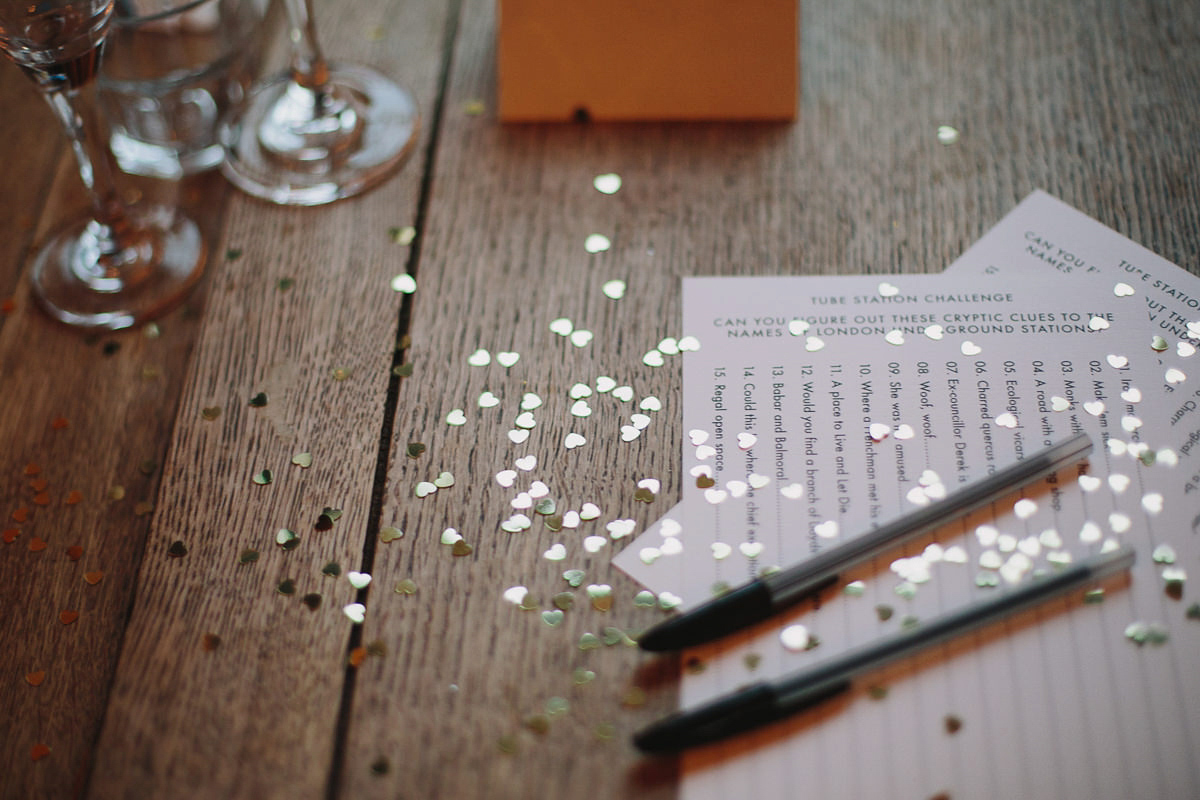 "As we knew we had a great looking venue, it meant I spent very little time or energy worrying about how would look on the day as all the pieces were already there. We are both big fans of gin so we spent an enjoyable 12 months working our way through all sorts of delicious gins and were then able to use the empty bottles as both our centrepieces and as the tablenames. Between some simple table confetti and lots of candlelight, that was all we needed to make the pub look perfect."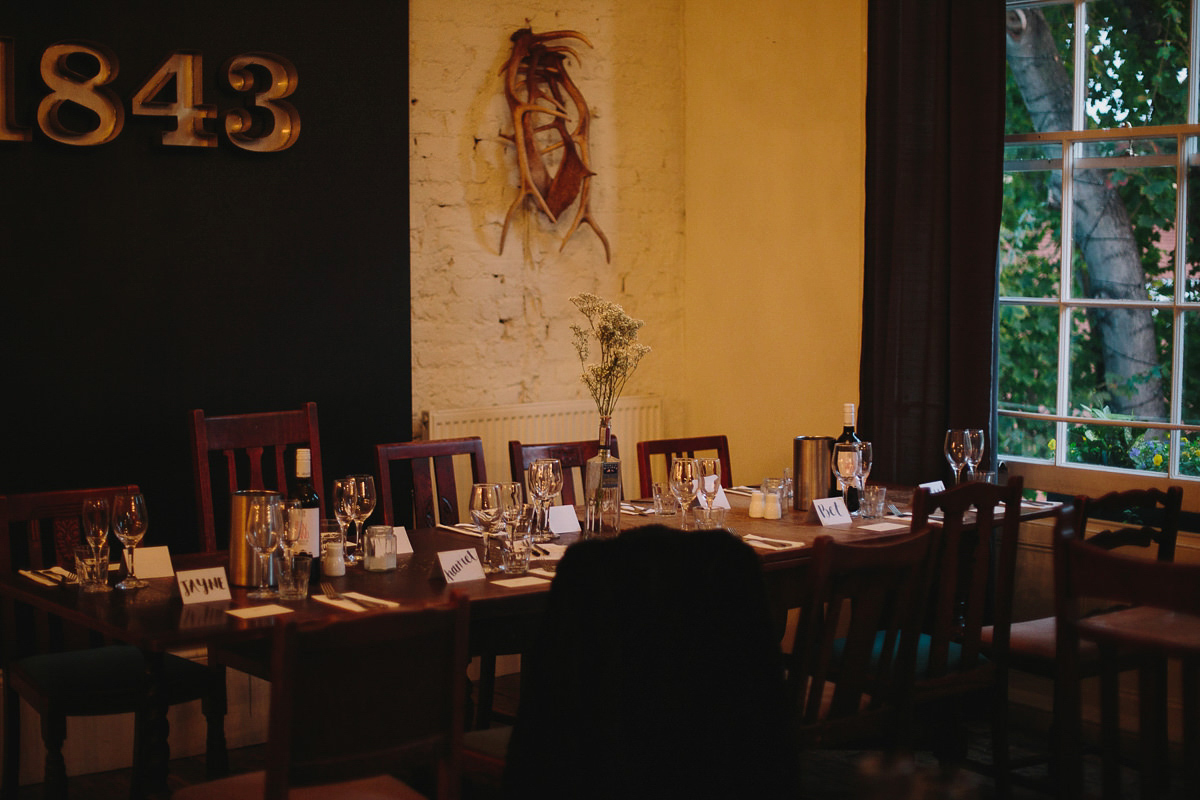 "Two of our designer friends created very simple black and white invites and save the dates, and another friend hand-lettered all our place-names. All 75 of them were slightly different and they made a nice keepsake for a lot of our guests who loved them so much they took them away afterwards."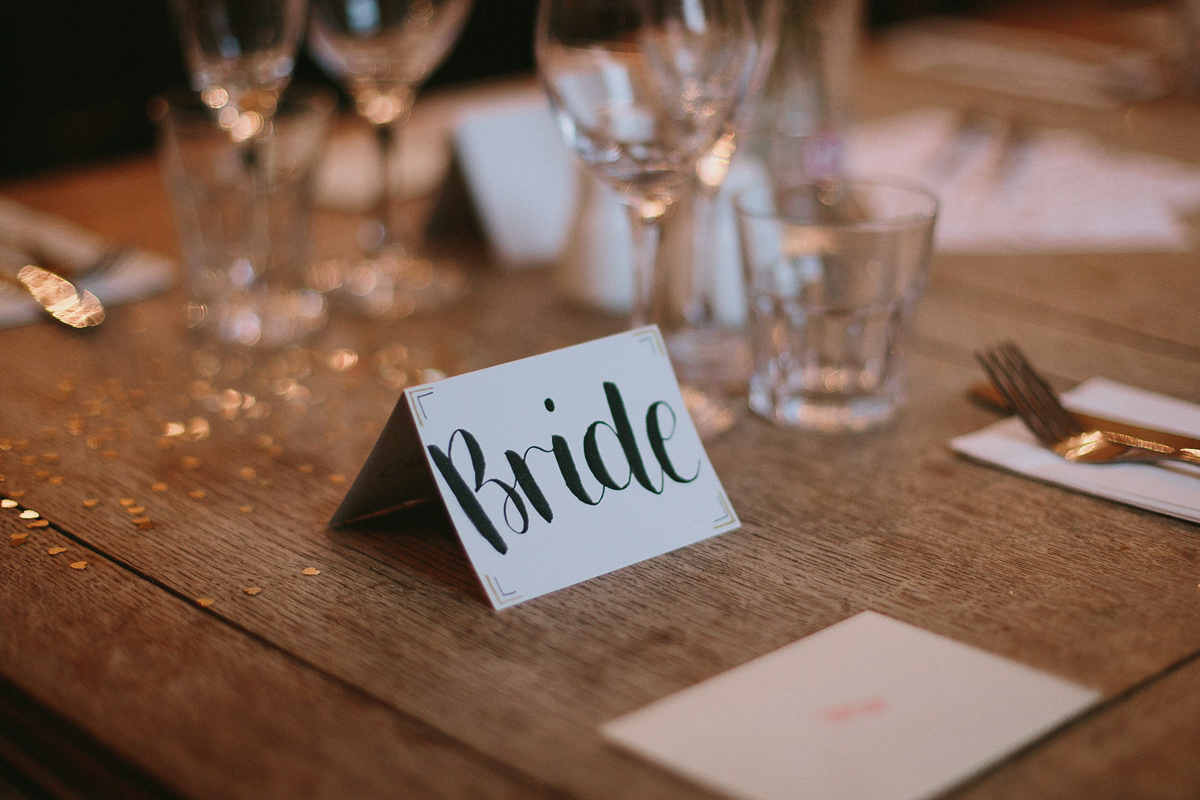 "Our favours were lottery scratchcards that we popped into plain envelopes with our wedding hashtag stamped on them. Sadly we didn't have many winners but it definitely added to the atmosphere on the evening. We also included a cryptic London tube quiz on each table to keep our guests entertained at the tables while they waited for the food. It must have been a hit because we kept getting texts the next day asking for the answers to clues they hadn't been able to figure out!"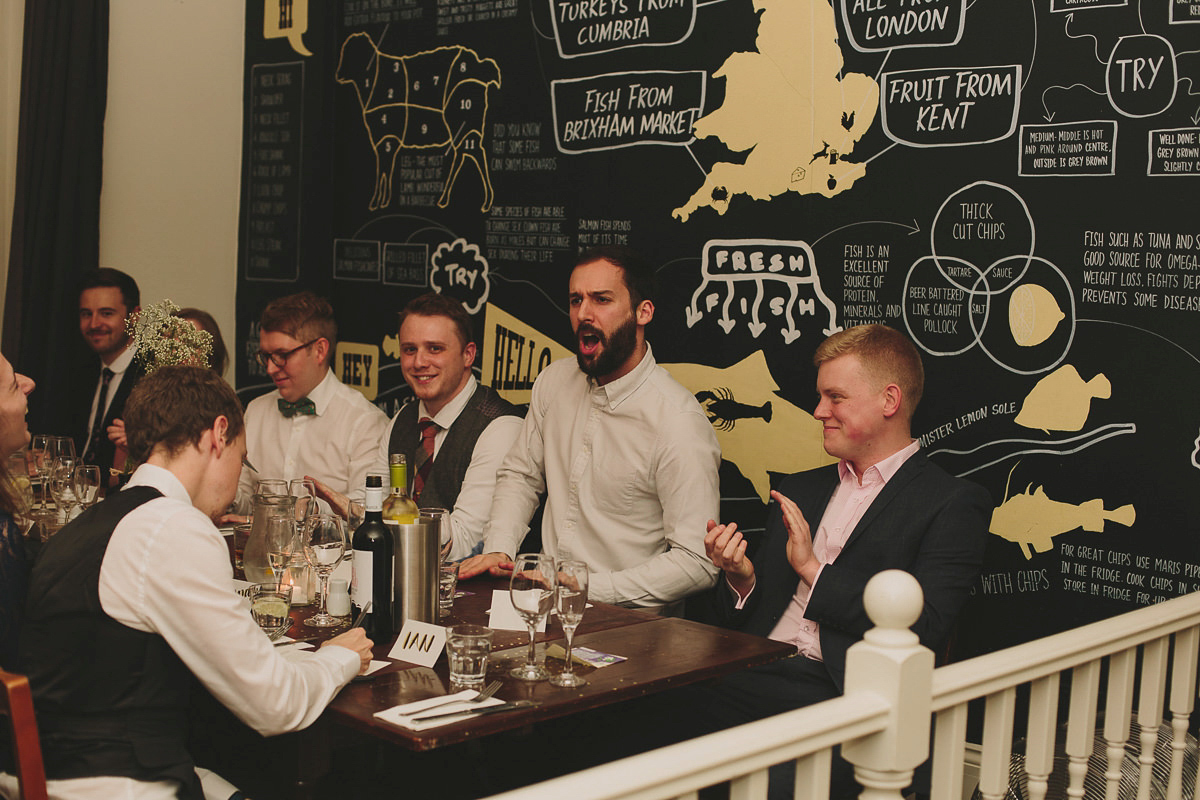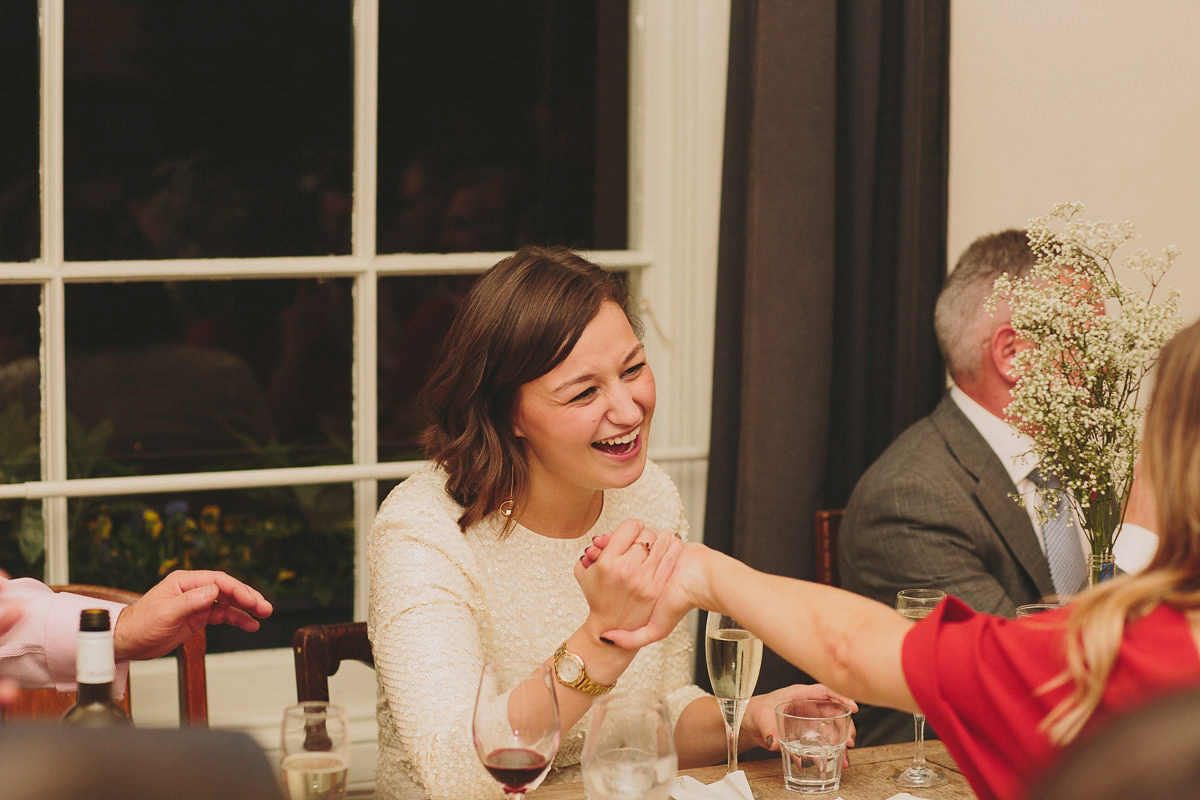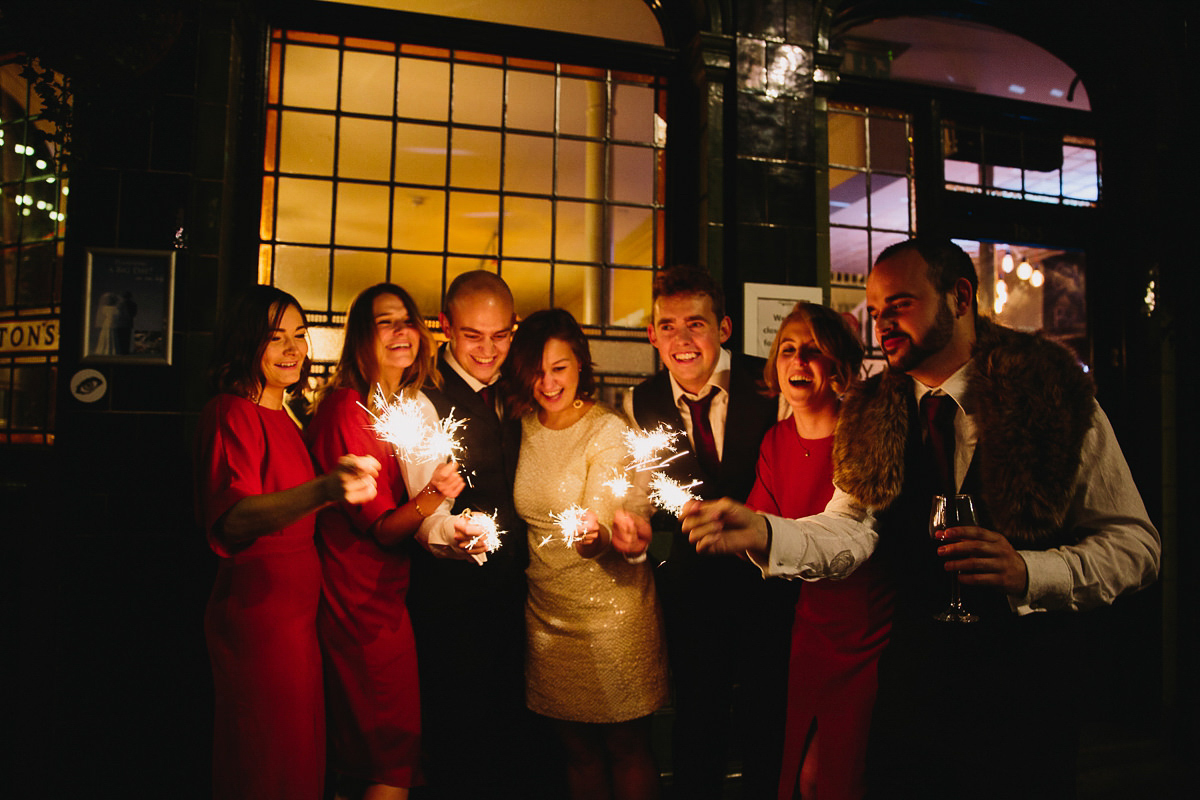 "Our DJ was recommended by a friend as 'a DJ that does weddings, rather than a wedding DJ' – we didn't want anything too cheesy and definitely nothing with a dance routine. Instead had a very eclectic mix with something for everybody, that kept the dance floor packed all evening. Between him and the bar keeping up with many requests for round of tequila, everyone was kept entertained all evening."
"Our first dance was an Arctic Monkey's cover of 'Baby I'm Yours'. It isn't the most obvious choice, but we loved the cover of a 60's classic that sounded a bit more modern in its cover version. It also is under three minutes long, which meant we didn't feel we would be twirling around the dancefloor too long on our own."
Words of Wedded Wisdom
"Trust your instincts. A lot of our friends and family (including my parents) admitted to us afterwards that they hadn't been able to imagine how a wedding in a pub would work, but on the day we couldn't have had it better any other way. We knew that this was the right choice for us, and it was worth sticking to our guns the whole way through.
For both of us it was also completely the right choice to spend the night before the wedding together. As we were getting married quite late in the day, it meant we were able to spend a couple of hours together in the morning grabbing a coffee and being 'normal', but feeling so excited about the whole day that was ahead of us before we then parted ways for brunch – me with my parents and him with his two best men."
Wow. Just wow! Persephone and James, I've so adored sharing your delightful day with our readers. The sparkly dress, the pop of the red bridesmaids gowns and flowers, and the relaxed and happy pub celebrations – it's just right. And a huge thank you to Jo for capturing such lovely images of the big day.
If you're thinking of showing off your pins, see here for more short dress inspo.
Have a productive rest of week lovelies!
Love Jo -xo-