If you're still dreaming of the Easter holiday weekend and wishing you were right back there relaxing (and demolishing a packet of mini eggs), then read on for a little downtime with the simply stunning wedding of Alissa and John, with artistically brilliant images by Joanna Brown Photography. The couple's civil ceremony on the 23rd of April 2016 was held at 'decadently decayed' venue The Asylum in London, followed by a reception at beautiful Brunswick House.
"We wanted everything about our wedding to be as individual to us as possible, and for the day to be something that we would both truly love. There was no particular style, apart from we wanted a balance of kooky, elegant and intimate. The venues and the bride's traditional Thai wedding dress set the tone."
Photography by Joanna Brown
"Our photographer Joanna of Joanna Brown Photography was just wonderful, from our initial chat over Skype and help planning the wedding, to artistically and candidly capturing all of the intimate moments. What I am most grateful to Joanna for is being such a lovely and calming presence in the few hours at home before the ceremony – invaluable."
Alissa's traditional Thai wedding dress was designed and handmade in Bangkok by Jutarat Rattanajun from Na Chart Studio. Alissa – you're an absolutely beautiful bride!
"I think I always knew that I wanted to wear a traditional Thai dress (I am half Thai and half British), though what colour and the exact design I had no idea about until I met Jutarat in Bangkok. Jutarat was absolutely fabulous and made the whole design process easy and fun."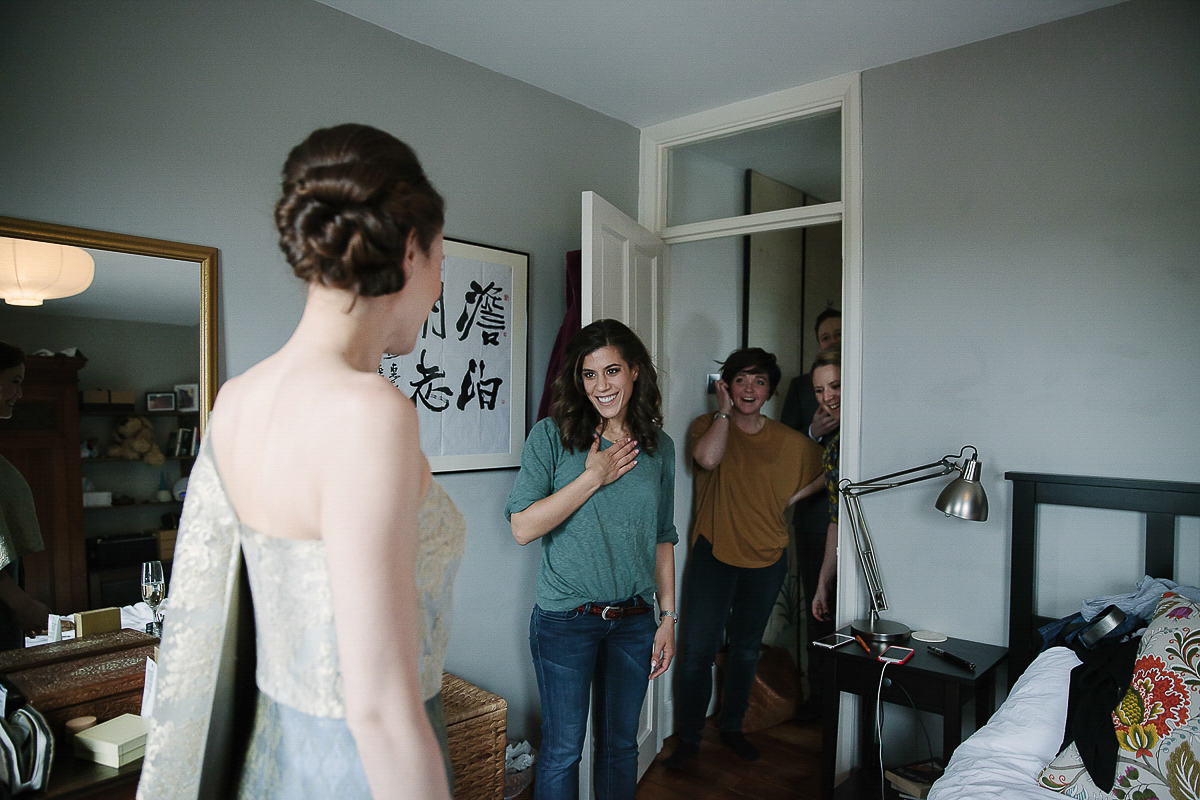 "I loved the hues of the Thai silk and how Jutarat designed the 'sabai' to drag along the floor – homage to the western-style wedding train. The dress made me feel just about grown up enough to get married!"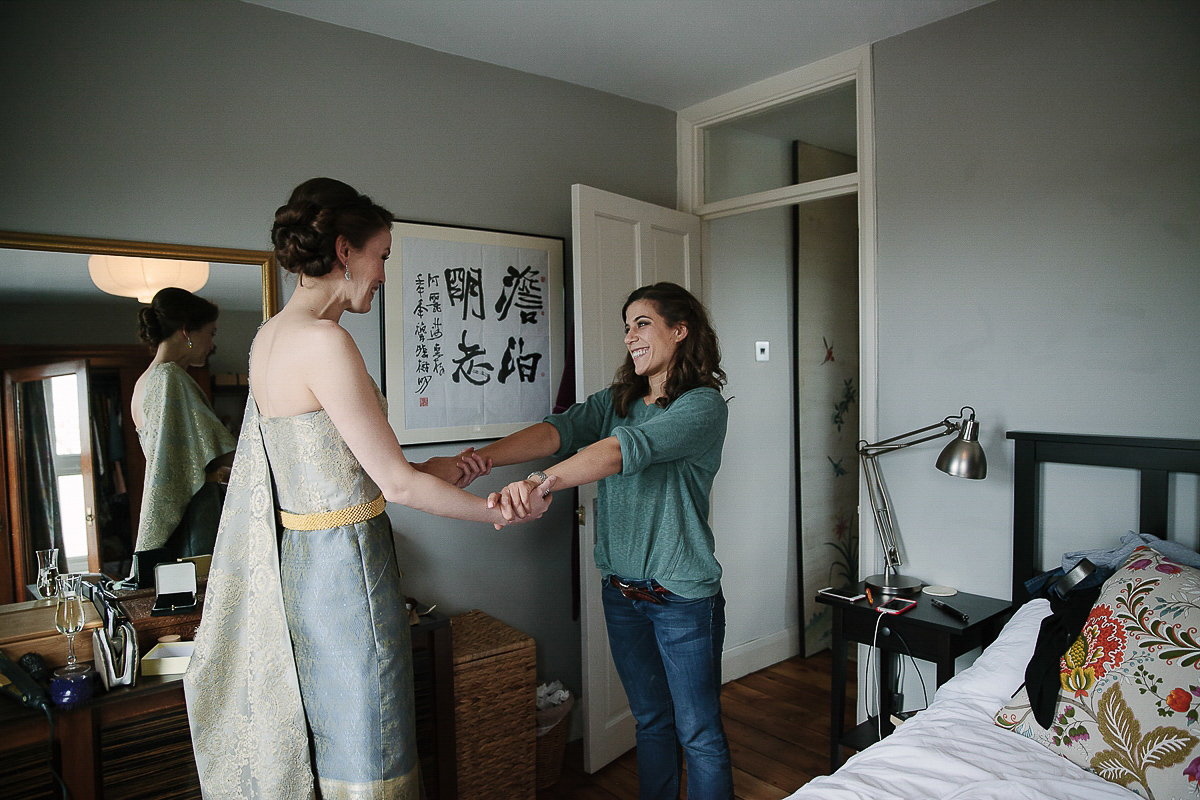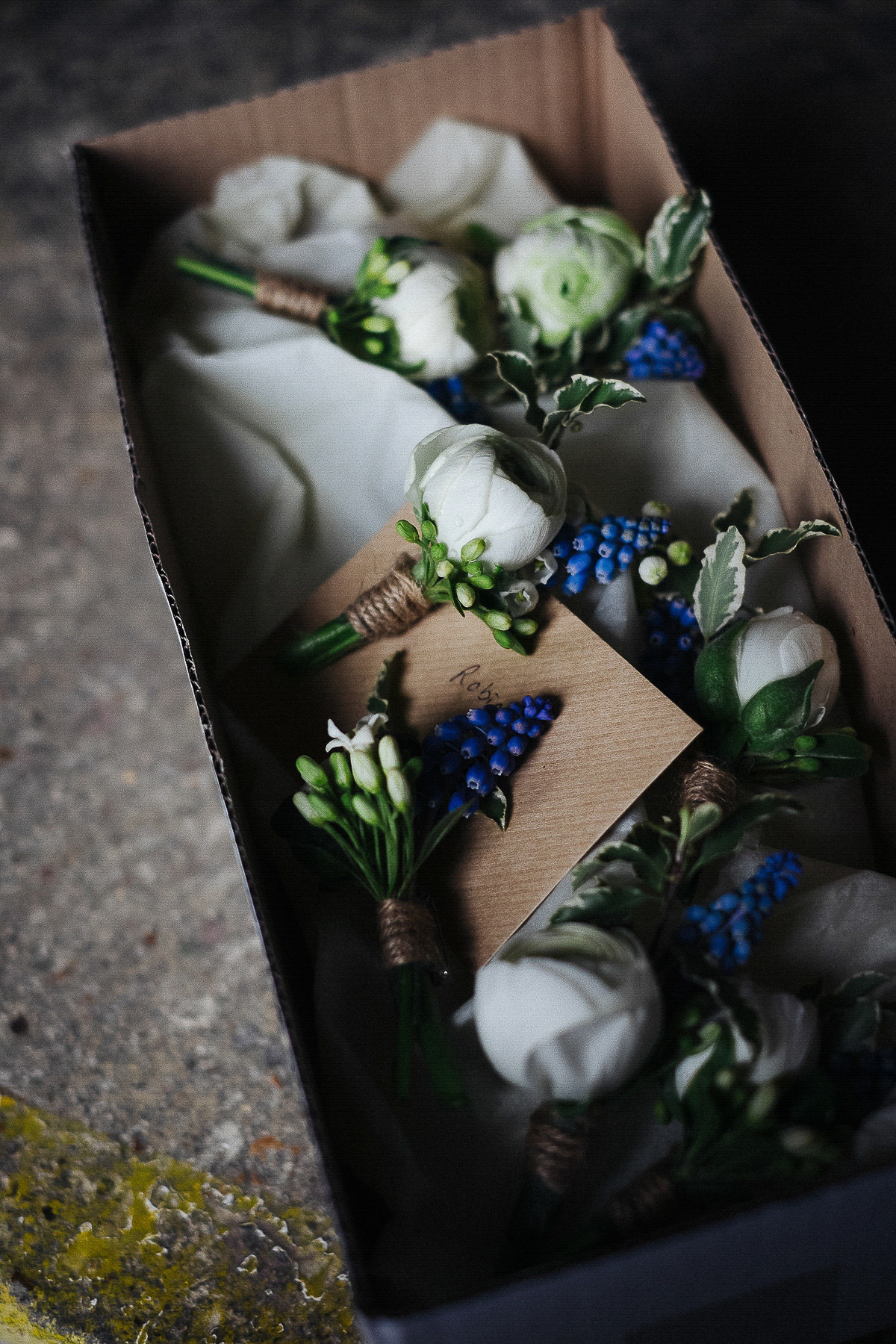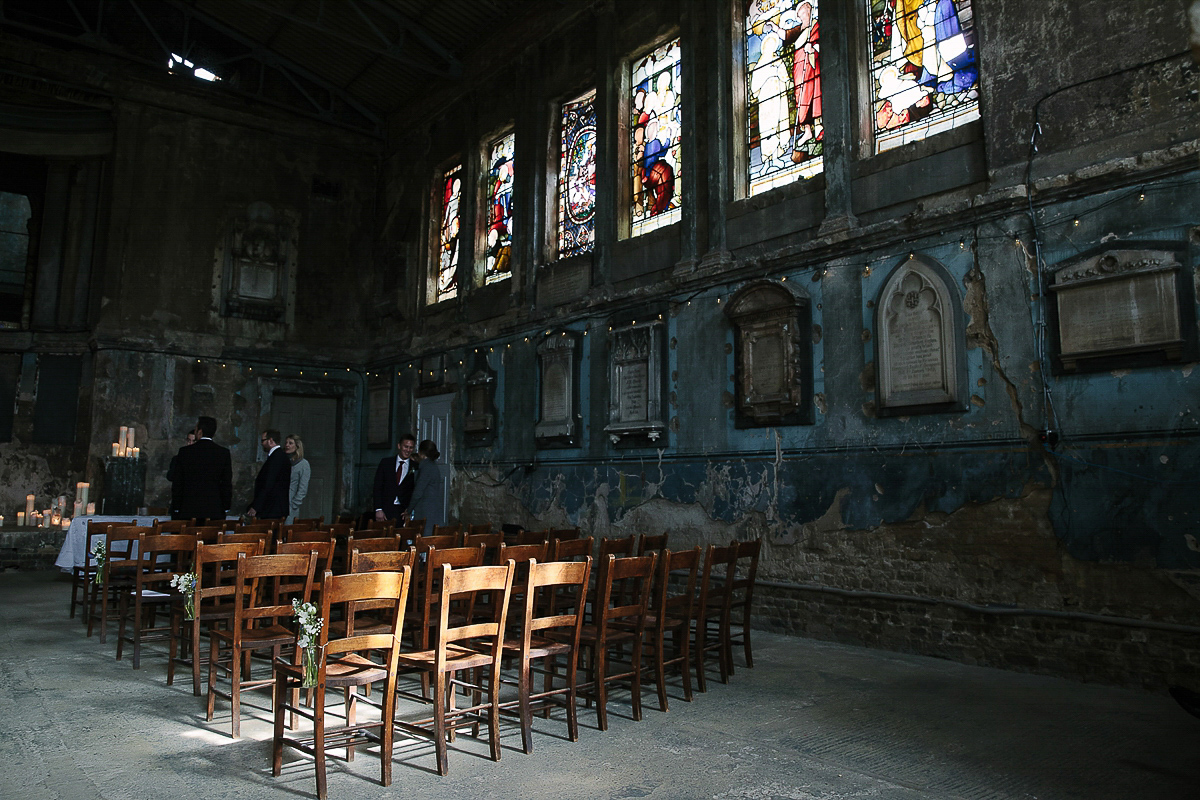 Juliet Henin at Red Eden & Olive created absolutely beautiful blooms for Alissa and Robin's big day; her work is very well known, having previously prepared incredible arrangements at both The Asylum and Brunswick House.
"Juliet is a ridiculously qualified florist, so much so that we trusted her entirely – all we gave her was a Pinterest board and left her to it. The flowers were absolutely beautiful and Juliet knew exactly what we were after and more. I now even have a new favourite flower, Lily of the Valley."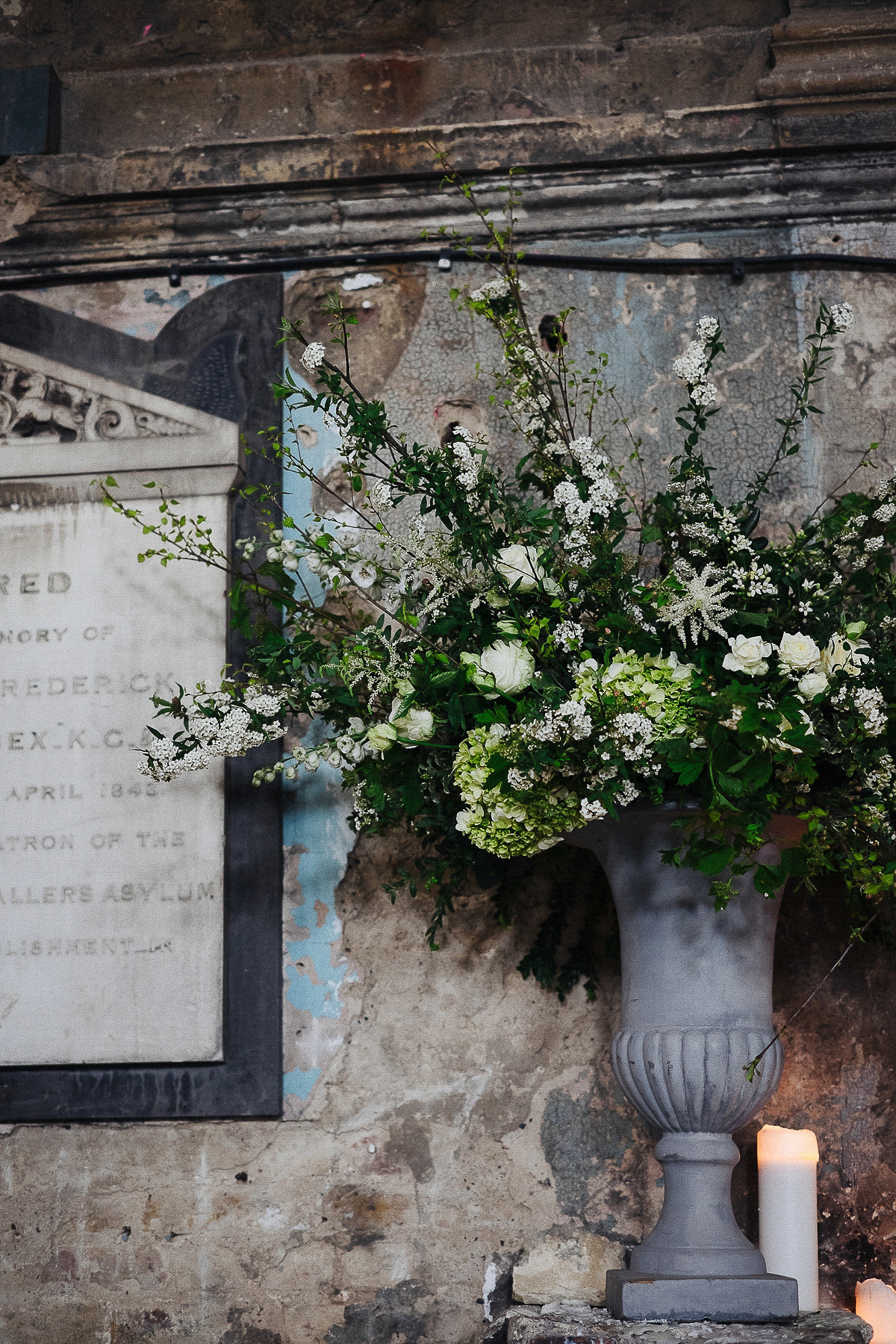 "I was still living in Singapore when we met through friends in London, and we finally got together just over a year later, after I had moved back to London. Robin asked me to marry him on the most stunning beach in the world – Legzira Plage in Morocco. We married just over a year later."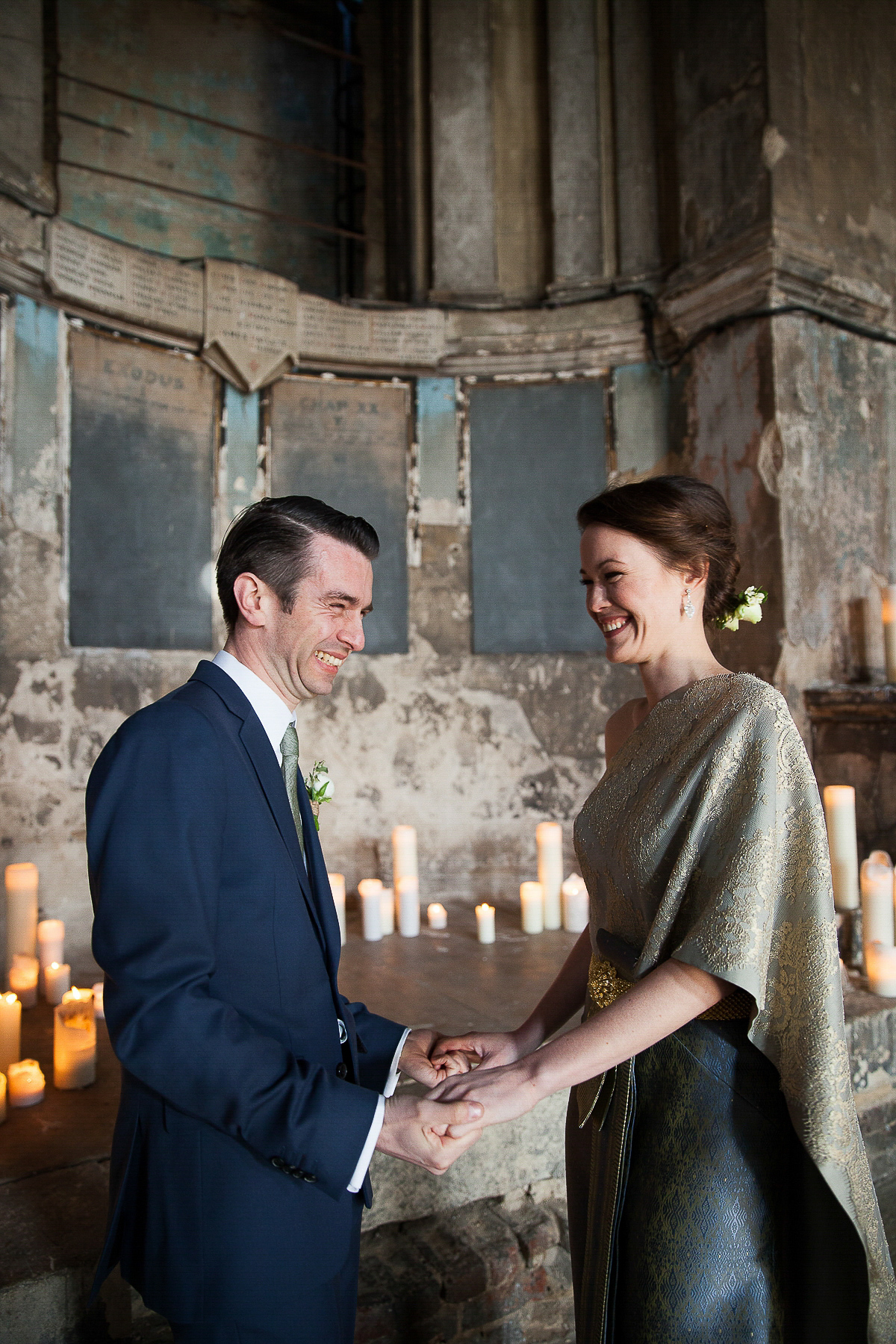 The couple had a Buddhist blessing in Thailand a week after the civil ceremony in London at The Asylum. At the London ceremony, Alissa very proudly (and initially nervously) walked down the aisle by herself to 'Home' by Gabrielle Aplin.
"I have always been a very independent woman, so I walked myself down the aisle as a real representation of how I was entering this commitment of marriage with Robin. I don't think my father was very surprised that this is what I wanted!"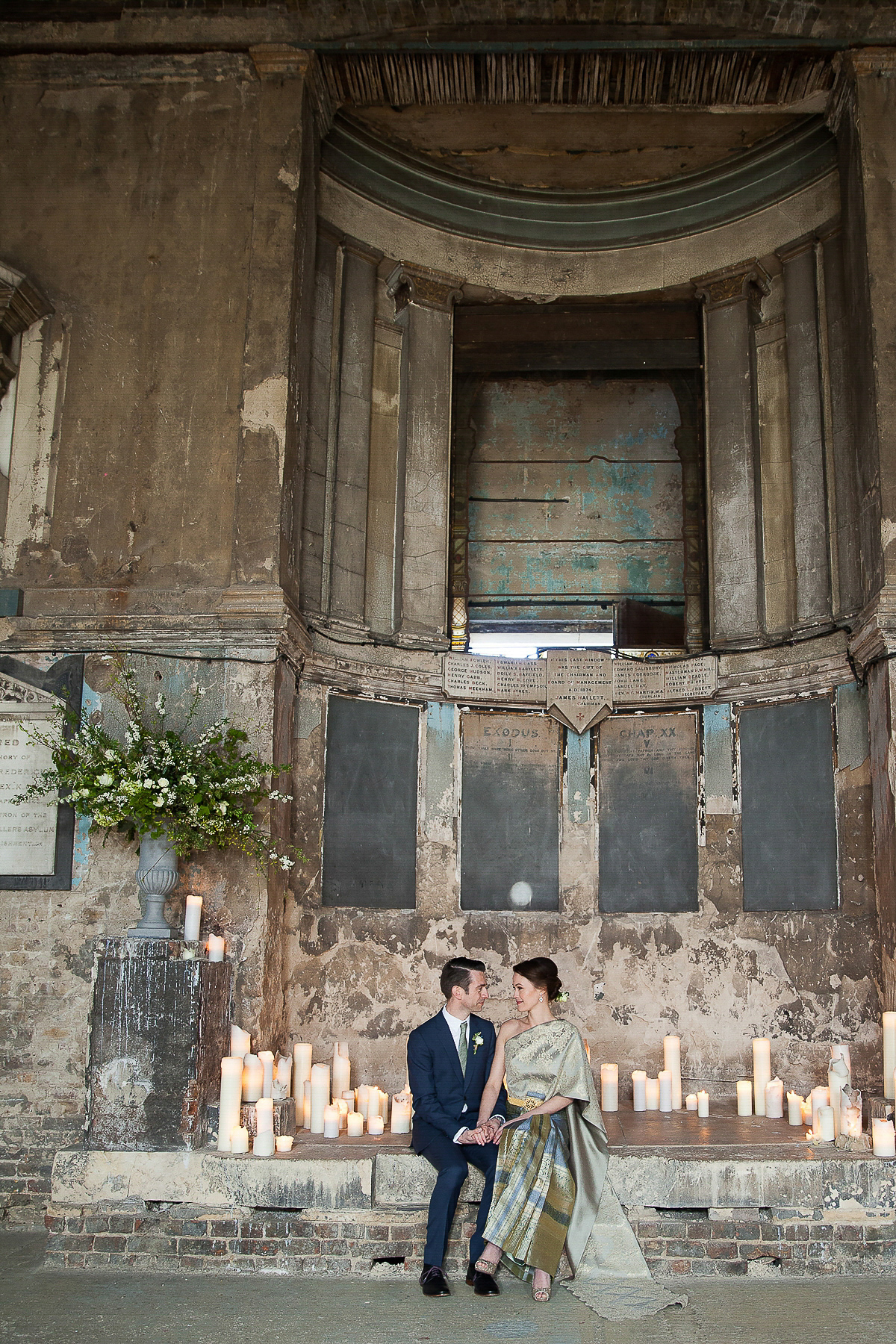 "I was absolutely terrified, shaky and emotional when I first stepped into the chapel by myself, but when I looked up and saw all my dearest friends and family, I literally just beamed from the inside out. Then Robin turned around and I just felt so much love for him. I don't think there will be many occasions in my life that will be better than that moment."
Alissa chose a pair of Carvela heels and stunning art deco platinum and diamond drop earrings from DB Gems. She did her own make up, after a tutorial at MAC, and hair was by Myla and Davis, who added pretty sprigs of flowers supplied by the florist to her up-style. The bride finished off with a spritz of 'Fumée de Jasmin' by Floris.
"Scent is such an evocative sense and I wanted to wear a new scent that would always remind me of this day. Woody/jasmine scents have always been a favourite of mine."
Alissa's maids wore stylish traditional Thai attire, also handmade by Jutarat Rattanajun, with their own shoes. I love these images of the bride and her maids taken with the cool background of The Asylum in all of its quirky glory.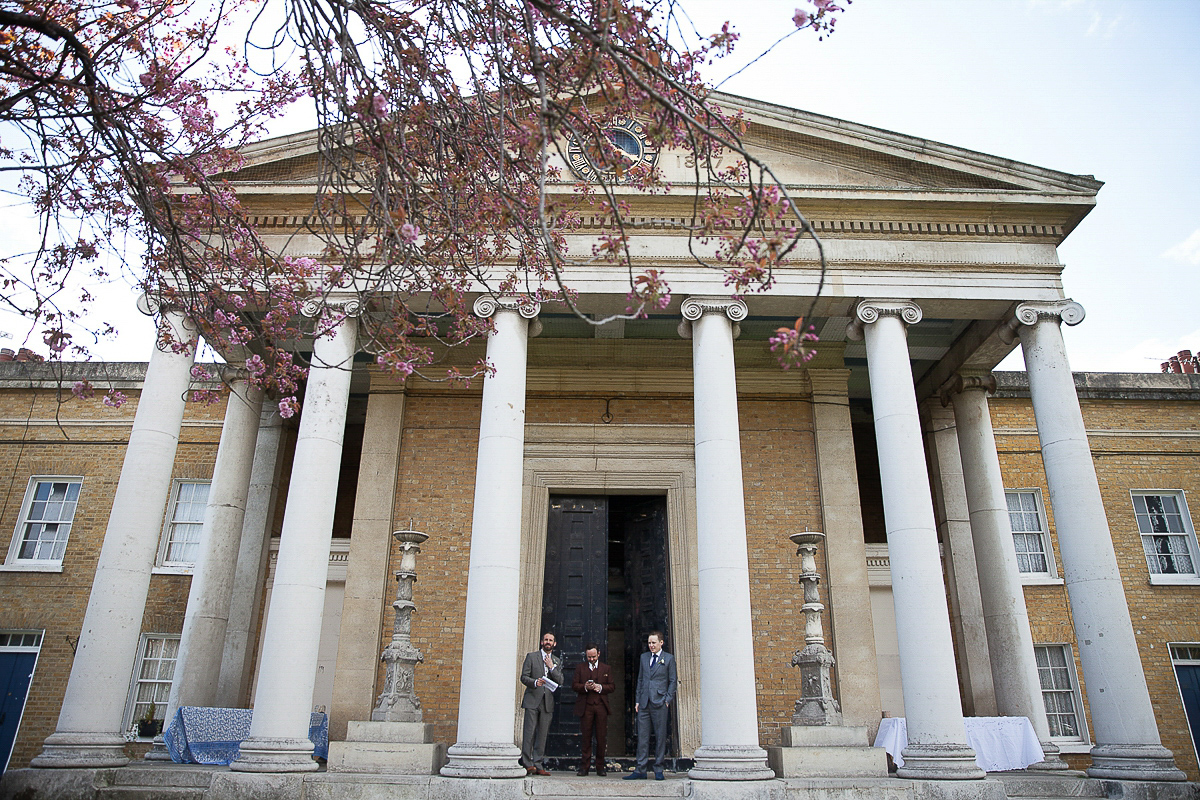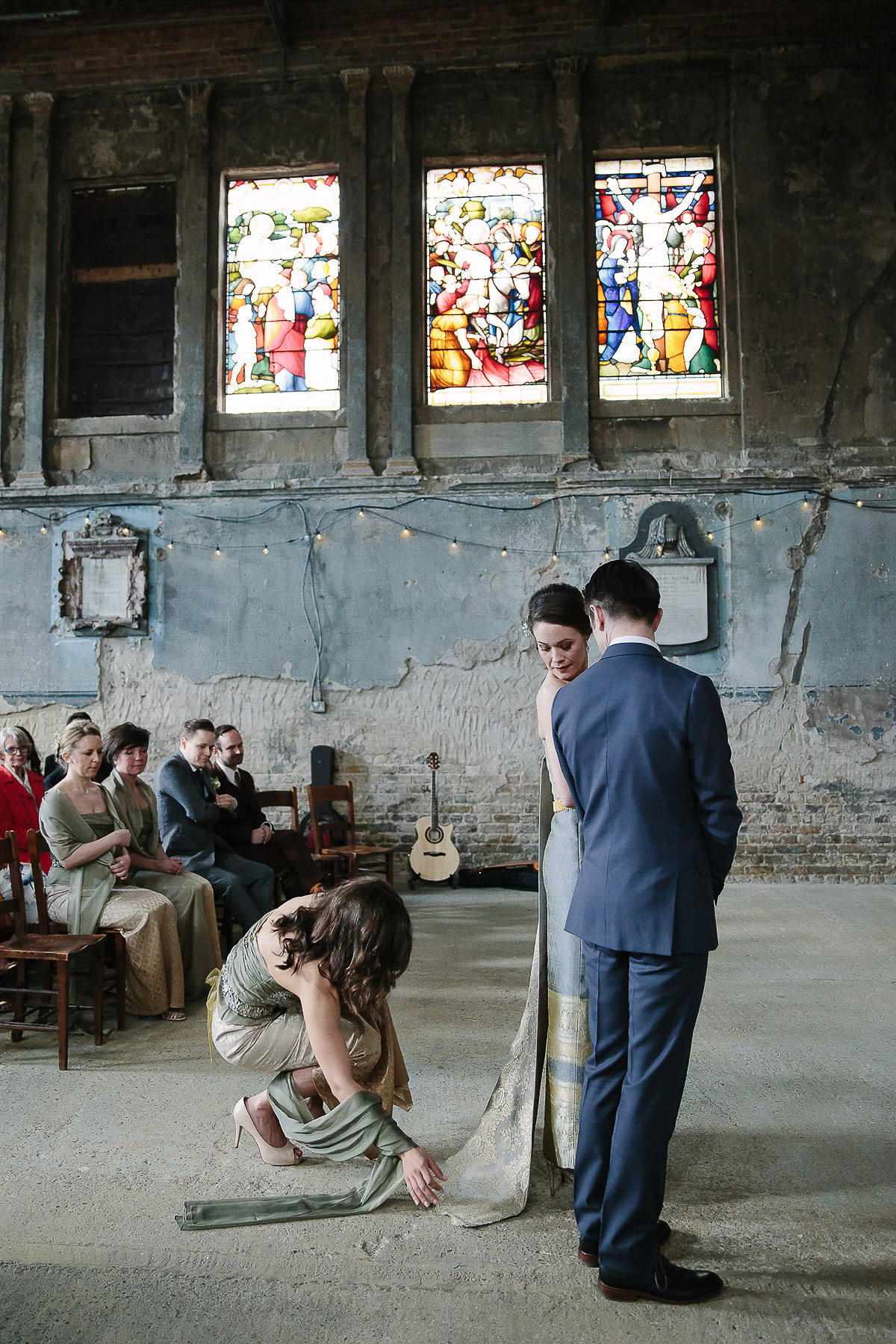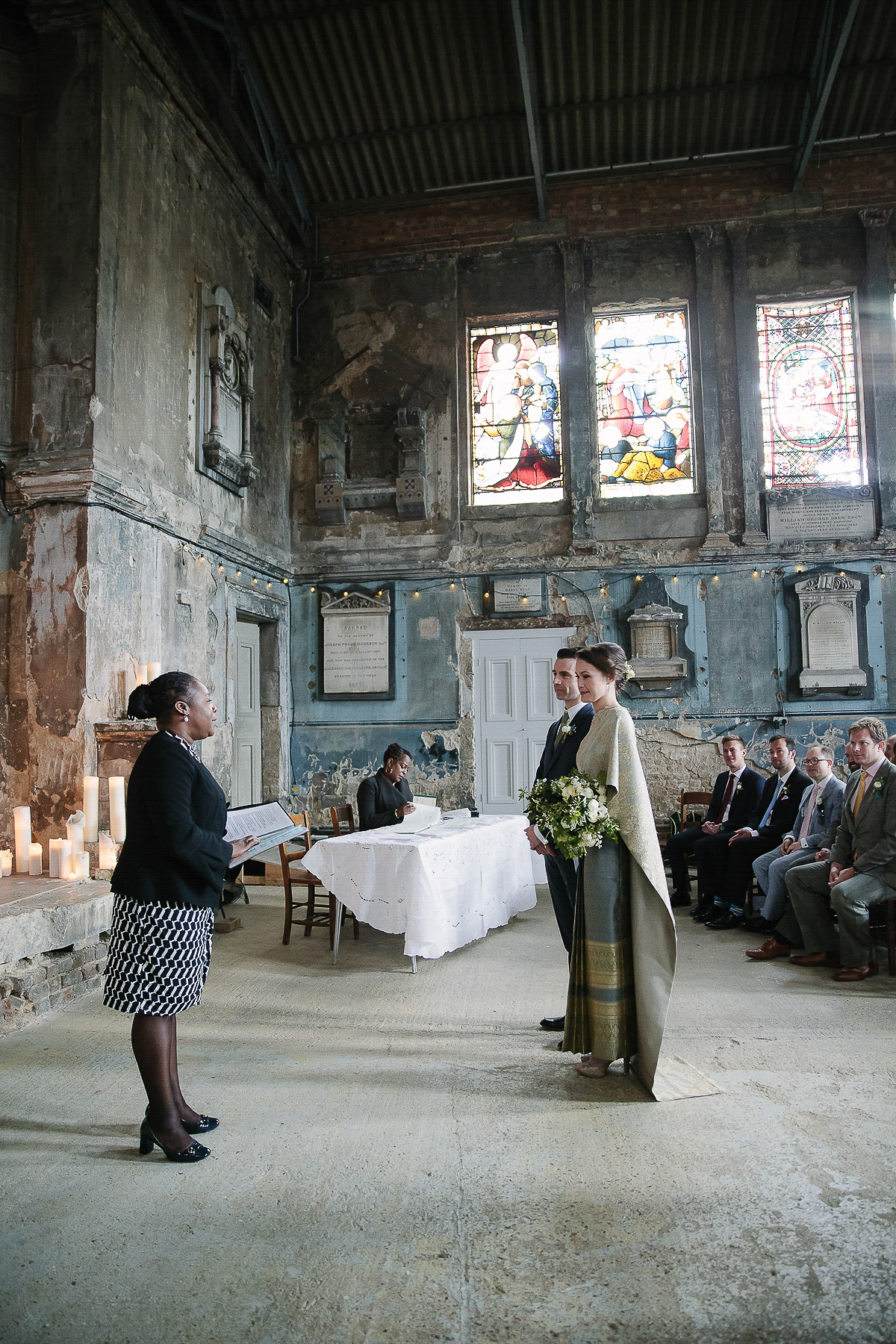 Robin and Alissa wrote their own vows and included two lovely readings in the ceremony.
"It was really important to us that we write our own vows. Whilst the rest of the day was fun and fairly light-hearted, we spent a long time on making sure our vows would be promises that we would live by."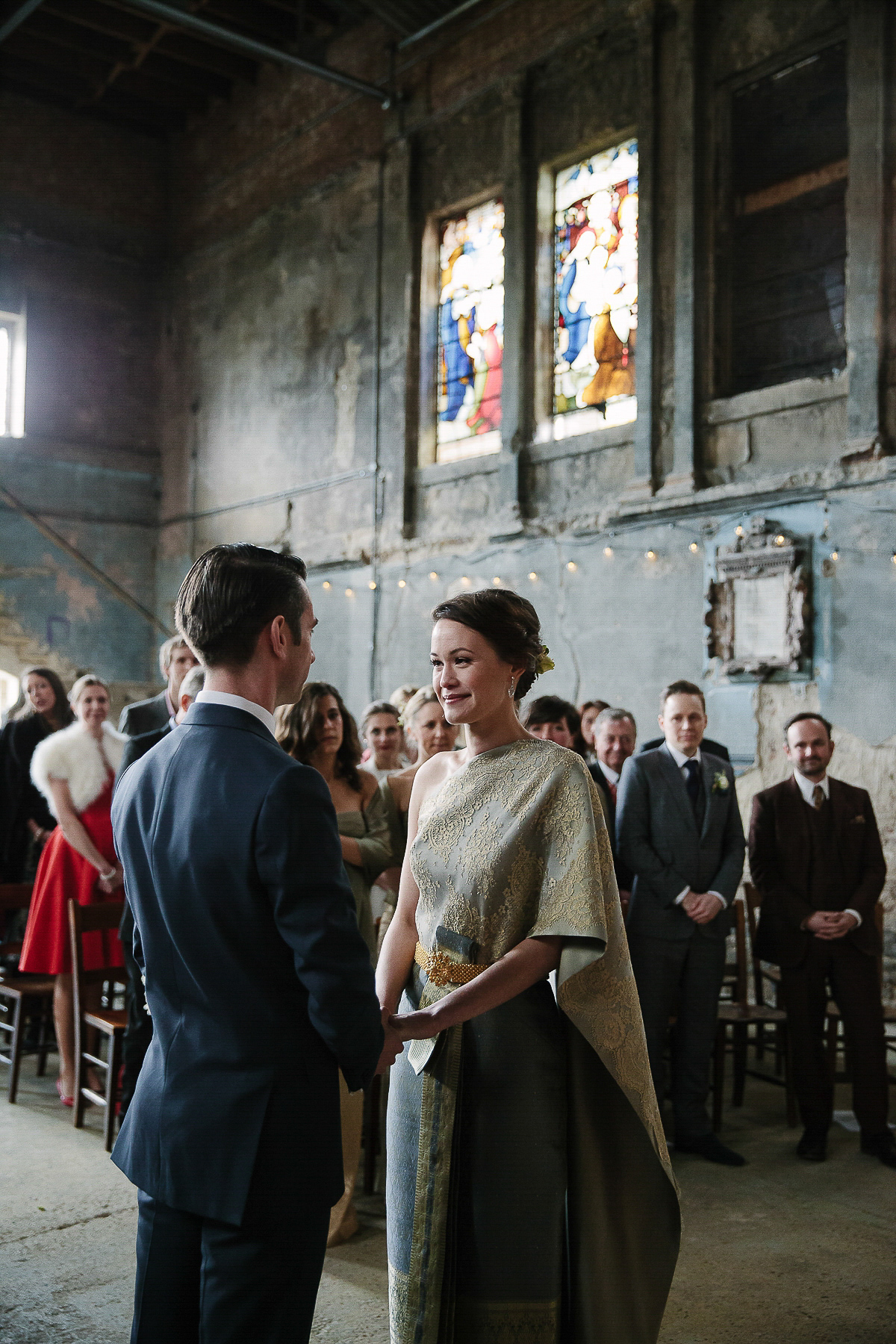 "We bared our souls in our vows, which we could only do because we purposely only had a small congregation of people we love. Being surrounded by people who were truly happy for us and who we know will be there to support us in our marriage was incredible. I sobbed the whole way through."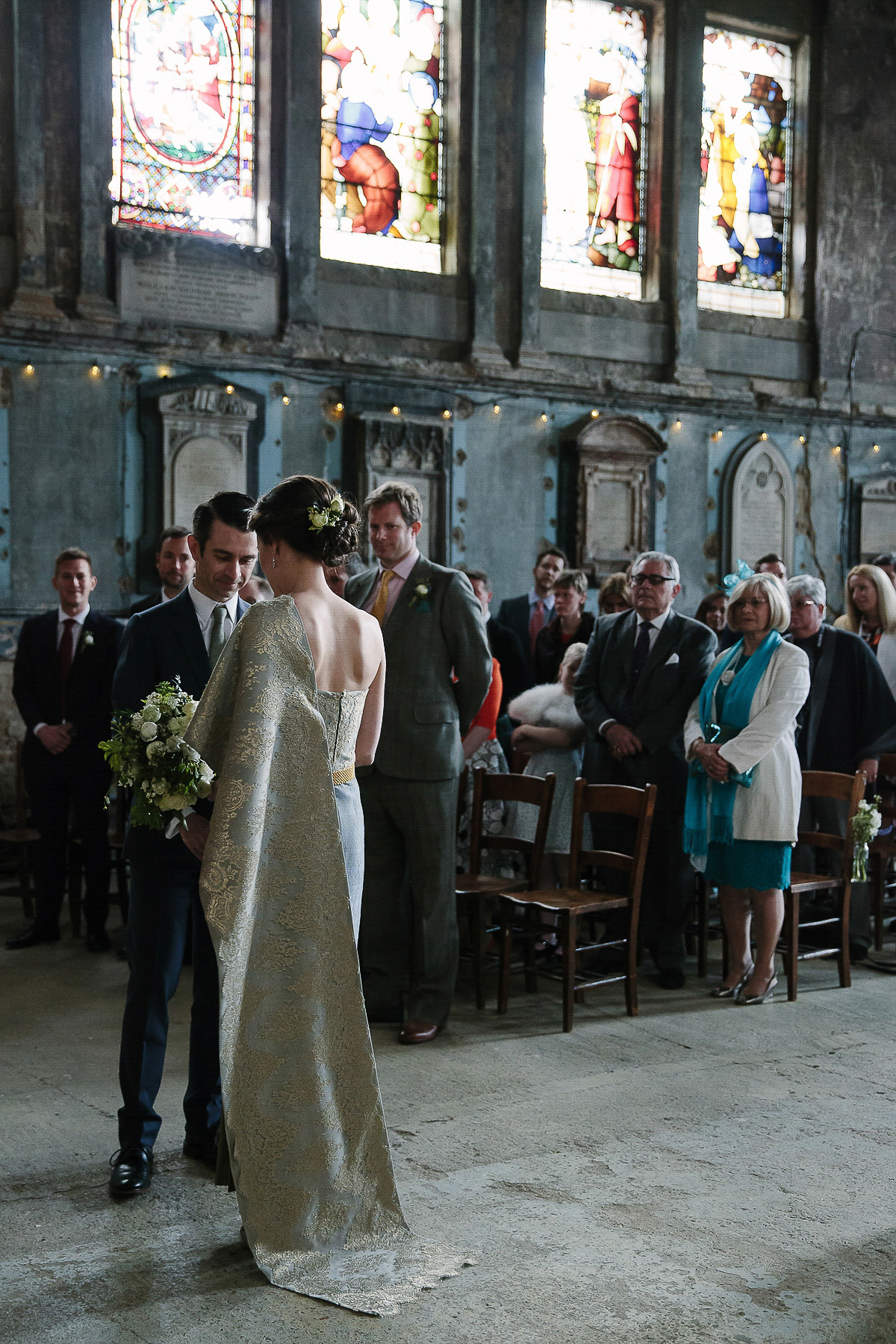 "We chose 'To Love is Not to Possess' by James Kavanaugh, because it is a poem to live your marriage by and 'Love' by Roy Croft because it says exactly why Robin and I feel so lucky to have found each other."
"Our wedding rings were via Daryl at DB Gems – we absolutely trust Daryl, he is a joy to work with and he always has a stunning collection of antique jewellry, hence why he is our jeweller of choice."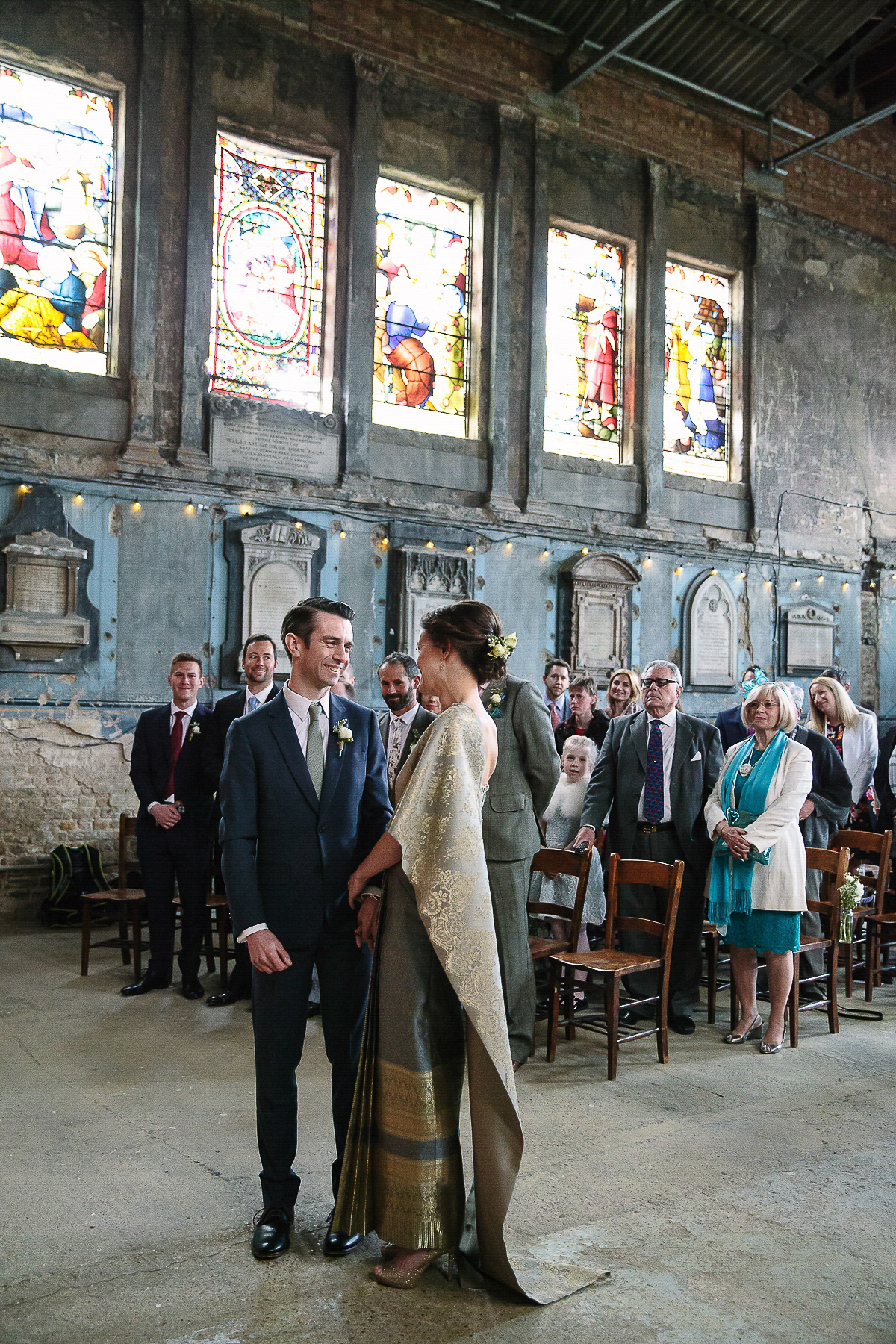 The handsome groom sported a Paul Smith suit in petrol blue, adding a shirt and cufflinks from Pink, and shoes and tie by Ted Baker. His best man Dave wore a tailor made, flared trouser tweed suit that was his own design – what style!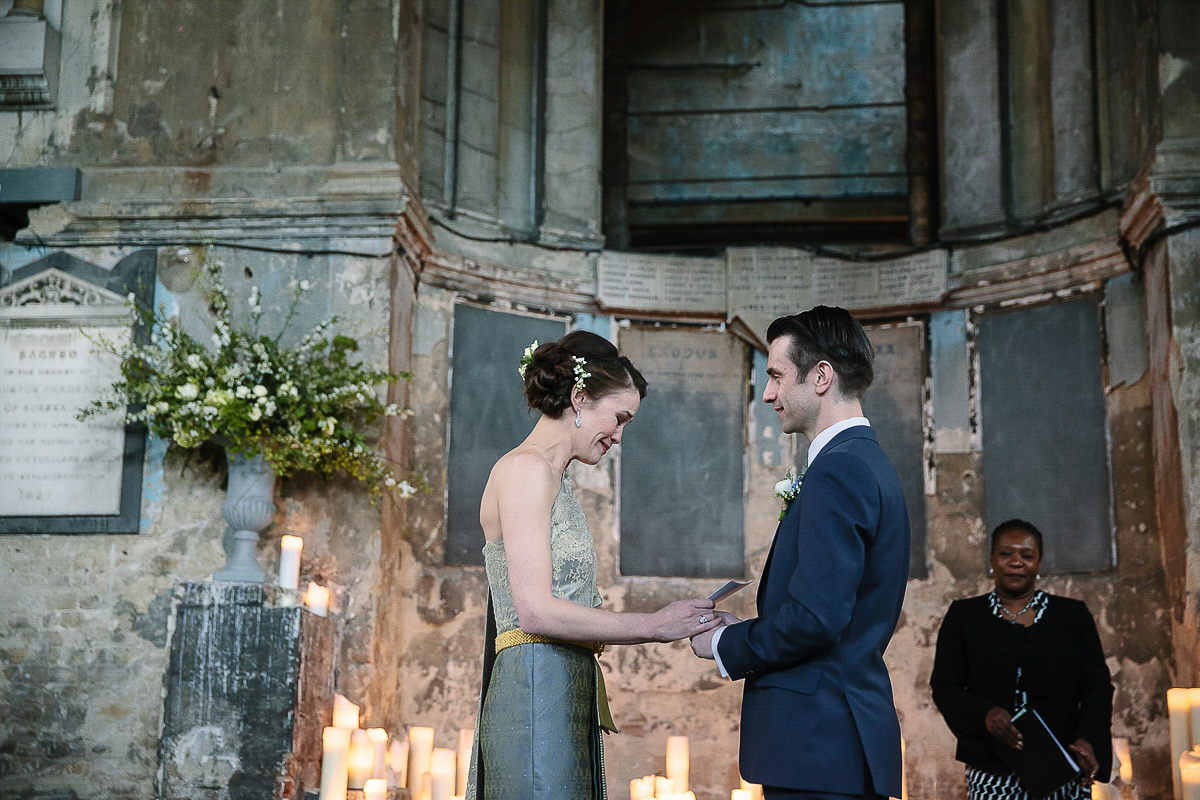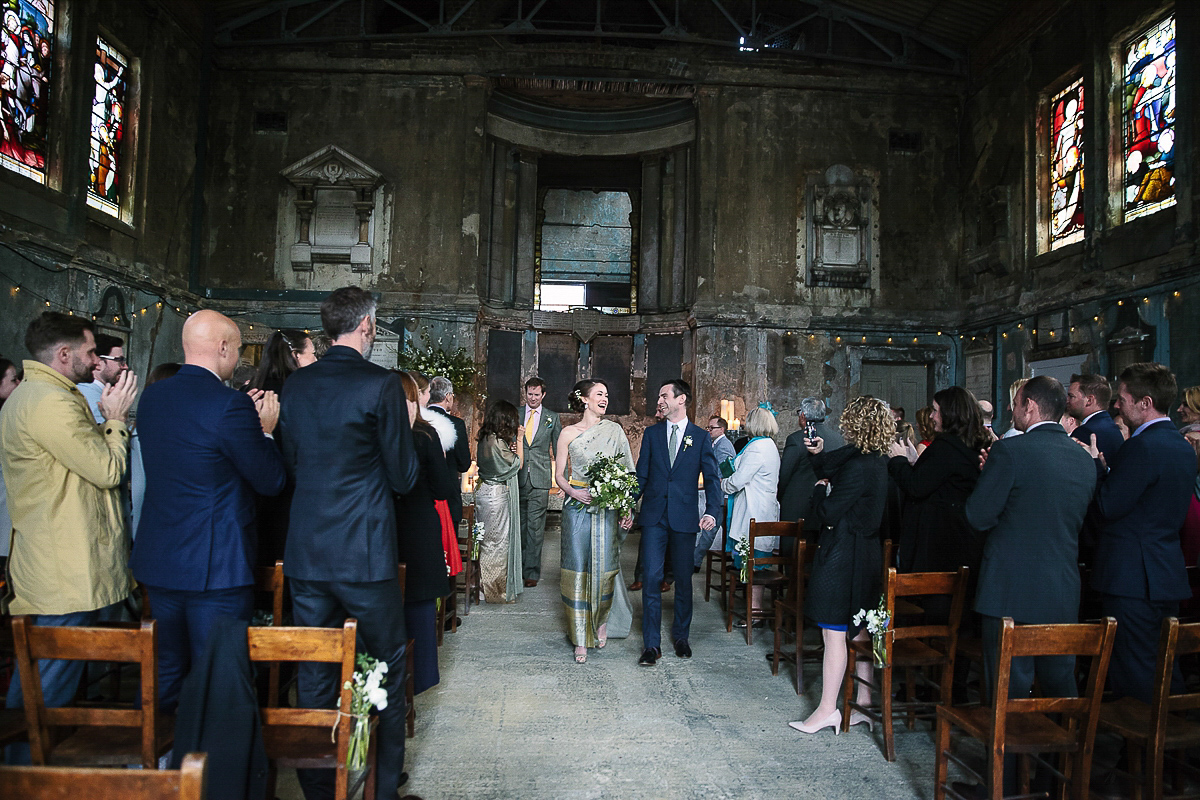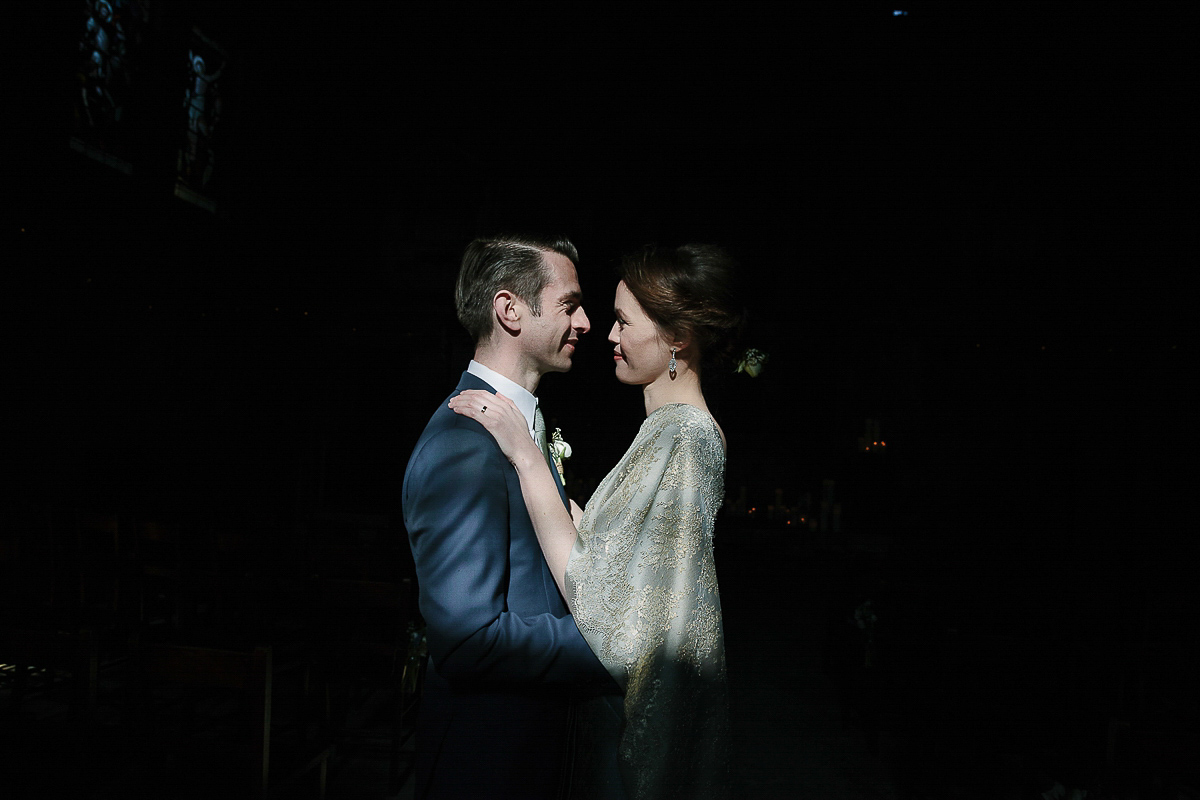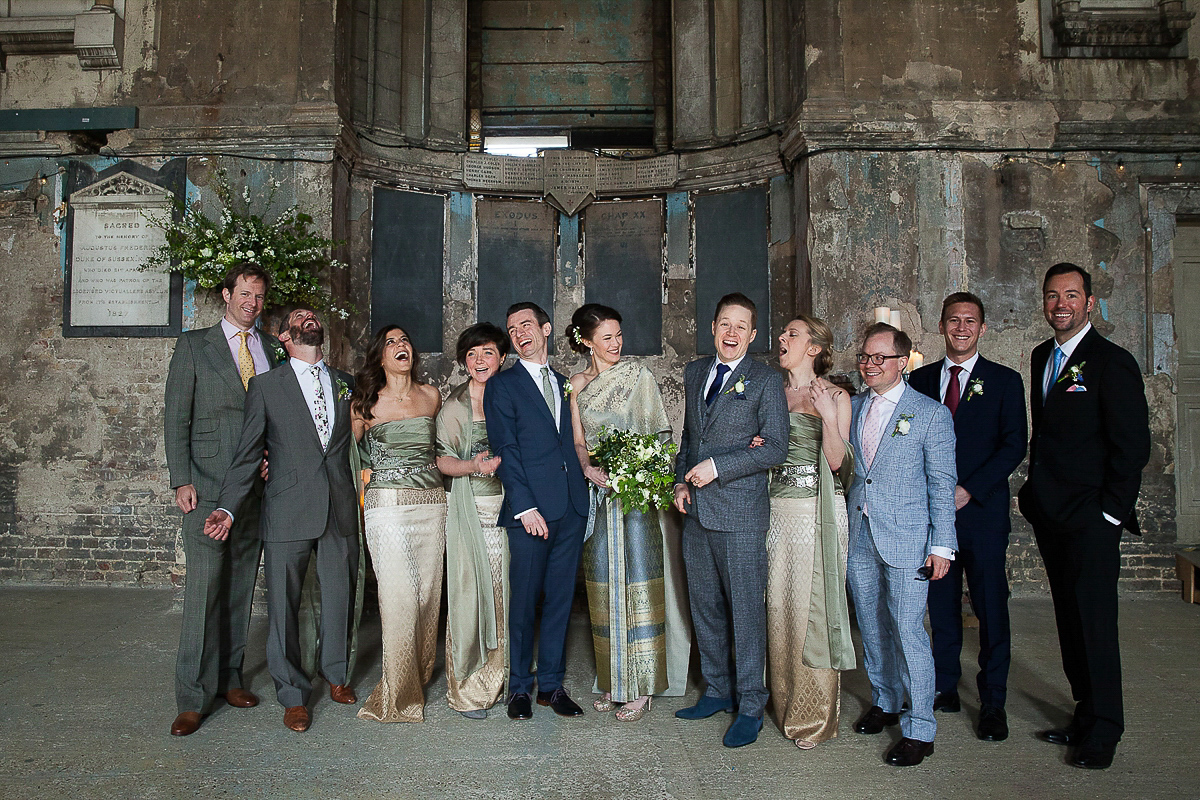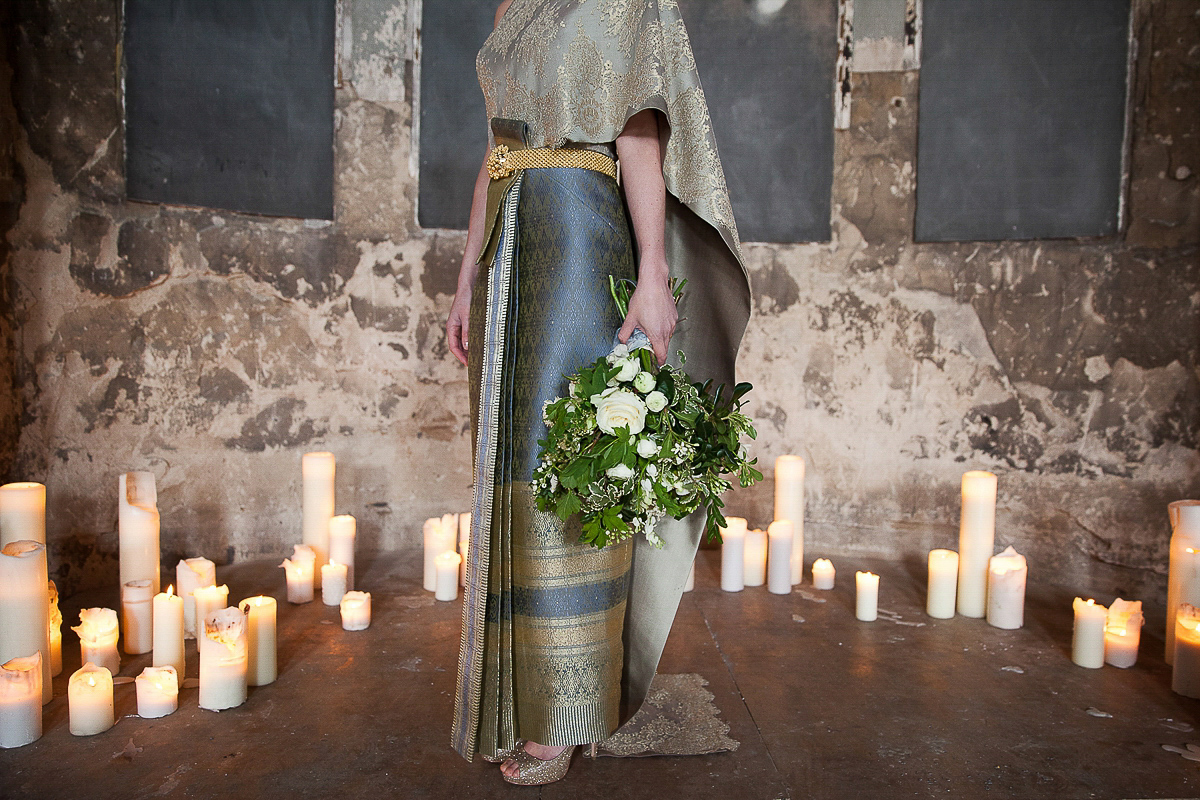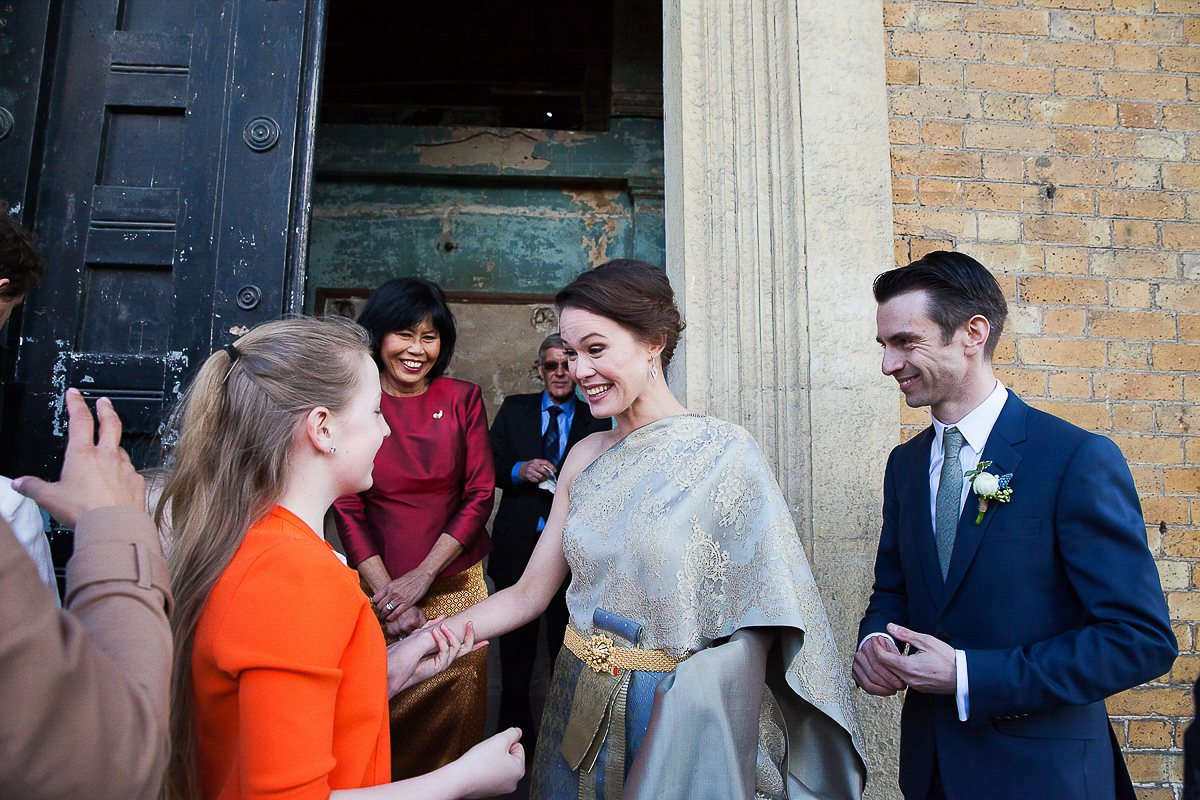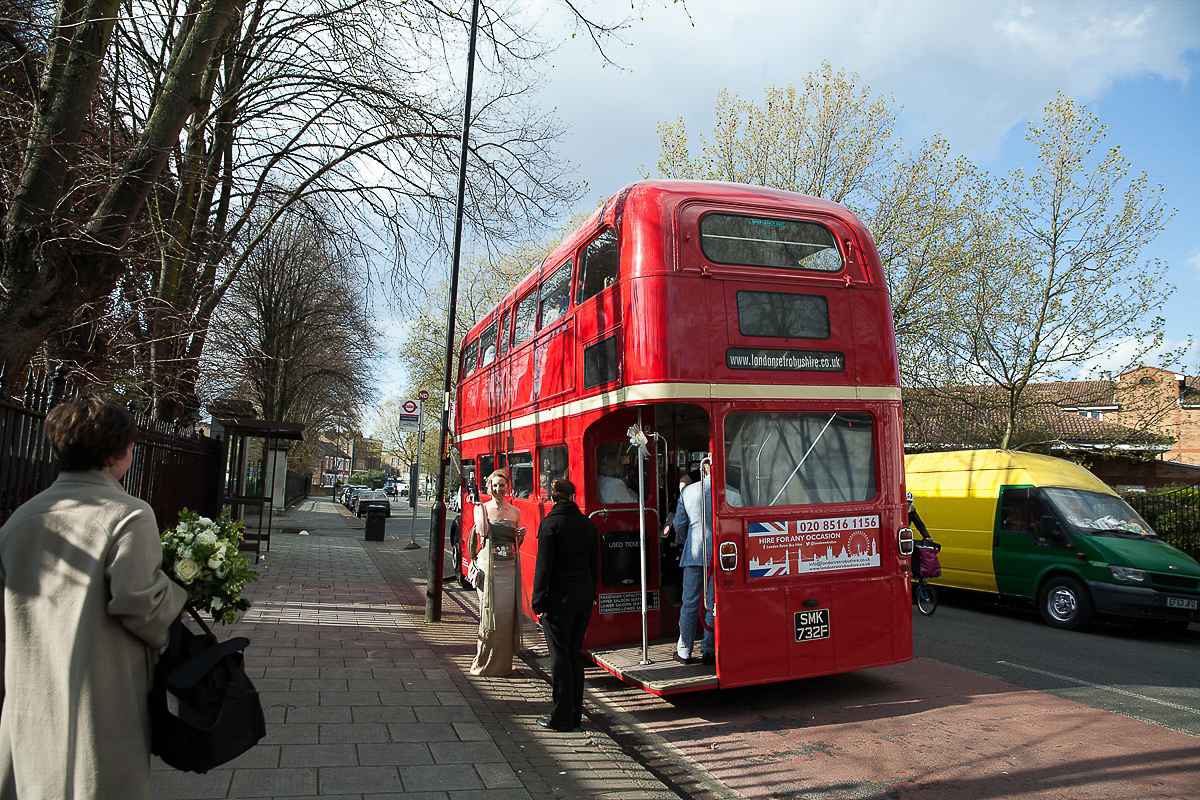 "We started looking for venues close to home in London, as we have so many friends who live abroad, and London is a relatively easy hub to fly in to – we also wanted to get married in the city we met and fell in love in! Because we wanted the day to be as unique to us as possible we chose venues that were kooky, fun, beautiful and dramatic – just perfect! Also, Jo Augur at Brunswick House was brilliant and made hosting a wedding reception so easy."
"One of my bridesmaids, Lucy Pengilley-Gibb, designed the table plan and place cards. Lucy's table plan was such a heartfelt and beautiful gift; a piece of art we will keep in our home forever."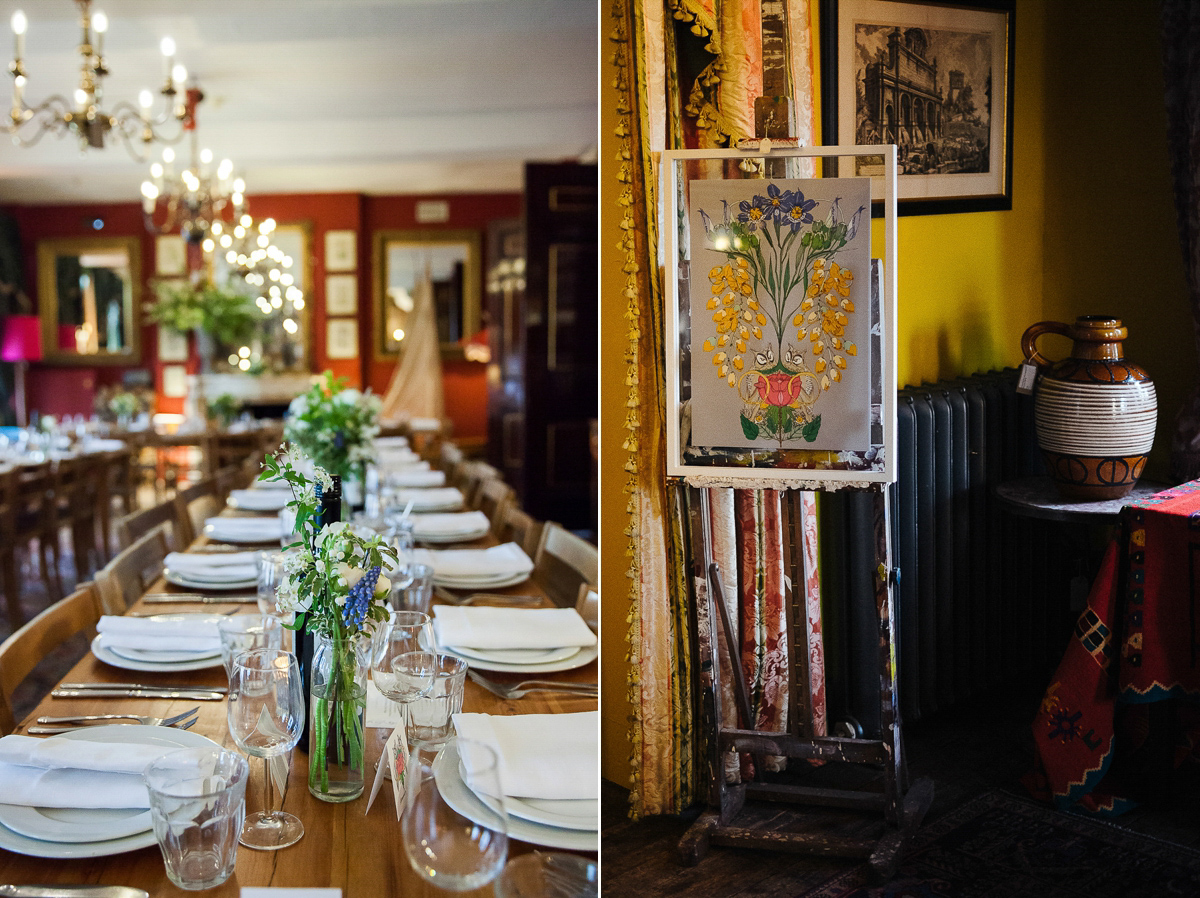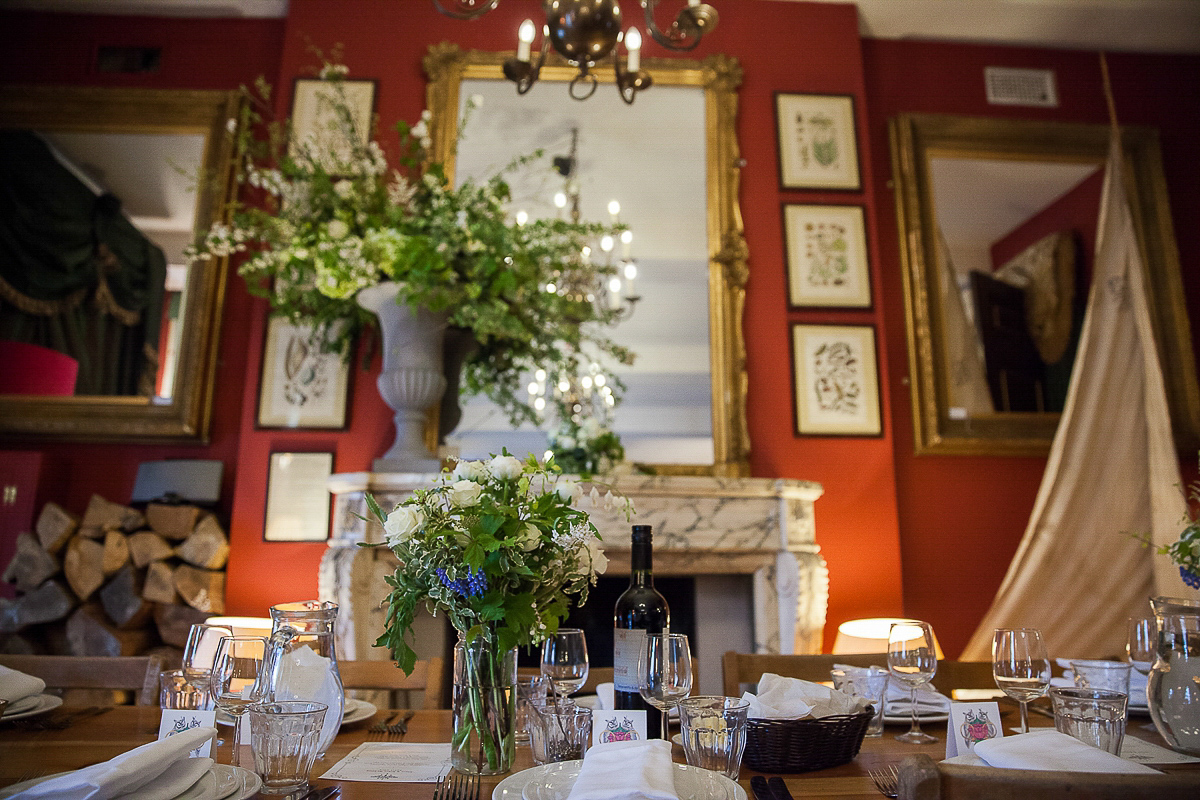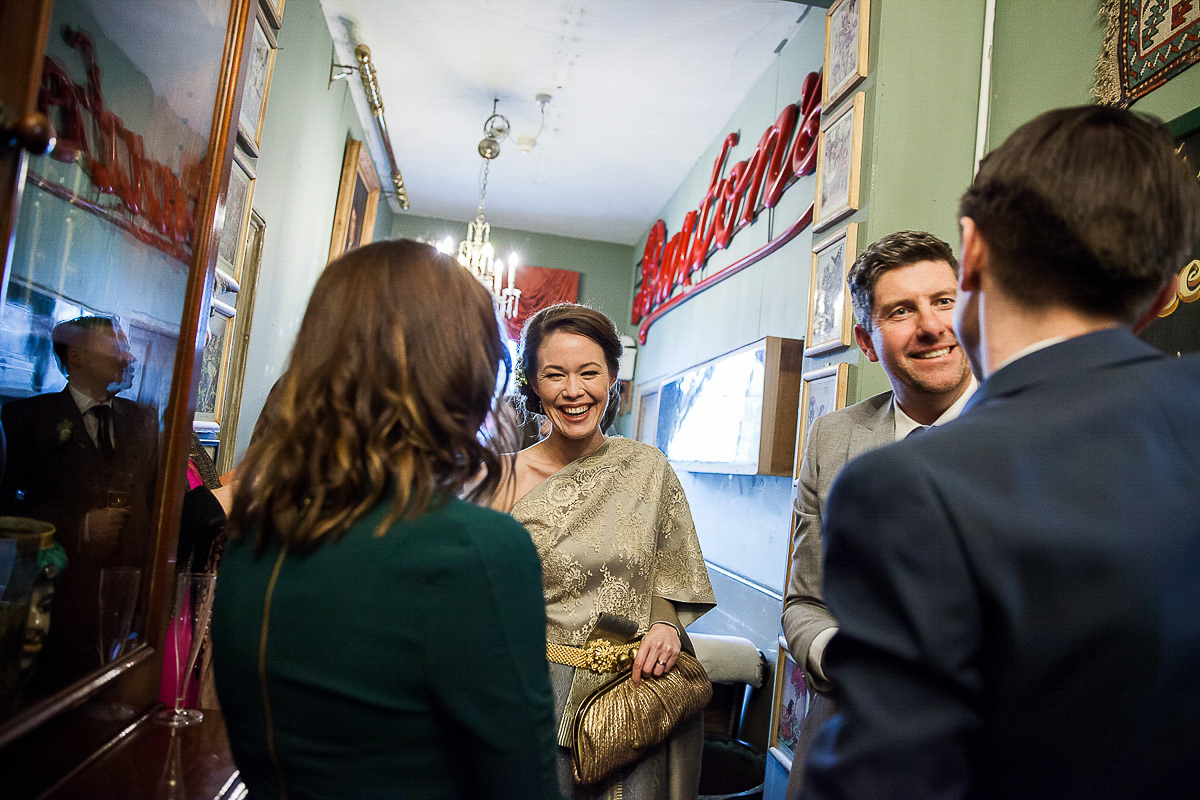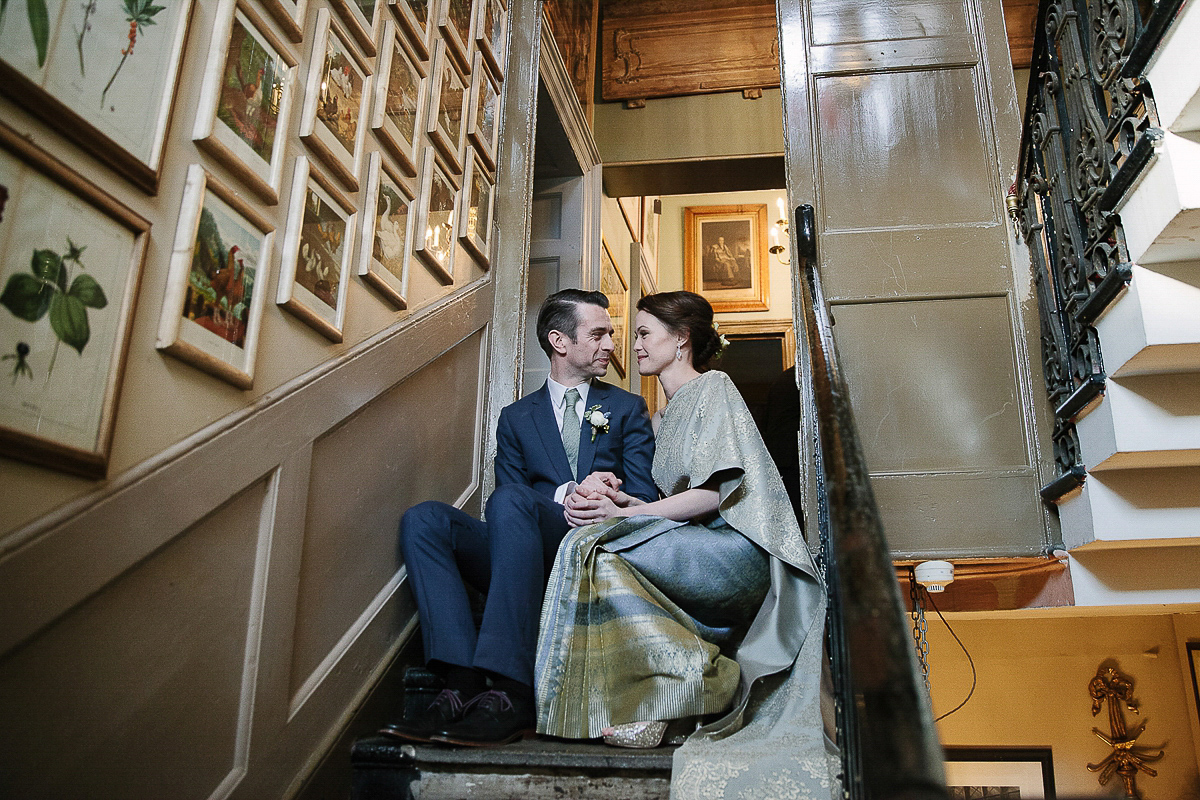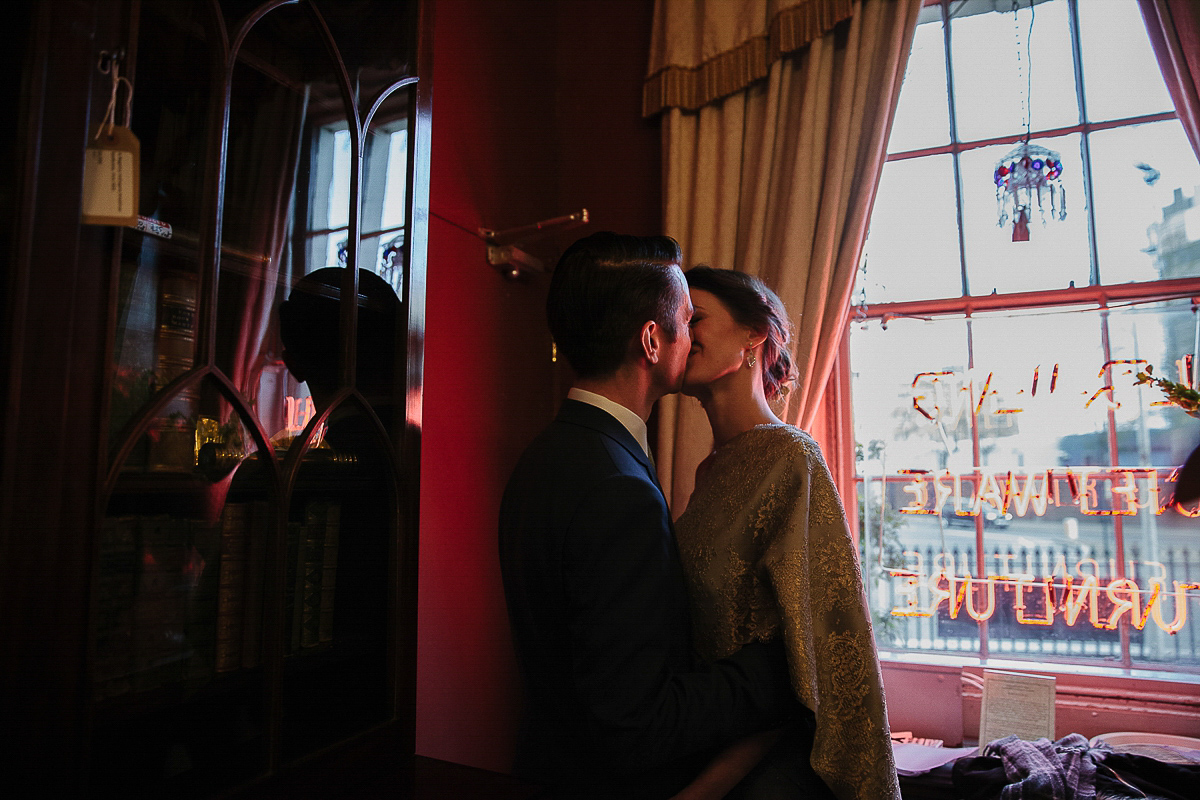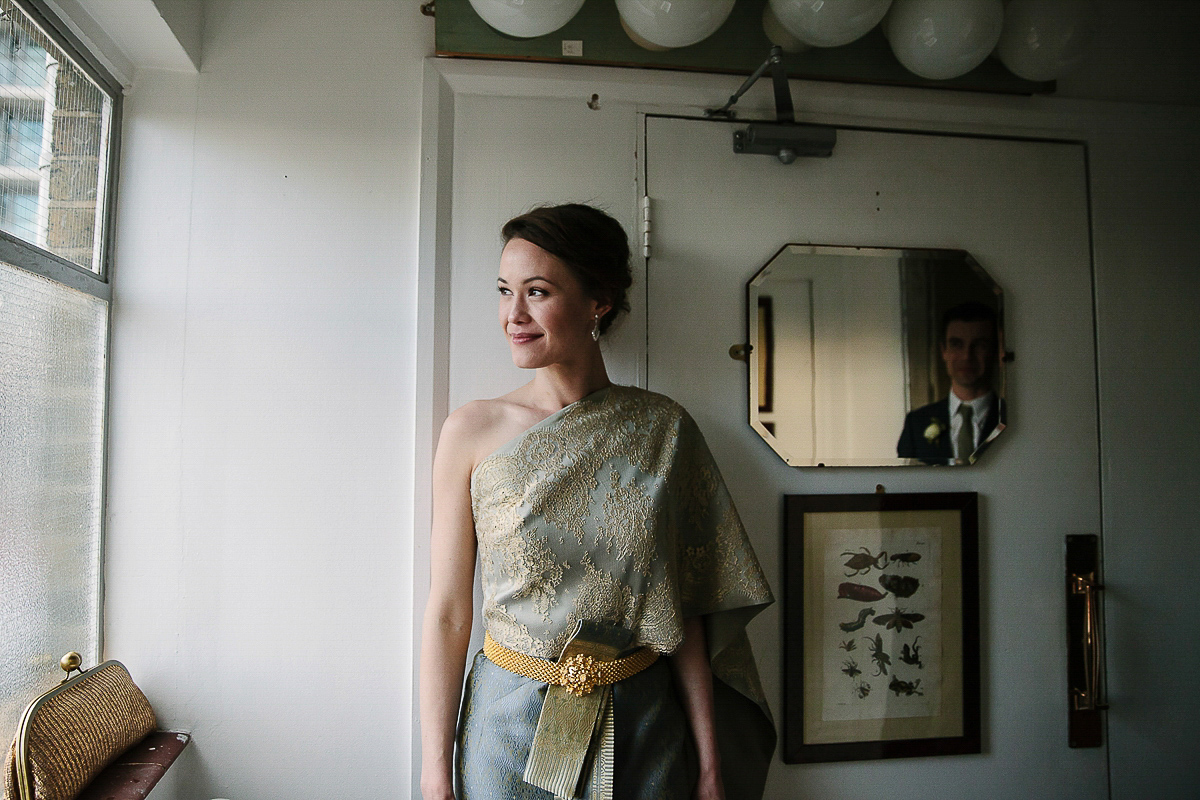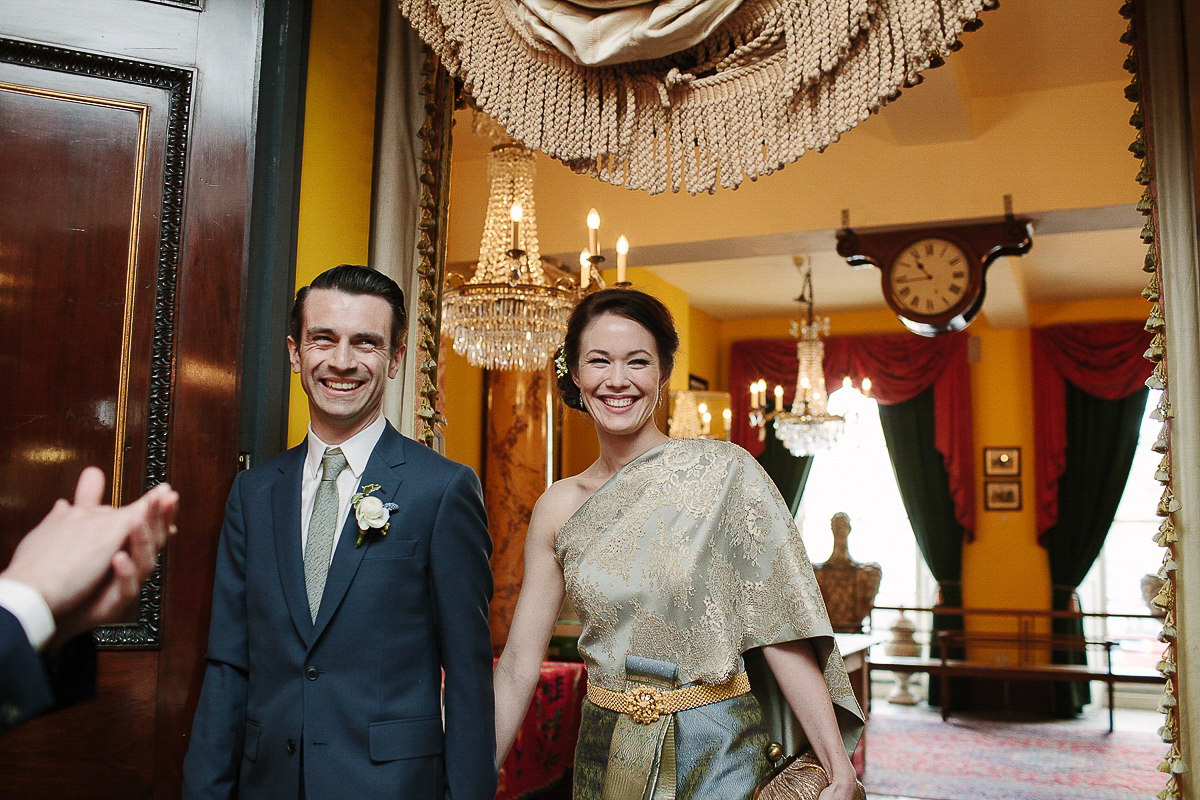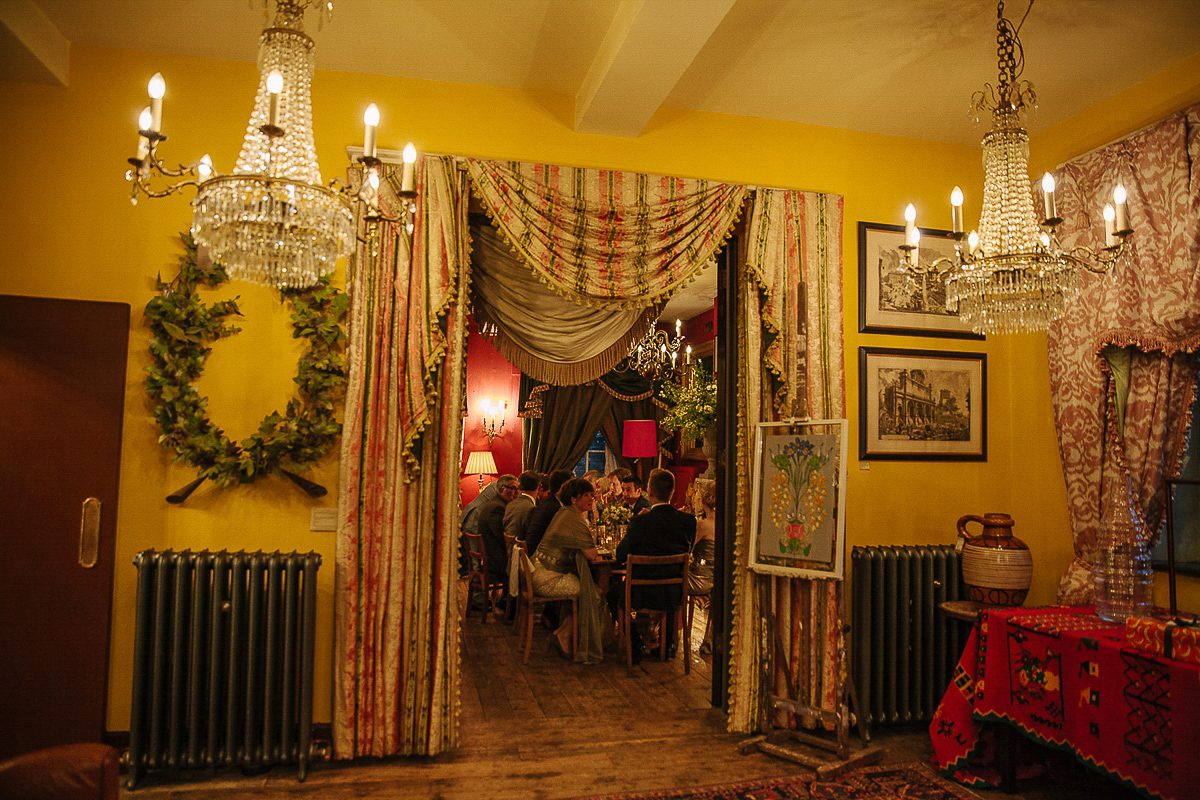 "All of our foodie friends were very impressed with the delicious cuisine prepared by Brunswick House."
"We chose not to have cake as we (well, the bride!) never ends up eating the cake at weddings, but does tend to hit the cheese platter pretty hard. Cheese and crackers were provided after dinner."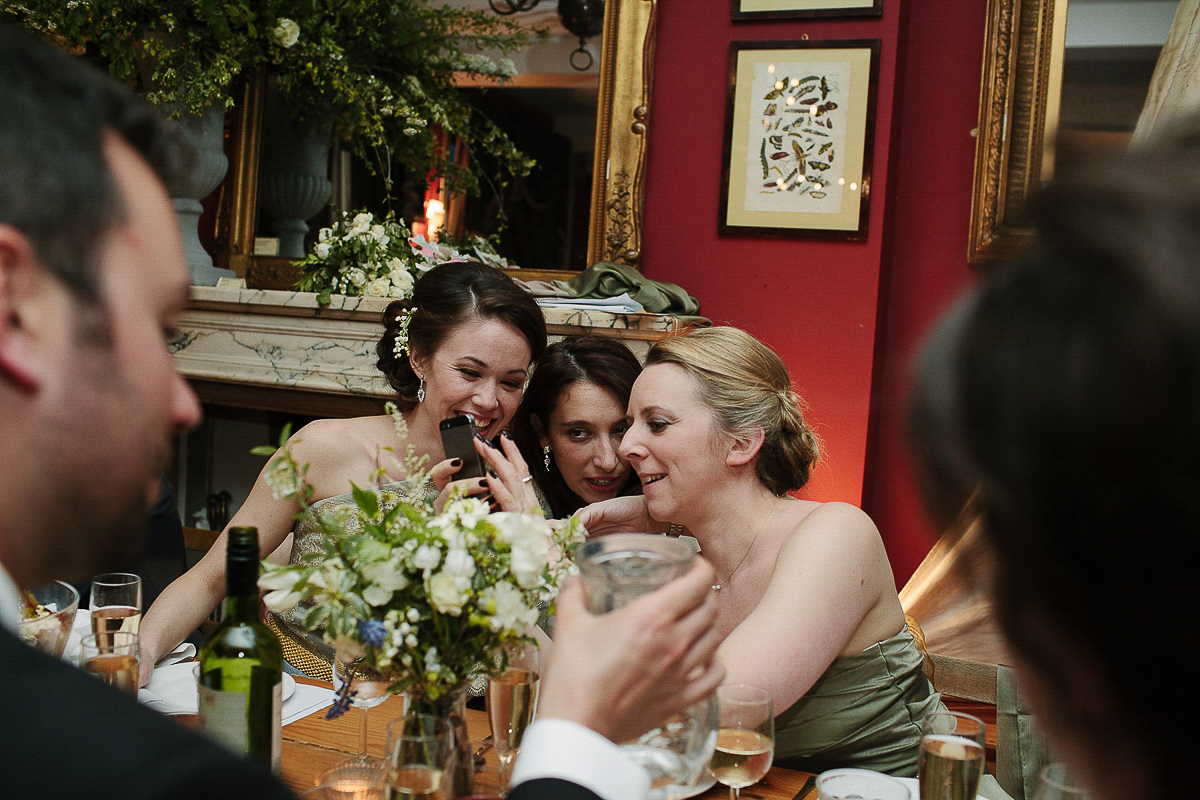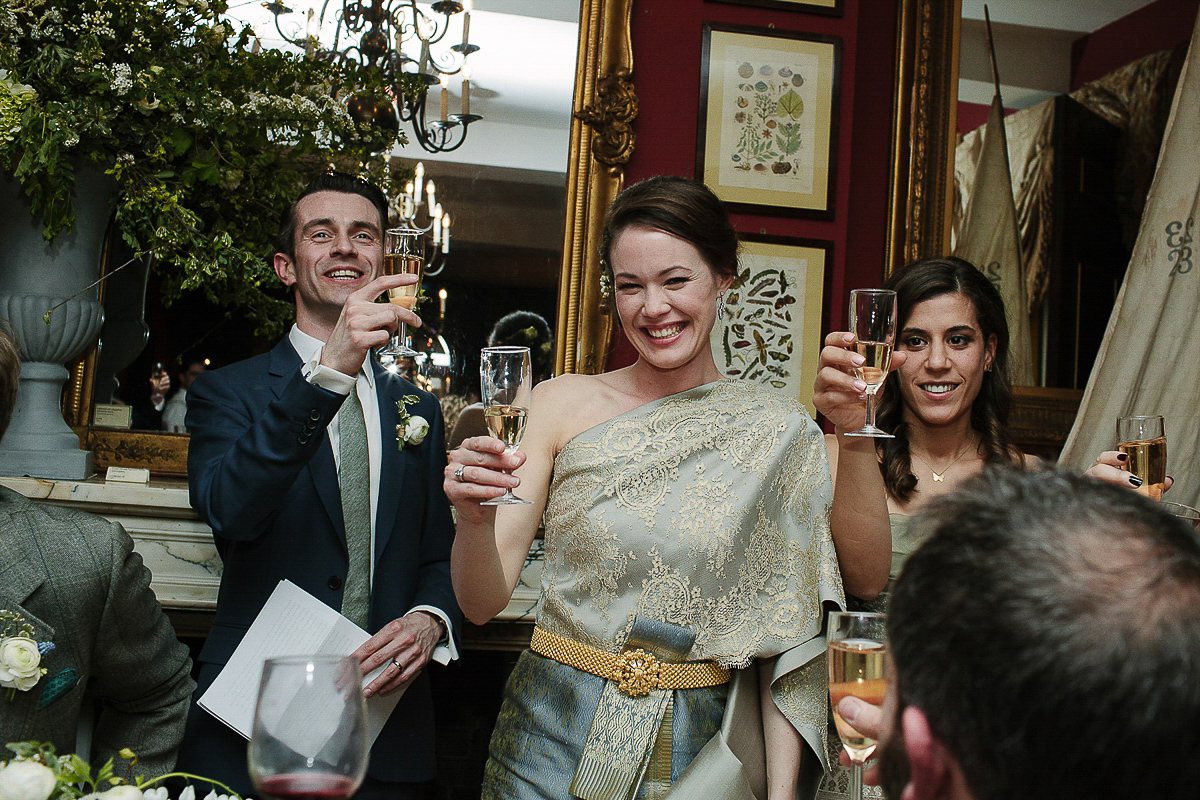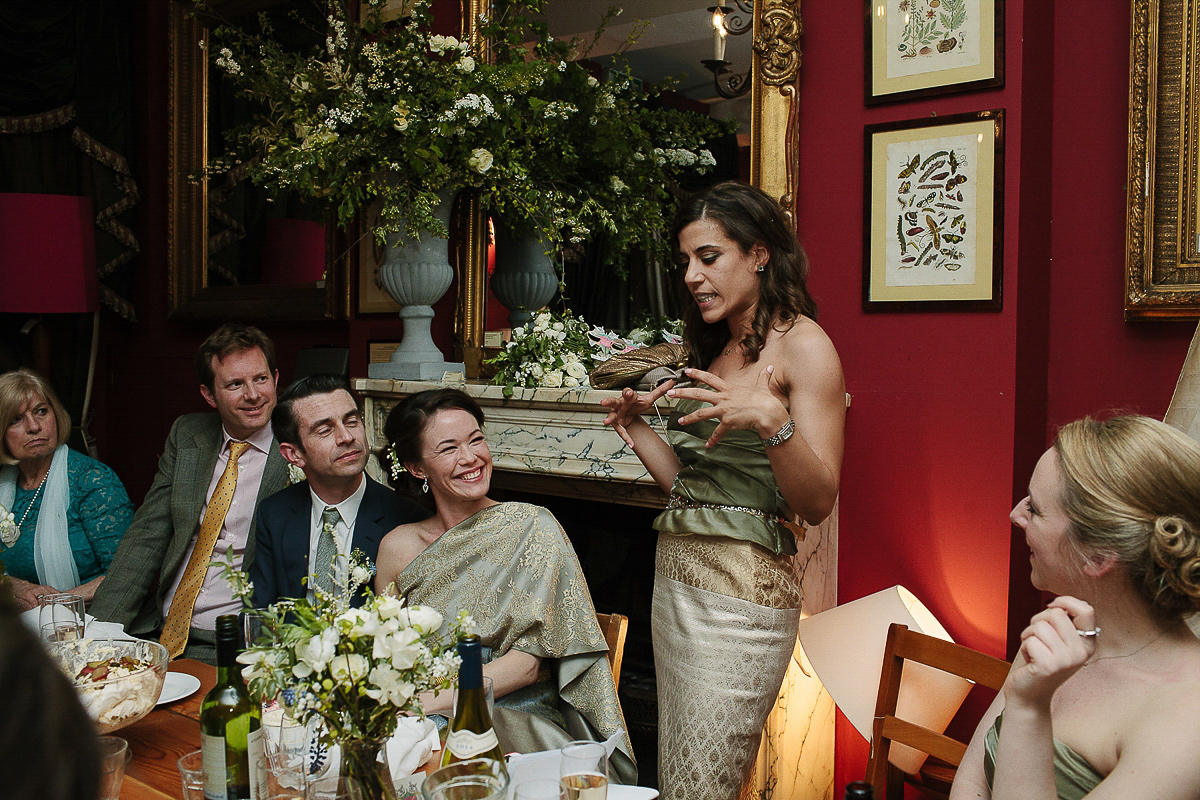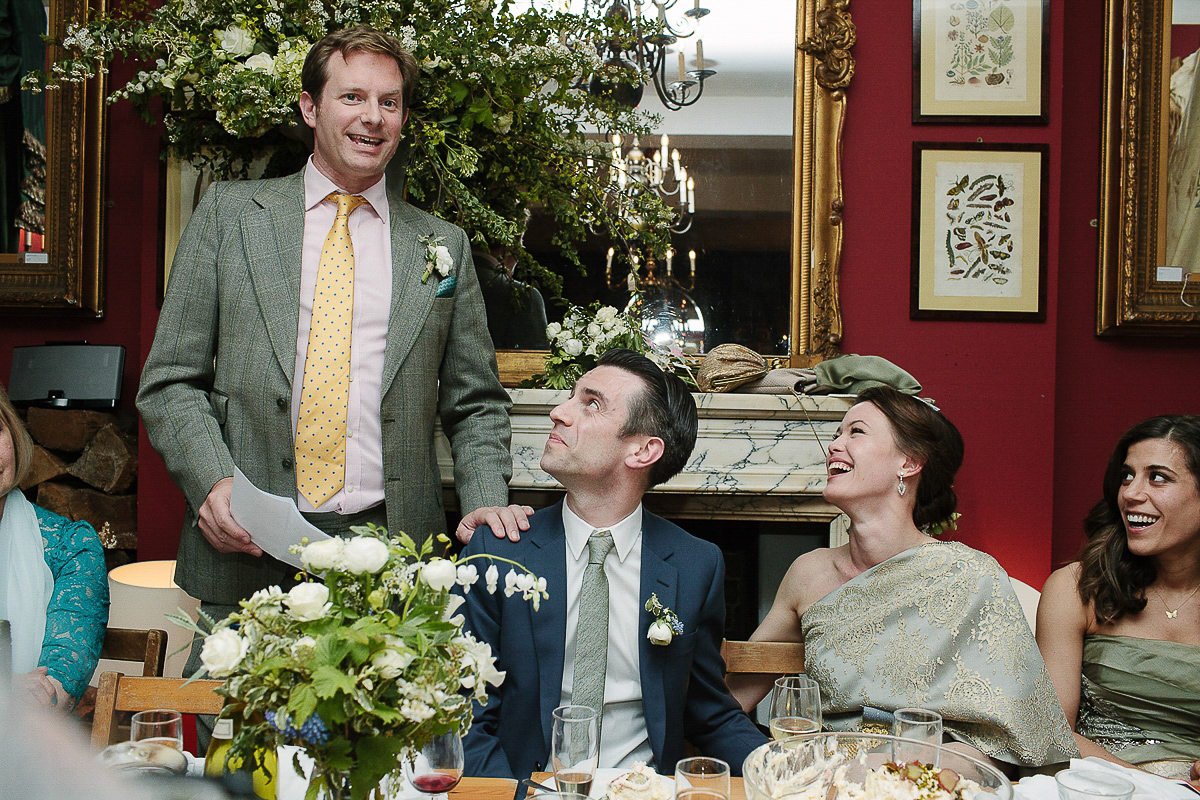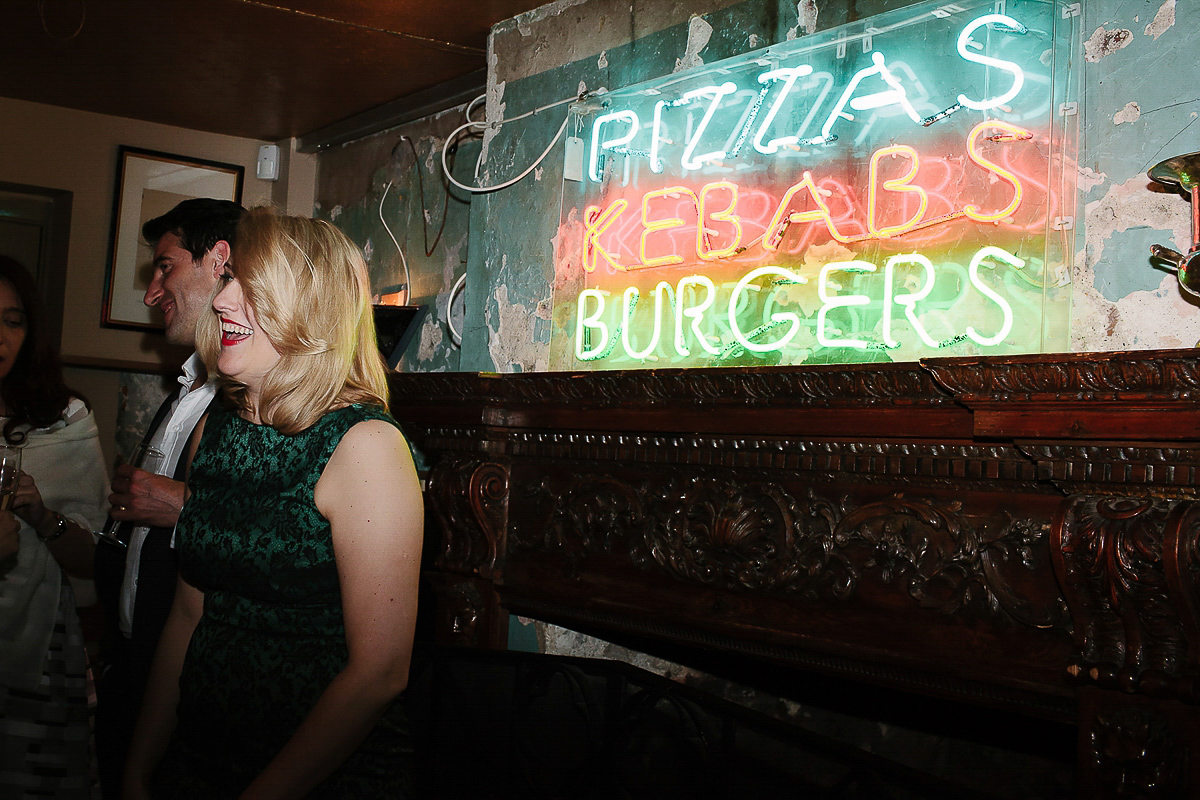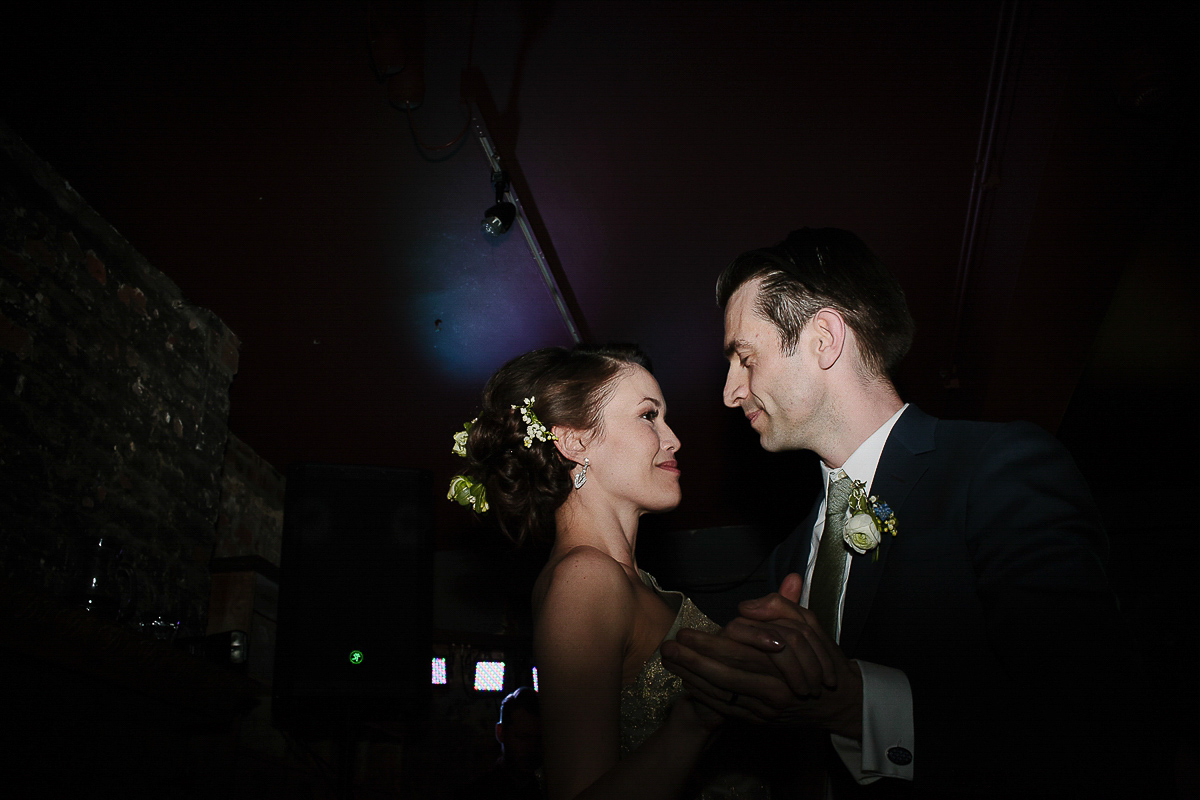 The couple hired a band called Party Starters, found through the Alive Network, and had dance lessons in the lead up to their big day – no two left feet here!
"Our friend, Matt Turner, is a swing and blues DJ and he helped us to choose a song for our first dance – 'Let's Love Awhile', by Ben Webster. The song had to be just right because for the first dance we learnt a Lindy Hop routine in private lessons with the uber-lovely and talented Missy Fatale."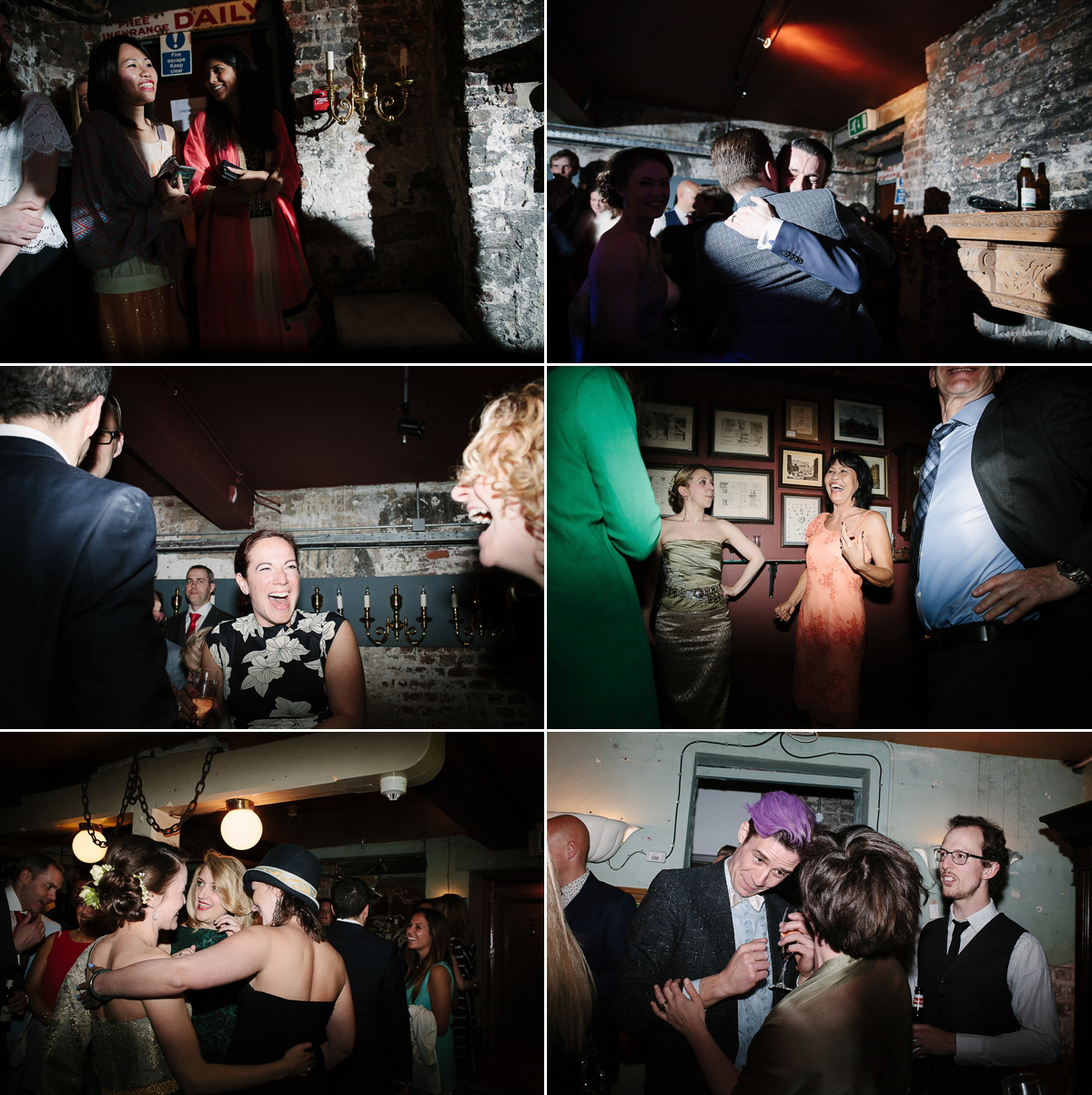 Words of Wedded Wisdom
"People will always have an opinion about how your wedding 'should' be, but remember that there is no should! Your wedding can be whatever you want it to be; don't be afraid to set boundaries and create a day that is unique to you as a couple.
Also, in the run up to the wedding, carve out some time each week for you both to do something that is not wedmin. For us, though wedding related, it was our dance lessons with Missy Fatale, a wonderful escape and time to ourselves – it kept us sane!"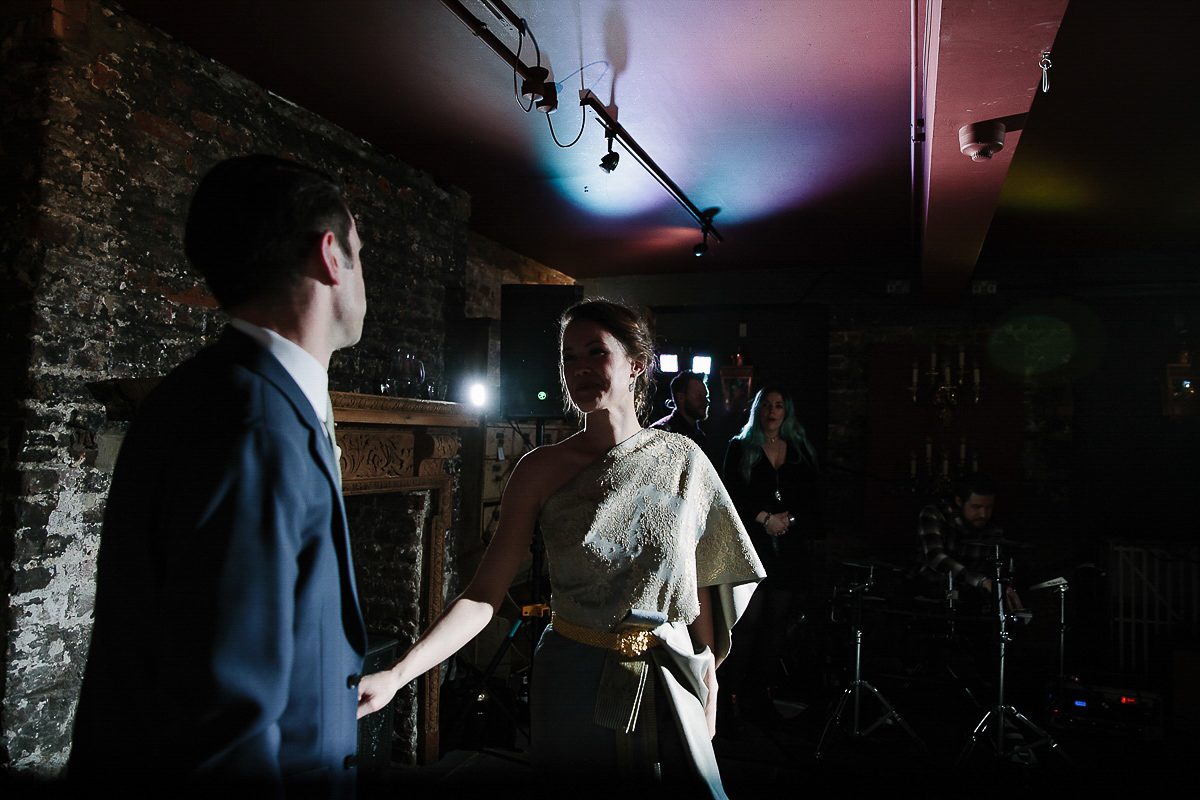 I adore these wise words – and what a brill idea to take dance lessons and have some couple time. Thank you to Alissa and Robin for sharing your delightful day with our readers and a very big thank you to Joanna for capturing such heartfelt pictures.
Lovelies, click here to view other weddings at The Asylum we've previously featured that are certain to provide loads of inspo if you're keen for a quirky venue for your upcoming nuptials.
Love Jo -xo-