Hi everyone, how are you all today? I hope you had a lovely time over the Bank Holiday weekend. Can you believe it's nearly the end of April already? I love this time of year, when the days are getting longer and nature is waking up. One of my favourite things when I wake early is to lie in bed and listen to the birdsong outside. There's a huge horse chestnut tree that I can see from my bedroom window, and I love seeing the candles beginning to blossom and the fresh, young green leaves unfurl a little more each day. Thinking about foliage brings me nicely on to this morning's wedding;  Shevaughn and Hamish tied the knot on 24th September last year, with a ceremony held at St John's Church in Cullingworth in Bradford, West Yorkshire, followed by a relaxed and lovely Papakata Sperry Tent reception held in the nearby grounds of Shevaughn's parent's home'.
These gorgeous images are the work of Melissa Beattie. We've featured her work many times on Love My Dress – I personally really love Melissa's ability to capture natural, genuine moments. Melissa is also a member of our Little Book for Brides wedding directory. Visit her profile here and you can take advantage of a very special offer for Love My Dress readers.
Now how about this beautiful Jenny Packham gown? The dress and veil combination conjurs images for me of a woodland fairy, which fits beautifully with the natural, foliage-oriented feel of this wedidng. Shevaughn purchased her dress from the Jenny Packham flagship store in Mayfair and added a lace-edged Cathedral veil by the same designer.
"Jenny, the lady who ran my fitting, was just wonderful. She was so full of energy and so down-to-earth it made for a great experience – all whilst listening to calming music surrounded by scented candles and looking out in a Zen-style garden."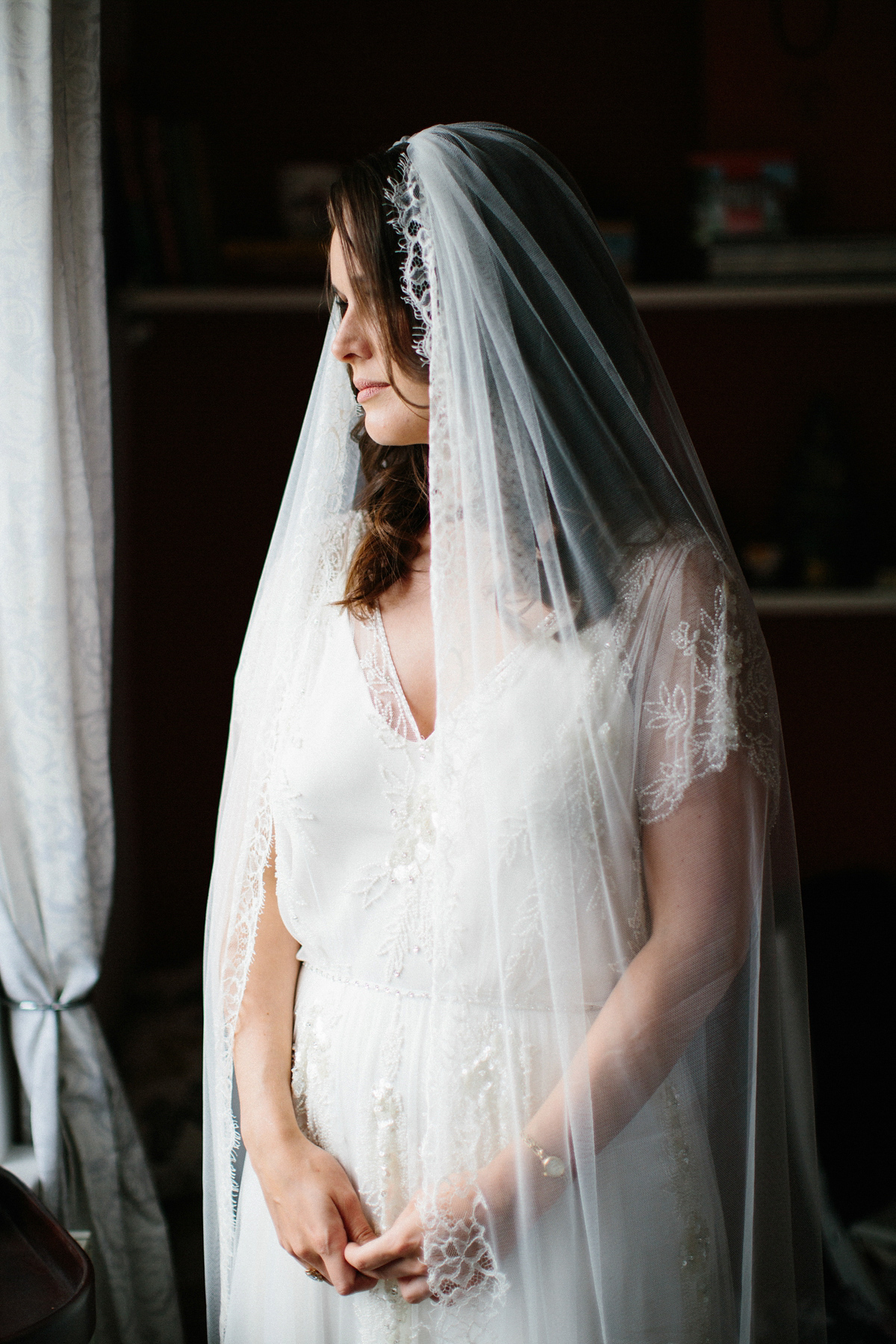 "Our photographer, Melissa Beattie, was fantastic to work with and made everything very easy for us. We chatted a bit before the big day and got a list of ͚family photos that were needed. Apart from the rapid fire twenty-to-thirty minutes needed to get these done, Melissa snapped away in the background and has quite simply taken some absolutely stunning photos. We are so happy with them.
The thing that we loved most about Melissa was that she let us get on with our day and took the photos around us, now and again popping in to move my veil or straighten something. The last thing we wanted was a photographer who spends the day inches away from you ordering you around. It couldn't have been further from that with Melissa."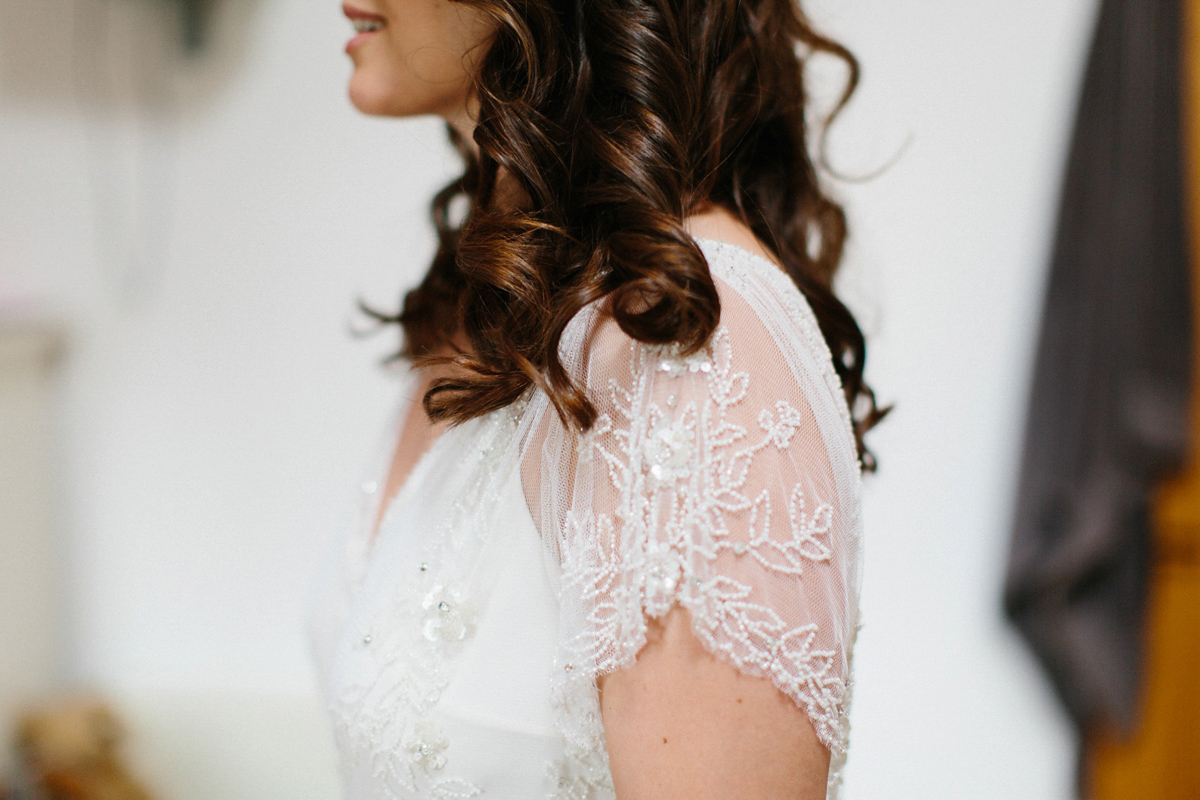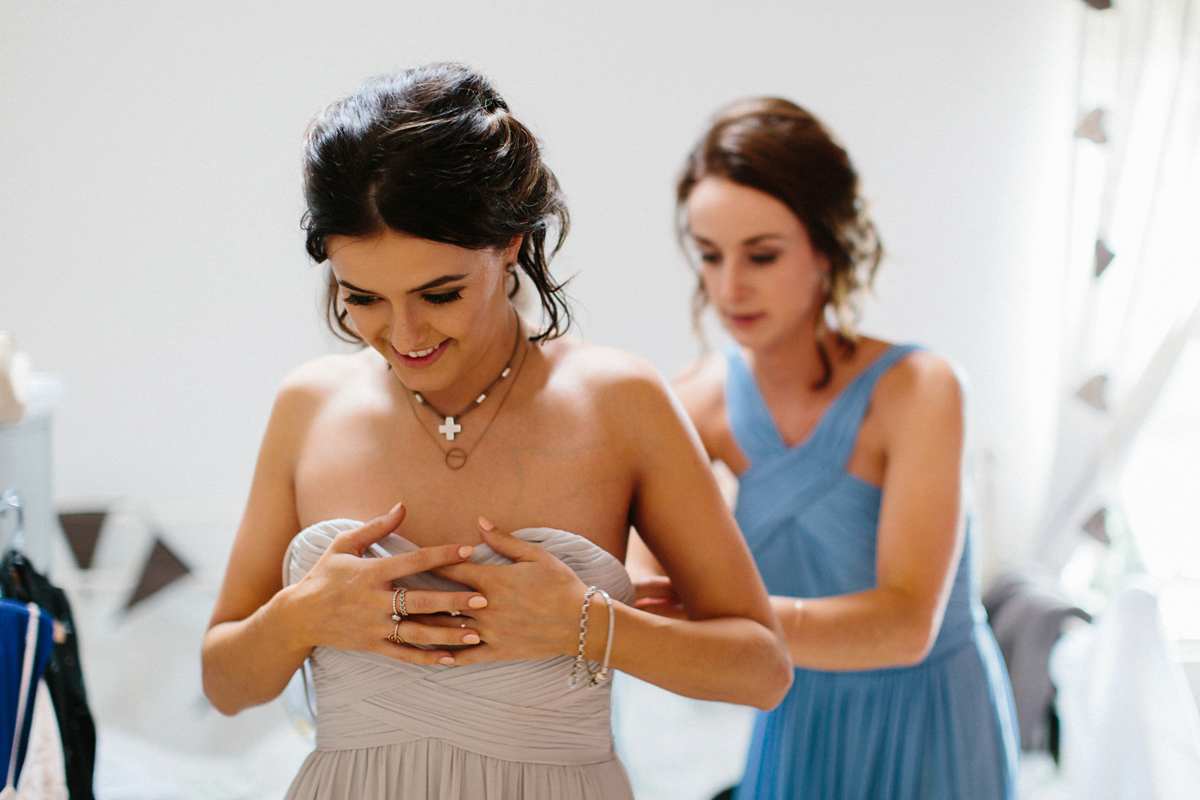 It's time to talk about my favourite element, the flowers. The bouquets, buttonholes and table runners by Forage and Blossom really evoke a natural, autumnal feeling with their rich, rusty colours and heavy use of foliage and berries, including rosehip, thistle and heather.
"We went and met Alice, sat and chatted with her for a couple of hours about us, how we met and the wedding. Having done that Alice sent through a bit of an outline of what she thought we wanted and we were absolutely sold. It's more important to choose the florist rather than have a really focused vision. We discussed a style with Alice and she put it all together with the flowers and plants available at the time of year we got married. The exact plants and flowers that were there on the day were a surprise to us as well but it looked exactly how we imagined it would."
Shevaughn chose to return to her home village of Cullingworth, West Yorkshire for her marriage, with the ceremony held in St John's Church (where she was christened) and a reception in a Papakata Sperry Tent, at her parents' home Gillville, just a stone's throw from the church.
"Waking up in my own bed on the morning of the wedding went some way to calming the nerves"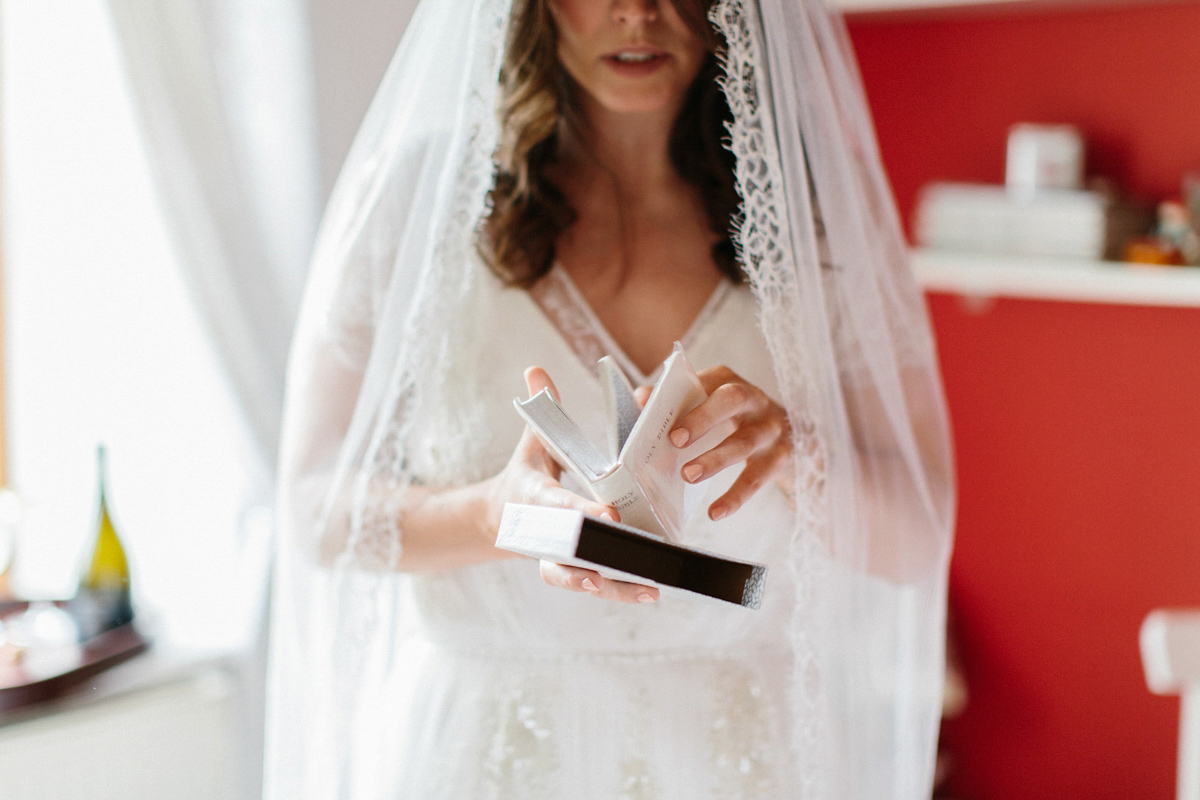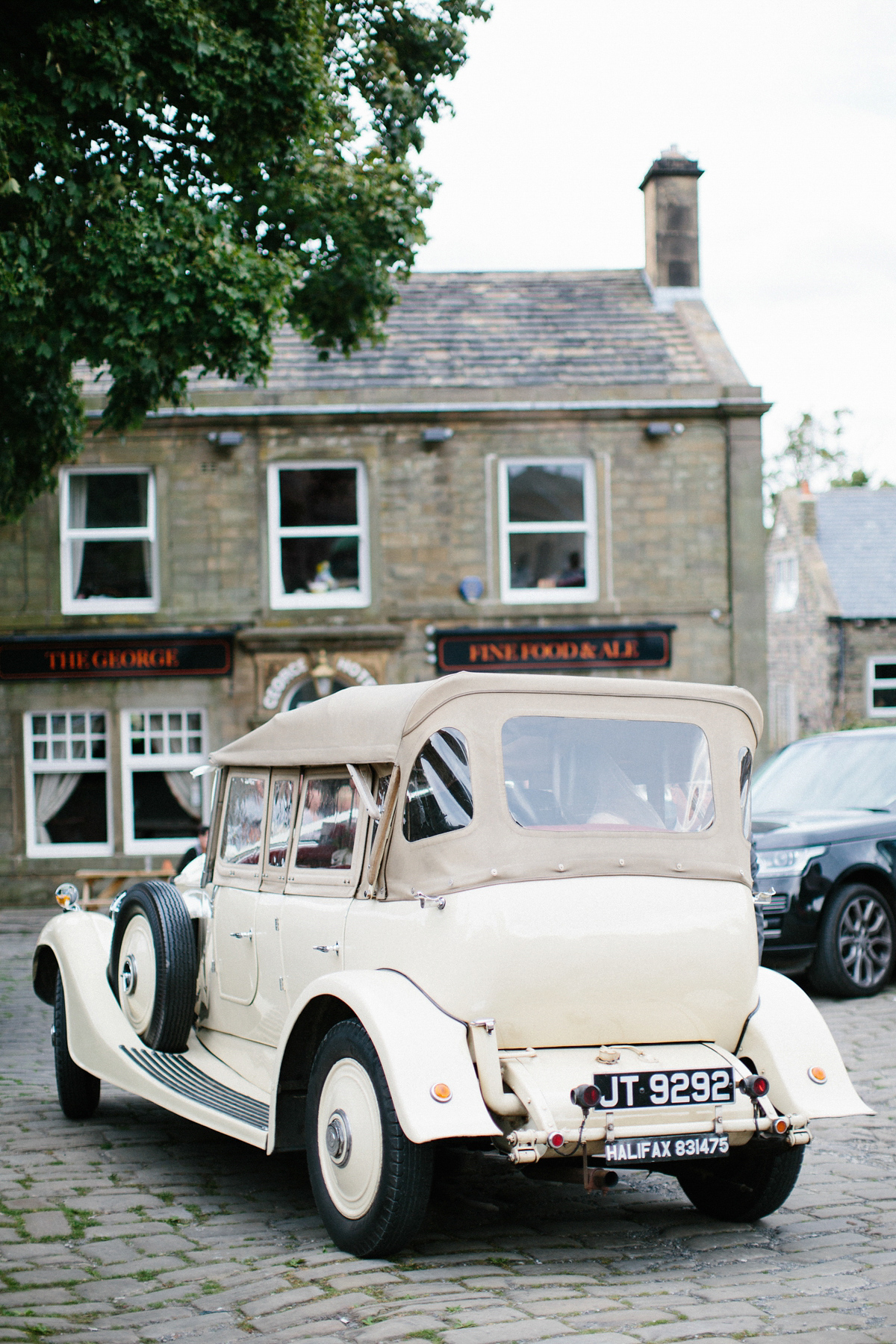 The couple met when they were both working on Chelsea Waterfront, London, Shevaughn as a project architect and Hamish as a television producer recording for a promotional film. After a long day in front of and behind the cameras, Hamish left a note in Shevaughn's notebook leaving his number and asking for a coffee. So let's fast forward a few years to the most romantic proposal.
"The proposal happened in Scotland on the edge of Loch Linnhe – the one place in the world that both of us seem to be able to shut off and relax. On 4 November 2015, Hamish had booked a week away in the cottage we have always driven past before and cooked up as a perfect future bolthole."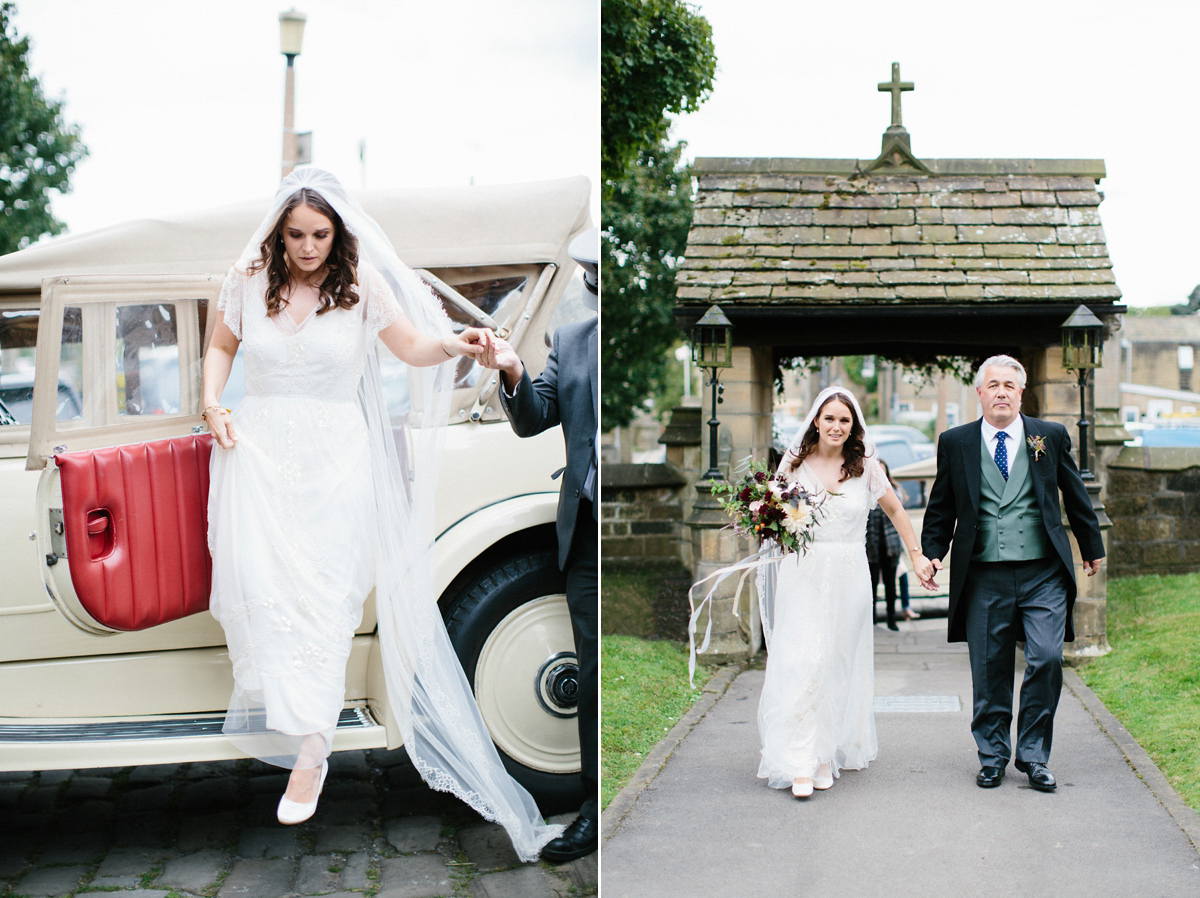 "Once the Royal Mail had made sure the ring was safely in Hamish's pocket we went for a long walk along the edge of the Loch to find the old ruined estate house and have a picnic. Hamish found the only section of sloped ground, got down on one, and then two, knees due to the slope and asked me to marry him."
"All the while this was going on Jock the dog was snaffling the picnic, which led to a very long, very hungry walk back to the cottage for the two of us. An evening of jigsaw puzzles, wishing lanterns, Nyetimber and fire building was the perfect celebration."
Shevaughn walked down the balloon-lined aisle on the arm of her dad to Trumpet Voluntary played by LB Brass Band; what a way to make an entrance. Like many other couples, they chose the service as their favourite part of the day.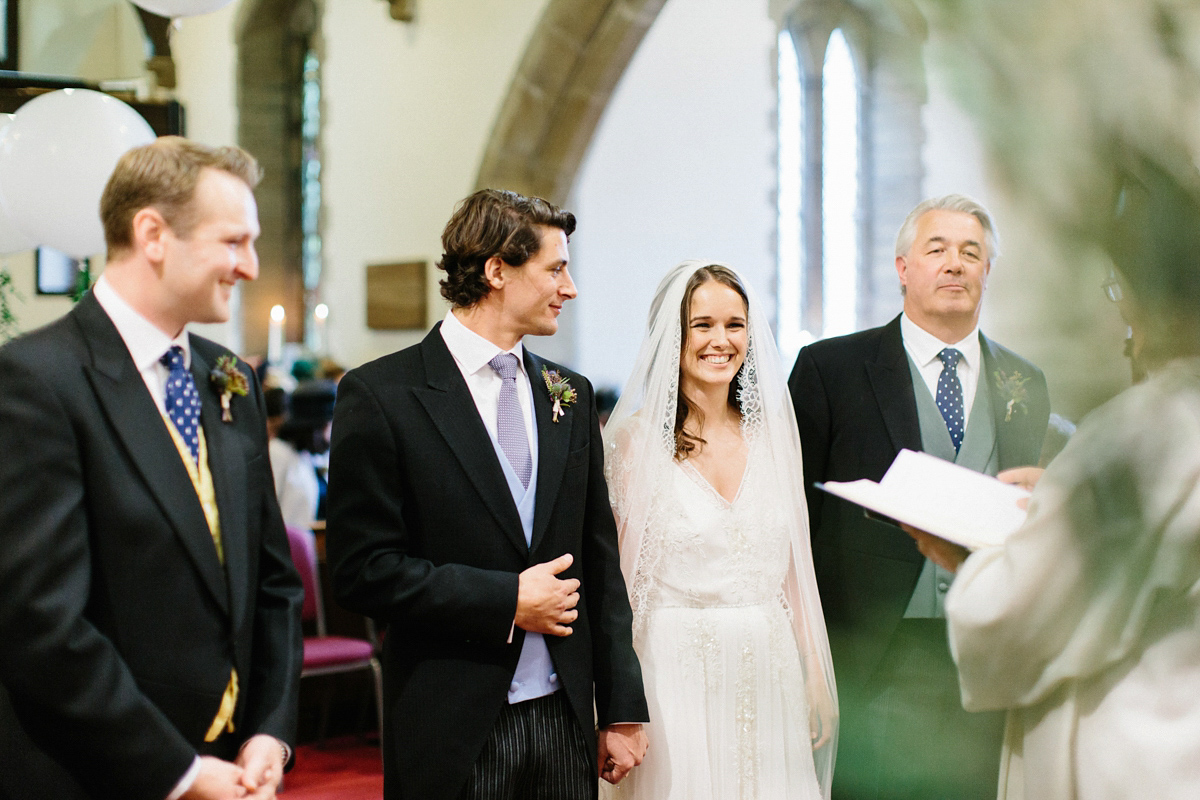 "For both of us hands down, no contest, it was the church service. The actual moment that we saw each other for the first time in the church and the stomach-churning nerves disappeared and this wave of excitement, emotion and happiness took over. The rest of the day was absolutely incredible and the most fun we have ever had but it all started in the church. We spent the entire service chatting and giggling together up at the front and this seemed to spread through the congregation. It was just so much fun."
Readings were 'The Owl and the Pussycat' and 1 Corinthians III, both of which were chosen for personal reasons.
"The words of Corinthians are just perfect. We shortened it a little bit and although we wanted to have something that was a little different we looked long and hard and couldn't find anything as good. We can see why it is so popular. The Owl and The Pussy Cat, I used to read in competitions when we were younger."
Rings were from Isabelle Rowe, who also designed Shevaughn's engagement ring especially for her.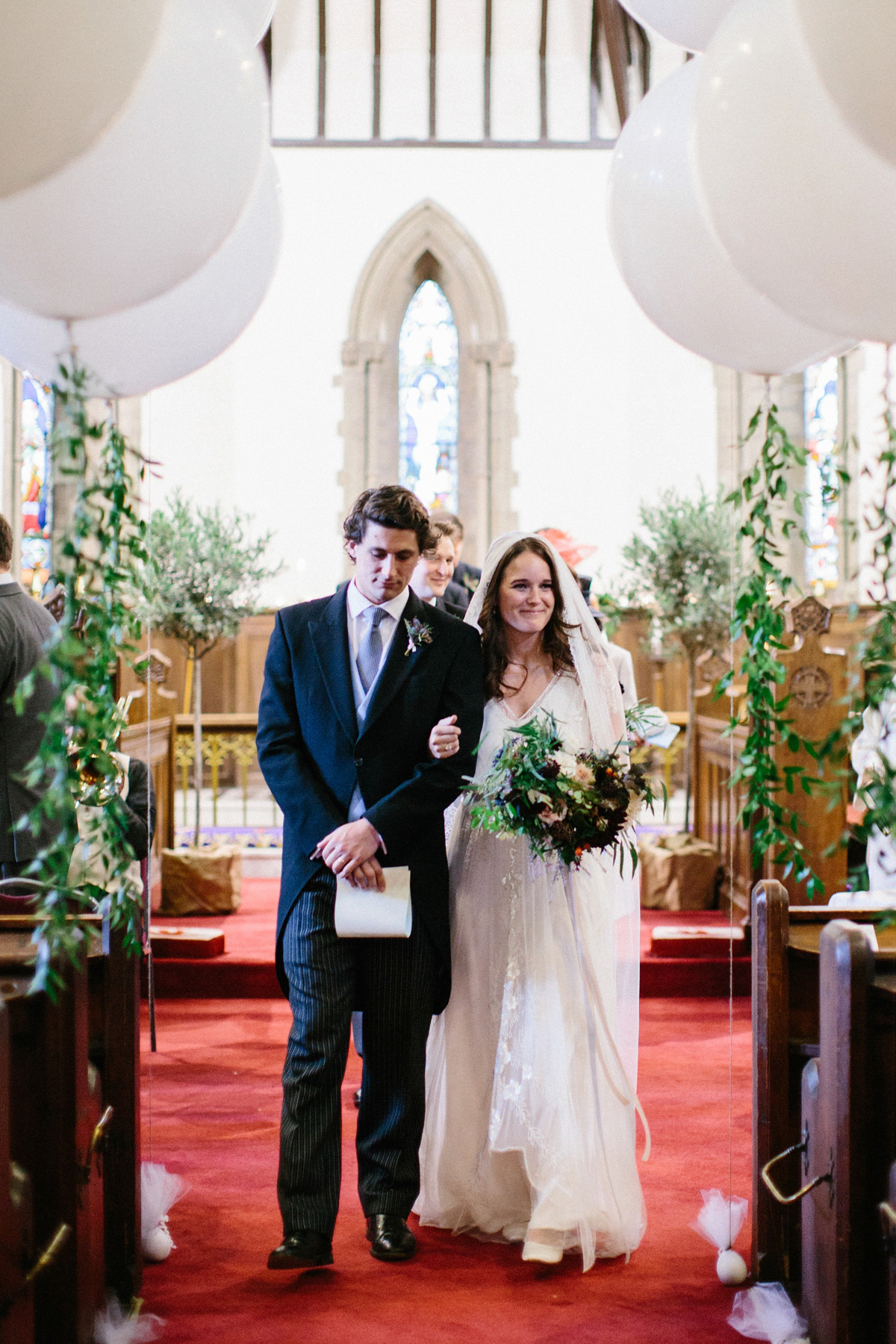 "Hamish was at school with Issy which made it all the more personal when designing the engagement ring. We tried to make everything about the wedding as personal as possible using people we knew. Issy has a fantastic eye for design of rings and seems to be able to design something that is perfect after a couple of cups of coffee and a bit of a chat with the person who is going to wear it."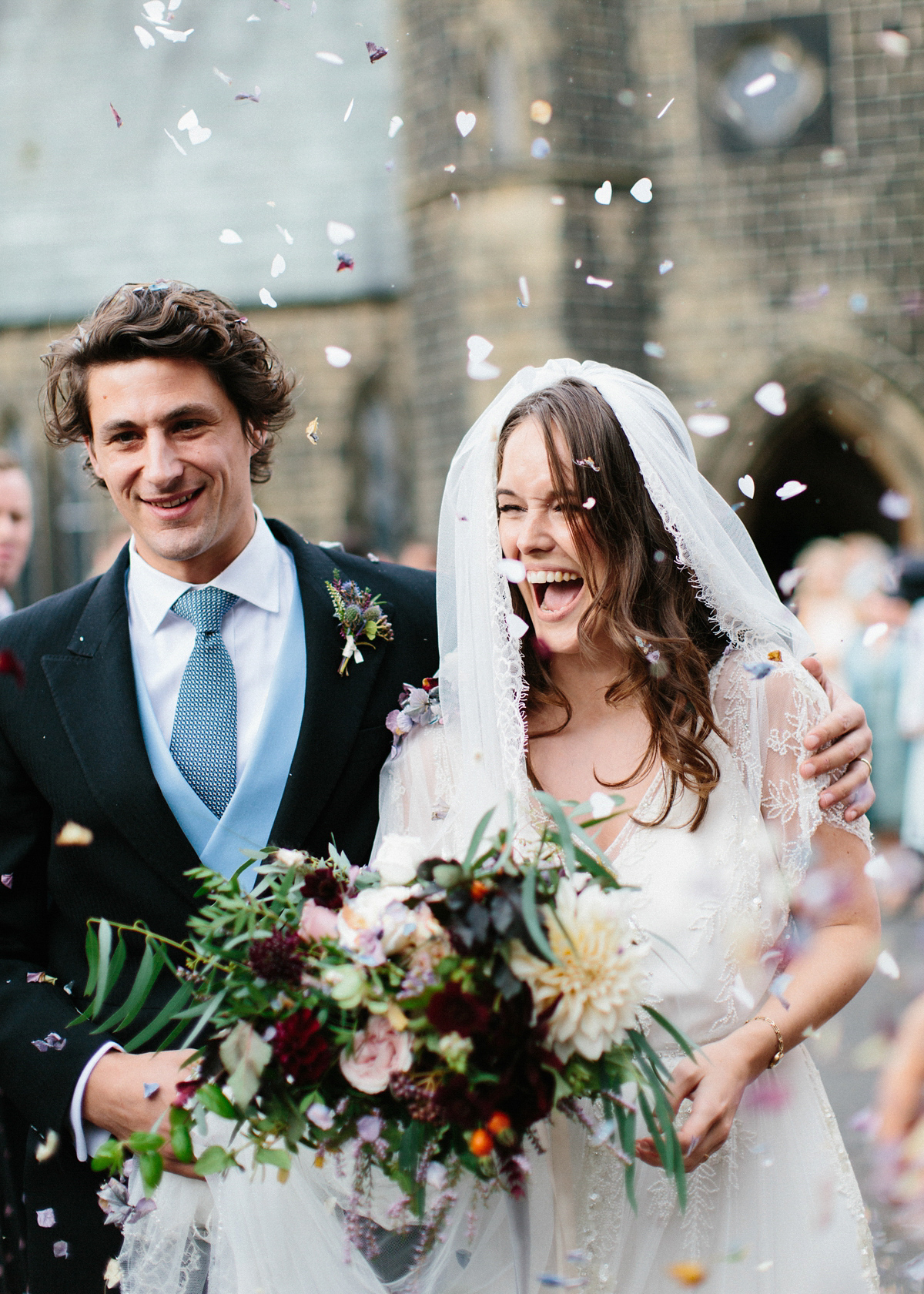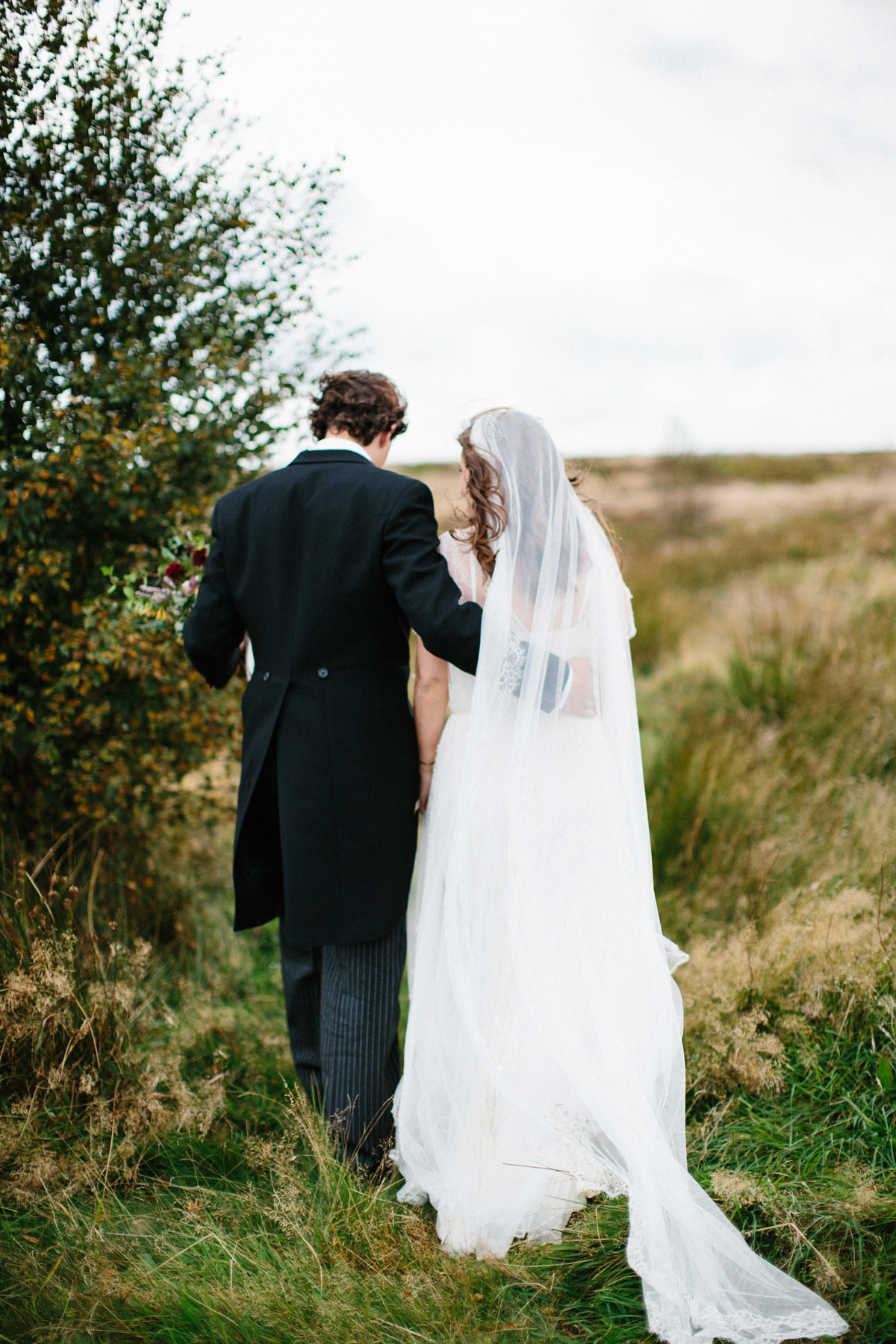 Accessories were kept simple and personal; a gold watch worn by her mother on her own wedding day, Dinny Hall pearl drop earrings bought on a date night in Soho, and an antique gold charm bracelet given to Shevaughn by her parents for her sixteenth birthday.
"It has been filled with charms on special occasions throughout my life. On the day there was a cricket bat (something old), a Bible ( for the day) and a Big Ben (for our life as a married couple in London)."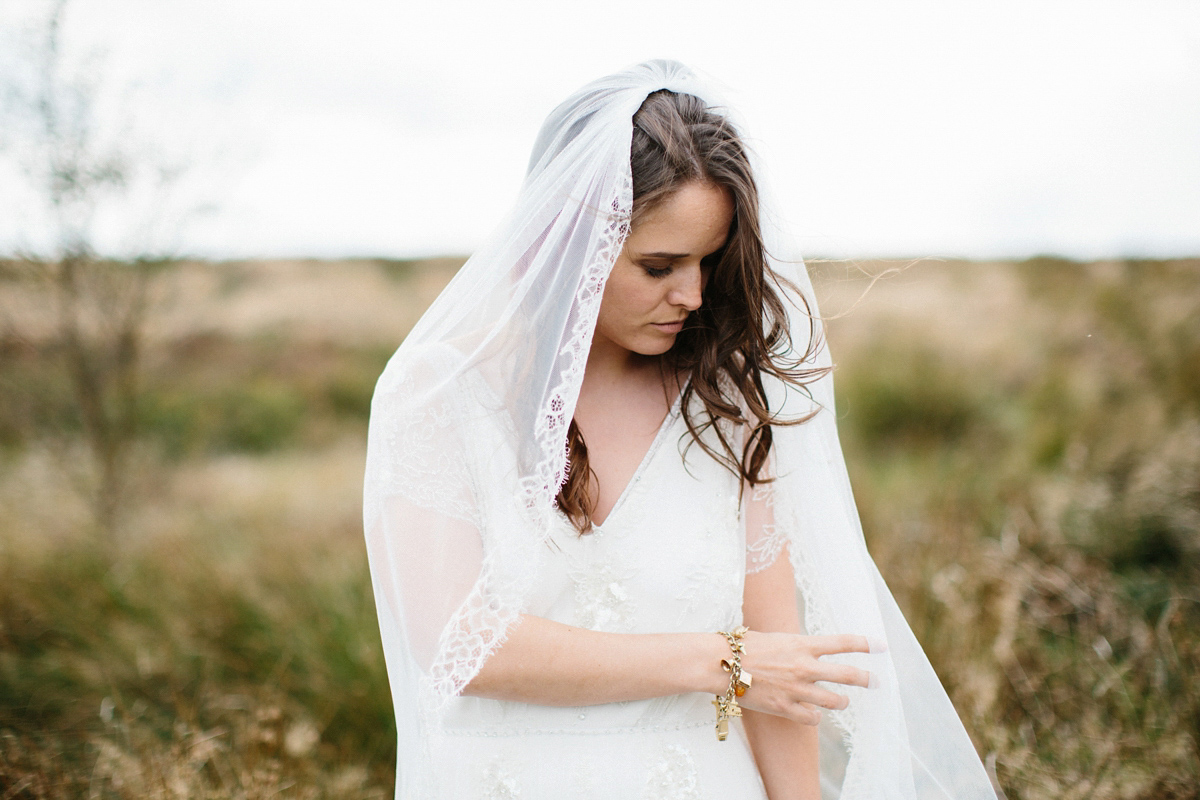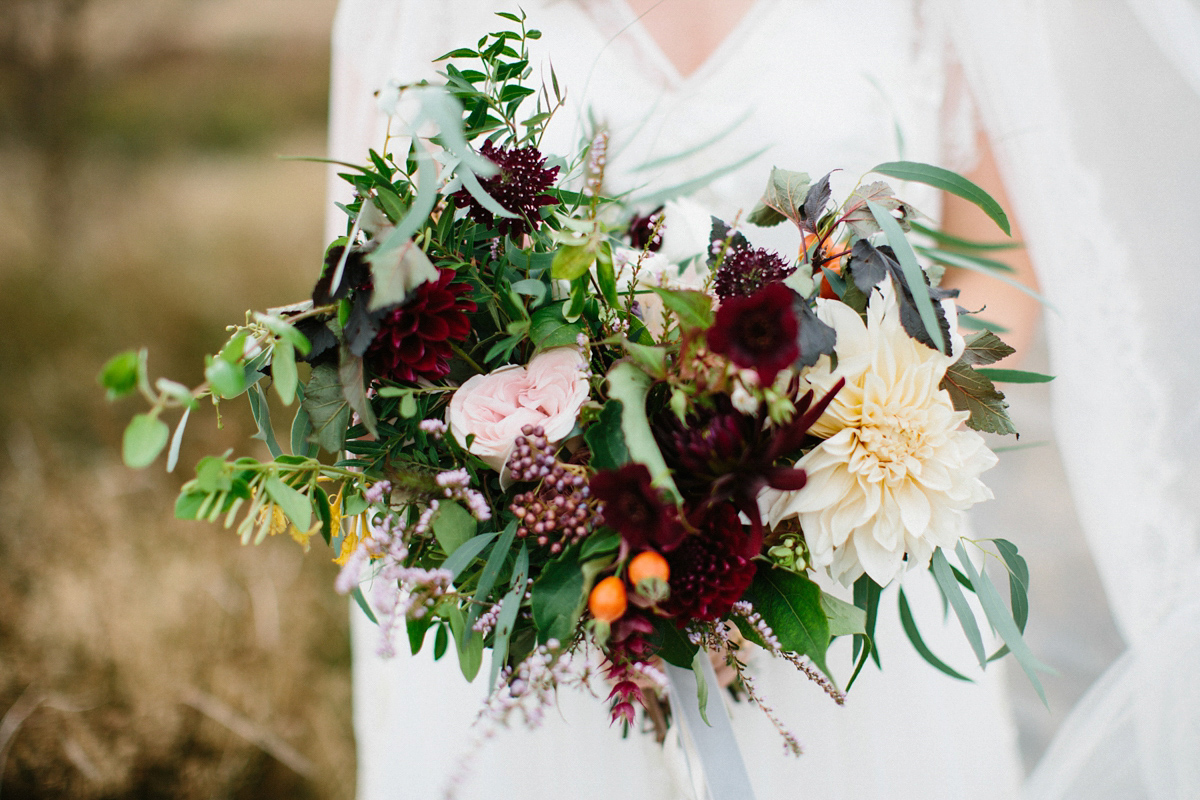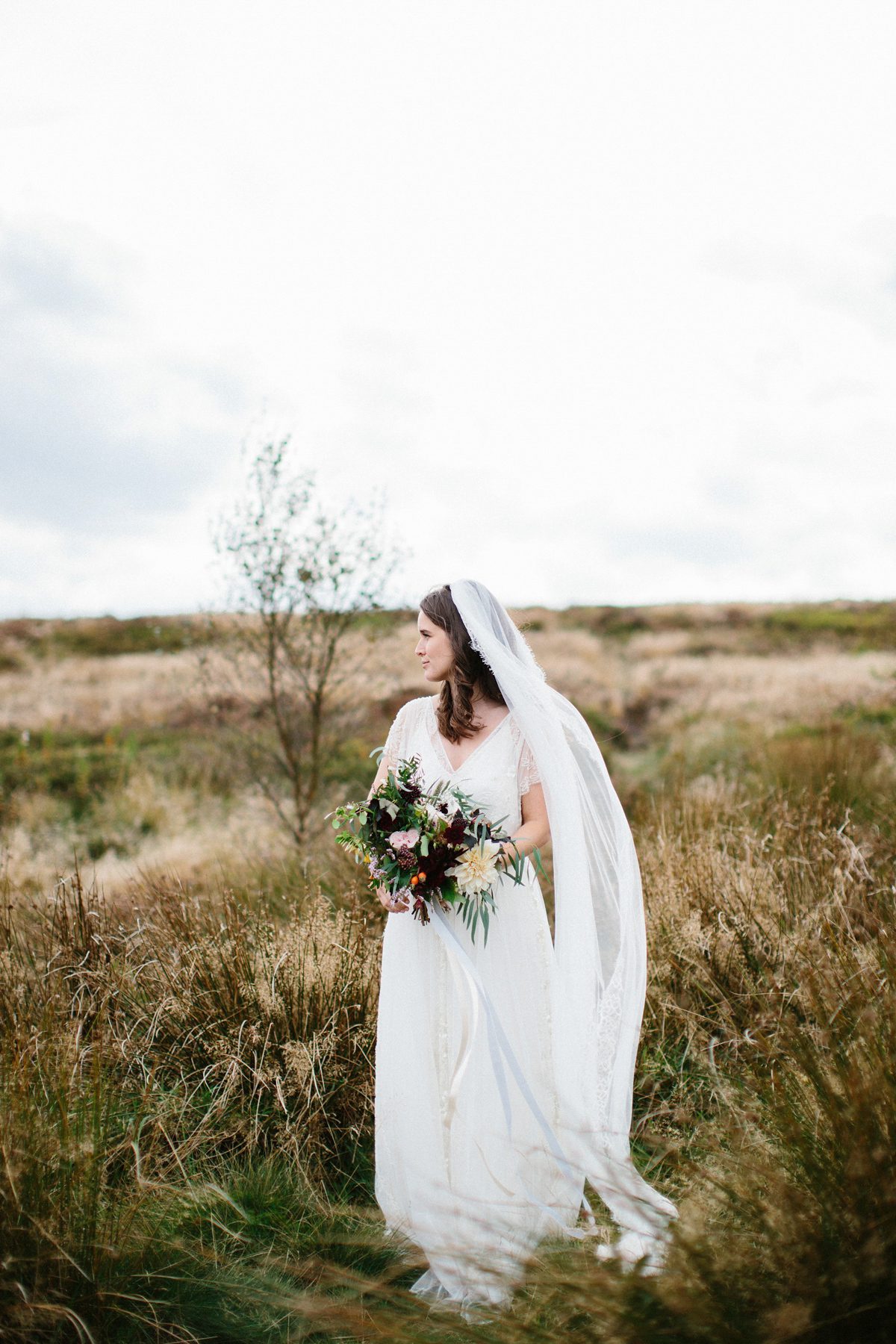 The groom wore his own Morning suit and added a bespoke waistcoat in powder blue from Jermyn Street in Soho and an Hermès tie.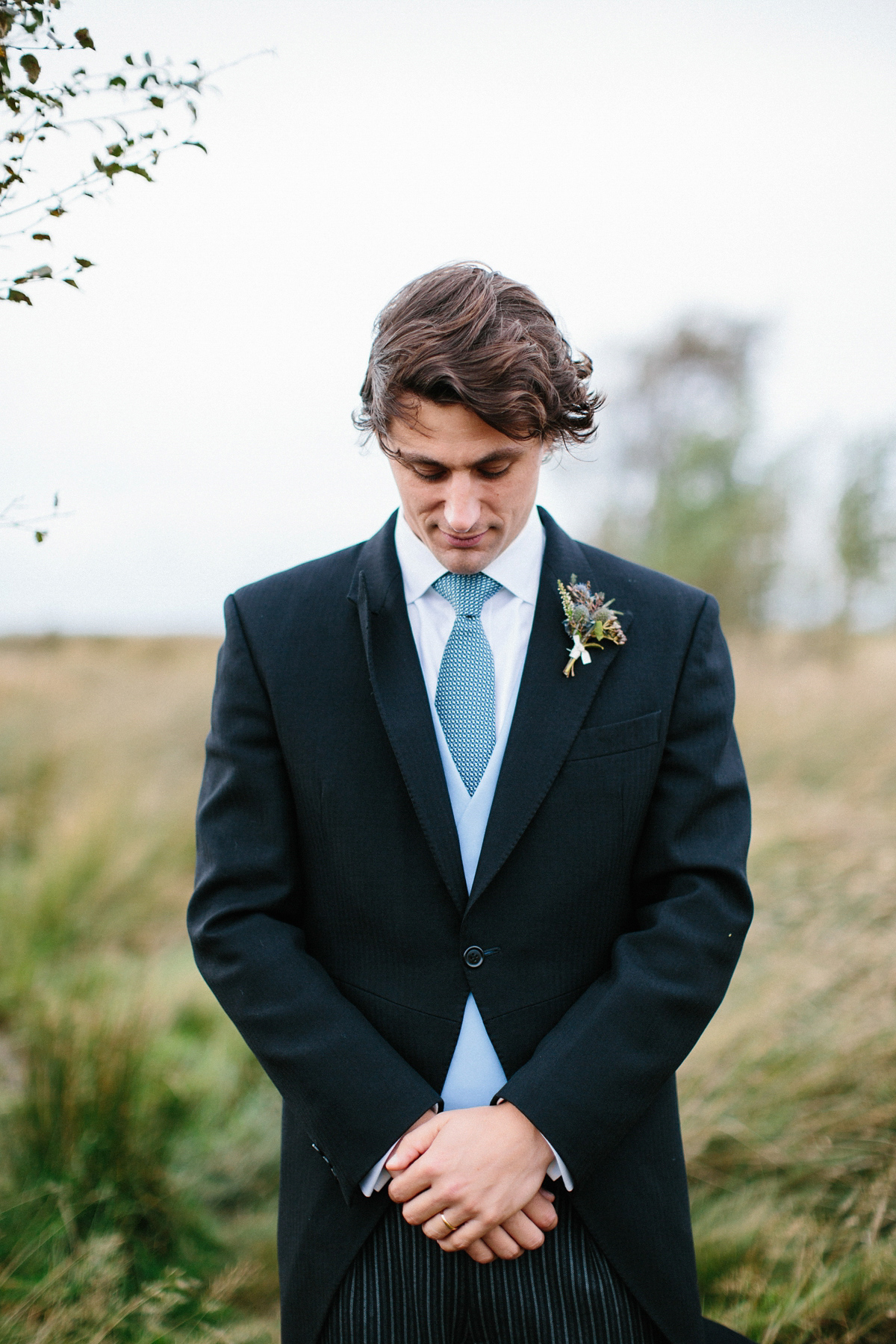 I'm a true fan of the look of mismatched bridesmaids' gowns and how it lets their personalities shine through. How beautiful do Shevaughn's girls look in their Watters gowns in different shades of blue? This mis-matched theme was reflected in Hamish's groomsmens' outfits.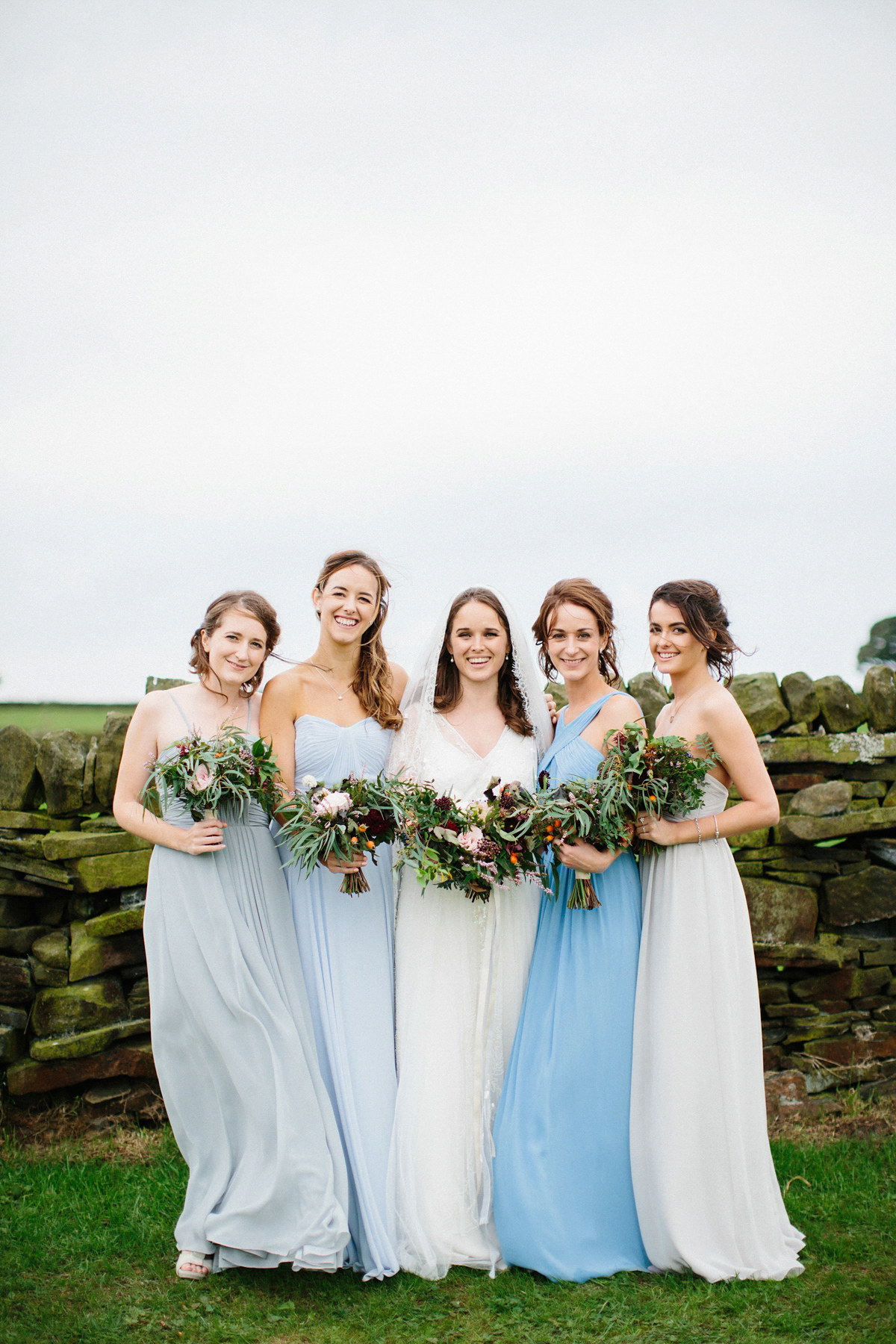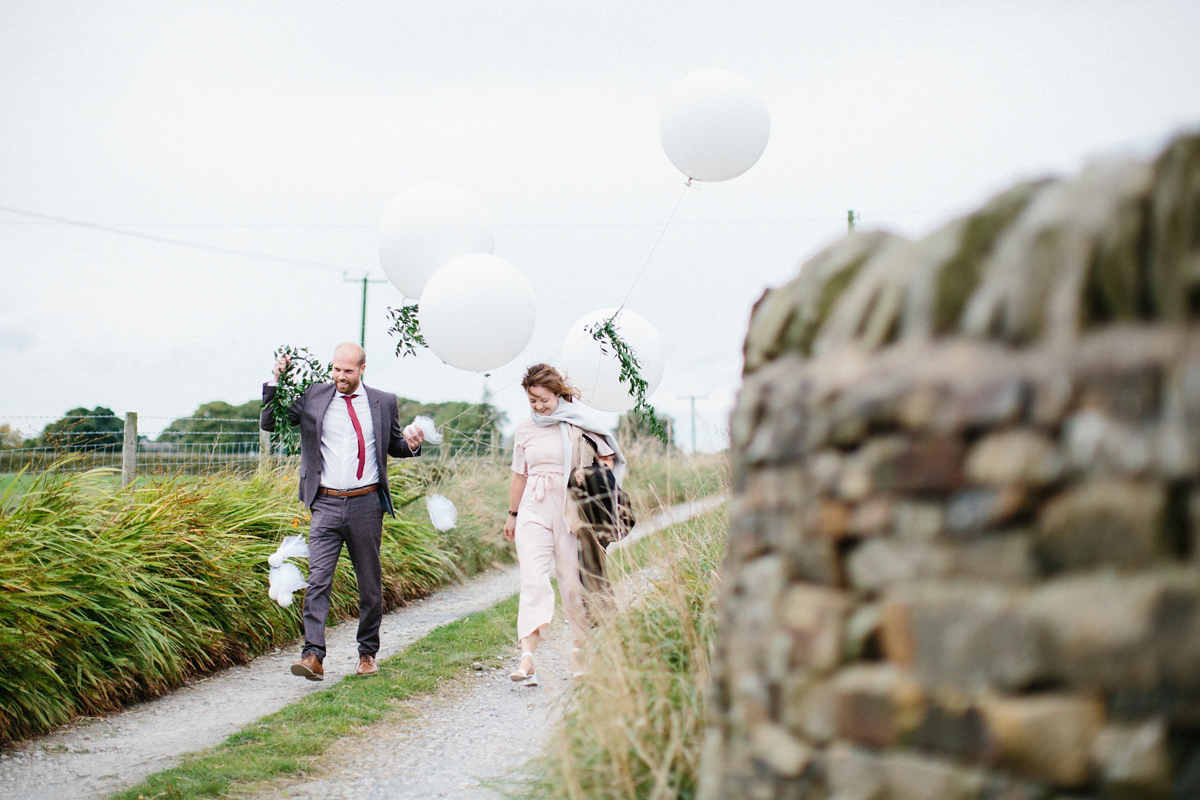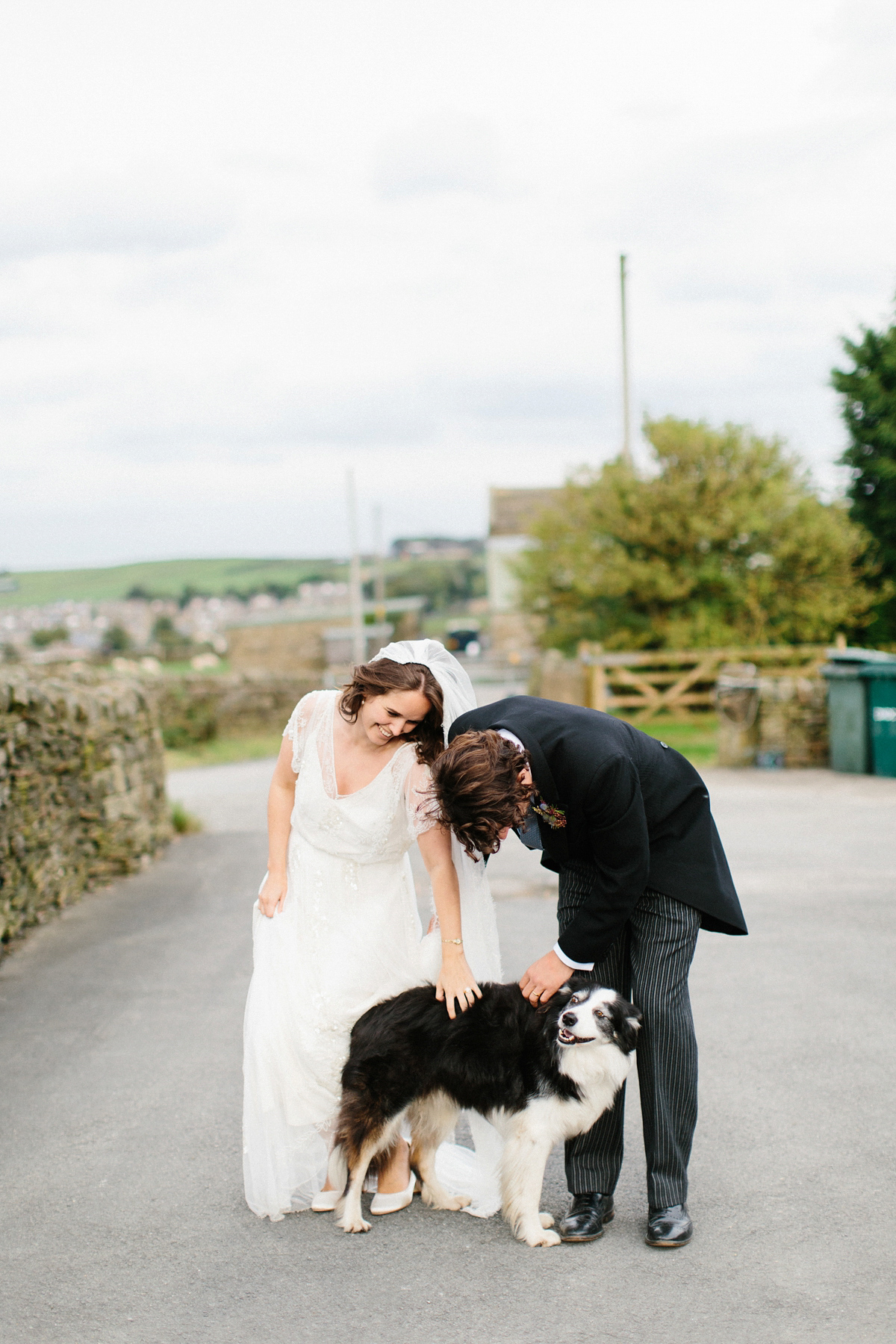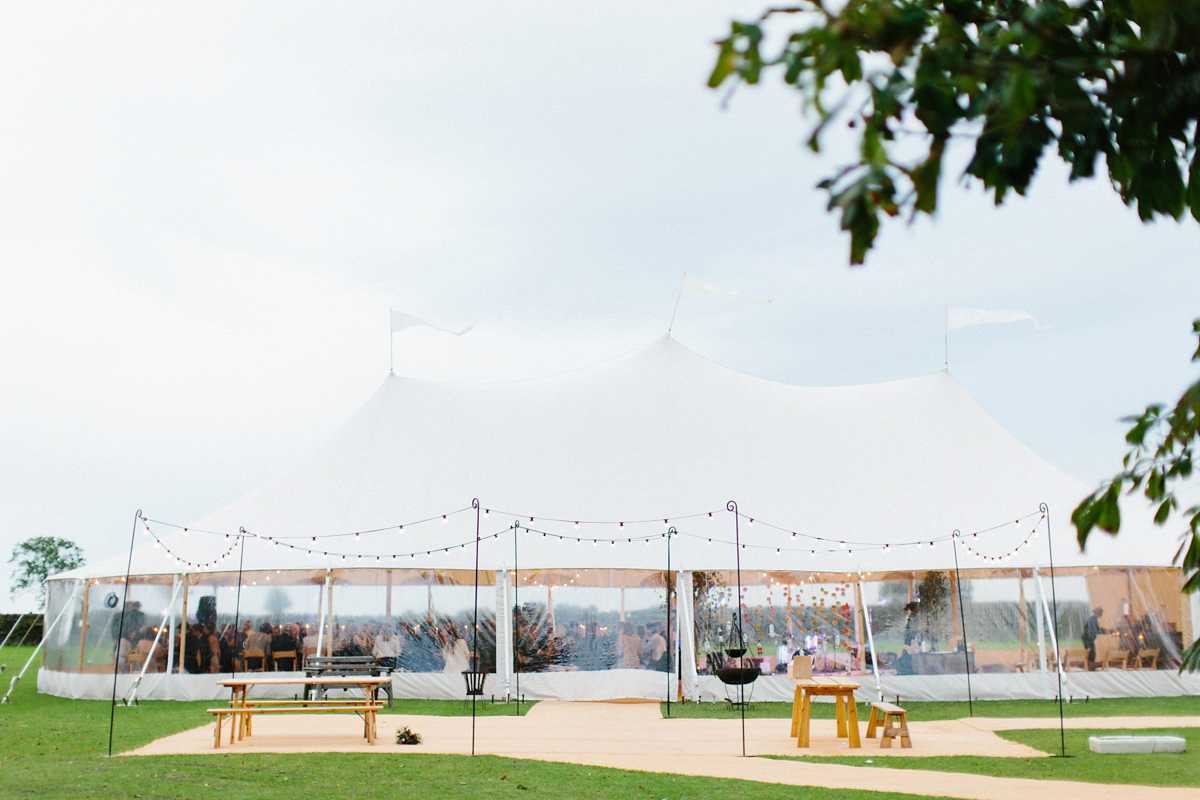 After the service the guests took a wonderful vintage bus to the airy Papakata Sperry Tent. I can't stop looking at the simple, deep green, garlands of leaves which run along the table and hang from the roof. So effective, they bring the outside in and must have smelt beautiful. Shevaughn's mum raided TKMaxx to source additional accessories in brass, gold and tartan, and light was added with strings of lights both outside and in. Overall the effect is warm, laid-back and inviting; the pictures of the guests settling down in the sofas to chat are wonderful.
This couple really have thought of all the details, supplying monogrammed handkerchiefs and pashminas for their guests.
"My dad has an embroidery business and so he supplied these – quite a dab hand with a needle – in the church for guests to use and keep, and a large basket full of pashminas (all sourced from Bombay Stores in Bradford) to keep the chill out."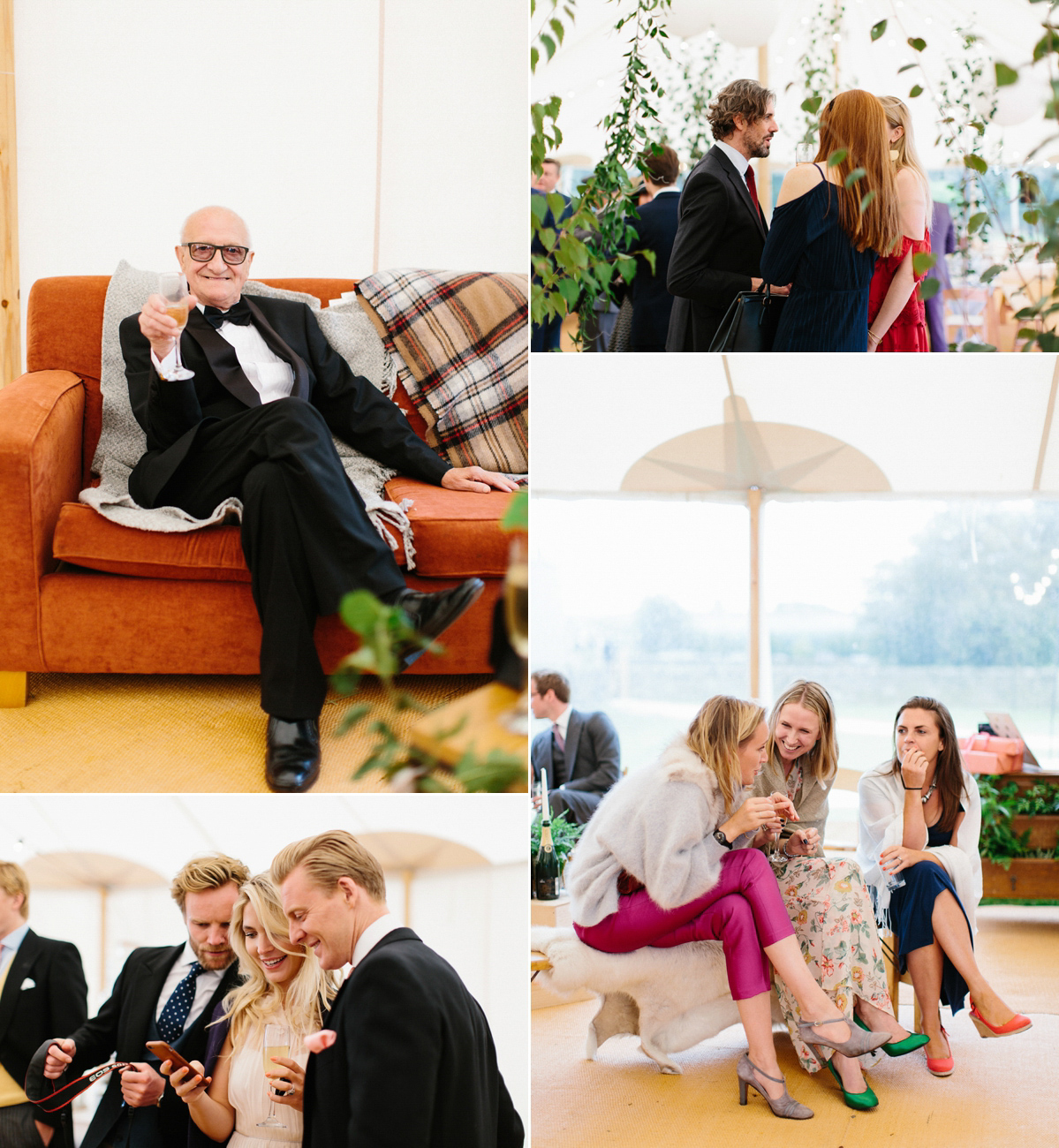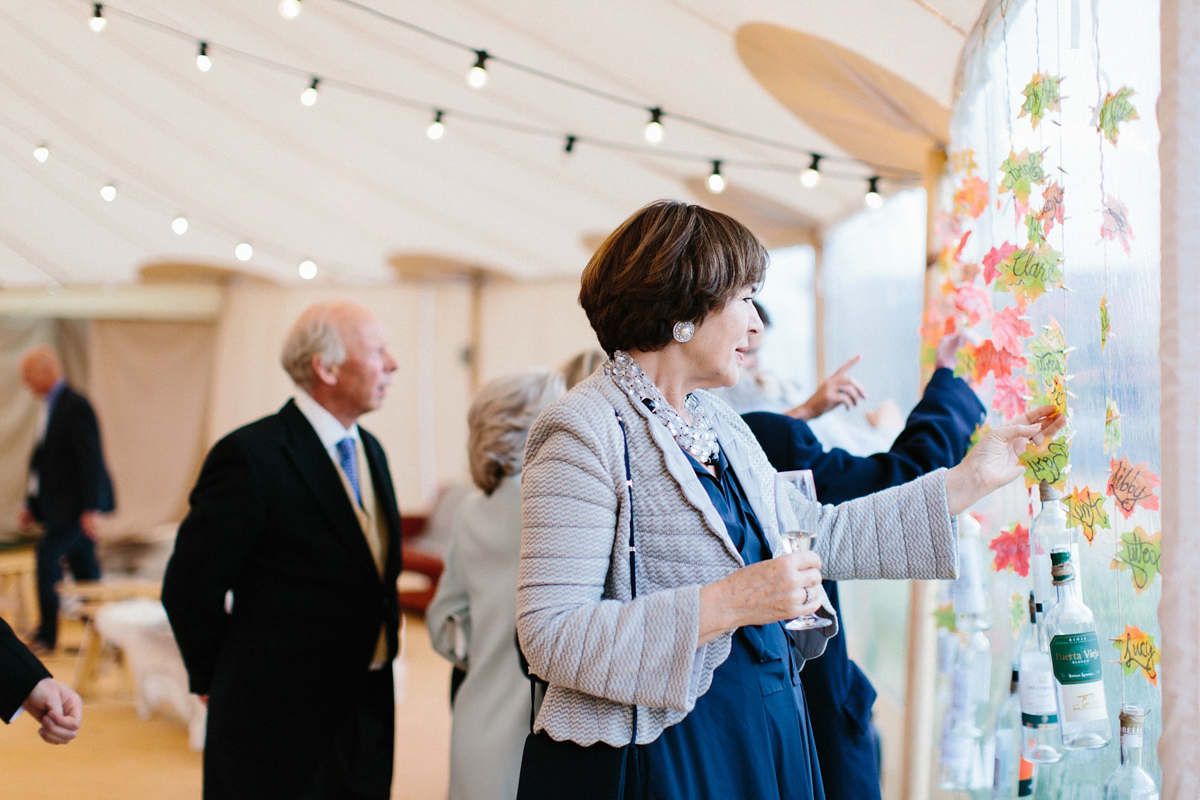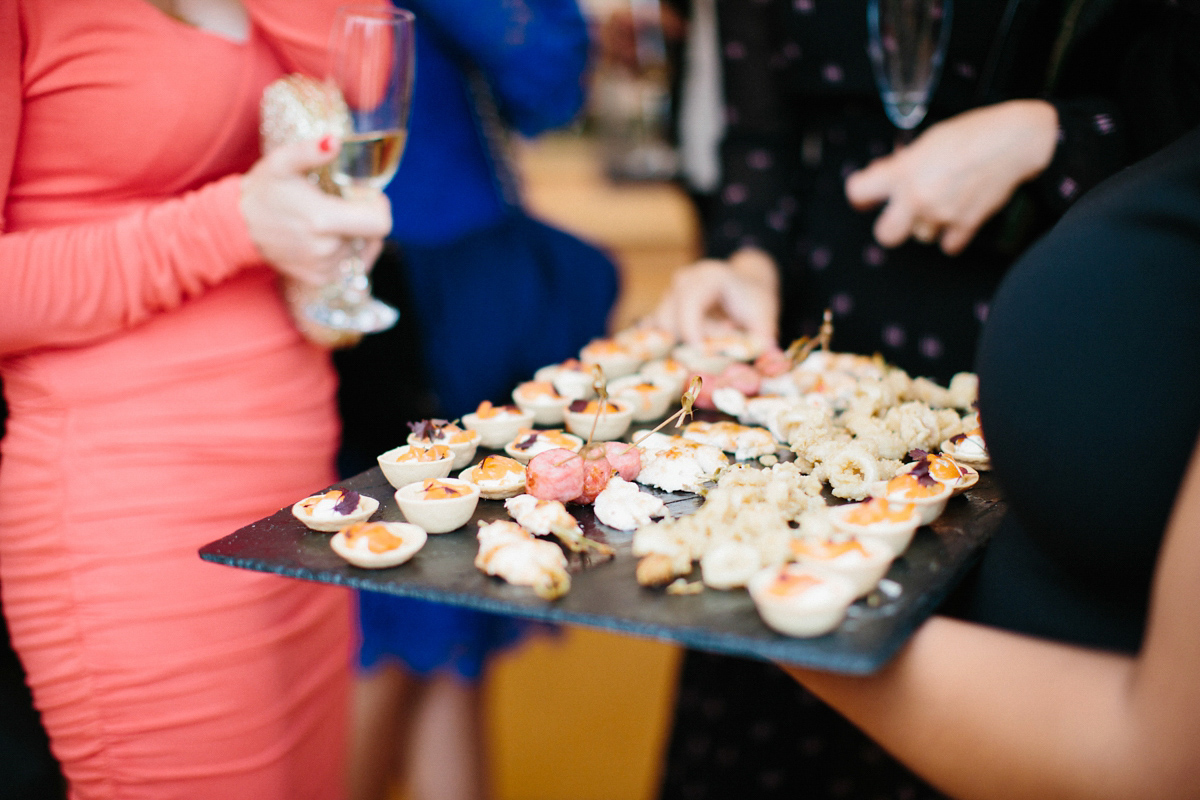 "The cake was made for Hamish and I by my aunts as a wedding present; they should go into business! Aunty Liz always whips up an amazing fruitcake for Christmas but this four-tier number was something else. Part-exposed, part-frosted with one layer gluten-free, there was more than a hint of brandy in the delicious fruit mix. And Aunty Kelly's magical garden produced the thistle decorations."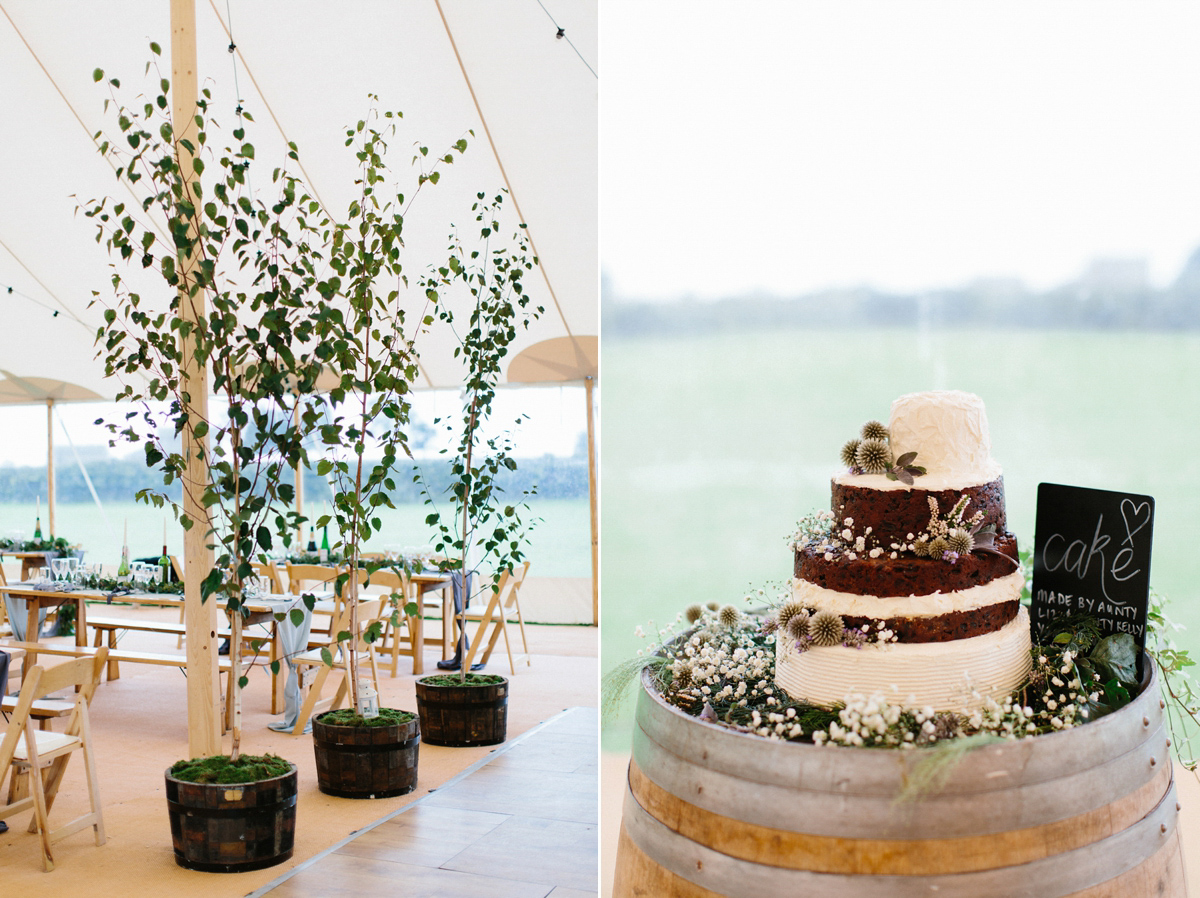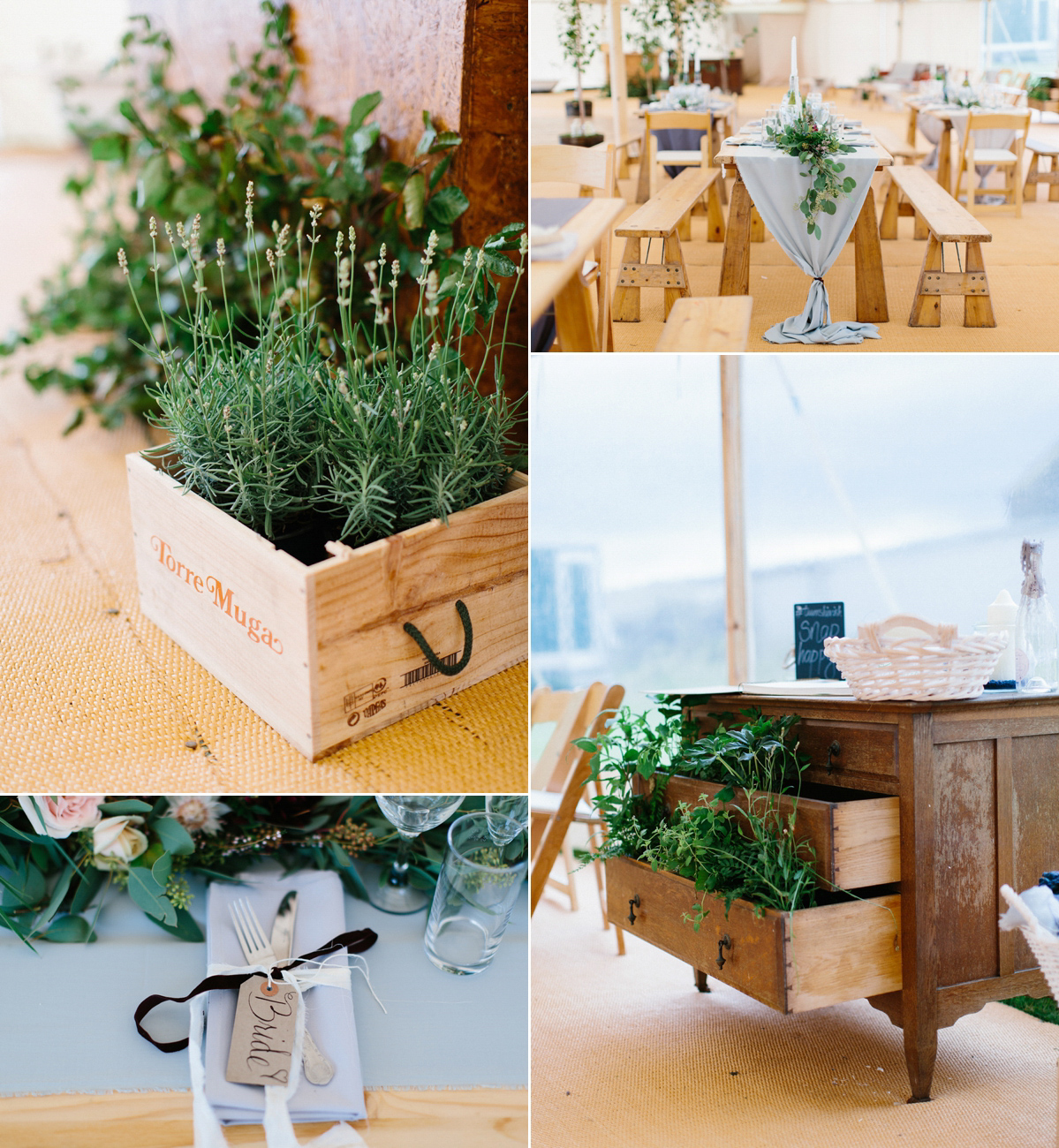 The pair were keen to create a really personal and relaxed day, using the services of as many personal connections as possible and putting so much thought into every detail. Shevaughn designed her own stationery (she's hoping to set up her own business soon), learning calligraphy along the way – what a labour of love. I really like how there is a personal story behind different elements of the day.
"The leaf table plan hung from the walls of the marquee was because when Hamish got caught smoking at school as a punishment he had to collect, staple together and number with Tipp-Ex one thousand leaves before dinner."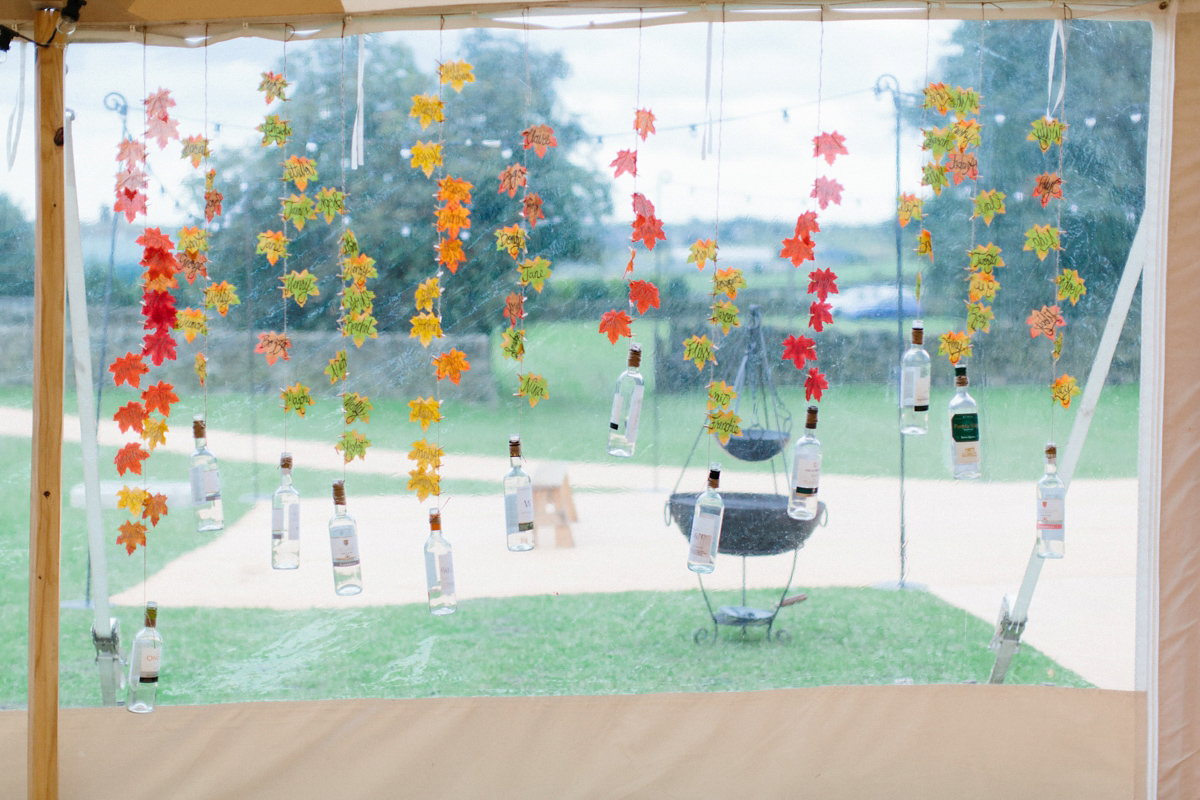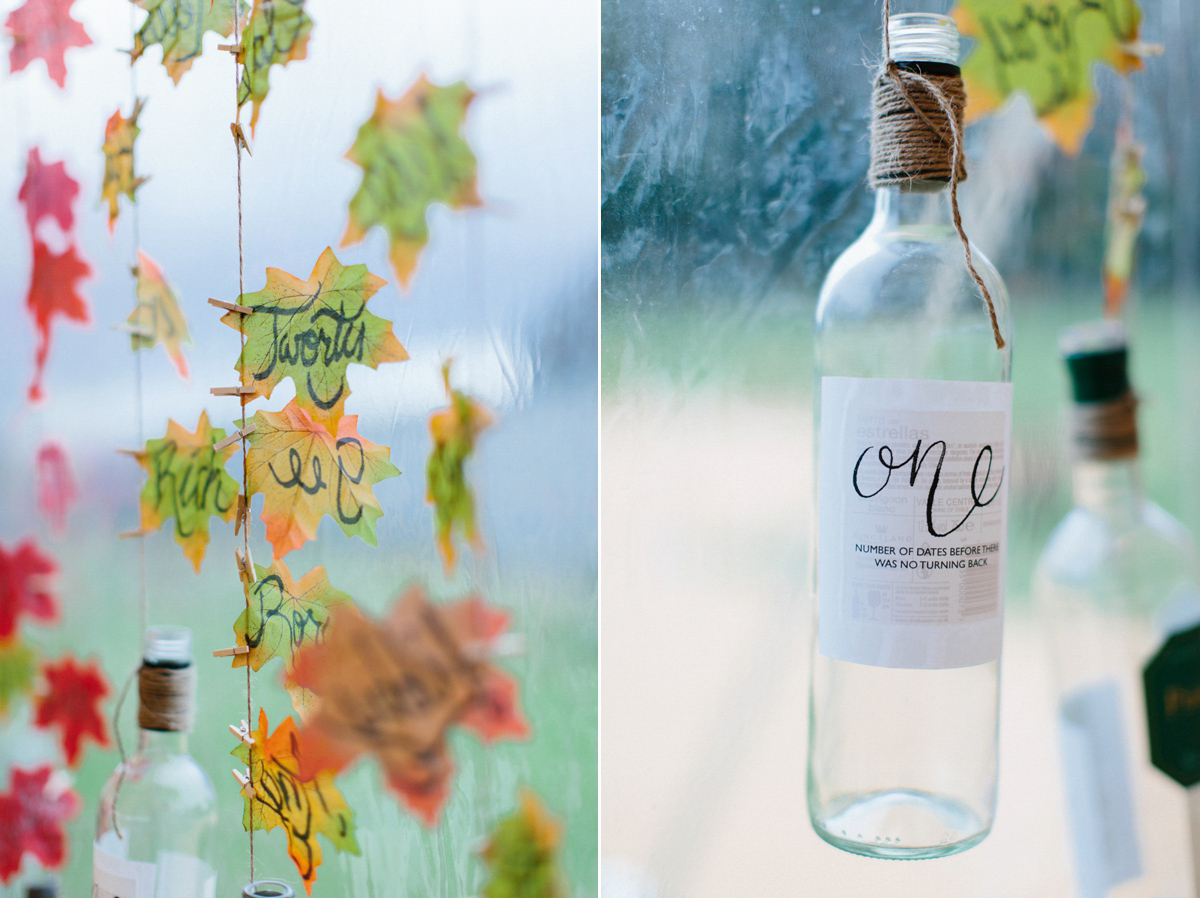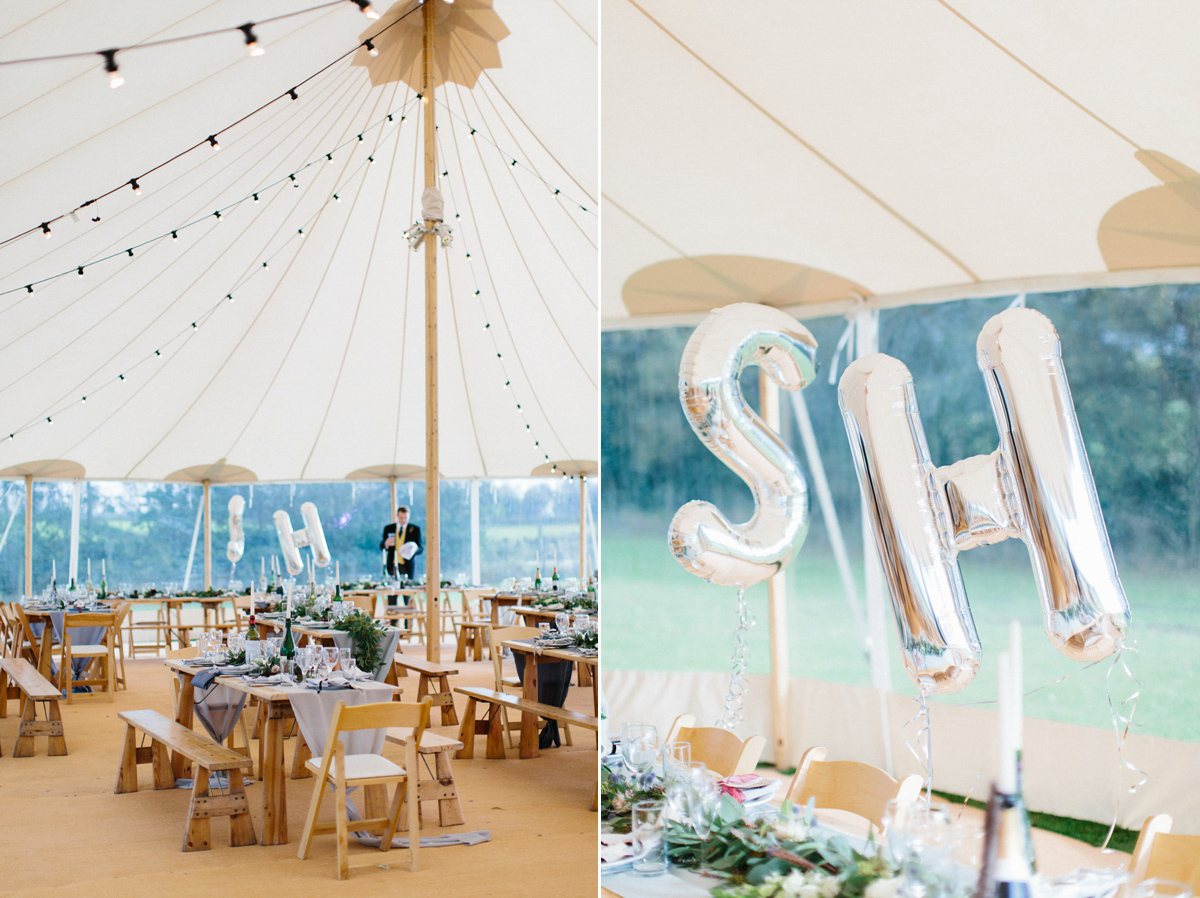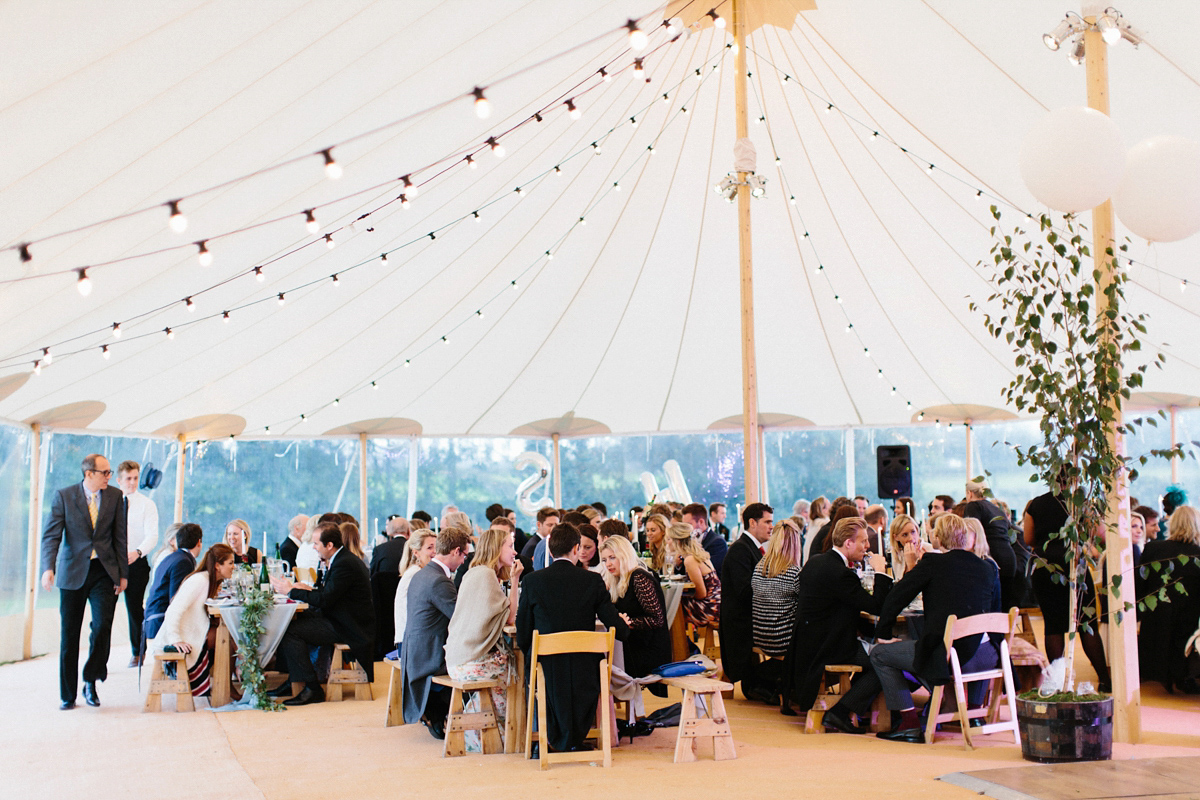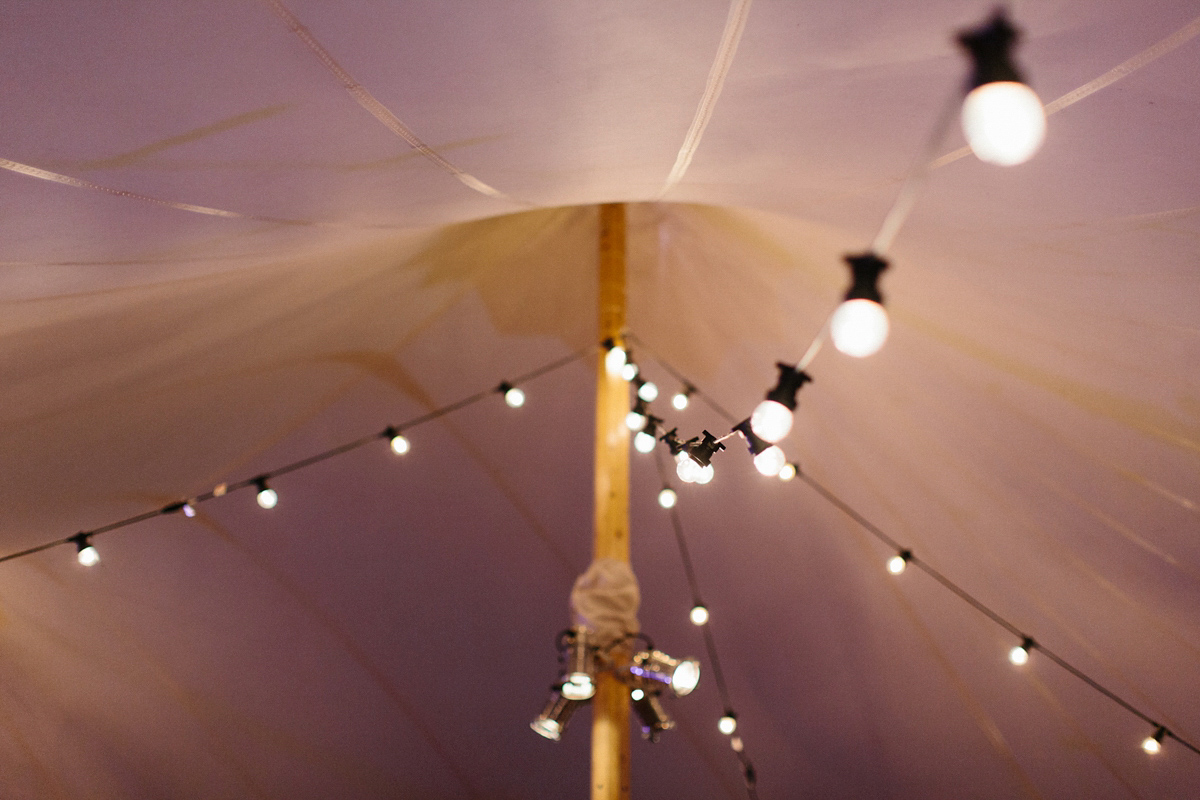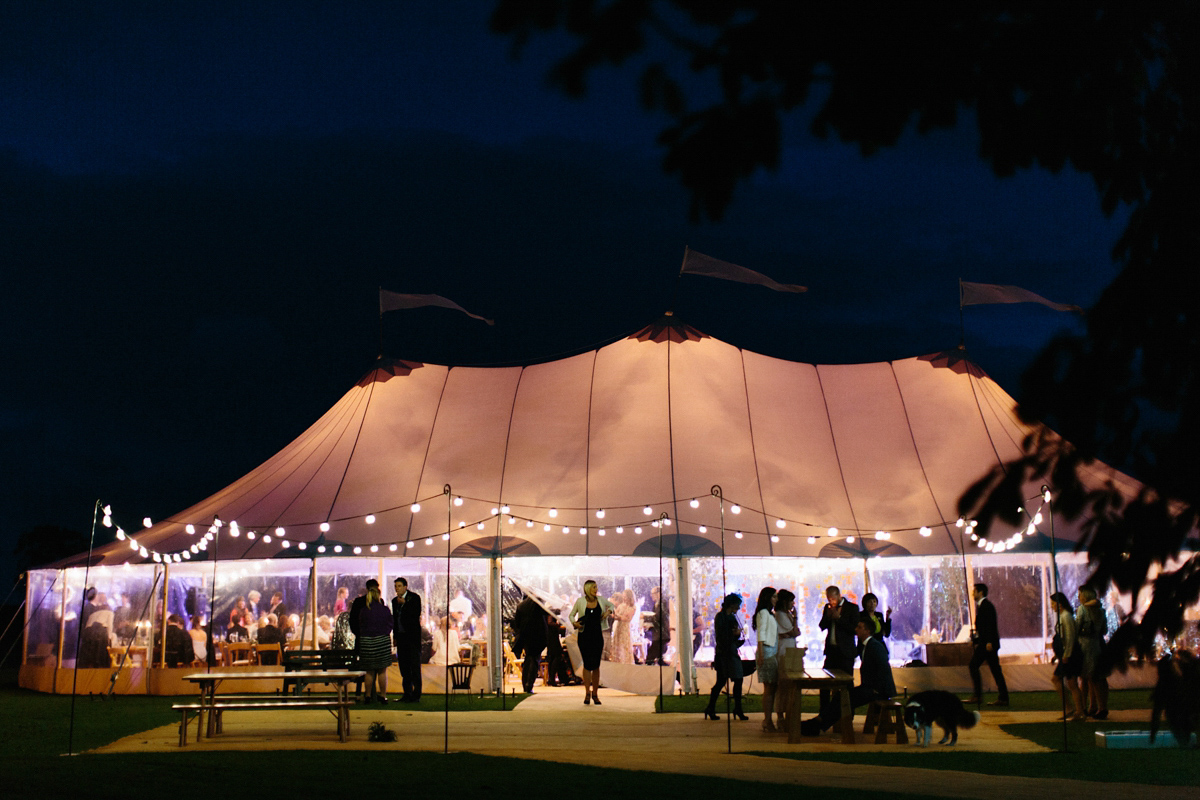 Words of Wedded Wisdom
"Find the joy in every part of putting the wedding together. Don't wish away any of it because the build up to the big day is as much a part of it as actually getting married. Everything will be alright, it will be the most amazing day so don't waste your time on the tiny little details because nobody will notice on the day. You will look back once it is over and want to do it again so take it all in."
"There were plenty of things that we discussed and even obsessed about before the wedding day that we forgot or just didn't pan out how we thought and you know what, it just didn't matter. As long as the guests are fed and watered and not cold they will have fun especially if you are enjoying it.'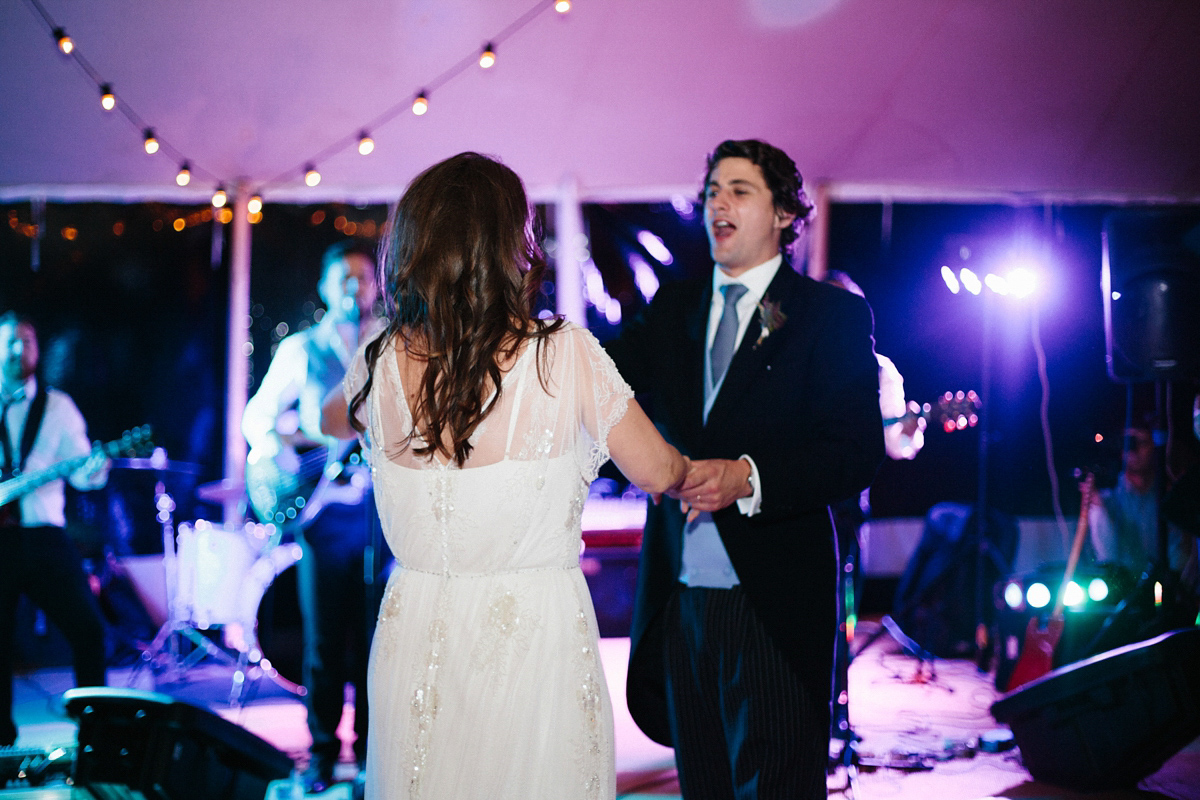 Thank you so much Shevaughn and Hamish for sharing your day with us, and to Melissa Beattie too for capturing it so wonderfully.
Wishing you all a very happy rest of week. It's my nephew's Christening this weekend so I'm about to make a start on his woodland-themed Christening cake; I'm very inspired by the beautiful foliage in these images…
Ele xx