Hello everyone, I hope you are all doing well today? Do any of you share my love for the sea? I grew up by the seaside, on the beautiful Lincolnshire coast with its incredible skies and sea as far as the eye can see, and I've returned here after a few years away working. I'm not sure I would ever be happy living anywhere but the coast. There's something about the space and sense of freedom. That's why I love the wedding we are sharing with you today so much. I defy you not to fall in love with the sunshine, cliffs, turquoise decor and relaxed style captured by Katherine Ashdown in these shimmering, happy, bright images.
The couple are Steve and Lucy who married at Tunnels Beaches, near Ilfracombe, Devon on 30 May 2016. We've shared a couple of outdoor weddings at Tunnels before on Love My Dress; what an incredible location for a wedding ceremony. Steve runs a roofing company and Lucy is a wedding photographer, and brought a relaxed, personal approach to their day. They had marked their marriage legally a month before in Brisbane, Australia, and chose Tunnels as Lucy had come across the venue through her work. Like many couples, Lucy and Steve were keen to make the day as personal to them as possible, and went against the usual trends and traditions to do so.
"Being a wedding photographer, I had very clear ideas about what I wanted and that it was a day that Steve and I both wanted. We both love being by the seaside and very keen to have a very relaxed, non fussy, and to an extent none traditional day. We wanted it to be about having fun with our guests, and being bright and cheerful. It was important to us that we still felt like US on the day, Steve being a roofer rarely wears suits, so that was the first tradition to go out of the window."
Photography by Katherine Ashdown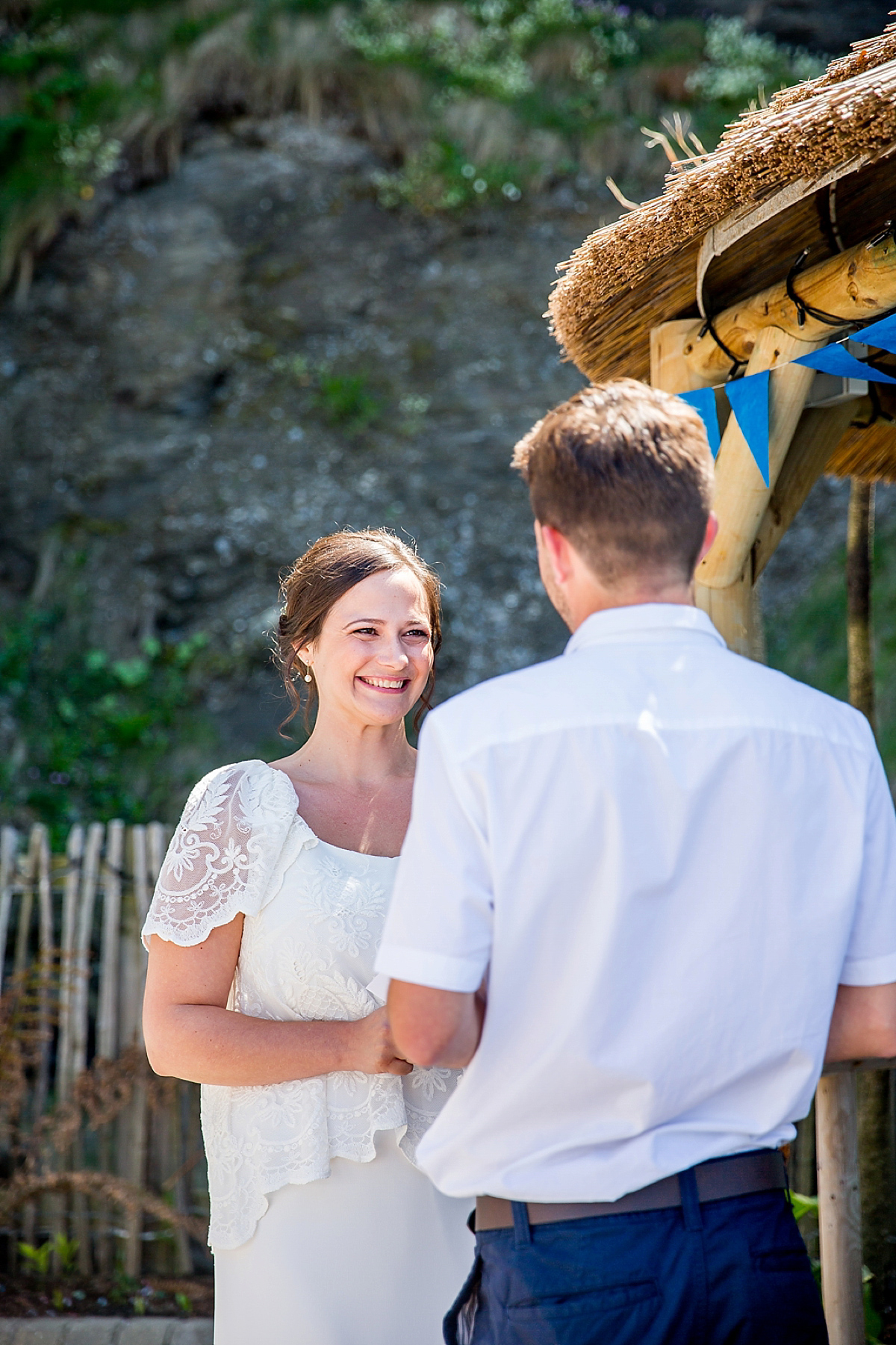 Lucy's Bouret gown was perfect for a beach-side wedding, being fresh, light, floaty and oh-so-pretty. What do you think of the wide, lacy sleeves?
"I wore a Bouret dress from Rock the Frock who have been amazing throughout the whole experience. I originally was ordering high street dresses to try as to begin with it was an expense I couldn't justify, but soon realising none felt right. I went to try on a few from bridal shops, but finding that so many are very bridal-like, it was all too much for me so I went on the hunt for something more low key. I contacted Rock the Frock, tried my dress on and although it really didn't fit me at that time, I knew it was the one! I loved it and still do! It was simple, elegant, beach like and low key."I always think that it must be very difficult for a photographer to choose another to record their wedding day, but Lucy was definite in her choice. The sunset images on the secluded beach are a real joy to see.
"Katherine has been amazing, from when I first started out as a wedding photographer myself five years ago, I asked her for some newbie advice, since then (and before) have always admired her work. She was 100% the right photographer for me and I even changed my wedding date in order to book her."
Lucy drew on her wedding industry colleagues for hair and make-up, asking Vicky Brown to style her hair into a simple roll and create a natural, fresh make-up look. She looks so pretty and I love how her hair can move in the sea-breeze.
"I have worked with Vicky plenty of times, her work is brilliant and it only felt right to have her with me on the day. I'm so grateful Vicky (and Katherine) were willing to travel such a distance for me as we are based in Hertfordshire."
In keeping with the laid-back feel, Lucy wore a pair of flip-flops (but going bare-foot later in the day to wander on the beach and paddle in the sea), sprigs of gypsophila in her hair and added her Gran's pearl earrings.
Steve looked super-cool and so relaxed in his Fat Face trousers, River Island shirt and Vans. Rather than buttonholes, Lucy made fun, colourful pinwheels for them to wear; what a lovely idea.
Lucy's creativity really shone in the details that they added to the beach venue to make it bright, colourful and joyful. The rainbow of confetti is delightful!
"Tunnel Beaches is stunning so nothing much was needed extra, however I love to get a little creative so I spent a good few days with my mum making things. We made a pallet Steve got from work into a welcome board, we made pinwheels for the button holes, the flowergirl's wand, and lots of ribbon for the ceremony chairs. We also spent a lot of time bringing together the table decorations, wanting it to be fun, bold and within budget."
"As I'm in the wedding industry I am surrounded by wedding blogs, my own weddings and other photographers' work on a daily basis so have had plenty of inspiration, all of which are amazing. It was very hard at first to focus on just one idea but then took a step back, and refocused on what Steve and I wanted."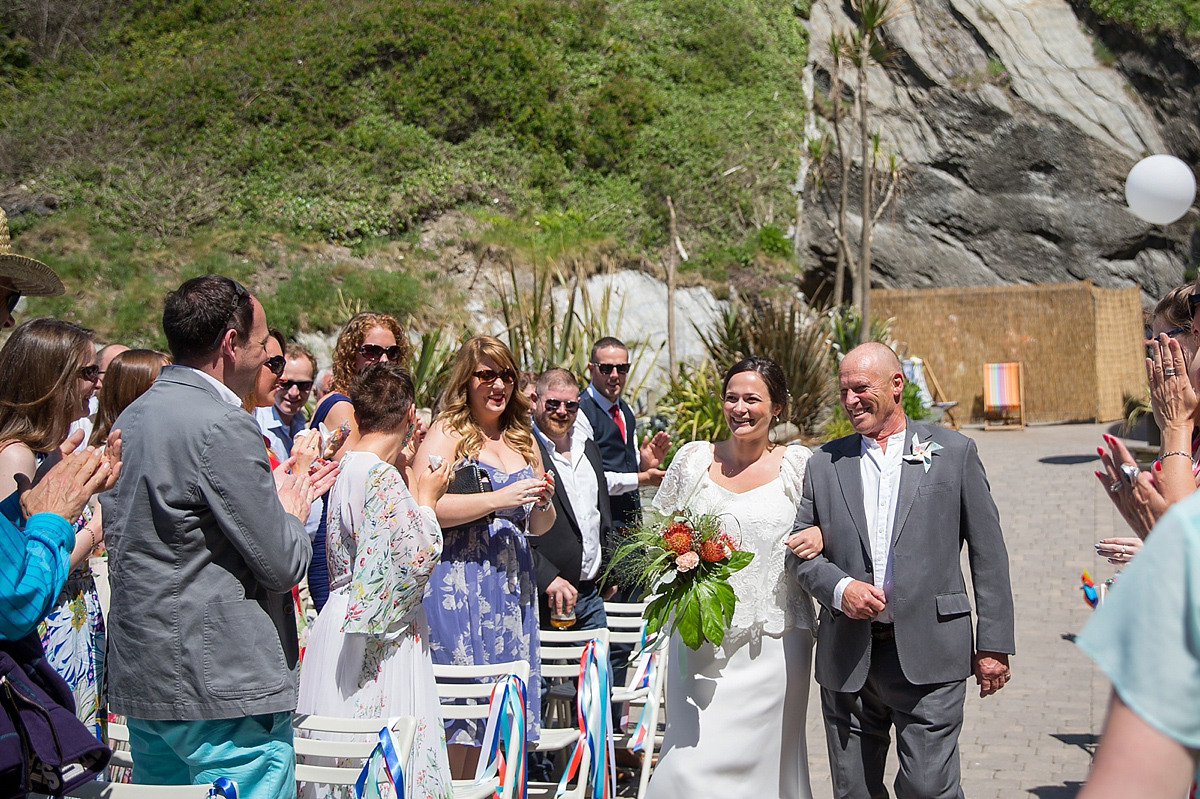 The ceremony was informal and relaxed, again very personal to the couple, and lasting only about fifteen minutes. Lucy walked down the aisle with her dad Noah and the Whale's '5 Years Time' and the newly-weds walked back up to Imagine Dragons' 'On Top of the World'.
"My sister walked down the aisle at our UK wedding as a bridesmaid and then stood at the front and turned around to conduct the ceremony – it was a great surprise for many and I so loved that she did that for us! A very special memory."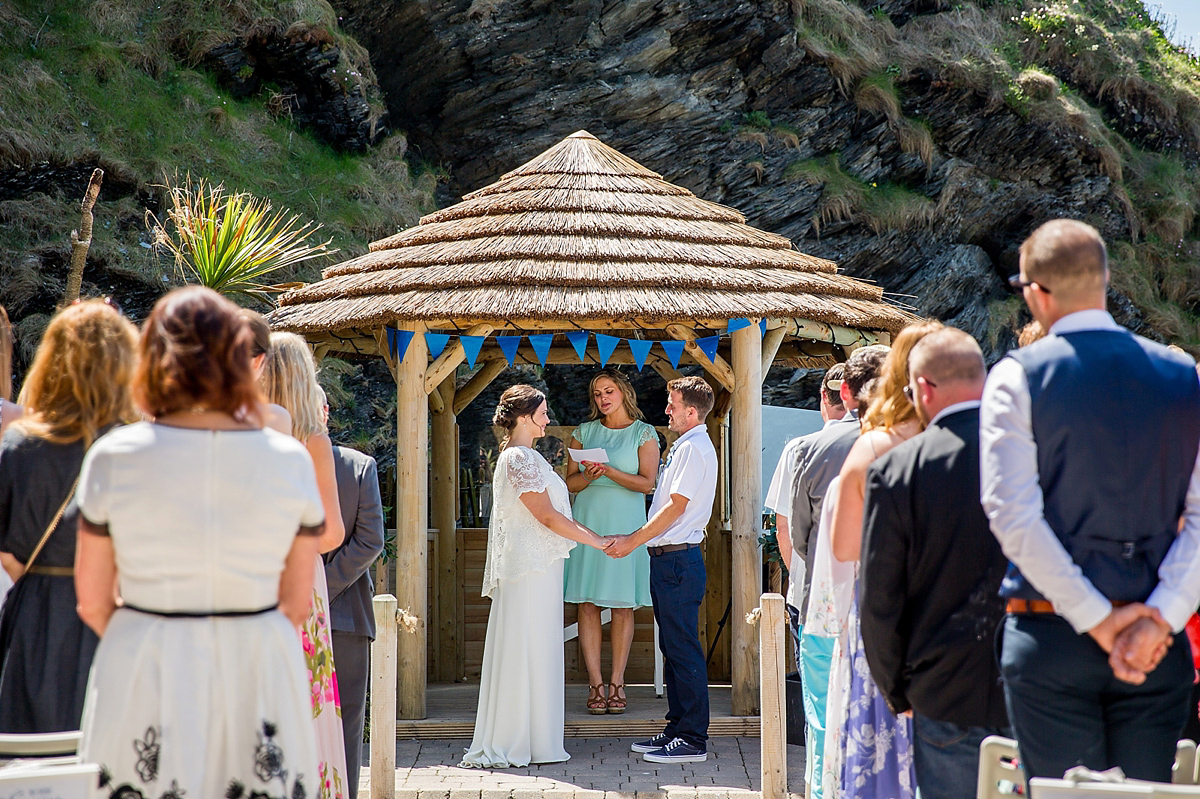 The couple chose not to have any readings, instead focussing on the vows which they wrote themselves.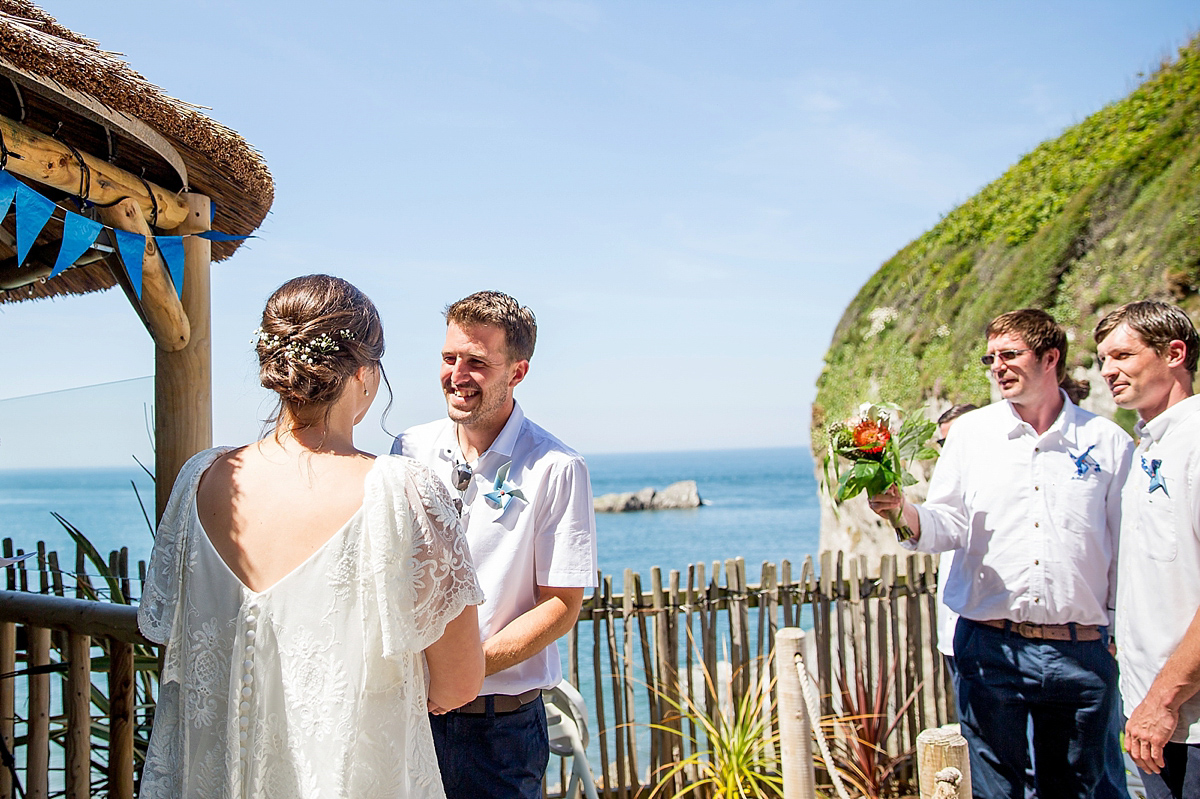 Lucy's ring was specially made by Hyde Park Design to fit her engagement ring, which was passed down from her in-laws.
"With it being quite flat I knew I wanted a handmade wedding ring to work with it. My sister had used Hyde Park Design for her wedding rings in the past and were great so we went there, the best guys ever! They took on board what I wanted and created the perfect ring to sit next to my engagement ring."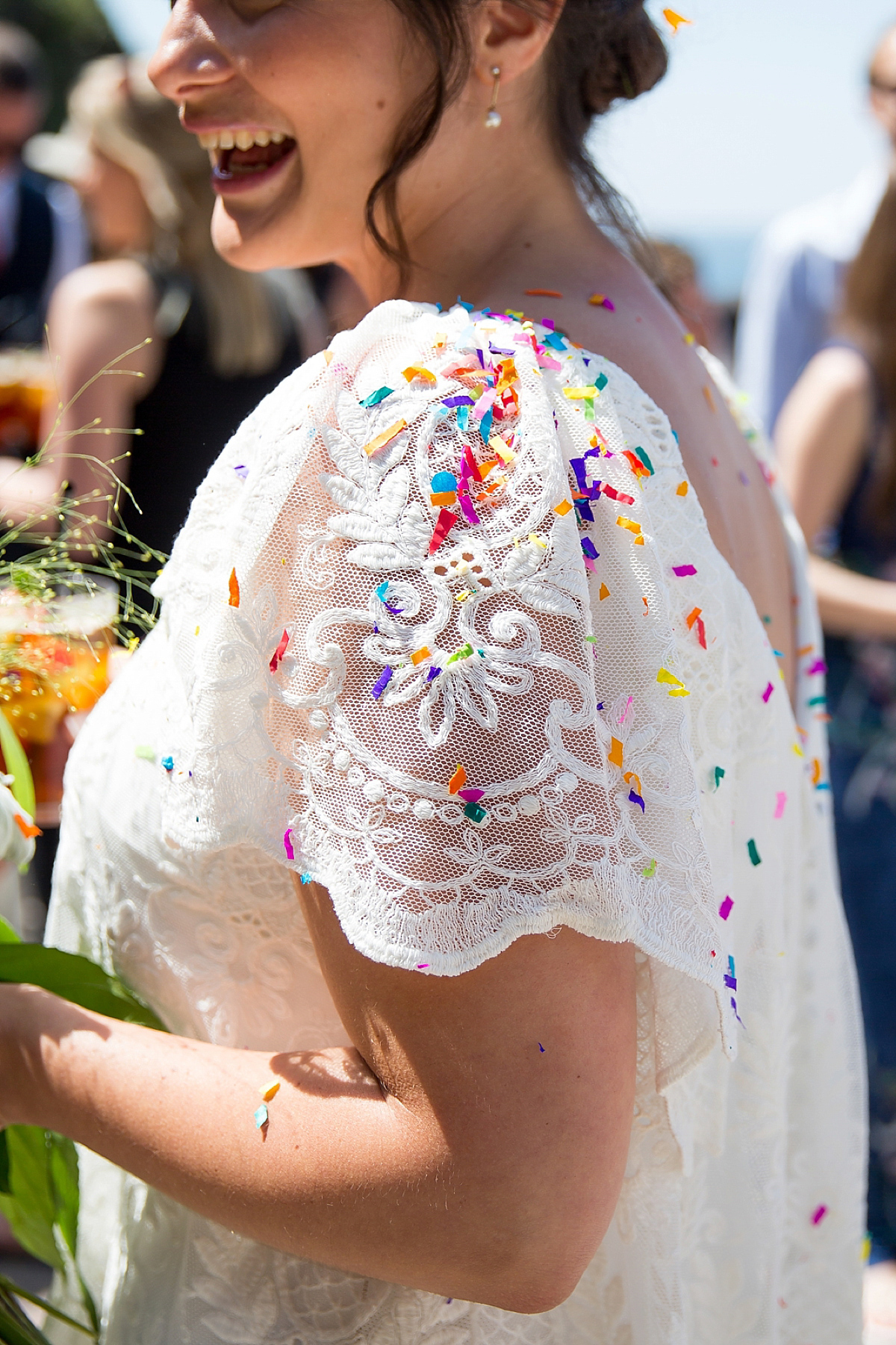 The bridesmaids wore ASOS dresses in light turquoise, which bring to mind the sea on a spring day. The flowergirl looked dainty and beachy in a matching Next dress.
"As with the rest of the day I wanted my bridesmaids to feel comfortable, so I told them the colour scheme and let them them choose their own shoes and dresses, all from high street shops."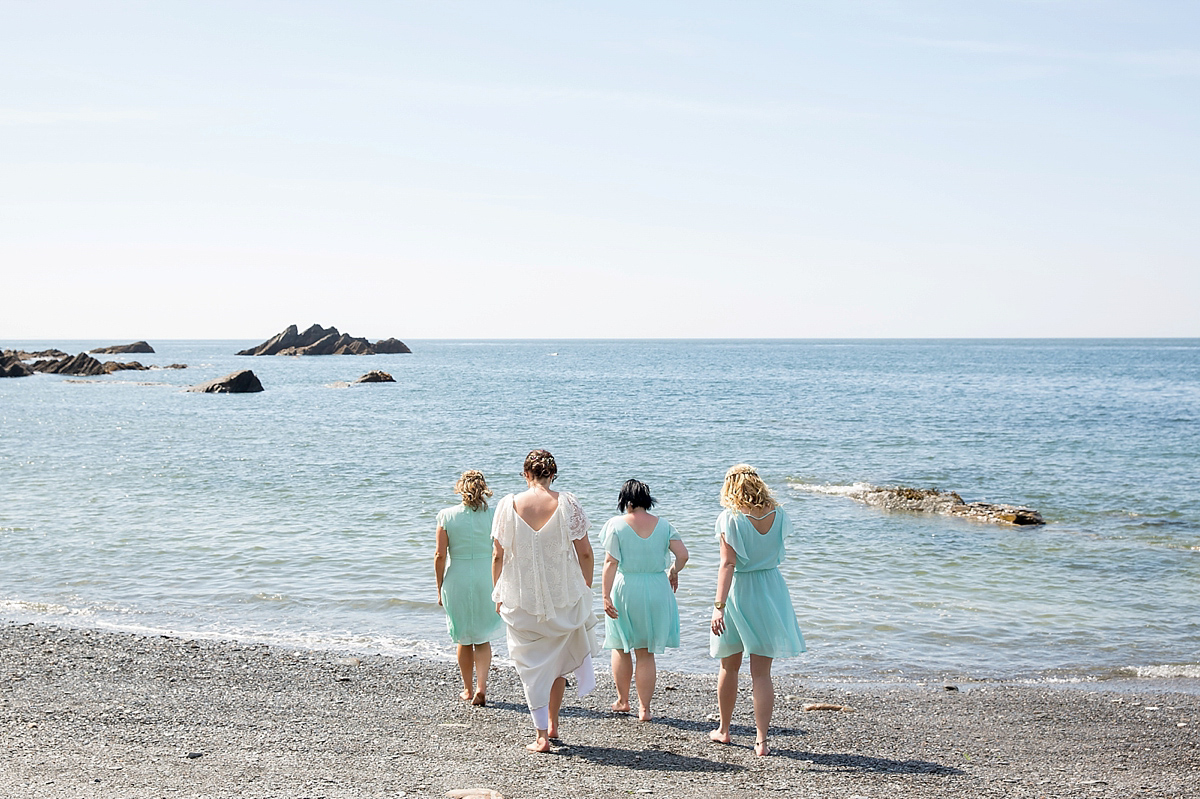 In contrast to the aqua dresses and pure white of the wedding gown, Lucy and her bridesmaids carried bouquets of bright coral and fresh green, created by Offshore Blooms.
"We had a lot of ideas about flowers, originally wanting to grow them ourselves but logistically it wasn't going to work, travelling down to Devon. So I delved into Pinterest for inspiration and came across Offshore Blooms which are based near the venue, fell in love with a styled shoot that was on her website and just asked for that!"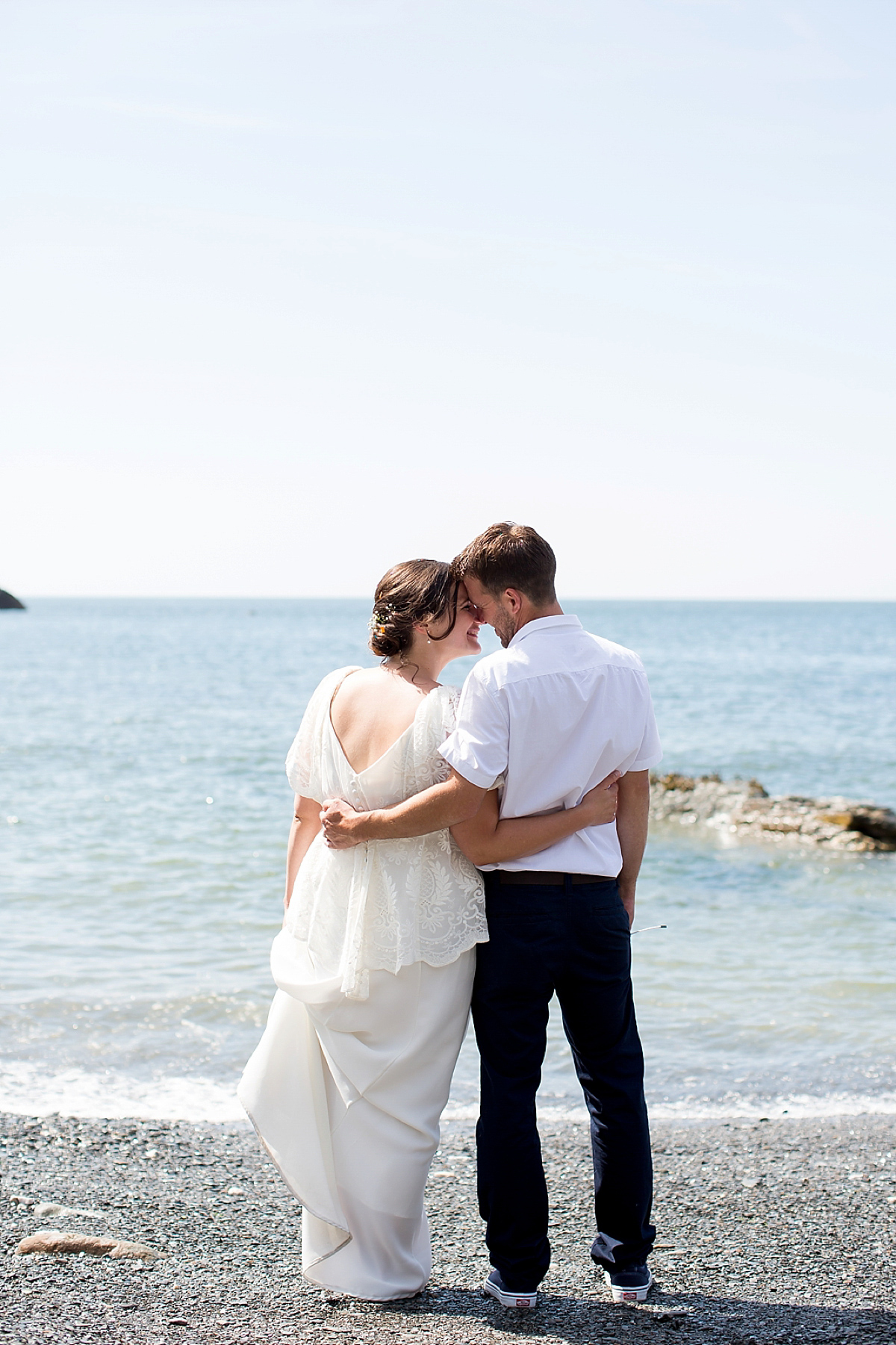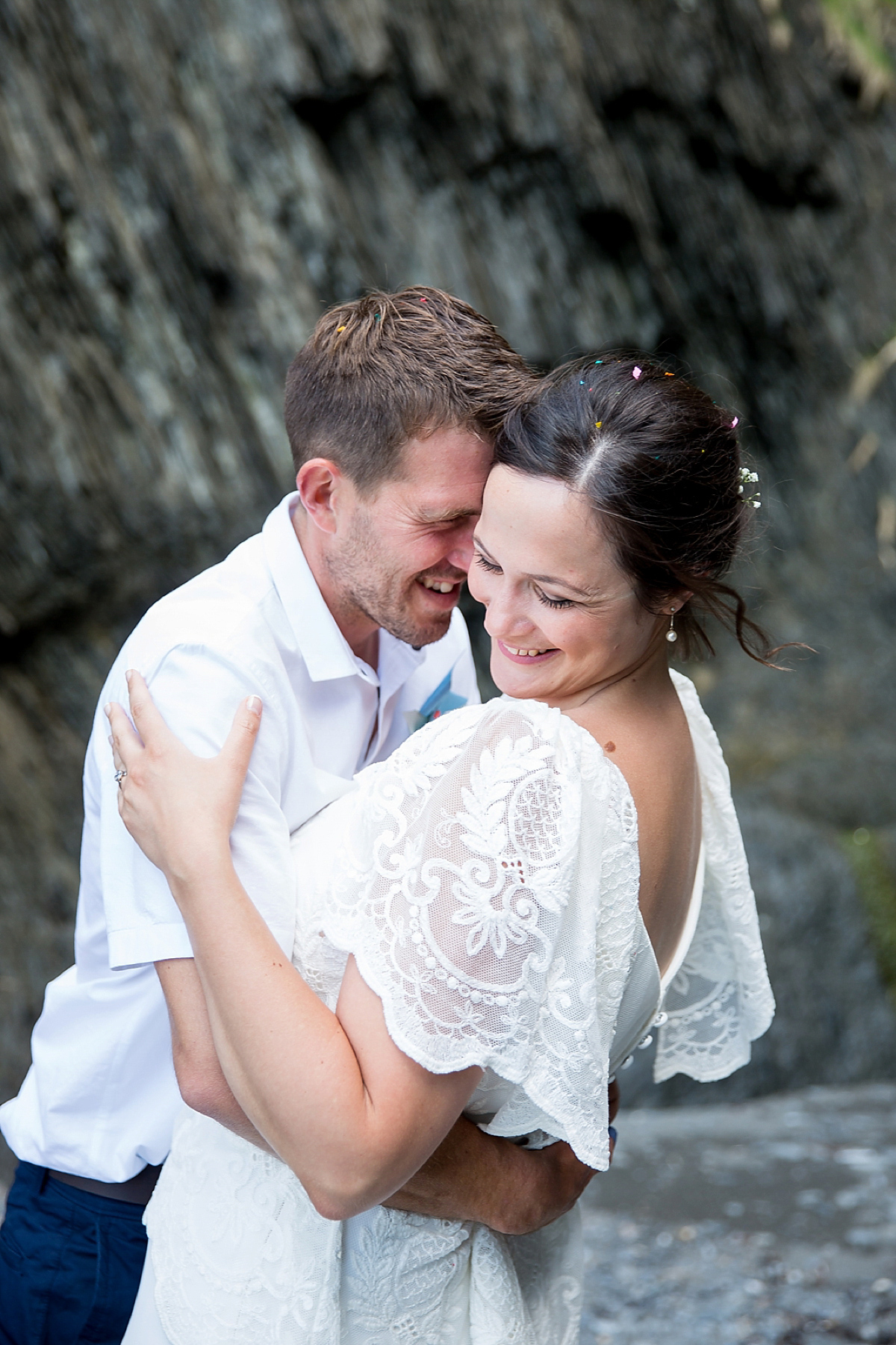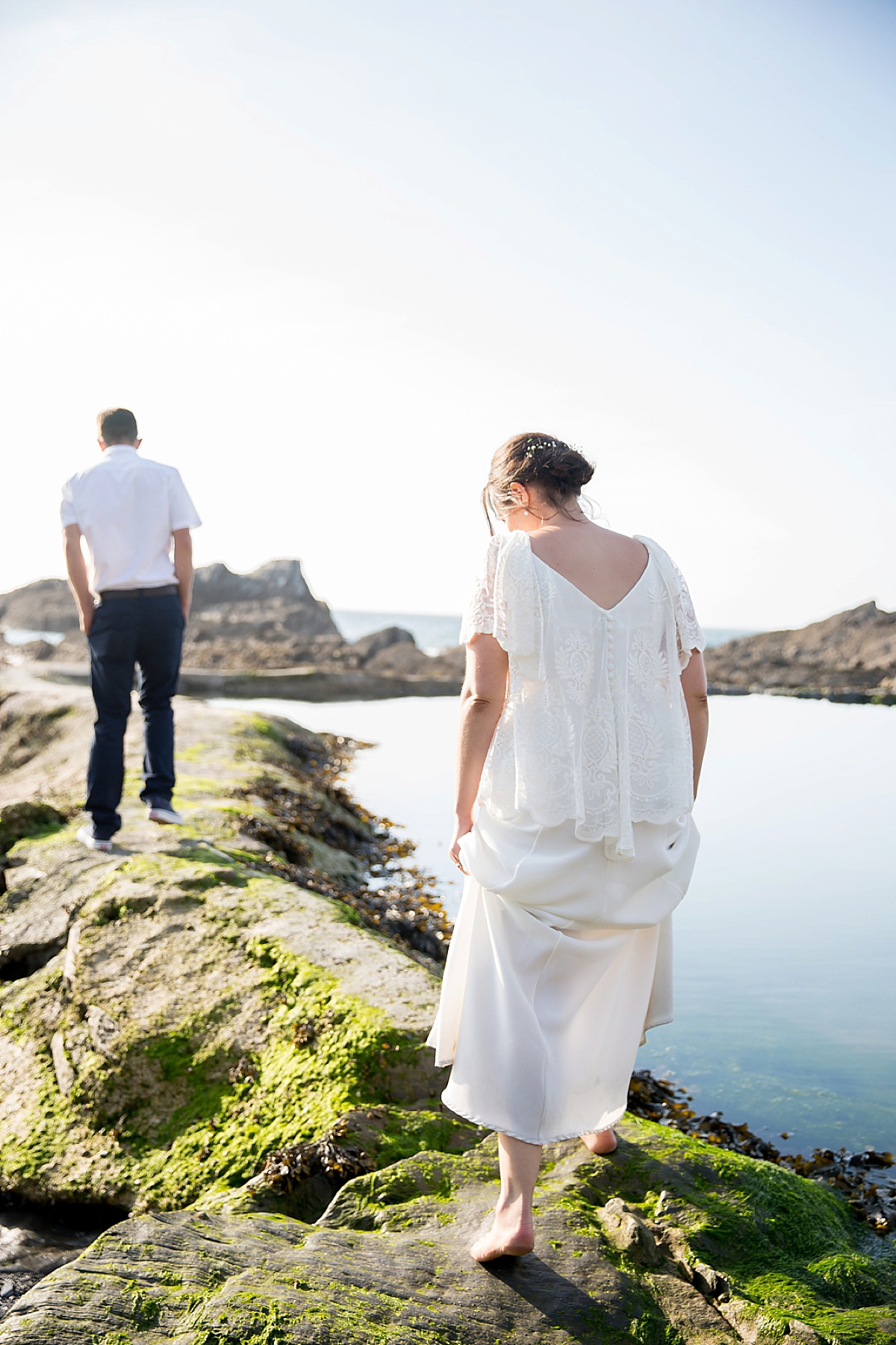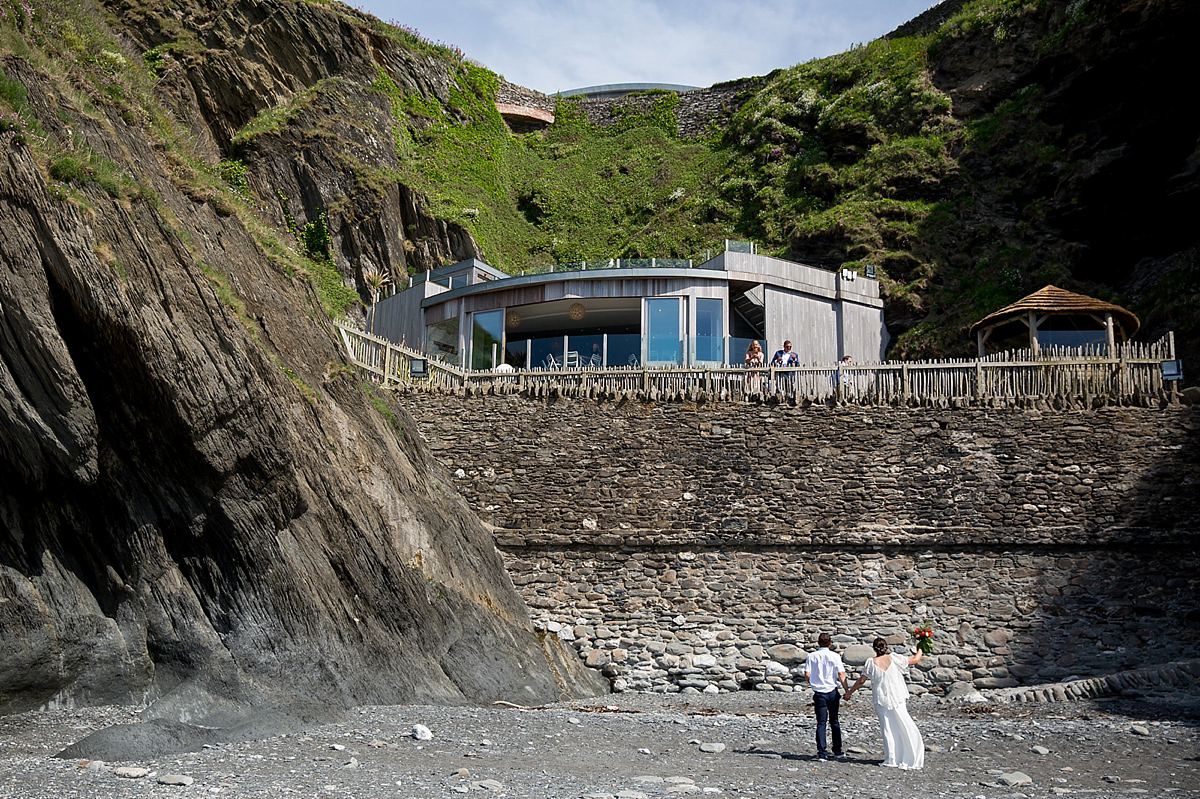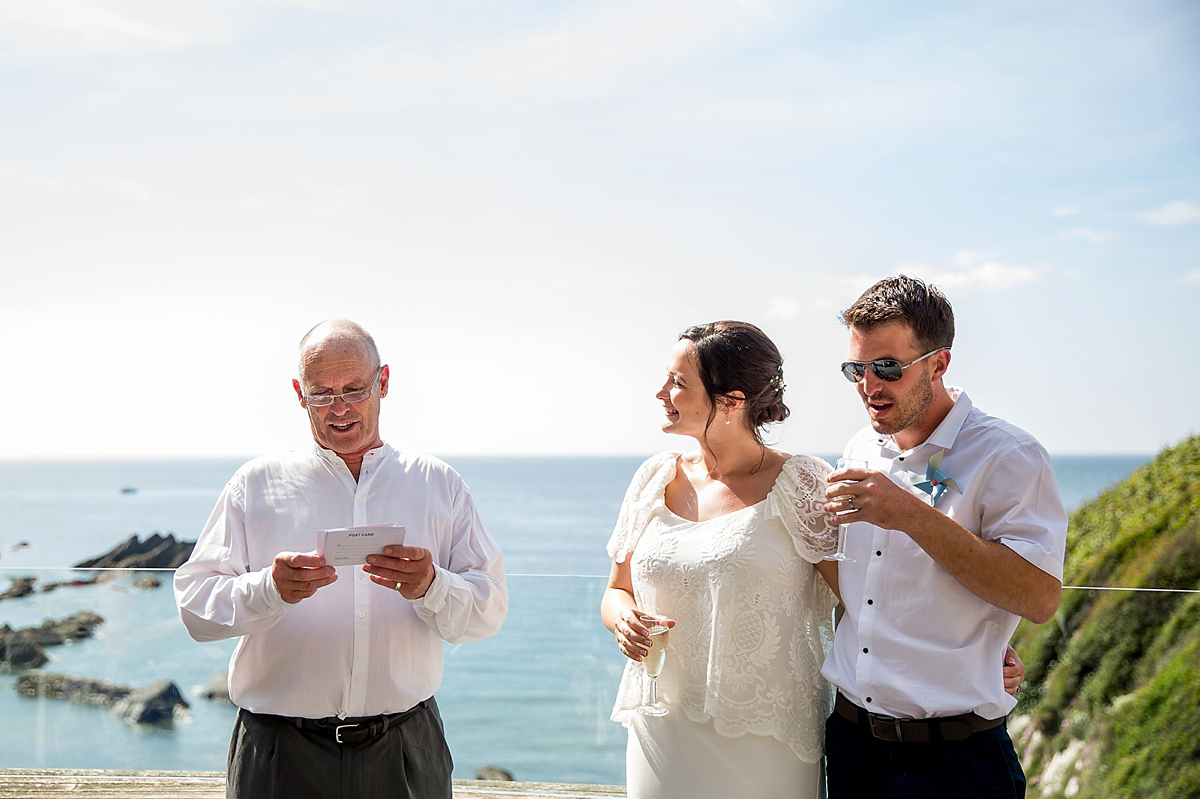 After a beach walk and fun in the sea, the couple and their guests celebrated with a drinks reception and a relaxed BBQ. As a wedding cake felt too formal, the sweet course was in the form of a cookie cake. I'm determined to make one of these at some point.  They decided against place names but Lucy enlisted her friend Louise (who runs a stationery business) to help with the table plan.
"Louise, a dear friend of mine, helped to create my save the dates and invites along with the table plan which was awesome! We decided against place names as it was a BBQ and wanted a relaxed feel."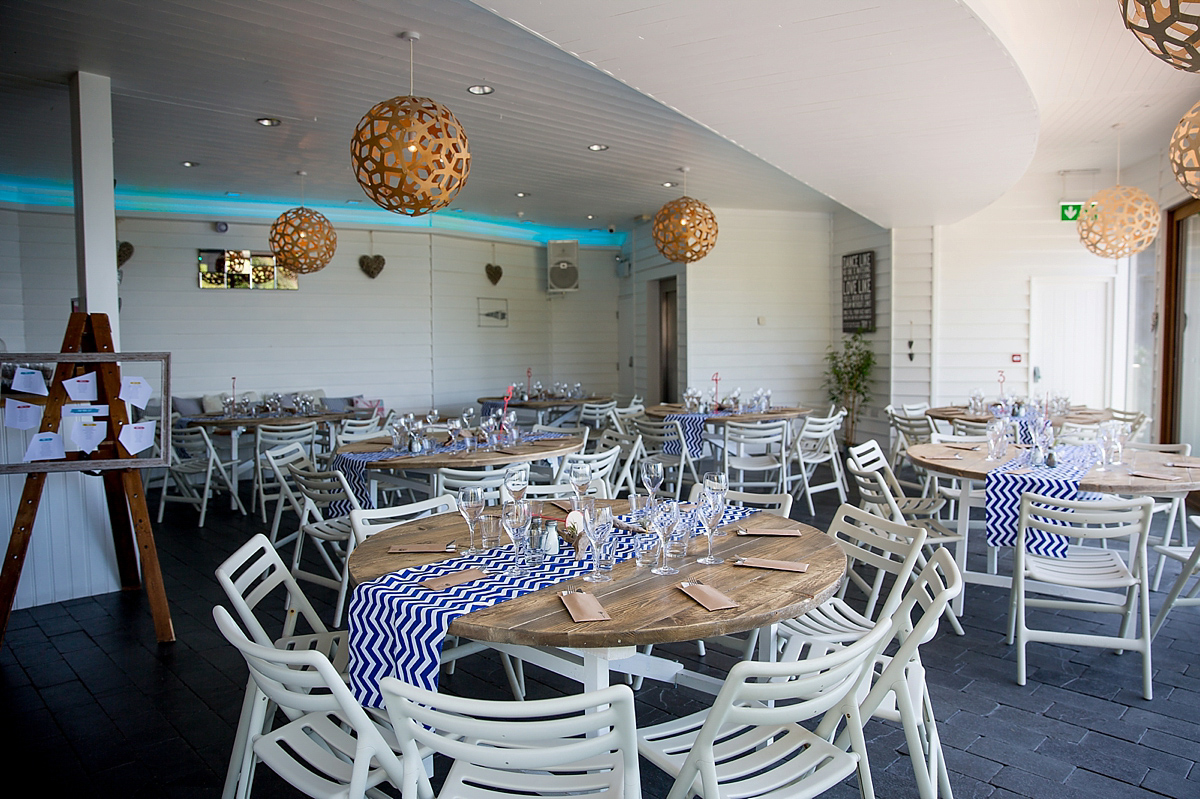 "My sister, Rachel and I made a cookie cake. We had great fun the day before making this! Again, wanting it to be all about US, a wedding cake was too formal and we love cookies!"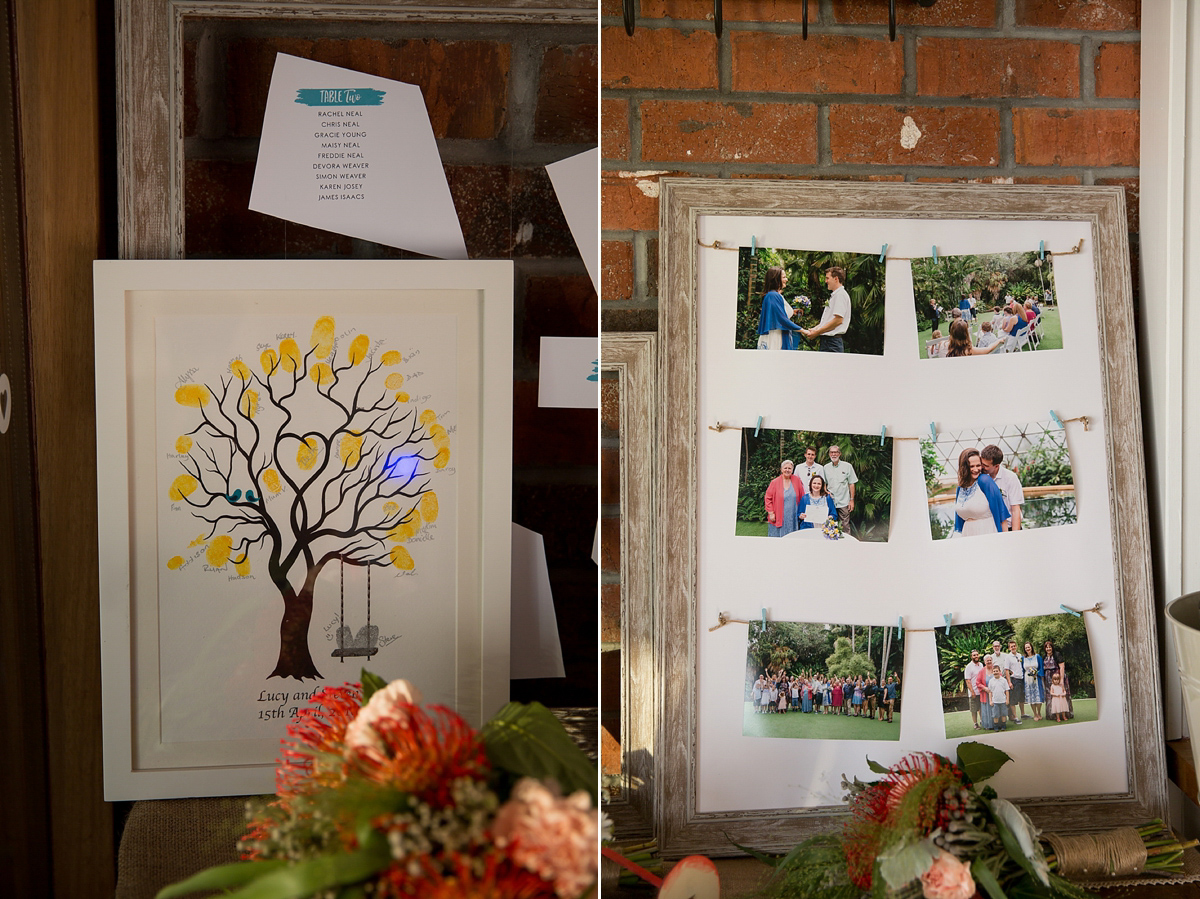 Music and dancing outside followed, with a disco by DJ Paul Barrington a.k.a. The Wedding Spinner. The first dance was 'Ho Hey' by The Lumineers, a really fun, upbeat song which matches the bright and relaxed feel of the day so well. The terrace at Tunnels looks like such a fun space to dance on, with the beach view stretching before you.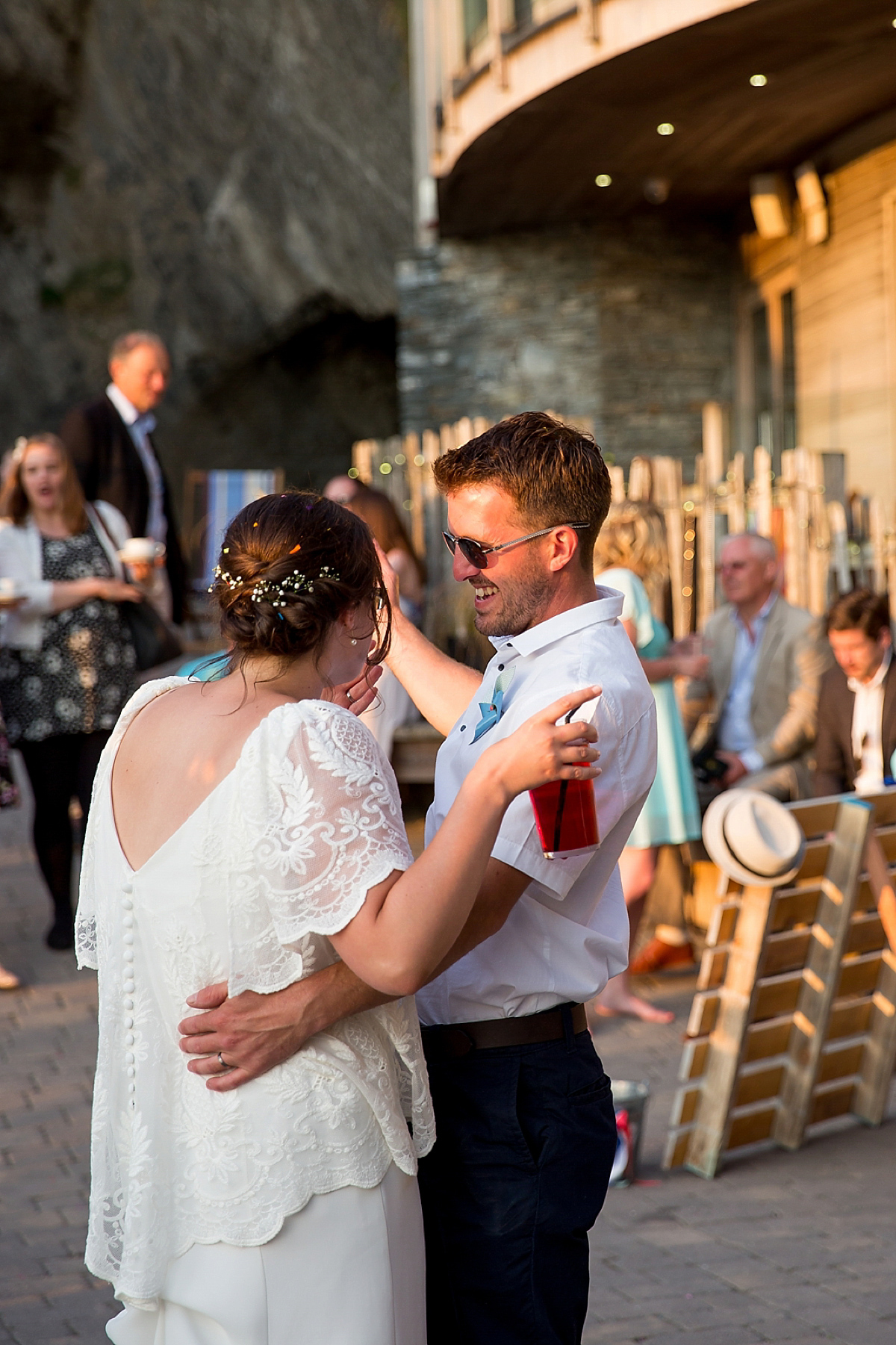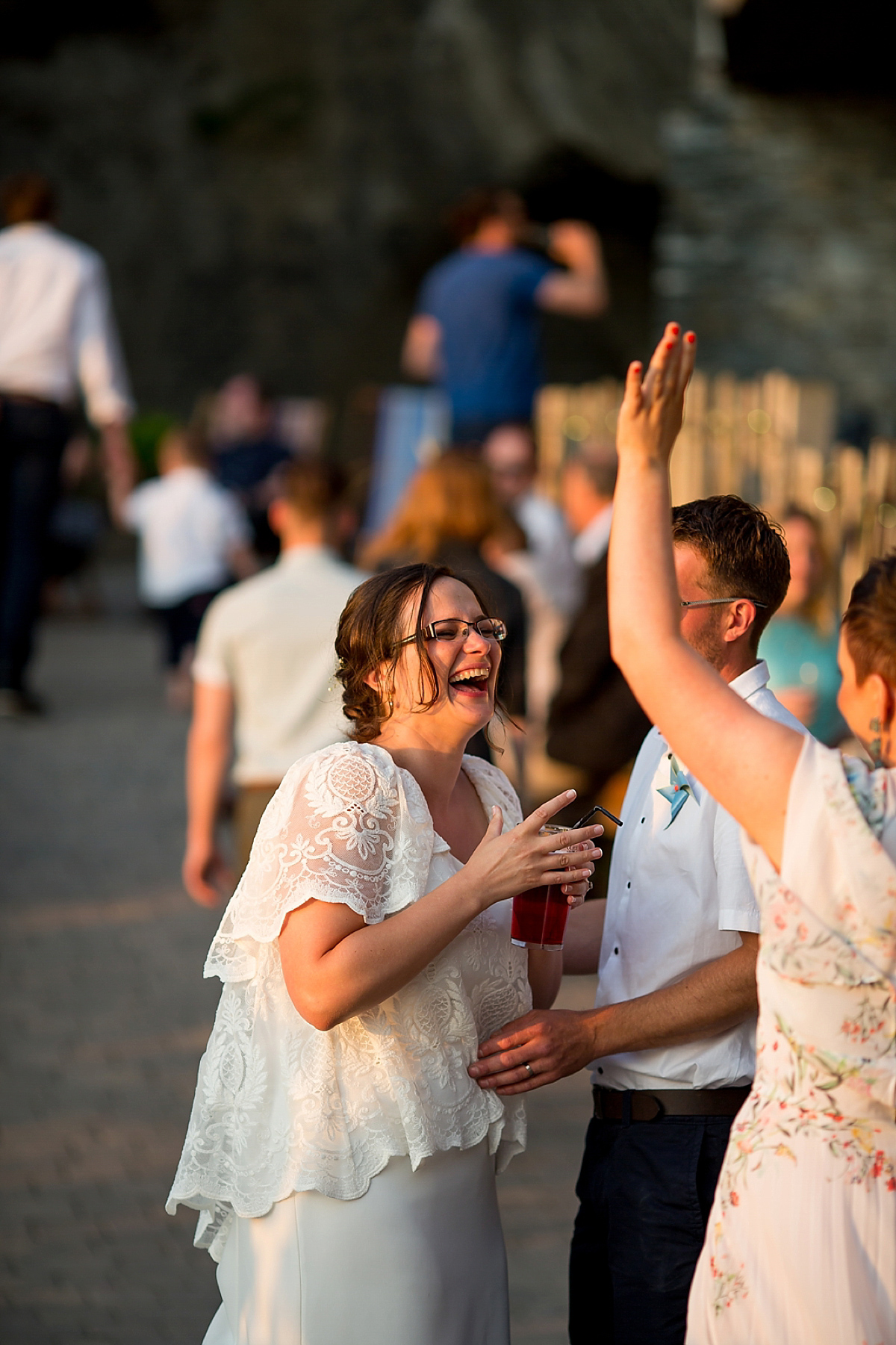 Words of Wedded Wisdom
"I would say try not to get side tracked on fashions or trying to make everyone happy. It's your day, make it personal and perfect for the two of you. I hear a lot of 'Are you supposed to do this or can I do this, what's tradition? There is no right or wrong way of having YOUR wedding! Let your personalities shine through."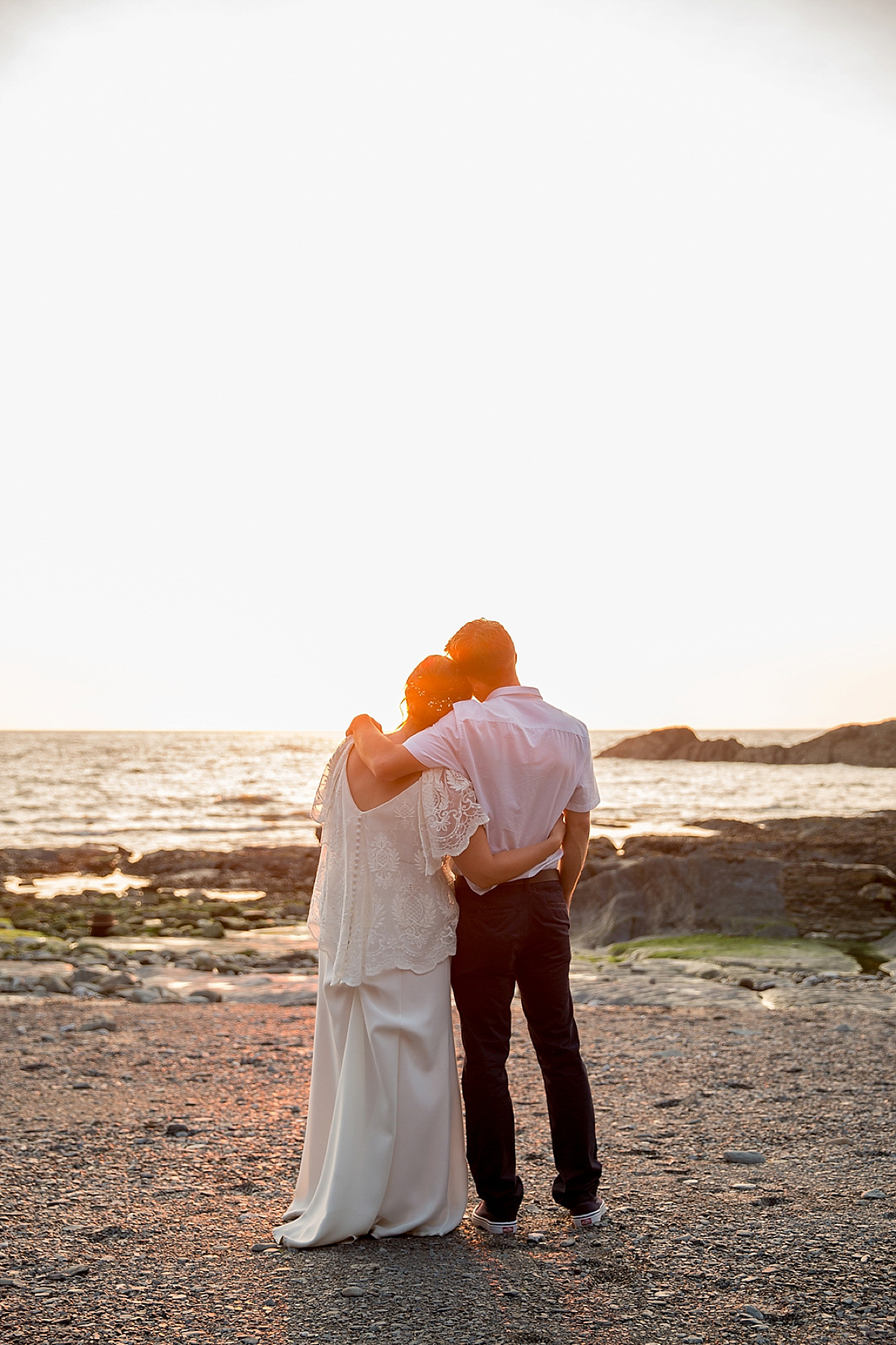 I agree wholeheartedly, Lucy. If you love her creativity and eye for detail you can follow her on Instagram @lucynoble. Thank you so much Lucy, Steve and Katherine for letting us share these breezy, bright images today.
Wishing you all a very lovely rest of day. Anyone else want to go and get some sea air now?
Ele xx