Hello lovelies, I hope you are doing super-well today and the week has been treating you well so far. Now, hands up who loves baking? Today's bride and groom, Sarah and Steve, hosted their very own Wedding Bake Off (complete with prize) as part of their evening celebrations. If you're hungry, I suggest you grab a snack before enjoying this wedding as not only were the guests invited to bring along their signature bakes for everyone to enjoy, but the wonderful Kalm Kitchen cooked up the most mouth-watering wedding breakfast. If you want to find out more about the team, take a look at our feature here from last year.
With a pared-back, neutral colour scheme of soft pinks, nudes and creams, this wedding is perfect inspiration if you have a penchant for a clean, crisp look. We have photographer Eliza Claire to thank for these beautiful, romantic images. Sarah, a food buying manager and Steve, an electrician, wed on 24th September 2016 at Millbridge Court, Frensham, Surrey following a seventeen-month engagement. They originally met on holiday back in 2003 but only got together in 2010. Steve proposed at the bottom of the Grand Canyon when Sarah took him to Las Vegas as a surprise for his thirtieth birthday.
Photography by Eliza Claire
Now rose gold has been a key colour for the past year or so, and it formed the basis for Sarah's divine Watters Wtoo gown, which she found at The Wedding Room in Ascot. She worked with Emma Louise Design to transform it to her own personal style. It suits her colouring so well, especially with her light blonde hair.
"The dress was Marni by Watters Wtoo however Emma made some quite significant alterations. She opened up the back, removed the illusion neckline and closed the front up a little. It was quite a journey but the dress was PERFECT in each and every way once it was finished. Emma was simply my fairy godmother! I loved the floaty feel; it was important that any dress I chose enabled me to eat lots and dance the night away. The colour of the rose gold under-slip warmed my skin tone. I loved how it was different to anything else I had seen and that I could make it truly what I wanted."
Sarah was keen to still feel like herself for her wedding, so chose no other accessories for her hair, and chose a style similar to her everyday look. Her make-up was also kept classic and natural. A simple veil was added to set off the gown, and Sarah wore accessories that all had a special significance.
"I received a beautiful solitaire necklace from Steve as a wedding present which looked perfect with the neckline of my dress. My mum, as she is a silversmith also made me and the bridesmaids beautiful silver eternity bracelets (see the designs at Hiljo Creative on Instagram). Earrings were a present from my bridesmaids from Thomas Sabo."
However, it's the Miu Miu sandals Sarah wore which add a real touch of elegance and the wow-factor. Their height allows the gown's skirts to flow beautifully, a lovely contrast to the fitted lace of the bodice.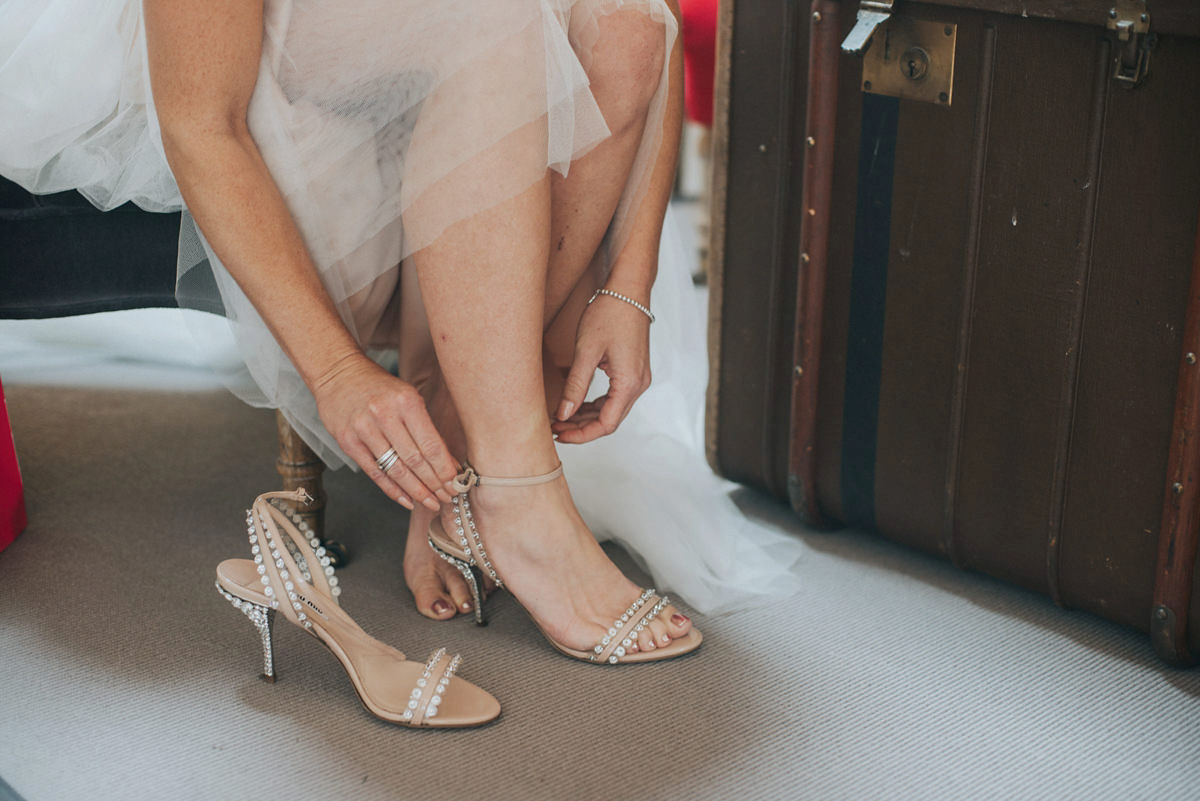 If you're looking for a small, intimate venue tucked away in the countryside then I really recommend you check out Millbridge Court. A brand new venue, it has seven rooms to accommodate close family and gorgeous green gardens. The couple had their ceremony outside, moving into its light and airy barn for the reception.
"When we looked at it Millbridge hadn't even had their first wedding yet! The venue has a homely feel and is very modern with a country twist, just perfect. The dressing room for the bridal party is beyond lovely and the perfect place for myself and the bridesmaids to get ready."
Sarah walked down the aisle on the arm of her dad to Pachelbel's Canon in D, choosing something traditional to balance the less formal songs which followed. They signed the register to 'All You Need Is Love' by the Beatles (a nod to Sarah's North West routes) and 'You Got the Love' sung by Florence and the Machine to walk back down the aisle together.
The groom and groomsmen looked modern and dapper in blue suits from Jack Bunneys. They had bespoke ties made especially, and even a cute little bow-tie for Sarah's nephew William. Steve also wore Mulberry cufflinks and  personalised pocket-watch, a gift from one of his ushers.
Readings included 'How Falling in Love is Like Owning a Dog' by Taylor Mali, which reminded everyone of Sarah and Steve's two beloved beagles,  'On Your Wedding Day', read by Steve's sister Vicky, and Sarah's uncle and godfather Tom followed with 'What is Love'.
Sarah's mum is clearly a talented lady; as well as crafting the eternity bracelets she also had a hand in the bespoke wedding rings.
"We had our wedding rings made by Richard Talman who is based in Haywards Heath. It was a magical moment seeing them made and my mum even got behind the work bench and finished them off."
These photos really evoke an atmosphere of romance and joy; I love their slightly muted, misty tone.
"We chose Eliza as we were looking for documentary style photographer with a relaxed informal approach. We didn't want to stand for a couple of hours in one spot for lots of forced formal photographs. From the first moment we met her Eliza had us at ease, she became like a family member right away! Eliza blended in as one of the guests with her second shooter and caught beautiful moments throughout the day. Our guests have all commented on how beautiful our photographs are we are truly happy with the end result and feel we have a photographer to capture all future important occasions!"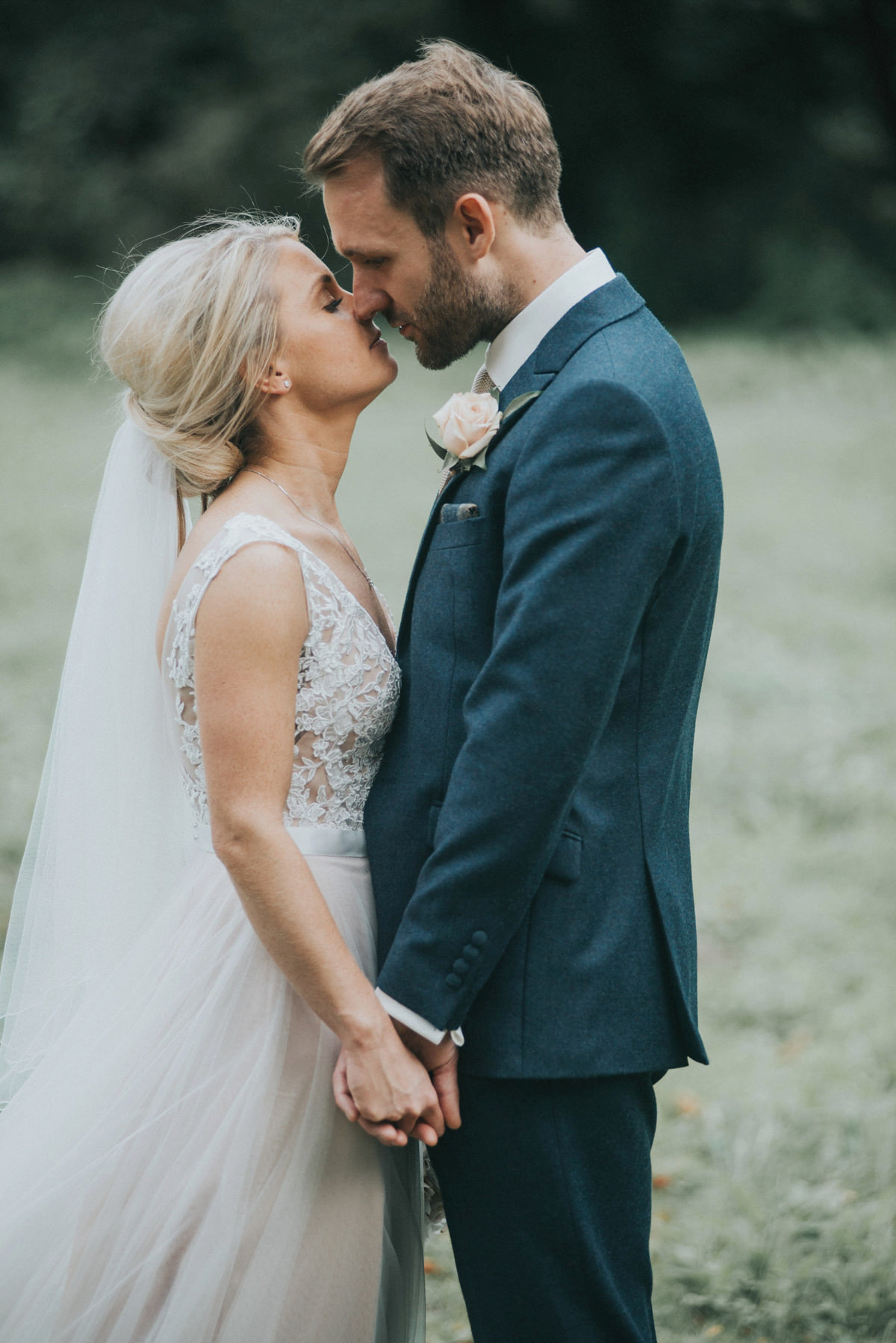 The couple put their personal stamp on the venue with so many fun, thoughtful details. The idea of personalised place-mats with activity packs of colouring-in, crayons and packs of Lego sounds like a great way to keep the kids entertained.
They also fell in love with the magician, Chris Harding who had kids following him around all afternoon, he was so popular.
The bridesmaids look elegant and graceful in their Debut at Debenhams gowns; they match the warm tone of Sarah's gown so well, don't they? The flowers were also kept low-key but beautiful with simple bouquets of nude, neutral and soft pink roses created by Lynette, a family friend.
The tables were also decorated with low floral arrangements, a great way to make sure everyone can see each other and talk at the table. With those beautiful balloons by Bubblegum Balloons, the light and height of the dining room is really accentuated.
Millbridge Court is part-owned by caterers Kalm Kitchen, so it's no surprise that the food was a highlight of the day. From the canapés to the it all looks delicious.
"We received so many compliments regarding the food, they couldn't do enough for us and were more than happy to create bespoke creations!"
Steve's ten-year old daughter Brooke looked delightful in her Romano Princess gown from Children Salon in Tunbridge Wells.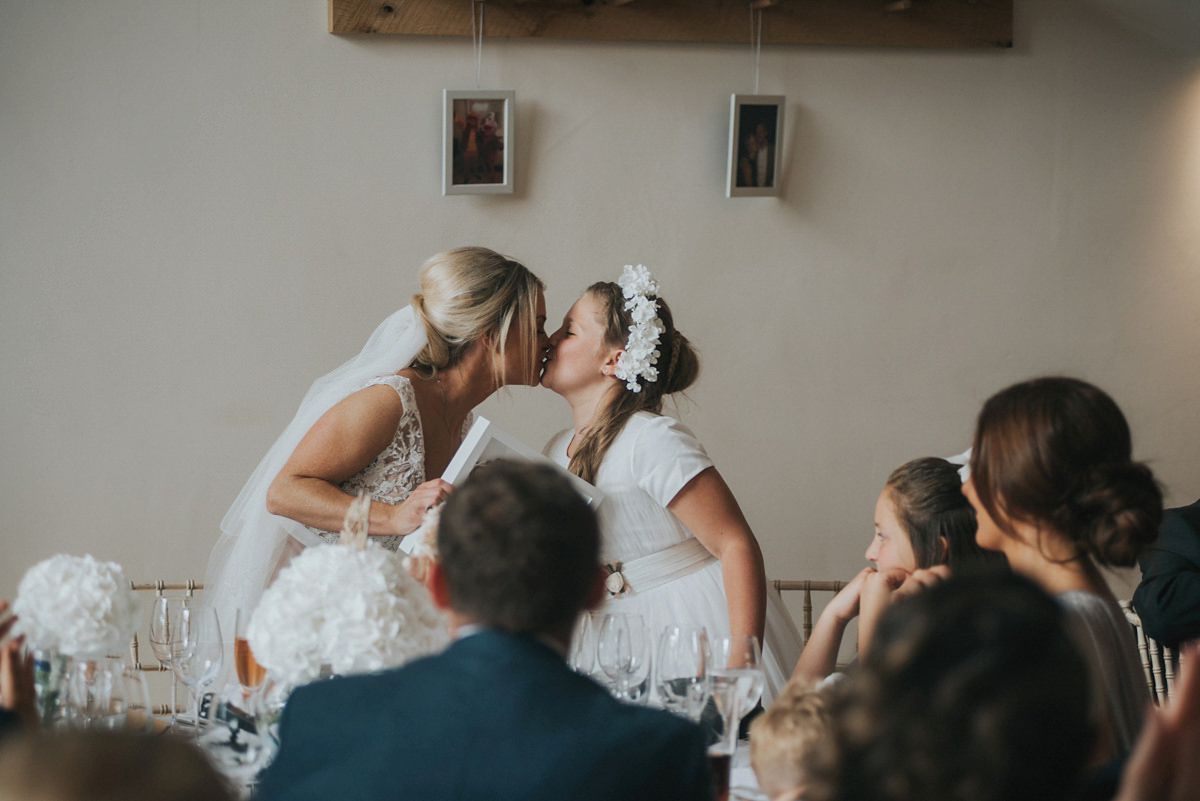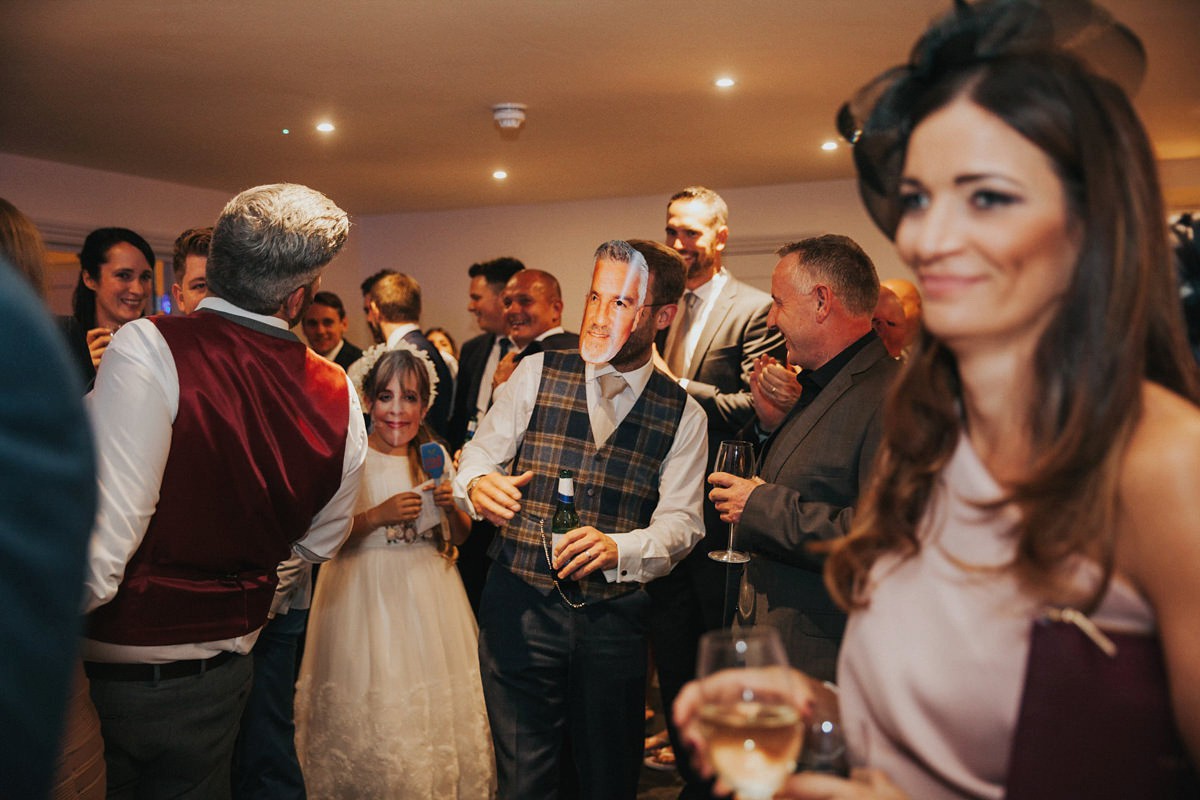 Estilo String Quartet provided the ceremony music, and continued for the drinks and canapé reception.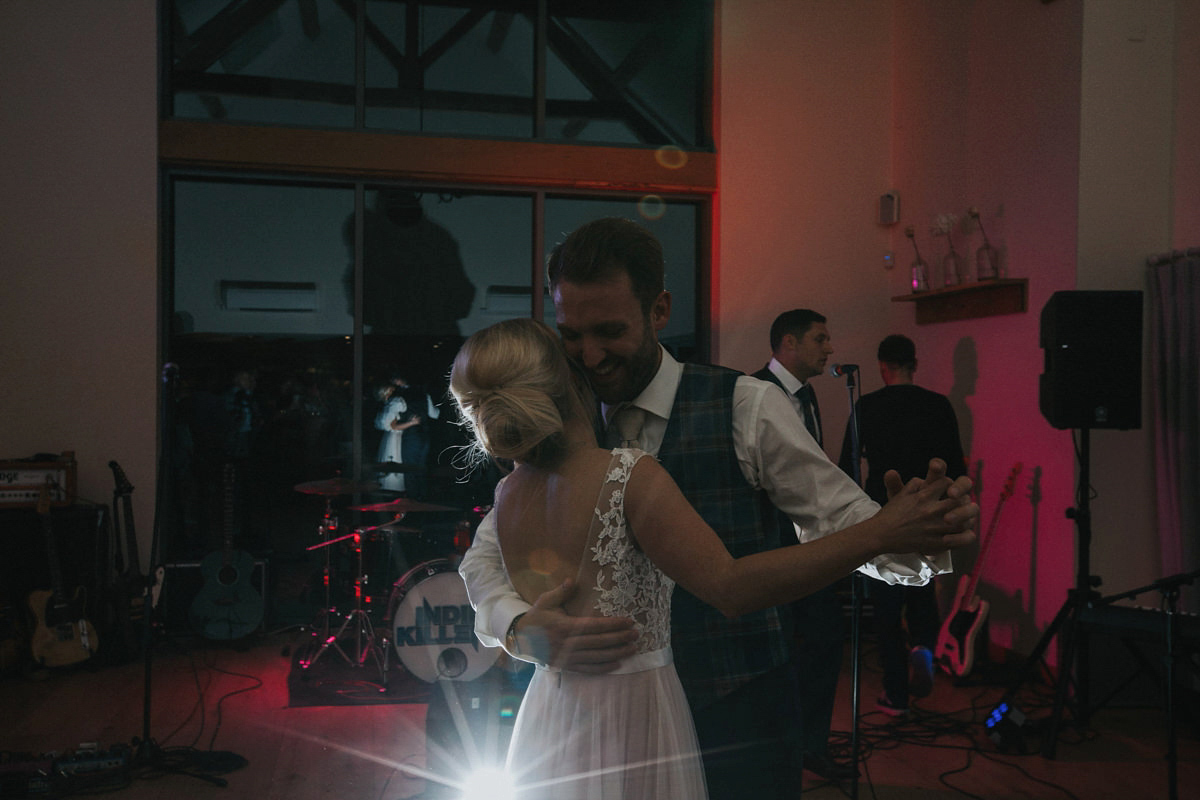 After the feast, the party really kicked off. It's a good job that flip-flops were provided for the female guests as the entertainment sounds awesome. Their first dance was 'Maker' by Avant sung by Best Man Simon which you can watch here. Later on, the The Indie Killers got the guests dancing, and the bride even picked up the drum sticks and jammed with the band, reliving her youth hobby, which was something she hadn't done for fifteen years!
In the evening the barn was lit up with giant letters spelling 'I Do' by one of our Little Book for Brides favourites, Vowed and Amazed. They have an incredible range of light-up letters for hire, as well as some beautiful decorated trees. You can take a look at their listing here for some ideas, and also a special Love My Dress offer.
Words of Wedded Wisdom
"Keep calm; people won't notice the things that go wrong. Most importantly, say your vows loud and proud. And make sure your groom turns to see you walk down the aisle; he will only get one chance."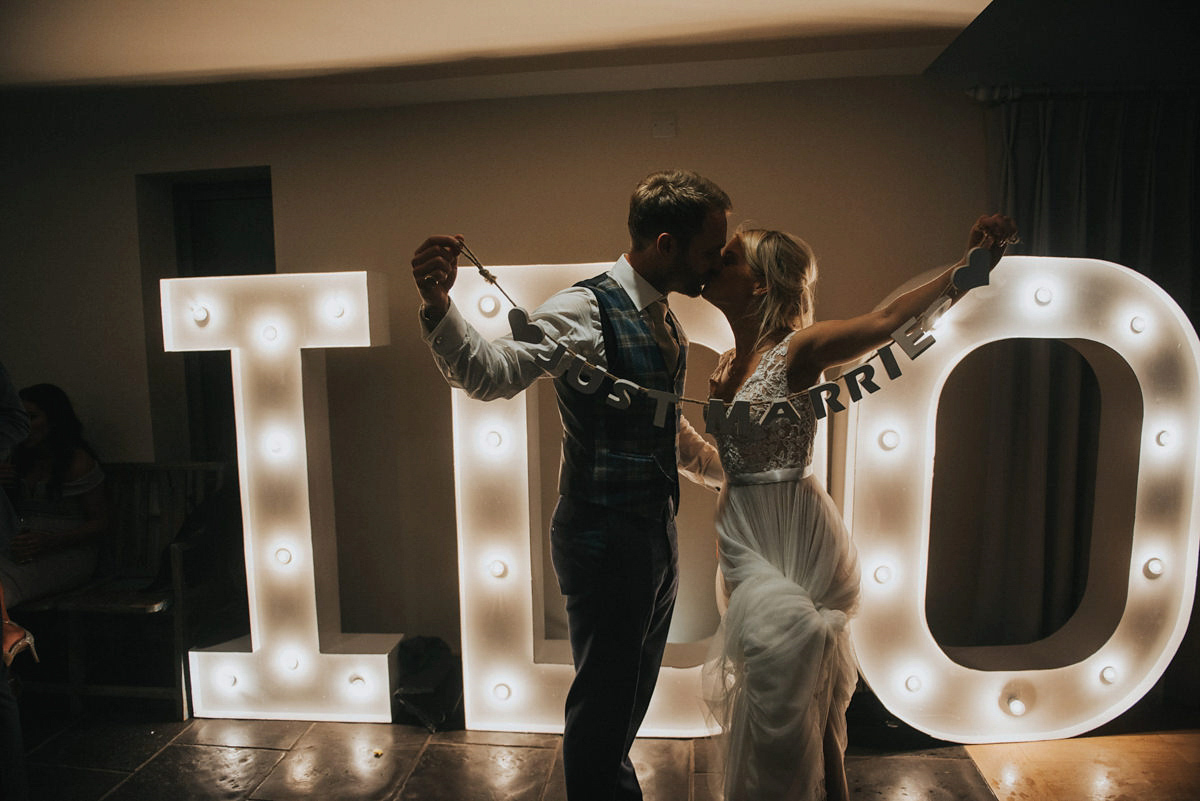 I do hope that you've enjoyed this elegant wedding as much as I have. I'm already looking forward to seeing how other couples might personalise Millbridge Court. Sending congratulations to Sarah and Steve, and a thank you to Eliza Claire for sharing her work.
Have a lovely weekend, everyone.
Ele xx