I'm a bit of a magpie, I confess.  Glittery things, shiny things, things that sparkle- I'm a fan.  Today's wedding therefore is right up my street, with a proliferation of gold, glitter and huge smiles (plus a few happy tears).  Meet Gemma, a medical device sales specialist and Bryan, a football coach, who married at the beautiful Saltmarshe Hall, East Yorkshire on Saturday 21st May 2016.
Gemma wore a stunning lace fishtail gown by Caroline Castigliano which she purchased from our Little Book for Brides Members, The Bridal Collection, Harrogate.
"I really liked the mermaid style dresses and had my eye on Caroline Castigliano's designs as they are so classic and flattering.  When I first stepped into my dress I knew it was special just by how I felt wearing it.  I stepped out the curtain, my mum burst into tears and I knew it was the one!  I loved how it flattered my body shape and had such delicate detailing."
Photography by Photography34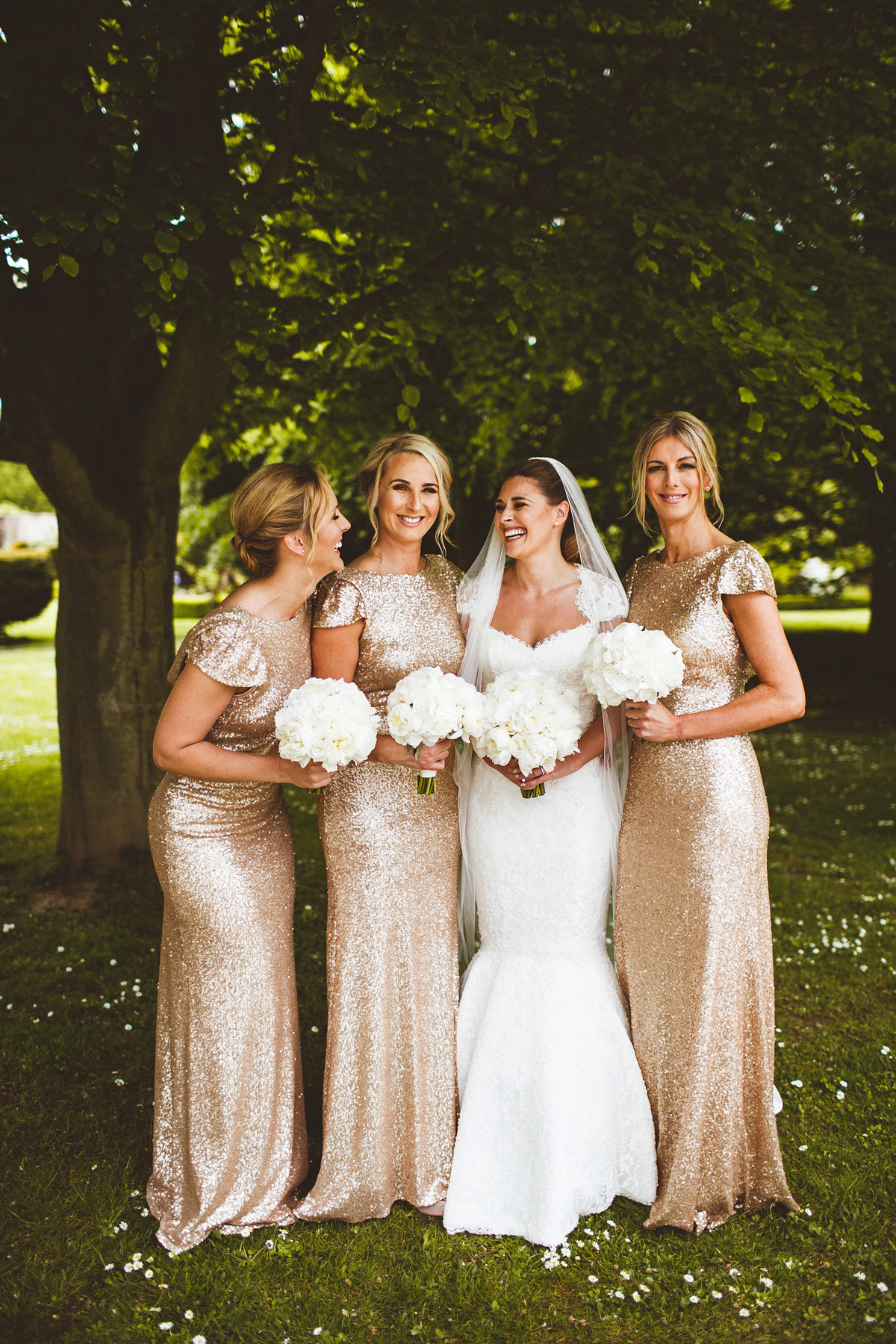 The bridesmaids looked wonderful in spectacular shimmering gold Sorella Vita gowns from Essense of Australia, worn with shoes from Dune, while the younger flower girls looked lovely in gold and white dresses from Monsoon.  For jewellery the adult attendants wore rose gold and diamond Swarovski earrings which were a gift from Gemma that morning.
"We didn't really have a theme, we just wanted it to be classic.  I fell in love with the bridesmaid dresses and this helped shape our classic theme of black, white and gold."Hair was the work of The Sessions Spa, Beverley, while make up was done by Rebecca from the local Bare Minerals make up counter.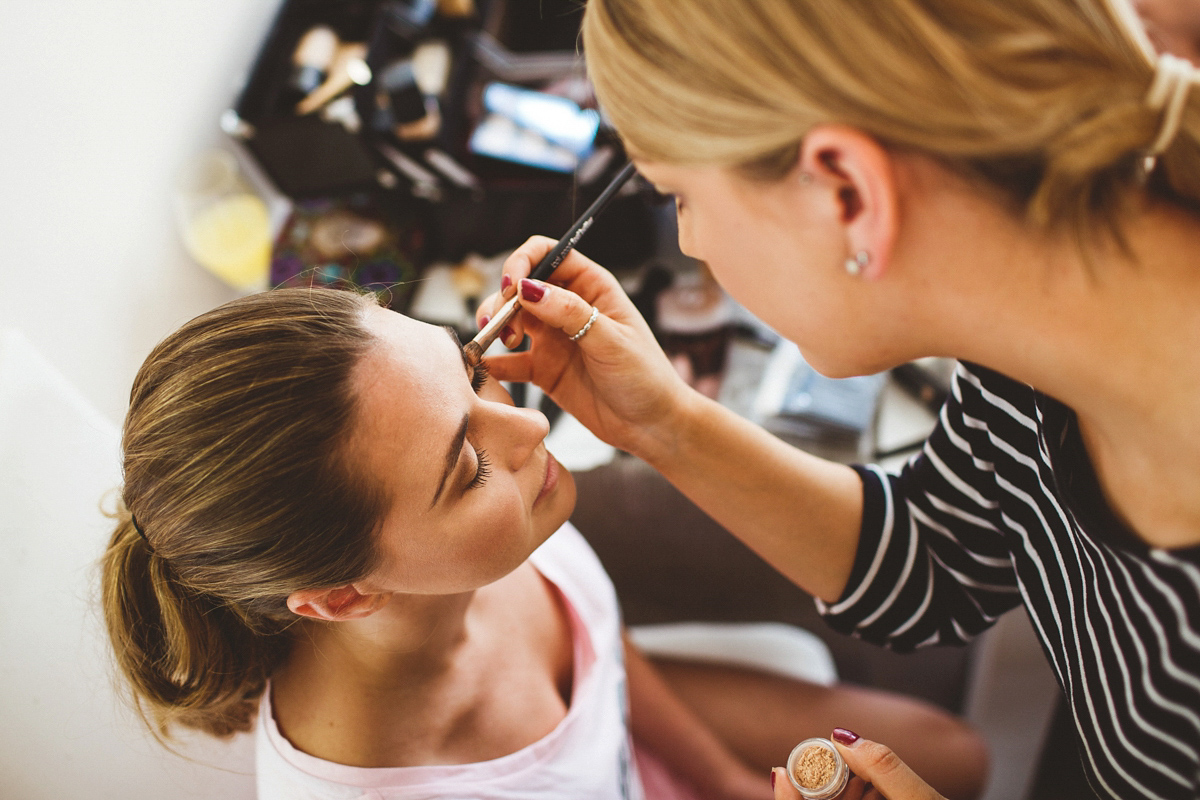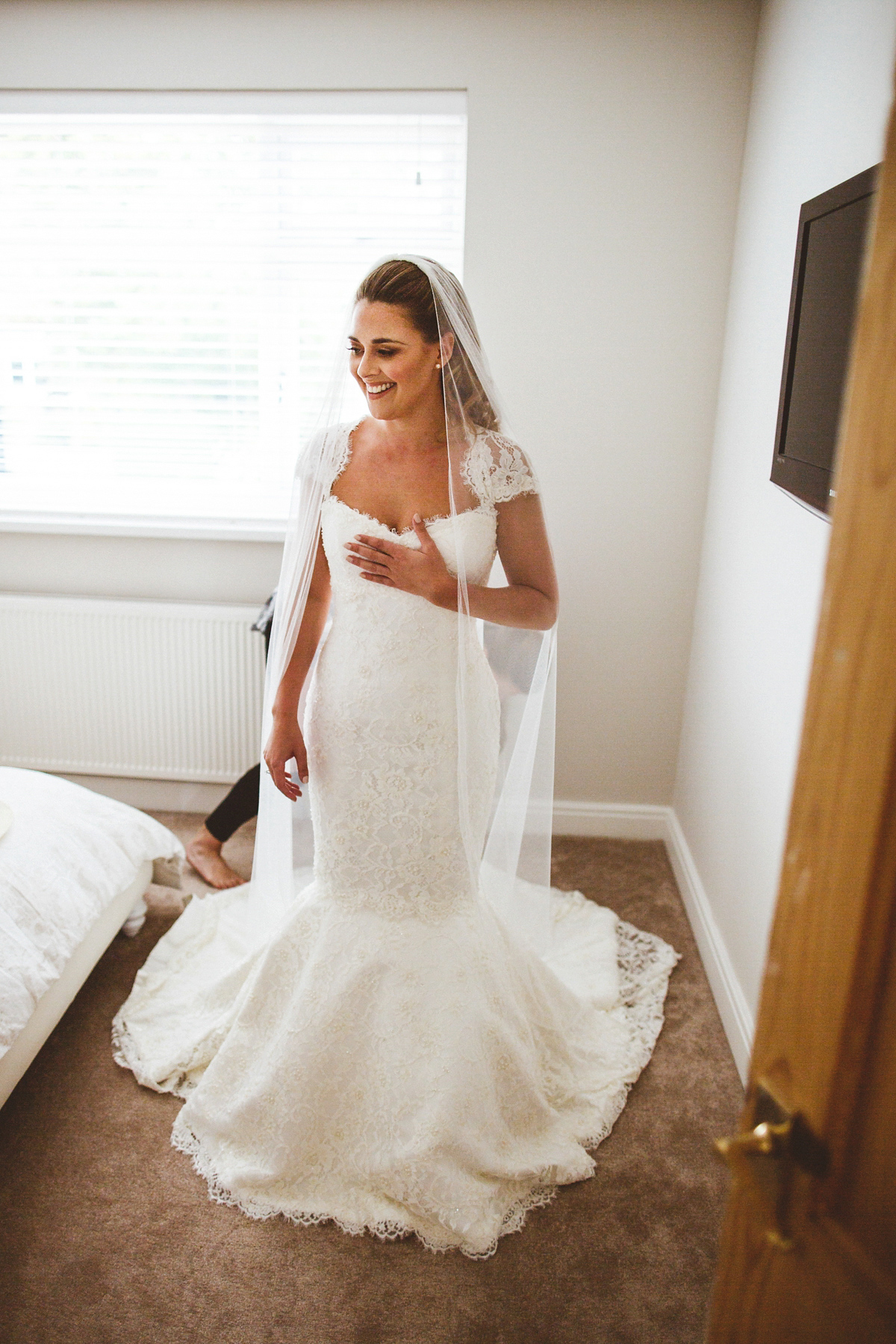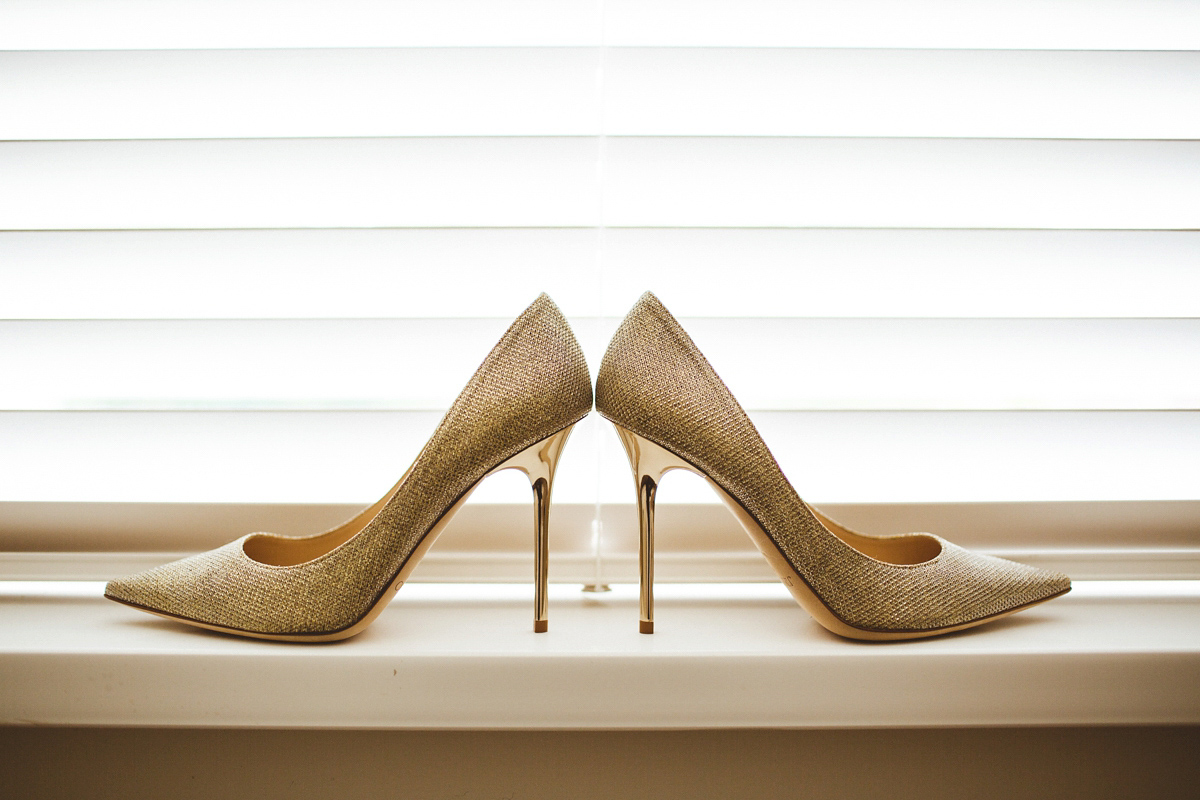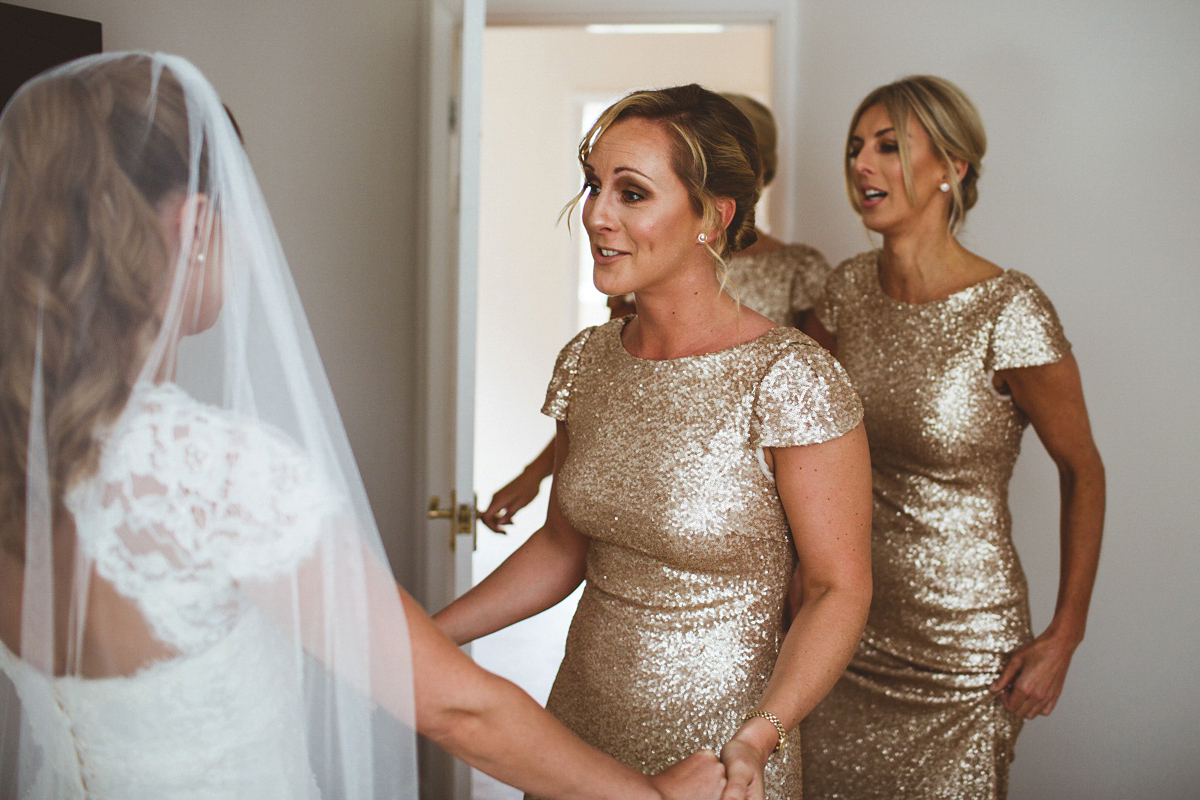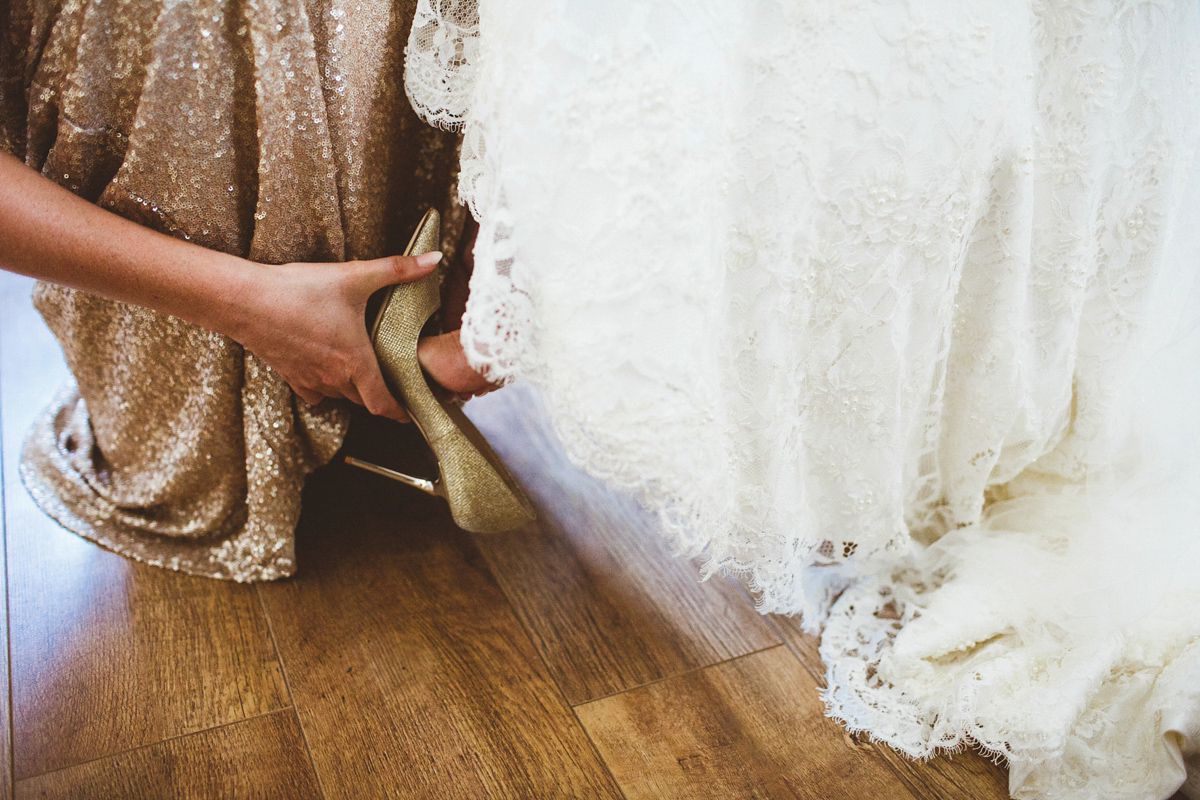 The sophisticated all-white bouquets and floral arrangements were by The Floral Lounge.
"We chose white peonies, hydrangeas and arctic roses to match our theme.  I think all white bouquets look very elegant."
Gemma's chapel length veil came from The Couture Veil Company, also purchased from The Bridal Collection, Harrogate and on her feet she wore a gold pair of Jimmy Choo heels, to compliment her golden bridesmaids.
For scent, she chose 'her smell', Daisy Dream by Marc Jacobs and for jewellery, a pair of pearl earrings given to her by her Mum.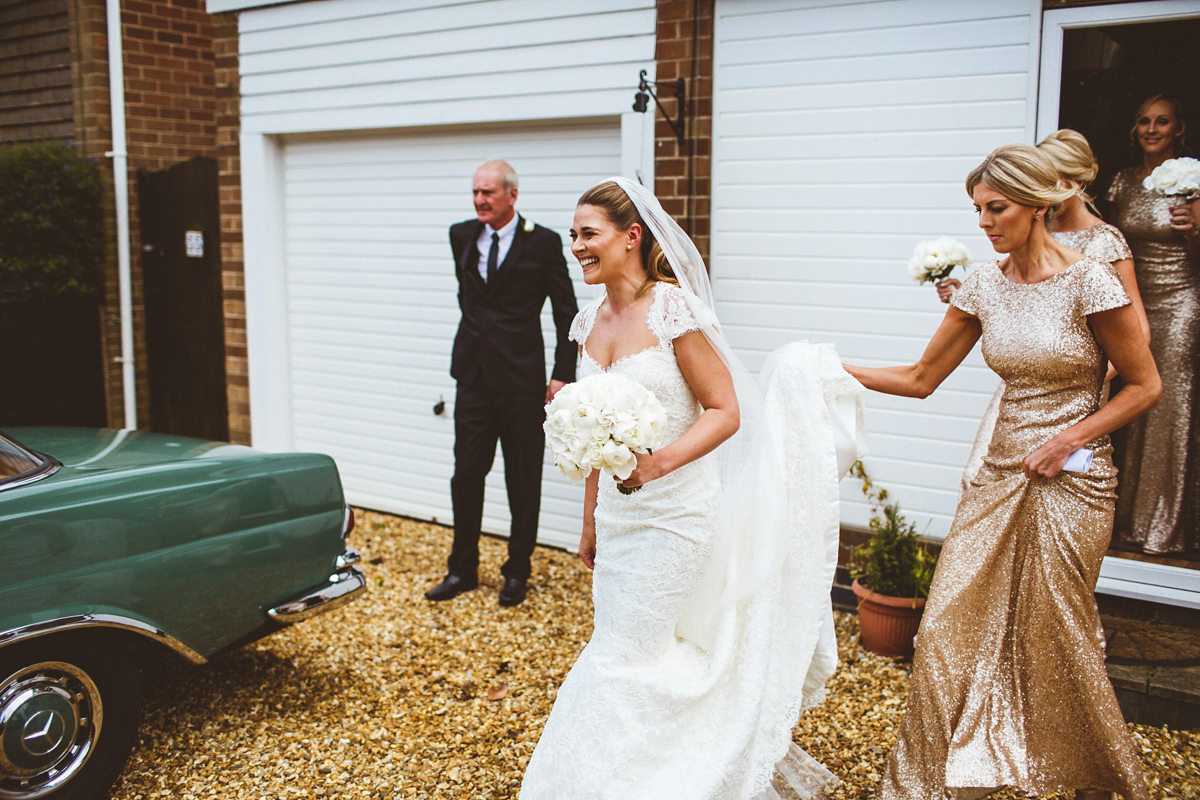 Gemma's Dad owns Mercedes Classic cars of his own and so drove Gemma to the ceremony himself- a lovely personal touch.  She then walked down the aisle on her Dad's arm, to 'Don't Worry About Me' by Frances.
"The anticipation was unreal.  I'll never forget my dad driving me towards the venue but my favourite moment of the day has to be when I walked down the aisle and Bryan burst into tears.  He rarely cries and set off most of the congregation."
"We chose Saltmarshe Hall because it has picturesque grounds, a stunning morning room and a wonderful intimate feel.  At the time of our wedding, Saltmarshe had no chef on site which meant we were able to bring in all our own suppliers and create our day exactly the way we wanted."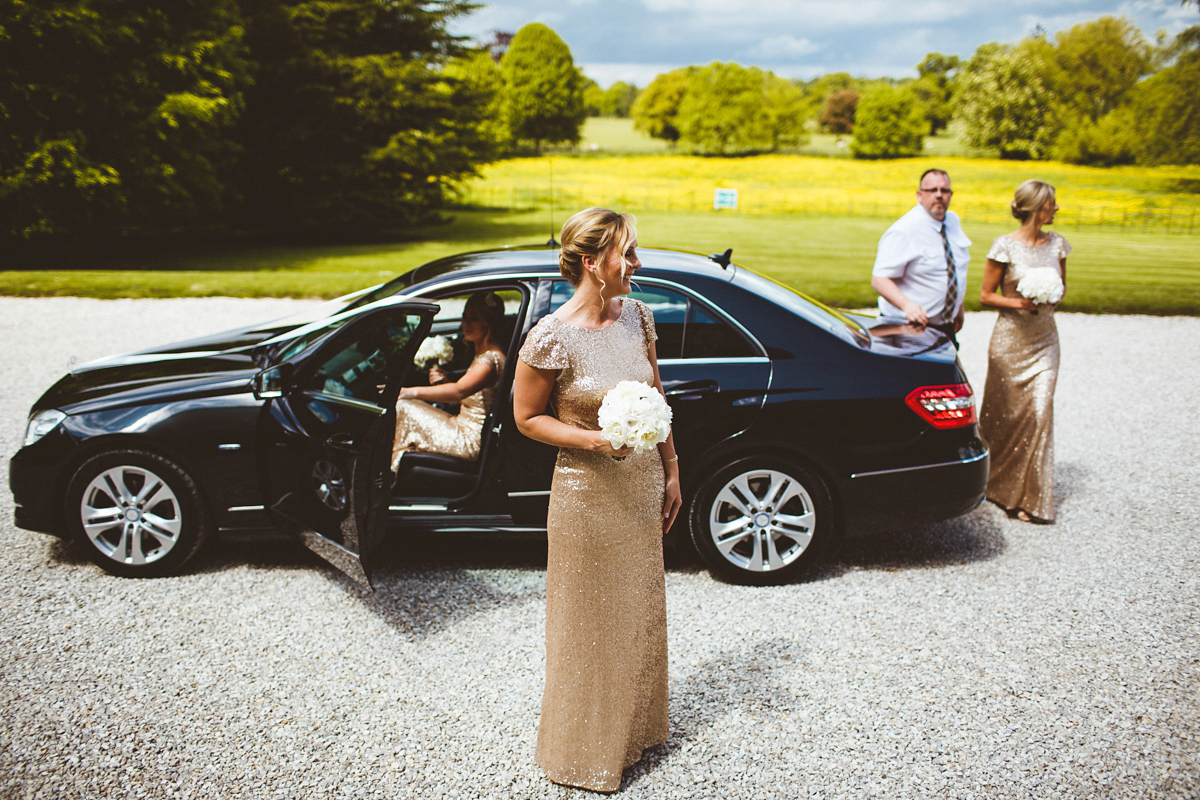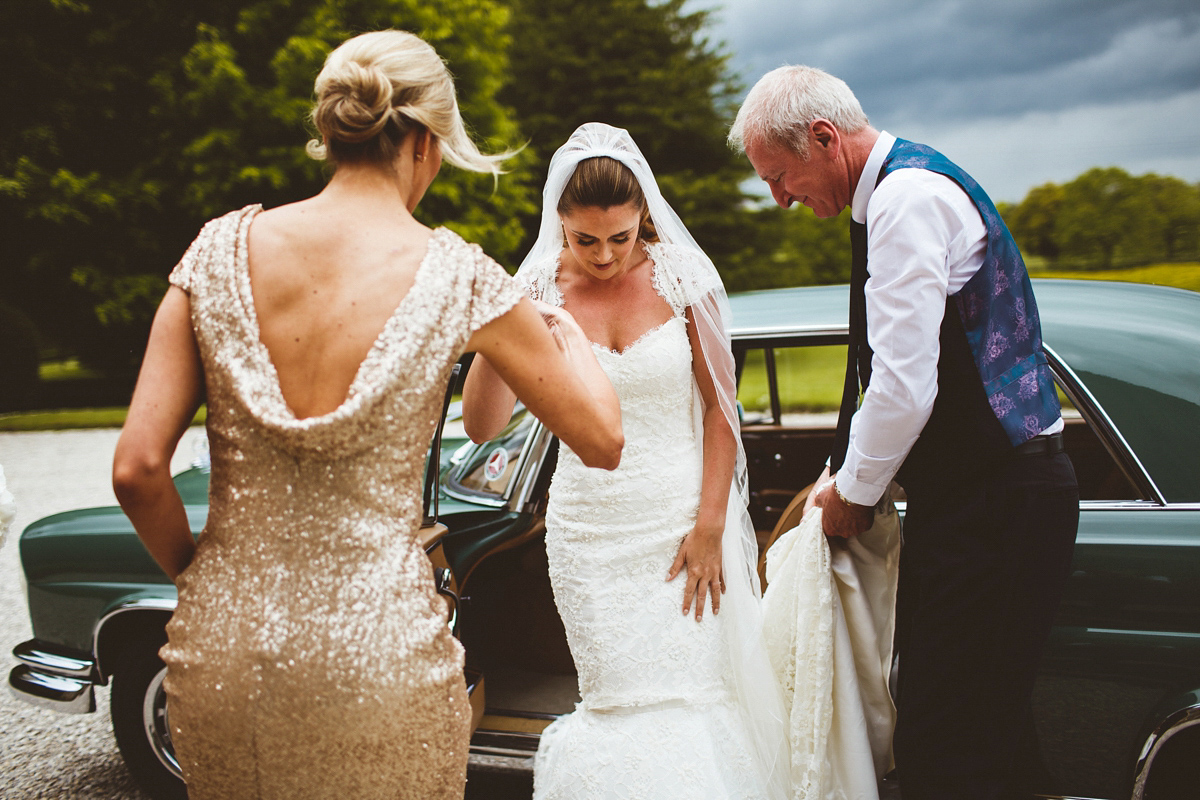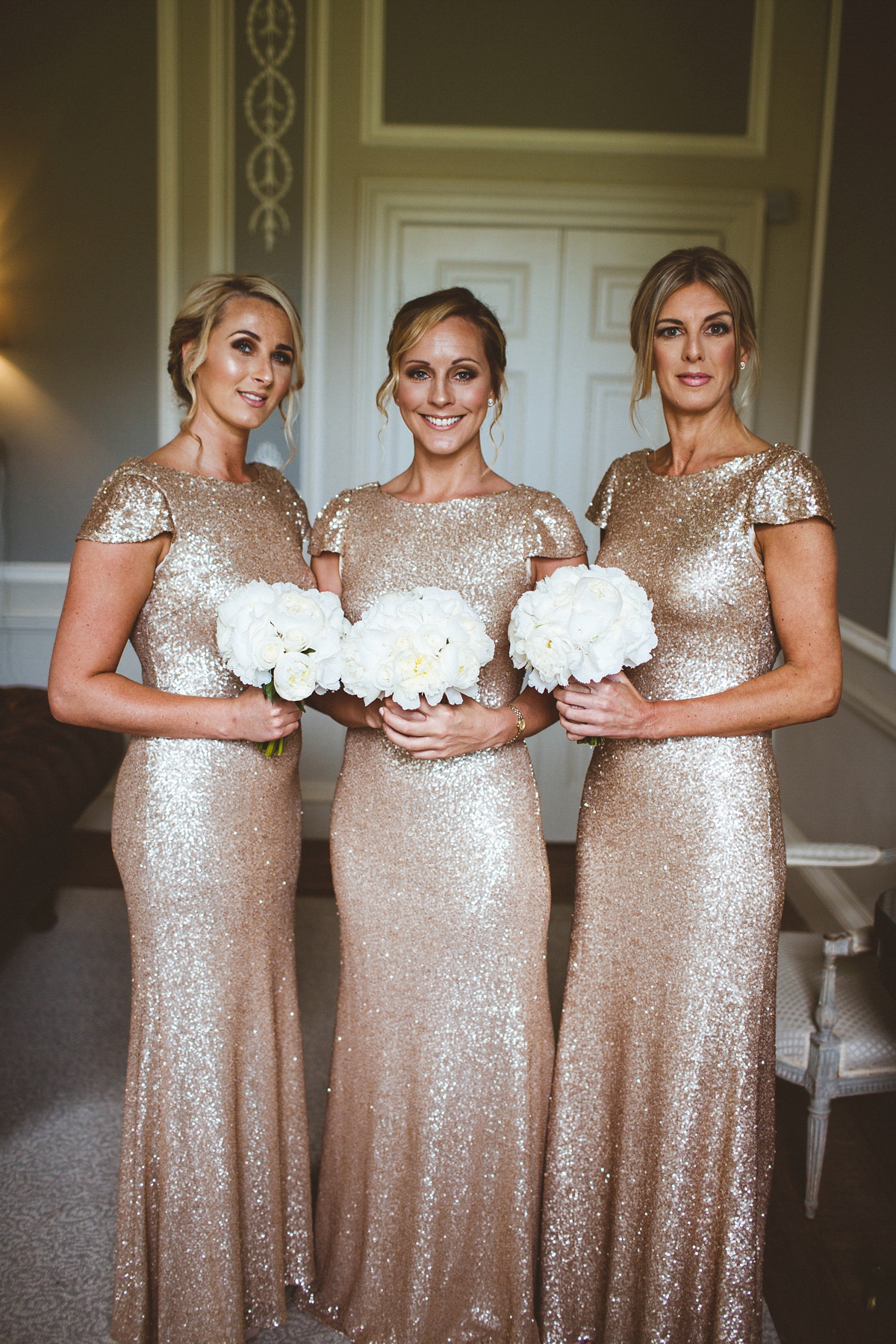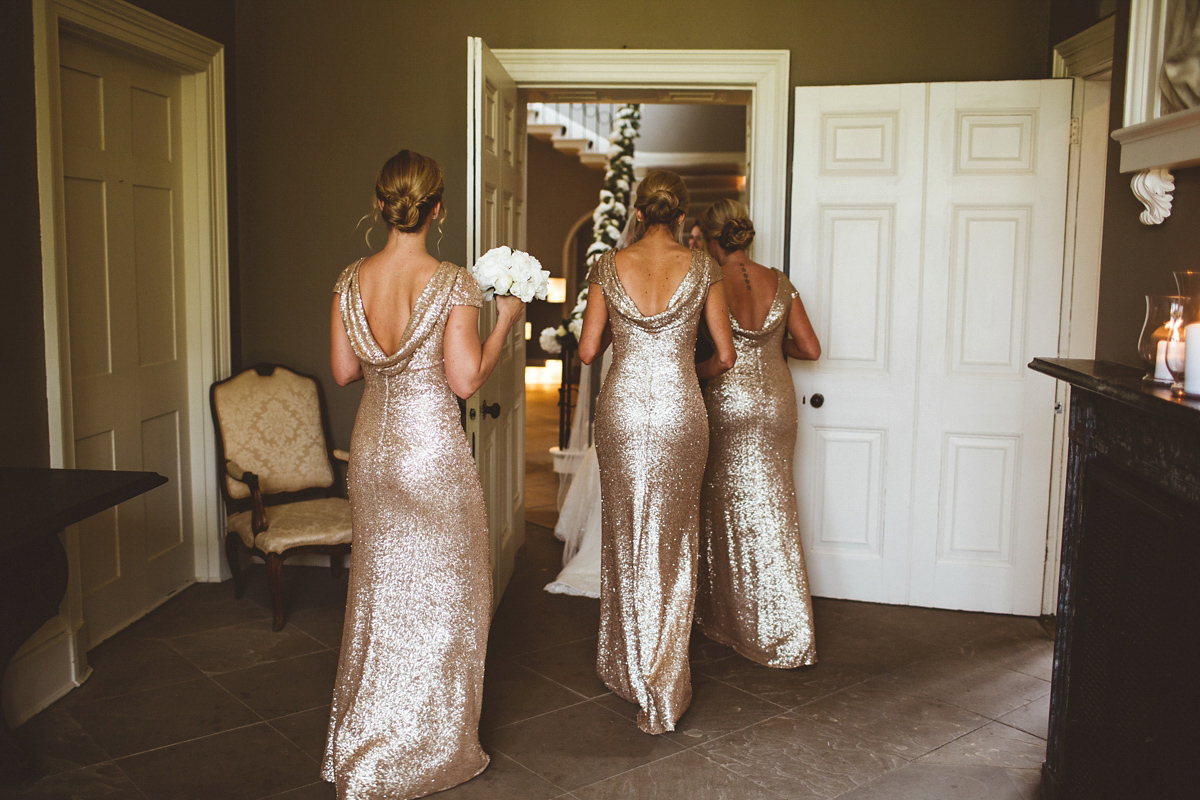 I adore the clean and fresh feel of the ceremony room- the white drapes, the white flowers and gold accessories- absolutely stunning.
For readings, Gemma's Mum chose 'A recipe for marriage'.
"My mum loves to cook and I have taken after her so when she came across this reading she thought it had a personal touch whilst being uplifting.  She was so worried she would cry if she chose a soppy one (although she cried anyway)."
After exchanging vows, both in floods of happy tears, Gemma and Bryan exchanged rings from David Bell Jewellery, who also designed Gemma's engagement ring.
Bryan looked classically smart in a bespoke suit from Reiss Tailoring, while his best man wore Ted Baker and the pageboys, outfits from Next.
"Bryan planned a perfect proposal. For my birthday in October 2014 he booked us a weekend in Paris for December as he knows I love Christmas and wanted to see Paris at Christmas time.  Five years to the day we met, Bryan proposed to me on the Love Lock Bridge in Paris."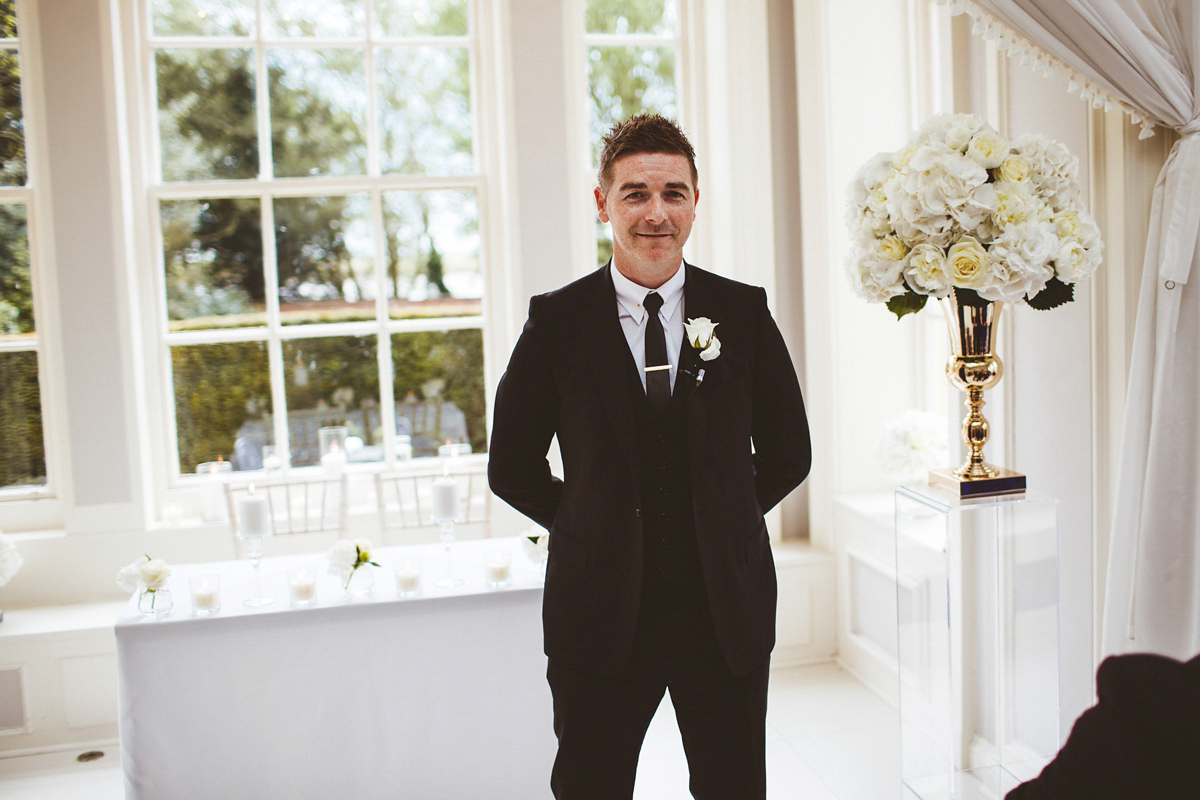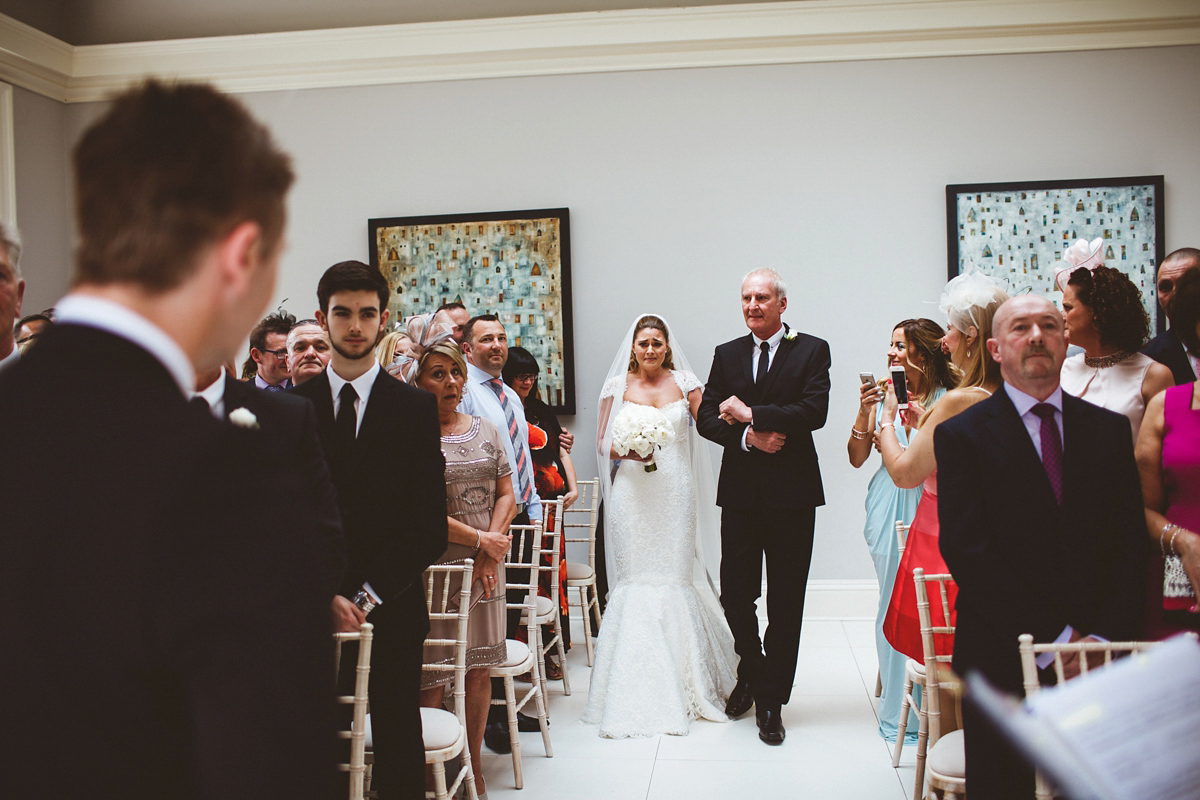 After exchanging vows, both in floods of happy tears, Gemma and Bryan exchanged rings from David Bell Jewellery, who also designed Gemma's engagement ring.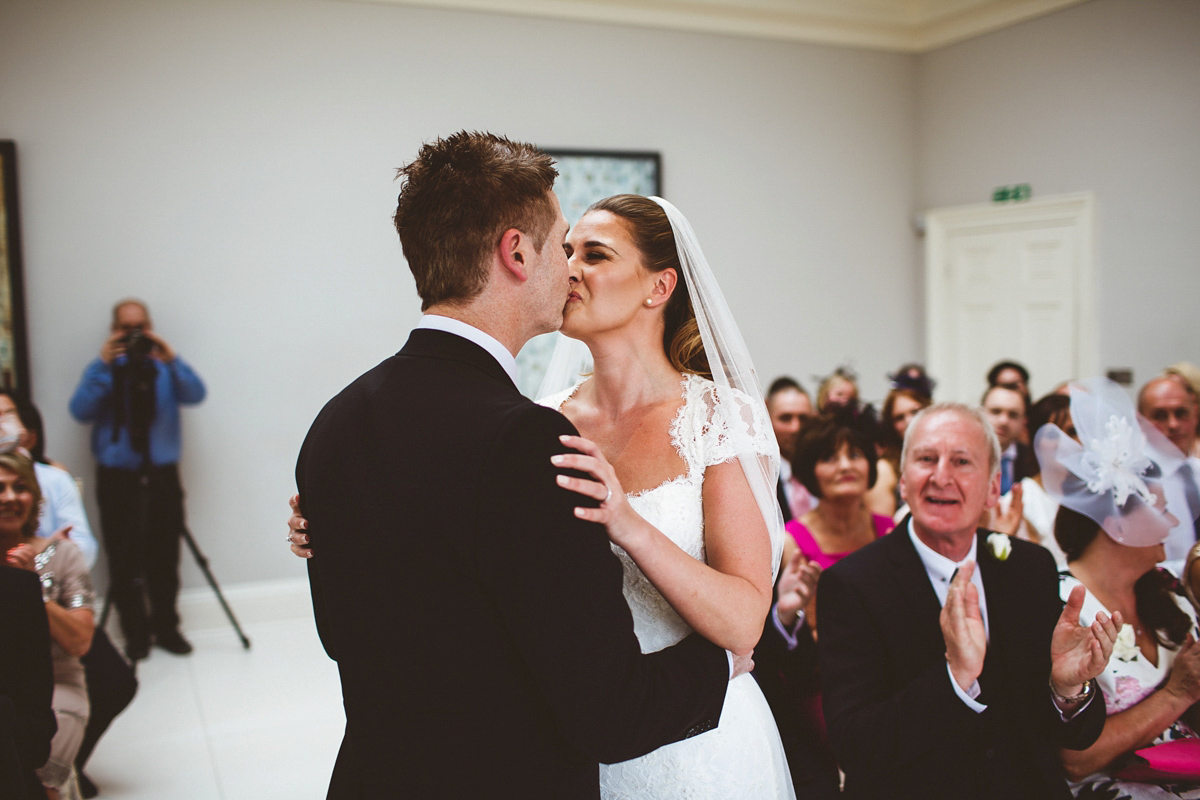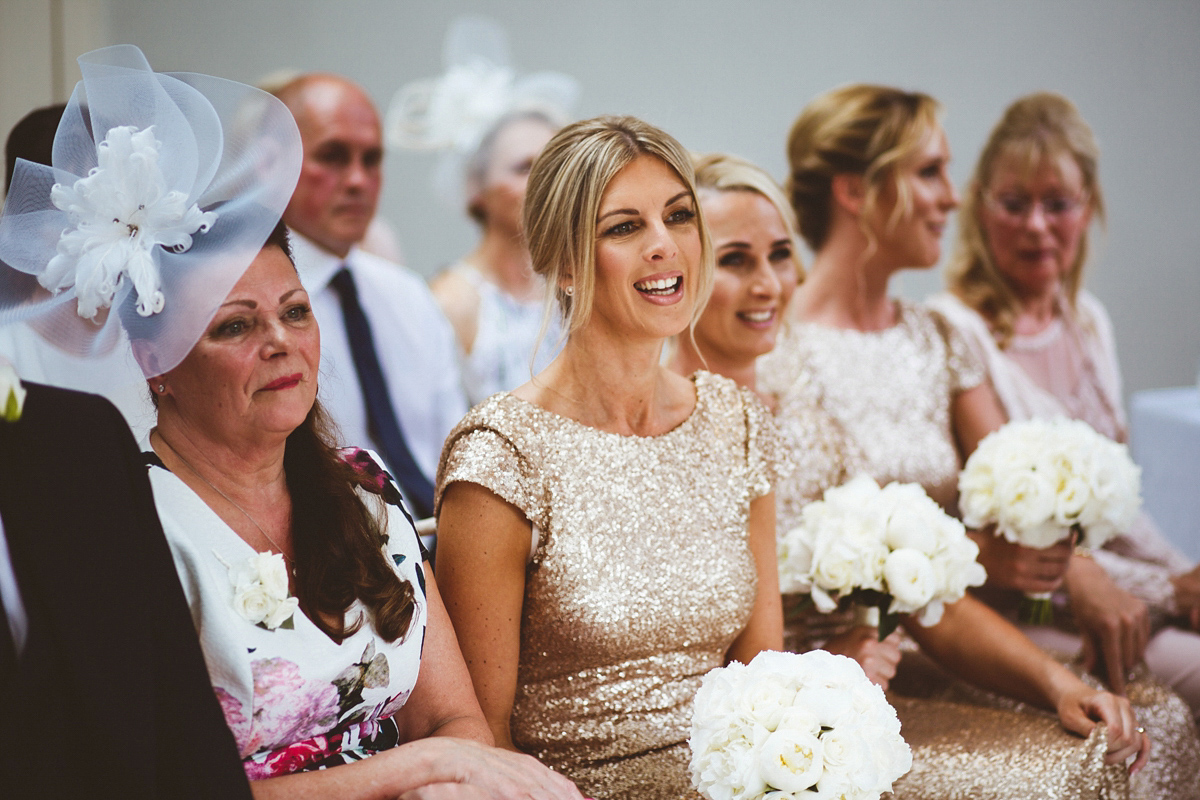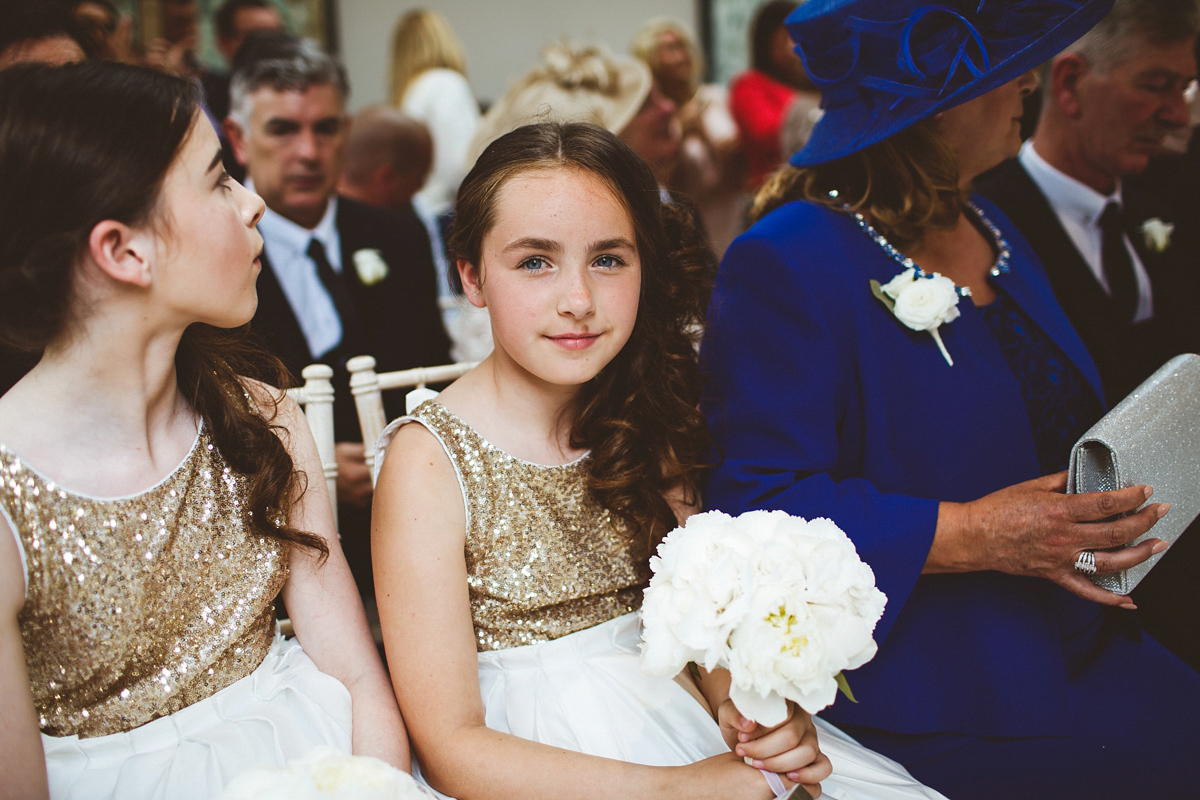 Today's gorgeously emotional photographs are the work of Tony Wilson of Photography34, whose work we have been delighted to feature several times before.
"A work colleague of mine recommended Tony and we are so glad she did.  Tony not only captured our day perfectly, he was so wonderful to work with.  Firstly, he really took the time to get to know us and even went to look around Saltmarshe Hall prior to the wedding to suss out the grounds (all of his own accord).  He has given us the most natural and beautiful moments from our wedding day."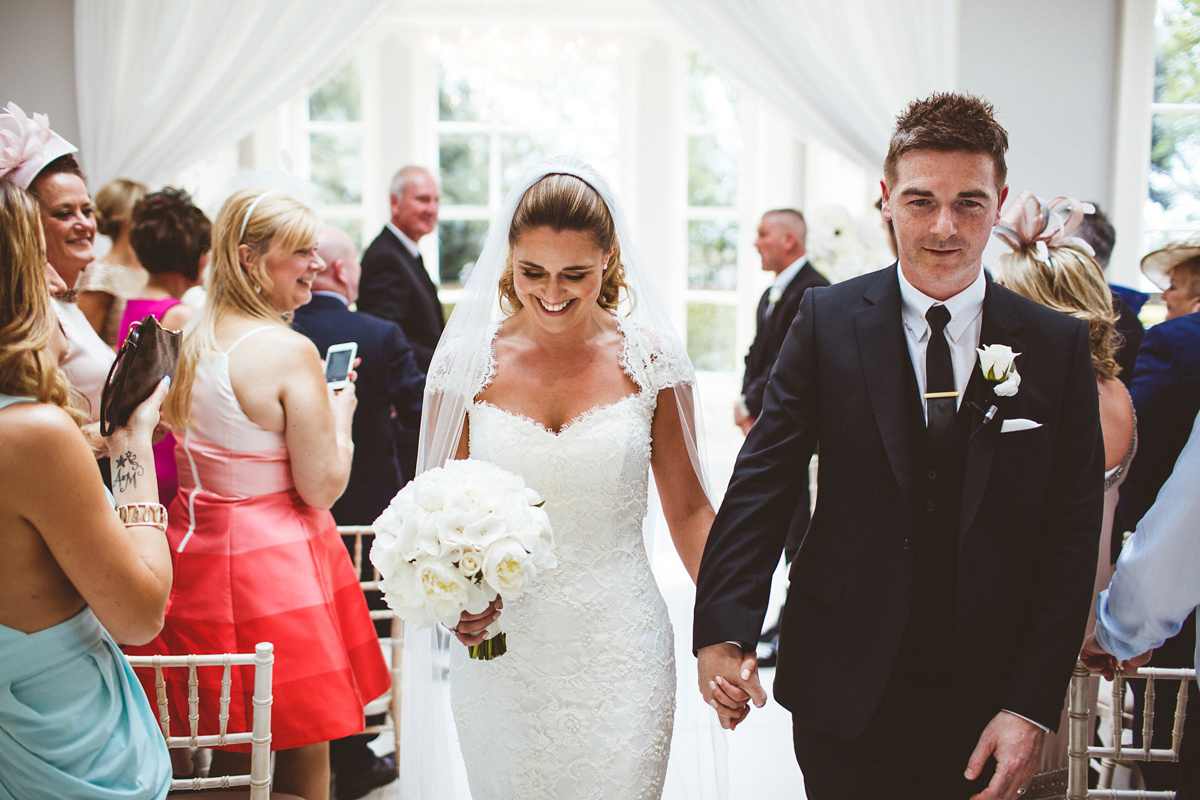 "At first we weren't going to have our wedding filmed, but we are so glad we did.  Gary and Martin of First Sight Weddings were recommended by Tony and they have captured our day beautifully, telling the story in a wonderfully creative way."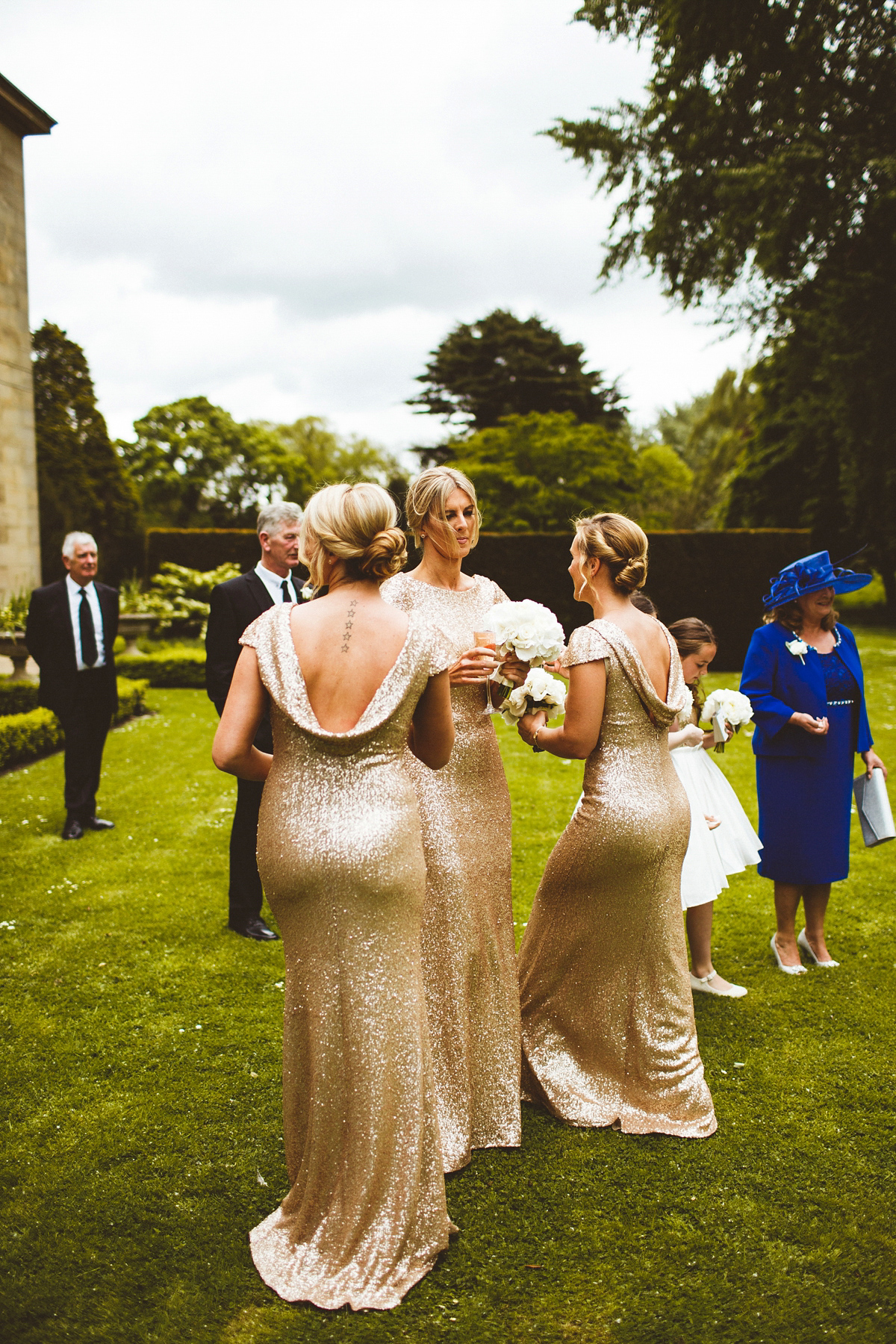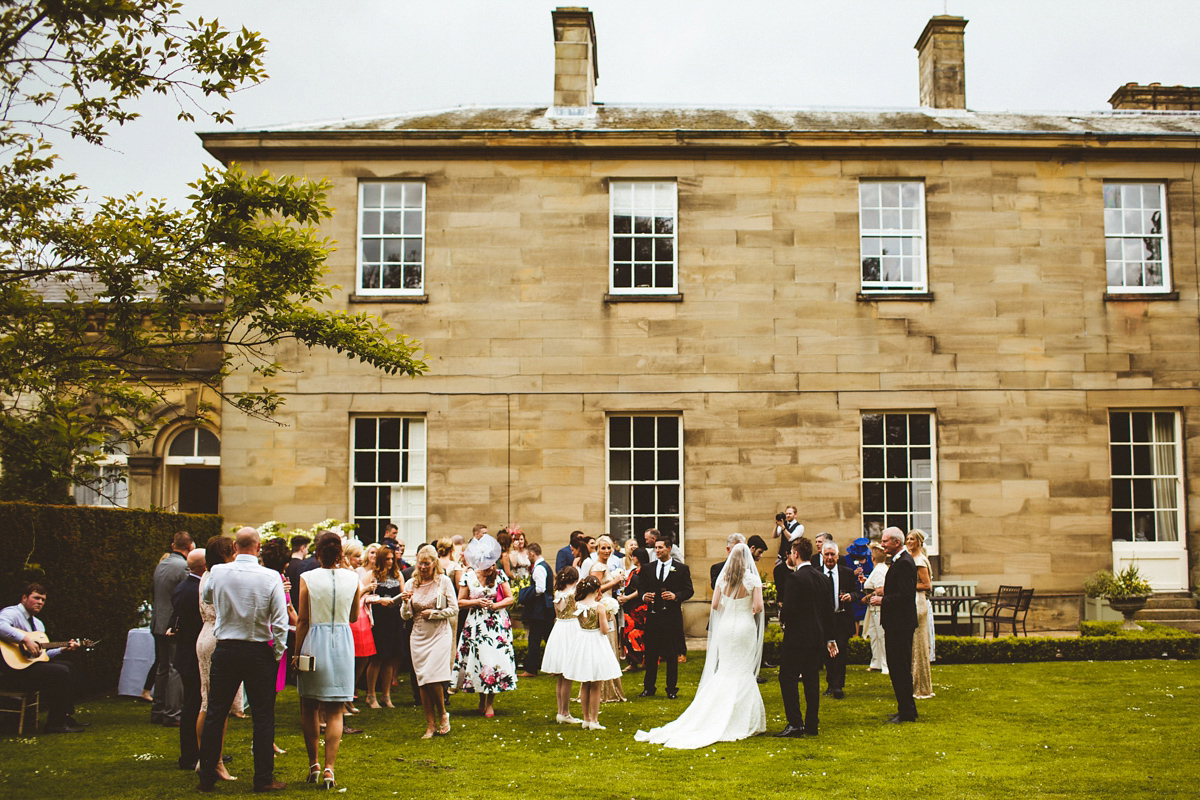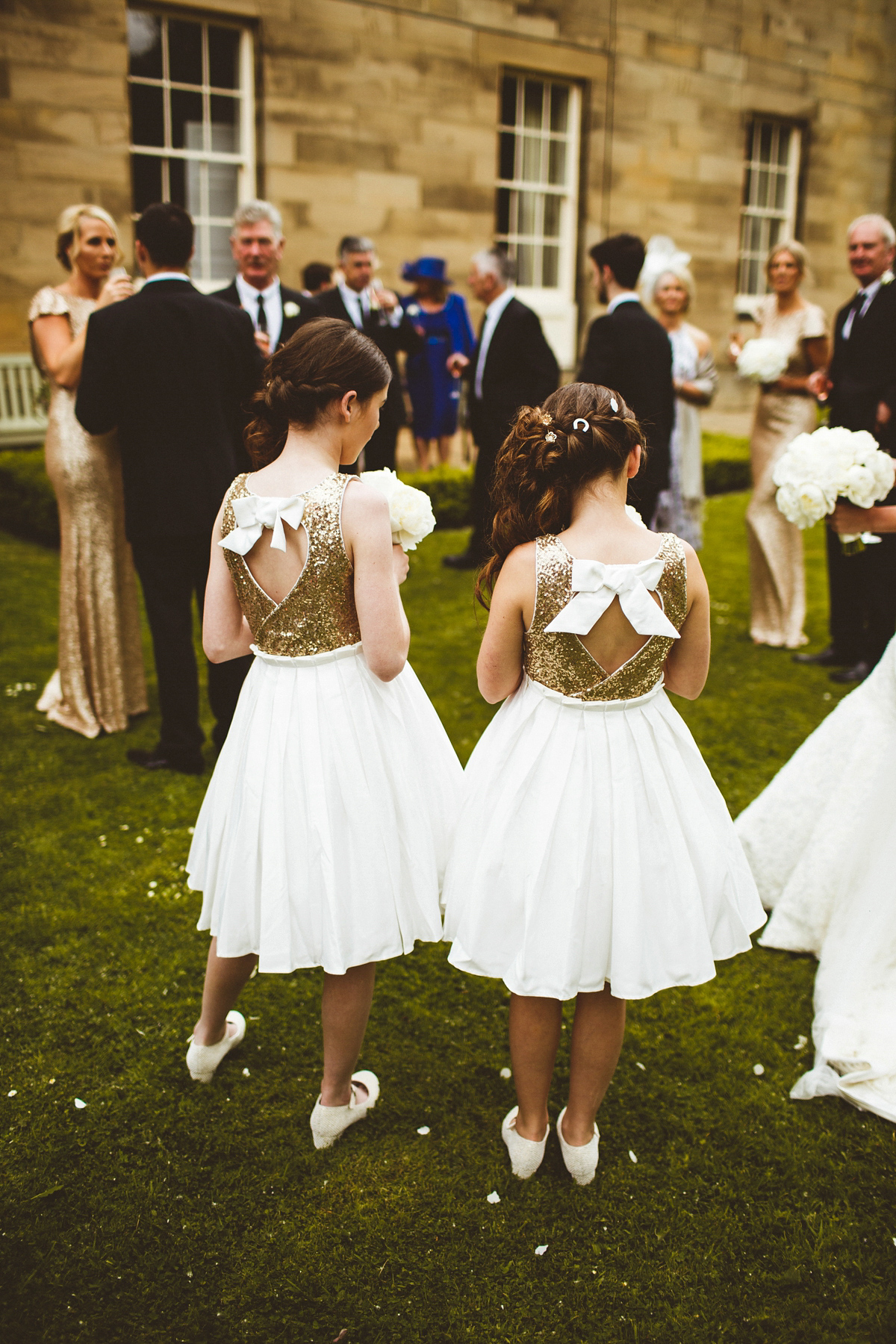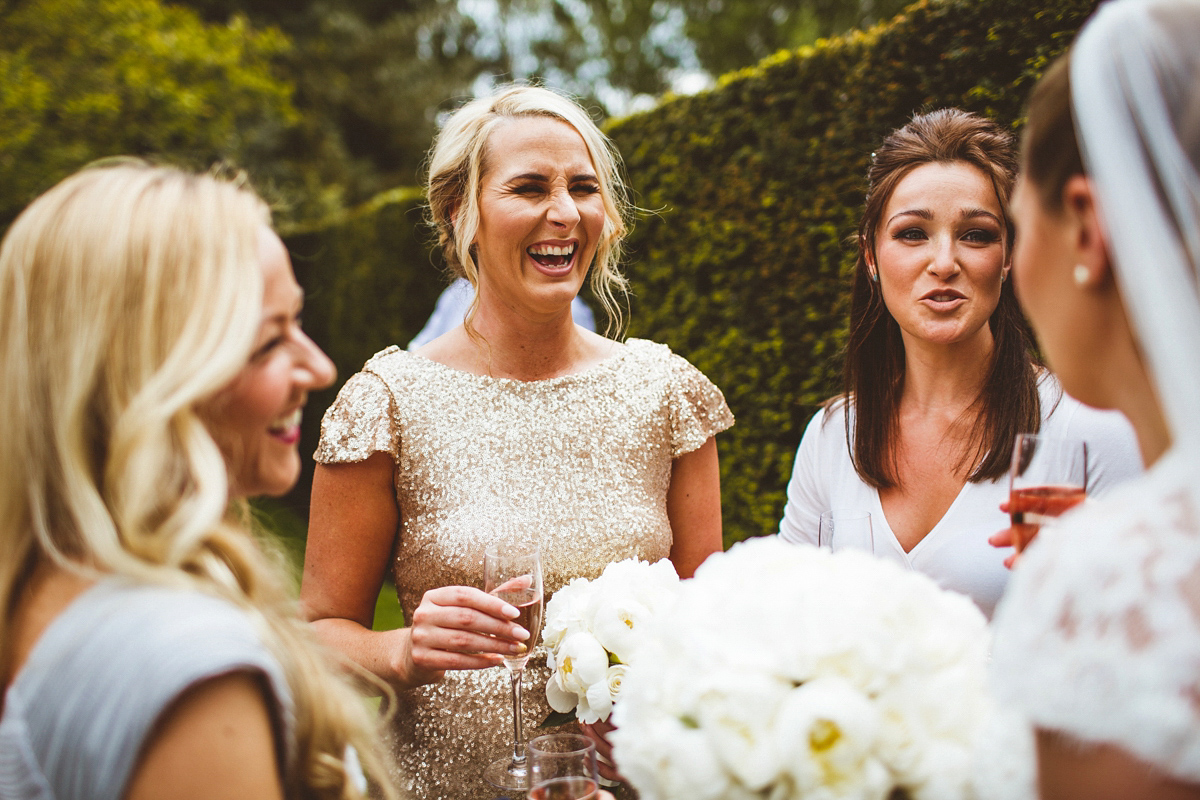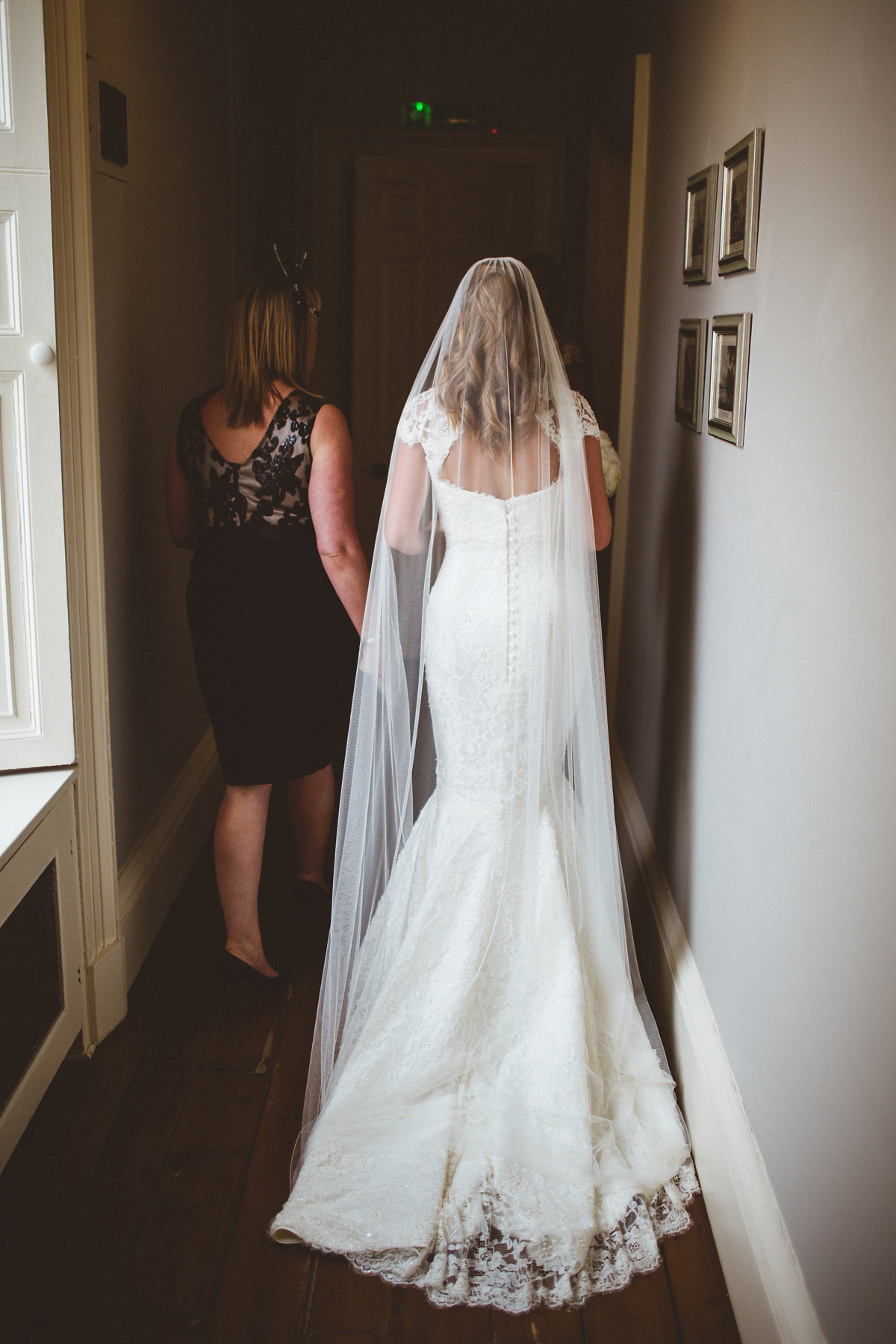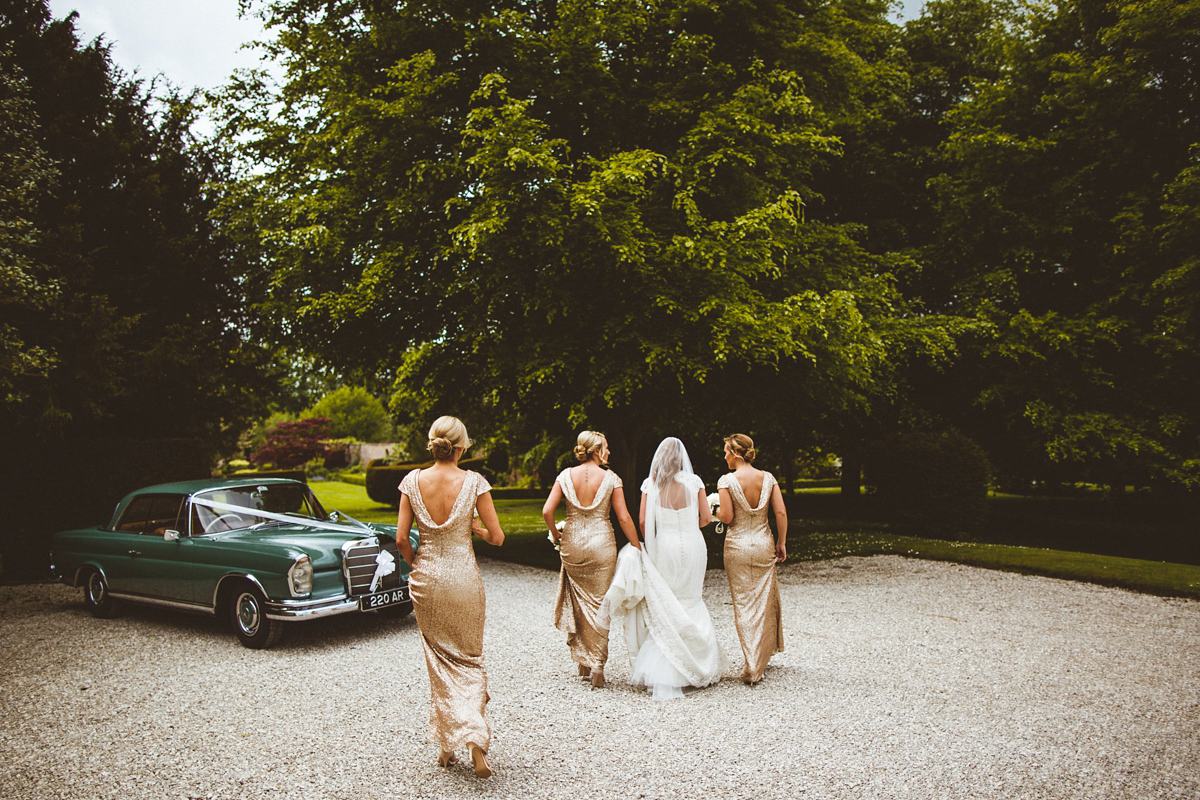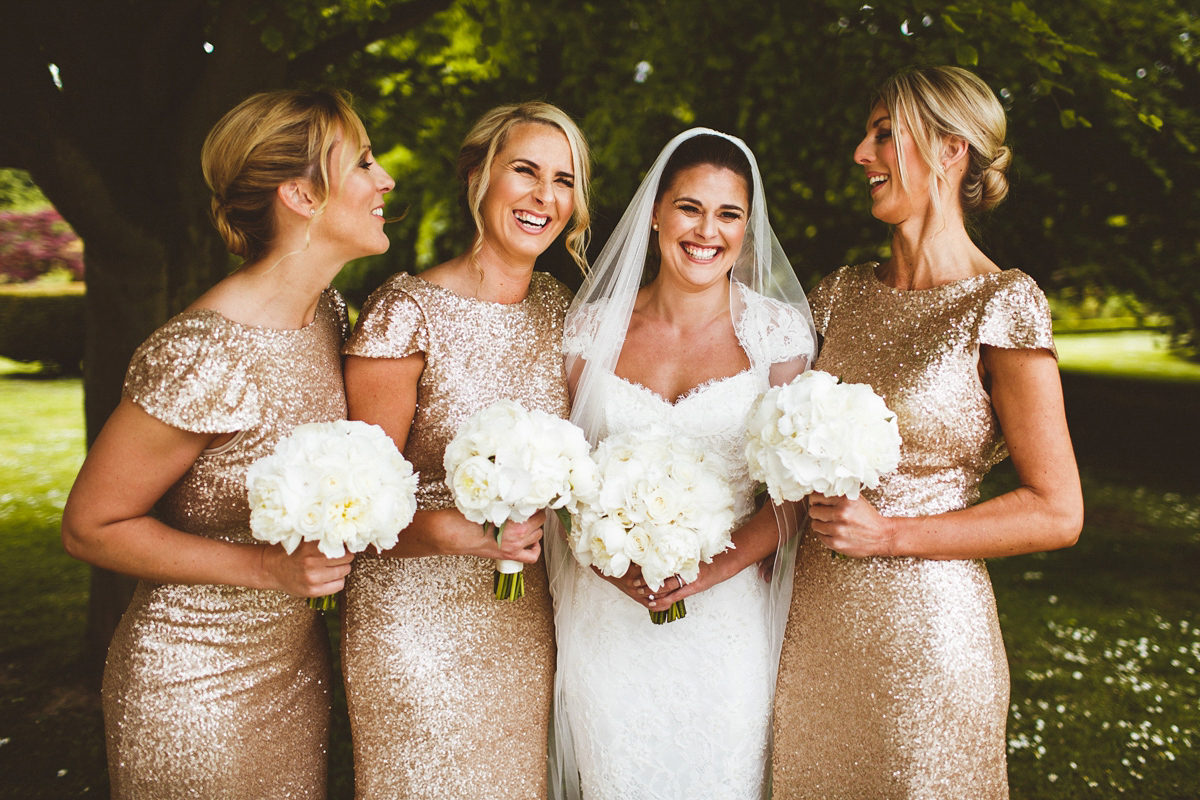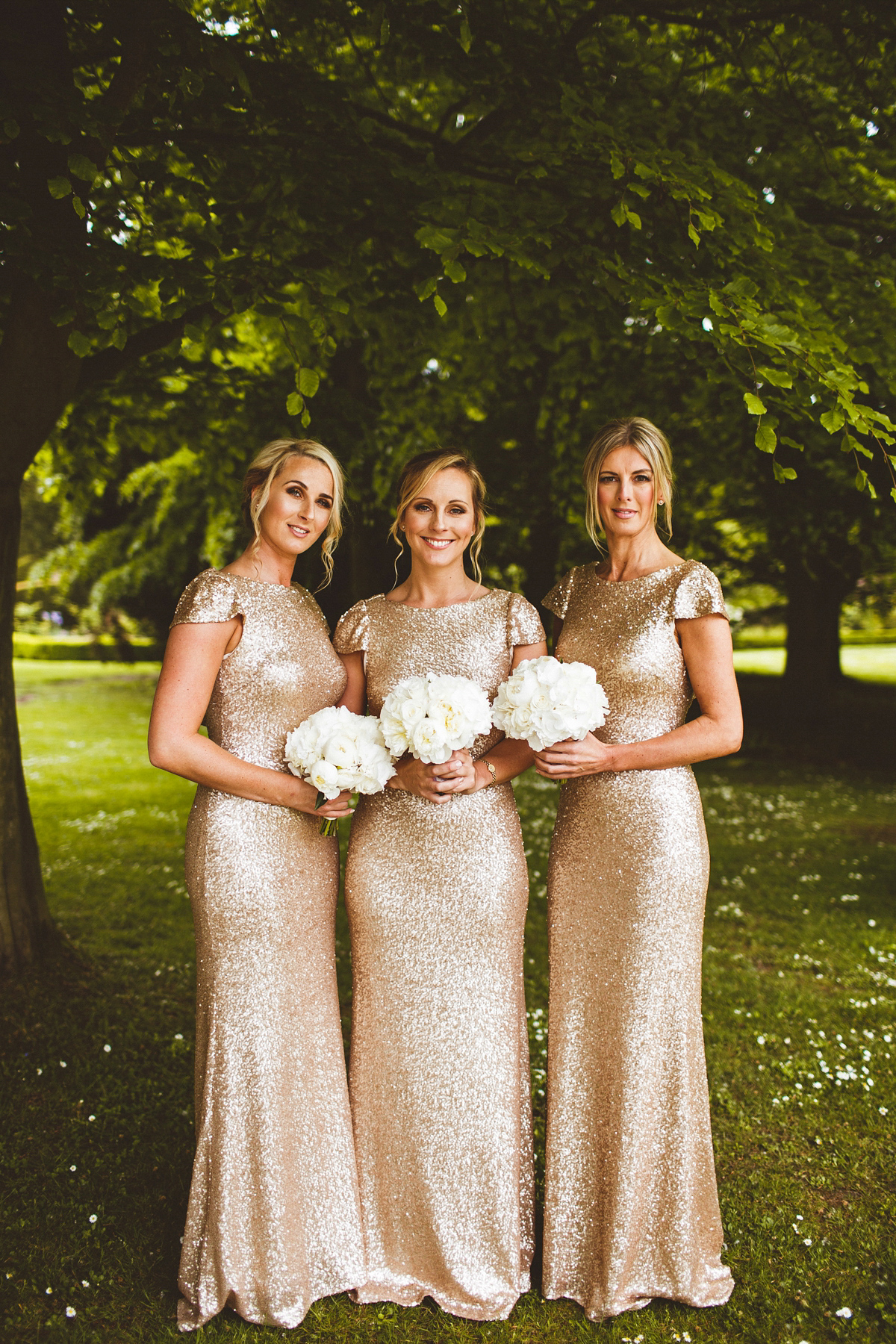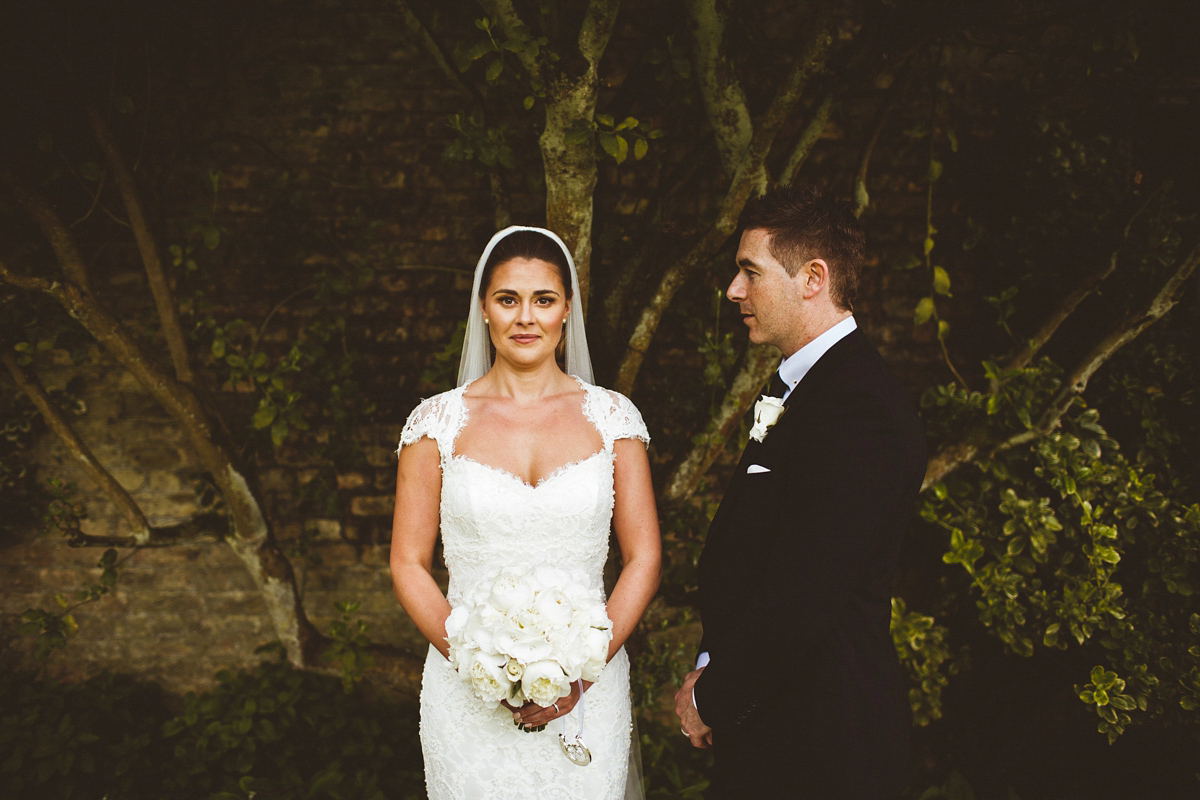 Catering for the wedding breakfast was the work of MKC Catering, while for the evening, Gemma and Bryan brought in a street food van from Kerb Edge which is such a quirky idea- I love it.
I absolutely adore the cake, from The Blossom Tree Cake Company.  I've not come across edible sequins before- how marvellous!
"We had a tasting session at The Bloosom Tree Cake Company and they were the best cakes we've ever had.  Keon's design is so delicate and classic and I've never seen a finish on a cake like it.  We chose a three tier cake and asked for a gold sequin middle tier with a classic white icing for the other two.  Keon found the edible sequins for us and it complimented our theme perfectly."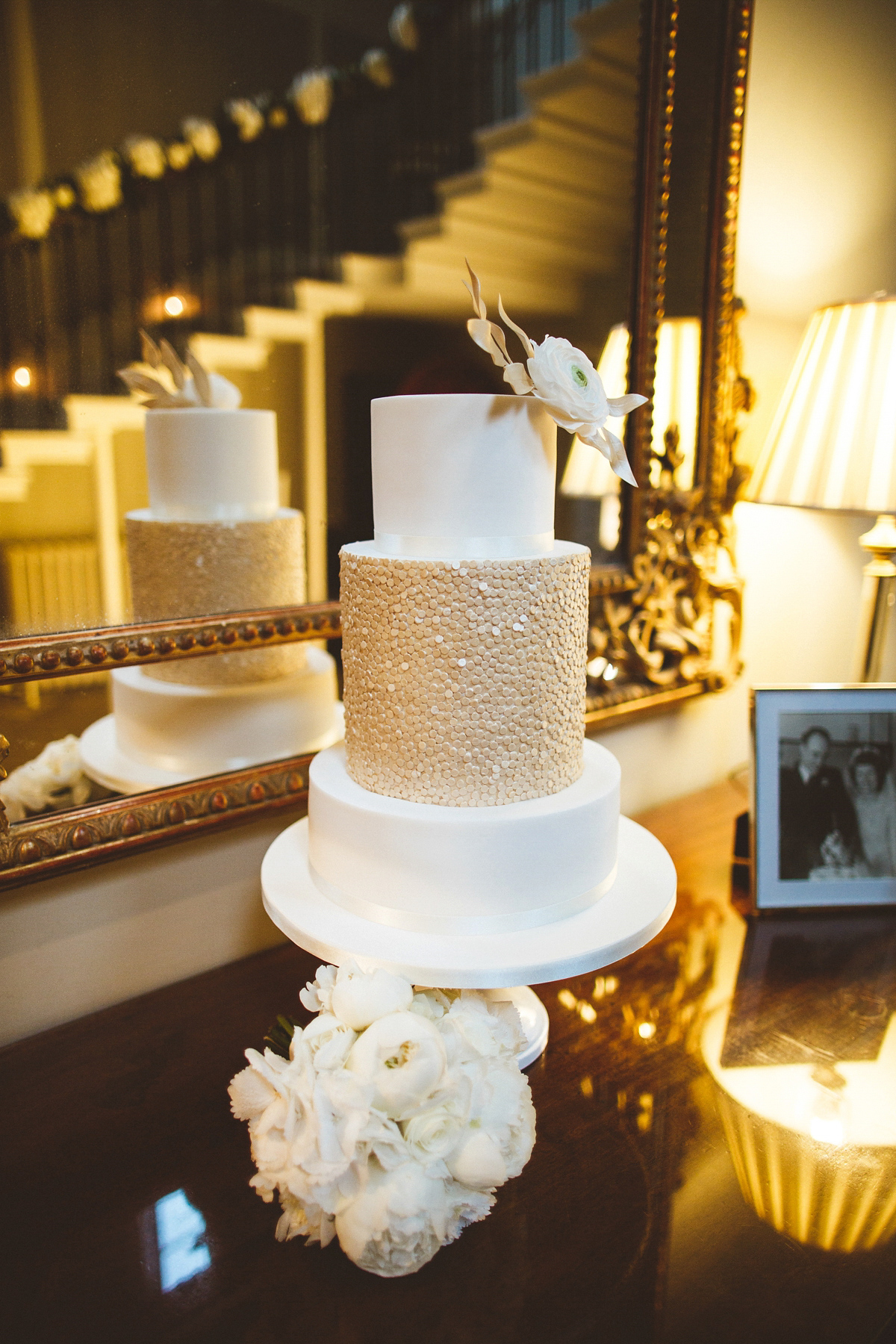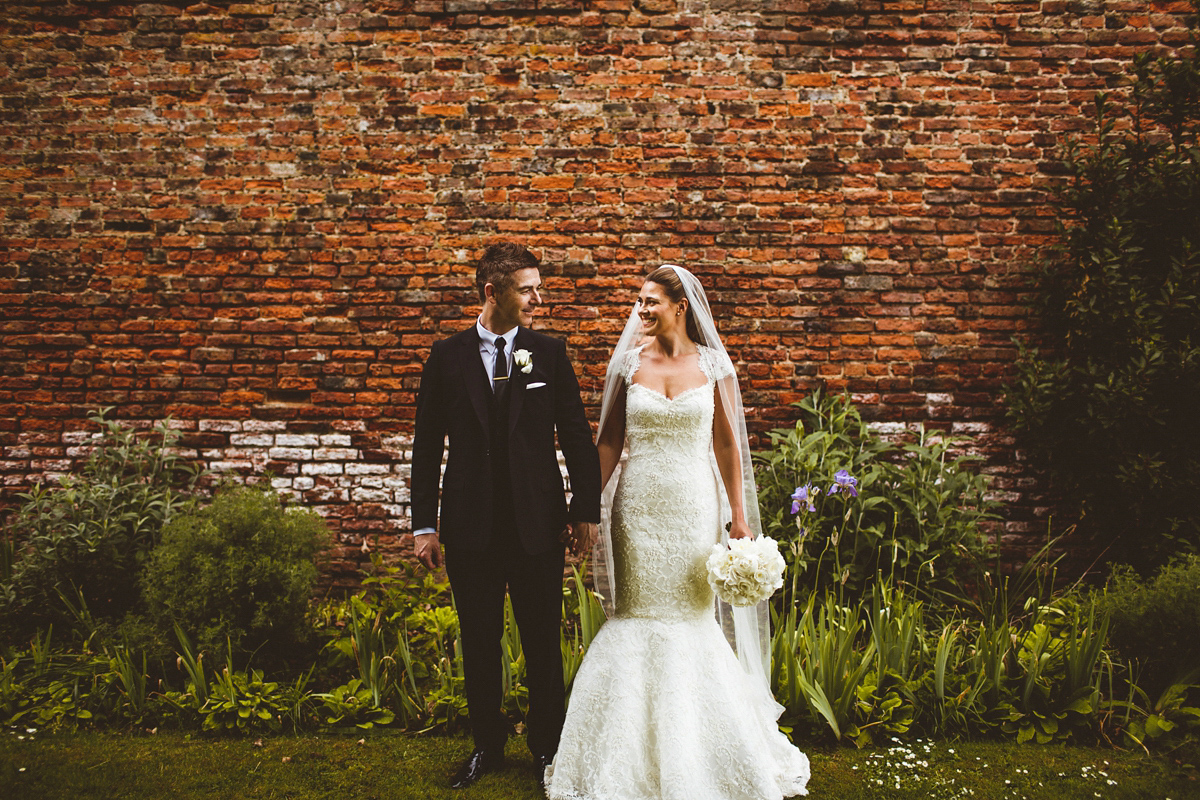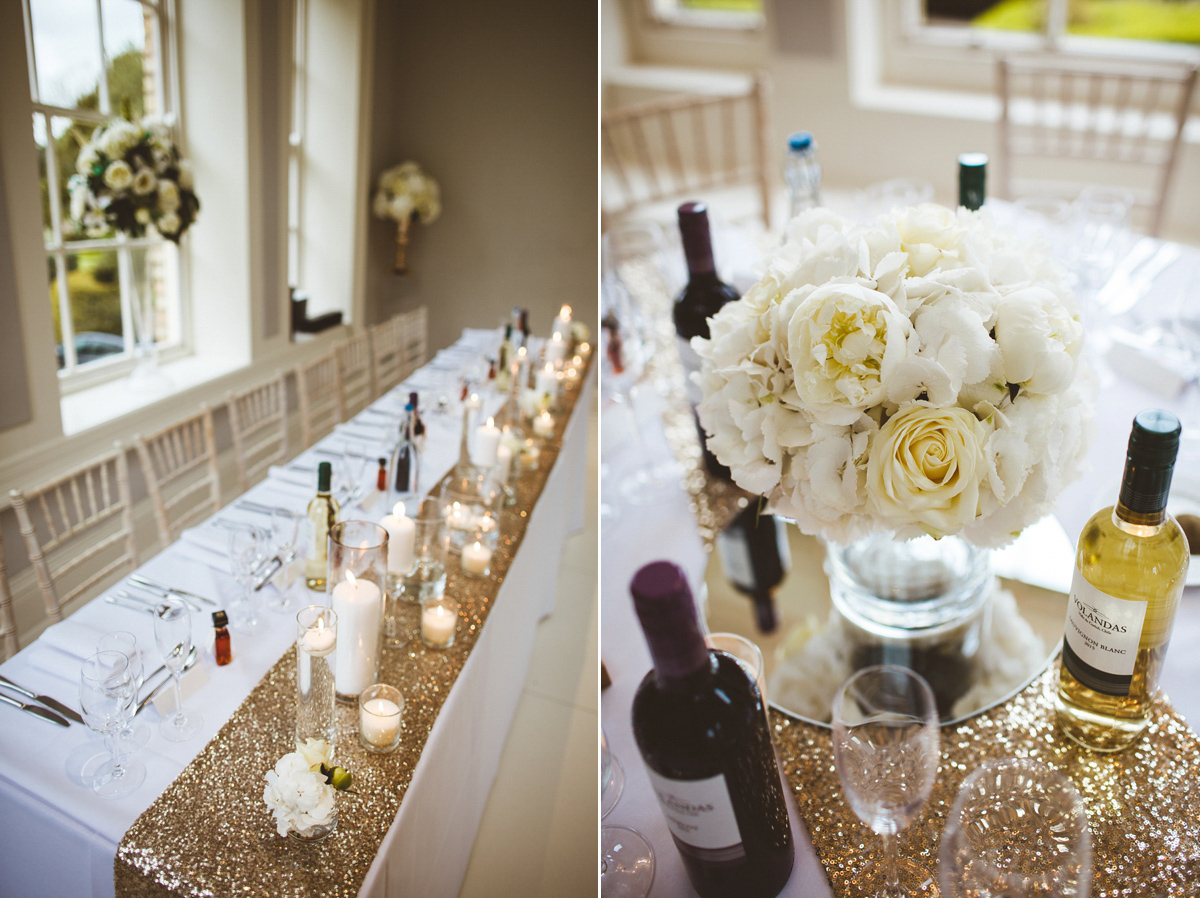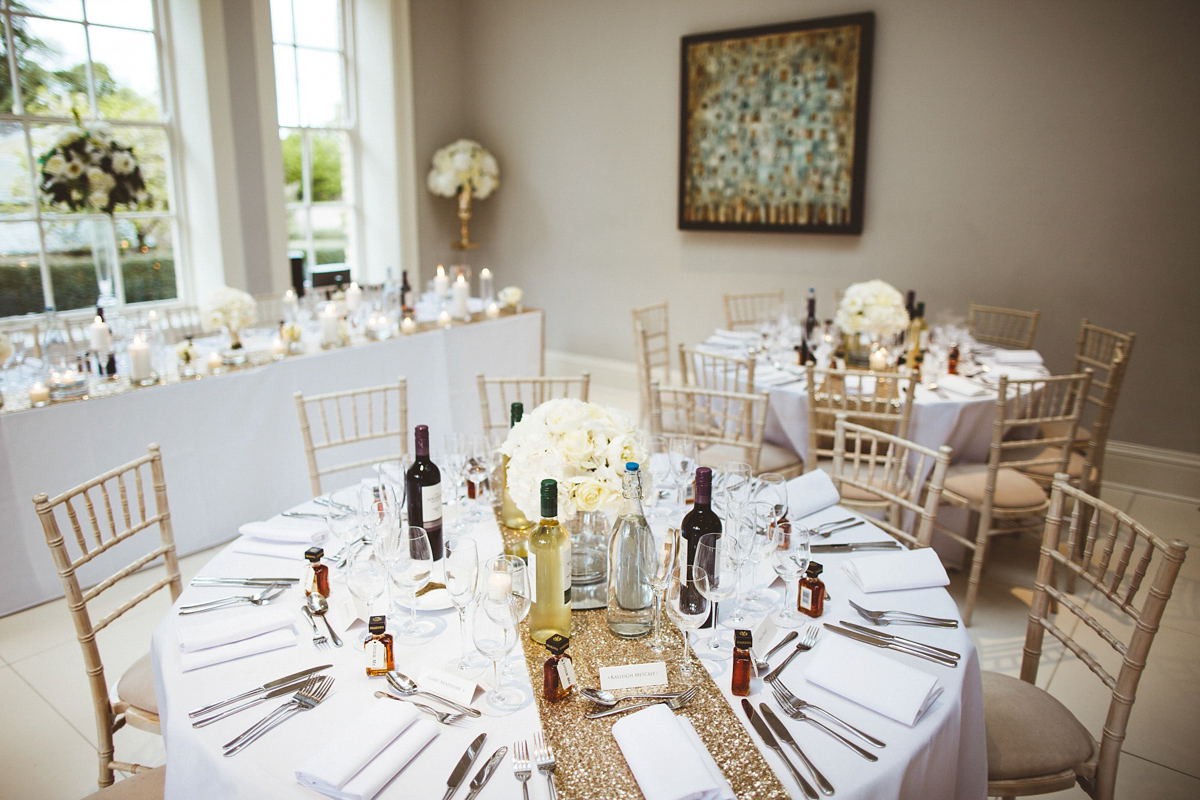 To compliment the gold theme of the day, Gemma and Bryan hired gold sequin table runners from Pudding Bridge, to add to the wonderfully lux feel of the reception room.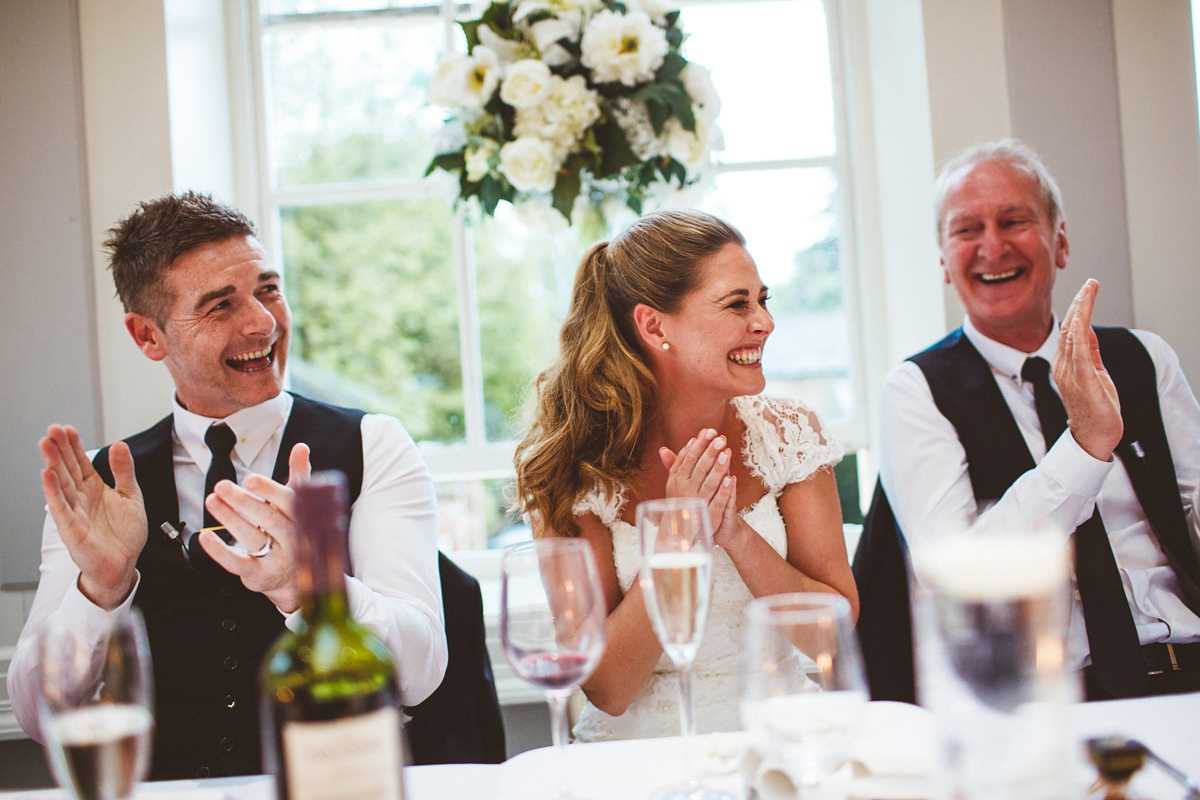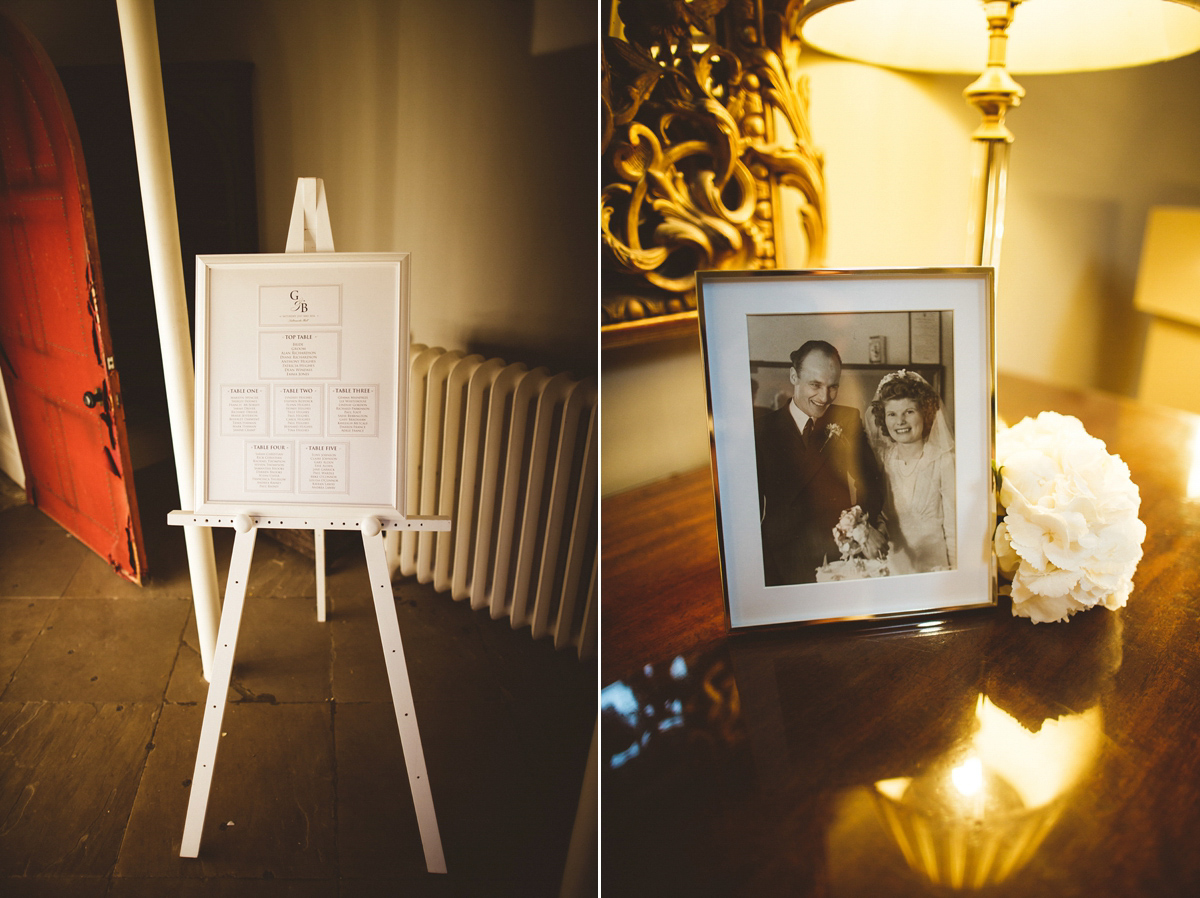 For entertainment the couple booked guitarist Ryan Mathie to play for guests during the day, while in the evening they opted for a DJ set by Ben Rainey.  For their first dance the newlyweds chose Ellie Goulding's cover of 'How Long Will I Love You' by The Waterboys- one of my favourite songs and so romantic.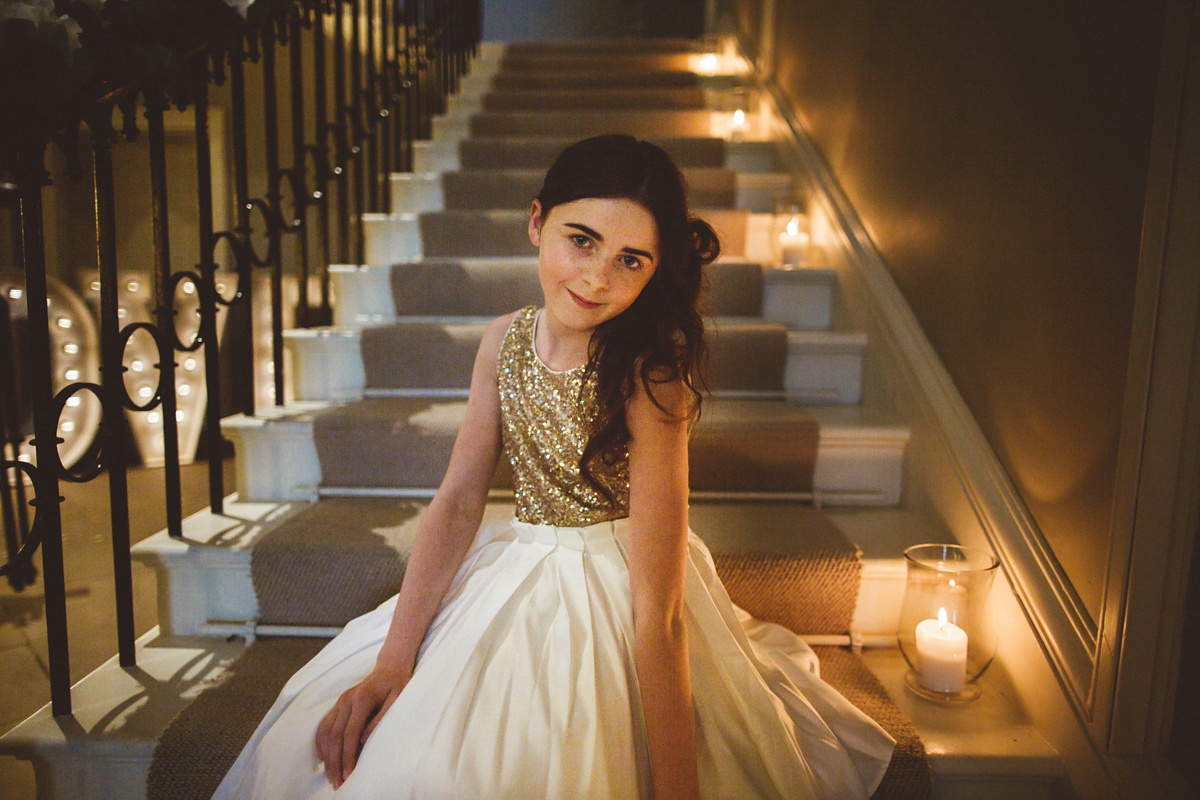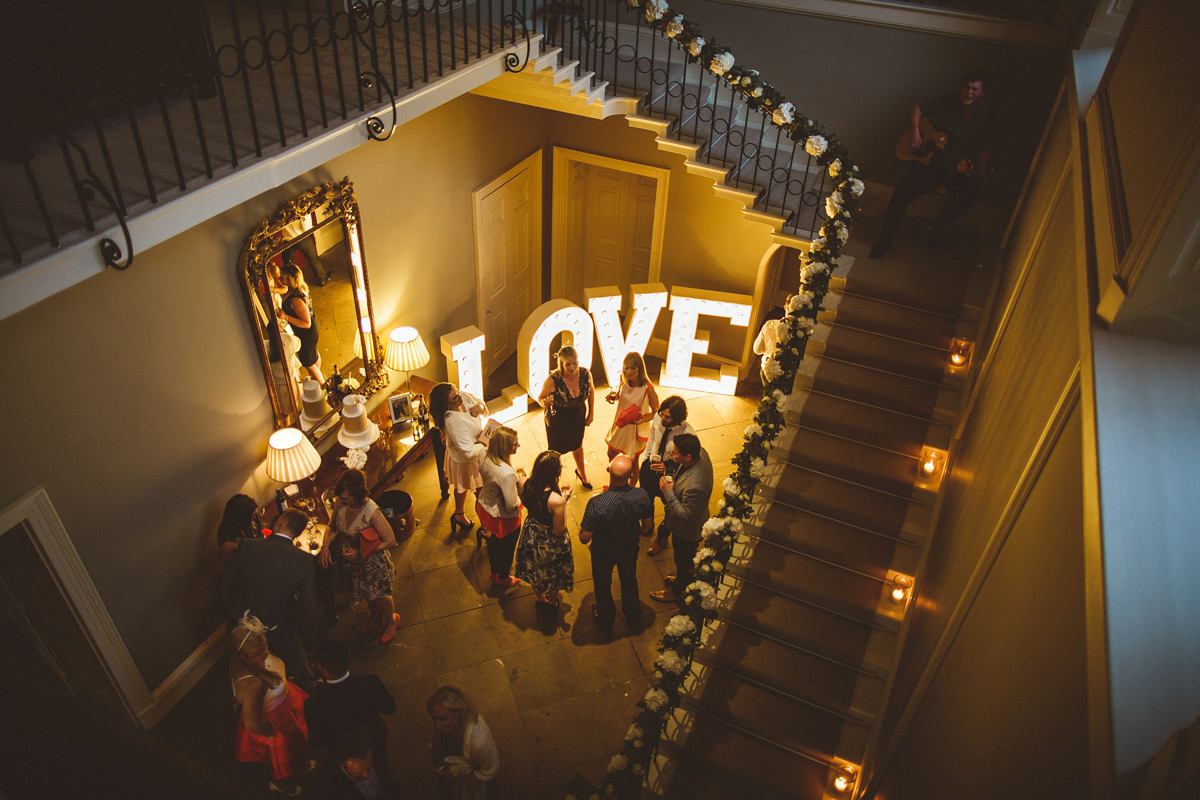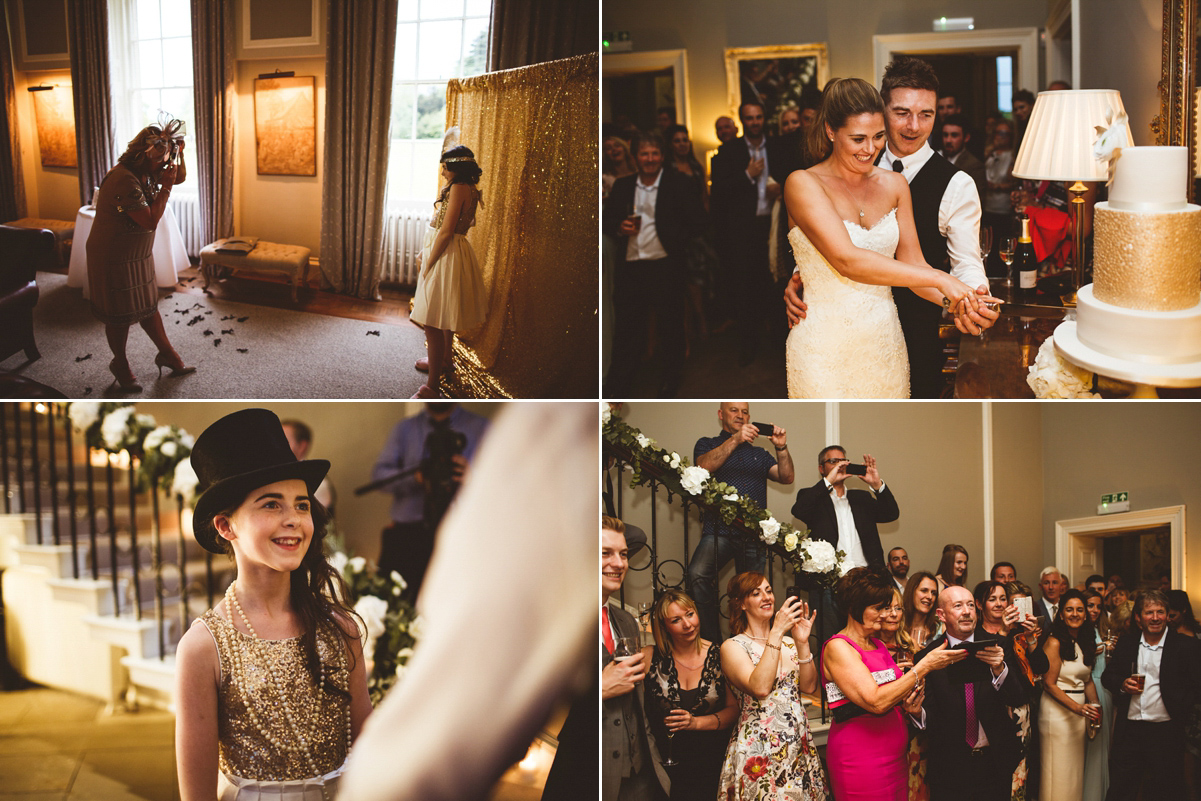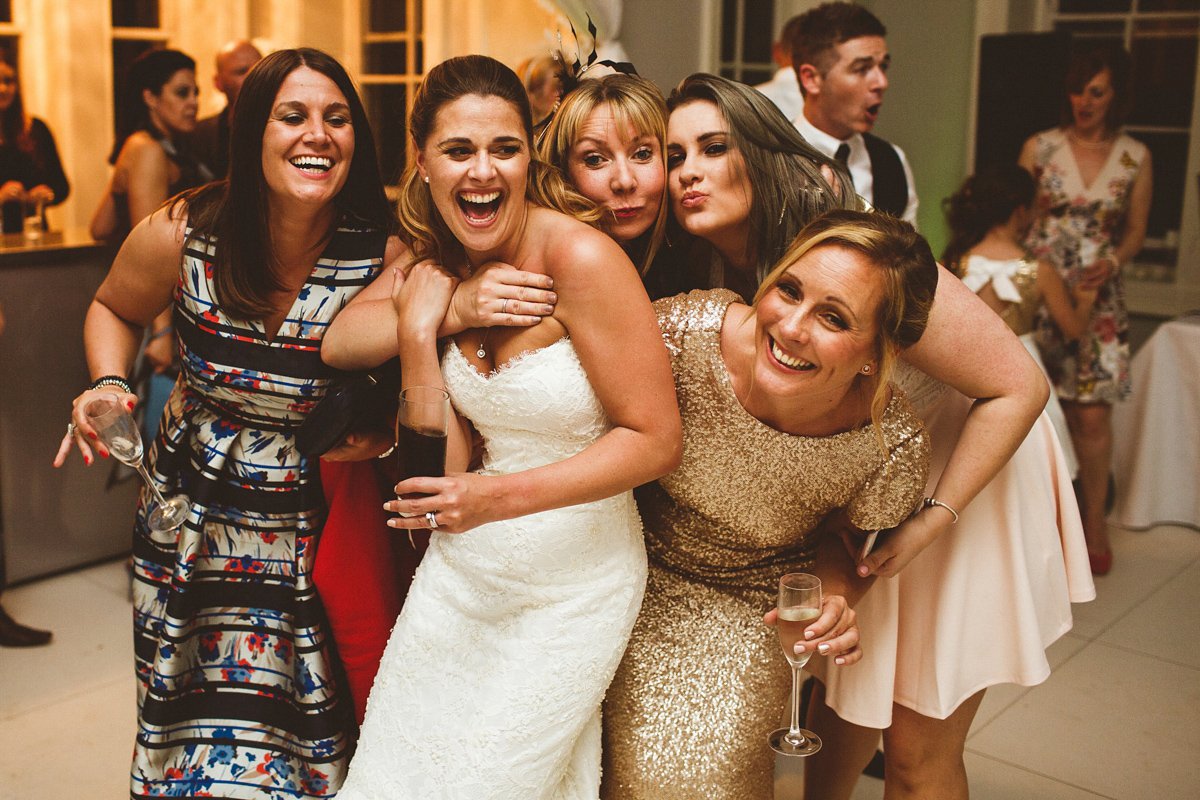 Words of Wedded Wisdom
"Enjoy every single second of the planning and lead up to your wedding as well as the day itself.  It goes so quickly, I wish I could rewind do it all again.  If you do one thing and one thing only, ensure you have reputable suppliers.  It will make the planning process so much smoother."
So many thanks to Gemma, Bryan and Photography34.  I think this is the first time we've featured a Saltmarche Hall wedding on Love My Dress and I'm rather taken by it as a venue.  We're so lucky to live in a country where we have access to so many incredible buildings, don't you think? *Architectural geek moment over*
Much love,
Shona x