Happy Monday lovelies! Oh I've got a real beauty to share with you today, a cosy, charming Scottish celebration with a gorgeous colour palette that's making me wish we could rewind a couple of months to those crisp winter mornings. Allow me to introduce Nicola, Head Of Marketing at a Scottish hospitality group, and Craig, a Graphic Designer for the same company, who wed on 5th November 2016 at The Glasgow Art Club.
"A lot of our style was influenced by the time of year we got married. We had a vision of a cold, crisp November morning and we were lucky enough to get just that. Our tones were both rich and muted jewels – figs, garnet and gold with splashes of family tartan thrown in for good measure. Our food was hearty and homely, our favours were hot toddies, and we had a pop up brew bar serving winter warmers. We wanted to go for comforting, cosy vibes."
Photography by Neil Thomas Douglas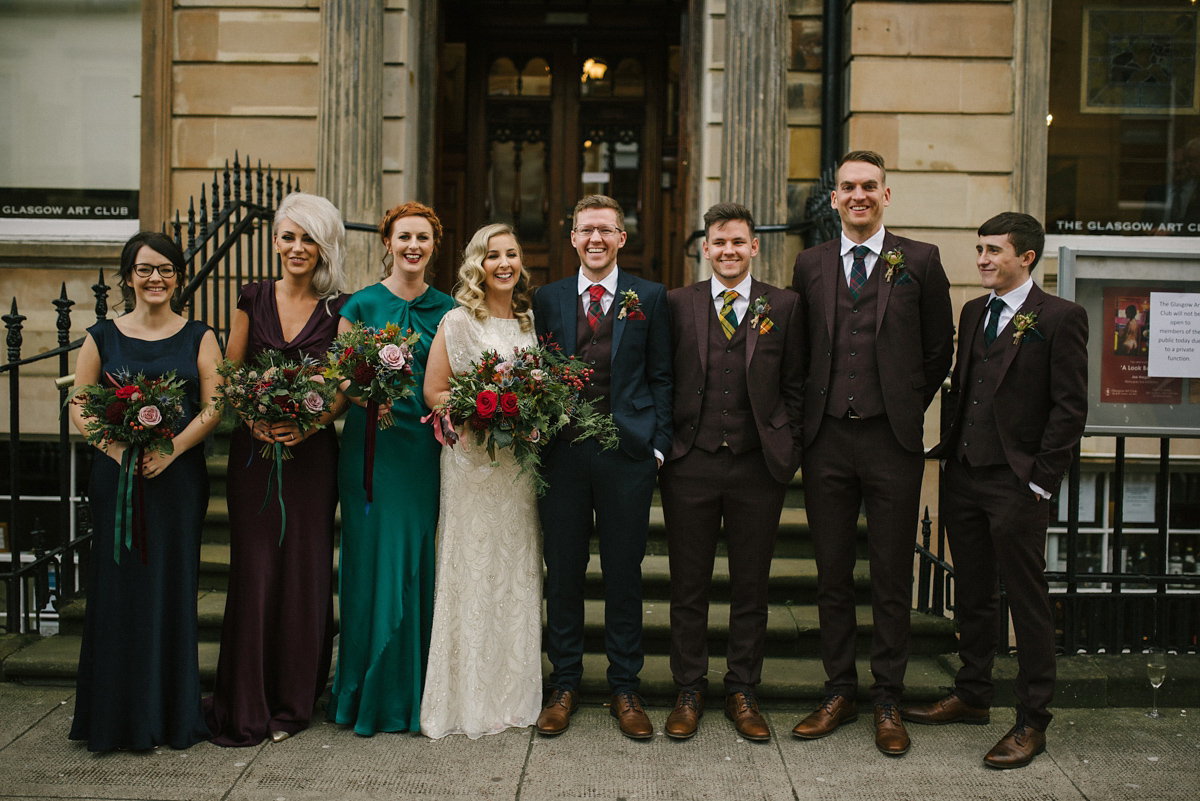 Nicola chose an elegant, beautiful veil from our brilliant Little Book for Brides wedding supplier, Britten. Our bride was over the moon with the exquisite quality of her accessory, not to mention the gorgeous packaging it came in, including a handwritten note and a scented candle for the morning of the wedding; such a treat to open.
"My dress was 'Harlow' by Jenny Packham, which I purchased from Anne Priscilla Bridal in Glasgow city centre. I had actually already paid a deposit on another dress; I sort of got caught up and purchased it on a whim, it was really beautiful but it just wasn't the one. I popped into Anne Priscilla just to test the water by trying on some Jenny Packham dresses and the Harlow was the first one I put on. I fell in love and bought it right away. My mum was a little miffed I bought it in her absence, but thankfully she came around.""We met at work in 2011. People ask us all the time if it's difficult working in such close proximity with your partner every day, but it's all we have ever known really so it doesn't bother us. Craig proposed in a beautiful valley in Arrocher on our way to an overnight trip to Loch Fyne."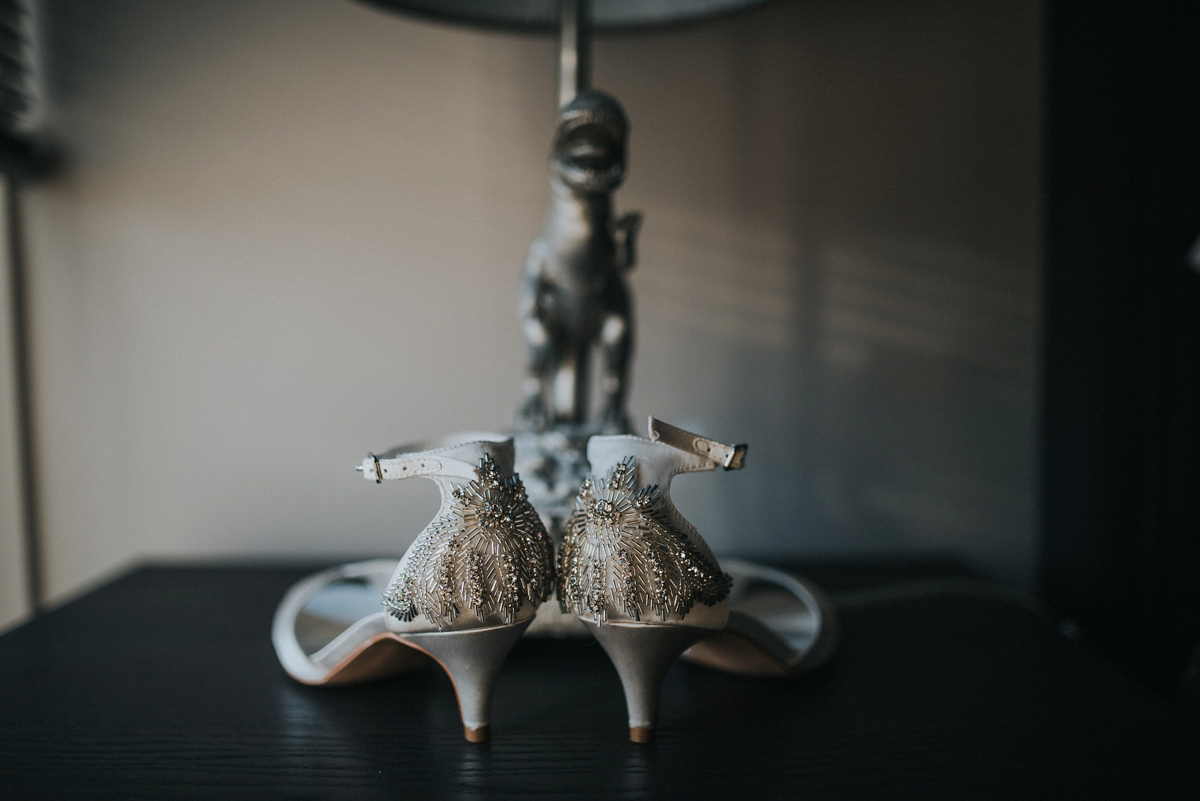 "Just as he was about to get down on one knee, a bus load of Chinese tourists disembarked from their coach and proceeded to take photos of the event – tripods and all! It was February 2015, and we married a year and nine months later."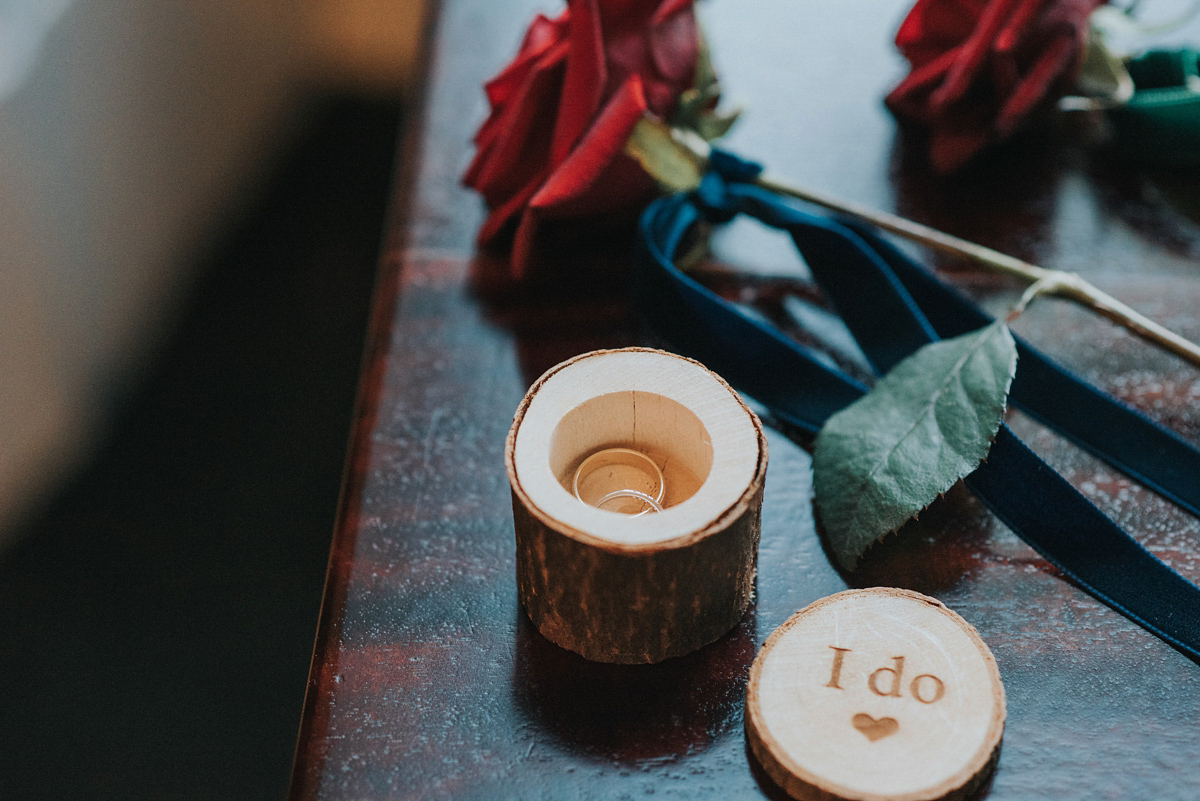 Nicola gifted her maids earrings from Vivienne Westwood to wear on the day and all of the girls had their hair done by the talented Gillian of Pin Up Hair Glasgow.
I adore Nicola's classic Hollywood set wave, and bridesmaid Linda's gorgeous textured, braided crown. Make-up artist Kara Crozer took care of the stunning big day worthy beauty.
An ivory 'Alex' garter from Crystal & Pearl and the 'Mia' backless bodice from Ender Legard were the hidden finishing touches of Nicola's ensemble, layered with the scent of Chance by Chanel; a gift from Craig's parents. Another of our Little Book for Brides darlings were responsible for providing both the bride's pretty embellished shoes and the flower girl's dainty frock. Aren't Nicola's Monsoon heels beautiful?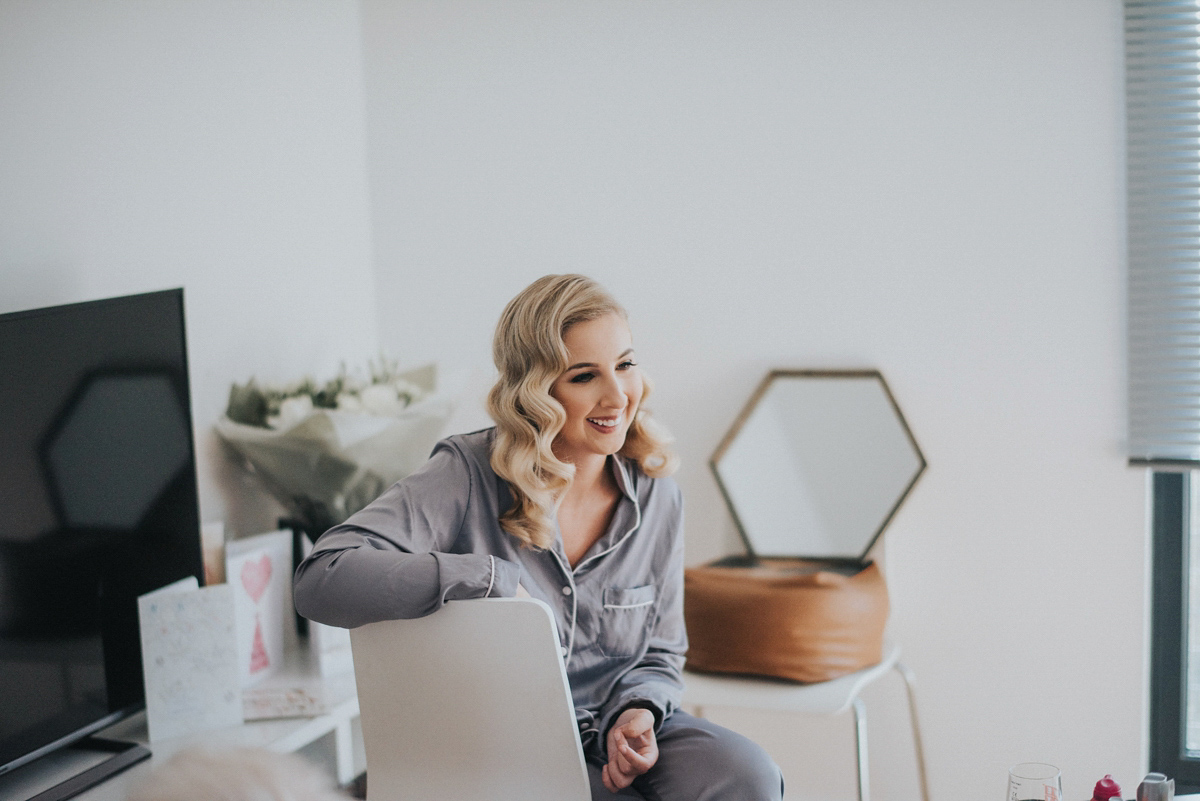 "My dress was so different from what I had envisioned for myself. At first, I thought long sleeved and lace, but when I tried them on I realised quickly while I liked the style, I didn't like it on me. I am actually really low key."
"I don't wear any jewellery and hate a lot of fuss, so everyone was a little shocked when I picked something so glitzy and heavily beaded. I am sure all brides think this, but I truly felt my dress was a work of art."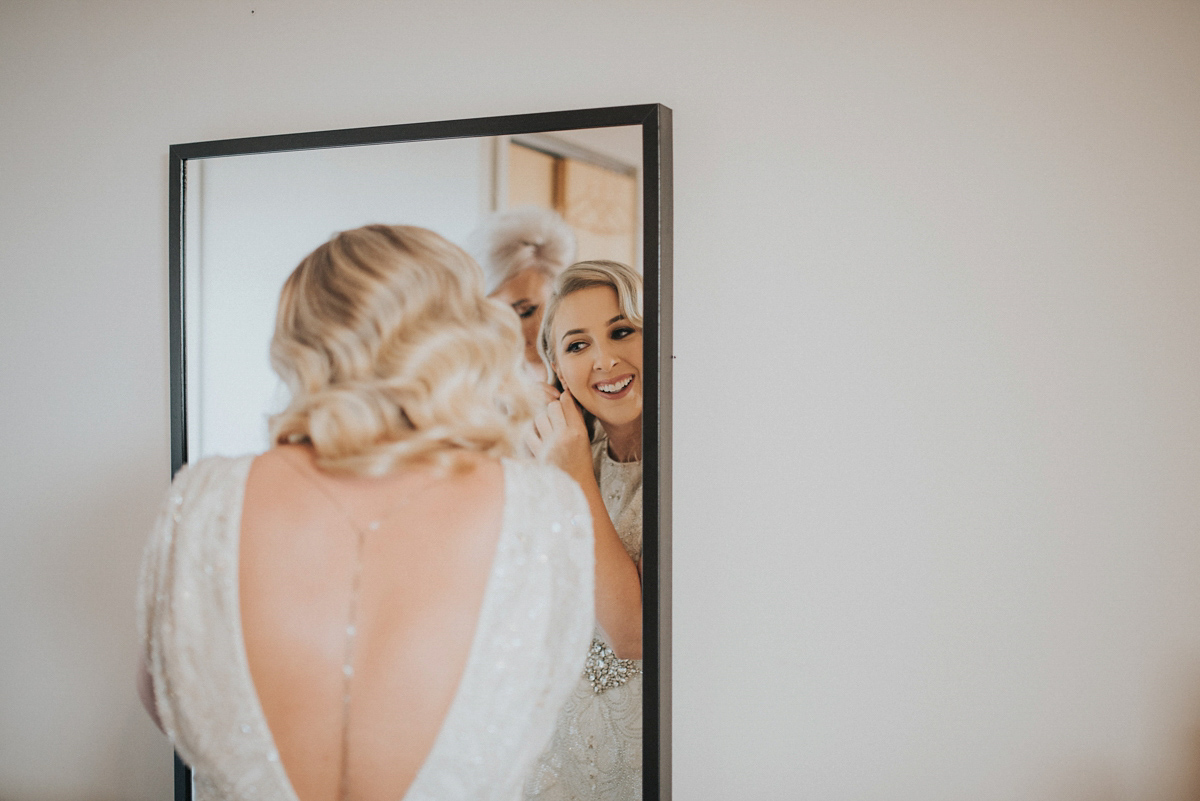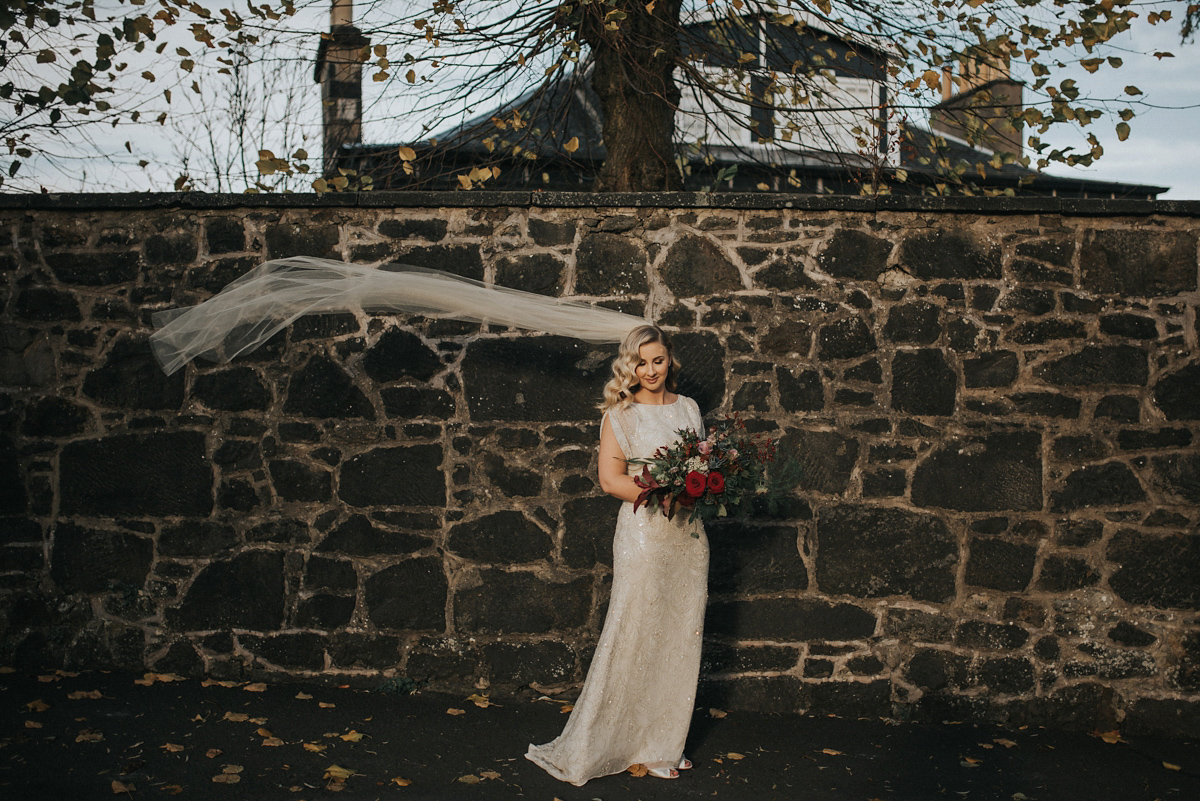 "Craig and the boys all wore a textured wool suit from Next in burgundy and navy. Everyone wore their family tartan tie and a pocket scarf from Locharron with shirts from T.M. Lewin. Craig designed all the invites and stationery himself."
"It was on a lovely GF Smith paper, and featured a vintage lochside scene we found on an old Scottish postcard, and a wee stag which became a sort of unintentional logo for the day."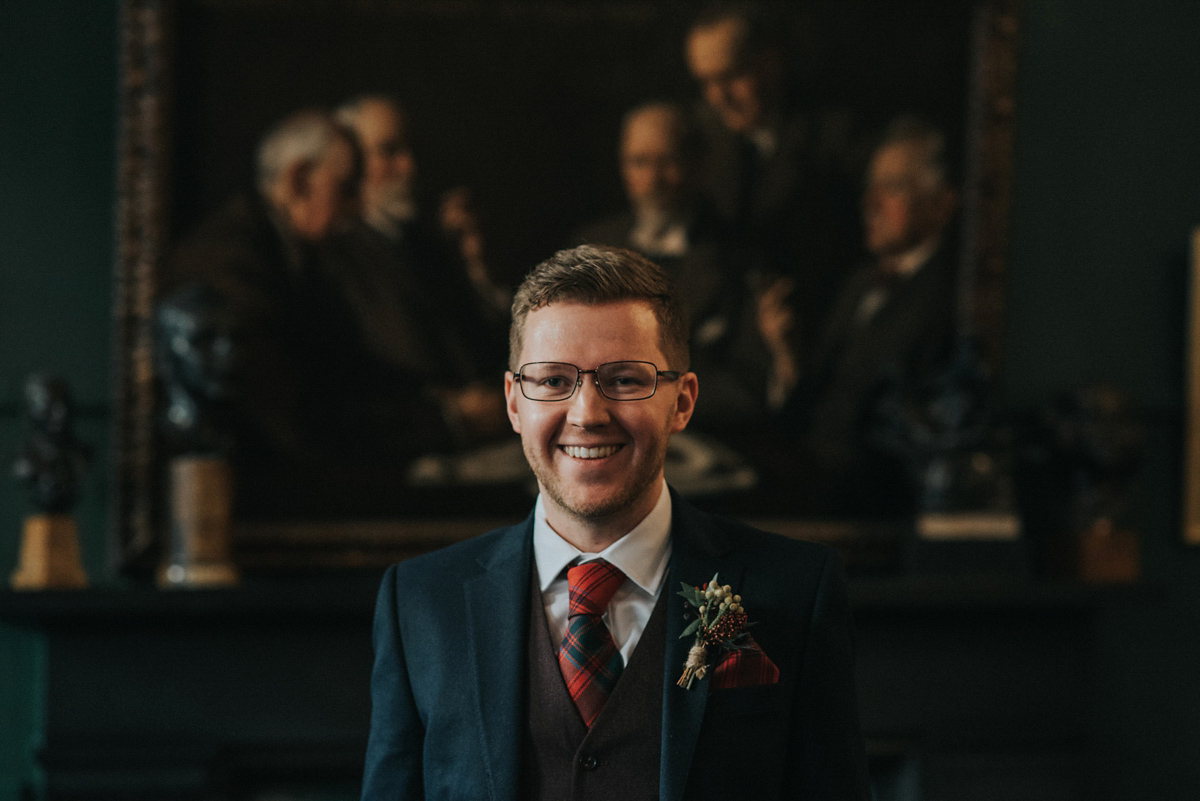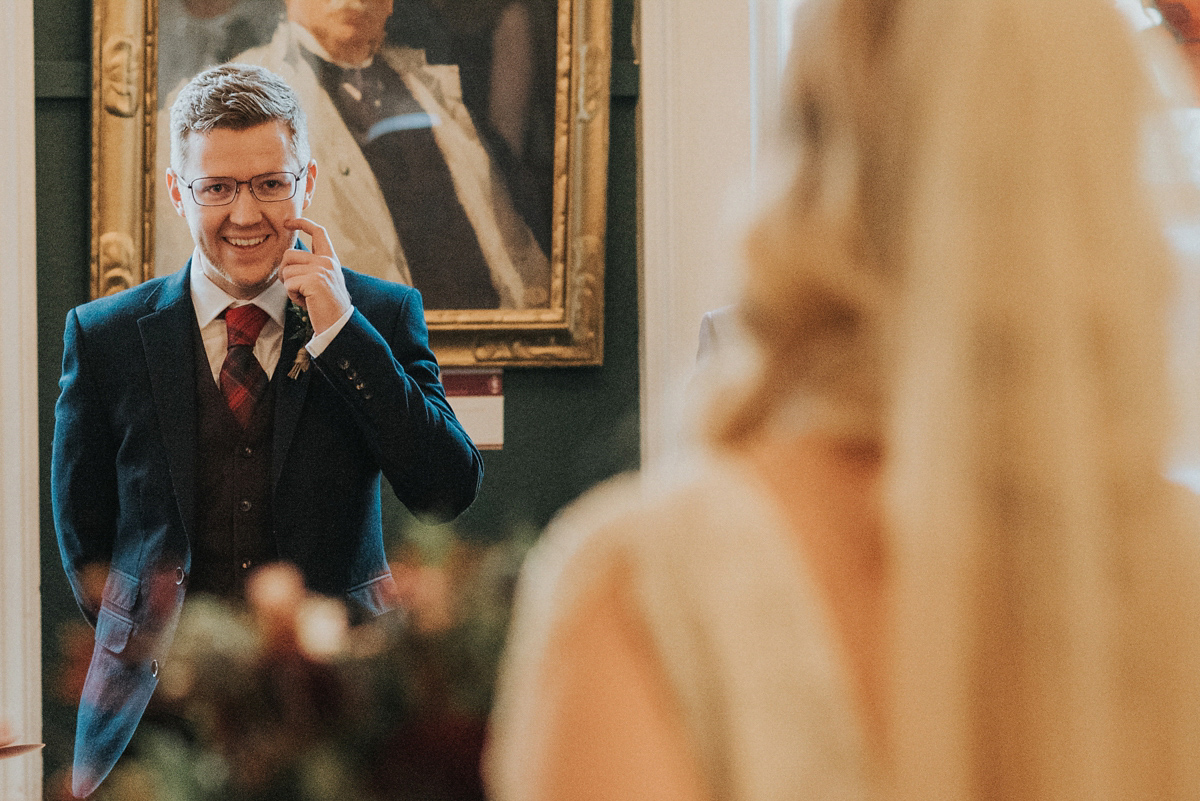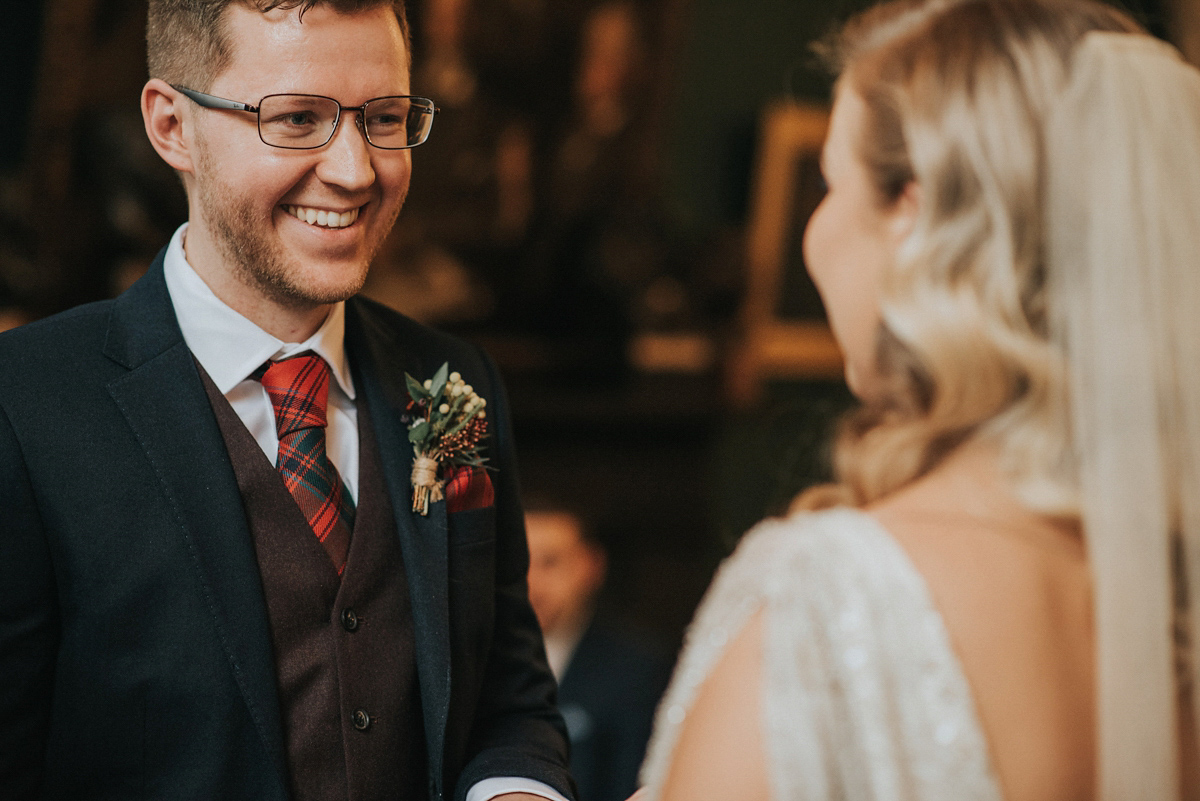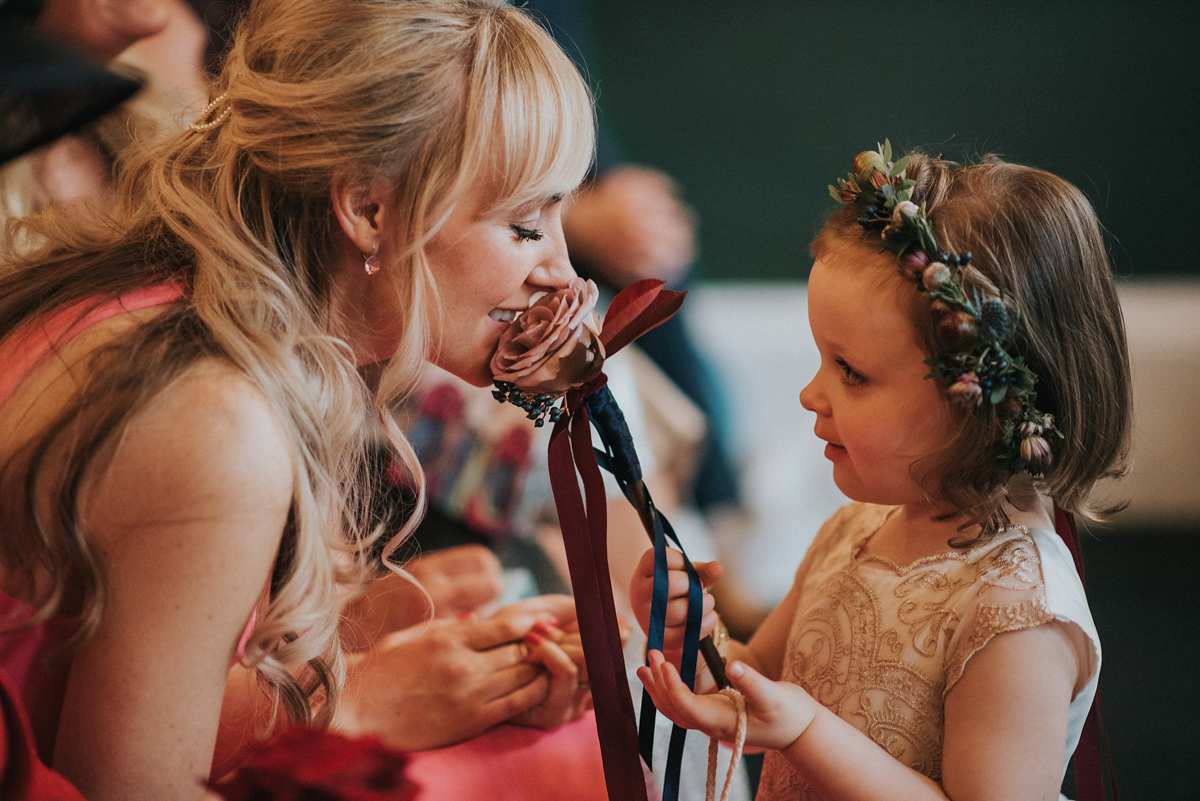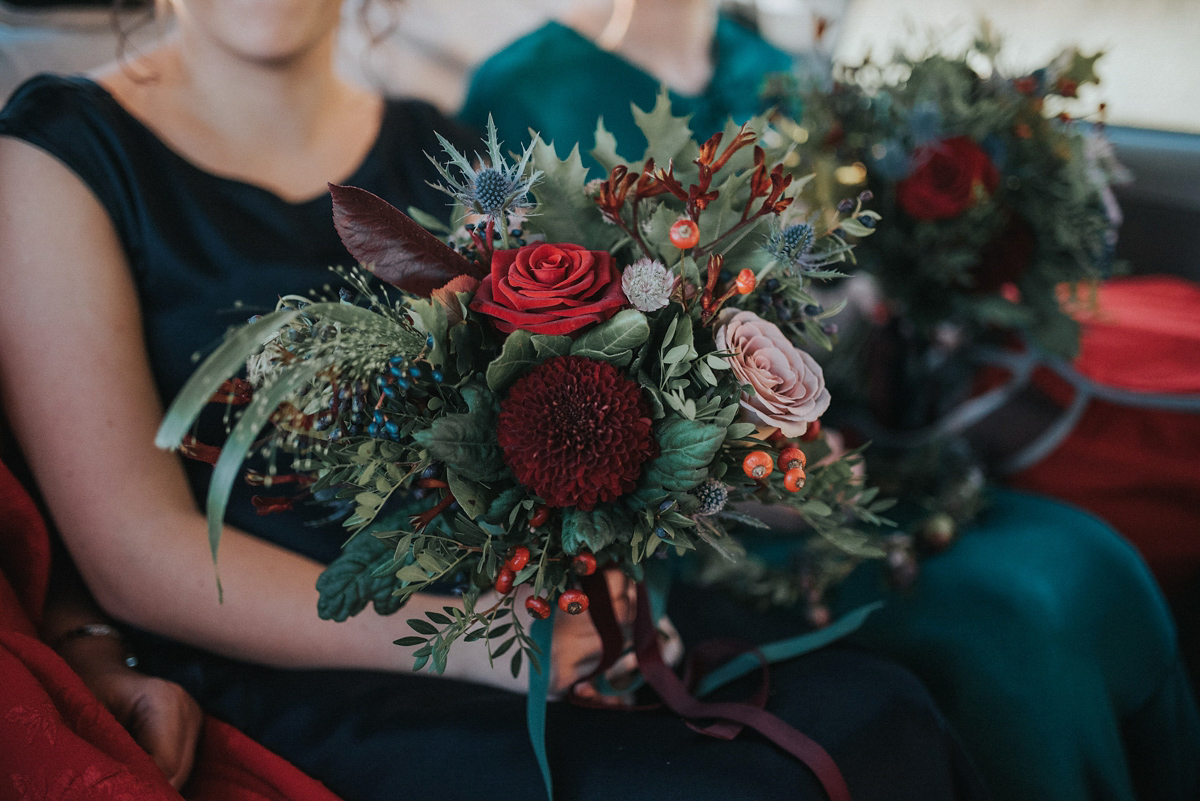 "My bridesmaid Jenna wore the 'Sylvia' in orchid bloom, Linda wore the 'Wendy' in emerald, and Claire wore the 'Salma' in navy. They were all by Ghost from their dye to order range, and they were purchased from Melle Cloche in Glasgow."
"We had a hairy (but happy) moment post-purchase when we found out my sister-in-law-to-be Claire was expecting and would be five months pregnant come the wedding date, but the girls at Melle Cloche did a wonderful job with alternations and it fitted her perfectly."
"It was so important for me that my friends looked like themselves and felt good on the day, so they all wore their dresses, shoes, hair and make-up to suit their own individual style."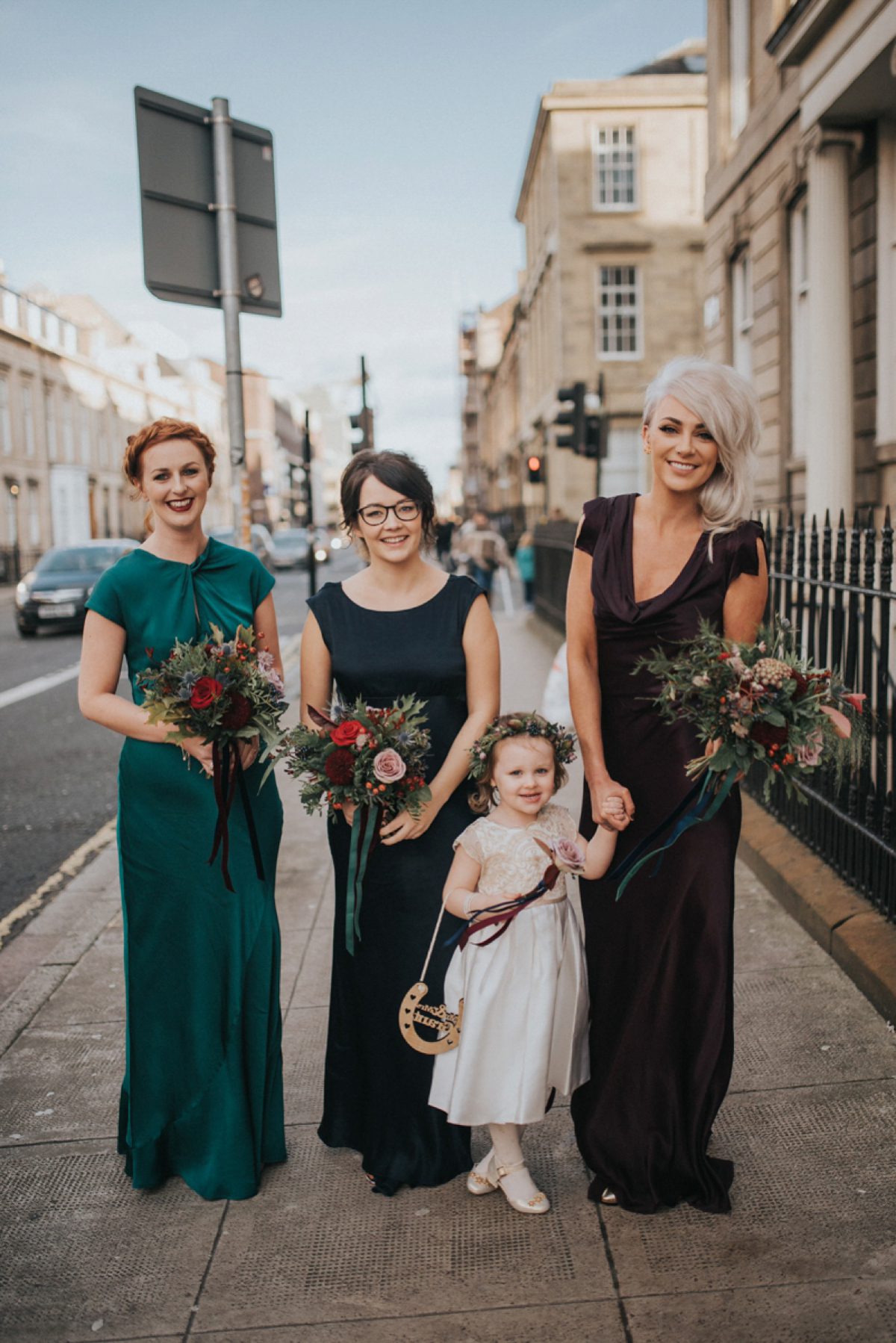 Nicola and Craig chose The Glasgow Art Club to host their celebrations, a place Nicola describes as a secret gem, hidden in plain sight in the heart of the city. The venue doesn't often host weddings and the couple loved that it was somewhere many of their guests must have walked past every day. Nicola was treated to a ride in a beautiful silver Bentley to whisk her away to her ceremony.
"One of my best friends relocated to Singapore and unfortunately could not make the wedding. When I went downstairs to leave, he was standing there with his wedding gift, a silver Bentley Mulsanne. My dad cried more tears of joy than he did when I appeared in my dress. He walked me down the aisle and cried all the way down. He cried most of the day!"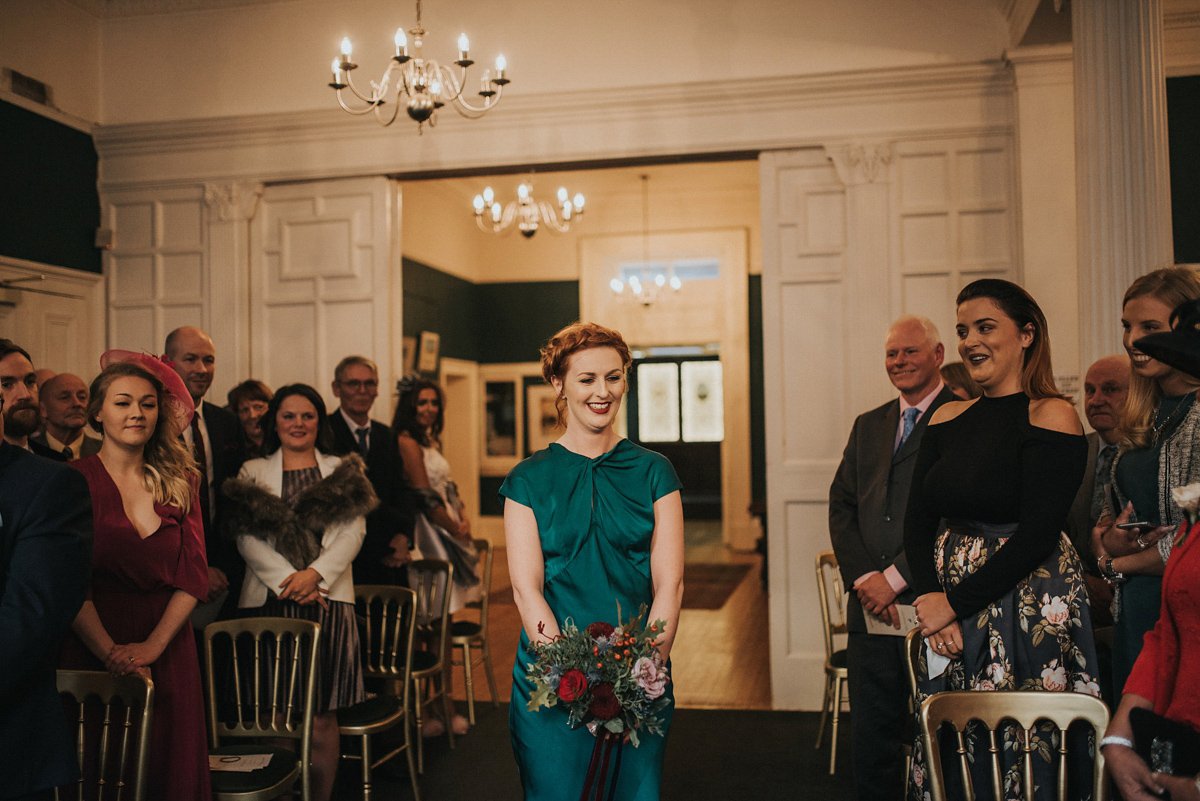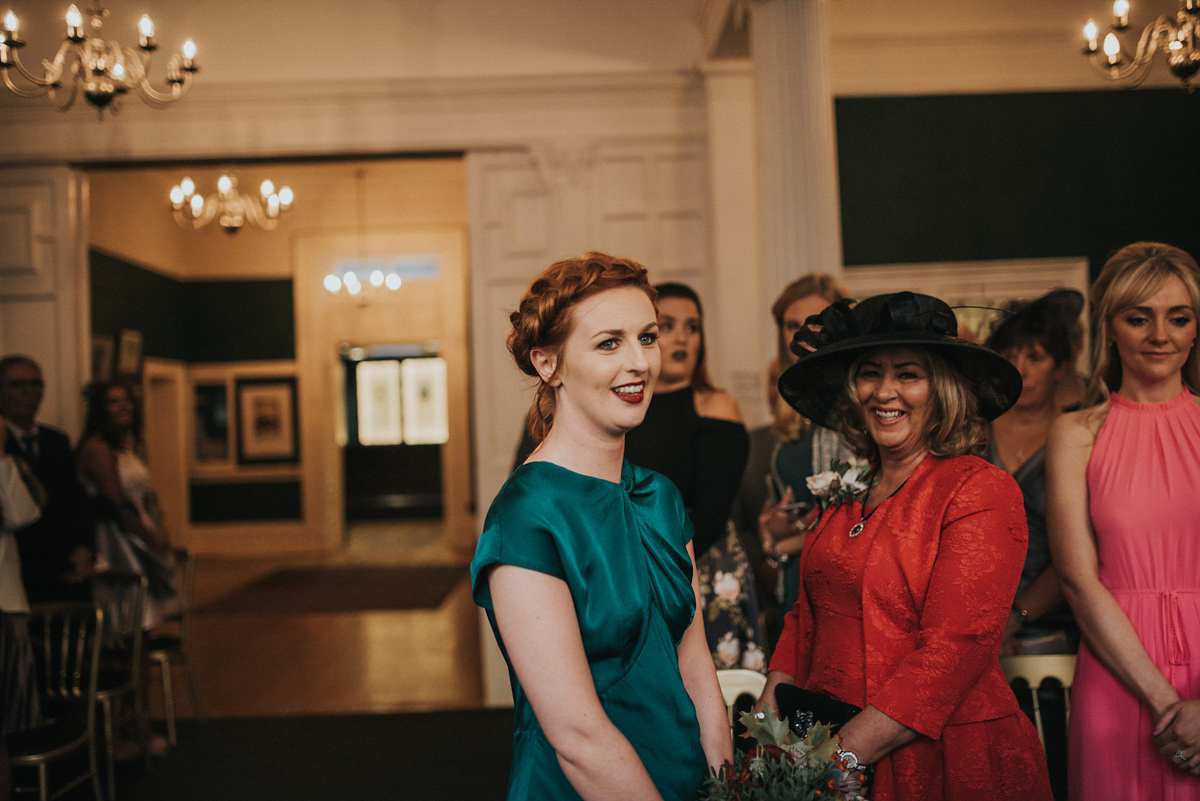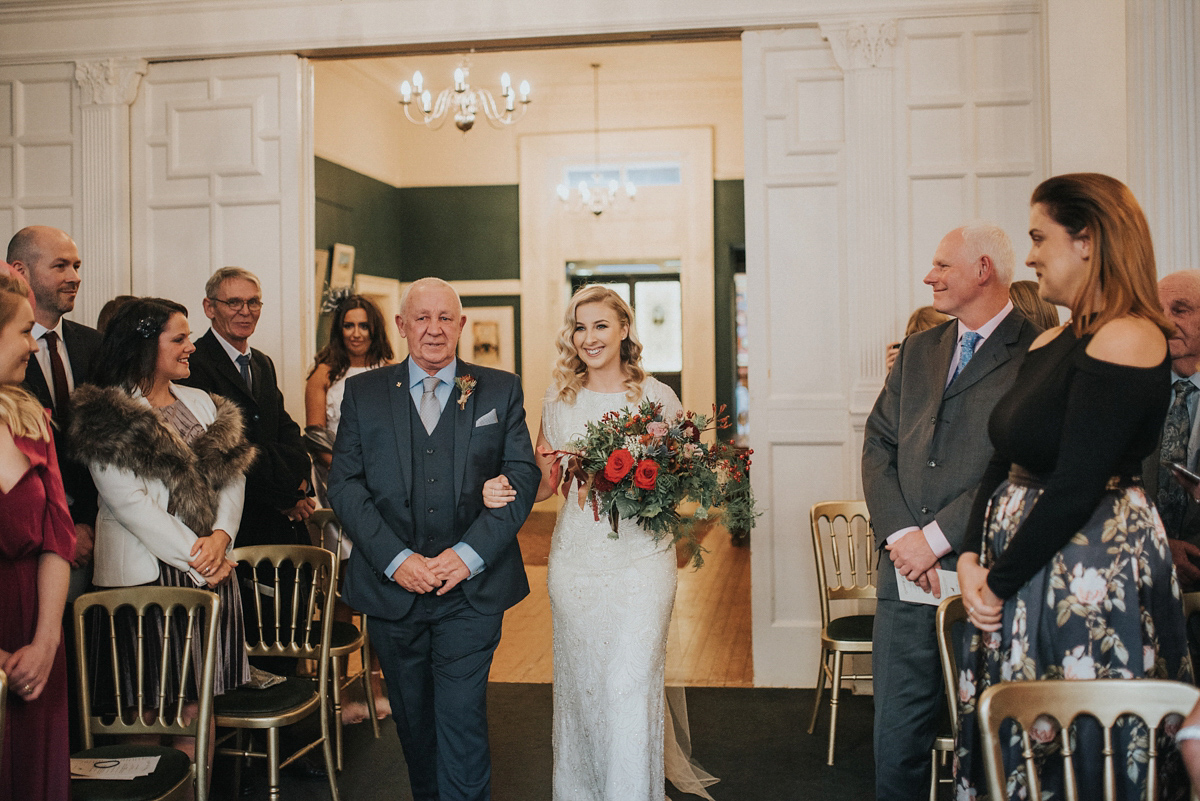 Nicola walked down the aisle to Somewhere In My Memory, which you may recognise as the opening song from Home Alone. The couple were married by humanist celebrant Susan Douglas Scott, who is also one of the bride's friend's mothers. This lovely touch of familiarity made it possible for Nicola and Craig to tailor their ceremony and introduce just the right amount of light hearted humour.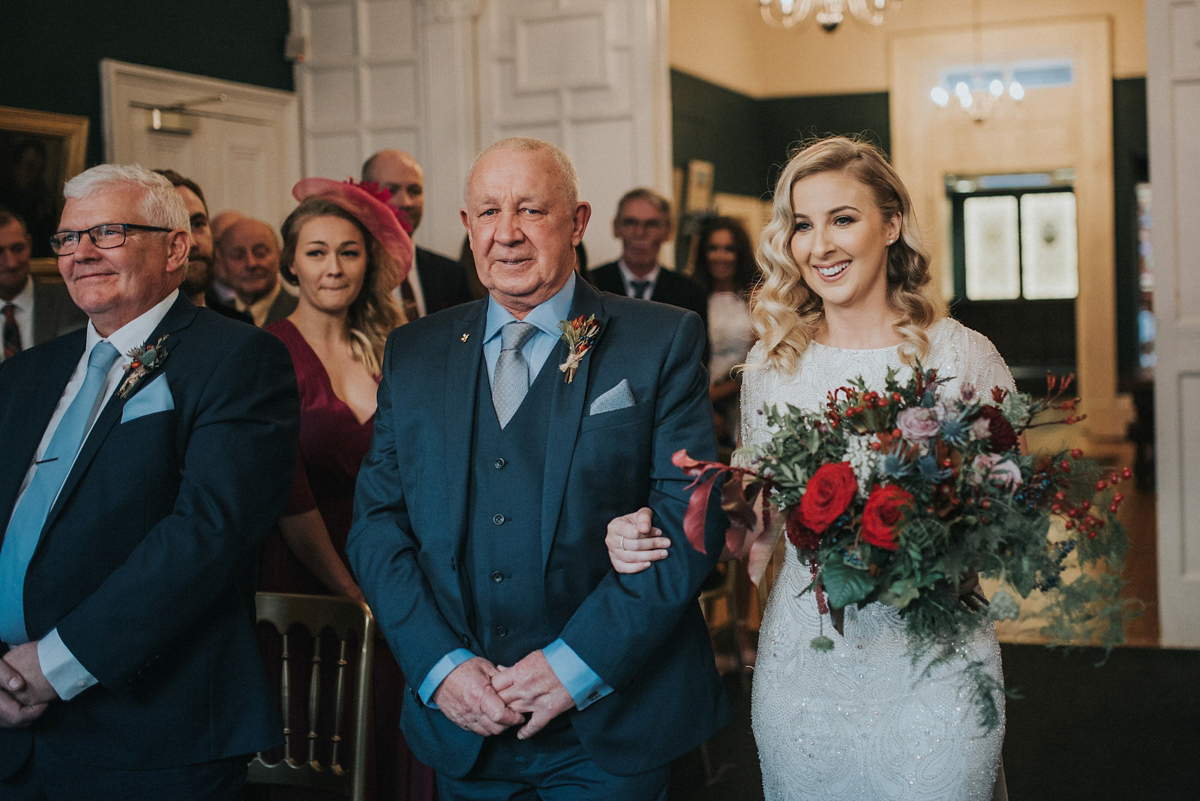 "One of my oldest friends, Hannah, did a great job of reading 'Union' by Robert Fulgrum, and Craig's brother Douglas wrapped things up with some words of advice using the 'school teacher's jar of sand analogy.'"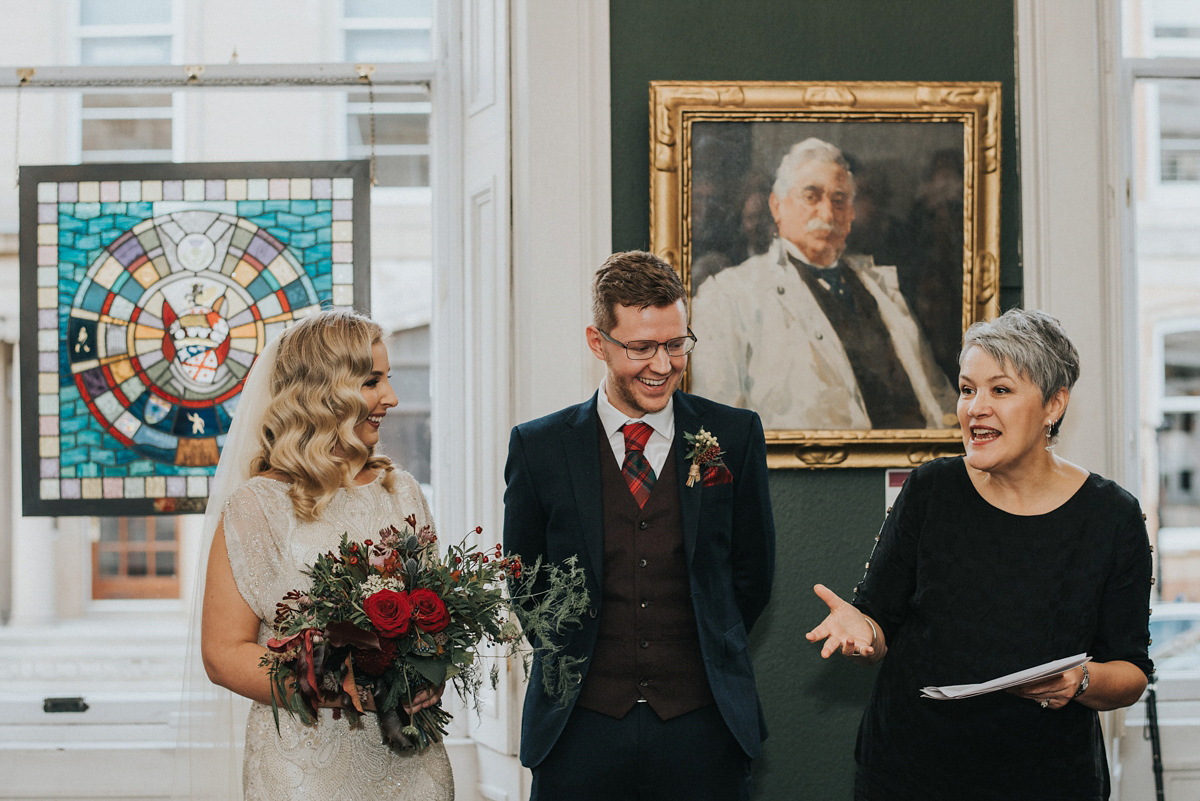 Nicola and Craig sealed their vows with the exchanging of rings; Craig's a milgrain-edged yellow gold band from Alba Rose, inscribed in German with the words 'You Are My Everything,' and Nicola's a delicate shaped diamond band from Barclays Diamonds.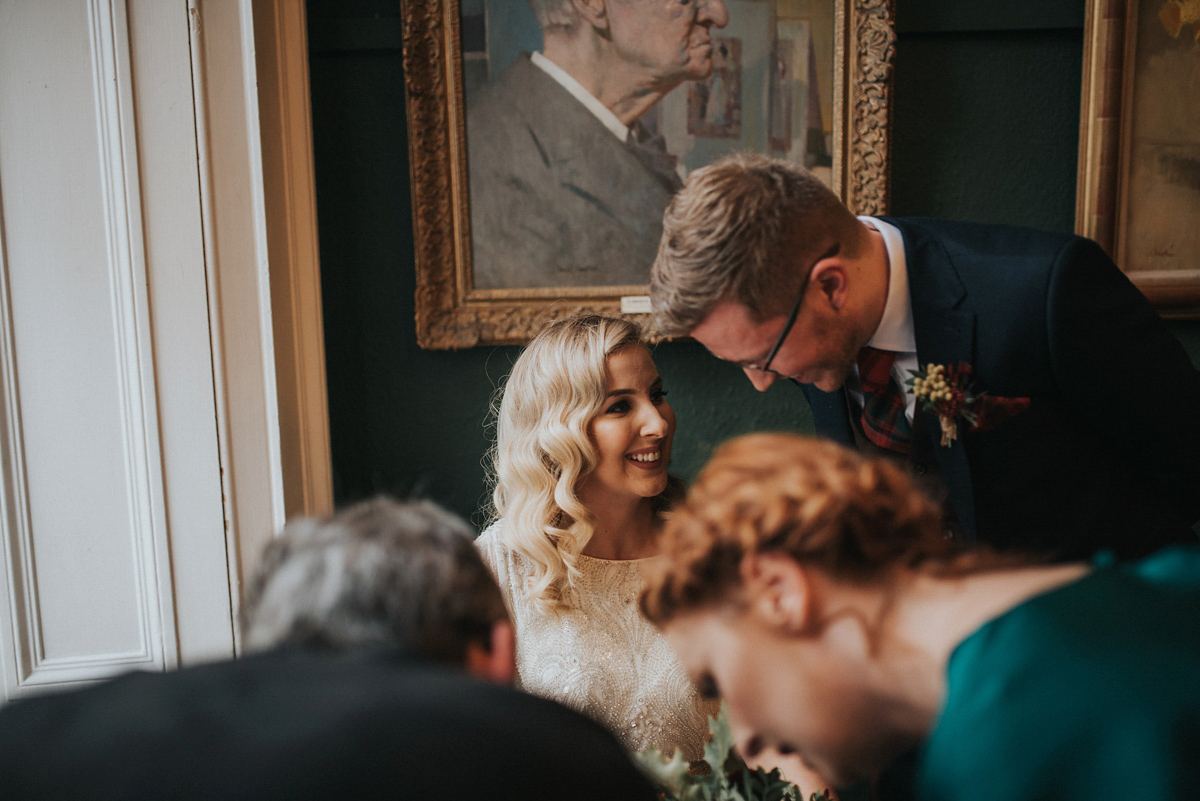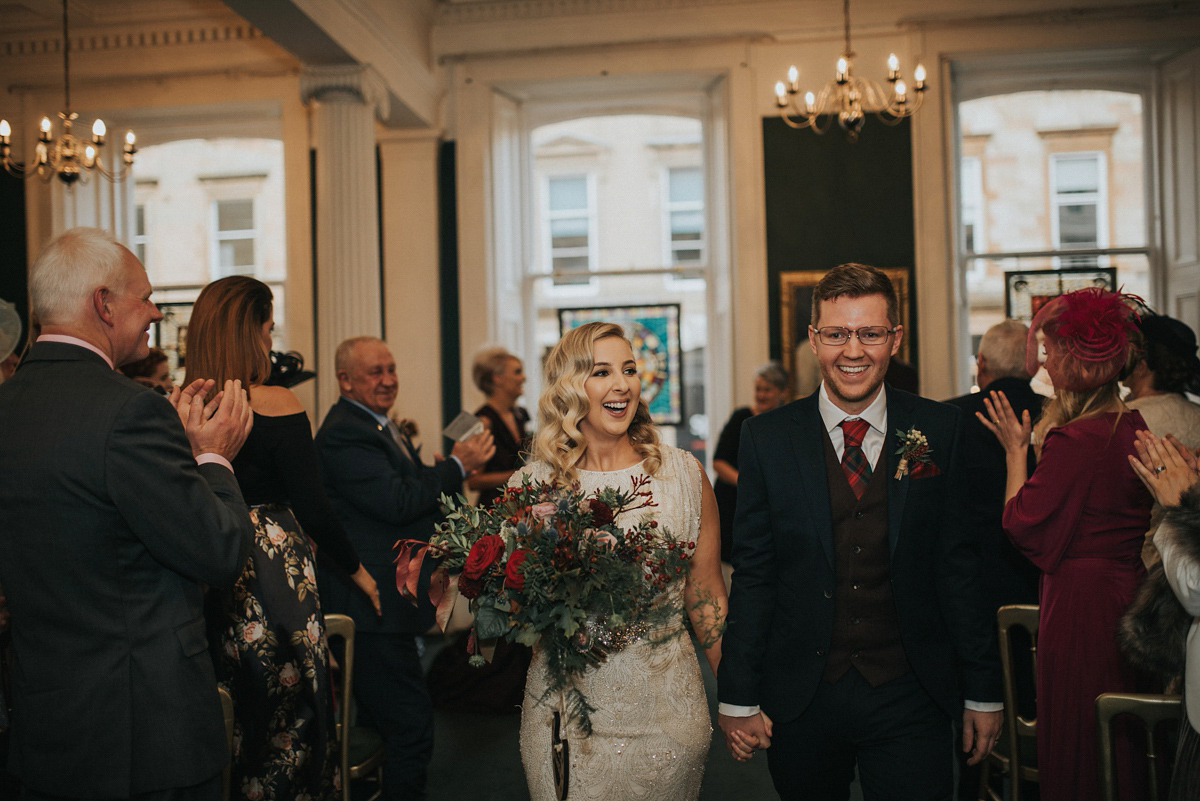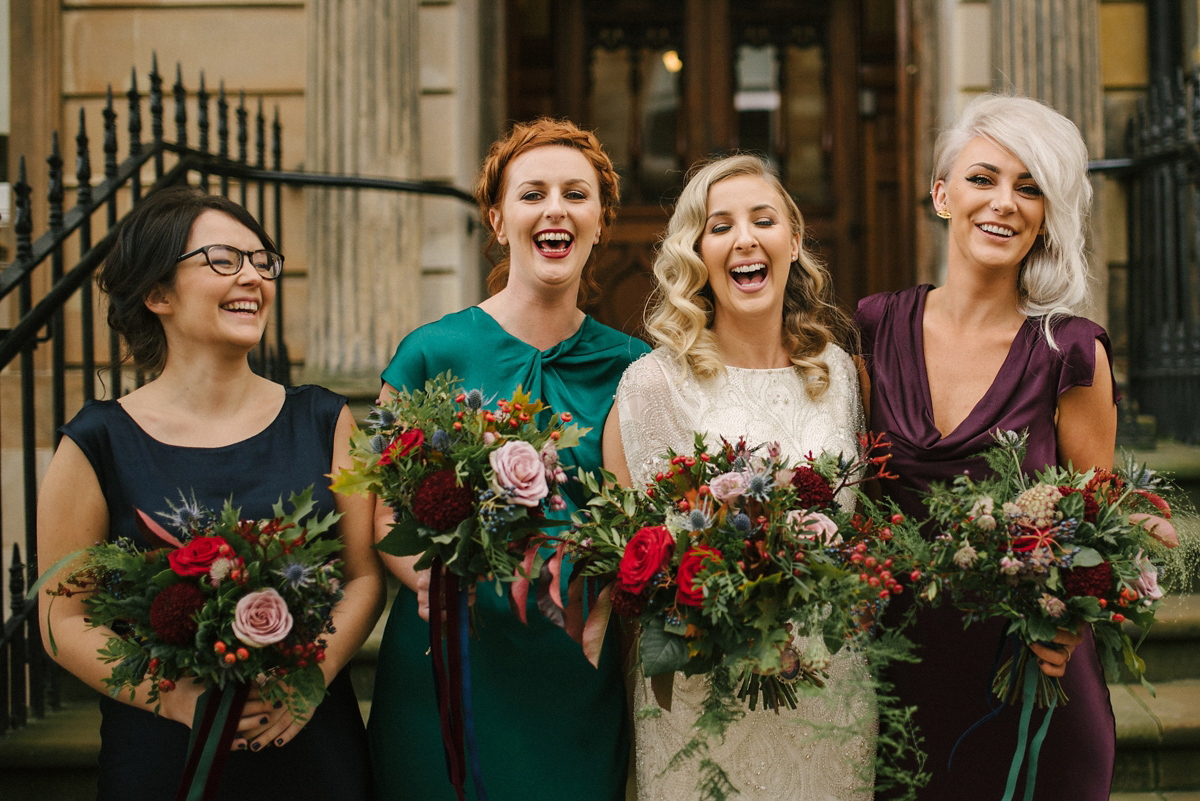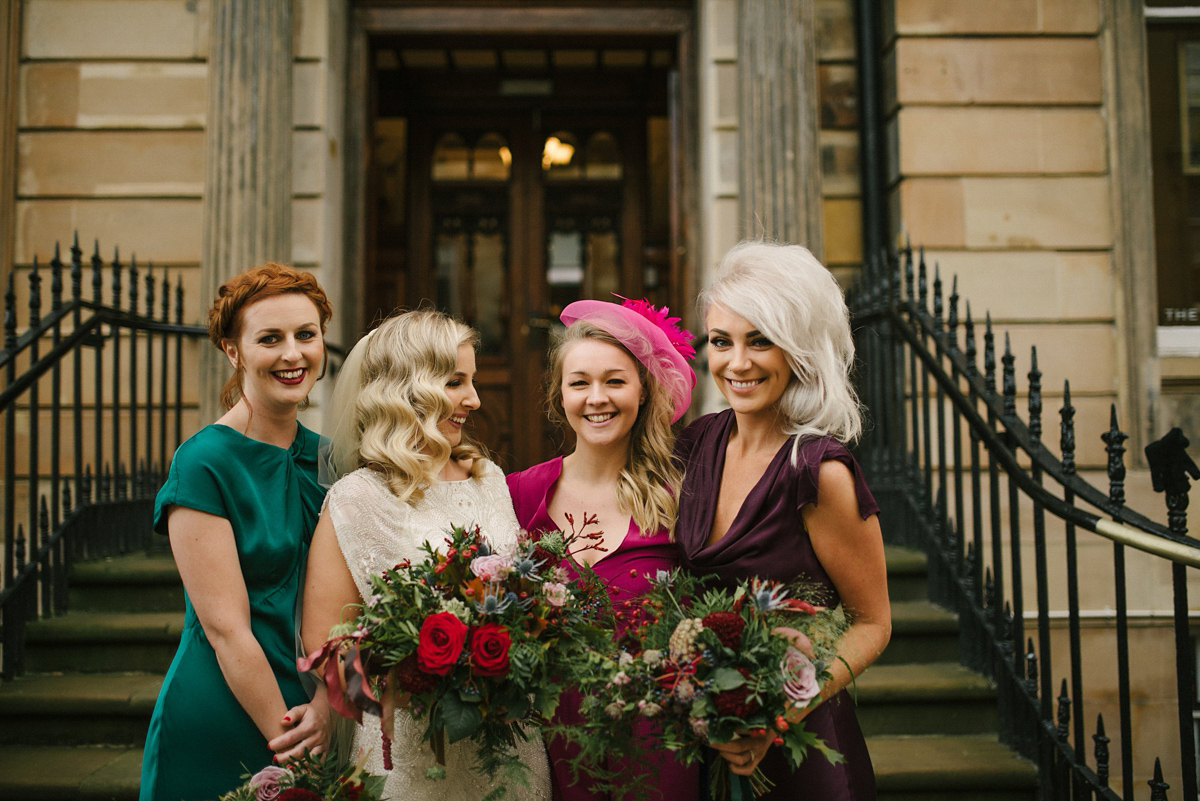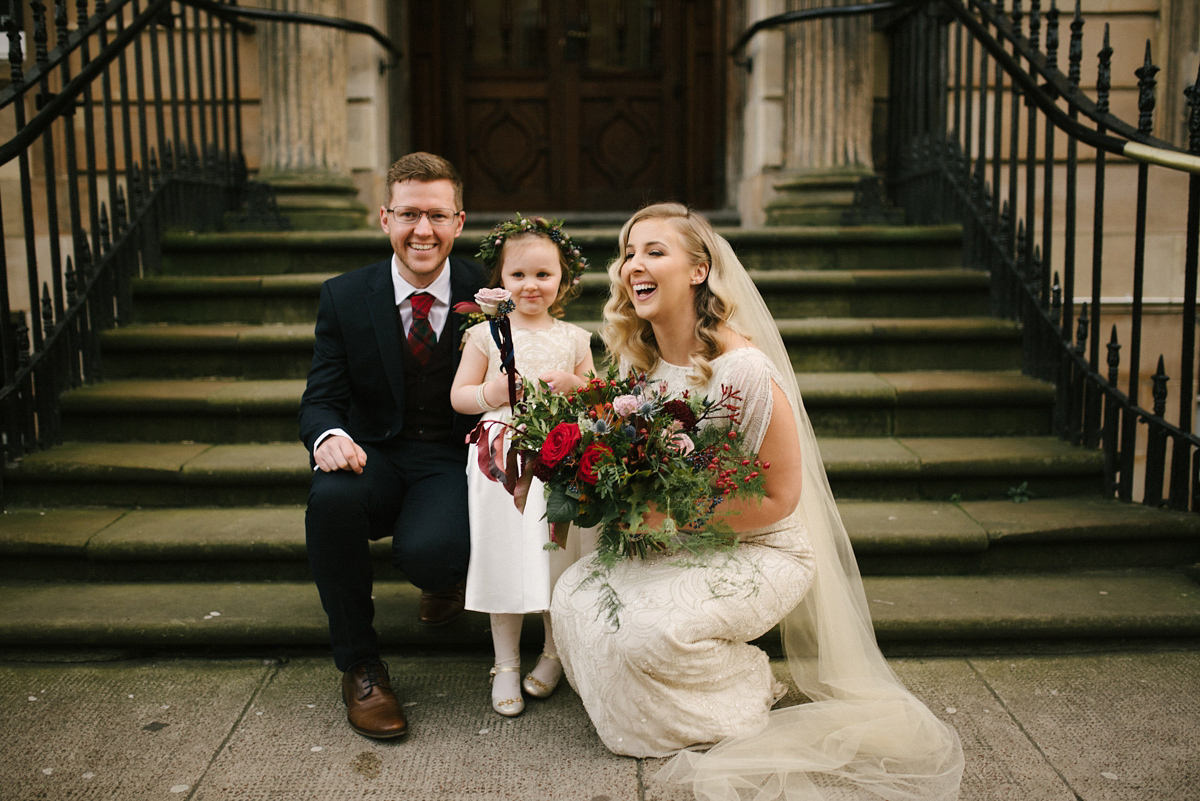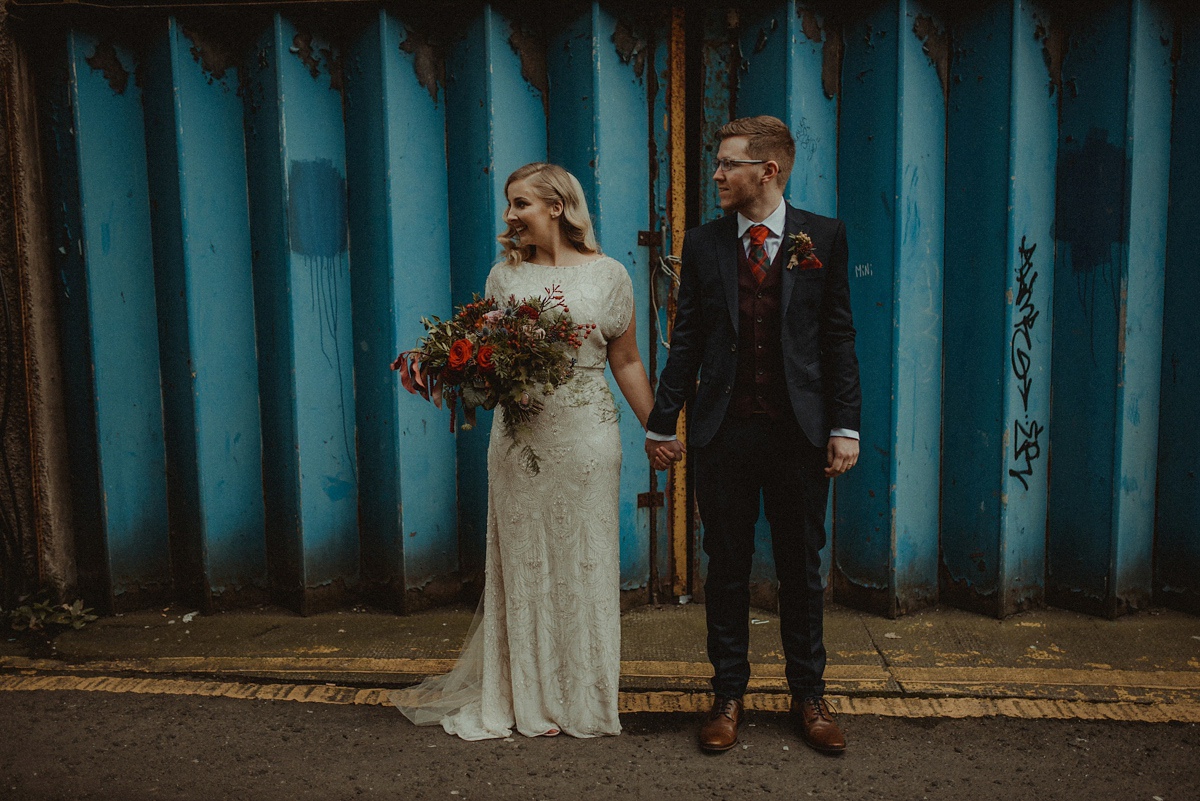 Afterwards they hopped into a taxi with photographer Neil Thomas Douglas to capture some late afternoon couple shots.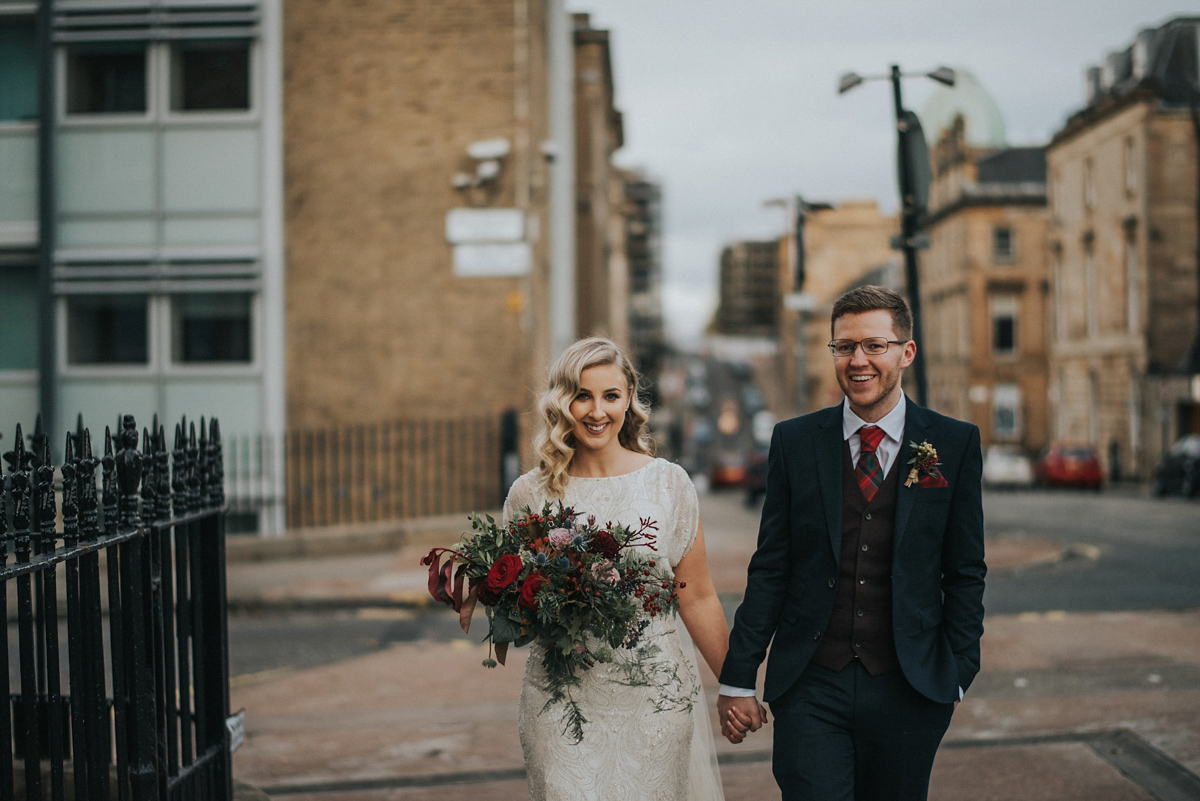 "My favourite part of the day was when our photographer bundled us into a taxi to chase the last of the winter sun in the afternoon."
"It was unexpected and frankly uncomfortably cold, but we laughed together as we walked, relaxing into the day and still brimming with excitement at the evening ahead."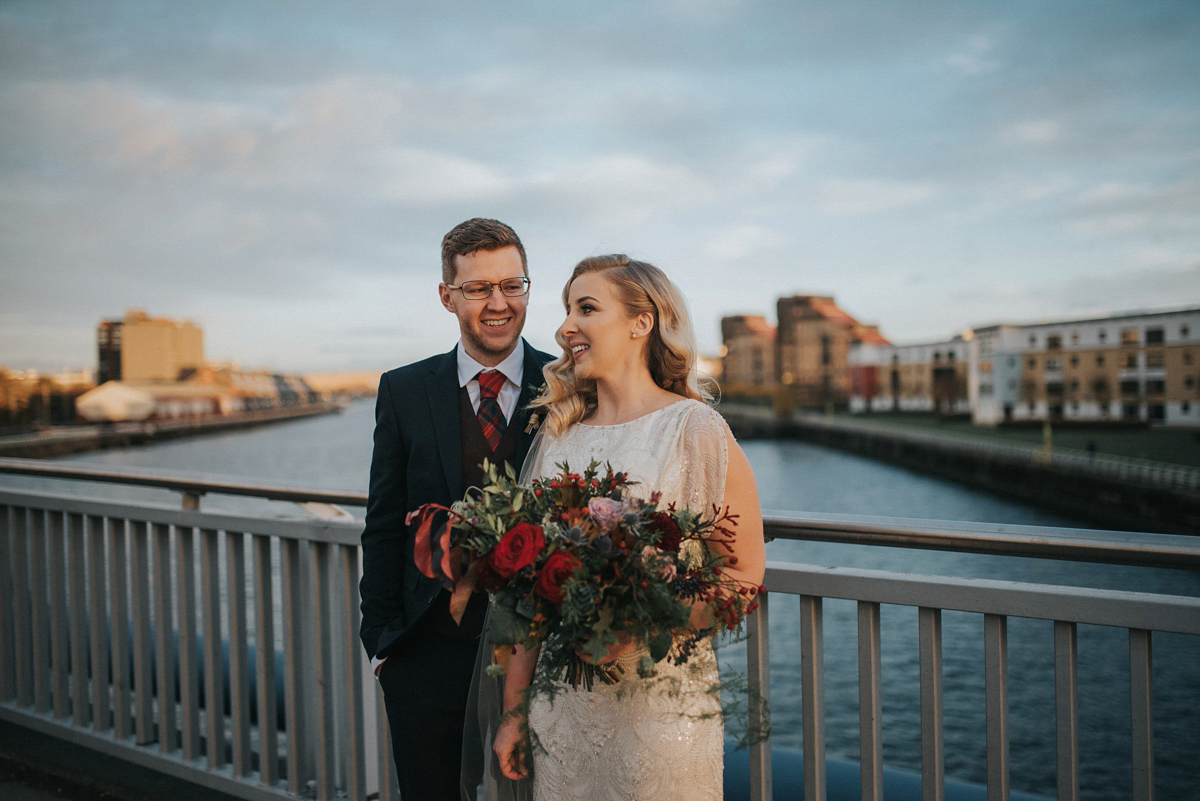 "Our photographer was Neil Thomas Douglas, and he was one of our favourite finds. We knew our winter wedding right in the middle of a city with no green space nearby would present some challenges, but Neil was more than up for it. He was a brilliant presence on the day, a very dry, dark sense of humour is exactly what you need when you are feeling a little jittery mid make-up! I would recommend him to anyone."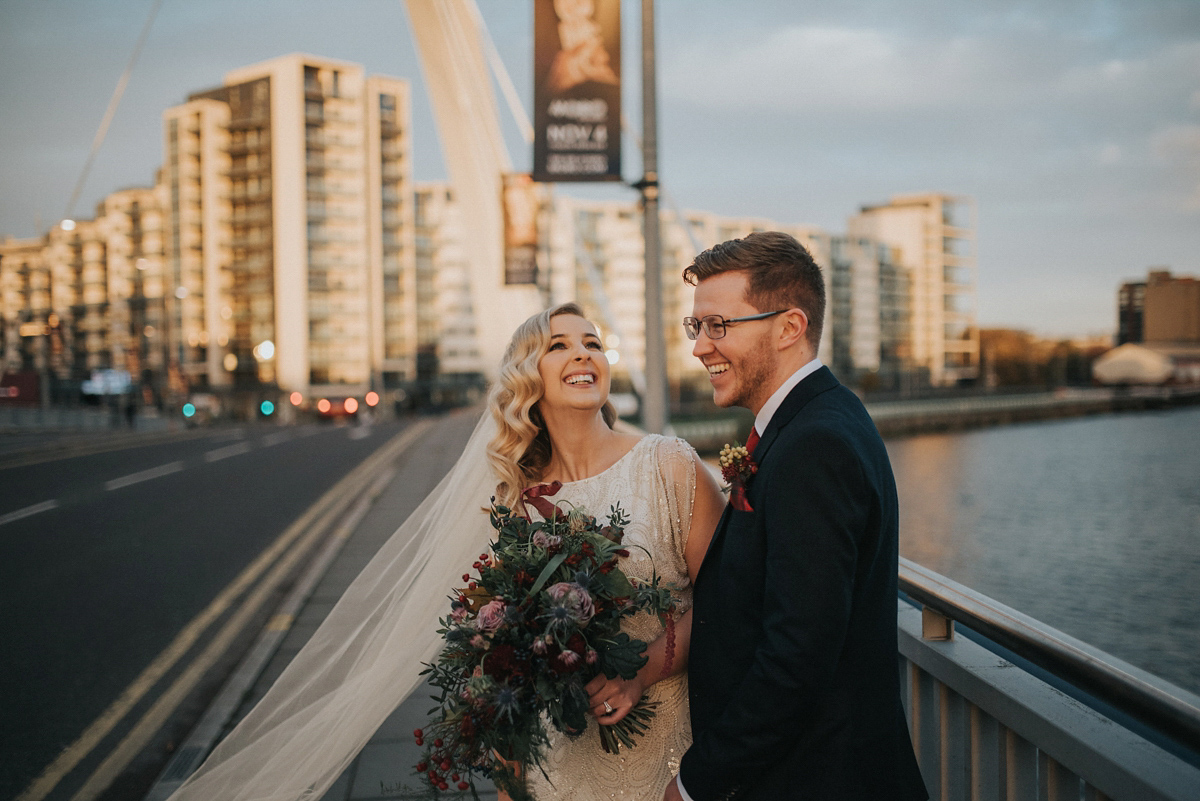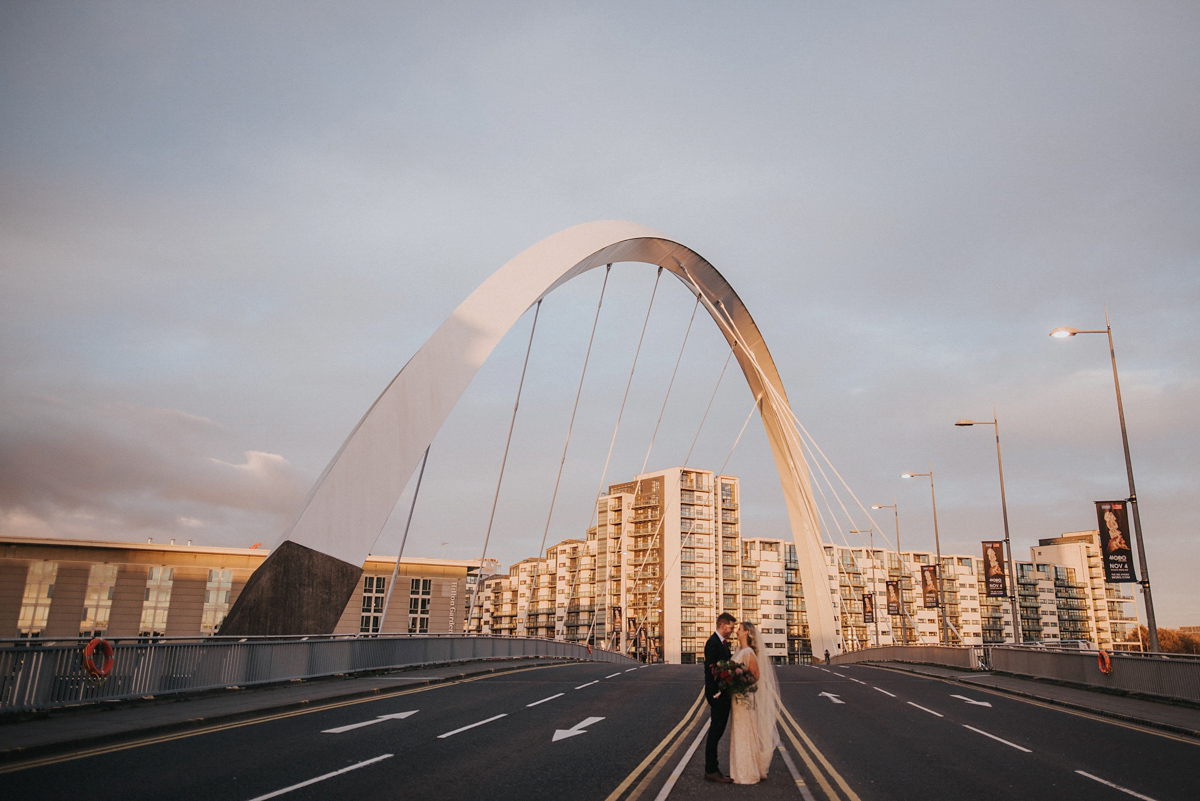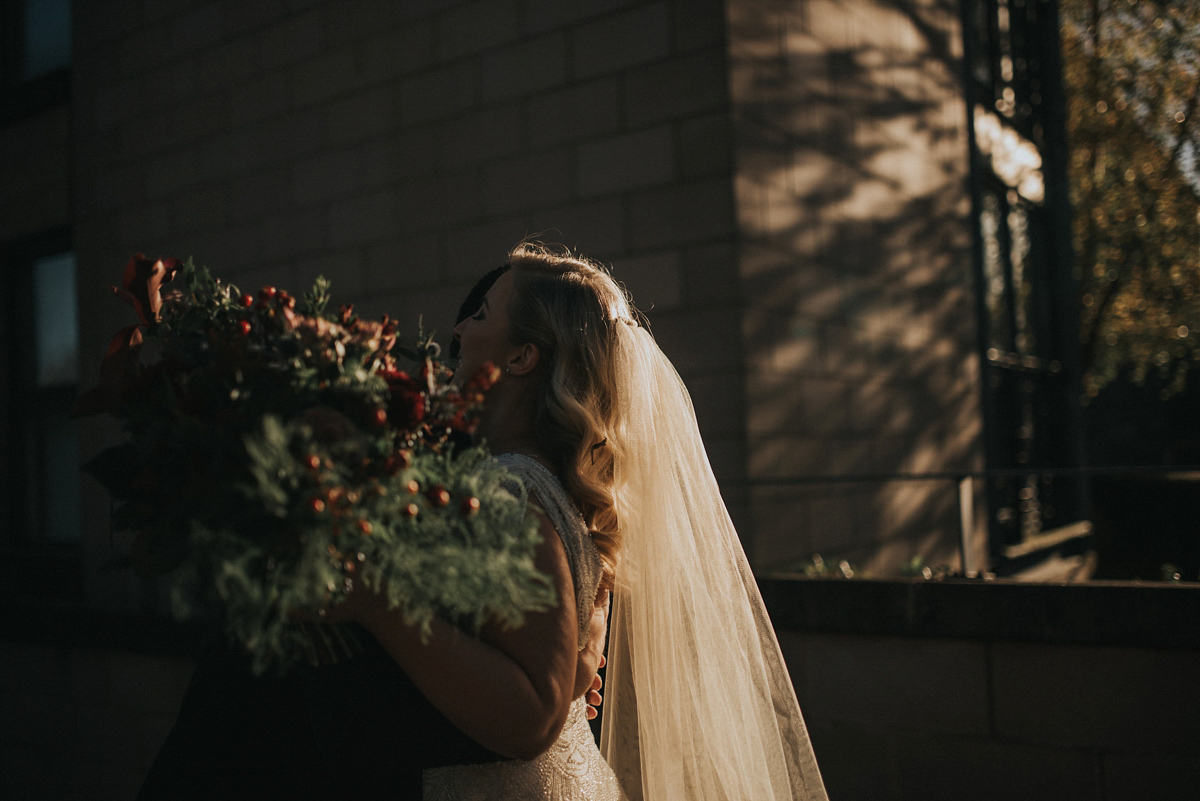 With their reception venue being a working art gallery, it's beautiful interiors needed little in the way of additional décor. Florist Lisa, of Floral Menagerie, created arrangements of berries and buds in Scottish gin bottles alongside goblets filled with blackberries, plums and figs.
"I fell in love with Lisa's style when I met her at a bridal market. She created beautiful bouquets and buttonholes with David Austin 'quicksand' roses, wild rubus, berries and ornamental grasses. The main frieze in the gallery room of  The Glasgow Art Club is original Charles Rennie Mackintosh, and the main features of the room are two dominating and intricately carved fireplaces featuring the phrase 'For Auld Lang Syne.'"
The newlyweds gifted their guests miniature Kraken Spiced Rums accompanied by a recipe and method for a bespoke hot toddy. Band Ernest kept the dance floor packed, the highlight of the night a show-stopping version of Bohemian Rhapsody.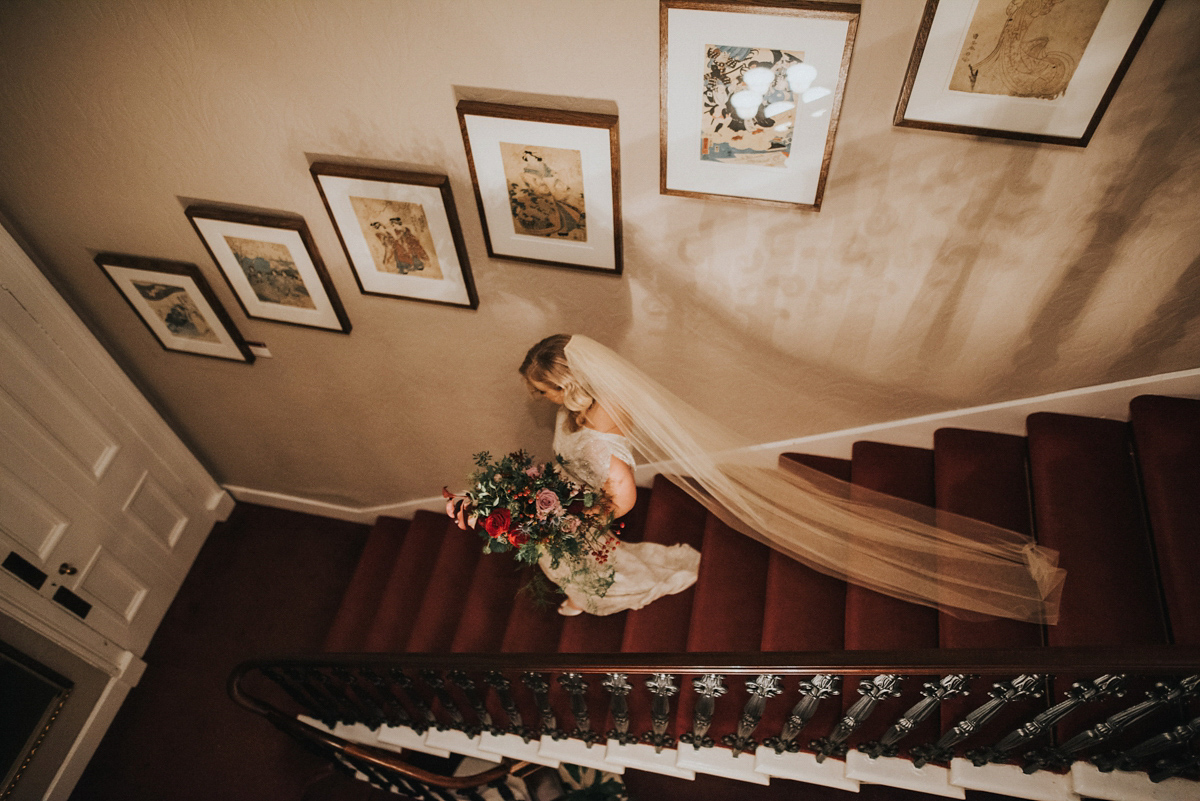 Cairn String Quartet played during the ceremony and the drinks reception in the evening, setting guests up for a feast catered by En Croute. Just reading about the menu made me hungry but for now I'll settle for all three of the desserts; including prosecco topped fruit salad and a spicy peach cobbler.
"We had originally planned a semi modest three tier naked cake but a meeting with Dominque at Big Bear Bakery quickly changed all that. We ended up with a whole cake table, where a banana and salted caramel drippy cake took centre stage alongside a white chocolate and pistachio sponge. They were complimented by miniature pecan pies, dark chocolate and orange brownies, lemon meringue tarts and sweet and sticky traybake squares."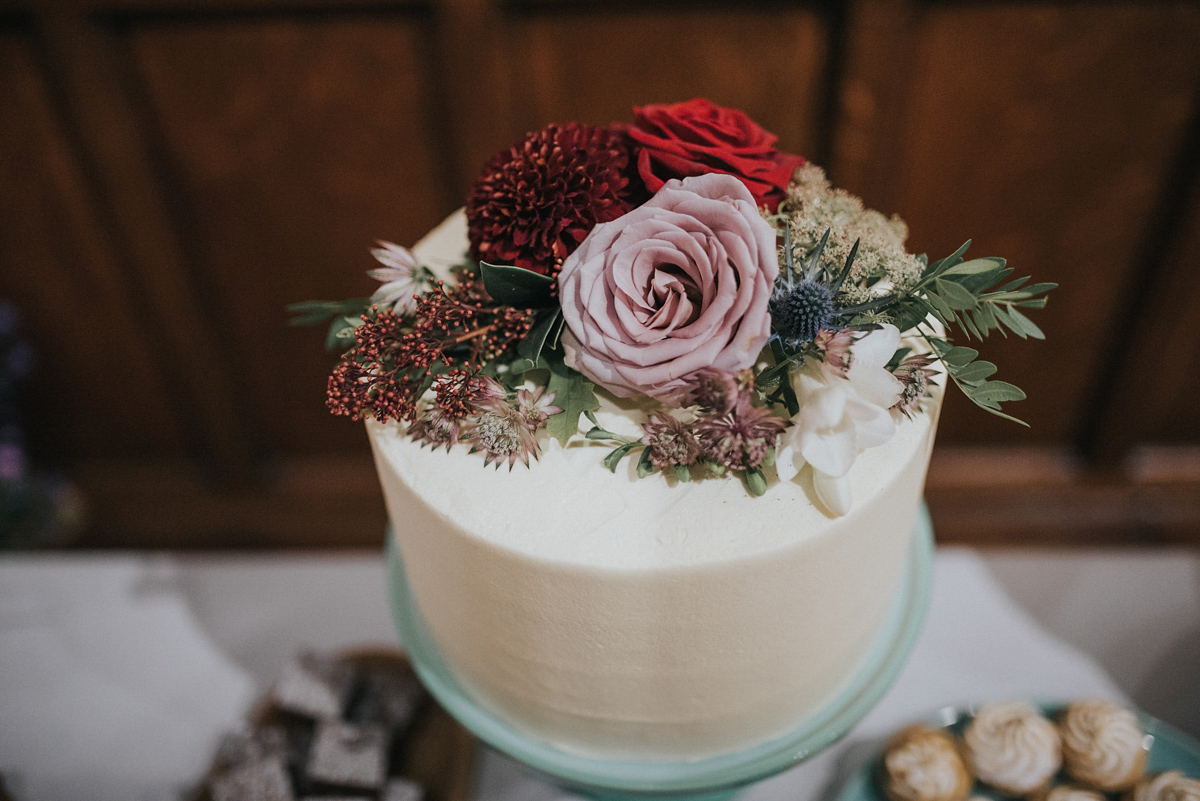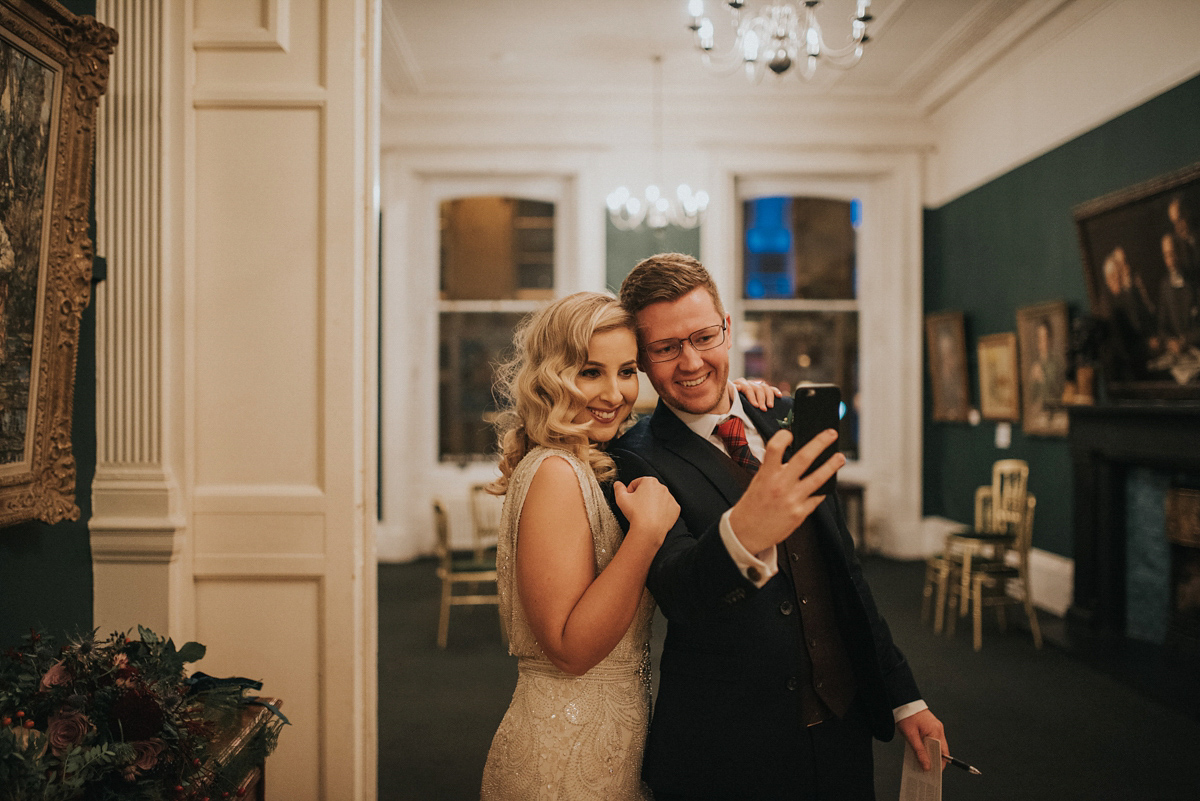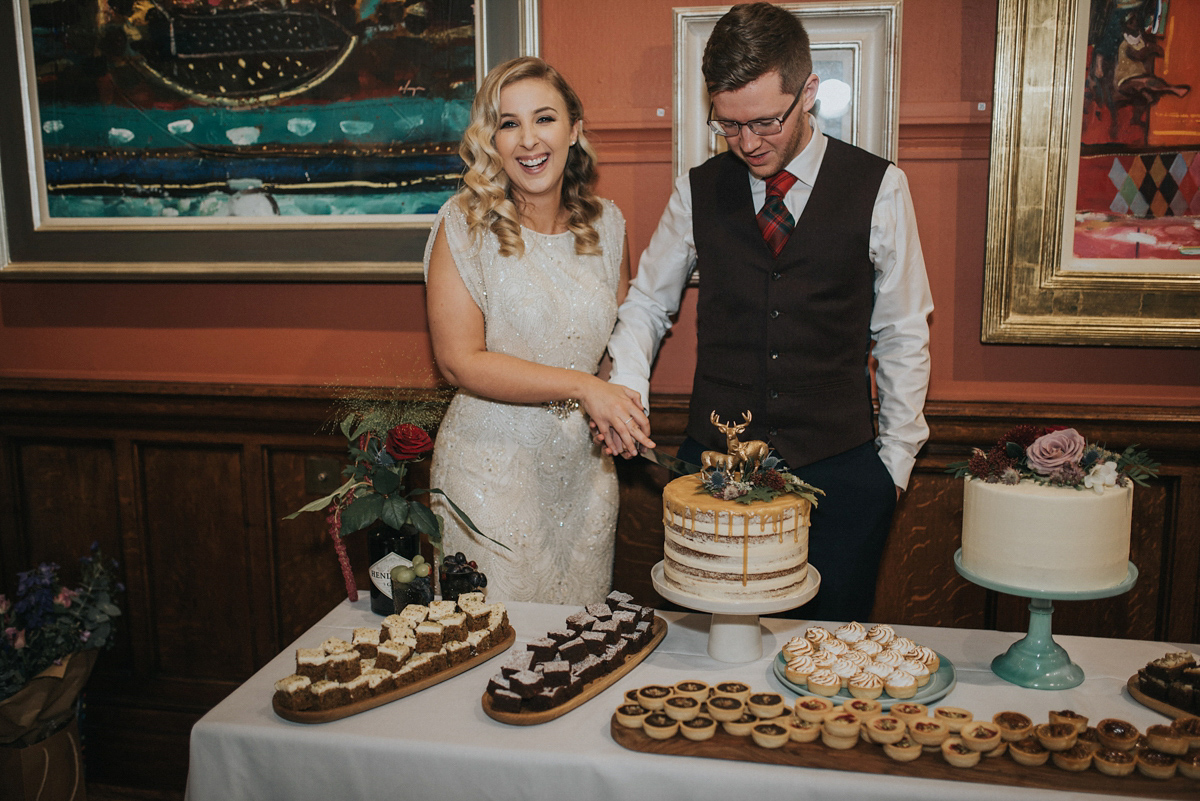 "Additionally, we opted to hire a brew bar and it was a real talking point for the day. They served up gorgeous single origin coffee, spiced berry teas, ginger chai, and hot chocolate. Our guests absolutely loved it and so did we; Something Brewed are one of my biggest supplier recommendations."
"Our first dance was to 'Don't Dream It's Over' by Crowded House, we picked it one night while changing our bedsheets. Neither of us are particularly light on our feet, but we did ok and even managed a whirl or two."
Words of Wedded Wisdom
"I got so tired of reading this when I was planning but please believe me, it's very true – your day is over in a heartbeat and you can never get it back, so soak it all in and savour the atmosphere of love and happiness that is going on around you."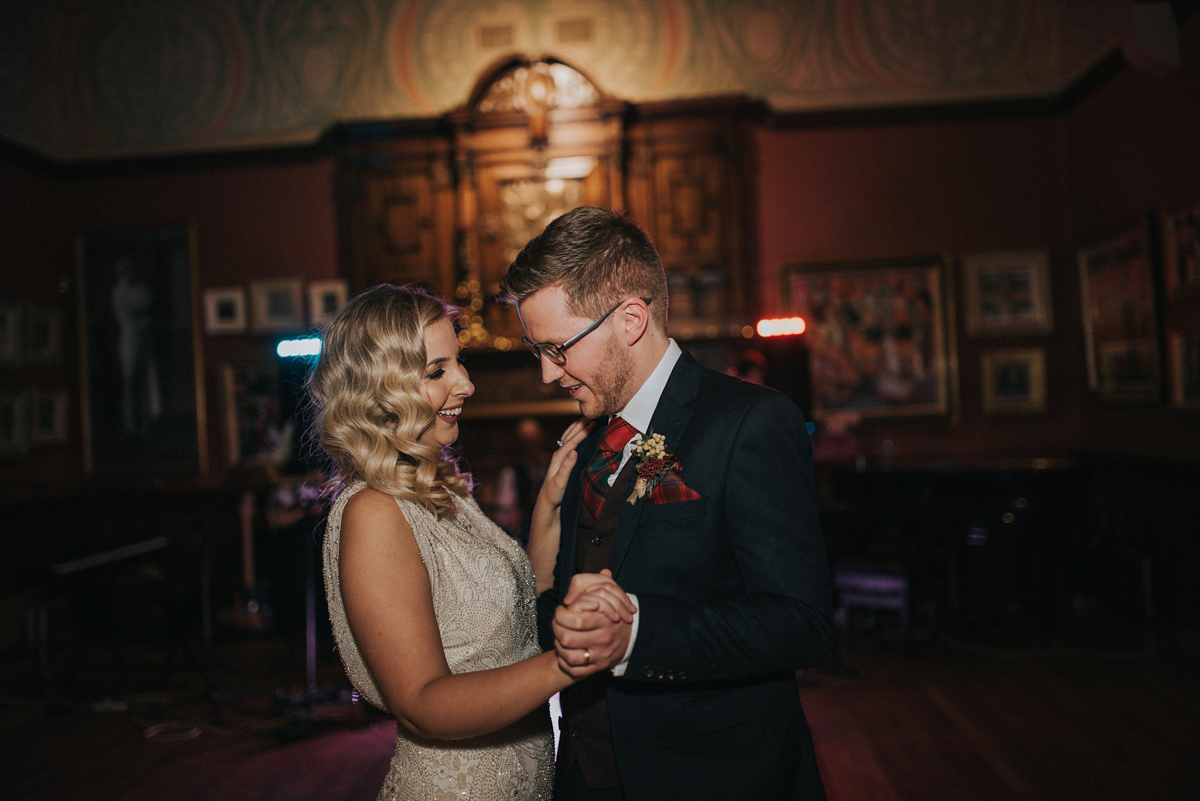 Nicola, thank you so much for those very timely words of advice! A big thank you to both Nicola and Craig for sharing their day with us, and of course our thanks to Neil Thomas Douglas Photography for these sublime images.
Are you wearing a Jenny Packham creation on your own big day? We have a tonne of real bride inspiration for you right here.
Em x