Do you ever find yourself reading one of our real wedding features, longing to meet the bride? This happens to me on a pretty regular basis, and today's beauty is no exception. Not only do Emily and I share a name and a total fascination for all things Elvish and mythical (I adore Lord of the Rings and can actually do an uncanny impression of Gollum), we also grew up just a few miles apart. Devouring these wedding photographs provoked so many happy little memory jolts; my first job in the ice cream shop at Delamere railway station, sunny weekend trips to Tarporley and my favourite toy shop – writing this feature has left me bathing in a happy nostalgic glow.
Emily, a History Teacher, wed Seb, an Accountant, on 22nd October last year at the bride's family church of St Helen's Church in Tarporley, followed by a reception at Abbeywood Estate in Delamere. Touchingly Emily's older sister also held her wedding reception at Abbeywood the year before, and our bride grew up walking her dogs on the woods by the estate. It seems only fitting that Emily and Seb incorporated a whimsical woodland theme into their celebrations, with tumbling ivy and a gorgeous, nature inspired Sincerity Bridal dress.
"Our wedding was loosely inspired by my childhood obsession with Rivendell (The Land of the Elves in Lord of the Rings). I always loved the romantic combinations of woodland, evergreen vines, floating fabrics and white light, which certainly became the key ideas behind the styling of our day. This inspiration led to the ideas for the venue, my dress and ivy flower crown."
Photography by Mark Tattersall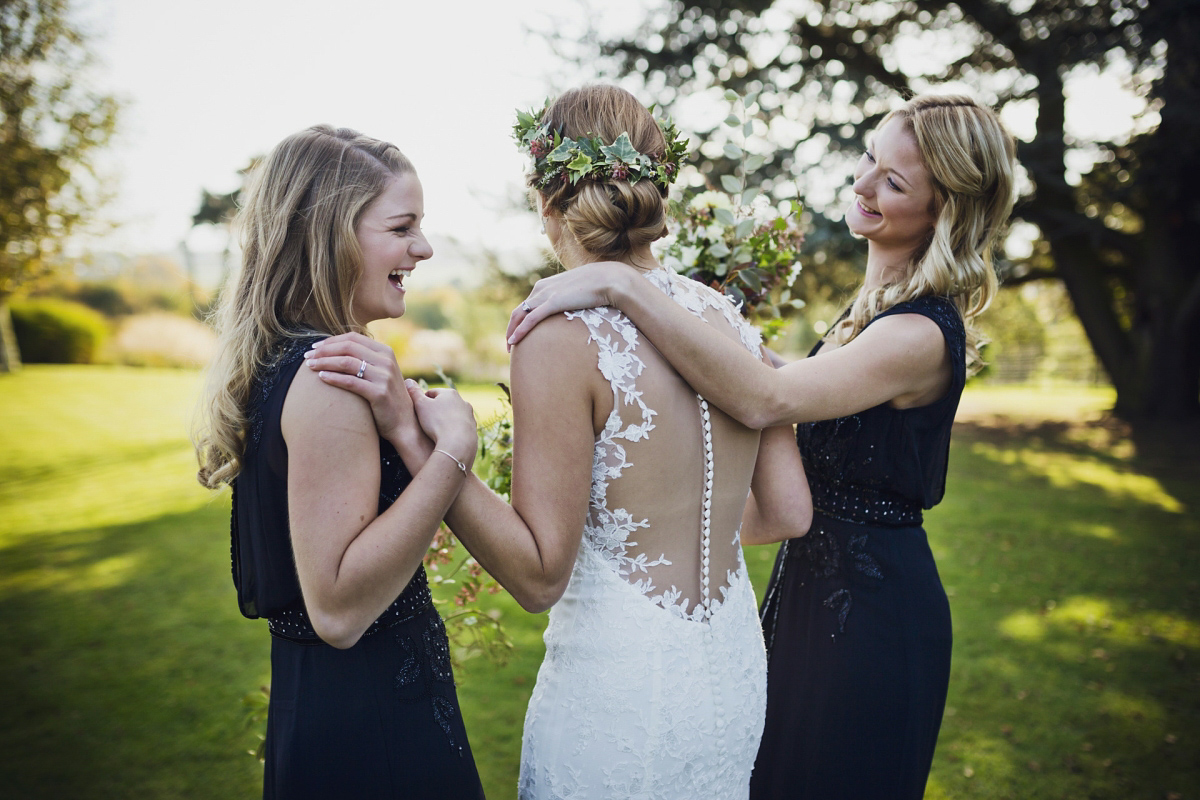 "I fell in love with the ivy, floral detail on the straps of my dress, that wound down the back of my gown, it gave the dress the Elvish princess look that I was after. The dress was a tighter fit than I thought I might originally have gone for, but looser fits actually did less for my figure. Initially I thought it was a bit sexier than I imagined I would go for too, but when I paired it with the flower crown and the wild and unruly bouquet, it all came together in the ethereal look I was after."
Emily's friend Debbie Moore was on hand to capture candid short films of the day, which she edited into a homemade video. The only choice for photography was North West based Mark Tattersall, whose style the couple fell in love with after he documented Emily's sister's wedding – capturing all those wonderful emotions and special people.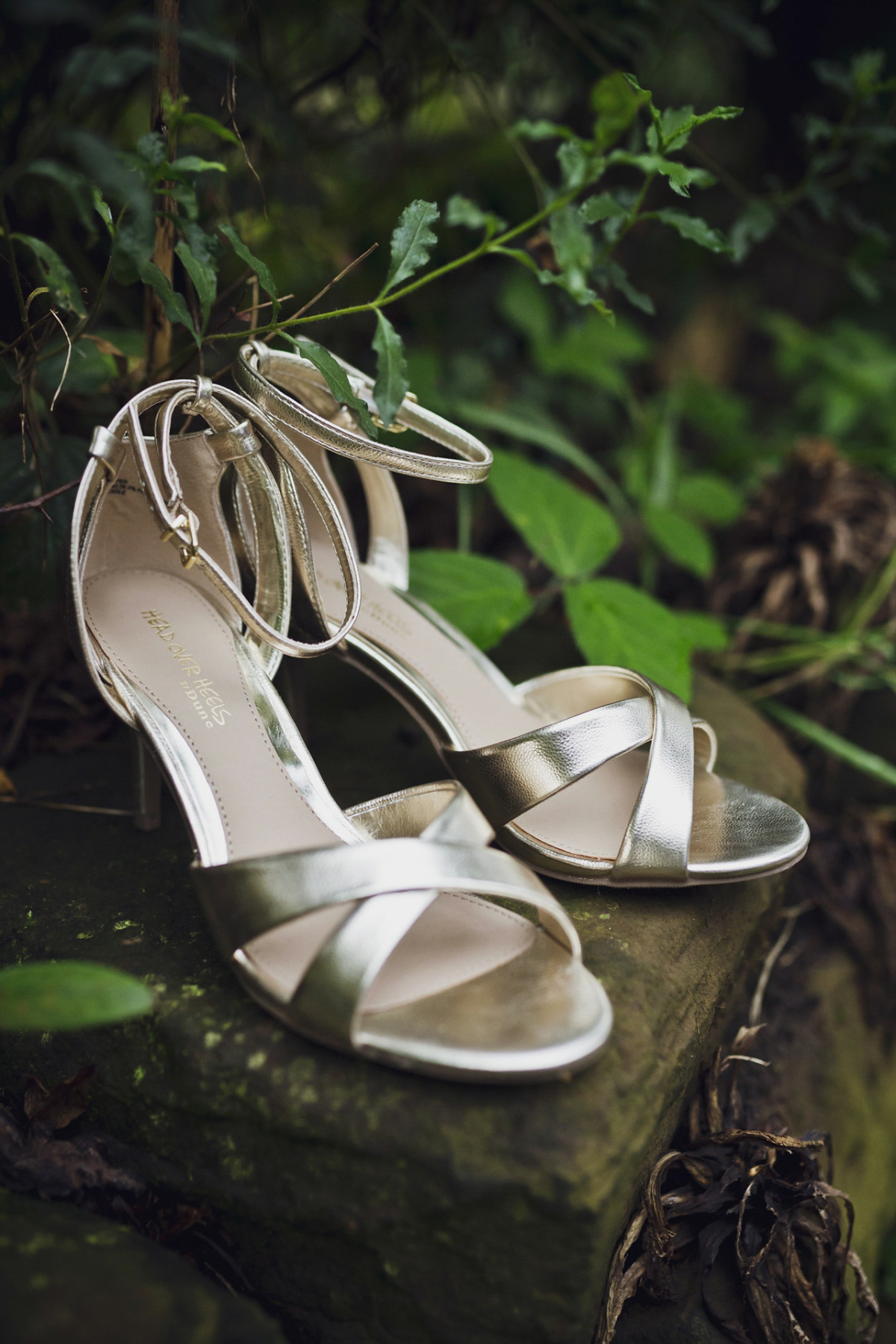 "Mark photographed my sister's wedding also and for both weddings we could not have asked for anything more from our photographs."
"Our pictures are incredible and really reveal the joy and emotions of our weddings days beautifully. Mark is all about capturing the magical moments rather than the staged shots, and he certainly delivered on that for us."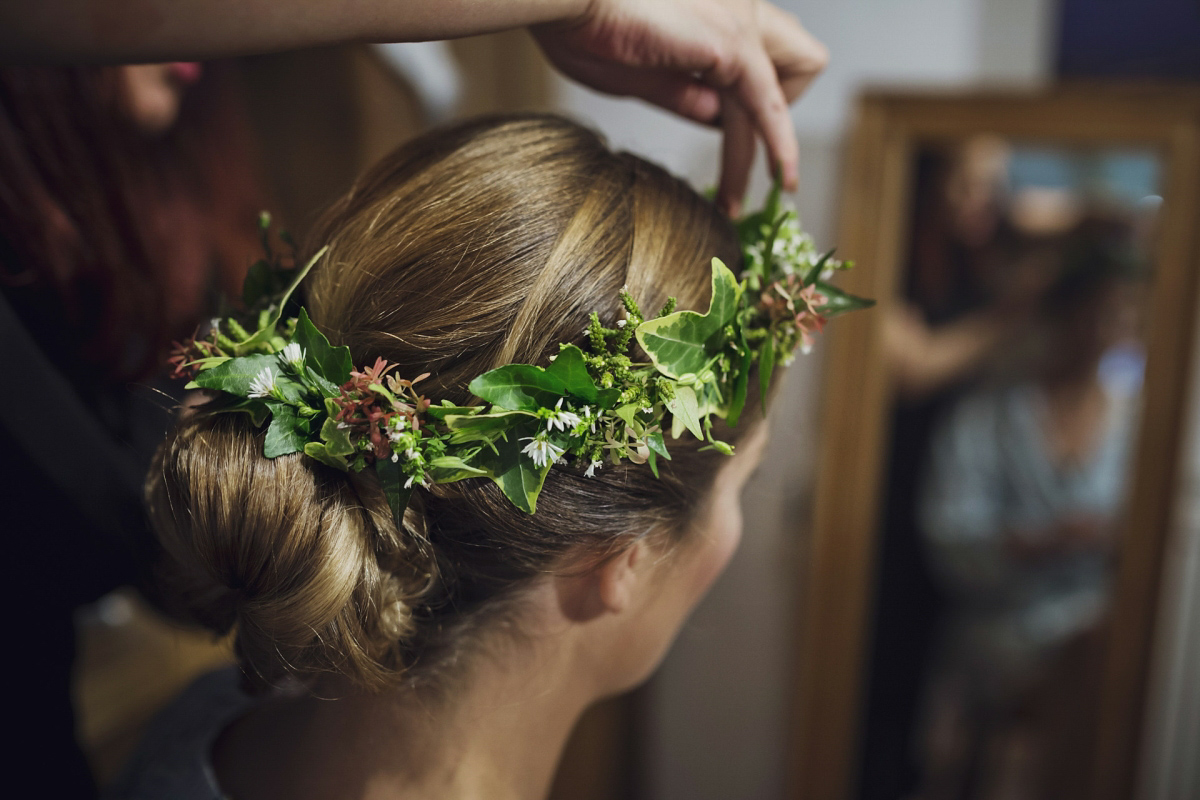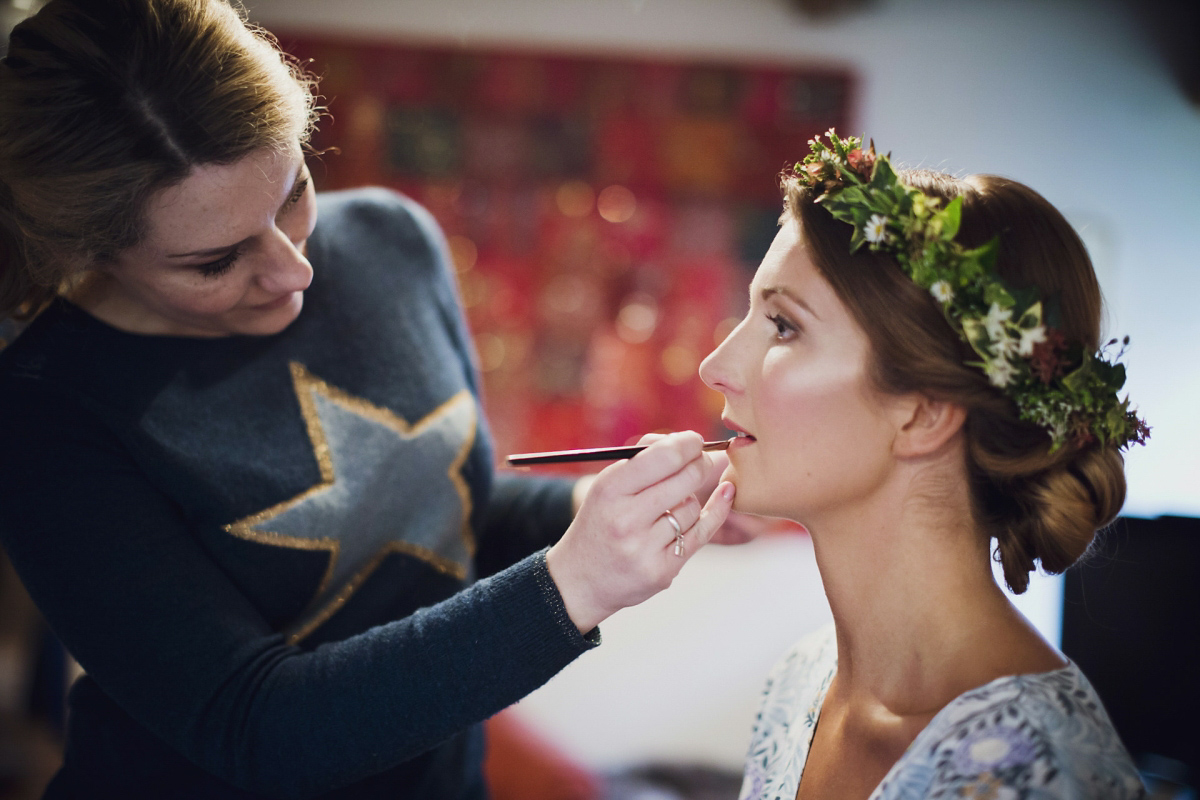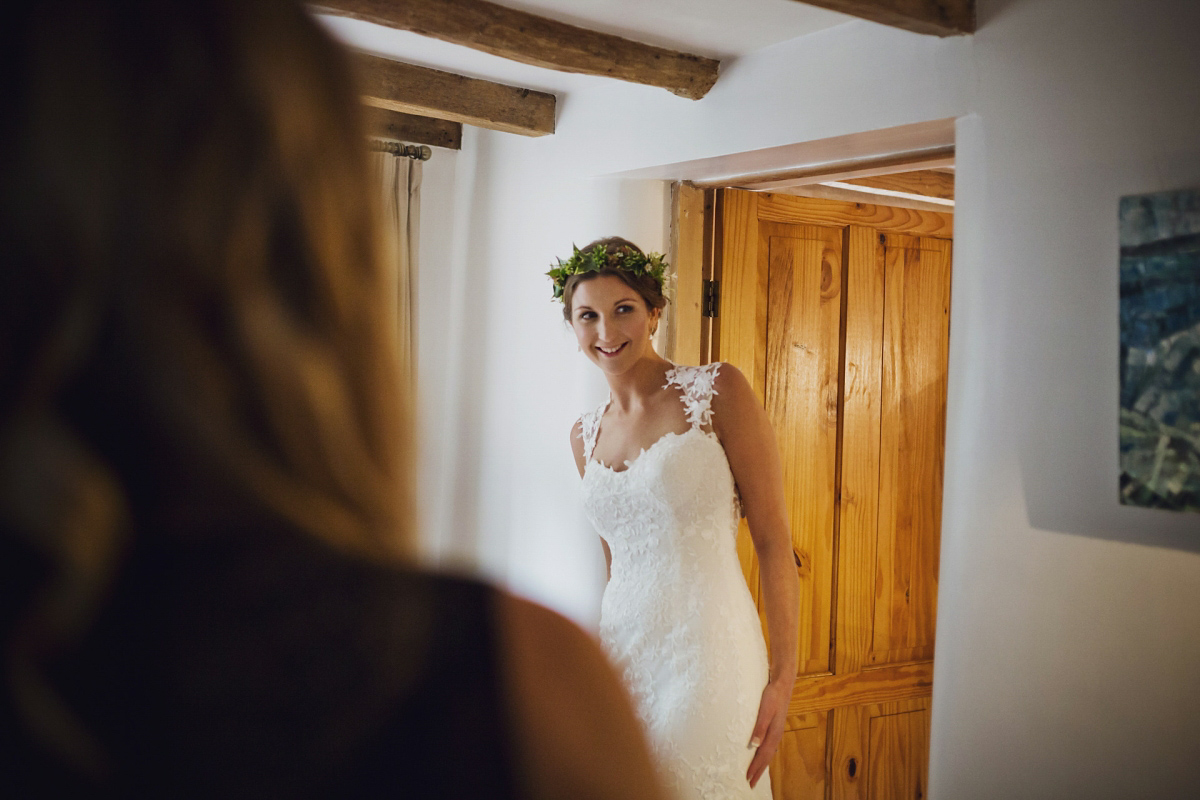 Lizzie Griffiths styled our bride's sweet, simple up-do and her glowing, natural make-up, Emily's glossy locks crowned with a bohemian flower crown of ivy that I'm more than a little besotted with, crafted by florist Carol Siddorn of Carol's Garden.
"I had seen Carol's flowers before and was very aware that she grew them all locally in Cheshire. She uses what is in season and is a big fan of the wild and unruly bouquets that I love so much. She was fantastic as I wasn't too specific on what I wanted, so she made lots of suggestions that I totally trusted her to go with and they turned out to be better than anything I ever imagined."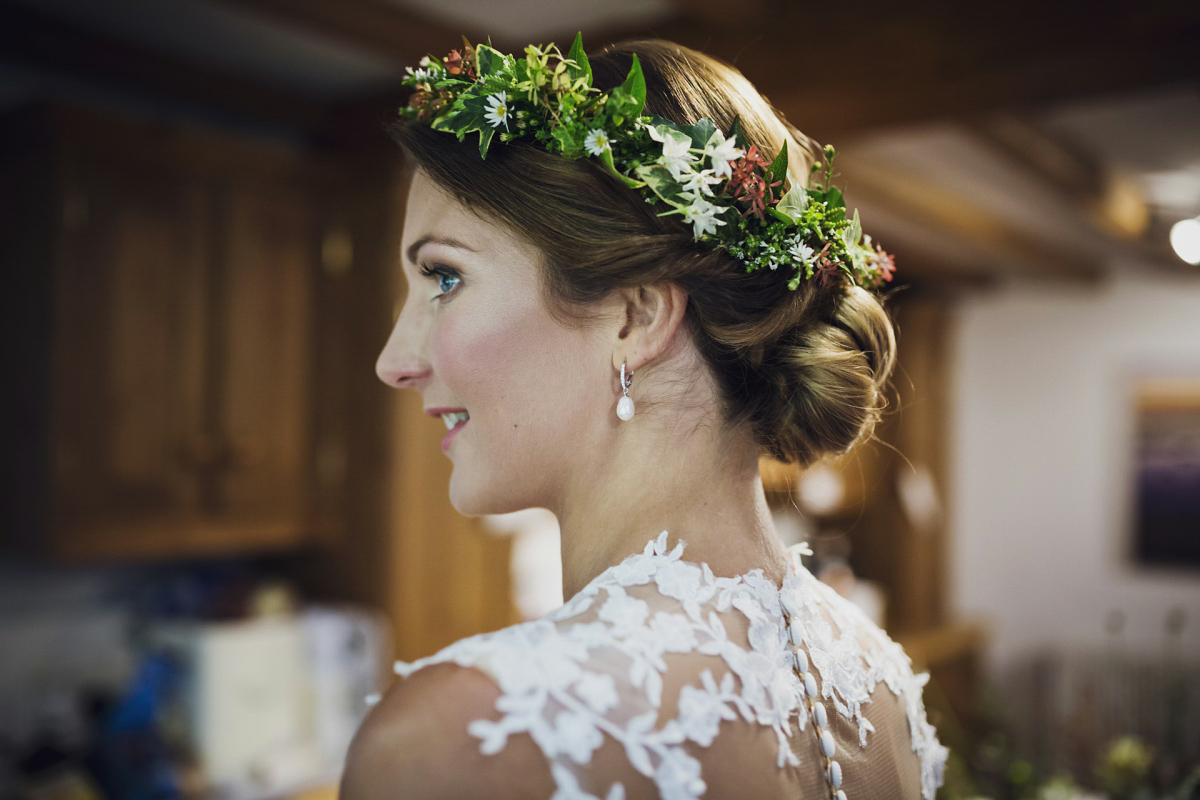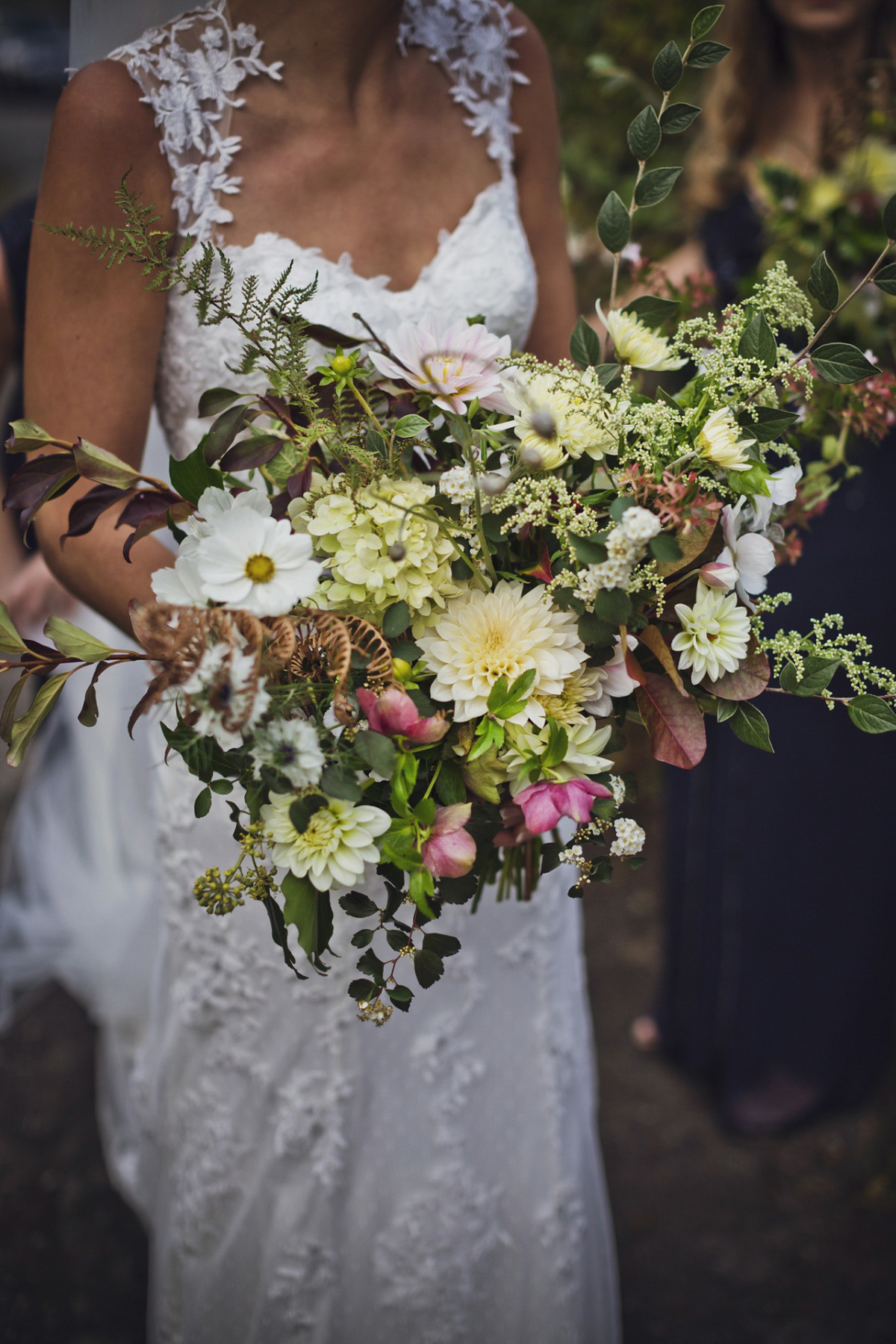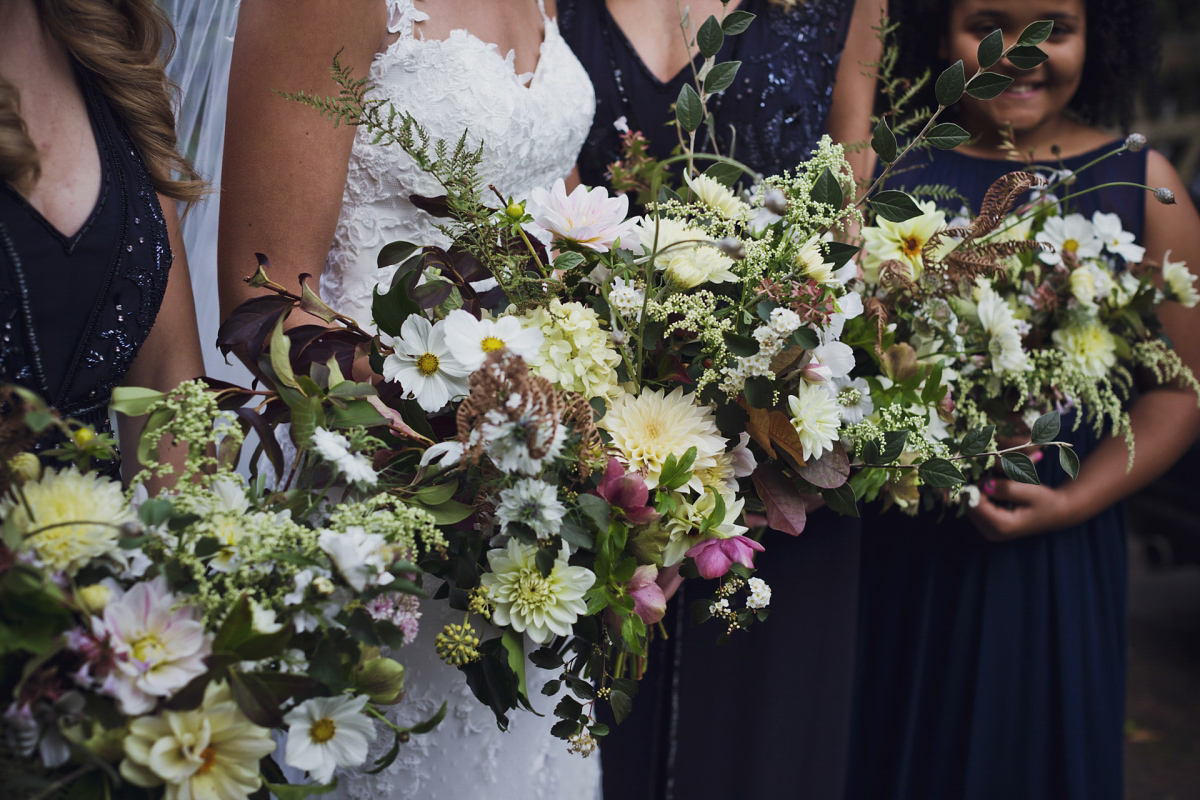 Emily chose a soft, flowing veil, purchased from Brides of Chester along with her gown, and donned metallic heeled sandals from Dune. She wore Chance eau tendre by Chanel perfume and a pair of pretty earrings from Swarovski, a gift from her lovely dad.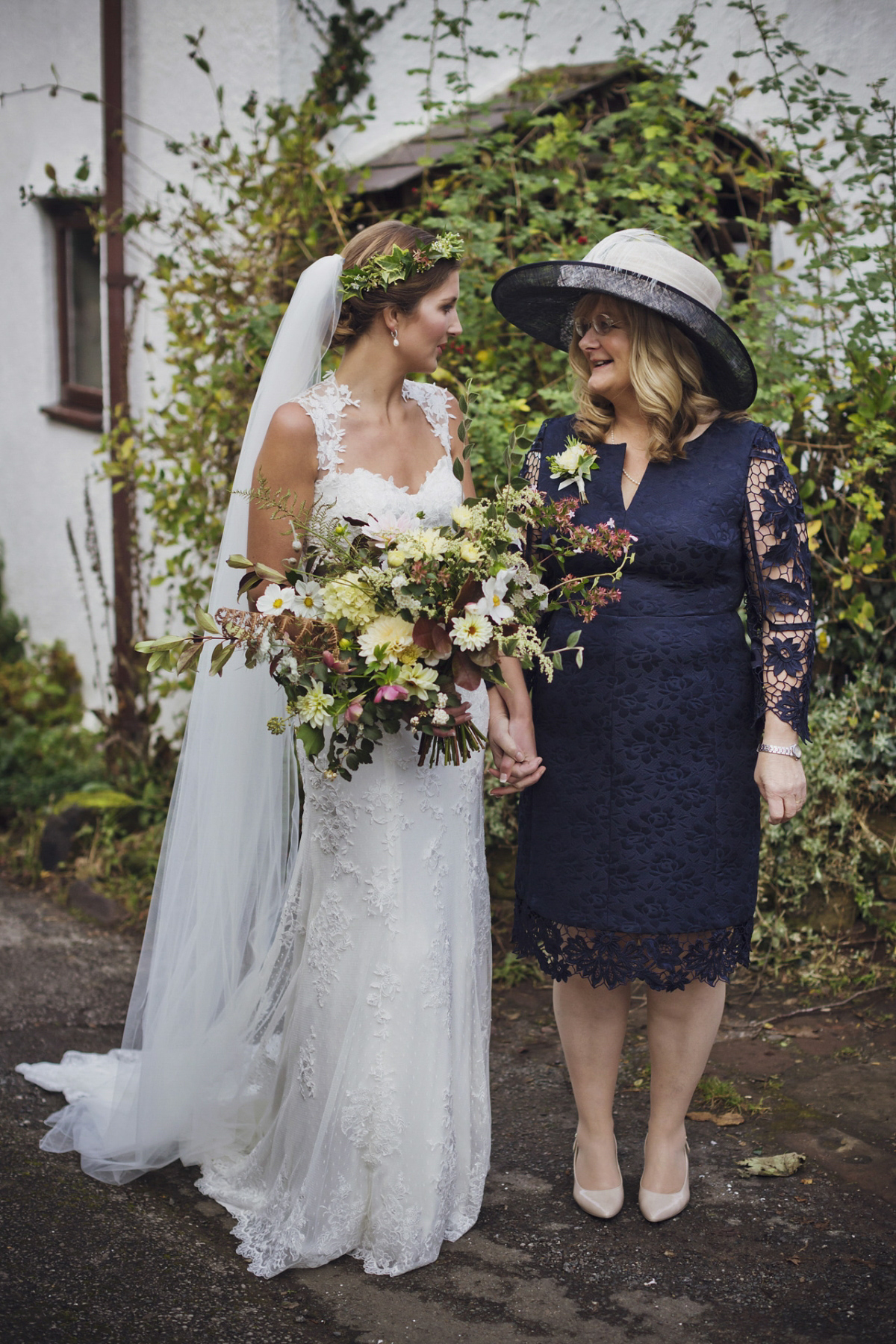 Emily was surrounded by her best girls, her bridesmaids totally stunning in their French Connection frocks and her lovely flower girl picture perfect in a BHS number. The girls each wore a silver knot bracelet from Not on the High Street, gifted to them by the thoughtful bride.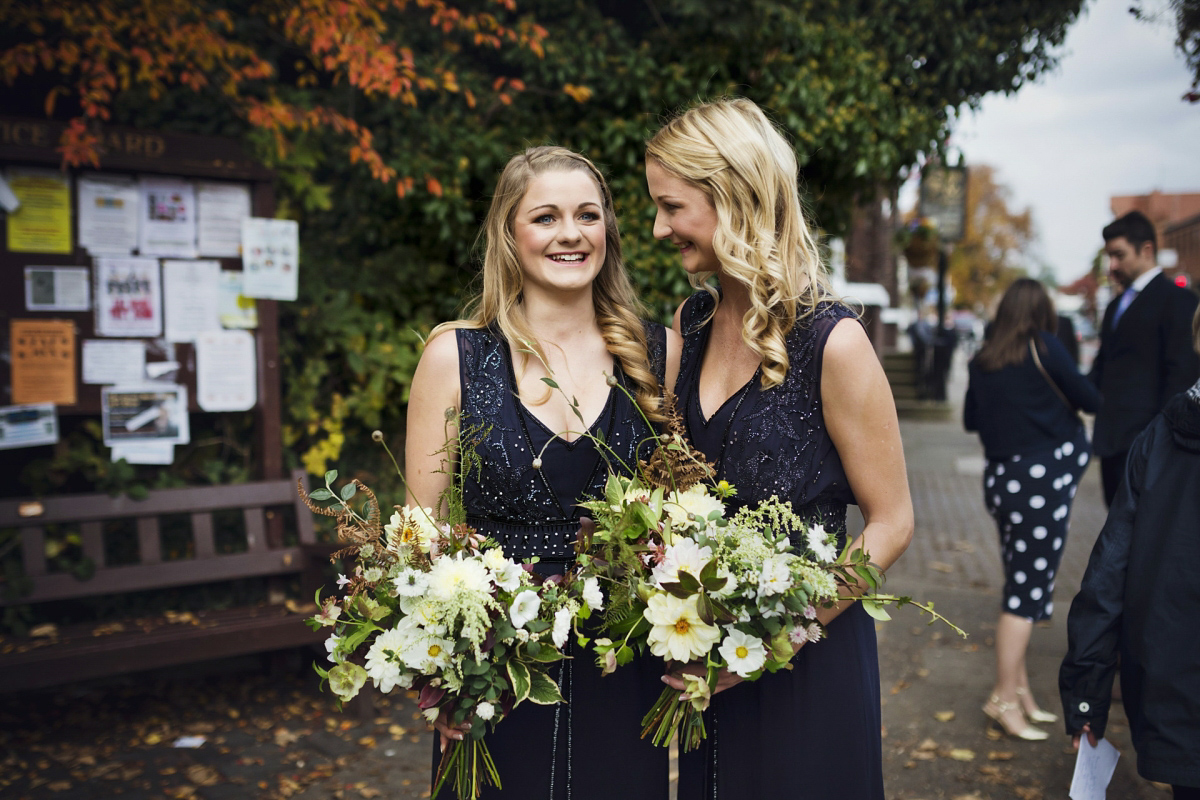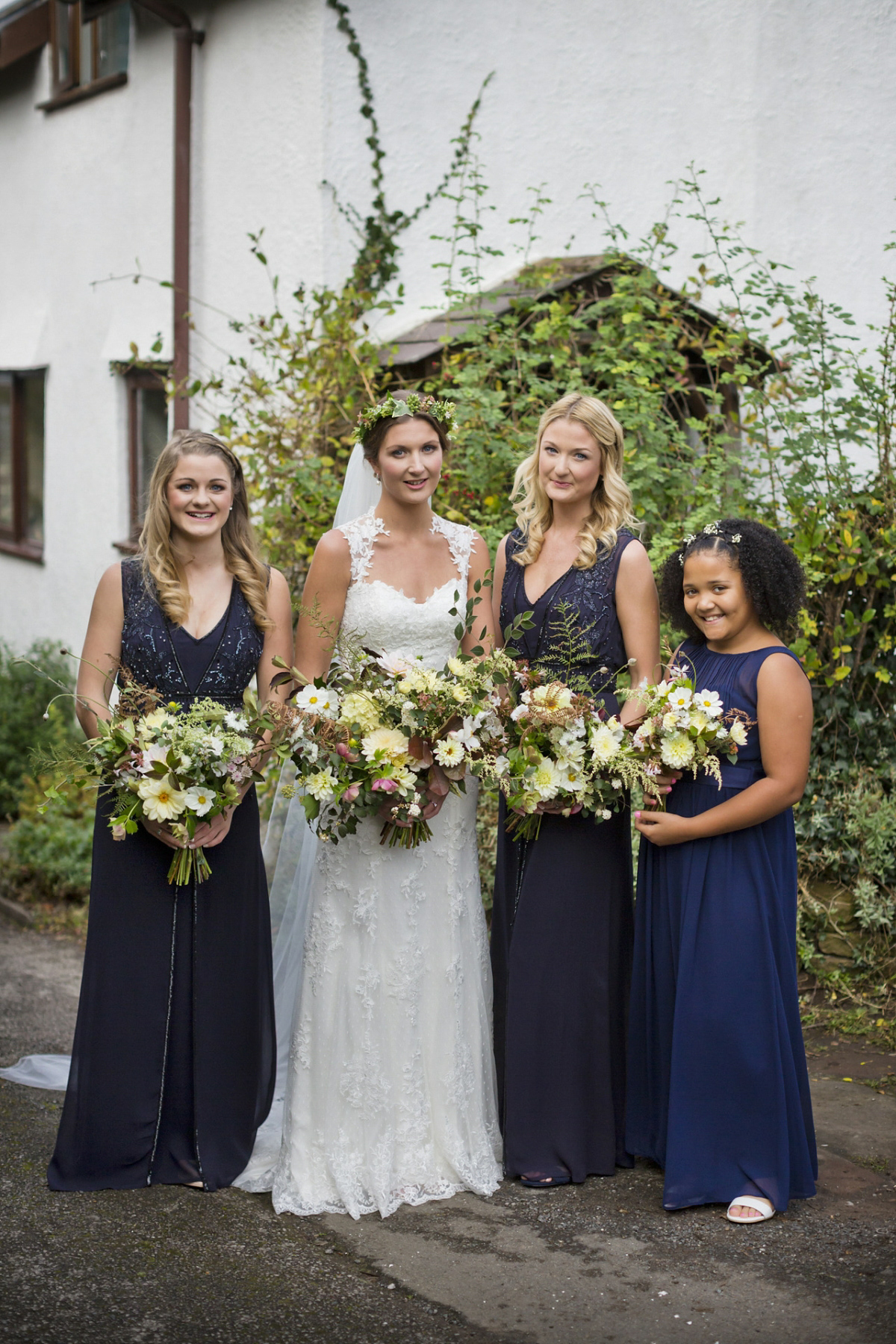 "We asked all the groomsmen to wear their own navy suits and although they were slightly different shades, it really didn't matter and they all looked wonderful. We bought navy ties from Debenhams so they matched the bridesmades dresses."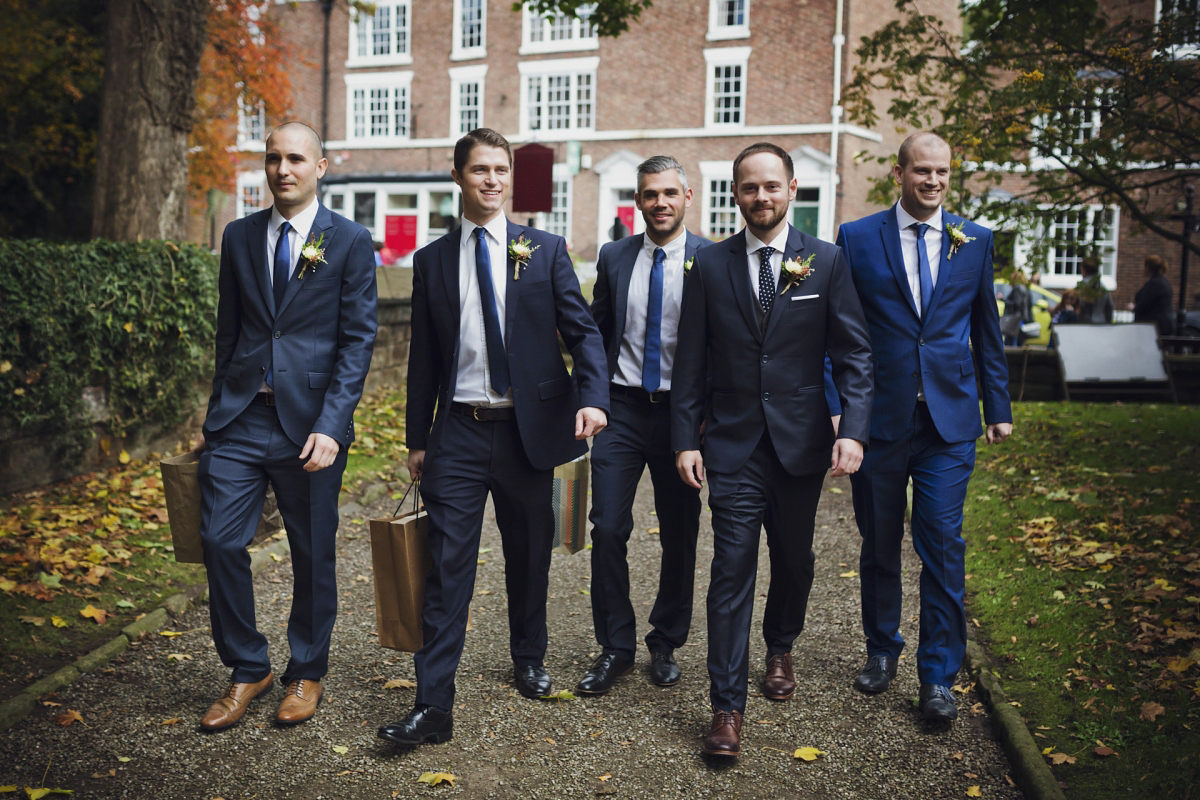 "Seb had a bespoke navy suit made through A Suit That Fits. They were brilliant. He was able to get the ball rolling online by ordering samples of the different colours and fabrics, which came in the post."
"He was measured and had fittings in a Manchester branch, which was really handy for us although you can complete the whole service online if you prefer. He looked amazing on the day and we would highly recommend this more affordable way of creating a bespoke suit."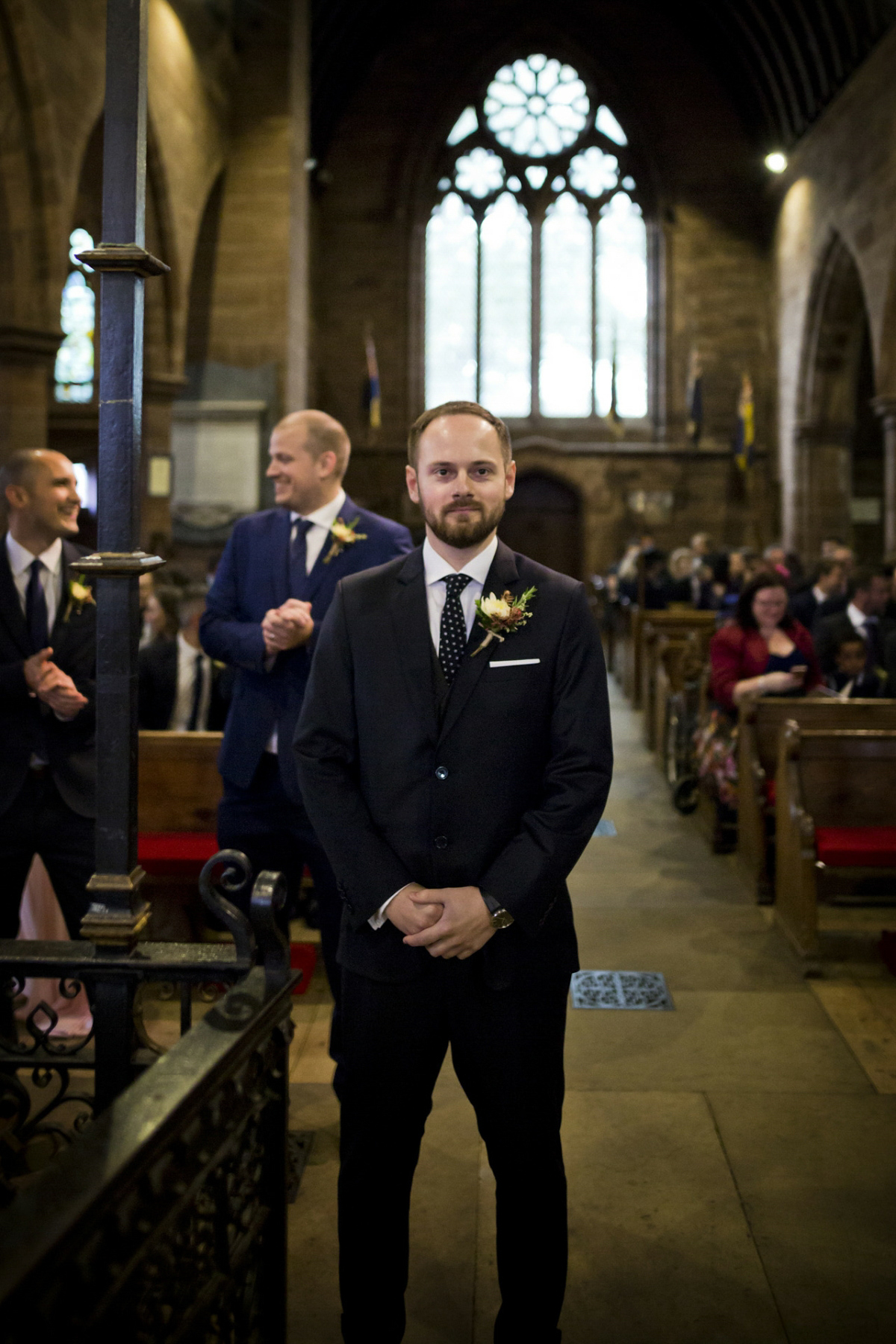 "Seb and I found his spotty navy wedding tie when in New York the Christmas just after we got engaged. It was our first wedding purchase and was from a small boutique in Brooklyn. We loved it for its informal fabric and thick weave effect. Seb found his grey tweedy waistcoat in Next, which worked well with the navy suit, adding some colour and texture. It all came together so well – we were so conscious of not wanting him to look like he was going to work."
"Seb and I first met on match.com and discovered a shared love of food and East London. After a very drunken first date and a cheeky kiss at Angel tube station, we were tough to separate. Three years later, on our first date anniversary, we were staying in a cosy cottage in the Peak District, sitting by a log fire on a very cold and stormy December night when Seb whipped out a ring and popped the question. We were so excited we literally rushed to Abbeywood Estate the next day to see if they would be free to hold our reception the following October. We thought the venue would look amazing in autumn with the stunning woodland that surrounds it."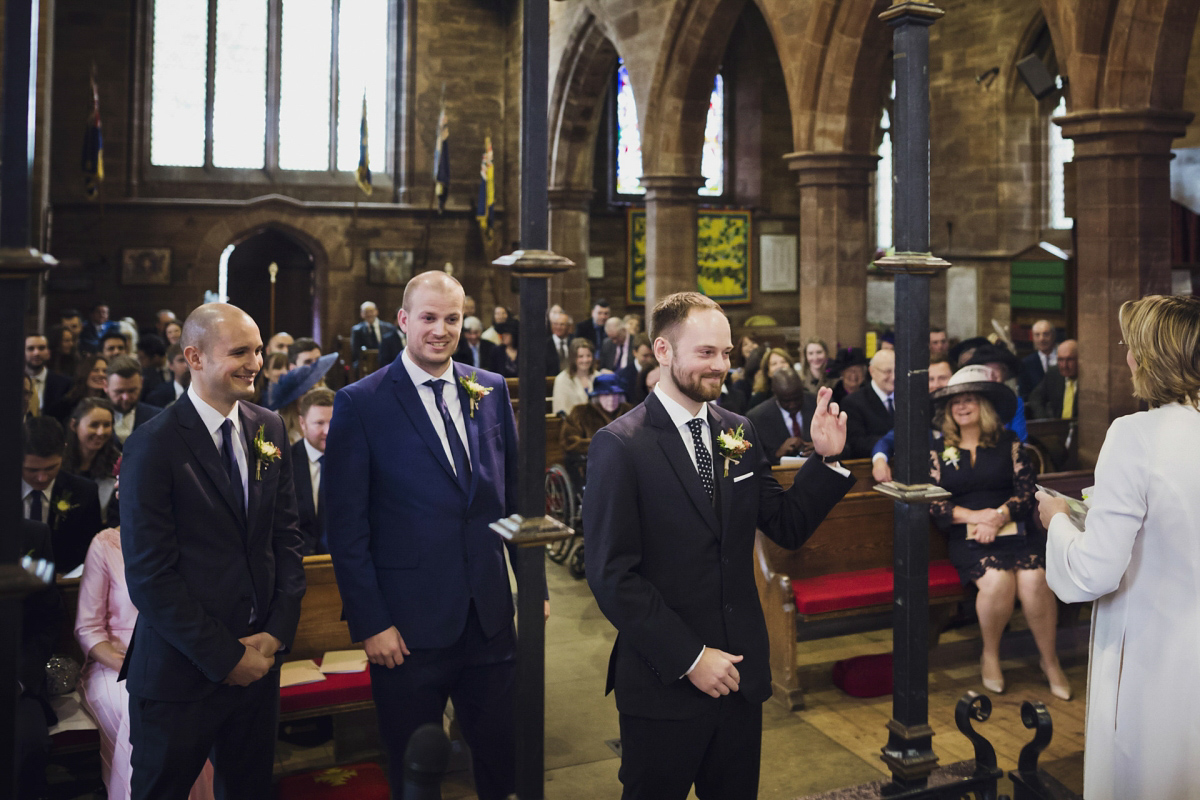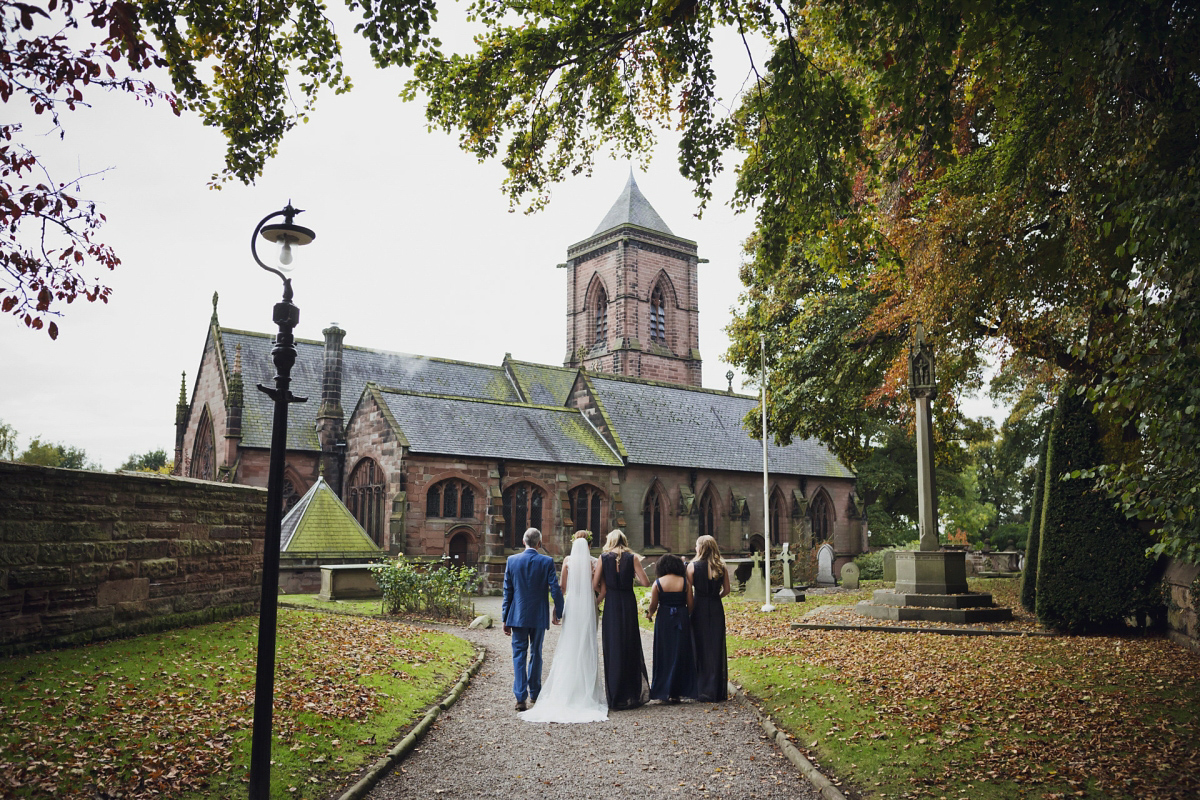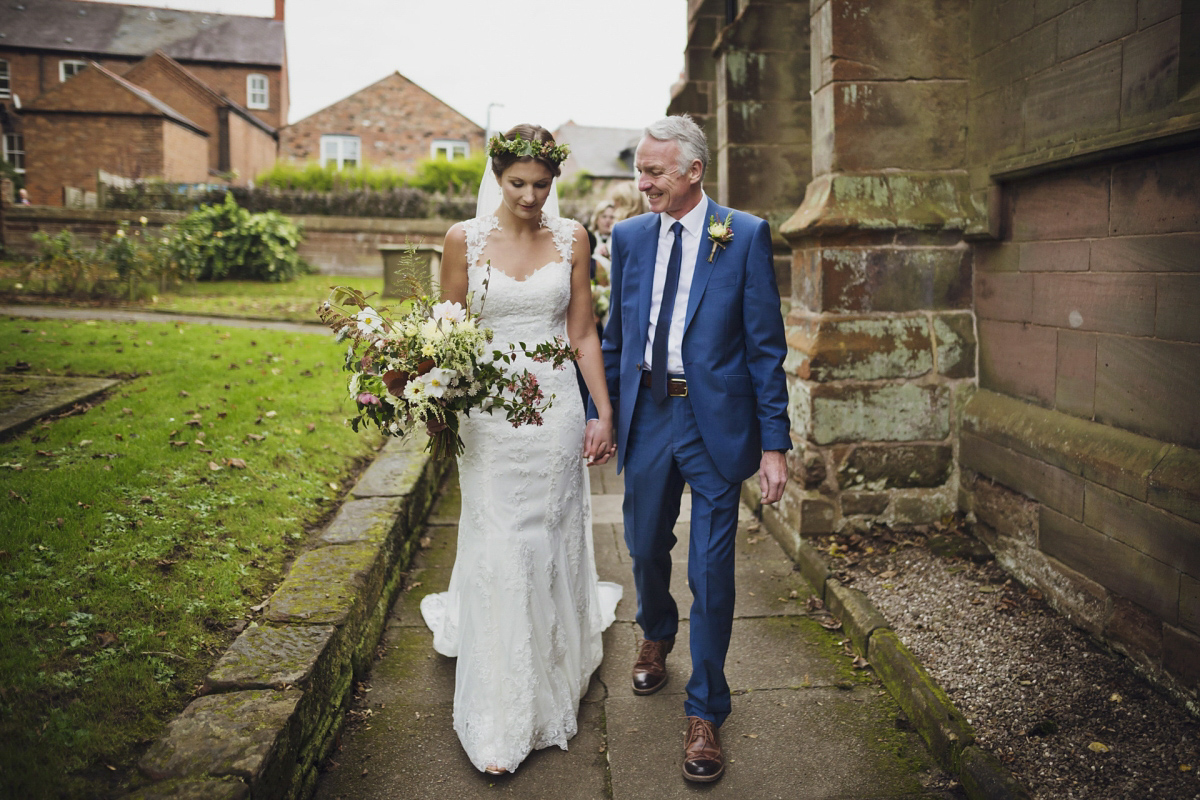 The couple exchanged rings during their church ceremony; Seb's a modern platinum band from Jenny Jones, and Emily's a slender, delicate white gold band with dainty diamonds from Ernest Jones, perfectly complementing her engagement ring.
"The wedding ceremony was our favourite part of the day. It's maybe a part of the day that gets overlooked when planning, as focus tends to end up on the dress, the dinner, the reception décor and the evening entertainment. However, to walk into the church full of everyone we love the most, and have them all witness us commit ourselves to a life together was so special. It was also just so exciting to know that our big day was actually beginning after the months of build up and the endless waiting."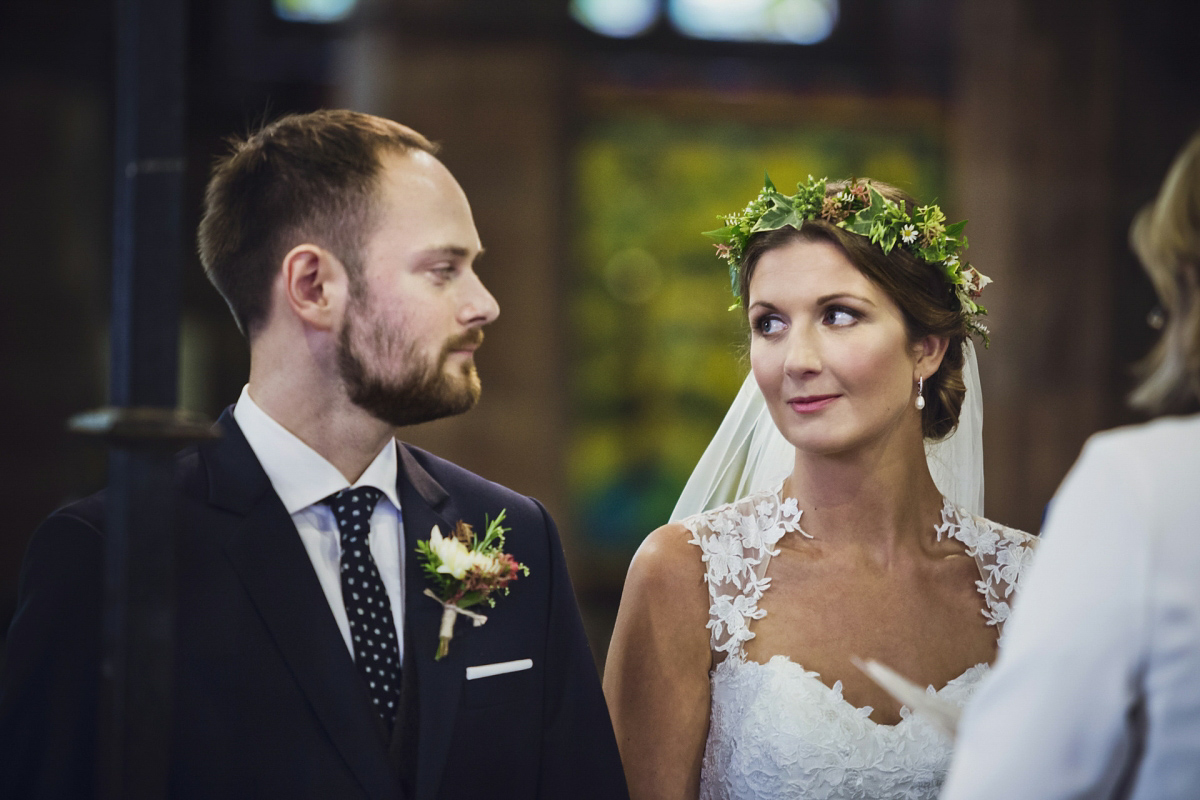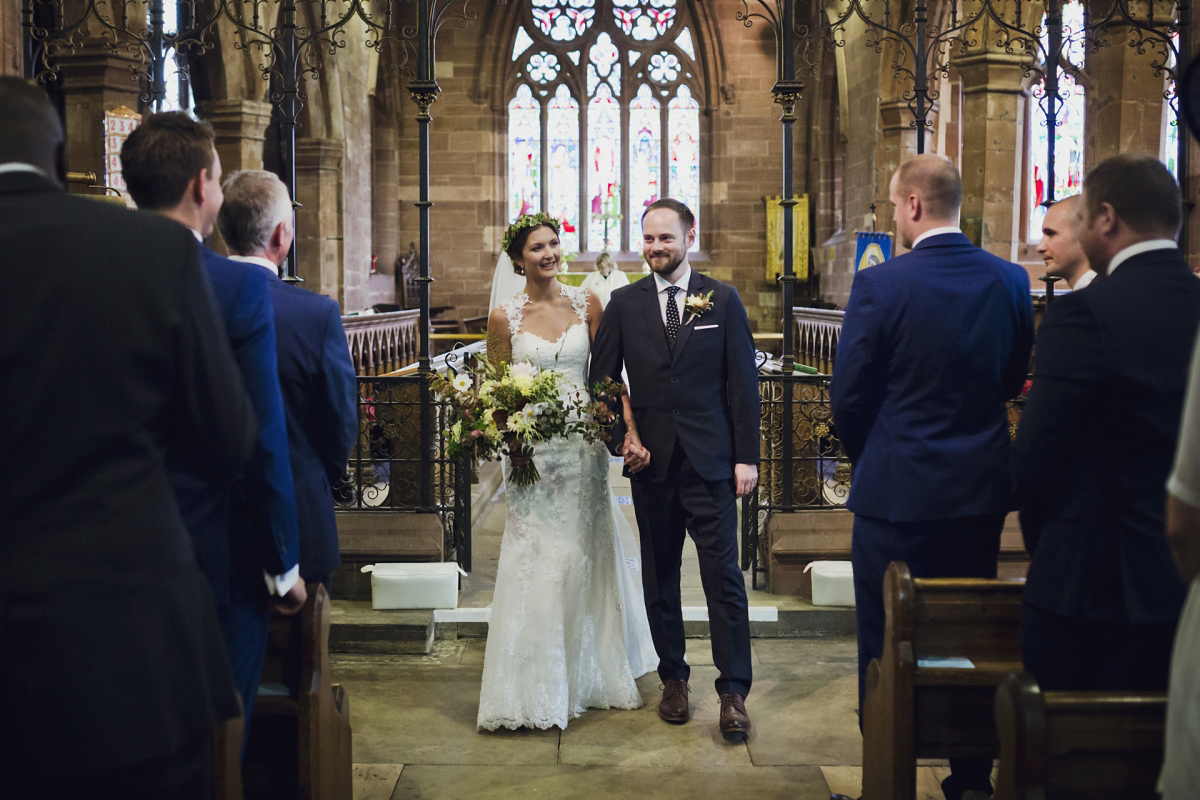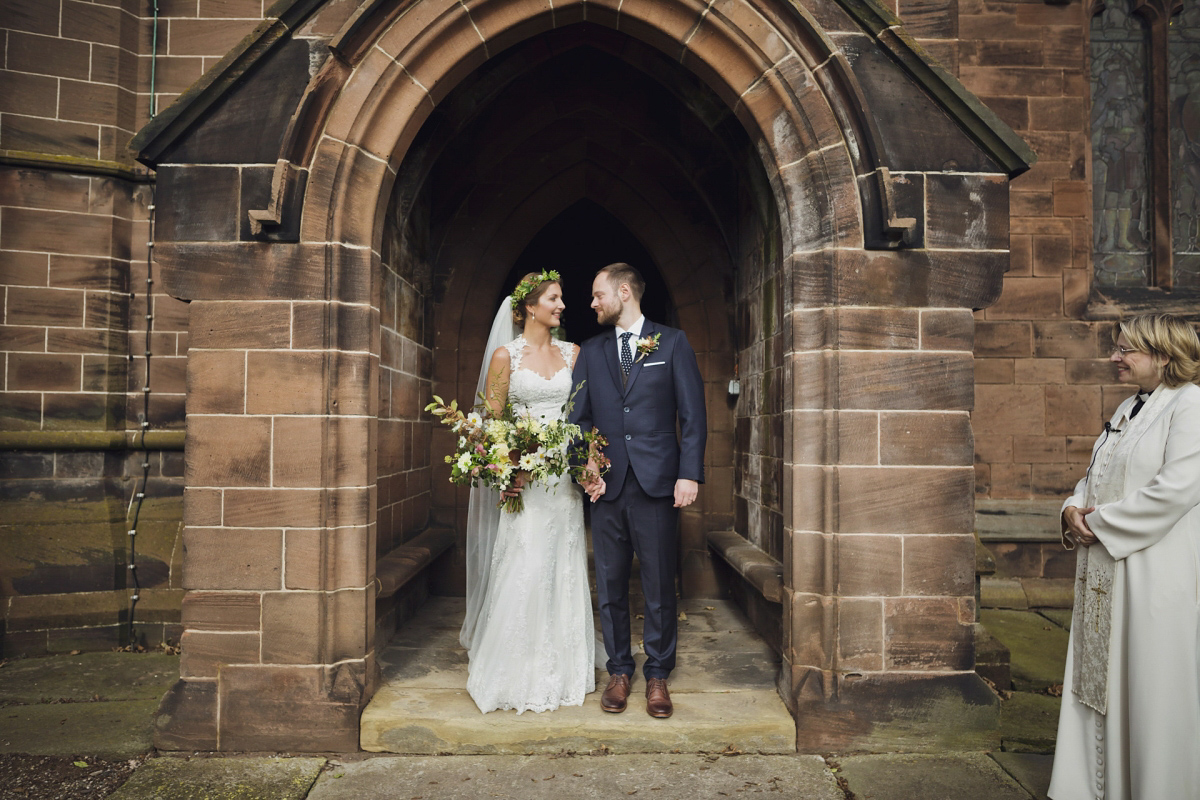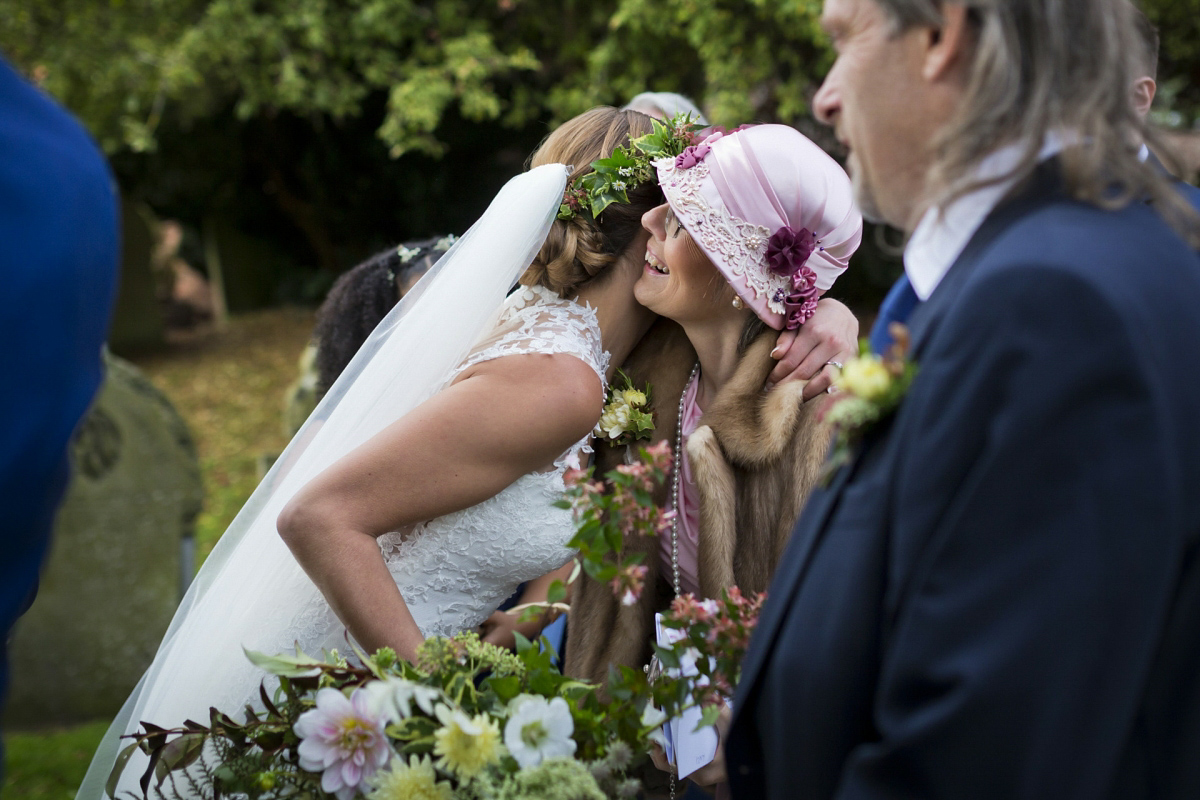 "Posh wedding cars weren't important to us so my dad drove me in my mum's Mini to the church. He even cleaned the car especially, put a ribbon on it and wore a chauffeur hat. Following the ceremony he drove Seb and I to the reception venue, while everyone else travelled the four miles by coach. My dad walked me down the aisle to the traditional wedding march; here comes the bride."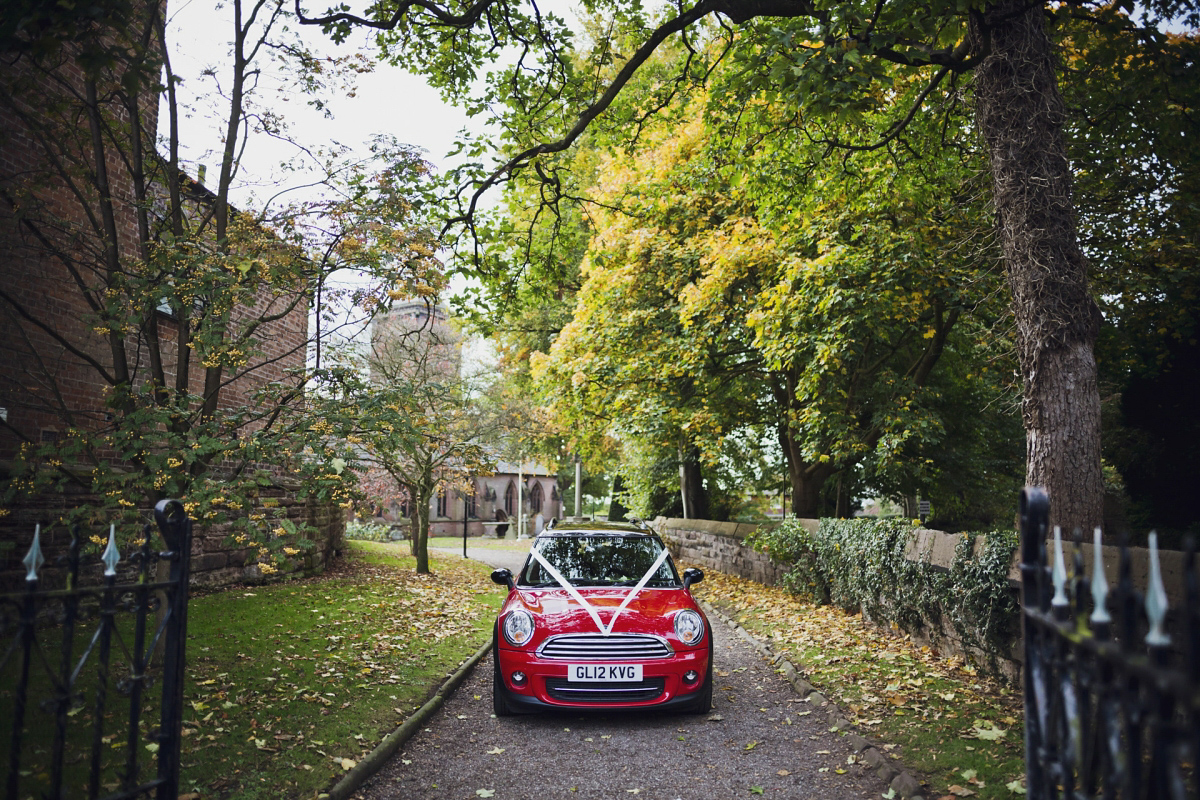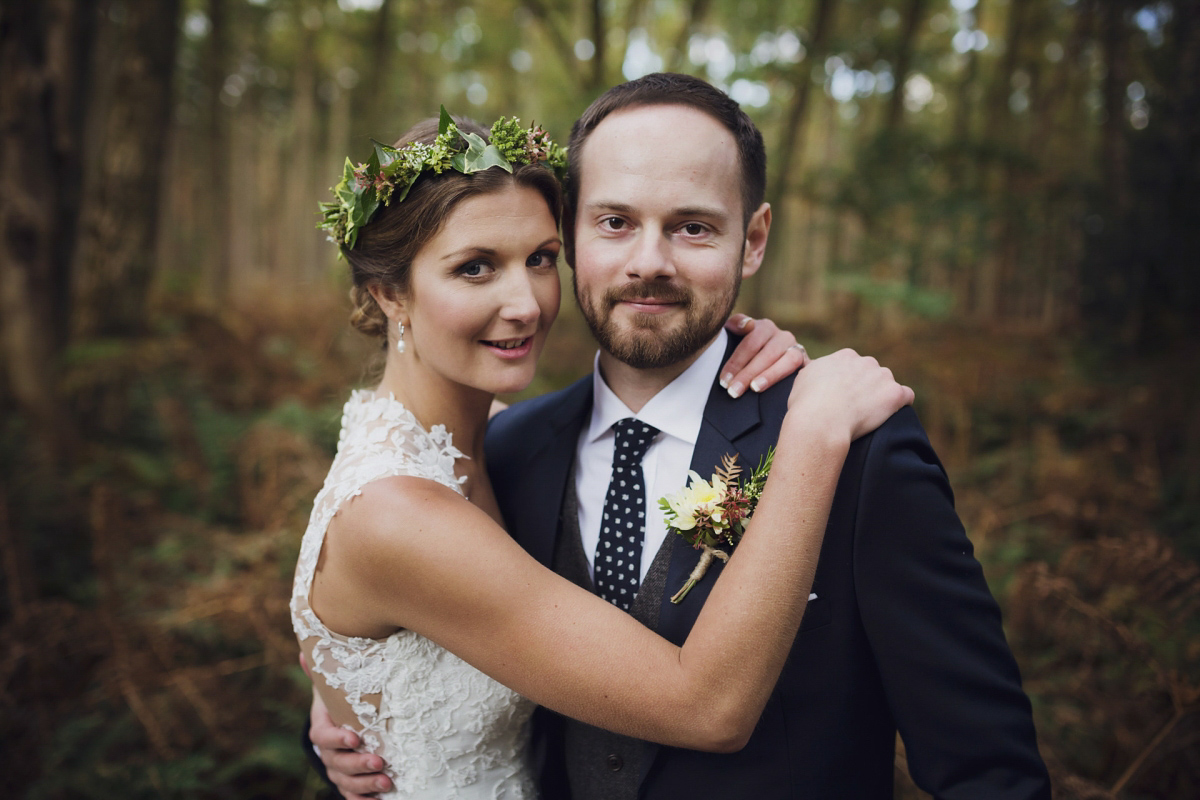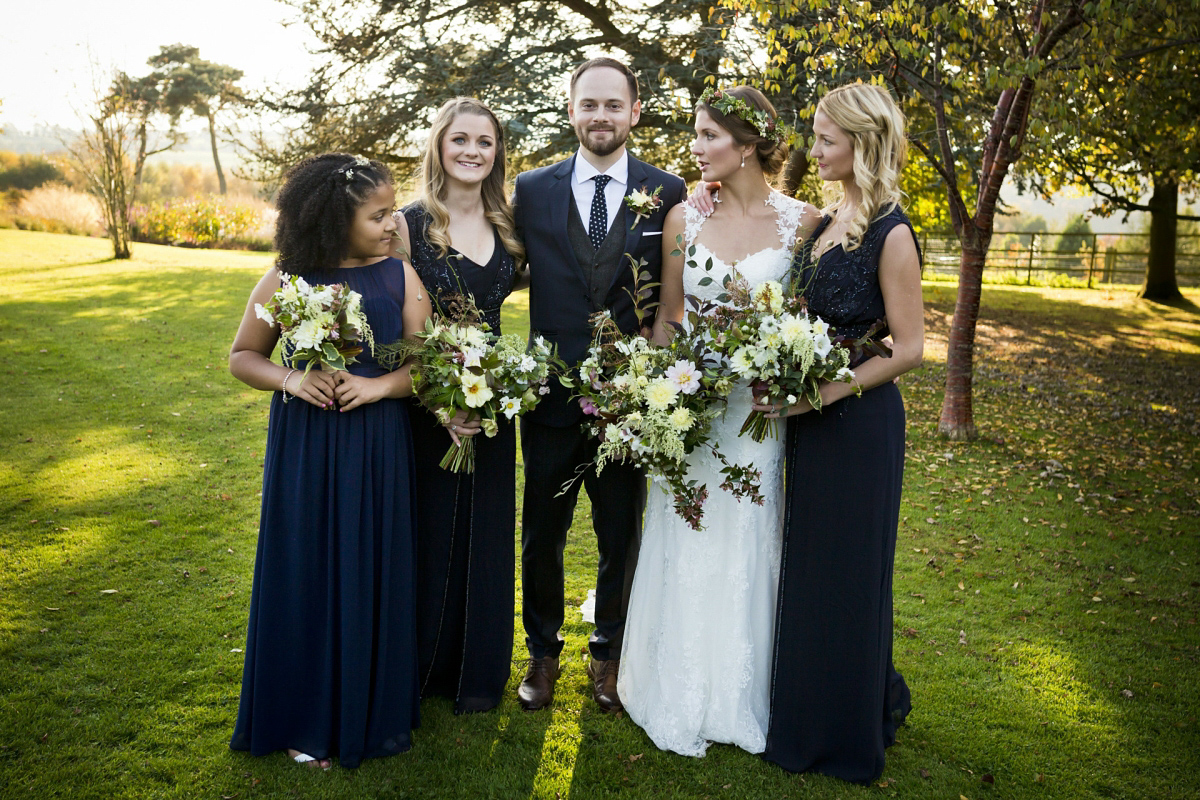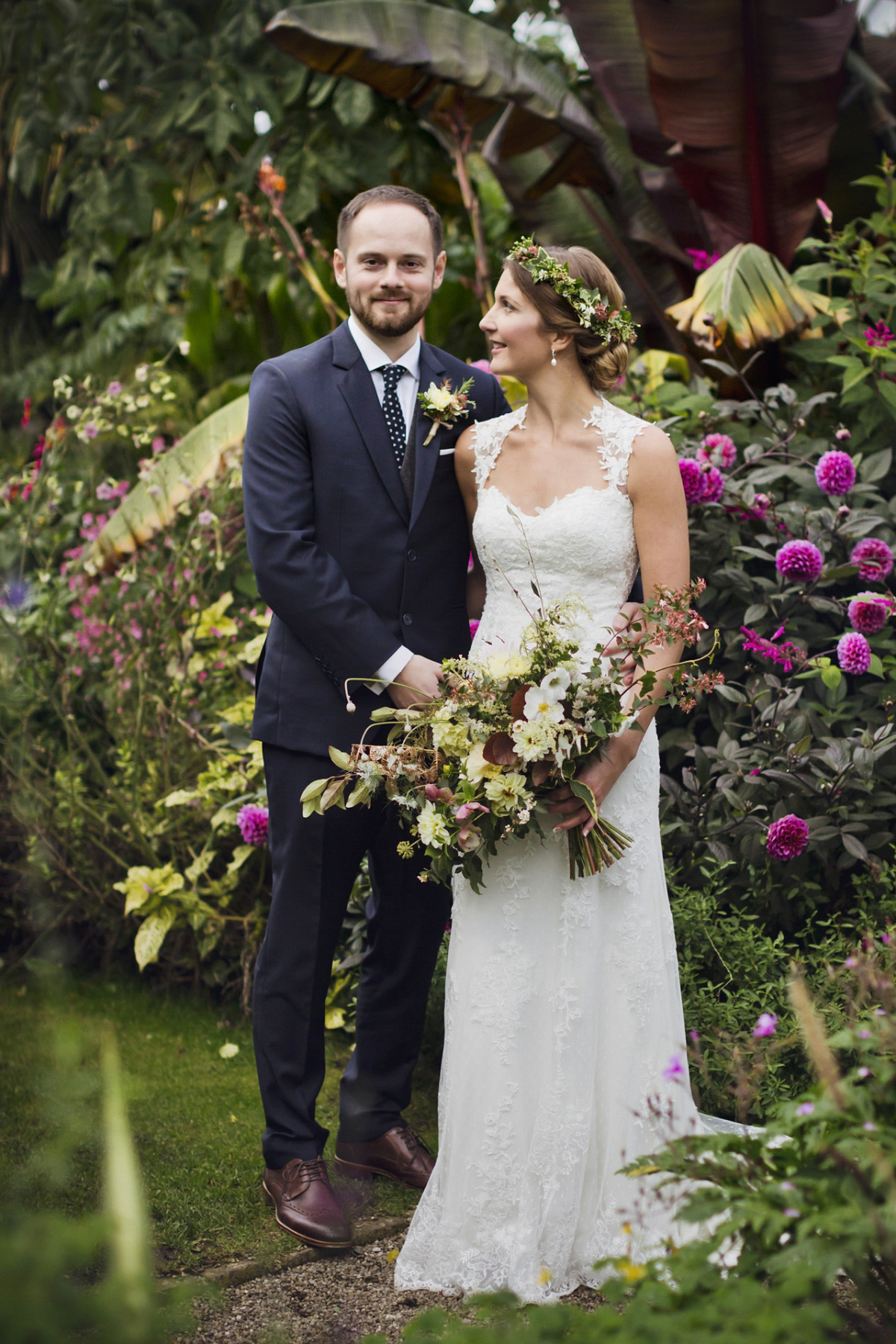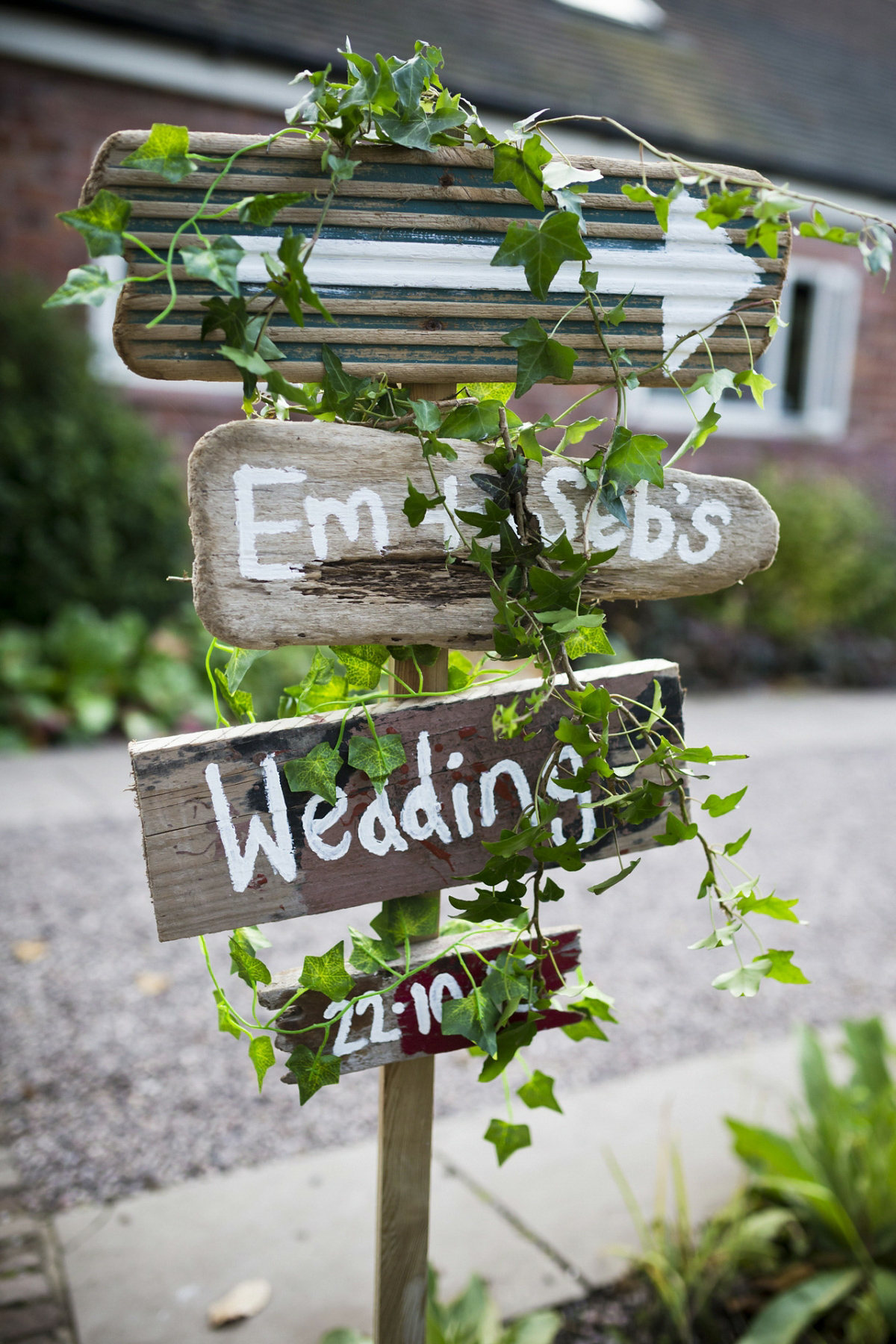 Abbeywood Estate was transformed into a whimsical Elvish paradise for the newlywed's reception, an abundance of ivy and scattered driftwood creating a pretty, natural atmosphere. Emily and Seb tied in his love for Manchester United by naming their tables after his favourite footballing legends. I so love this combination of their styles and personalities, so sweetly honest and reflective of them both.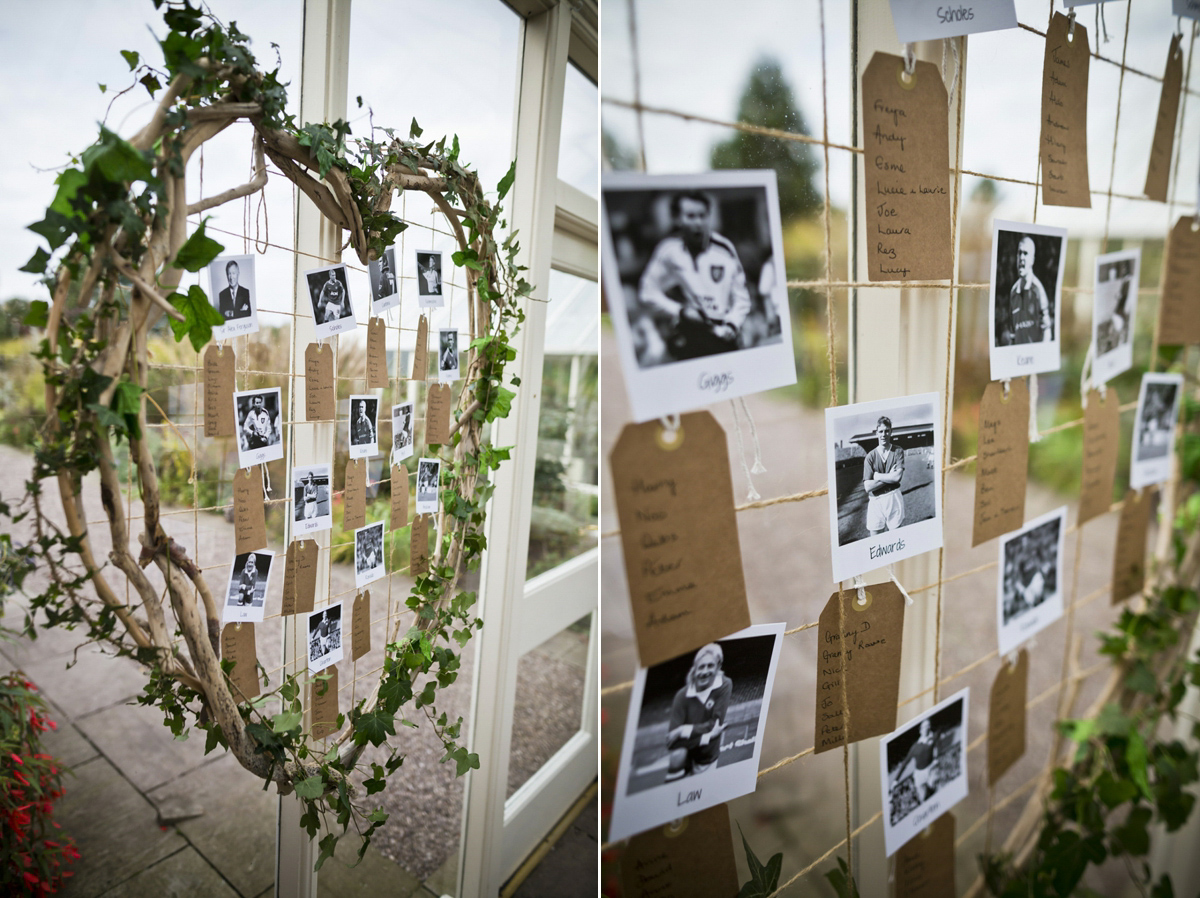 "Our wedding breakfast was all catered by Abbeywood and was totally stunning. However, instead of canapes before the breakfast, we used Love Pub Snacks and ordered several varieties of pork scratchings as well as nuts, scampi and bacon snacks to provide our guests with some tasty nibbles prior to the meal."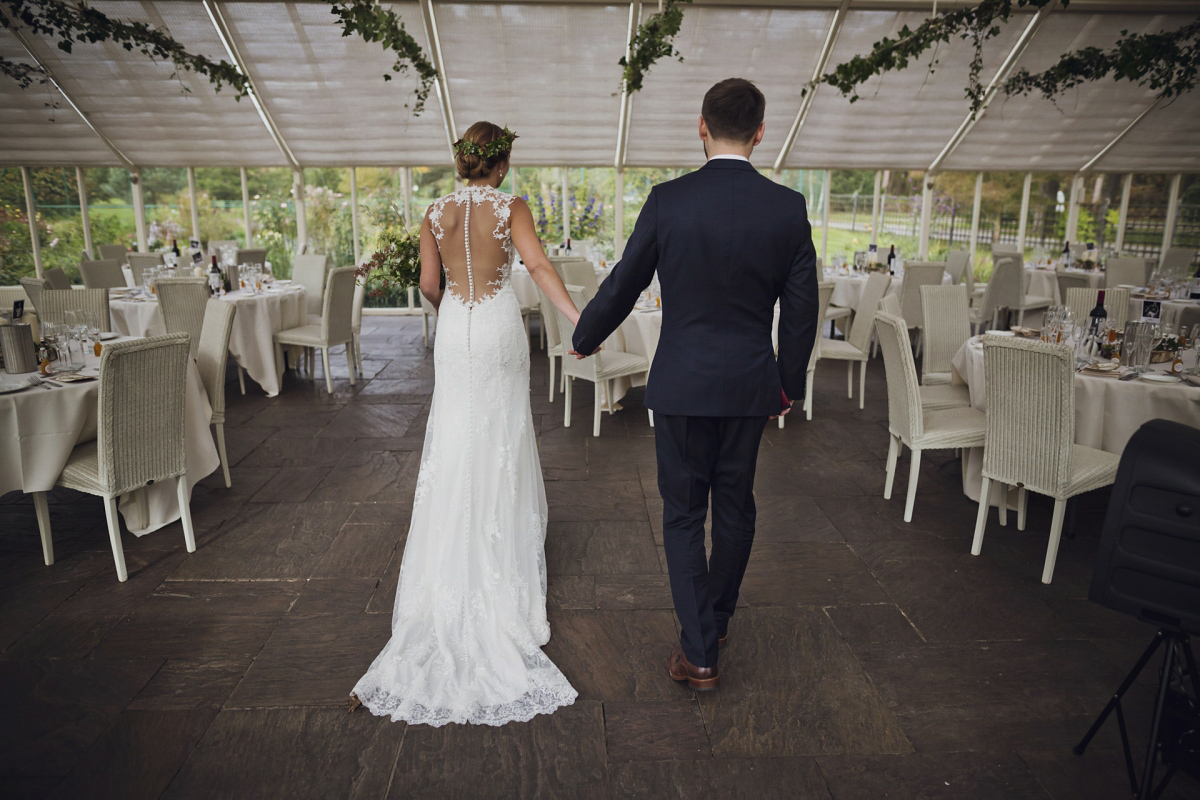 "Seb and I have a shared love of pork scratchings and really enjoy an afternoon down the pub munching on snacks, so this was a way of bringing in some of our personality as a couple to the wedding. We covered the snack table with polaroid pictures of us eating food just to reinforce the fact that we love food in case anyone has missed that about us!"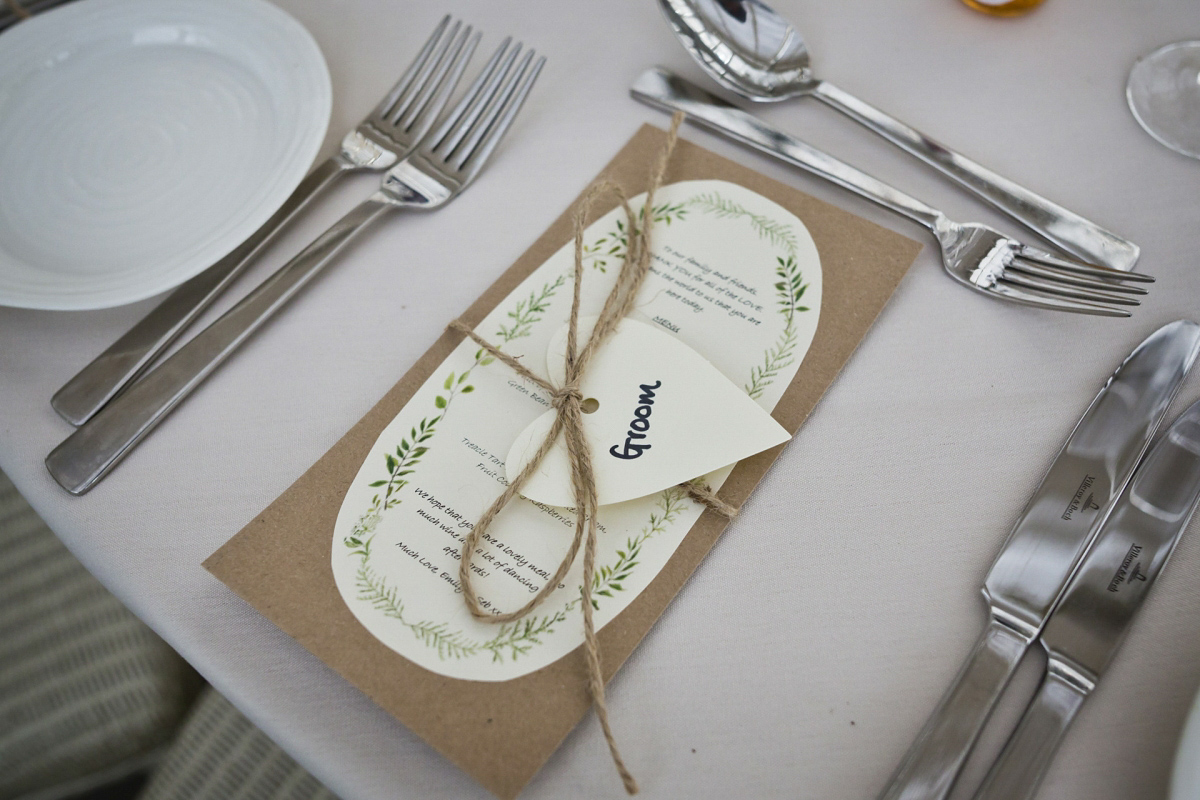 "When we got engaged my parent's apple tree was in full bloom so we immediately collected apples from their garden and made a homemade apple vodka, which we left in kilner jars for months. It was as simple as chopping apples and adding them to vodka with a load of sugar and cinnamon, there are lots of recipes online. Vistaprint make little stickers that allowed us to label the bottles with the same ivy design that we used for invites and menus. I made the menus by hand with some brown card, brown string, heart shaped labels and lots of help from my Mum. These materials were all bought from Hobbycraft."
The groom's very talented mum whipped up a four-tiered sponge creation, each layer uniquely flavoured with rose, vanilla, lemon drizzle and orange sorbet, topped with a smattering of fresh blooms. If this scrumptious cake tasted even half as incredible as it sounds, I'm sure it didn't last long before guests took to the dance floor to boogie the night away to band, Friends of the Bride.
"Friends of the Bride were bloody fantastic, we highly recommend them! Our dance floor in the evening was a crazy crazy place – the photos speak for themselves. They played George Ezra's 'Budapest' live for us. It's a special song as it was played a lot on the radio the first year we were together and just makes us both think back to the months we fell in love."
Words of Wedded Wisdom
"There are a lot of things other people expect from a wedding and you will hear a lot of, 'you're supposed to…' and 'weddings should…' but try to not feel pressured out of your own ideas and into other people's. It's your day and it turns out that some of the different things you do are what makes it so unique and special.
I really wanted to be totally present during the ceremony and not freaking out. To avoid the adrenalin kick that could transport me to another world, I avoided alcohol and tea and coffee before the ceremony. I felt totally calm and able to enjoy every second of the ceremony as a result – and as an added bonus I wasn't desperate for the loo at all, which is always a worry in church services!"
That just leaves me to say a huge thank you to Emily, Seb and Mark Tattersall Photography for sharing this whimsical, magical day with us. I'll be prancing round my flat pretending to be Arwen in my floatiest dress if anyone needs me, and immediately rewatching all of the Lord of the Rings films.
With love, Em x