Happy Sunday ladies, I hope you're all well. As you're reading this, I'll be 'enjoying' the consequences of my hen do and probably praying I don't have anything obscene drawn on me in permanent marker. Let's move on to more pleasant thoughts, and delve right into the sunny, bohemian union of Marisa and Maciek, who wed on 17th June last year just outside Valencia. Marisa works as a civil servant in a laboratory, specialising in environmental health, while her beau, Maciek, works in sales. Their day was a beautiful countryside celebration focused on delicious food, fun and friends, combining their Spanish and Polish heritage.
Marisa chose a simply stunning gown from Jesús Peiró, which she bought from their store in Valencia. Now to say we're Jesús Peiró fangirls here at Love My Dress might be a smidge of an understatement. Clean lines, beautiful craftsmanship and contemporary, elegant creations are just a few of the myriad reasons we are so proud to support this Spanish designer through our carefully curated directory, Little Book for Brides. You can explore more of these gorgeous gowns through our Style Files – super high quality, couture standard beauties that are somehow both timeless and trend-setting.
"My Jesús Peiró gown was the first dress I tried. I had in my mind a more bohemian dress from the likes of Laure de Sagazan, but then I went to Madrid and visited some bridal boutiques and when I came back, I tried on the dress again. I just knew it was my dress. I loved the material, the neckline, the back…The style was elegant and smart, like something you see at the Oscars."
Photography by Joasis Photography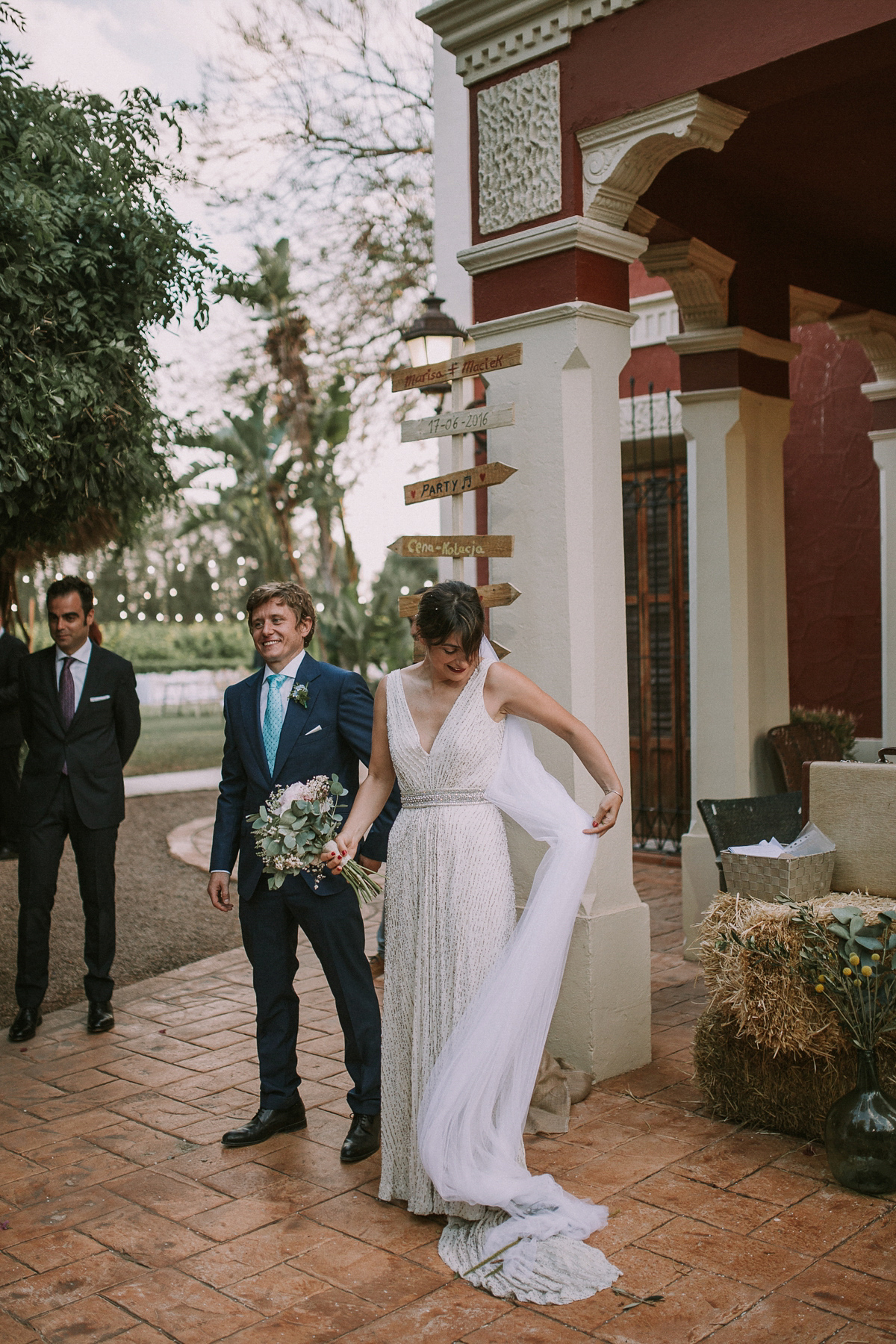 "We wanted a countryside, bohemian style wedding in the beautiful outdoors, with long wooden tables. We held our wedding in Picanya, a small village outside Valencia, Spain, in an old colonial style house called Huerto Barral Boluda surrounded by orange trees. We went there for the wedding of our good friends and fell in love with the place, the food and the staff."
"I designed my own stationery including invitations and menu cards; I bought the vector graphic and I used Photoshop to create them. I also made thank you tags with a custom wedding stamp on craft paper. We gave little present to all our guests – personalised candles with our wedding details on for girls and little honey vodka bottles for boys."
"Maciek and I met in London seven years before the wedding, when I lived there for a few months. The beginning of our relationship was long distance, as I came back to Valencia to start my job as a civil servant. After a year, we knew we had to make a decision about the future."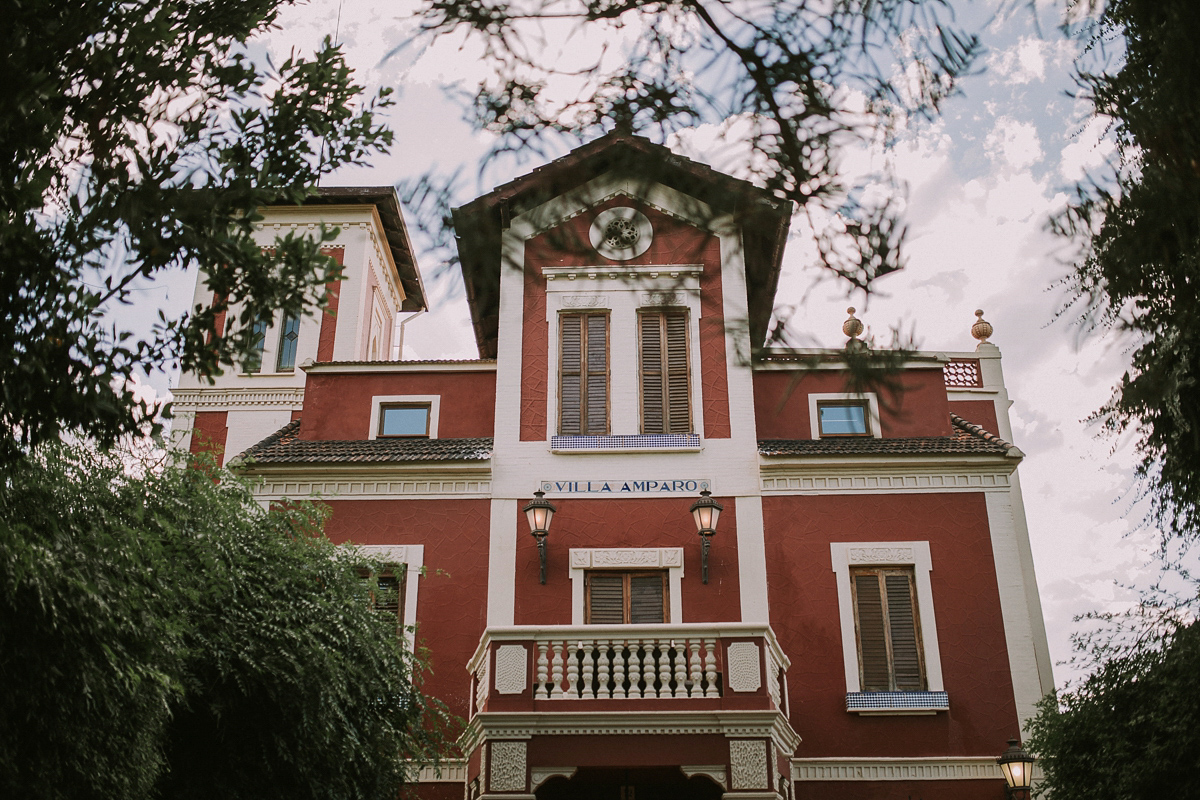 "In March 2011, Maciek left his life in London and came to Valencia and we moved in together. It was difficult at the beginning because of the language barrier and because we didn't know each other that well; we skipped the dating part really."
"It all worked out great and not only is Maciek now fluent in Spanish, I can speak Polish too."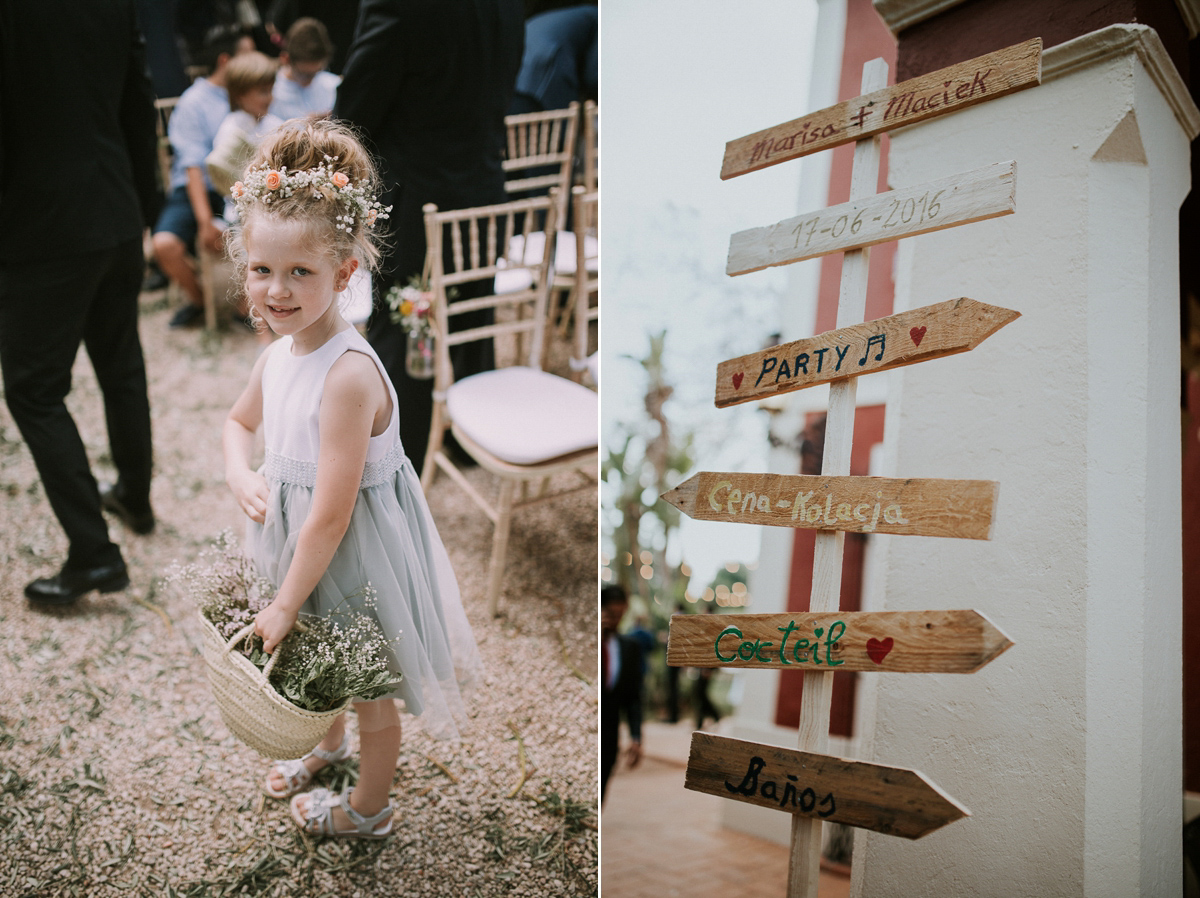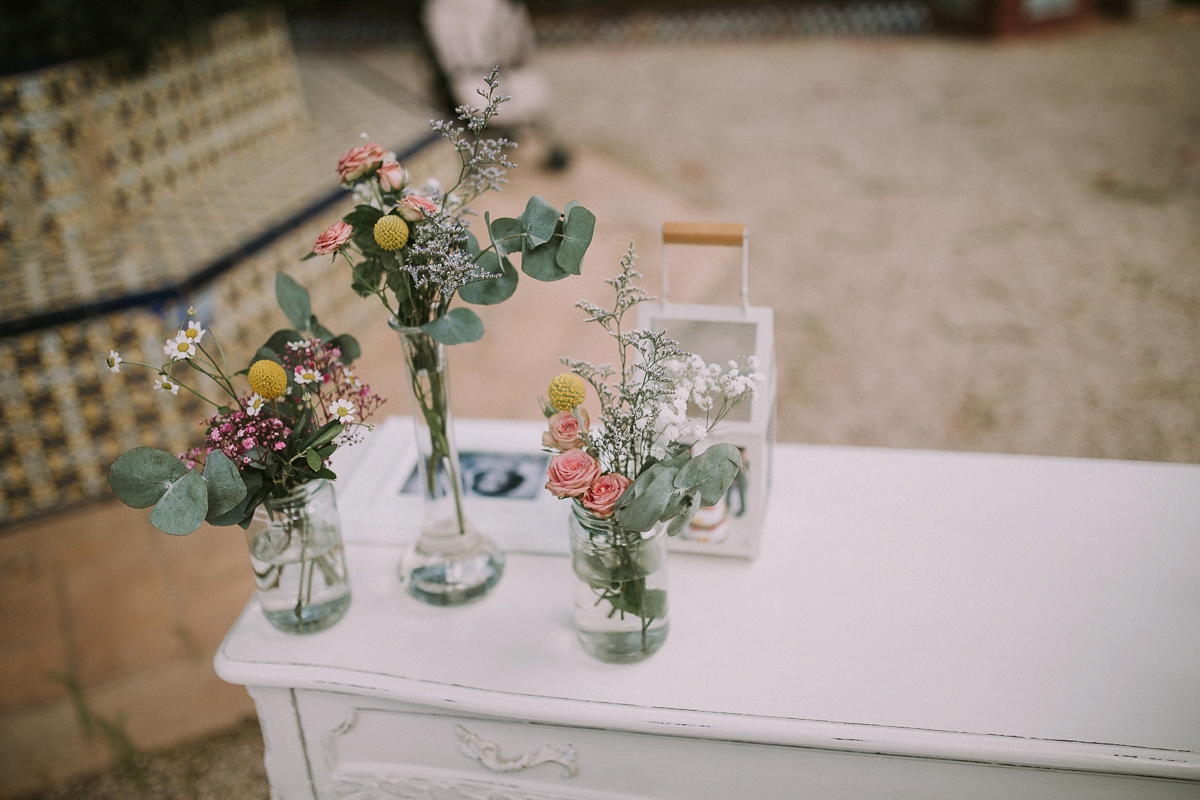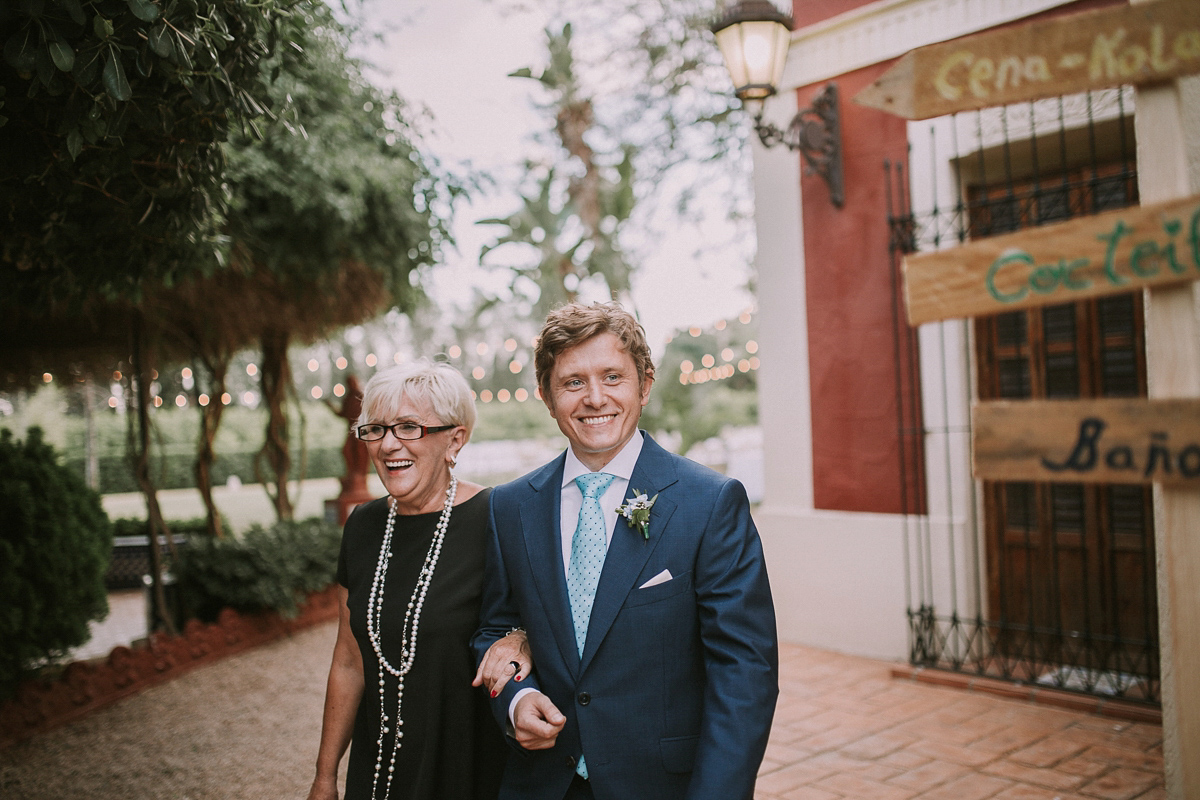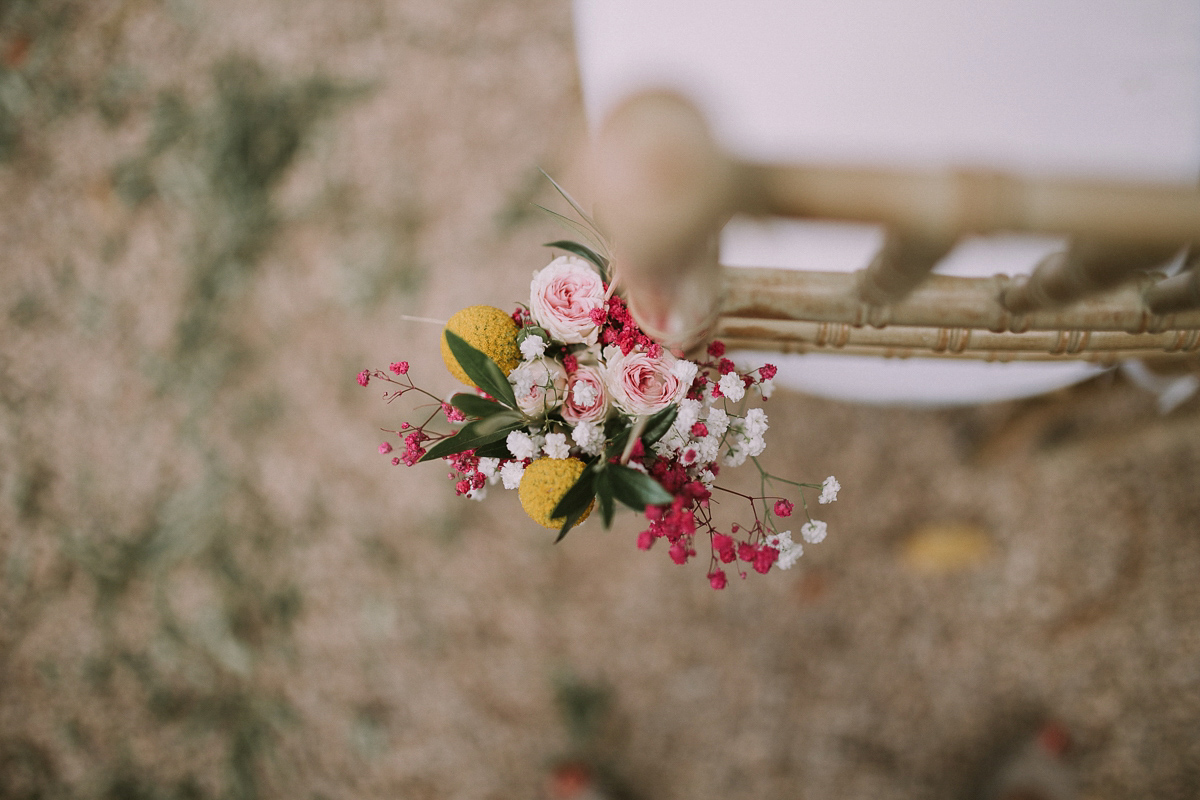 Dresses for the sweet flower girls and shirts and trousers for the little boys were purchased from Teresa & Leticia in Madrid. How sweet is the flower crown that Marisa made for one of her gorgeous mini maids? Maciek wore a suit, shirt and socks from Massimo Dutti and shoes purchased at El Corte Inglis.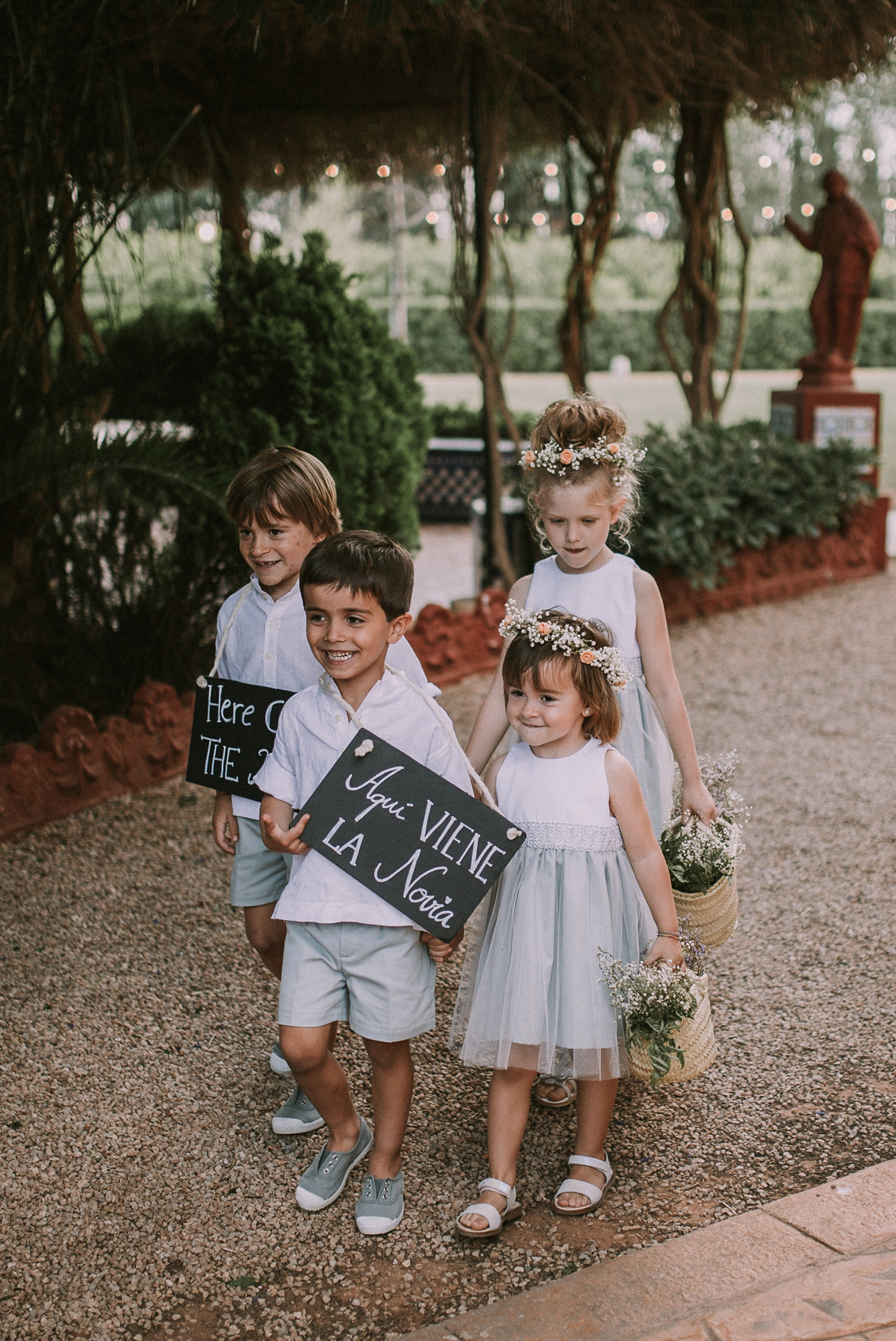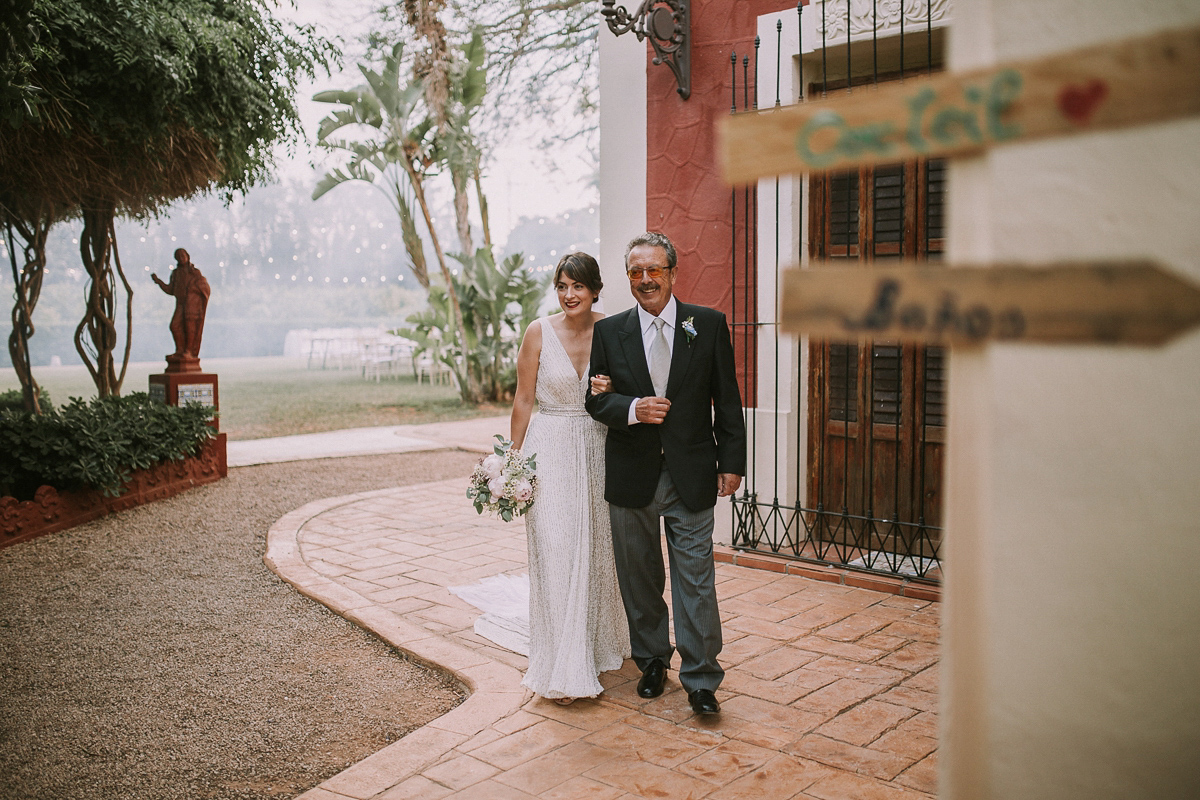 Marisa walked down the outdoor aisle with her father to I Can't Help Falling in Love by Elvis Presley, while Maciek made his entrance to the ceremony to Highway to Hell  by ACDC.
"My favourite and most emotional moment was when I entered the ceremony and walked down the aisle with my father – everybody I love was there, happy, with us."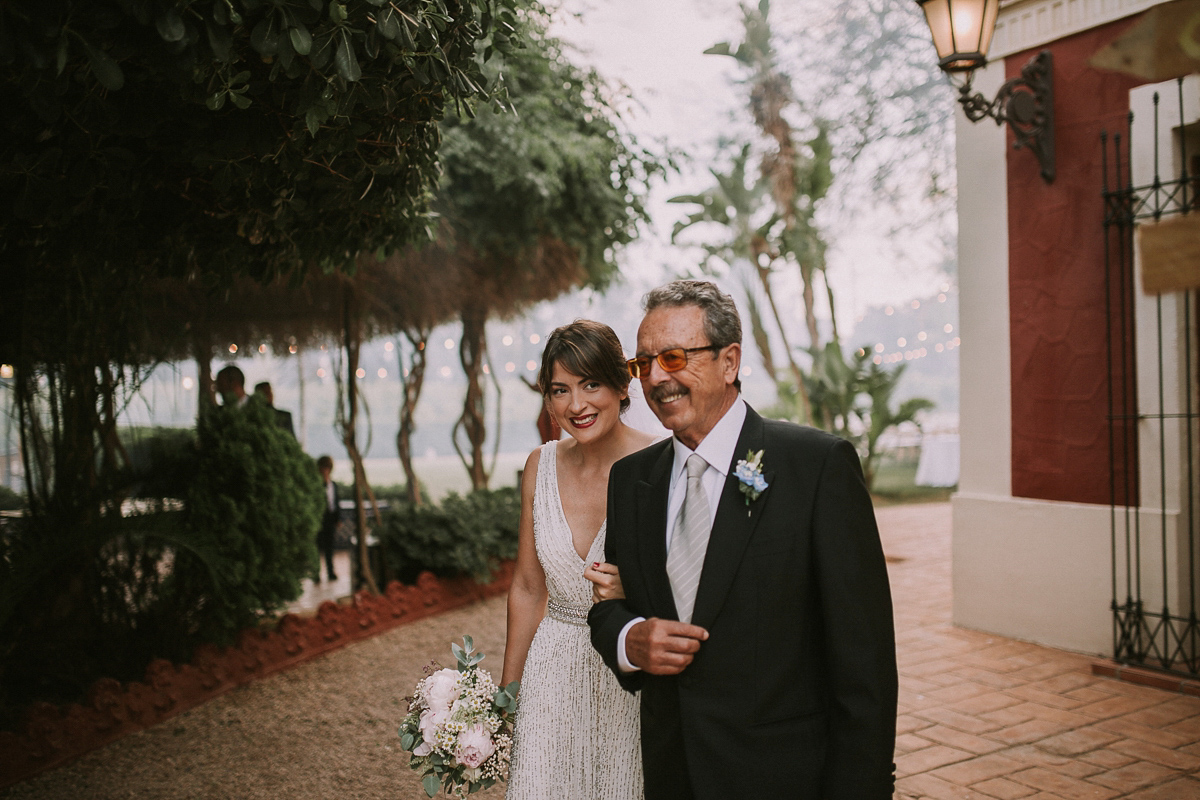 "We had very emotional readings from my family and best friends; my sister, my nephew, my best friend Quique, Maciek's sister, Maciek's mother and his best friend, Rafal. The readings were in the form of personal speeches from each person that they wrote themselves. We had them translated into each of the three relevant languages of our guests, and included in the order of service."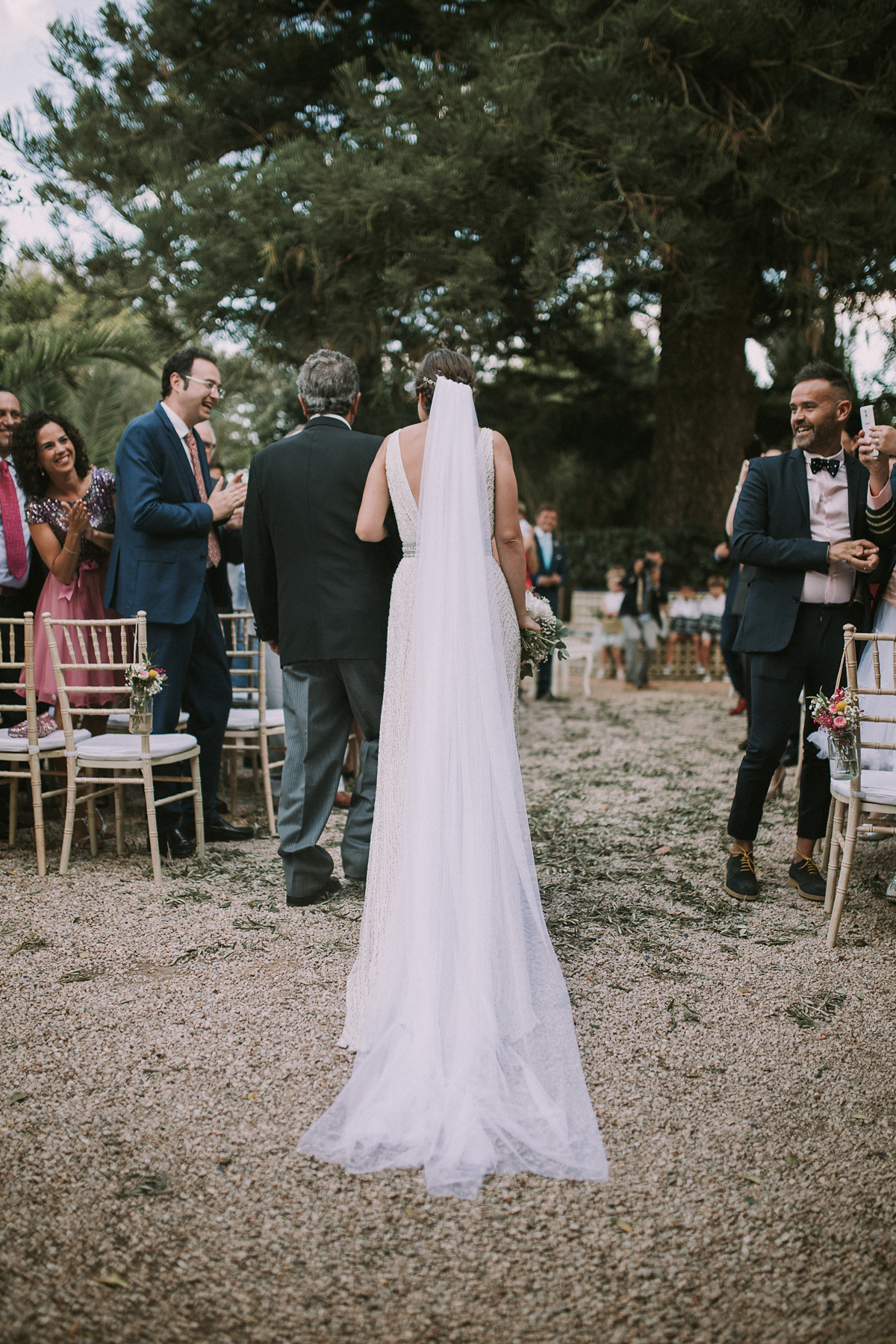 The couple exchanged rings purchased from a local shop, Little Brilliants, before beginning their evening of al fresco feasting with their loved ones. Catering was provided by Grupo el Alto, who have twenty years experience in the arena.
"Our wedding was a combination of two cultures, so we tried to reflect that. Our dinner was a three-course fine-dining meal, including traditional beetroot soup that is well known in Poland. During the cocktails, we offered a buffet of meats and canapés in the Spanish style. We also included vodka in our drinks, another Polish tradition."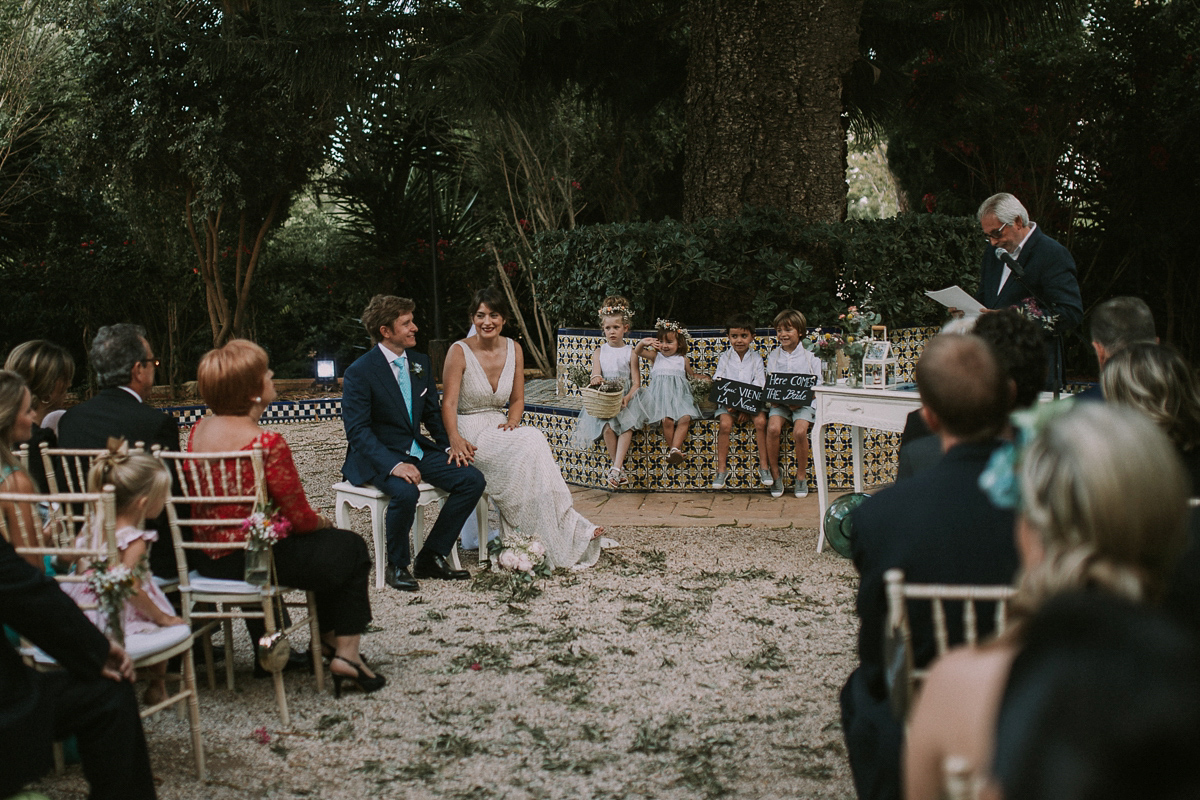 "Our wedding had 99 guests and included around ten people over the age of fifty. All the people were close friends and people we are in close contact with. Traditionally weddings include a number of relatives, cousins and friends of family that the couple doesn't necessarily want to invite, but feels the pressure to do so. We decided to make our wedding our own and above all, have fun."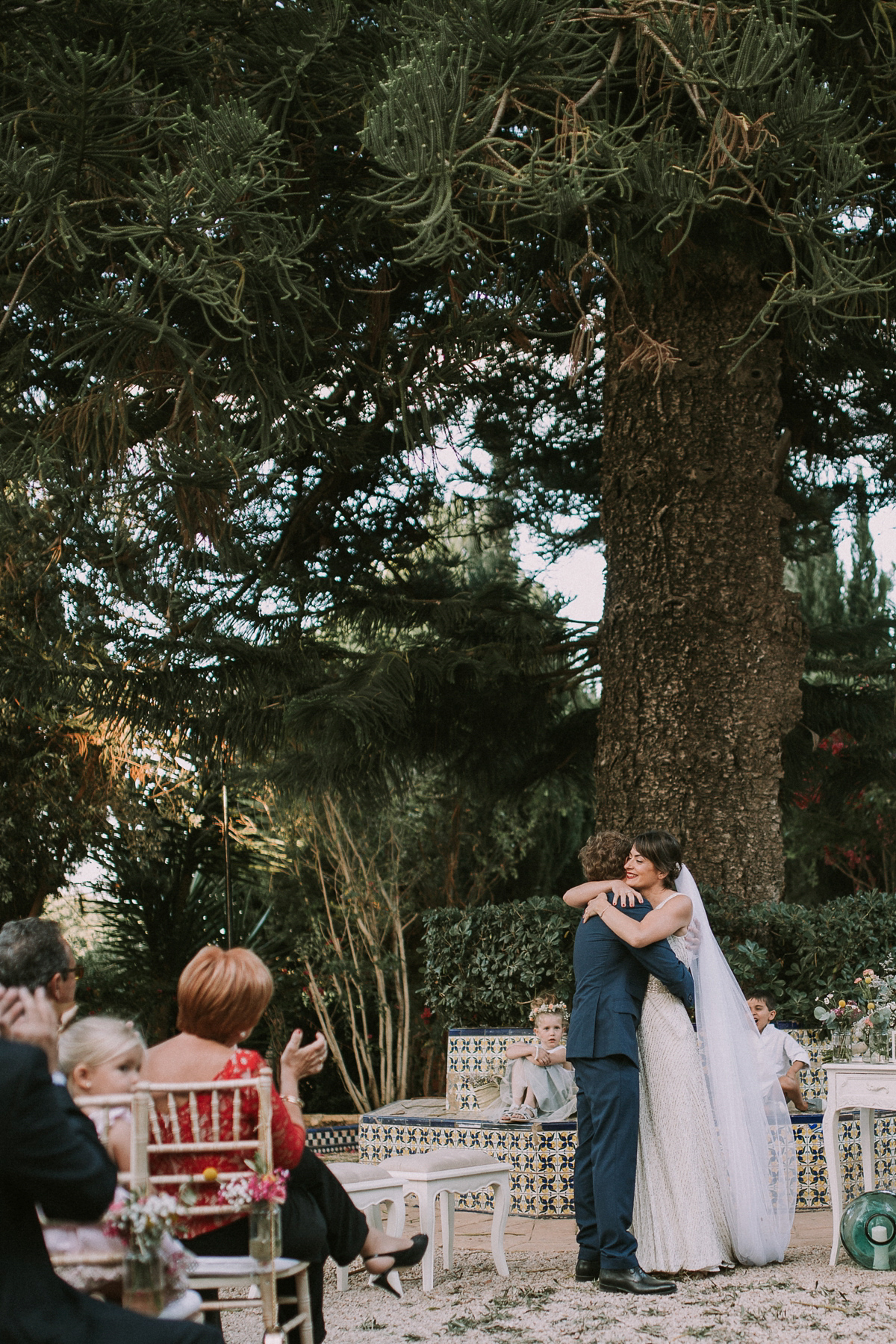 Marisa's relaxed up-do was created by Lorena from Centralia, who has been doing our bride's hair for as long as she can remember. Her glowing make-up was applied by Wina from MAC, I do so love that jewel-bright red lip.
"I bought three metres of soft tulle material and my dressmaker created the veil for me. My shoes were from Nichi Seijo and I actually secured two long earrings from Zara in my hair with hairpins. My bracelet and ring were from my grandmother and I wore small diamond earrings."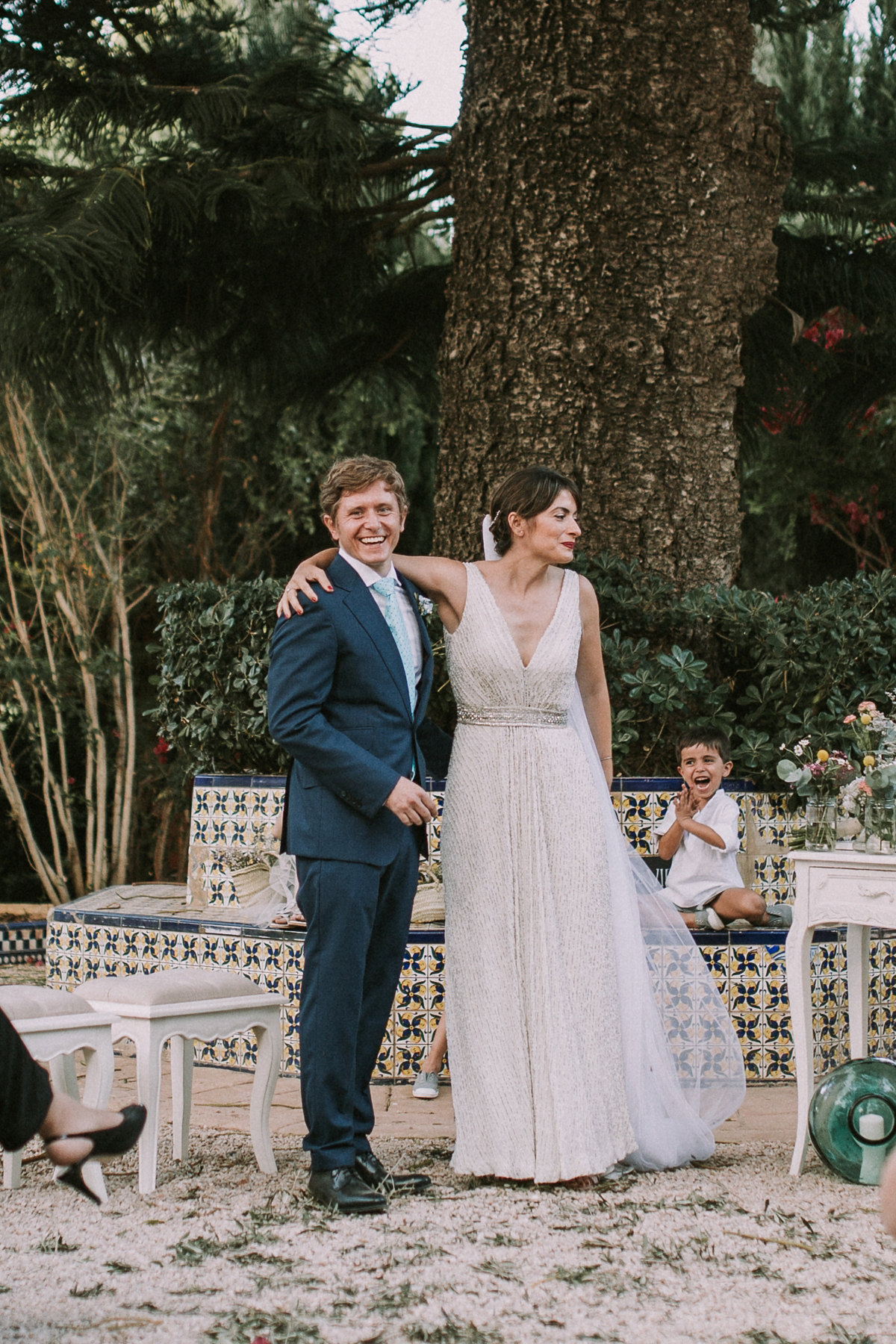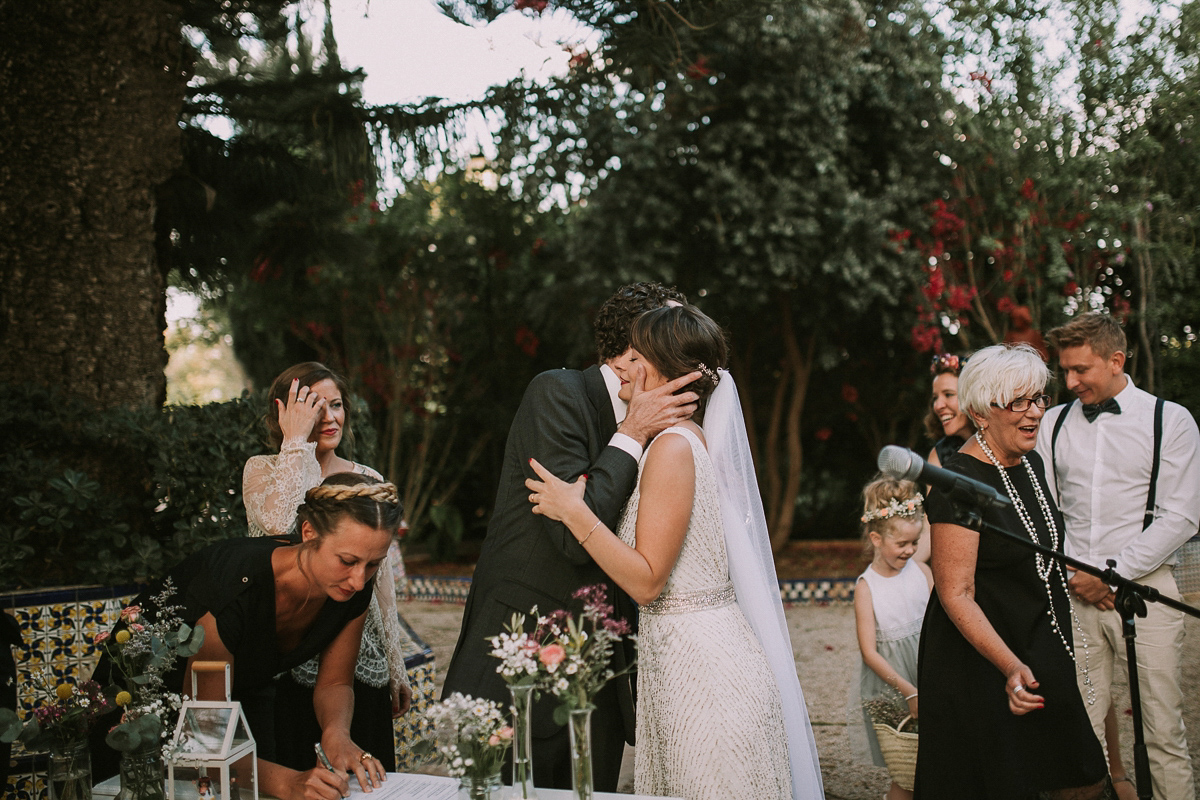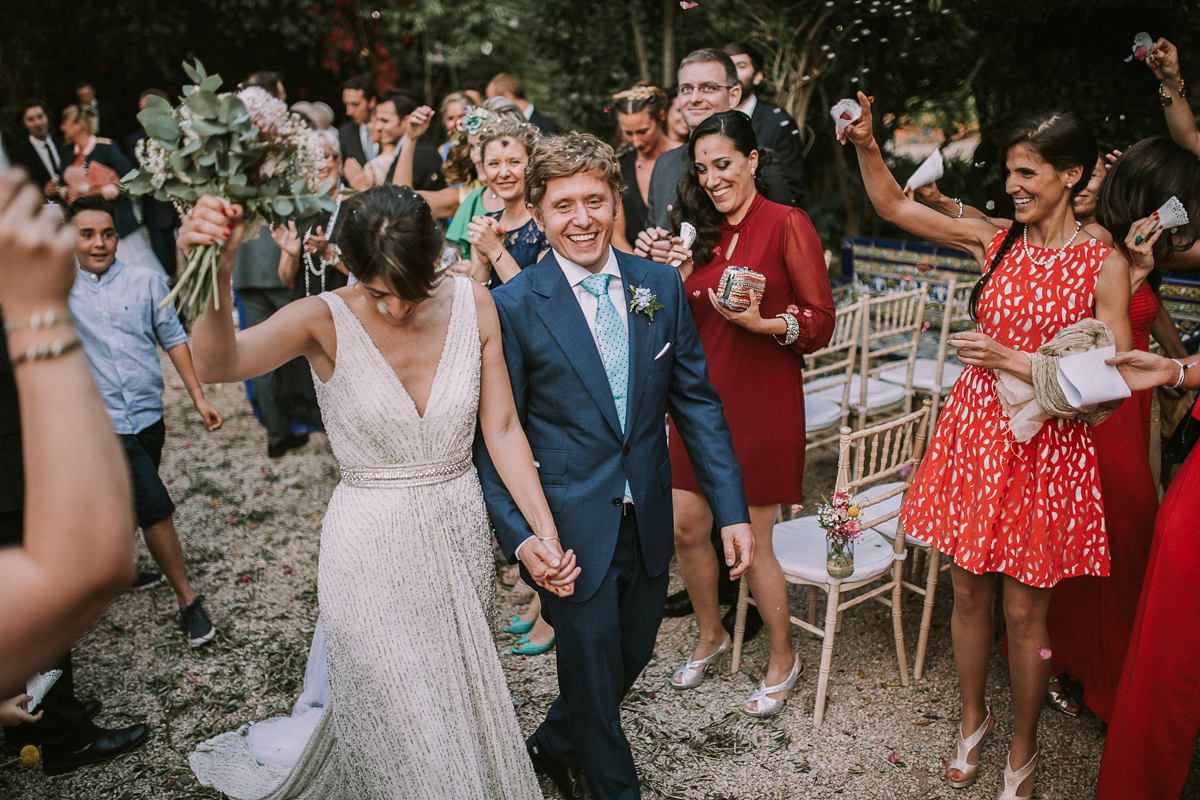 Marisa and Maciek are lucky enough to have two extremely talented photographers as friends, so there was no question that the wedding would be captured by anyone other than Nacho Alba and the exquisite Joasis Photography. We love the modern, artistic style of Jo's shots, and are immensely happy to support this talented artist through our Little Book for Brides.
"We invited two of our good friends who are amazing photographers to document our special day. It is so important to love your photographers' style and trust their vision. Besides the catering and the DJ, wedding photography was the most important thing for us. Don't be afraid to make an investment. Looking at our beautiful photos brings back all the memories of our special day all over again."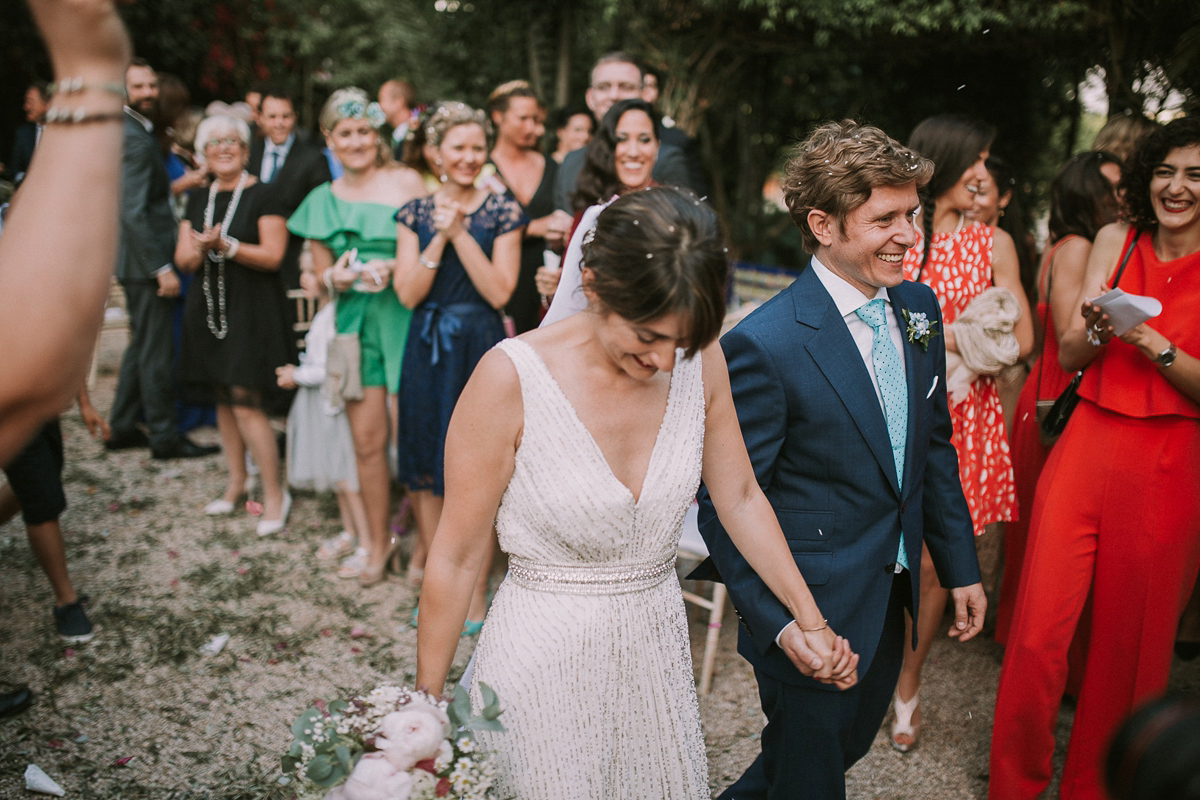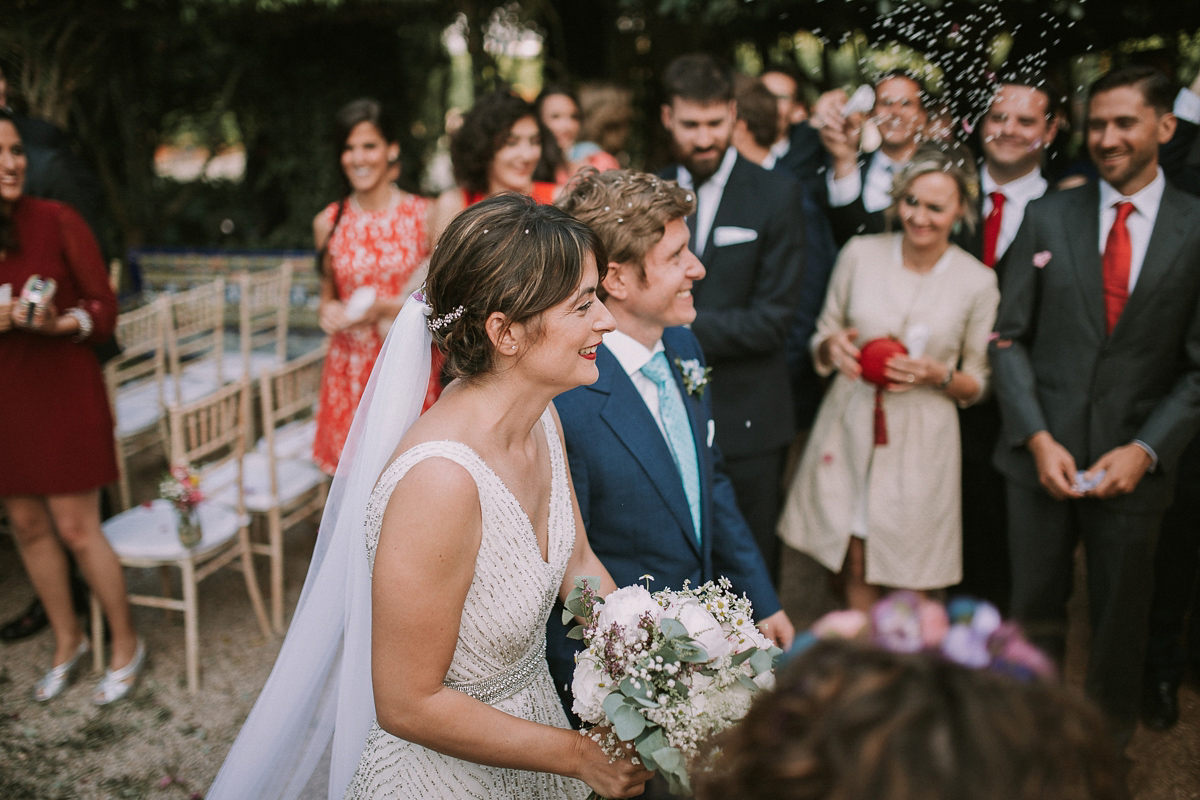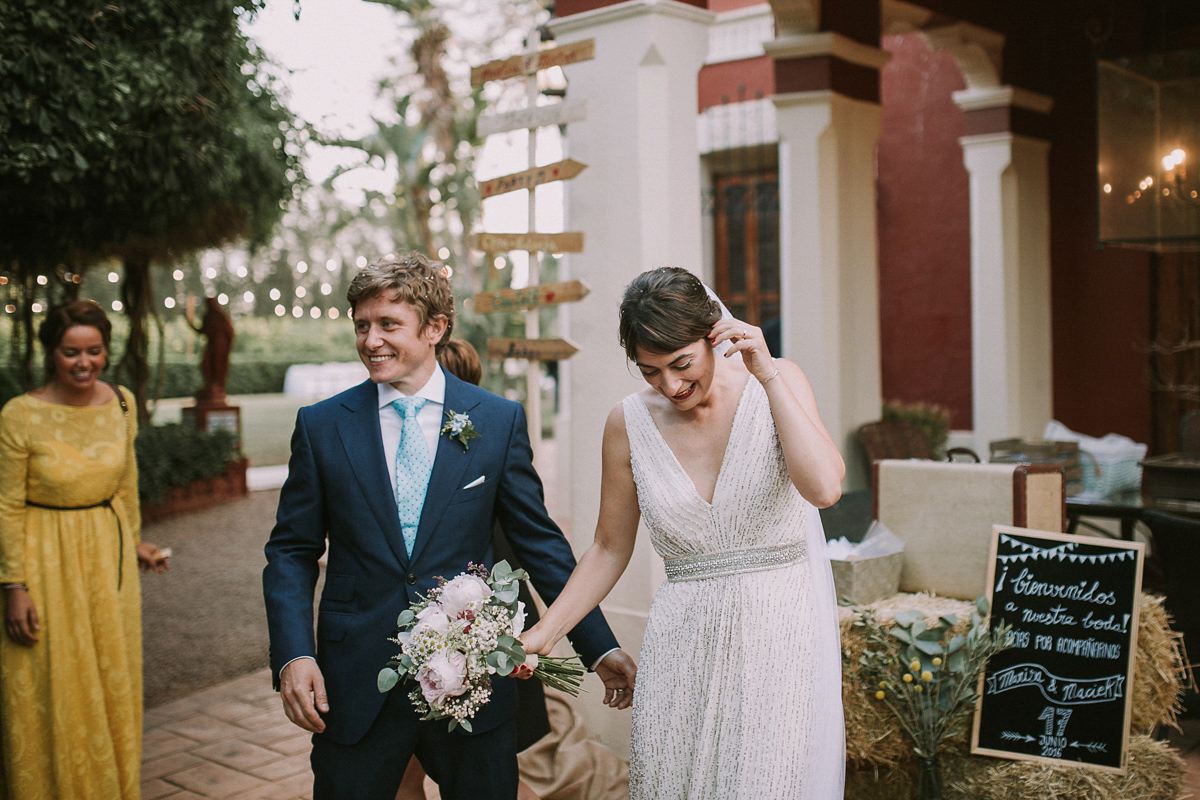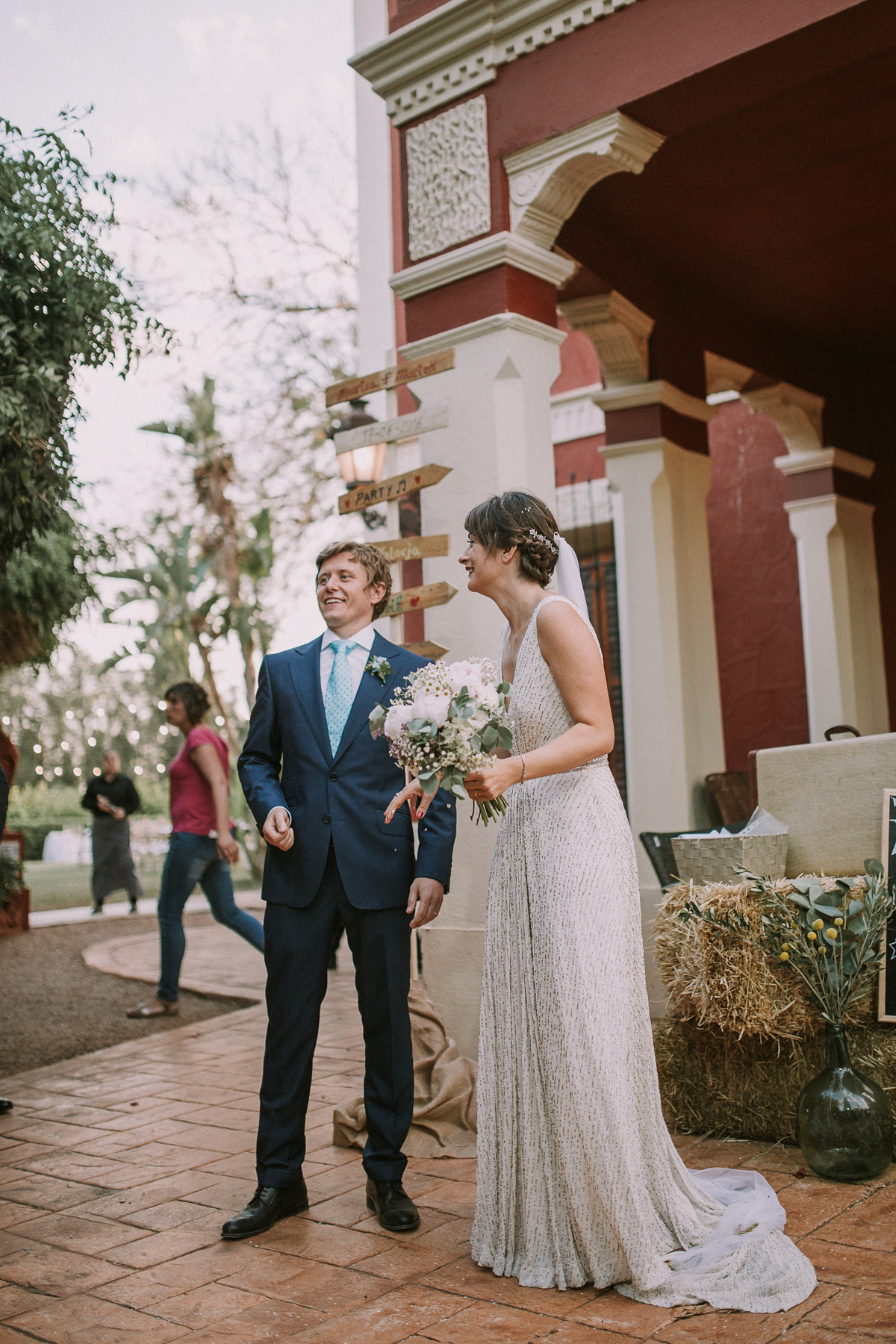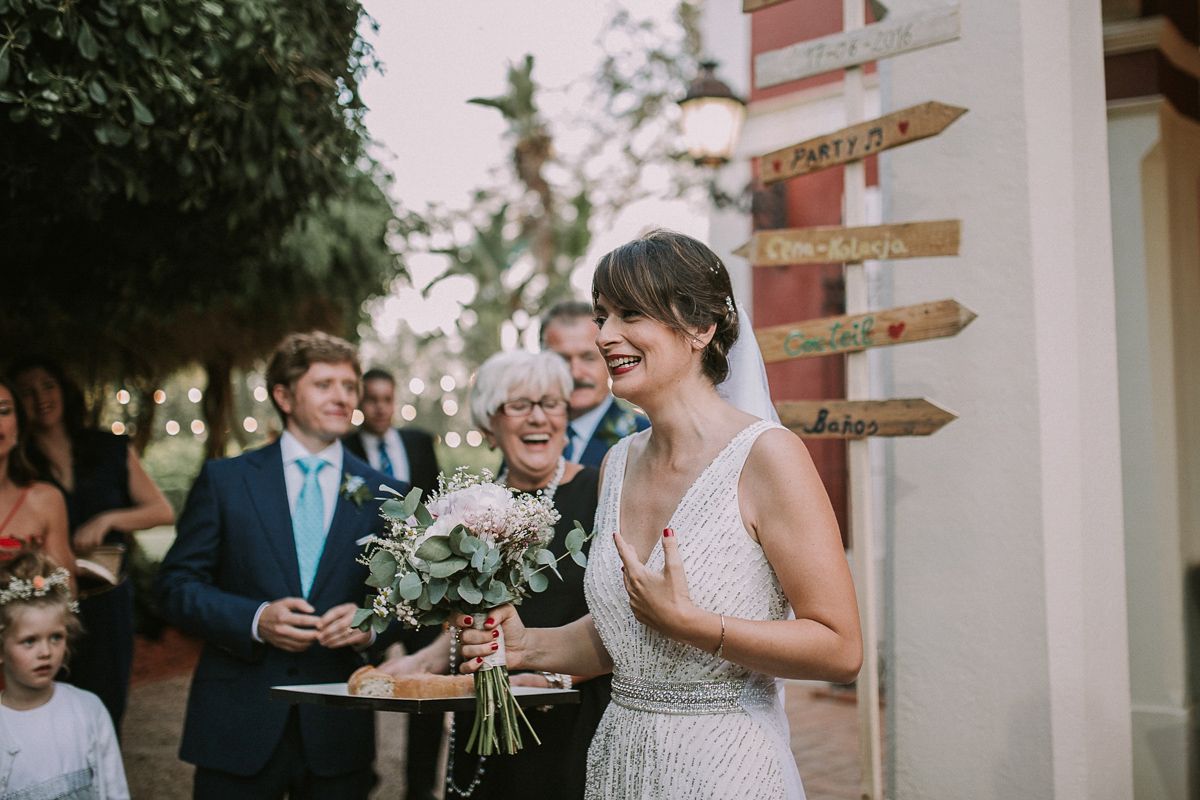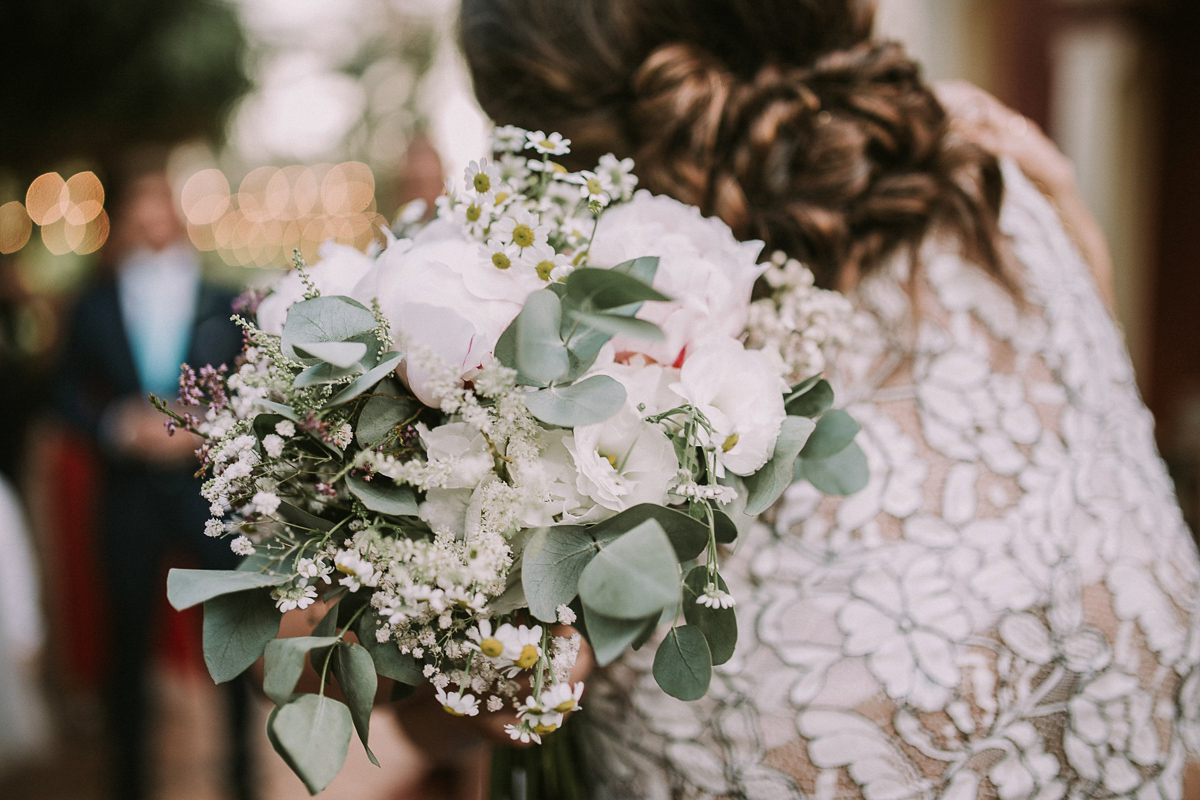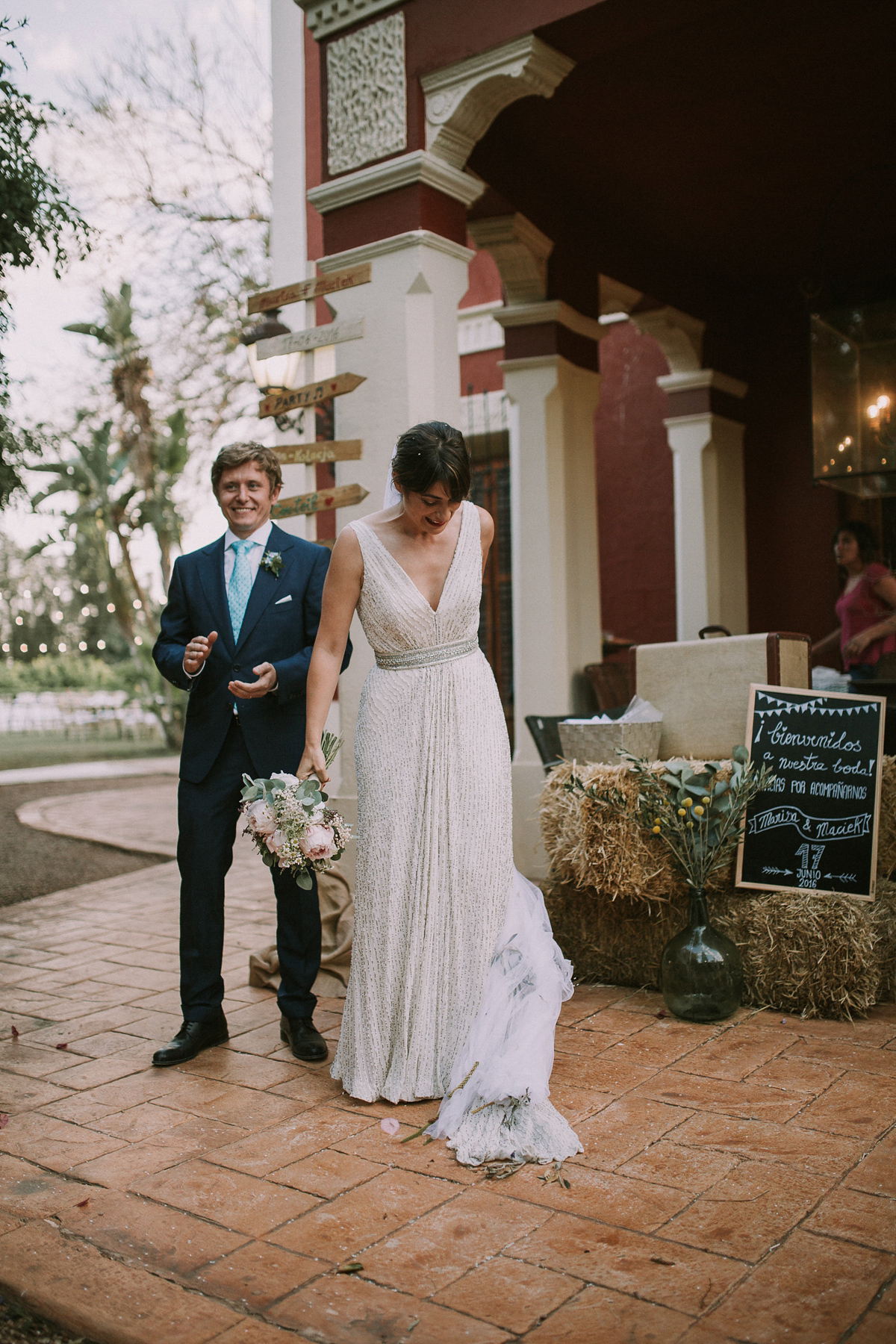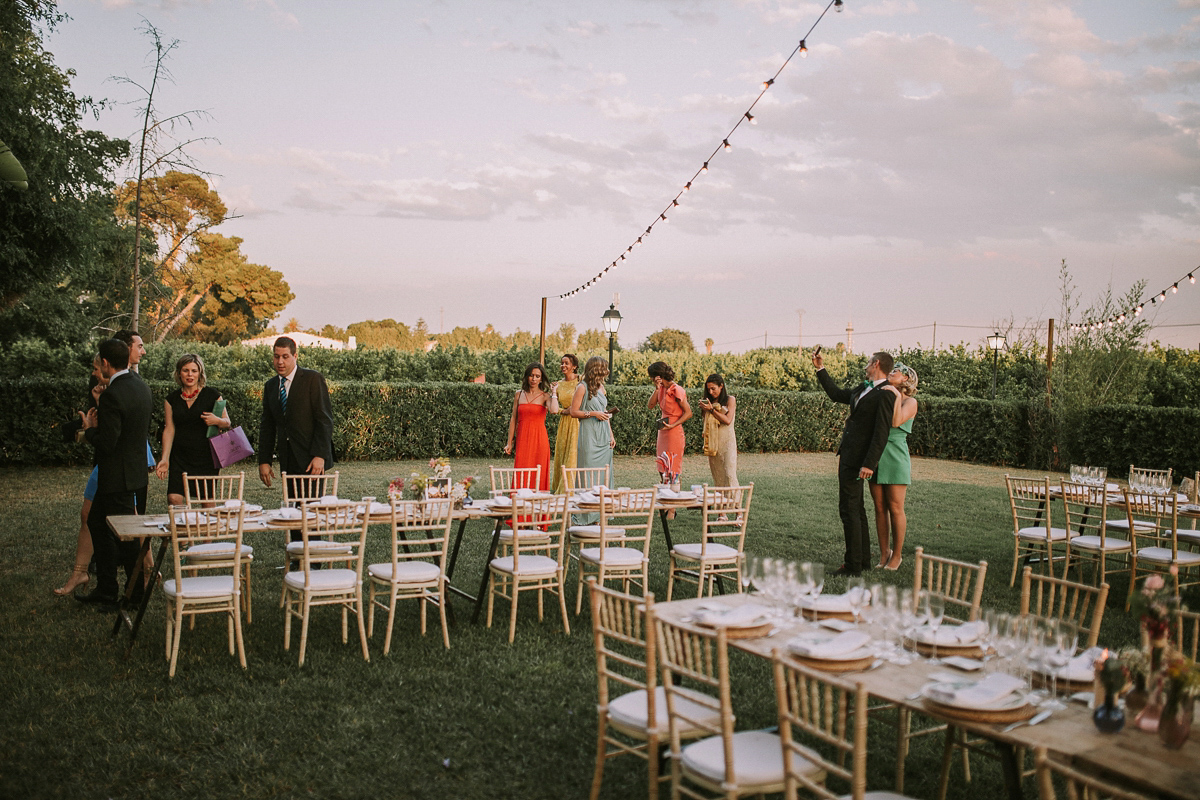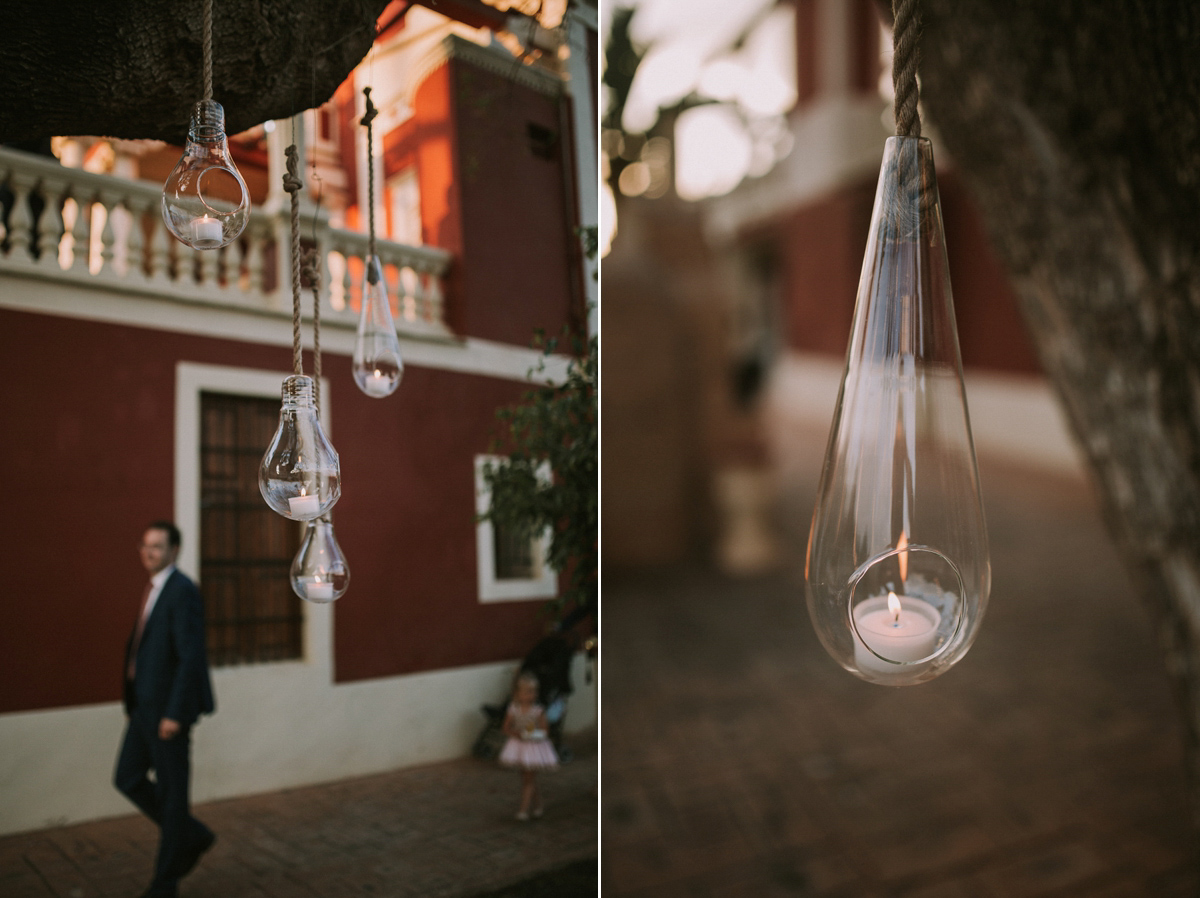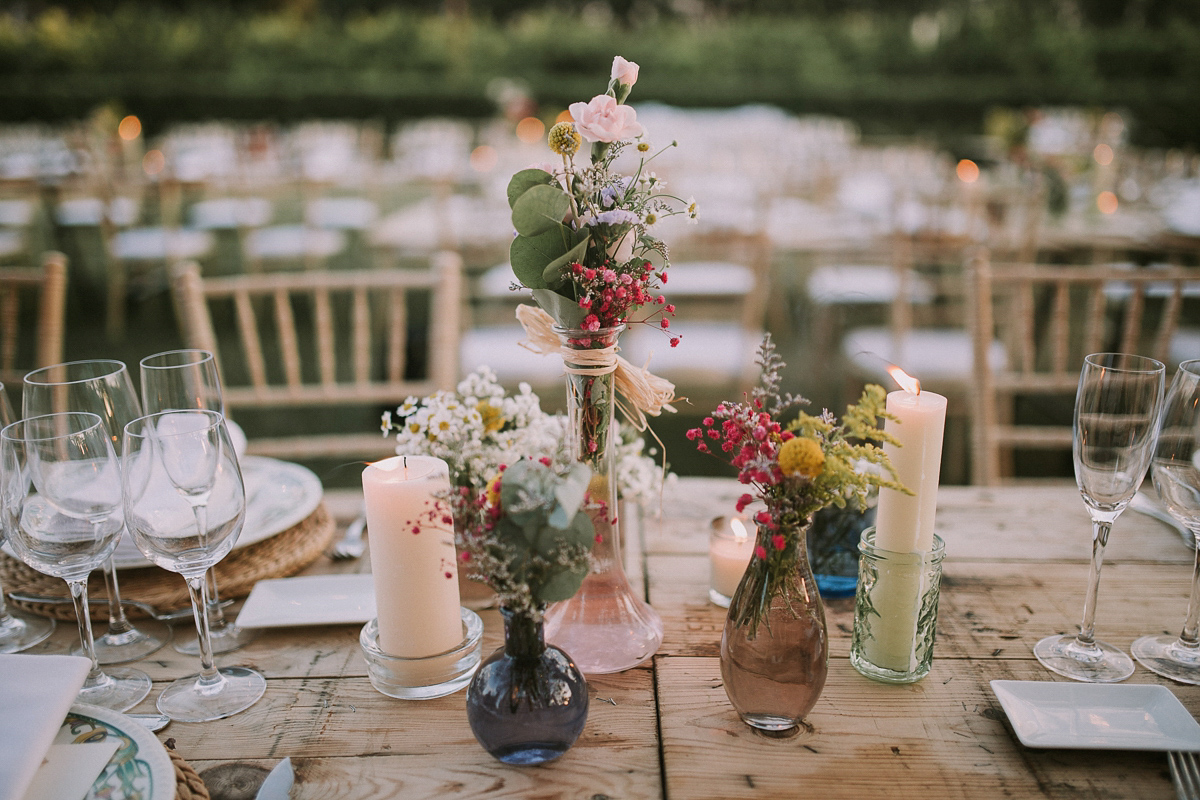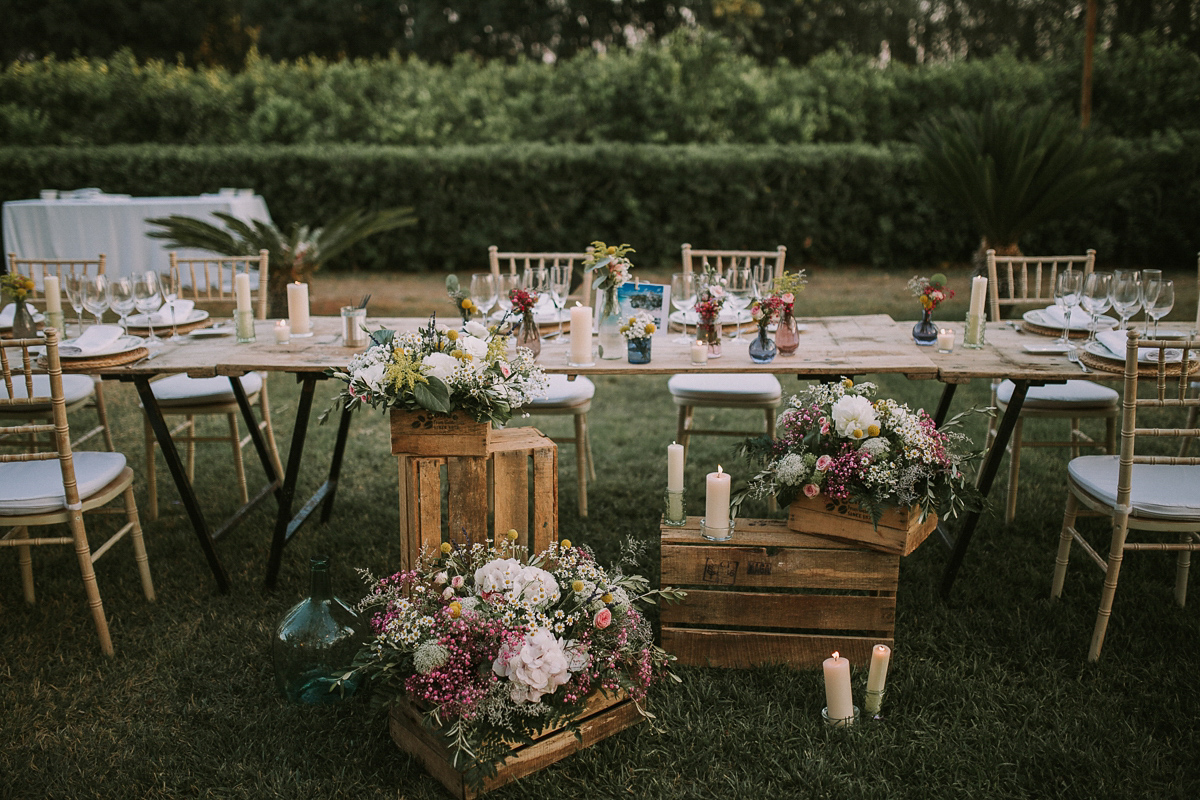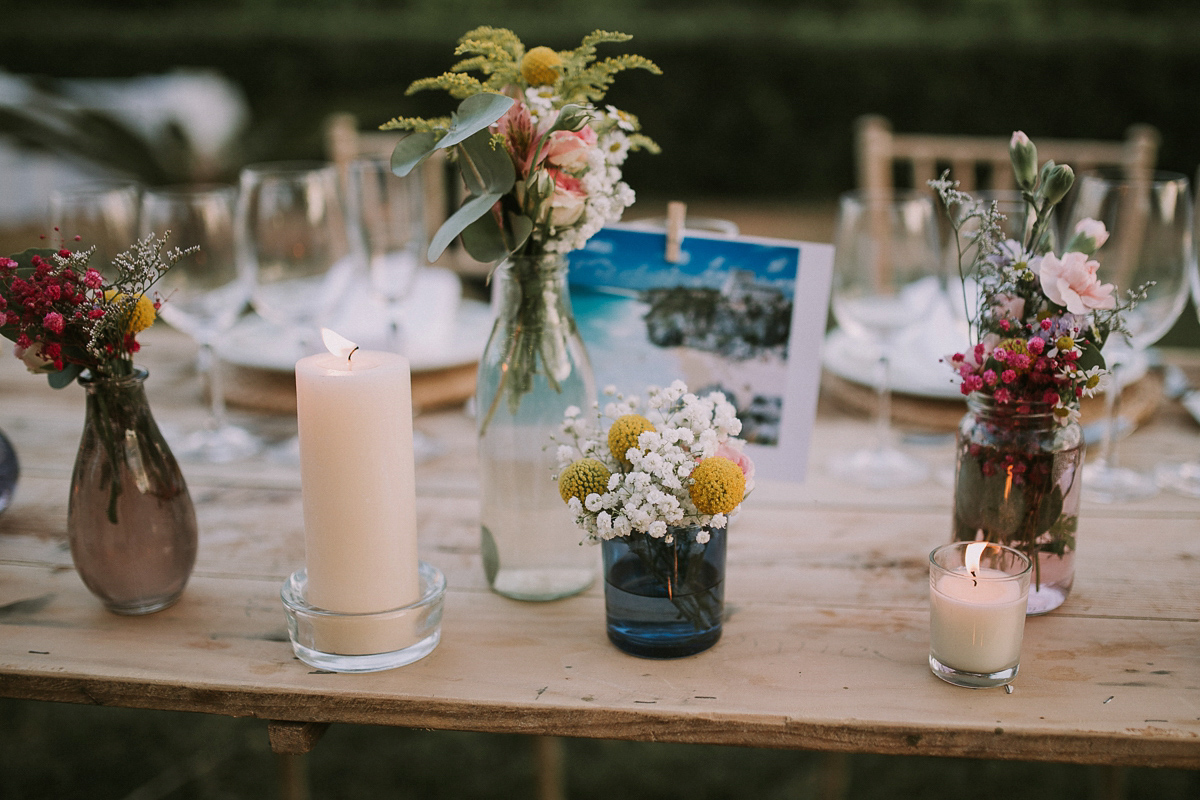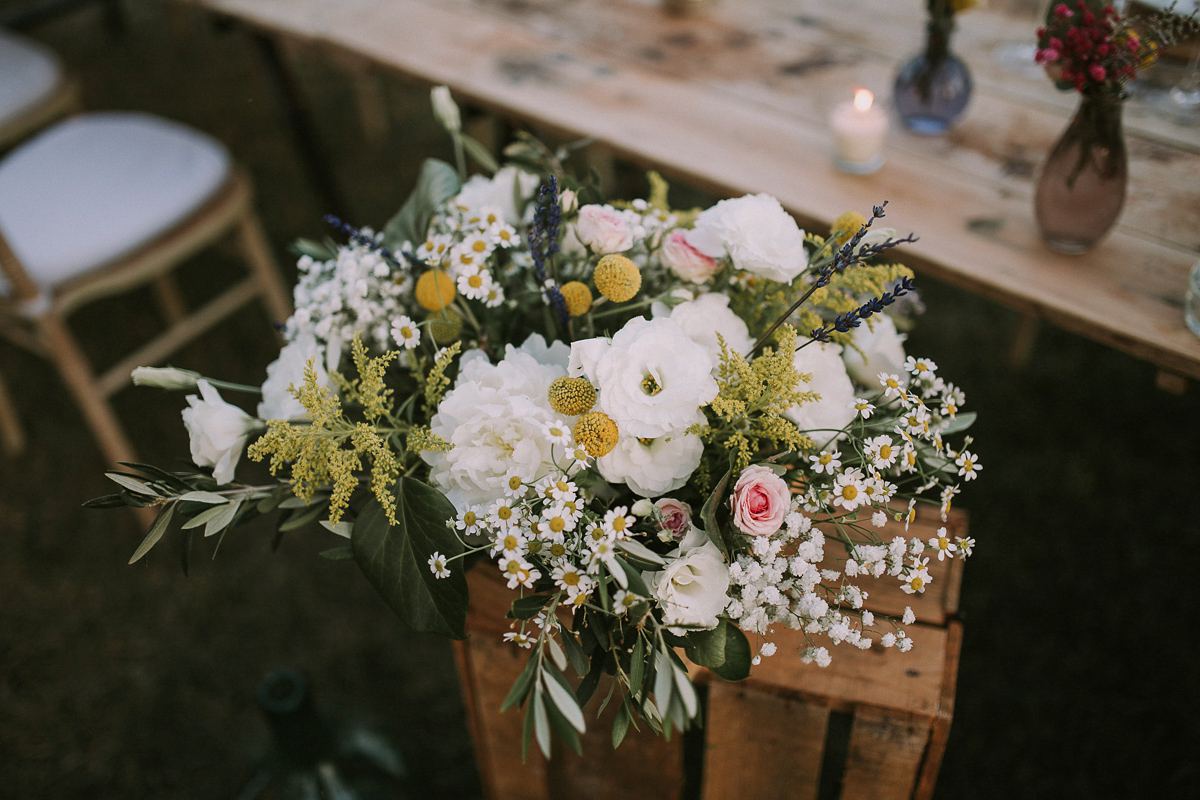 The couples used festoon lighting, an abundance of candles and large glass bottles to create a welcoming atmosphere at their venue. With the help of Mayte from Grupo el Alto, Marisa put out all the decorations while Flores Feliu took care of the floral elements for both the reception and the ceremony; fresh, vibrant and beautifully colourful, studded with sweet daisies.
"I was very happy with the people from our lights and music company, who provided the big letters that I loved so much. We met a few days before the wedding and they understood exactly what we wanted for the party, a party that lasted until dawn and where everybody danced like there was no tomorrow. Our first dance was to 'My Baby Just Cares For Me' by Nina Simone and we changed out of our shoes into trainers to dance a swing dance."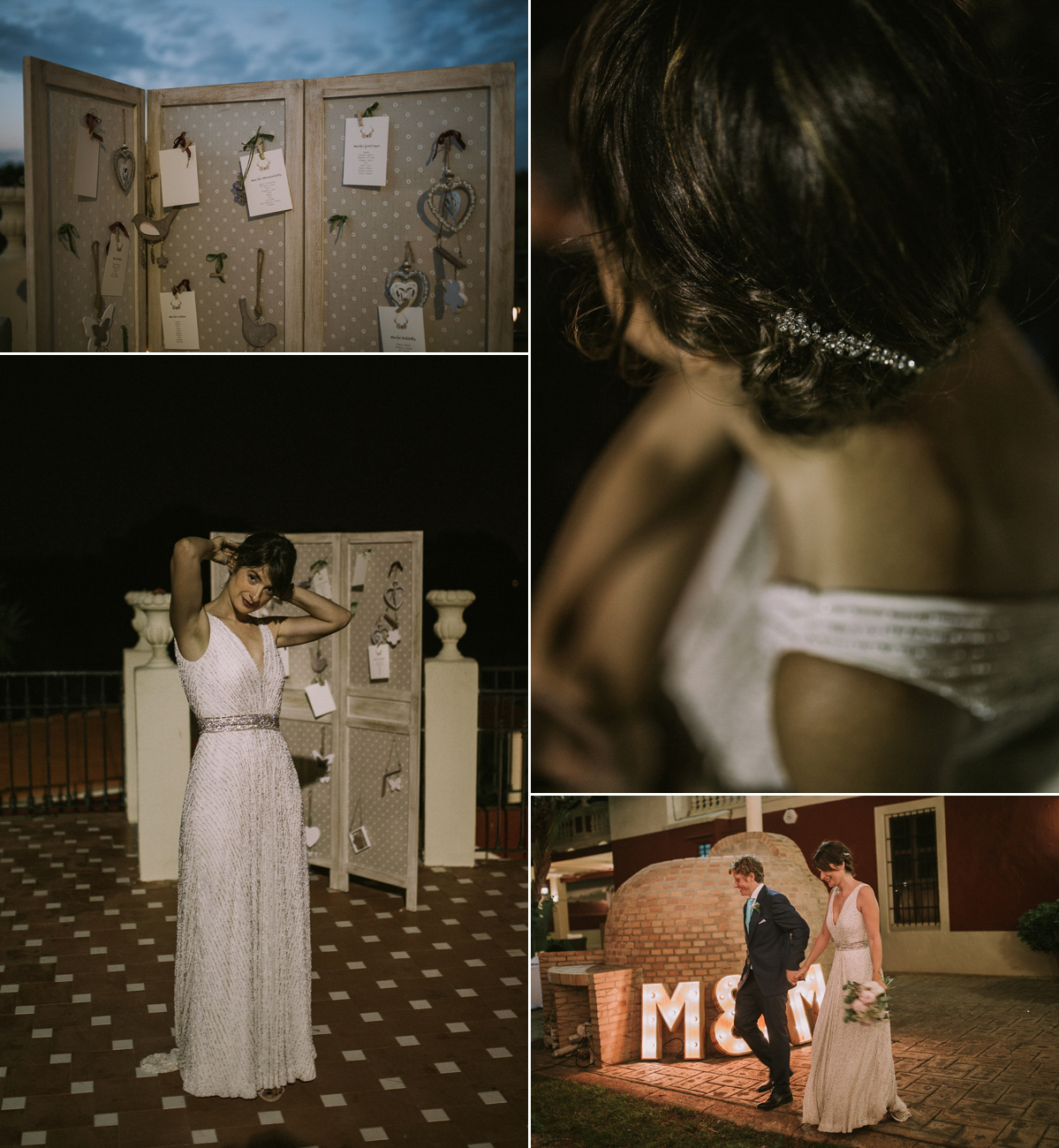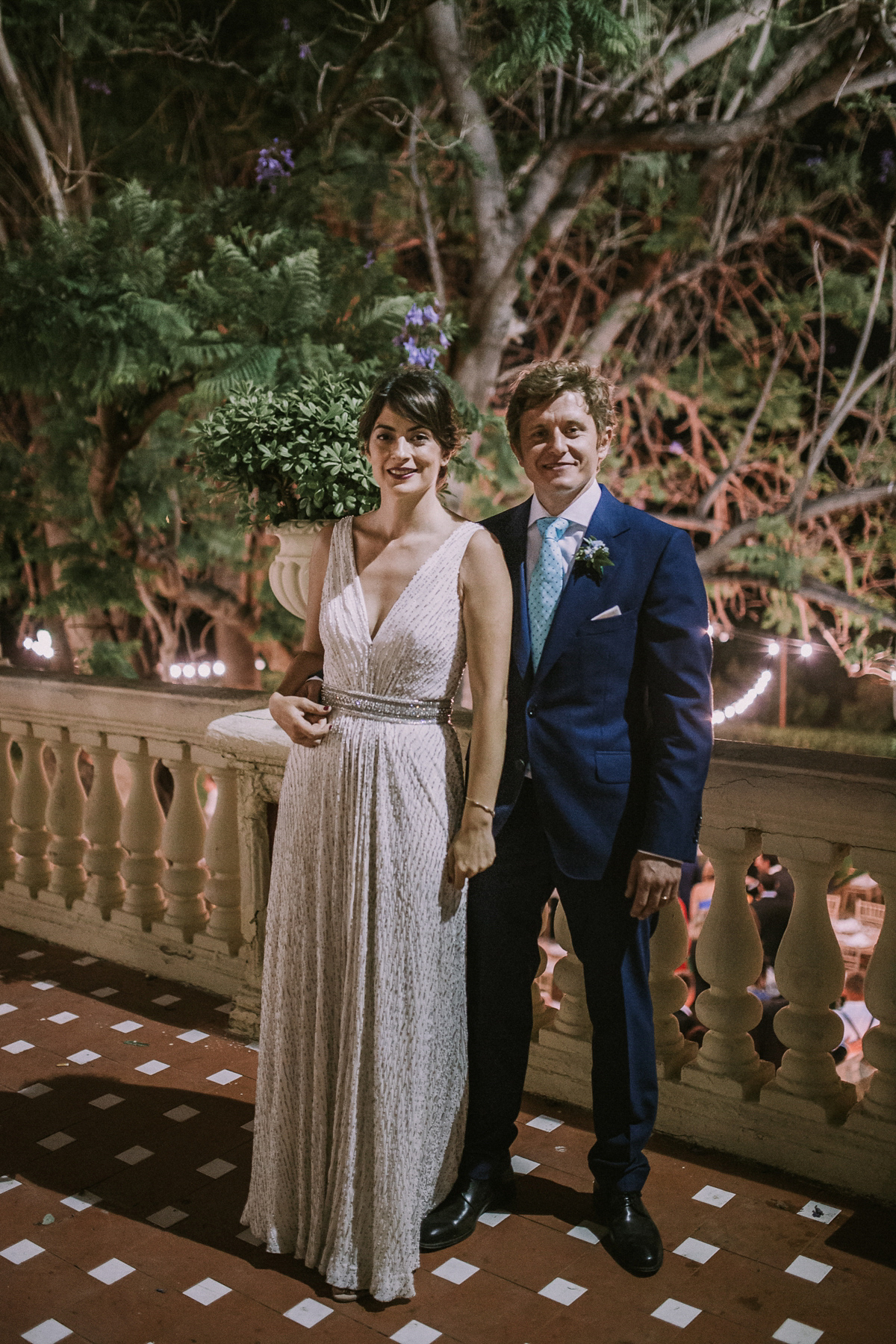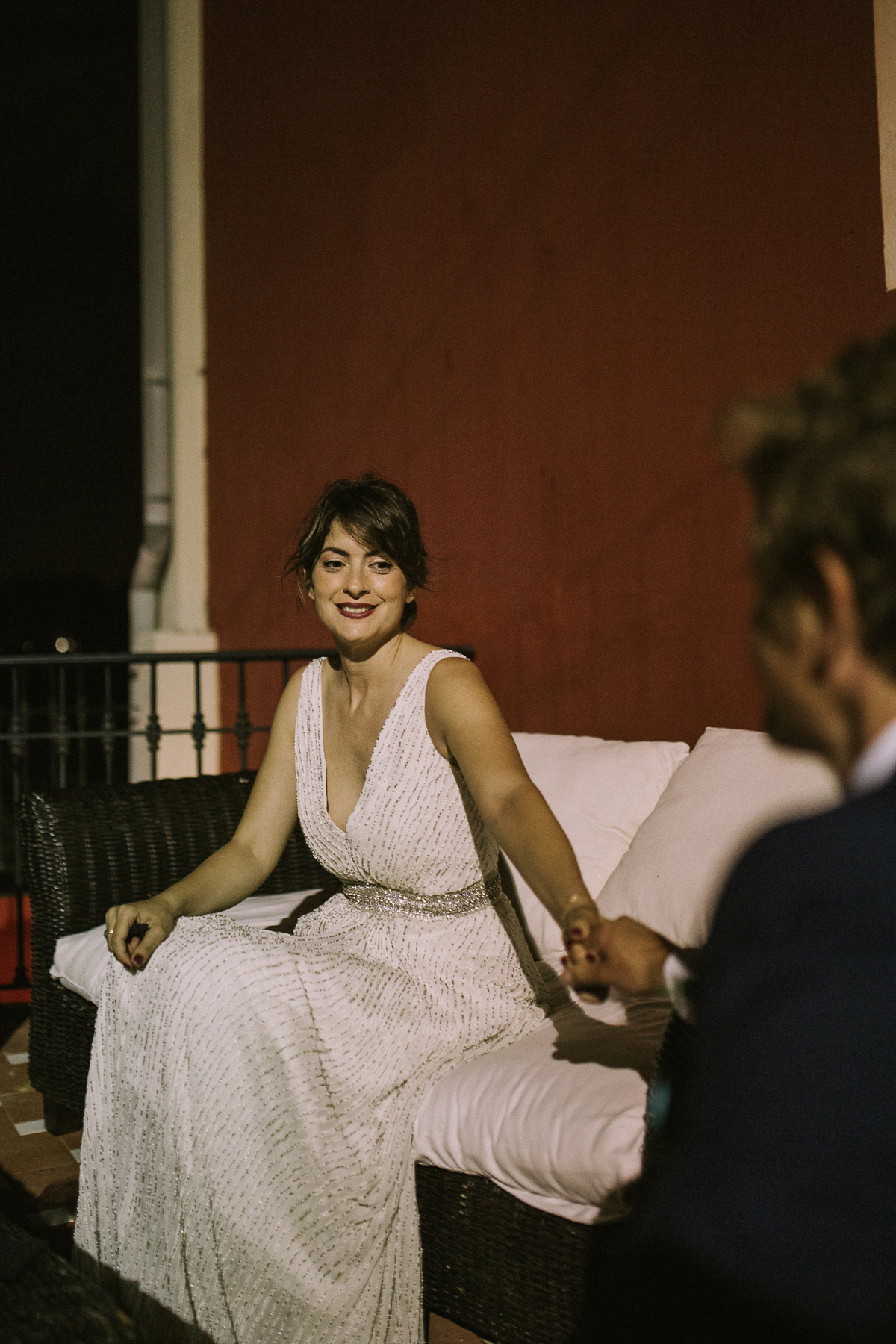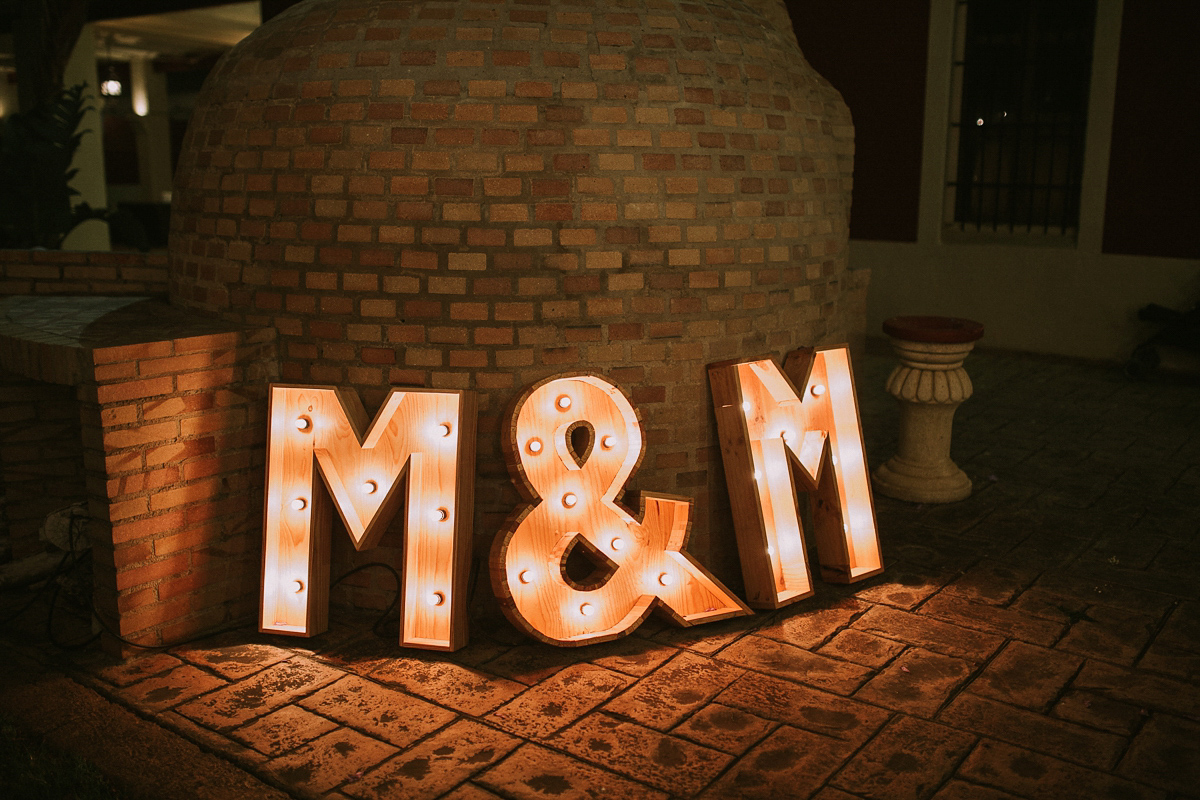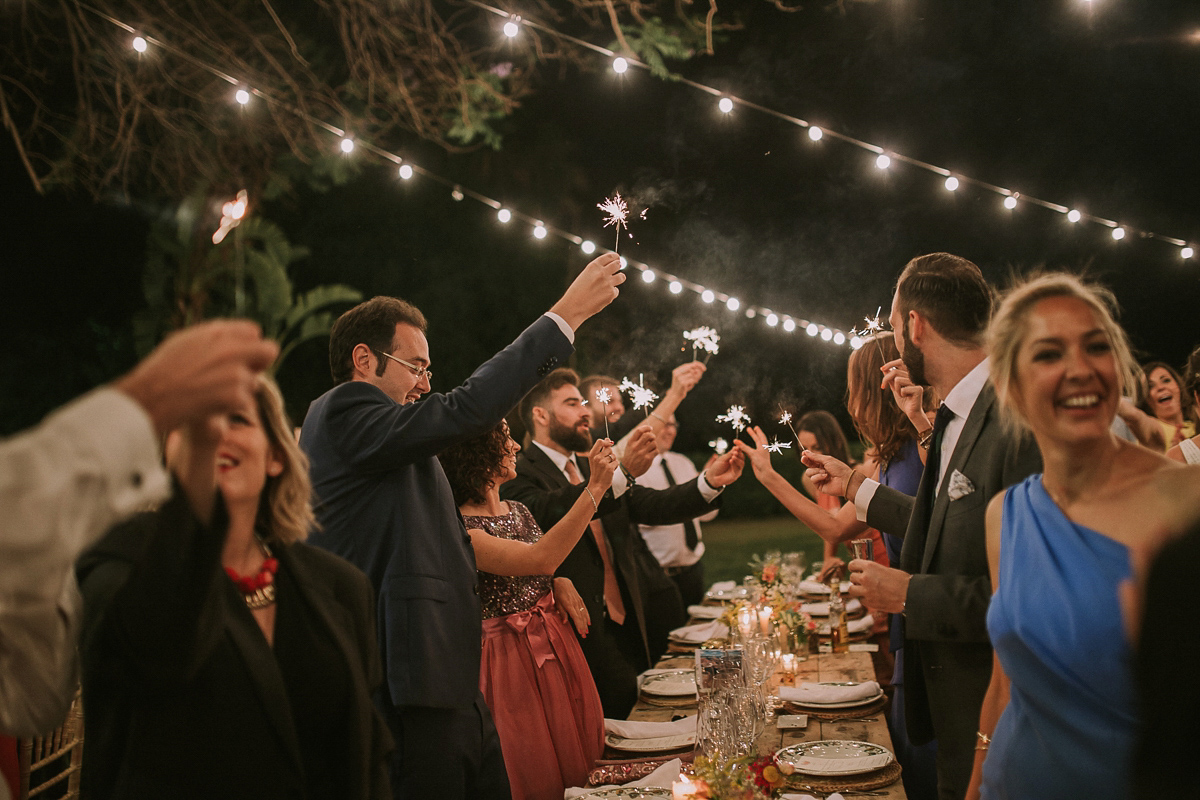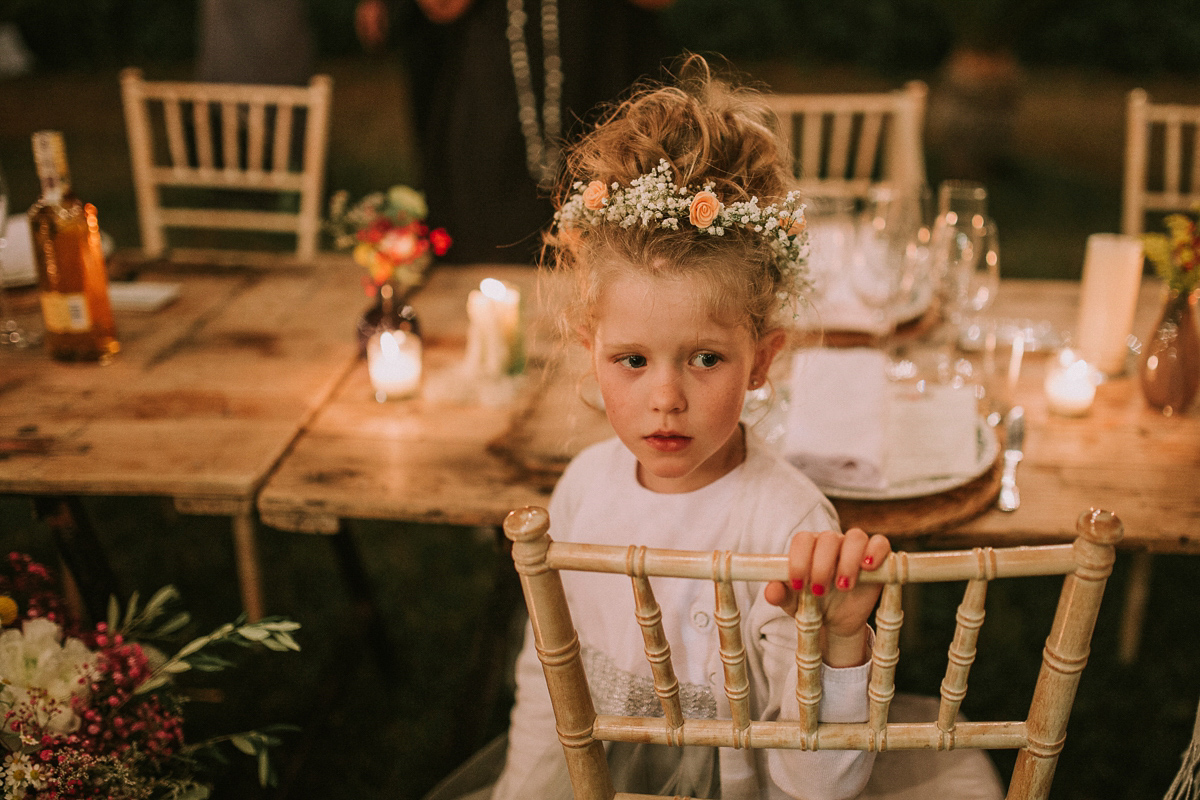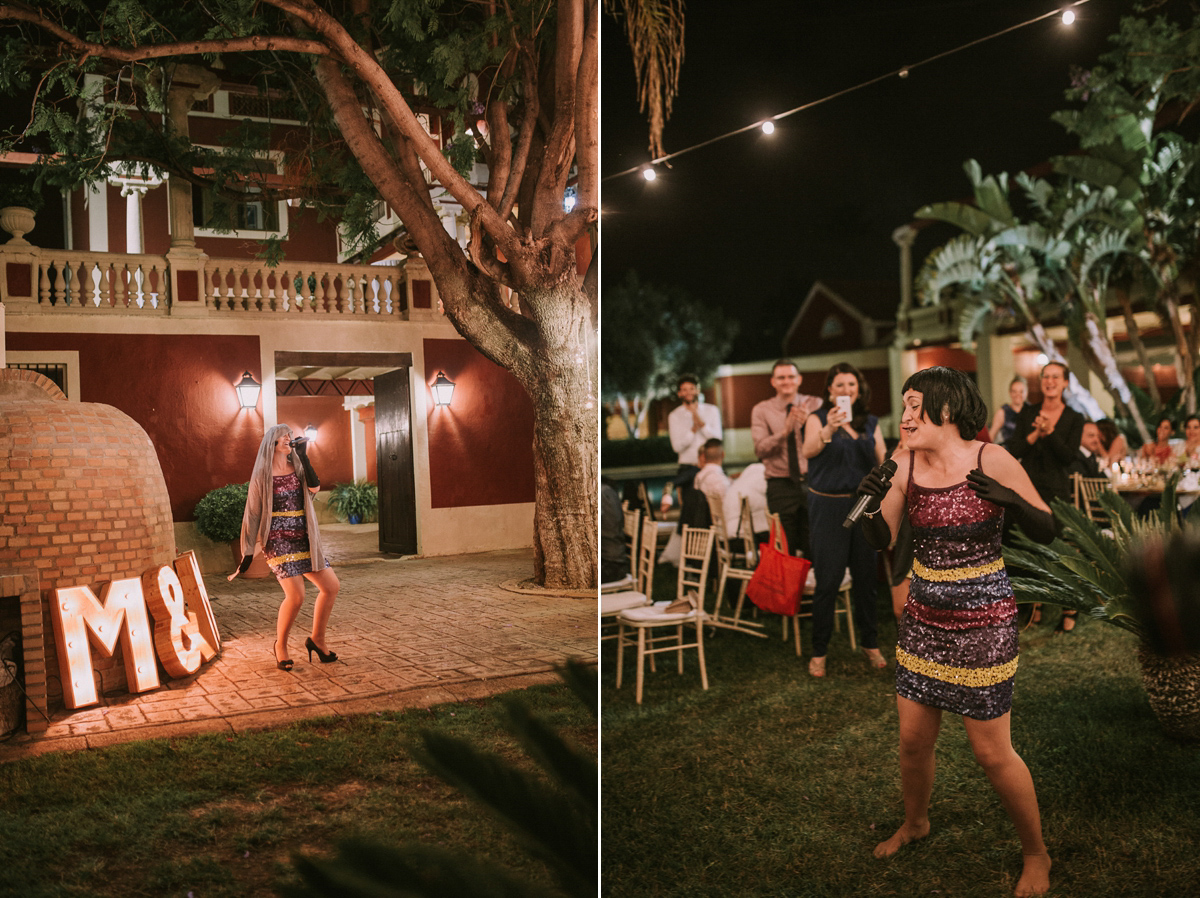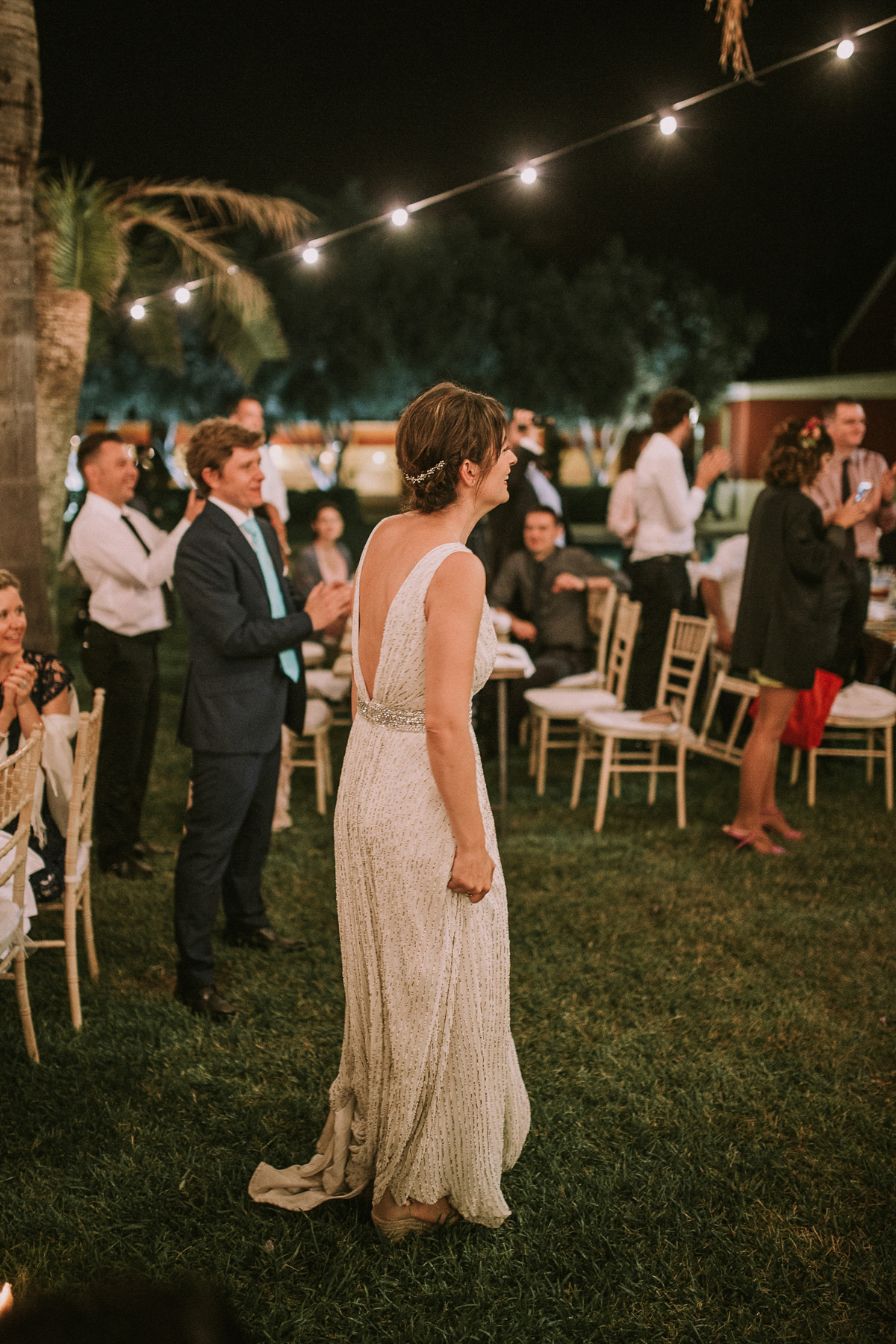 The newlyweds purchased a cake with money gifted to them for the day, which they brought out for their guests to enjoy late in the evening. Nothing fussy or formal, just a delicious carrot cake for all to devour.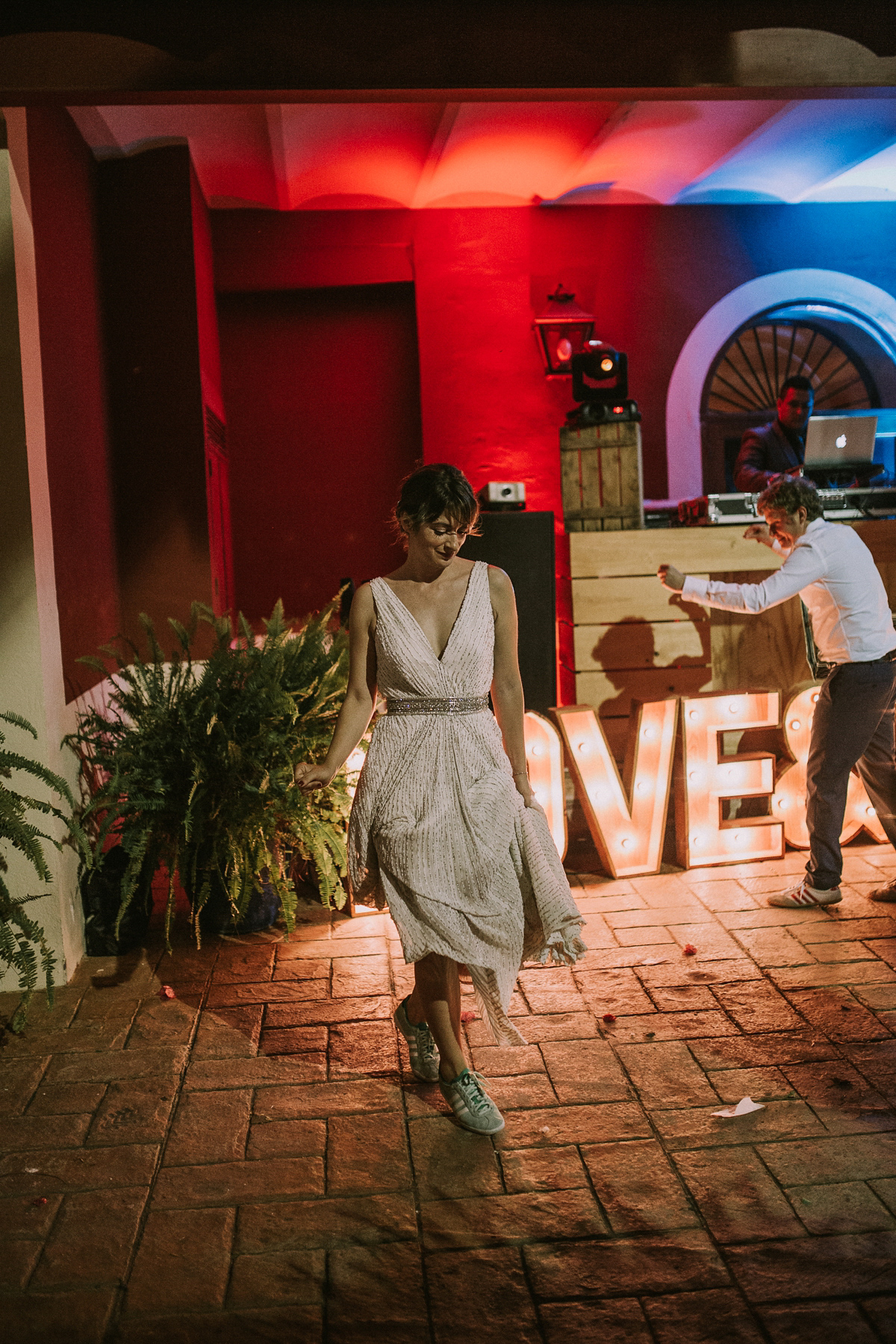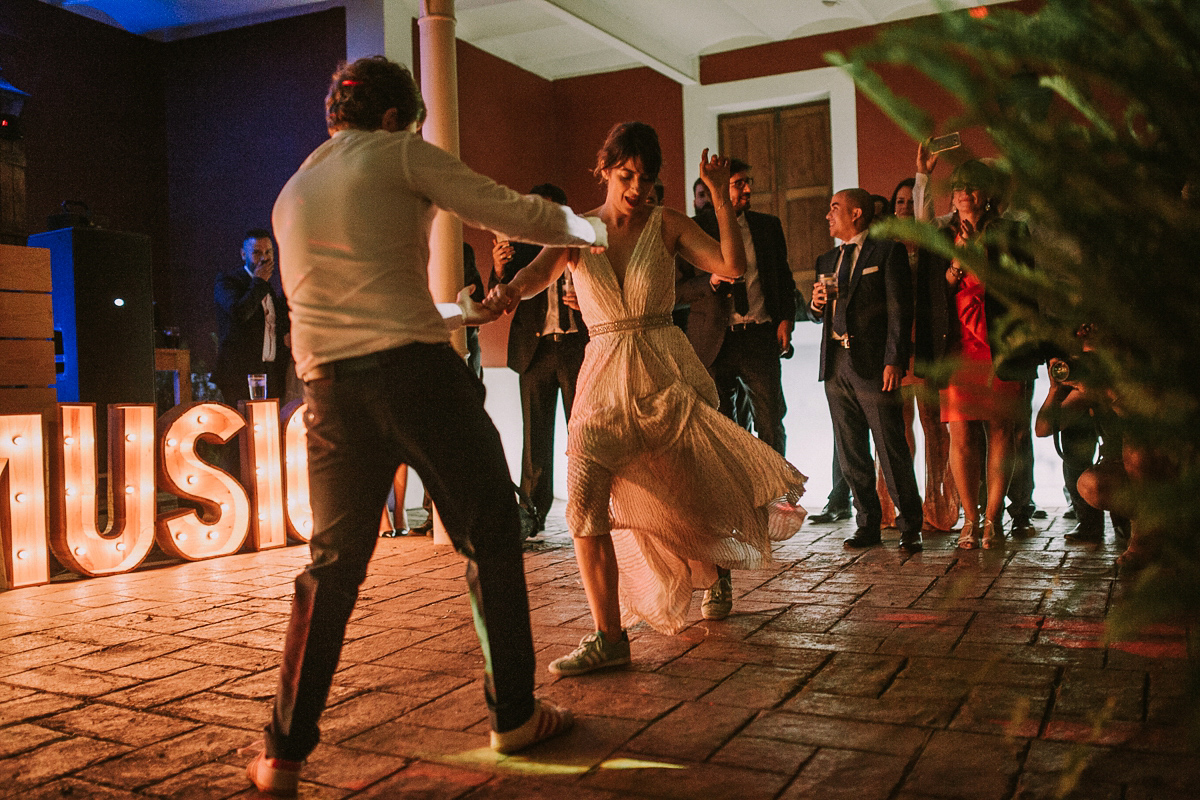 Words of Wedded Wisdom
"The most important suppliers I would recommend are the caterers, photographer and the DJ, but I wish I'd hired a videographer!"
"Remember, it's your wedding, not your parents' wedding. Do you know something about the person you are inviting from last six months? If not, don't invite them."
"Check blogs, Pinterest and Instagram, but don't get stressed and don't try to have a 'Pinterest wedding', the most important thing is to enjoy the day and with the people there."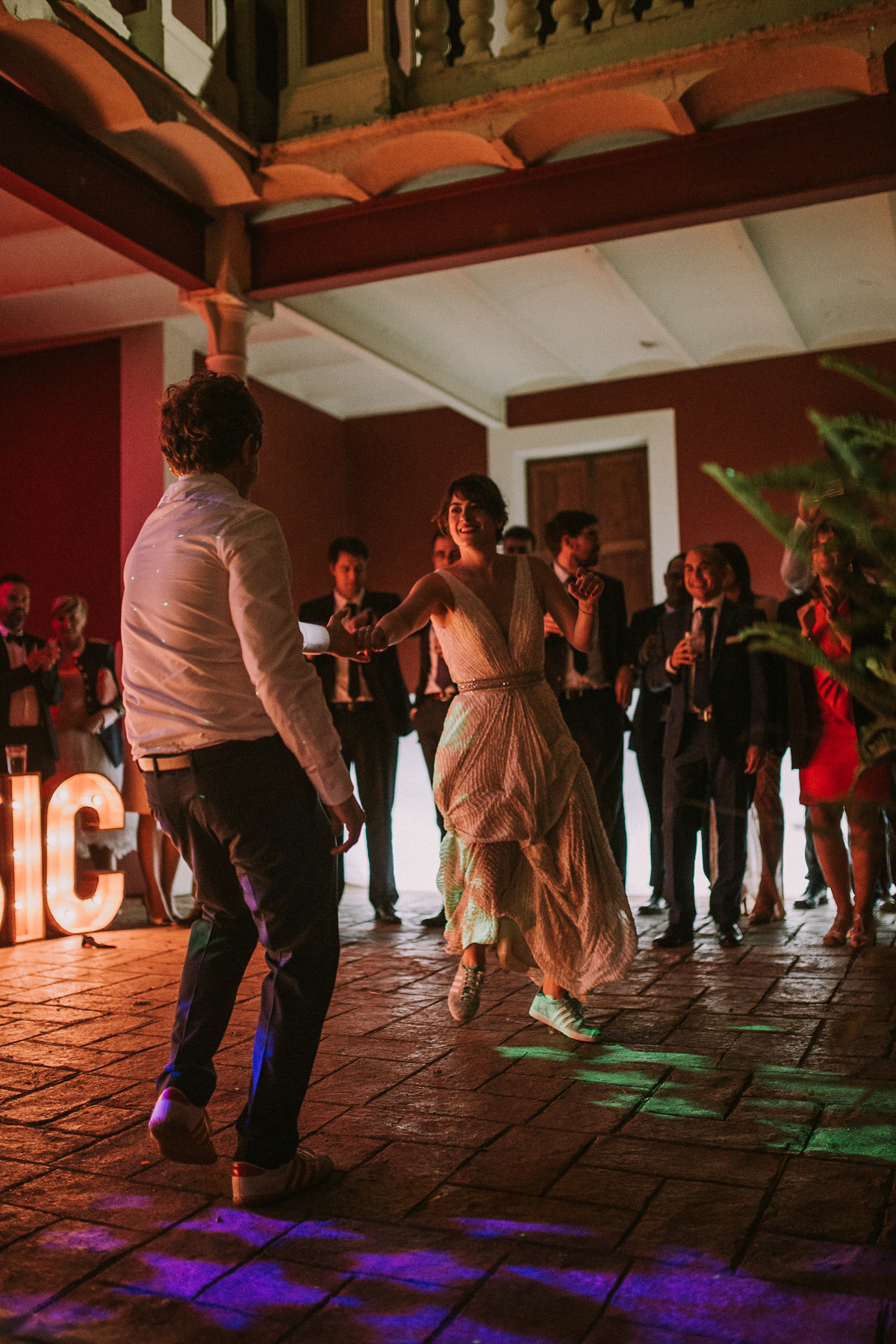 Thank you so very much to Marisa and Maciek for allowing us this privileged insight into their beautiful day. And of course a huge thank you too to Joasis Photography for these gorgeous images.
Are you a Jesús Peiró bride or thinking about trying on some of their incredible designs? Take a look at our archives our stunning Jesús Peiró brides for oodles of inspiration.
Love, Em x