Well, what a pleasure it is to be writing for Love My Dress today. By way of introduction, I'm Ele and I've been working on Love My Dress and our wonderful wedding supplier directory Little Book for Brides for nearly eighteen months now, supporting our sponsors and suppliers on social media, and spending hours savouring the beautiful weddings we feature every day. Away from my work for Love My Dress, I'm also training to be a Pilates teacher. I'm really excited to be writing here for the first time, so let me go ahead and introduce today's couple, and their sun-drenched Scottish wedding.
Carrie, a physiotherapist, and Eoghan, a renewable energy management consultant, celebrated their marriage in Carrie's home town of St Andrews on 30th September 2016. The couple wove together modern elegance with traditional Scottish and Irish elements for their day, no mean feat when they live thousands of miles away in Australia. I love it when family and friends come together to make a day personal to a couple, and this wedding is a beautiful example of this.
Photography by Koby Brown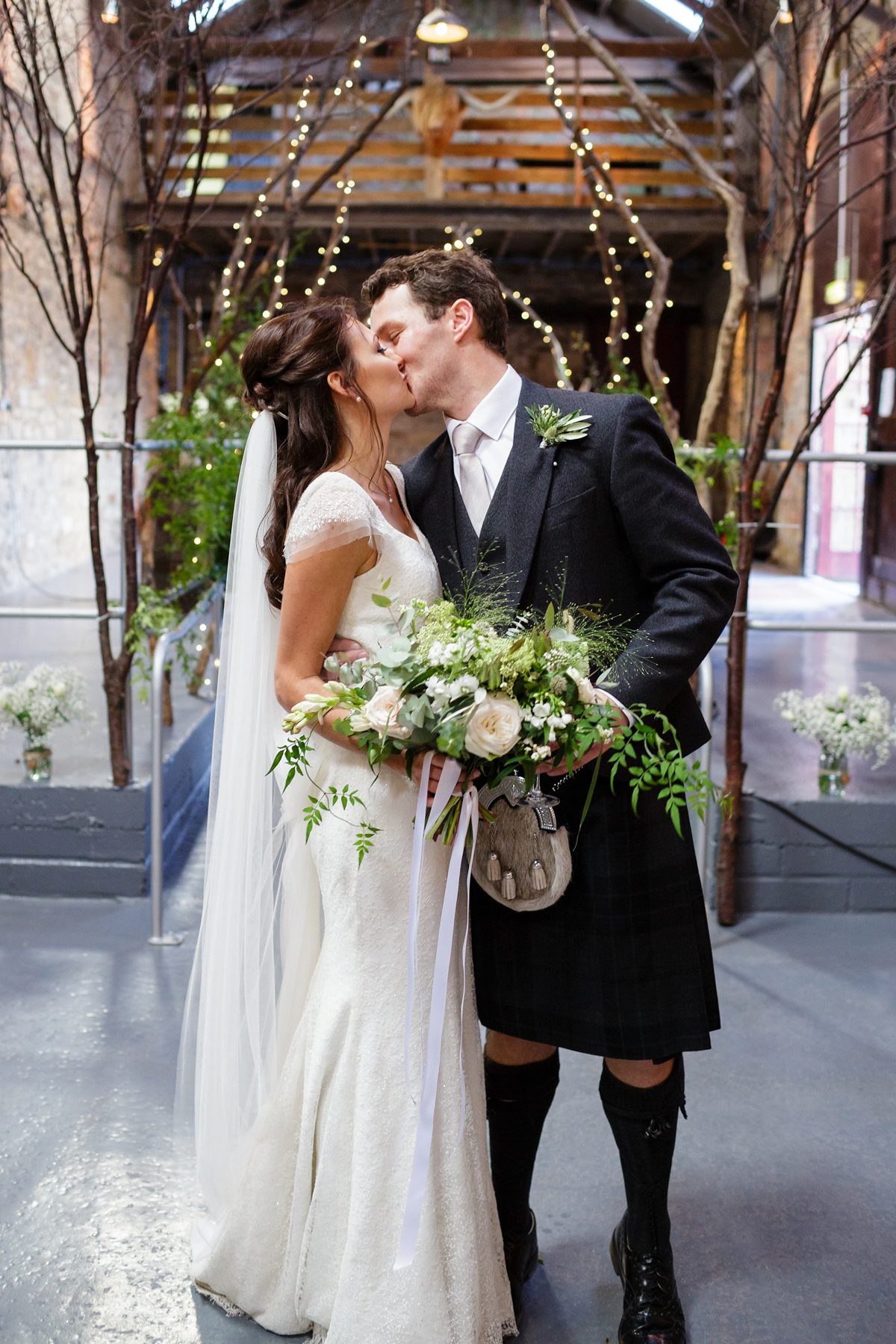 Carrie wore an elegant and understated Stewart Parvin gown with delicate sequinned cap-sleeves which she found at Rachel Scott Bridal Couture. We are so proud to number Stewart Parvin amongst our sponsors, and to feature him in our wedding supplier directory Little Book for Brides. His designs are always so chic and elegant, as you can see in his Style File pages here.
Carrie knew her gown was 'the one' as soon as she saw it, personalising it by altering the neckline and adding button detailing. It looks so light, easy to wear, and the perfect gown for dancing for the ceilidh later that day. Carrie kept her accessories simple, adding a pure white full-length single-tier veil, also from Rachel Scott Couture, and a dainty pearl necklace and earrings;
"As soon as I walked into the shop, my eye caught the lace with sequin detail and I knew it was exactly what I wanted. It was so comfortable with a silk skirt and didn't feel restricting."
Flowers and foliage are a recurring theme throughout the day. The hand-drawn stationery is an Annie P Paperie design, and the church was dressed with flowers on the ends of the pews.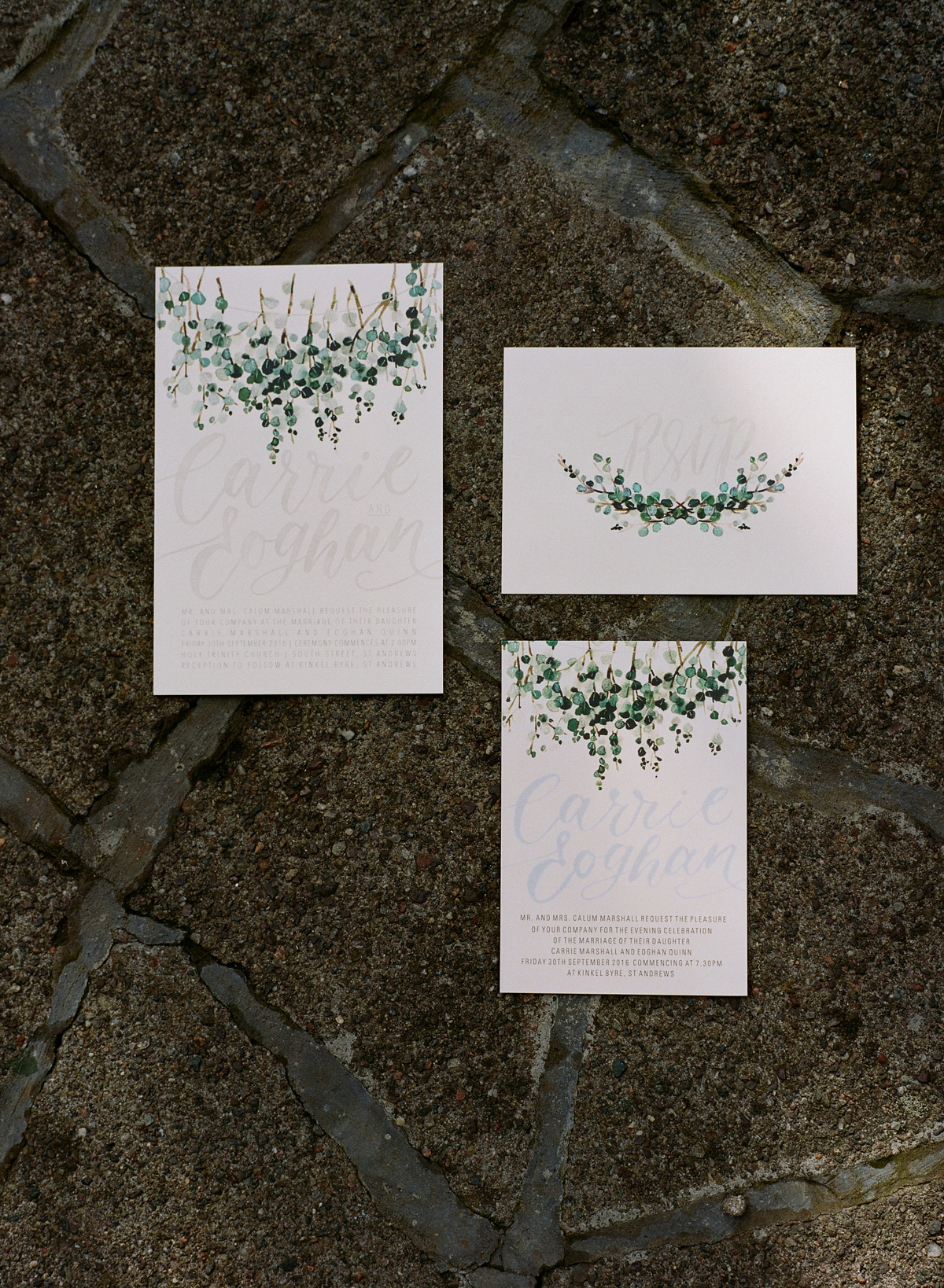 Now I really must talk about the wonderful florals created by Jack Fleuriste; their muted tones are so soft and pretty, and I just love the 'undone' style of Carrie's bouquet with its trailing ribbons.
"Linzi of Jack Fleuriste is so talented. Her style is unique and elegant. I wanted a rustic but soft style for the flowers and Linzi delivered just that. She also advised what colours would tie in with the bridesmaids and I couldn't have been happier with how everything came together on the day."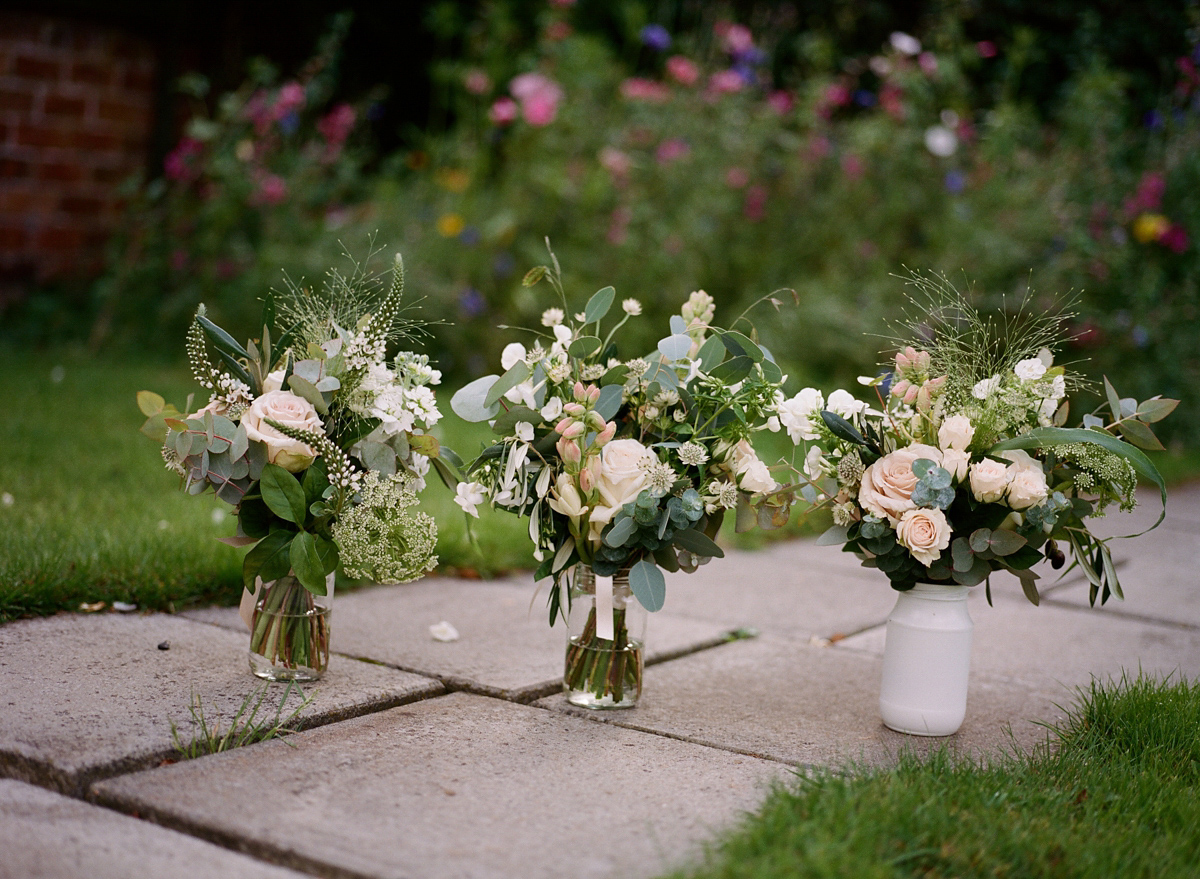 "I probably drove Linzi crazy with all my Pinterest photos of conflicting ideas yet she was still able to translate it to exactly what I was wanting. I still remember how delighted I was when she delivered the flowers to the door the morning of the wedding. It was the final surprise and it was so exciting to see."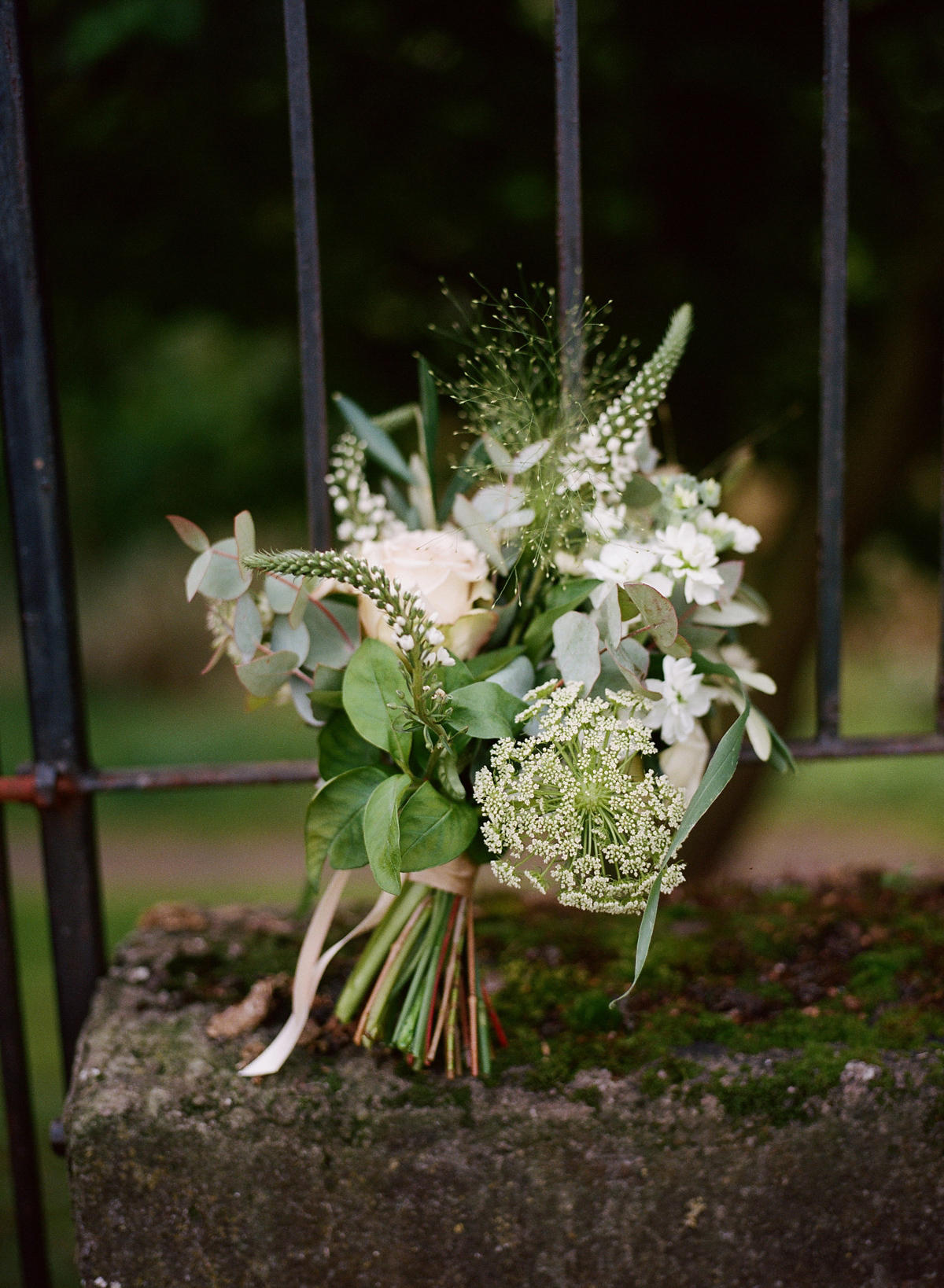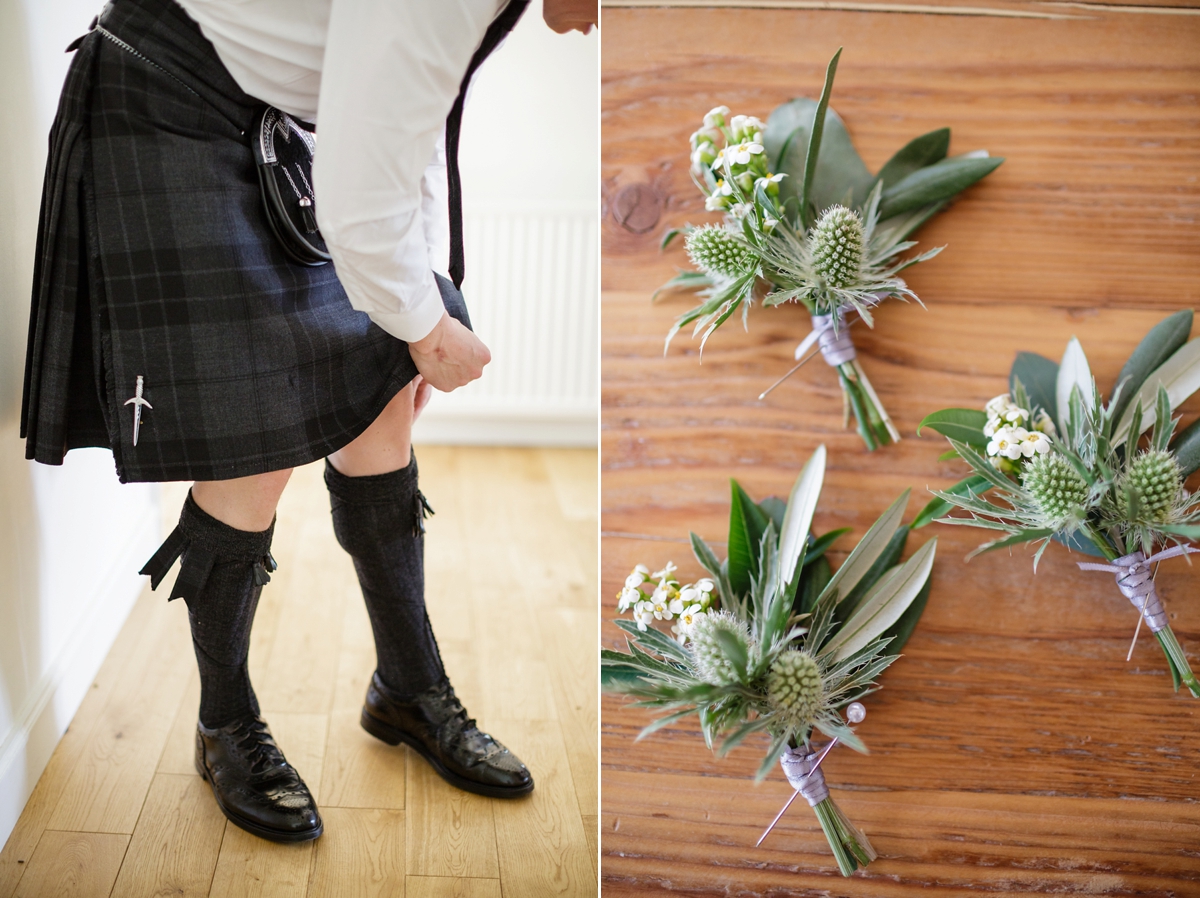 Linzi also made exquisite buttonholes using Scottish thistle for the men, whilst the bridesmaids wore sprigs of gypsophila in their hair.
Don't the men look fantastic in their MacGregor and MacDuff kilts and sporrans? I love the Grecian-style of the bridesmaids' Pia Gladys Perey gowns too – so unusual and flattering.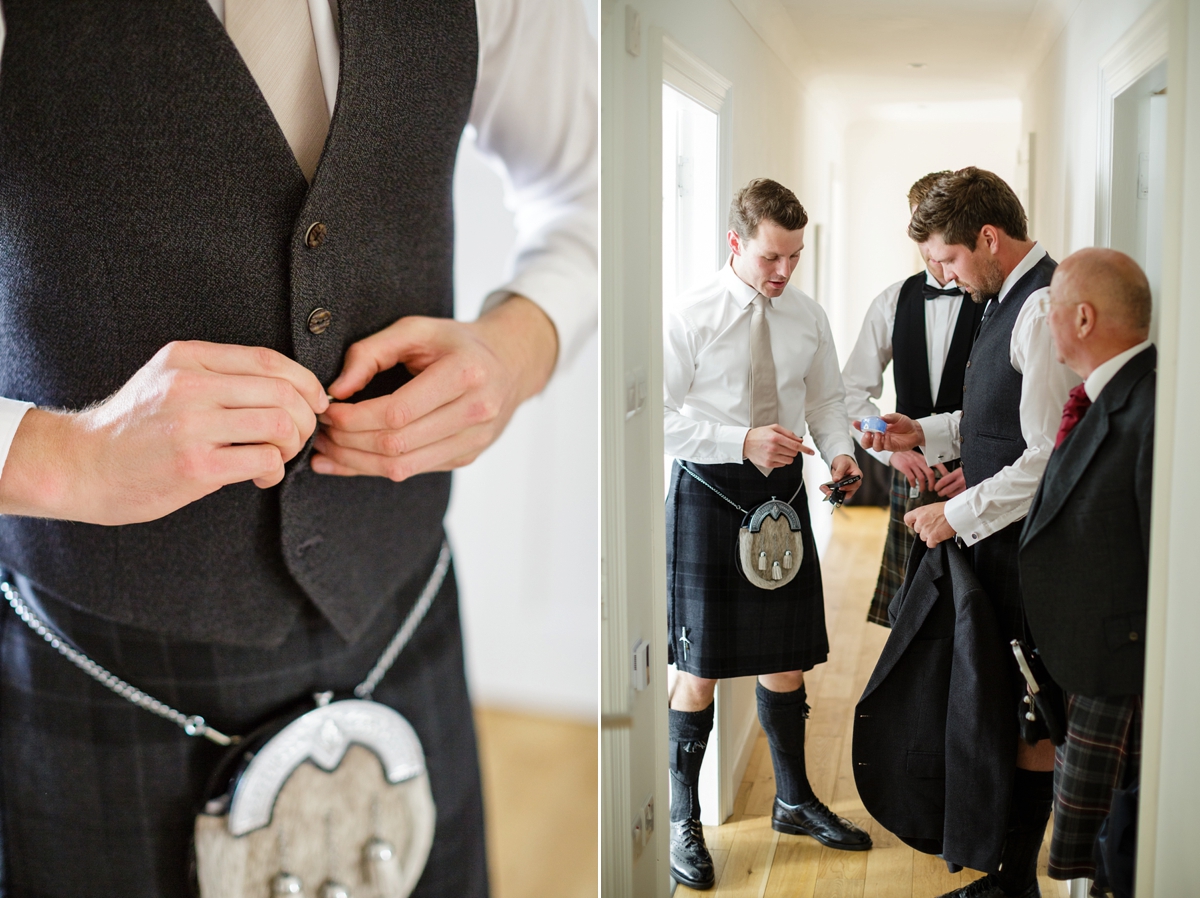 The couple chose to marry in St Andrews Holy Trinity Church, followed by a barn reception at Kinkell Byre, which they loved at first sight:
"We chose this location as we both live overseas in Australia and knew we wanted to celebrate in Carrie's home town. We loved the barn as soon as we visited and thought it had a great atmosphere for an informal and romantic occasion."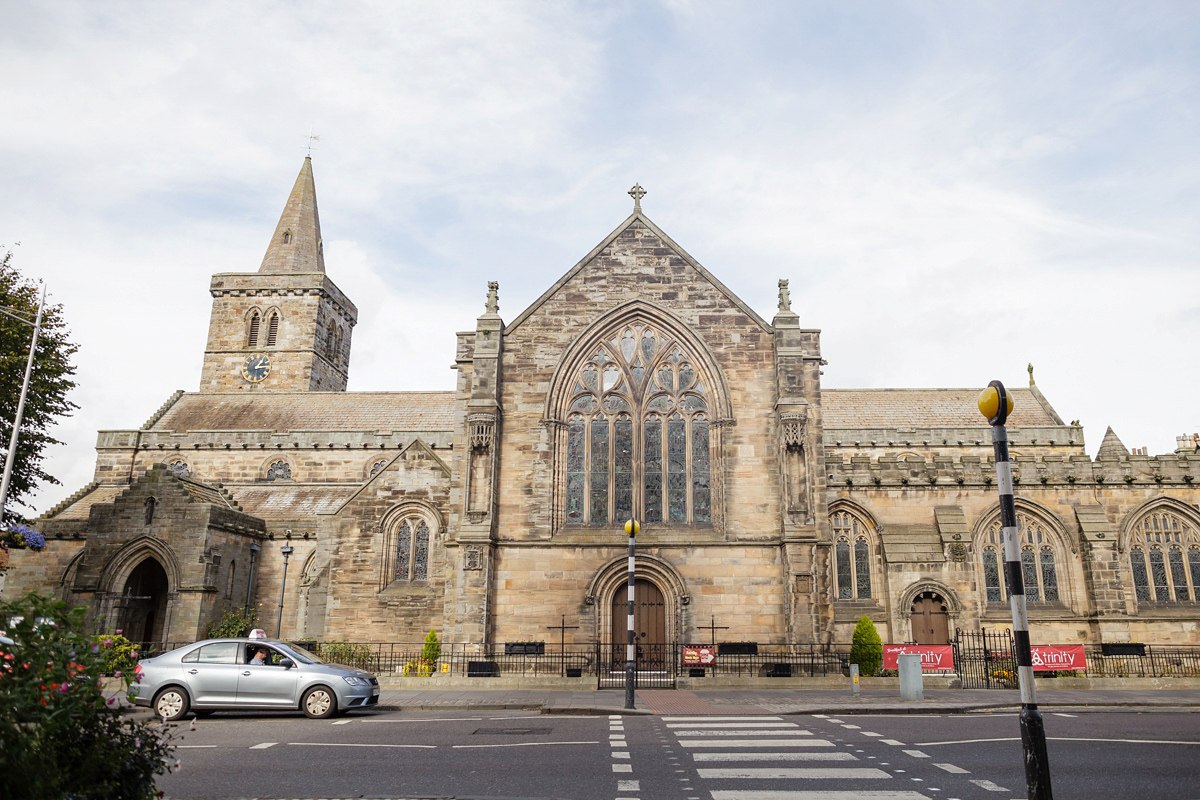 Hair stylist Sophie Butler kept Carrie's long hair natural and soft with a half-up and half-down style. It looks just wonderful with the veil, doesn't it? I love the radiant glow which Jen Kerr created with light make-up.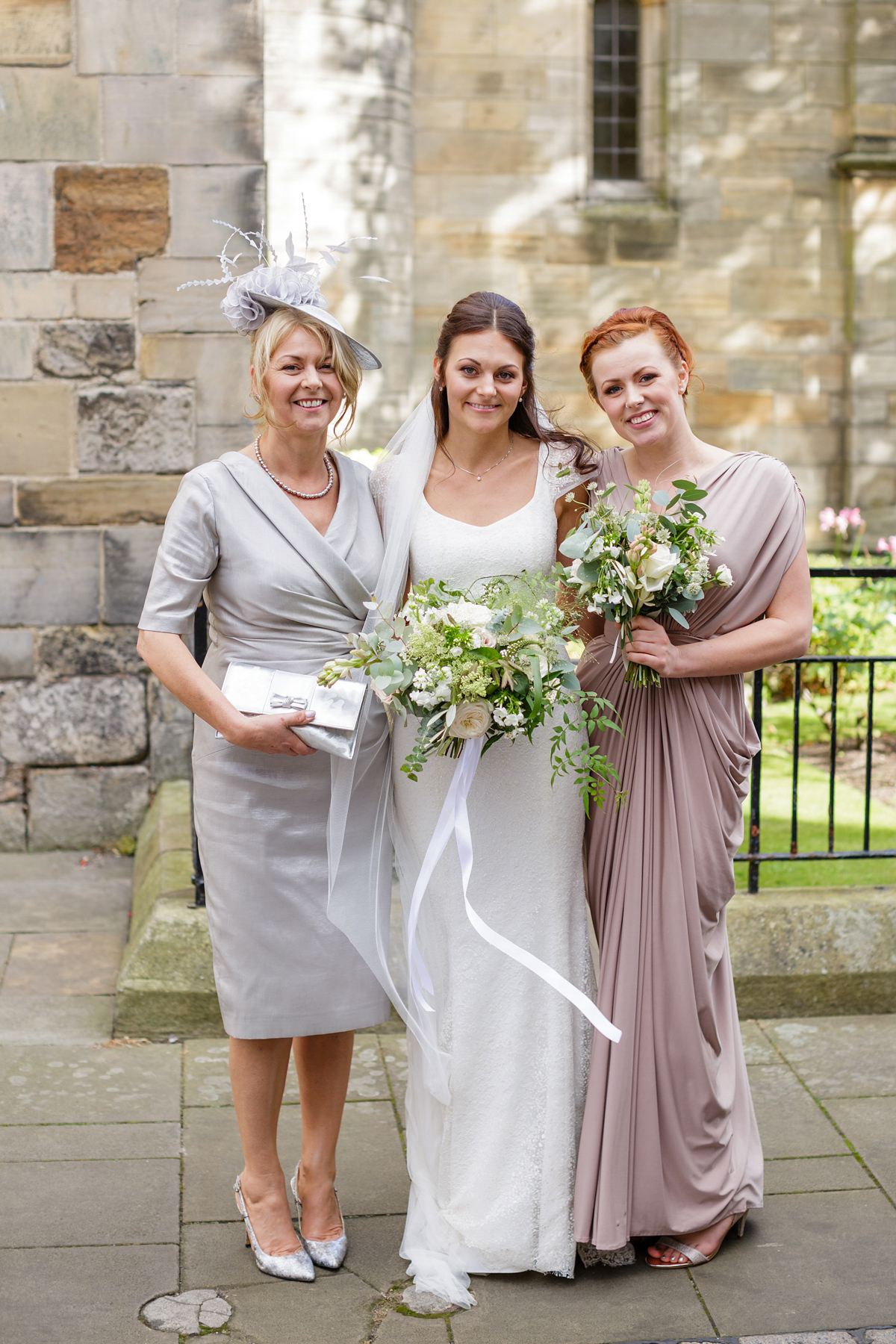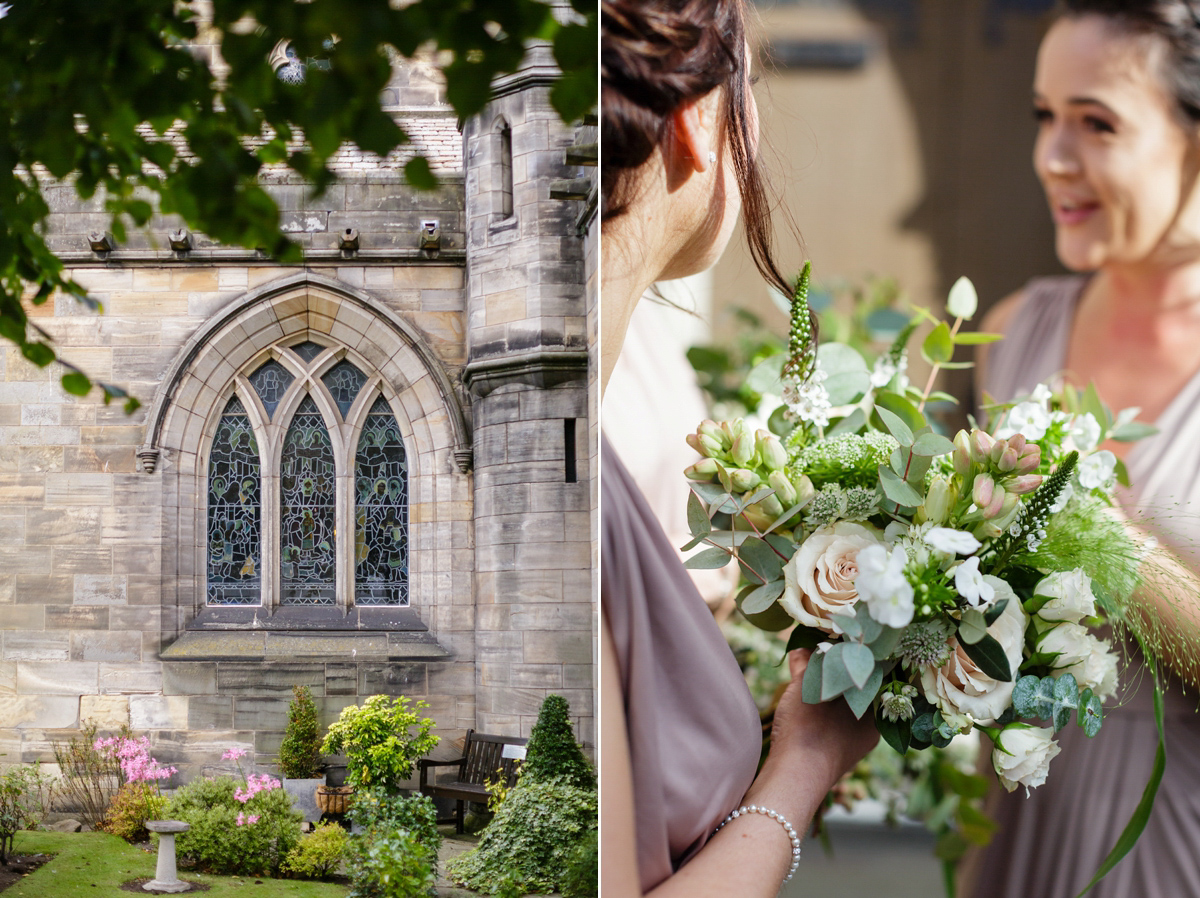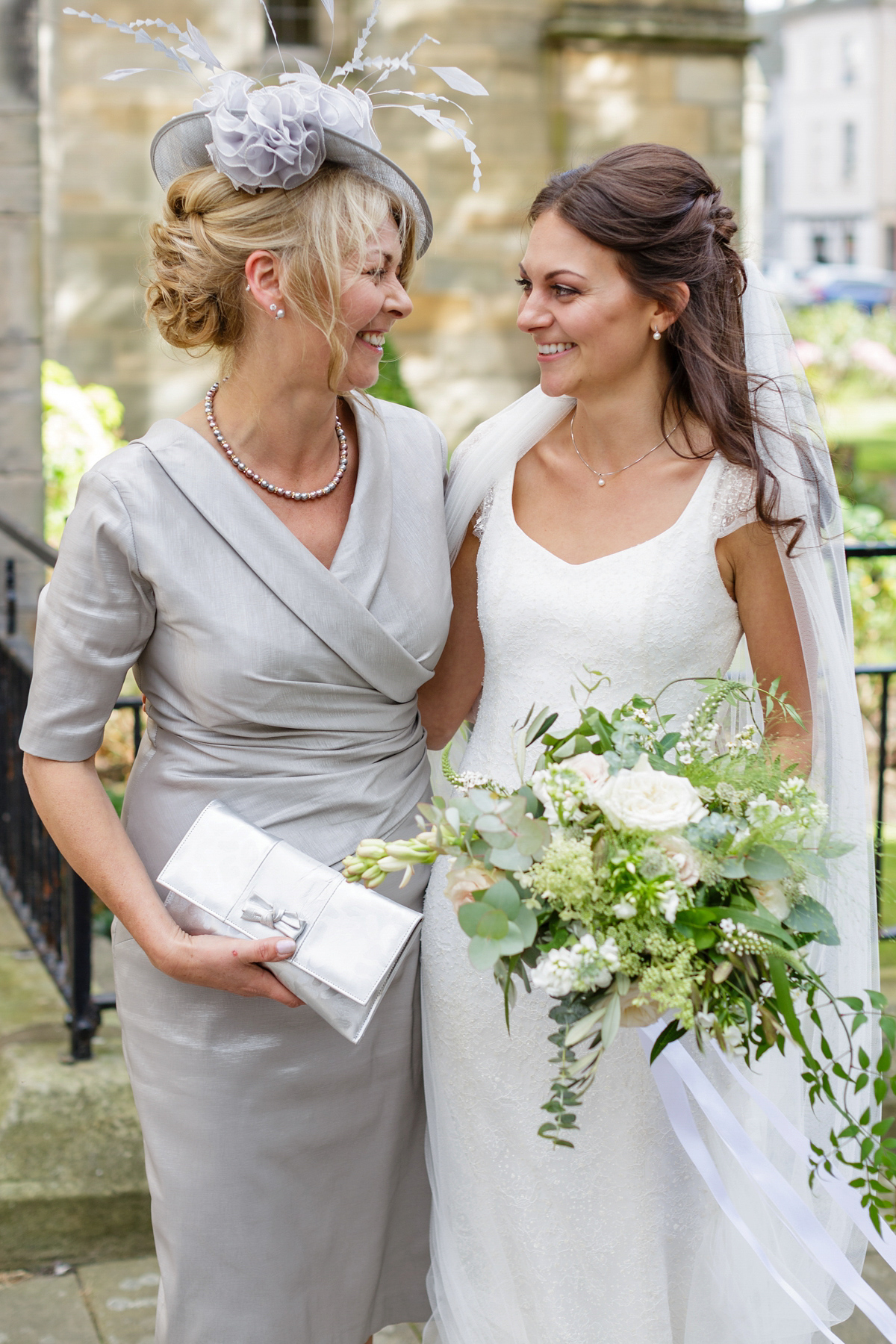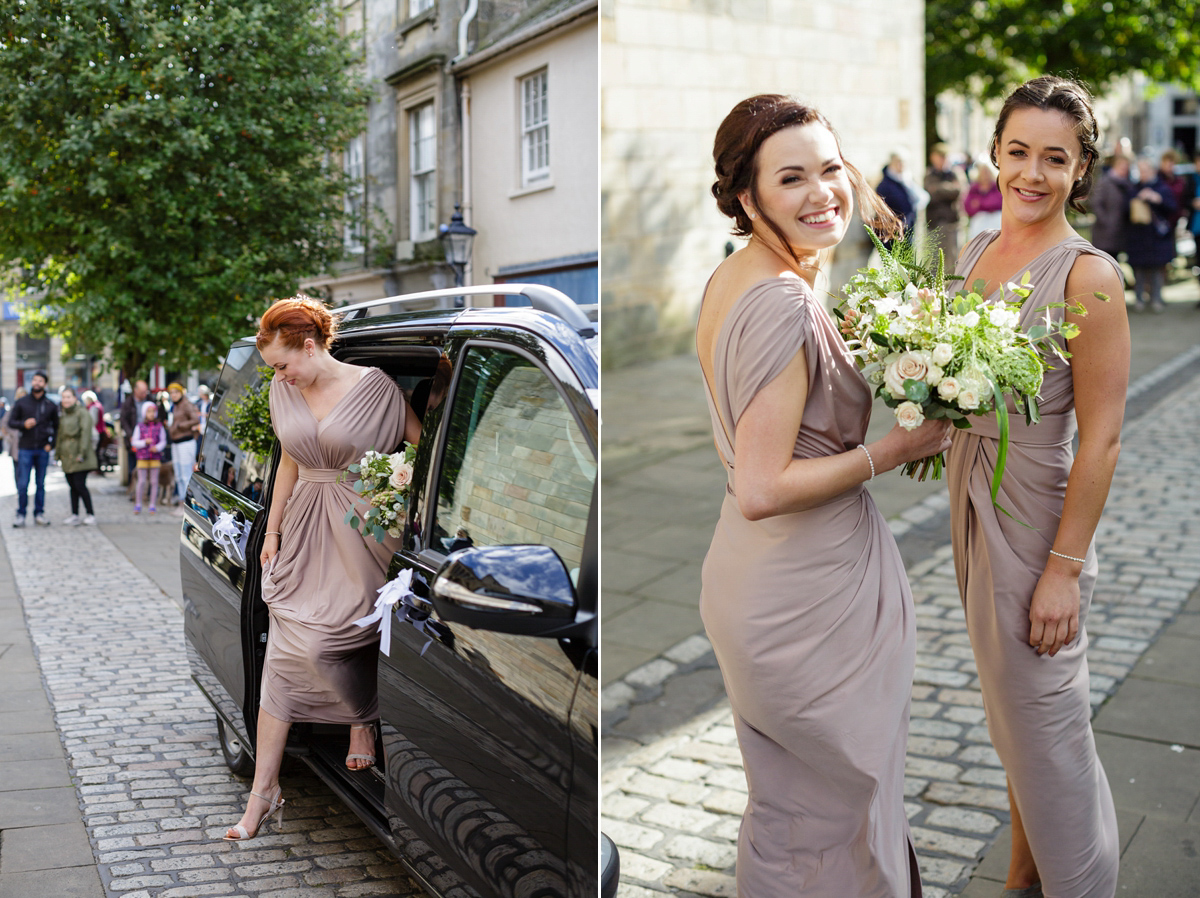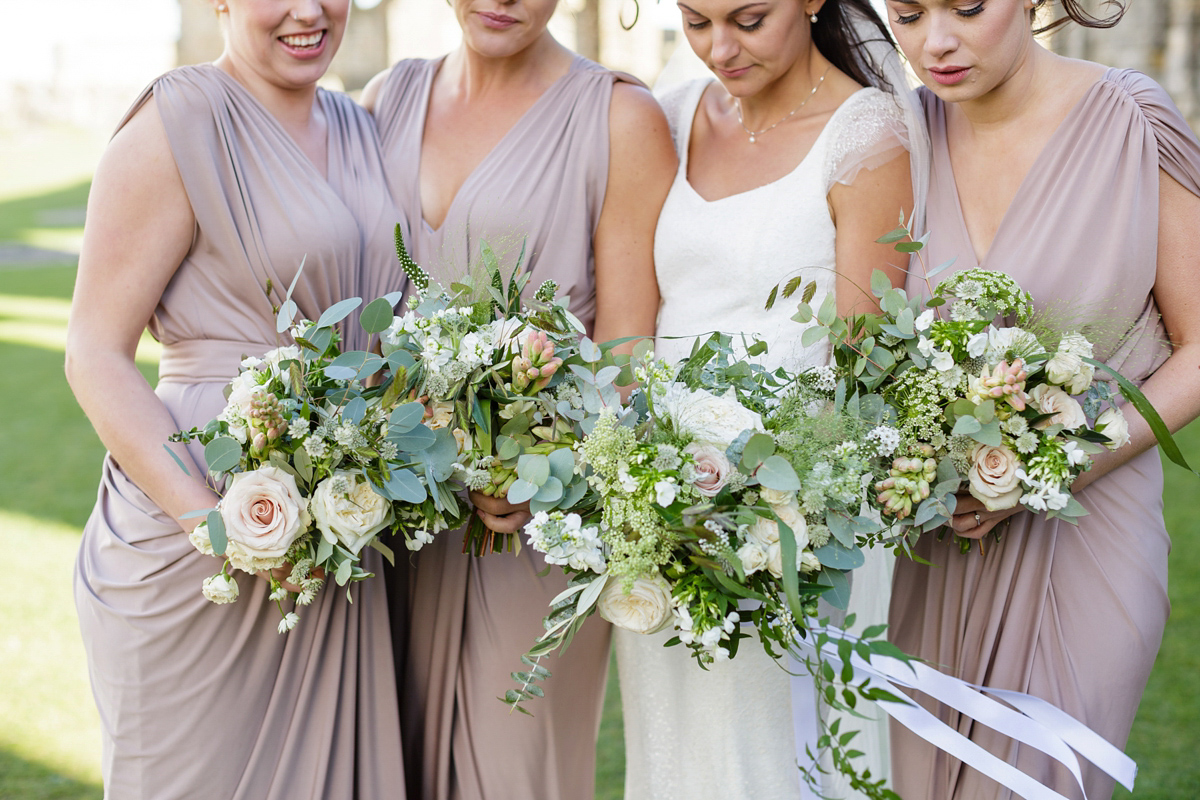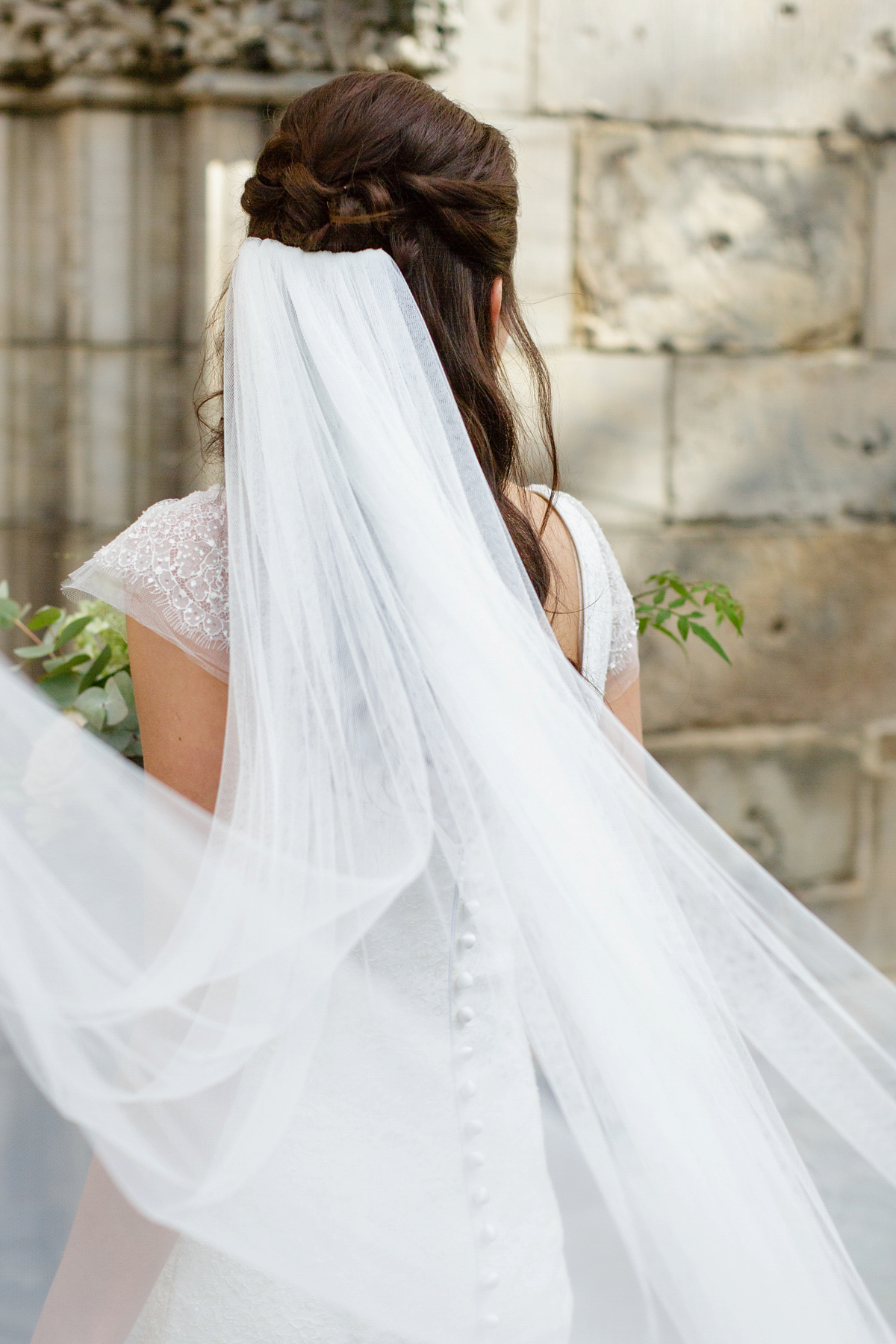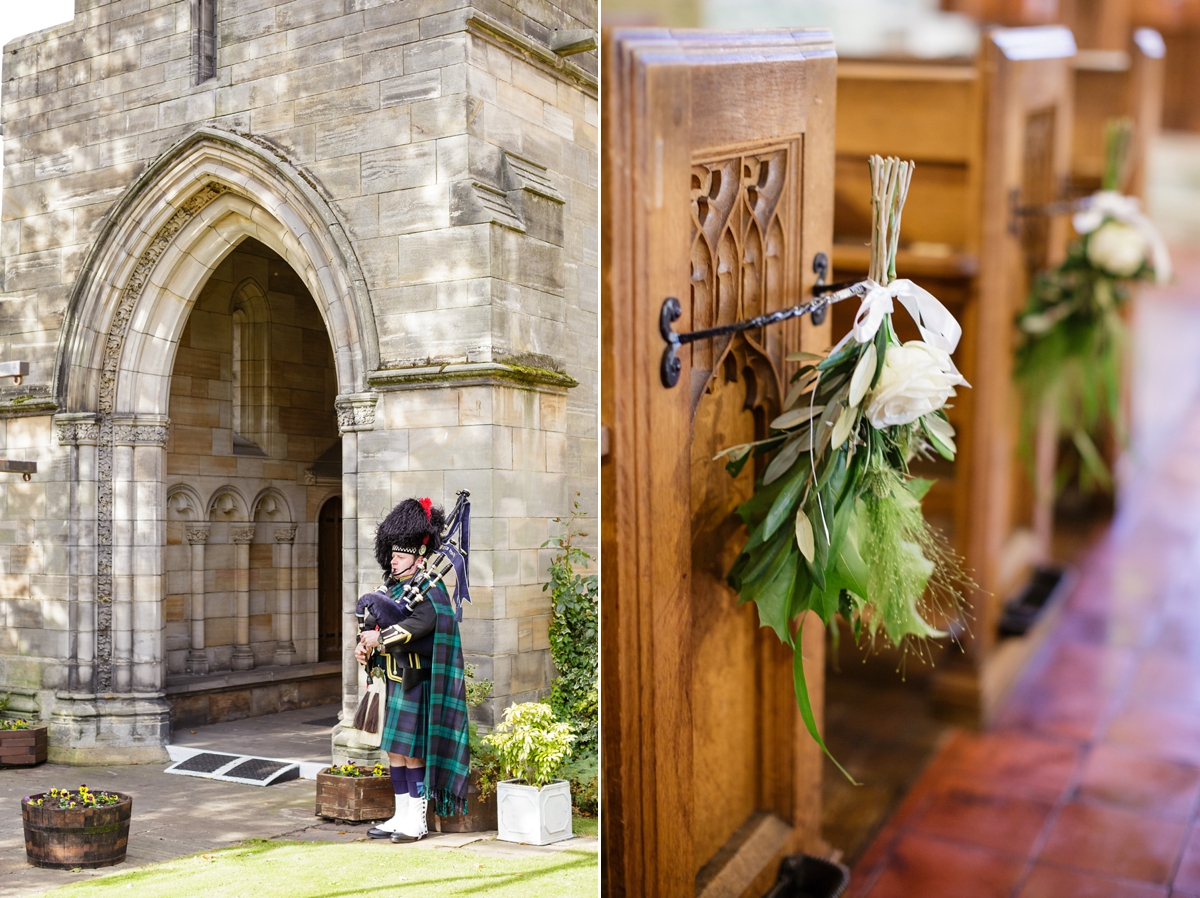 The Scottish mood was set with a traditional bagpiper who welcomed the guests to the church, and Carrie walked down the aisle with her dad to 'Highland Cathedral' played on the bagpipes and the church organ.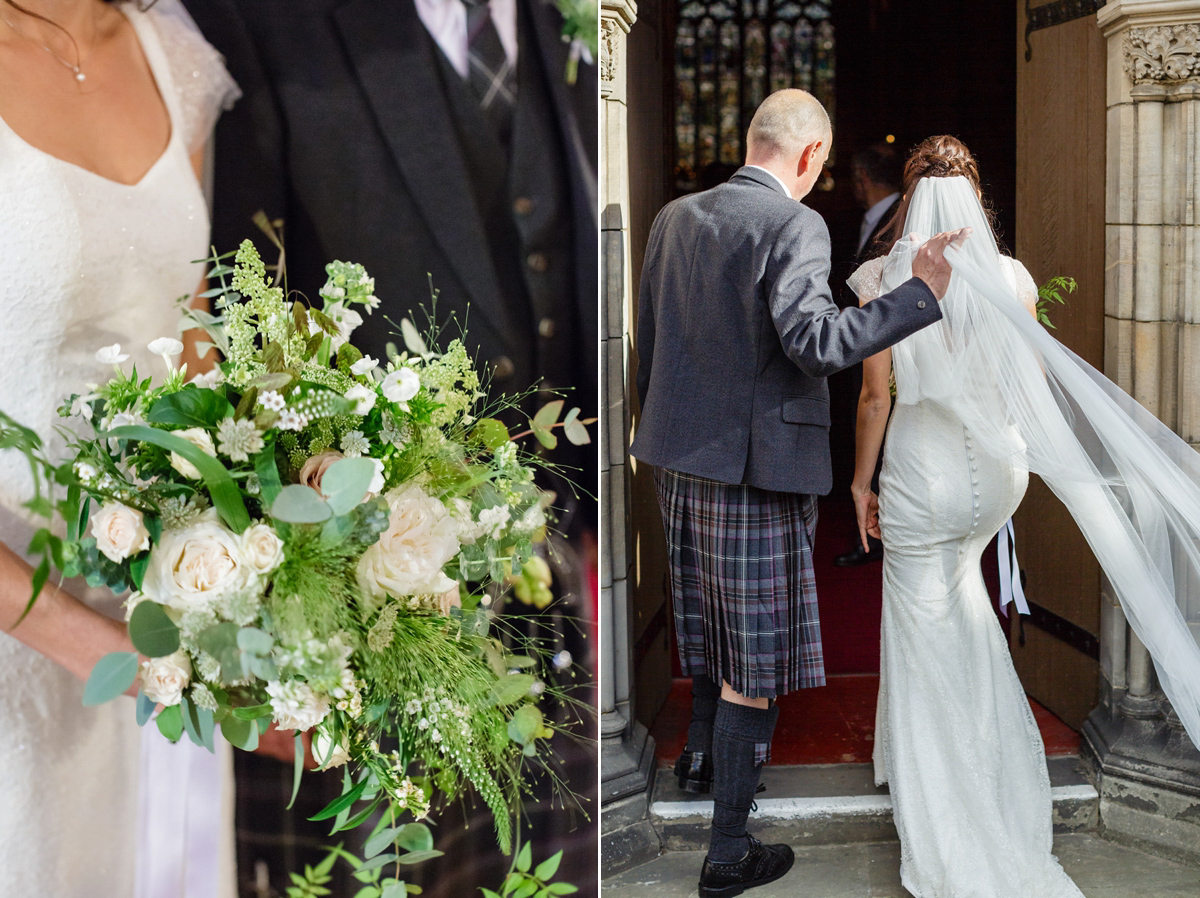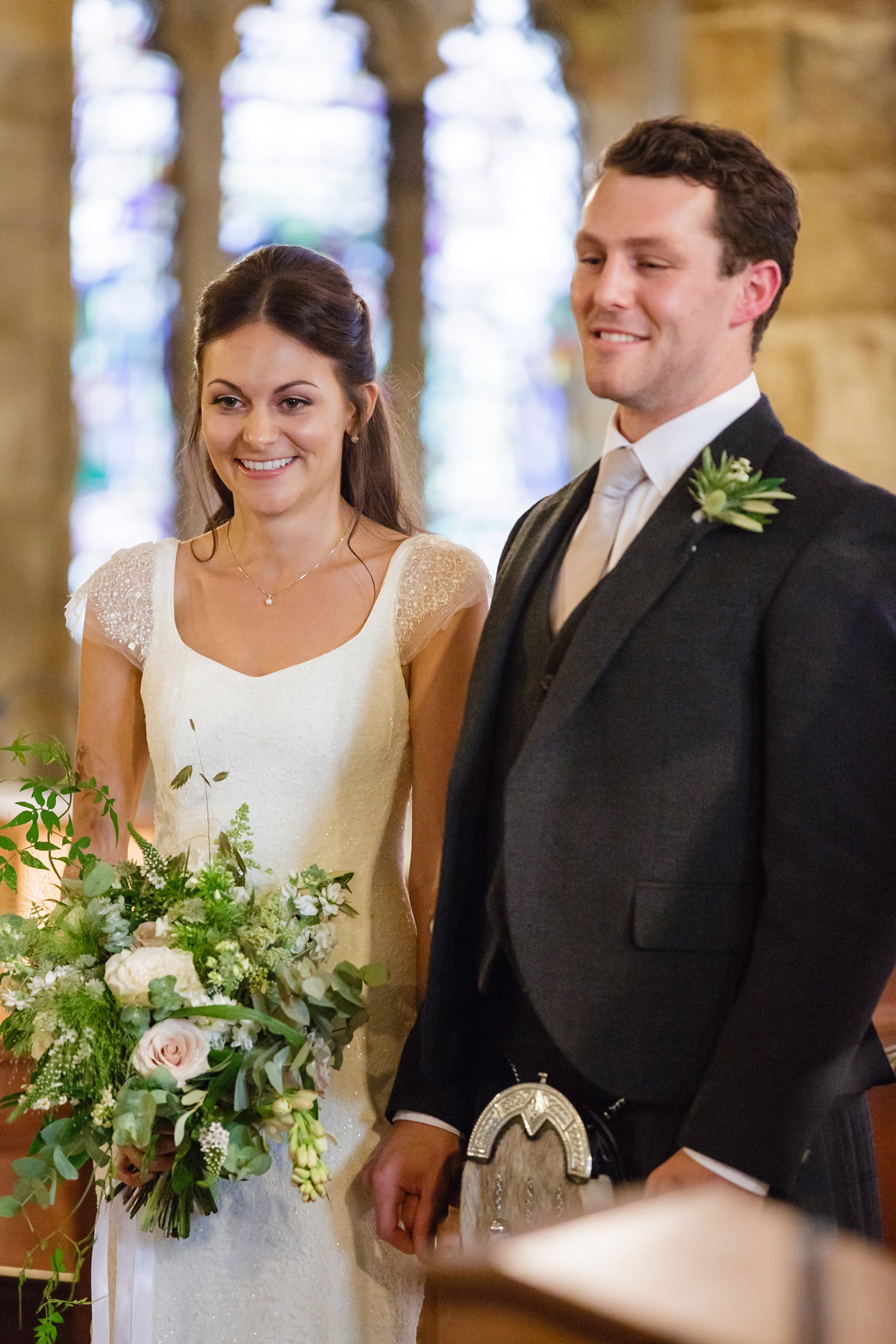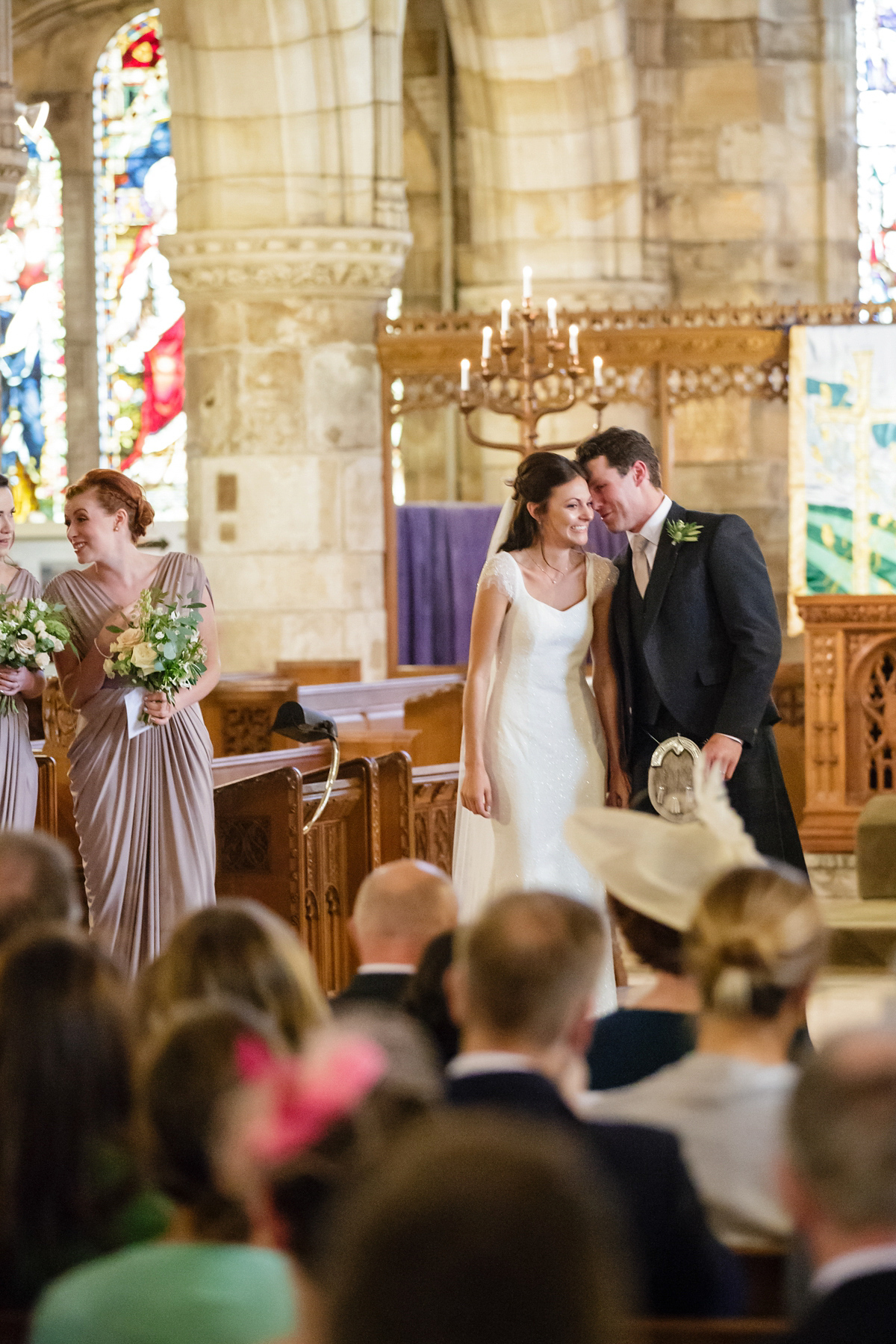 The couple met at university in Scotland, and moved to Australia after two years together. Eoghan chose to propose in Dublin whilst on a Christmas visit home, and the wedding took place the following year.
How lucky they were with the weather, which Koby Brown Photography has captured wonderfully in these light-infused, romantic images.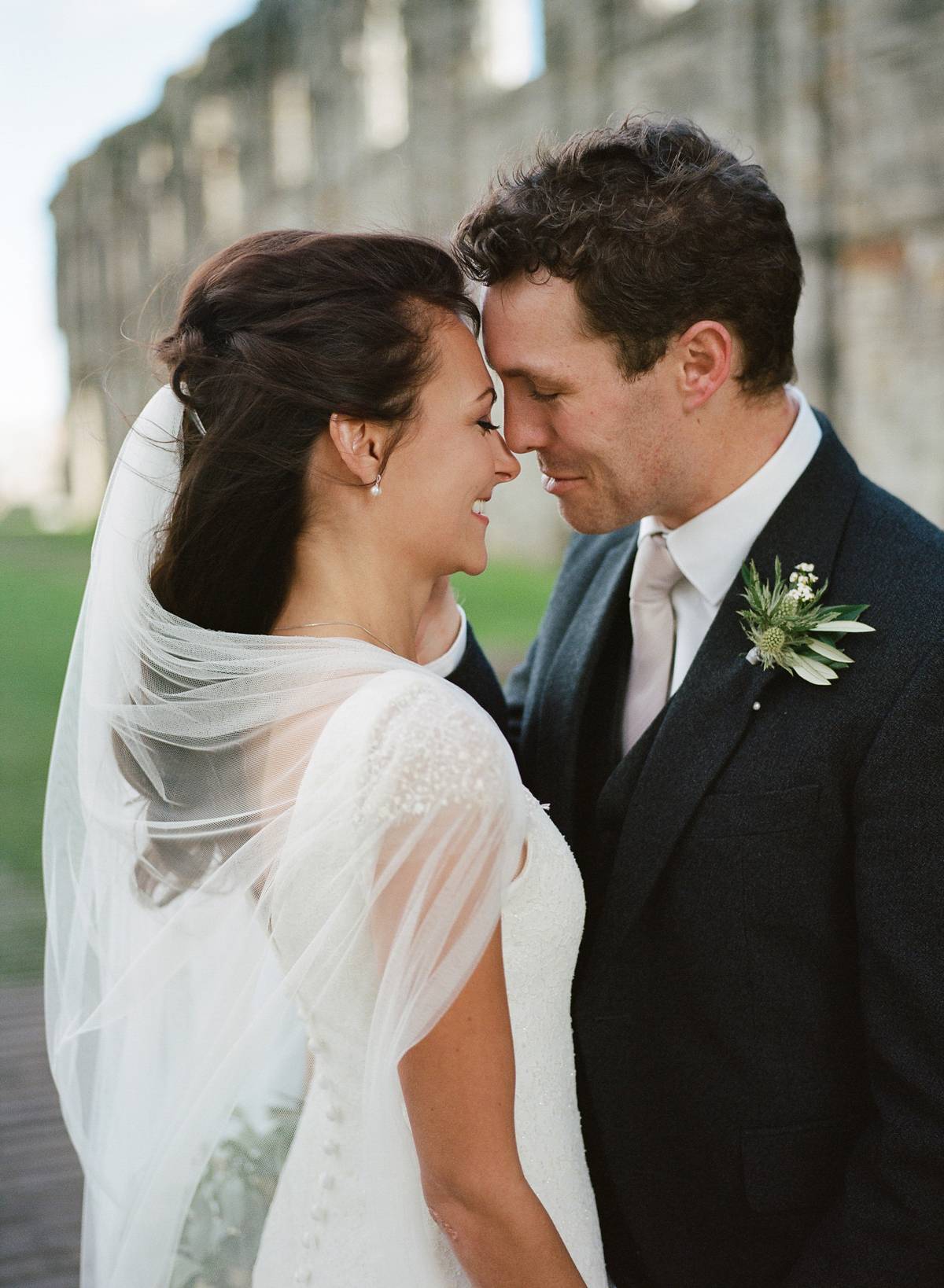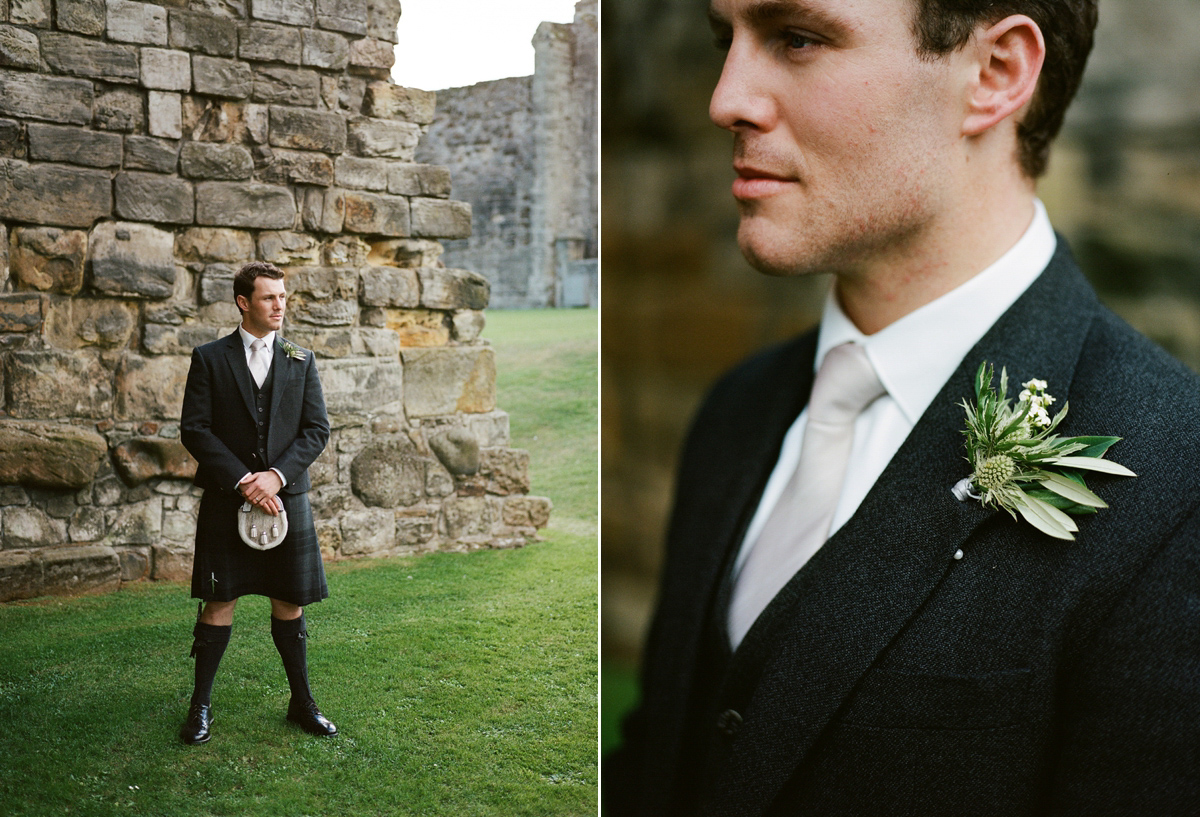 "Koby Brown Photography – we can't speak highly enough of this couple! They made us feel so comfortable and were a joy to have around the day of our wedding. It felt like they were guests and people didn't even realise they were there: everyone loved them! They were the stand out from all of our supplier choices and we are so grateful they were willing to work with us."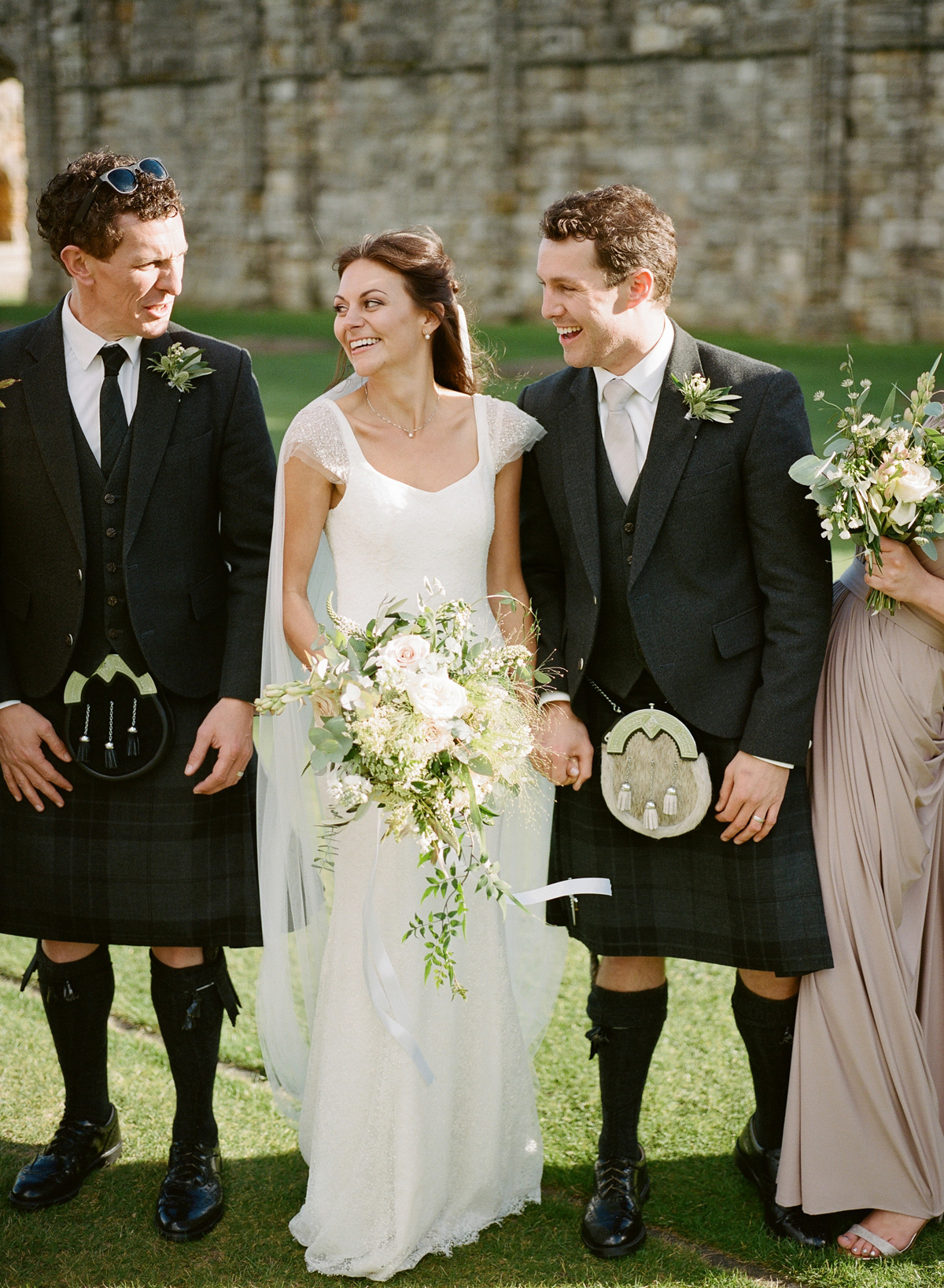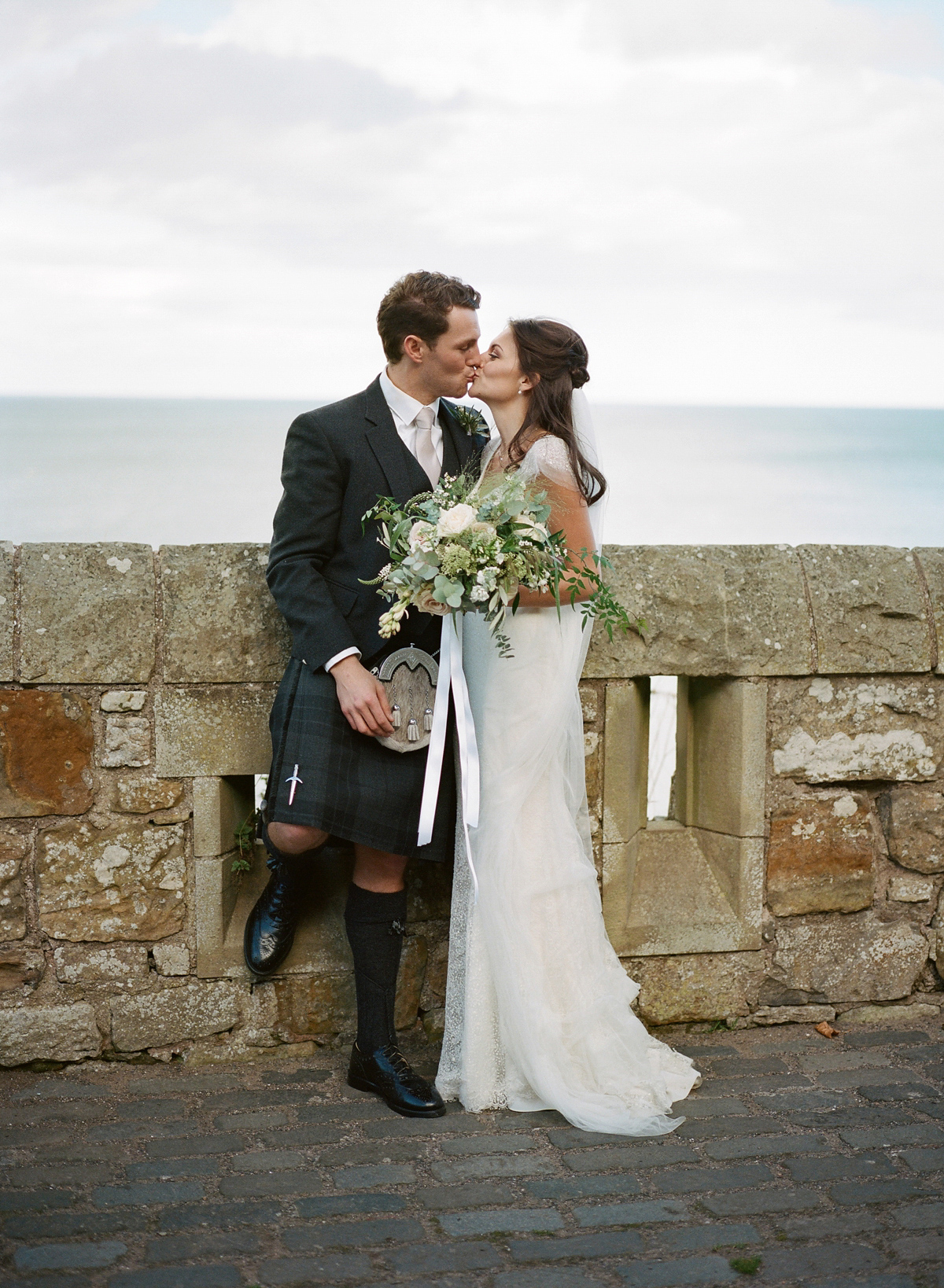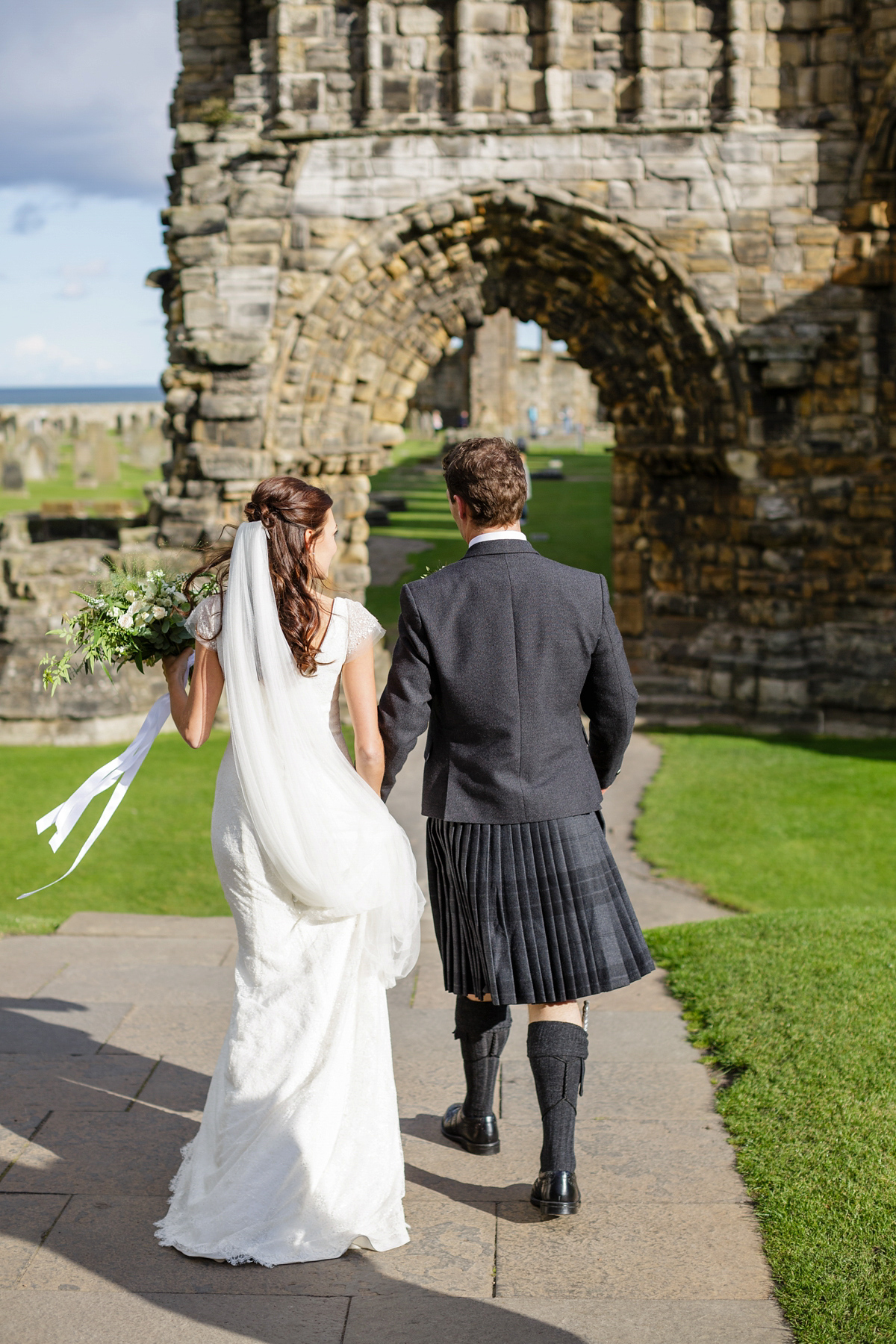 The beautiful florals continued in the spectacular barn venue Kinkell Byre, which a family friend covered in foliage and green thistles for an elegant Scottish feel the night before the wedding.
"The lighting in the barn was really the stand out décor and that alone created the most magical setting. We chose festoon lighting at a low height to create a more intimate space. We also added lots of candles, lanterns and flowers to create the look we wanted… I absolutely loved it."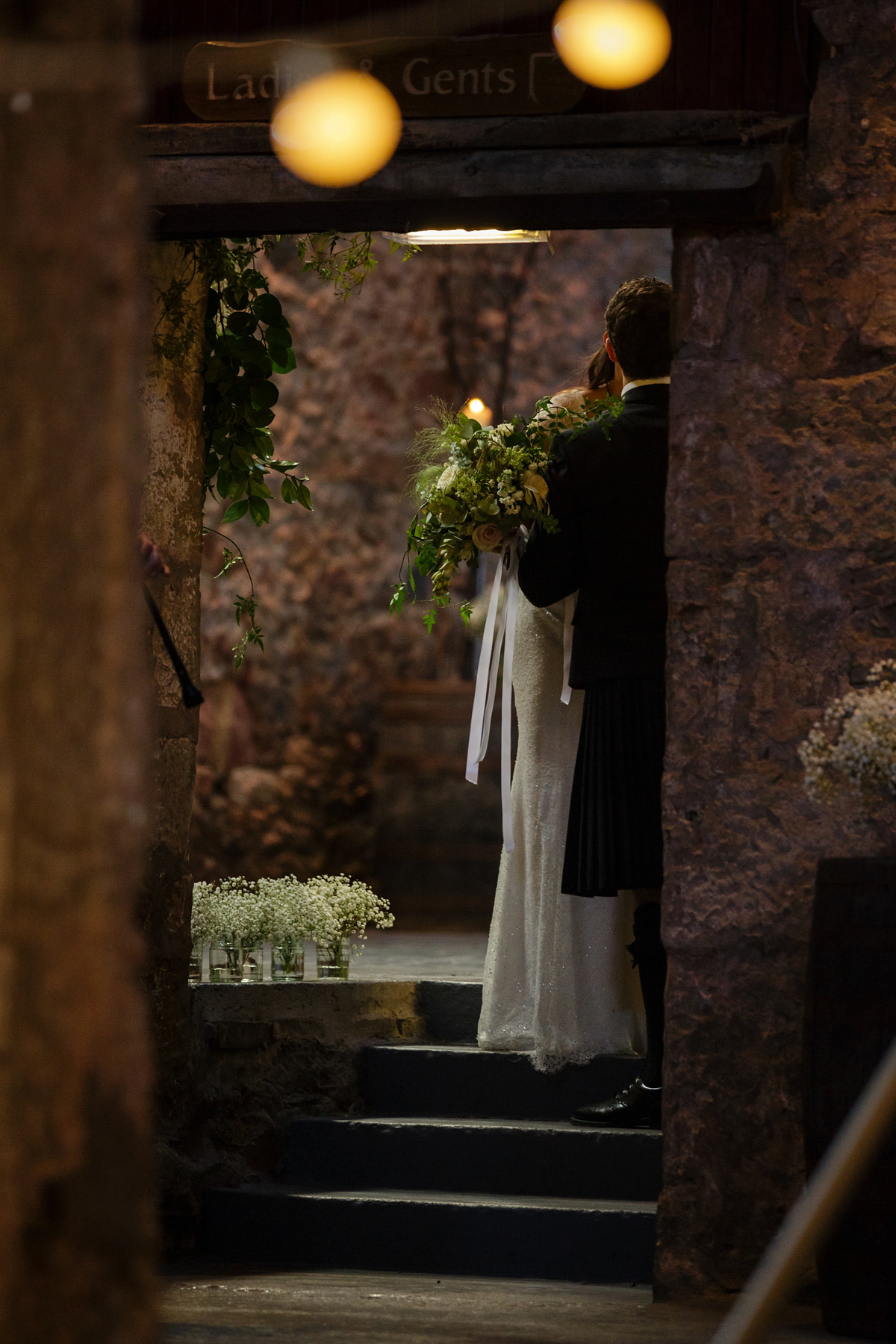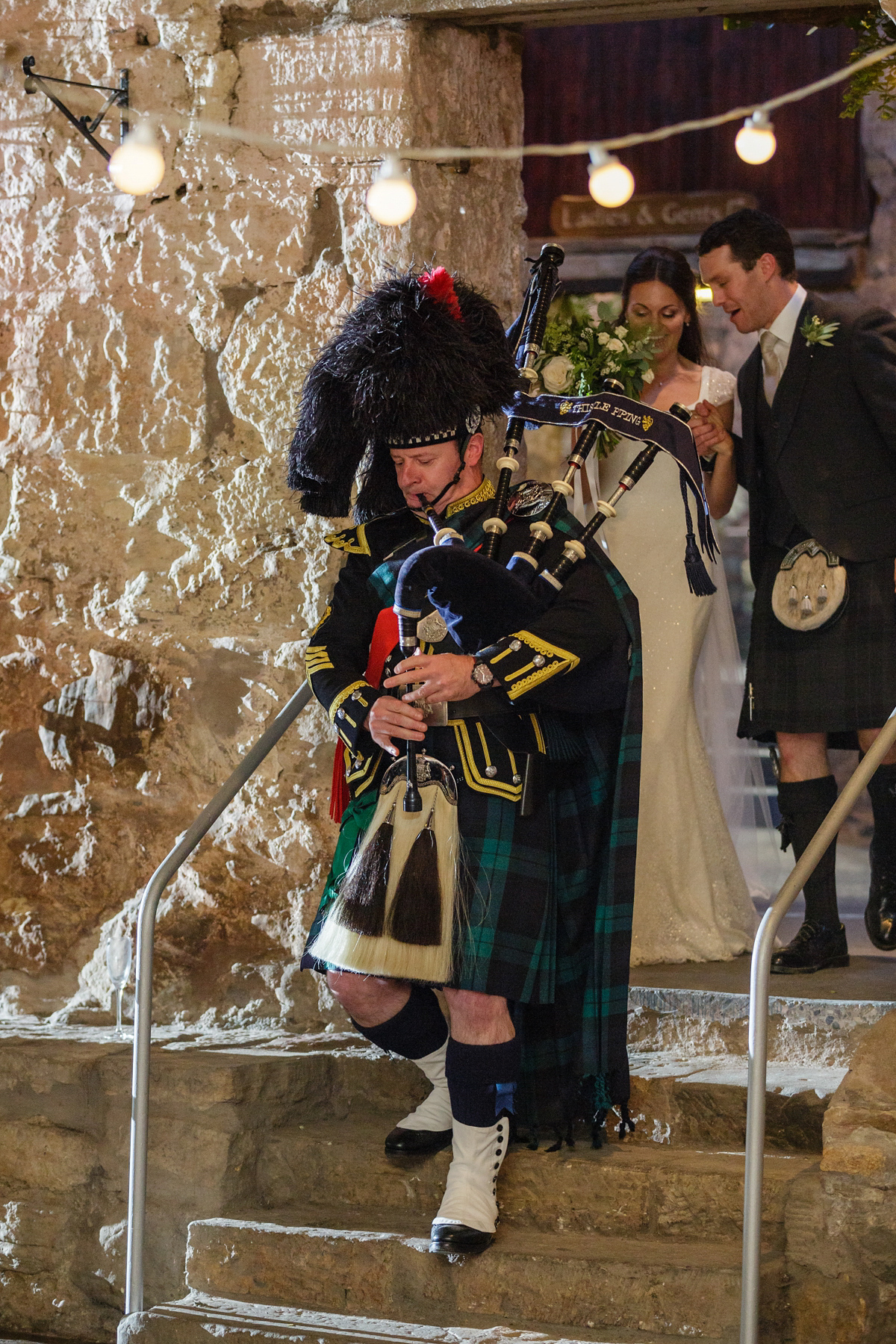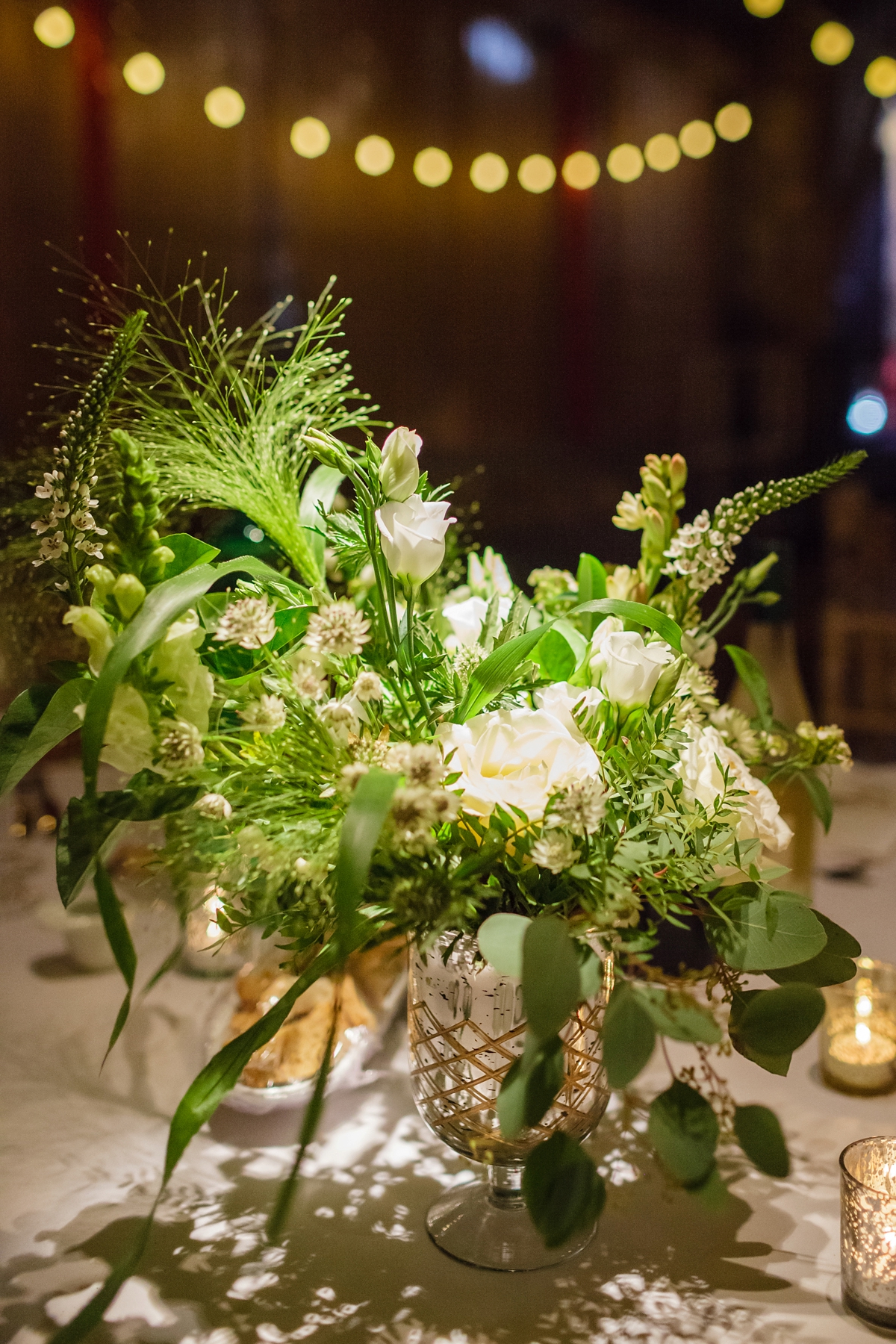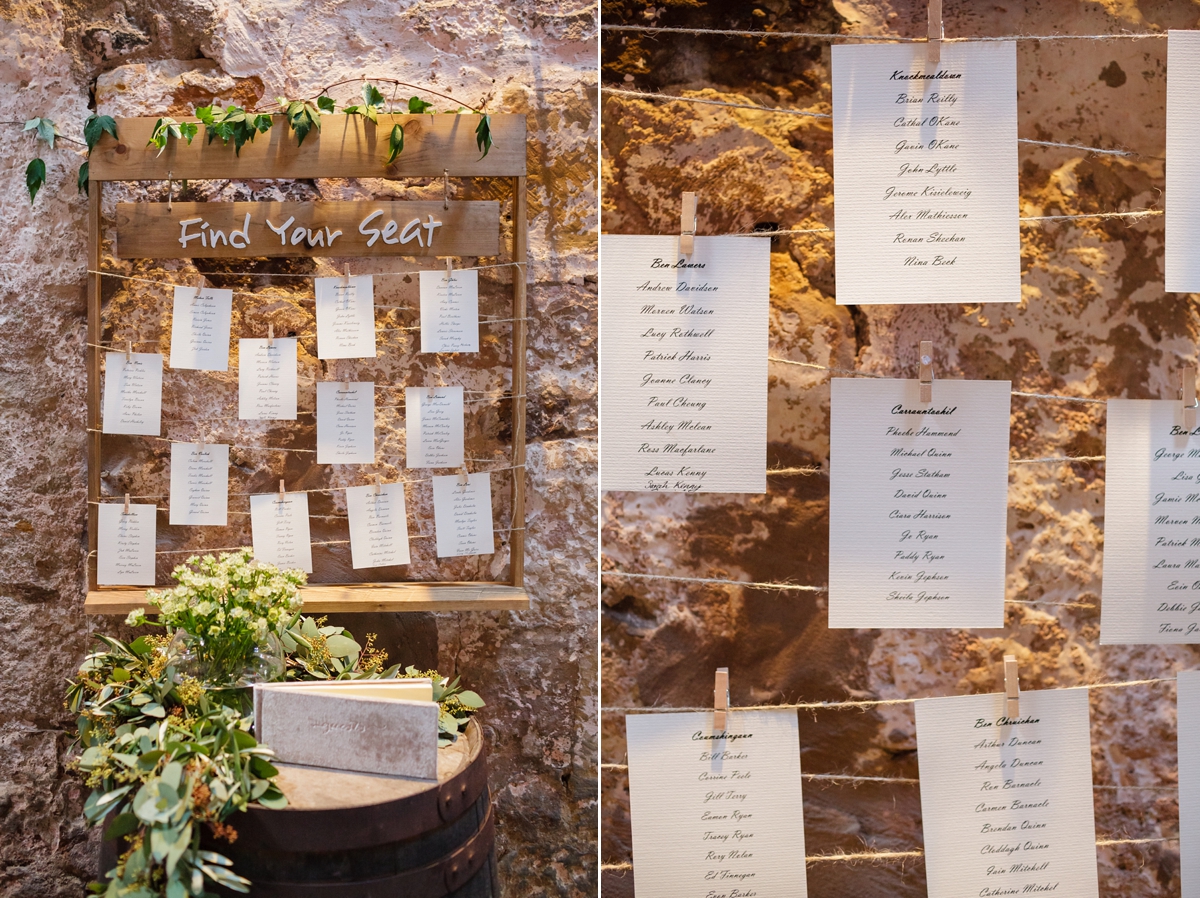 How magical it must have been to sit down to a wedding breakfast in this barn. The fresh green foliage brings to mind this Greenery-inspired shoot which we featured on Love My Dress last month, a must-read for any brides-to-be who have fallen in love with the foliage at Carrie and Eoghan's wedding.
The personal touch is obviously important to Carrie and Eoghan, and I love how they wove together their Scottish and Irish heritage to create the favours. Carrie's mum made Scottish tablet in the week before the wedding and family friends of Eoghan brewed their own traditional Irish Poicin.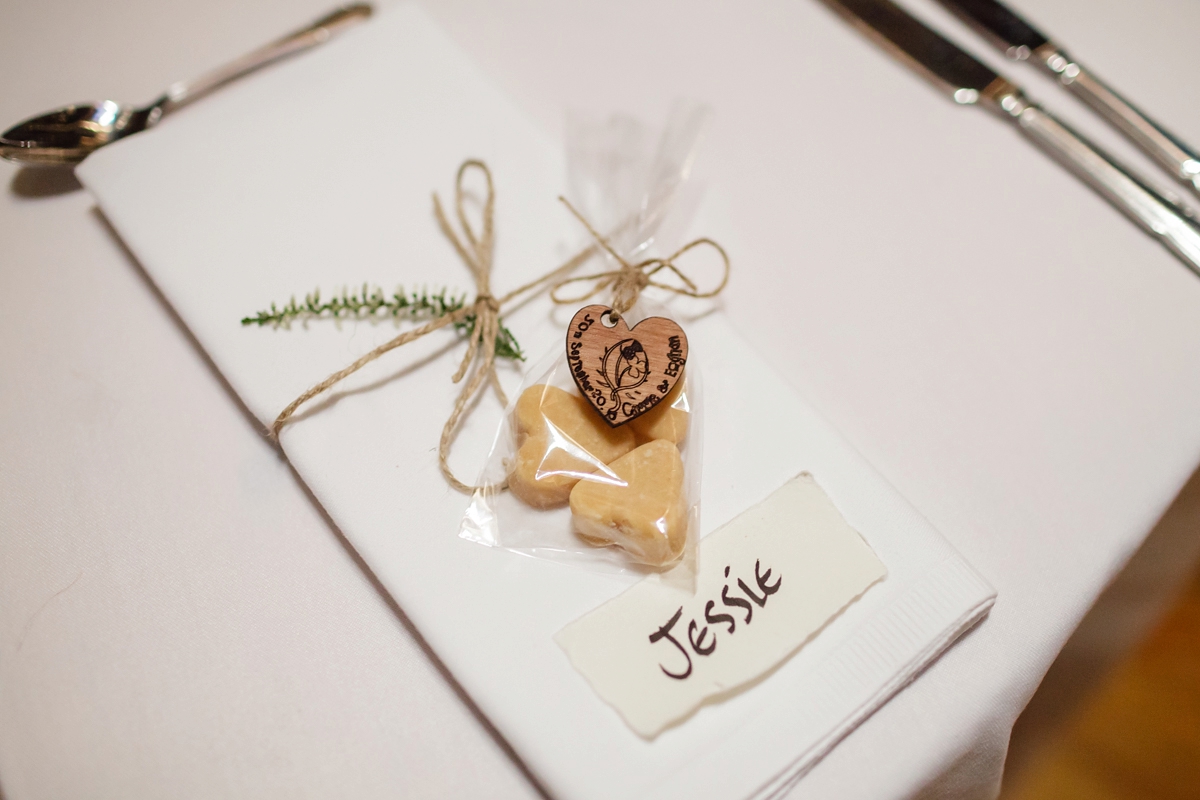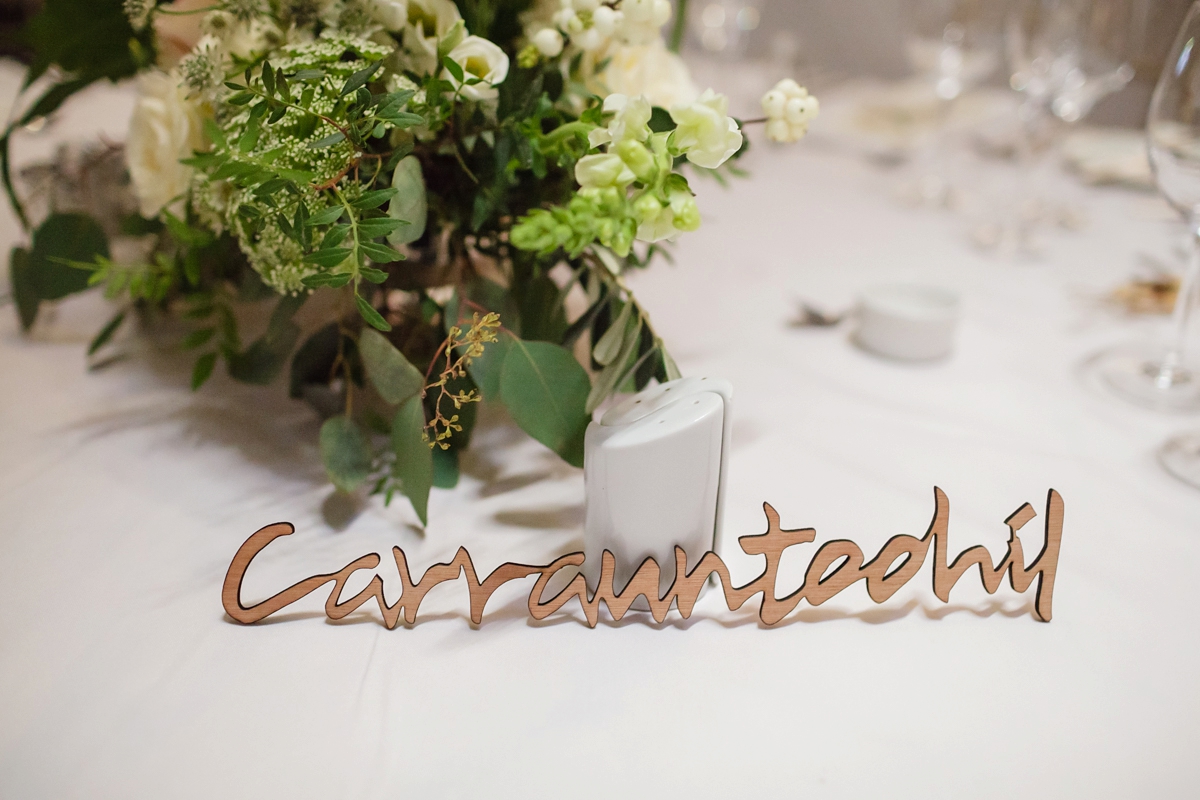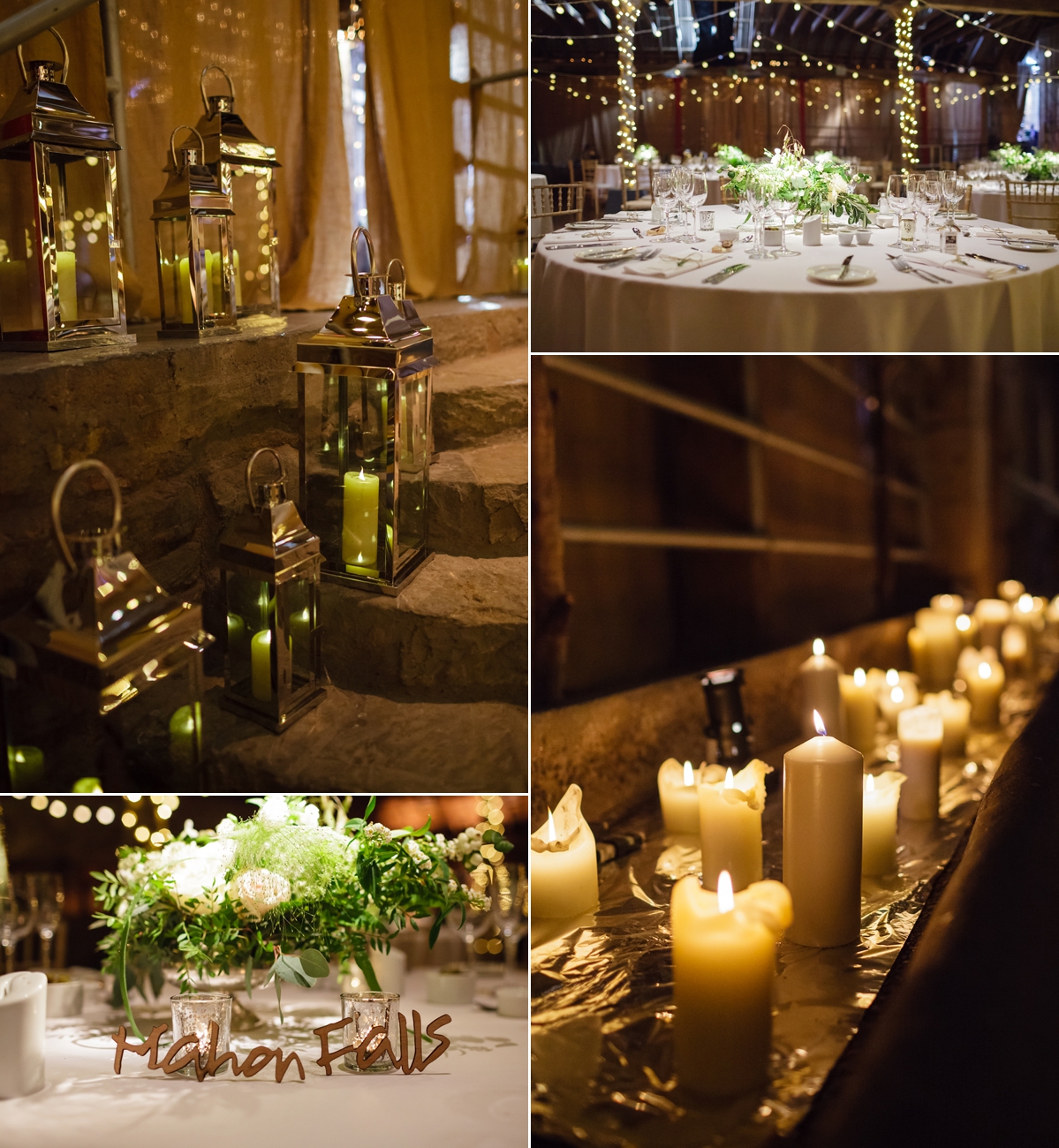 The tiered cake was the work of Carrie's aunt, and it looks so dainty and fresh with its simple floral decoration.
"My aunty made our cake. It was made of three tiers, one of which was gluten-free since Eoghan is a coeliac. The other two layers were a lemon sponge and white chocolate and macadamia sponge. It was absolutely beautiful and fitted the style of our wedding perfectly. It felt really special having personalised touches throughout our wedding."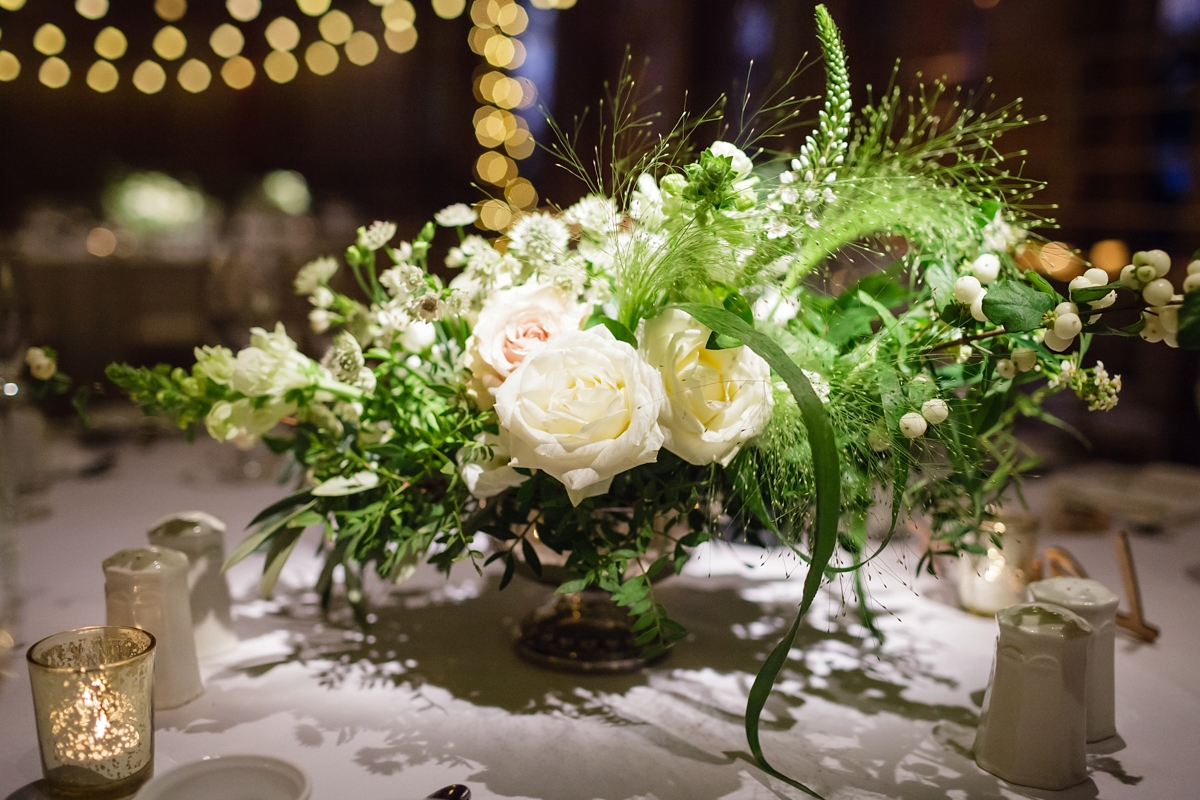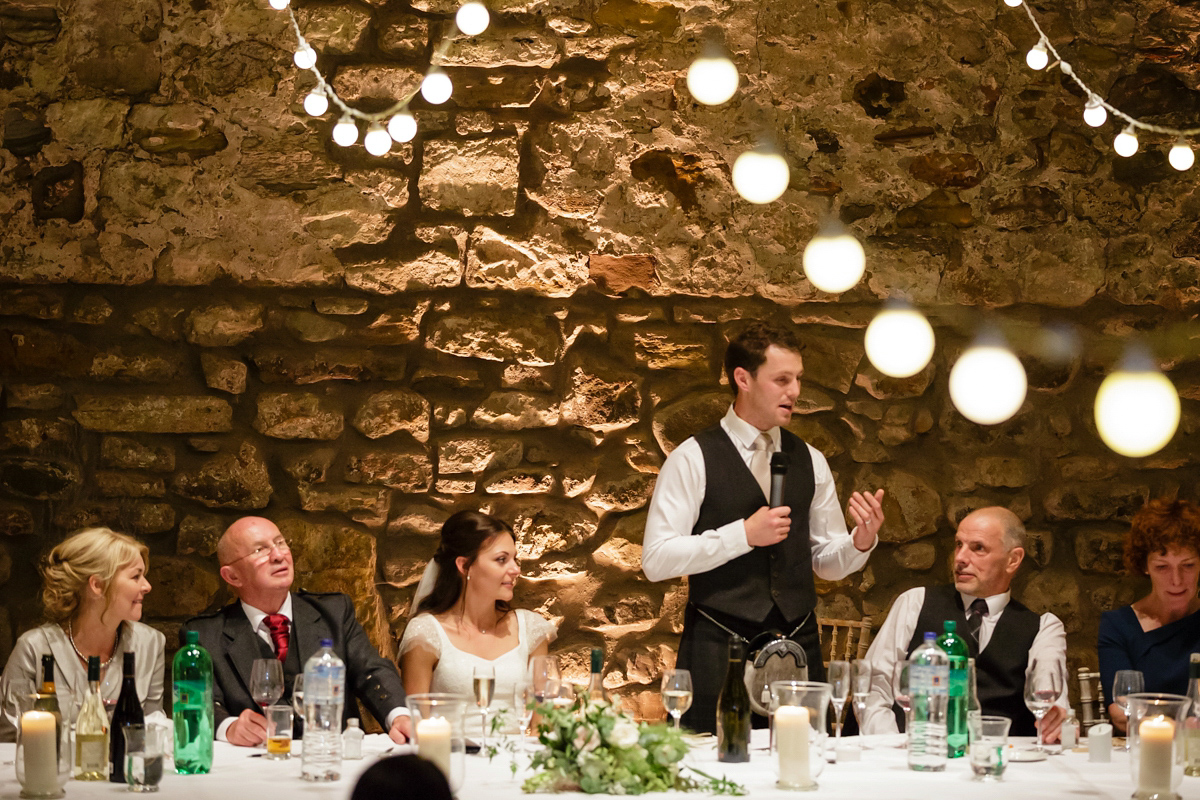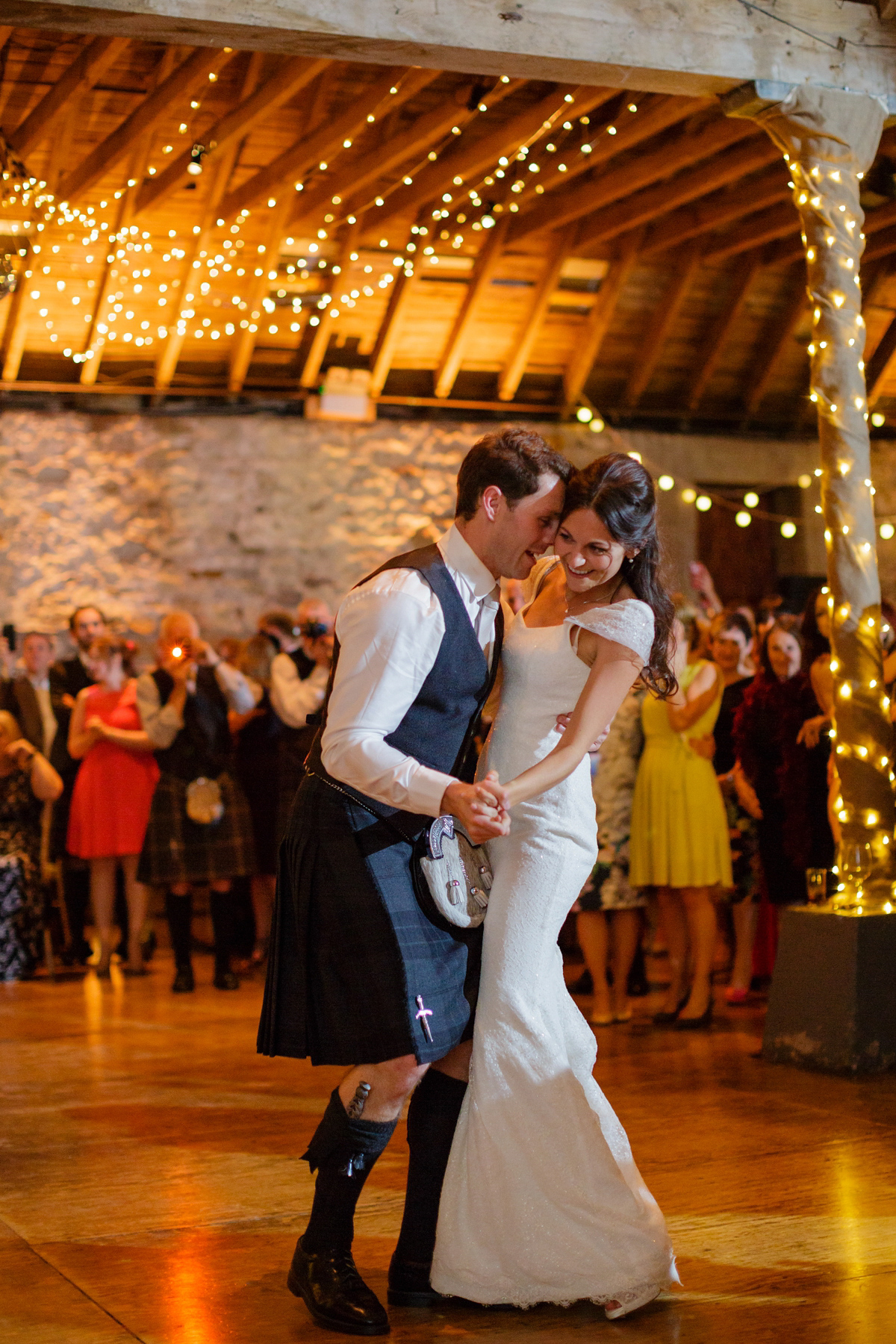 "Two members of the band played an acoustic set during the drinks ceremony then they played with a five-piece band at night. We knew we wanted this band after hearing so many great things from others at previous weddings. It was still something I stressed over as we lived in Australia so we couldn't hear or meet them. After all the worrying they turned out to be a highlight of the wedding. The band is absolutely fantastic; we really couldn't have asked for more. They hilariously led the Irish and Australians through some traditional Scottish Ceilidh dances which was so much fun!"
The first dance was 'Caledonia' by Paulo Nutini, which was made extra special as one of the bridesmaids joined the band to sing the lyrics.
"This has always been our favourite song and was an easy choice for us. We have been to see Paulo in concert many times together and the song holds a special meaning to us both living so far from home. This was particularly special as my bridesmaid sang this with the band and she sounded like an angel."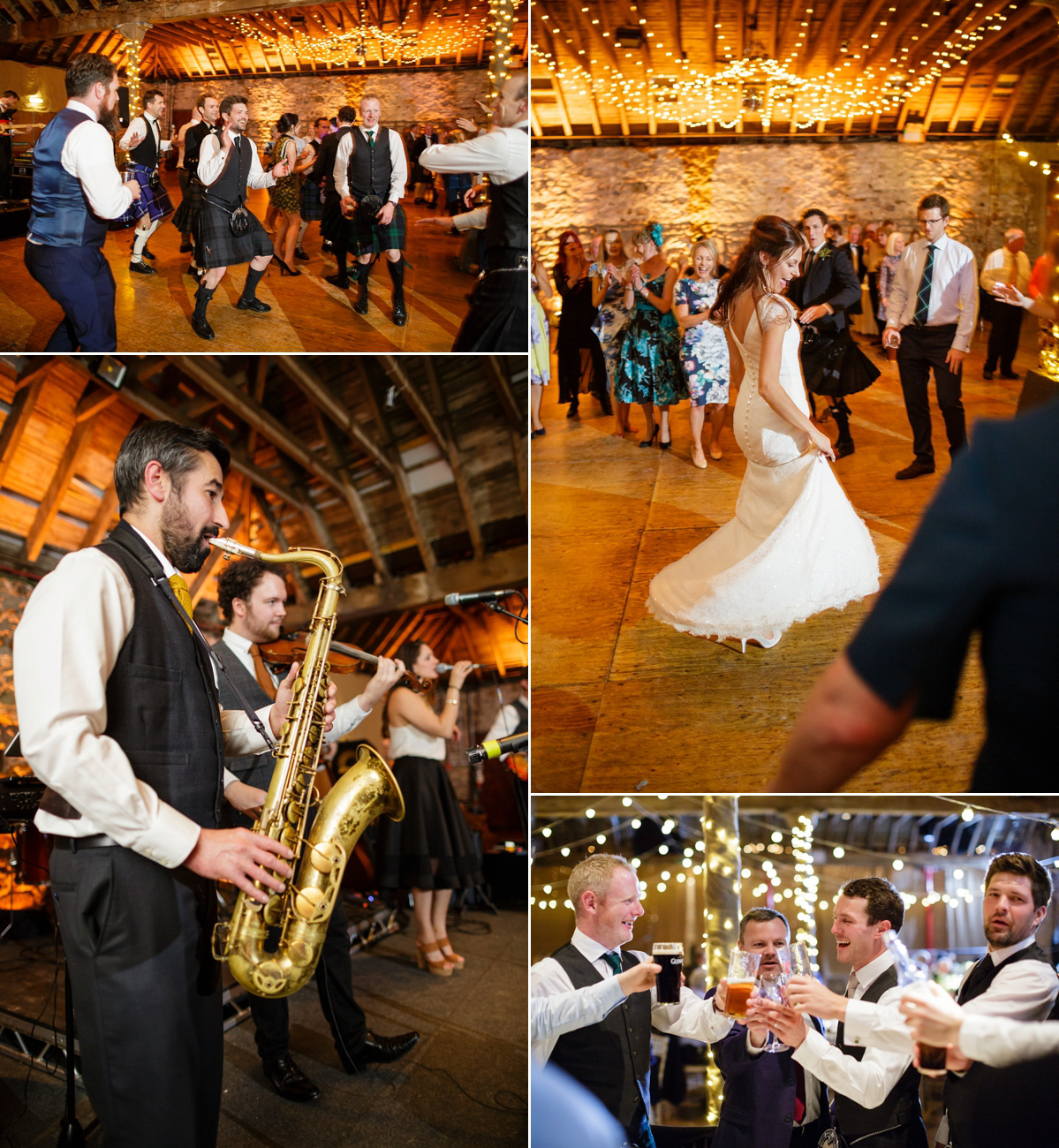 Words of Wedded Wisdom
"Take some time for yourselves after the ceremony to take it all in and be together as time really does go so fast! We really enjoyed our photographs as we got to take it all in together without other distractions before going back to enjoy the celebrations with our loved ones!"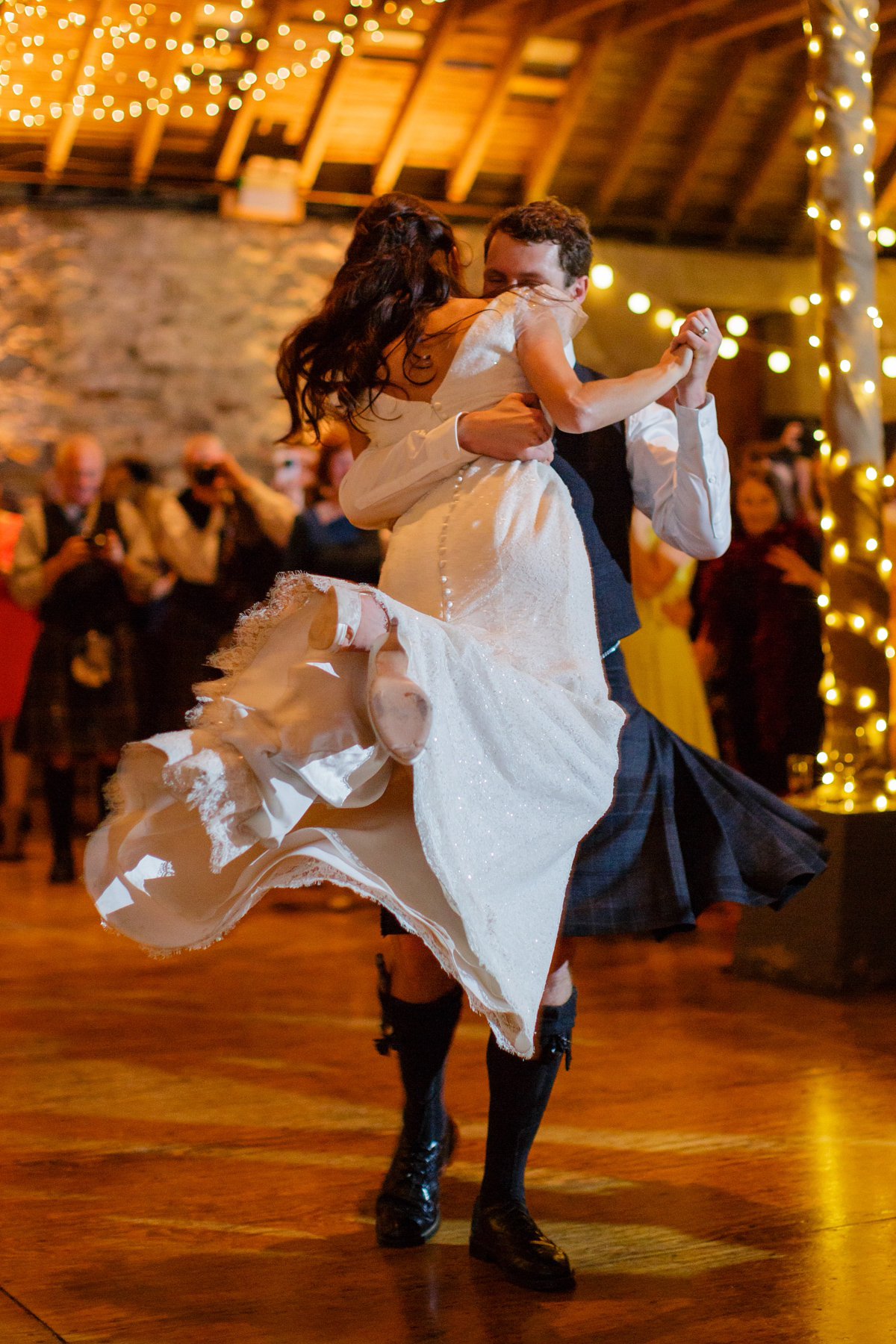 I do hope that you've enjoyed this gorgeous wedding as much as I have, and it's inspired you to get creative with foliage and candles. Thank you so much Carrie and Eoghan for sharing your day with us.
Wishing you all a lovely weekend, and that the sun stays out for you.
Ele xx