Oh readers, I love all our weddings but sometimes I wish with all my heart that I had been a guest at a particular celebration.  Today's stunner of a wedding is one of these and comes to you from Ireland, with a bride who was a member of our closed Facebook Group community for Brides throughout the planning. Meet Sarah, who works for a charity for homeless young people, and Joe, an architect, who married in windswept, ultra romantic style on the 9th September 2016, at Mount Druid, Co. Westmeath, Ireland.  Let's begin with their beautiful wedding film, by Hatch Wedding Films.
Video by Hatch Wedding Films
"We wanted our day to be relaxed and fun with a festival feel.  We were both attracted to everything rustic, green, leafy and neutral- as Mount Druid is such a naturally beautiful venue we wanted to build on its character and not take away from it."
Photography by Rubistyle
Sarah wore the beautiful Avery by Rime Arodaky which she purchased at The Mews Bridal in Notting Hill.  It has pockets and lace. I'm sold!
"I absolutely adored my dress.  My main priority was comfort and I didn't want a dress that restricted any movement.  Once I saw Avery online I knew I needed to book an appointment at The Mews so my mum and sisters flew over from Ireland to come with me. When I put it on I knew I loved it immediately.""I walked out and my sister Shelley took one look at me and said 'We're done. That was easy!'.  I adored the lace sleeves, the open back and the gorgeous silhouette of  the skirt and more importantly I felt like me in it."
On her feet Sarah wore sandals from Kurt Geiger and kept all her accessories to a minimum, allowing that fabulous dress to do the talking.
For jewellery she chose a pair of gold bar studs and a gold ring from Lumo and her Granny's engagement ring.  For scent, Sarah chose a new scent to remind her of the day in future- Earl Grey and Cucumber by Jo Malone.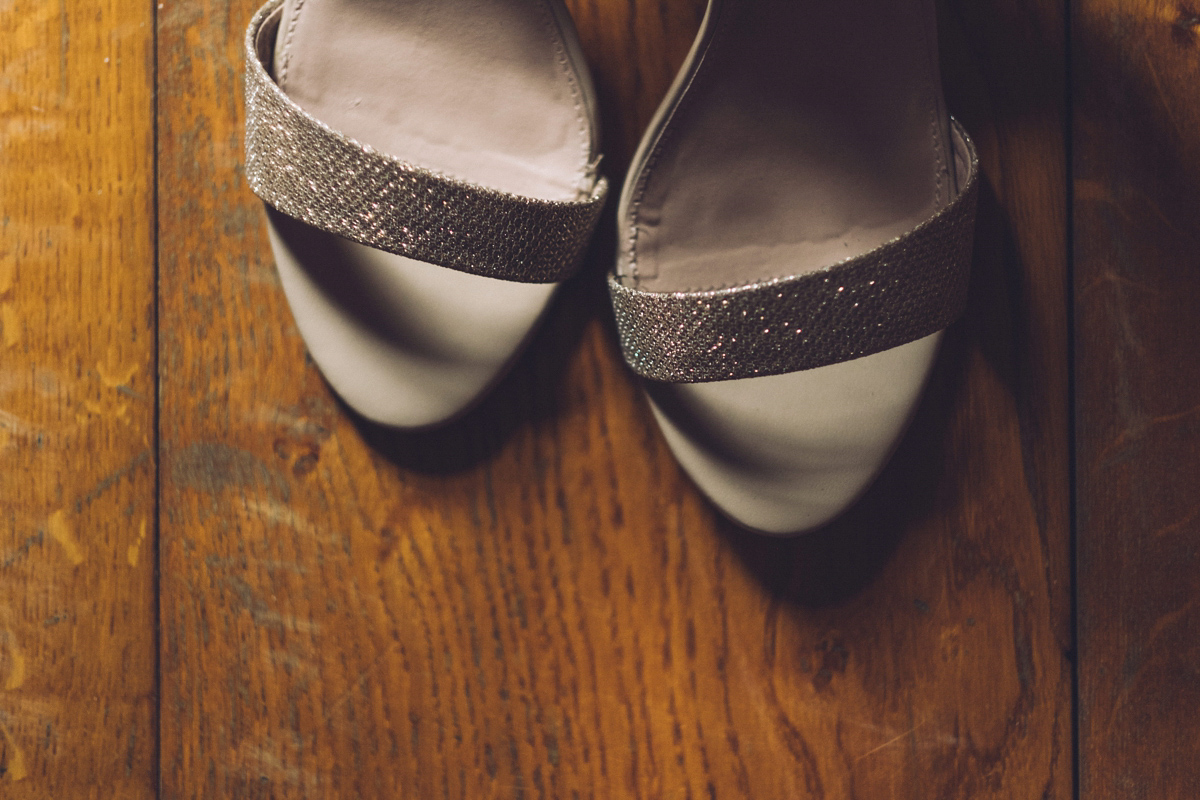 "Our make-up artist was the fabulous Michelle Kinsella.  I just wanted to look like an airbrushed version of myself and Michelle completely nailed it.  She was also so much fun to have around on the morning and she made us all feel so relaxed.  Our hair was done by the lovely Carla Rose. I'm quite fussy when it comes to hairdressers but I trusted her 100%."
The bridesmaids looked gorgeous in skirts from Needle and Thread, which they wore with shoes and tops they picked themselves.  I just love this look.  The tops were a mix of Coast and Venezuela boutique, while their shoes were Office, Kurt Geiger and Paul Byron.  In their hair they wore fresh flowers and for jewellery, each wore a love knot necklace from Orelia London which was a gift from Sarah.
"My bridesmaids were my two sisters and bestie Maeve who flew in from Abu Dhabi.  I didn't see them all together in their chosen outfits until the morning of the wedding but they looked stunning."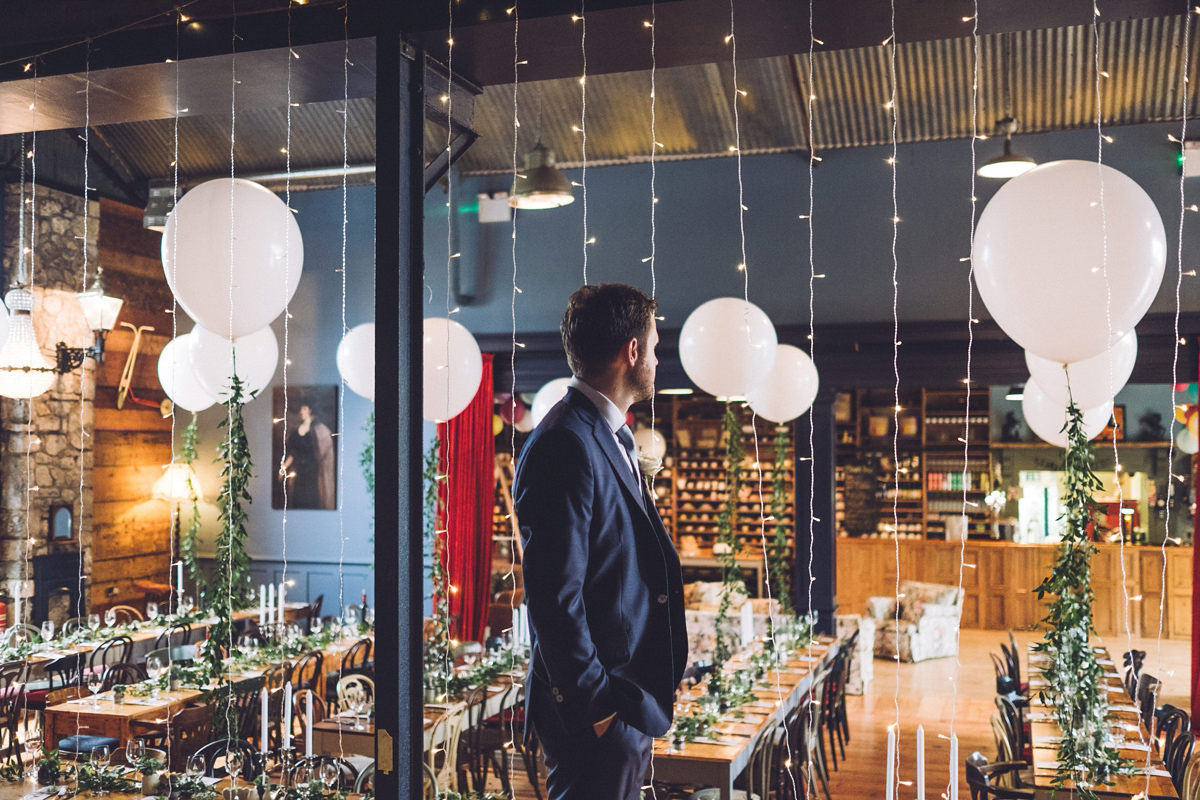 "We were also keen to do a 'first look'.  We didn't want to have to leave our drinks reception to get our portraits done as we didn't want to miss one minute of the party and we didn't want the first time we saw one other to be in front of everyone. We spent two hours together before the ceremony and we are both so happy that we had that time together.  I would recommend a first look to everyone."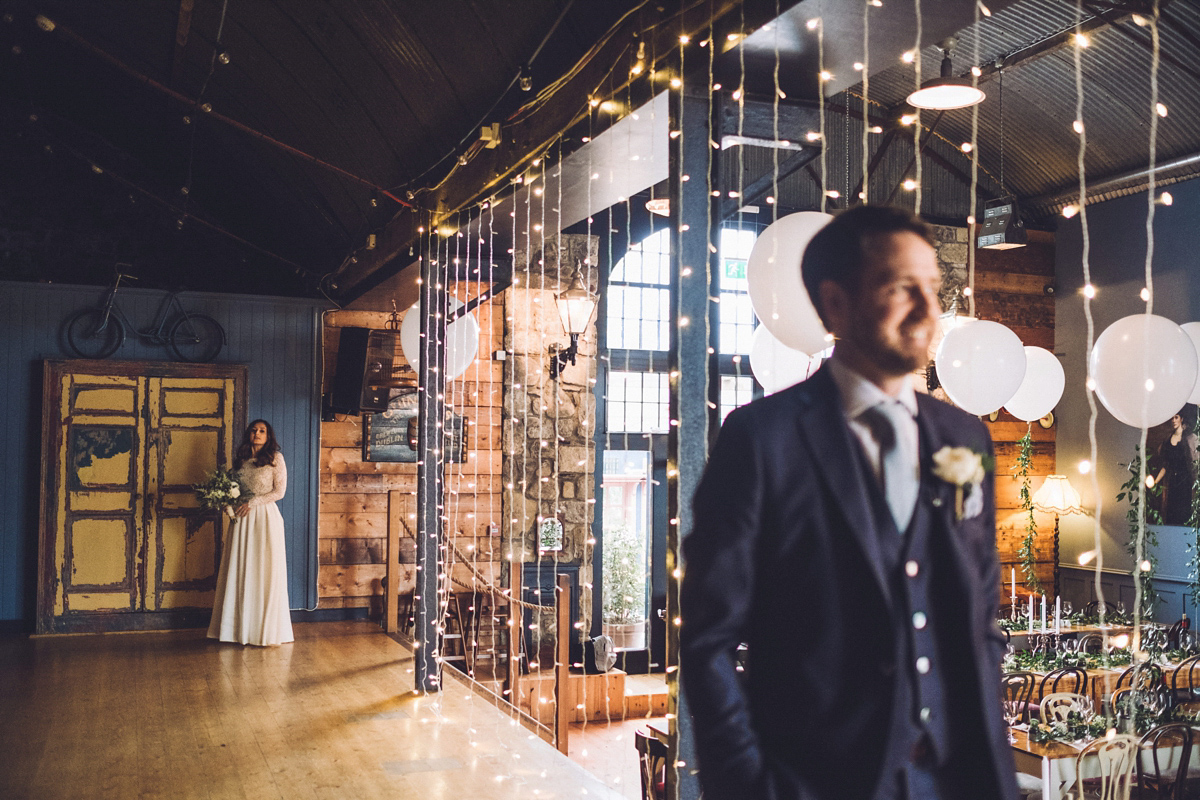 Joe chose a beautiful blue suit from Hawes & Curtis, London, which he paired with a shirt and tie from TM Lewin and a pocket square from Mrs Bowtie.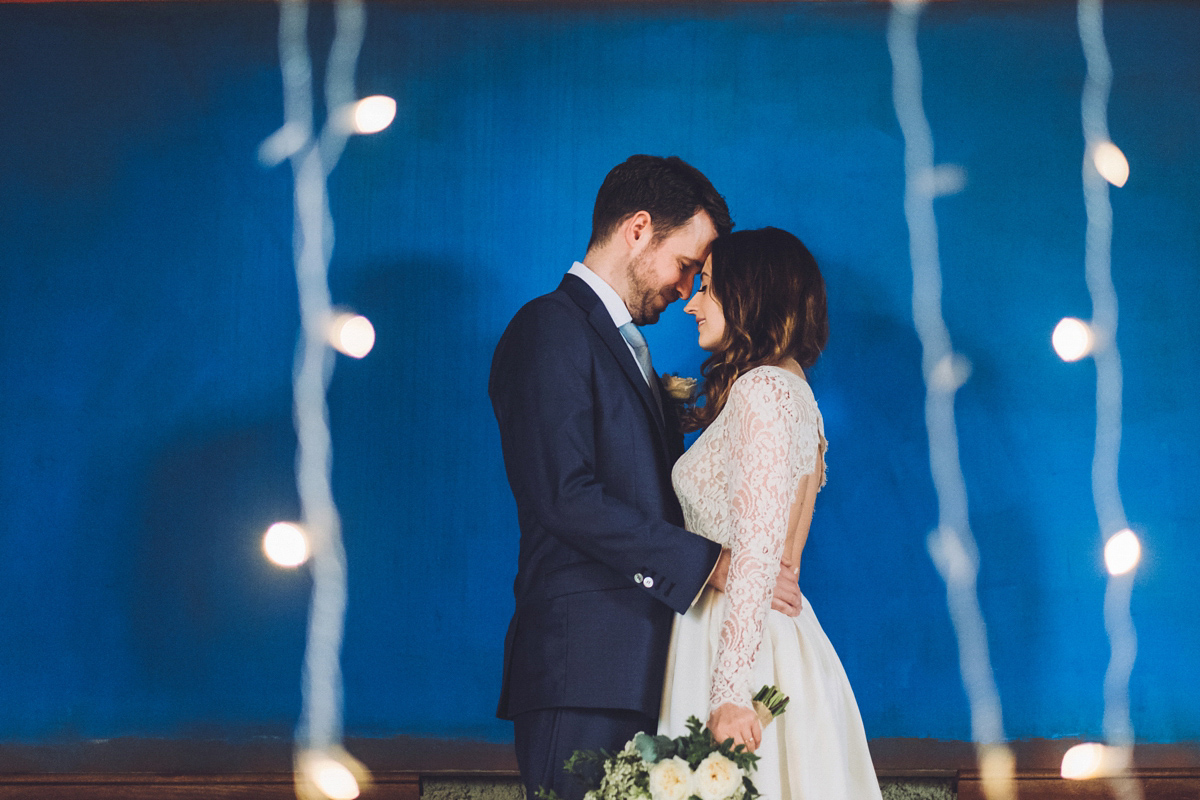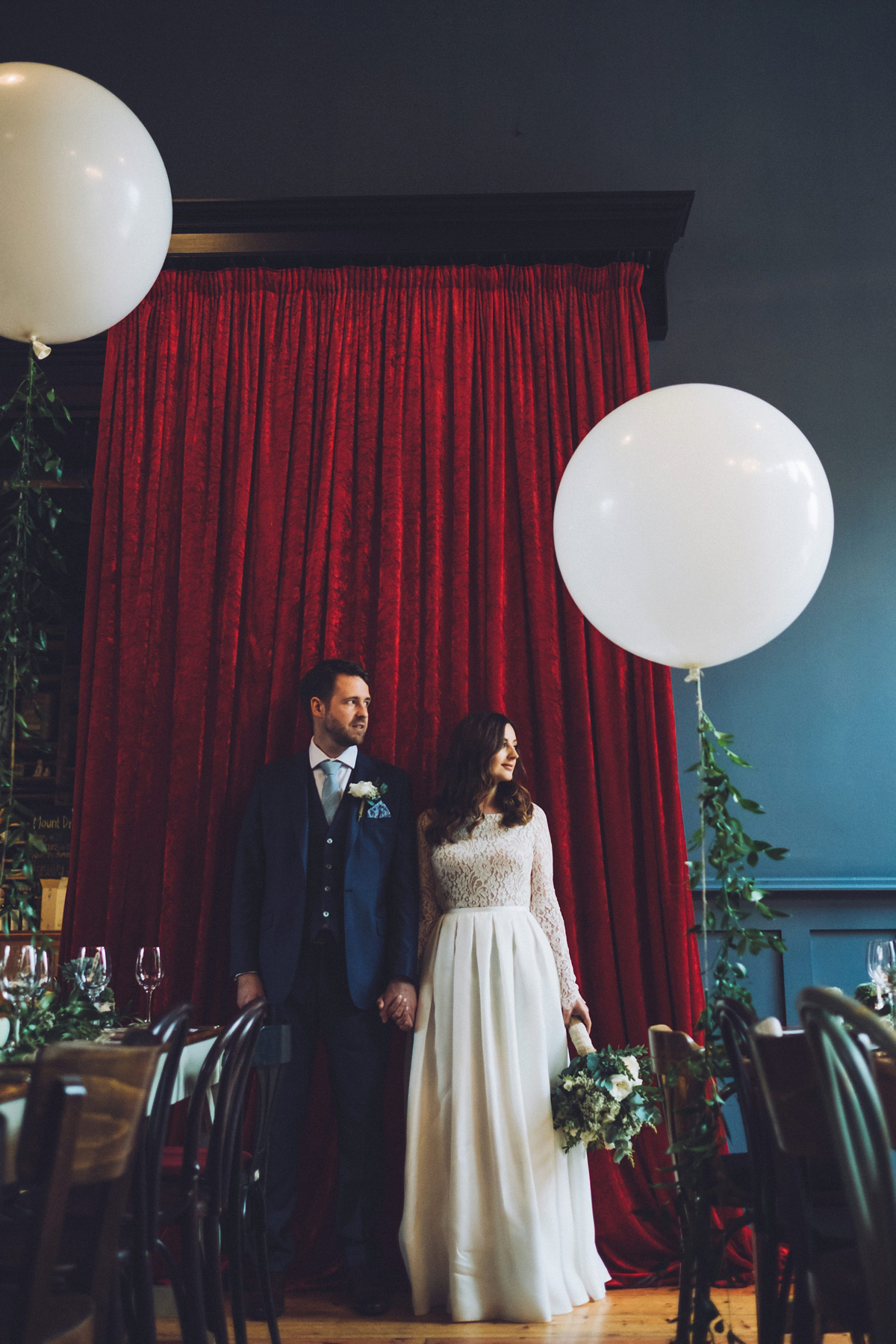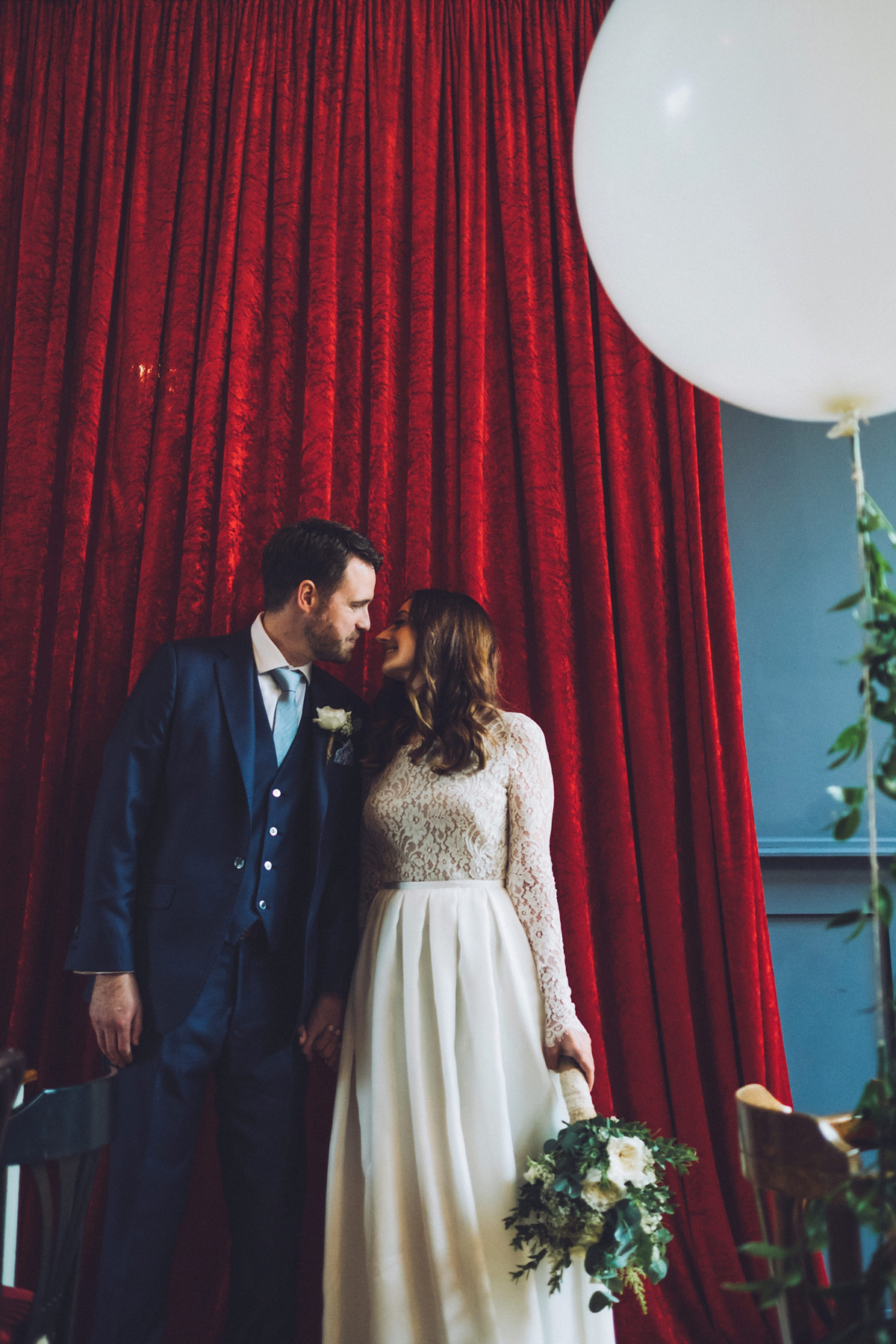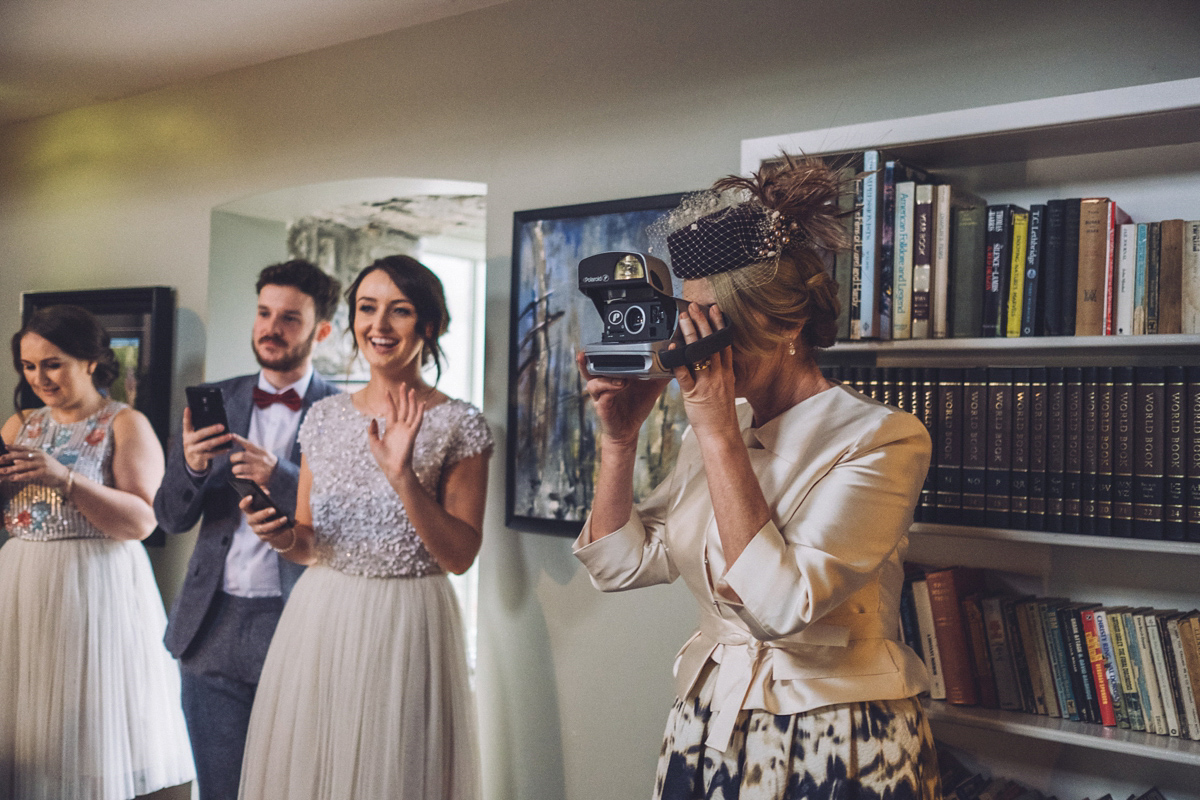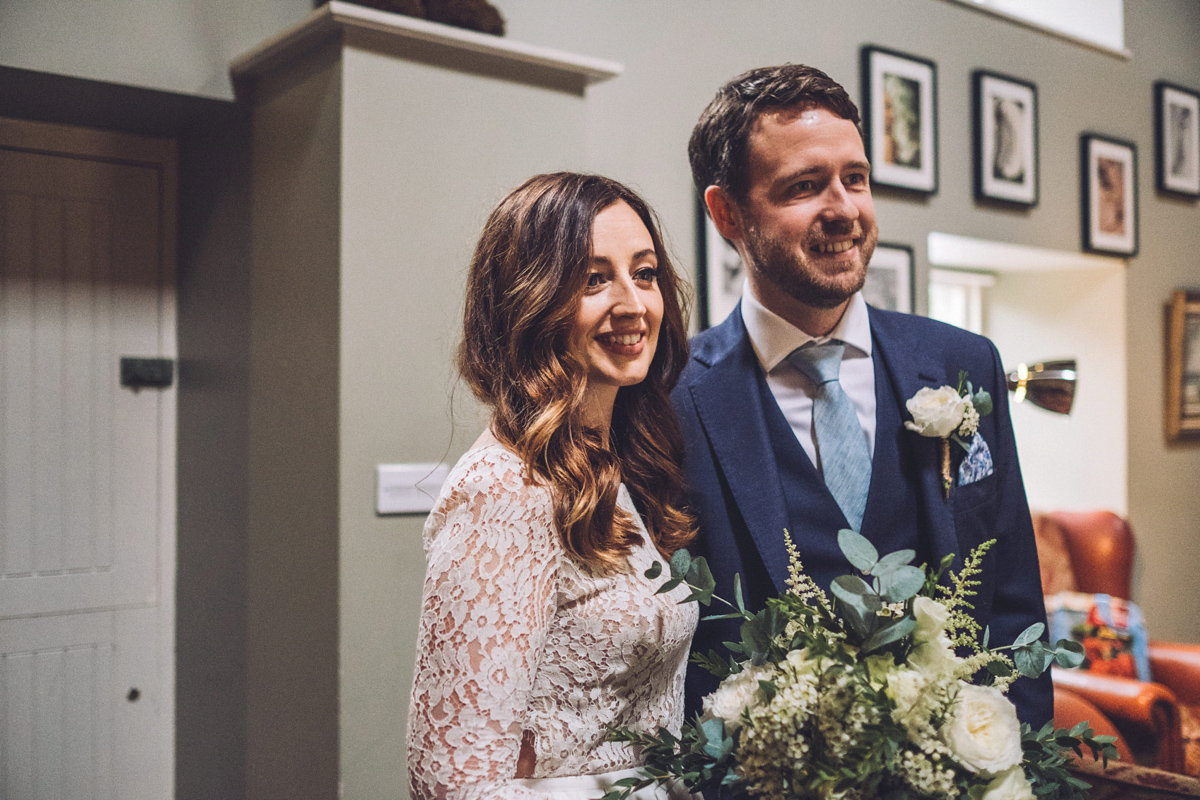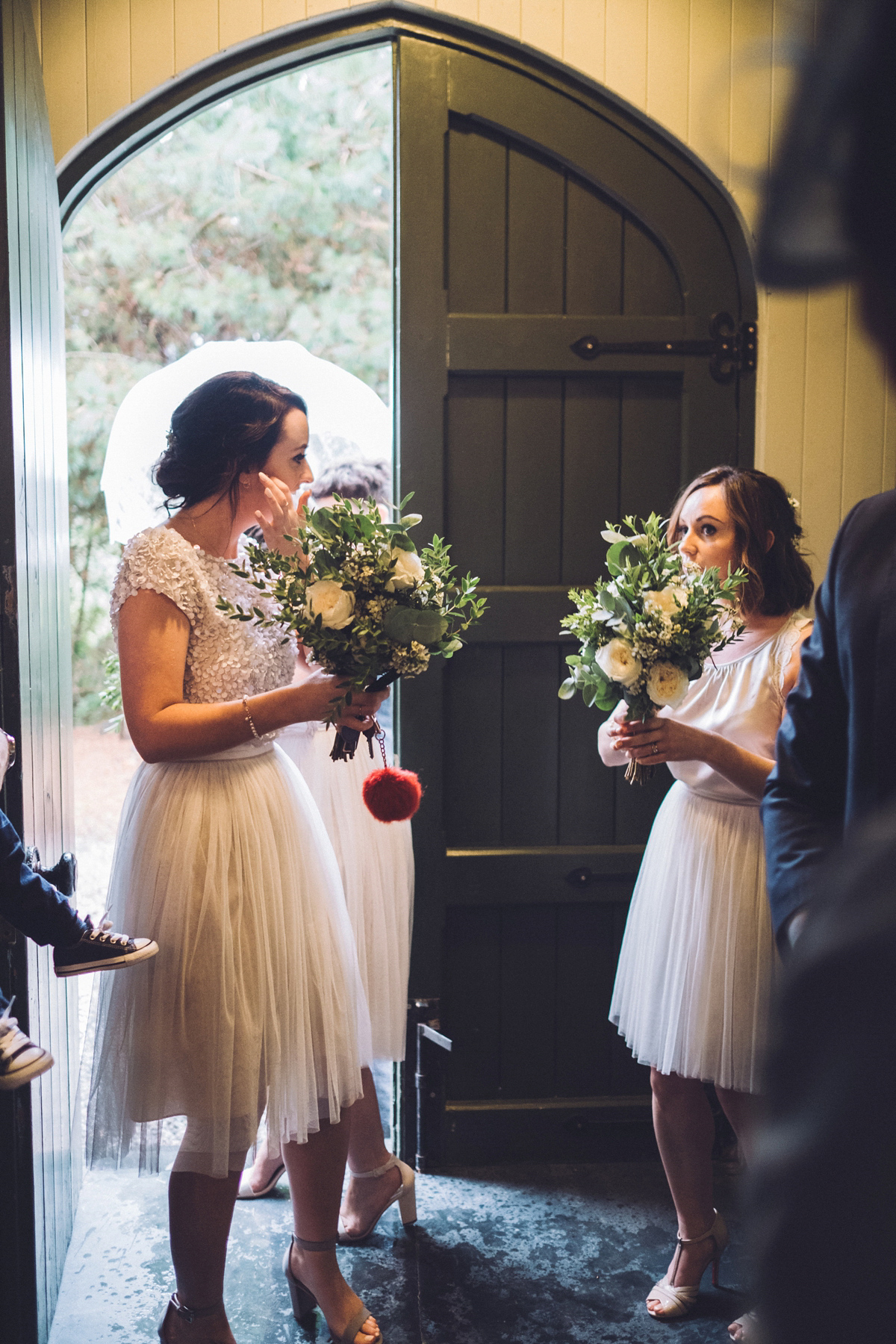 In the interest of equality Joe's Mum walked him down the aisle first and then Sarah's Dad walked her down after.  I adore this idea.
Sarah's two year old nephew was the cutest pageboy in an outfit from from Zara, worn with baby Converse.
"A friends of ours, Eimear, sang and played guitar throughout the ceremony.  She has the most beautiful voice and we walked down to Bon Iver's Skinny Love which is my absolute favourite song."
"We had a Humanist ceremony and our celebrant, Bridget, was fantastic; she had the perfect balance of warmth and humour and I smiled the whole way through."
"We incorporated the Celtic tradition of handfasting into our ceremony and also placed brass cowbells on random seats with little tags saying 'ring me when the bride and groom share their first kiss'."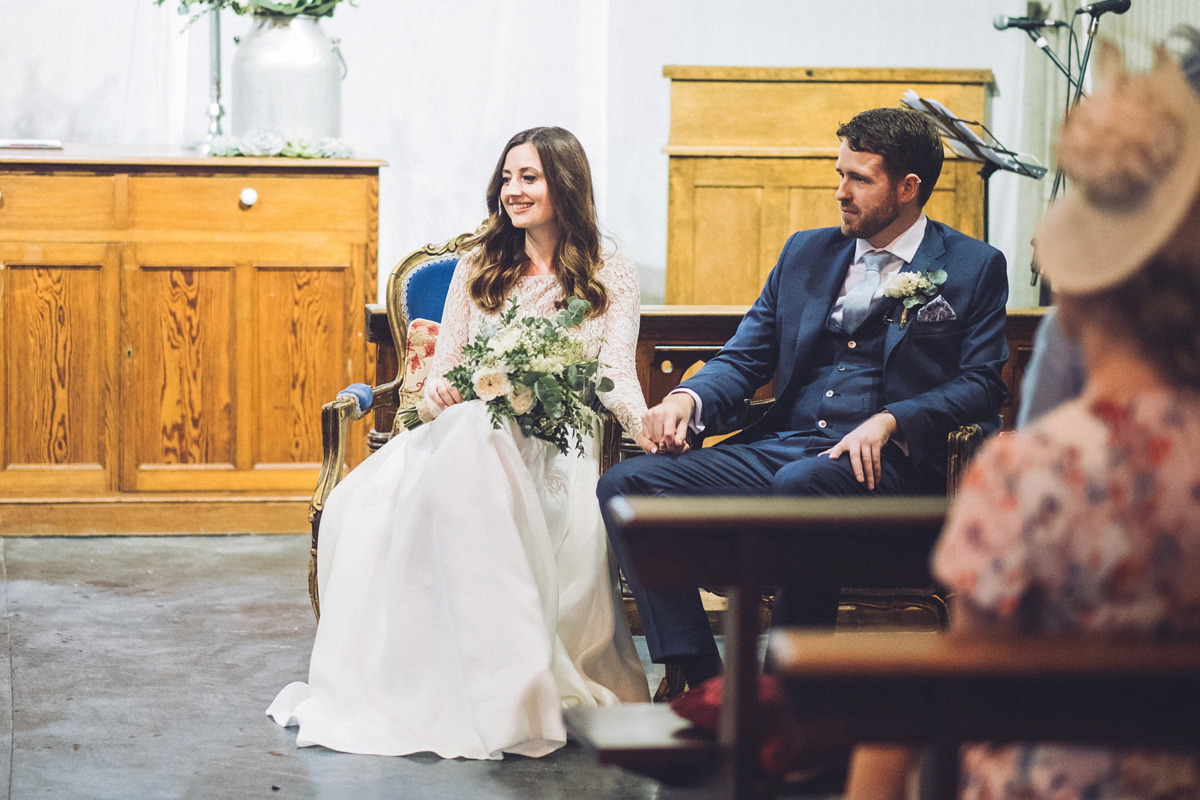 "We didn't feel comfortable saying our own vows as we felt that would be too personal.  Instead we wrote cards to each other that morning so that it would be more private."
"Our friend Sarah-May chose to read 'I Carry Your Heart' by E.E. Cummings, which is possibly the most beautiful poem I have ever heard.  She was backpacking with me when I first met Joe all those years ago so it was so lovely that she was part of our ceremony.  We chose Union by Robert Fulghum as our second reading, read by our friend Cillian." 
After exchanging vows, the couple exchanged rings, Sarah's from Artemer, like her engagement ring, while Joe chose a simple palladium band from Hatton Garden.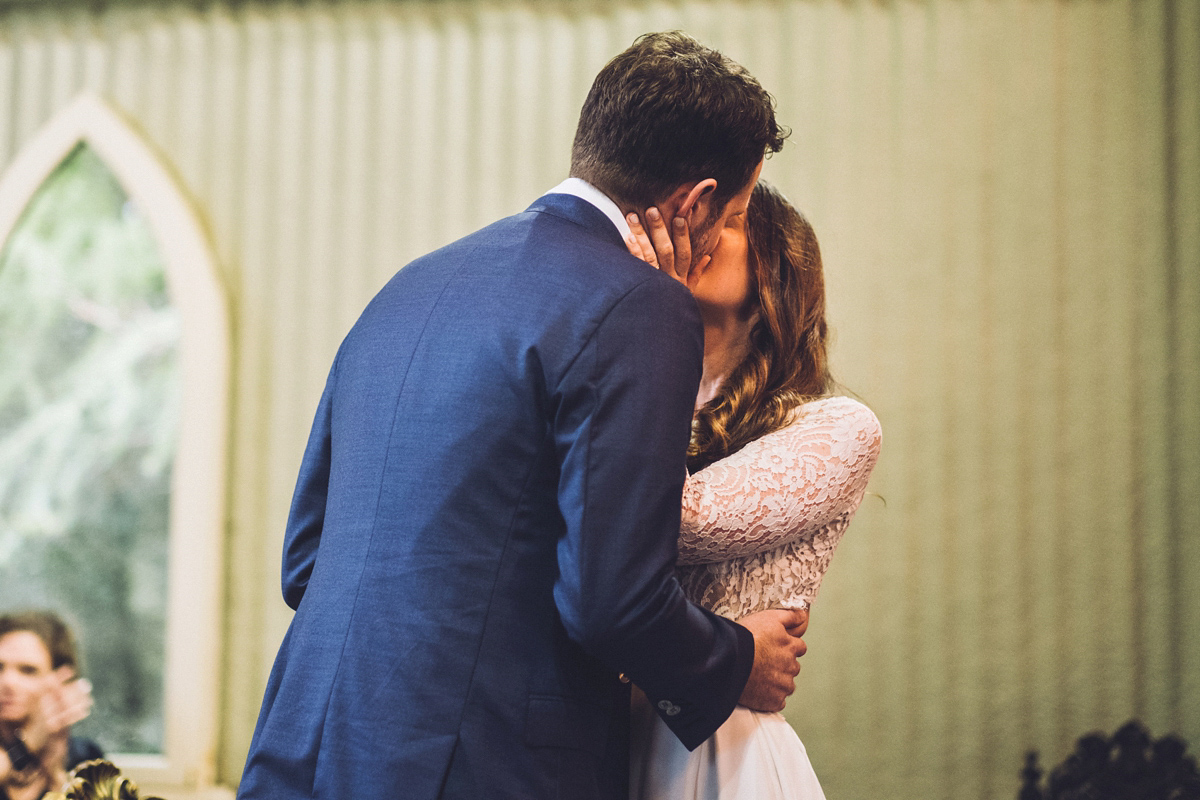 The talent behind the gorgeous flowers was Niamh from House of Flowers, Mullingar.
"Niamh was so professional and a dream to work with.  We loved that she was local to the venue and had worked there previously so she knew what worked.  We really wanted to go for a botanical feel with lots of foliage and greenery and simple white flowers as we loved how the green and white looked with the gorgeous dark wood in the barn and we thought that by keeping the colour palette simple it wouldn't take away from the beauty of each building.  The barn looked incredible filled with balloons and vines- so whimsical."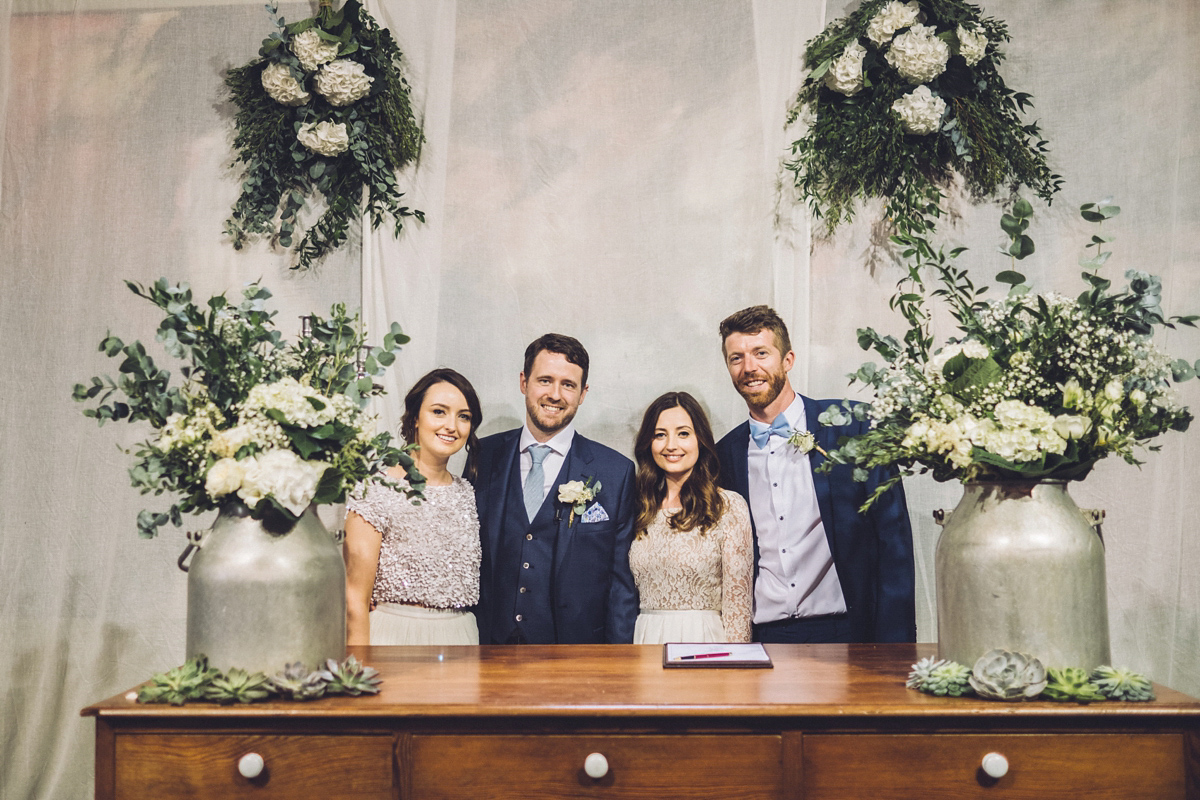 I am just so in love with these photographs by Amy French of Rubistyle.  The composition, the detail, the moody lighting- just incredible.  As for those shots of Sarah and Joe on the windy hillside- they're like something from Wuthering Heights.  Absolutely gorgeous.
"Photography was THE most important part of the planning for us.  After we got engaged the first thing I did was start to research photographers, (before we even had a date or a venue) and the minute I found Amy I knew that no other photographer would cut it.  It was on her recommendation that we went to see Mount Druid and we booked the venue around her availability.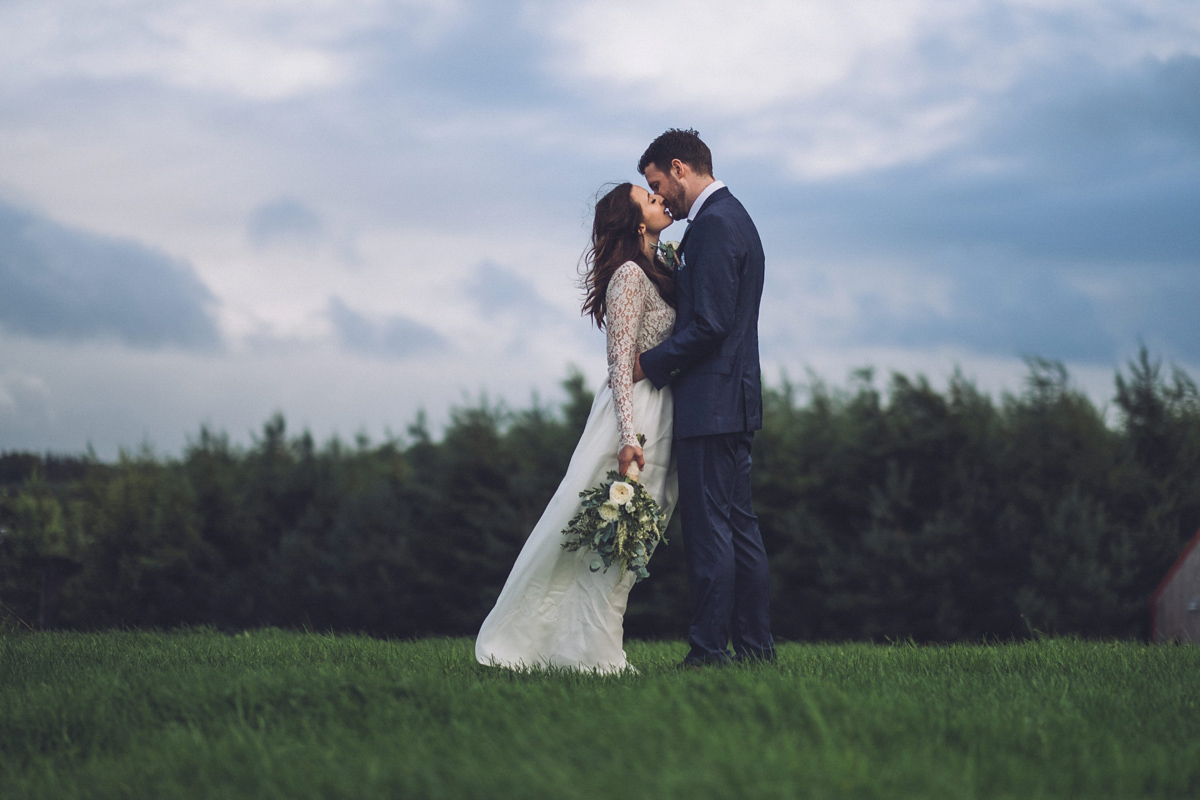 "We had so much fun working with her on the day of the wedding.  Neither of us are usually thrilled at the prospect of having our photo taken but she completely put us at ease.  At one point in the day when it finally stopped raining Amy grabbed us and suggested we get outside for some pictures."
"We headed off up to the top of a hill, Amy carrying my shoes and Joe trying to battle the elements with a broken umbrella when all of a sudden the heavens opened and it started lashing down along with gale force winds.  We were soaked and windswept but we all laughed so much and the photographs, well they speak for themselves.  It's one of my favourite memories of the day."
Sarah and Joe also decided to capture their memories on film and so booked Paul from Hatch Wedding Films to do the honours.
"I cannot say enough good things about our videographer Paul of Hatch Wedding Films.  He was a huge hit and his relaxed and discreet style meant that we hardly knew he was around.  He really listened to our ideas and reflected the style of our wedding perfectly."
"We fell in love with Mount Druid the minute we saw it (bearing in mind that we saw it on a very bleak January day).  It's a unique venue, set on 100 acres and is full of little windy paths lined with festoon lighting which gives it a festival feel."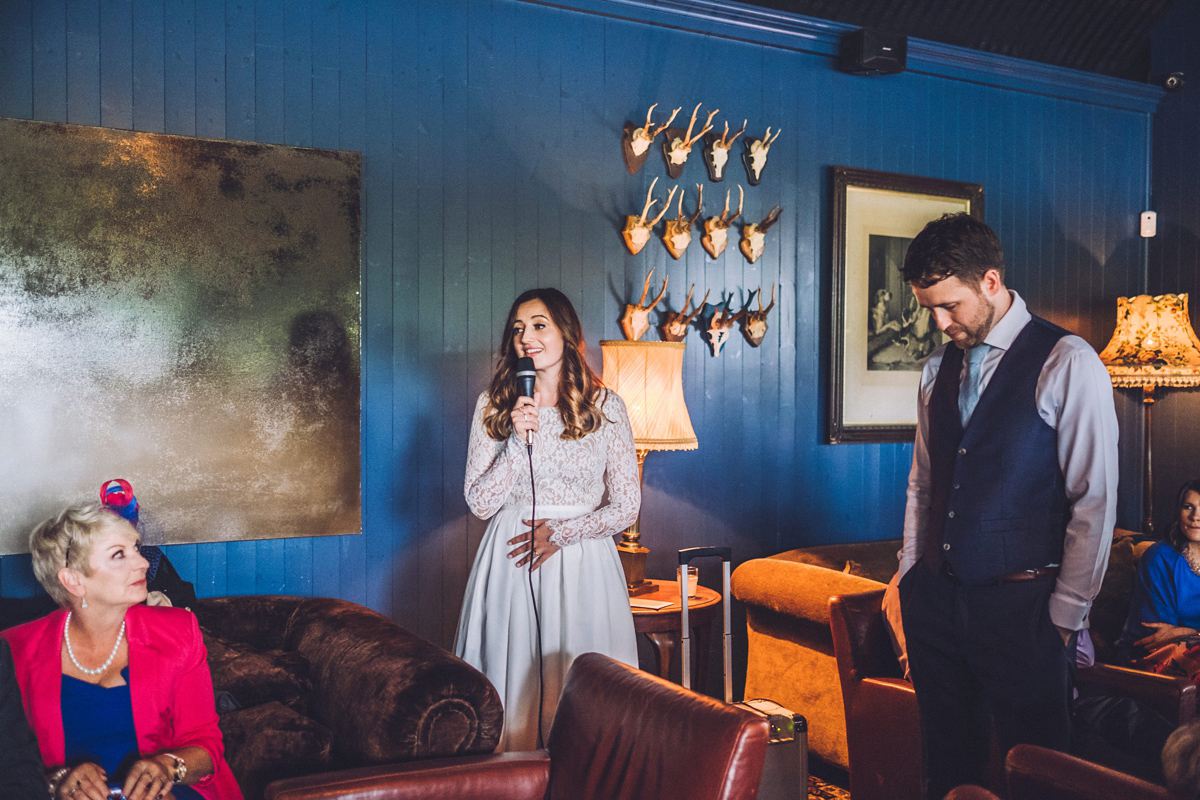 "There is a gorgeous unconsecrated tin chapel on the grounds where we had our ceremony, a boathouse by a lake where we had our drinks reception and then we moved onto the beautiful barn for dinner and partying.  Most of our guests stayed onsite in the yurts, shepherds huts, caravans and stone cottages that are dotted around the grounds and we stayed in the honeymoon yurt on our wedding night.
"We hired the venue for two days and most of our guests stayed for the full weekend.  As everything was onsite there was a real community feeling to the wedding and it was so much fun to wander around the grounds the morning after the wedding and bump into our friends and family."
"Our seating plan asked our guest to 'find your party animal'.  We spray painted little safari animals gold (we went on safari for our honeymoon) and gave each guest an animal.  Our wedding favours doubled up as table decorations.  Joe's mum very kindly spent a year growing succulents for us which we then repotted into little glass yogurt jars. I tied little tags around the jars and stuck lollipop sticks in some and wrote 'take me home' on them. They looked gorgeous."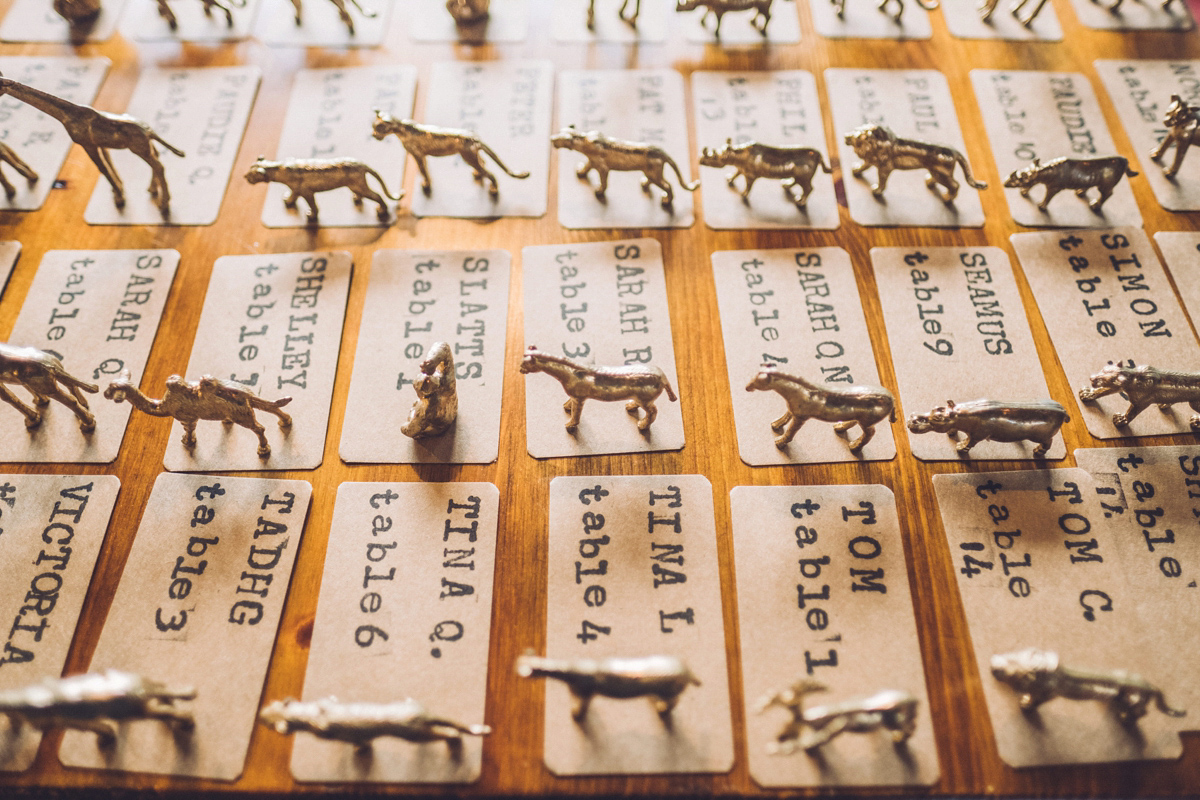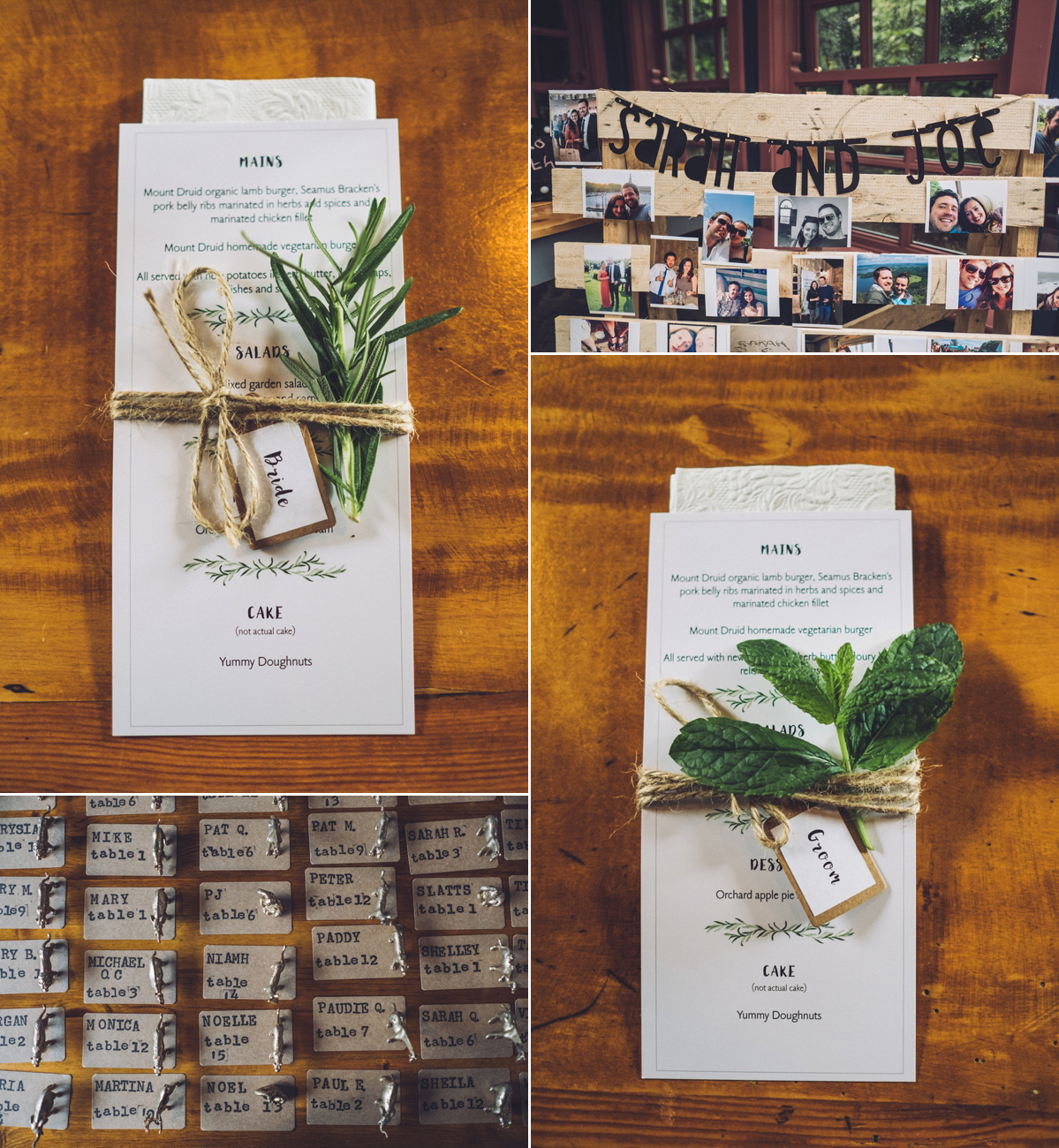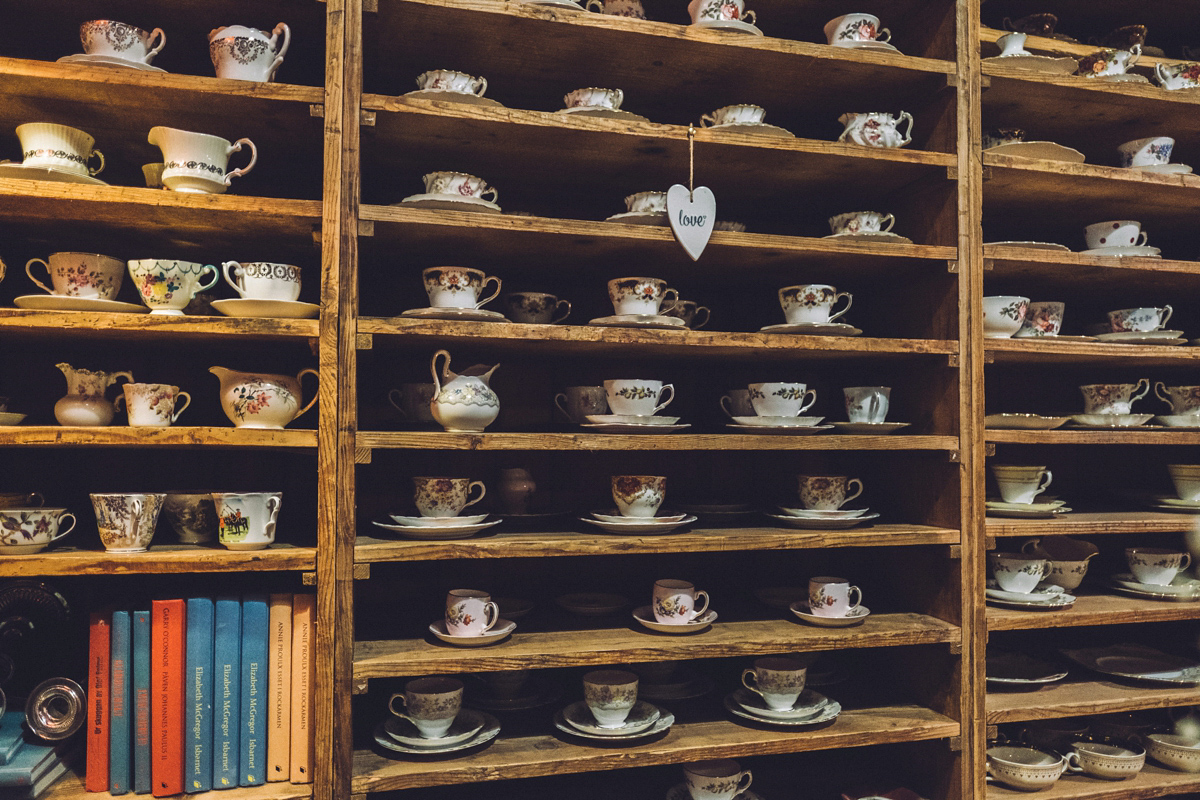 Sarah's mum baked the couple a delicious fruitcake, which they supplemented with a tower of doughnuts from The Dublin Doughnut Company in various flavours, including lemon curd, marscapone and honeycomb.  All the food sounds absolutely delicious.
"We wanted to keep the food very relaxed and informal to keep with the style of the day.  Mount Druid themselves provided the food.  The meat was all local and organic and a lot of the veg was grown on their own farm.  For dessert we had apple pie made with apples from Mount Druid's orchard." 
"For the evening we had organic sourdough pizza provided by The Dough Kitchen. They set their mobile woodfired pizza oven up outside the barn and within no time our guests were queuing up.  We also had an after party the following day with food from The Chip Van."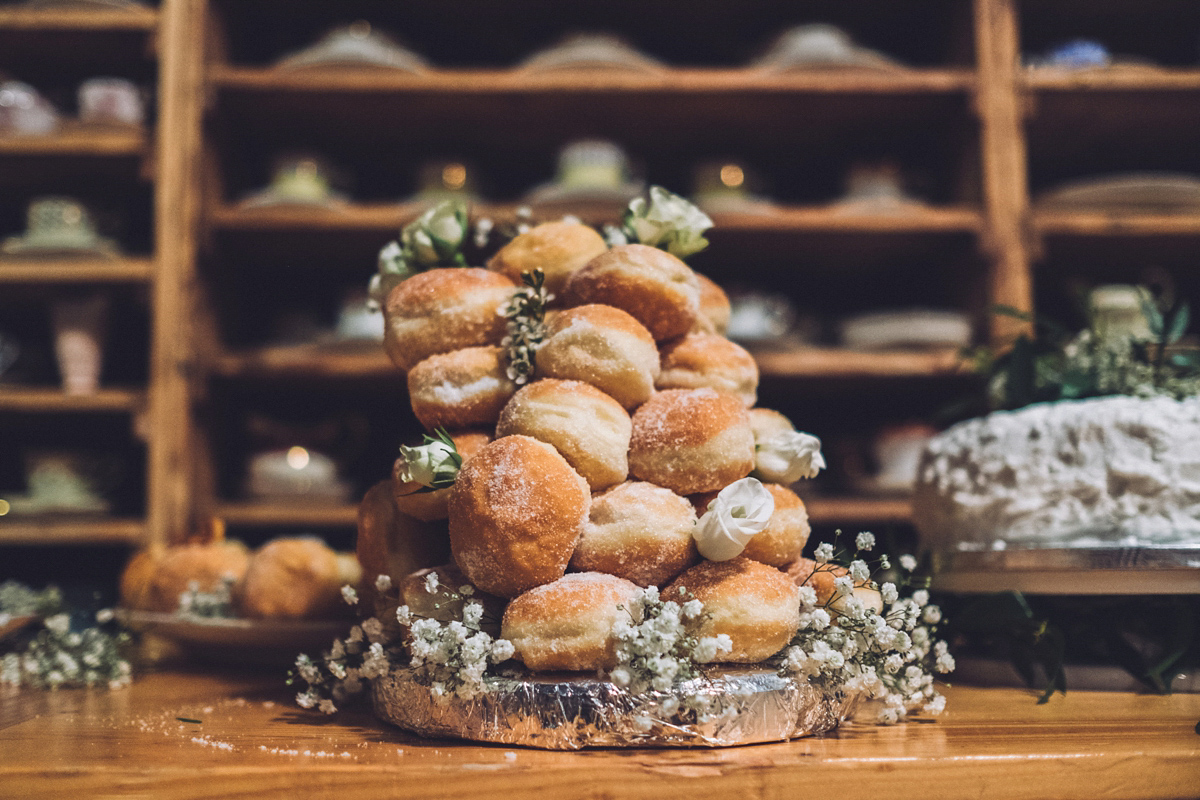 "After photography, music was the next most important aspect of the day for us.  We already knew that Cian Ciobhain would be good as he plays at some of our favourite festivals but he blew us away.  He kept the dance floor full all night and you know it's been a good party when the night ends with your new husband crowd surfing to The Prodigy.  Even before the wedding Cian was so lovely to deal with.  His customer service and professionalism is exemplary and he spent a lot of time getting to know us and our music tastes and also the demographic of our guests so that he could cater for everyone."
The couple chose not to have a first dance, instead dancing with all their friends and family, until 6am the next morning!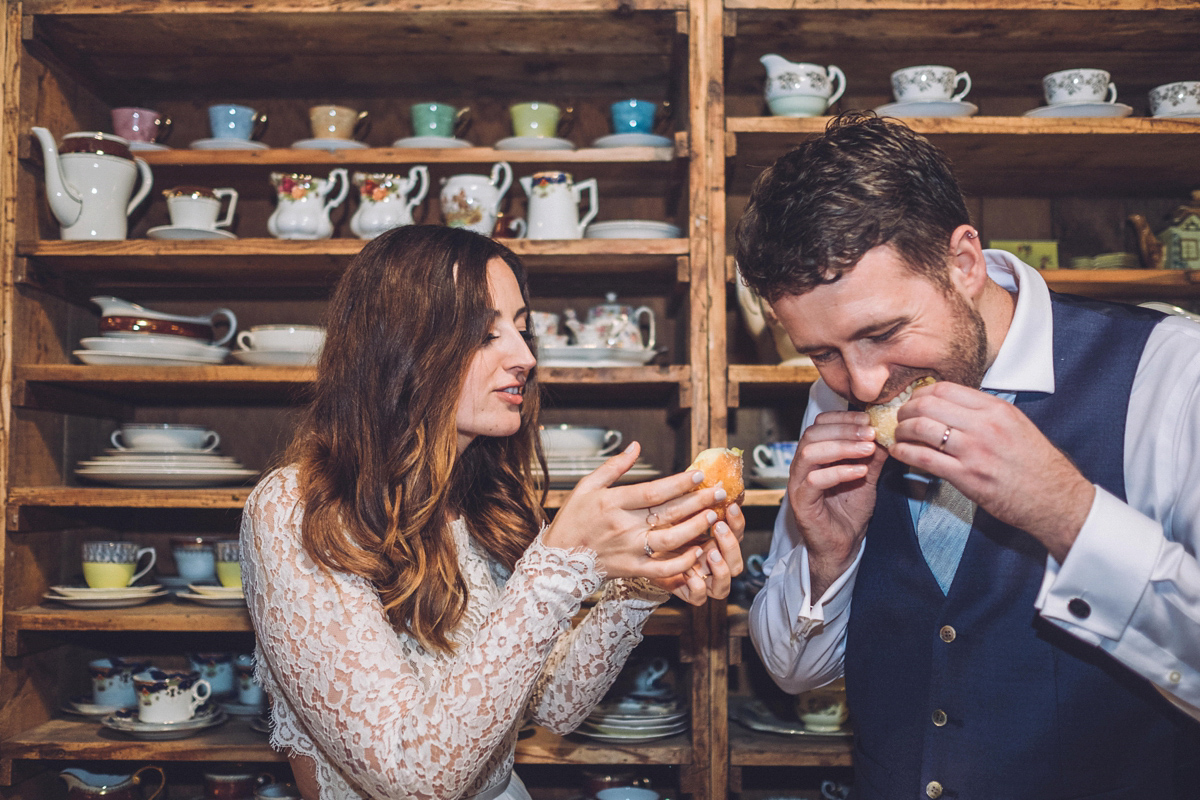 Words of Wedded Wisdom
"Don't worry about the weather- you can't control it and it won't affect your day.  We picked a date in September hoping for some gorgeous Indian summer weather and it turned out to be the wettest day of the summer, but it didn't make one bit of difference.  In fact the rain added to the cosy feeling of Mount Druid, with its wood burning stoves  and comfy couches.  It also kept everyone together.  If we could do it all again we would keep the rain.
Don't forget to have fun.  There is nothing worse than a stressed out bride and groom and your guests will pick up on that.  If the bride and groom are relaxed and happy it will create a good atmosphere for the guests.  Plan the day that the two of you want not the day that you think you should have.
Invest in photography.  I can't stress this enough. Your photos will be what is left after the day is over. 
Finally, brides, make a speech- don't let it be just the men who speak. We need to hear more female voices at weddings. I made a speech, I didn't have any notes written but I spoke from the heart and it was so liberating. Don't forget that everyone in the room is there because they care about you and want to celebrate with you."
So many thanks to Sarah and Joe for sharing their amazing day with us- please can you guys go back and do it again and this time I'll come along too?  Huge thanks to Amy of Rubistyle for the beautiful images- I look forward to seeing more of her weddings on the blog in future.
Much love,
S x