Good morning lovelies, well it's back home and down to planet earth for me after a whirlwind few weeks and past few days. We've been in London for the White Gallery event since Saturday (basically a huge trade event where the bridal fashion designers launch their new collections each year). It's been fantastic to be able to be amongst so much creative talent, and to see so many industry colleagues and contacts, to learn about the new Luxe Bride project, to support our advertisers and generally swoon over all the gorgeousness. I'll be sharing more soon on the blog, but in the meantime, you can follow our Instagram stories and Instagram feed @lovemydress to see a little of what we've been up to.
This morning's wedding captures the kind of laid back and effortless glamour I always hoped to convey through these blog pages. Una, a press officer for a public body, married Andrew, a journalist at Shortlist Magazine, on 12th November 2016 with a ceremony at Islington Town Hall, followed by a reception at St Bart's Brewery in Smithfield, London. One of the designers exhibiting over the weekend was Polish born Anna Kara – Anna's gowns are the epitome of modern elegance and grace – we're proud to list her as a recommended supplier in our wedding directory, Little Book For Brides.
"I wore the 'Ester' gown, by Anna Kara, which I purchased from Morgan Davies in Hitchin, Herts. I did lots of online research as soon as we got engaged and just stumbled across Anna Kara's website. She's a fairly young Polish designer, and I'd never heard of her beforehand. But I just adored her simple, elegant, somewhat ethereal designs."
Photography by Sharron Gibson
"I was a regularly visitor to Love my Dress in the lead up to my wedding. Every day for months I would check in for a look and to get some inspiration and ideas. I genuinely didn't look at any other blogs as I didn't want to be overwhelmed! I like the ability to search by season and designer etc. It was very handy when looking for autumn wedding inspiration. We decided to get married in November so that we wouldn't have to worry about the weather. That is, we knew it would inevitably be pretty bad so there would be no point in us wasting time hoping for sunshine, or stressing about the likelihood of rain! But that wasn't the only reason for picking a November date. I also love bold, autumn colours and was keen to include them in our wedding."
"I stayed in the Zetter Townhouse the night before the wedding and got ready there the next day. I had the Townhouse Suite to myself on Friday night, which was utterly fabulous and the perfect place for my large group of people to prepare before the wedding. The staff were so kind and helpful as well, I couldn't recommend it highly enough. Andrew and I both stayed there the night of the wedding itself too. We booked it through Mr & Mrs Smith."
"My favourite colour is red and ever since I was a little girl I've had a sight obsession with red shoes. So even before I looked at wedding dresses I was looking for the perfect red shoes, which I found in Manolo Blahnik's classic 'Hangisi'. The shoes then sort of determined everything else!
Conveniently though, Andrew is an Arsenal fanatic and season ticket holder, so he was more than happy to embrace red as the centre of the colour scheme. In fact, our invites used the exact pantone shade of red seen in the Arsenal logo."
"I'm the youngest of five children, with one older brother and three sisters. My sisters each have one daughter, who were my three junior bridesmaids – and they insisted on being called that, rather than 'flower girls', which they felt was beneath them. I also had four page boys – two of my nephews and two of Andrew's nephews. My eldest sister, Aine, was my chief bridesmaid and principally responsible for shepherding all the little people about."
"I deliberately chose to have this very young wedding party because they look so cute and it's much easier to choose outfits for them!"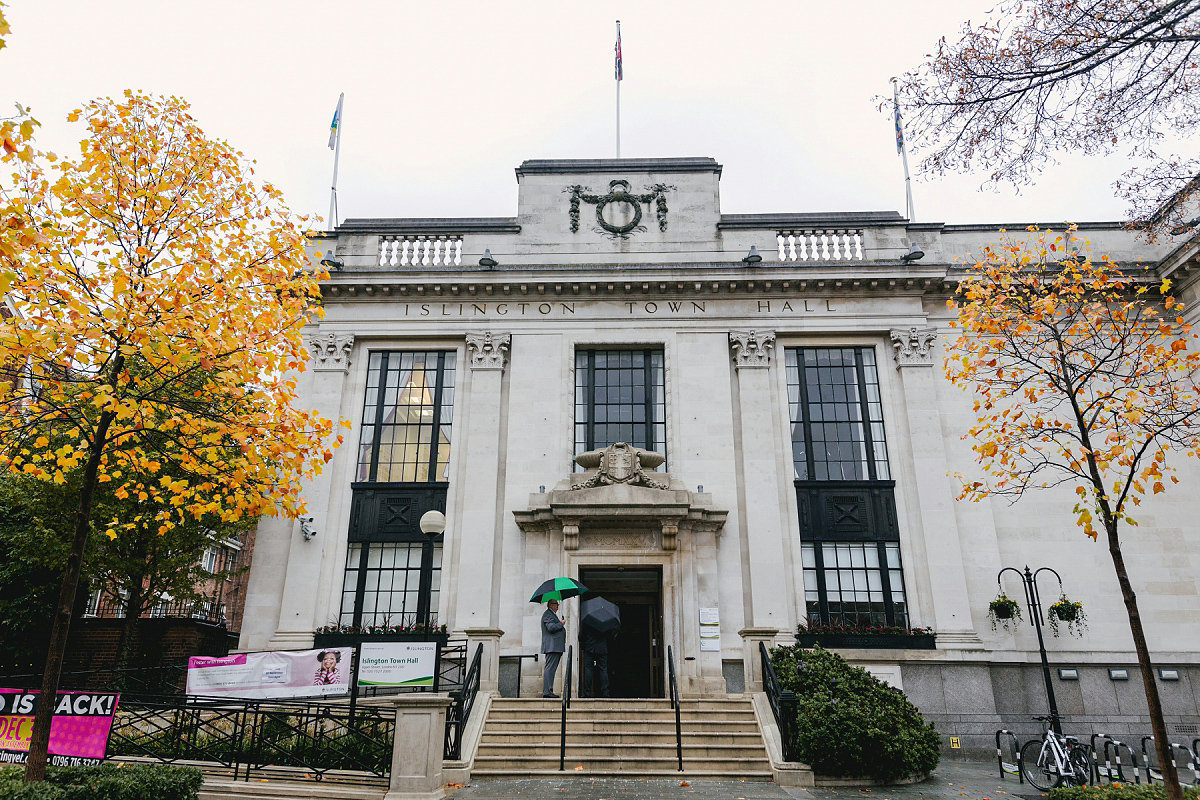 "Andrew and I met in the summer of 2013 through Guardian Soulmates. I know lots of people who have tried online dating for ages, with little success. But Andrew was actually the first and only person I met through the site, and I still can't believe how lucky I got first time around! We got engaged at Christmas in 2015, so we had about 11 months to plan the wedding."
"Andrew proposed to me in my home town of Newcastle in County Down, Northern Ireland. He asked me to go for a walk with him on a very wet and windy day shortly after Christmas 2015, claiming he just wanted some alone time with me. I reluctantly agreed (it was very cold), and we walked to the top of a hill and stood looking down at these massive waves crashing against the sea wall."
"Then all of a sudden, Andrew got down on one knee and asked me to marry him. I had no idea he was planning anything and was completely taken by surprise. But of course I said yes immediately. It was a wonderfully romantic moment, made even more special by the gorgeous Victorian sapphire and diamond ring he had bought from Gray's Antique market in London.
We had about 11 months to plan the wedding, and we started immediately."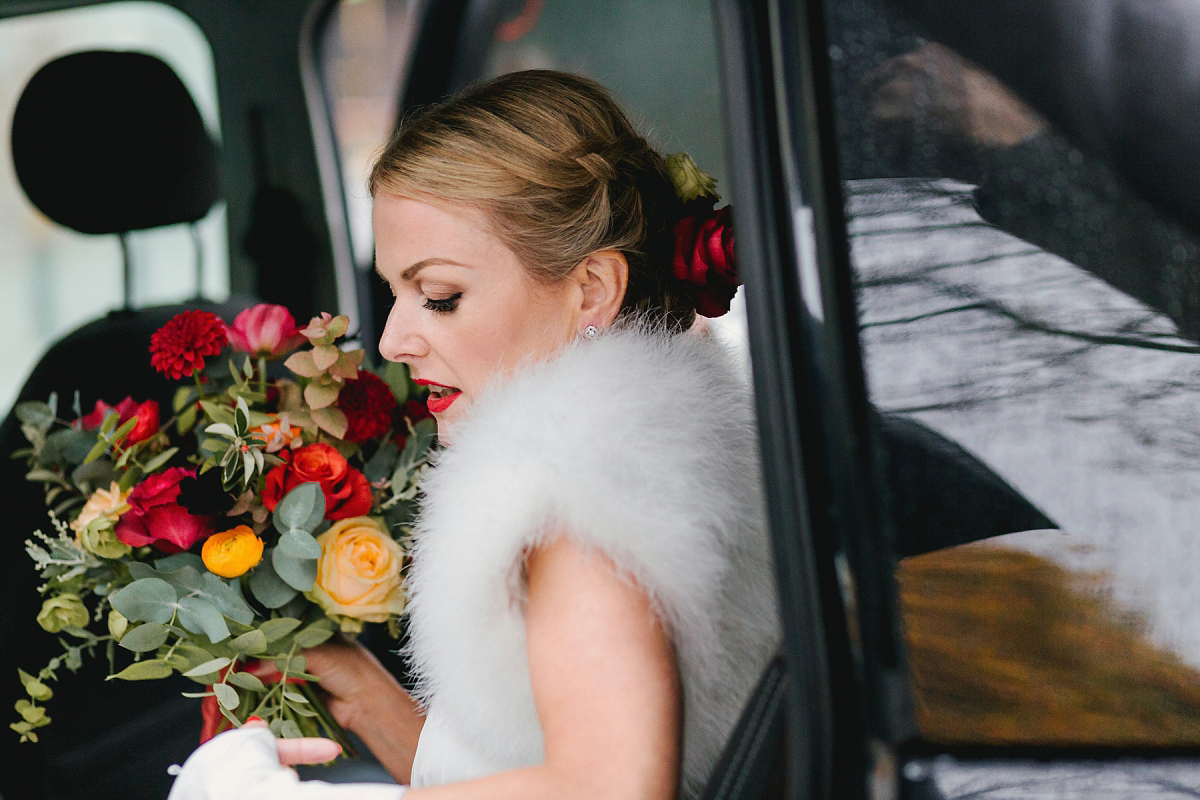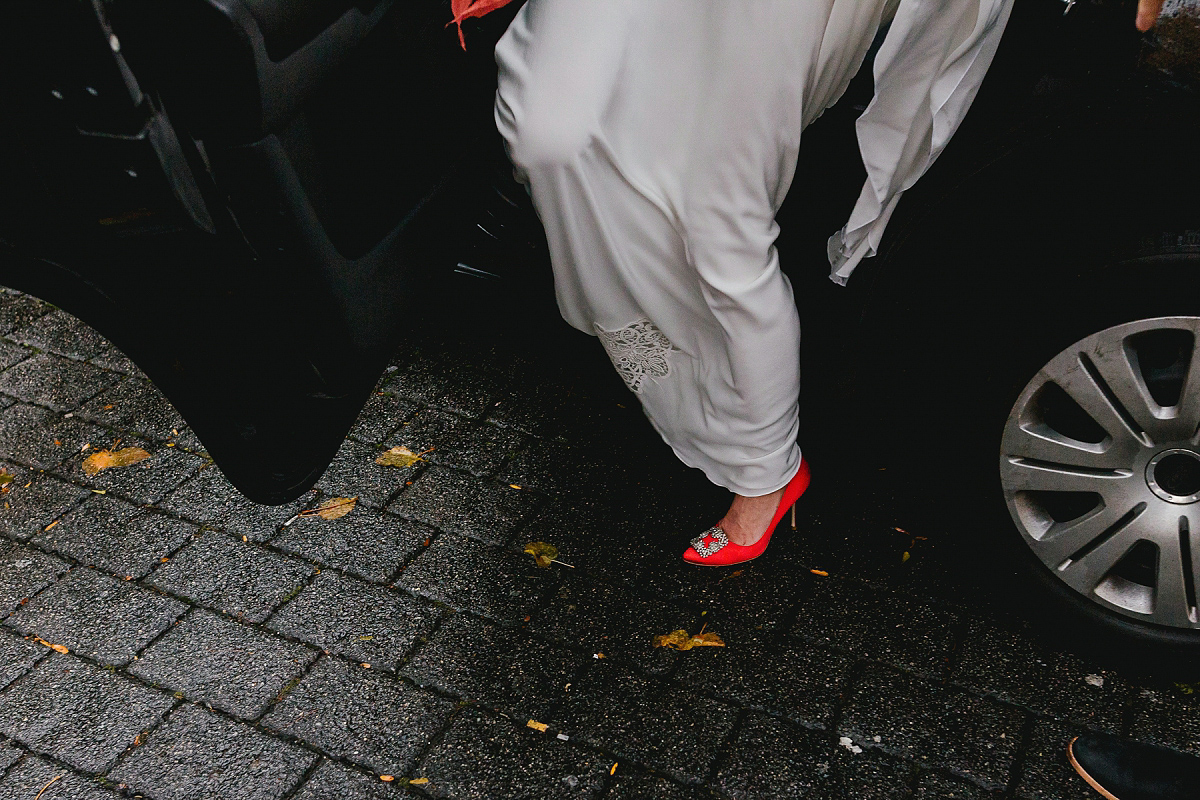 "To begin with, I thought I wanted full lace, with long sleeves to protect me against the November chill, and I did try on several of hers in that style. But then as a bit of a wildcard option I put on 'Esther', and I really did have that 'this is the one' moment, despite it not having any sleeves at all and being made of silk."
"I just fell in love with the cut, the delicate detailing on the back and the beautiful lace inserts around the hem and train. It looked like no other wedding dress I had seen. I also knew it would go perfectly with my red Manolo Blahniks. Adding a little feather stole gave it a touch of 1940s Hollywood glamour, as well as that crucial warmth!"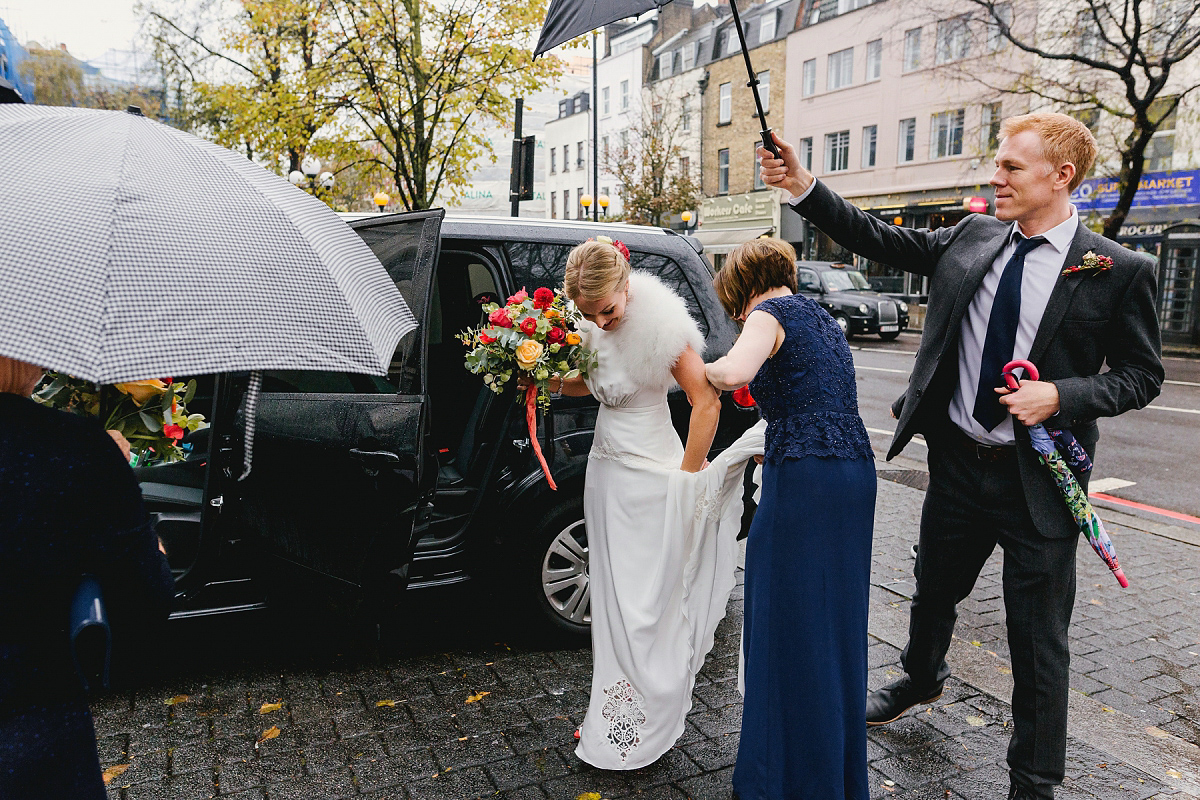 Una's mum accompanied her down the aisle to the sound of 'Outer Space', by John Grant. Performed acoustically by a friend.
"Andrew is a writer, so he came up with our personalised vows. We didn't want to say anything too twee or overly sentimental, but we also didn't want to sound flippant or jokey. So we spent a long time deciding what exactly we would publically promise each other. In the end, we chose to say these words back to each other…"
I promise:
To hold you when you need comfort, and step back when you need to breathe.
To listen with my ears, but see things through your eyes.
To cheer you up and cheer you on.
To make terrible jokes, but know when things aren't funny.
To stay young, even when my body says otherwise.
To be faithful to you and have faith in you.
To appreciate all deeds, large and small.
To always seek adventures with you.
To give love, always.
"Andrew wore a three-piece navy suit with a subtle Prince of Wales check, tailor-made for him by Edit Suits – a new company that provides high-quality, bespoke suits at much more affordable prices than you'll pay on Savile Row (Andrew's cost £728 , plus £89 for a bespoke white cotton shirt.) Also, if you live or work in London Zones 1-2, they'll come to you for a fitting. The service levels were phenomenal – they go to incredible trouble to make sure that your suit is perfect and the quality matches the service."
"Andrew's ring was purchased online, through Wedding Rings Direct. They offer a unique and convenient service, where you can order silver versions of any of the rings on the site and keep them for a few day before returning. You can then buy your favourite design in gold or platinum, or whatever takes your fancy. Don't be put off by this being an online service, the quality of their rings is superb and there is a choice to match every budget."
"My own ring was actually my mother's wedding ring. She and my dad were happily married for 43 years before he sadly passed away five years ago, and my mum wanted me to have it. I couldn't believe it when she offered, but I feel very honoured that she did. It's very special to me now. It's engraved with my mum and dad's initials and their wedding date (14/5/68) and now it has Andrew and my initials and wedding date engraved inside as well. Since it's nearly 50 years old, it compliments my antique engagement ring perfectly."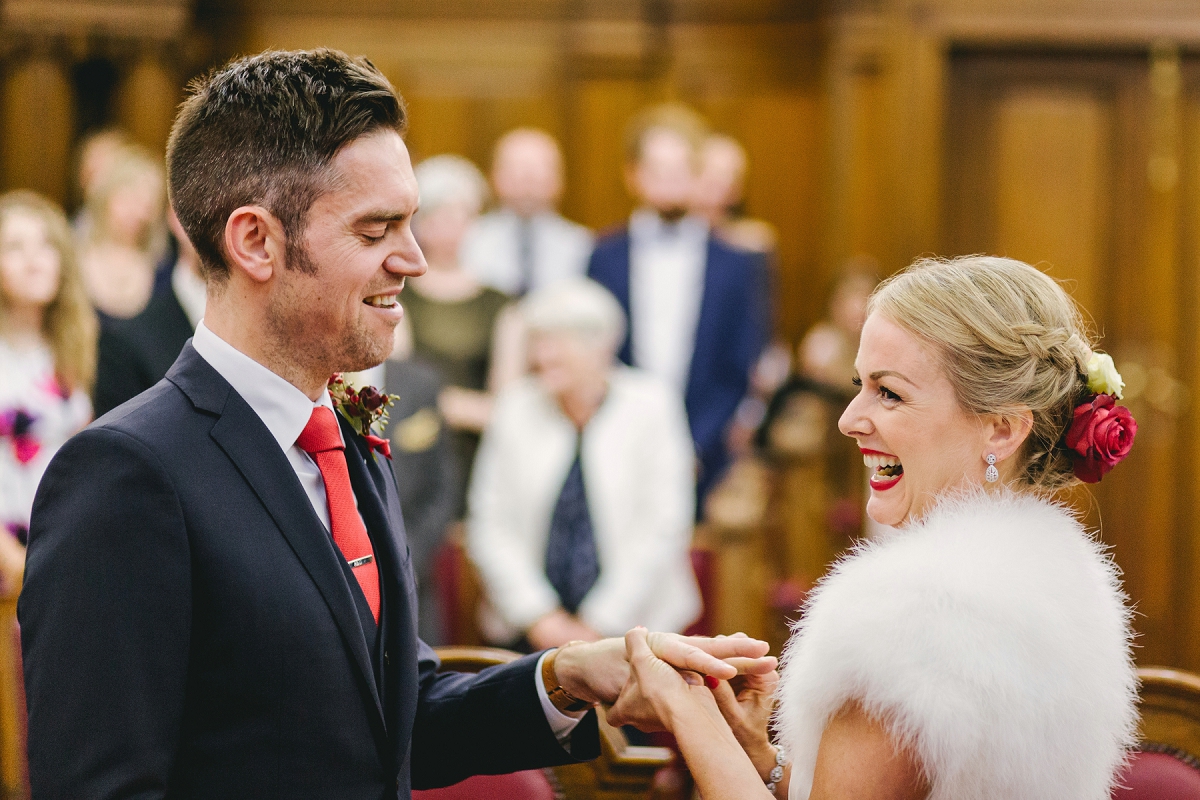 "We had three readings, which we allowed our readers to choose themselves – with prior approval of course! Andrew is a lifelong Queen fan, so his sister Alex sister read the lyrics to their song, 'You're my best friend'. Our friend Angela then read this extract from Neil Gaimon's Stardust, which is a book and movie we both love…
You know when I said I knew little about love? That wasn't true. I know a lot about love. I've seen it, centuries and centuries of it, and it was the only thing that made watching your world bearable. All those wars. Pain, lies, hate… It made me want to turn away and never look down again.
But when I see the way that mankind loves… You could search to the furthest reaches of the universe and never find anything more beautiful.
So yes, I know that love is unconditional. But I also know that it can be unpredictable, unexpected, uncontrollable, unbearable and strangely easy to mistake for loathing.

What I'm trying to say, is… I think I love you.

Is this love? I never imagined I'd know it for myself. My heart feels like my chest can barely contain it. Like it's trying to escape because it doesn't belong to me anymore. It belongs to you.
And if you wanted it, I'd wish for nothing in exchange – no gifts. No goods. No demonstrations of devotion. Nothing but knowing you loved me too. Just your heart, in exchange for mine."

"Finally my sister Leontia read her own 'epithalamium', which is a fancy word for a wedding poem. She is a published, award-winning poet, so it was a huge privilege that she wrote a new, original poem especially for our day. We will treasure her words forever.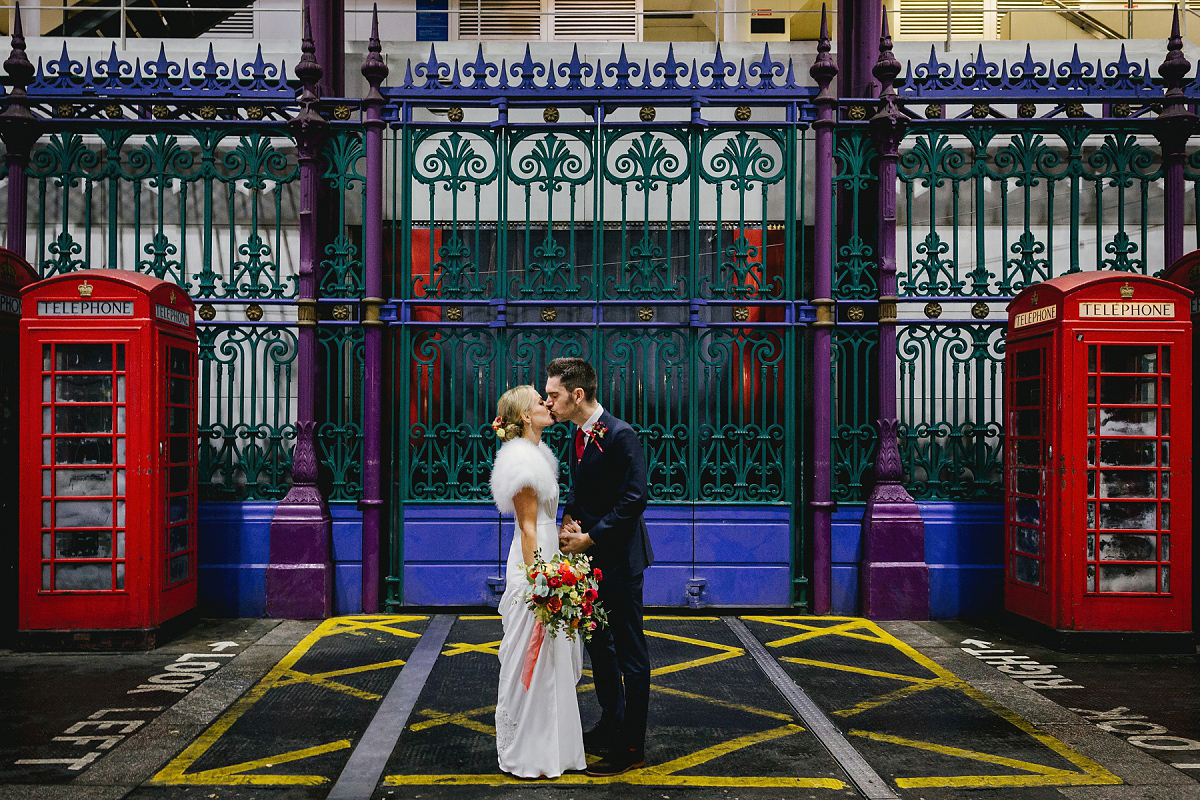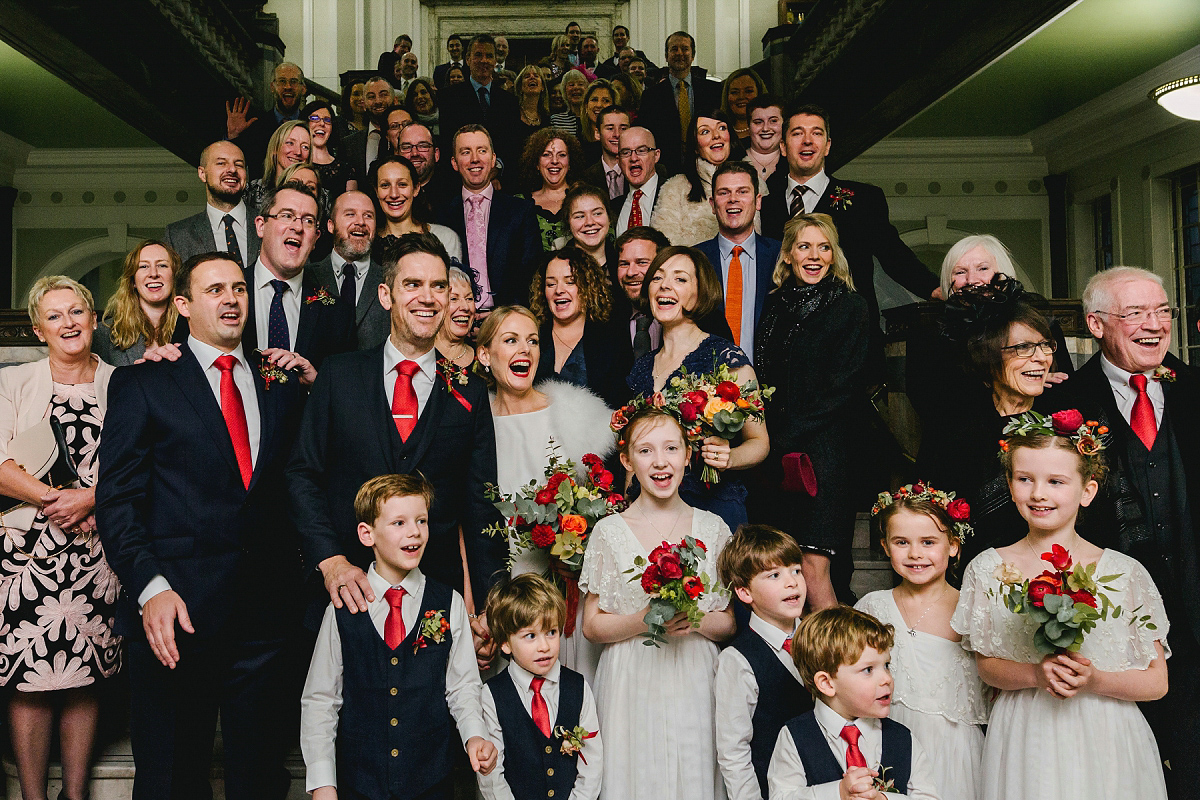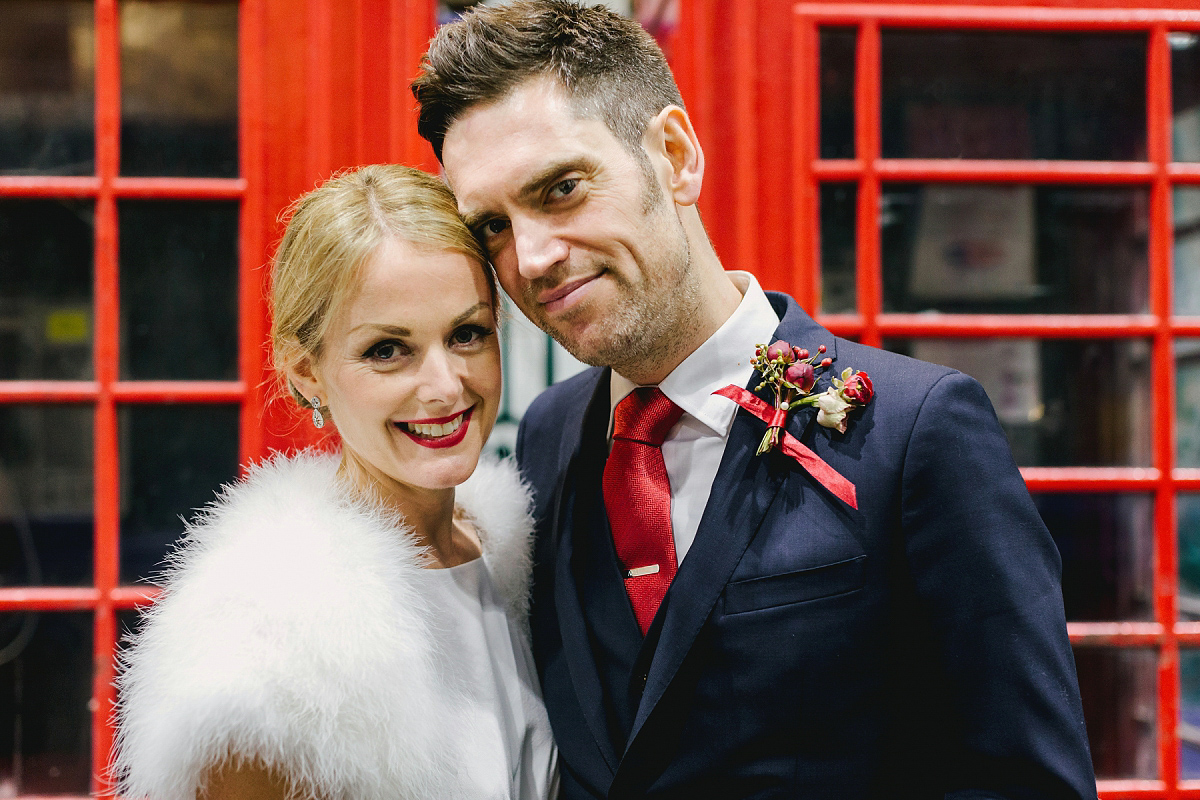 "I initially came across One Flew Over on the Love my Dress supplier page and really liked their slogan – 'flowers, by girls who like good flowers'. Then I happened to meet Charlie and Jess at a wedding fair in Shoreditch and got chatting to them. I was drawn to the displays they'd brought with them, which were big, wild and loose. And when I told them I was getting married in November, Jess said that was the very best time for flowers, so that was me sold on them!"
"I wanted a large and bright bouquet, definitely nothing too neat or tightly arranged. And I wanted the same flowers for the bridesmaids' bouquets, reception flowers and the flower crowns worn by my junior bridesmaids."
"I had asked Charlie and Jess to include plenty of red in all of the bouquets, but other than that I didn't really give them much direction. I trusted that they knew what I wanted. I also followed their Instagram for months leading up to our wedding and had every confidence we'd made the right choice. Their designs are so beautiful, and reflect each bride's individual personality and tastes.
I hadn't asked for any specific flowers, so I thought it was really poignant that they chose to include lots of poppies, as we got married the day before Remembrance Sunday. That was a really nice touch."
"We hired London Routemaster buses via Traditional Travel to transport our wedding guests from the ceremony at Islington Town Hall to St Bart's Brewery."
"We looked at lots of wedding photographers before my sister Maire suggested her former colleague Sharron Gibson, who was previously a BBC journalist. We instantly loved Sharron's reportage style and dramatic use of light and colour. We knew this would be perfect for our autumn wedding, and would really bring out all its bold colours.
I don't like being in front of the camera and I absolutely hate posing for shots, so we wanted to keep portraits to a minimum. Also, neither of us were keen on anything 'quirky' or artificial – we just wanted natural shots that genuinely captured the real mood and feel of the day. Sharron did just that. We hardly knew she was there a lot of the time, she kept a low profile and just snapped away. The results are a perfect reflection of our day. We couldn't be happier and would really recommend her to anyone who wants beautiful photos that tell the true story of their wedding day."
"In terms of styling, we wanted the day to be as informal and relaxed as possible, with a laid back London vibe. We both absolutely love pubs, and agreed immediately that we wanted to have our reception in one that served decent beer and provided good hearty food. We definitely didn't want fancy fine dining. However, being Irish, my family is enormous, and that meant finding a pub big enough to hold all our guests was quite a challenge. Eventually we found St Bart's Brewery, which we loved straight away."
"It's actually owned by a vineyard in Kent, so as well as serving a great selection of craft beer and cooking up delicious English pub food – all made with local ingredients from the nearby markets, it also serves its own fabulous award-winning English wine."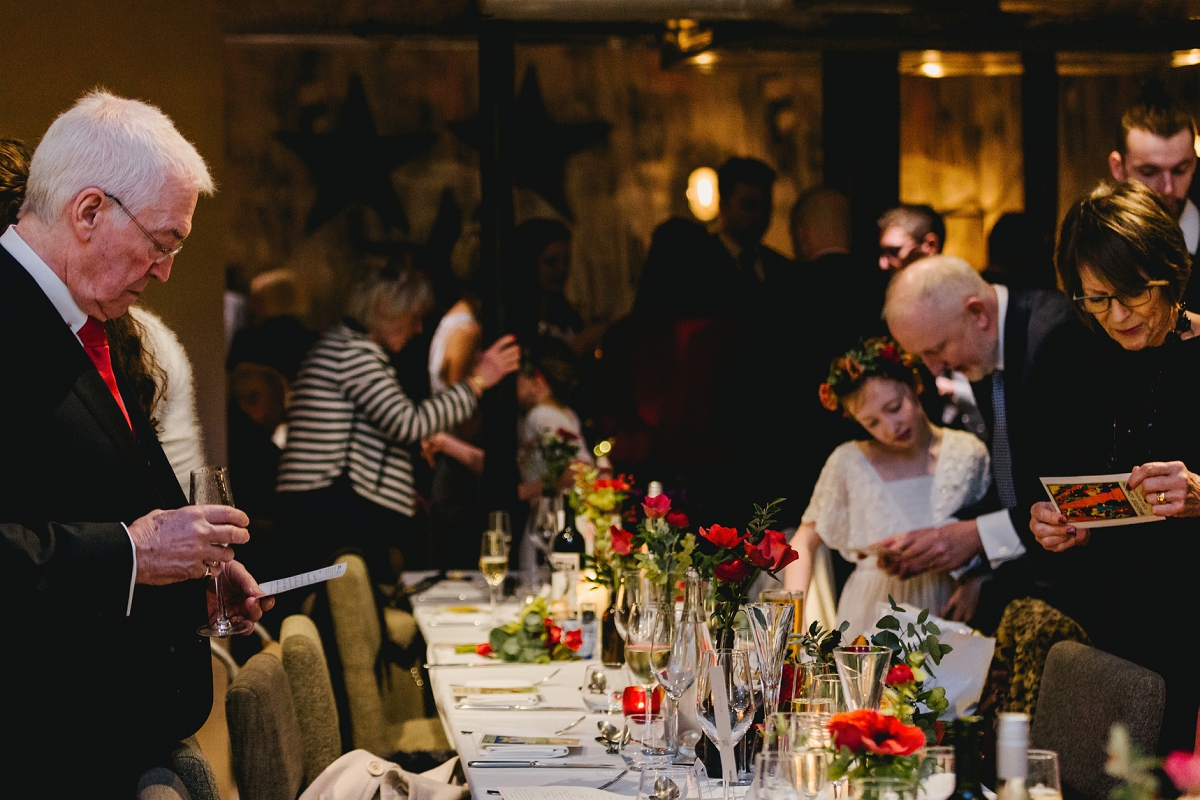 "Andrew's dad Eddie was a graphic designer in the days before computers, and still hand draws everything. He's also a very talented carpenter and actually built us a garden shed a couple of years ago, which he engraved with a monogram of our first initials that he designed himself! I don't know anyone else with a monogramed garden shed, but as 'AU' is the chemical symbol for gold, it seemed quite fitting that we use the monogram on all our wedding stationery as well. So Eddie hand drew our invites for us, which another friend then digitised.
We also used the monogram on our table plan – again, made by Eddie – place cards, menus and programmes etc. We even had it iced onto cookies and engraved onto our cake stand!"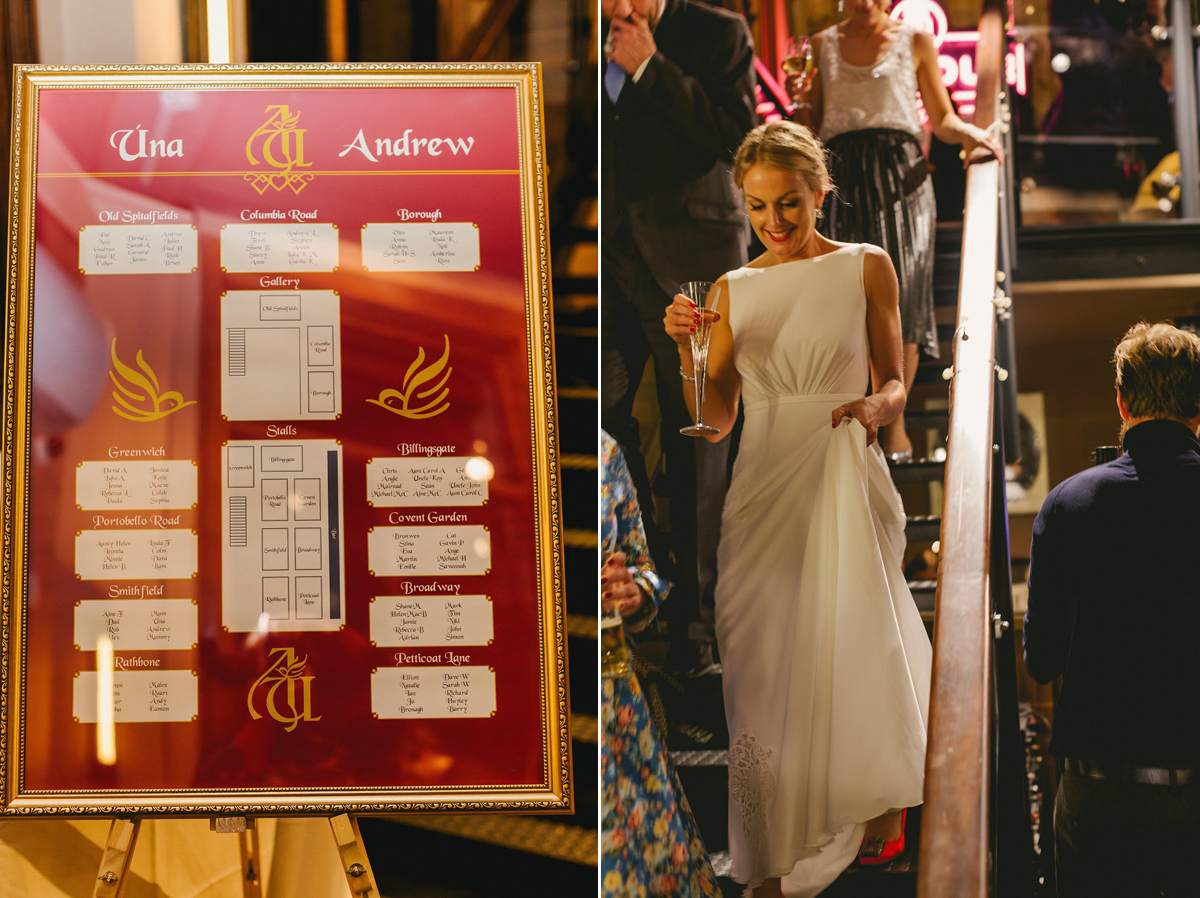 "We also wrote personal messages on postcards to every single one of our guests, and put these in their place settings. We used old Transport for London travel postcards from the Transport Museum in Covent Garden, which seemed fitting as people had just disembarked from an old routemaster bus in a very old part of London (Smithfield market)."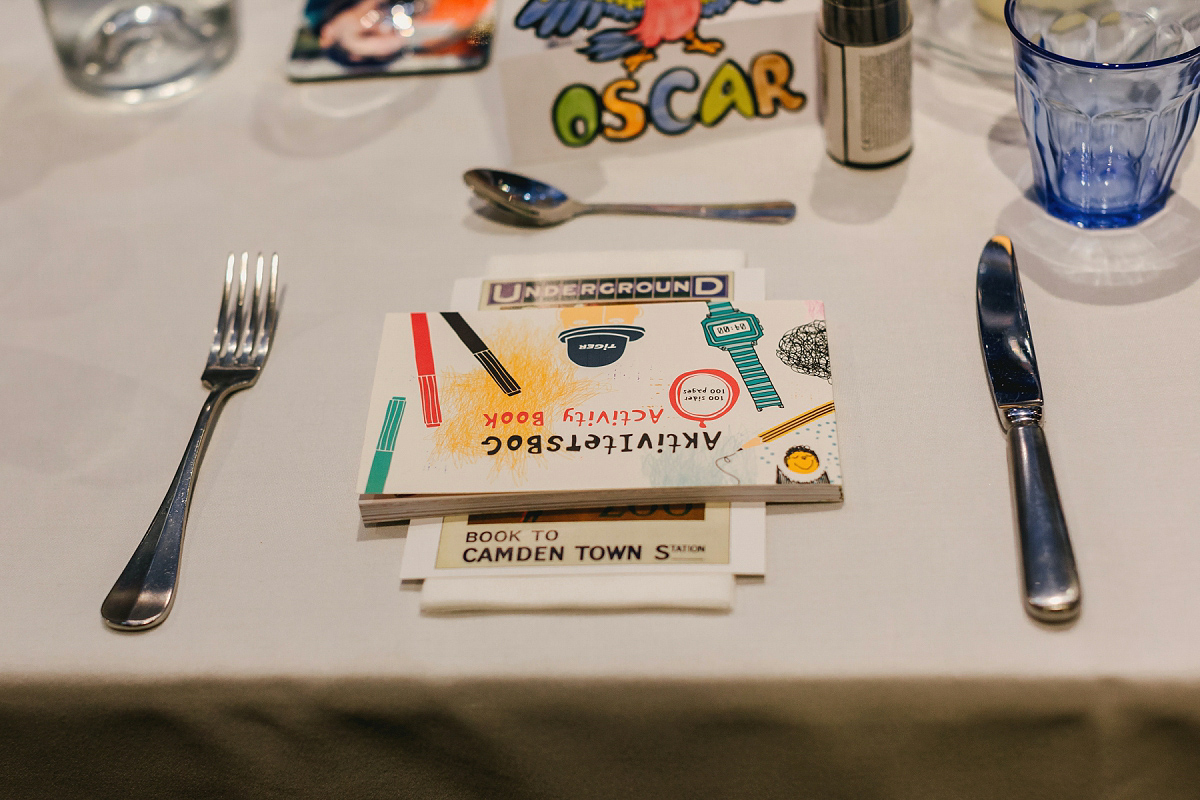 "Andrew and I divided the guest list up between us, so we each wrote messages for those people we knew best. There were 110 guests at the wedding, so writing the postcards took a long time and resulted in two very painful hands! We spread the job over several days as we really wanted to think about what we were writing, and make sure each guest was given a special message just for them, rather than something generic."
"Although this was hard work, it was really rewarding, as it made us both think about every specific guest and what they meant to us as individuals – the effort was totally worth it. When Andrew and I arrived at the venue after having some photos taken outside, a lot of the assembled guests were standing reading their postcards and sobbing! Of all the little touches we planned for the wedding, those postcards are perhaps the thing I'm happiest about."
"People were genuinely touched by their messages, and I'm pretty sure it put them in the best possible mood to enjoy the rest of the wedding! The reception we had for the speeches was absolutely rapturous, because everyone was already so emotional."
"Whenever we go on holiday, Andrew always buys a coaster, so we decided photo coasters would be a fitting gift for our wedding guests. We chose a selection of selfies we've taken over the years and used Boots photo service to print them onto coasters, along with our names and wedding date. So now our friends and family can rest their mugs on our mugs, and think of us,"
"As we were right next to Smithfield market, we decided to name our tables after other famous London markets."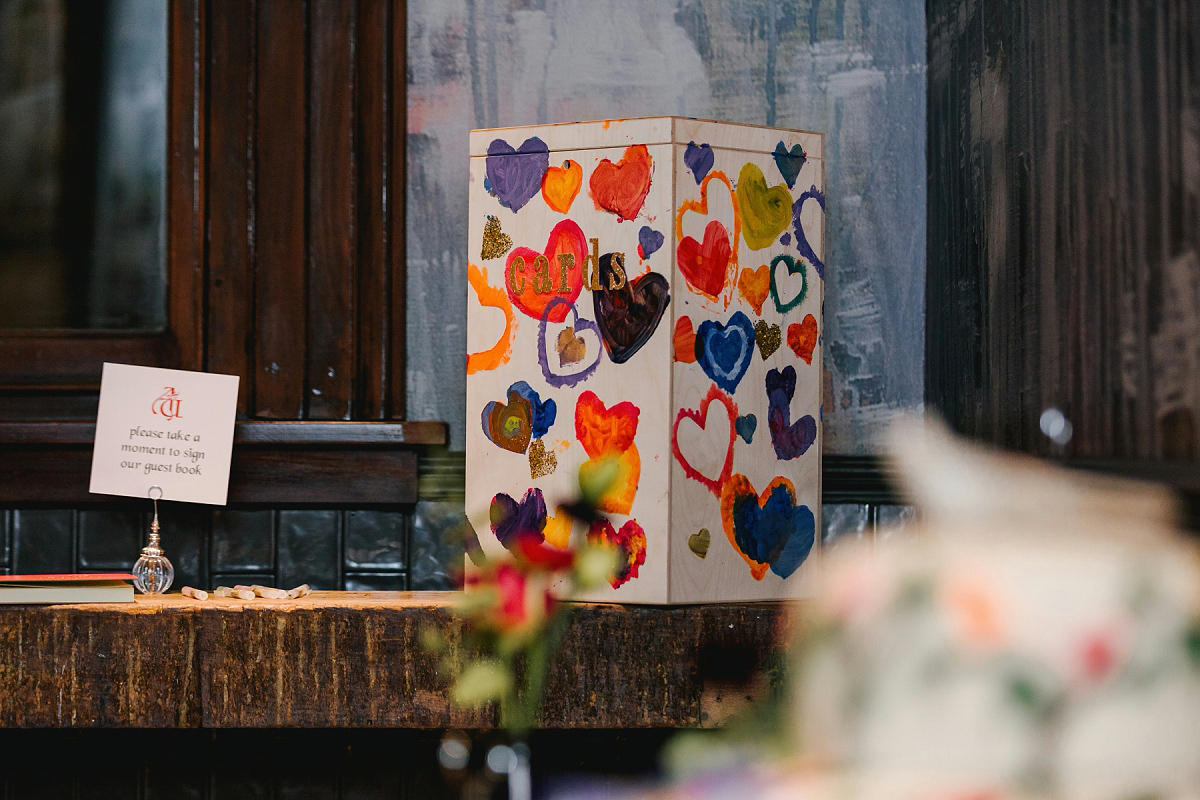 "Andrew has a ridiculously sweet tooth, so he wanted there to be as much cake as possible. His mum Shirley is a fantastic home baker, so she made us a massive three-tiered fruit cake, decorated with birds – because I'm a bit of a bird watcher. She also made about 200 of her famous chocolate brownies!"
"I'm not a huge fan of fruitcake myself though, so my sister Maire also made a three-tiered lemon sponge cake. My mum, my aunty and my brother-in-law all made a huge selection of other tasty traybakes and cookies. Our dessert table looked AMAZING – we were also amazed that every last morsel got eaten."
"Our dessert table was dressed by the florists and lit with more fairy lights. The result was both beautiful and very inviting. Eddie, my father in law, also made us a cake stand, carved with our monogram.
To collect our wedding cards, we bought a plain wooden lock box on eBay and then had my little niece and nephews decorate it. They took this job very seriously! We let them do whatever they wanted, so they painted lots of colourful, glittery hearts on it. It looked very sweet and I was very proud of their efforts."
"I would also strongly recommend St Bart's Brewery as a wedding reception venue. Victoria in the events team was incredibly supportive in the run up to the wedding, always putting our minds at ease about every little thing. On the day itself, Pamela the manager and her team were super friendly, helpful and charming to all our guests. They really helped everyone relax and enjoy themselves."
"I loved every moment, but I think the speeches were the highlight for me. As my father is dead, my eldest sister Aine, who was my chief bridesmaid, made the traditional father of the bride speech instead. She did the most marvellous job that had the whole crowd in tears one minute and fits of laughter the next. It included a wonderfully moving tribute to my much-missed dad, some hilarious – albeit embarrassing – anecdotes about me, and some really lovely words about Andrew and how much my family adore him."
"Live music was provided by Andrew's brother-in-law's band – The Brown Stripes, who reformed specially for the day. They're all journalists who just play together for fun, but they're also supremely talented. Andrew actually sang four songs with them, including the first verse of our first dance. He hadn't told many people that he was doing this, so it came a surprise to most of our guests."
"Of course, I knew in advance – there was no way I would have tolerated any surprises like that on my wedding day. I'm too much of a control freak! The band absolutely brought the house down, especially when Andrew closed the show with Teenage Kicks by the Undertones. The huge Northern Irish contingent among our guests went crazy for that."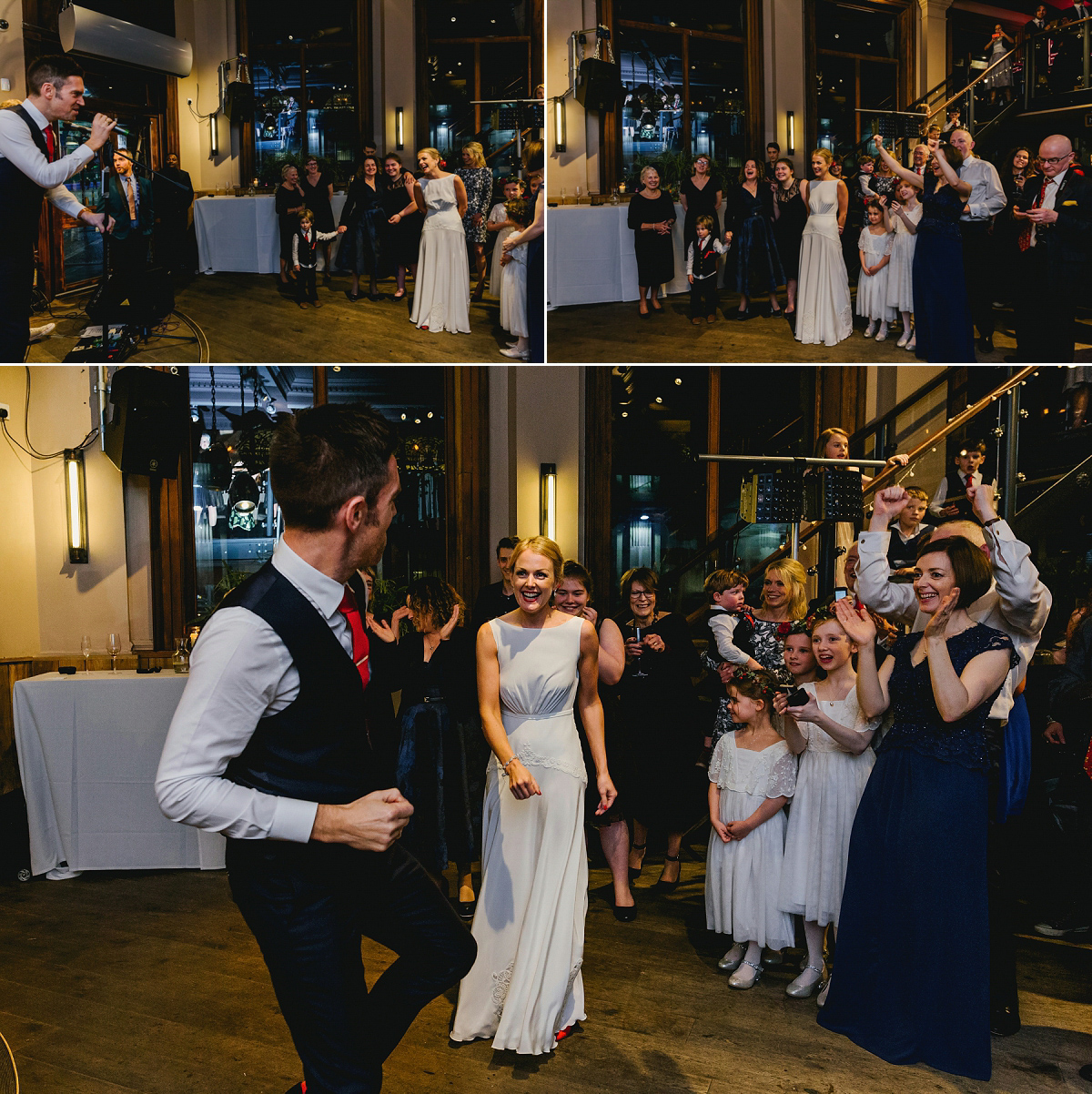 "After the band, we had a DJ – Rich S from Stylish entertainment. We'd given him a list of just a few songs we definitely wanted played, and then we left it up to him to choose the rest himself. I know a lot of people choose to save money by putting their own wedding disco playlist together, but I really think it's worth hiring a professional DJ. They can read the crowd far better than you can, and they know what's going to get everyone dancing. Rich S kept our dancefloor full for three solid hours!"
"Our first dance was to Frankie Valli's 'Can't take my eyes of you'. We wanted something uplifting and happy, rather than a slow, romantic ballad. This song ticked all those boxes. Everyone knows the words to the chorus and it's really easy to dance to!
Andrew actually sang the first verse himself before leaping off the stage to dance with me for the rest of the song. When he first told me he wanted to do this, I was a bit worried that I'd feel silly standing there by myself at the beginning of the song, but he REALLY wanted to do it and put in lots of rehearsal time with the band, so I went along with it. On the night, having him sing the words directly to me was actually very romantic, and again, something a bit unique. The crowd certainly weren't expecting it, so it really got everyone going!"
Words of Wedded Wisdom
"There's no two ways about it, planning you own wedding is very stressful. I assumed at the start of the process that Andrew would simply allow me to make all the important decisions myself, and that I would be able to get on with things in my own time. But he's not that type of man! He has very clear ideas and tastes of his own. So, rightly, we shared decisions about practically every last detail (except for my dress, of course). This made the process time-consuming and laden with compromises, as we didn't always see eye-to-eye on everything. So be prepared to have some major arguments and disagreements with your partner!"
"My advice is to write a to-do list of every single thing you need to plan, book and pay for, then put a deadline next to each item on the list. Then create a shared online calendar with your partner and sit down and schedule exactly when you are going to discuss each item and make those important decisions. Our list was about 25 pages long to begin with, and it felt like we had a mountain to climb. But the sense of achievement and relief as each little thing got ticked off was very satisfying."
"My other advice is to make a speech. I think it's important for feminism that more brides make speeches! I'm not the type of person who gets nervous about public speaking myself, but even if you are – do it anyway. You will never stand in front of a more receptive crowd of people. They want you to do well. They will whoop and laugh and clap and cheer you on and you'll feel amazing. I didn't spend that long writing my speech either. I just wrote it from the heart and it was greeted with enthusiastic applause."
"Book a professional DJ. No matter how much confidence you have in your own musical tastes and playlists, a professional will be able to read the crowd and pick tracks to keep them dancing, song after song."
"Finally, if I could do anything differently, I would enjoy the morning preparations more and try not to be so nervous. I was an absolute mess and rather short-tempered with my mum, sisters and nieces who were getting ready with me. We were a bit behind schedule and I was only just putting on my dress when the taxi pulled up outside. I had Aine help me into my dress, and we did the old trick of putting a pillow case over my head first so I wouldn't get make-up on it. But after Aine had pulled the dress down and I took the pillow case off, we realised she'd accidentally put it on me backwards. And given my dress had a very low scooped back and I wasn't able to wear a bra with it, this was not a good look!"
"Of course, Aine burst out laughing, but I couldn't see the funny side at that moment, and screamed horrible things at her! I was just so stressed about being late. One of my junior bridesmaids, my little niece Minnie witnessed this moment and it has clearly lodged itself firmly in her memories. At Christmas she presented me with a portrait she'd drawn of me, standing in my underwear with a pillow case on my head shouting at people! Although she kindly censored the picture by drawing me wearing a bra, which I'm grateful for!"
Absolutely gorgeous! Huge huge thanks to lovely Una for sharing so much of her gorgeous wedding with us all – thank you Una for your very kind words about Love My Dress!
Una talks about how easy it was to locate weddings by era, colour and season – did you know we now have a brand new and beautiful search facility? Click the little magnifying glass icon on the top right of the screen to try it out – you can also search by designer, photographer and wedding style.
Our love and gratitude to photographer Sharron Gibson for sharing these images today.
Love Annabel x