Such a treat for you this Monday morning my lovelies!  Meet Ali and Andy, a fundraising manager and a bike mechanic, who married on the 22nd of October 2016 at Stoke Newington Town Hall, followed by a reception at Dalston Heights, London in a local and personal celebration.
"Our main inspiration was our local area.  We wanted the day to represent our life in Hackney and so it was really important that we got married locally and used local suppliers.  We didn't have any theme other than this, although we were definitely drawn to seasonal autumnal colours."
Images by Lisa Jane Photography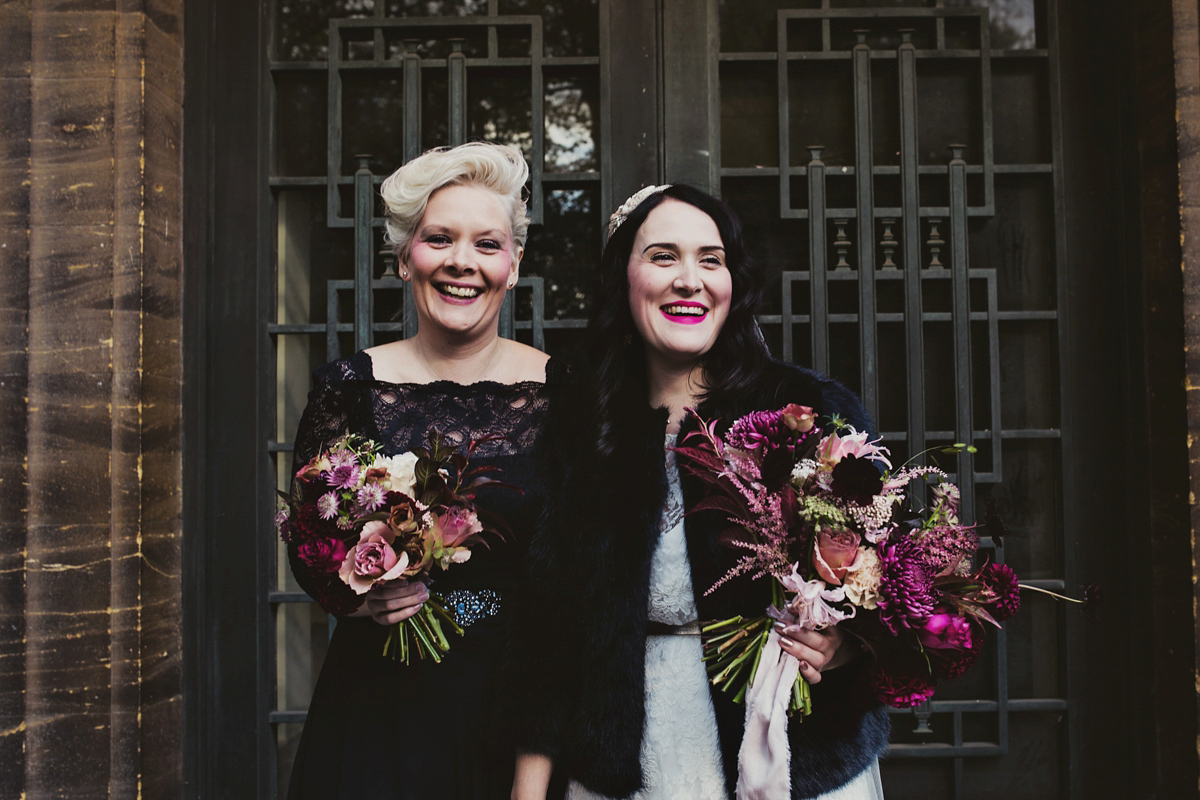 Ali wore a gorgeous Charlie Brear gown, which she purchased from the flagship store in London.
"I actually really enjoyed the quest for my dress.  I found Love My Dress invaluable for getting an idea of the sort of dress I'd like and the suppliers that matched that style.  I visited about three boutiques with my mum but my experience at Charlie Brear really was the best!  I loved being able to mix and match their whole collection as it gave a lot of options to find something really unique."
"I chose a simple silk dress to wear as a slip and a lace t-shirt style dress to go over the top.  This really was the only dress that I truly felt confident and like me in.  The stylists were really helpful in guiding me through the process, as well as helping with picking out a rose gold belt and simple tulle veil which really finished off the look." 
Hair was the work of Ali's usual hairdresser Michael at Toppers of Hackney, while she did her own make up.  She chose a bright pink lip which I just love.
"A bonus of getting married locally was being able to go to my usual hairdresser. It was really comforting to get ready somewhere that was familiar to me, and even nicer to be there with friends and family – with a glass of prosecco in hand too."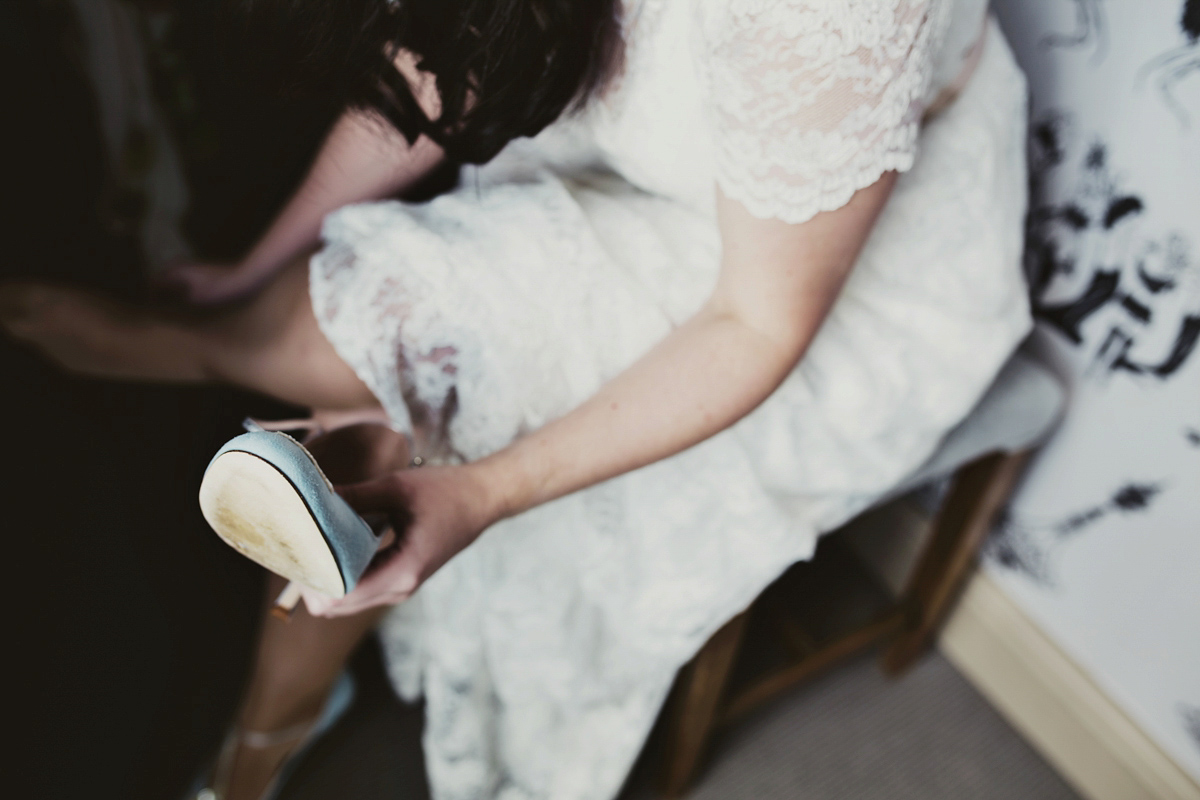 Ali's veil was by Helen Martin, while on her feet she wore a pair of pale blue heels by the fabulous Emmy London (who are also members of our Little Book for Brides).  Her hairband was also by Emmy, while her fabulous gold glitter earrings were from Tatty Devine.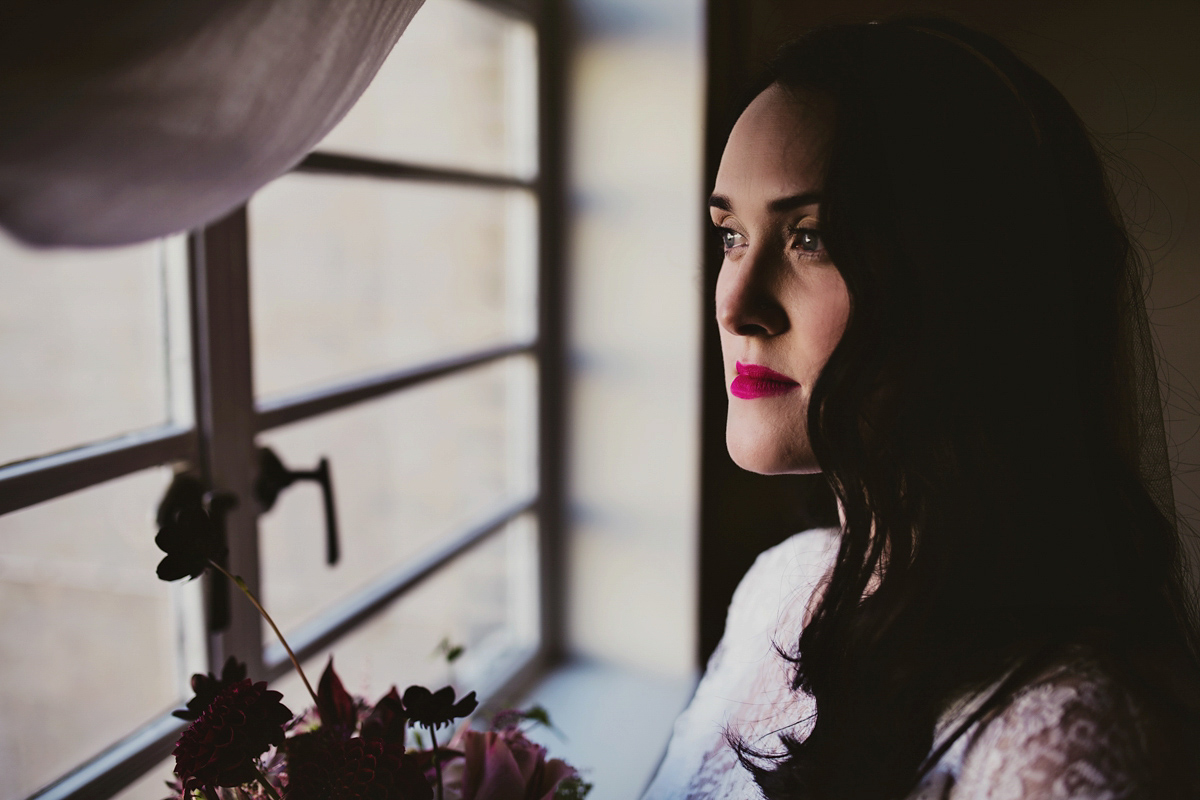 "Although there are lots of favourite moments, the one that really stands out was our first look. We were both concerned about nerves getting the better of us and also felt that seeing each other for the first time on our wedding day was a really personal experience that we wanted to do in private."
"It gave us some quiet time together to take in the enormity of the day and I loved being able to walk with Andy across to the town hall; it gave a real sense of doing this together."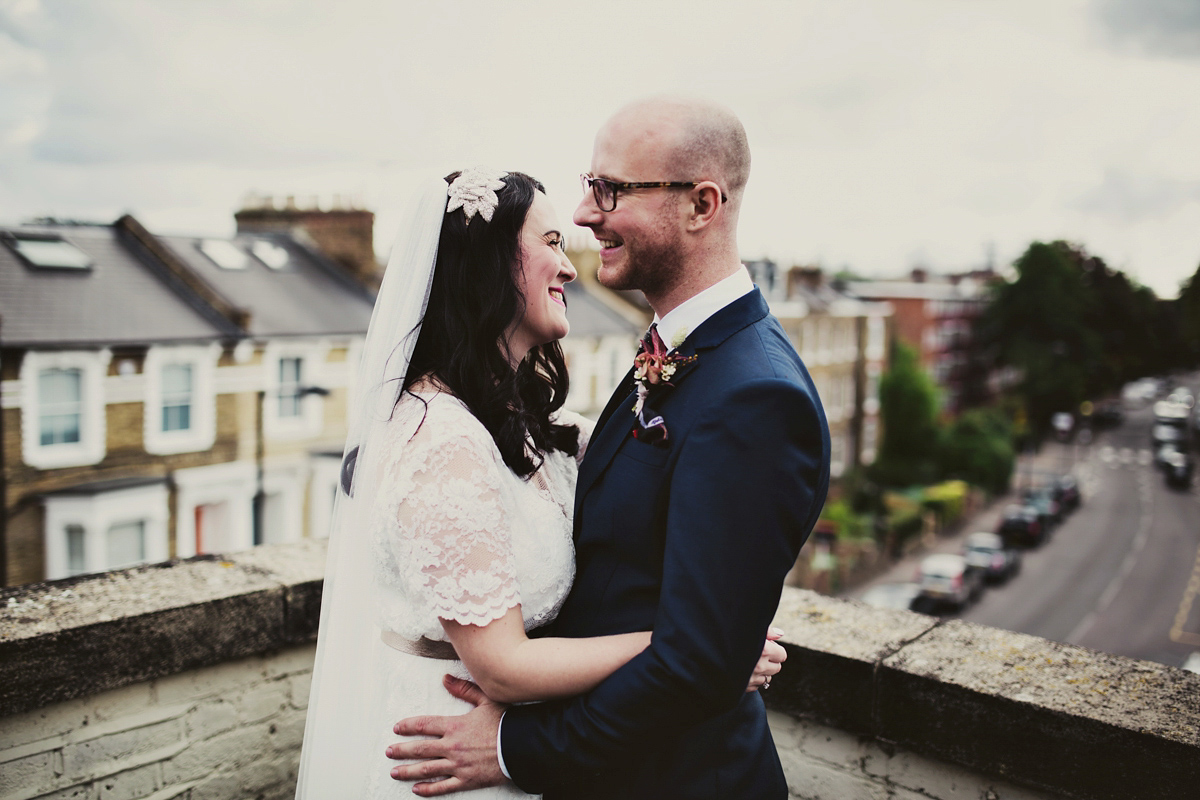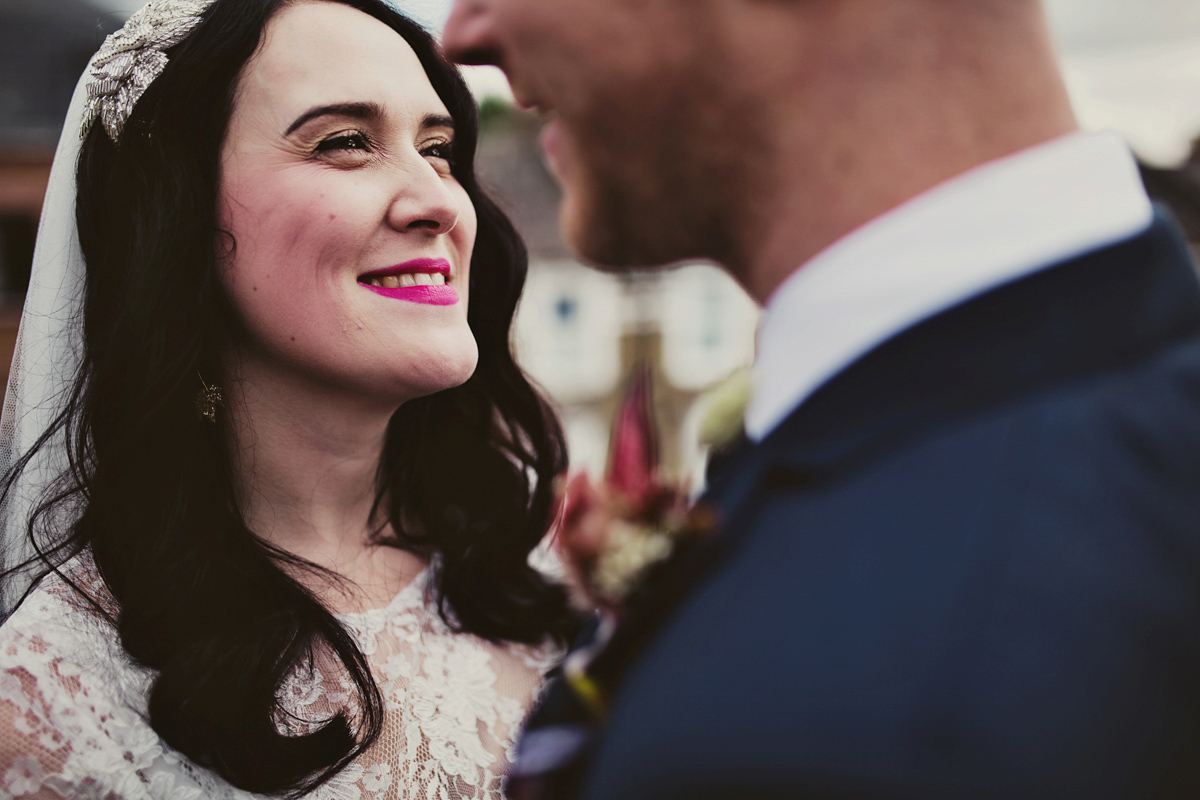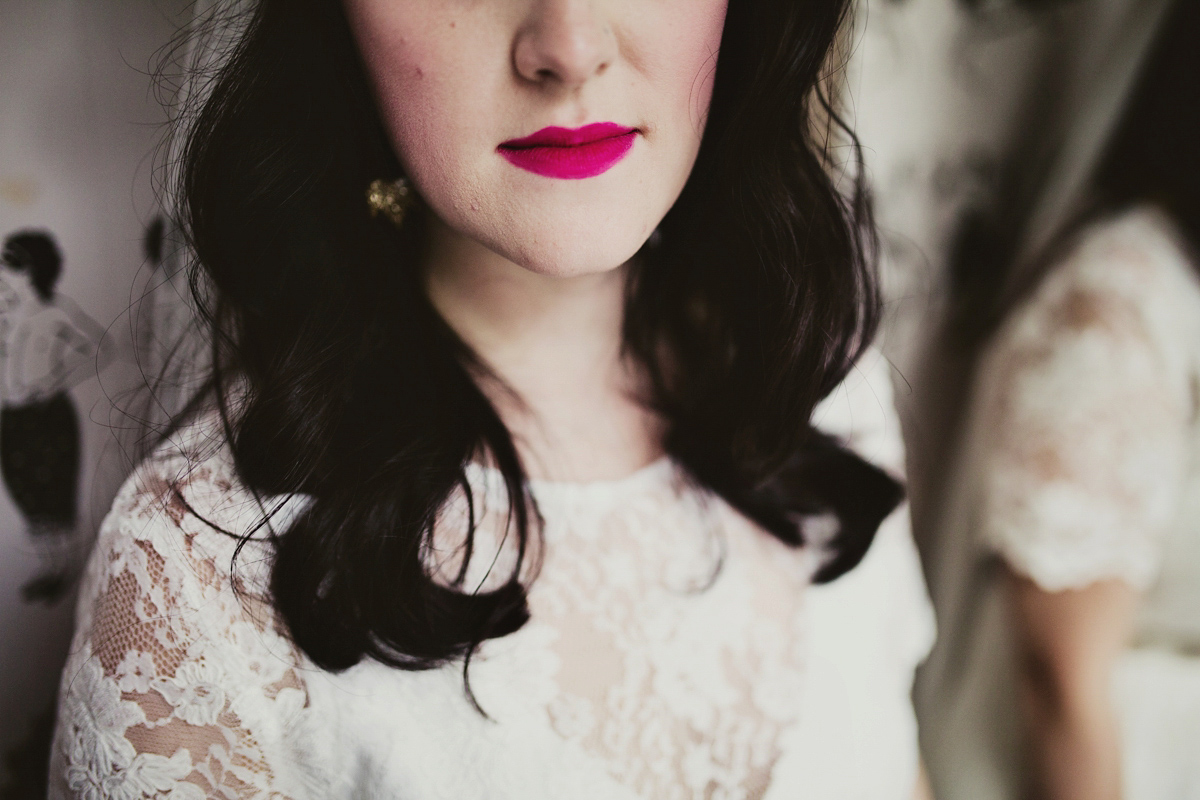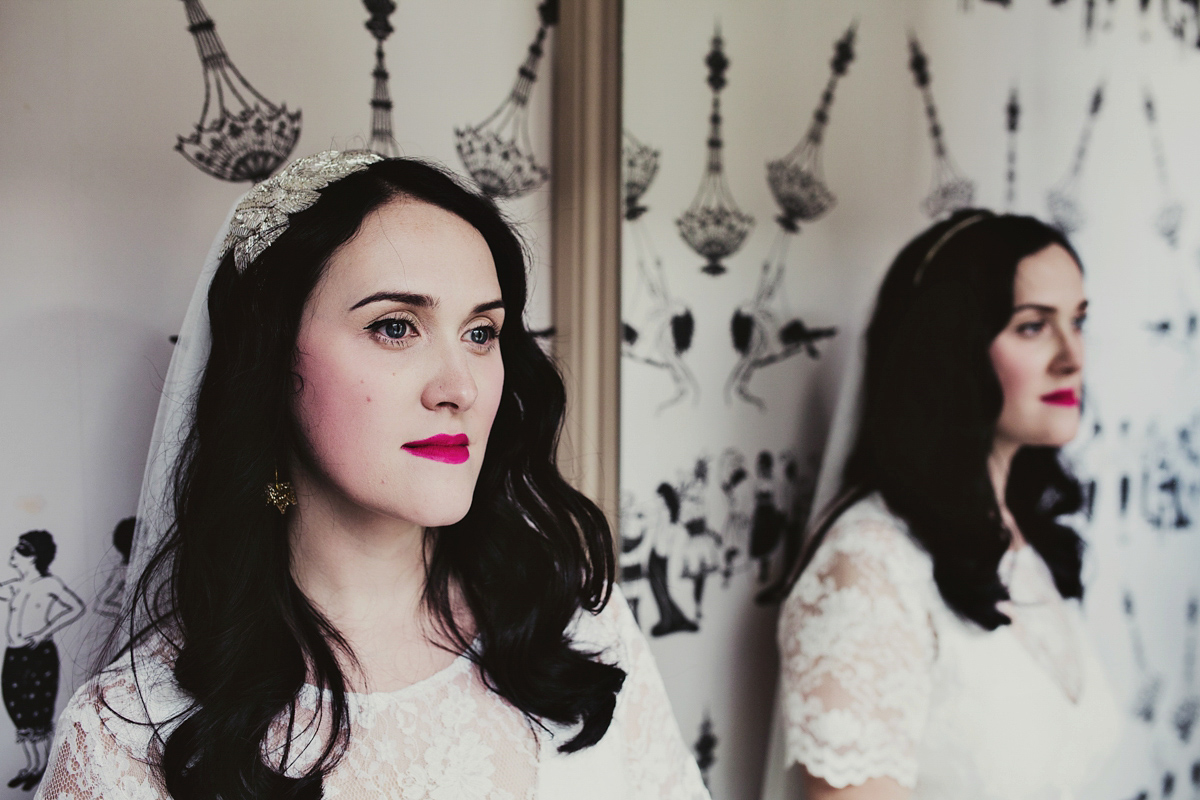 Bridesmaid Vicky looked very elegant in a long sleeved navy gown from No. 1 Jenny Packham, worn with hair accessories from Accessorize (with some added rose gold spray paint) and earrings from Metal Crumble.
Andy looked very smart in a suit by Jaeger, worn with a tie, pocket square and socks from Paul Smith.  He is a keen cyclist and the tie had a small cyclist print and his pocket square had different coloured bicycle caps.
"The only place we even considered getting married was Stoke Newington Town Hall.  Sitting proudly at the top of Church St it's surrounded by pubs, restaurants and the lovely Clissold Park where we often walk our dog Betty.  The bonus is that it's a beautiful art deco venue too."
Flowers were by the wonderful Petalon.
"I have been a fan of what Florence does for a long time and as we loved her style we really wanted to give her as much free reign as possible.  The real knockouts were the garland she made for the registrar table and all the flowers she wove around the beams at the reception."
Ali walked down the aisle with her Dad to Bob Dylan's 'Wedding Song'.  For readings, she and Andy chose 'I Wanna Be Yours' by John Cooper Clarke.
"We wanted to have modern readings that weren't too mushy and felt it reflected the day and us too.  Andy's friend Richard also added an extra verse to the poem make it more personal, unbeknownst to us."
"I really wasn't prepared for how emotional I would find the ceremony.  Usually not one to cry, I was surprised that I was fighting back the tears during the first reading.  However, this all eased up when Andy made a classic blunder of calling me his 'awful' instead of 'lawful' wife during the vows. This definitely lightened the mood and made for some cracking pictures of us both cackling about the mistake."
The couple exchanged bespoke rings from Comfort Station, engraved with the co-ordinates for Stoke Newington Town Hall on the outside and the wedding date inside- I just love this idea.  Ali's ring also included a diamond from a ring belonging to her great grandmother.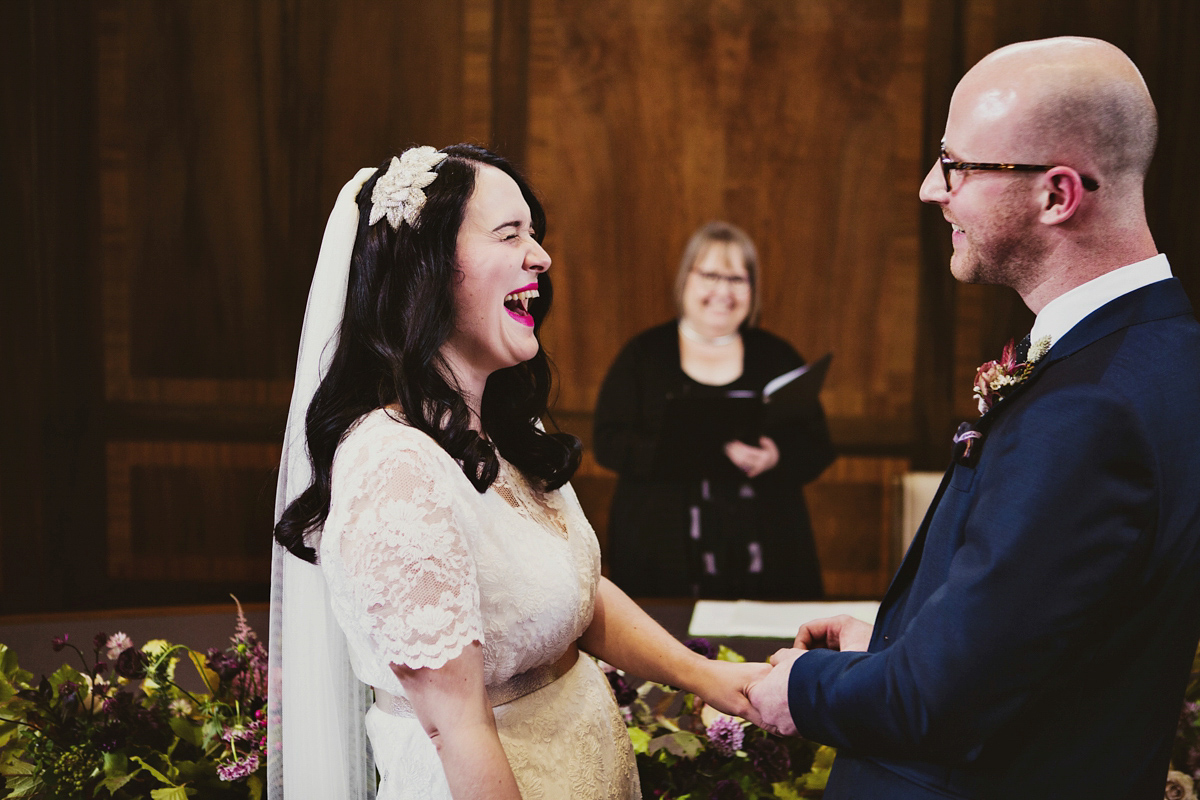 Today's gorgeous images are by the talented Lisa Jane Photography.
"Lisa is so enthusiastic and her ability to step back and capture all the details is such a refined skill; everything is there- the nerves, the anticipation, the laughter, the loving glances and the gentlest touch.  Every time we look back through our photos, it transports us back to the day and to some really raw emotions.  I'm sure that they will continue to reduce us to tears for many years to come.  We couldn't be happier with our pictures and couldn't recommend her more."
To round off the London feel, the couple chose to hire a routemaster from Ensign bus hire to transport their guests.
"We knew we wanted a warehouse or industrial space in Hackney for our reception and one of the big musts on our list was that they would let us have our dog Betty there too.  This led us to the beautiful Dalston Heightsm which was huge and used to be a cardboard box factory."
"It was full of light and had bags of character and loads of props that we were able to use to dress the space.  Whilst some aspects were less practical (having to remove everything the day after the wedding, up and down the stairs with a hangover is something I'll never forget), no other venue came close for us."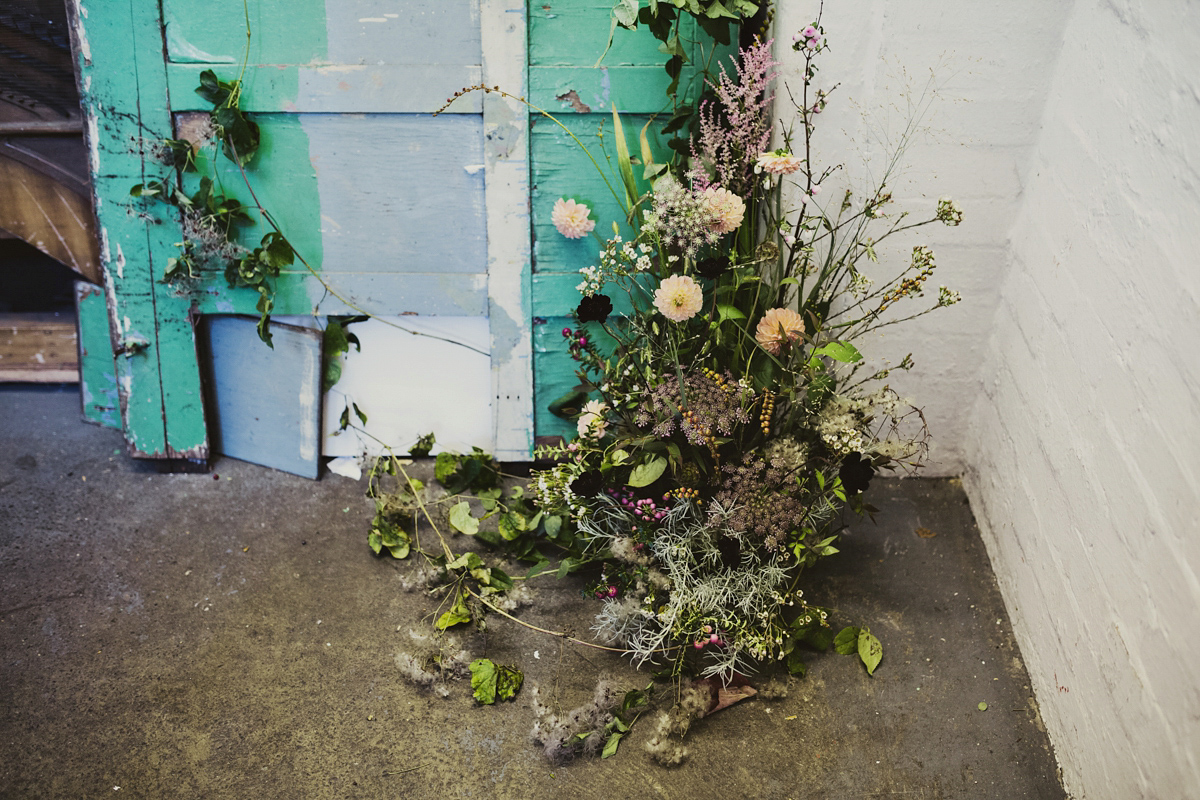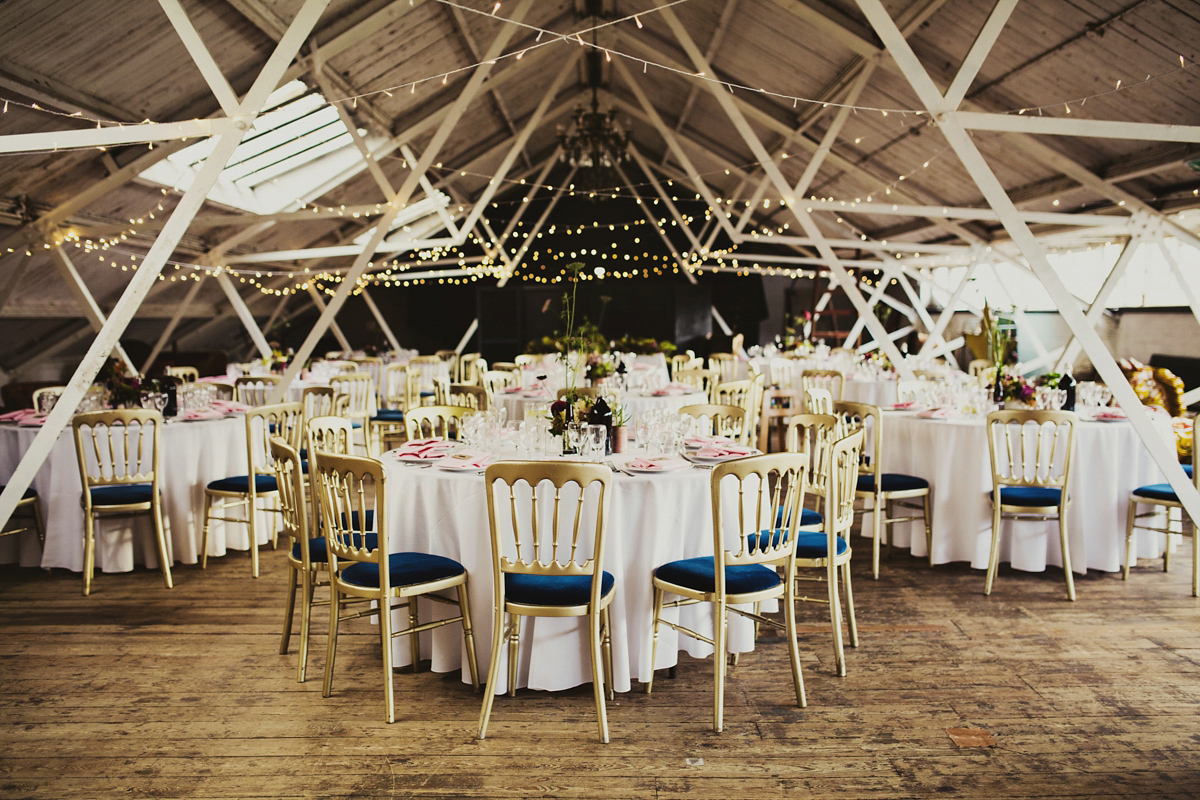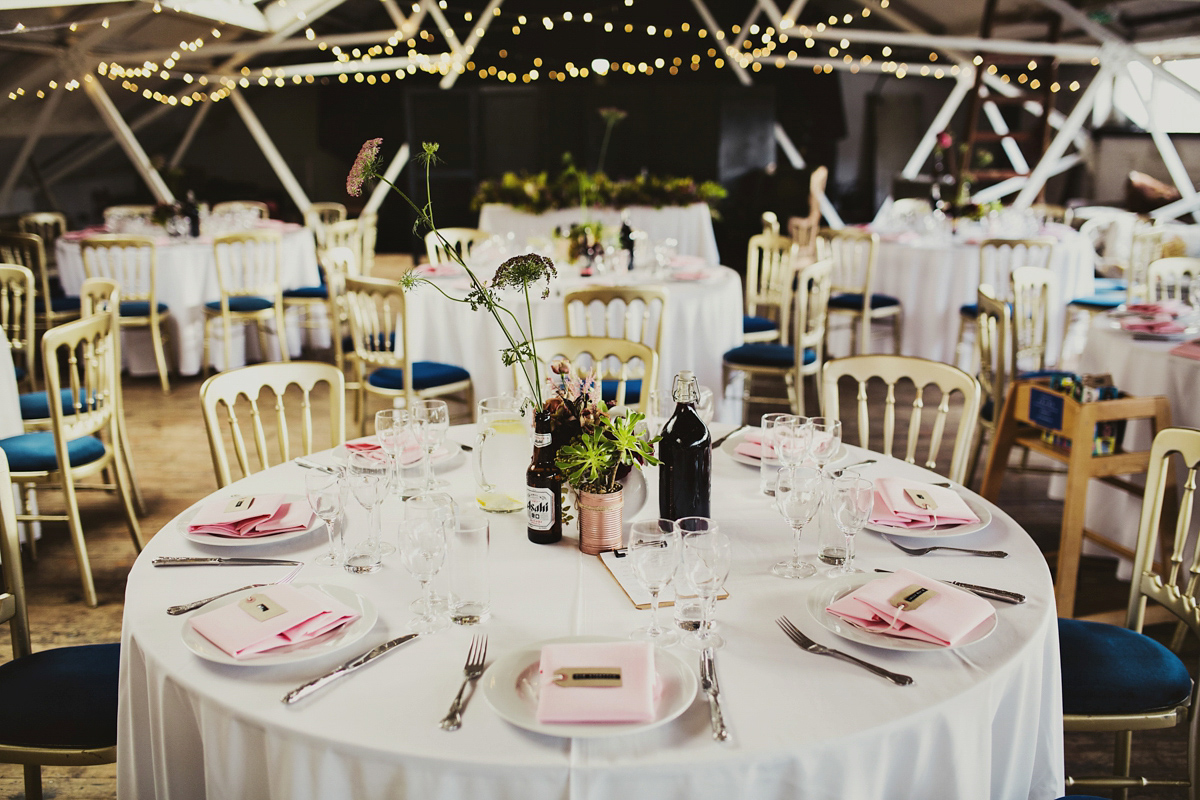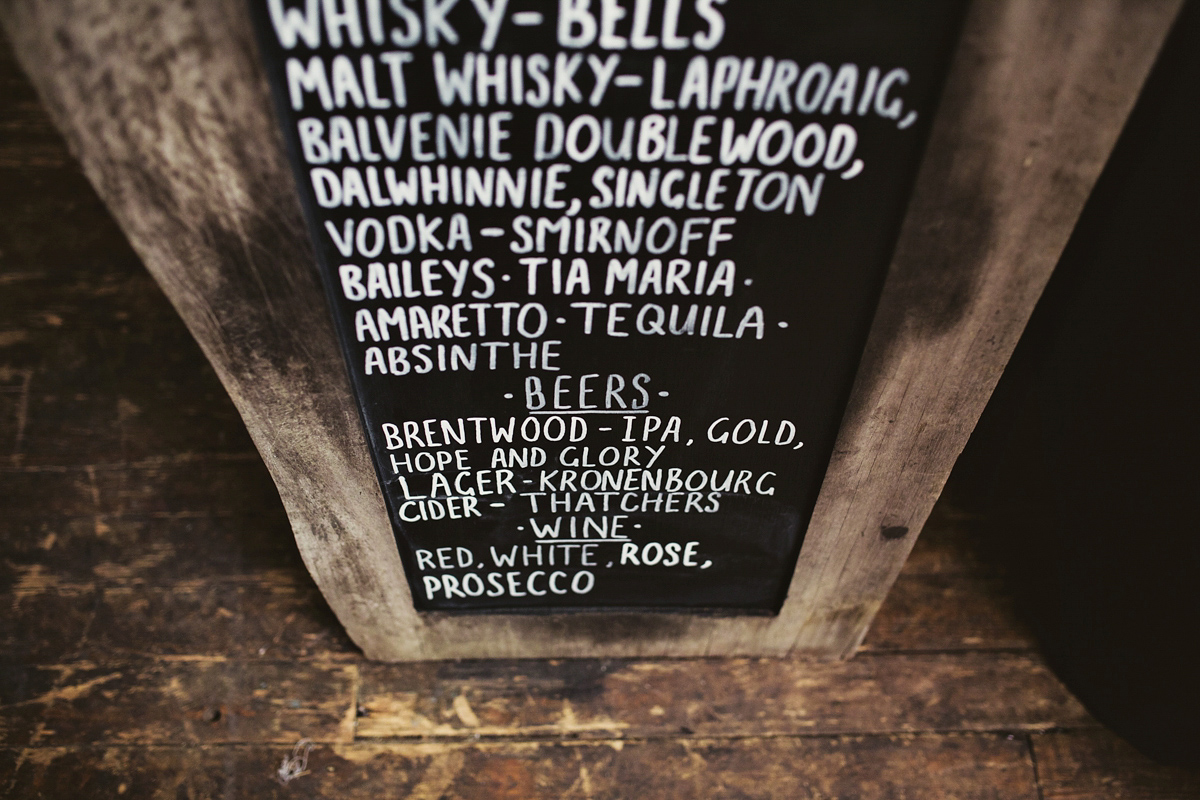 "We didn't hire an event planner, but our caterers Easy Gourmet Catering oversaw the running of everything at the reception.  From beginning to end, Easy Gourmet were just incredible and couldn't have done more for us.  Marie-Laurie and Flavia were always on hand in the lead up to the day and were so professional and accommodating."
"They really set the benchmark high for our suppliers and we couldn't recommend them highly enough. The staff on the day were flawless, and everyone raved about the food."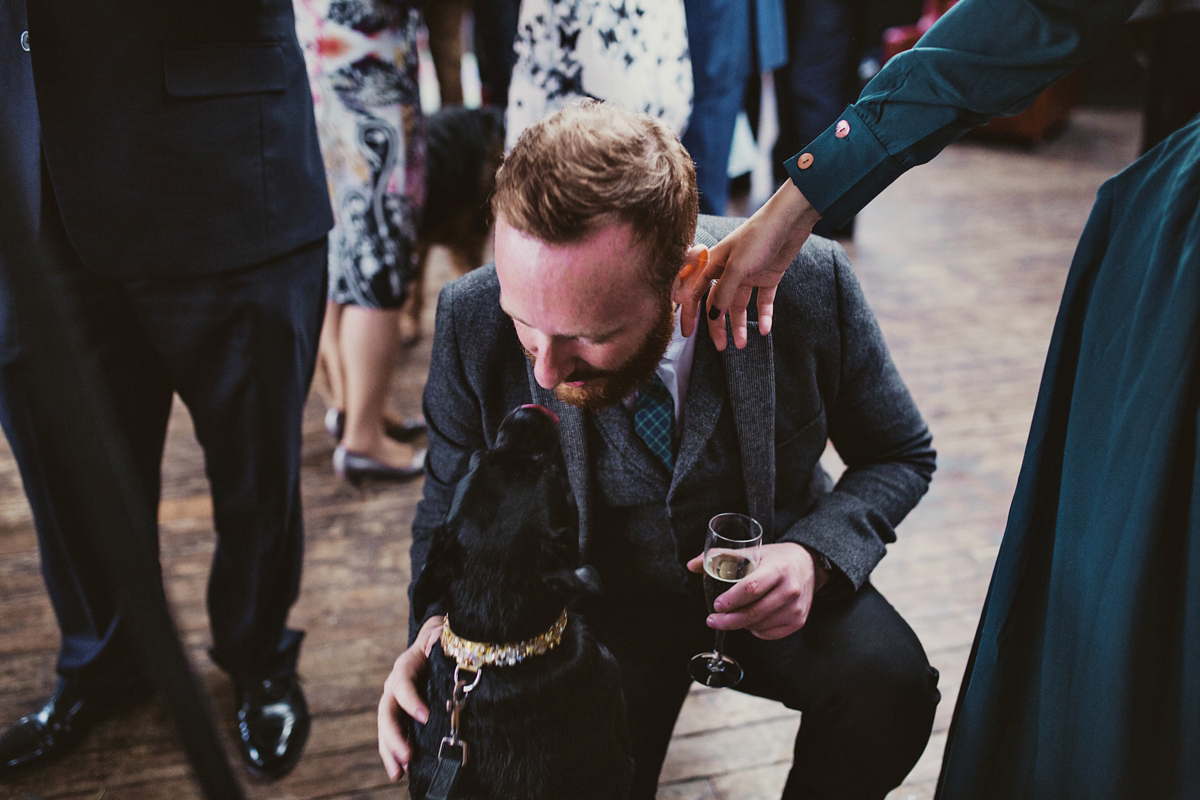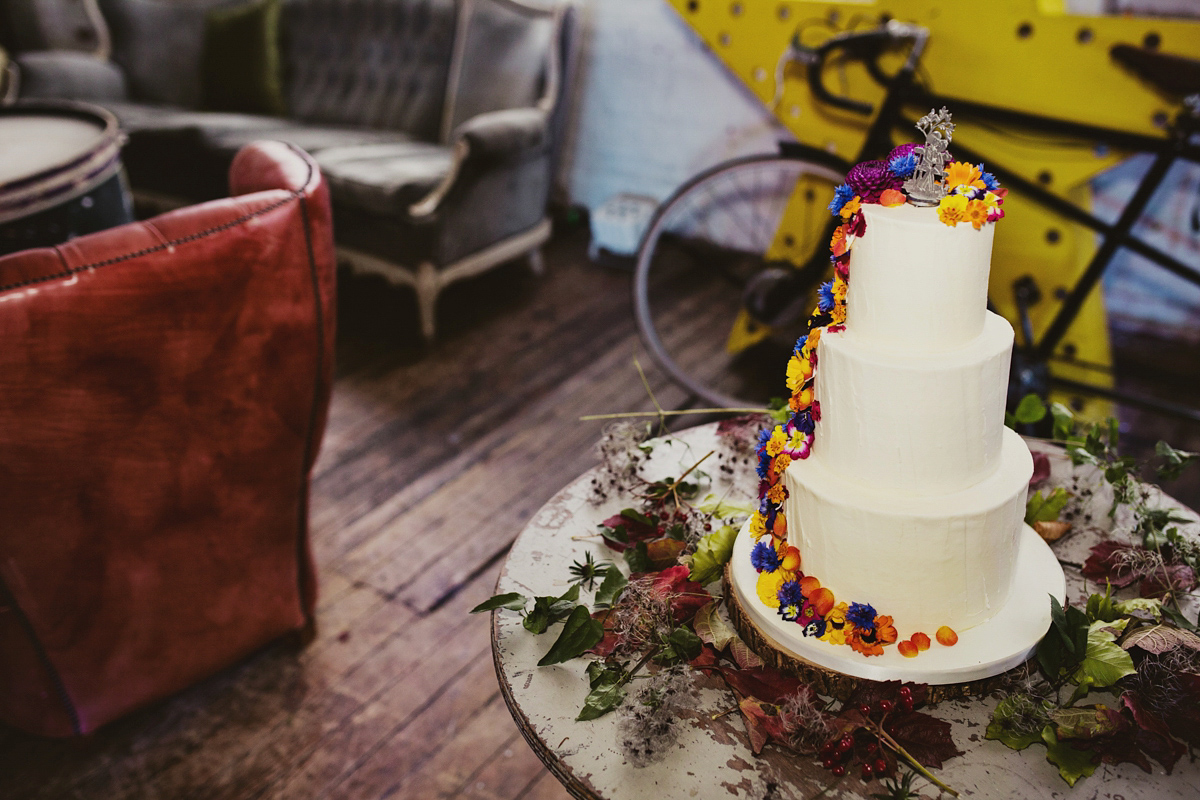 The beautiful and colourful cake was by Fondant Fox, in three different flavoured tiers (red velvet, lemon and carrot) and decorated with bright edible flowers.
It was topped with a pewter figurine by Ali's favourite artist (which was Andy's first Christmas present to her). The figurine is of lovers, so is perfect for the purpose.  Guests were also treated to a crate of meringue kisses from the Meringue Girls.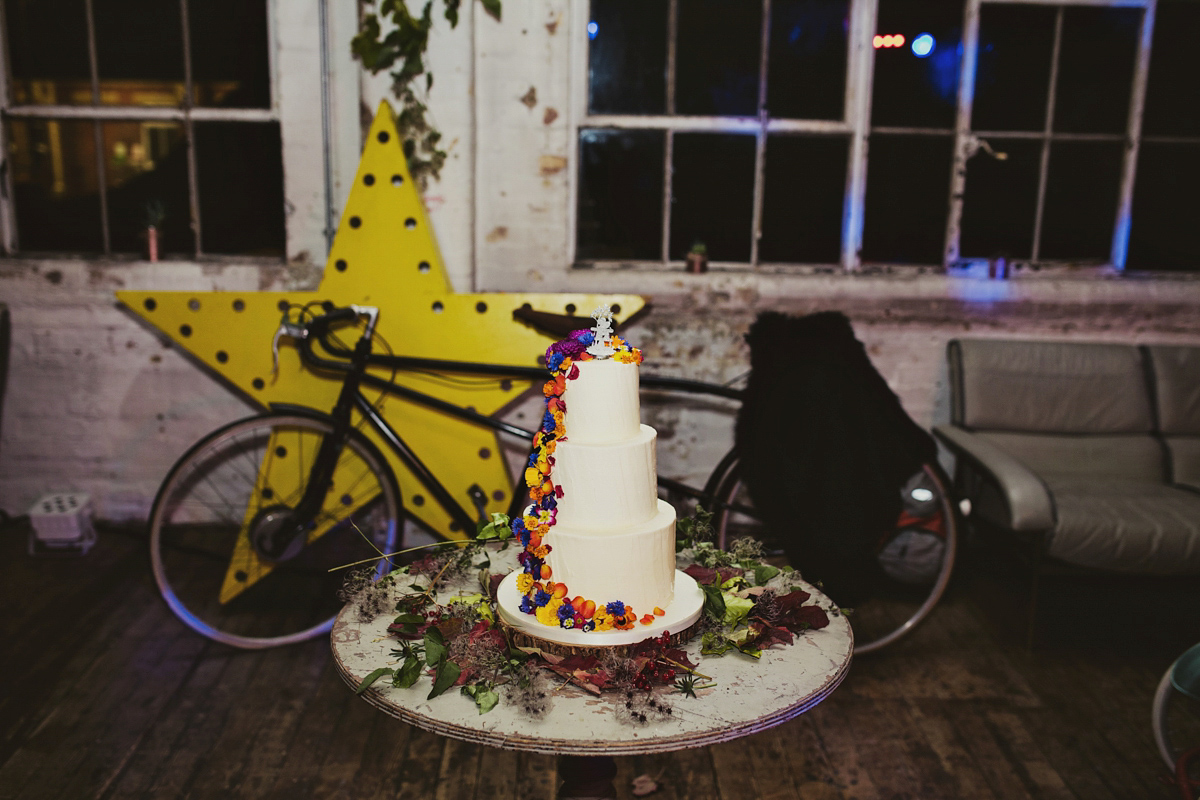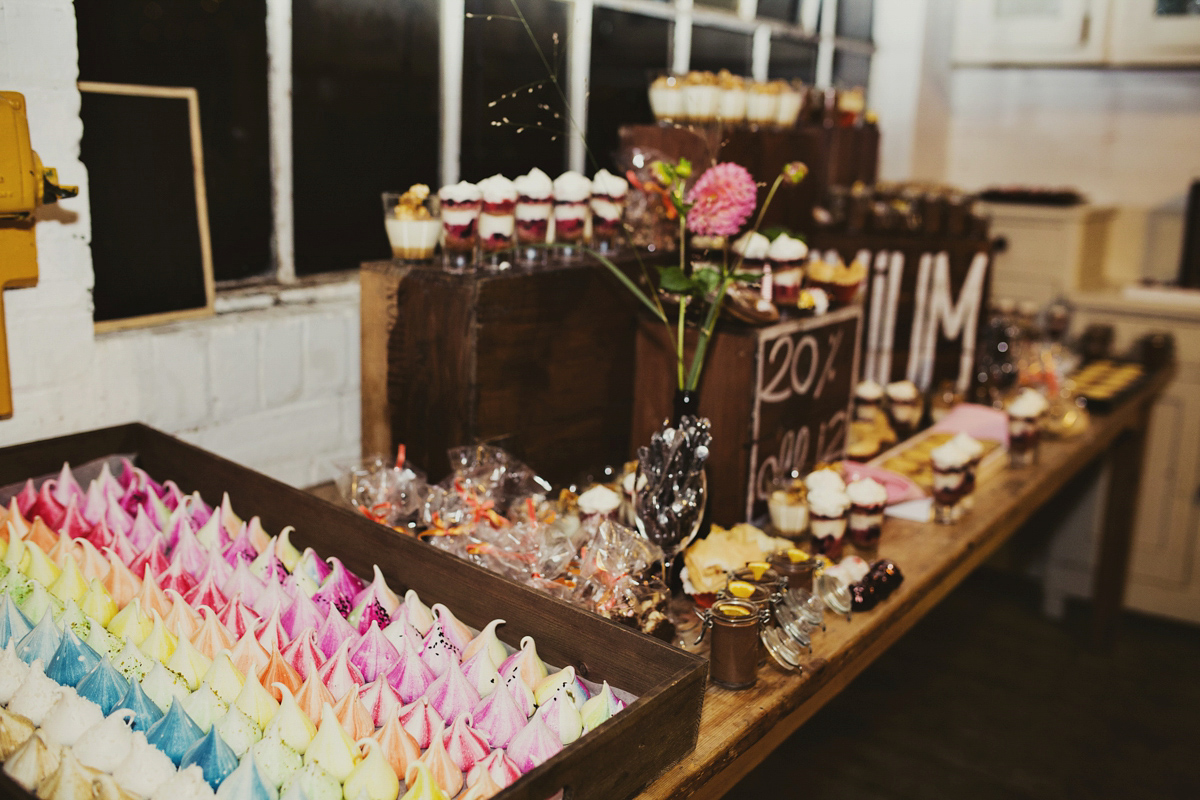 "My brother kindly offered to DJ for us, so we just hired the PA equipment and lights and he did the rest.  He did a sterling job and had so many compliments.  A particular highlight was when the whole crowd started chanting 'Ed, Ed, Ed' – a true superstar DJ moment."
Words of Wedded Wisdom
"Take some time with your other half to question the traditions and see what is right for you.  On embarking on planning, I read a lot about feminism and weddings which led to us having a lot of conversations about what we felt was important about the day but also about marriage."
"For the day itself, it meant we wanted to stay with each other the night before, that we wanted a first look, that we didn't want a big bridal party or a top table, that I wanted to give a speech and would keep my maiden name, but would compromise by taking his too so it would be double-barrelled.  These decisions were made easier by having such supportive families and really made the day for us."
So many thanks to Ali, Andy and Lisa Jane Photography– what emotive pictures these are.  For more weddings in lovely Stoke Newington, take a peek here, while for more Charlie Brear brides, look here.
Much love,
Shona x