What a beauty of a wedding I have to share with you today. Rose gold tones, an incredible theatre venue, luxe blooms and an overall sense of fun and love.  So, sit back with a coffee and please enjoy this wedding as much as I have enjoyed writing about it. Jen, a theatre manager, and Andrew, a physiotherapist, married at Wilton's Music Hall in East London, the oldest grand music hall in the world, on 20 August 2016. Inspired by the vintage, theatrical heritage of their venue, they incorporated these elements along with a few Norwegian touches, into the day, culminating in an energetic ceilidh dance.
For Jen, Wilton's was the only place she wanted to be married in. As a self-professed theatre geek, and with a previous connection through work, she'd been to many performances there since it reopened as a theatre in 2004.  She loved its history as a performance venue, which stretches right back to 1839.
"We worked off the existing aesthetic of Wilton's Music Hall, taking a little of the vintage and a little of the theatrical. We also knew we wanted a friend's ceilidh band to play to enhance the music hall atmosphere. Our departure point was essentially to throw a massive old-school knees-up!"
Photography by Razia N Jukes.
These photos by Razia N Jukes (who we are very proud to list here on Little Book for Brides) show off the old-fashioned glamour and impeccably-decorated interiors of Wilton's. The high ceilings are emphasised by the garlands of fairy lights and I love how the rich burgundies of the flowers pick up on the colour of the stage curtains. Their florist was Rebel Rebel, whose overall approach to floral design matched Jen's ideal aesthetic of 'dramatic but informal'.
"Wilton's is so beautiful and atmospheric we had to do very little styling as such. Our florist covered the key areas with displays of white, peach & deep red and purple roses and other flowers."
Jen looked show-stopping in a pale gold Crêpe de Chine dress from Brighton boutique Hope & Harlequin. Its rose gold toned wonderfully with her platinum hair and deep pink-tinted lip, whilst its shorter length was elegant, unfussy and allowed for statement shoes; a beautiful pair of intricately-detailed, pink and peach Christian Louboutin 'Cork Blooming' So Kate pumps.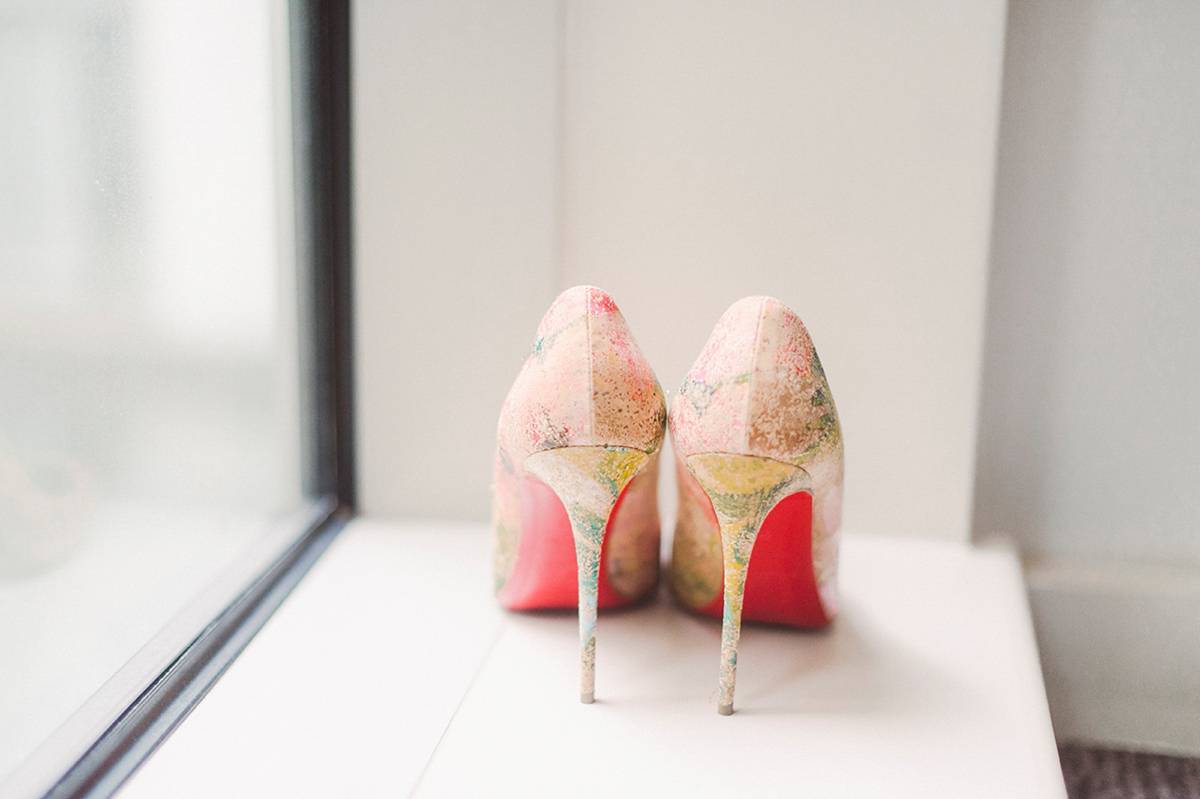 Her long hair was styled in to an up-do by The Painted Lady and she finished her era-inspired look with a fabulous cat-eye flick and a deep pink lip. Fresh flowers were woven into Jen's hair and she added rose gold jewellery to mirror the colour of her engagement ring; stud earrings and a set of three bangles from Goldsmiths and another bangle by Kate Spade.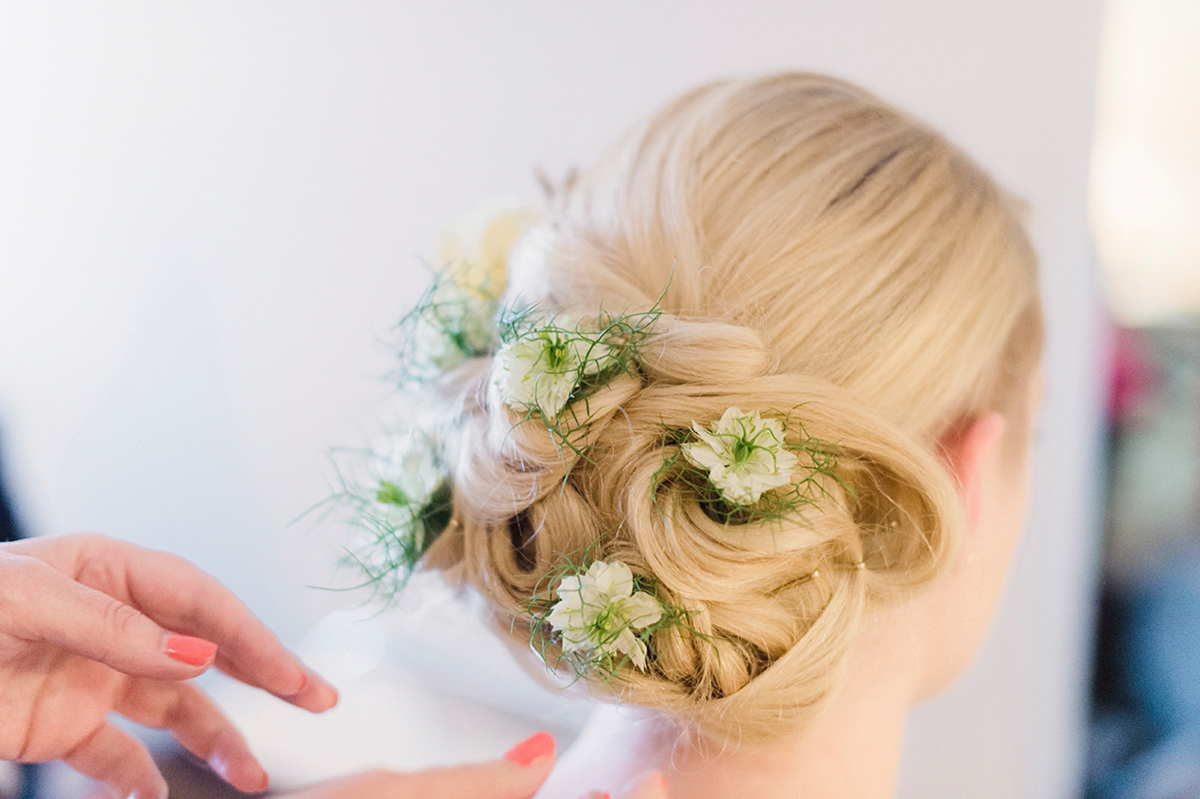 "My Hope & Harlequin dress was an altered version of the Rosa dress (a 30s bias-cut mid-length Crêpe de Chine) as I wanted a low back and lace detailing."
"Their designer Sarah was brilliant at working those details into the original design. It was the way the dress moved that sealed it though, as this was perfect for being thrown around in a ceilidh."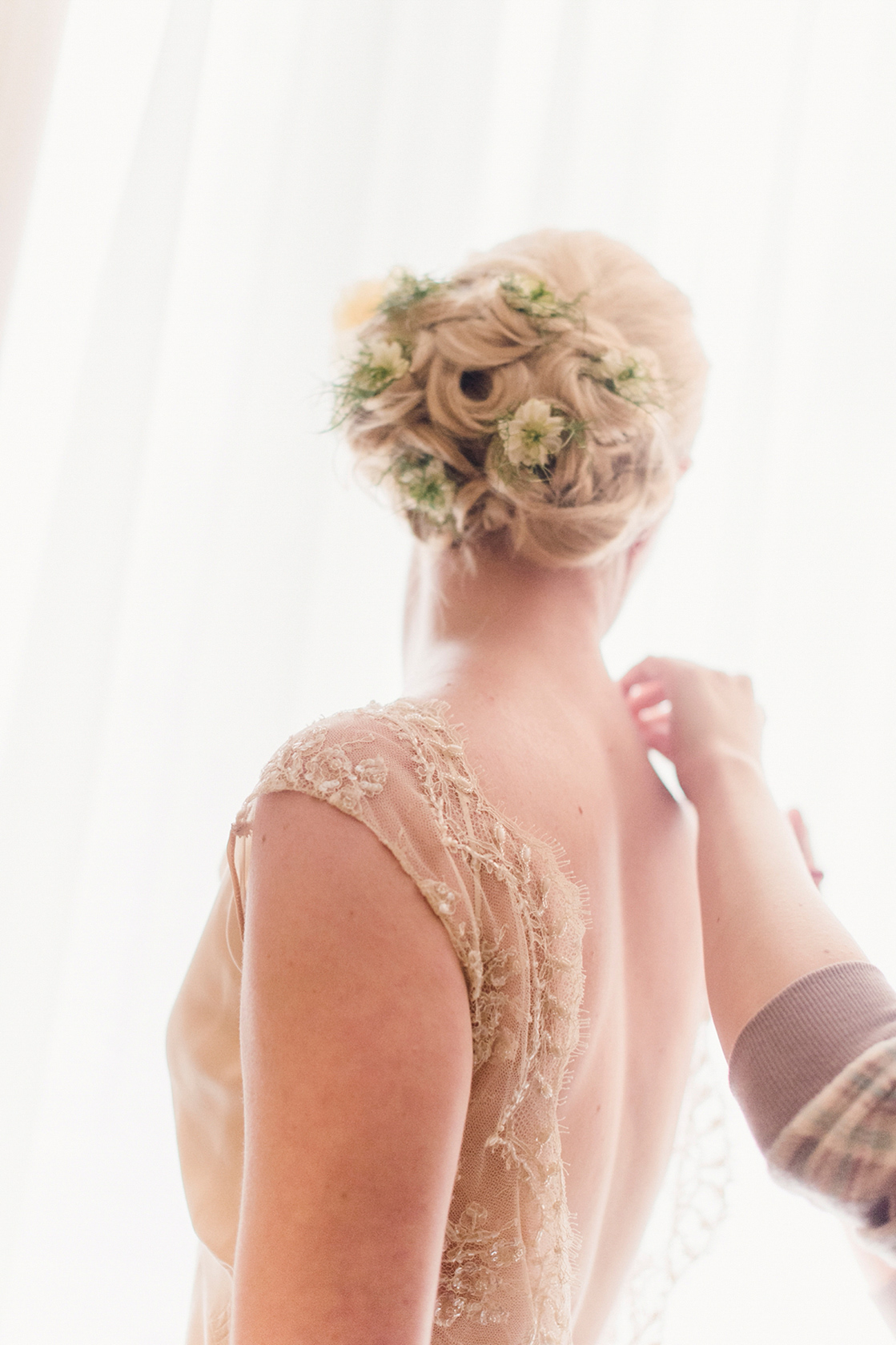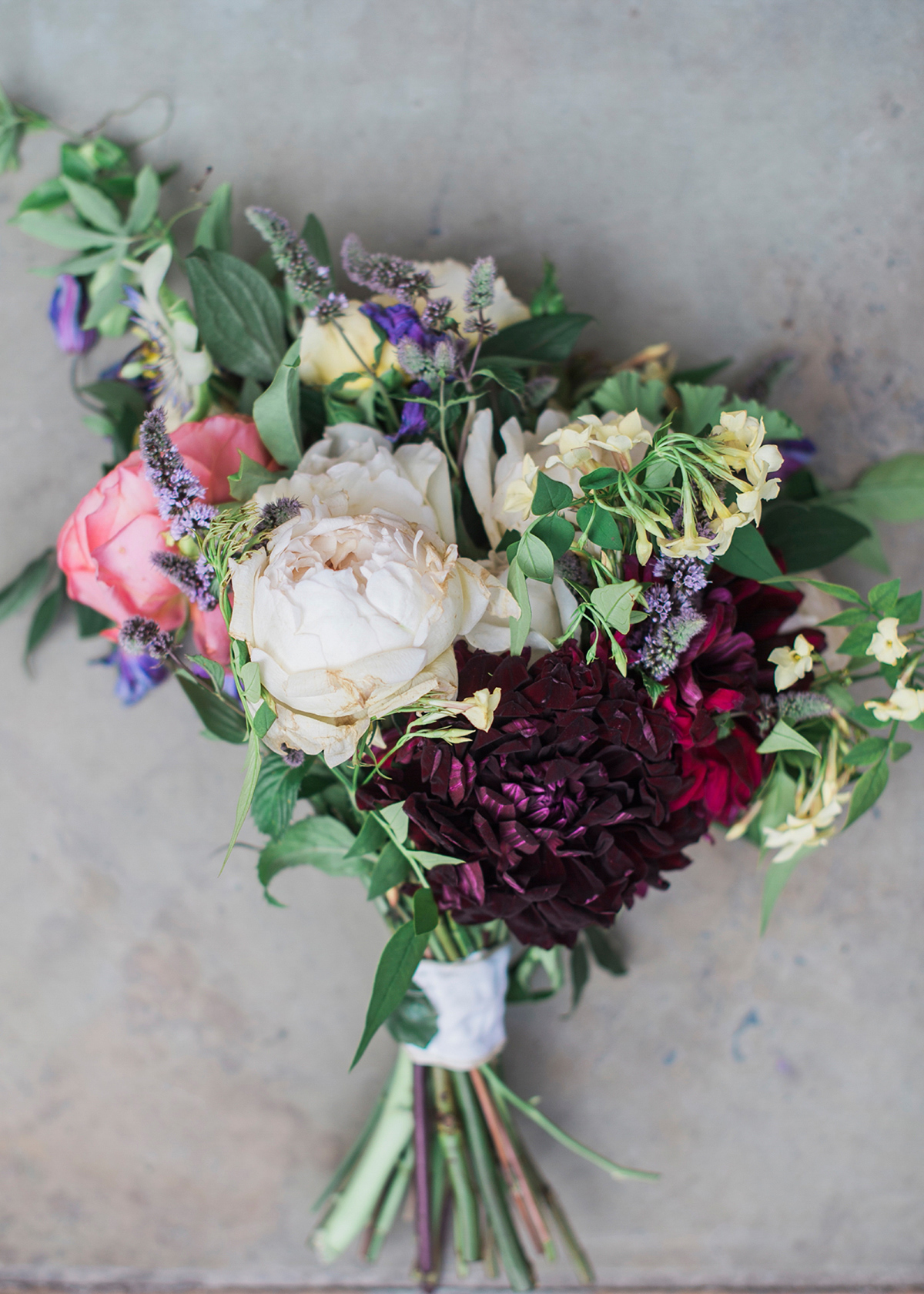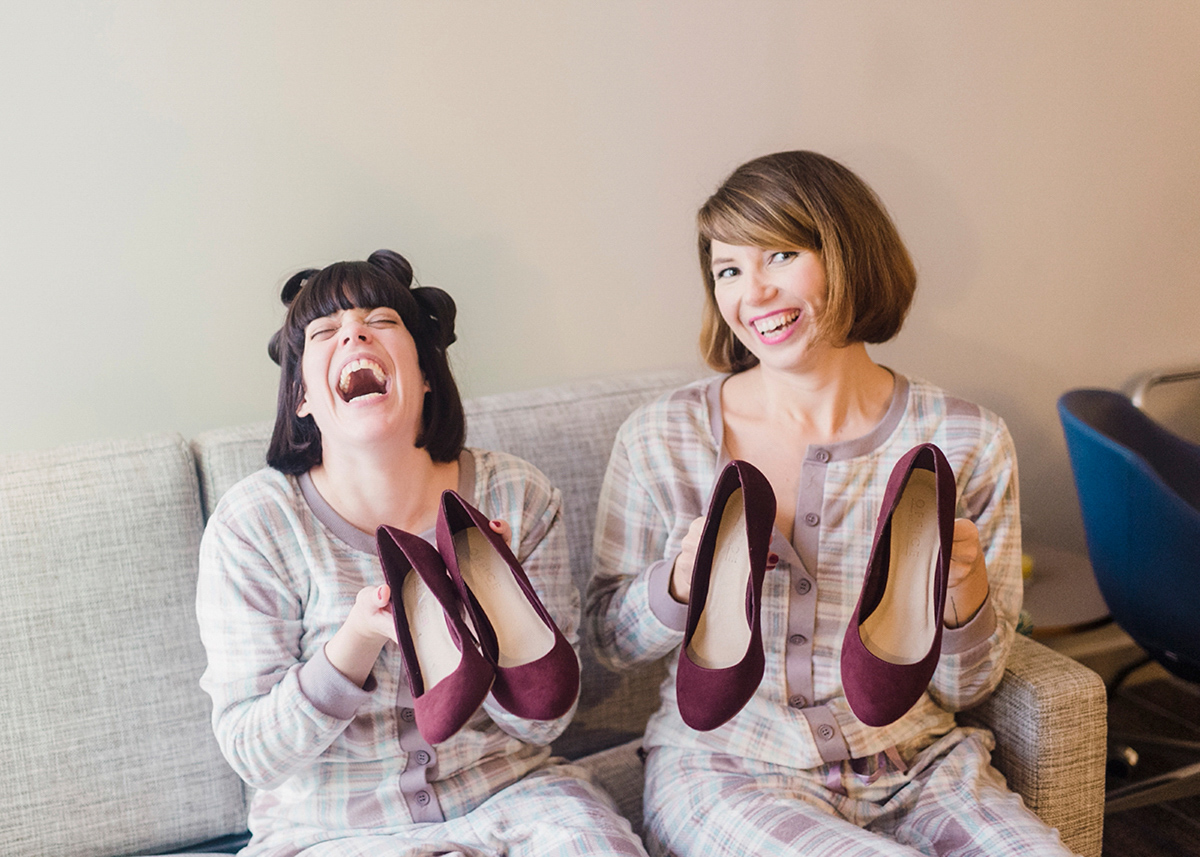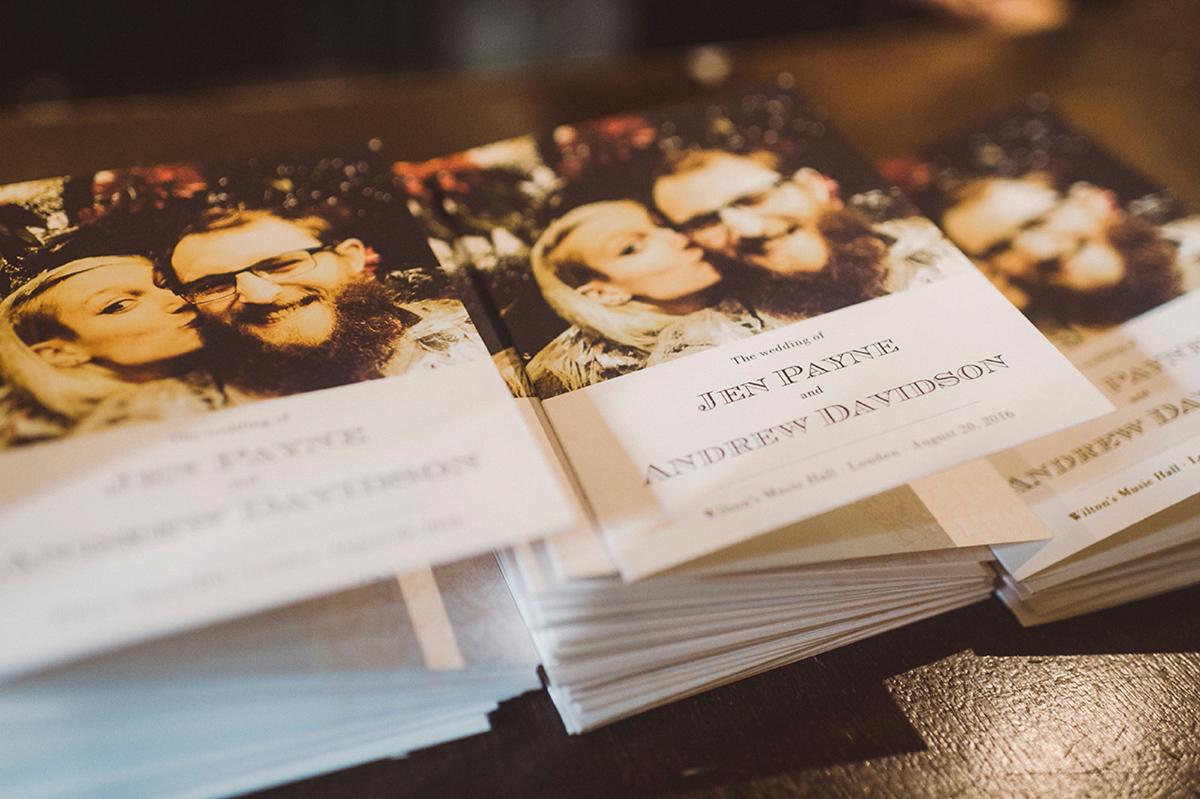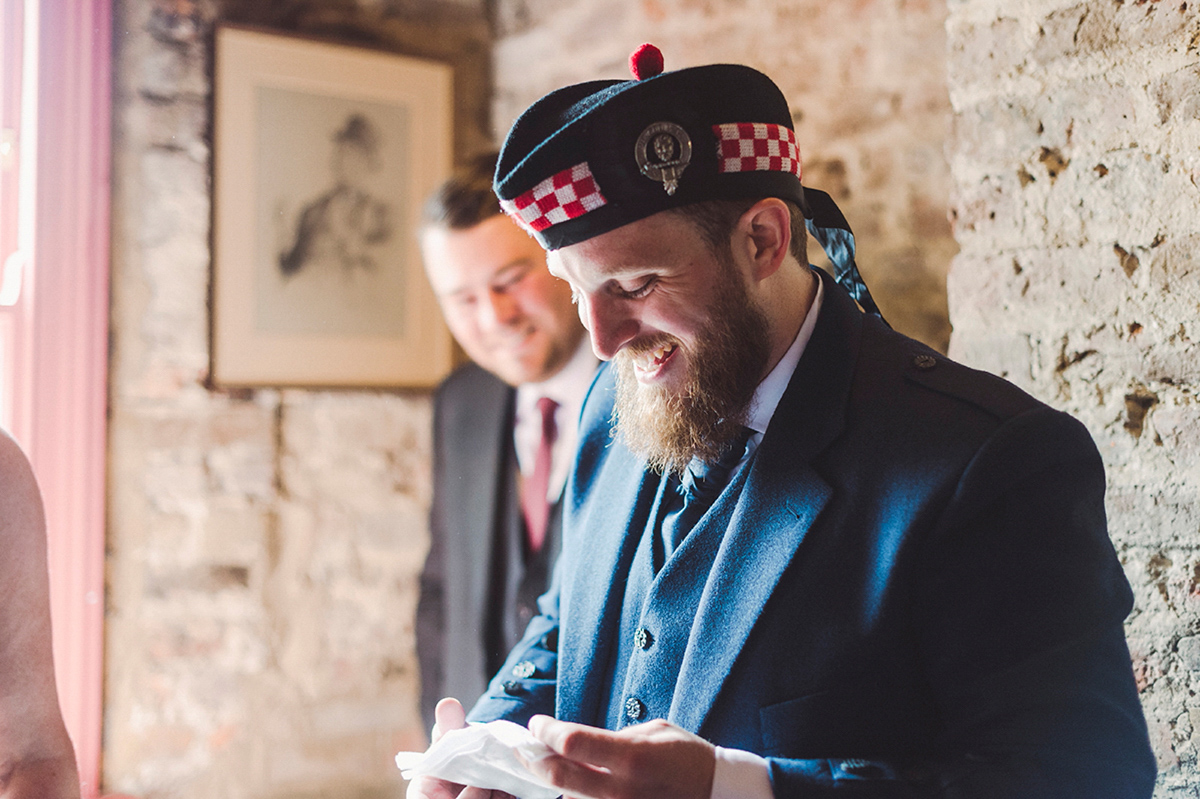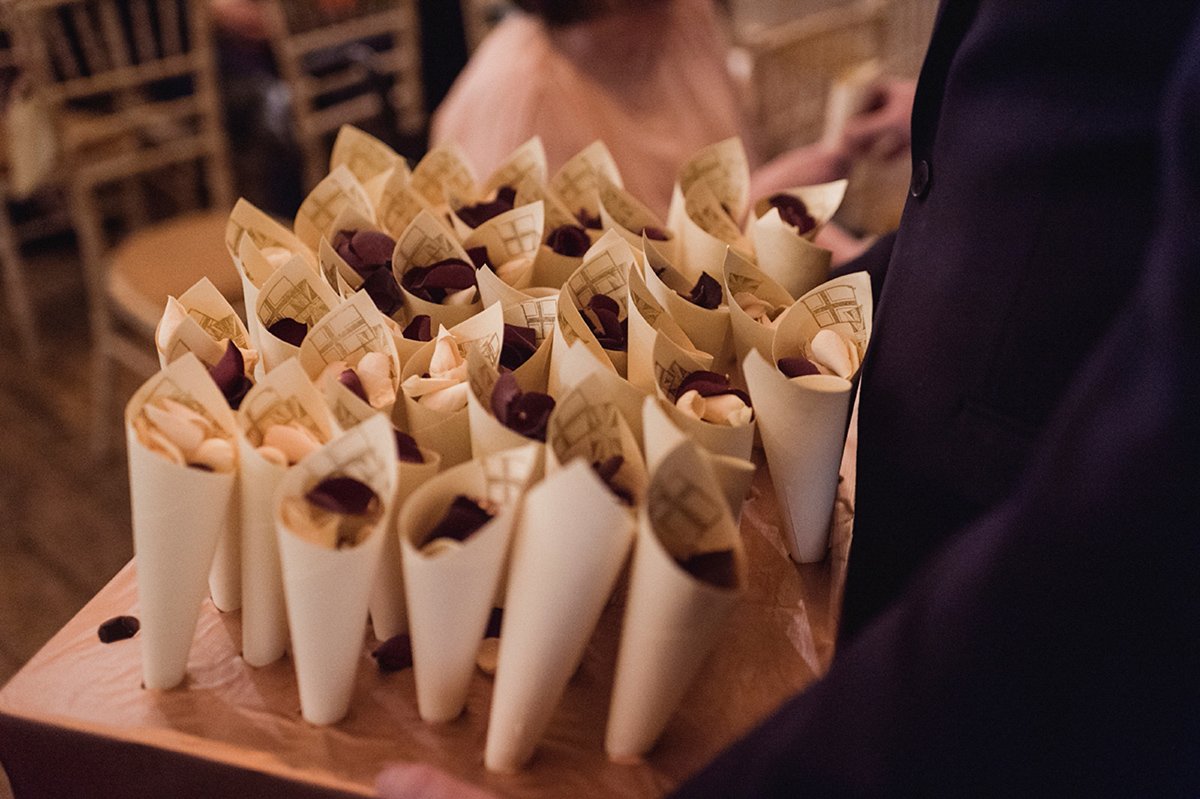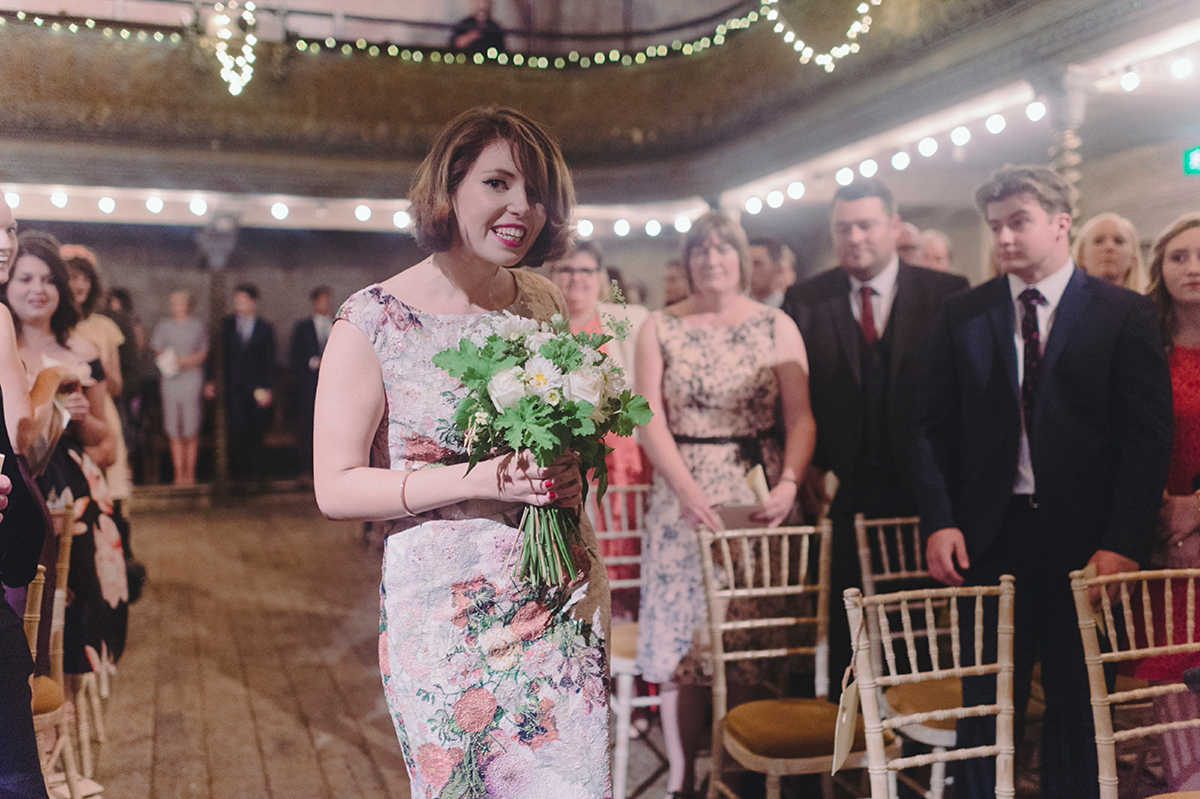 Wilton's is such a theatrical space for a wedding ceremony; the images of Jen walking down the aisle on the arm of her dad with her opulent bouquet of rich roses (which I think really highlights the simplicity and elegance of her gown) are so beautifully captured by Razia N Jukes.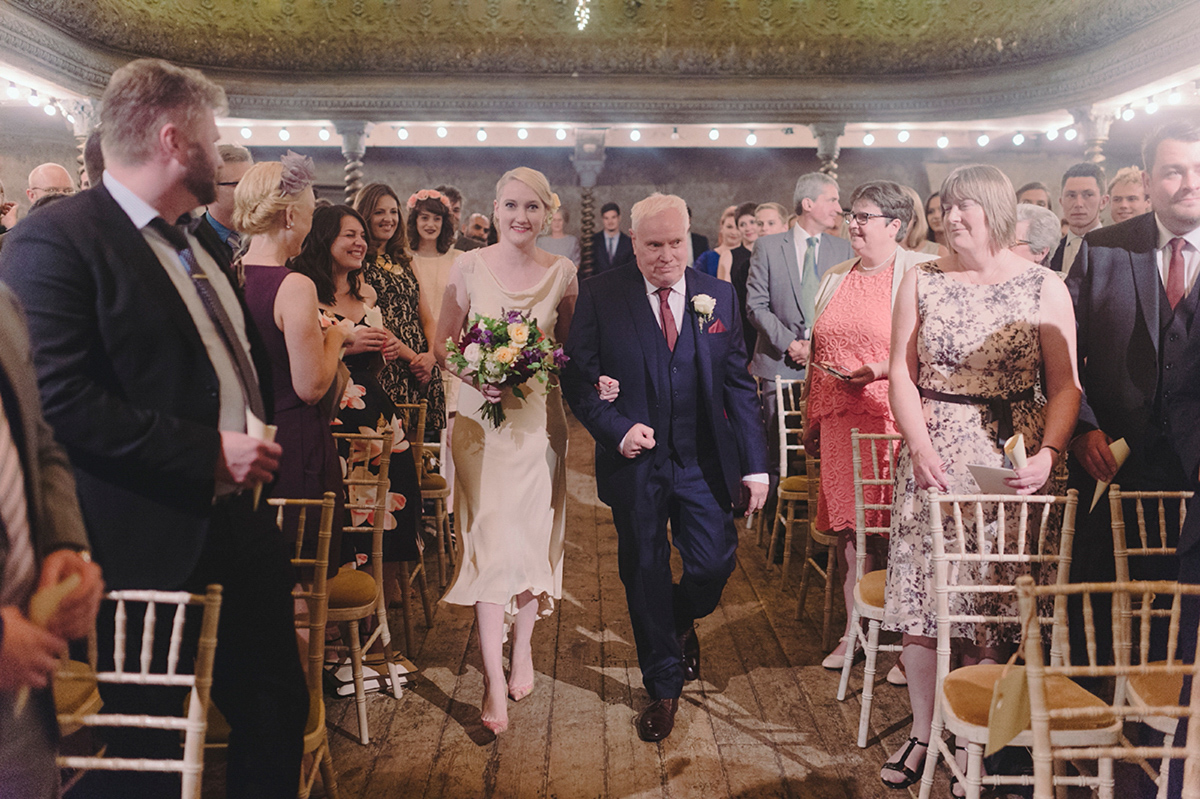 The couple chose Aretha Franklin's 'Baby I Love You' for her to walk in to, and followed with a service based on the standard secular marriage ceremony, made personal with readings from the couple's friends and family. Their second reading, 'We Will Not Wish You Joy' by Brian Zouch, was read in both English and Norwegian with the bride's sister-in-law Natasha reading a verse and the groom's sister translating into Norwegian after.
"'Name of The Wind' by Patrick Rothfuss is our favourite book & holds a special place for us. The passage was about the main character's reaction to first meeting the female lead. 'We Will Not Wish You Joy' is a poem that speaks about not getting carried away with the romance of the wedding, but wishing the couple strength in hard times, support when needed, space and time to grow etc, which we thought was important."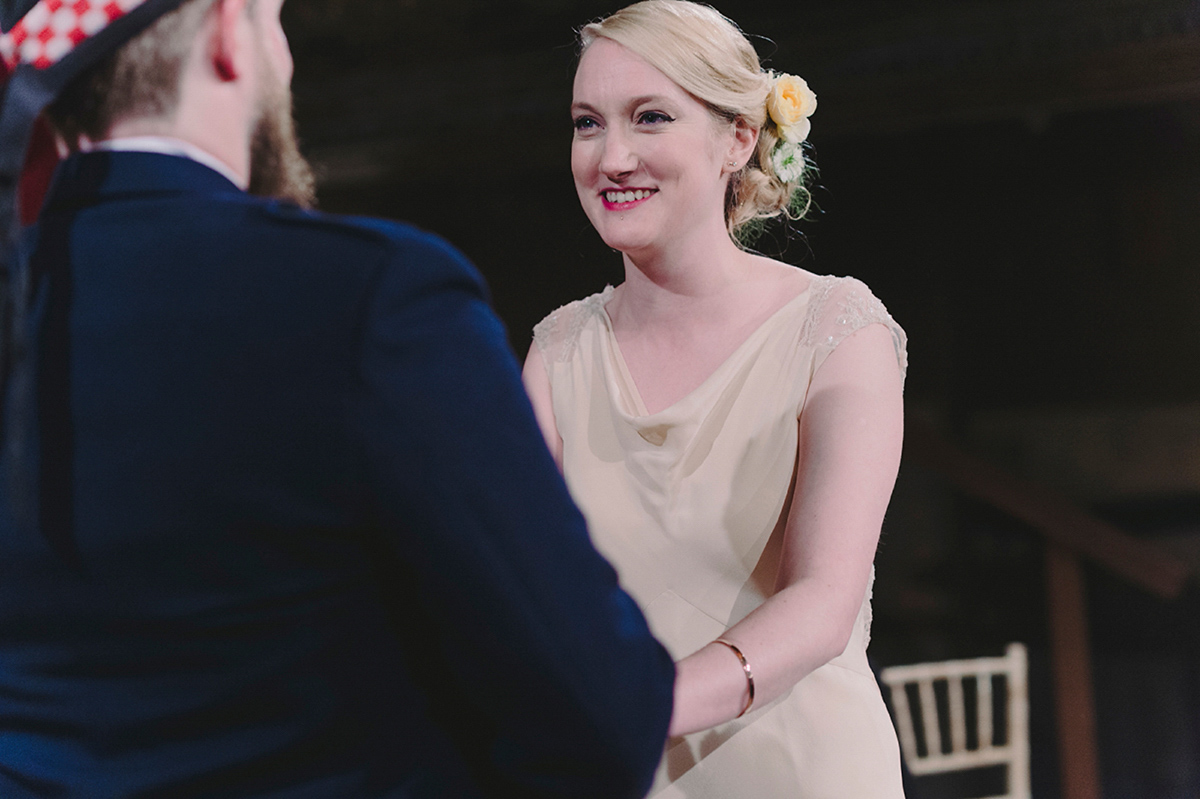 To match her engagement ring and other wedding jewellery, Jen's ring was a rose gold Harmony design from Tiffany & Co. Andrew's was custom-made by Robert W Bruce Jewellery and featured inlaid rings of T-Rex fossil and another of meteorite (both certified) on a titanium band.
I love the inclusion of a traditional Norwegian folk song 'Ti Na Noir', sung by Andrew's cousin, during the signing of the register.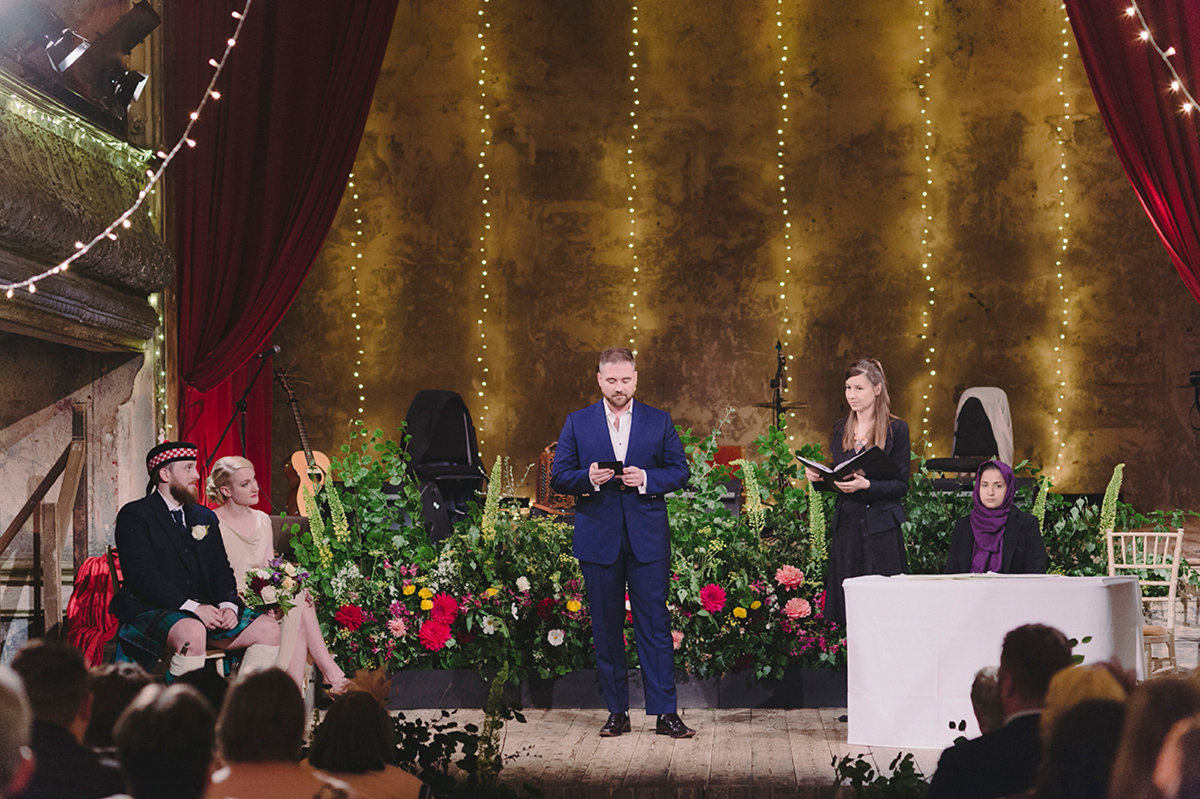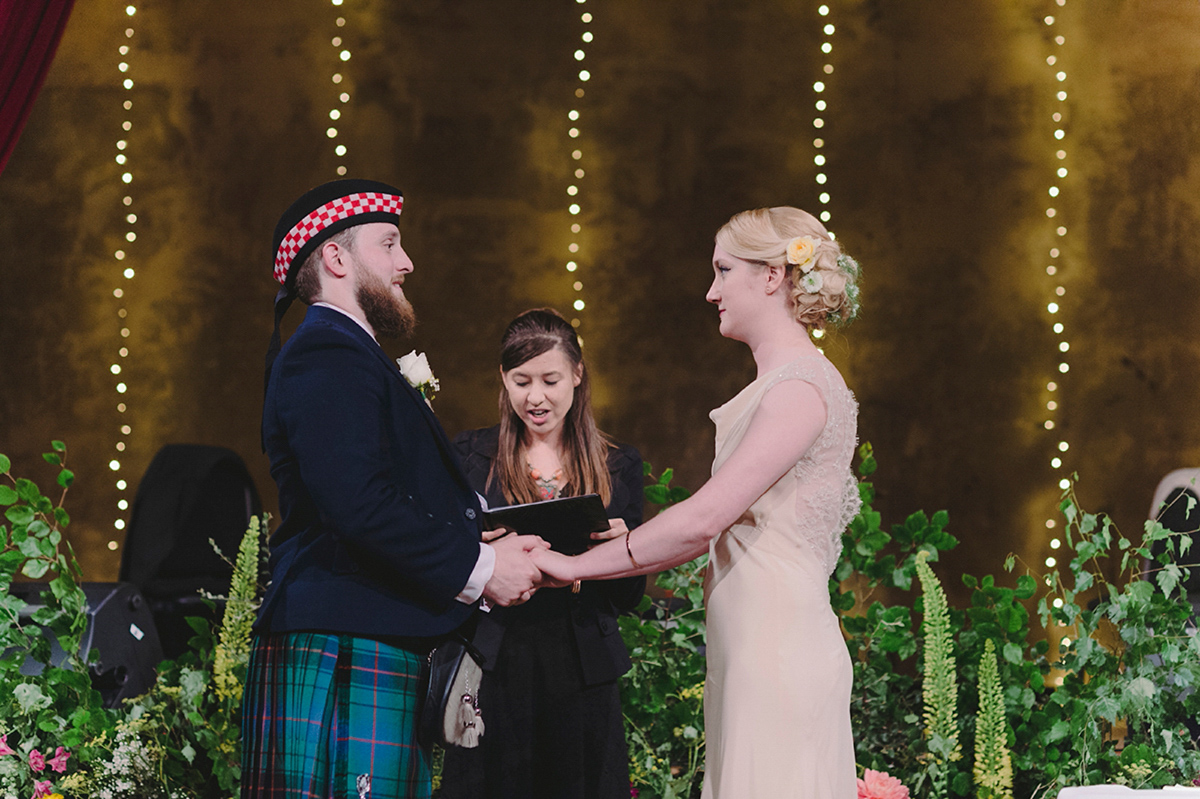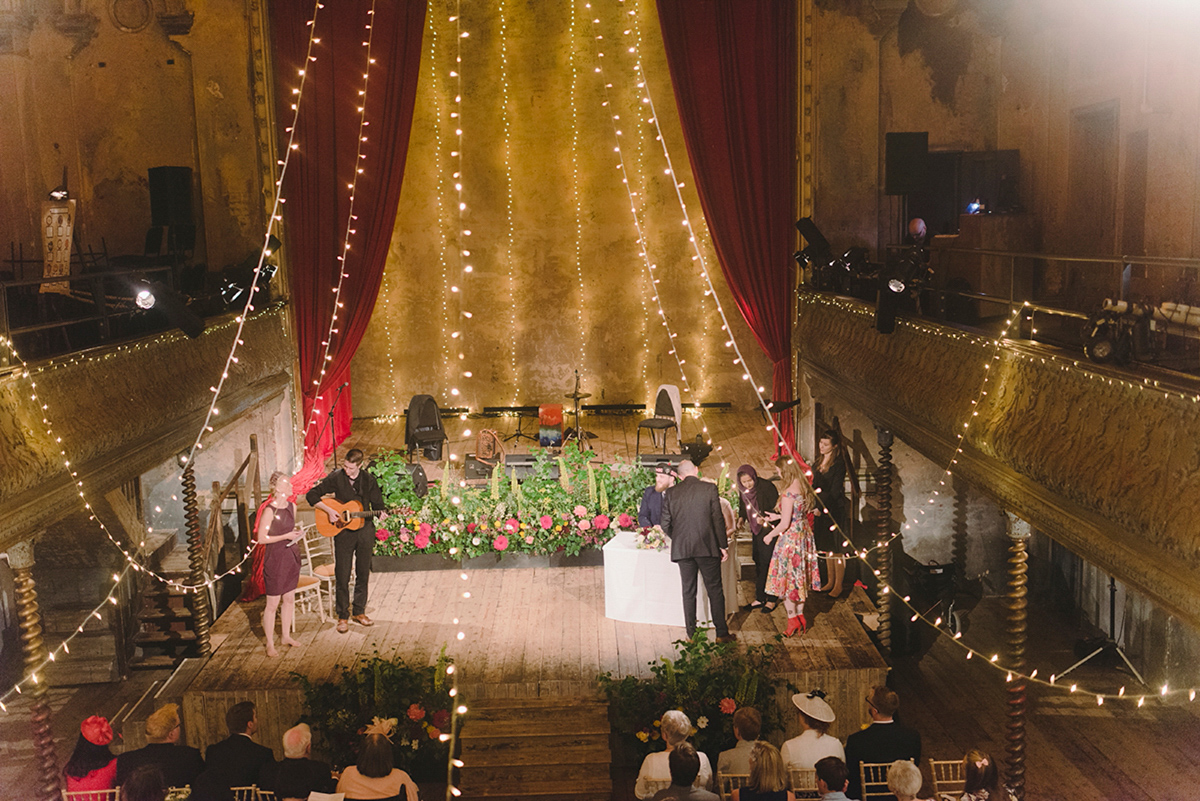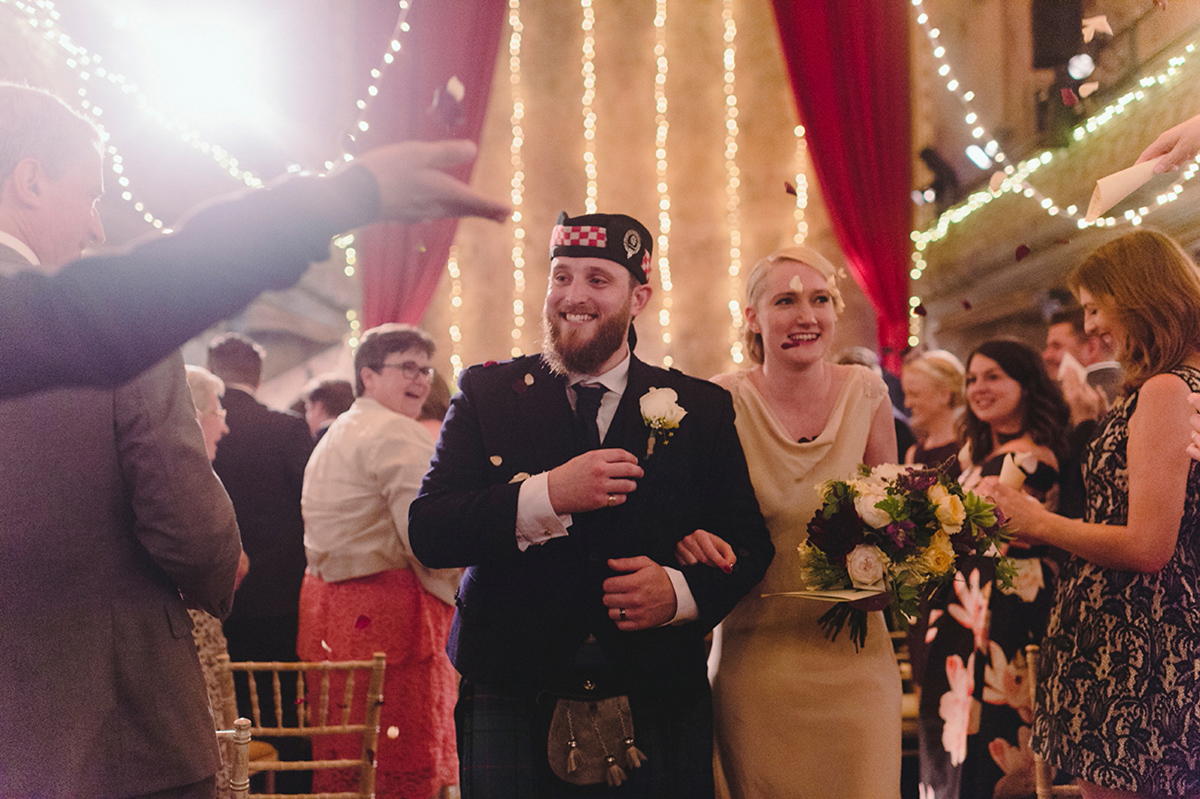 Andrew looked magnificent in his hand-made Davidson Tartan kilt. To honour his late father, he wore his Highland hat and sporran. For dinner and dancing he changed into a navy three-piece suit from Moss Bros.  The couple met at a mutual friend's birthday dinner nearly six years ago, when Andrew arrived in London fresh from northern Norway to study at UEL, and Jen was stage-managing a play featuring his oldest friend.
After a first date at Nando's, which he thought was a fancy Portuguese restaurant, the pair clicked. Andrew proposed on Jen's 30th birthday, and they spent just over a year planning their day.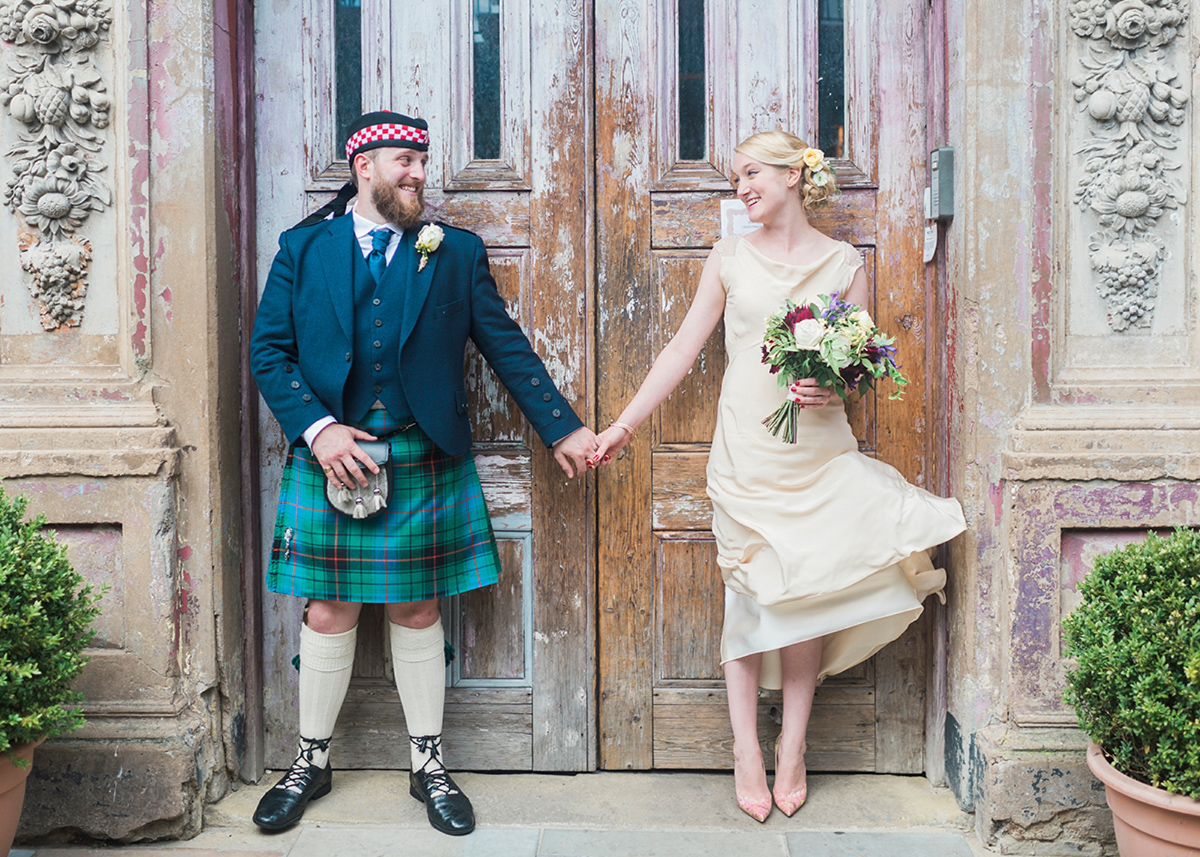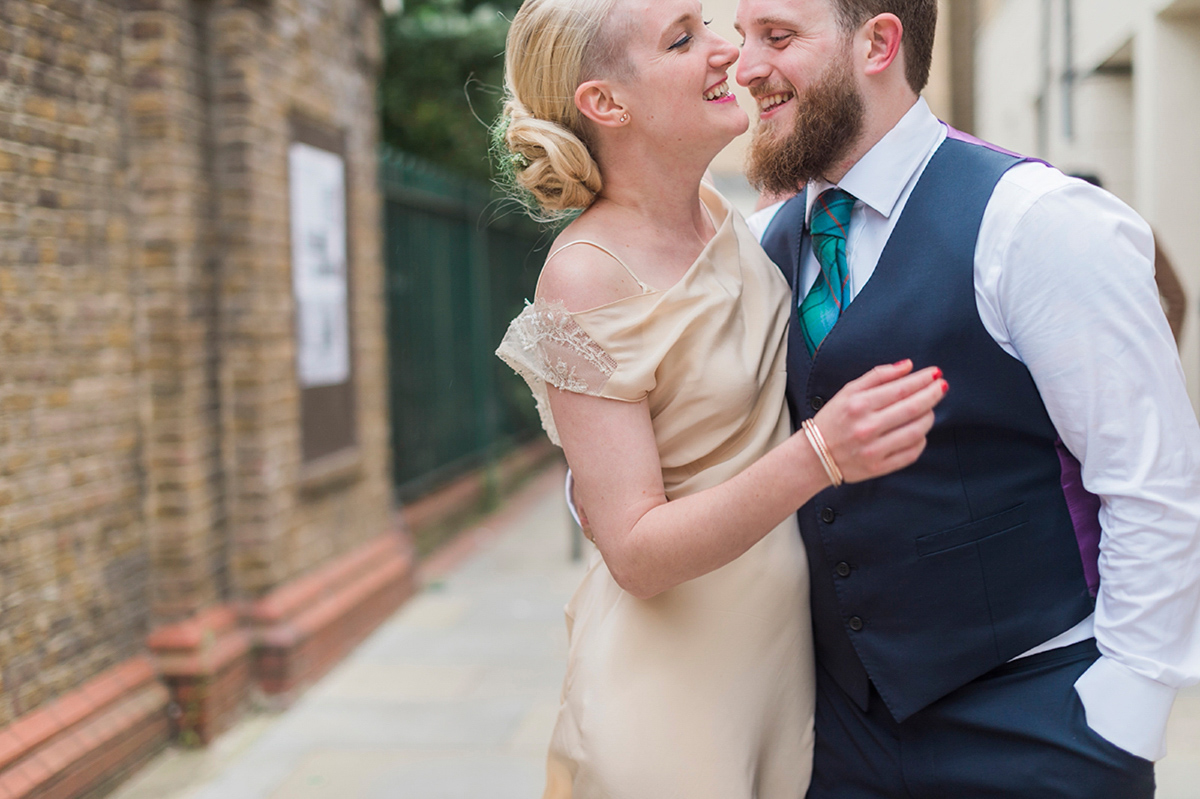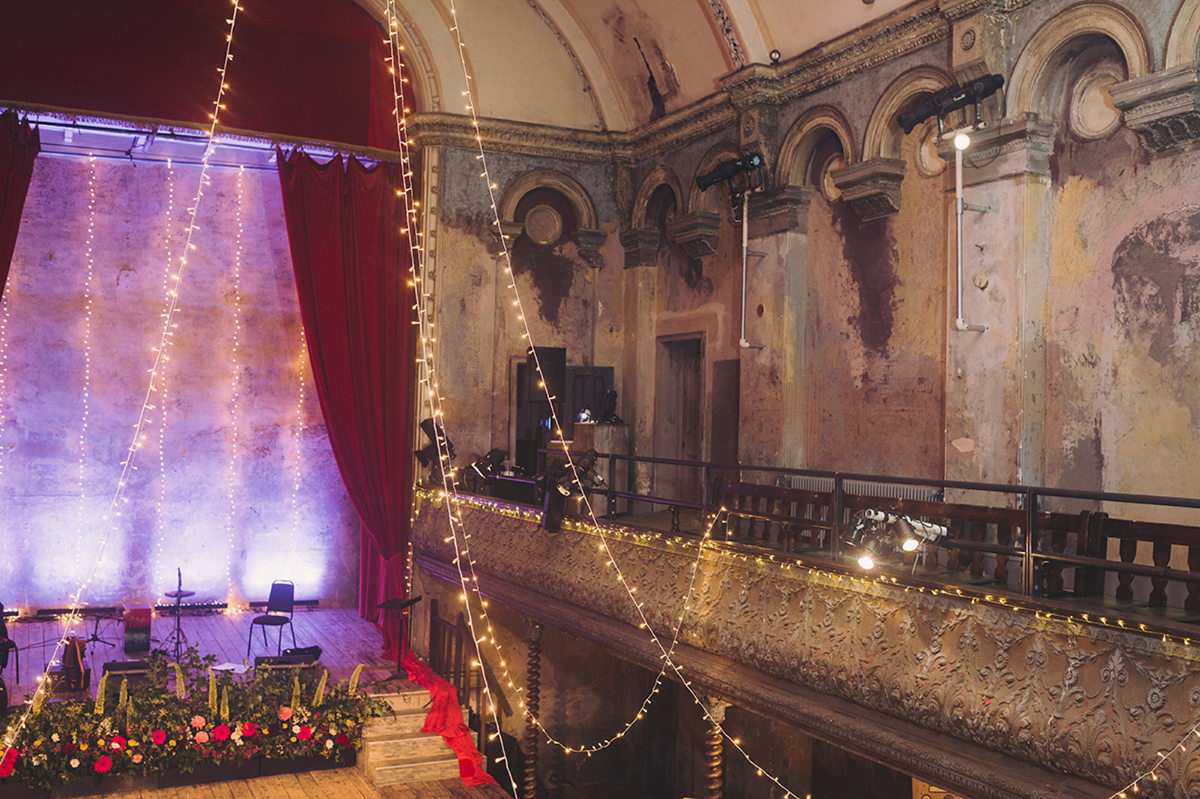 The grown-up bridesmaids wore simply-cut yet richly-embroidered floral dresses from Adrianna Papell, which look so elegant with their classic burgundy pumps and fresh sprays of cream flowers by Rebel Rebel.
They wore their 'thank you' gifts of Goldsmiths rose gold bangles, all in different designs.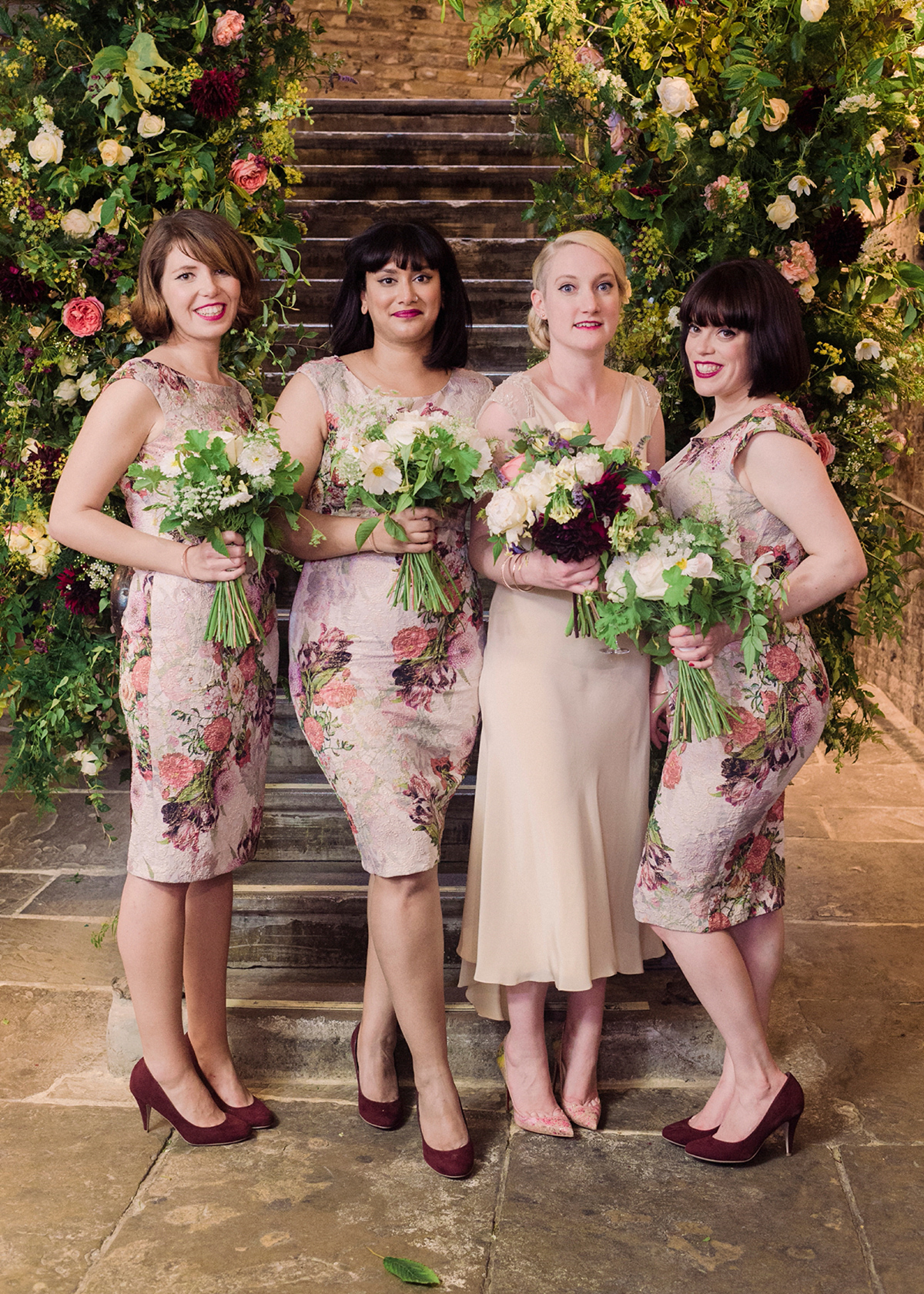 The newly-weds walked out to Leonard Cohen's 'I'm Your Man', before a reception held in the hall. The stage was the perfect place for the MC, a friend of Jen and Andrew, to make his announcements from, and for the musicians too. Food was provided by Bliss Catering; doesn't the Eton Mess served in cocktail glasses look suitably glamorous for the setting?
"Bliss were ABSOLUTELY amazing and I'm still being told the food was the best people had ever had at a wedding. Jane ran the day like clockwork and all her staff were brilliant."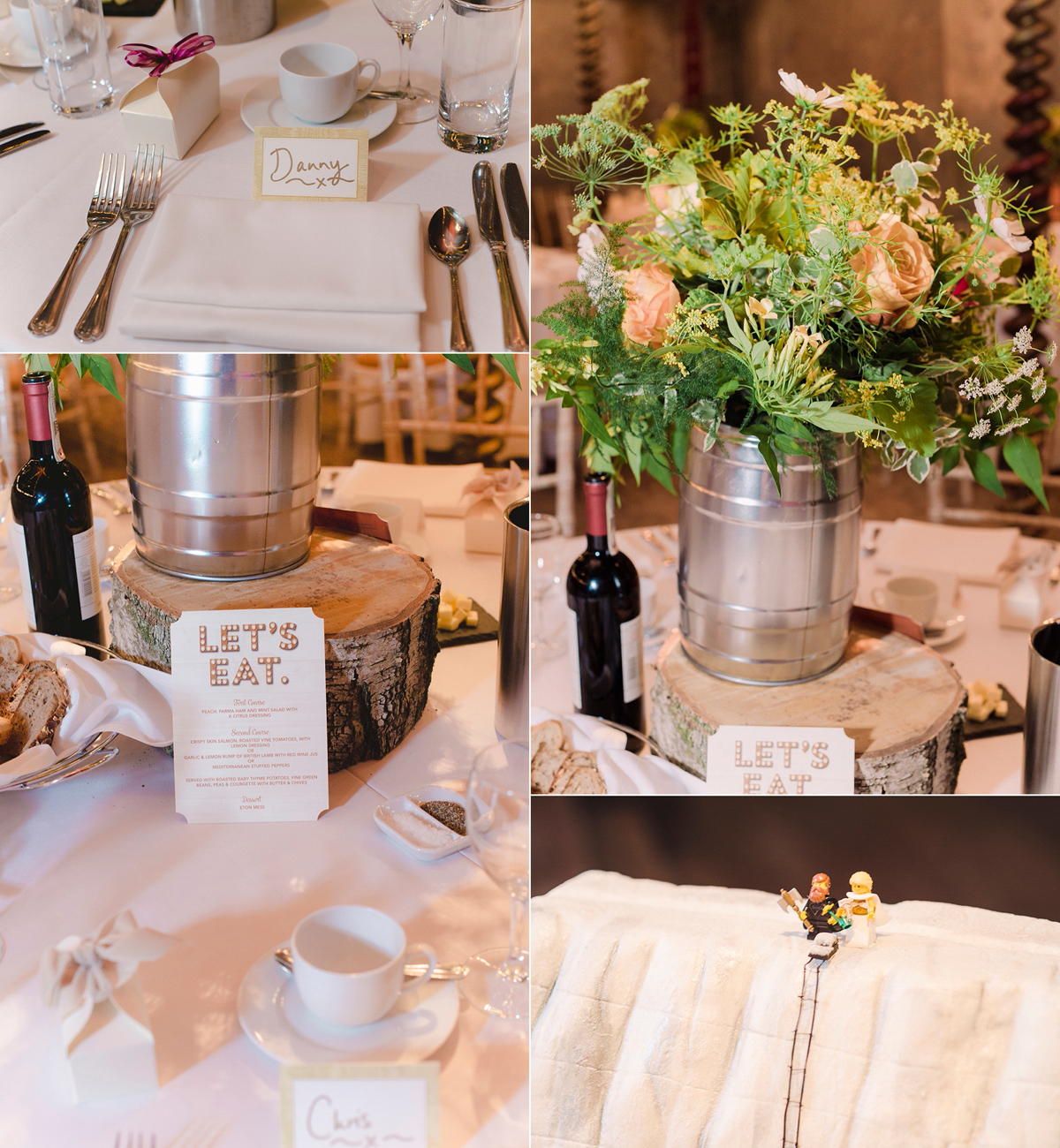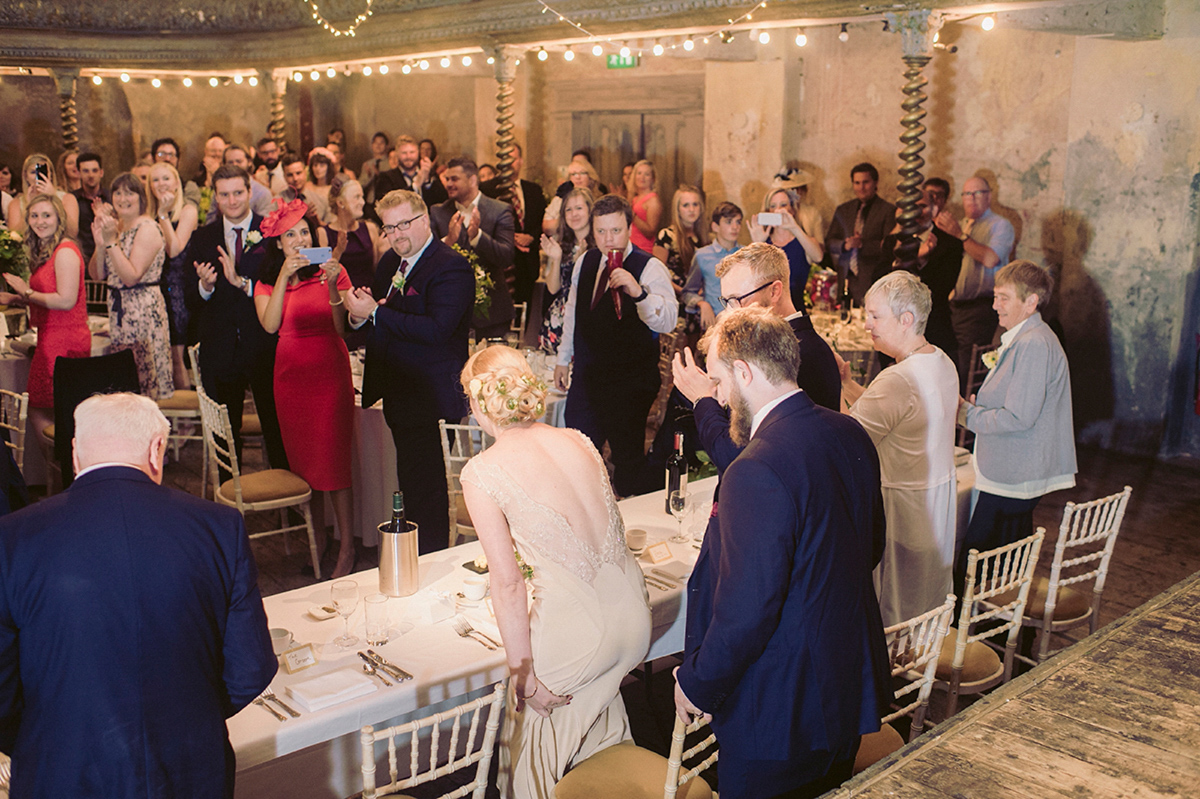 "We wanted our tables centres to consist of individual mini-kegs of each ale (themed around the tables guests), with the flowers topping those, which proved surprisingly difficult logistically! Athena at Rebel Rebel was the first to say 'Yes, that sounds brilliant and we can make it work' rather than 'Ooooh, that will be difficult'– so she got the gig."
The Norwegian influences are subtly woven through the day; their favours were little Norwegian trolls flown over especially, and the original idea for the wedding cake was inspired by Andrew's home-town.
"Our cake was made by Little Bear Cakery in the shape of The Wall from Game of Thrones. The back-story is that Jen had tried a number of years ago to make a birthday cake for Andrew in the shape of the wall because his northern Norwegian home town is basically the edge of the world. She failed spectacularly, but couldn't resist the opportunity to see that cake come to life with a professional baker. Little Bear were fantastic and really rolled with the idea creating a beautiful (and massive) cake. Cake toppers were Lego Vikings."
Claire of Little Bear Cakery is a serious talent in world of cake-making, and is also a valued member of Little Book for Brides. Visit her listing here where you can see some more of her immaculate cakes, hand-made sugar flowers and ideas for beautiful dessert tables too.
For Andrew, the best part of the day was exchanging rings, and Jen thoroughly enjoyed chatting to the guests during the meal.
"We went round to each table to talk to the guests and make sure they could work their ale centre-pieces. The speeches were also wonderful (very funny, warm, but not soppy). Jen made her speech in Norwegian (learned especially to surprise Andrew's family), and was able to relax once that was done."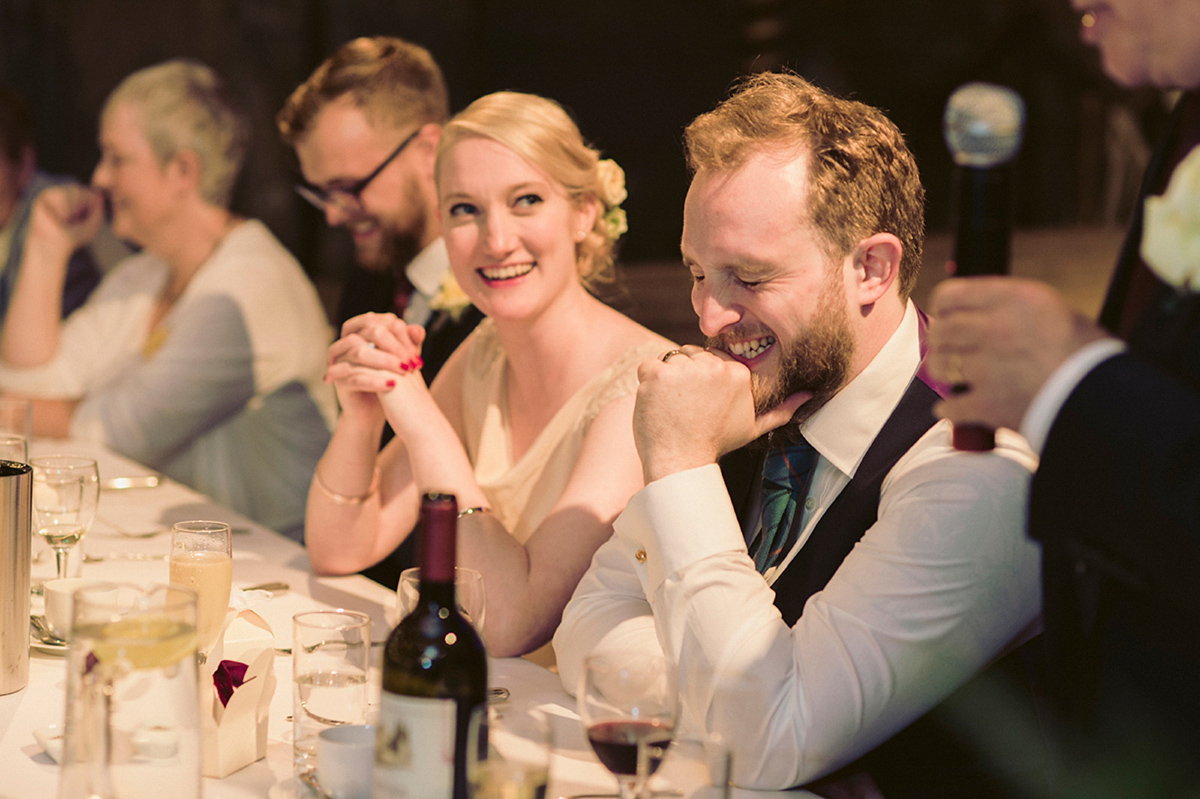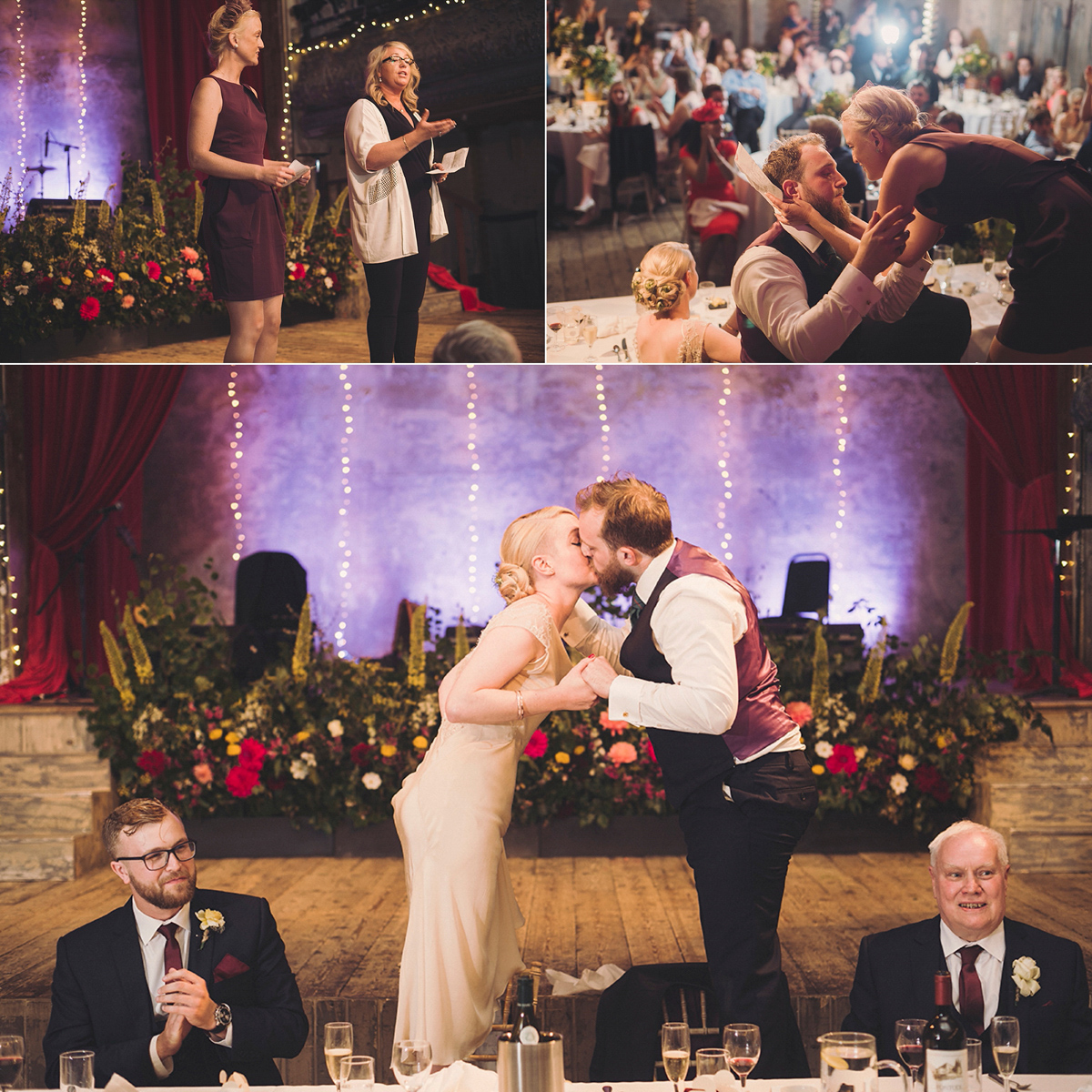 The couple selected 'Baby' by the Phenomenal Handclap Band for their first dance. The photos of the ceilidh dance look like so much fun. Have you ever been to one of these folk dances? Then you'll know how much fun you can have, and how a great band can get everyone up and dancing even if they're the most shy and retiring person.
"This was the song of the summer among our friends when Jen was first introducing Andrew to people. We saw the band on one of these first outings in Hoxton. It's a very beautiful, electro-ish song but only has one lyric; 'Baby, I could rule the world with a girl like you on my arm'."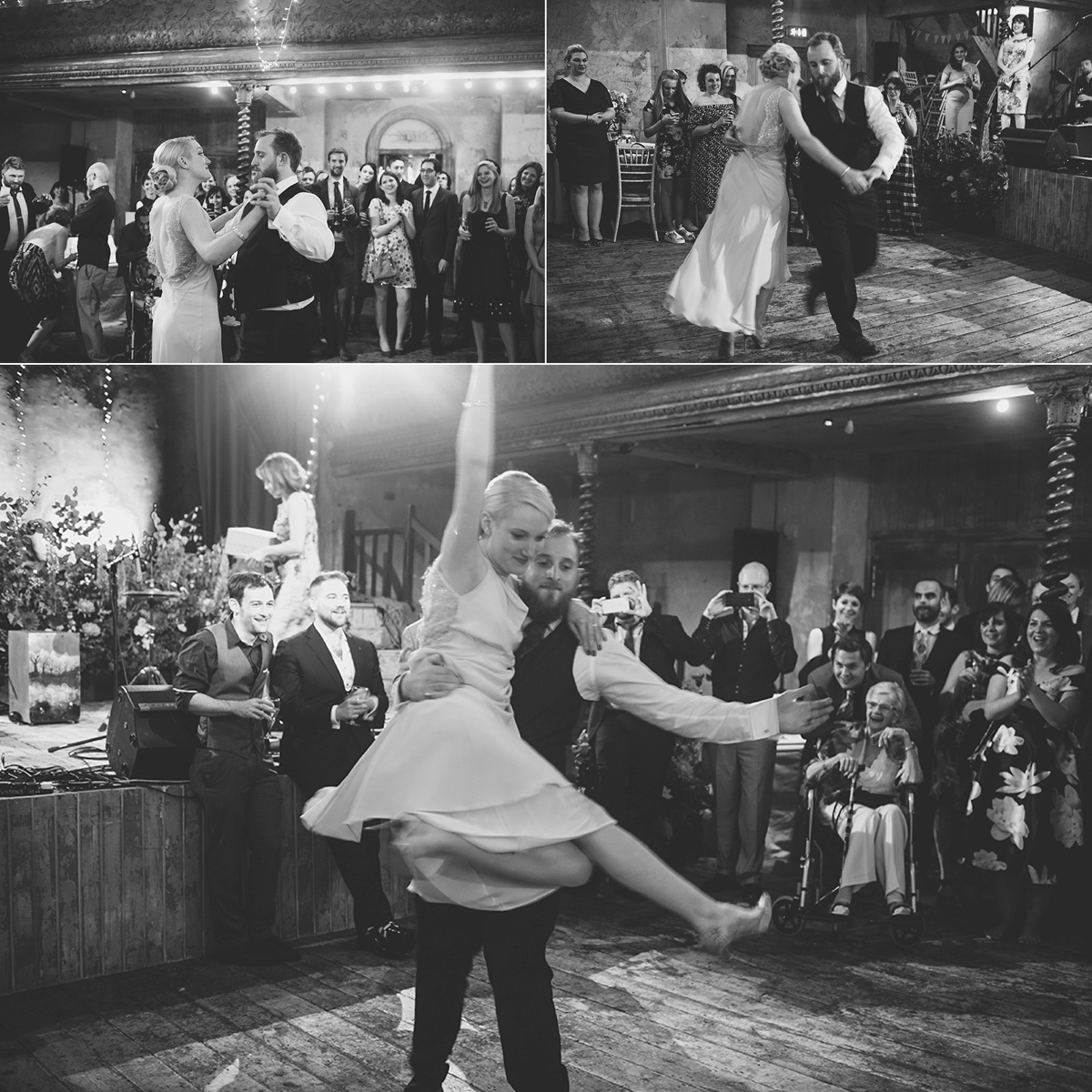 Words of Wedded Wisdom
"Don't get caught up in having 'the best day of your life' because anything you miss or that doesn't work will become something to beat yourself up about. Don't forget that your 'normal' life also goes on through this phase and may be good/bad/ugly/difficult/stressful and there's a lot of unhelpful pressure to be on top of the world the entire time.
I hoped for a brilliant and joyful day that I will always remember and I certainly got that. There may well be better days over the course of my life, but that's a brilliant thing and I look forward to sharing them with my husband."
"Get a Pinterest! It's so useful for just saving ideas and you can share with other people who are helping. Relatedly though, don't rely too heavily on other people (bridesmaids, relatives). Hopefully they will support you but at the end of the day they have their own lives to be sorting out too."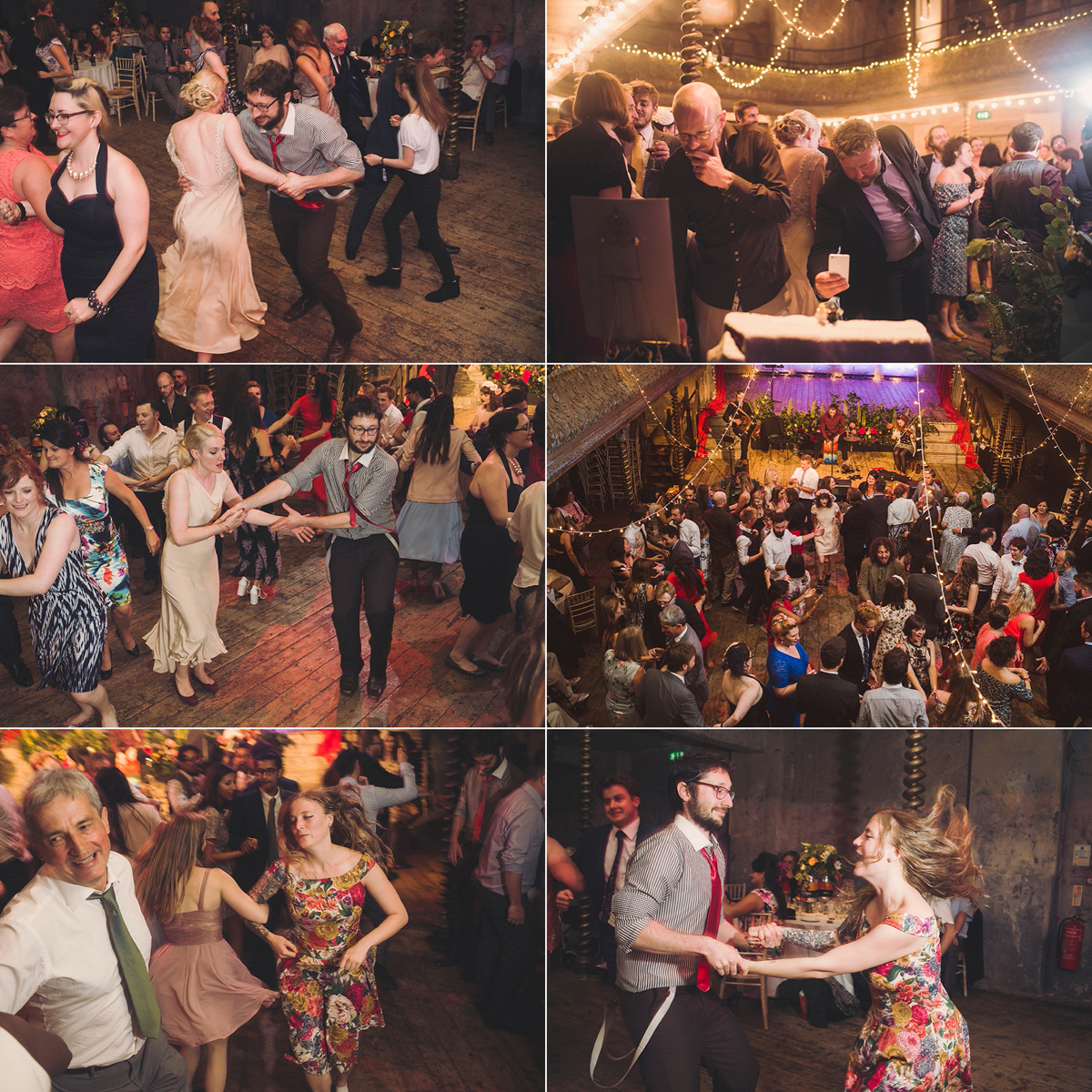 Jen and Andrew, many congratulations on your marriage, and thank you to you and Razia for sharing these beautiful images with us.
Wishing you all a very happy week ahead
Ele xx