After Monday's unspeakably horrific events in Manchester, I think it's taking us all a little while to adjust, allow what has happened to sink in and move forward. Yesterday started out like any other – we had a full day of features and social media content planned, but the early morning news of the bombings left me feeling very uncomfortable about sharing anything at all. And so, we had a rare day of no activity on Love My Dress.
It was a chance for me personally to just stop and 'be' – be with my husband outdoors at lunchtime, my dogs in the sunshiny afternoon, my children as we dined in a pub by the seaside in the evening. And be in solidarity with everyone else who was hurting. Amidst all the chaos and grief and angst of yesterday, there were many countless messages of support and love, but one message that really stood out was a little anecdote shared by a friend of mine on Facebook. It involved the time my friend had started chatting with a stranger at the chemist counter, and how that stranger had gone on to tell my friend that the reason we are all here, is 'to provide love for one another' and that we all 'need to love and be loved'. Simple and powerful, and no further explanation required.
We are so privileged that we get to share so many stories of love every day here on Love My Dress – this lunch time's feature is a beautiful example of such. The couple in these images are Clare, 32, a PA to the Chief Executive of an Investment Management company in Edinburgh – and her beau Jamie, 35, a Primary School Teacher in East Lothian. I am so delighted to share this lovely couple's engagement session images, because for me, they capture so beautifully 'love'. Clare looks incredible in her pink tulle skirt, and that majestic backdrop is insanely beautiful (I hark back to childhood holidays in Scotland, where we'd drive for hours across such rugged, unruined landscape to our sweet, lochside holiday destination on the West coast).  But most of all, I adore how the photographer has captured the chemistry and love between Clare and Jamie so naturally – that beautiful smile, their loving embrace. I hope these images make you smile today.
"We are one of those rare examples of a 'success story' from Match.com – our paths crossed online back in August 2013, but we didn't actually meet in person until October. As Jamie lived in Edinburgh and me in Cumbria, we chose Carlisle as a half-way point for us both."
Images by Chic Photo
"From small beginnings and baby steps, our relationship developed at double speed where every weekend became a mini holiday, alternating between the bright lights of Edinburgh and the rural peace of Cumbria. We quickly became inseparable."
"I think it would be fair to say we don't do things by halves. From Jamie asking me to travel the world with him after being together 4 months, to my idea of a compromise that we should live together first to see if we got along (as spending 24/7 in the company of another person is quite different to weekend-long dates!), to actually quitting my job and selling my house in Cumbria to move in together just over a year after we met, we have come full circle."
"The four months we spent travelling around South-East Asia was the most unforgettable time of our lives: we both quit our jobs and rented out our apartment and headed off into the sun to create memories to last a lifetime. We spent countless evening's hand-in-hand strolling along a beach as the sun was setting, and a couple of times I had secretly been hoping Jamie would propose, it was the perfect time. However, it wasn't until we were back home in Scotland that he found the right moment, and as a true gentleman, he had asked my dad's permission beforehand."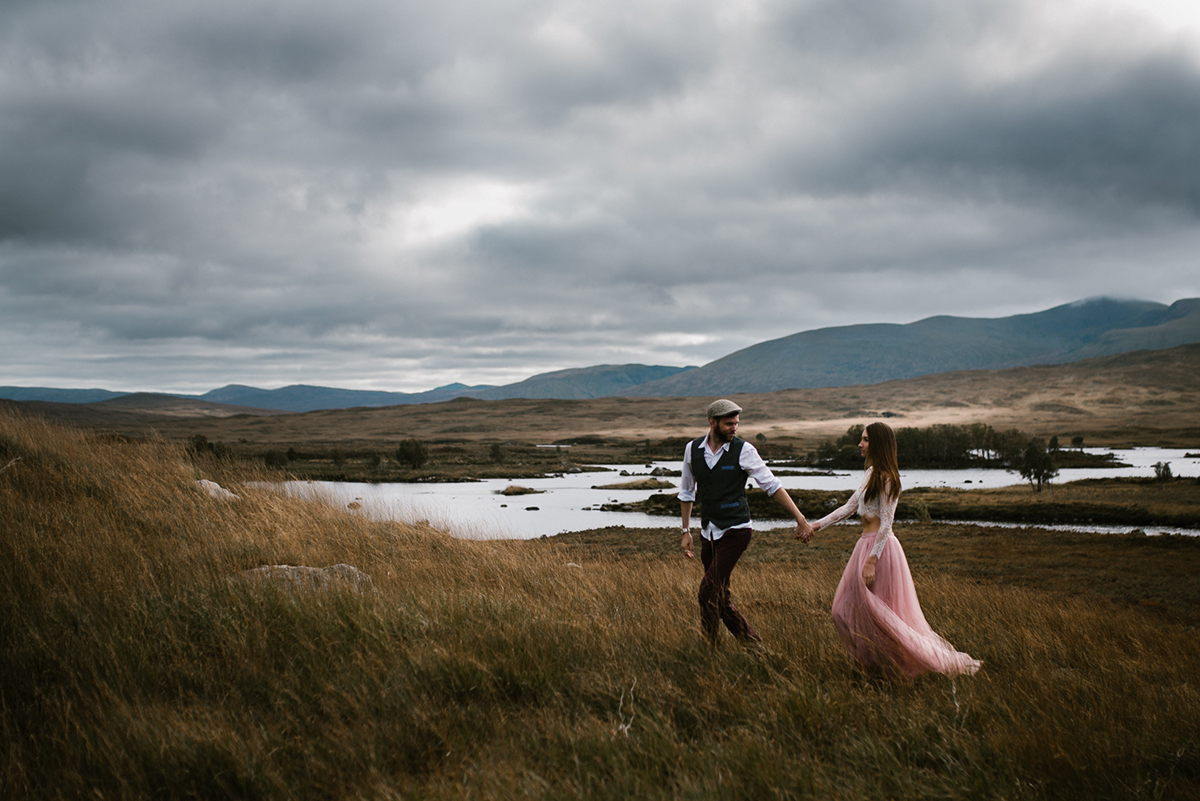 "The proposal came on 14th March 2016 at the end of a 3-day break to the Outer Hebrides, one of our favourite places. Jamie used to be a tour guide and still occasionally does the odd tour in the school holidays, so he has visited most of Scotland's beautiful highlands and islands and has accumulated a mass of local knowledge in the process. The first two days of the trip were spent at a friend's house on the Isle of Harris where we visited Luskentyre beach, and on the third day Jamie drove us to the Isle of Lewis to visit the Callanish standing stones and the Blackhouse village."
"We had borrowed a friend's camper van for the last night and our final destination was Dalmore beach on the Isle of Lewis where we had planned to spend the night. Neither of us had been before, but it was somewhere Jamie had longed to visit as it is simply breathtaking (just Google and you'll see what I mean.) When we arrived there was only us and a couple of surfers in the freezing Atlantic sea! We took a rug and some beers from the camper van and set off to watch the sun set from the clifftop, just like we had done countless times before."
"I was busy taking photos of the dramatic scenery but Jamie kept asking me to sit down with him. I was actually getting quite annoyed as I love photography and thought this was such a perfect setting, but when I sat down beside him he had dropped to one knee and had pulled a ring box out of the rucksack!
Needless to say, I was absolutely stunned, so much so I almost dropped the ring over the cliff top in my excitement! My ring actually belonged to Jamie's grandmother, and features a beautiful emerald and diamond, which I had re-set into a more modern style with a white gold band and the stones sitting proud off the shank rather than in line with it. As it was bespoke made it's completely unique and I love it, even more so as there's a sentimental link attached to it too."
"Shortly after our engagement we started looking into wedding suppliers, with the top of our list being venue and photographer. Jacqui of Chic Photo was the only photographer I found who was interested and engaged in the ideas we had for our wedding, and more importantly, was as excited as we were to be a part of it."
"So much so, she asked us to do a special engagement photoshoot in Glencoe, a place that has special significance for us. Needless to say, we were thrilled to be asked as it meant we would get the chance to work with Jacqui before our big day, and what better backdrop than the dramatic and jaw-dropping scenery at Glencoe. We actually had to reschedule the shoot to the Monday morning instead of the Sunday due to the typical Scottish dreich weather, but we got the most amazing overcast skies which made for dramatic and moody photographs."
"We had three outfit changes, ranging from formal to casual, but my favourite look is the white lace top and pink tulle skirt which looked incredible against the autumnal backdrop. We did get some strange looks from the hordes of tourists who were passing, I think they thought we were actually getting married up a hill! It was very different from a typical Monday but are so glad we did it – the photos are a lasting reminder of that special time and we actually featured one on our 'Save the Date' cards."
"Our wedding will take place in September, which will be just shy of four years since we met. We knew we wanted to keep true to ourselves and incorporate the things we love – nature, the beach and the ability to have the people we love most there to share it – and as soon as we looked round Harvest Moon at Tyninghame in East Lothian, we knew it was the one."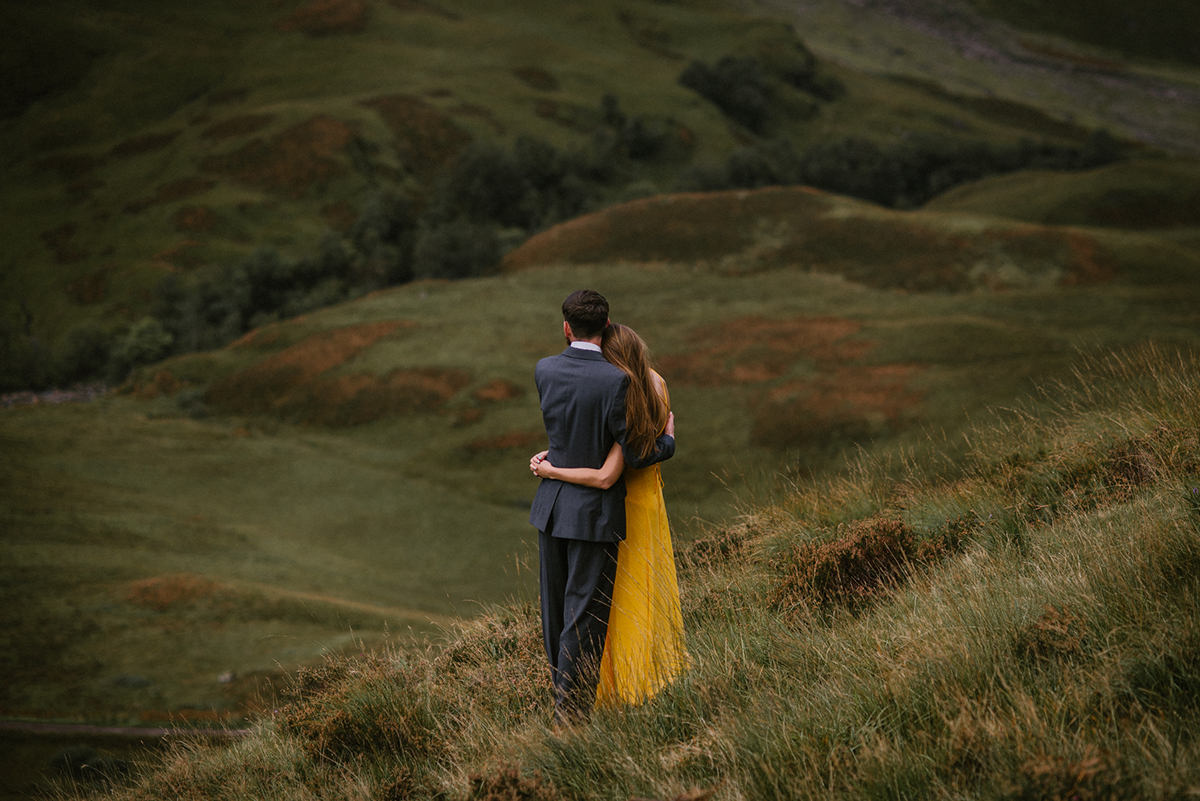 "We had only looked at one other place before but this just had it all – the whole site is completely ours from the Friday to the Monday and we get exclusive use of the beach that sits beside it, on which we are holding the ceremony. We are planning a really relaxing weekend where we can have all of our closest family and friends staying on site with us to enjoy BBQ's, bonfires and a rather unique wedding ceremony followed by glamping in treehouses and safari tents!
My love and thanks to Clare and her photographer Jacqui for sharing such stunning images. Clare, I hope we'll be lucky enough to share your wedding too and can't wait to see the photographs.
If you hadn't considered the concept of an engagement shoot prior to now, you might like to read this feature.
Sending much love to all those who have taken the time to read and enjoy this feature today.
Annabel x