Are you having one of those days when it's just not going according to plan? Perhaps you kept hitting snooze and were then late for *everything* all day, maybe your normal train was cancelled and now you're squished up against a stranger's armpit, or you're currently thinking about what on earth to do for dinner, then remember the fridge is empty. Well, I have the perfect remedy. Find a comfy spot, prepare a hot beverage, and take a moment for you and soak up the simply delightful wedding of teachers Andy and Jennie that oozes with total and utter loveliness. The light-filled images are by Rebecca Wedding Photography – and many of the elements of the beautiful bride and groom's big day were provided by a load of wonderful suppliers who are part of our growing Little Book for Brides community.
Last summer, on the 6th of August 2016, the couple married in Jennie's local village church, St James Church in Rowledge, Surrey. Blessed with bright skies, everyone then walked to the location of the celebration – Jennie's childhood home. This venue was extra special for a very heartfelt reason.  Jennie donned a matching Claire Pettibone veil, 'Delfina' sandals by Harriet Wilde (another treasured member of our beautifully curated wedding directory). Jenni's dress was a lovely gift from her mum.
"As soon as I put the dress on I just adored it. It was the first dress that made me feel like me. It also loved the tassels and the way they danced around as I move. It was light and comfortable, and so very different from so many of the stiff dresses I tried, where it felt like it was the dress wearing me, rather than me wearing the dress. It was very hard to resist shimmying all around the shop and a considerable amount of shimmying happened on our wedding day!"
Photography by Rebecca Wedding Photography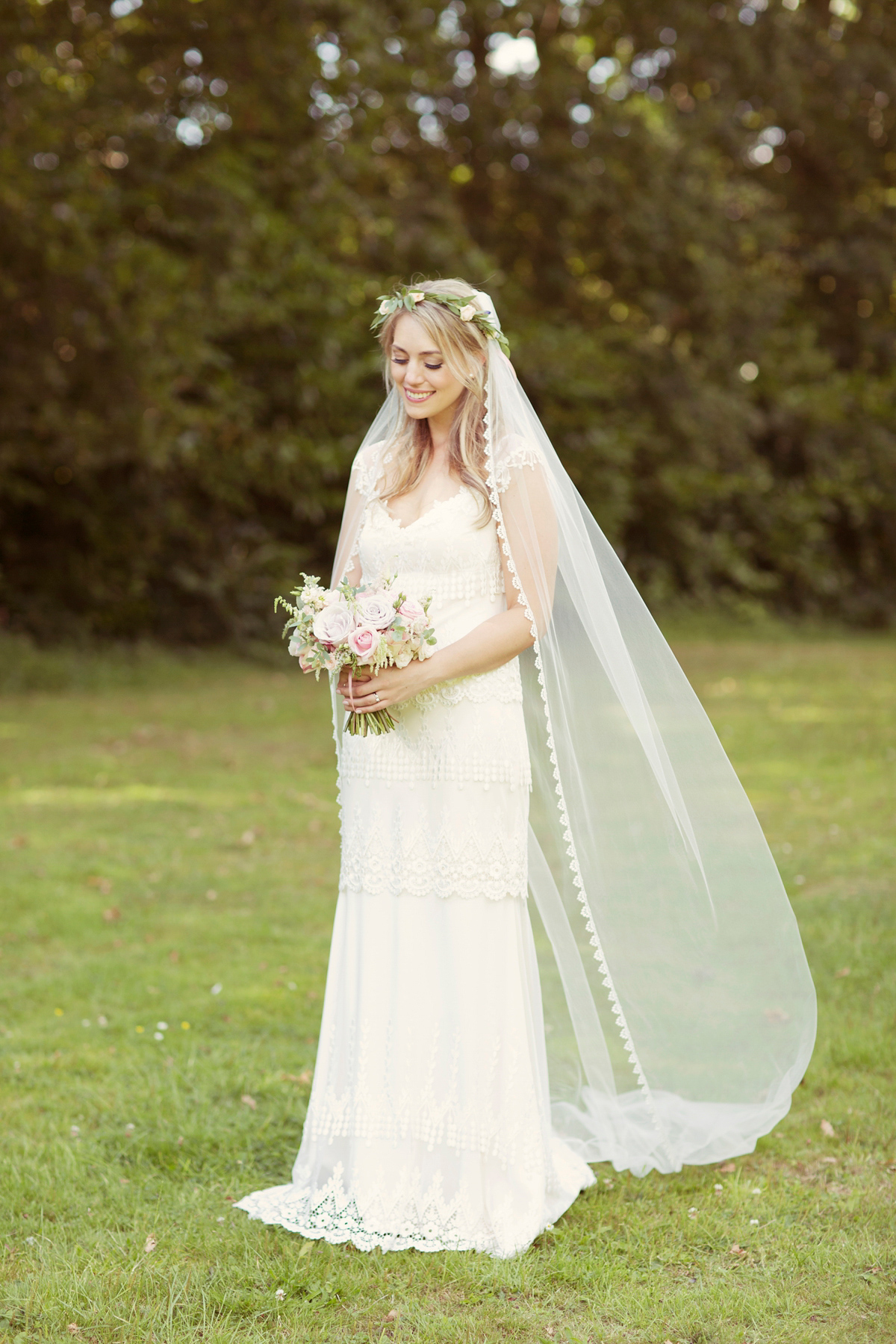 "I always knew I wanted to get married in the village, and a garden reception at my childhood home has been a long held dream. I mentioned this once to Andy, years before we were engaged, and luckily he thought it would be perfect for us. My Dad passed away when I was 21, so having the wedding at home took on a greater significance for me. It also gave us complete free reign to do whatever we wanted, and create a relaxed, informal day with a focus on family and friends."
"We wanted lots of food, lots of drink, and lots of laughter. Living abroad, I was keen for our wedding to have a very British feel, too, so went for a loose, English country garden fete theme, with blush pinks, sage green, and gold glitter as our colours."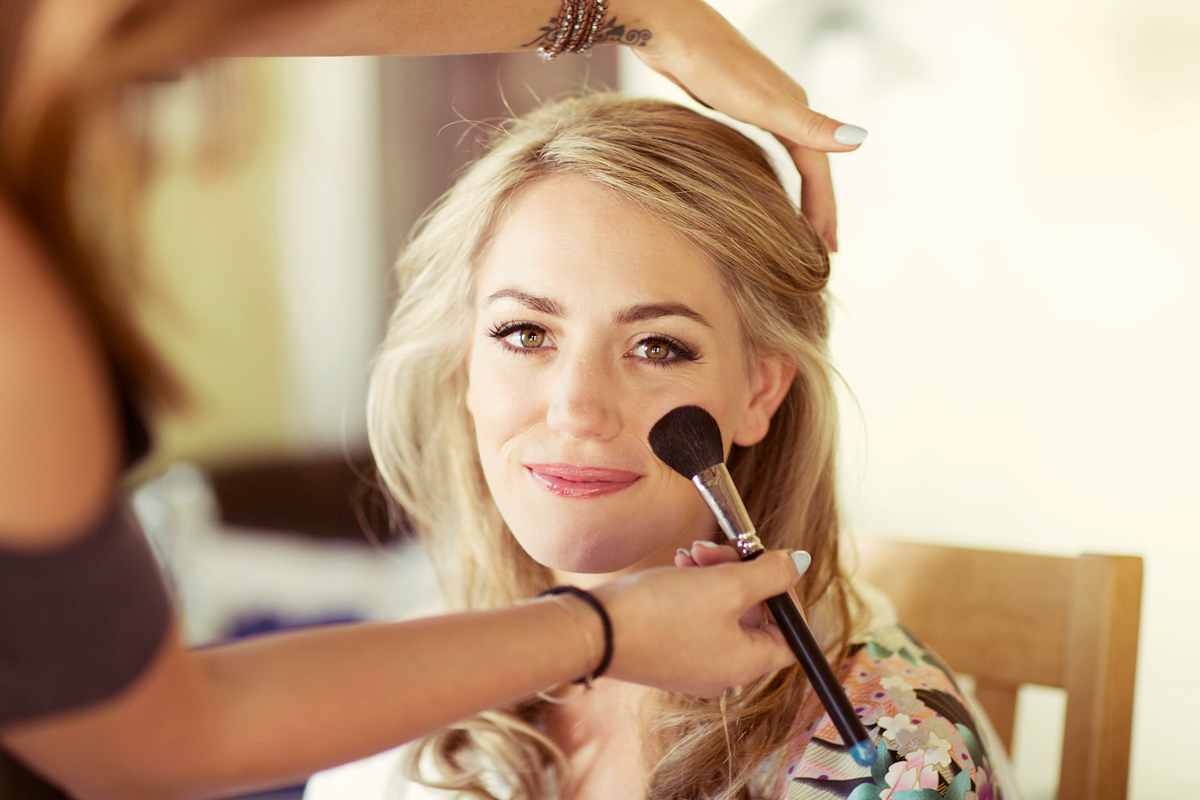 The prettiest rosebud floral crown made by the florist, Bex from Blush Floral Design. She then added special jewellery pieces and a beautiful Jo Malone scent to remind her of her dad.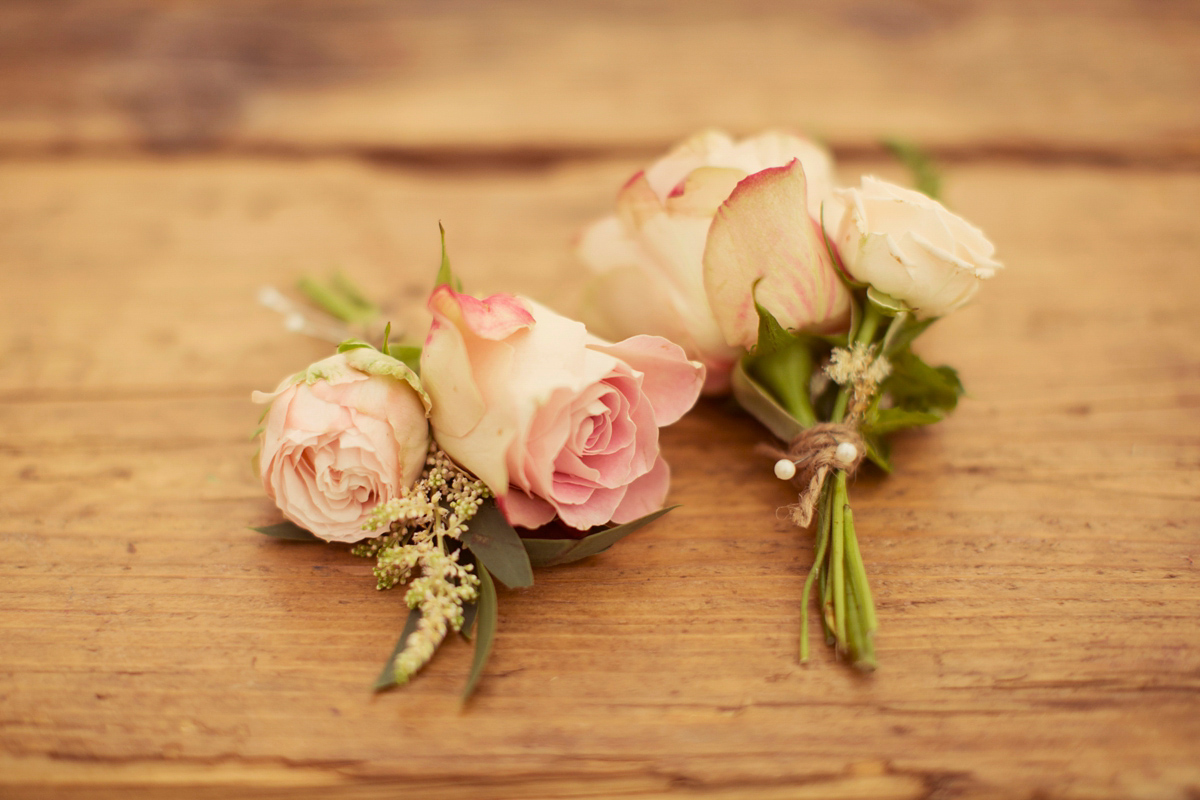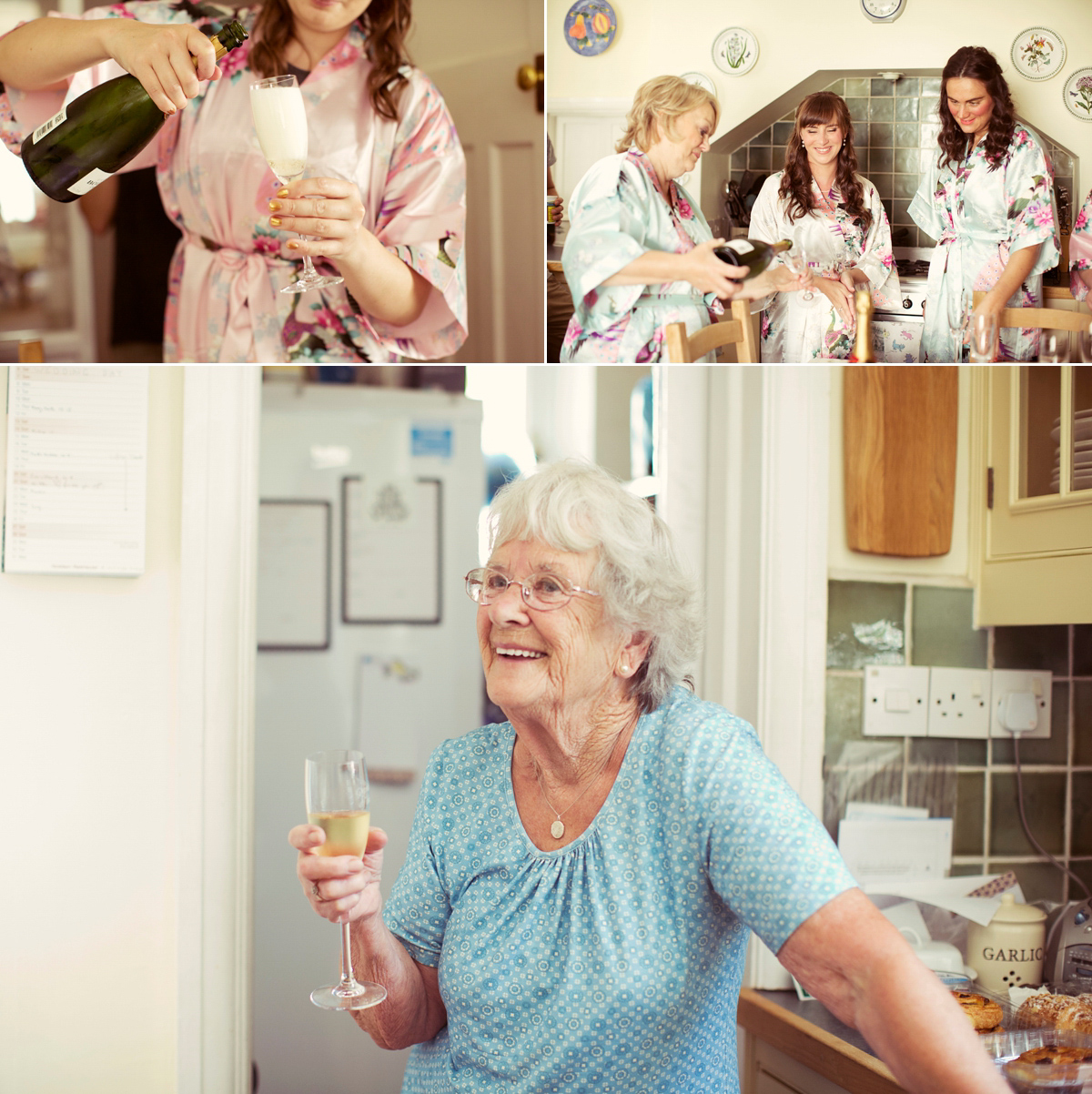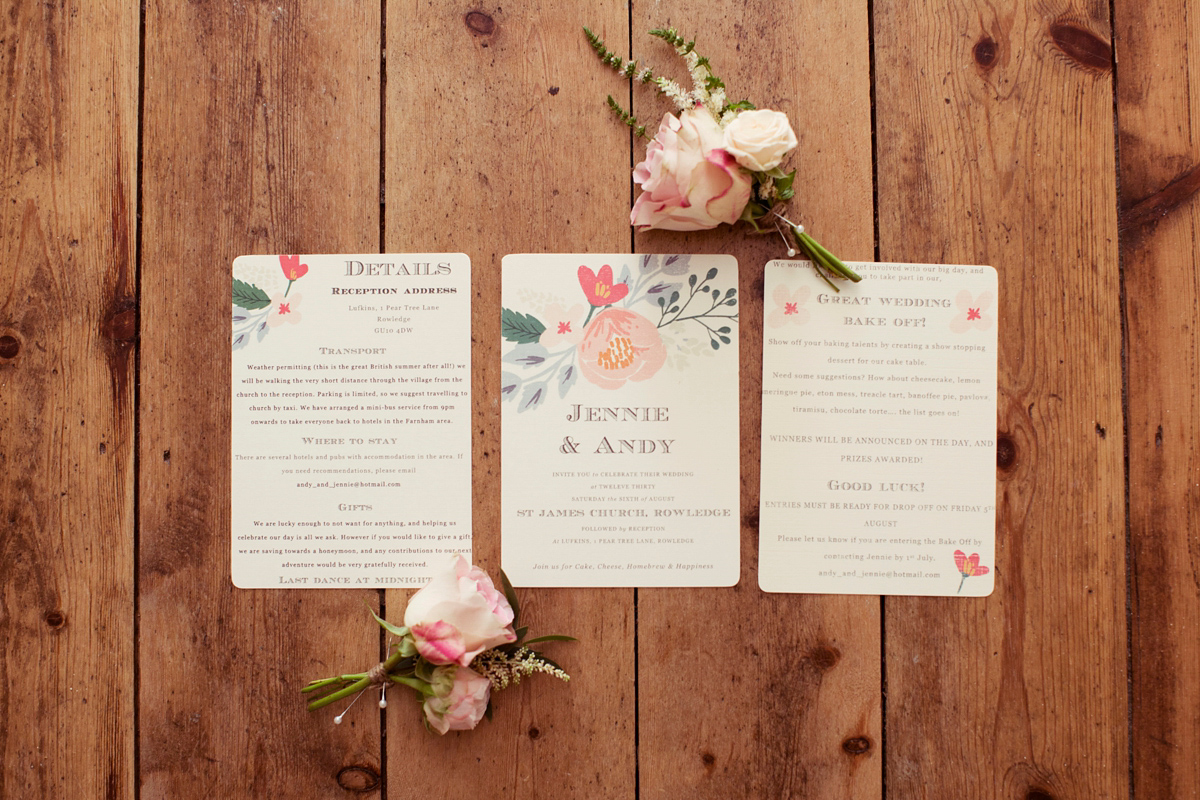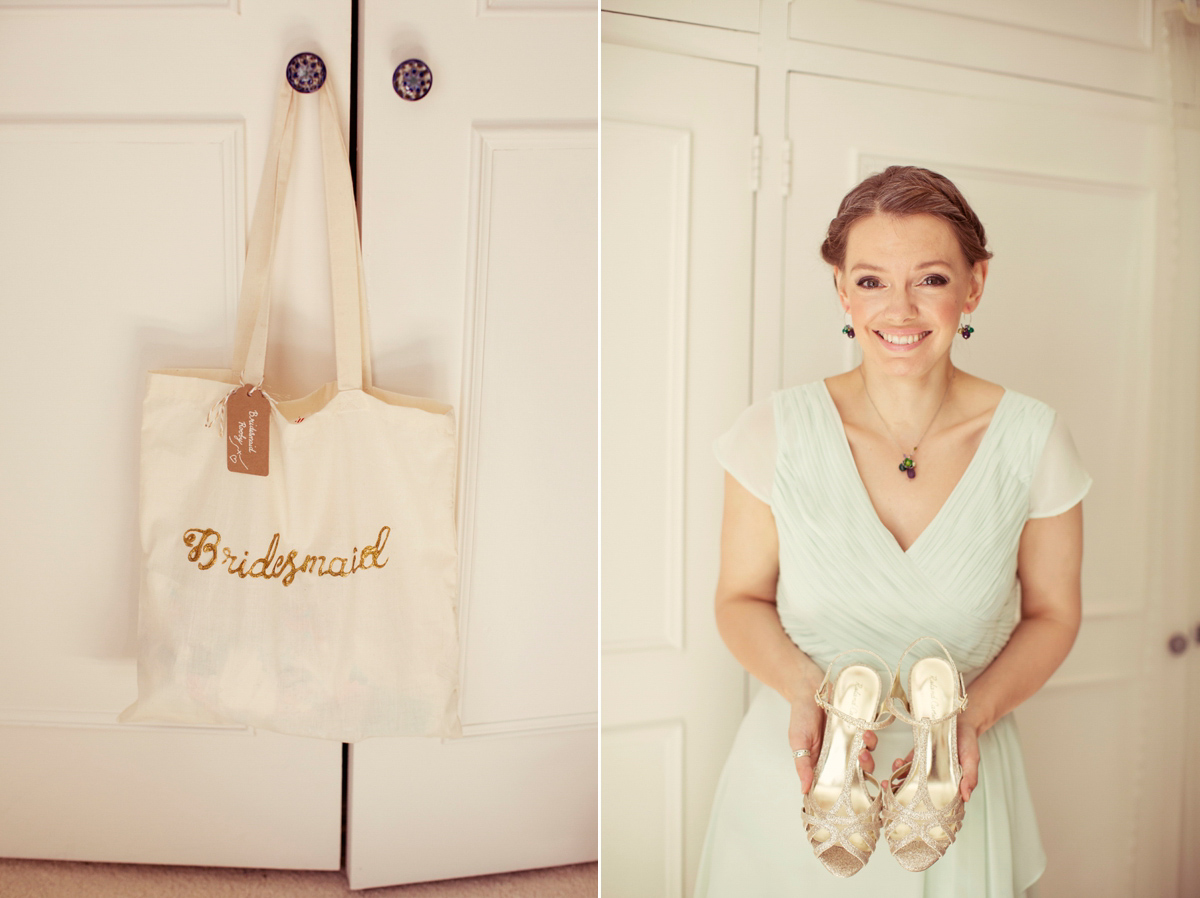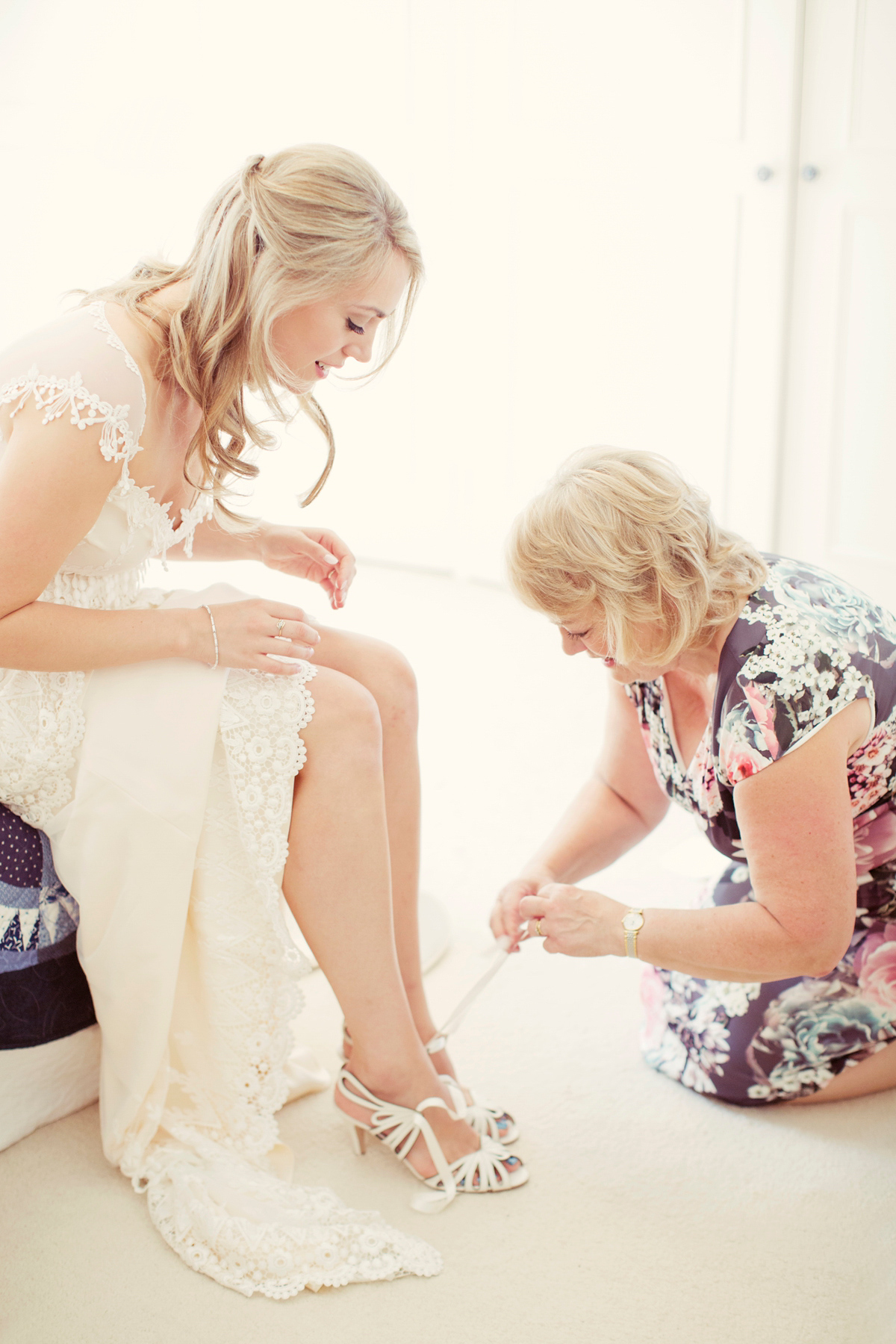 "I wore pearl studs my dad had bought me for my 21st birthday as my something old. My something borrowed was my maternal Grandma's engagement ring, which she lent me for the day. On the morning of the wedding my Mum presented me with a stunningly delicate white gold bracelet from Goldsmiths as my something new."
"I spent a wonderful morning with my mum and grandma at Jo Malone to select my perfume. The bridal consultation is something I would highly suggest to any bride. It's such a lovely experience, and a perfect little breather in the stress of wedding planning. I layered 'Wood Sage and Sea Salt' with 'English Pear and Freesia'.
My Dad was a keen sailor and some of my favourite memories come from our time spent by the sea, so the 'Wood Sage and Sea Salt' made me feel close to him and the 'English Pear and Freesia' was a nod to the scents of our garden wedding."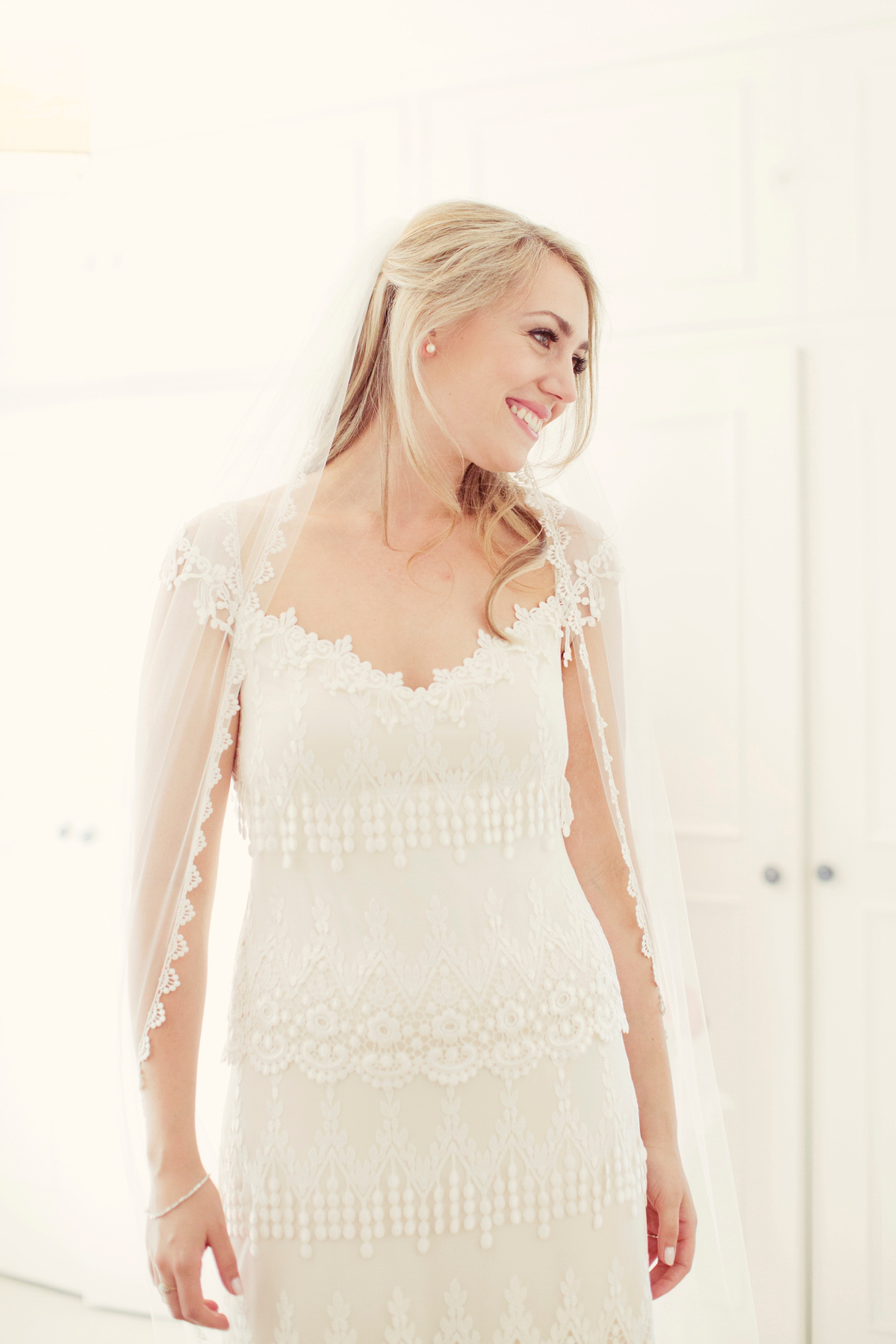 "Living in Hong Kong, Andy had the luxury of getting his suit made. He chose a three-piece pale grey suit by August Custom Tailors. As a very proud Yorkshire man he picked a blue lining to match the background of the Yorkshire flag. My gift to Andy on our wedding morning was cufflinks made from Hong Kong coins minted in the year he was born from Patinova."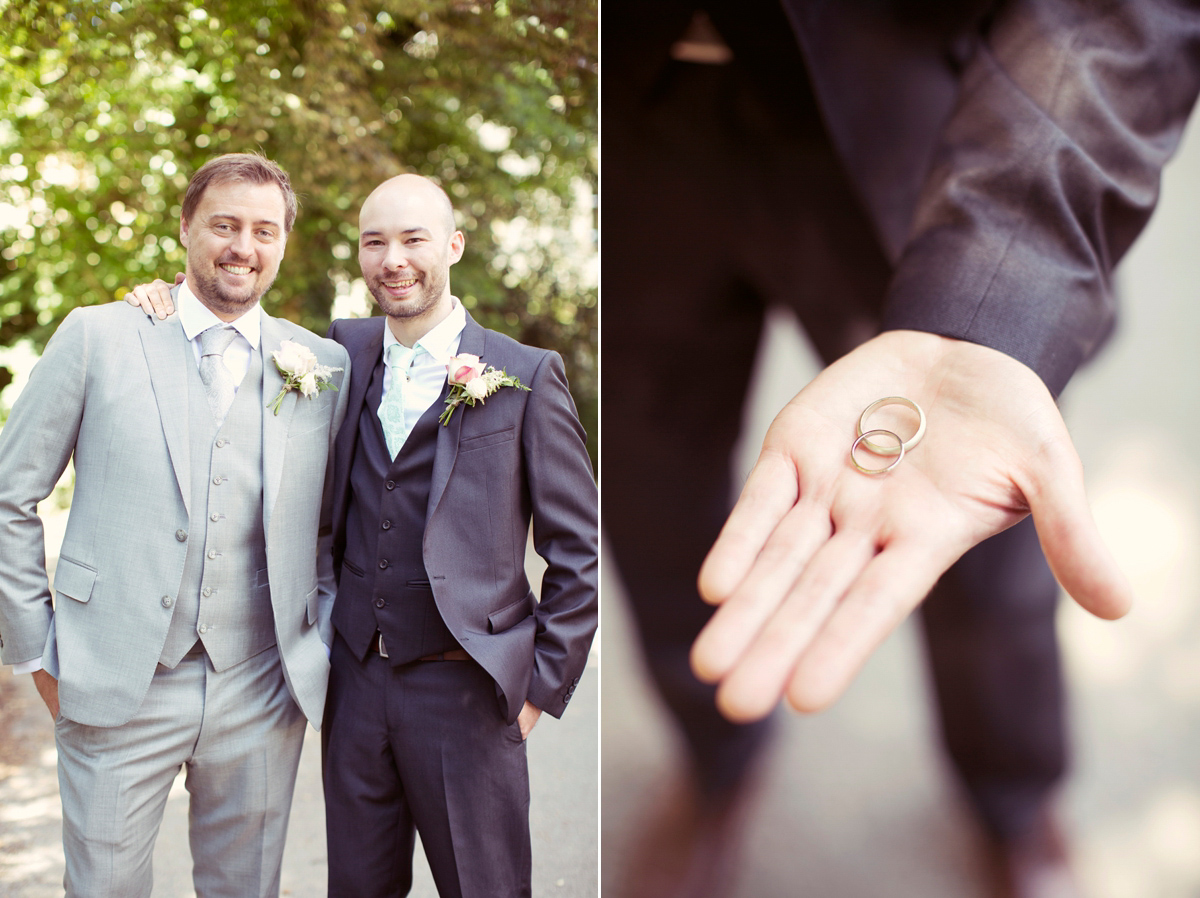 "He always told me he was planning to wear his Converse, so it was a lovely surprise to see him in gorgeous brown shoes that went perfectly with his suit. After we ate, Andy and all his groomsmen all changed into their converse for the evening! All the groomsmen wore their own suits, with matching green ties."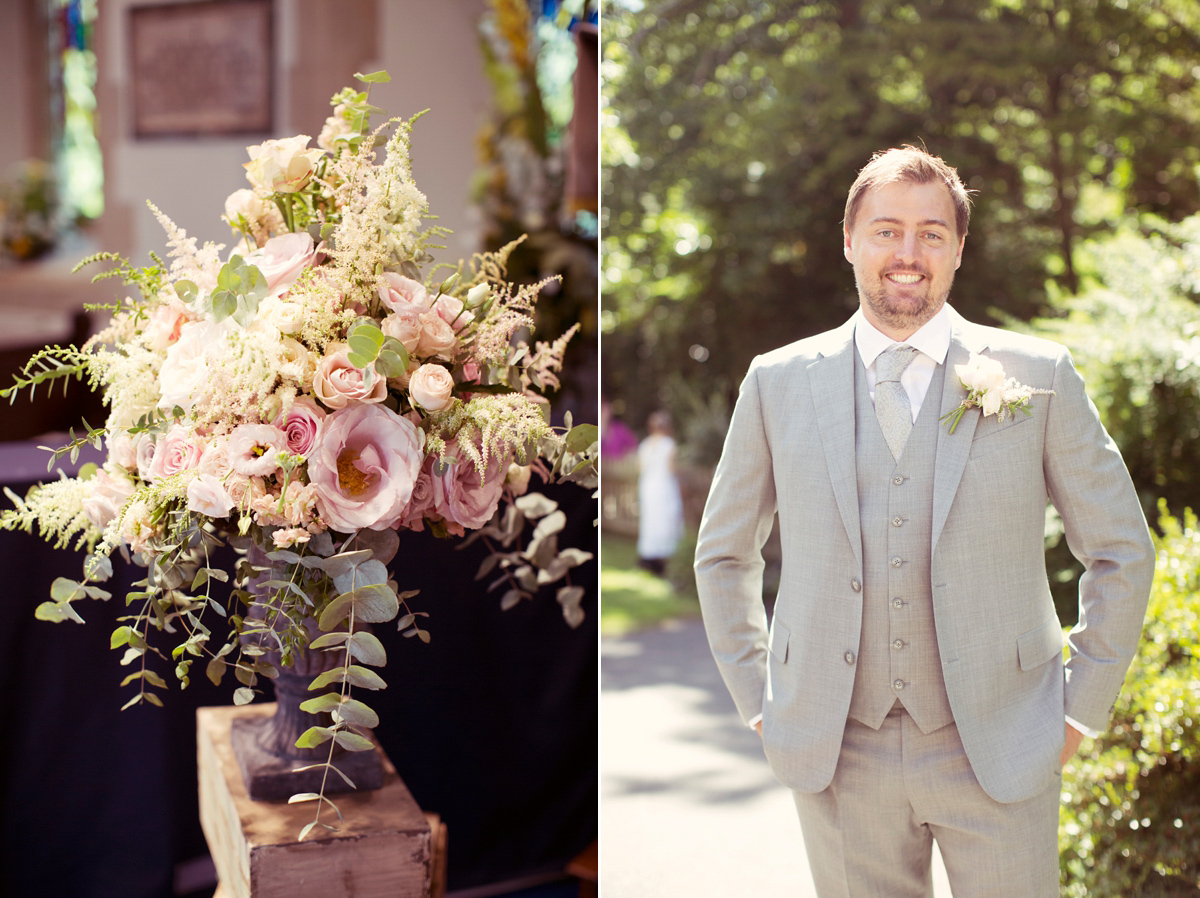 Jennie's six pretty maids wore sage green summery Debenhams dresses, paired with gold glittery shoes, and little rosebuds in their hair to match the flowers in their bouquets, with the up-styles created by HC Brides. The bride gifted her lovely maids with a goodie bag full of treats.
"On the morning of the wedding I gave all my bridesmaid's bags filled with chocolates, Prosecco (or vodka depending on their tastes!) and silky dressing gowns from the market we live above in Hong Kong. I also gave them bracelets engraved with their initials from notonthehighstreet.com as a gift to wear on the day."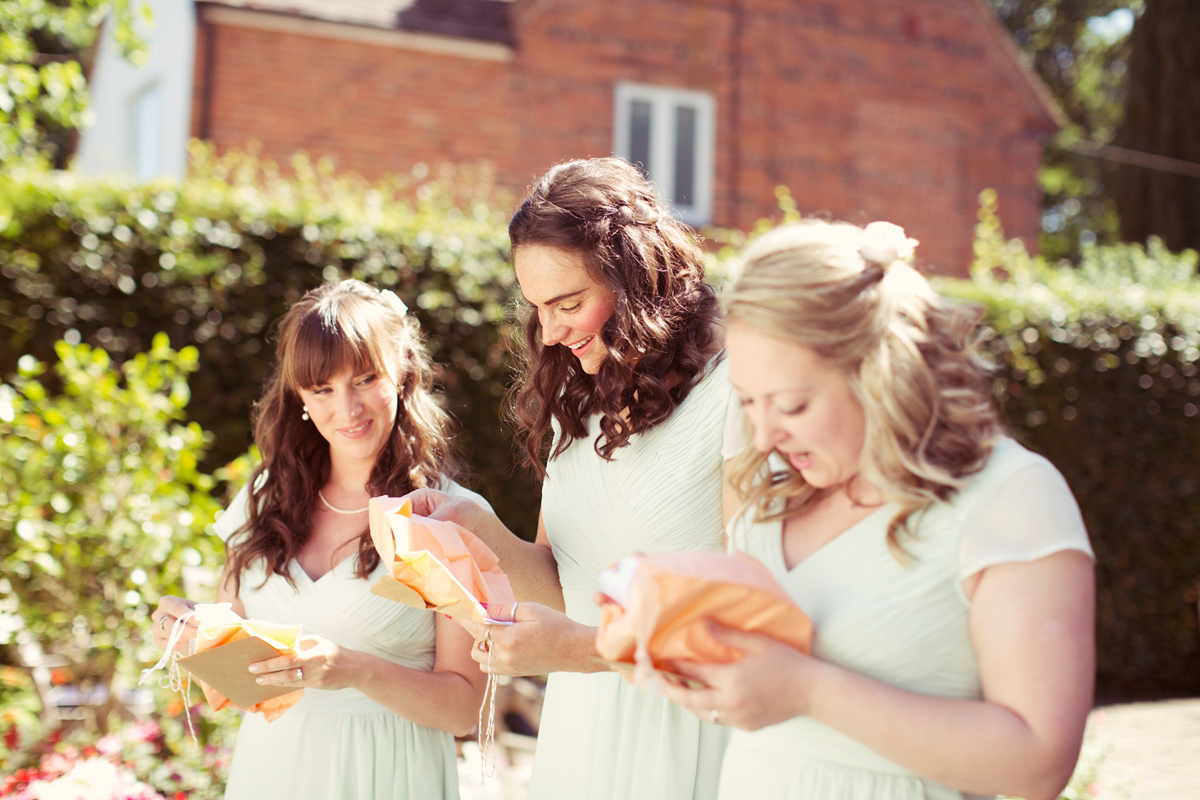 "We met through a mutual friend when I was a student in Reading and Andy was working. Not long after we got together Andy decided he wanted to live abroad, and moved out to Hong Kong, and I joined him not long after. Two years ago we took some time away from work to travel back to London from Hong Kong entirely overland, fulfilling a long held dream to take the Trans-Siberian Express.
We were due to cross the continental border between Asia and Europe on a freezing cold November day."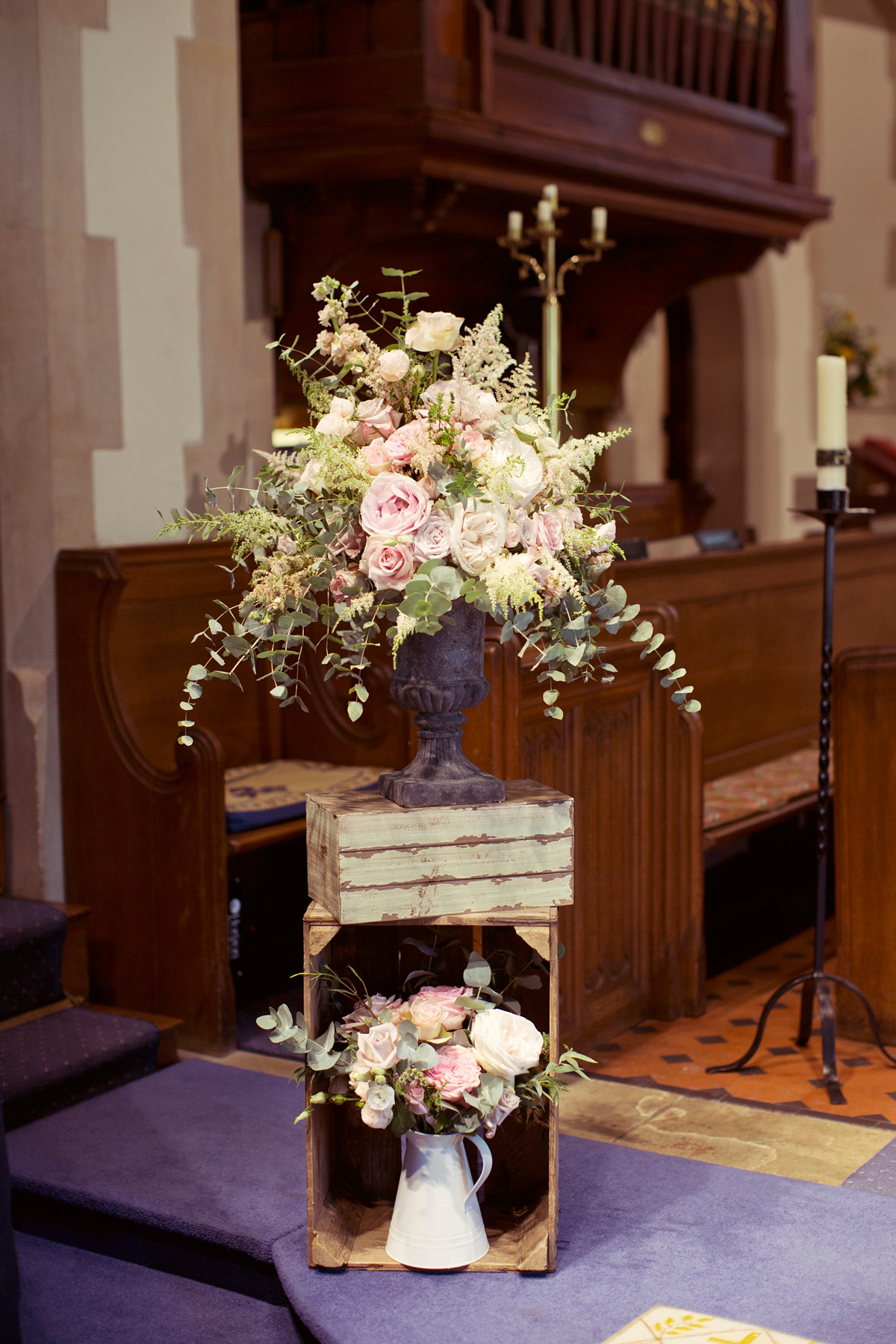 "We were staying in the town of Yekaterinburg, and took a taxi out to the border. Stood on the Asia side of the border in the snow, Andy got down on one (very, very chilly) knee, pulled out a ring and proposed, telling me he wanted to take me back to Europe as his fiancé. I still have no idea how he managed to keep the ring hidden through two months of sharing backpacks, hostel rooms and train carriages. We planned the wedding almost entirely from Hong Kong, coming back a month before the wedding to finish off the details."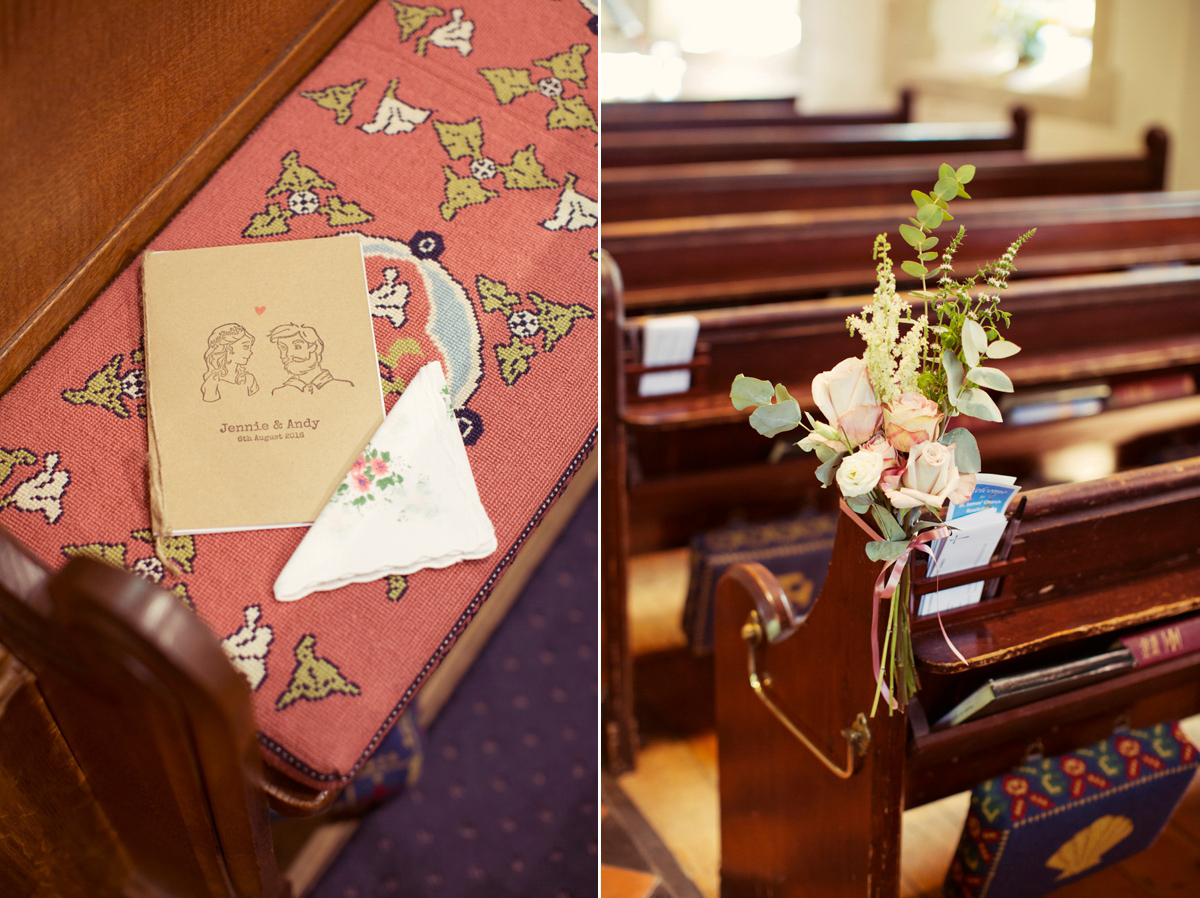 'Belinda', the very groovy camper van, was hired from Buttercup Bus to transport the bridal party to the church for a ceremony filled with loads of sweet, touching moments. The confetti was made by Jennie's amazing mum, who dried rose petals over the course of a year, and included lots of yellow rose petals, Jennie's dad's favourite flower.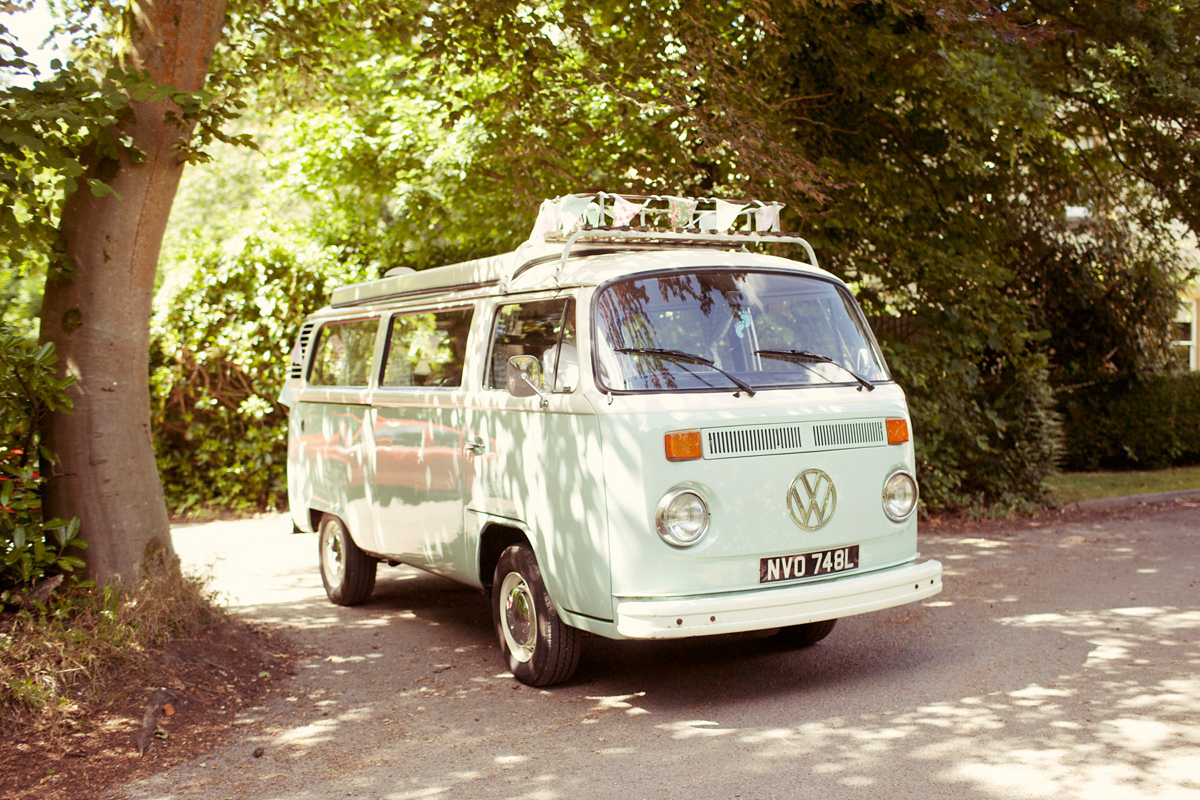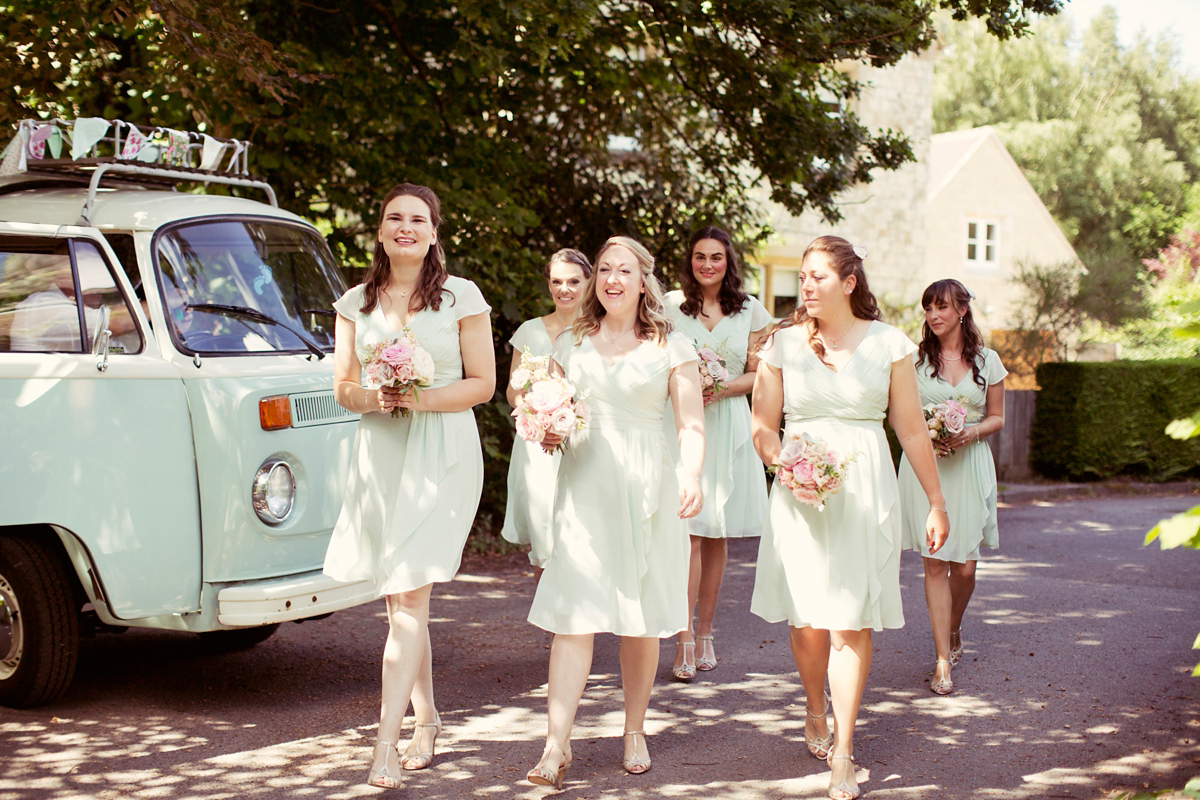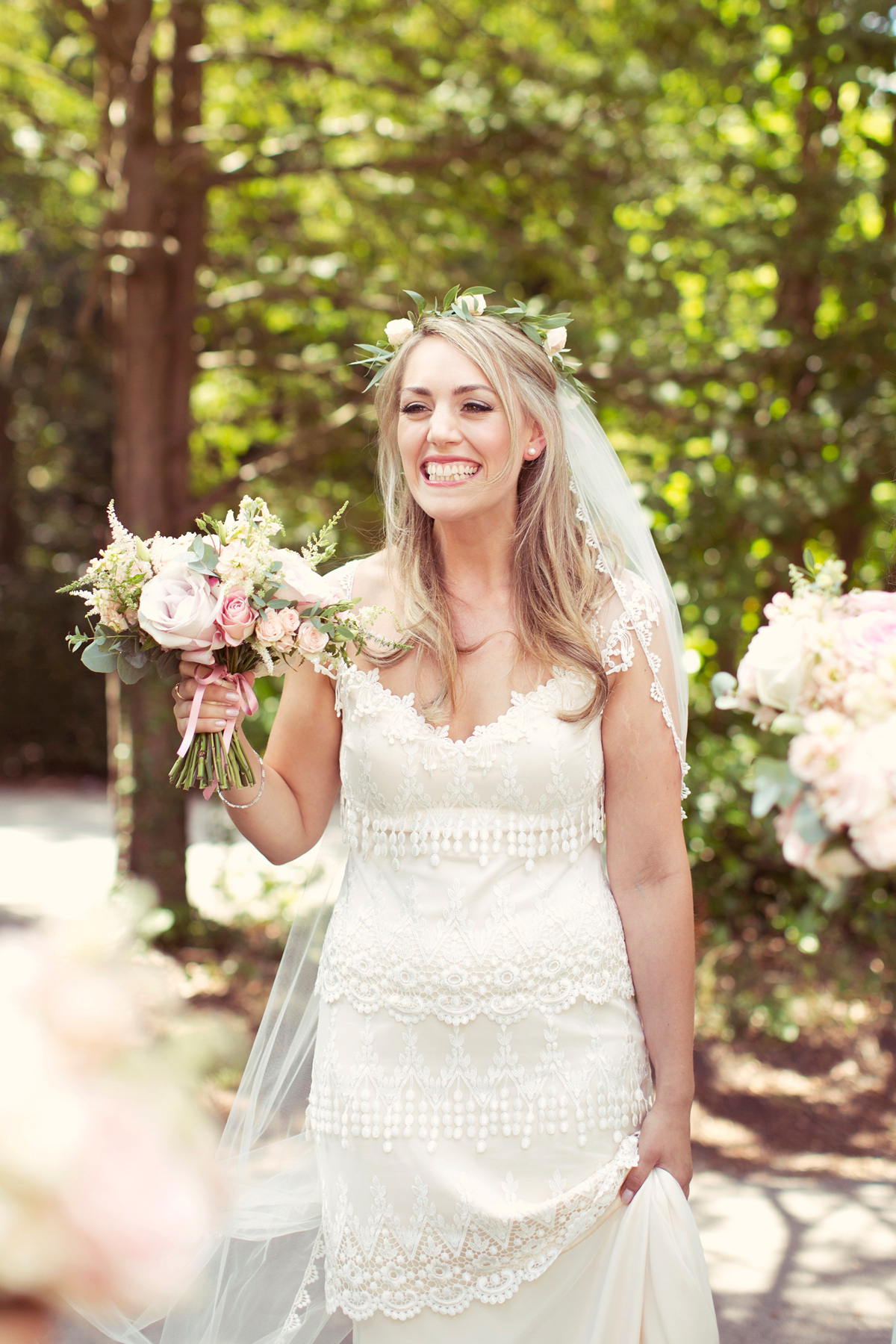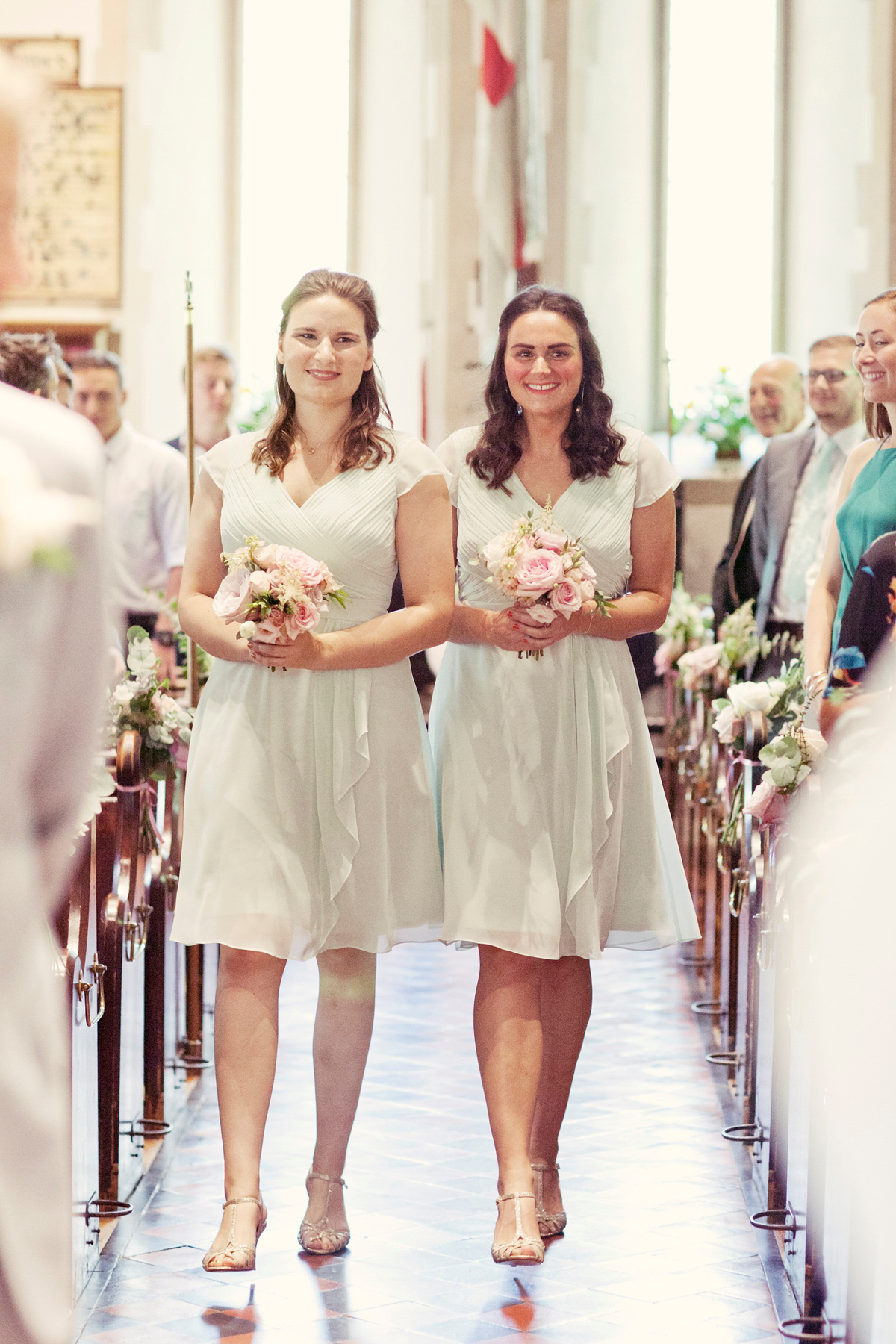 "My big brother, David, walked me down the aisle, and gave me away to 'The Wedding Processional' from The Sound of Music, one of my all time favourite films. We had originally planned to have our friend Tom sing and play for us, but eventually we decided it might all be a bit too emotional, so instead he sang while we signed the registers.
We walked out of the church to 'One Day Like This', by Elbow. One of our favourite songs, its so triumphant and joyful!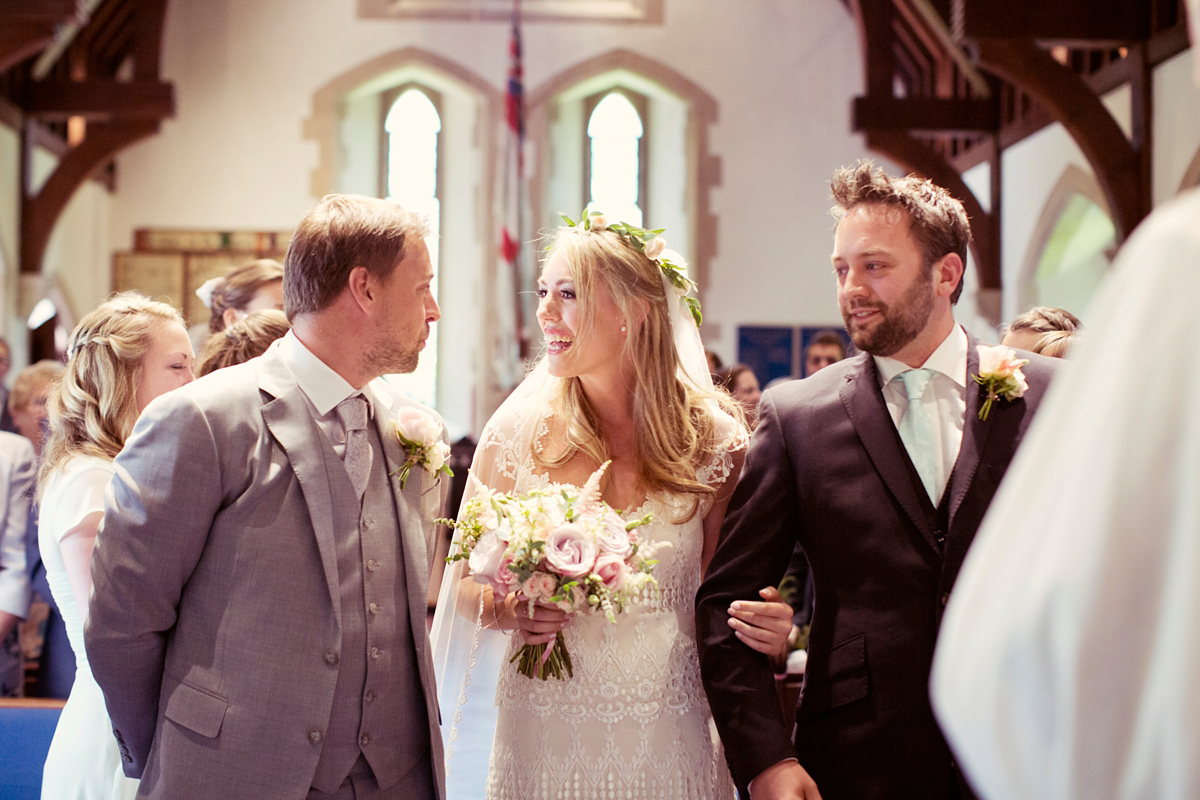 We said the traditional vows, omitting the vow to obey, and three hymns and three readings: John 2:1 11, the wedding in Cana where Jesus turns the water into wine and 'Us Two', by A.A.Milne, a poem Andy fondly remembers reading with his Dad as a child. Our third reading was written by our friend Hannah, which she kept as a surprise for us until the day and hearing it was such a highlight of the service. It begins like this…
A philosopher once said that "It is never a lack of love that makes unhappy marriages, but always a lack of friendship" and while it might seem strange for us to begin with a quote about unhappy marriages on this tremendously happy wedding day, there is something in this notion of friendship that rings so true when we think of Jennie and Andy. When we think of the way they treat each other, the way they talk to each other, even the way they communicate without saying a word – it is hard not to notice the unending friendship that courses through their togetherness. This is not to say that they don't also showcase a passionate, can't bear to be apart, rainbows-and-butterflies love too – they do (especially when red wine is involved) its just – beyond that – beyond all of that – lies the unwavering realisation that they want to be friends, best friends, forever.
Have you thought about crafting your own wedding rings? If so, I urge you to check out The Quarter Workshop, run by Victoria (who is also a LBFB member and whose own fabulous summer wedding featured on this very blog). Andy and Jennie went to one of Victoria's workshops to create their handmade wedding rings and had a wonderful, memorable time.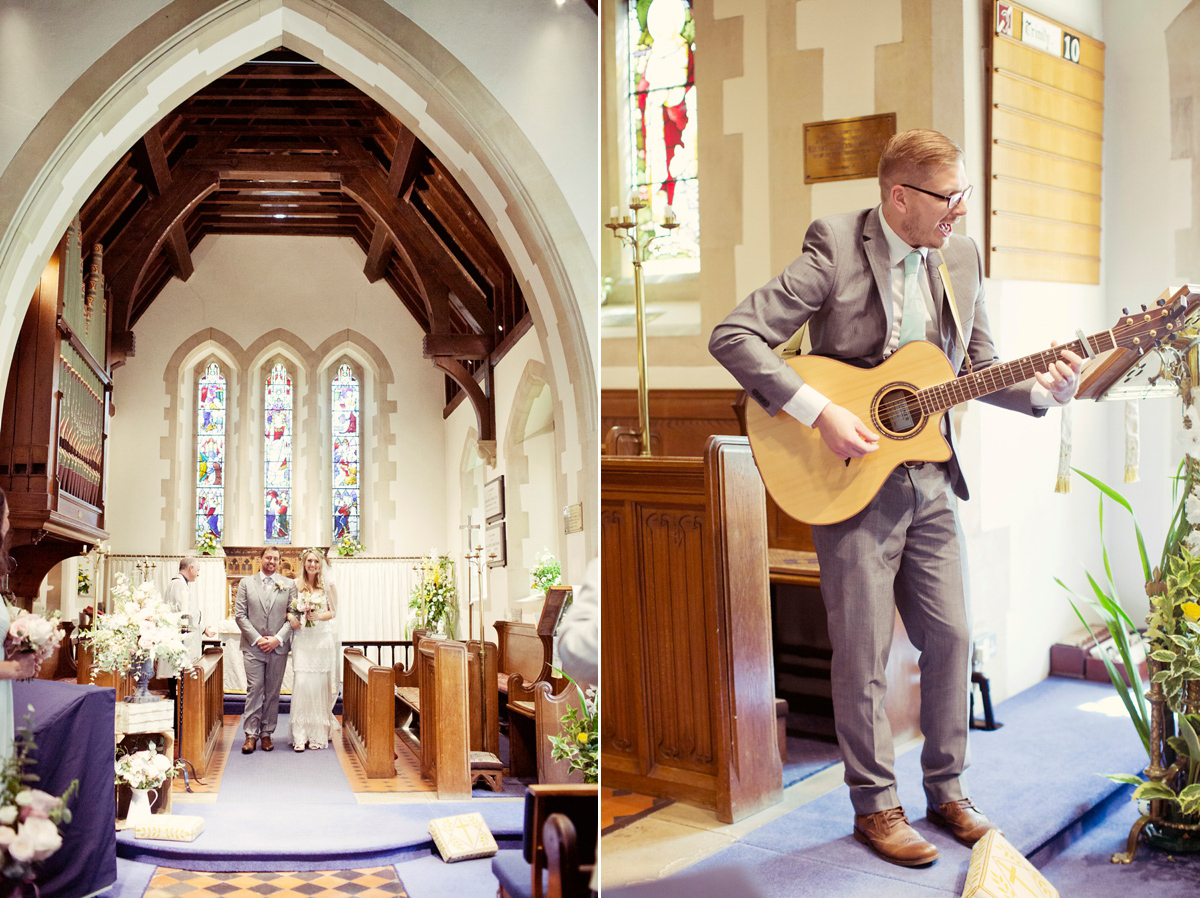 "I think it is true what everyone says though, the ceremony truly is the most special part of the day, and probably the part you think of least during the hours of planning. The feeling of walking into a church full of people packed with everyone I love is incredible, and will stay with me forever. Any nerves I had about speaking in front of people vanished completely and I just remember beaming from ear to ear as we said our vows. Andy says his favourite part of the day was seeing me for the first time."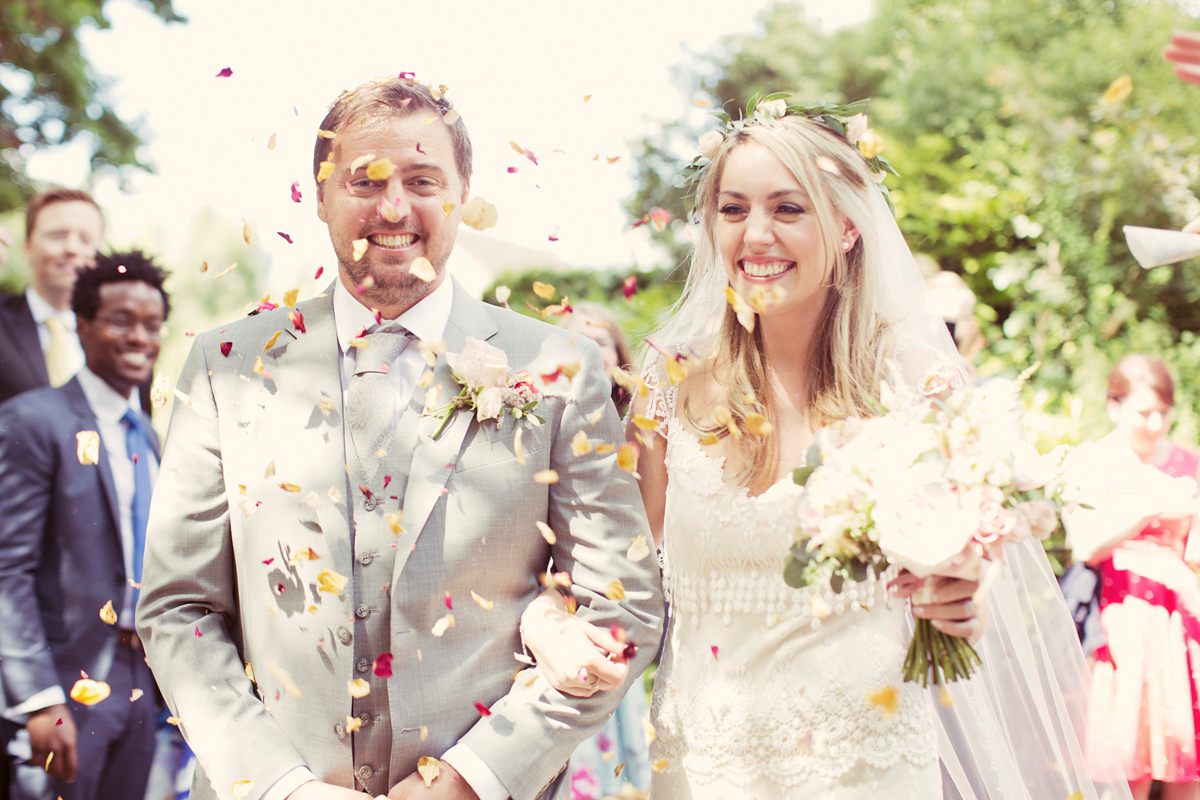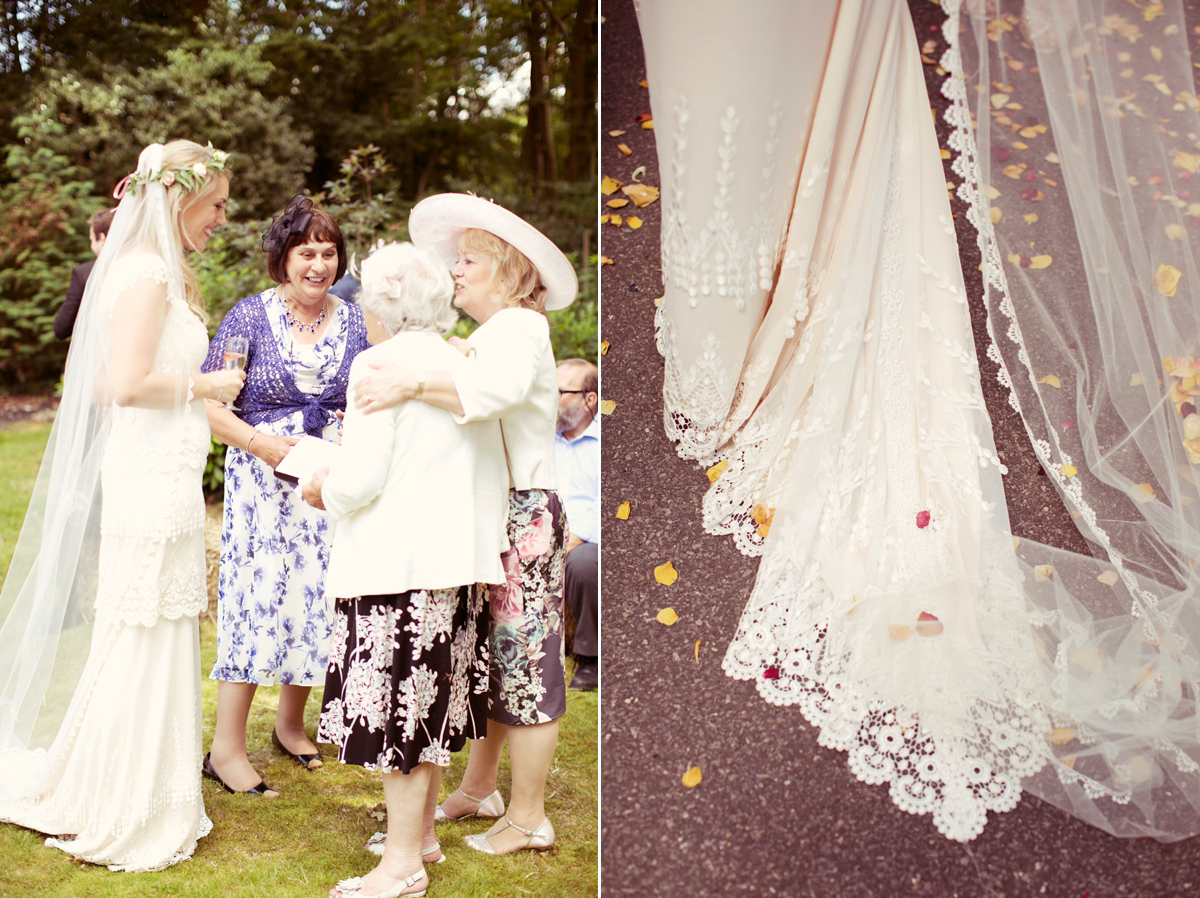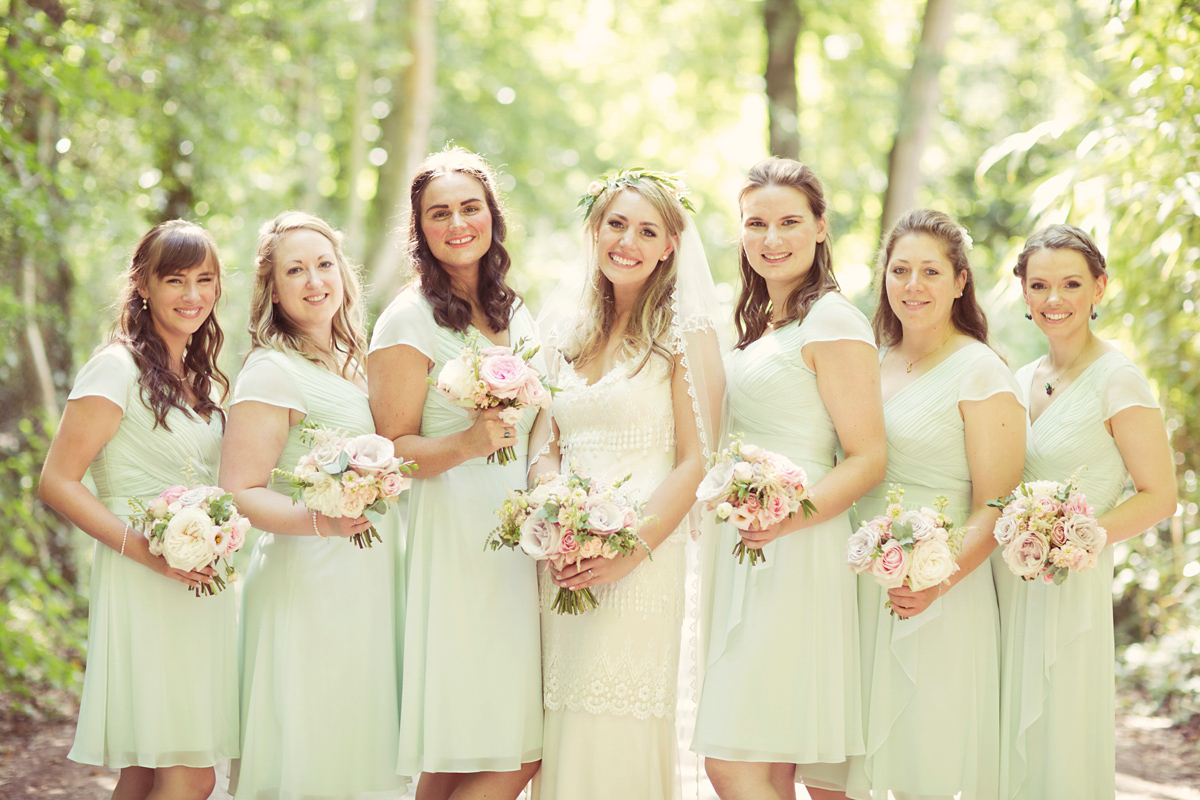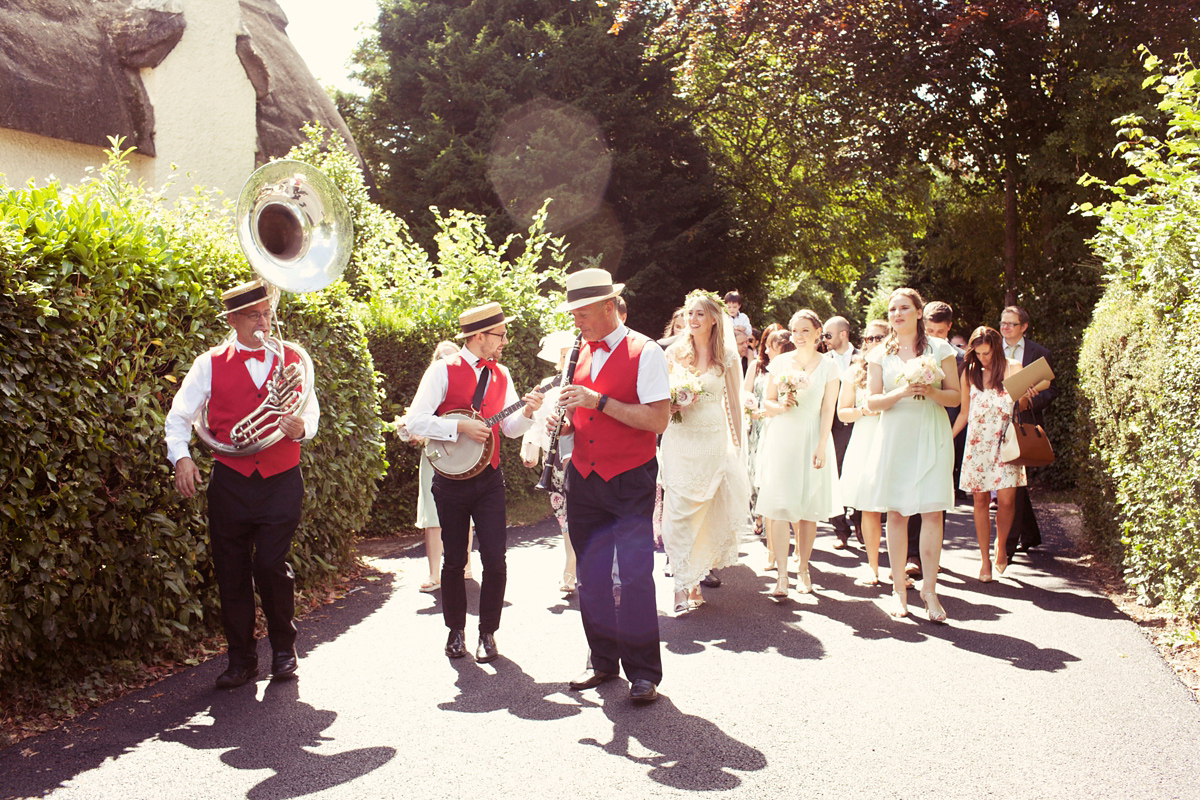 Jennie and Andy found a brilliant photographer – Rebecca from Rebecca Wedding Photography – and were full of joy with the resulting images.
"Rebecca was absolutely wonderful, and one of the best decisions we made about the whole day. Her pictures are so full of light and life and love. Looking back through the photographs we realised there's not a single person who she didn't capture in a beautiful portrait or intimate moment."
"I would have loved a wedding video, but it simply wasn't in our budget, so it means so much to me that Rebecca has captured so much of the day. She is also such a genuinely lovely person; it was wonderful to have someone so enthusiastic and supportive there with us on the day. Part of Rebecca's package also included a mini shoot before the day, which I can't recommend highly enough."
"It made us feel so comfortable with Rebecca and in front of the camera, that the portraits on the day were so easy and so much fun. There's also the added bonus of having a whole other set of beautiful pictures to keep."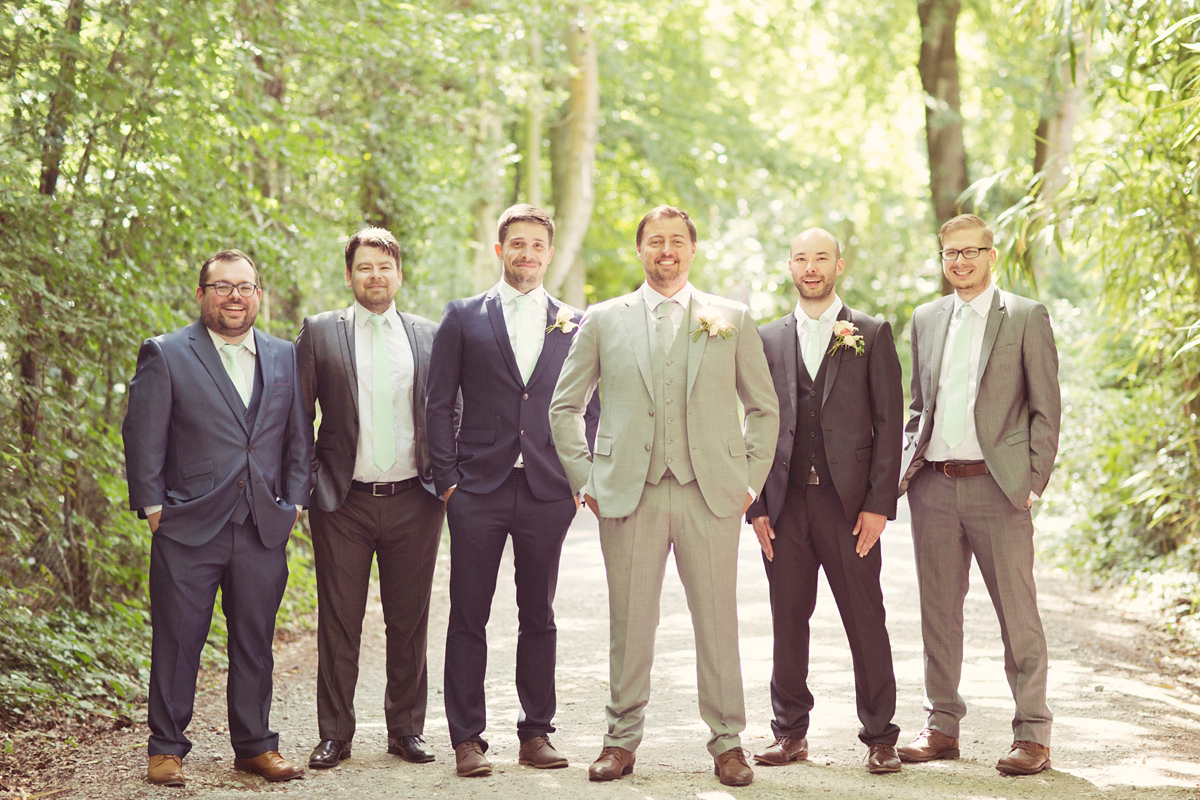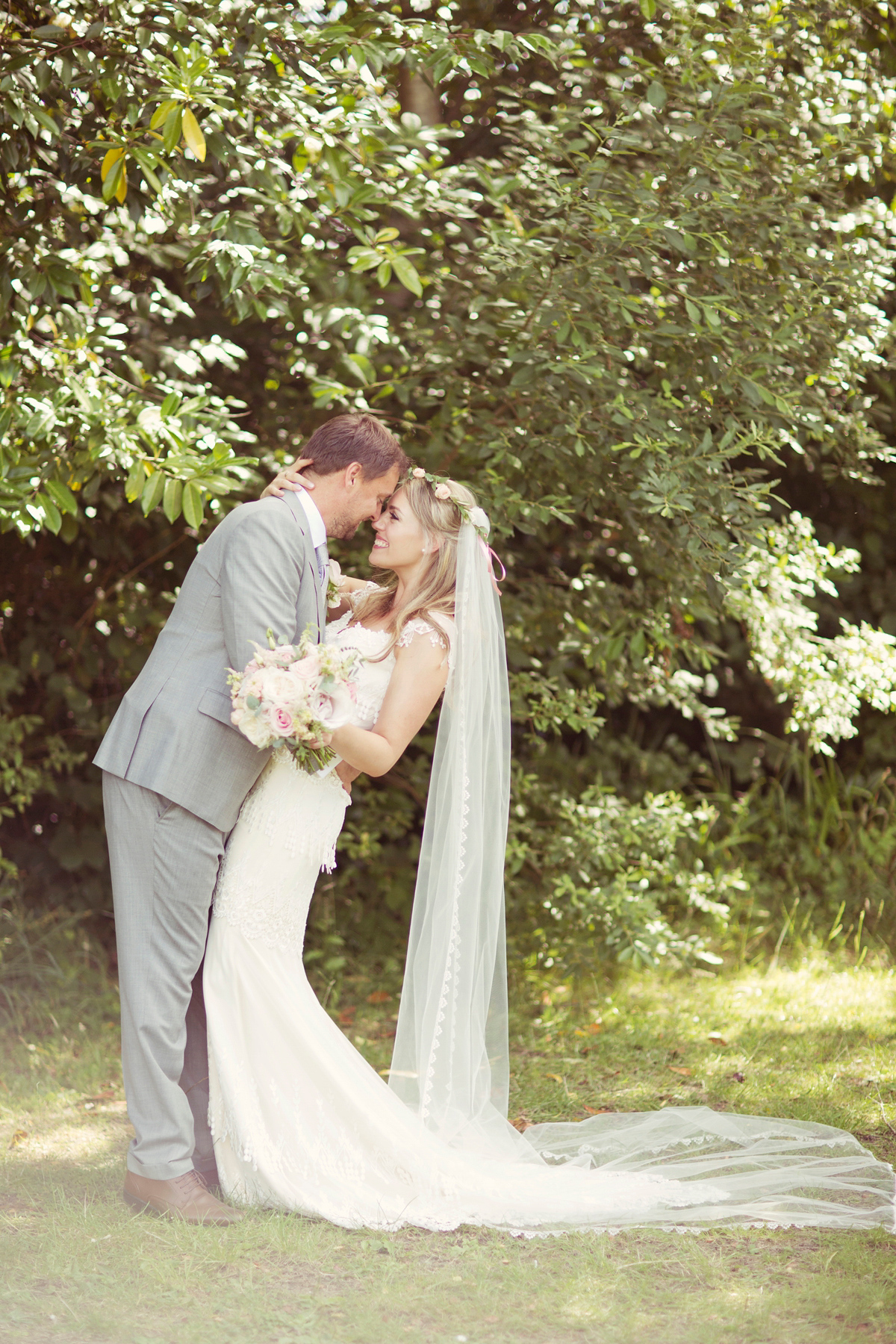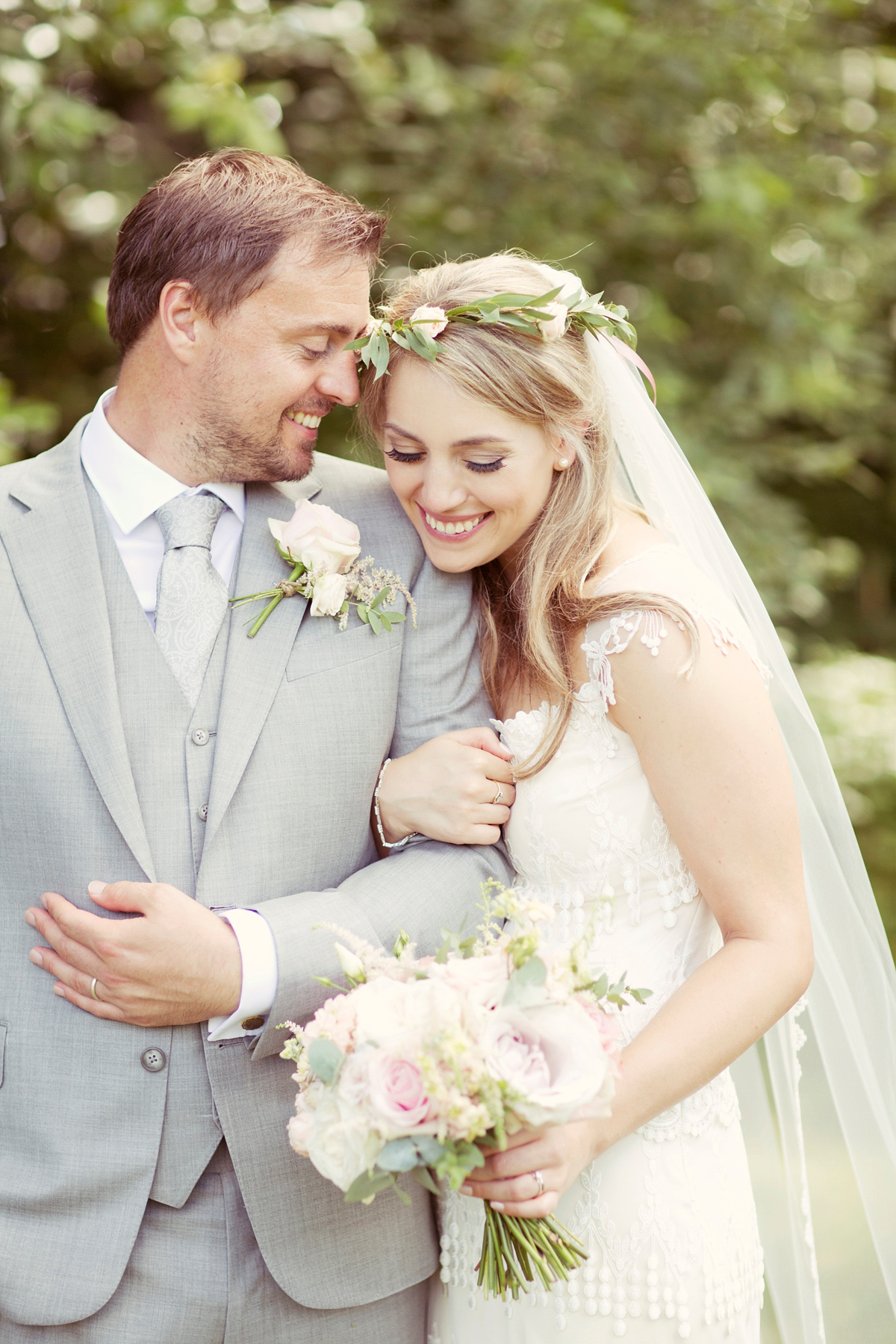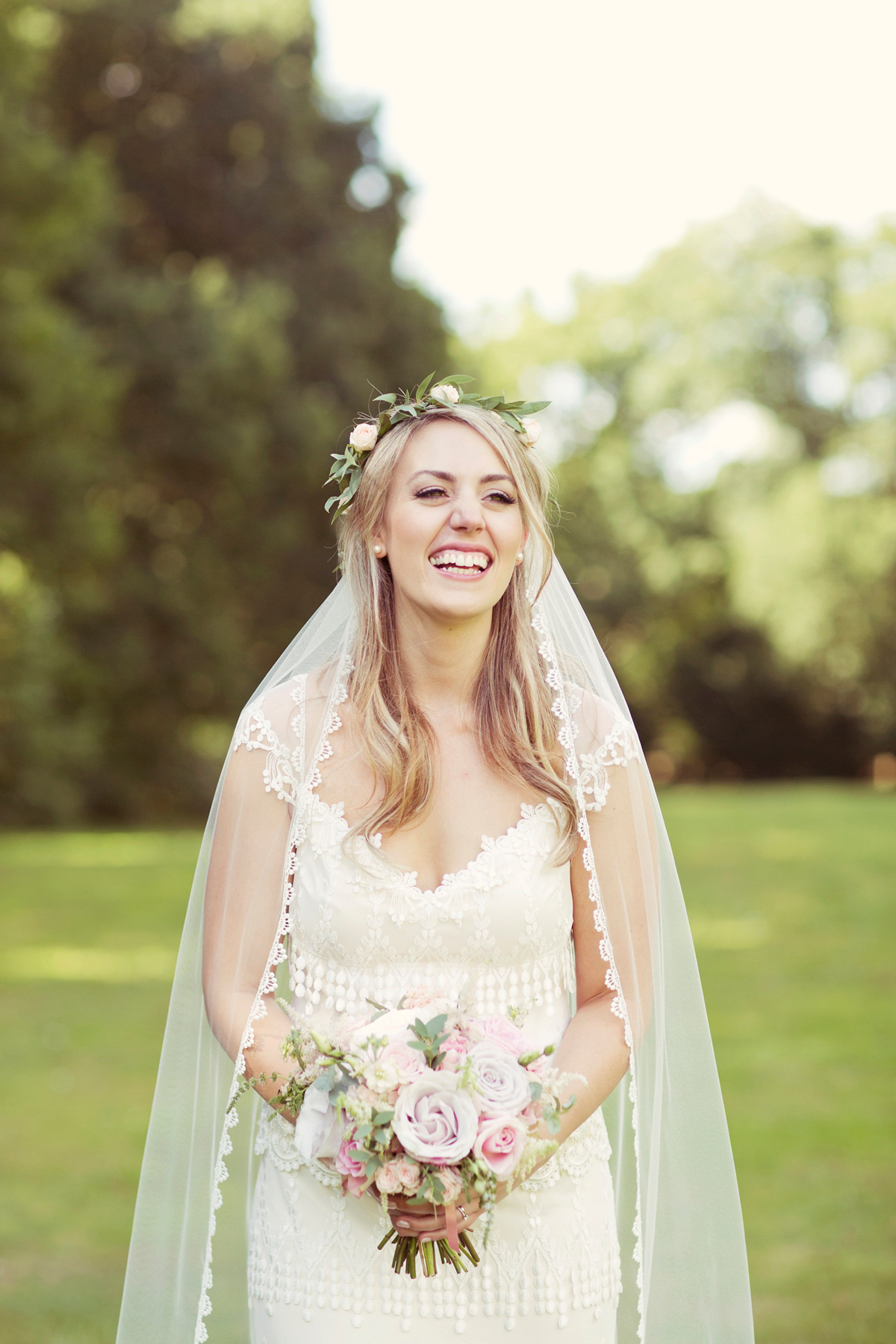 After the ceremony, the newlyweds, the wedding party, and all of the guests walked through the village to Jennie's home, accompanied by jazz trio Street Three. What fun! Once they arrived, there were ice creams all round from Matt Benecci Ice Cream Co.'s bike.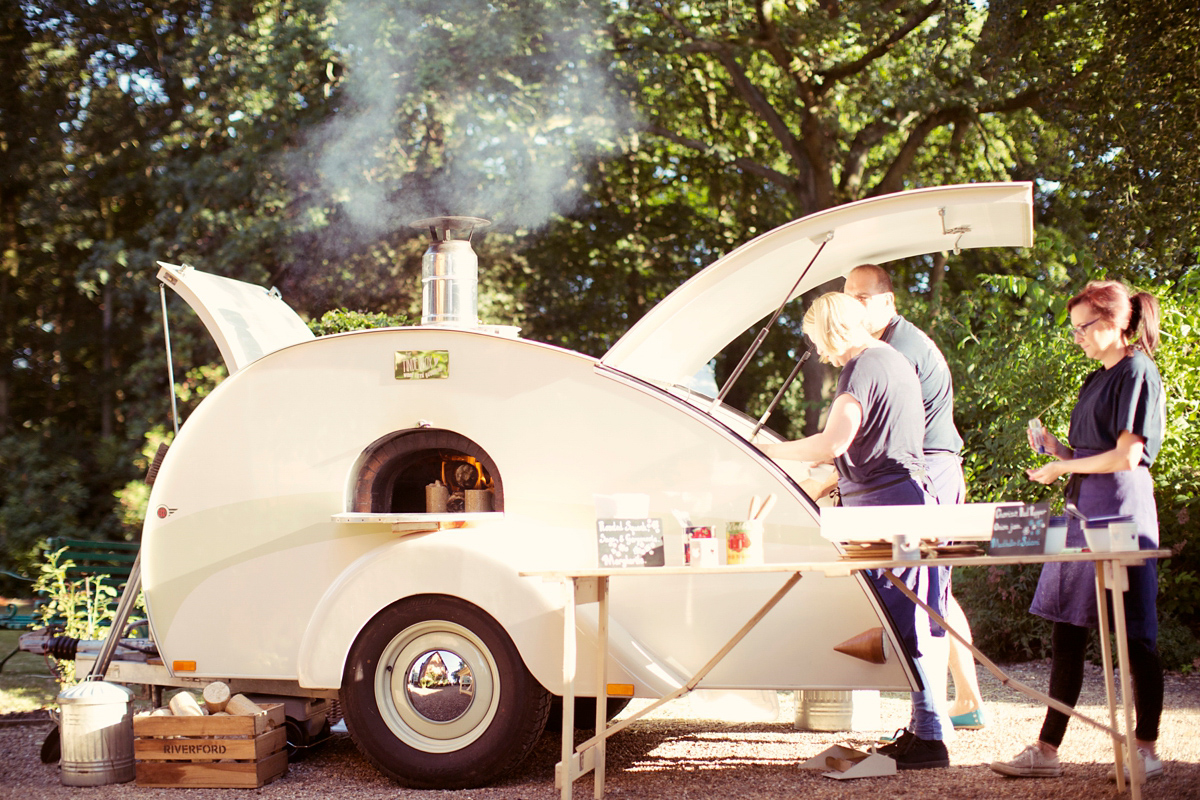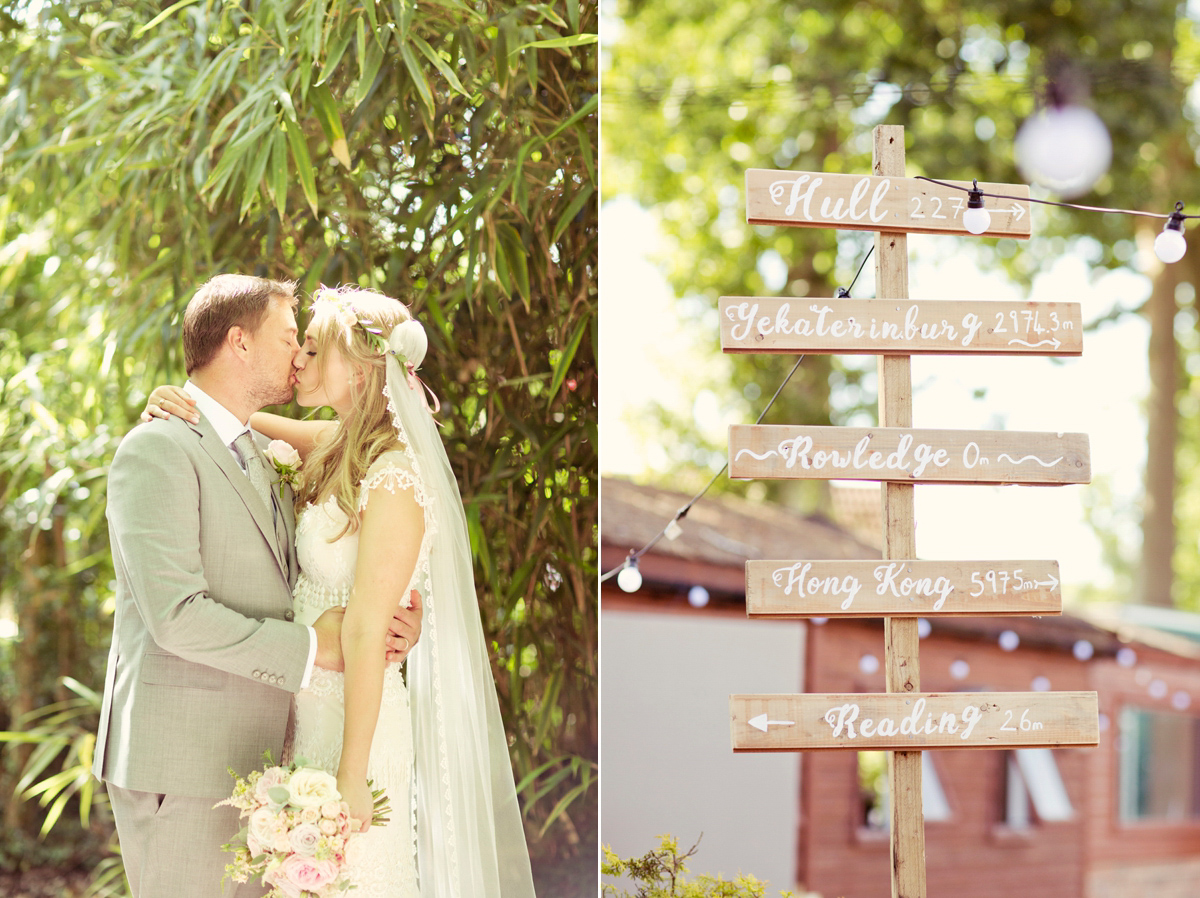 Sama of Utterly Wow helped out with on-the-day coordination, Bex from Blush Floral Design prepared the bouquets and flowers for the church, and the marquee florals were from Triangle Nursery and arranged by Gilli, a very talented and wonderful family friend.
"The only brief I gave to Bex was loose, with blush colours and lots of texture. Luckily this is exactly what Bex does best and the flowers were beautiful."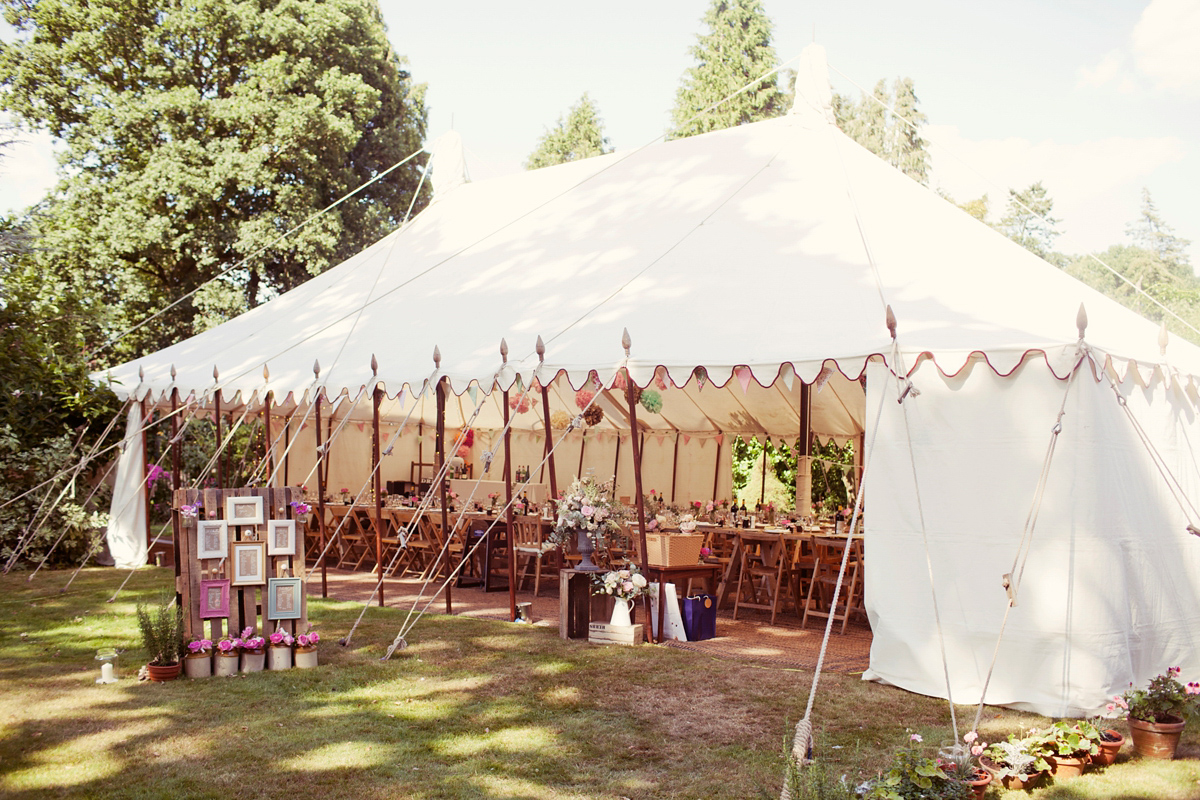 "Gilli was still busy arranging flowers and candles around the marquee and garden in the dark at 11pm the night before our wedding and we are so lucky she offered to help us."
"We had originally intended to use flowers from the garden, and my Mum had spent all year growing to get them at their best. At the last minute though we decided that the garden looked too beautiful to cut!"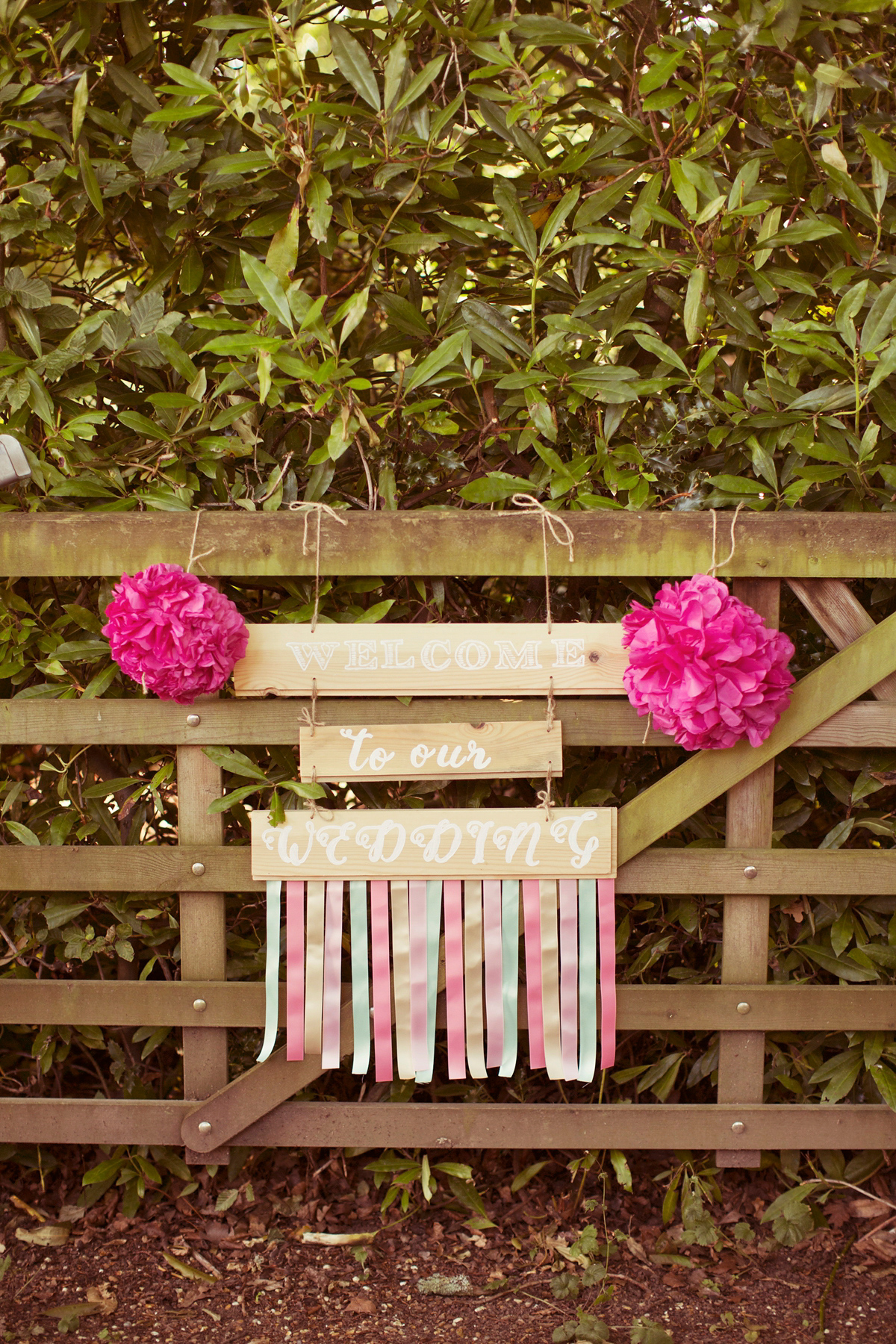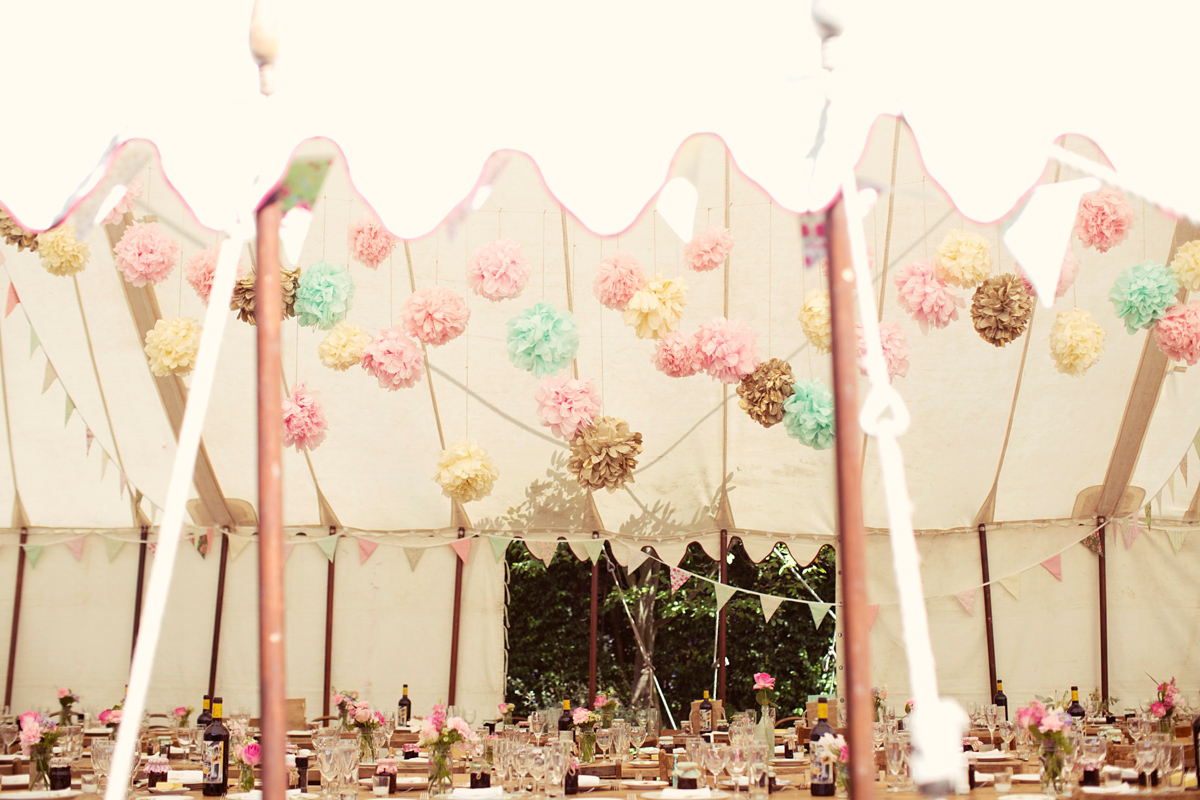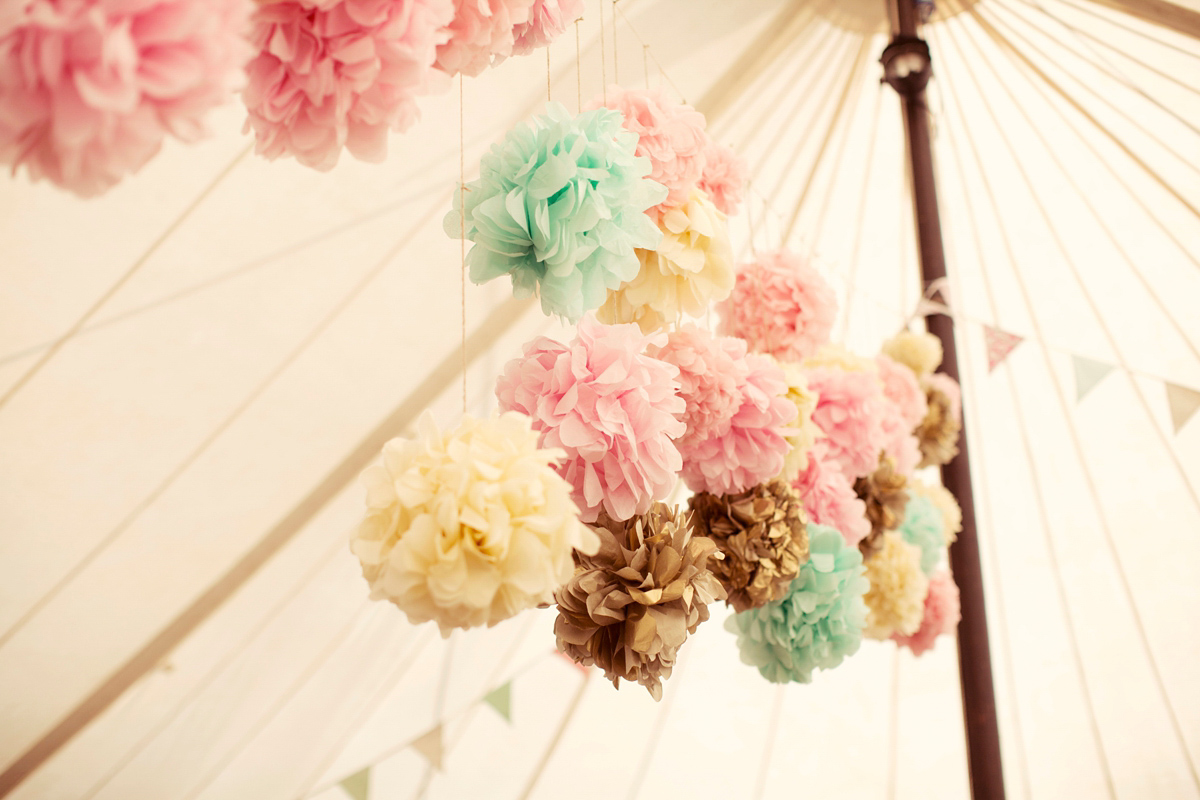 "We wanted the marquee to have an English summer garden fete feel. Our beautiful vintage style marquee was hired from LPM Bohemia. My mum and her friends sewed metres and metres of bunting, which we strung around the marquee. We then made paper pom-poms to hang between the two central poles. The trestle tables, hired from Virginia's Vintage Hire along with mismatched chairs, were decorated with jam jars of flowers and candles."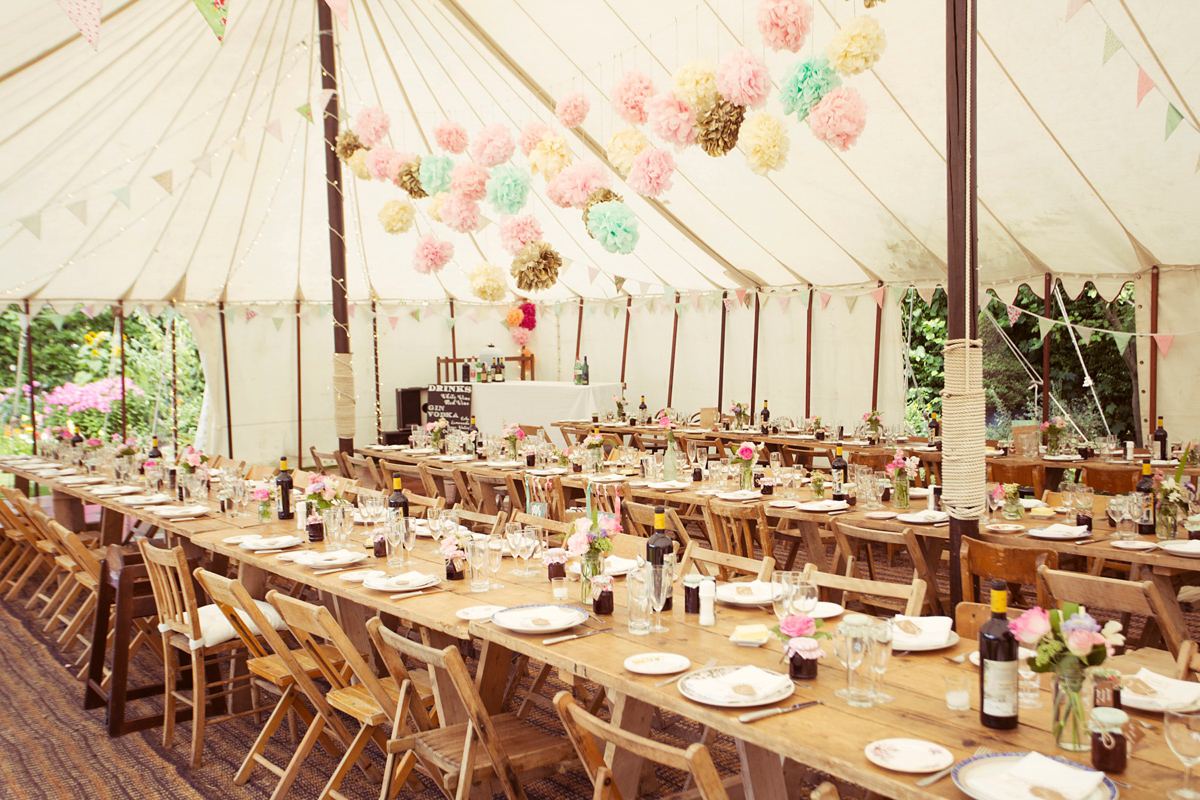 Guests didn't go thirsty, with plenty of 'Horona', Andy's dad's homebrew, and a whisky bar.
"As Andy is a whisky lover, my brother turned the workshop outside the house into a whisky bar for the evening. It was a real labour of love, as the whole building needed re-plastering and painting to make it functional. He even installed a gorgeous antique stove to make it extra cosy. We filled it with old leather sofas and rugs, and decorated it with old family wedding portraits. We named it 'Derek's Whisky Bar' in memory of my late Dad, who also loved whisky."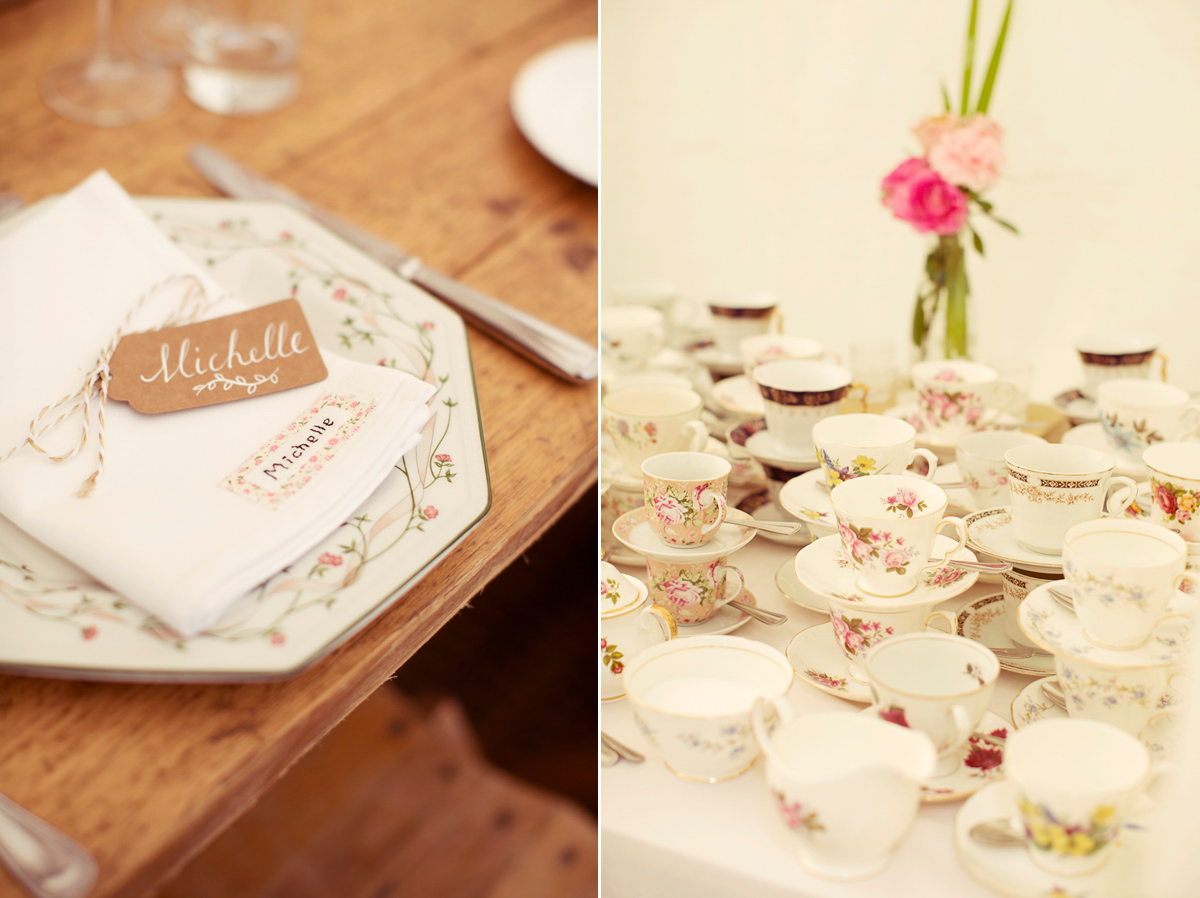 Crumble Catering provided the delicious wedding breakfast, as everyone tucked in at the communal trestle tables, and in the evening My Tinderbox cooked up divine wood-fired pizzas. The couple also arranged for The Cheese Shed to make up a big cheeseboard served with pork pies from the village butcher, homemade chutney, and an enormous jar of pickled onions (Andy's favourite!).
The couple got crafty with their stationery, decor and all the lovely little details, with loads of creative help from Jennie's mum and friends. Homemade red onion chutney and 'Jumble Berry Jam' were wedding favours, and for the little ones, they provided sweets and bags filled with crayons, bubbles, play-doh and toys. Isn't this a beautiful idea for a favour – personalised napkins?
"My mum hand-stitched personalised napkins with everyone's names on for the place settings. So many of our guests commented on how beautiful they were, and couldn't believe she'd made so many."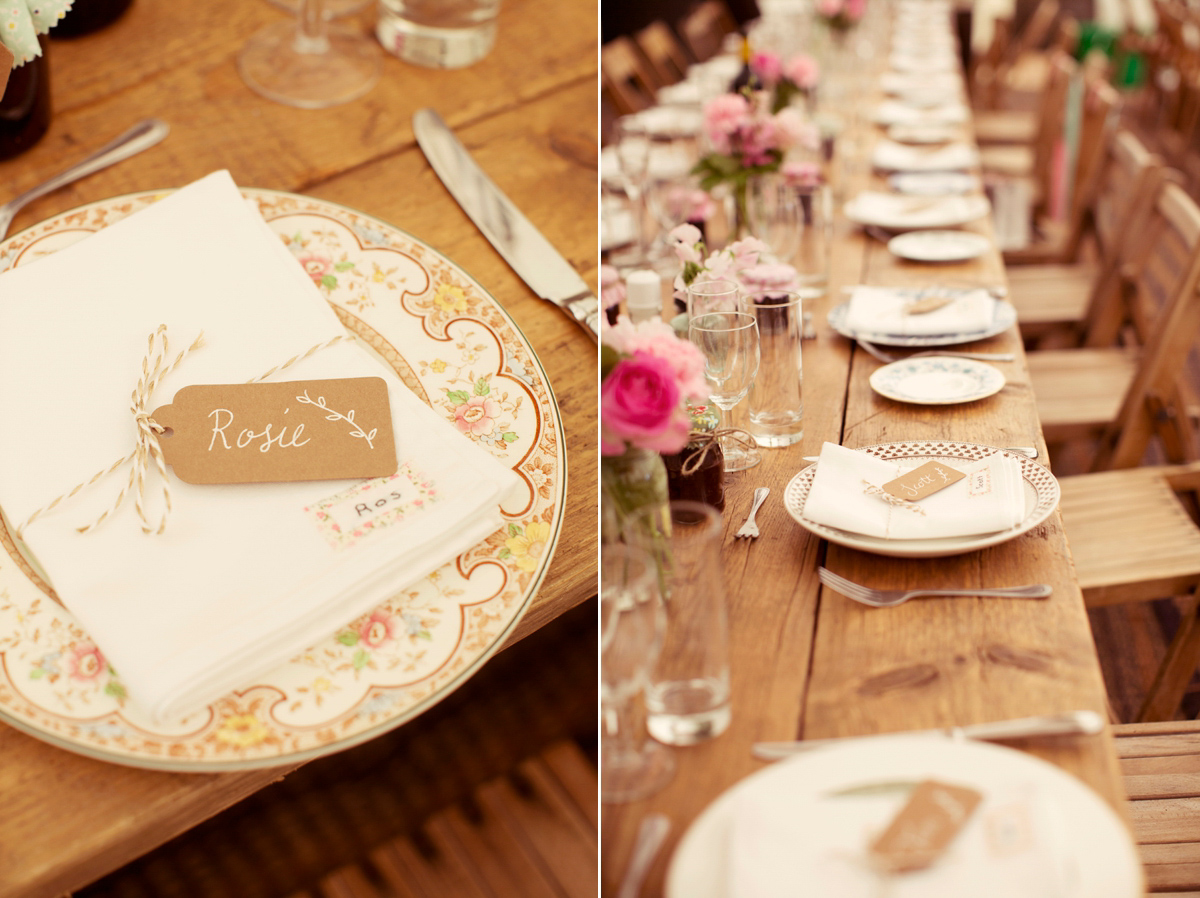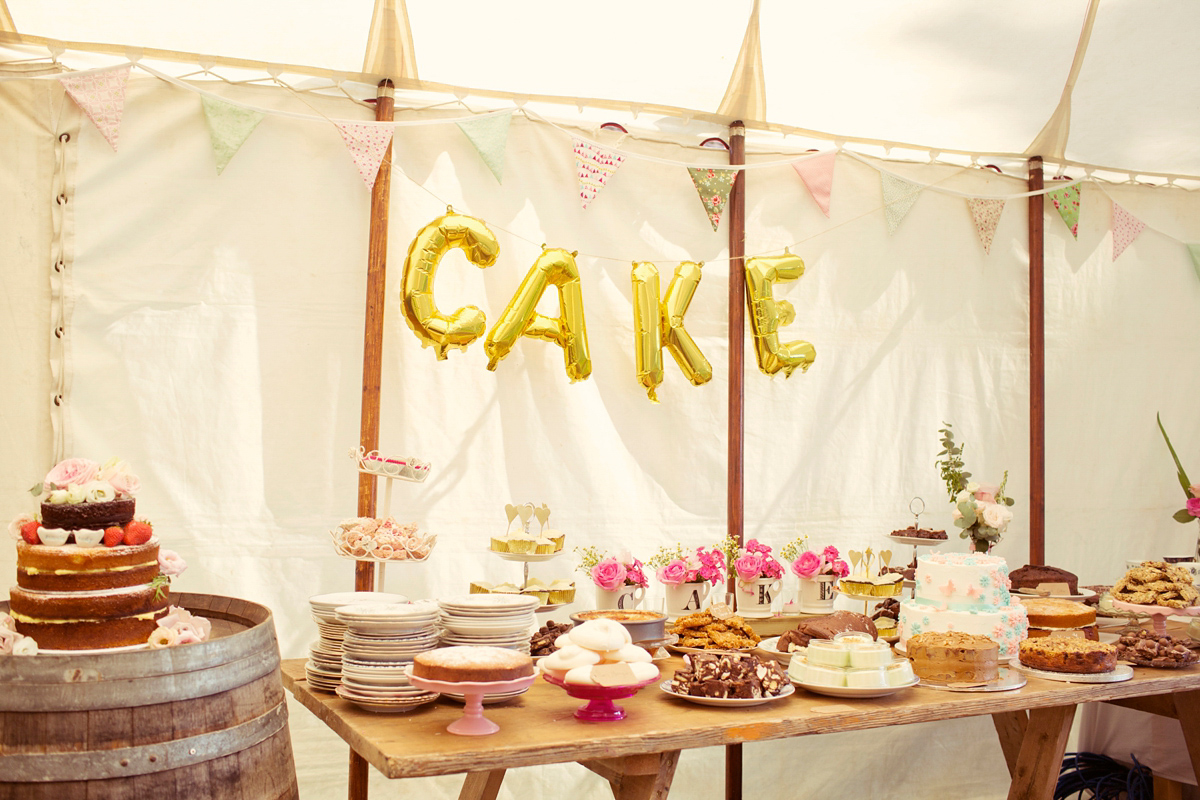 The clever bride baked the three-tiered cake herself (in the middle of rushing around trying to set up the marquee!) in mouth-watering flavours of chocolate fudge, lemon madeira, and Victoria sponge. And if that wasn't tempting enough, there was a bake-off competition with cakes made by the guests.
"We had a 'Great Wedding Bake Off' for dessert, which worked so well, and were blown away by the cakes that our friends provided – the table was heaving!"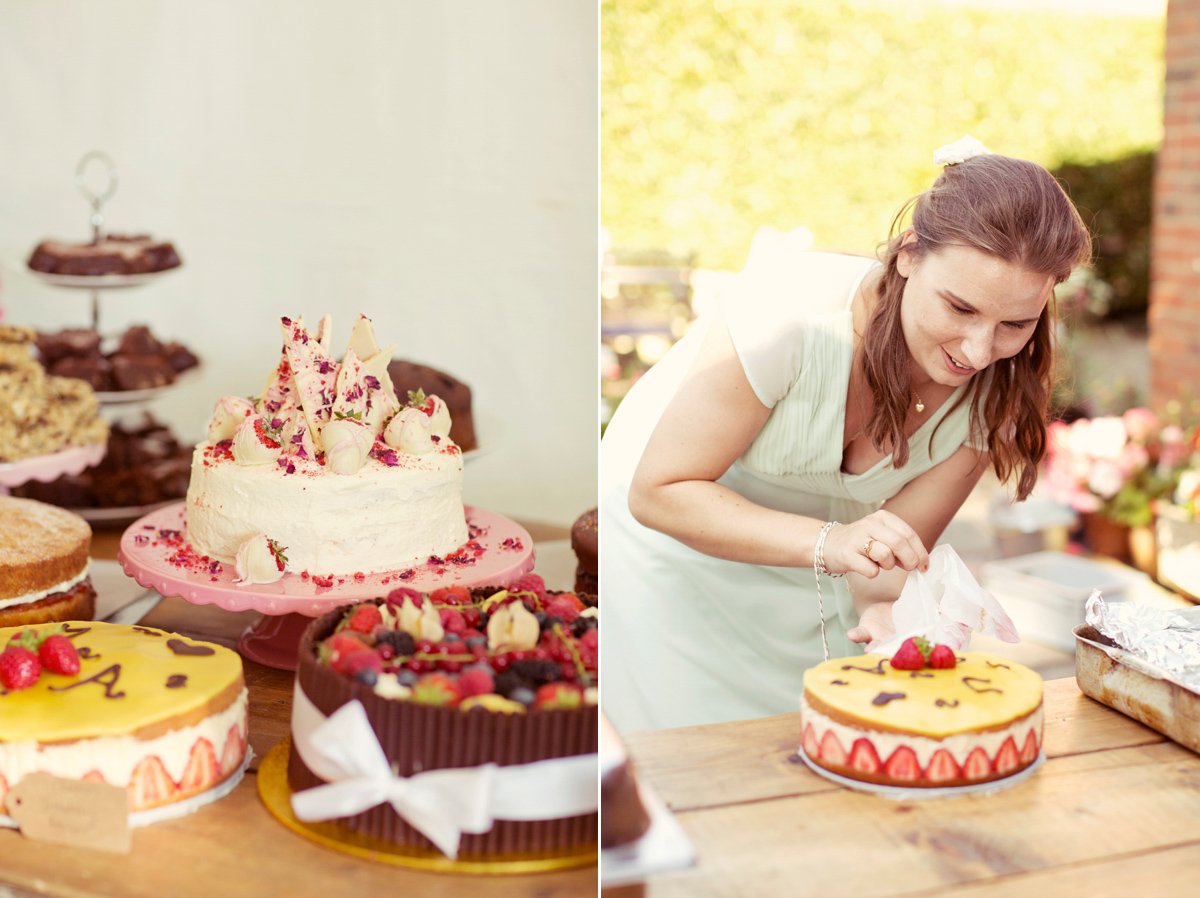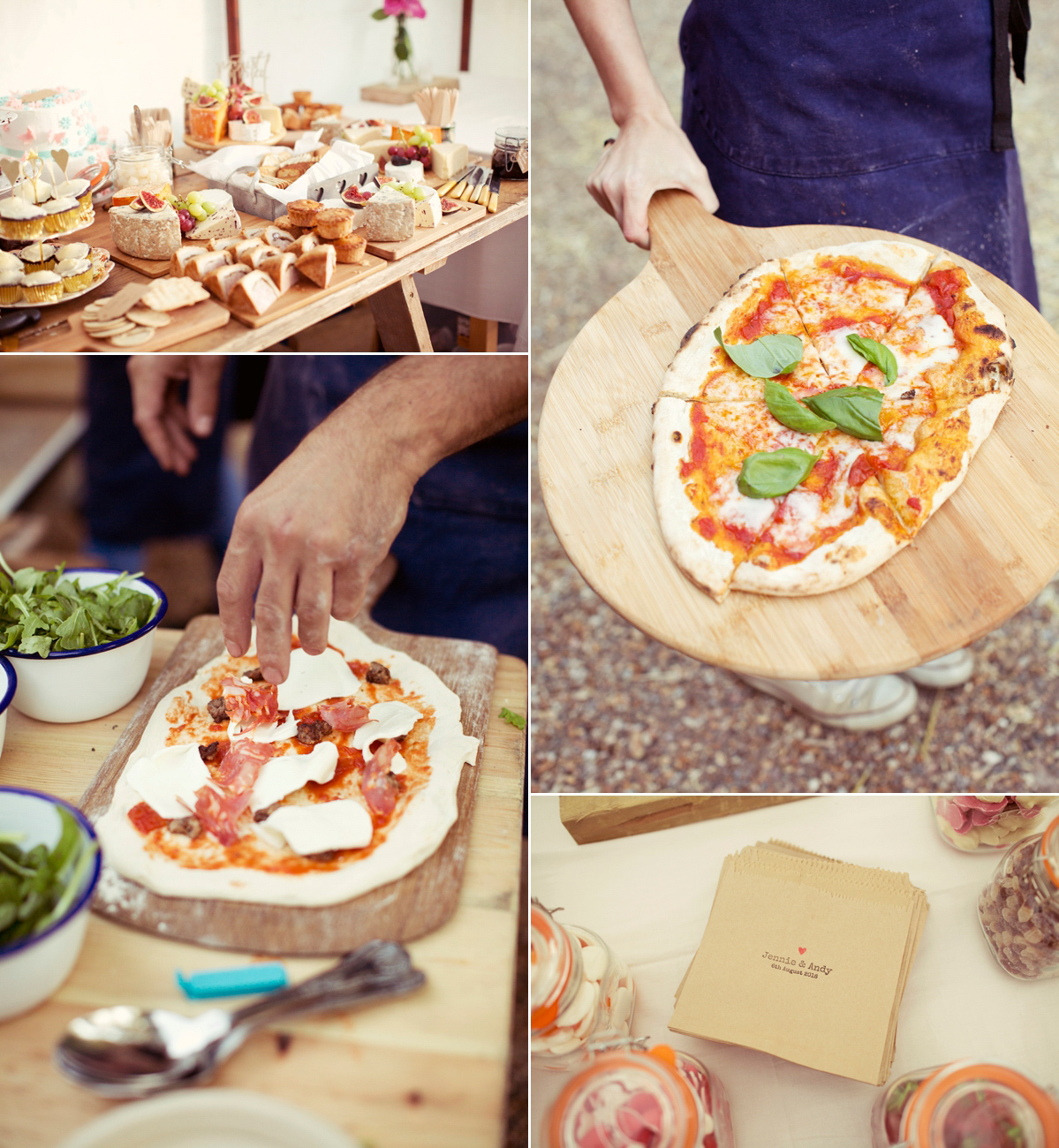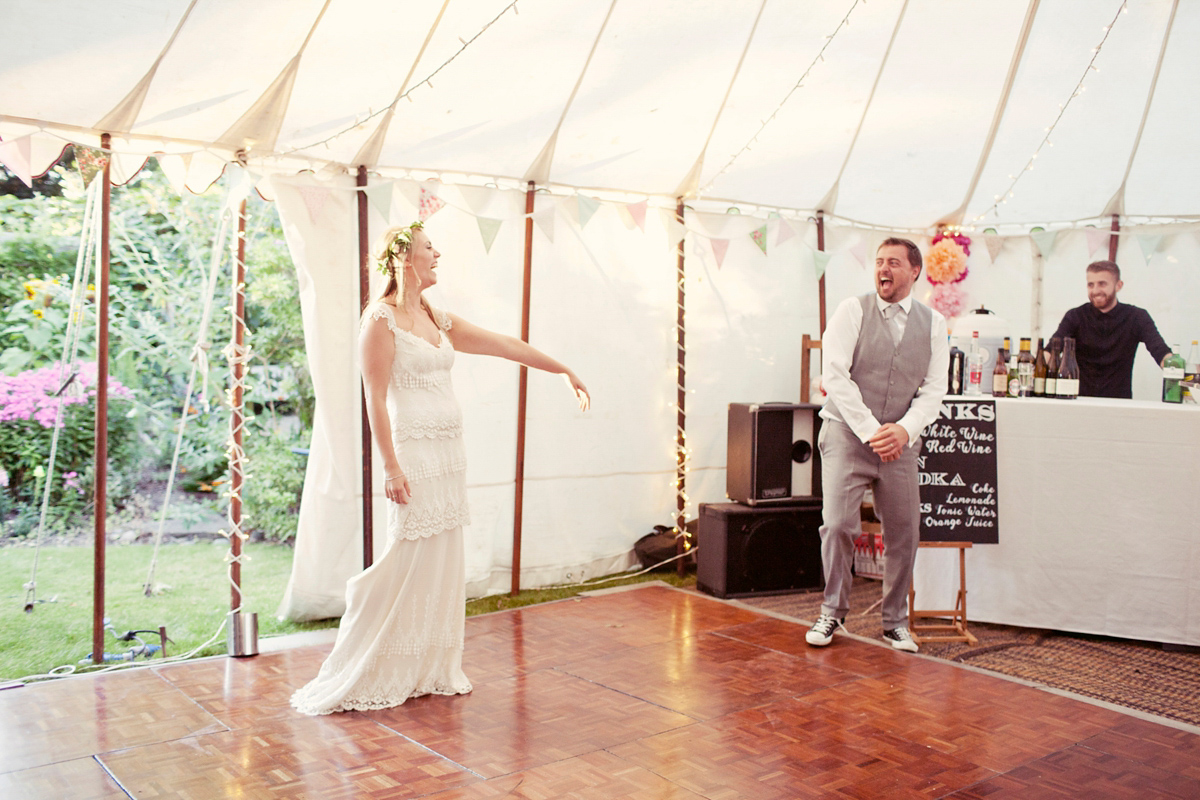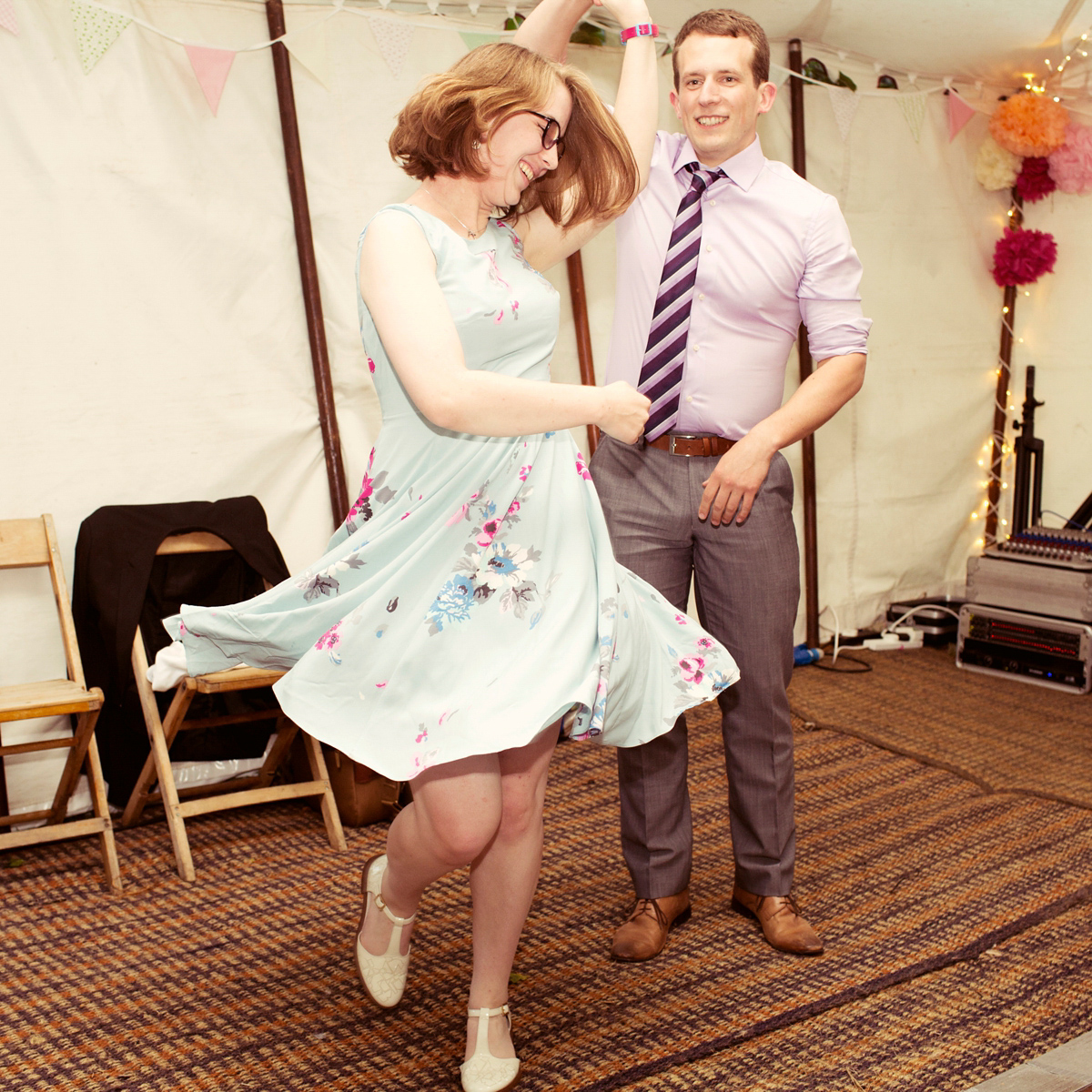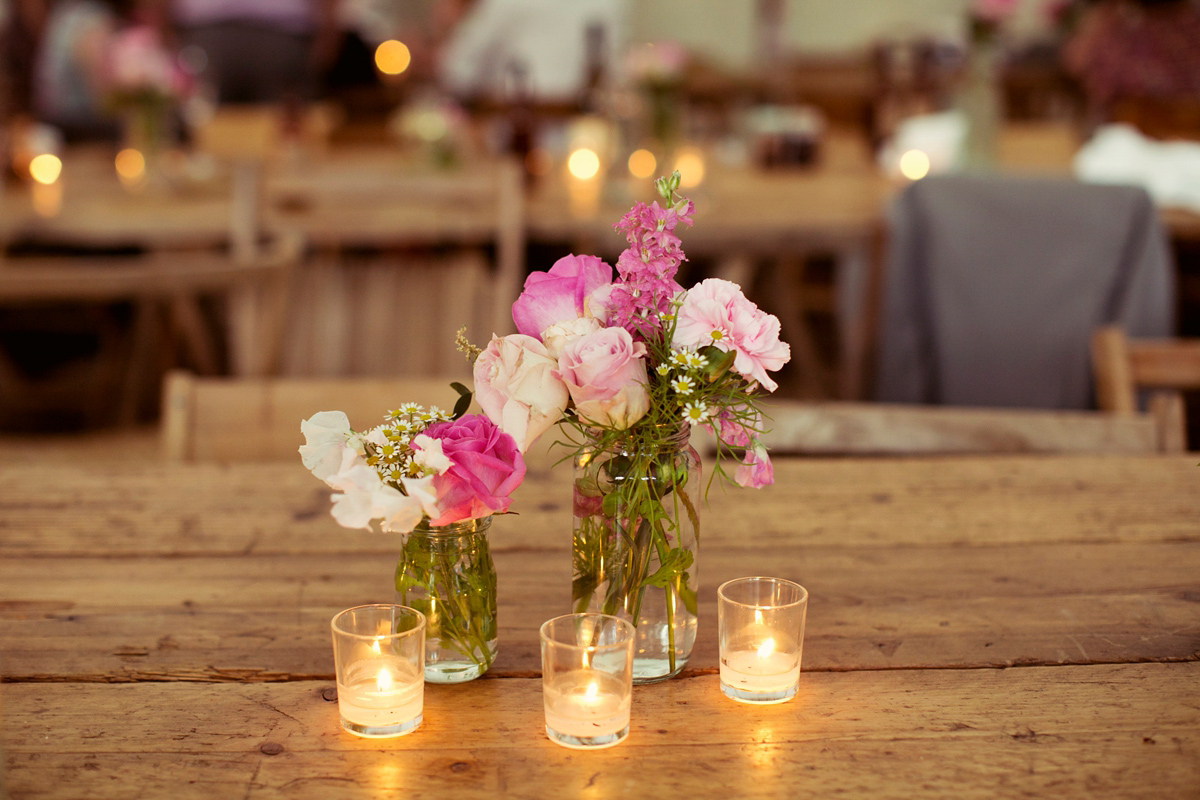 "In the evening we hired The Vintage Photobooth Company who were so much fun. They come with a full dressing up box and huge range of props, many of which found their way onto the dance floor! The day after the wedding Andy and I took ourselves away for a few hours and read through the guest book laughing at the ridiculous pictures. For music in the evening we had a spotify playlist."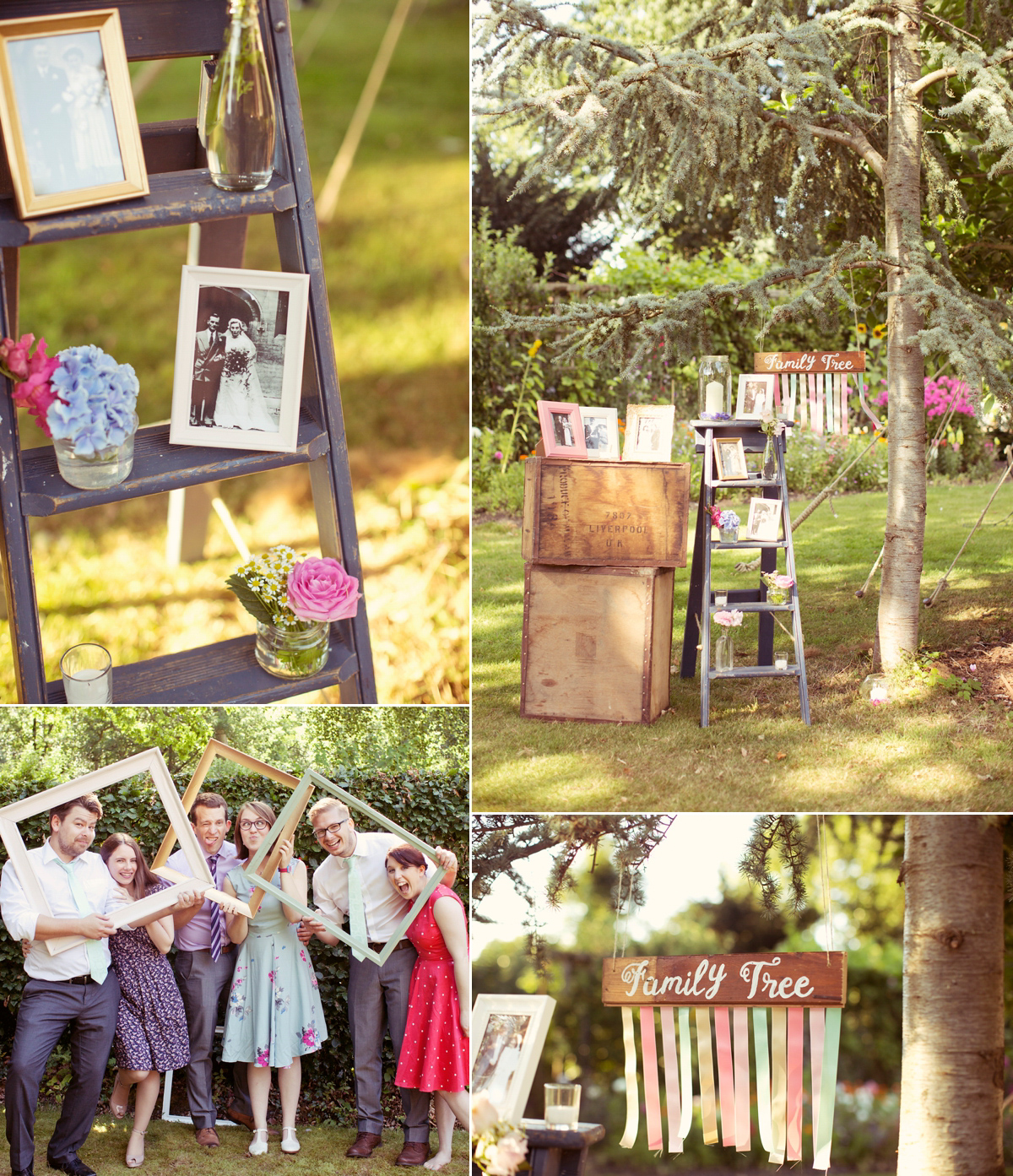 "Around the garden we set up garden games, and had a fire pit surrounded by hay bales hired from Party Bales. I hand-painted signs on old bits of wood. We set up a ladder with photographs of our parents and grandparents on their wedding days; especially important as my dad, and none of our granddads are with us anymore.
And Andy made our seating plan from a pallet and painted photo frames, with the tables named after the stops on the trans-Siberian express."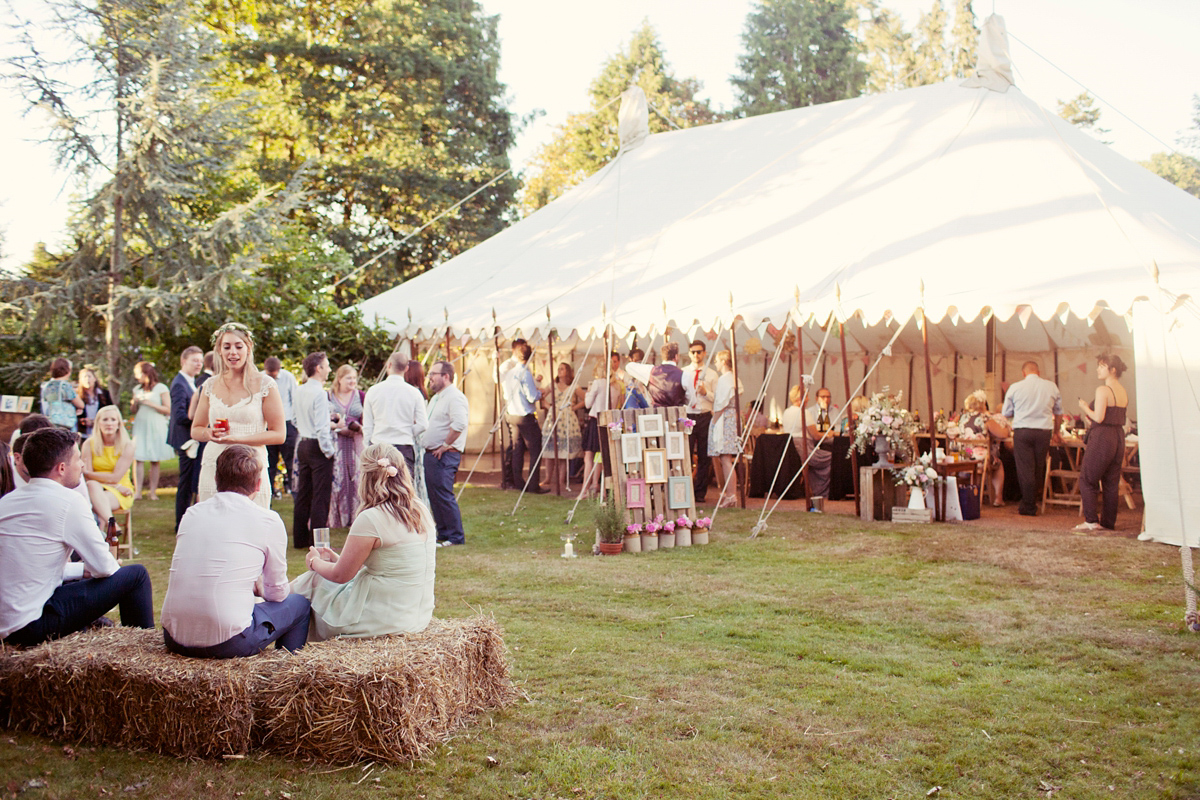 Words of Wedded Wisdom
"Let people help. They really want to, and it makes the day even more special to look around and see all the incredible efforts family and friends have gone to. Everything you are doing is worth it. People will notice the little touches and details, and they won't care that they don't look quite like the Pinterest dream in your head.
DIY brides with a perfectionist tendency – prepare yourself that you won't get everything done. You will always add to your list and inevitably, and there will always be details you will look back on and wish you could change. Prepare yourself for this. But, at the same time, remember on the day not a single bit of it matters. You won't care about the crafts you never managed to complete, or the fact a detail you'd thought about so carefully for months never got put out on the day. All that will matter are the people there with you, and the fact you've just married the person you love most in the world. Take in every moment, every laugh, every smile, and every just married kiss."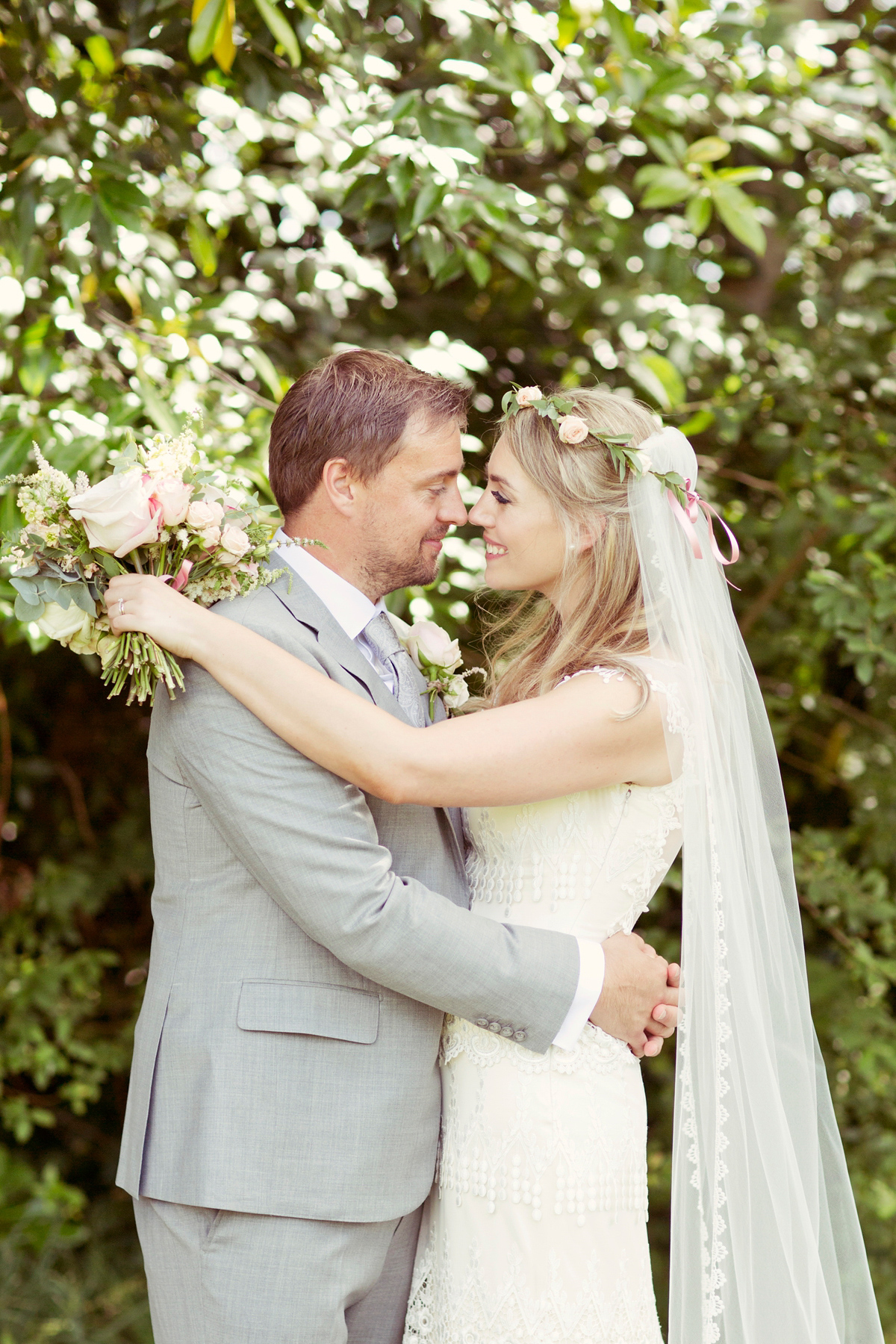 I just heard a collective sigh from all of you lovelies after hearing about Jennie and Andy's gorgeous day. It did the trick to relax you, didn't it? I'll leave you with the incredibly heartfelt words from Jennie about this beautiful blog and what is means to her (and I'm certain to everyone reading too).
"I read Love My Dress religiously throughout our wedding planning, and I still come back for the beautiful weddings today. It was a massive source of inspiration for me for the feel of our day, and the details. Now I read because it always lifts my mood. Every wedding featured is so individual and full of character. Love My Dress is unique because, despite all the beautiful gowns and stunning styling, its focus always remains on the love and relationships at the heart of every wedding, and that is what makes it so special."
Love Jo -xo-