It's been a little while since we shared an inspiring proposal story here on Love My Dress, but to celebrate our beautiful new site design, I was keen to inject a little proposal love into your Friday morning by sharing this most beautiful of love stories and moments captured with you today.
The couple in these images and this video are Grace and Mitch, two wedding professionals (a photographer and videographer), who together make up Grace Elizabeth Photo and Film…
"The proposal was perfect, Mitch was so thoughtful and personal in how he asked me to marry him. It was the 10th July 2016 and in fact moving day for me – after living in Devon for two years, I had packed my life in Devon up in the car and I was driving with my parents back up to Nottingham (mine and Mitch's hometown). This was a really significant day as it marked the end of two and a half years doing long distance for Mitch and I."
Photography + Film by Grace Elizabeth Photo
"As we were driving back up the country my parents (who were in on the plan) took a detour although quite honestly I was blissfully unaware in the back of the car, until we started driving up a beautiful long drive up to this incredible stately home. We then stopped at the front of this beautiful house and I was very confused at this point – then, the first surprise. Mitch walks around the corner with a bunch of roses in hand. I was so shocked as I definitely was not expecting to see him in the middle of Herefordshire!"
"Unbeknown to me, he had secretly been planning (for four months!), a romantic 3-day visit to Homme House, located in the countryside in Herefordshire.  After spending hours trawling AIRBnB, emailing lots of properties and checking in many times for advice with my now bridesmaids, he booked us a two night stay away in the incredible 17th Century Grade 1 listed Summerhouse at Homme House, with it's own two acre walled garden all to ourselves! It was breathtakingly beautiful, like a mini fairytale castle!"
"After I was slightly over the initial shock, Mitch took me around the back of the house to the walled garden. We stood at the gate and he pointed at their amazing 17th Century Summer House and said 'that's ours for the next two nights' – I was beyond excited! We went and explored and then waved off my parents and spent the afternoon wandering the grounds and chilling out."
"Later that evening, Mitch told me we were going to be having a picnic in the woods – safe to say I was a little suspicious by then. We headed into the woods and half way through our walk, Mitch covered my eyes so I couldn't see where we were going, and he lead me into a clearing."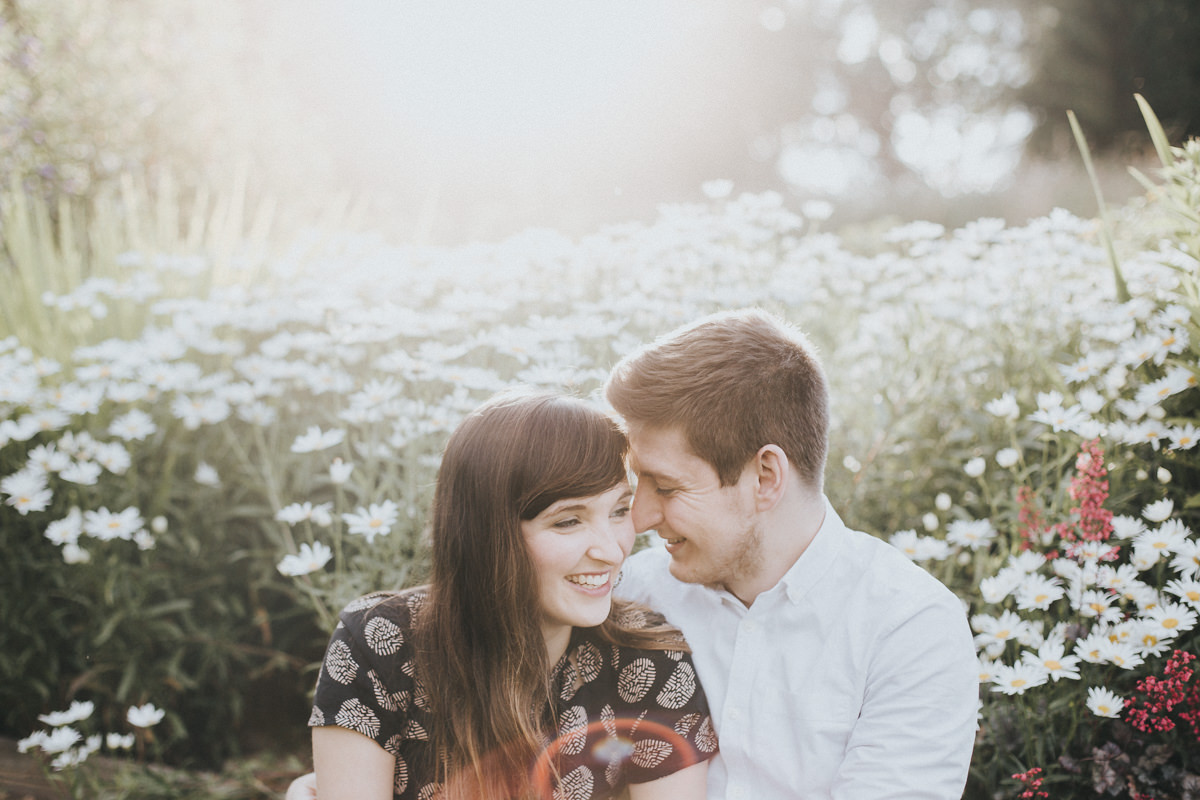 "He then uncovered my eyes to reveal a beautiful scene beneath a tree which he had decorated with fairy lights, candles and photographs earlier that day. There was a picnic full of all our favourite food and an incredible view. I was so surprised and moved by his thoughtfulness and effort. There, in that moment, Mitch said a lot of nice things and asked me to marry him. And of course, I said YES!"
"I had always said to Mitch when we had spoke of getting engaged, that I would absolutely love for it to be filmed – as I knew it would be a moment that I would love to relive again and again for the rest of my life and being a photographer, I love to document such special moments."
"As he is a videographer, this definitely wasn't too much to ask, and he beautifully filmed the engagement with cameras that he had set up earlier in the clearing."
"I couldn't resist being in such a pretty place and not having photographs of us there, so the next day we took some self portraits in the gardens to document our trip and engagement (we didn't of course take any photos in the actual proposal, the photos you do see are screenshots from the video – we were both lost in the moment at the time and enjoying the magic of it all!)
So incredibly lovely – my love and huge thanks to Grace and Mitch for asking us to share their story – which I hope has made you smile.
You can explore more proposal stories here on Love My Dress.
Annabel x