One of the best parts of my job, is that I get to be amongst the very first to see so many beautiful new bridal collections. The week before last, my husband and I were in London for bridal fashion week – an occasion where designers from all over the world flock to the city to exhibit their brand new collections either at a trade event like The White Gallery, within a pop-up space perhaps located in a hotel room, or, if they are extra lucky, within their own beautiful boutiques.
Number one on our 'must visit' list was Halfpenny London – I couldn't wait to visit designer Kate and her team in their new, extended Bloomsbury premises.
The Halfpenny London boutique has been established at 10 Woburn Walk for several years now and earlier this year, the store expanded by taking on the identical space opposite – leaving no. 10 as the main production area for Kate's divine dresses. Halpenny London is very much a Made in Britain brand, with as much as possible being crafted in-house, on the premises, by Kate's amazingly talented team of seamstresses and pattern cutters. Kate also employs some of the UK's most talented artisan beaders and crafters to add the delicate finishing touches to her gowns.
Photography by Annabel Beeforth
Kate's new collection, The Garden After The Rain, was inspired by Kate's constant delight of nature – it's constructal law, incredible shapes and patterns. The whole collection is an unbelievably refreshing offering of feminine, flattering gowns for the modern bride, that in Kate's own words, evoke memories of her childhood days spent in the garden; fresh, crisp scented air, lush greenery and delicate dewey blossoms.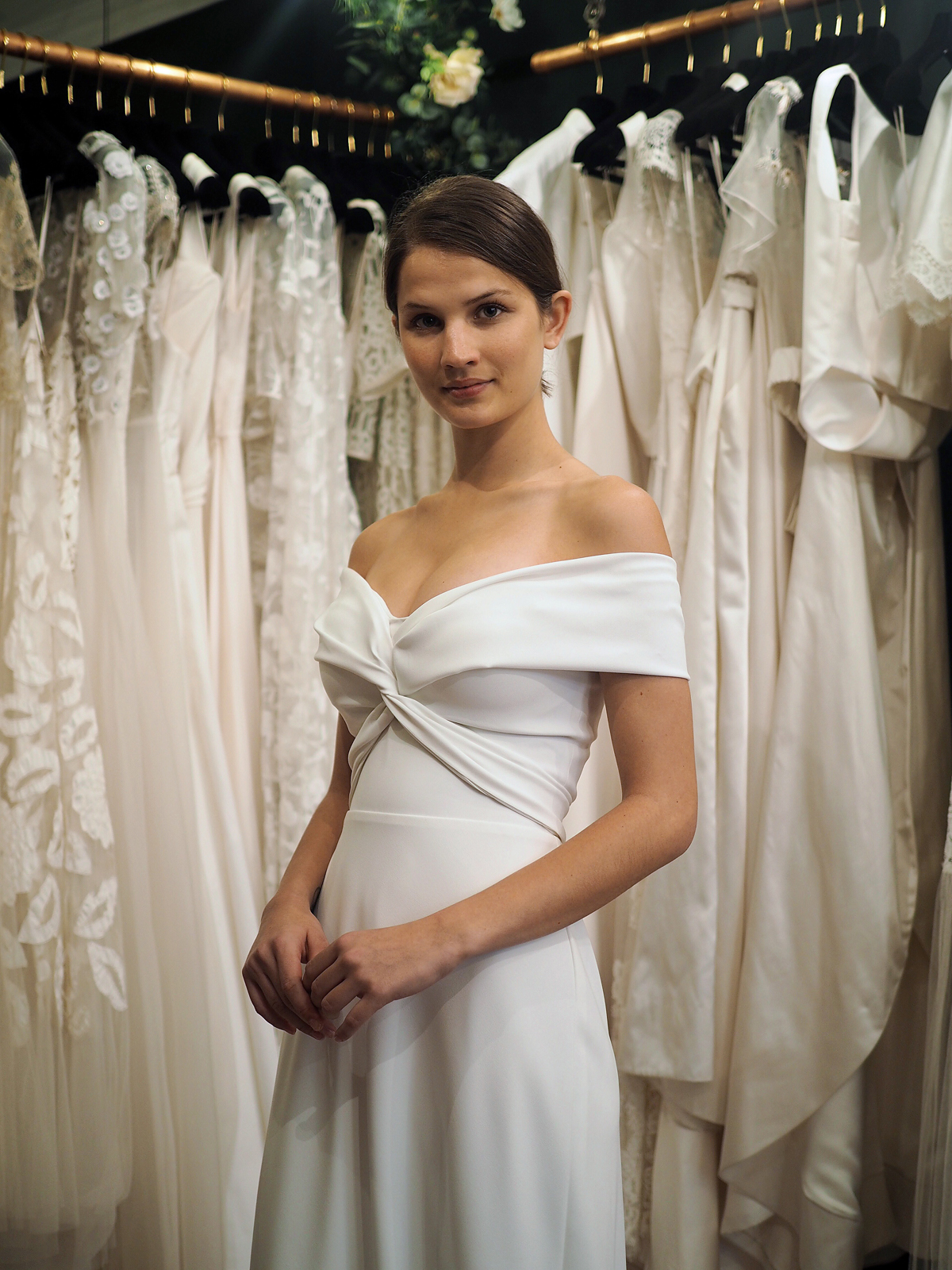 I make it no secret that I'm a huge fan of the Halfpenny London brand and designer Kate herself. I utterly adore everything Kate puts her magical mind and talented hands to – everything,  and I love how honest and down to earth she is. As well as being a bridal fashion designer, Kate is also a stylist and has worked with many A-list clients over the past 10 years. Her experience hasn't altered her lovely, approachable personality at all – I simply love spending time with Kate, she exudes energy and kindness and she completely and utterly understands how to flatter women of all body shapes. By the way, did you know we featured Kate's own wedding on Love My Dress back in 2014? It's as classy now as it was then.
I can tell you most sincerely, that this new collection was a true stand-out for me whilst in London. Kate has created something really special and completely refreshing. Her gowns are highly wearable because she understands how to blur the lines between fashion and bridal in the most elegant of ways and she isn't afraid to employ daring and strikingly new design elements that just work beautifully.
Glamorous plunging backs, elegant lace 3/4 and full length sleeves, extravagant appliqués, modern graphic honeycomb shapes and botanical references blend to absolute perfection. Cute little capes, maribou feathers, 1920's inspired fringes and removable sleeve accessories – cute, quirky, adorable details to fall in love with.
I was quite taken by The Garden After The Rain – to me this is Kate's most defining and covetable collection yet. It is a beautiful celebration of Kate's unmistakably cool, modern, bridal fashion style.
Kate is obsessed with fabric and the design concepts for every one of her collections begins with her choice of fabric. This collection demonstrates this most splendidly. And these fabrics pay a beautiful homage to Kate's botanical love affair too.
Brides – putting it simply, you need to try on some of these gowns if you're looking for your wedding dress.
Kate and her team would absolutely love to hear from you  – to enquire about a by-appointment only visit to Kate's own boutique at 10 Woburn Walk, Bloomsbury, London, WC10 0JL (see map below), please telephone +44 (0)20-3441-8894, or email [email protected].
Alternatively, you may wish to speak with your nearest Halfpenny London stockist or even order one of Kate's gowns to try on in the comfort of your own home, thanks to Kate's exciting new collaboration with Net a Porter.
I hope you've fallen in love with something – because I can't wait to share an actual bride wearing one of these most beautiful gowns on Love My Dress!
Annabel x