Hello, I do hope that the sun has been shining where you are this week. It has been unusually sunny here in Ireland for about a week. The wedding I have for you today, despite being held on the 3rd of October, looks like a high summer's day, it's so beautiful. The bride Jennifer is an air hostess and bridal occasion hair specialist and her groom Marc is an airline pilot. The couple were married at St. John the Baptist Church in Windsor with a reception at the magnificent Hedsor House in Taplow.
"Interestingly, I imagined a very casual affair in a Barn or a Garden, but Marc is a lot more traditional, so once we talked about it, it became apparent we'd go down a more formal path. I was however adamant that I didn't want it to be stuffy or have any kind of strict theme. I didn't want to be predictable. I love vintage things but didn't want to be too strict on any era, so I decided to just choose things that I loved. Hedsor oozes glamour, so I wanted to do the venue justice. Working in the Wedding industry myself, I have been dreaming of my own wedding for years, so I had a pretty good idea of what I liked and didn't like."
Photography by Claire Macintyre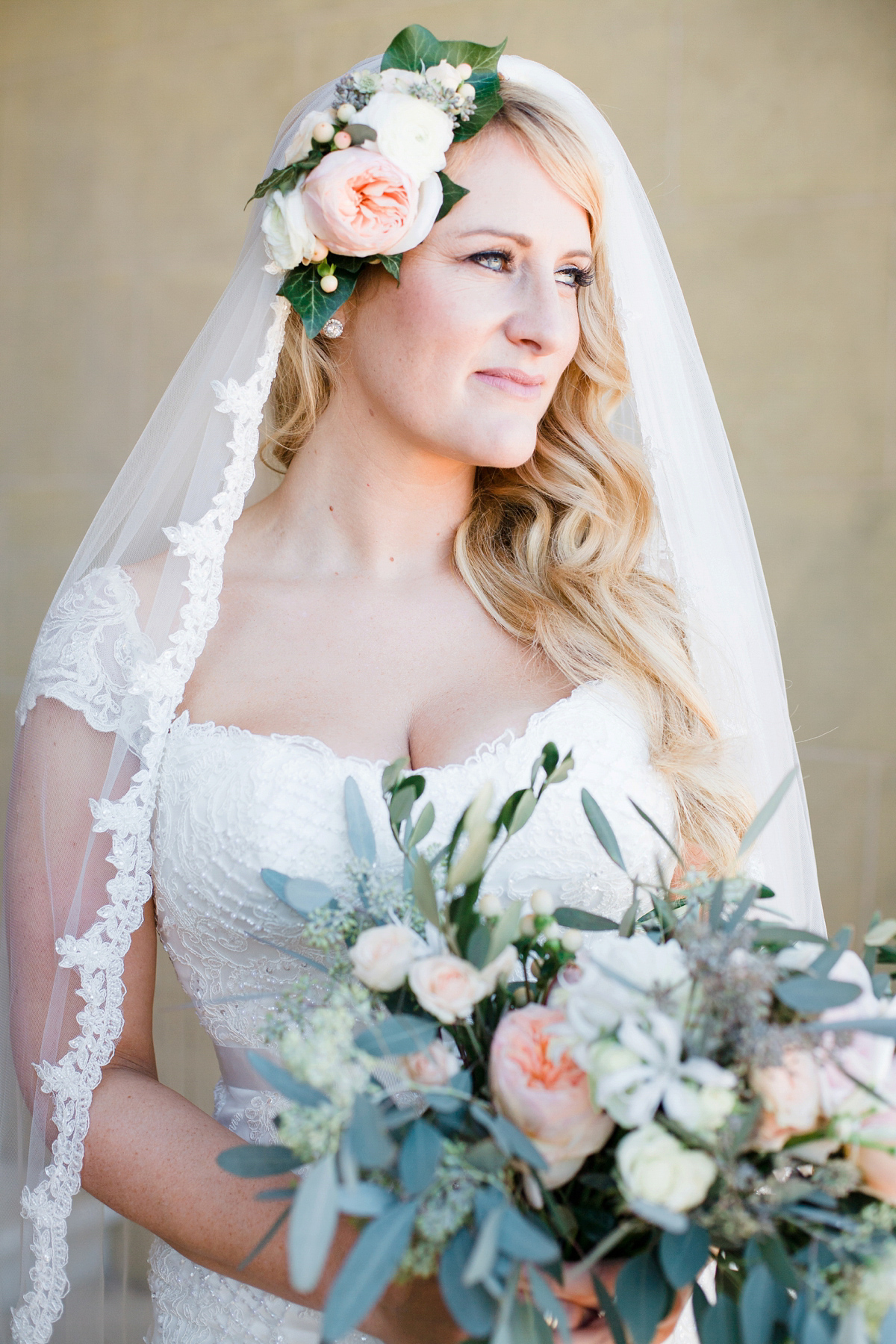 Jennifer looks sensational in her Maggie Sottero dress from Windsor and Eton Brides. She added a gorgeous half flower crown from Ruby and Grace and wore Scent of a Dream by Charlotte Tilbury, a wedding gift from Marc.
"I saw myself in a flowing vintage style dress so when I tried them on, I was hugely disappointed to see that it just didn't work. I have quite a curvy figure and my large chest really needed a more structured shape. As soon as I put the Maggie Sottero dress on, I knew it was a front runner. It had a low back, but enough structure to support me where I needed it and pulled me in at the waist. It also had the vintage style beading on the lace that I love and it came with optional lace cap sleeves, which were a must for me. I felt wonderful in it and after a few alterations I was over the moon."
"When I saw my Kurt Geiger shoes my heart jumped, it was love at first sight. I was so excited by them."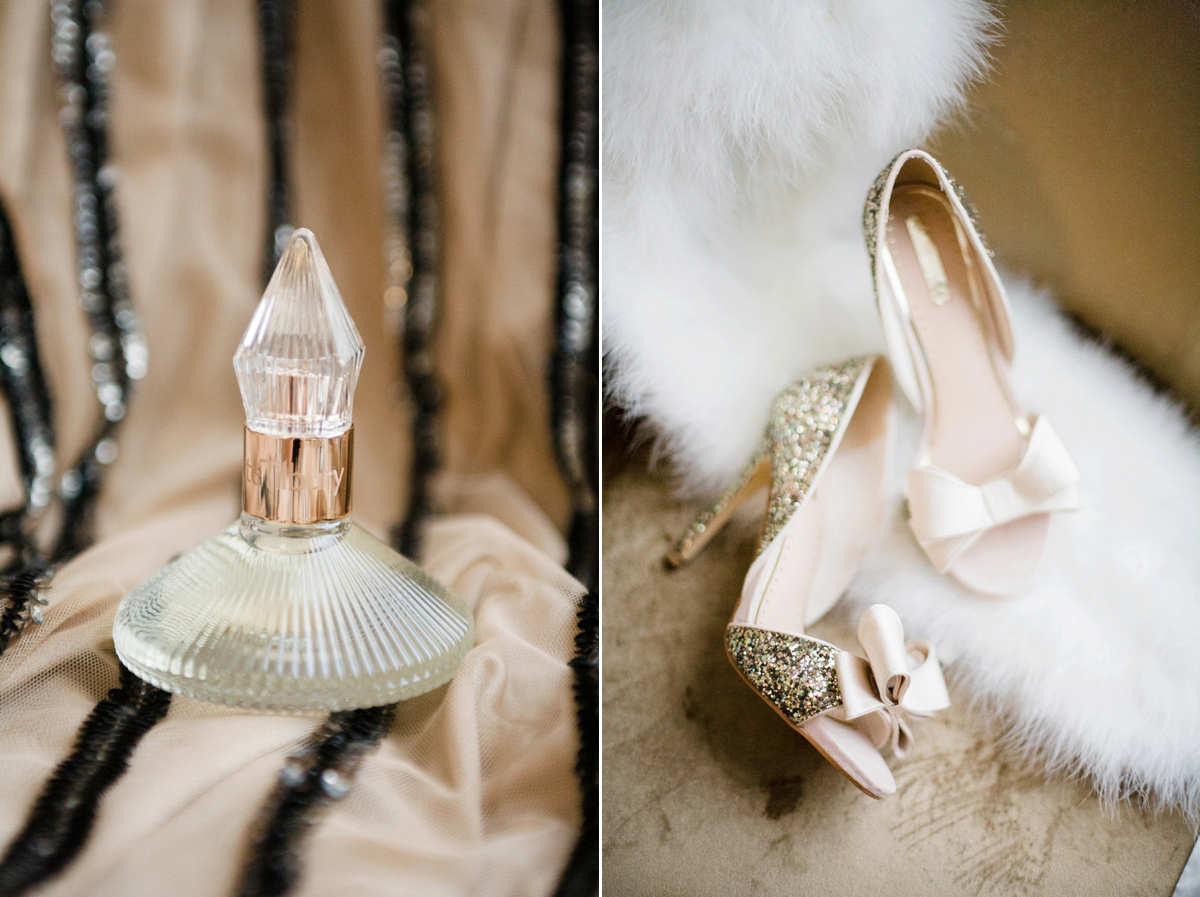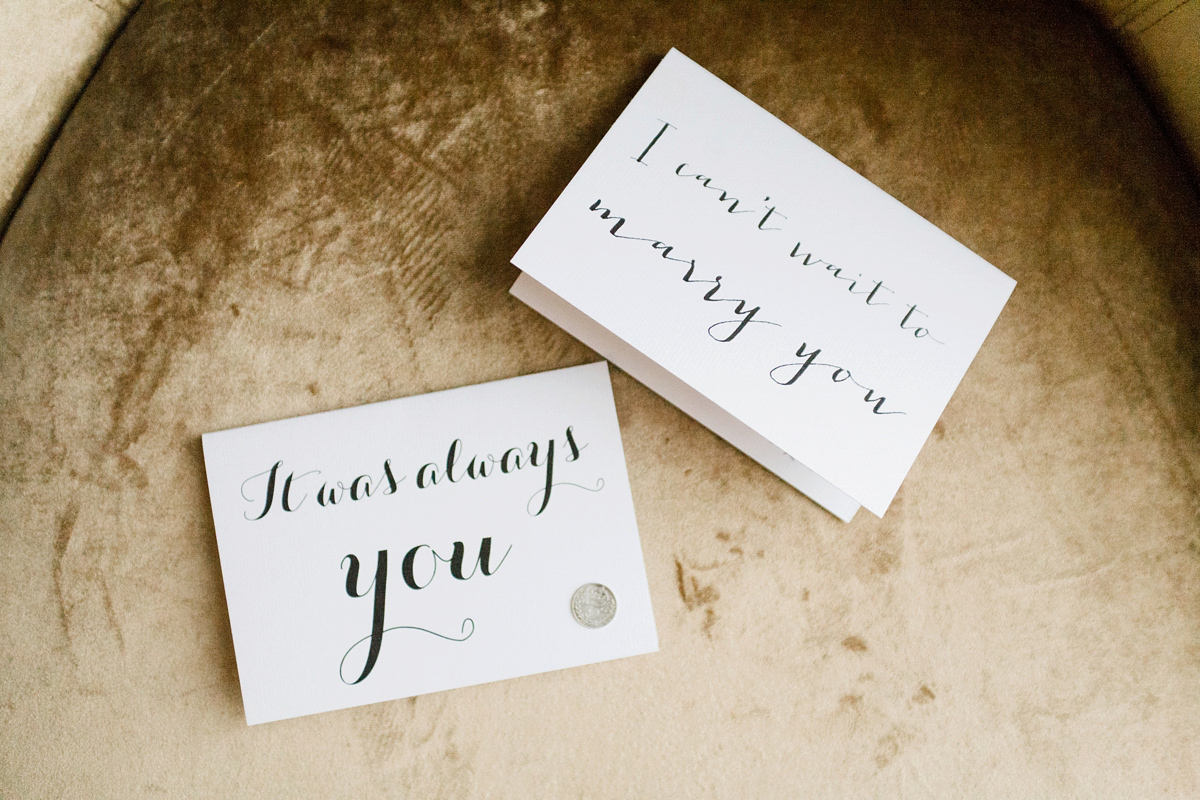 "We got married in Windsor and as luck would have it, the Changing of the Guard happened outside the Church just as the guests were arriving. From my hotel window, we watched the Soldiers and the band march past and I could see our guests (who were mainly out of towners) reactions. It really was quite emotional."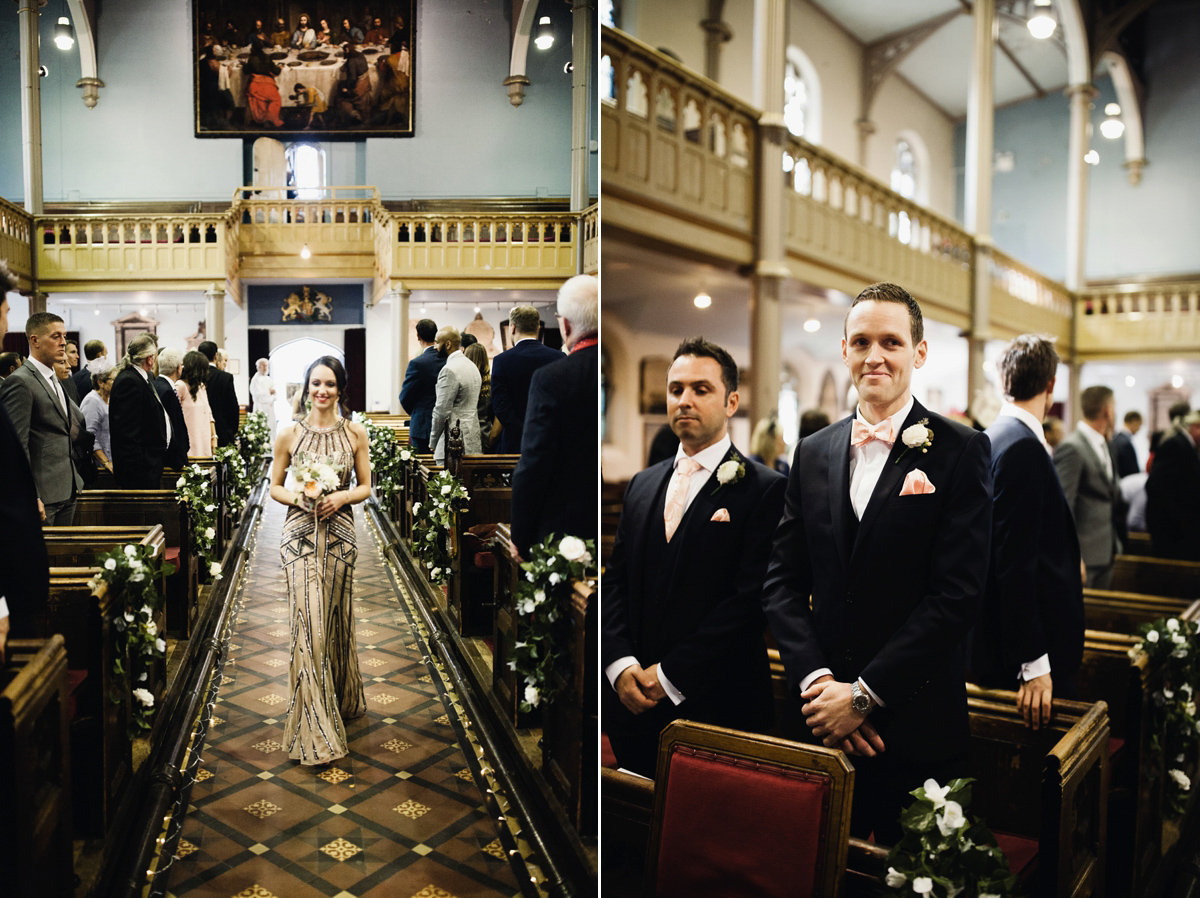 "We met through work, on an aircraft heading somewhere in 2006. It turned out that we mixed in similar circles and knew a lot of the same people but didn't get together until 2010. We shared our first kiss on St Patrick's day that year."
"It was a big surprise to everyone as we were a bit of an unlikely couple. Our third date was a game changer. The volcanic ash cloud happened and both of our flights got cancelled, so we spent that whole week together and that was that."
"We got in engaged on Christmas day 2015. My parents and brother were staying with us and after all the presents had been opened, Marc told me that he must have forgotten to place another present under the tree. He came back with a large box. Once I started to unwrap it, I realised that there was another box inside that one and another and another."
"As I got to the last box, my mum was already in tears. There we were in our Pyjamas in front of the Christmas tree with a diamond he'd picked out and stuck in the top of a Haribo jelly ring. Obviously I said yes, then we drank Champagne all morning and I was too tipsy to make breakfast."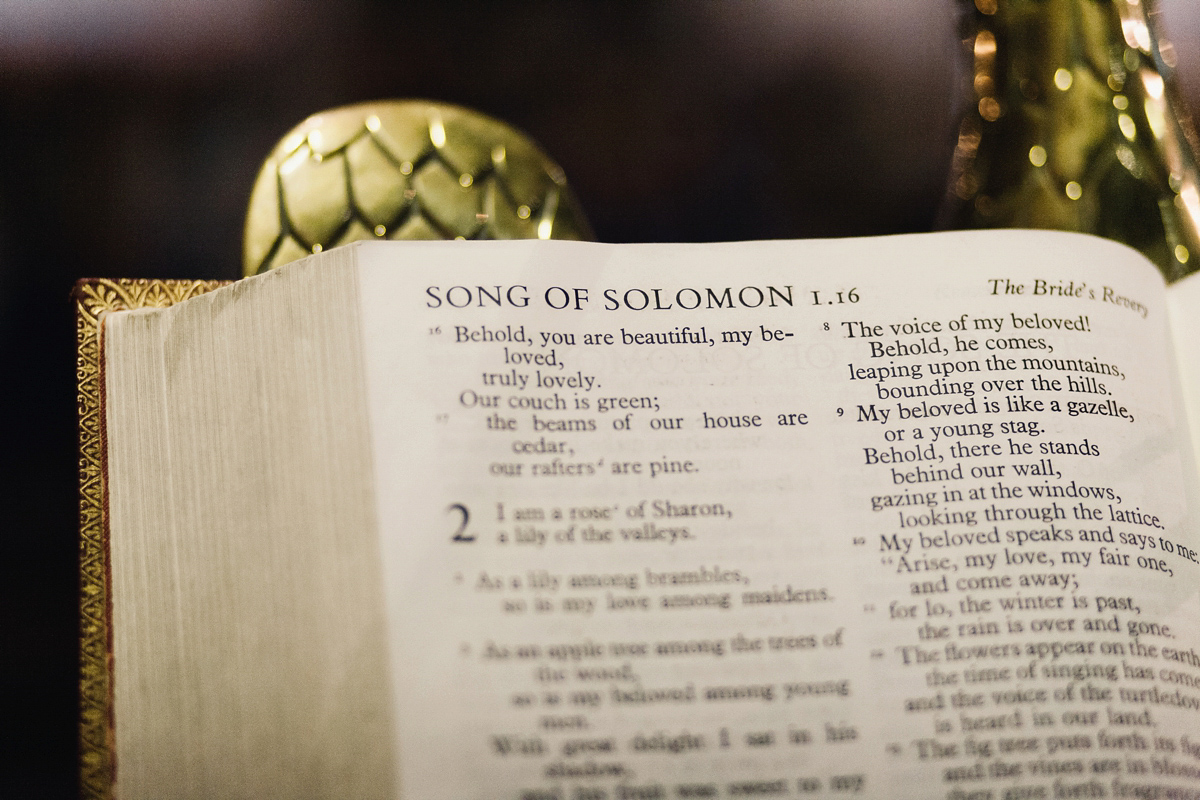 "My friend Emma read 'The Key to Love' by Anon from 1st Century BC, China (below). This was the first moment that I almost cried. We chose it because we really loved the words and the meaning behind it. Another friend read a piece from 'Song of Solomon'."
"We had both of our rings made by Lyes in Hatton Garden. Marc has a plain platinum band and I chose a thin band of diamonds that matched my engagement ring."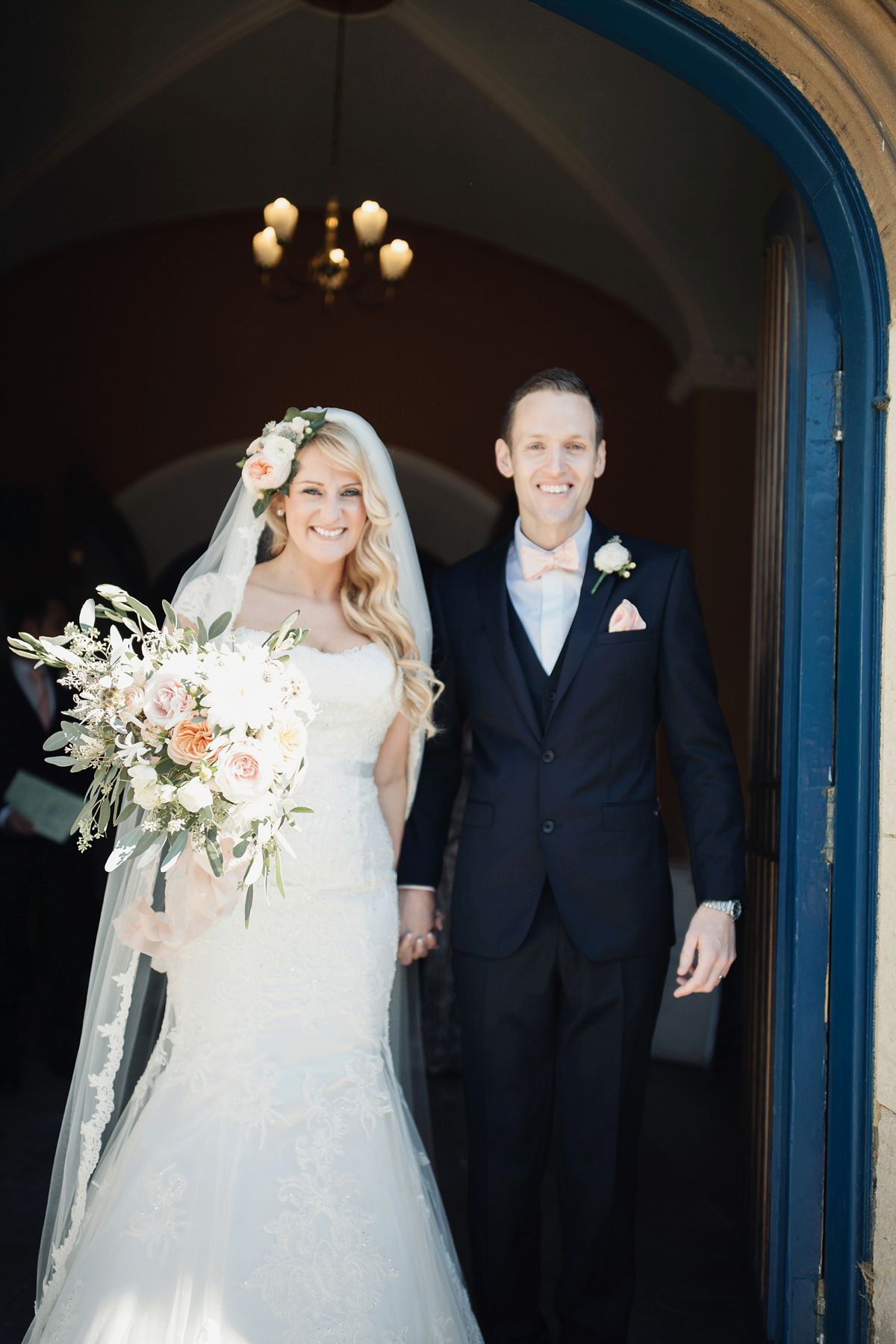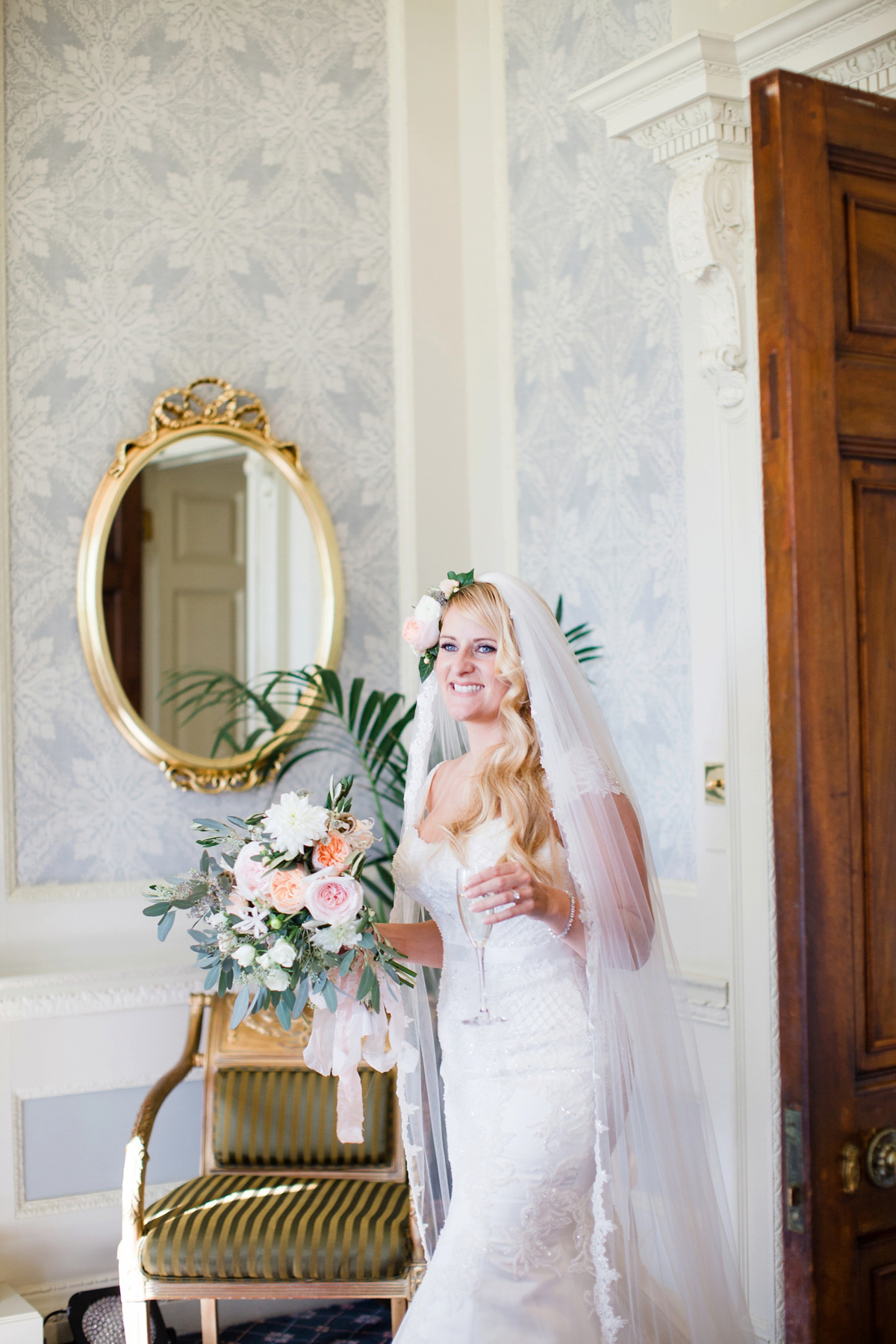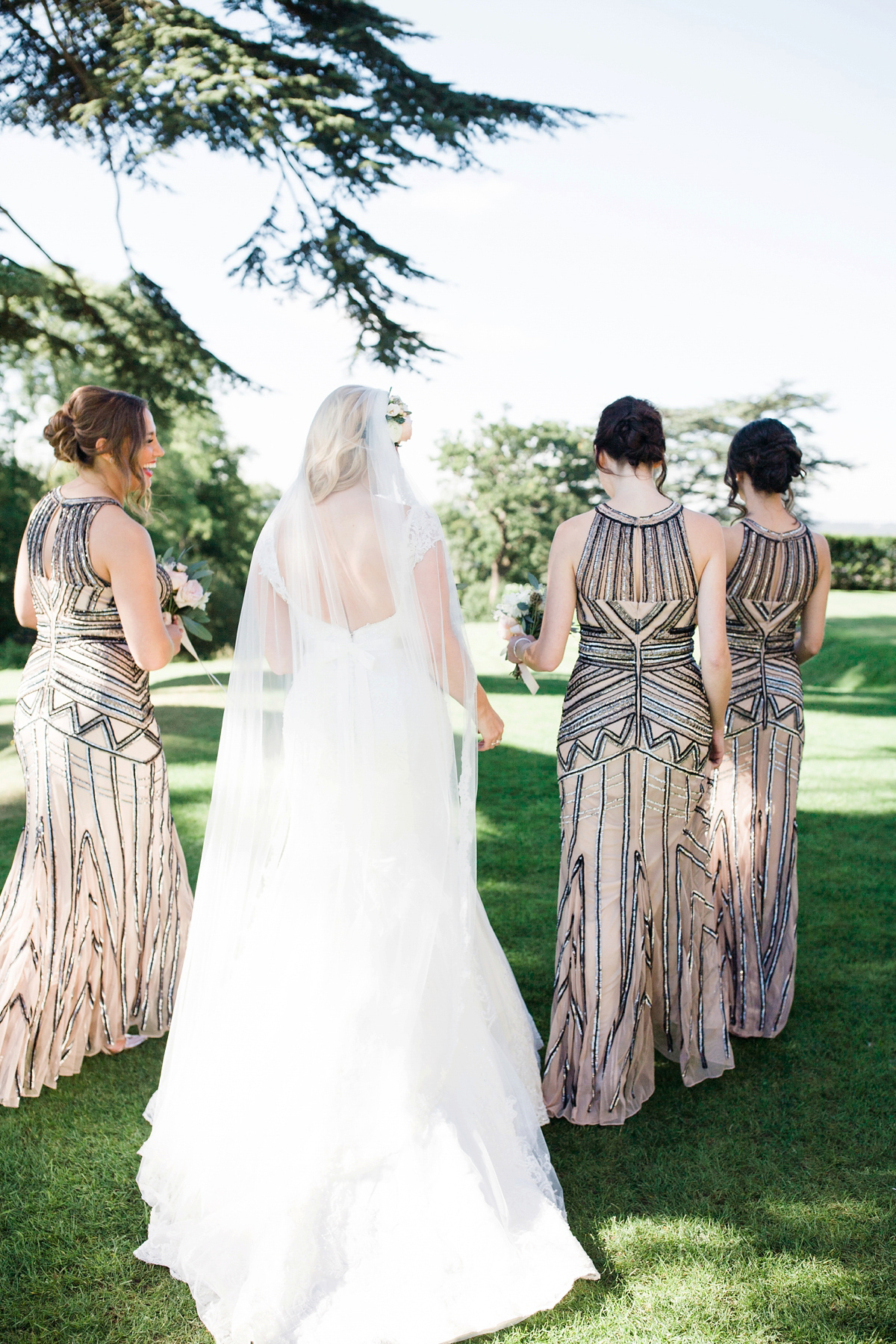 Jennifer's three bridesmaids do look stunning in their full length Phase Eight dresses.
"The dresses weren't typically 'bridesmaid', but I loved them and knew they would look beautiful together. In the sun they glistened and sparkled all day and so many people commented how stunning they looked on the day. I bought them each a bangle with a knot on it from a Market in Mexico City and we all did our own makeup."
I love the dreamy feel to the images, particularly in the church. The wonderful Claire Macintyre was behind the lens on the day, assisted by Christina Sarah (who you might recognise as a former member of the Love My Dress team).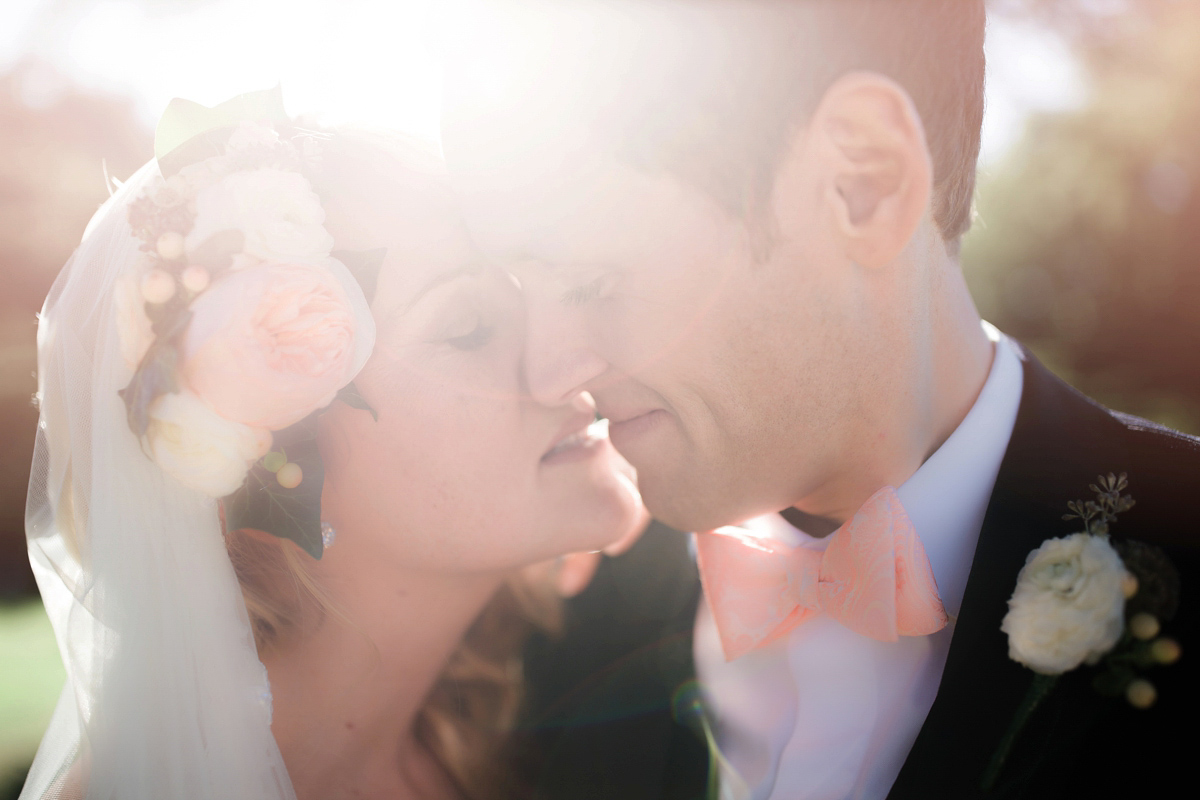 "I met Claire in a professional capacity on a styled shoot and as soon as I saw the results, I knew if I was ever to get married, I wanted her to take the pictures. She is such a talent with a really romantic and beautiful vision."
"I had also met Christina, so for me, I couldn't have been more at ease with these two gorgeous ladies. We loved every photo they took of our day and it was an absolute pleasure to have them around on our day."
"Damiana at District Events set up the décor on the morning itself, along with a few of our friends. I'm not sure what we'd have done without their help."
Fabulous seeing some giant light up letters there from our Little Book For Brides members, Vowed & Amazed…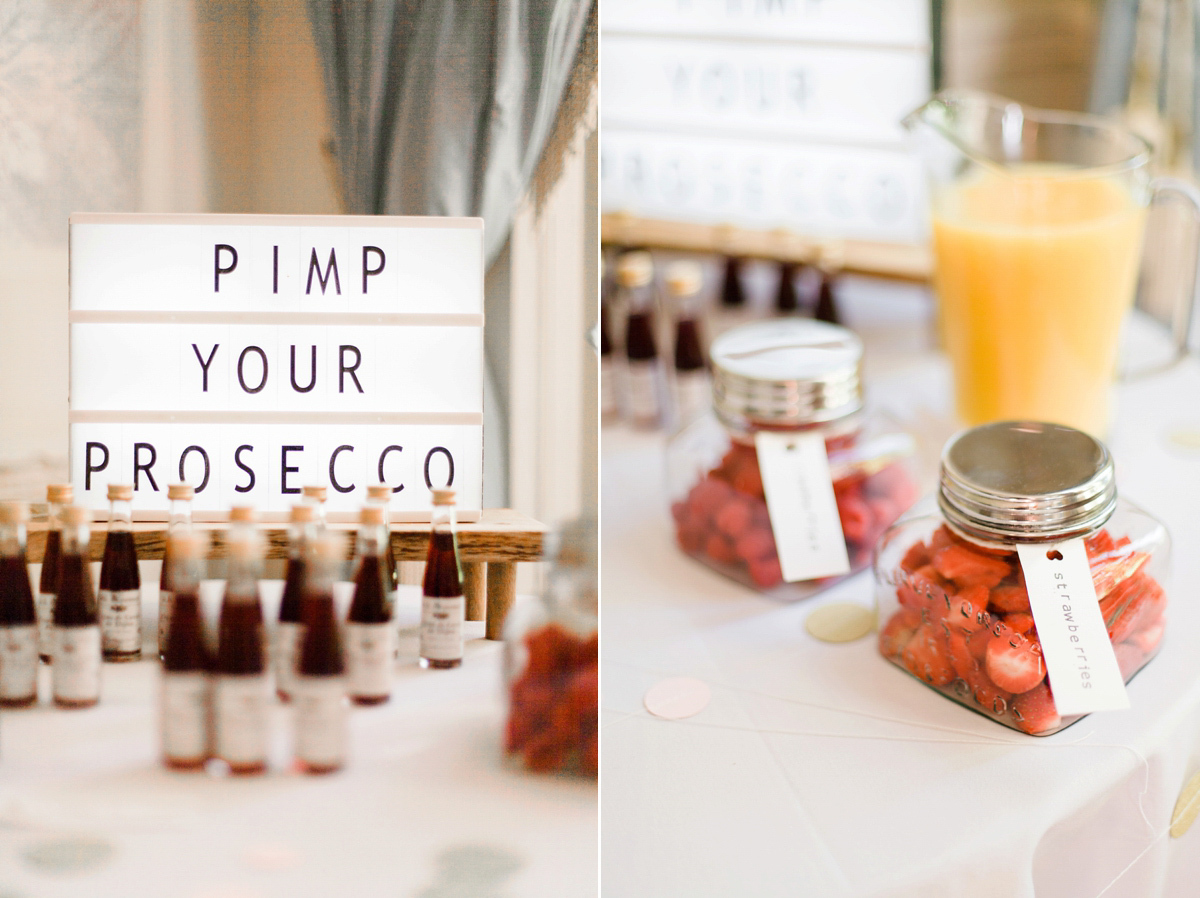 "All of the glassware, hurricane vases, candle holders, the pipe and drape system for the photo-booth, up-lighters, card box, linen, and other bits and bobs, were lent to me by my wonderful bridesmaid Carly who owns Weddings and Parties. I made the backdrop boards for the sweetie bar and guest book table and had the bespoke sequin cloths and runners made when I was in China on a work trip."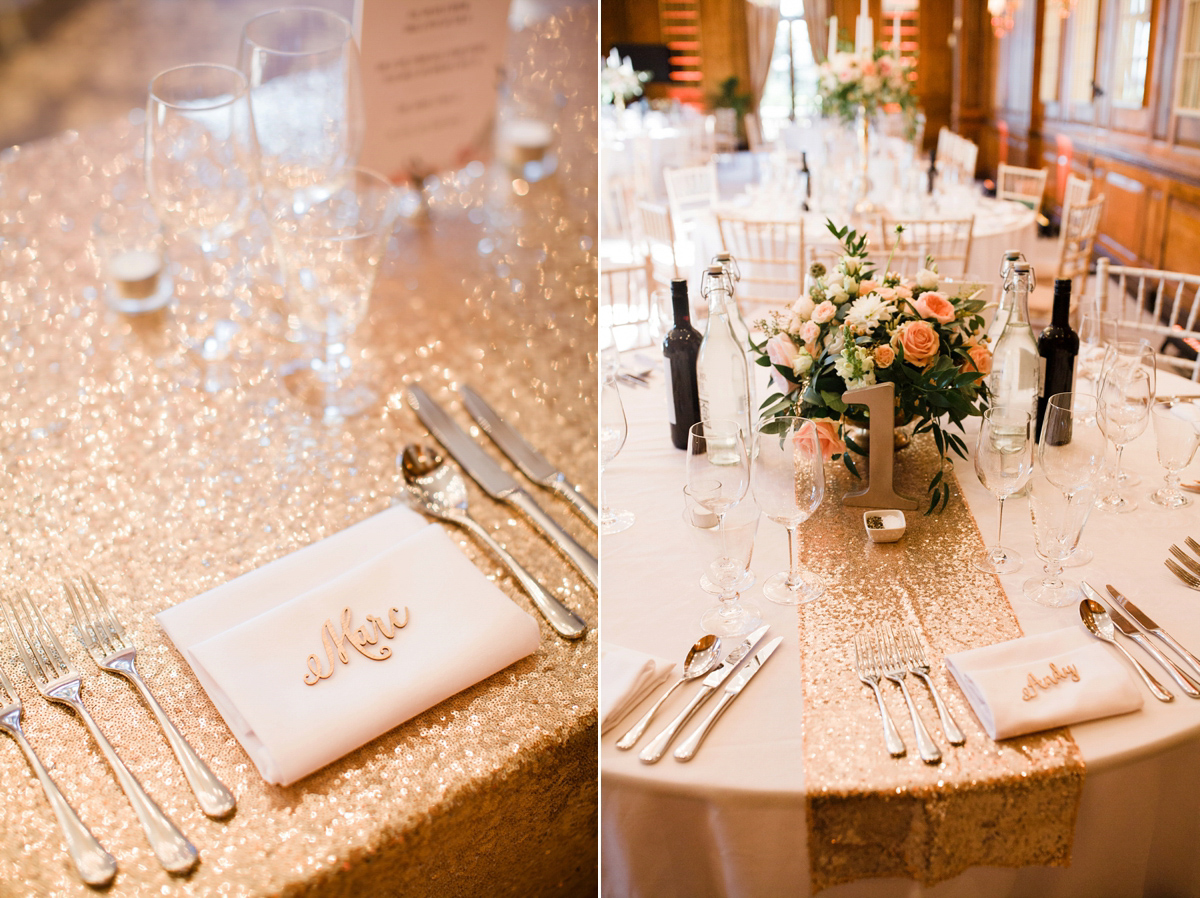 "We were so lucky to have a collaborative cake. Marc's mum made two fruit tiers, my bridesmaid Luzie made two sponge tiers and another friend Kerry from Naughty Nosh decorated it. I wanted something modern and simple, with clean lines and florals in similar colours to our theme. Kerry interpreted the brief perfectly and I adored it. It tasted delicious too."
"The food and entertainment were really important to Marc, so when we tasted Caper & Berry's canapés at an open evening, we were sold. Nearly all of our guests mentioned how good the food was. They gave us absolute peace of mind with their professionalism. We knew they had everything under control."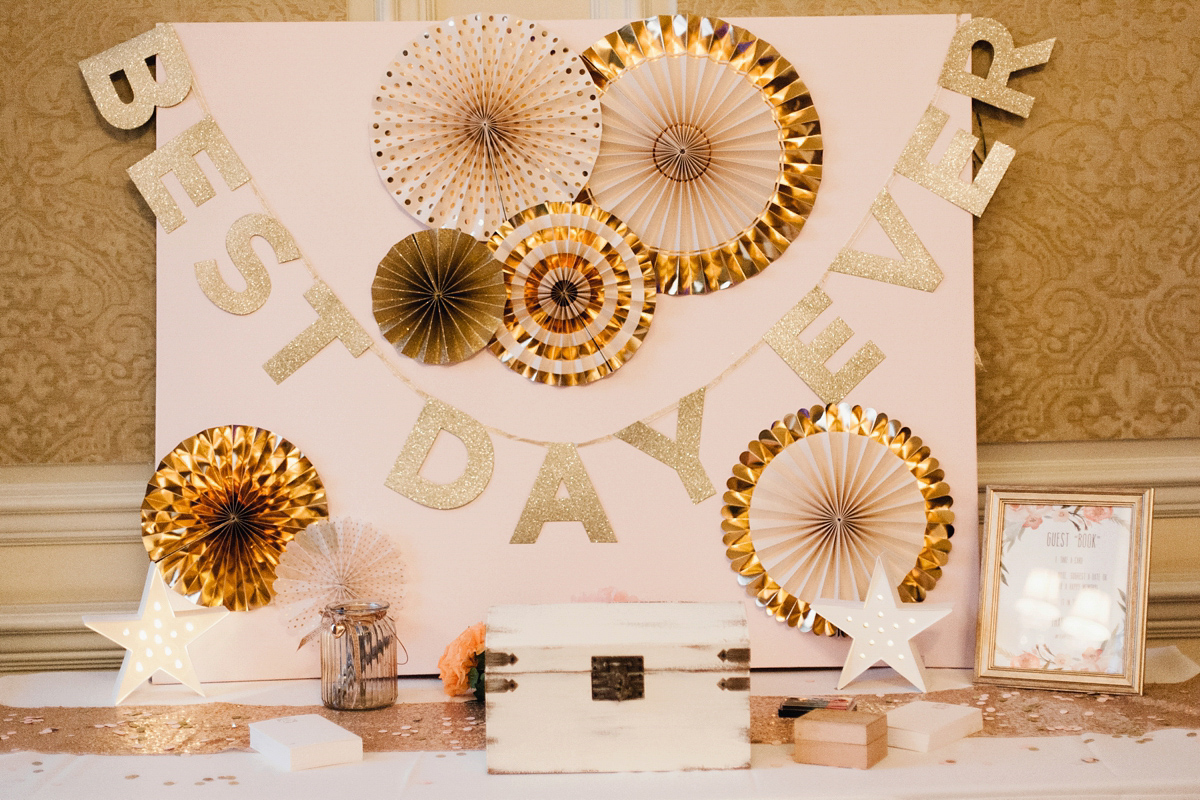 "It's difficult to pinpoint just one special moment, as there were so many but when Marc and I got back to our bridal suite, we opened a bottle of champagne and took advantage of the huge free standing bath. As we soaked in the hot bubbles, we chatted and laughed about the whole day and remembered all of the amazing moments and just relaxed, it was absolute bliss. I don't think there is anything we'd have changed. We really felt that everything ran like clockwork and we lucked out with the weather and the Changing of the Guard."
"Old Dirty Brasstards are a ten piece brass band band that play modern songs. We saw these guys at Glastonbury and we loved them so much, they had the crowd going mad. They were a real hit on the day."
"We chose 'Hey Now' by London Grammar for our first dance. We had lessons and did a choreographed dance ad a surprise for our guests. It was so special to have the quality time together in the run up and then to share it together on the day."
Words of Wedded Wisdom
"Take things in your stride and don't do everything yourself. Share the jobs with your partner, it means a lot more on the day, when you've done it together. On the day itself, try and be together as much as possible. We spent nearly all day by each other's side and it's lovely to have the shared memories of the day. We also escaped outside for 10 minutes in the evening and had some time out which was really special."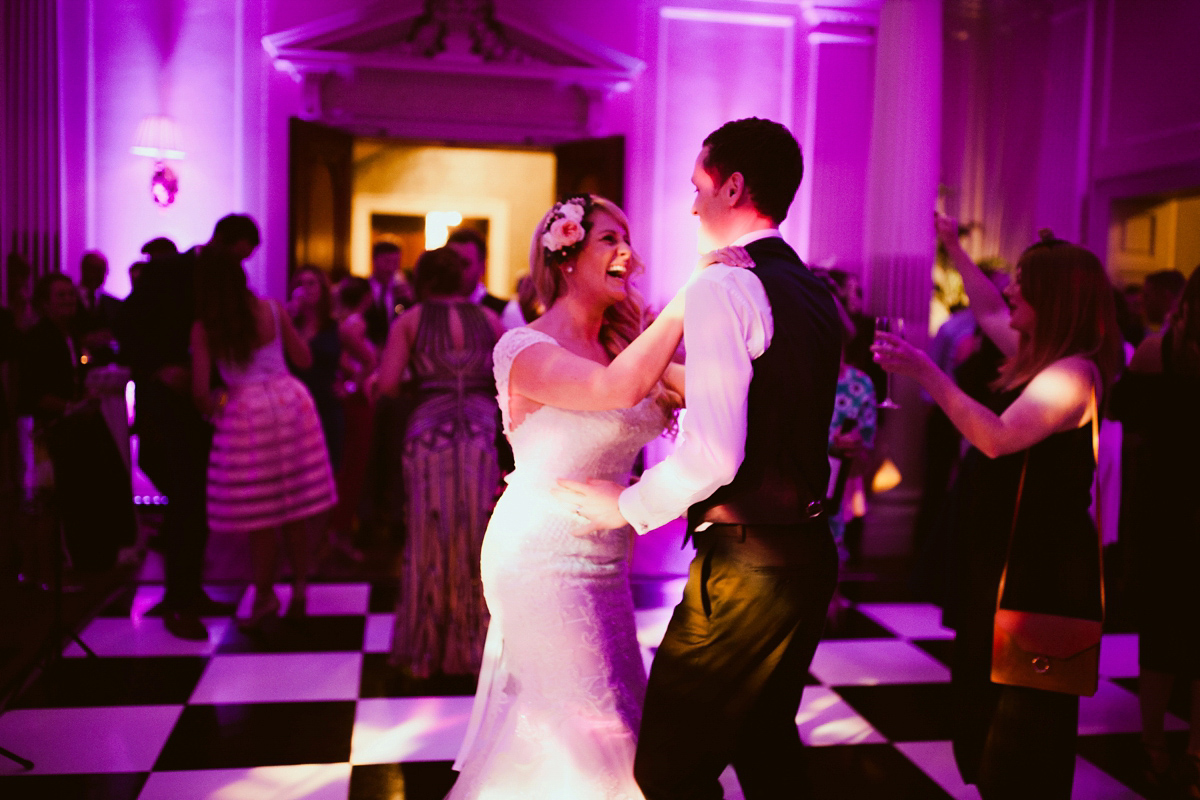 Congratulations Jennifer and Marc, it has been a pleasure to share your beautiful wedding. Thanks to Claire for the breathtaking images.
Love Caoimhe xx