I'm terribly jealous of those lucky people who are able to say their vows outdoors, under the (hopefully) blue sky.  I chose to marry in November and on the day it rained very heavily, so I was very glad of our orangery ceiling and walls in the end (which was as close to outside as we had dared to go in chilly Northumberland!) Today's wedding is just full of glorious homemade details, much love and many smiles- I'm smitten.
Meet Julia, a veterinary Surgeon and Kieran, an energy trader, who married on the 10th September 2016 at Kilver Court Gardens in Somerset, followed by a reception at The Talbot Inn, Mells.
"I was attracted by the idea of a rustic bohemian wedding with nothing too commercialised.  It had to be down to earth, incorporating the things I love- poetry and nature and my love of my family and my Somerset roots.  As I wanted the whole day to be personal, small and from the heart, a lot was homemade, and my whole family helped  which made it feel like something we could all be part of."
Images by Boy Called Ben Photography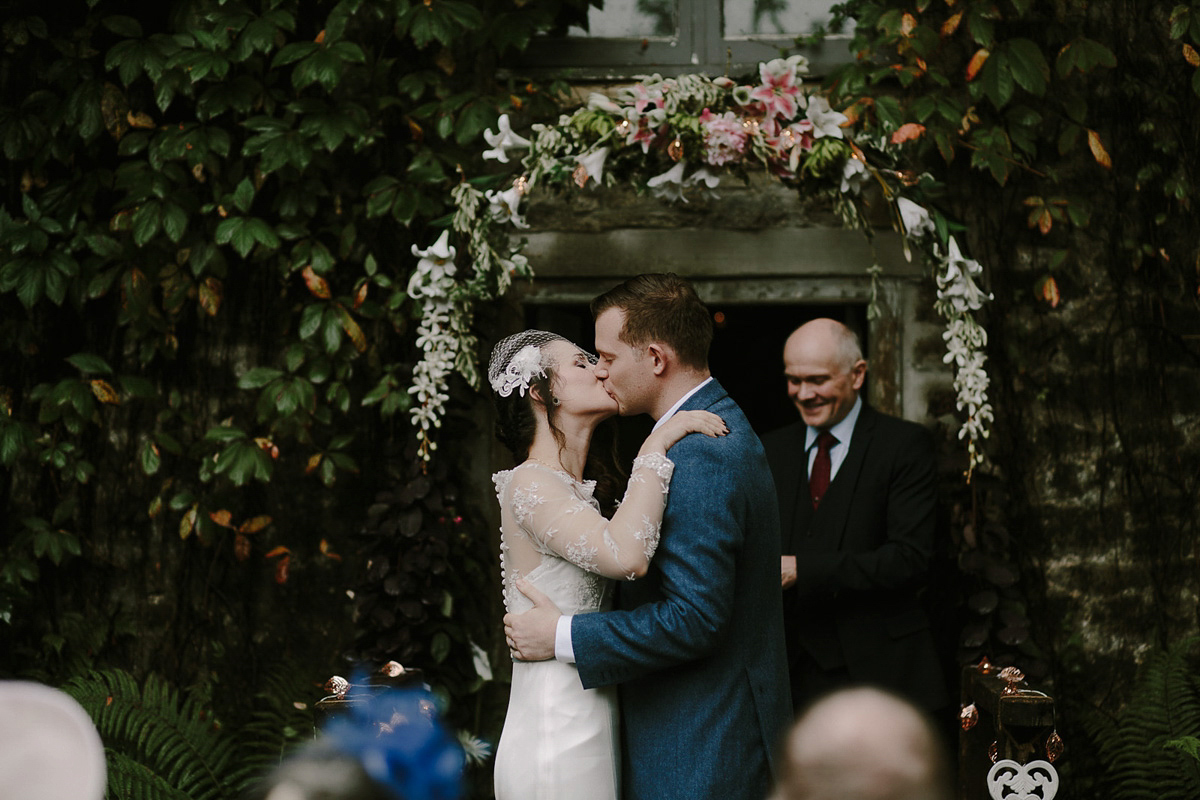 Julia wore a beautifully embellished gown which was custom-made especially for her by Mette Baillie of Freja Designer Dressmaker, who is also a member of our wonderful Little Book for Brides (read about Mette's incredibly inspirational cancer experience here).
"I brought with me a little sketch and Mette transformed it into reality; it was everything I hoped for and more.  I loved the fact that no-one in the world has the same dress as me.  I wanted something elegant, beautiful and the excitement of not really knowing what the dress would be like- only going on a sketch and a dream made it even more exciting, but I fully trusted Mette and knew she could create what I wanted.""We chose Kilver Court Gardens because we wanted somewhere where we could get married outside in beautiful gardens and have exclusive access for the day.  I didn't want there to be loads of other brides there nor did I want a typical wedding venue- it had to be something more organic and affordable.  The reception was held afterwards at The Talbot Inn and we chose this place for its rustic yet modern charm and its amazing food and cider."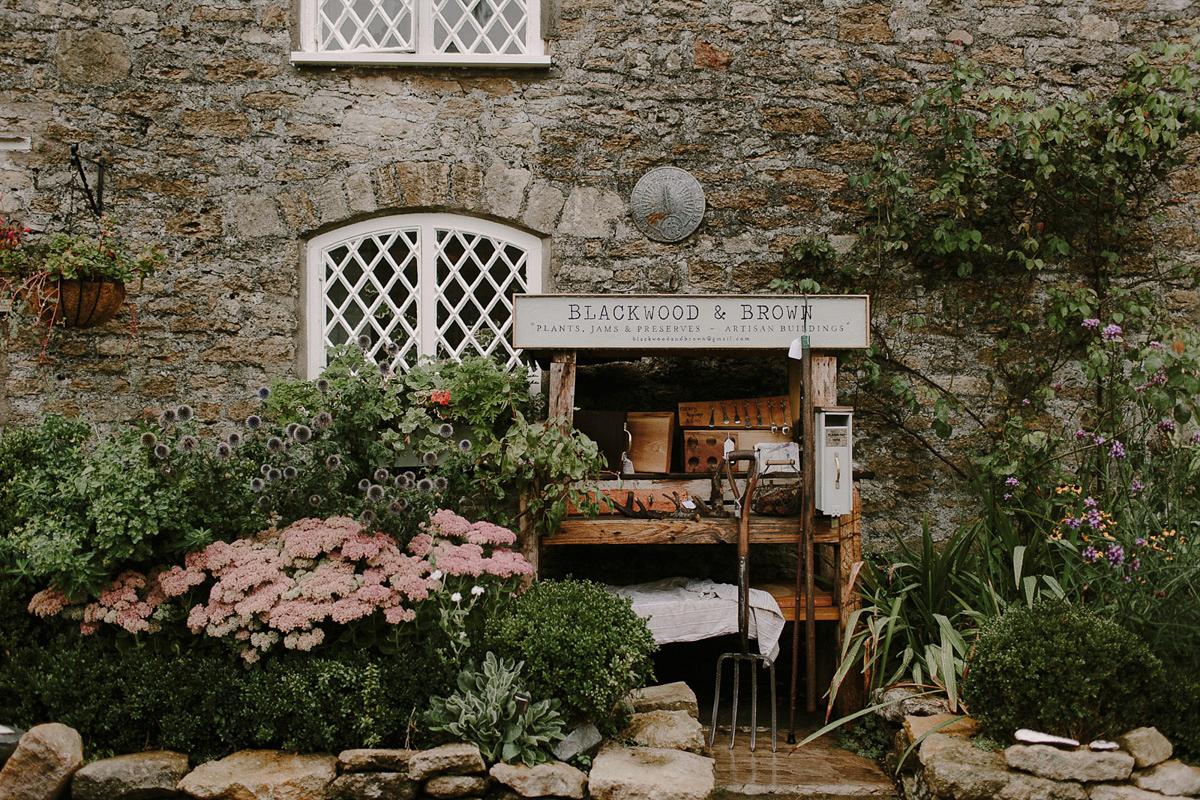 Hair was by family friend Gem Martin of 'The Cut' in Weston-super-Mare, while make-up was the work of Harriet Freestone of Frontline Style in Wells.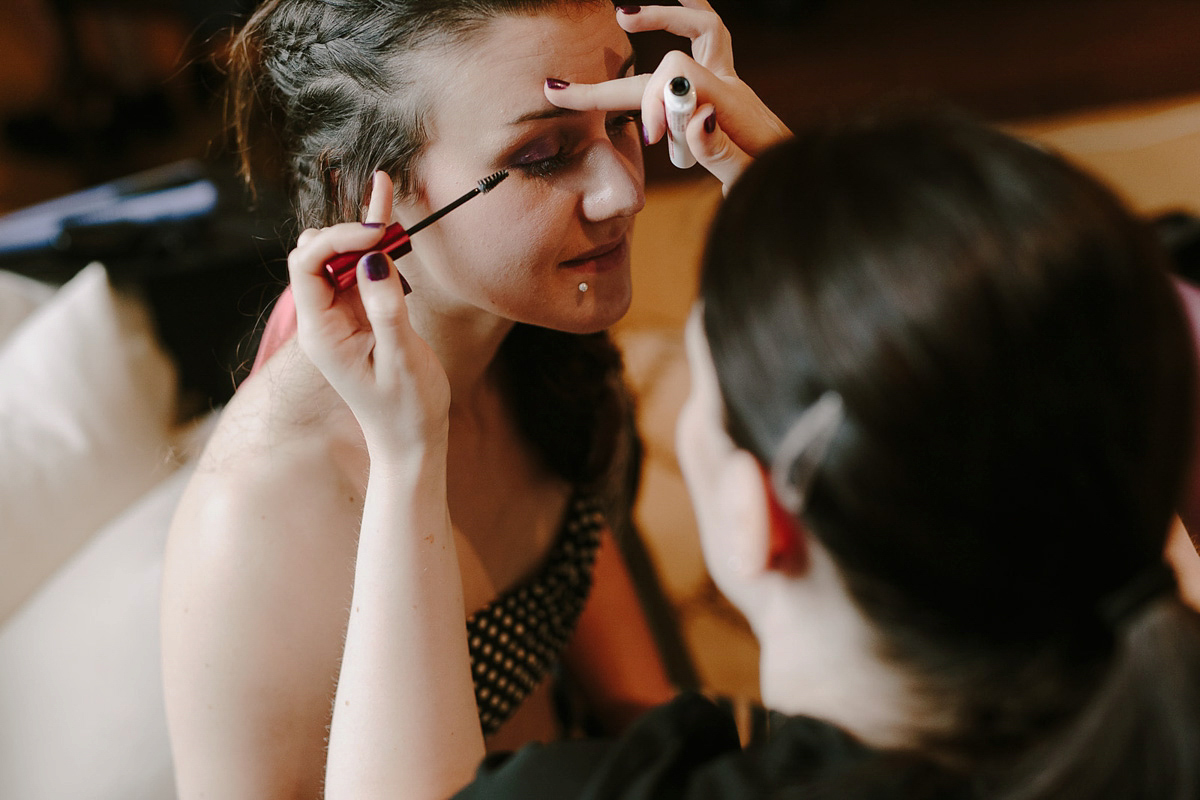 In her hair Julia wore a headpiece and birdcage veil made for her by Bridget Webster, while the smaller hairpin she wore was a purchase made in New Zealand several years before.  Her pearl-encrusted shoes were by Irregular Choice, purchased from Schuh.
For jewellery she chose two sets of earrings, one from Studleys Jewellers in Wells and the other from Tribu and to finish, she added a gold necklace which had belonged to her late Grandmother.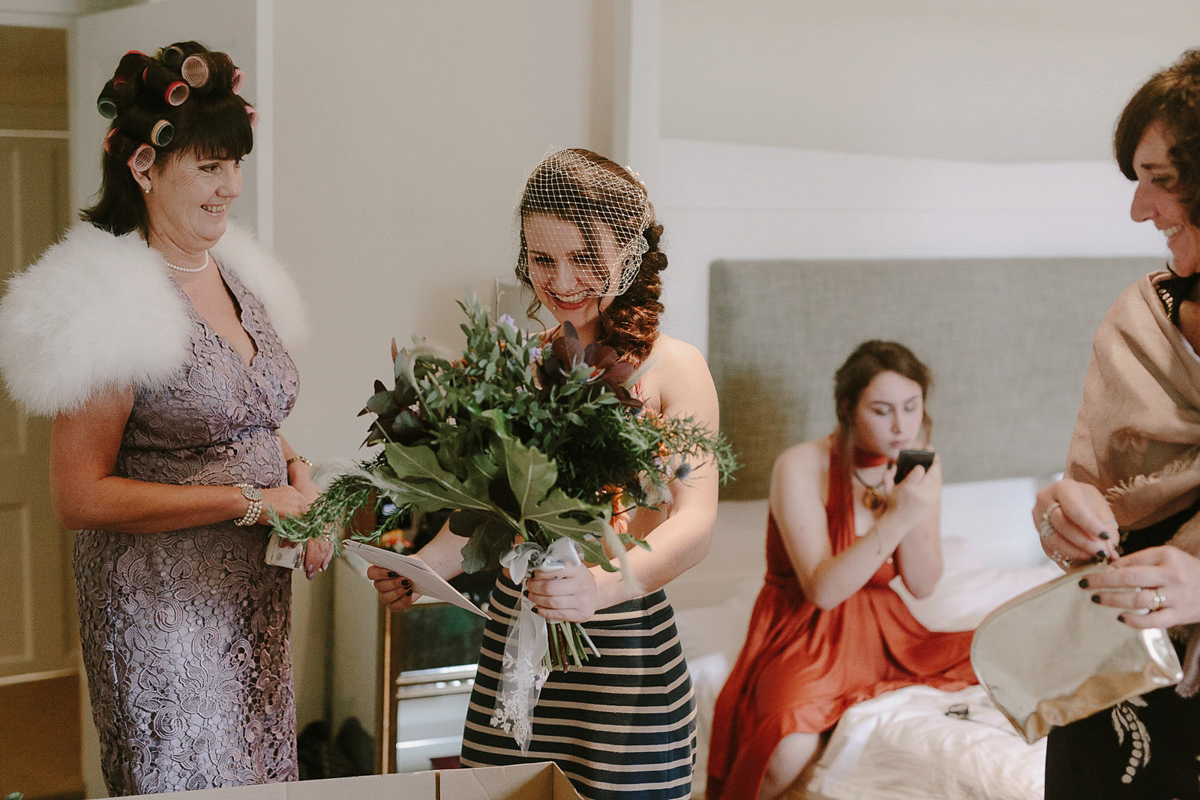 The bridesmaids looked beautifully autumnal in burnt orange multiway dresses from Etsy, worn with their own shoes and amber earrings to set off the colour of the gowns, while the flower girl looked lovely in a floral dress, purchased online from Wallis at House of Fraser.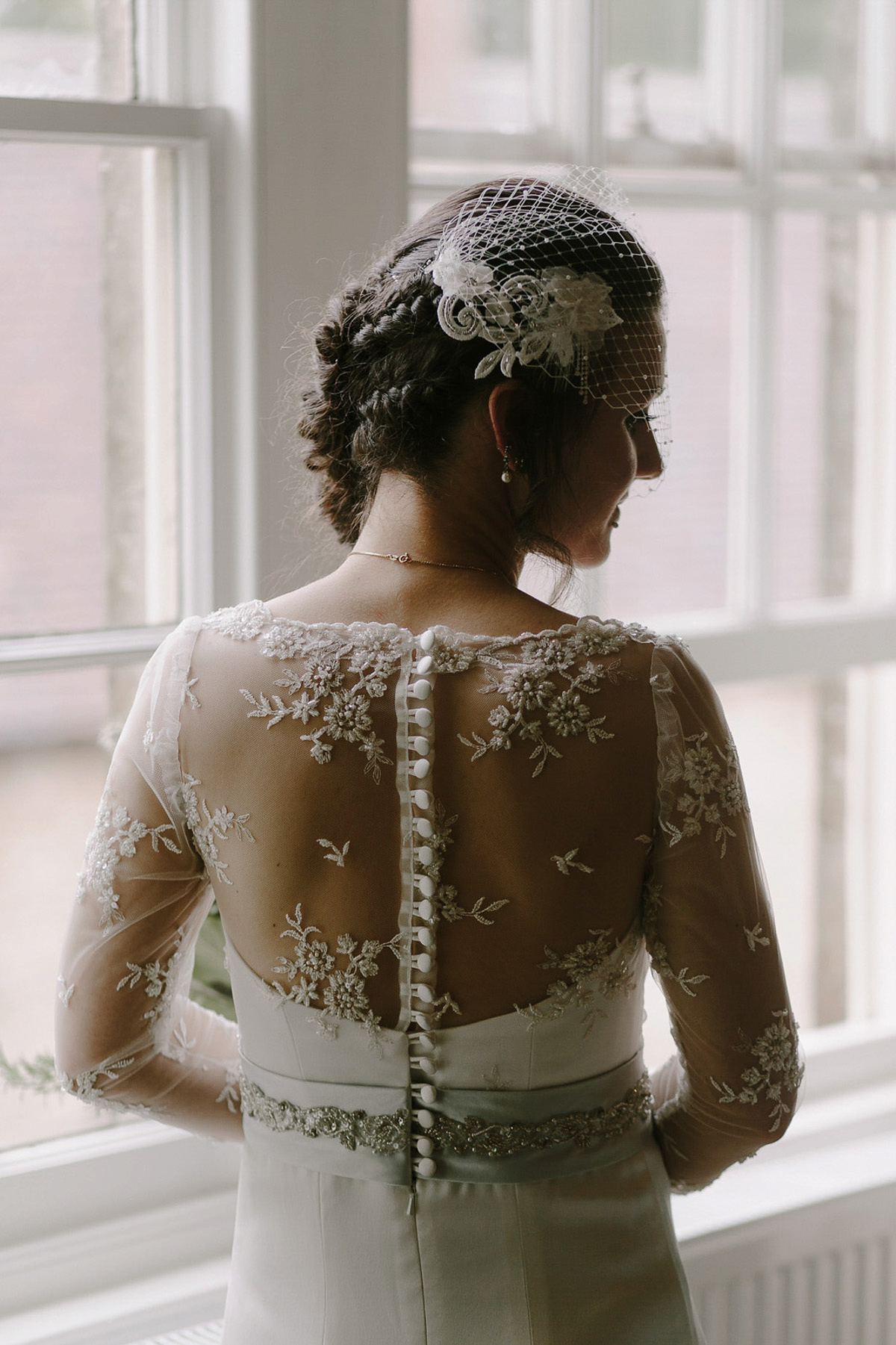 Julia and Kieran married outdoors, which I am so envious of- it must be the most amazing feeling to exchange vows under the sky.  Julia walked down the aisle after her flower girl and bridesmaids on her Dad's arm (with her sister-bridesmaid following to stop the train of her gown getting too muddy) to 'Bird' by Billie Martin.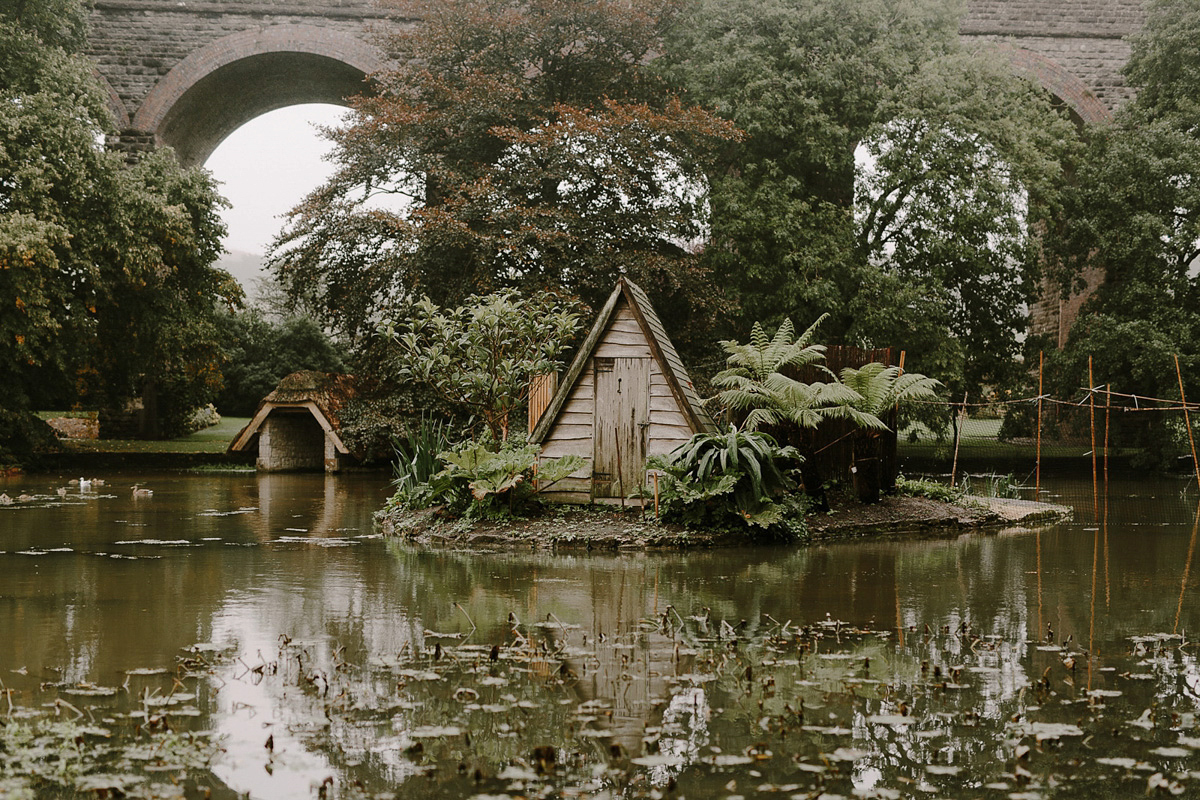 Julia and Keiran said their own vows to one another before exchanging rings.  Kieran's ring was tungsten carbide and purchased in Australia by Julia on their engagement trip, while Julia's was from Ernest Jones, chosen to fit with her engagement ring from Michael Hill  in New Zealand.
"Getting married outside was magical, getting into nature, being part of the trees and the fresh just-rained air."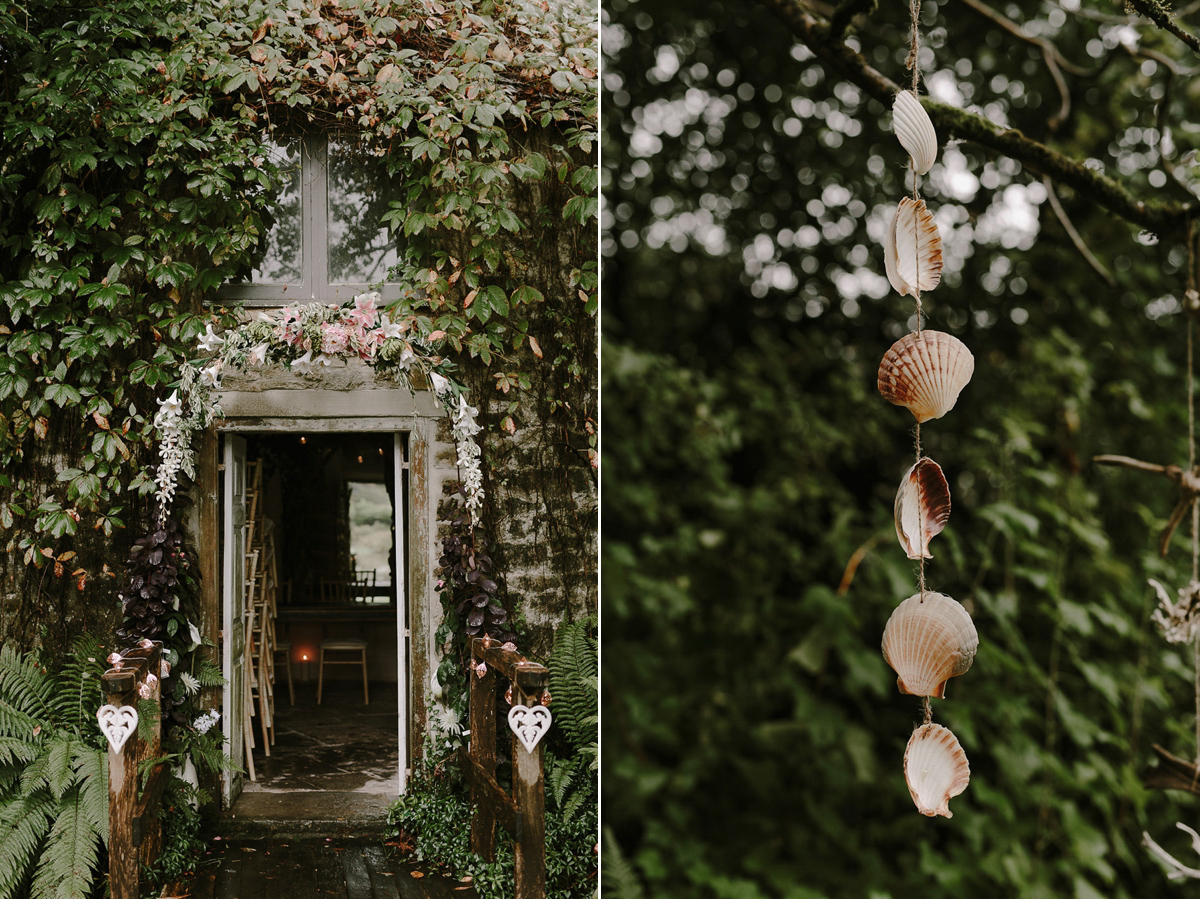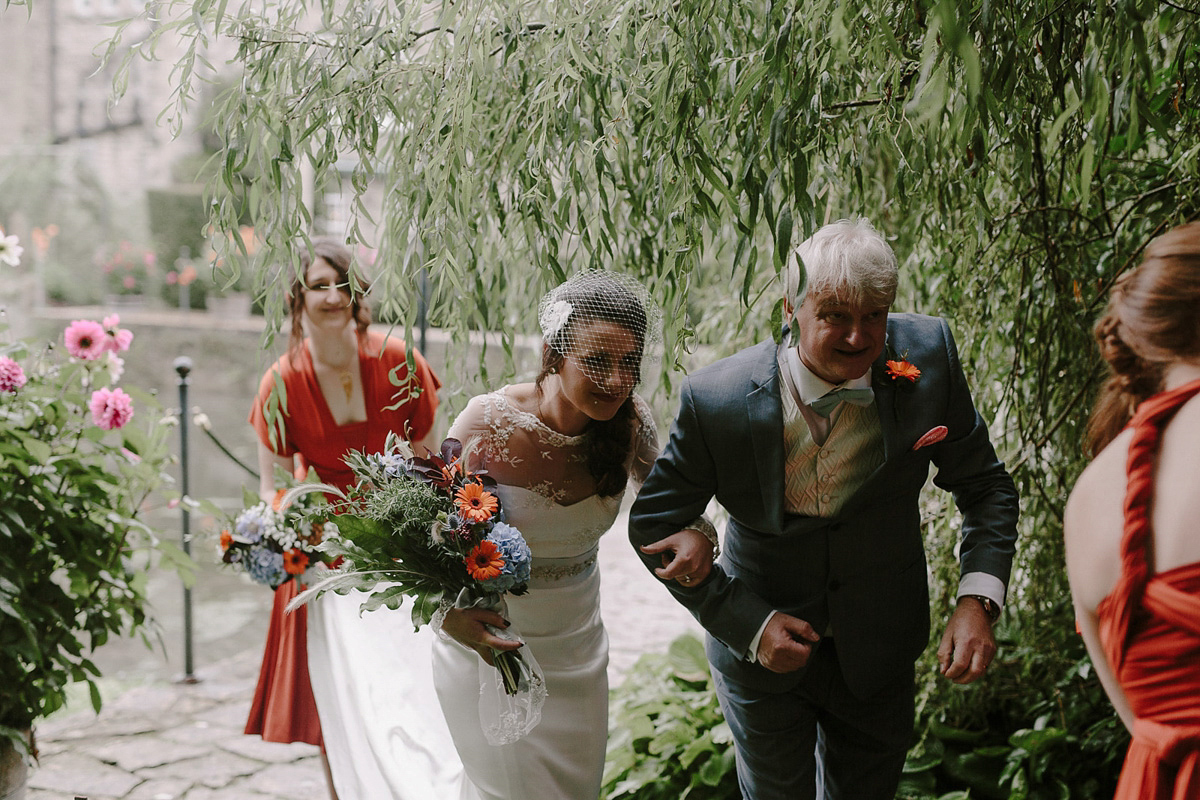 "Kieran and I met via the online dating website, Eharmony.com.  Kieran was in the navy at the time and I am a vet so we decided internet dating would be fun.  He moved back to New Zealand six weeks after I met him so I decided to quit my job and move over there.  It was a risk but I guess it worked out in the end!  We got engaged two and a half years after we met and I then moved back to the UK, which was tough, but we were reunited after seven months when he moved over to be with me."
The ceremony included four readings- 'Love is a temporary madness' from Captain Corelli's Mandolin by Louis de Bernières, a poem which Julia wrote herself for Kieran and two poems by Yates, which were chosen and read by Julia's Grandad- 'The Lake Isle of Innisfree' and 'The Cloths of Heaven' (which in my opinion is one of the most romantic poems ever written).
Had I the heaven's embroidered cloths,
Enwrought with golden and silver light,
The blue and the dim and the dark cloths
Of night and light and the half-light;
I would spread the cloths under your feet:
But I, being poor, have only my dreams;
I have spread my dreams under your feet;
Tread softly because you tread on my dreams.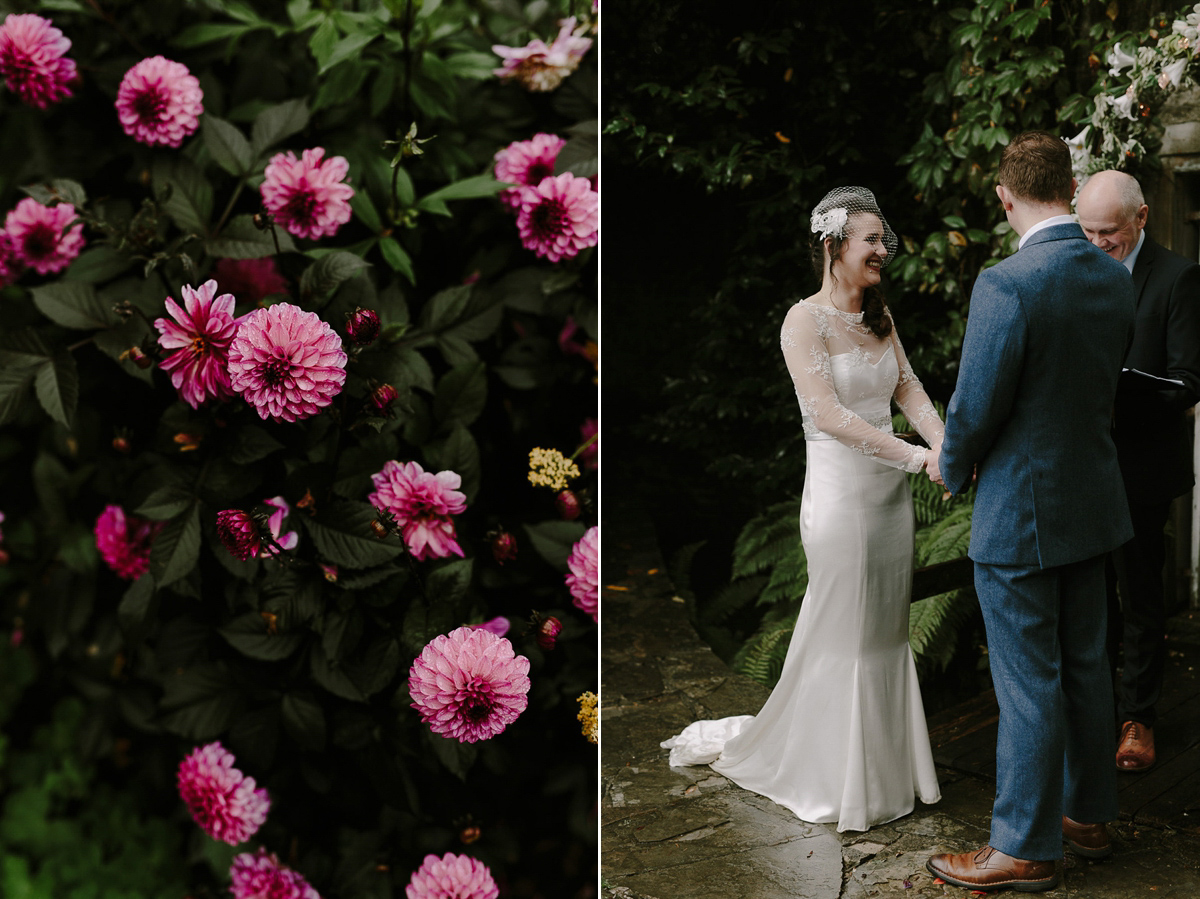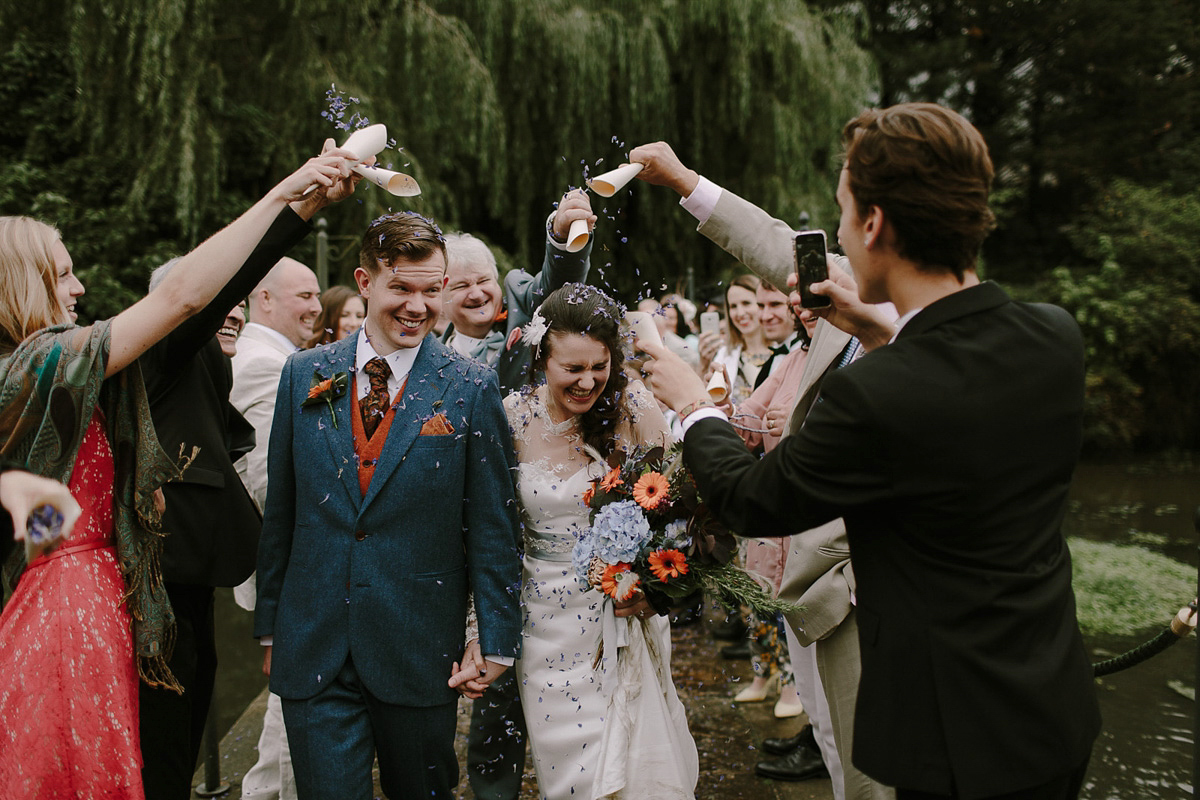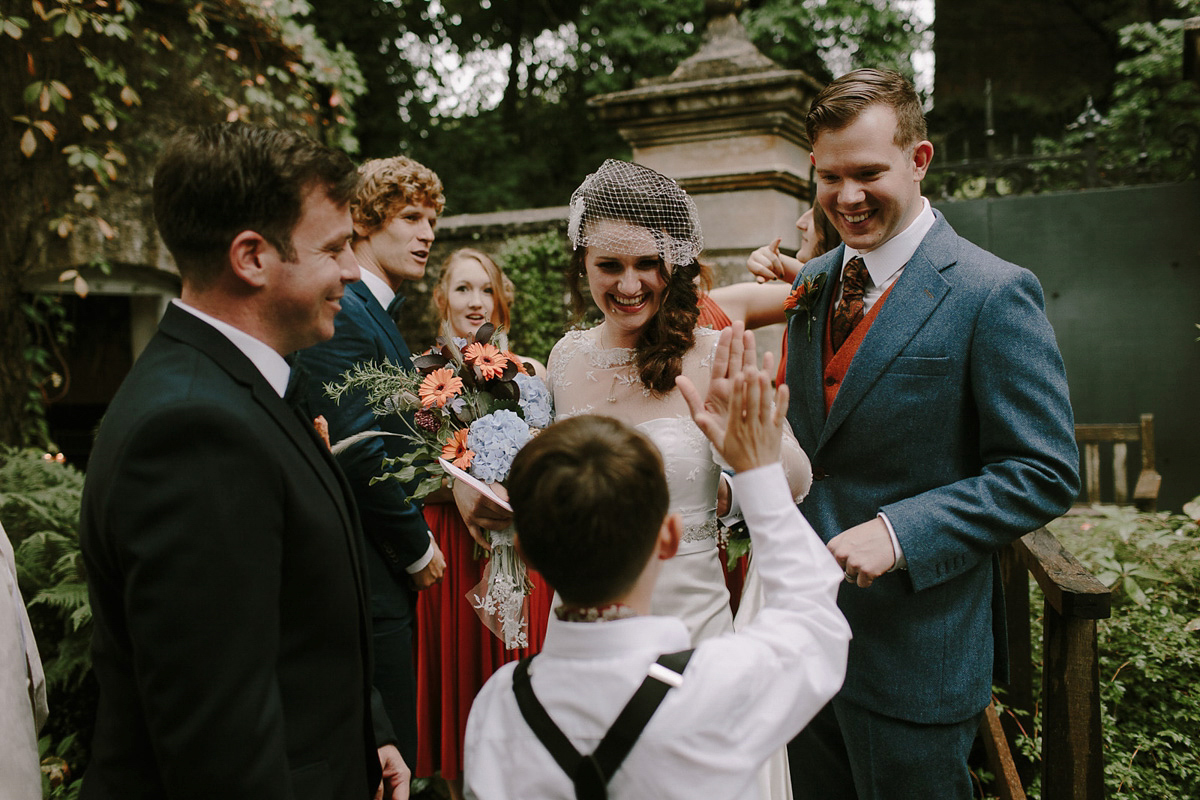 The flowers, in beautiful shades of blues and oranges, were by family friend Jane Kingcott of Jane's Bespoke Flowers.
"Together we picked shrubbery, herbs and greenery for the bouquets, along with some dried artichoke hearts from my nan's veggie patch.  The rest Jane collected from the flower market.  I wanted a bohemian style bouquet and it turned into something original and very personal."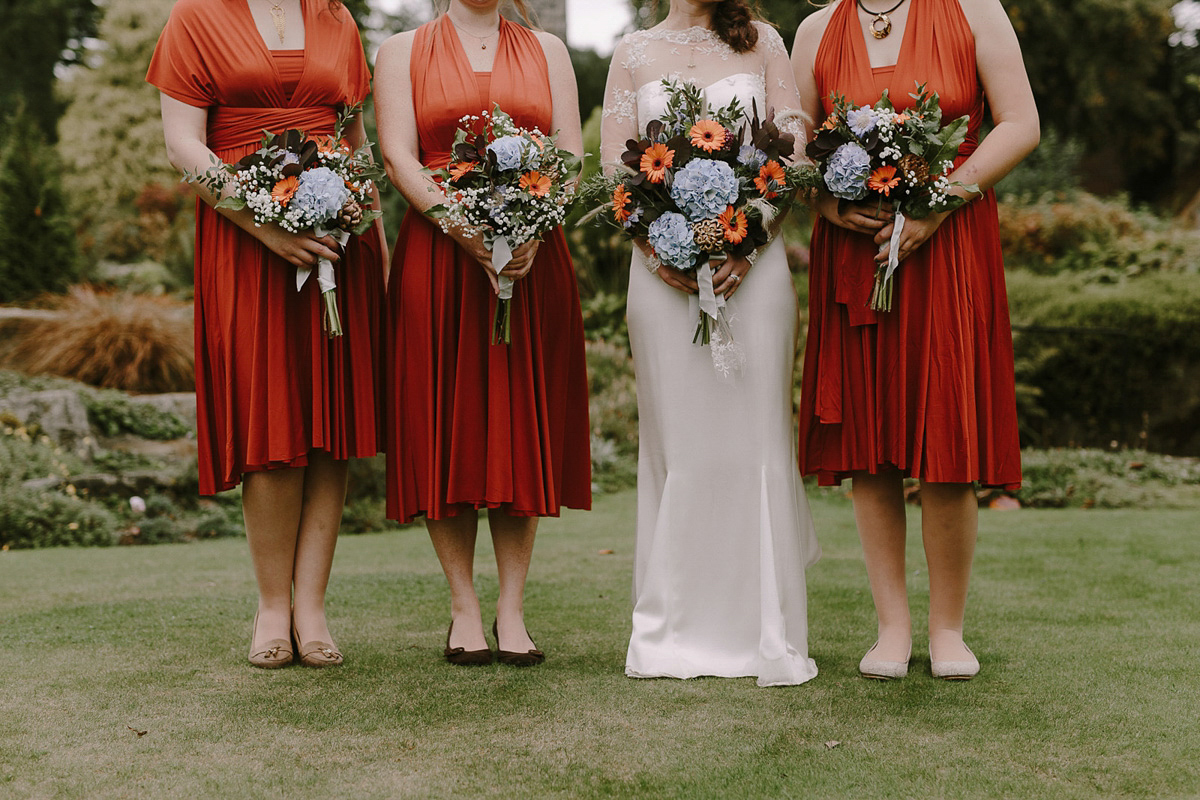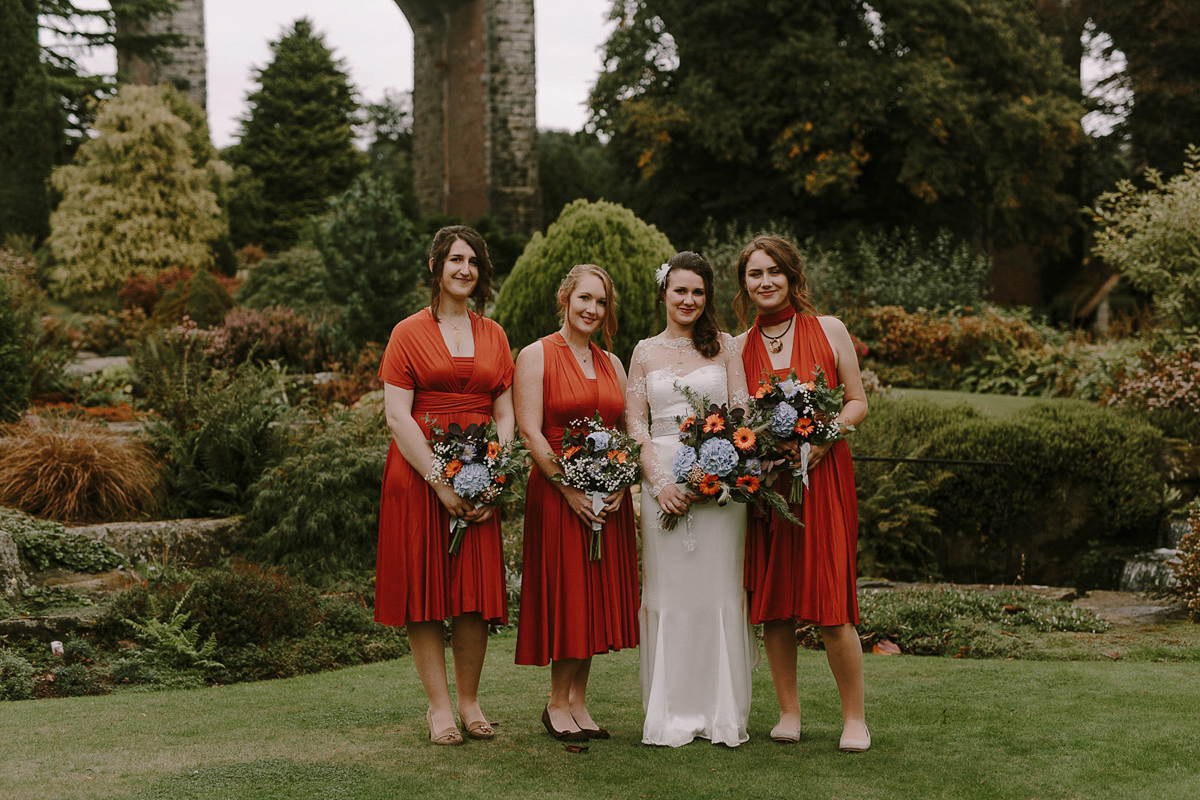 Today's gorgeous images are by Ben of Boy called Ben Photography, who is another of our beloved Little Book for Brides Members.  I adore his detail-filled style and the fine-art realism of his work.
"Ben was amazing, so lovely and down to earth and his photography skills are otherworldly – producing a work of art in every picture, yet on the day I hardly seemed to notice him.  I didn't want photography that was too intrusive or artificial, I wanted his style of photojournalism and he seemed to flit around invisibly, capturing epic timeless pictures that oozed emotion and made everyone look so beautiful.  I cannot praise him enough."
Kieran looked very smart in a made-to-measure suit by Walker Slater in Edinburgh where he also got his accessories. Cufflinks were from Studleys Jewellers in Wells.
"Walker Slater were fantastic and it was a very enjoyable experience designing the suit and having it fitted. Very highly recommended."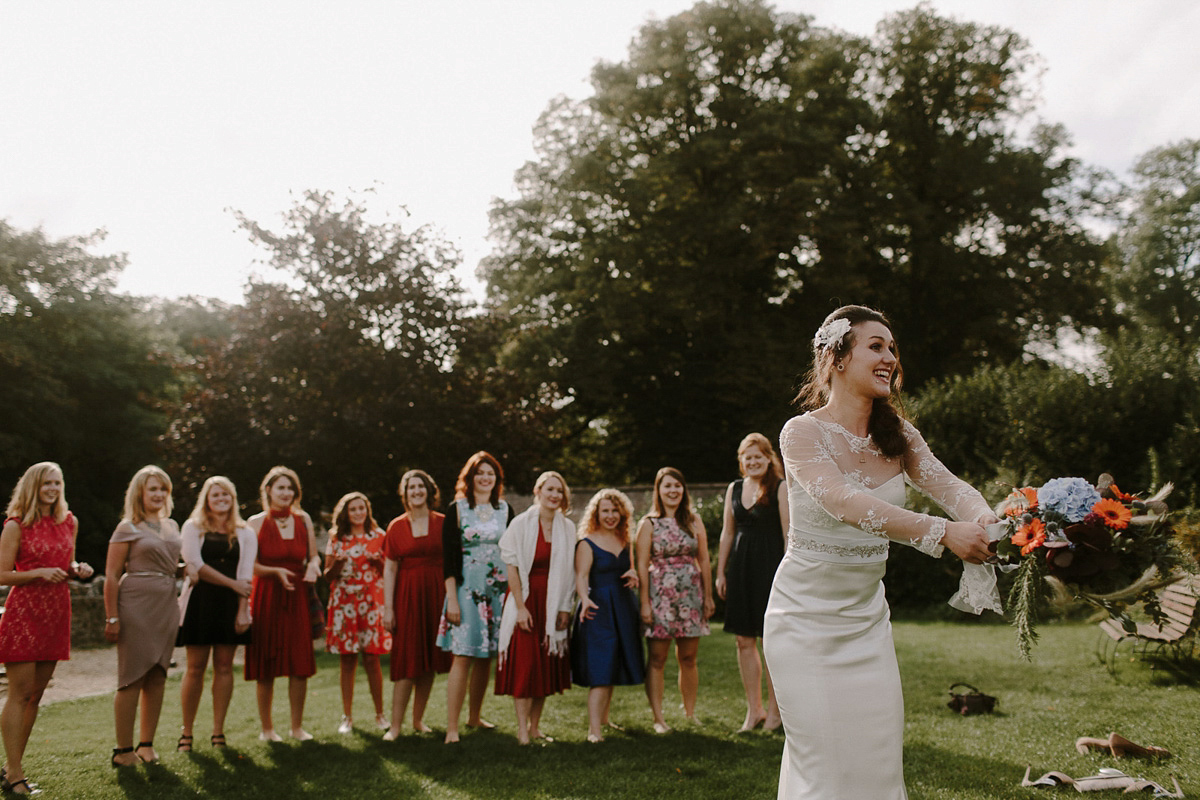 Decor was largely by Julia herself, with driftwood, seashells and lots of white candles, as well as garden flowers in decorated jars.  Together with a friend, Julia also made orange and blue bunting which was strung up around the venue alongside fairy lights.  For place cards she collected pieces of slate and black pebbles from the beach and wrote the names with metallic pens.
"I am a bit of a feminist, so I made sure I did a speech, as well as my dad, Kieran, the best man and my granddad.  It sounds like a lot but everyone was captivated and enjoying themselves."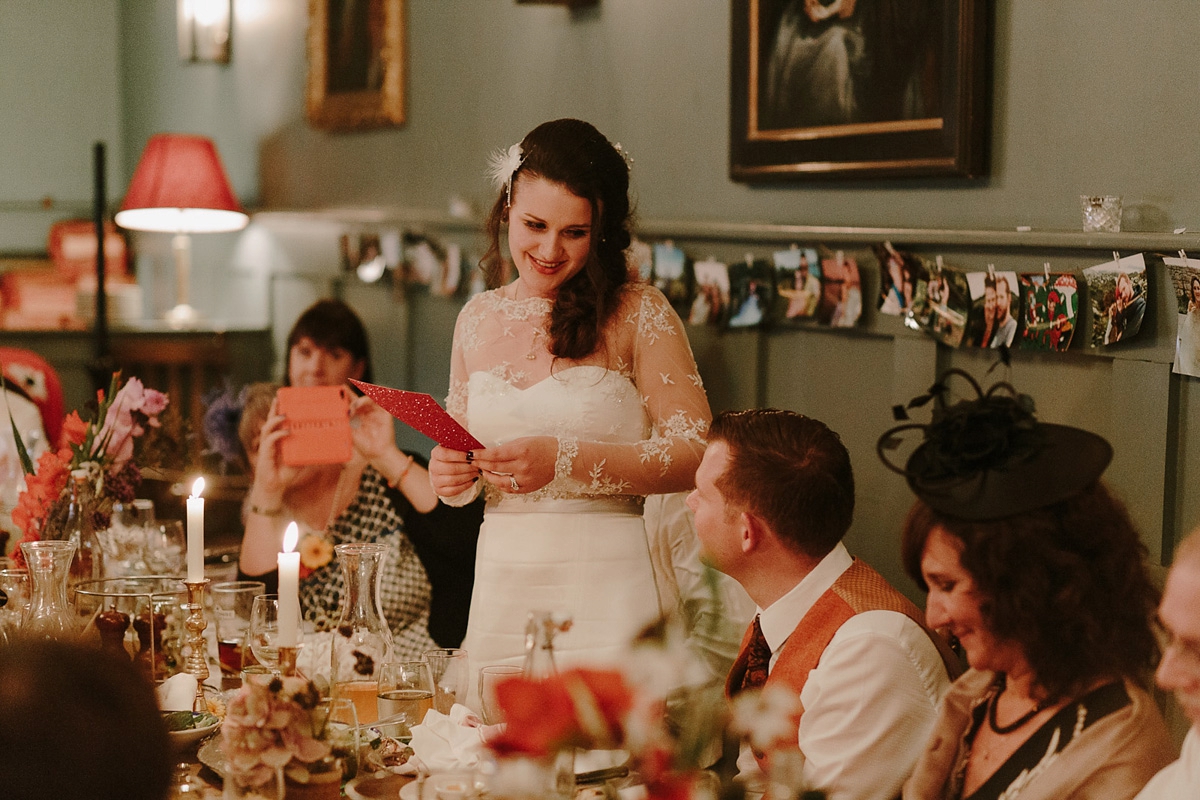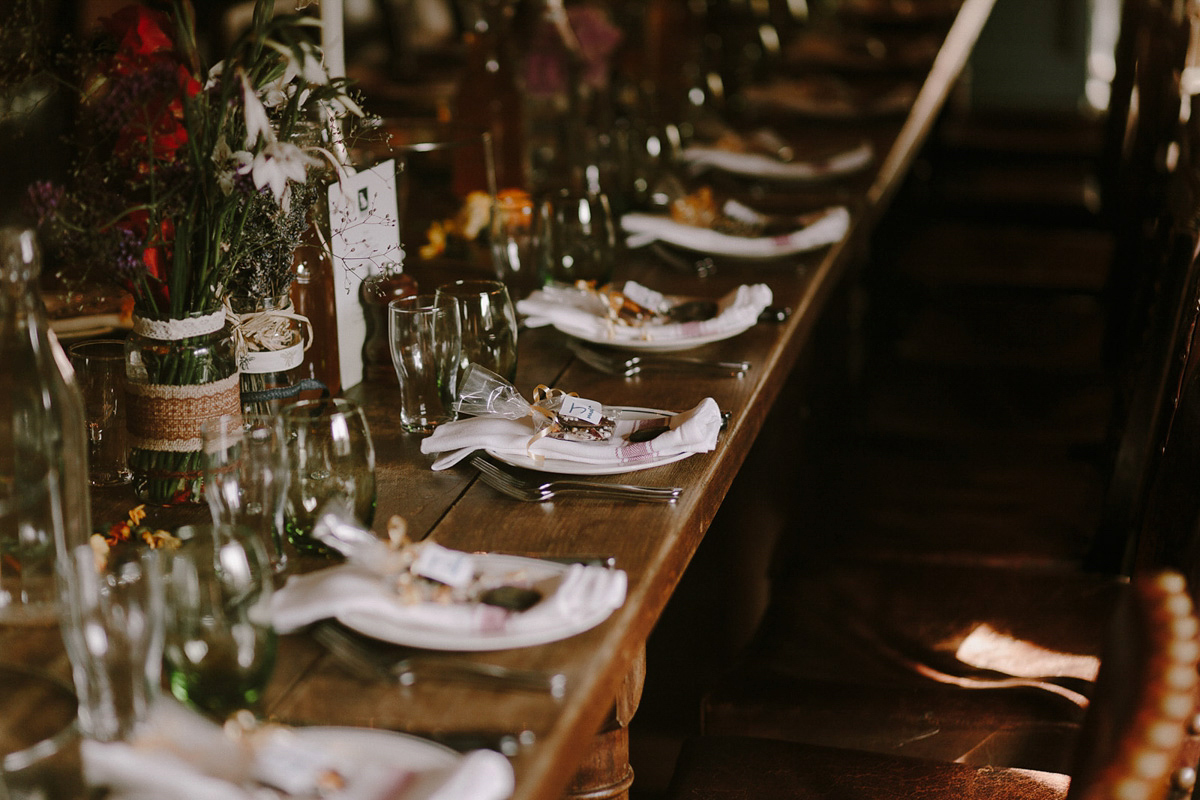 "My grandma made us the most amazing wedding cake I had ever seen.  It was decorated with overflowing orange flowers and fruits to match the loose orange and blue colour theme and was actually three separate cakes; a 3 layered Victoria sponge,  a black forest gateau and a lemon drizzle cake."
"They were all arranged on a natural wood board that my nan got from the forestry commission and my uncle sanded down and oiled smooth.  She has been cooking and baking all her life for the family, but she took on this challenge with a passion."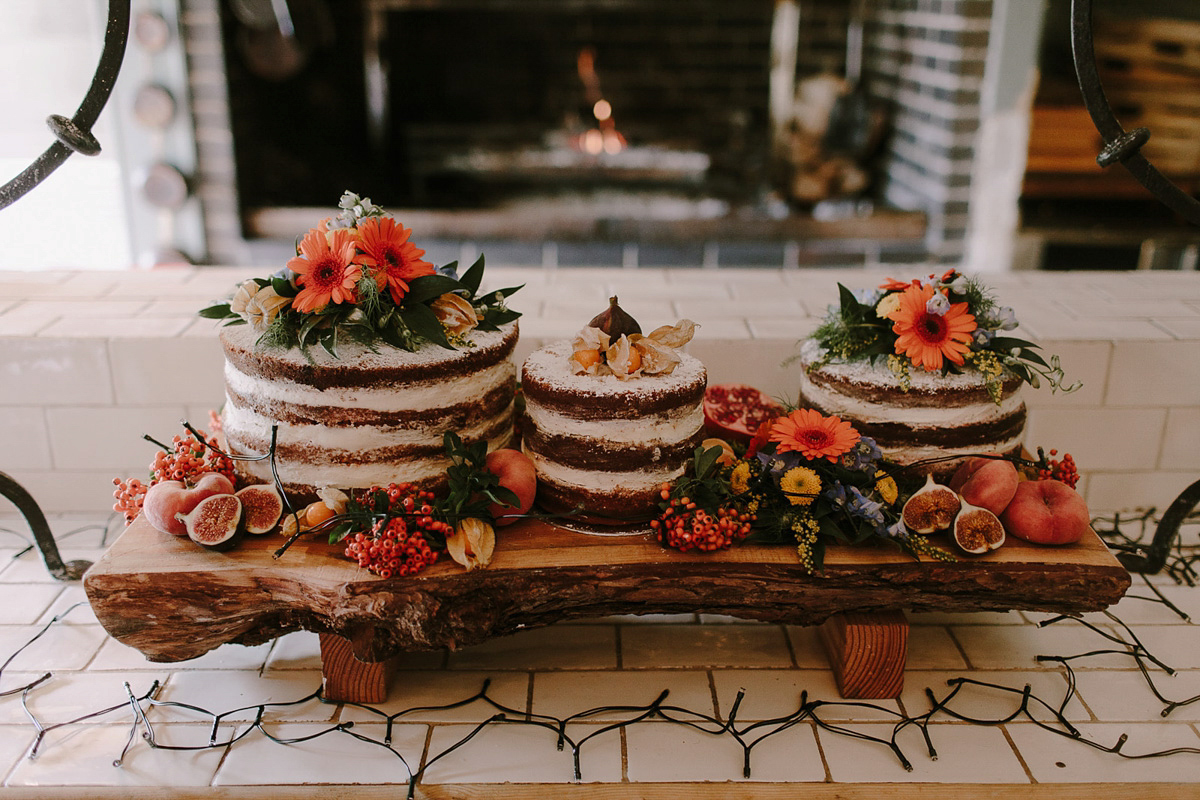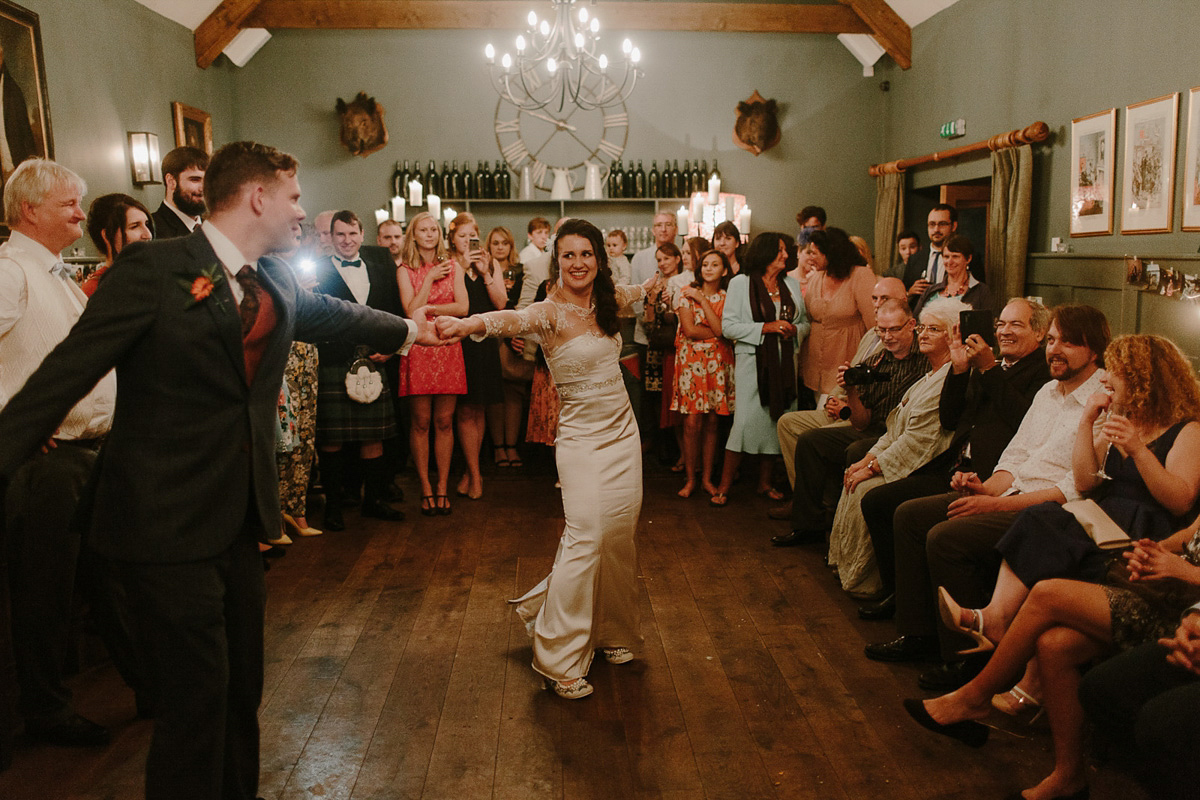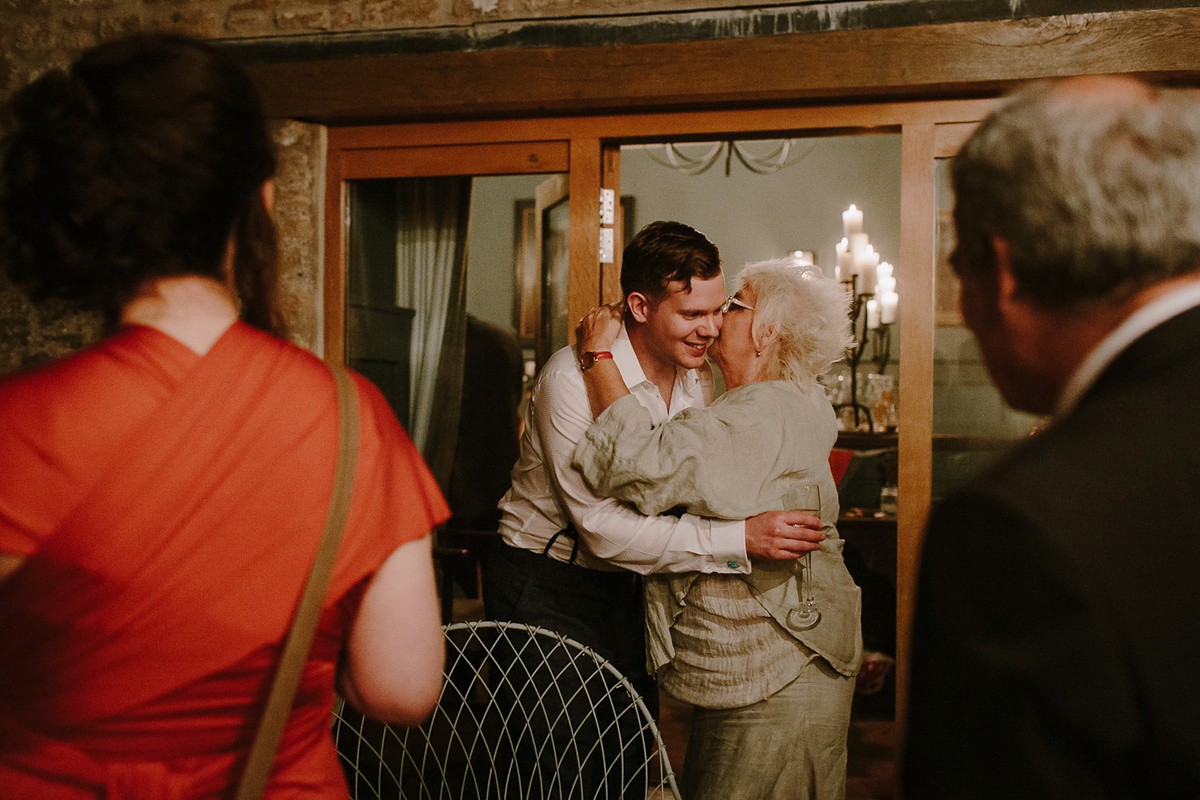 "For entertainment we booked a folk band called the Stomping Boondocks who do energetic folk music from Ireland and Scotland.  They led an impromptu ceilidh on the dance floor which was amazing." 
Words of Wedded Wisdom
"Make your day personal.  Aim to make everyone cry at the beginning of the day and laugh for the rest of it.  Be yourself, and just relax and enjoy every moment, because everyone there loves you."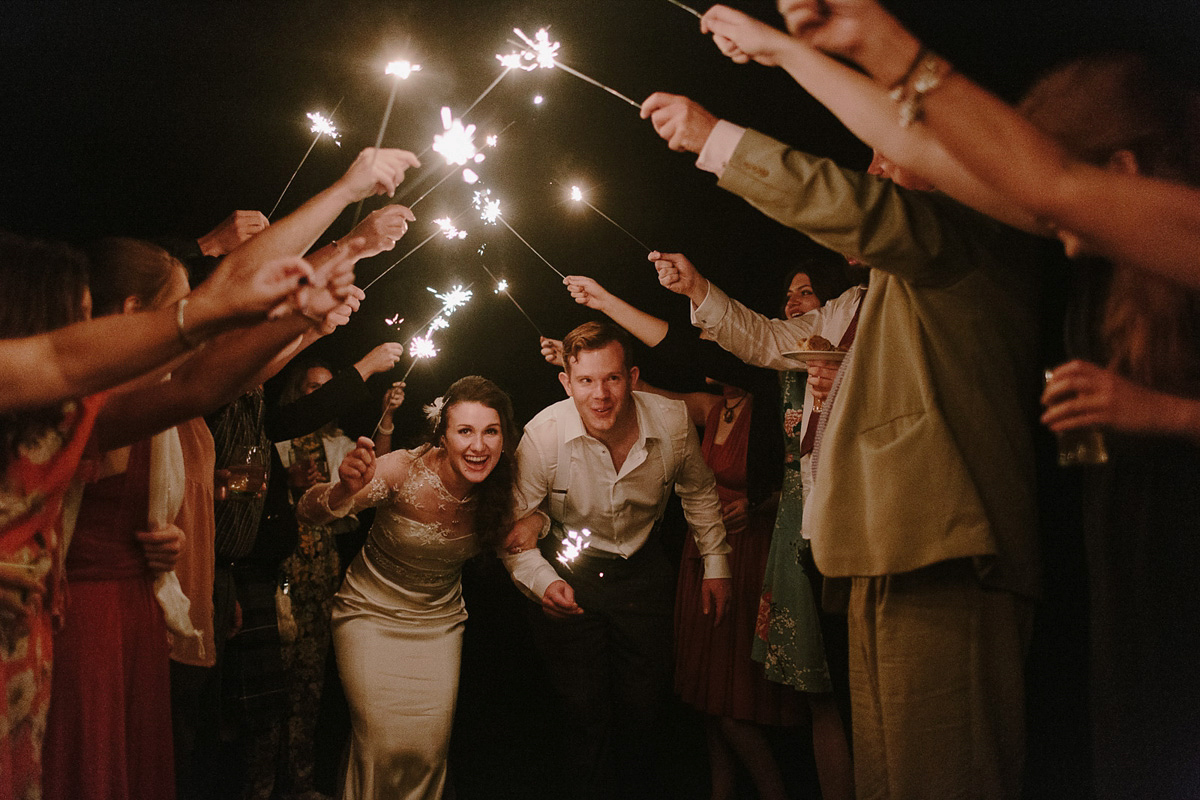 So many thanks to Julia and Kieran for sharing this gorgeously happy day.  Many thanks also to Boy Called Ben Photography for the wonderful images.  Would you like to see more of Ben's work?  Take a peek here.
Much love,
S x