If you're looking for ideas for a bright, colourful wedding then you are absolutely in the right place. Today's wedding features a rainbow of streamers and balloons, brightly-coloured bridal flowers, beautiful blue shoes and a show-stopping Pronovias gown. So make yourself a cup of tea, sit back and drink in these beautiful images. Meet Laura and Adam, a receptionist in education and an electrical engineer respectively, who chose the beautiful setting of Yorkshire Sculpture Park, Wakefield, Yorkshire for their wedding on 24 September 2016. They created a wedding to truly represent themselves as a couple, inspired by Adams love of bright, bold colours.
Laura looked magnificent in her full-skirted Pronovias gown with its modern structuring and  fifties-style bateau neckline. She added a touch of her own style with a birdcage veil by Love Parisienne. It's brilliant to see her team something retro with a classic gown and carry it off so well. Her tale of gown-shopping is true for many brides and illustrates how it's worth taking time over the decision and working out exactly what you don't want.
"When it came to dress shopping I had no idea what I wanted. As a size 16 most of the dresses in the shop didn't fit me, so it wasn't the experience that I had been hoping for but it did make me realise that I wanted a big dress. I then fell in love with a dress on Etsy and ordered it, but when that arrived, it simply didn't feel special enough, so I went boutique shopping again."
Photography by Bloom Weddings
"This time I had more success and my mum pointed out this dress that had pockets. I had the 'this is the one' feeling in it and loved everything about it – the material, the fact it had pockets, that it didn't have lace, the high neckline. I didn't want to take it off. I felt like me in the dress. I am not the girliest of girls and all the lace and sparkles just isn't who I am."
Laura is blessed with glorious red hair, and decided to make it the main focus of her bridal look. She recruited her usual hairdresser, Amy of Westrow Street Lane in Leeds, to style it into a glamorous up-do which looks fabulous with the quirky veil. Makeup artist Louise Lunn applied Laura's makeup.
"I love having ginger hair and apart from lightening the ends it is my natural colour. I decided early on that I wanted to let my hair be my 'crowning glory' on the day. I was hoping that it would be a sunny day as it really shows off the colours in my hair so apart from my veil I added nothing else. I used makeup artist Louise Lunn after a recommendation from a friend. She perfectly understood what I wanted and her work is incredible, if only I could look that good every day."
She personalised her birdcage veil with a bow which perfectly matches her Rainbow Club shoes, custom-dyed in this fantastic blue. Having originally tried on a more traditional cathedral veil, she preferred something that felt a little more her.
"I tried a cathedral-length veil with the dress originally and bought one but the more I thought about it the less me it felt. I ended up with something completely different. I added the blue bow myself. I was really glad that I went with something a bit different."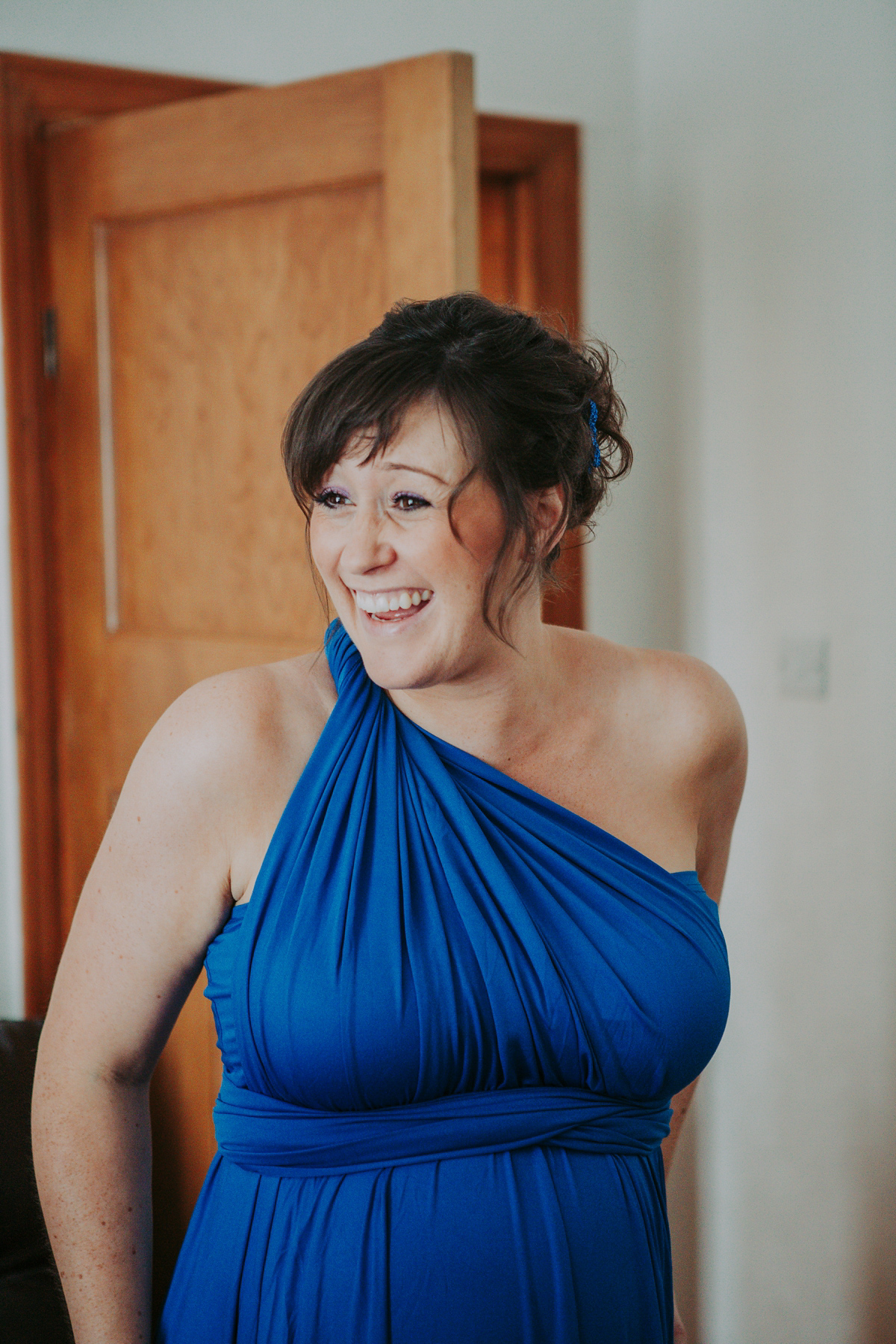 Laura's approach to letting people know a few details about the gown is such fun, too, to keep people guessing.
"I am rubbish at secrets and I knew that I would spill details of my dress so I decided on two features of the dress that I could tell people – that it had no lace and pockets. I think I surprised people with my choice."
In addition to the veil, Laura wore a Flora bracelet and earrings from her favourite jeweller Jessica Hewitt and added her great-grandma's engagement ring as her 'something old'.
The bridesmaids are radiant in their bright cobalt blue multi-way dresses from The Dainty Yard, worn with fun sparkly blue bows. Laura's amazing colourful blooms were the work of the talented love blossoms flowers.
"Our photographers Bloom Weddings are AMAZING! I cannot speak highly enough of Chris and Anii. The photographs are exactly what I wanted and perfectly captured the day. As people they were perfect; it didn't feel formal or awkward. It also helped that Anii loves Harry Potter too. They were a massive help on the wedding day. Chris even tied Adam's tie in a superb Windsor knot."
Creative Laura designed a 'wedding newspaper' online at The Newspaper Club. I really like this idea and the fun you could have playing around with it in the run-up to the wedding day, or any other special event for that matter.
"We created a newspaper from The Newspaper Club. I loved designing it and it helped keep everything together. I even included a quiz for people to do whilst they were waiting for the ceremony to start."
"I wanted a ribbon curtain to be the backdrop of the ceremony but with the space I had to cover the cost would have been ridiculous so I opted for crepe paper and I think it worked better than I imagined. All of the balloon tassels were homemade."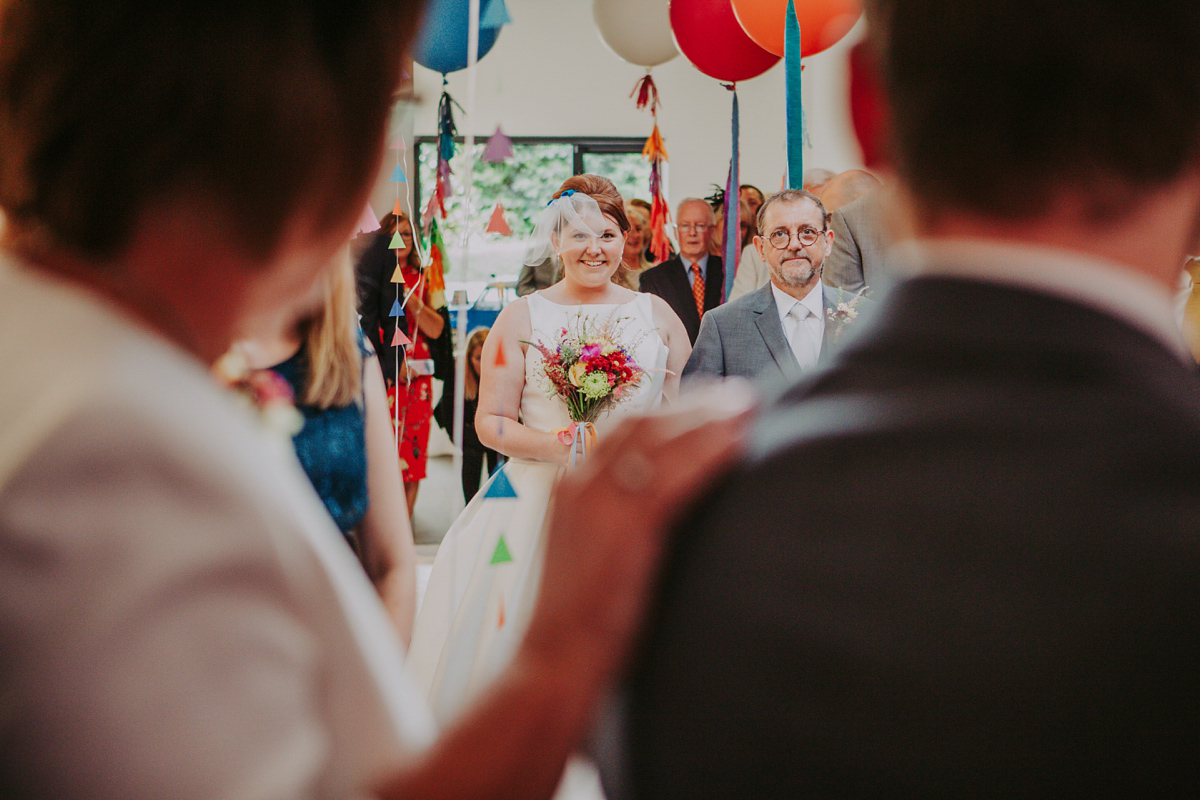 Just as Laura kept Adam guessing with her choice of outfit, he kept her guessing too, refusing to reveal details of what he had chosen. He wore a pair of Land Rover cufflinks to match the couple's own Land Rover Defender and added a cheerful, sunshiny look with a bright orange tie.
"Adam kept his suit a secret. He said because my dress was a secret he could keep his a secret and it killed me. In the end a few people blabbed and I knew it was grey and from M&S. He hates suits but he looked amazing."
Just as the couple added their own personality to the blank canvas of the venue, they used the ceremony itself as an opportunity to express themselves.
"We wrote our own vows separately but kept them to the same format and shared them with each other before the day."
There were also three readings, one of which was chosen by Adam's late grandma. This is such a touching way to honour her memory and include her in the day.
Laura made Adam's wedding band herself as jewellery is one of her hobbies.
"I have never ever put so much effort into any of the jewellery I have made. I got a blister on my fingers from all the polishing I did to get it perfect. I am so proud that I was able to do that and it has made it even more special."
When I read our wedding features on Love My Dress I always go straight for the story of how the couple met. I'm just fascinated, and I love this very honest anecdote from Laura about how they met and how Adam proposed.
"We first met on New Year's Eve 2011. I was in a bad mood and got the nickname from Adam 'the girl who doesn't like fun'. Then in August 2012 we met again at Leeds West Indian Carnival when I was in a much better mood and we really hit it off. My friends and bridesmaid played matchmaker but it took a couple of months for us to actually see that she was right, and didn't end up going on our first date until the beginning of November 2012."
"I knew very early on that he was the man I wanted to spend the rest of my life with. I would have married him within the first six months but I knew that was never going to happen. We knew we were going to get married but Adam had always said that he was gonna do it in his own time. I just thought I would be waiting forever for it to happen."
"The proposal took us both by surprise. We went to South Africa in April 2015 for a wedding. It was a big group holiday but Adam and I managed to stay a few days later than everyone else and squeeze in a Safari. We stayed in an amazing tent right by the watering hole of a game lodge. We managed to see one of the Big 5 and lots of other animals: it was a fantastic day. We sat on the deck outside the tent, the stars were out and it was very romantic (in my head I thought this would be a perfect time to propose)."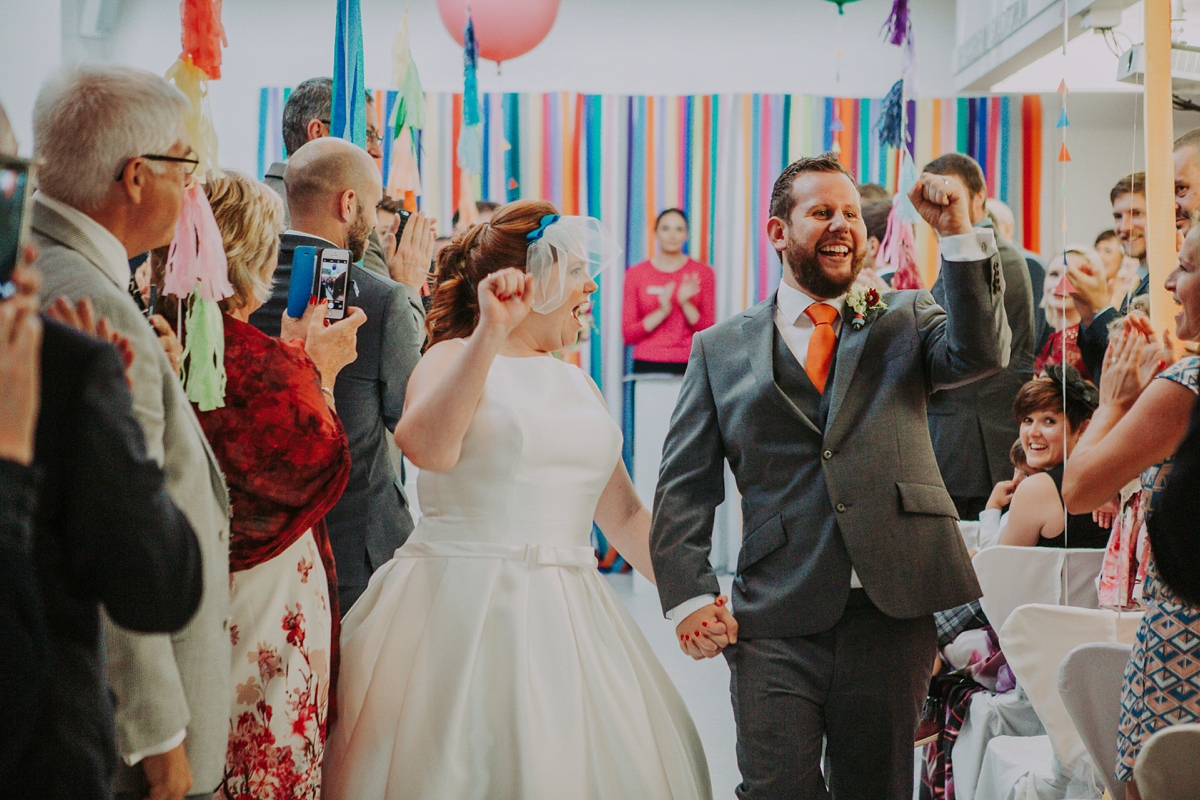 "Adam went a bit strange, he asked me to dance with him, something he usually actively avoids when on a night out. The next thing I know he is down on one knee with a jelly worm sweet tied in a knot asking me to marry him. My response was 'Are you joking?!' I just couldn't believe that the thing I wanted most in the world had just happened."
"As he hadn't been expecting to propose he didn't have a ring, so I got to choose my own. Jewellery is one of my hobbies and I thought I would have gone for a much more unique style but in Johannesburg Airport they are some amazing jewellery shops and I fell in love with a diamond trilogy ring. Within a month we had the venue booked for the following September."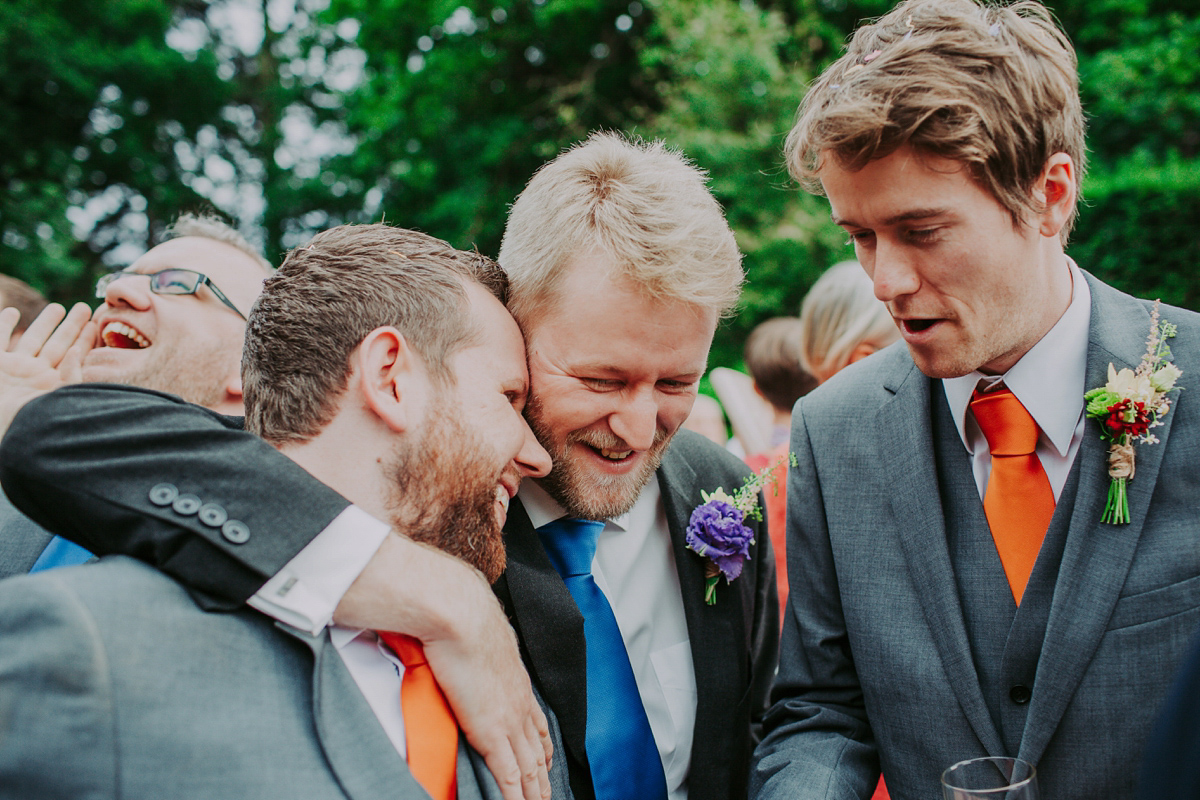 After the ceremony the guests and newlyweds had time to enjoy the beautiful, lush parklands of the Park before a wedding breakfast provided by the in-house caterers. Entertainment was provided by The Funklockers, chosen by Adam after he discovered them at a festival at his local pub. The venue was transformed with the chequerboard dance floor and these wonderful light-up letters spelling 'One Love' by our brilliant Little Book for Brides member Doris Loves. If you love this idea then please take a look at their listing for some more great ideas for personalising your wedding.
"Yorkshire Sculpture Park was somewhere I had always thought would be a fantastic wedding venue. In my daydreaming about weddings (even before I met Ad) I wanted a barbecue at Yorkshire Sculpture Park. I had been a fair few times over the years but Ad hadn't ever been but we both knew it was the perfect venue as soon as we looked around it. It was modern and the perfect blank canvas for us."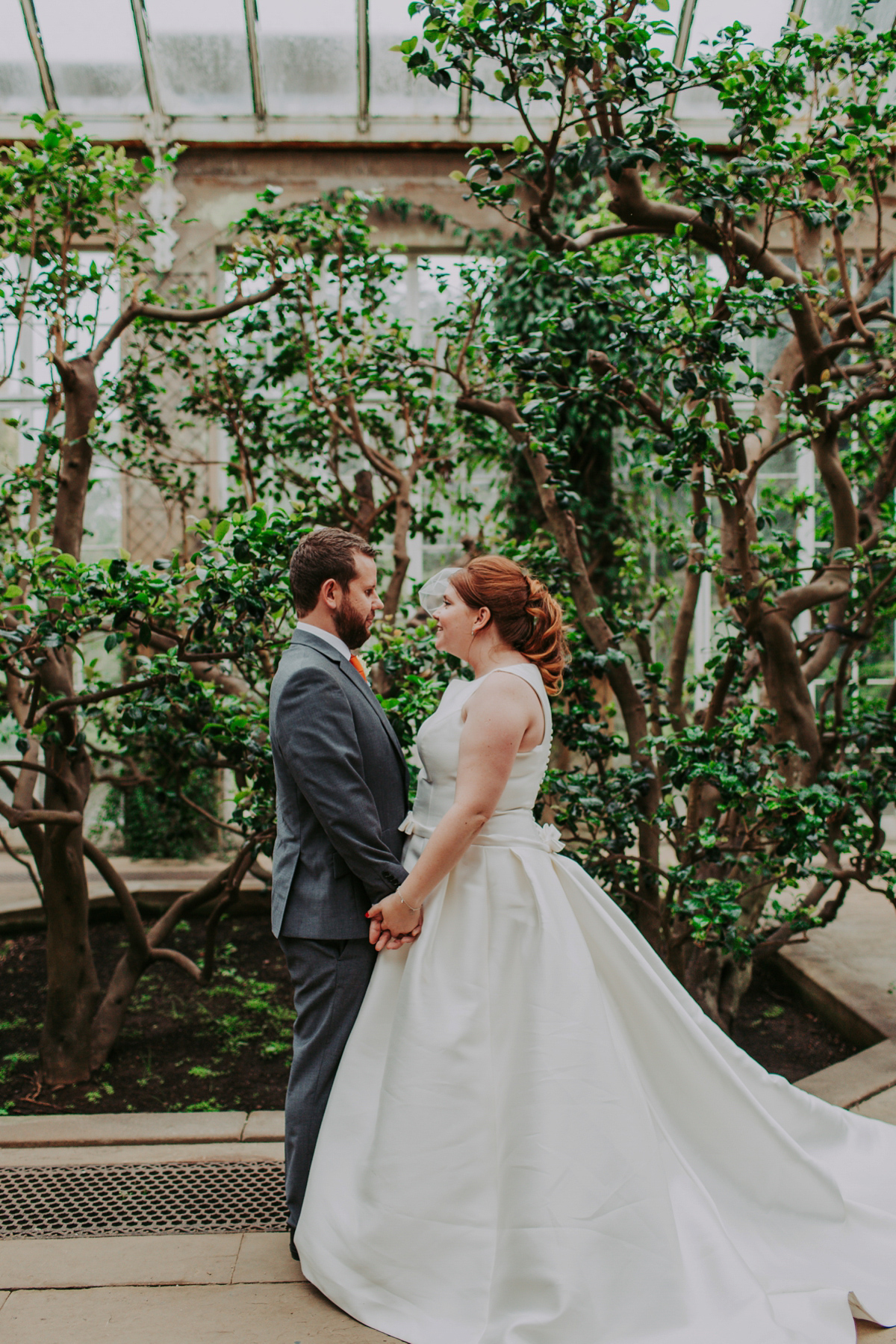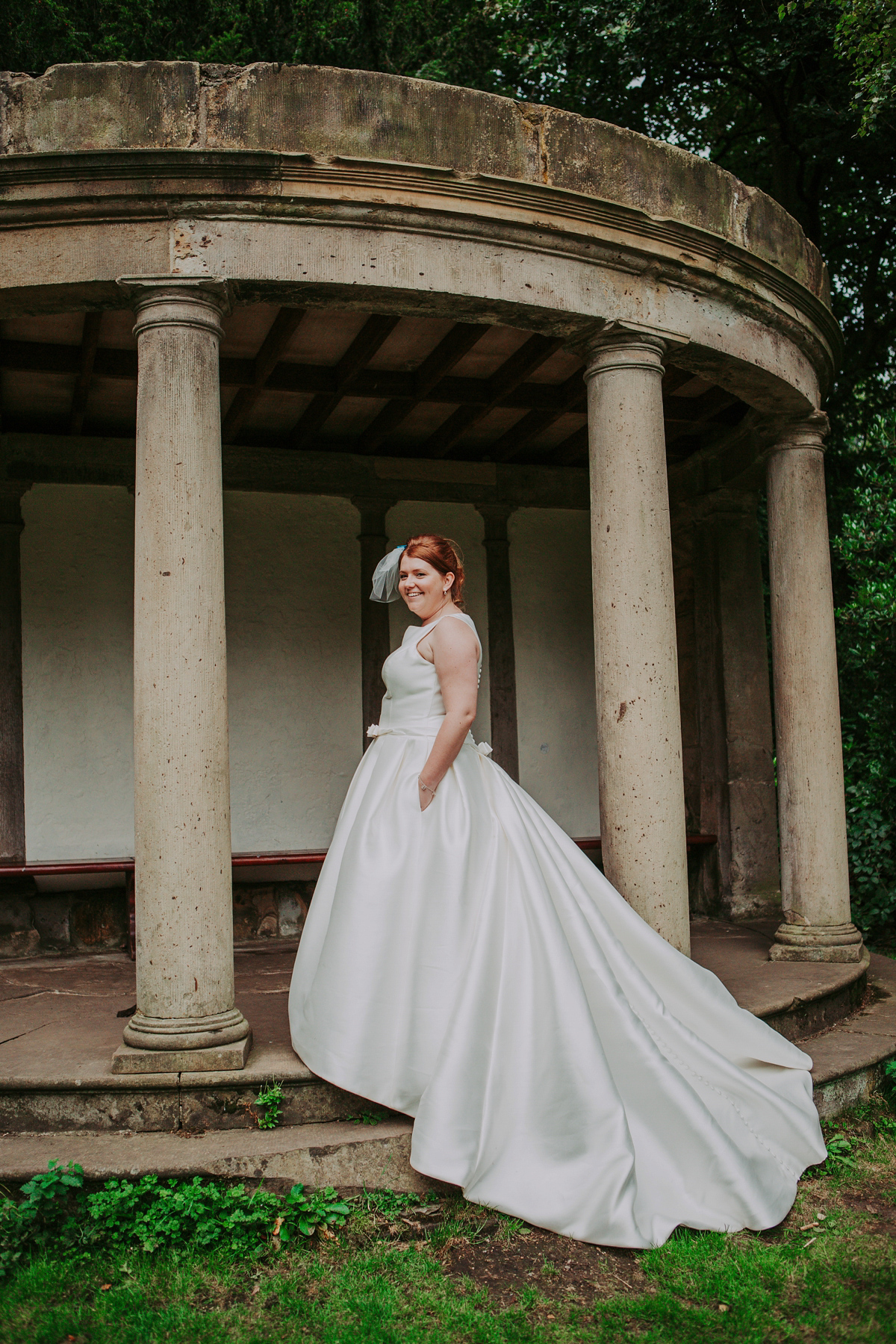 Wedding favours were miniature bottles of home-made skittle vodka, bottled by Laura's mum.
The couple also recruited family members to help with different elements of the day. This fun yet elegant cake with its multi-coloured confetti detail was made by her auntie, who had made all of her birthday cakes when she growing up.
"Post-wedding the band are what we have had most compliments about. They kept the dance floor full and even got our Grandmas in their late eighties up dancing."
"Our first dance was 'Hit the Road Jack' by Ray Charles. We chose it as we love dancing to it and it is only two minutes long."
Words of Wedded Wisdom
"Decide what is important to you and make them your non-negotiables, whether it is the venue, the food, the booze, the band or the photographer. There may become a time when you are sick of planning and the hassle it can bring but remember everything will work out and at the end of the day you are marrying your best friend."
Thank you so much Laura and Adam for sharing your day with us, and Bloom Weddings too for capturing it. It truly has brightened up my day, and I'm a little bit in love with those blue shoes.
Wishing you all a very lovely weekend,
Ele xx