Hurrah! Summer finally feels like it's in the air! Though I'm sure my writing those words means it's now going to tip it down for the next week. Today I have the loveliest summer garden party inspired celebration to share with you all. Adele, who has just launched her own wedding planning business, Peony and Blush Weddings, wed her beau James, who works for an investment fund, on 23rd July 2016 at Millbridge Court in Frensham, Surrey.
"As we were getting married in the summer we really hoped for a garden wedding. We were aiming for chic, elegant romance and I knew I wanted flowers in abundance and an understated summery colour scheme of blush, white and a bit of greenery. It was important to us to have a day that reflected our personalities so we kept it as relaxed and fun as we could."
Photography by Lyndsey Goddard Photography
Adele chose the 'Cherish' gown by Suzanne Neville, which she purchased at The Bride in St Albans. She paired her gorgeous dress with a chapel length silk veil with a scalloped lace edge, topped with fresh flowers and simply accessorised with diamond earrings, gifted to her by her parents on her 30th birthday.
"Suzanne Neville dresses are just exquisite and by far the best I tried on; her style suits me perfectly. The quality is absolutely amazing and the skirt of the Cherish dress in particular was what I loved best. As soon as I put the dress on I wanted to dance around in it and twirl. It was the only dress that made me feel like me, I didn't want to take it off."
"I did a lot of research for my hair and make up. I generally don't wear a lot of make up, so for my wedding day I wanted to look like the best version of myself, but still natural. I discovered the wonderful Kristina Gasperas and Kasia Fortuna online and knew right away they were the right team for me. They did an absolutely fantastic job, kept us all calm and I cannot recommend them highly enough."
"I chose to have fresh flowers in my hair over my veil. My florist Carrie Macey, chose some beautiful David Austin roses. I thought this would be a pretty natural touch that worked well with my bridesmaid's flower crowns. My bouquet was blush-toned, with hydrangeas, David Austin roses, sweetpeas, astilbe and peonies, tied with silver and grey ribbons."
"The Bride was one of the first shops I visited and when the lady picked Cherish out for me I loved it straight away. I did, however honour all of my appointments at other boutiques to make sure I tried on every style and designer that I had wanted to see. Throughout these appointments, and over thirty dresses down, in my head I kept going back to the Cherish dress. My mum and bridesmaid told me I had to go back to The Bride to try the dress on again and as soon a I did I knew it was the one."
Adele fell hard for her Valentino Rockstud shoes and just couldn't get them out of her mind, eventually purchasing them in Singapore eight months before the wedding. She knew they were a beautiful statement piece she'd be able to wear again, and they were surprisingly comfortable too.
Our savvy bride chose another of our Little Book for Brides darlings to take care of her hair and make-up – the wonderful ladies we affectionally know as 'The K-Team.'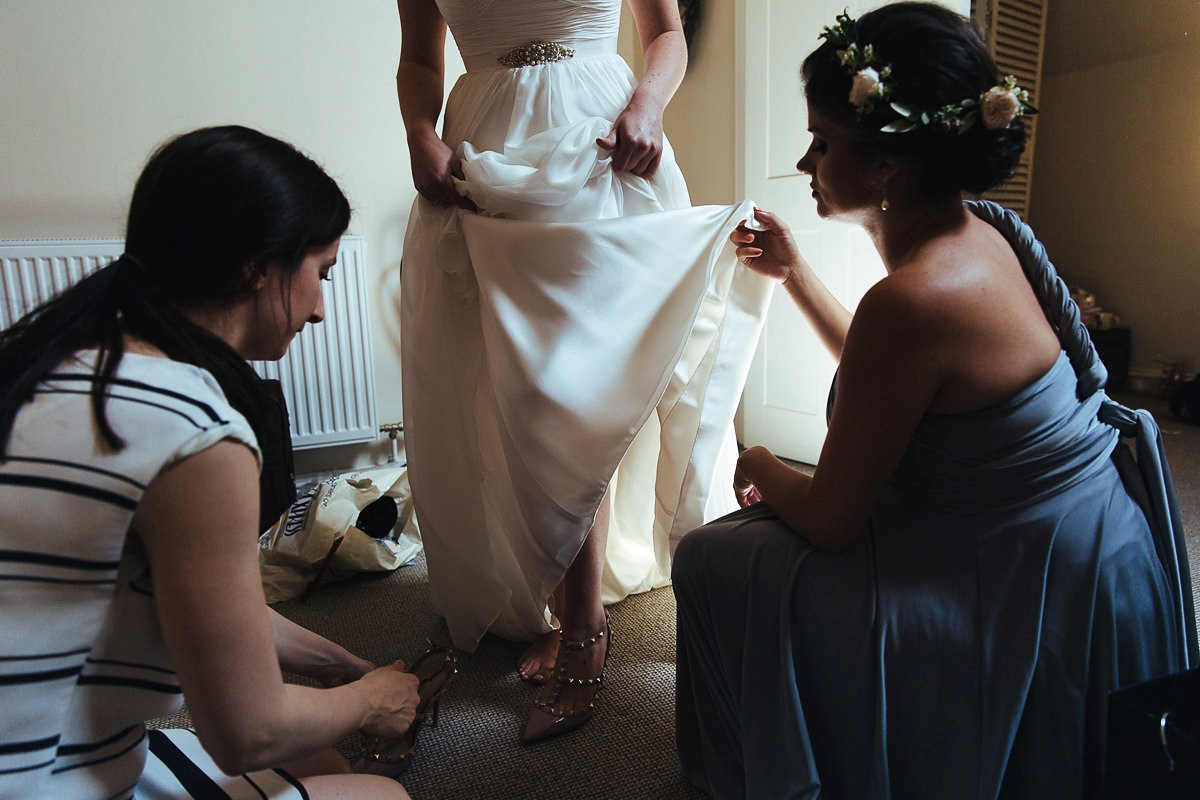 "I wanted a new fragrance for my wedding day and honeymoon so I decided to visit Jo Malone for a Bridal Consultation with my mum. I chose to pair Peony & Blush Suede with Nectarine Blossom & Honey. Every time I wear or smell them now it reminds me of my wedding day."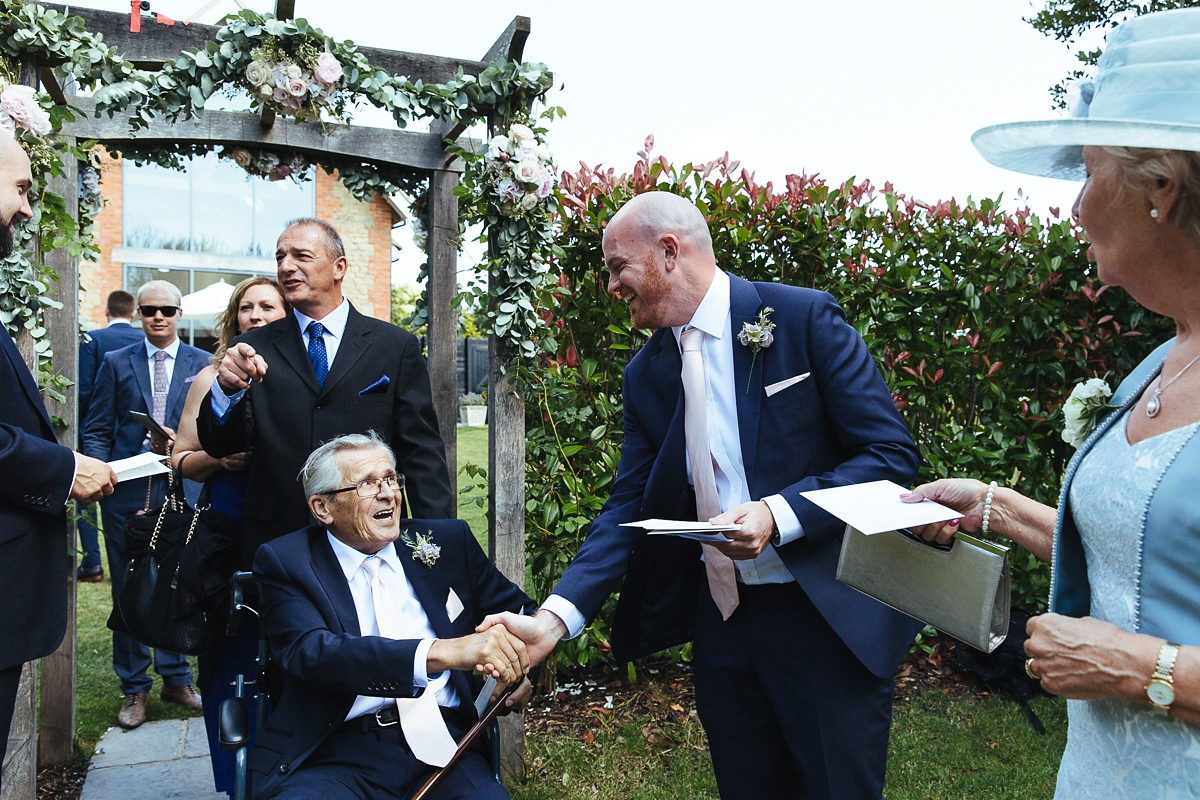 Comfort being of paramount importance, Adele asked her bridesmaids to choose their own nude or metallic shoes and to wear their own earrings. She chose some of the most divine dresses around for her lucky girls, the multiway, über-flattering designs of Twobirds Bridesmaid. Now I may be slightly biased as I've chosen these very same frocks for my best ladies, but if you take a look at our curated wedding directory and our Style Files, you'll soon see why they are so brilliant.
"After a little research I knew very quickly that I wanted to visit Twobirds with my bridesmaids. I didn't want them to be too 'matchy-matchy', I wanted them to shine in their own way and most importantly feel comfortable. We visited the London boutique and tried on all of the beautiful colours and practised a lot of styles. I was so pleased that every one of my bridesmaids loved the dresses and found a style they would be happy in. I had five bridesmaids, and after a lot of deliberation I chose to have two beautiful colours – blush and platinum."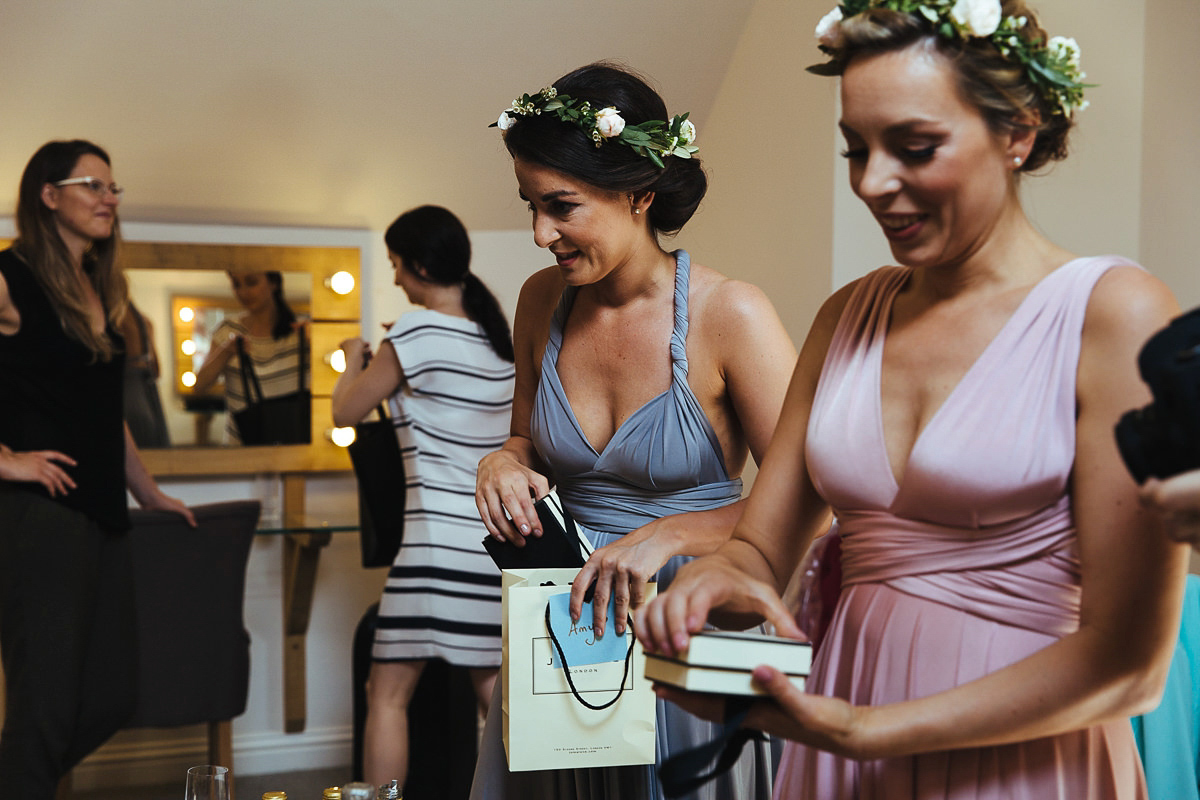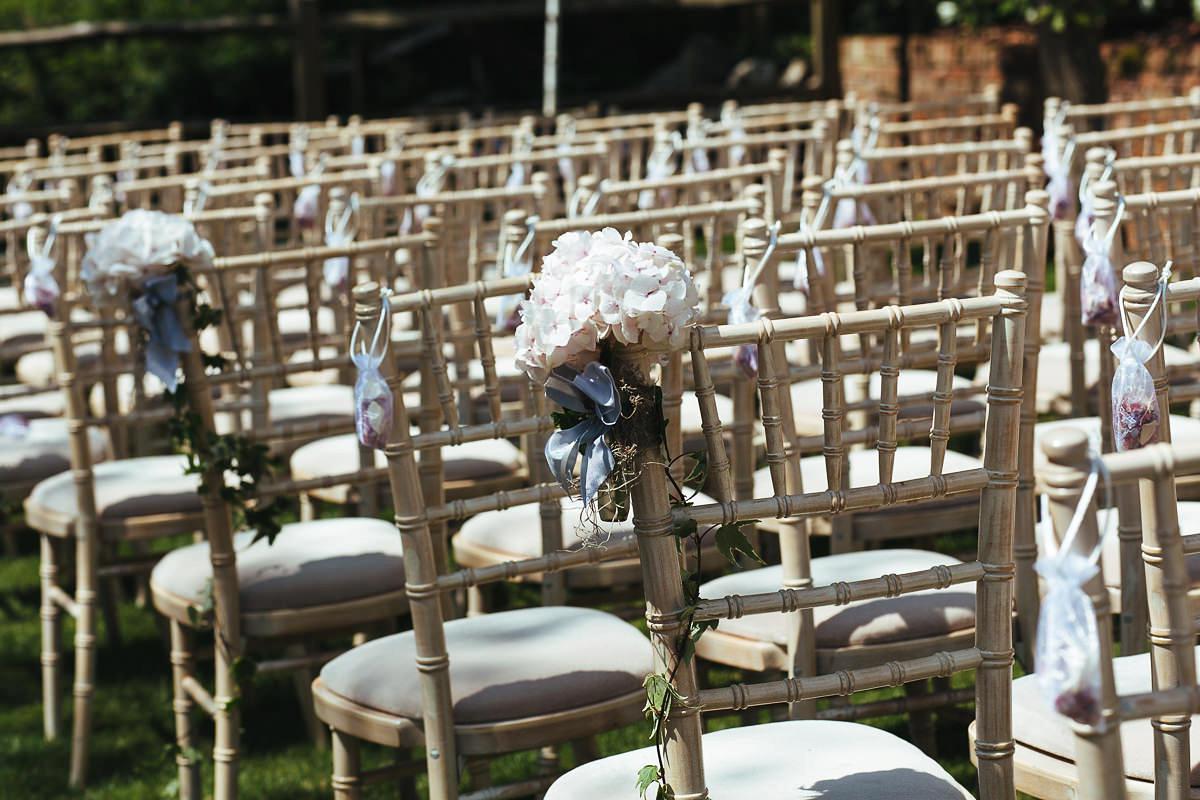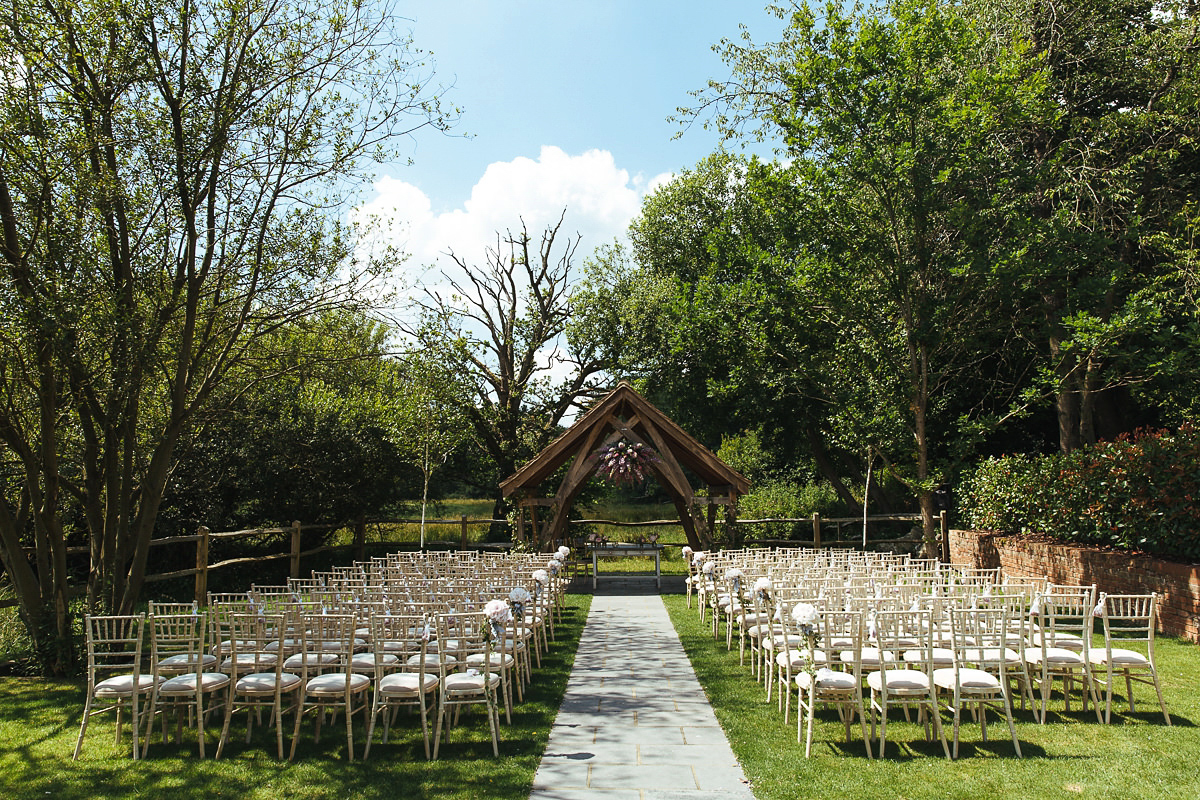 Adele very wisely, if we do say so ourselves, contacted a number of brilliant wedding suppliers listed on our sister side, Little Book for Brides to help create her big day vision. The first of these wonderfully talented and hard-working lovelies was Emily & Jo Stationery, who are responsible for Adele and James' charming suite of blush stationery, embellished with gold foil script – these soft, summery tones carried through into the plethora of floral goodness supplied by Carrie Macey of Topiary Tree.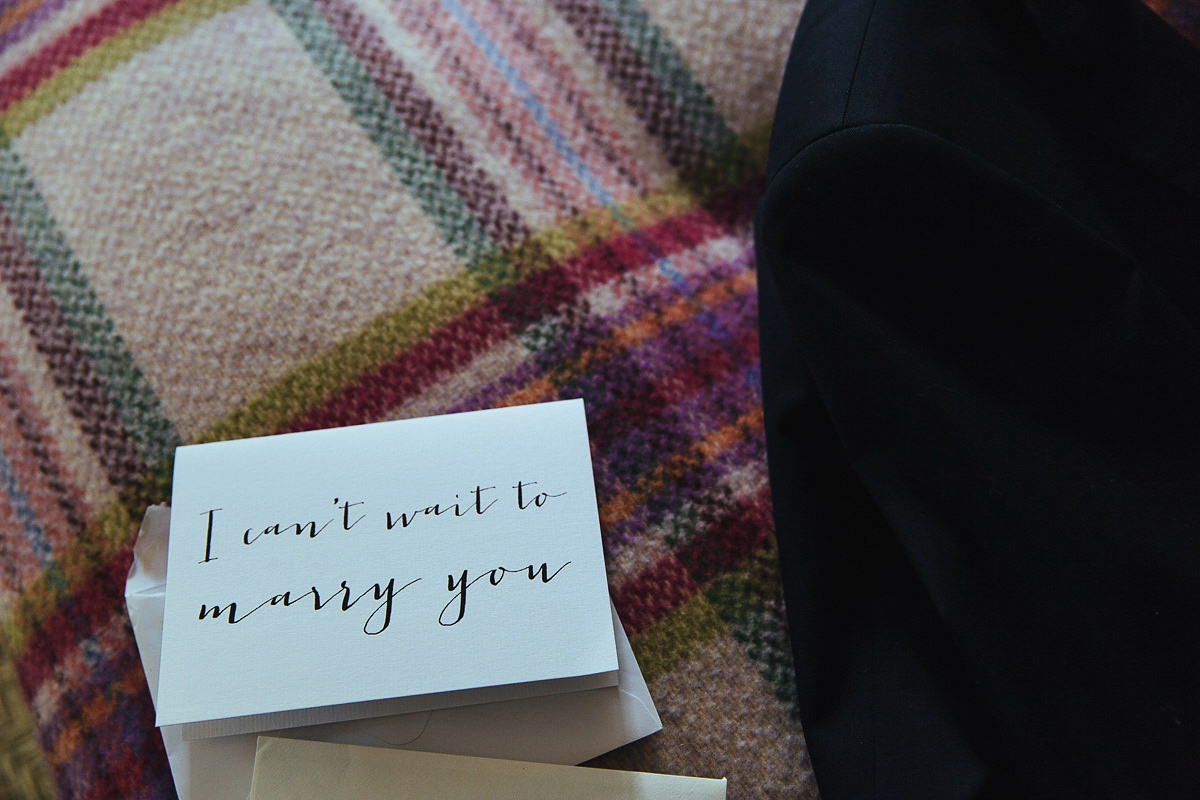 "I had seen some of Carrie's work online through Millbridge's social media account, and she is one of their trusted partners. I absolutely adored her work and knew she would be able create some beautiful arrangements. Flowers were an integral decorative part of the day for me so I had quite a clear vision. I knew I wanted pretty pastels, blushes, whites and eucalyptus. Hydrangeas and peonies are two of my favourite flowers so I knew I wanted lots of them too."
"I honestly cannot describe how amazing Carrie's flowers looked. The morning of the wedding, I crept downstairs from the bridal suite to see how the venue was looking, and I was literally gobsmacked at how beautiful everything looked. The care, the detail and the work she put into the flowers was just unbelievable."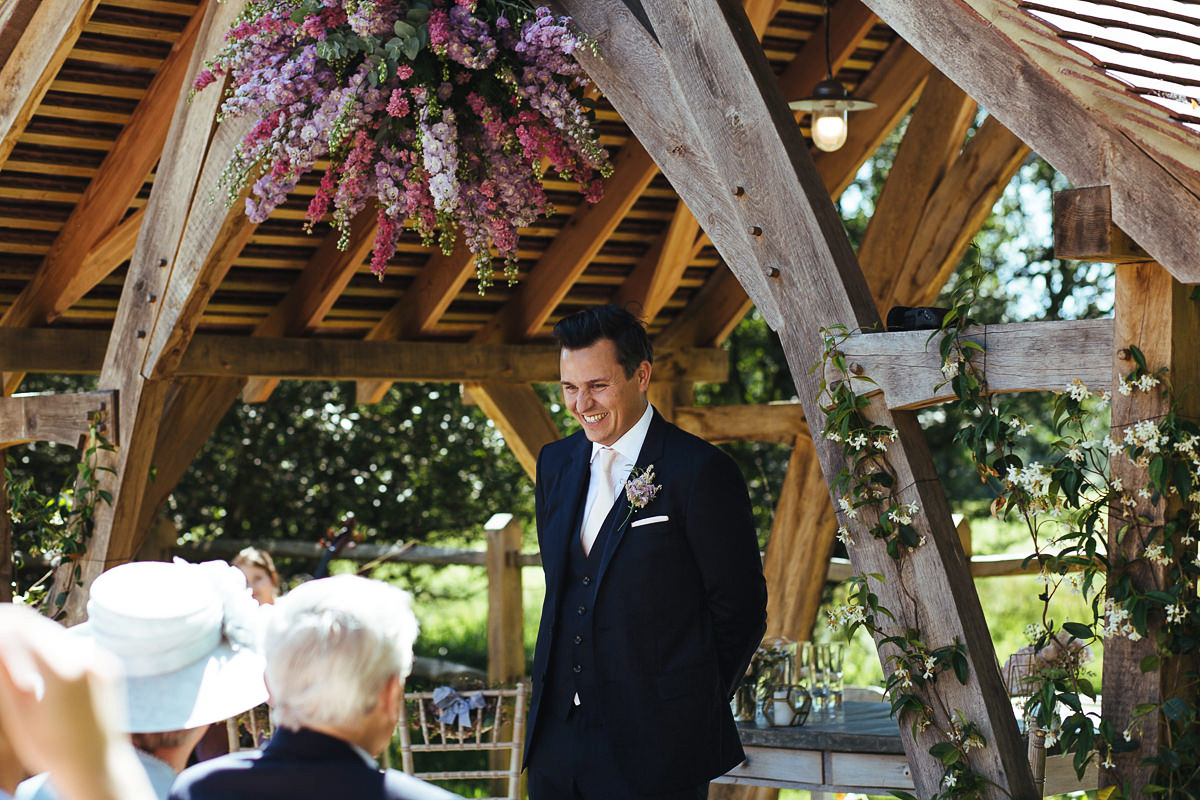 Adele and James requested a floral arch leading into the garden where they held their ceremony at Millbridge Court, draped with fresh foliage and a touch of colour, while hydrangeas flanked the outdoor aisle. James found the inspiration for a stunning bloom-laden pagoda on Pinterest, the structure dripping stunning pink and lilac delphinium and larkspur. I can practically smell the divine fragrance of those softly scented beauties!
"We chose to get married at Millbridge Court before they had even 'opened' and had a wedding. I found them online and knew right away that it was the type of venue I had been looking for; a boutique wedding barn. This one stood out to me as it was fresh, contemporary and light with a French shabby-chic vibe, but still had the traditional barn features that I wanted."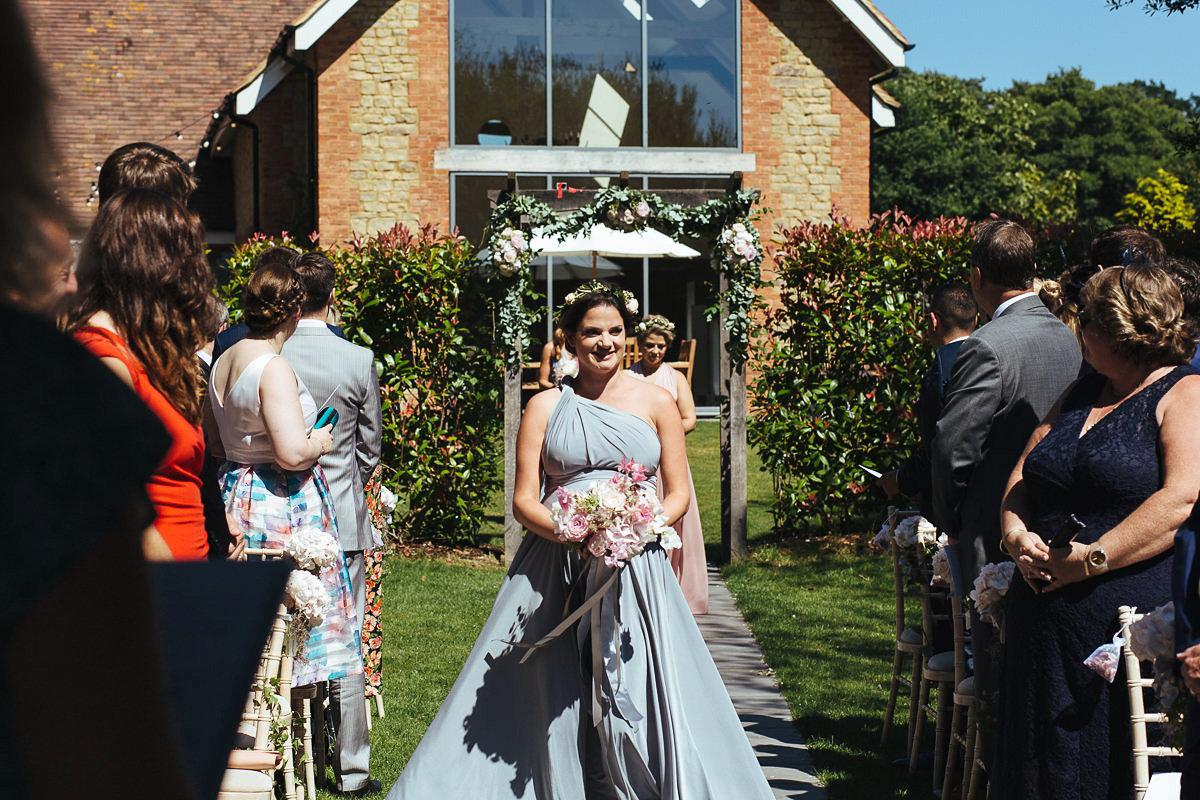 Our bride walked down the aisle with her dad to 'A Thousand Years' played by Palatine string quartet, a song she chose as soon as she and James became engaged for the way it makes her feel. During their personal, humanist ceremony, their celebrant Jane Blackman recited Union by Robert Fulham, which the couple chose because it talks of meeting, falling in love and planning a future together.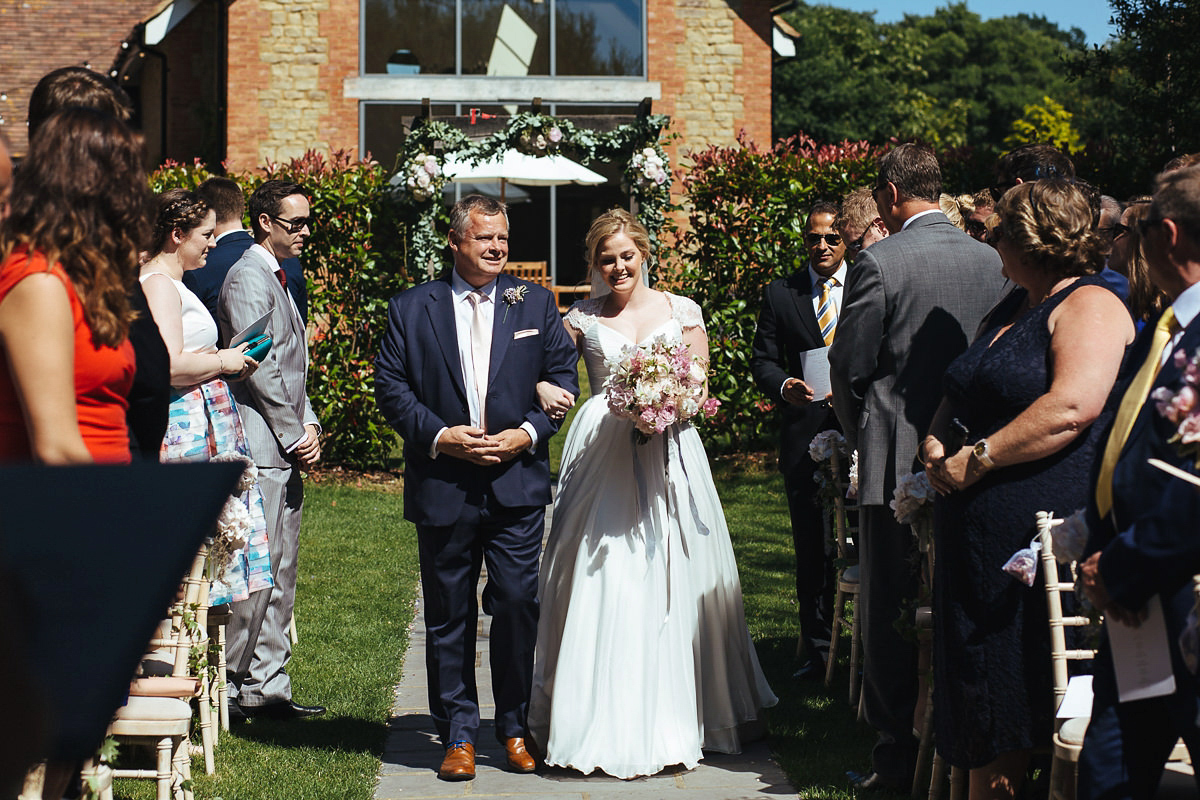 "James and I didn't want a religious wedding or a civil ceremony, so we opted for a humanist ceremony. The beauty of it is that the service is tailored to you, celebrating your history as a couple. It felt right for us; romantic, personal and relaxed, fitting in with the whole vibe of the day. We chose our vows and the whole ceremony was written by our celebrant, Jane Blackman after meeting with us a few times. She did such a great job and the ceremony wording is something we will treasure forever."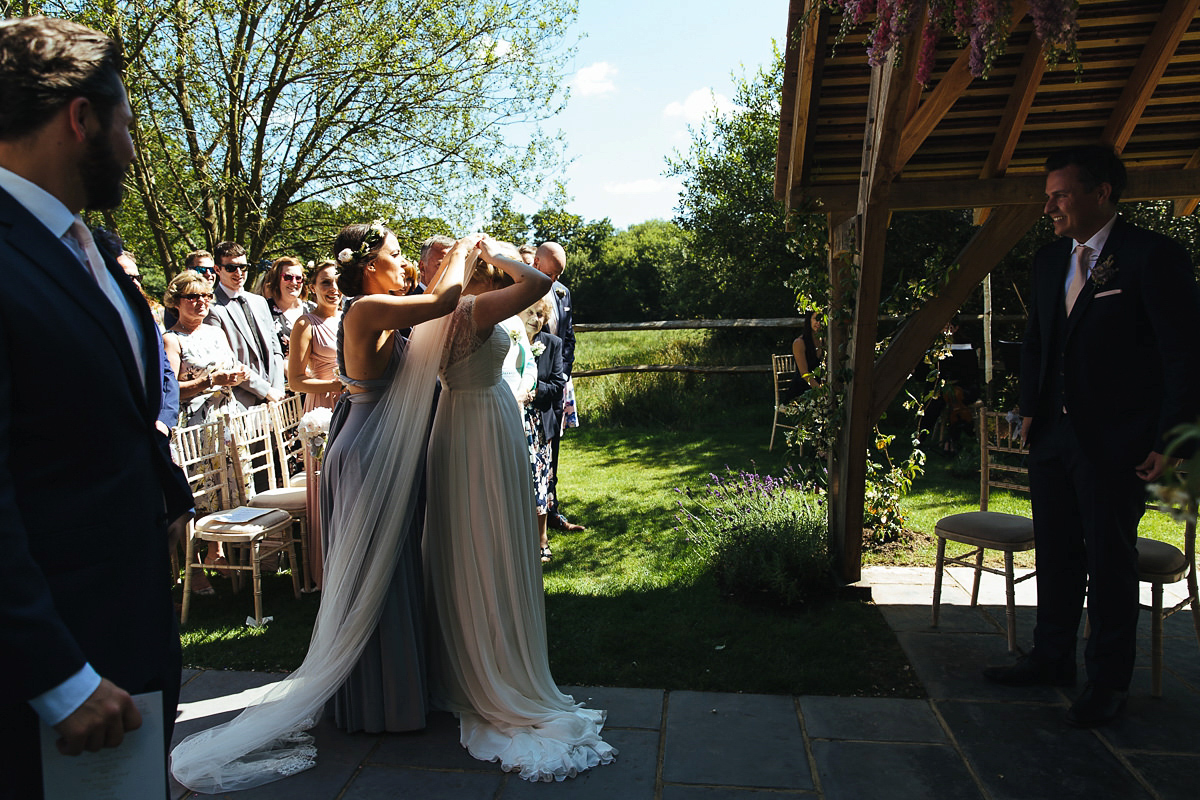 Bridesmaid, Amy read a passage called 'On your wedding day' – a light-hearted poem about becoming man and wife, followed by 'I'll be there' by Louise Cudden, recited by the couple's friend James; a humorous passage which Adele and James both felt reflected their personalities and relationship with each other.
"We bought my engagement ring at Hearts & Arrows Jewellery in Antwerp, so we thought it would be lovely to go back and choose our wedding rings from the same jeweller."
"I have a diamond eternity band and James chose a yellow gold band. Our favourite part of the day was our wedding ceremony. It was just perfect. Saying 'I Do' to each other in front of all of our family and friends was just so special."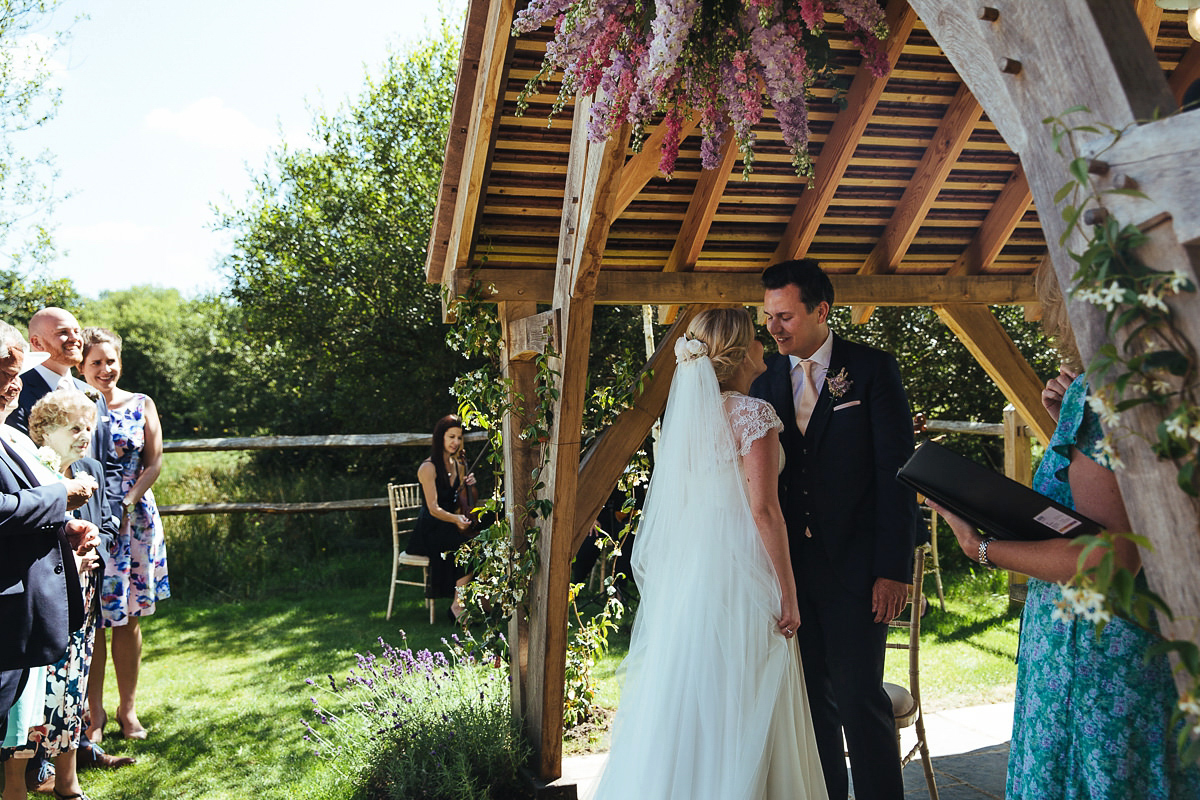 "James chose a blue three piece suit from Hugo Boss, his favourite store. We kept it very simple and asked our groomsmen to wear blue suits in keeping with James' style and we provided their ties and pocket squares."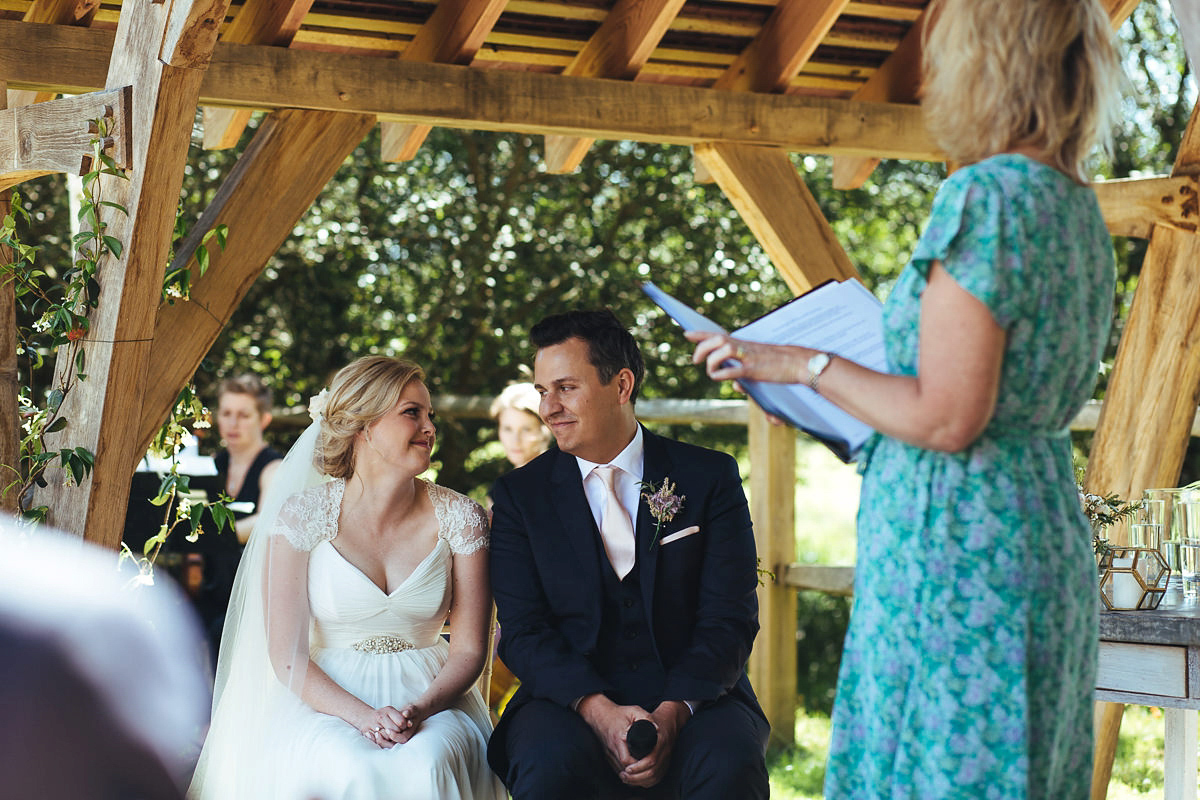 "James and I met in May 2009 and became engaged in May 2015. We had been together for six years by the time we got engaged, so we had discussed marriage a lot. We chose to go to Antwerp, the diamond hub of Europe, to choose my diamond and the setting. It was such an exciting experience as I got to see the whole process from start to finish. I'm so glad we did it together, it was actually very romantic and a memory I will treasure. James proposed a few weeks later at home. Even though I knew the proposal was on cards it was still really special."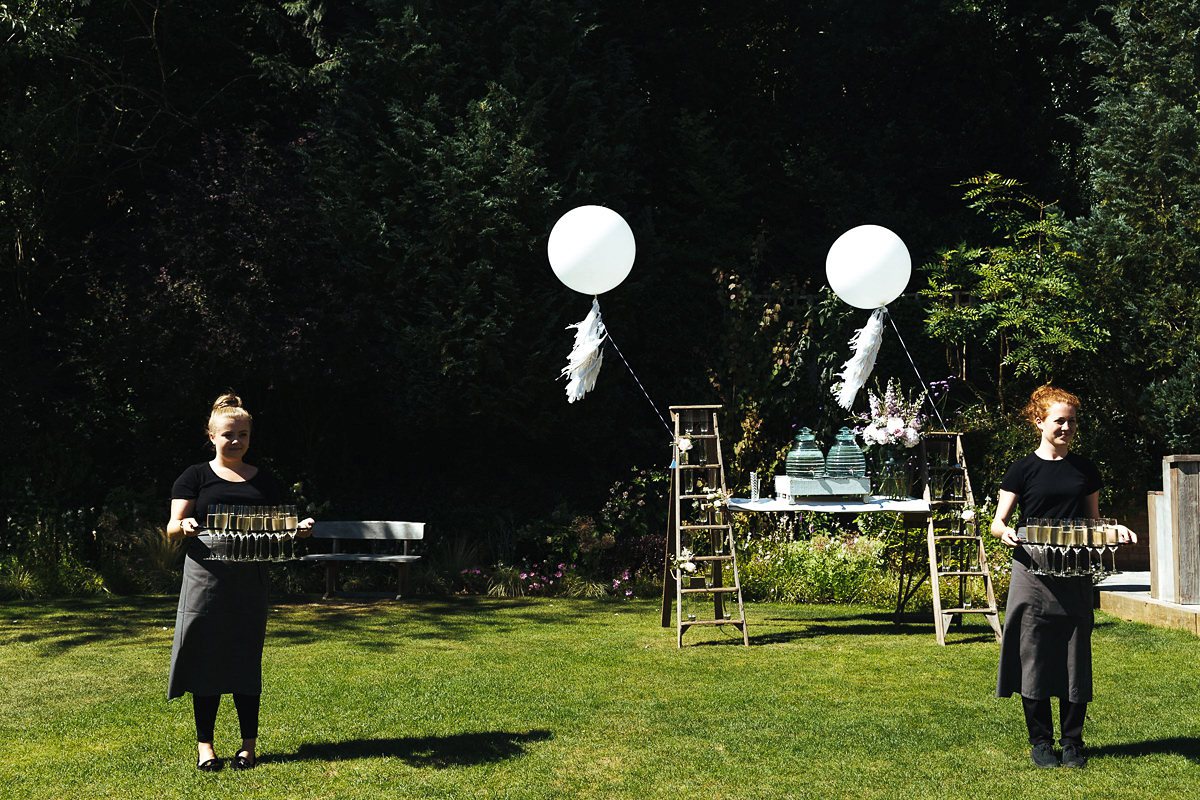 Lyndsey Goddard Photography was on hand to document every moment of joy. Her journalistic style has lent itself so well to this celebration, capturing fleeting, unseen moments and sweet, personal details. Adele and James also chose to have their day recorded on film, the resulting video never failing to make them smile when they settle down to watch it.
"Lyndsey is an amazing documentary style photographer. We wanted someone who could take pictures without us knowing they were there, and to not have to feel awkward posing for portrait shots. Lyndsey can catch moments that may have been missed; moments that are gone in the blink of an eye. Her photos show humour, love and a little action, which we adore."
"We definitely wanted a videographer to film our wedding day as it is something we can look back on for years to come. We decided to use Voop Weddings after we saw the beautiful wedding video they had made for our friends. It's one of the best decisions we made and I would strongly advise any bride-to-be to invest in a videographer. I'm so glad I have something that I can show my children in the future."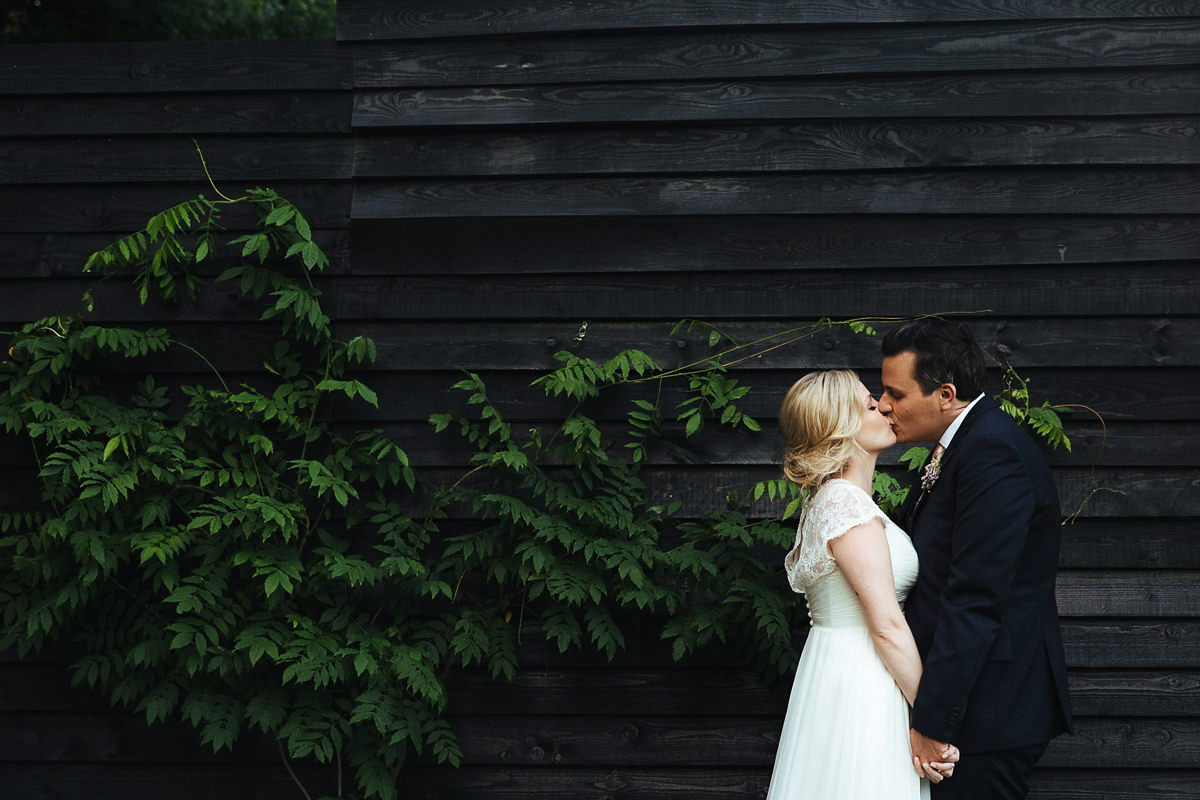 "Kalm Kitchen were the amazing catering company who work in partnership with Millbridge. They offer high-end, contemporary menus and we took a very long time trying to choose our canapés and menu as everything was just so amazing. They also made us some amazing cocktails for our evening reception, which I understand went down very well with our guests. We had his and hers cocktails; a blood orange and clove daiquiri, a gin clover club and a virgin strawberry and lavender collins for the non-drinkers."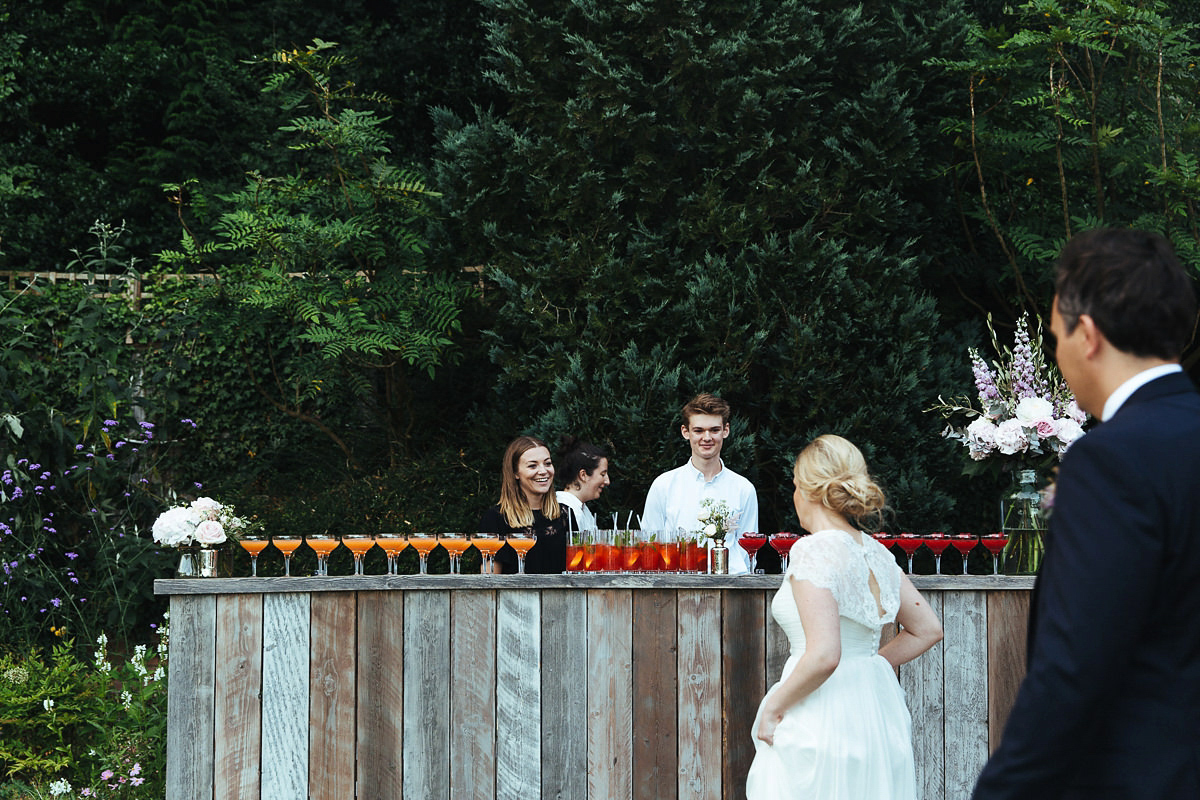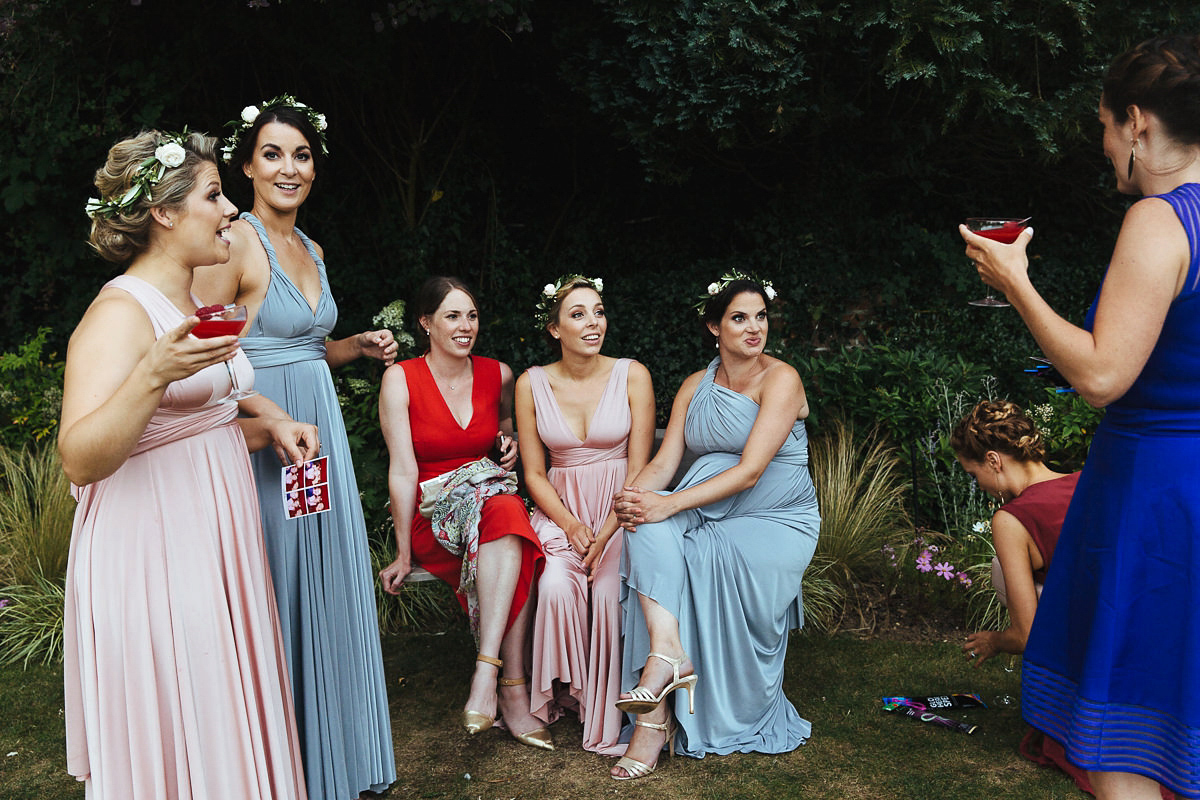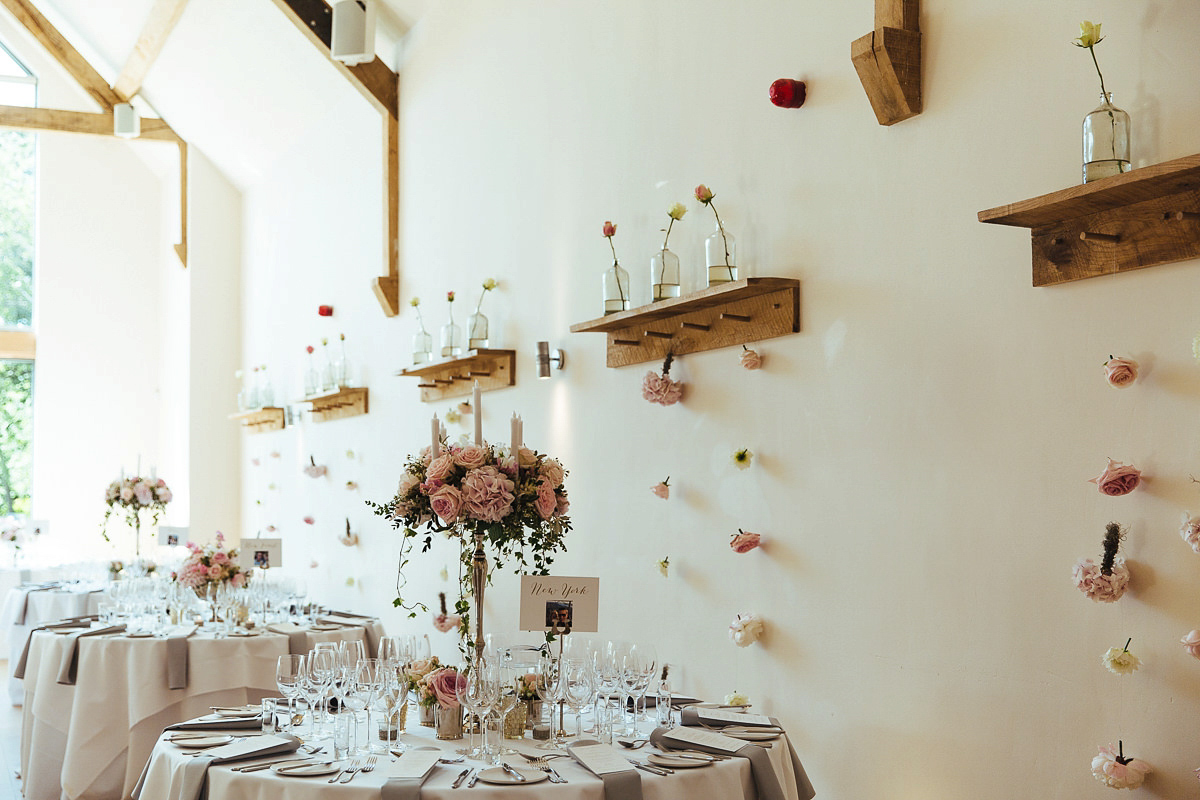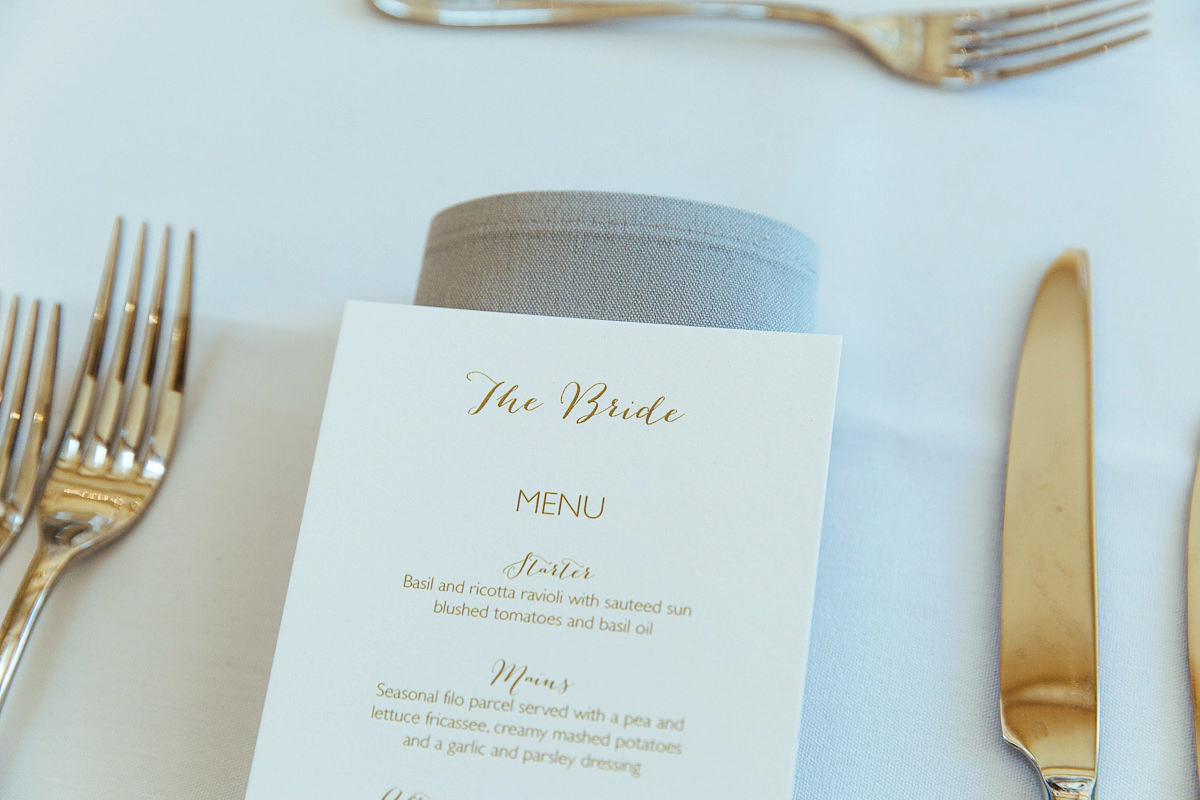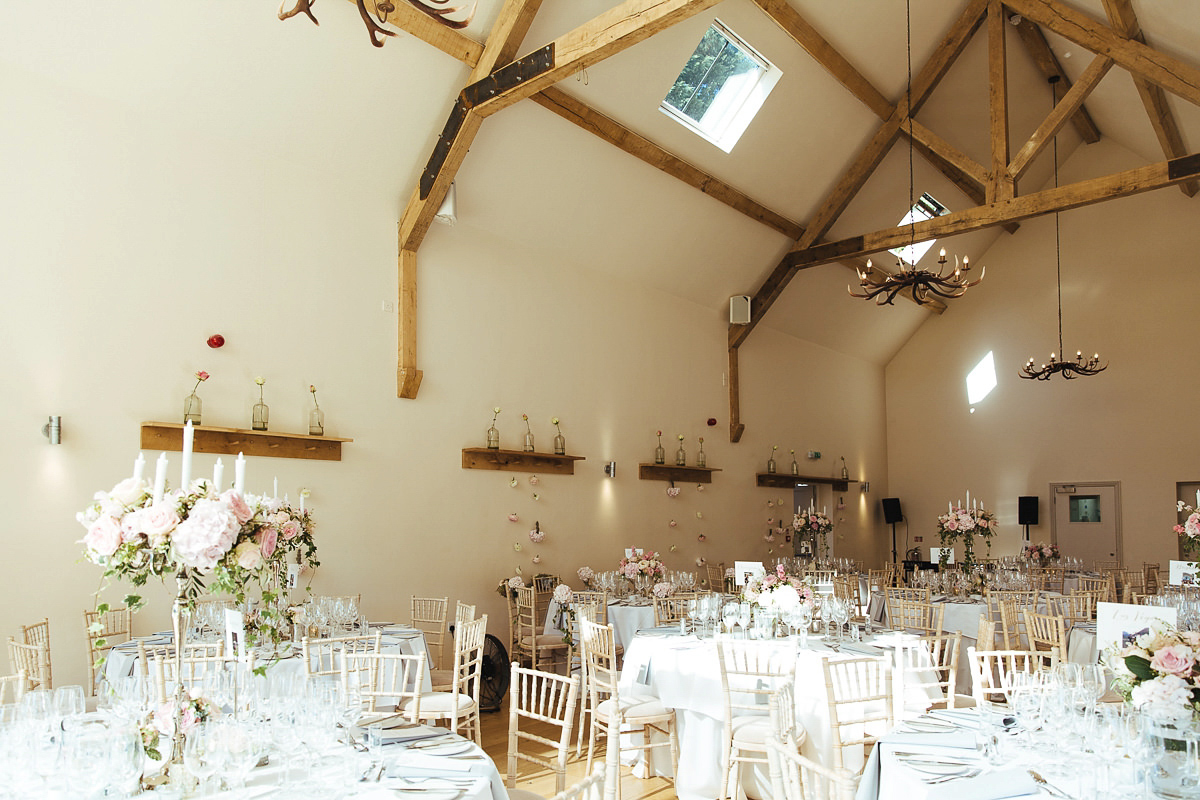 Originally, the couple decided not to give favours as they'd chosen instead to serve Limoncello with dessert, the perfect end to a delicious meal catered by Kalm Kitchen. This lead to Adele and James creating personalised shot glasses for their loved ones – a sweet momento for their guests to take home with them at the end of the day.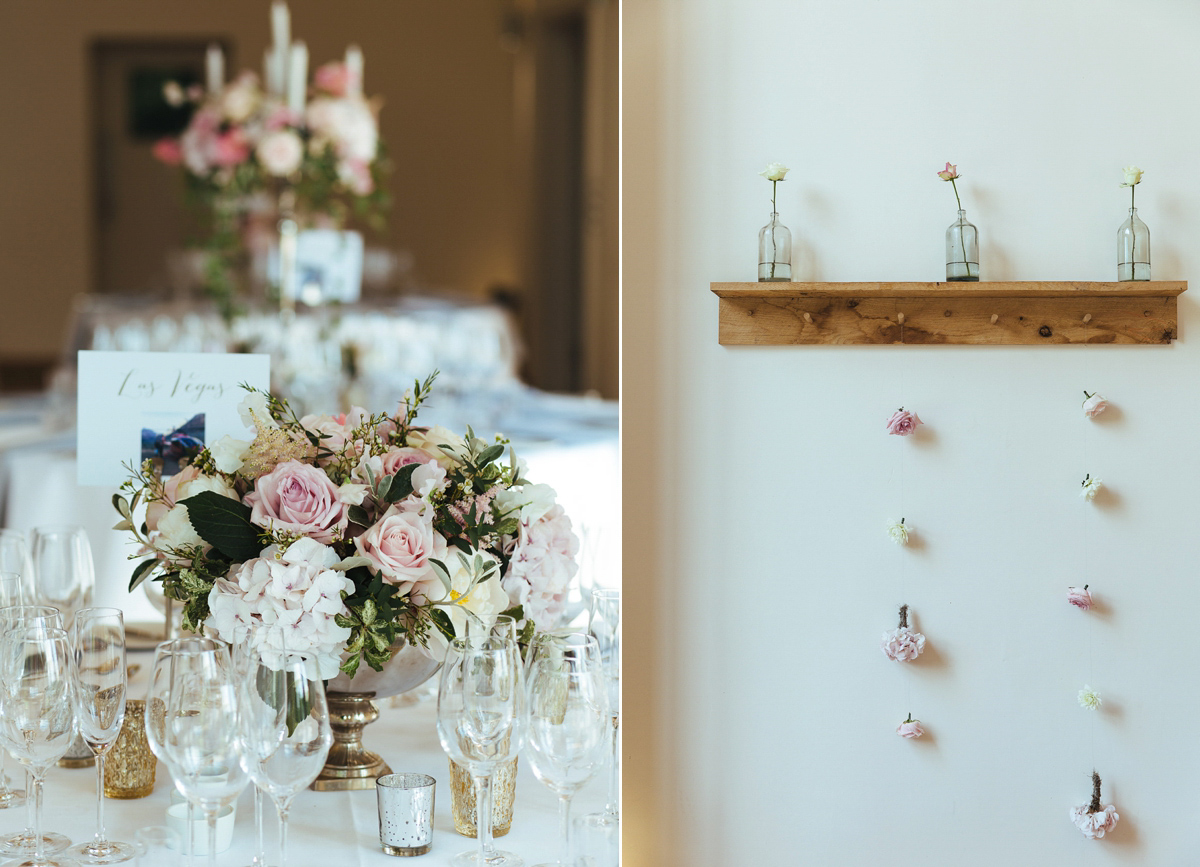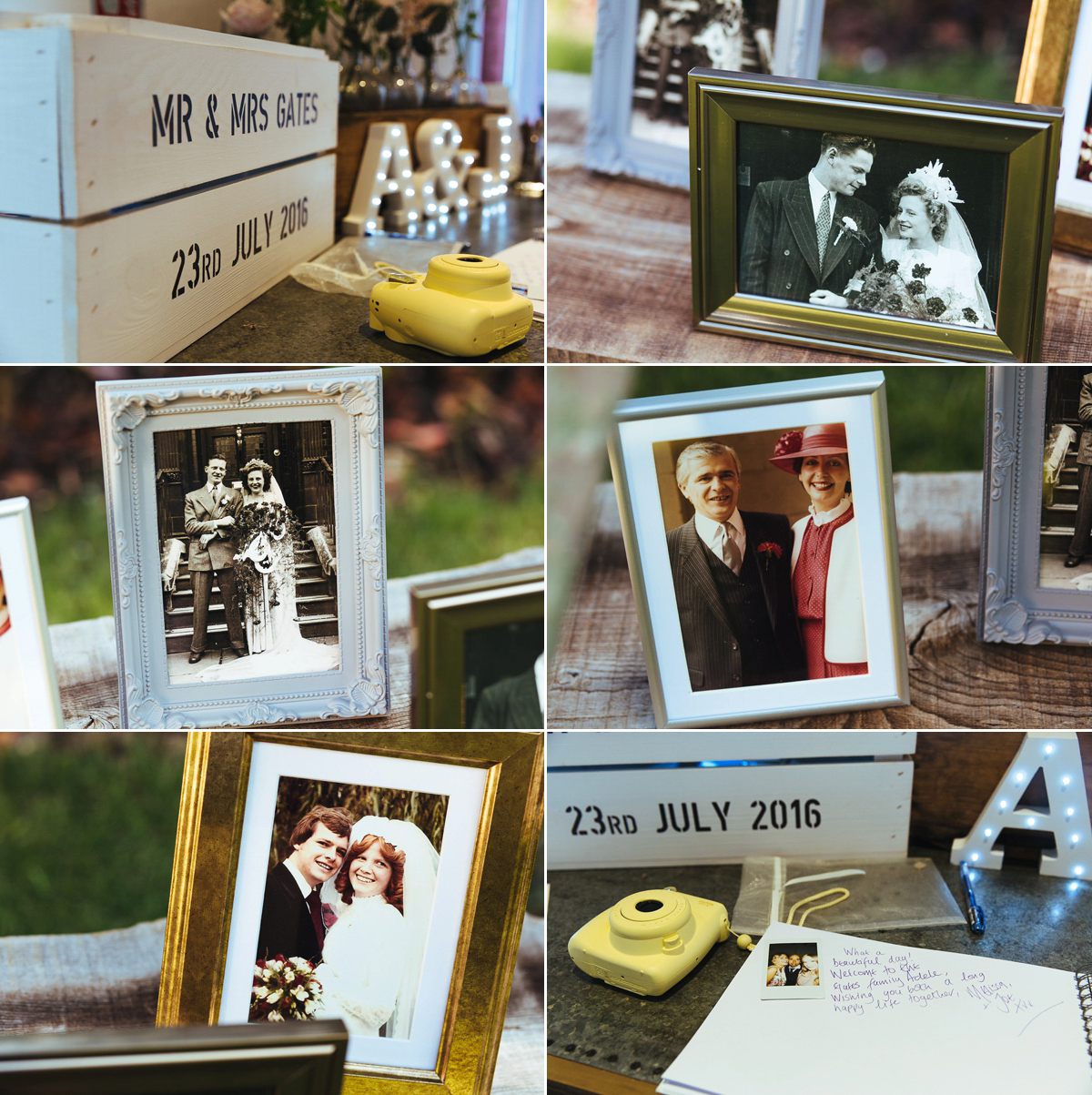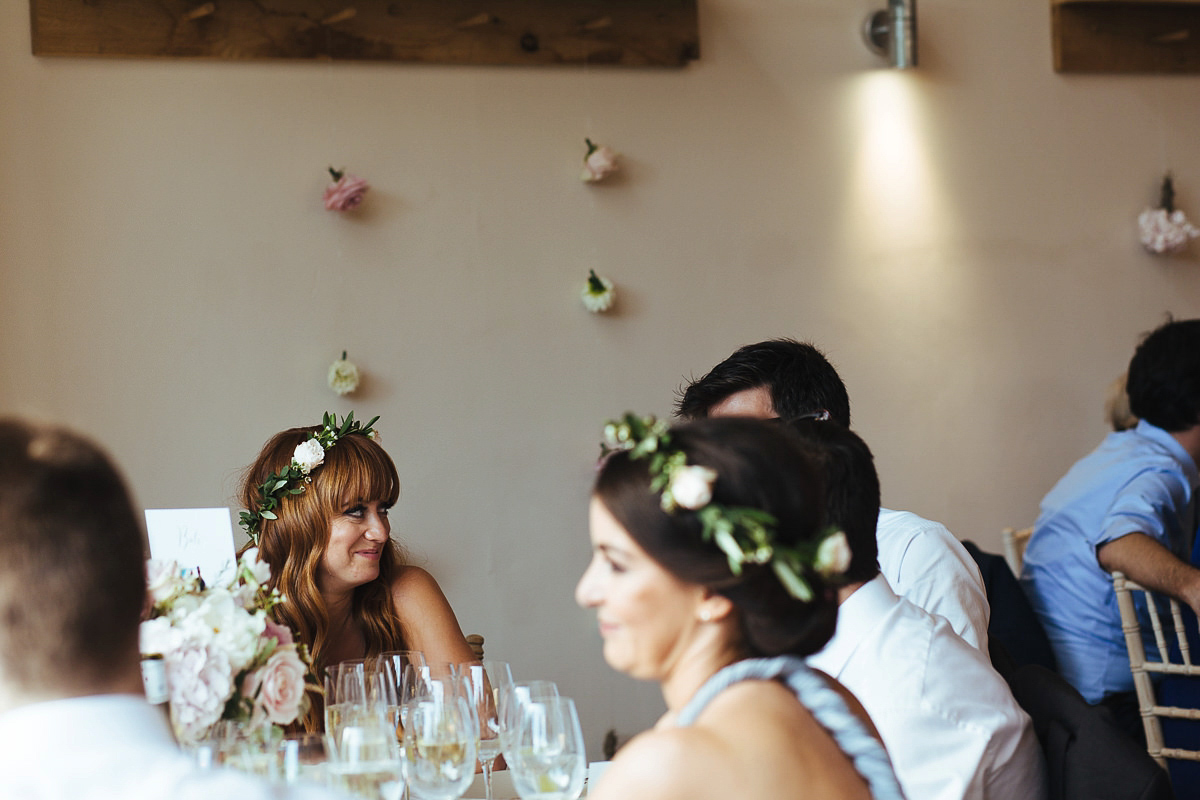 "We used the fantastic Jen Weller of Spongeworks.We chose a three tier naked wedding cake. I liked the simplicity of it and we thought it would be a great opportunity to have three of our favourite cake flavours."
"We met up with Jen leading up to the wedding to taste some of her amazing cakes and we chose chocolate fudge, lemon drizzle and carrot cake. It was decorated with some beautiful flowers provided by our florist, a Mr & Mrs Gates cake topper, and a scattering of berries."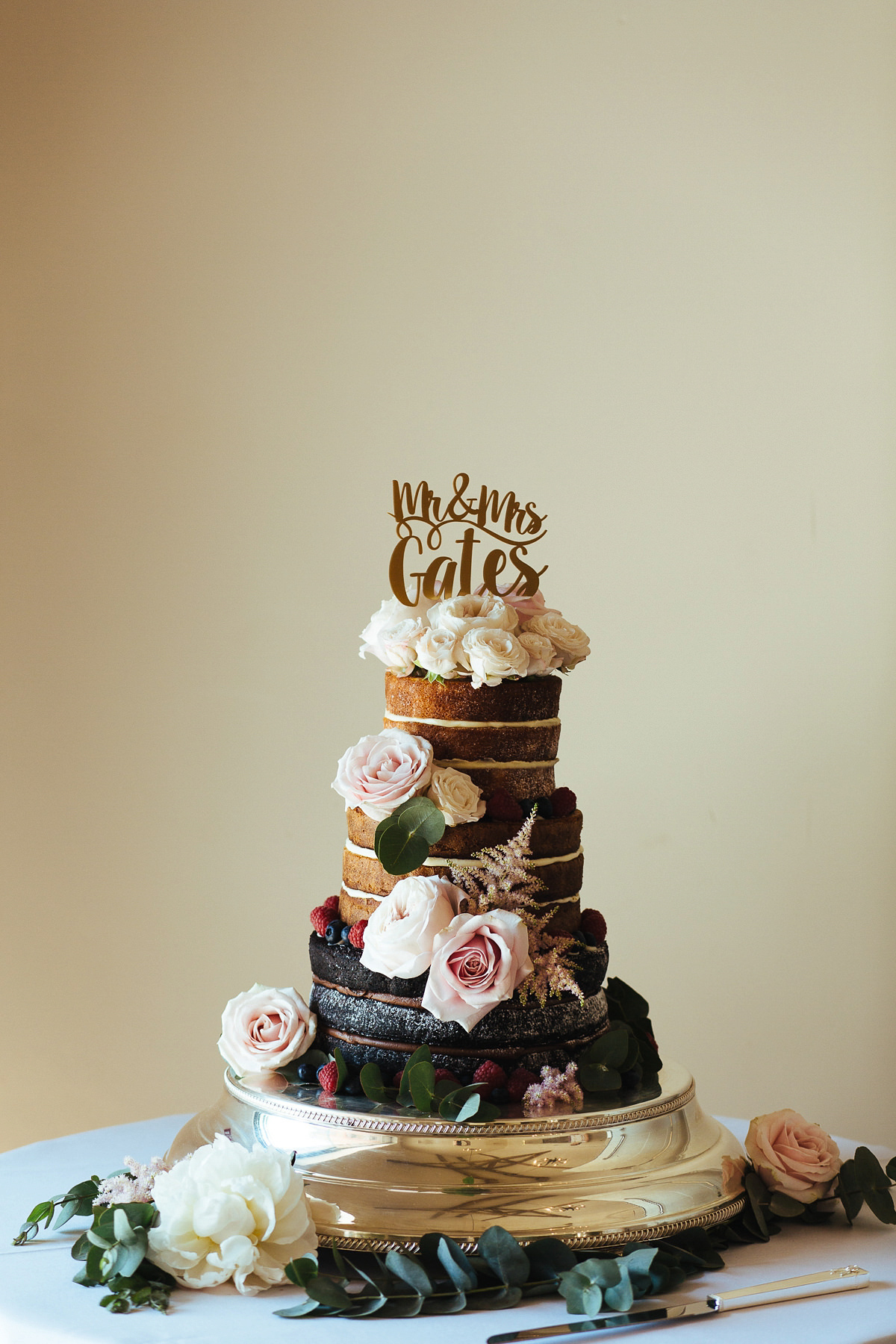 "Oomph were our band and DJs. We loved them, I cannot recommend them enough. The band were so friendly, played amazing music and even let James do a little sing alonglong on the mic with them. The dance floor was full all night."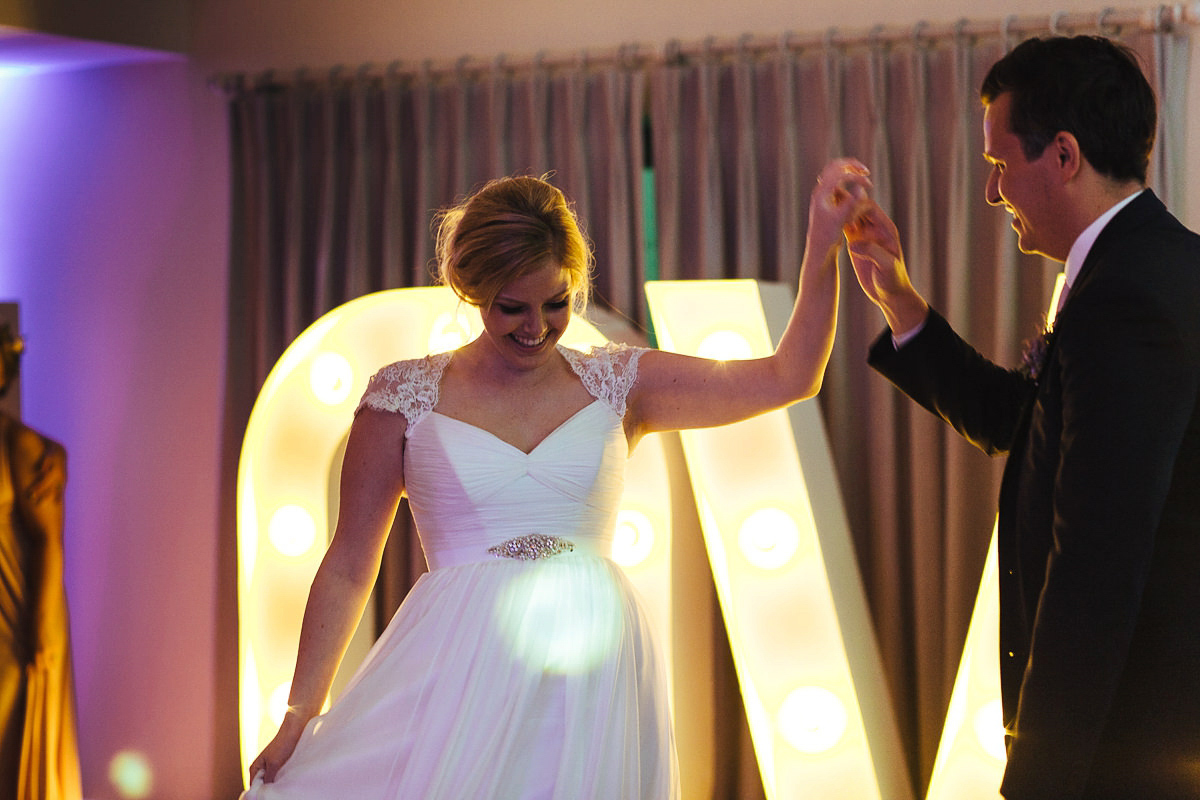 "We danced to Ed Sheeran's 'Thinking Out Loud'. James and I would dance and sing this to each other when it was first released on the radio, so it made sense to have this song as our first dance. I have to say our first dance was the most memorable part of the day – I honestly didn't realise there was anyone else in the room. All I saw was James, all I heard was the song, and it was one of the most special moments of my life that I will remember forever."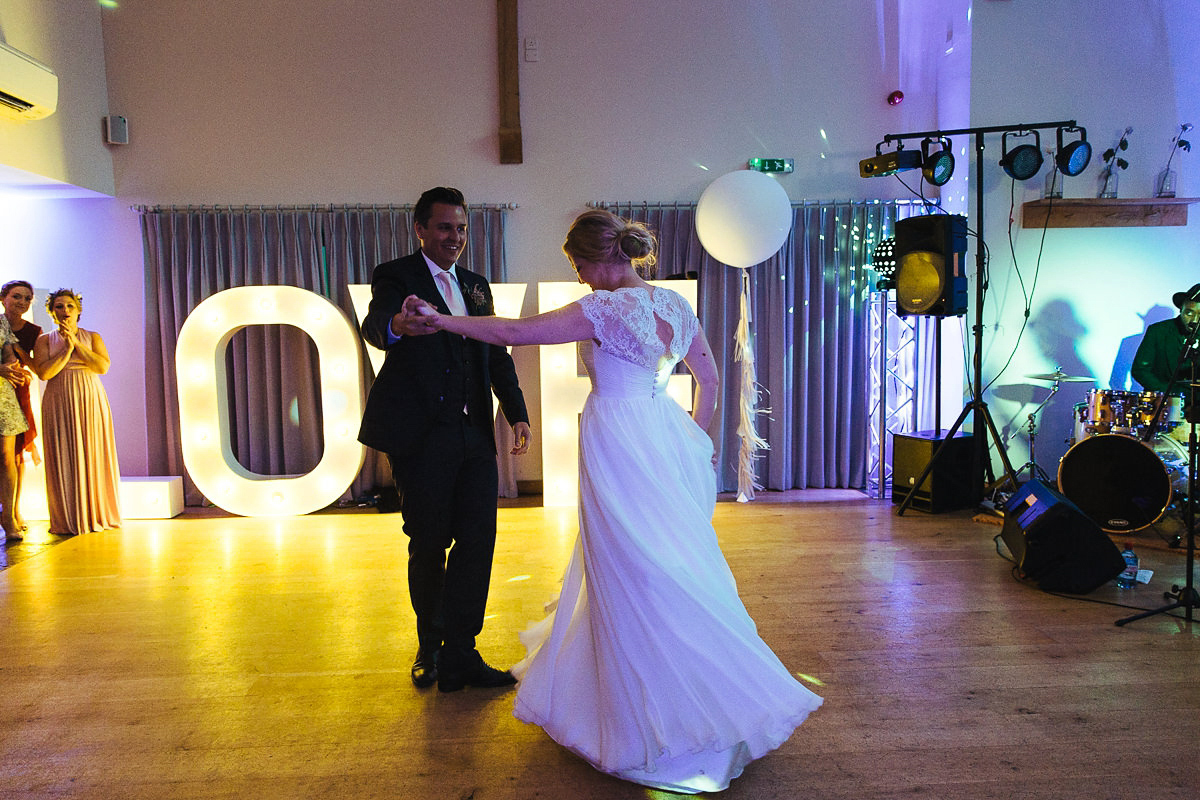 The newlyweds sourced 'LOVE' light-up letters from Vowed & Amazed and giant balloons from Bubblegum Balloons to decorate their barn venue. They also displayed a range of photos taken during the course of their seven years together, alongside images of their parents and grandparents on their wedding days. A fun photo booth provided by Say Fromage also gave their loved ones a chance to document memories of their own, and the perfect excuse to be a little silly and let their hair down.
"James and I are very relaxed people who like to have fun, so we wanted our day to reflect our personalities. We kept the canapés and bubbles flowing for the post ceremony drinks reception, accompanied by a string quartet and we organised a live saxophonist and pianist to play during our wedding breakfast. For our evening reception we entertained our guests with a DJ and cocktail hour, photo booth, glow sticks and a fabulous band to party the night away."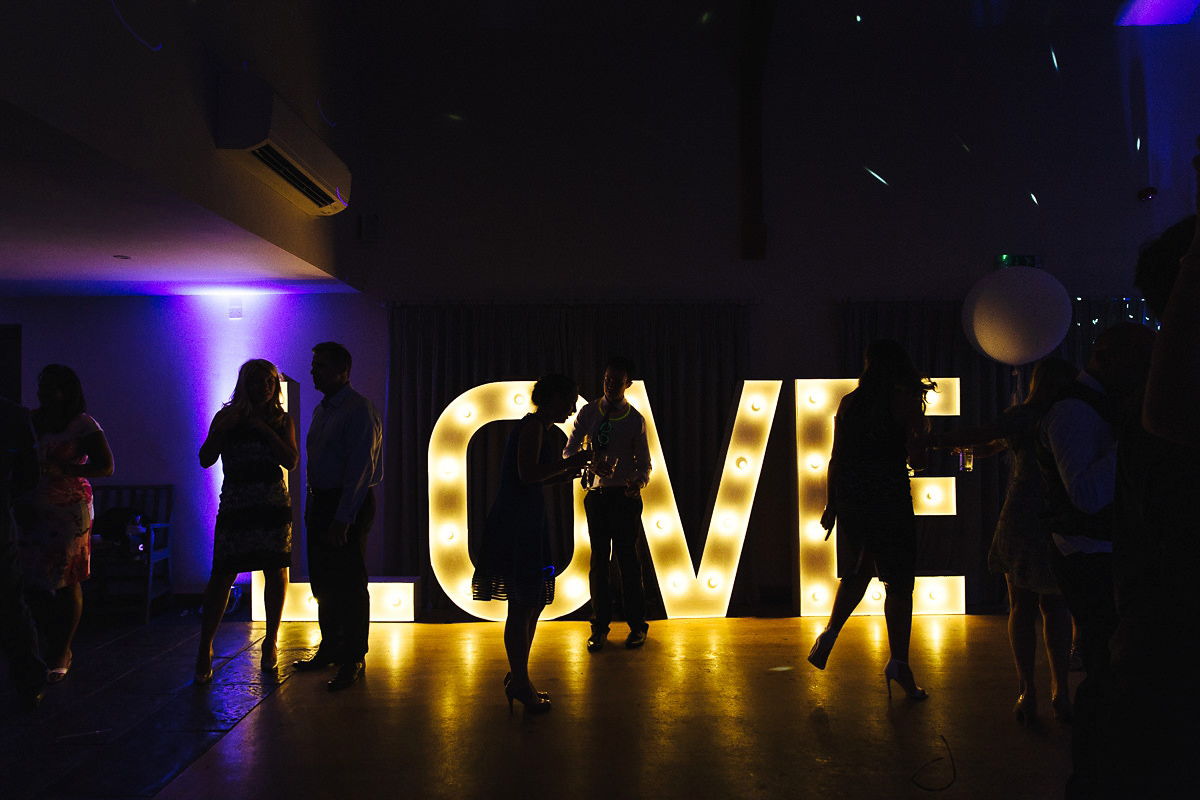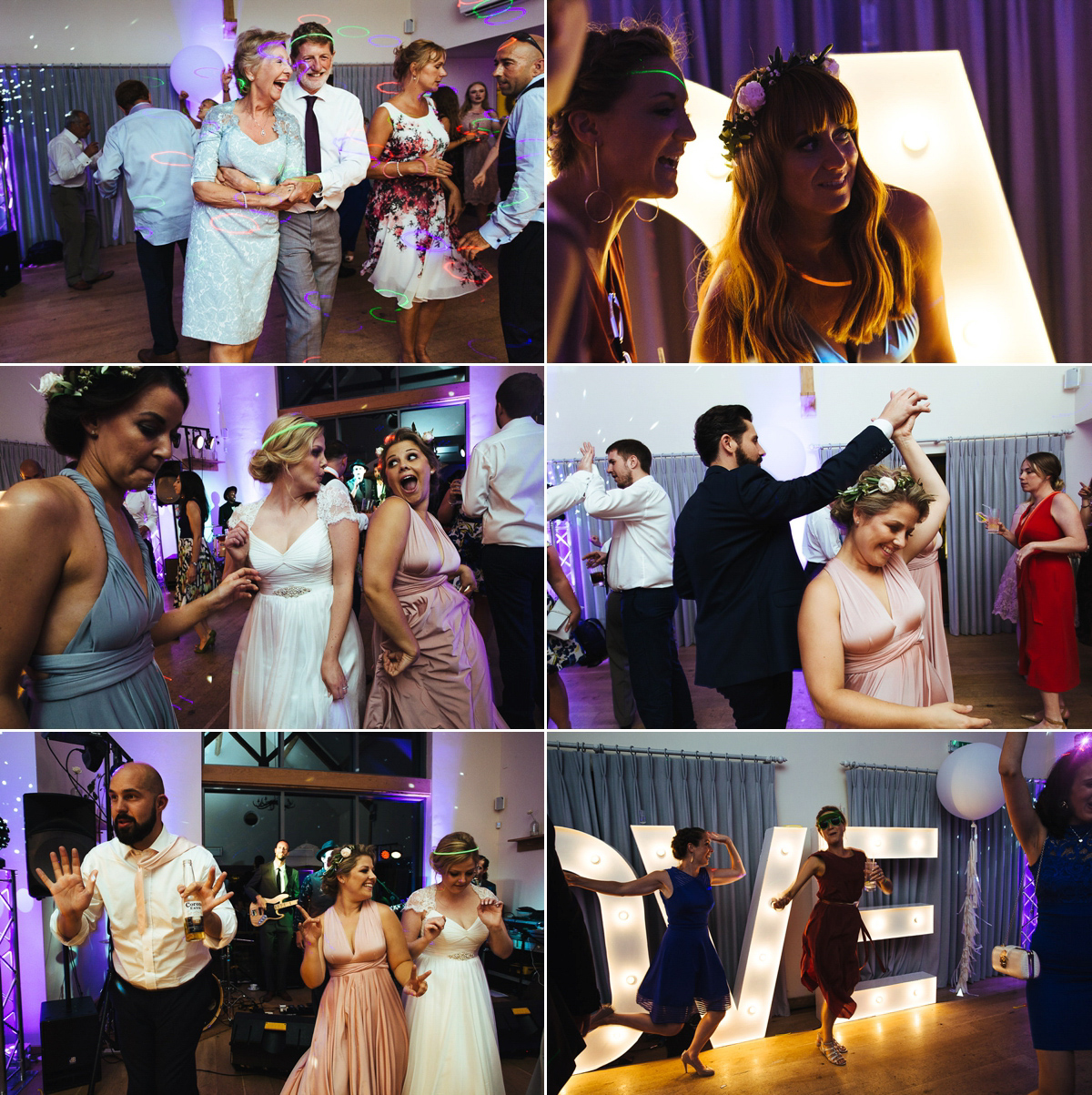 Words of Wedded Wisdom
"Try to have some time out with your new husband to take it all in. James and I took a short moment out in the garden alone to reflect on the day and watch all of our guests enjoying themselves inside. It also gave us both a chance to breathe and realise what had just happened – we were husband and wife!
During the planning process I had moments of panic; worrying that my guests wouldn't enjoy themselves or like the wines, maybe not dance, and that I hadn't done enough in terms of styling. There is no need to stress yourself out, your guests will love it. Enjoy the planning and remember at the end of the day, your wedding is about marrying your favourite person."
"I was a regular visiter of Love My Dress even before I was engaged. Who doesn't love swooning over a wedding!? I was so excited when my time finally came round. The blog is a fountain of inspiration, guidance and support, and I loved seeing all of the real weddings; I really appreciated words of wisdom from brides who had already gone through their wedding planning journey, it helped me a lot.
No matter how organised you are and how wonderfully you have planned, some things may not be on time or go to plan. My veil actually fell out of my hair just as I got to the end of the aisle and my bridesmaid, Amy, was trying to put it back in, in front of all our guests. Everybody giggled. It was an ice breaker, and after that the mood relaxed and we felt connected to all of our lovely friends and family. I later found out it was a bit of a family tradition, as the same thing happened to my mum on her wedding day! Please do not worry or stress about things that could go wrong, the day will still be amazing."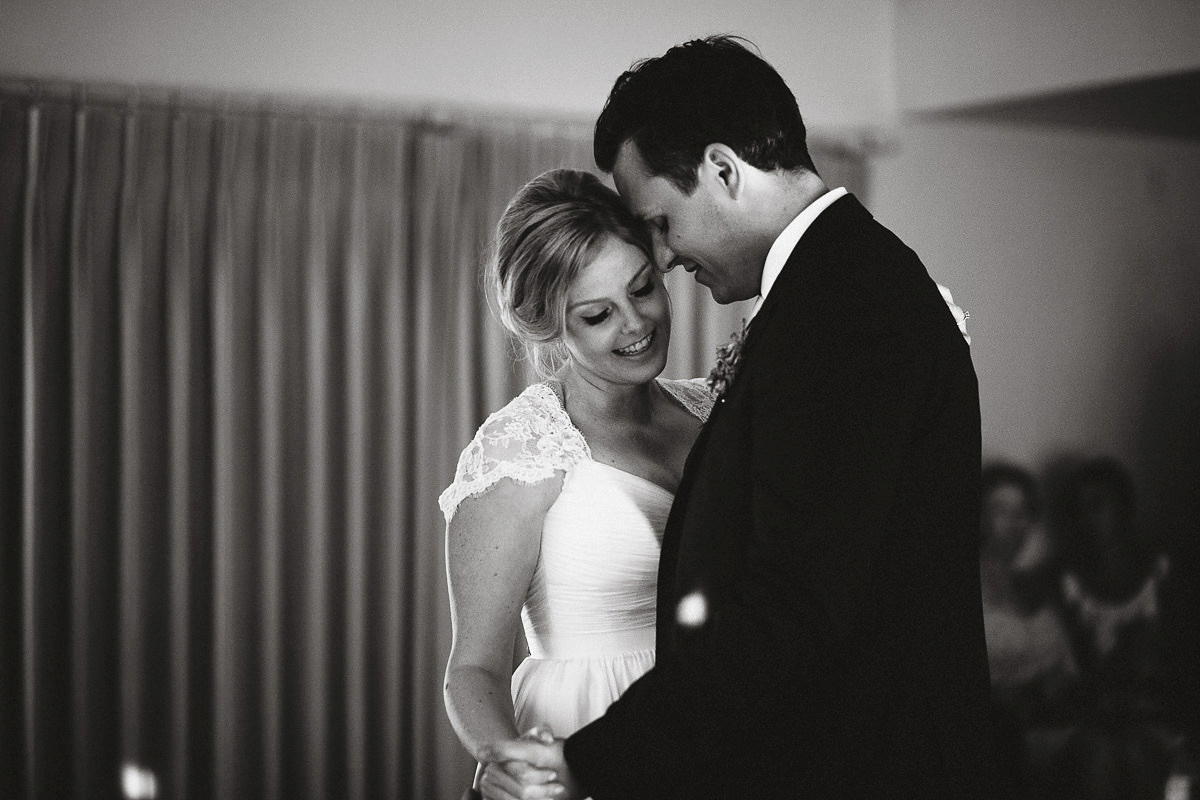 I'm so happy that Adele was able to impart some of her own very wise words of wisdom for all our future brides – it means so much to us here at Team LMD when we read that our beautiful blog was an integral part of a bride's wedding journey.
That just leaves me to say a huge thank you to Adele (who you can find on Twitter and Instagram), James and of course Lyndsey Goddard Photography for sharing this gorgeous day with us.
Today marks the one month countdown to my own big day so I'm particularly full of love and all-round mushiness this Wednesday!
Em x