Are you about to launch into planning your big day and haven't a clue where to begin? I distinctly remember feeling like this, once I'd stopped telling random strangers on the street "I said yes!" and "I'm going to be a bride!" (this may or may not have continued for about six months, I'm a little sketchy on timeframes whilst in the middle of the engagement love bubble). If you haven't already, you must join our private Facebook group where you'll find the loveliest of ladies to answer any of the burning questions.
For me, once I'd set the date and found the venue, everything else literally just flowed (except the dress, that was one of the last things sorted … but I will leave this tale for another time!). Hubby and I discovered our photographer via the venue and as soon as we saw his style and use of light we were hooked. We were very lucky to have this major element sorted early on, but it can be one of the hardest parts of the planning process. You're entrusting someone to take images of such a life-changing moment that is your wedding day, so I can understand that finding the right photographer can be a difficult process. Do you ask for recommendations? Go with preferred suppliers? Have an engagement shoot? Make it the biggest part of your budget? So. Many. Questions! But don't fret, help is at hand with our fantastic bridal resource Little Book for Brides where you can search oodles of photographers who will capture your day in a range of styles – and you may also be inspired by the creative photographers you see every day on this beautiful blog.
The couple you're about to hear about struck gold with their photographer, the wonderfully-talented Dominique Bader (see more of Dominique's work here). She beautifully captured the wedding of Mr Q, a teacher, and Mrs Q, a solicitor, when they tied the knot on the 22nd of October 2016. Their ceremony was held at the quaint St Mary's Church in Chiddingstone, Kent – and the couple chose to hold their reception at Mr Q's parents' farm where the flowers by Bloomingayles were the focal point.
"Dominique Bader is, quite simply, magnificent. Her photos are just stunning – we are thrilled with them. She made us feel so at ease and captured some really special moments."
Photography by Dominique Bader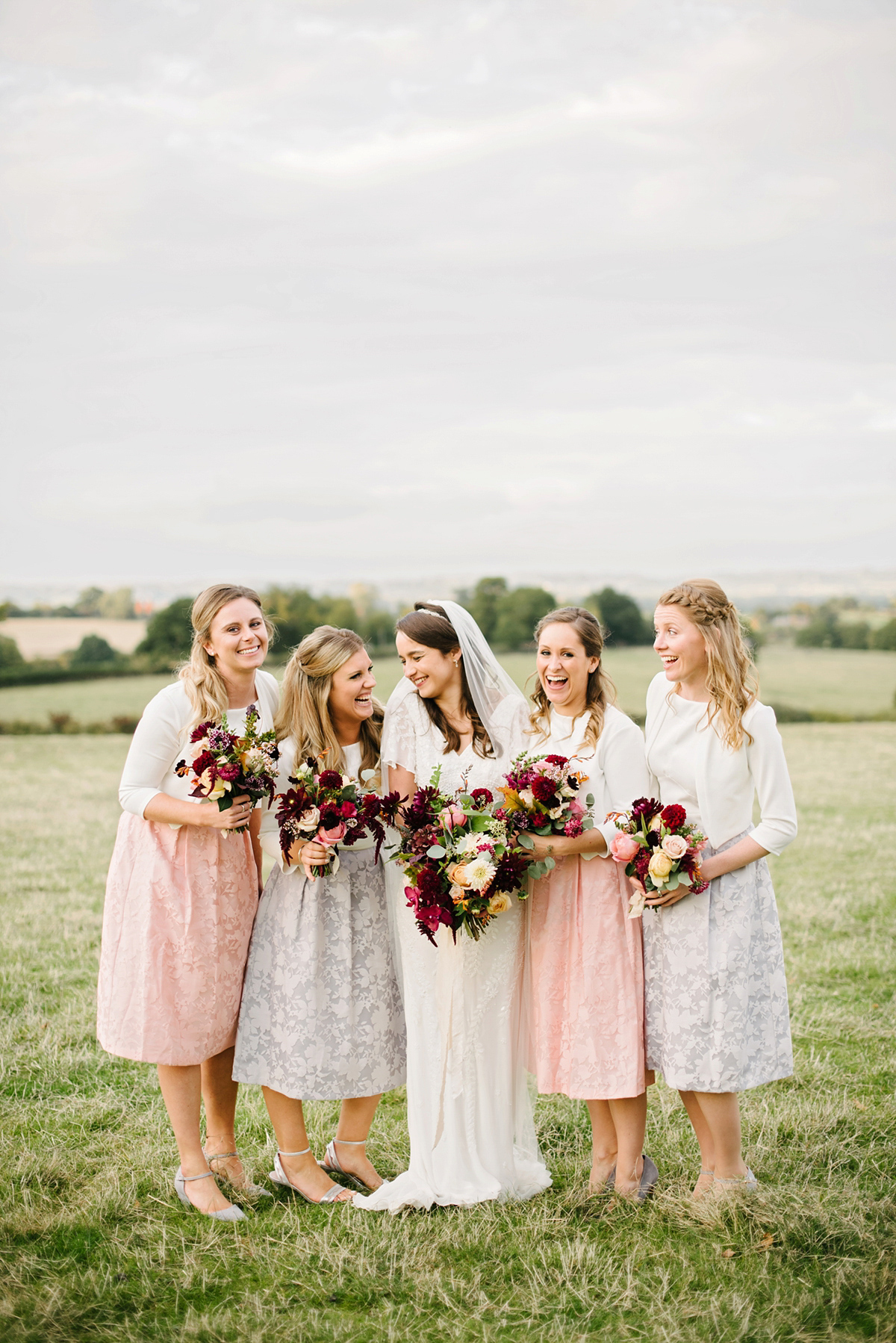 "I also have Dominique to thank for introducing me to our florist Gayle Evans of Bloomingayles. Her flowers were stunning and so many people commented on them. We had floral chandeliers and assorted flowers in assorted vases dotted down the tables. My bouquet and the bridesmaids' were just beautiful. Gayle added special touches such as all the buttonholes were similar but individual and she added little red berries to all of the table places, which looked brilliant." 
The beautiful bride chose the exquisite 'Lucille' style of dress from the aptly named 'Decadence' collection by Eliza Jane Howell from Isabella Grace Bridal, as well as her pretty veil.
"I tried on a number of dresses, including the classic meringues and whilst they are beautiful I knew I needed a dress that allowed me to breathe and one I felt comfortable in. I also wanted some sort of sleeve to hide a multitude of sins and provide me with a bit of warmth! I particularly loved the vine pattern that grew up, almost organically, from the bottom of the dress; every time I looked at the dress I would see something new."
"I must also mention the incredible seamstress who Isabella Grace Bridal use – Martine, Miss Kay Seamstress, is just amazing and the most lovely lady."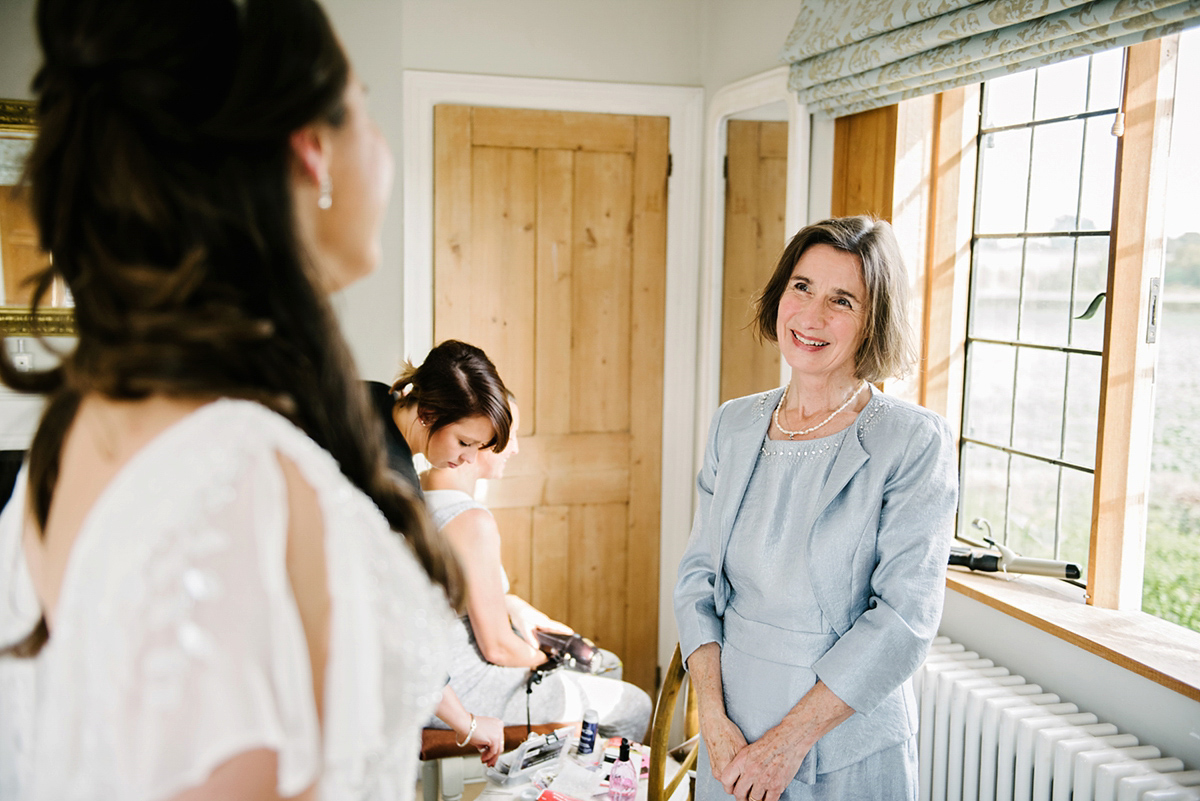 "I wore Rainbow Club heels (so comfortable!) with sparkly clips and a vintage headband from Chez Bec. My scent was Chanel's 'Chance' – Mr Q bought this for me early on in our relationship after he had been away on work for a week and I have loved it ever since."
"He had chosen it of his own volition which made it all the more special. And I kept my jewellery simple, wearing just diamond earrings my parents had given me on my graduation, and my engagement ring."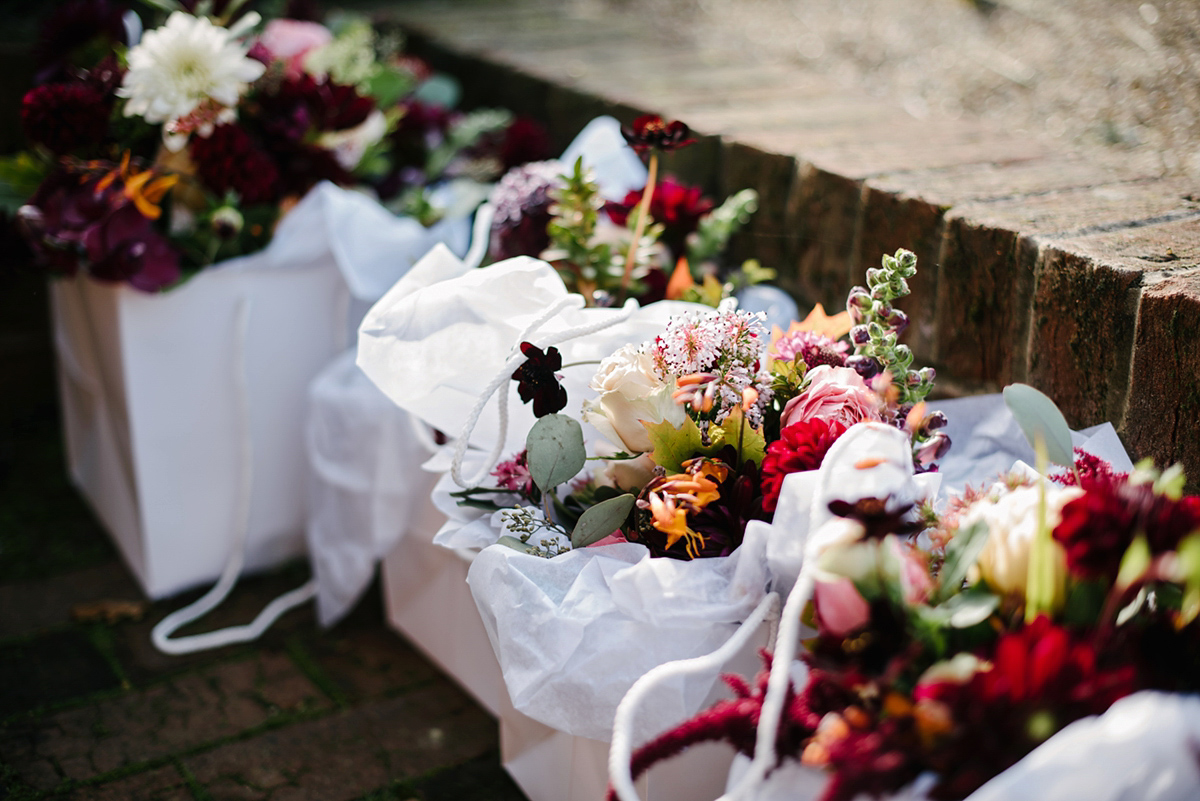 "I gifted my flower girl (my niece) a bracelet from Monica Vinader and her pretty white dress was from John Lewis."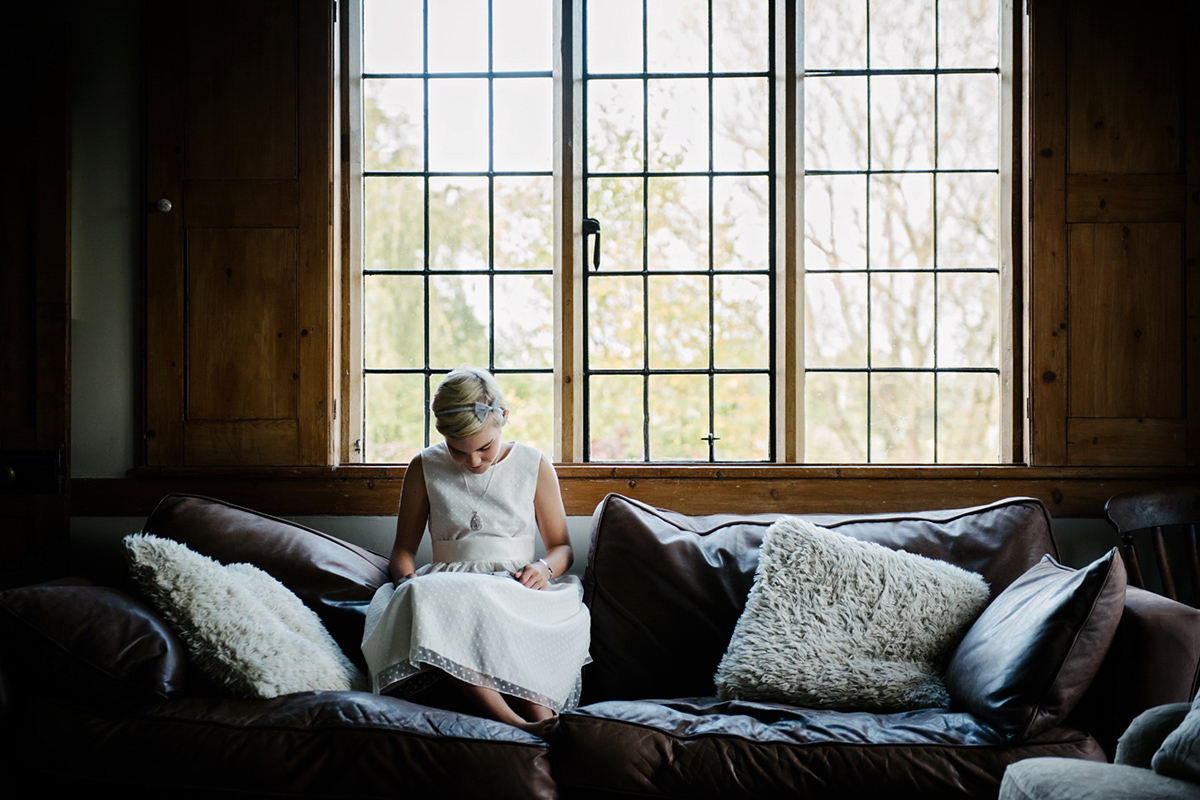 Mrs Q's bridesmaids chose their own shoes from ASOS and Dune. I adore their Oasis dresses with white bodices and either pink or grey skirts. The pretty hairstyles were created by Rachel Williamson, with make-up by Georgia Thurlwell, and the bride gifted her maids with a handy present.
"I gave all the girls a Whistles clutch bag filled with essentials such as lippy, tissues and Smint!"
"We were born one day apart in the same hospital in 1986 and we grew up in the same village so you'd think we'd known each other all our lives, but this is not the case! We were introduced at university (we also went to the same one!) in the first year but nothing happened as I had a boyfriend at the time. We then merrily ignored each other for the next 4 years before crossing paths again when we were 24 and my brother played cricket with Mr Q for the local club. We had our first date in the New Year of 2011 and the rest is history."
"Our respective styles are very classic, simple and unfussy so that was a driving force. We also wanted to reference autumn and the countryside but steer clear of it becoming too pumpkin patch/village fete and twee. I love flowers so I knew I wanted them to be a particular feature."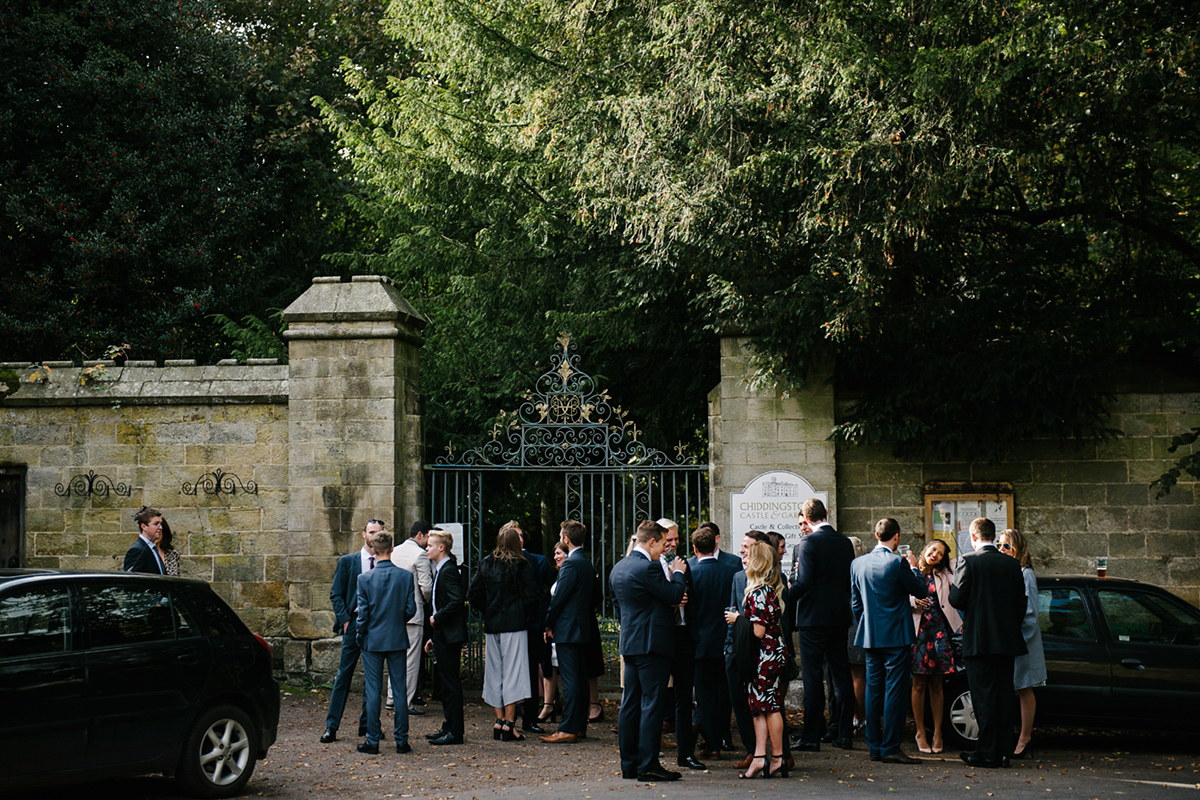 The bride was transported to the church in style via Paladins Classic Cars. I just love the floral displays in fresh, autumnal shades by Gayle that were arranged all throughout the church. The bride's father Peter accompanied his stunning daughter for the aisle walk to the joyful tune 'Arrival of the Queen of Sheba' by Handel. The couple exchanged rings made by Peter Jenner and they chose classic church wedding vows with three very special readings.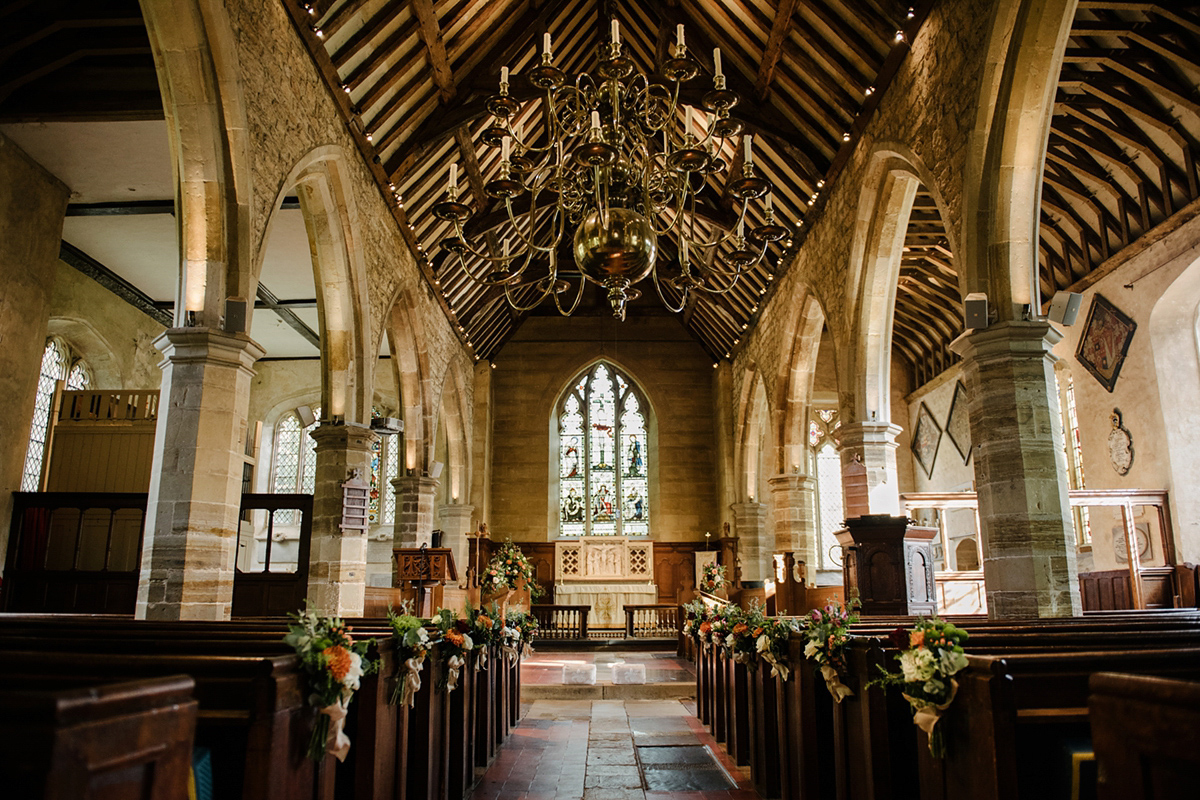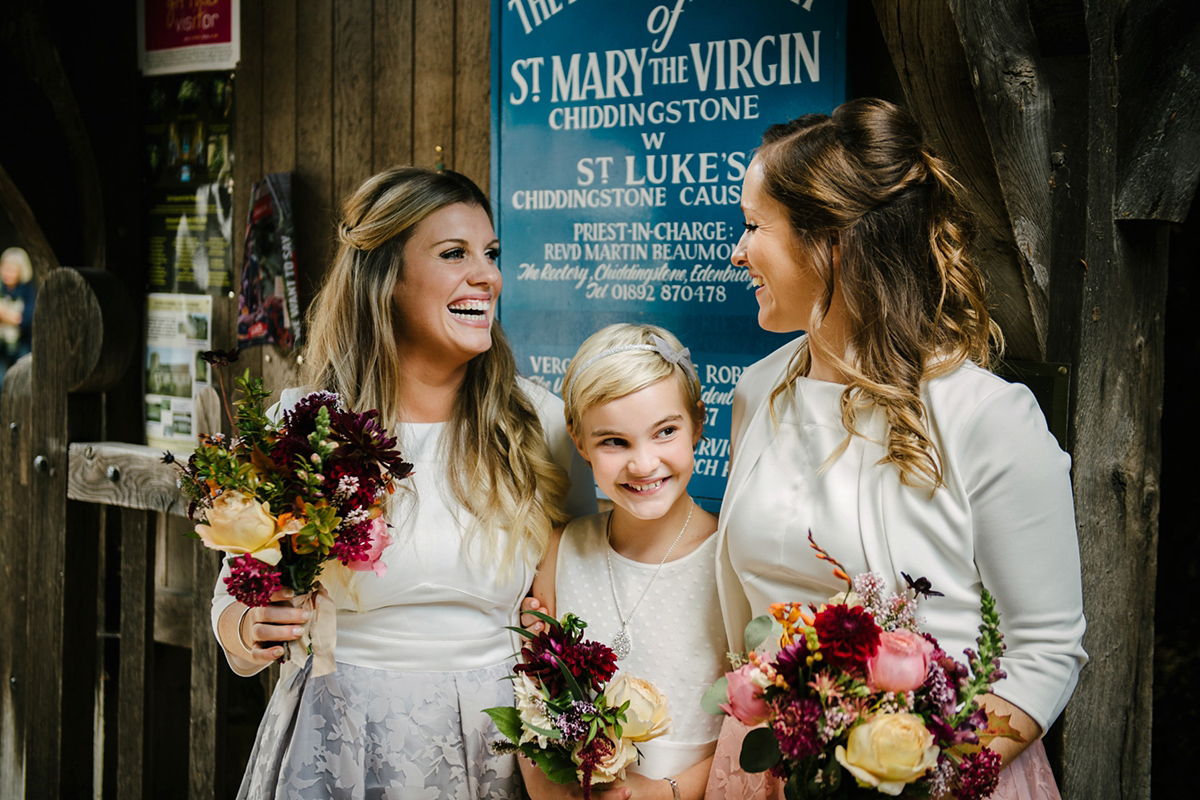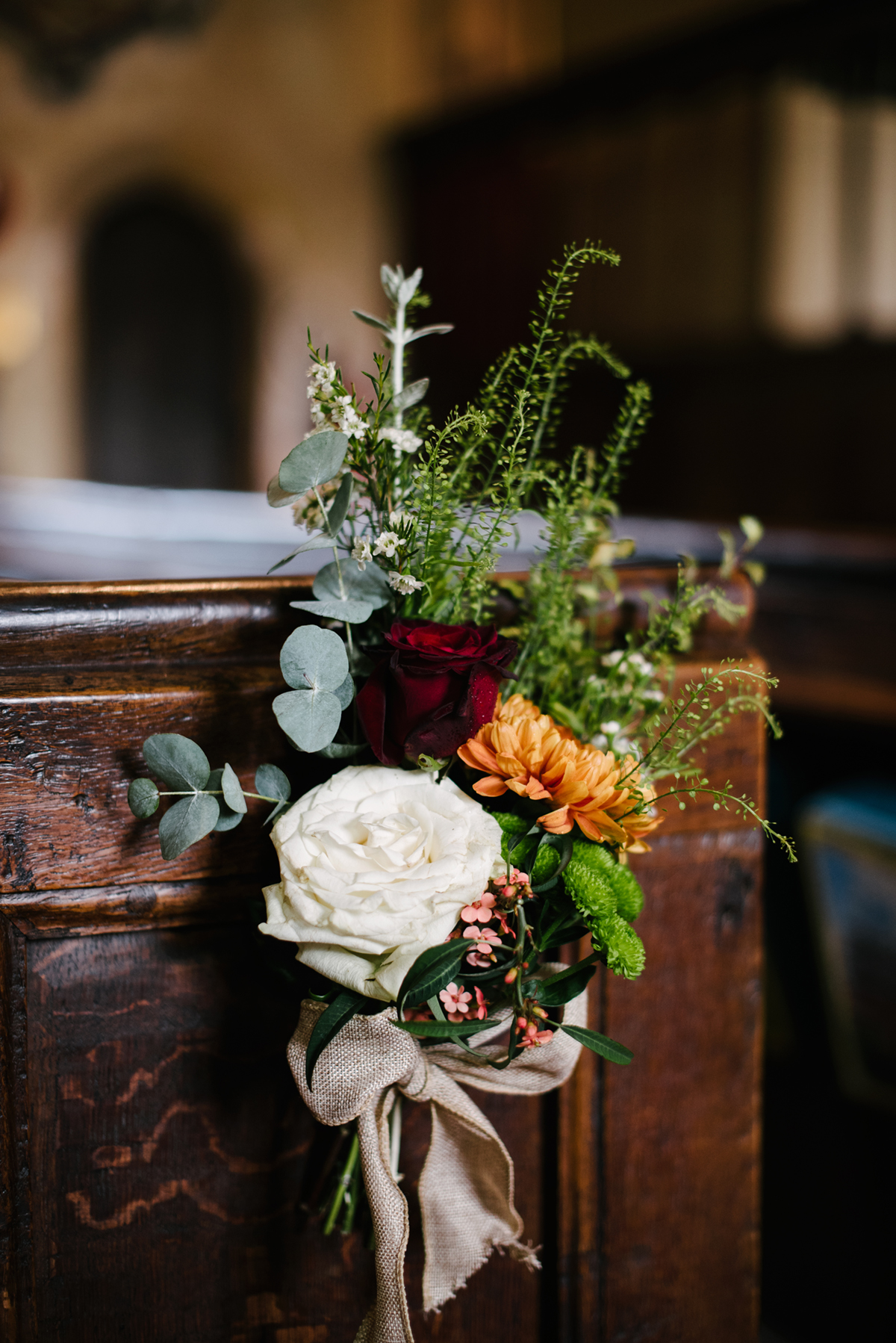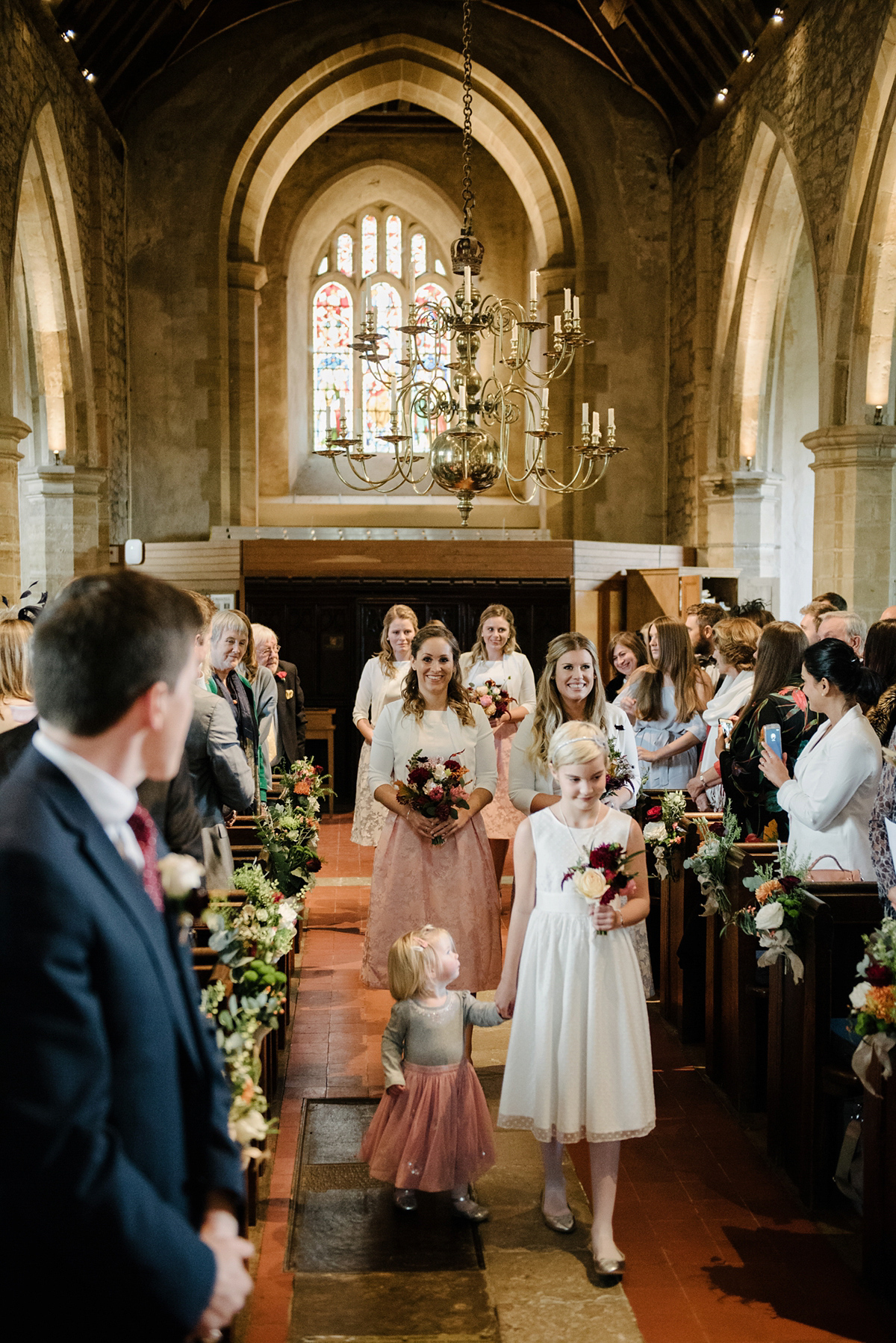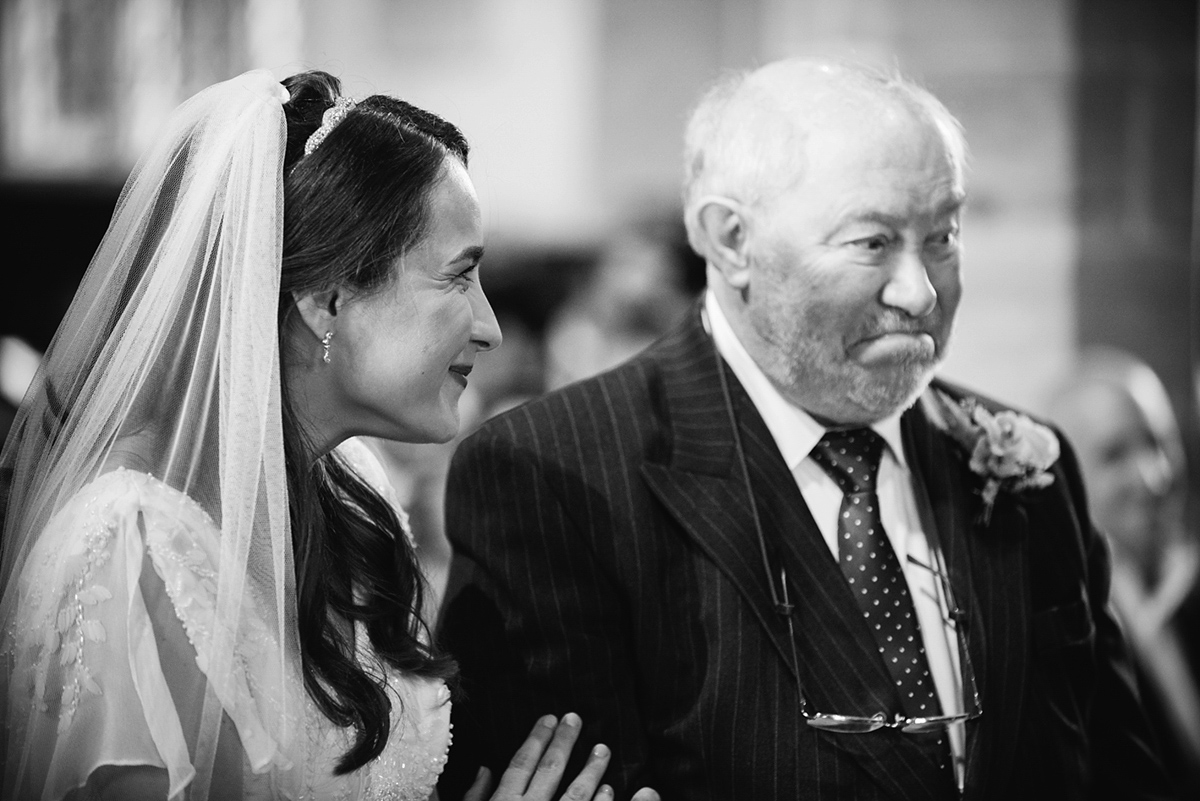 "I read the first reading – 'My true love hath my heart' by Sir Philip Sidney – at my sister's wedding in 1998 when I was 11, so it was very special to have my sister read it at mine. We really loved the words of the second reading: Song of Solomon, Chapter 2, verses 10-13; Chapter 8, verses 6&7. 'The Art of Marriage' by Wilfred A Peterson, the third reading, was read at Mr Q's Grandfather's memorial service. Mr Q's grandfather and grandmother were married for 63 years and had a relationship that we all aspire to. It was never in doubt that we would have this wonderful poem at our wedding."
"The save-the-dates and thank you cards were via Papier and our invitations, order of service, table plan and menus were a unique bespoke design by my brother Paul, and printed through contacts of his."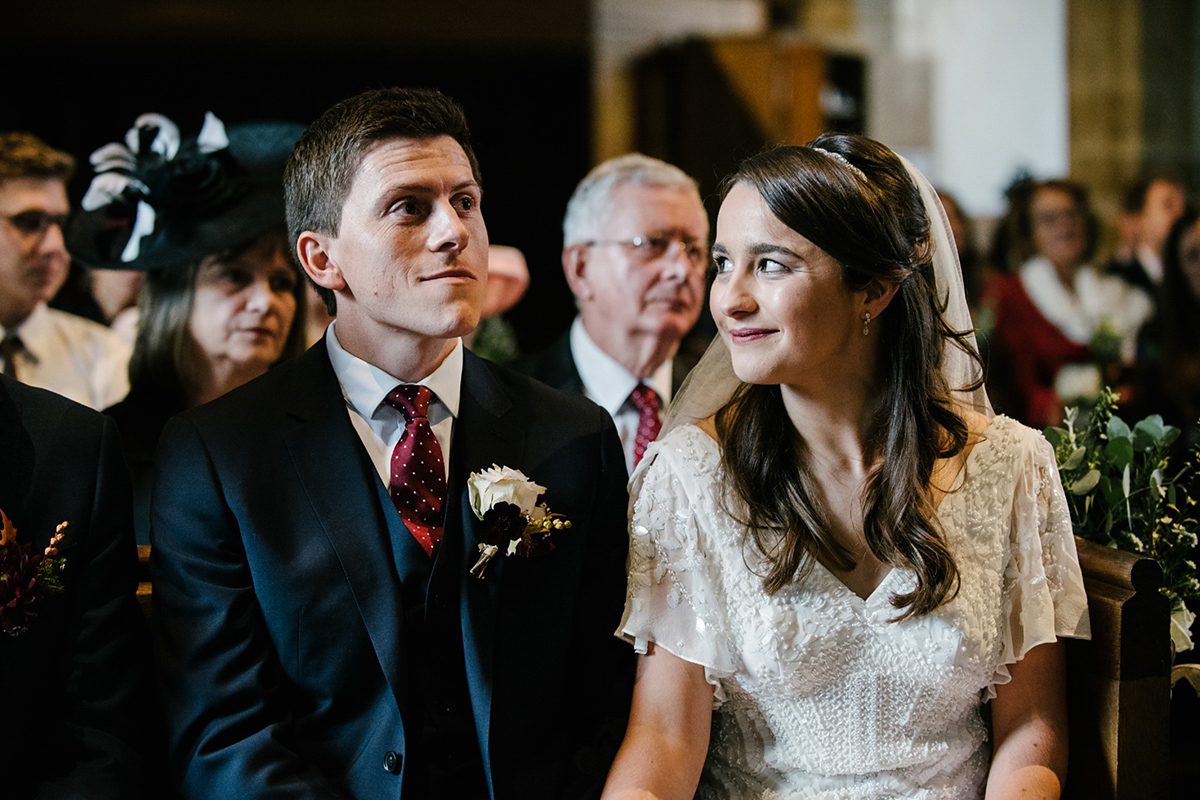 The groom cut a very fine figure in a Reiss suit, Jaeger shirt, and spotty tie from Ties Online. The groomsmen wore the same tie as Mr Q and their own suits.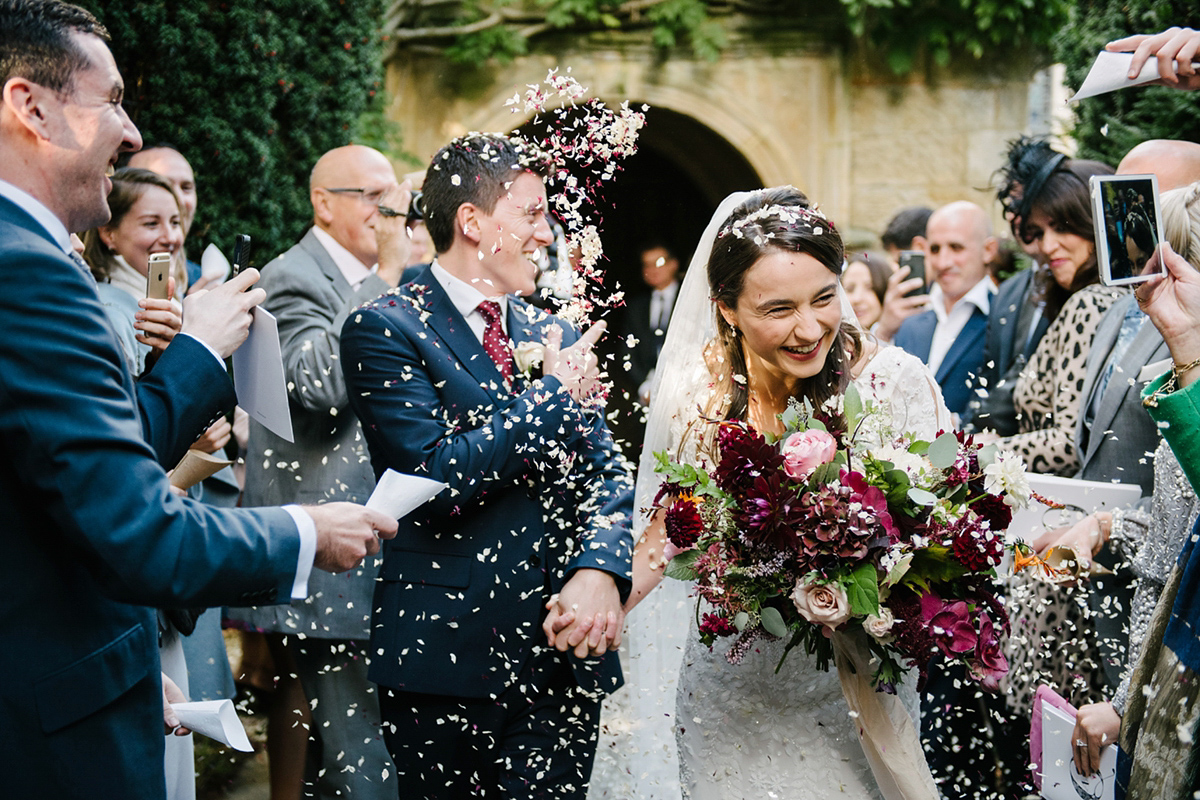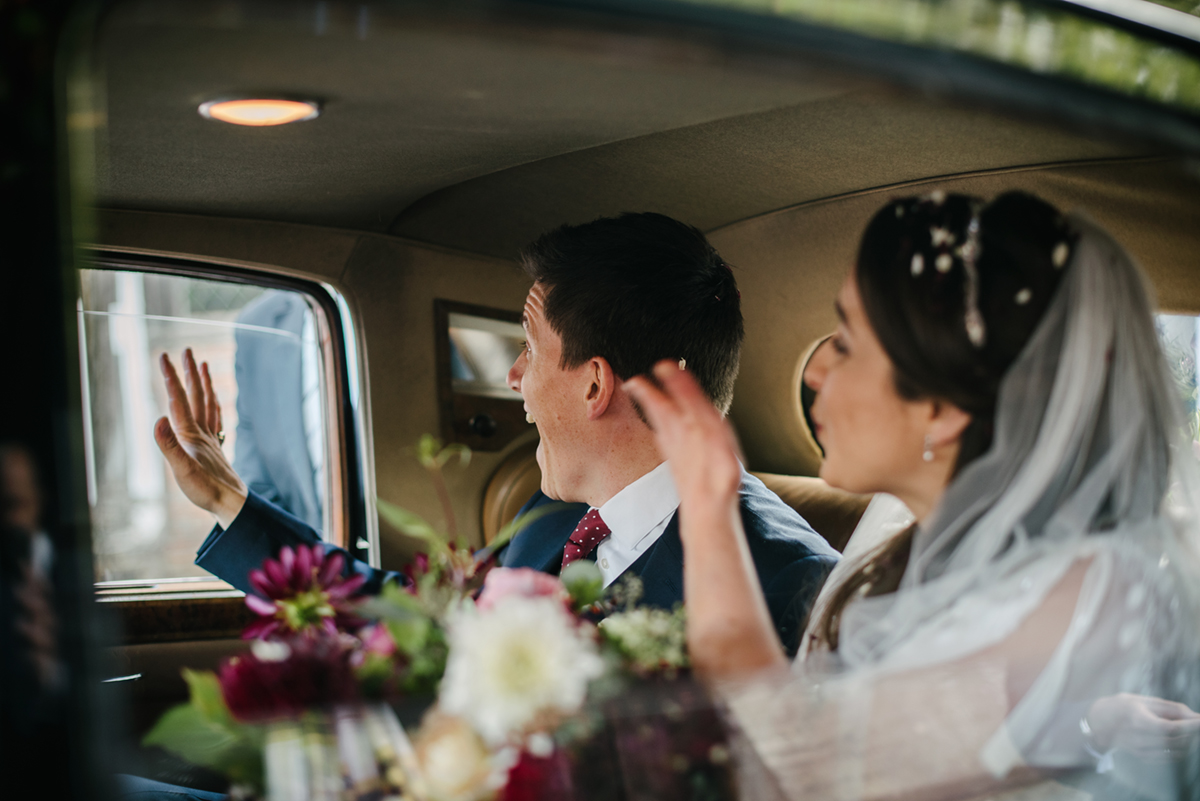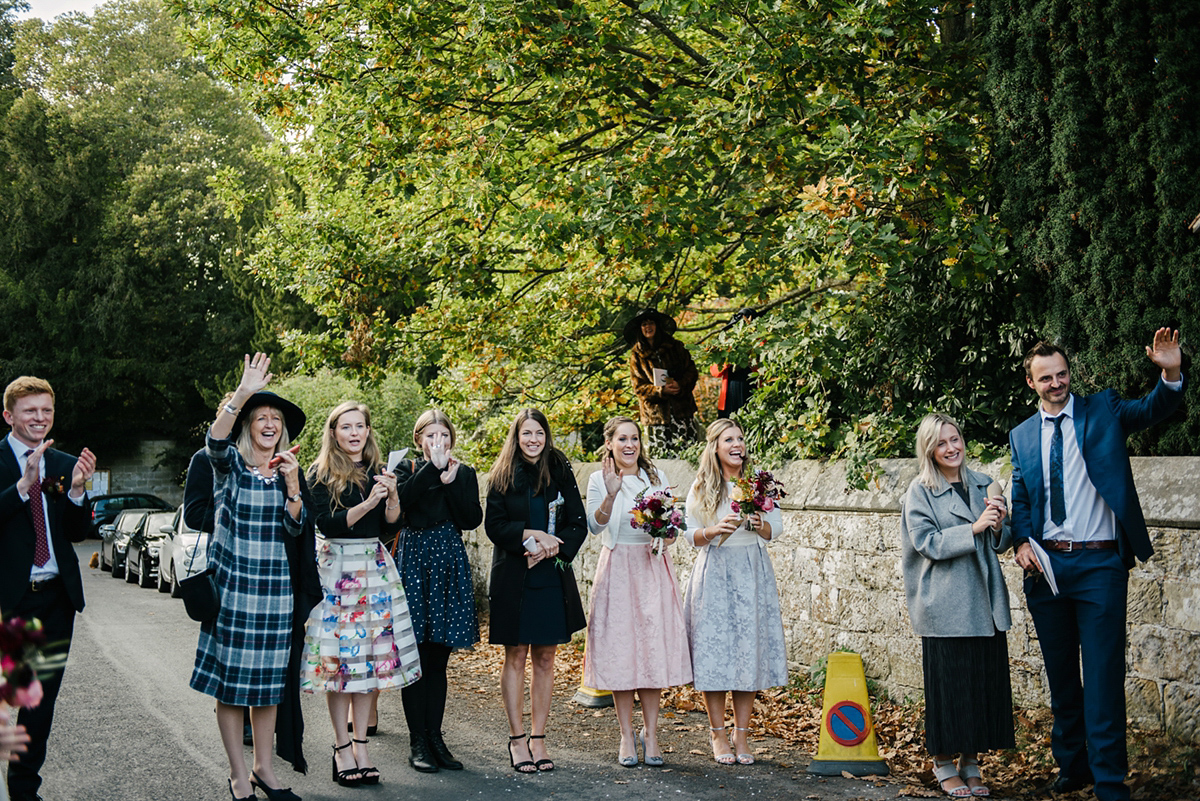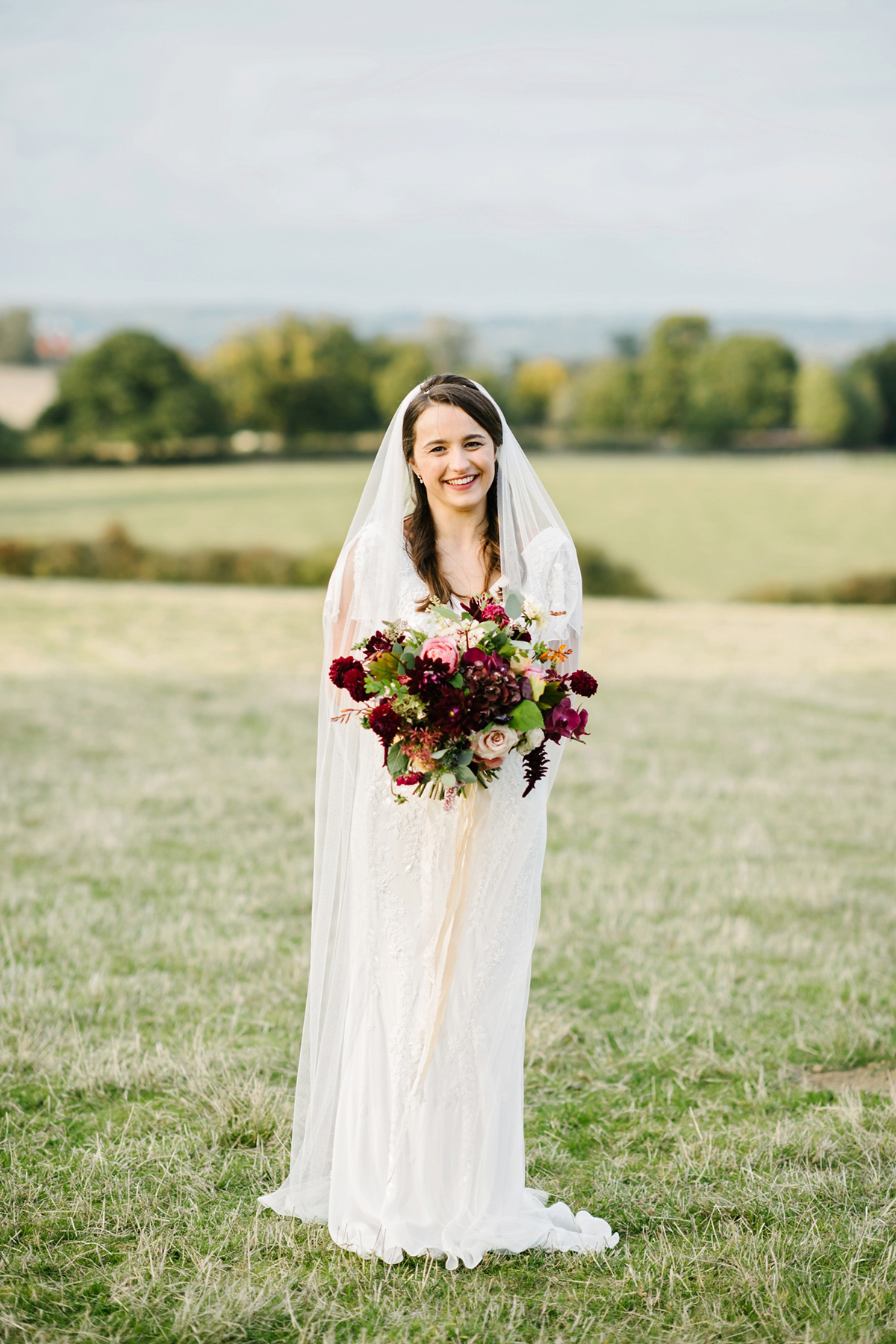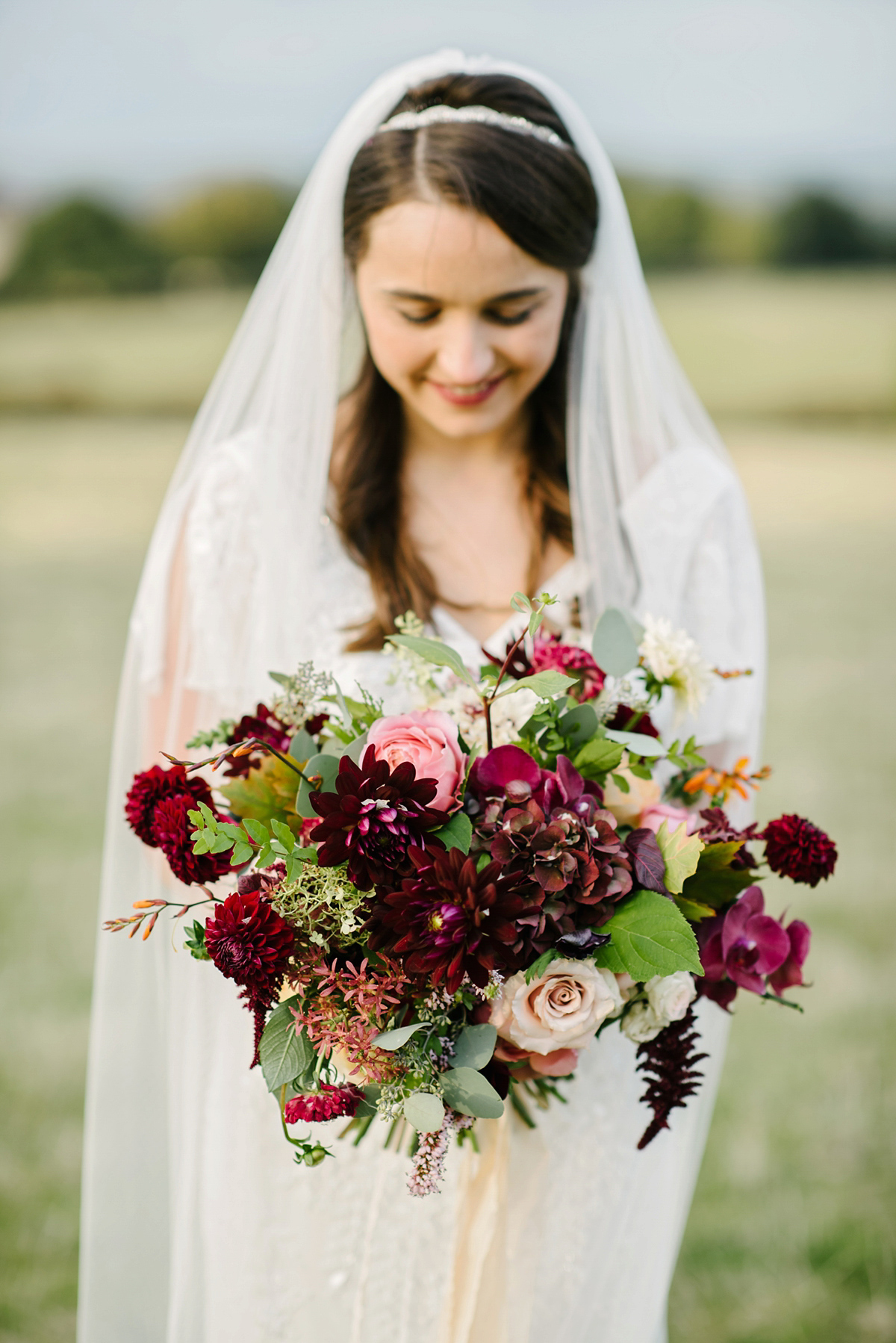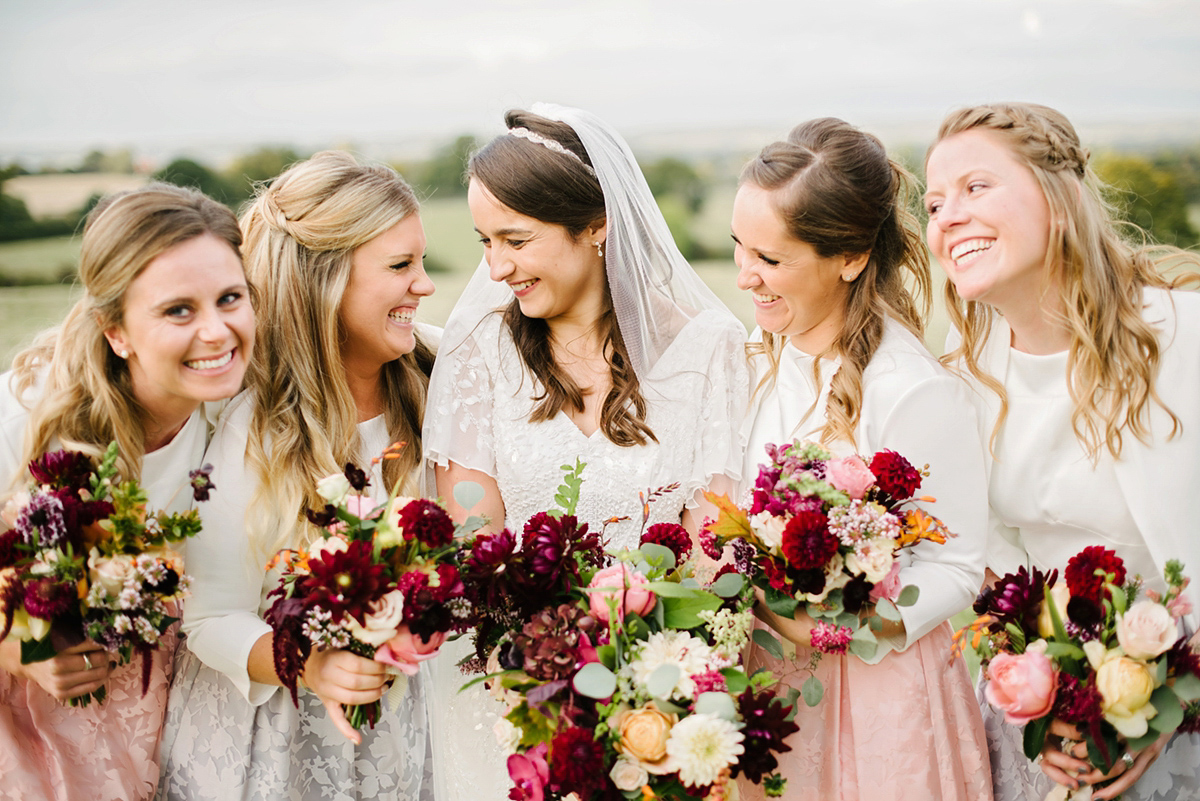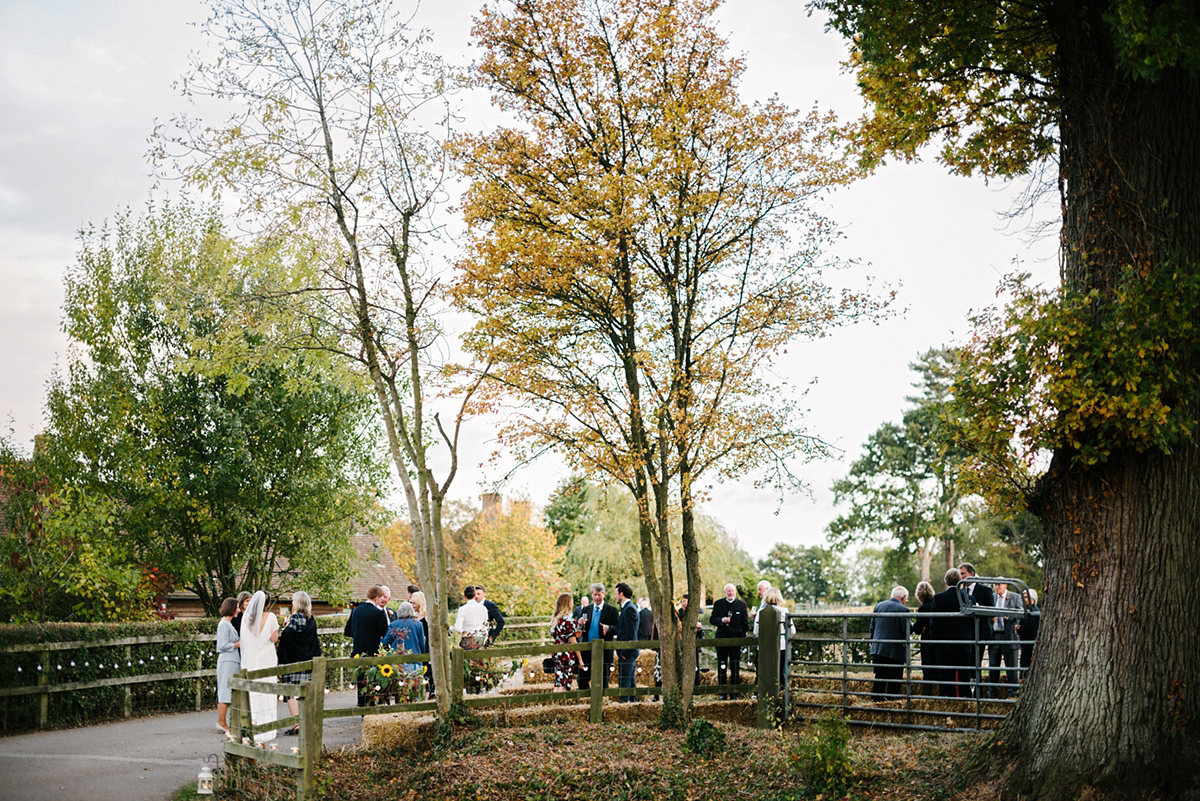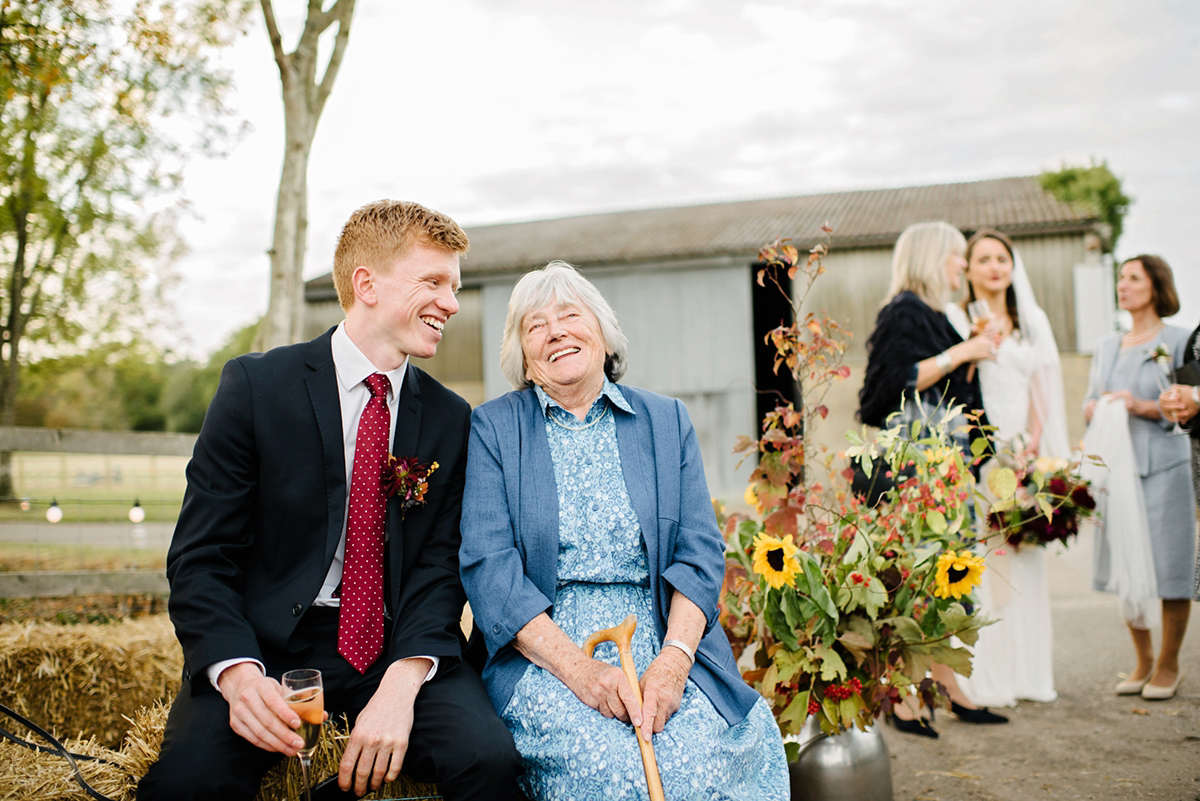 The marquee set up on the farm was decorated mainly with oodles of flowers, including fabulous floral chandeliers. The couple also had a chequerboard dance floor and starlight ceiling over it, which made for a brilliant disco setting.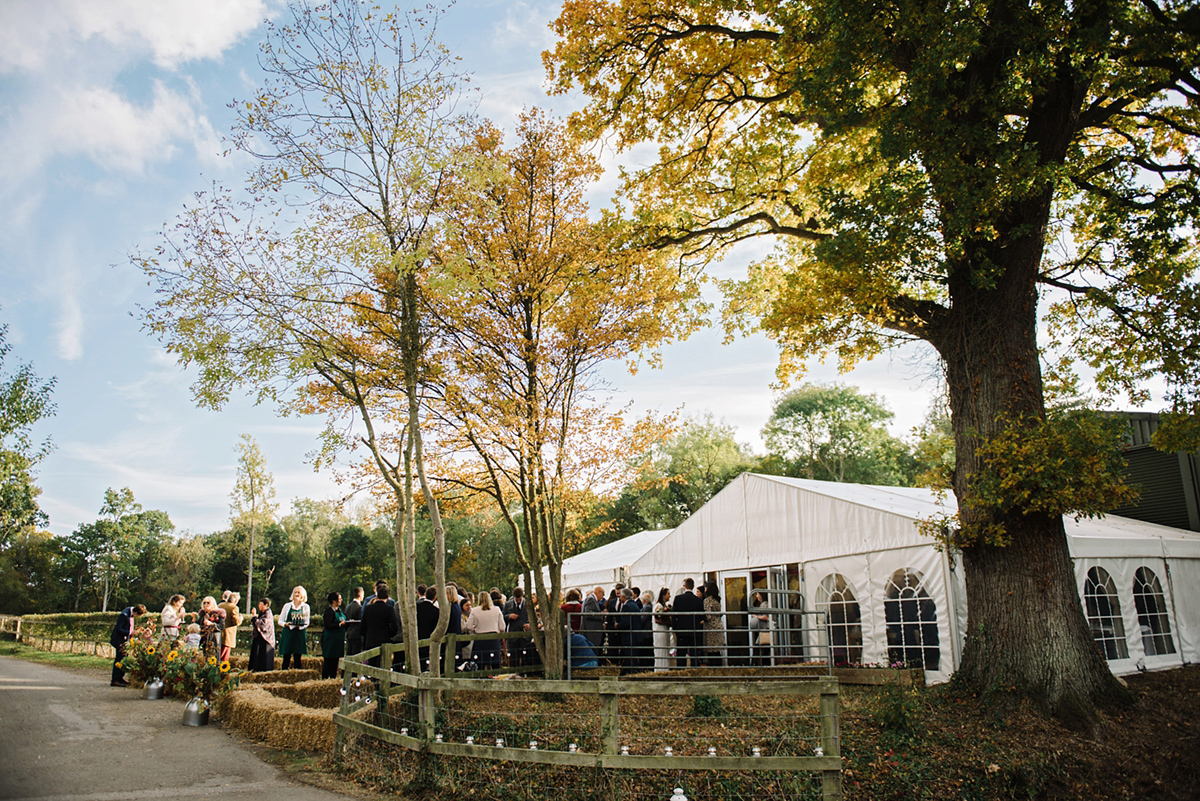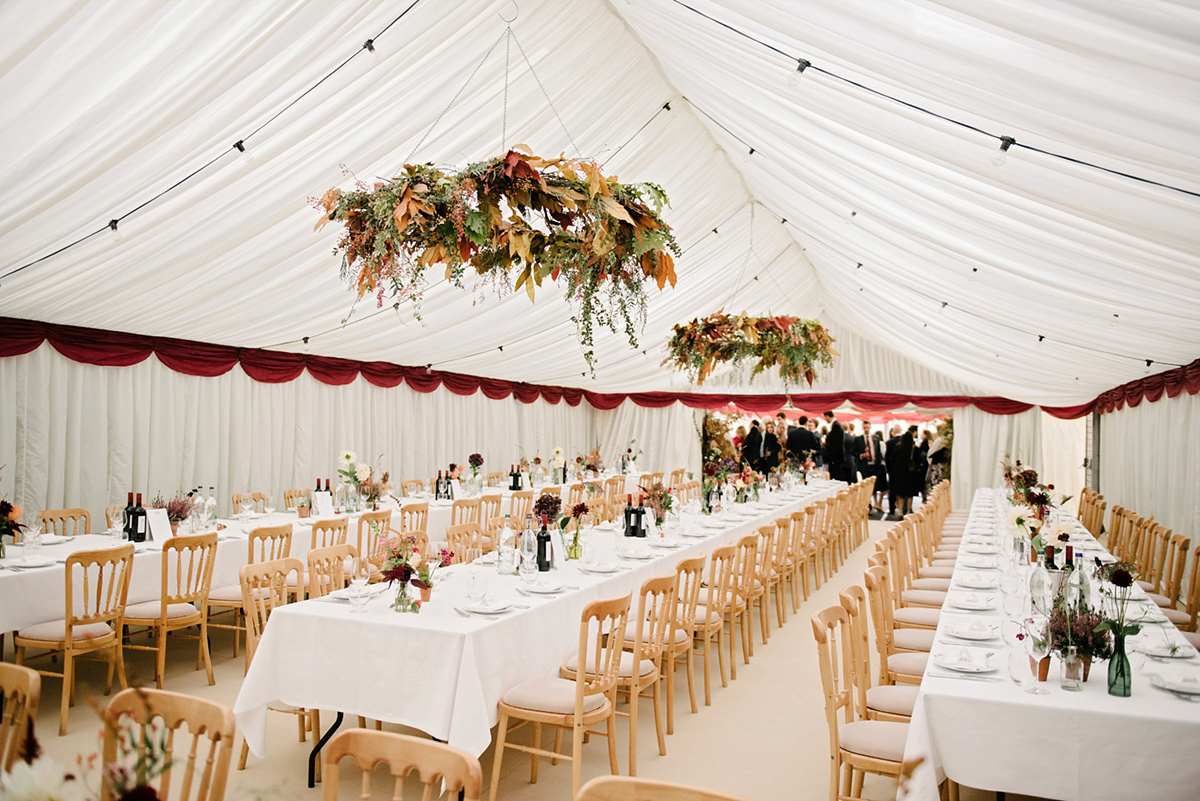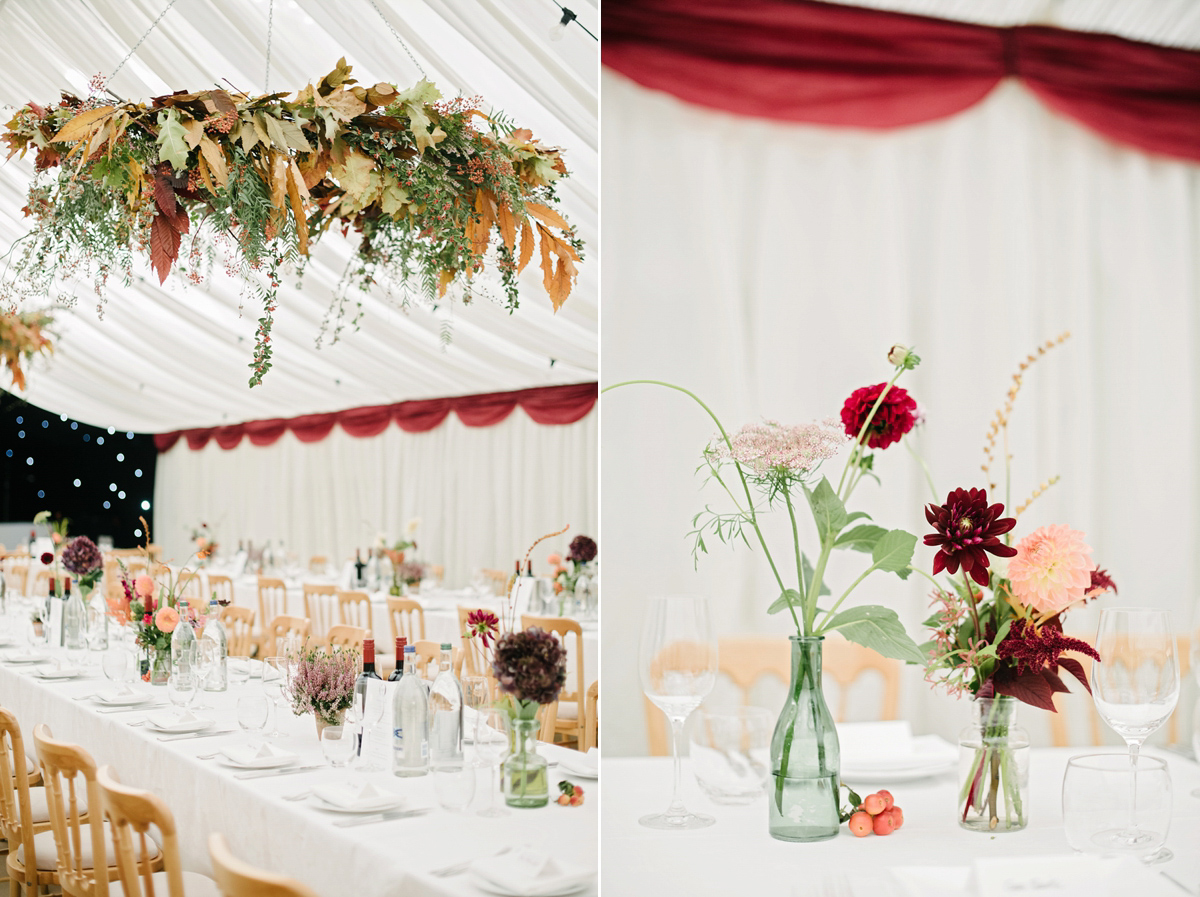 "We didn't have favours, but we did put disposable cameras on all the tables which were all used and the pictures hilarious!"
Just like the bride, I'm a huge Insta fan of the creator of the wedding cake that is a complete work of art – the lovely Bee Berrie of Bee's Bakery.
"I had seen Bee's edible flower petal cakes on Instagram long before we got engaged and knew I wanted it as my wedding cake. Not only was it gorgeous to look at, the cake inside each tier was delicious."
"I had two favourite parts of the day. The first was when we got in the car after the ceremony and it was just us for the first time; we were so excited and ecstatic, it was just lovely to be together. The second was when we walked into the wedding breakfast to 'Burning Love' by Elvis Presley (also one of our favourite songs) with everyone standing and clapping. It was a moment filled with joy and love and one that neither of us will ever forget."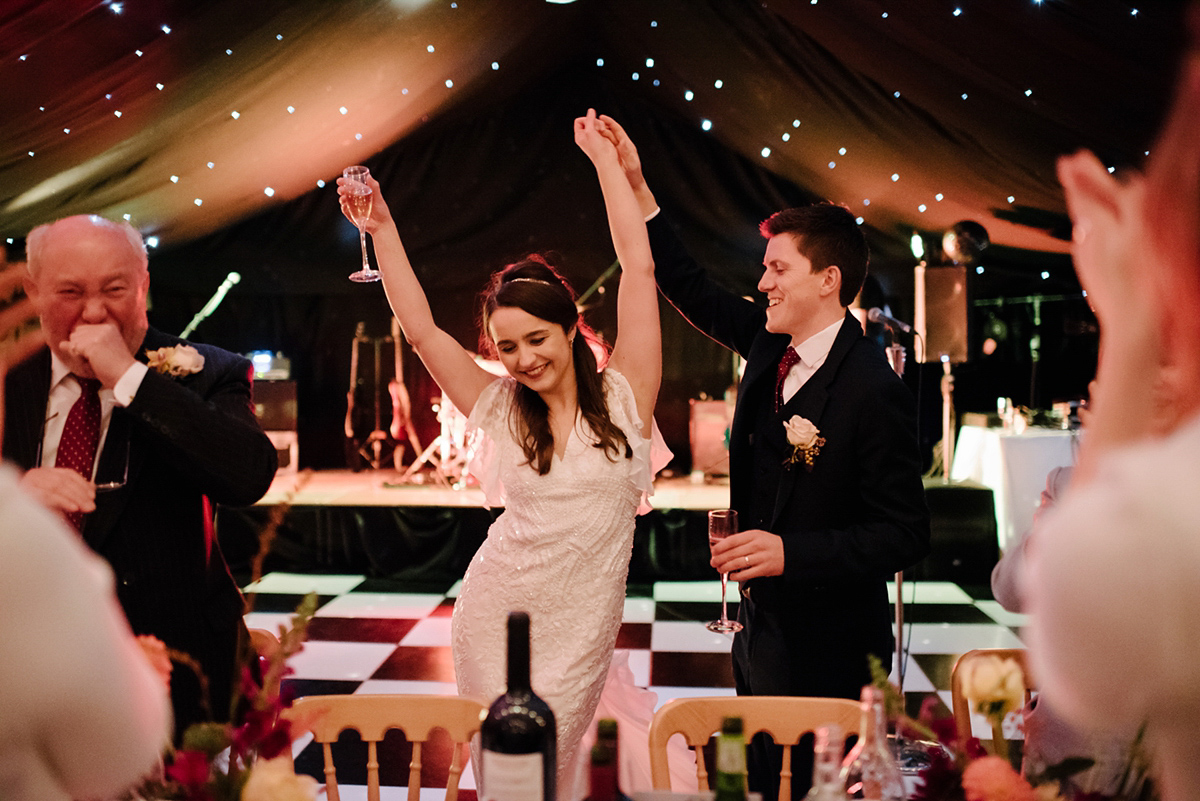 "Mr Q and I really cannot recommend Salted Events enough. Lead by their head chef and co-owner, Maxwell MacKenzie, their food is delicious and done to such a high standard. It was praised universally and many people said it was the best food they had ever had at a wedding. In addition their staff were polite, efficient and very professional. They have a brilliant maître d', Frank, who kept everything running smoothly. We were so impressed by the level of care and attention given to every aspect. Max was with us every step of the way and was so helpful."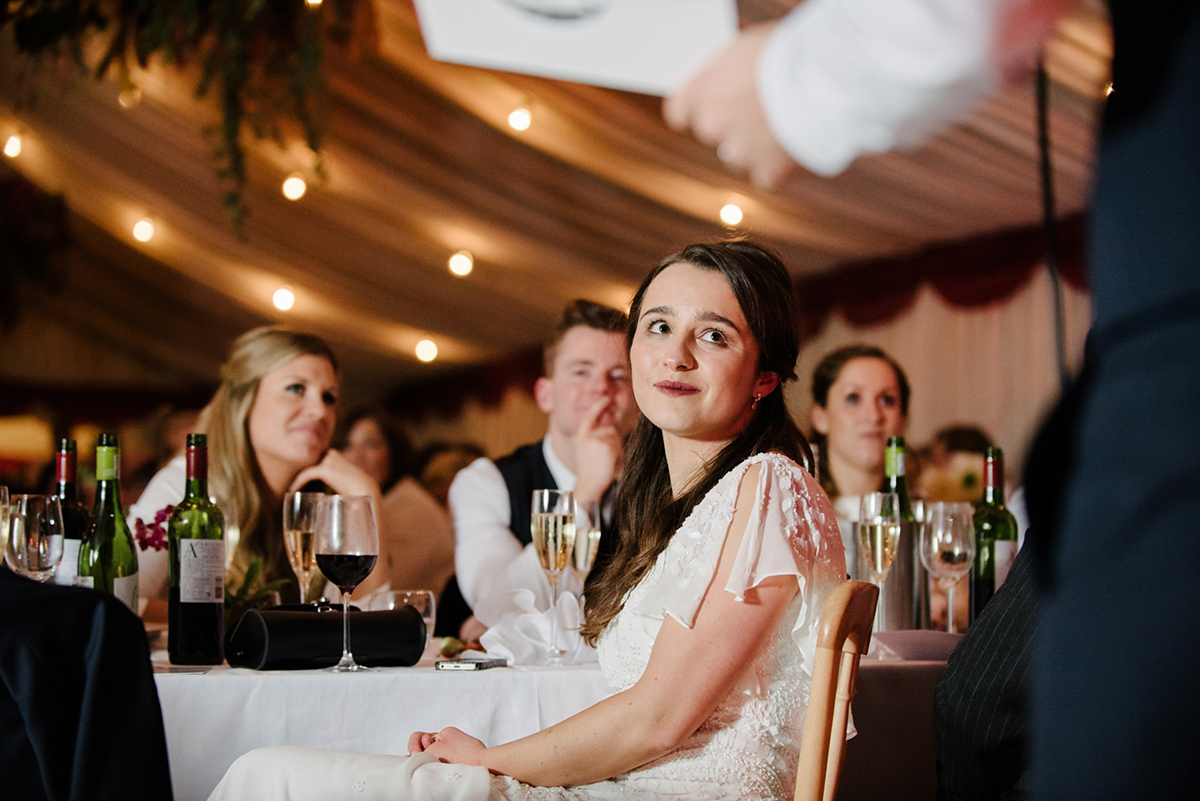 "The Dominos, hired through Gigz, were fantastic – they have such great voices, and get everyone up and dancing. We chose 'Get Lucky by Daft Punk and Pharrell for the first dance. A bit unusual but we love this song and it is very special to us; it came out just as we moved in together for the first time in North London and reminds us of a special and exciting time starting a new chapter together."
Words of Wedded Wisdom
"I would say to a bride-to-be not to get too hung up on it all going perfectly. On the day everyone is there to love and support you both and if anything goes wrong no one notices as no one even knows anything has gone wrong!
I would also say try as much as you can to savour the first part of the day – the walk down the aisle, seeing your husband to be for the first time, saying your vows – this all goes so quickly and is probably the most magical part."
"Finally, relax! From the moment you get engaged all the way through to the day itself is an incredible time; don't waste it with anxiety and pressure.
I would recommend, if people can, to have something on the Sunday after the wedding; it is great to see everyone again and relive wonderful memories! We had Bloody Marys and Dominos pizza for everyone, and over half of our guests came. It is great to continue the celebrations a little longer."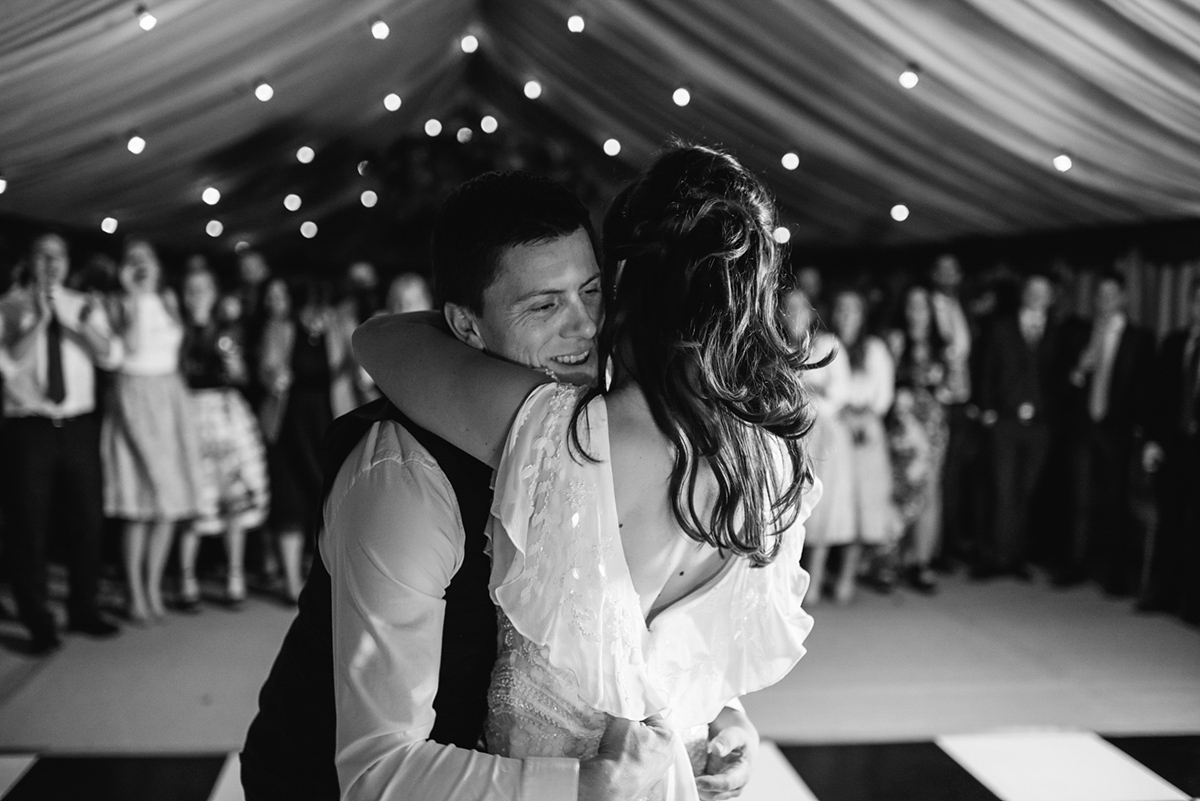 Ahhh, lovelies, I'm so relaxed after seeing Dominique's divine photos of the gorgeous newlyweds and I hope you are too.
I'll leave you with even more prettiness by Bloomingayles – prepare to make little squeals of delight noises when you view these displays of total floral awesomeness from the LMD archives.
Love Jo -xo-