Wouldn't it be brilliant, lovelies, to be able to wear a gorgeous wedding dress on a regular basis, rather than just on your special big day? As I head to Google and type in the search box "modelling agencies in Wollongong Australia for 40-year-old woman who wishes to model beautiful bridal gowns every day", take a look at these incredible images by Cat Lane Weddings featuring a simply stunning Jenny Packham gown.
The beautiful bride Kate is a sales administrator for Harrods Aviation, whilst her handsome groom Tom works for Contour Roofing as a senior estimator. They tied the knot on Friday the 4th of November 2016 at Bassmead Manor Barns in St Neots, Cambridgeshire, choosing simplicity and style for their autumn wedding.
"We wanted our wedding to reflect the time of year and also us as a couple. We didn't want anything too grand or over the top, just a beautiful autumnal vibe in a simplistic and classic manner." 
Photography by Cat Lane Weddings
Kate donned the 'Lilya' style by one of my all-time favourite designers – Jenny Packham, purchased via The Wedding Shop (confession time: I have just spent half an hour ogling her latest collection and it was so worth it!). I adore her wedding dress story and totally believe it was one of those 'meant to be' moments.
"I have always been a little bit obsessed with Jenny Packham and would often drool over her wedding dresses on Instagram. On one particular daydream session I found the ultimate Jenny Packham gown and fell completely and utterly in love. With a newborn in tow and no wedding date in sight I put the dress to the back of my mind. Months later, with the advice to try on as many styles as possible, I started my search for my dress."
"After trying on plenty of amazing dresses I just couldn't commit to anything until I had at least tried on one Jenny Packham dress. I booked an appointment at the nearest stockist and to my utter amazement the dress I had seen months ago on Instagram was in the window!"
"I loved everything about this dress, from the intricate beading to the simple silhouette. It was everything I wanted and more. I couldn't believe my luck, I didn't find the dress … the dress had found me."
Adding a pair of Jimmy Choo heels in champagne – in Kate's words 'just because!' – and a spritz of 'Love Story' by Chloe as her scent, she then kept her jewellery simple, but worn for heartfelt reasons.
"My dress was so elaborately embellished that I kept it simple and sentimental when it came to my jewellery. I wore a Pandora bangle with an 'M' charm for our son Max and had planned on wearing the same old earrings I wear every single day – Tom had got them for me a few years back so it seemed right to wear them again. However, whilst I was having my make-up done, Tom's best man Jesse popped by with some gifts."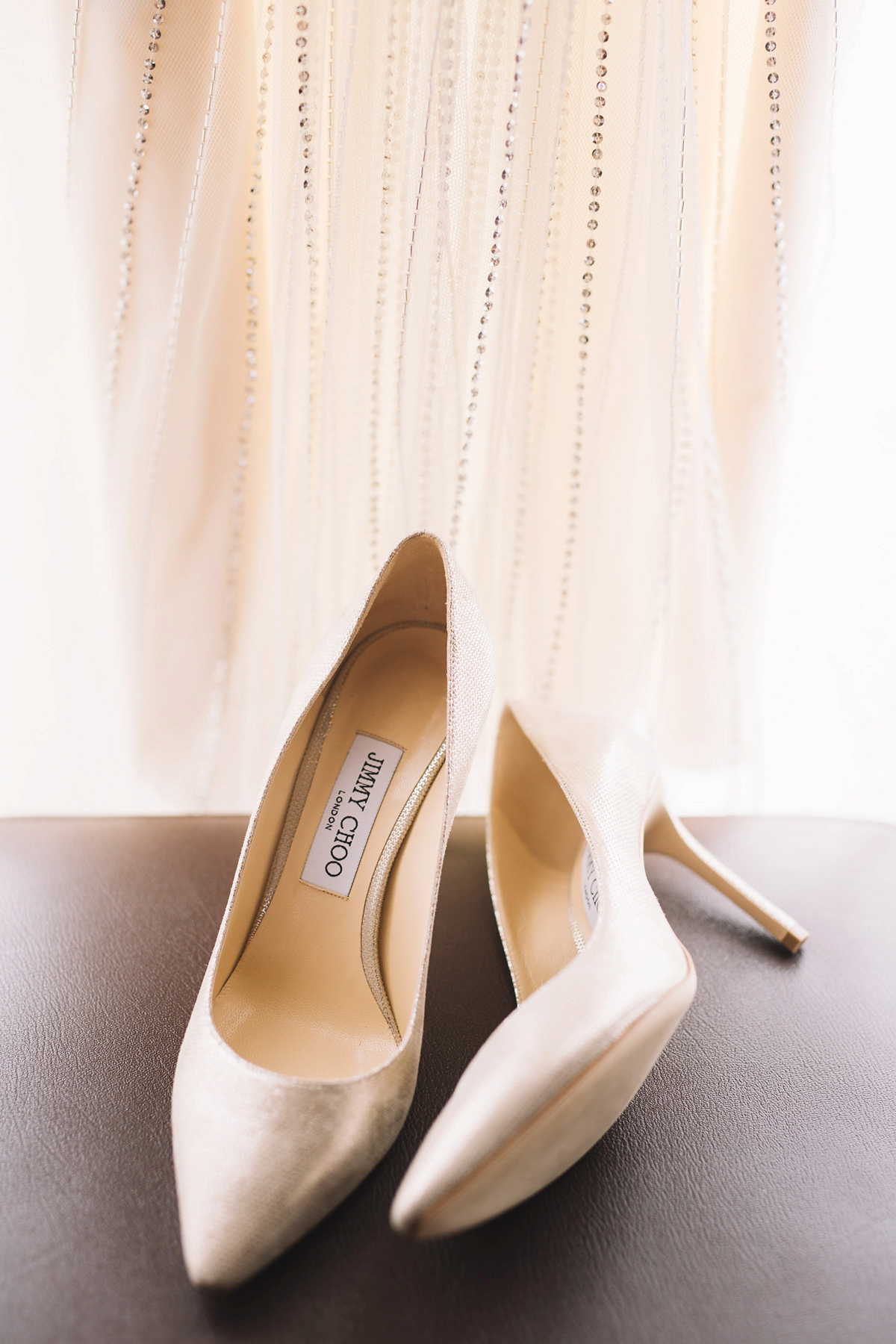 "My hair stylist was Becky Balcombe – she's been colouring my hair for a while now and just gets it. Becky added pretty flowers by The Basement Florist. My friend Kelly Scrudato Make Up Artist did my make up; she's a total pro at doing her own so recently started up professionally. She was the natural choice and nailed the look I was after – me, just a much better version."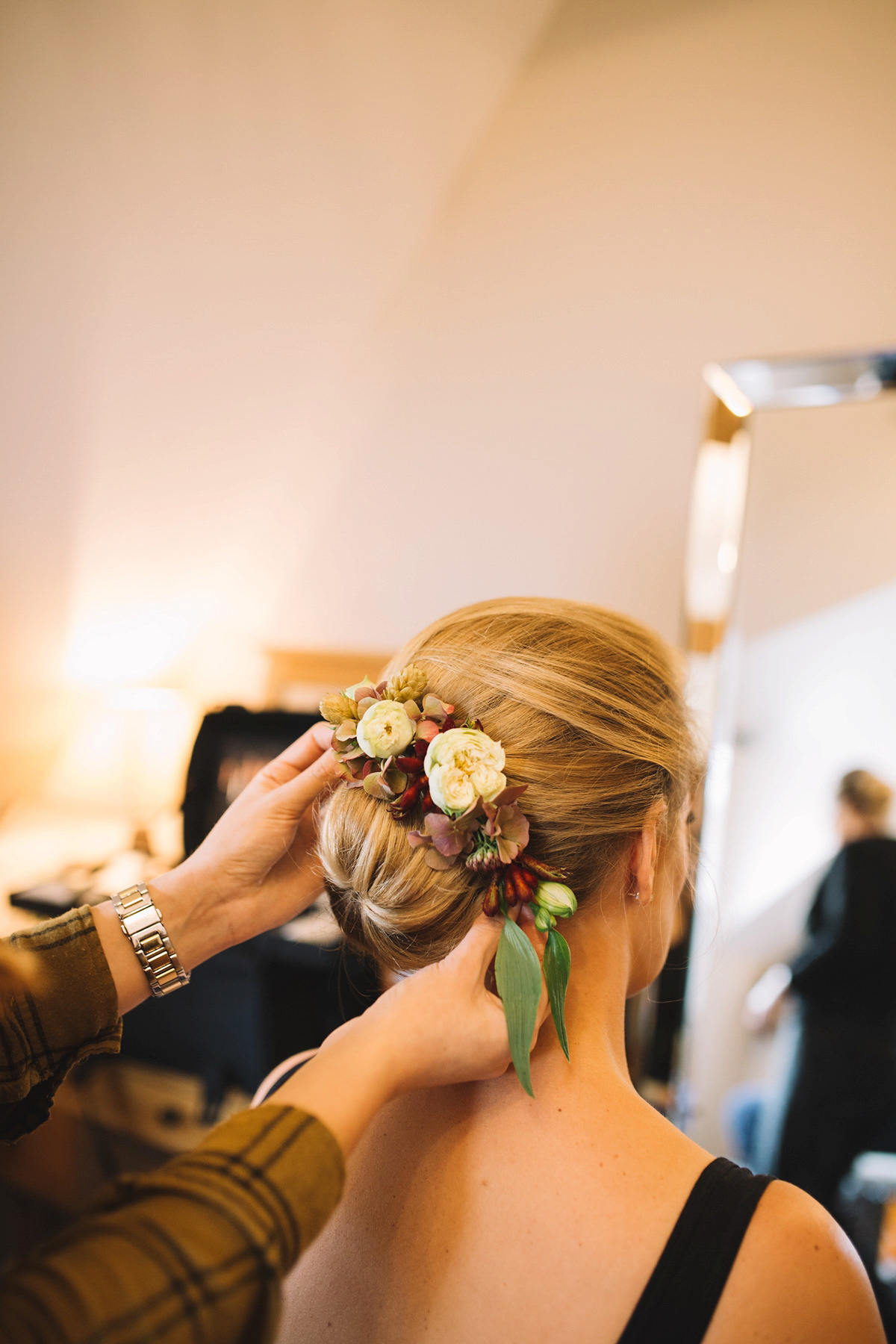 "Tom had bought me a beautiful pair of diamond earrings, which matched my ring, and they were absolutely stunning. It's safe to say that the original pair was quickly ditched. However, the most special piece of jewellery I wore was on my right hand; my nan's wedding ring which my mum now wears."
"My nan and grandad were married for over 50 years, she used to point to her ring and tell us that this represents a happy marriage and was 100% right. To have a little part of her with me, and to walk down the aisle wearing a real symbol of true love, was very special indeed."
Kate's maids wore navy blue dresses from Coast, paired with ASOS heels, earrings and bracelets from Accessorize, and pretty flowers in their hair – just divine.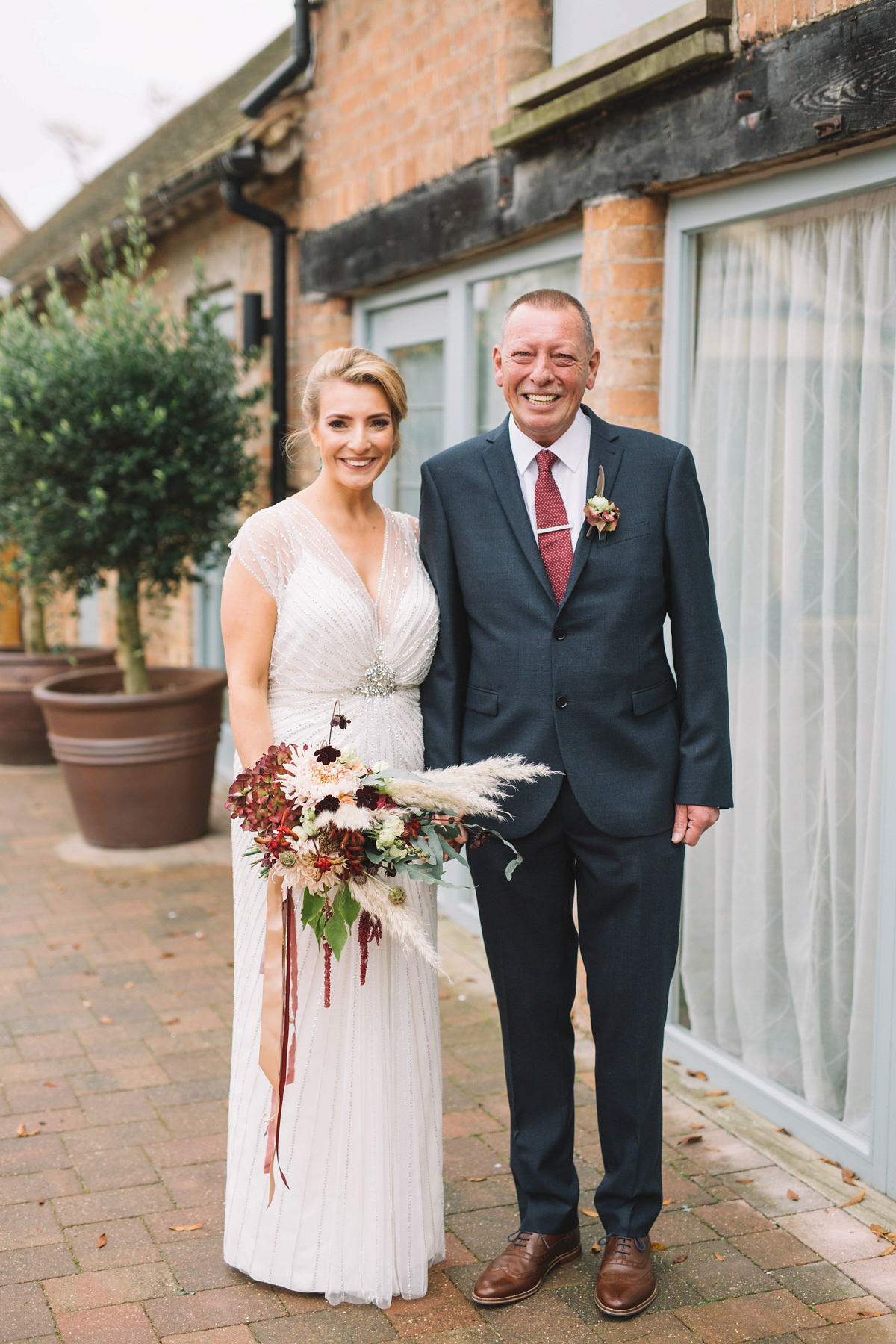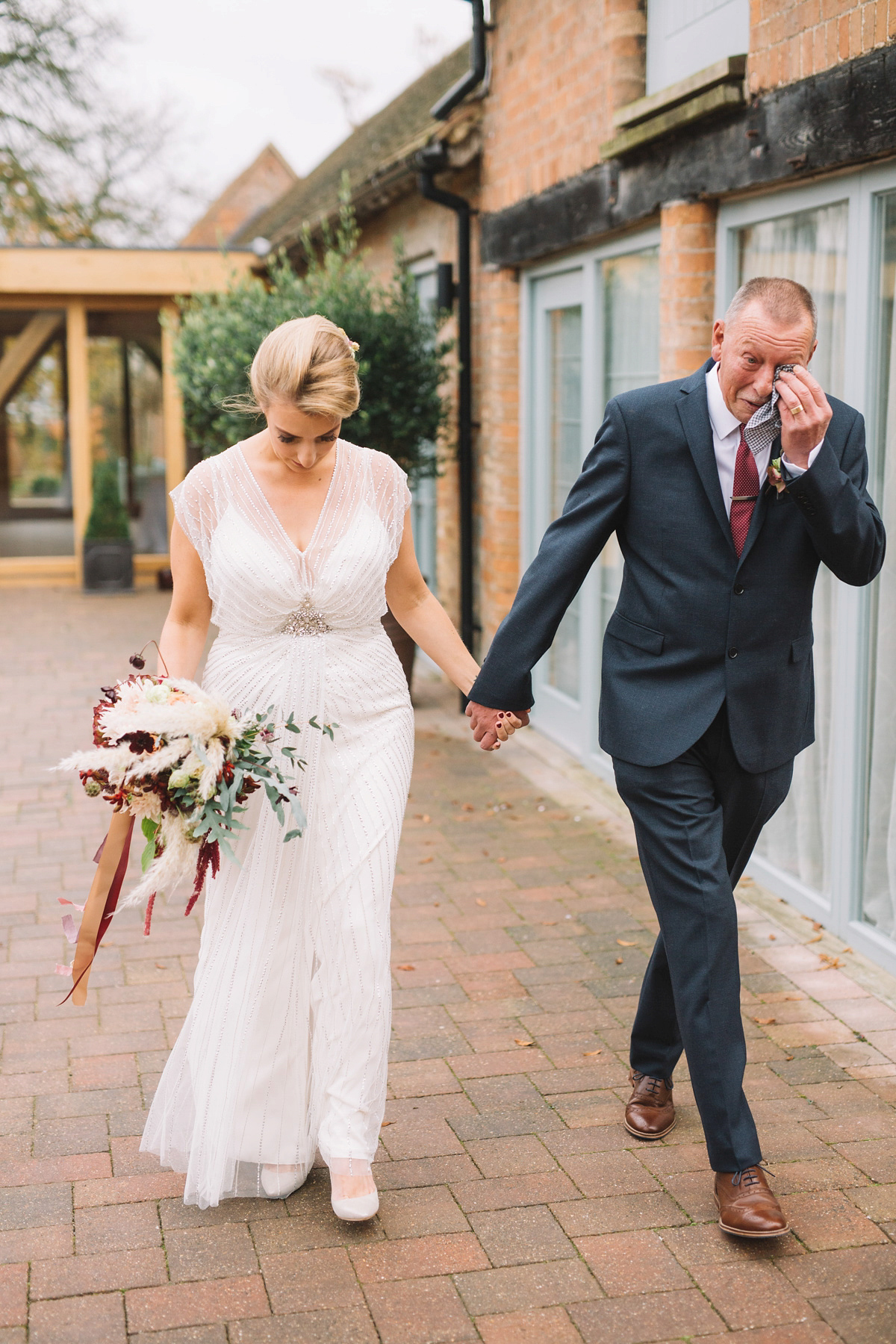 "We walked down the aisle to 'Northern Wind' by City and Colour, a band Tom introduced me to when we first met. It's a truly beautiful song about needing one another. When it came to our vows we kept it traditional."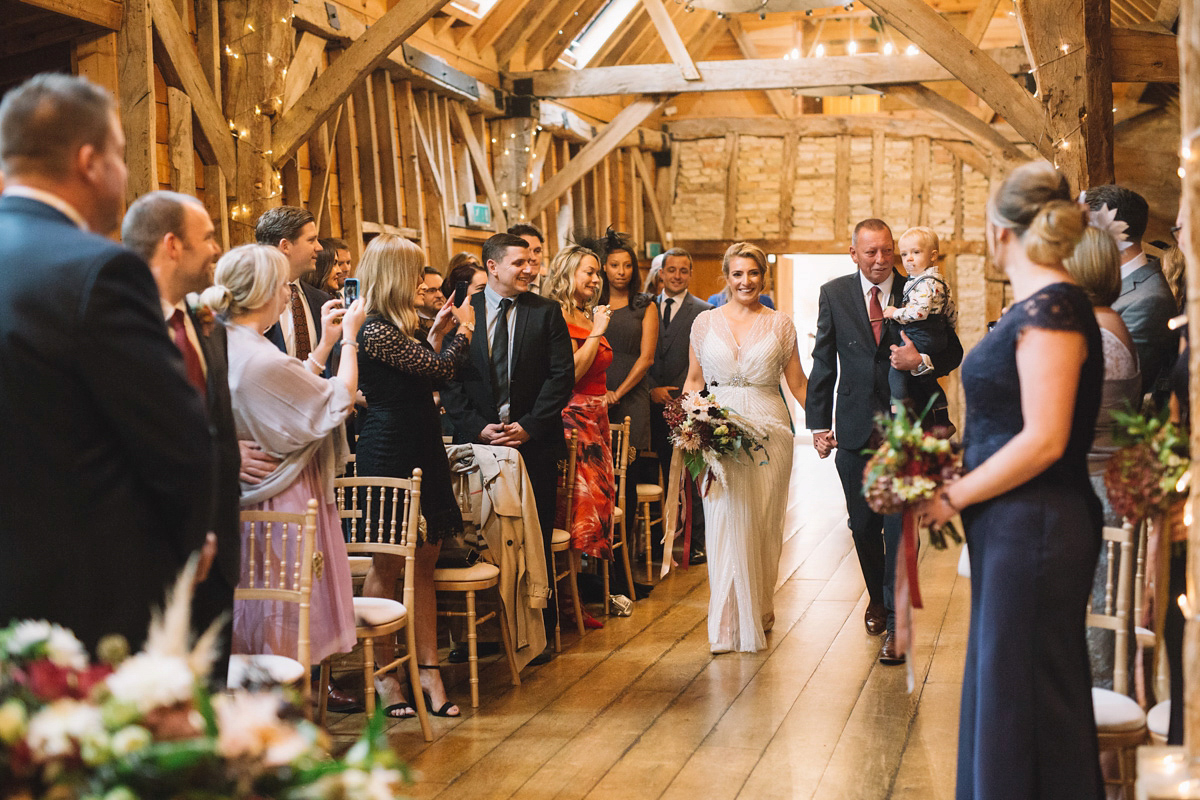 "Tom's suit was from Next and his tie from Jasper Conran. He didn't want anything traditional – top hat and tails were an absolute no no! So he picked a slightly heavier wool-mix to go with the autumn vibe and had it tailored to fit him perfectly."
"If you ask me he looked like a total hunk. He wore brown Hudson boots which he had his eye on for ages and bought before anything else – who says it's just us women who have shoe fetishes?!"
"Our son Max wore an outfit from Next. His shirt had dinosaurs all over it; he looked cute and cool and I think he got just as many compliments as I did!"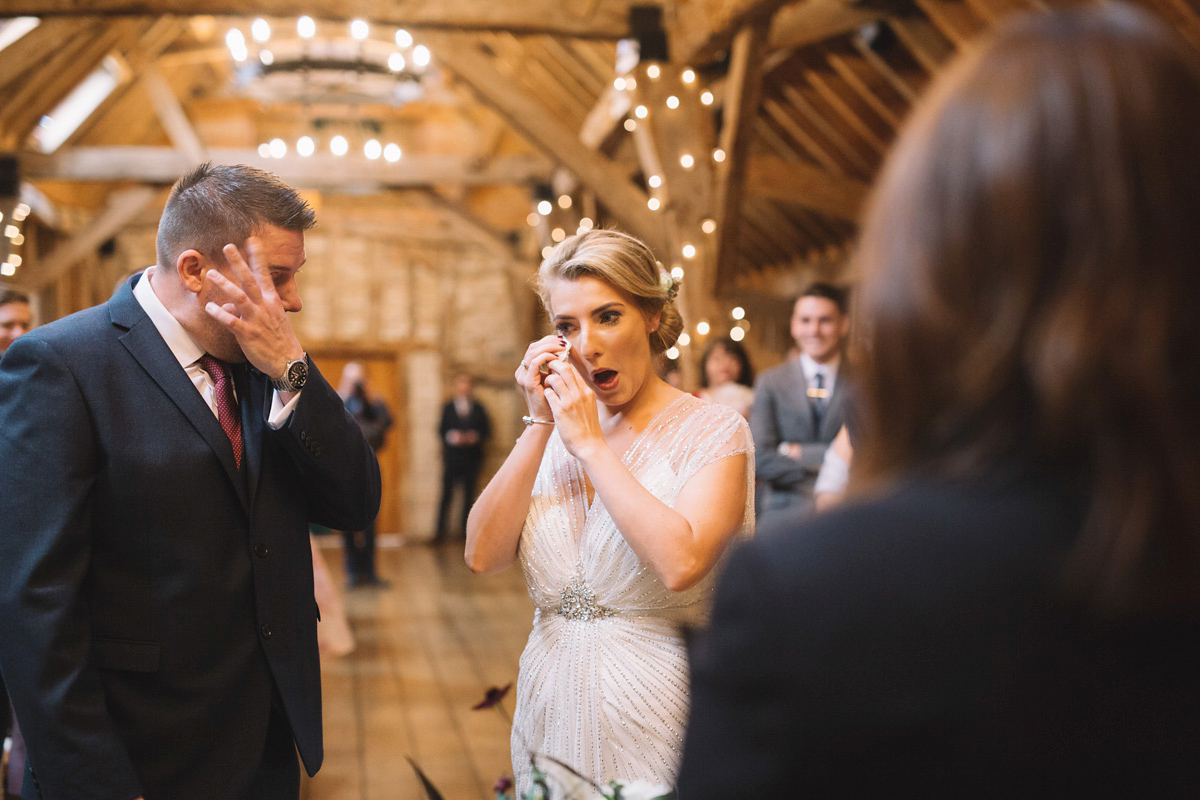 The couple's son Max almost stole the show at his parent's wedding, particularly in his adorable dinosaur shirt. This tale about the aisle walk has me reaching for the tissues.
"I wanted Max to be a big part of our day but at only 18 months old it was always going to be hard to give him a role. I thought that he would either walk down the aisle with my sister or be with Tom. I was pretty relaxed and left it open depending how he was on the day. When my Dad came to the bridal suite to get me, just minutes before walking down the aisle, Max was over-tired and clinging to my leg."
"As we proceeded towards the barn to say my vows I passed him to my sister but he wasn't impressed at all! With seconds to go I sent my sister on her way alone and told my Dad to scoop him up, and we walked down the aisle all three of us together. The two main men in my life presented me to the man I was about to marry. Not rehearsed or planned but perfect none the less."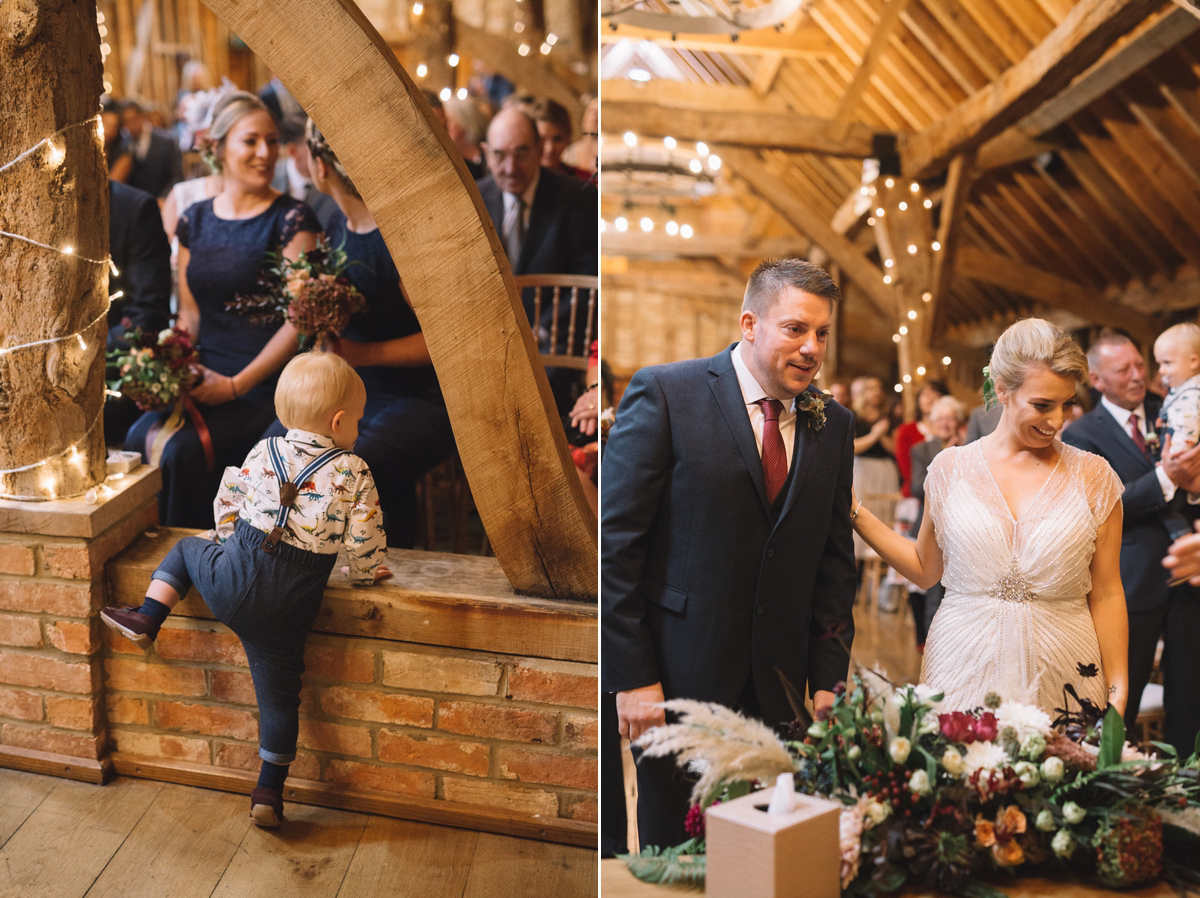 "We both wanted our rings to be simple and traditional, so went for plain bands in 18 carat gold from Goldsmiths."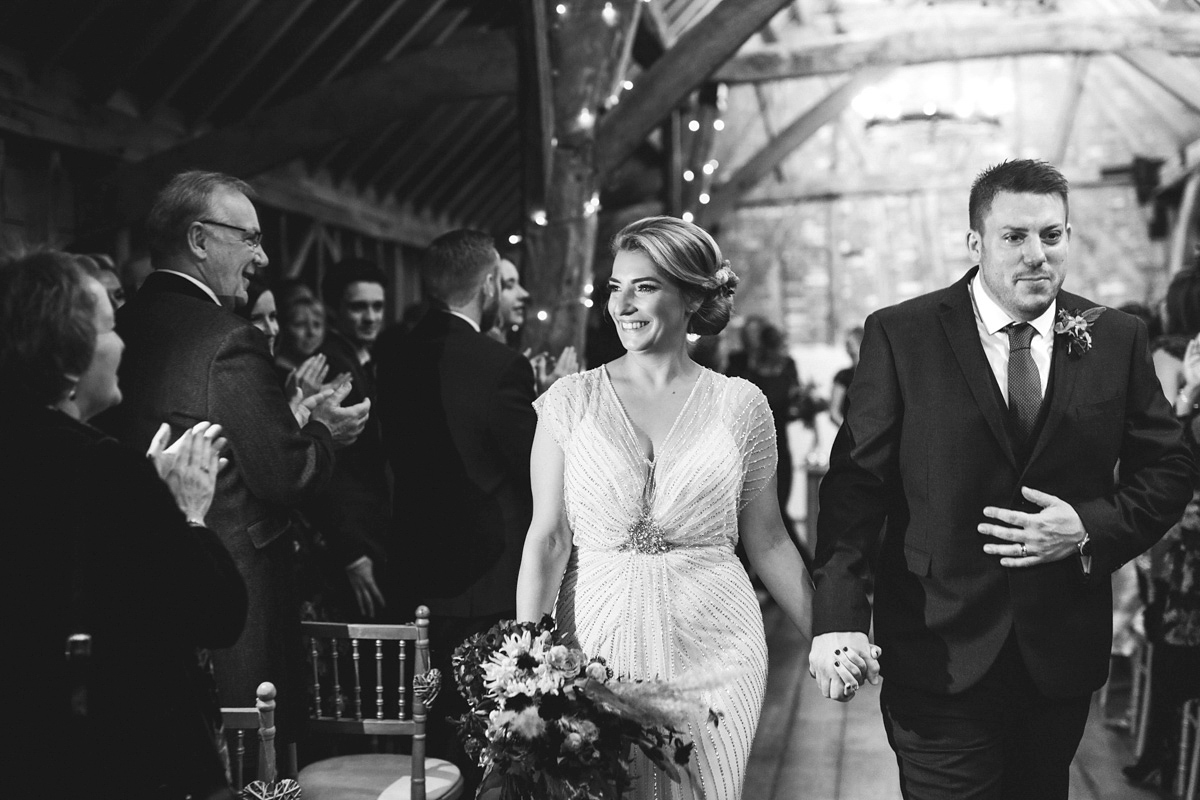 "I started following several blogs and suppliers on Instagram and Cat of Cat Lane Weddings quickly caught my eye. After nosing through her pictures I soon realised that Cat's atmospheric, non-intrusive style was exactly what we wanted. Cat has a knack of capturing moments in a completely natural way. I knew Cat's pictures would rock and waiting for them to arrive in my inbox was torture! Her pictures encapsulated our day to a tee."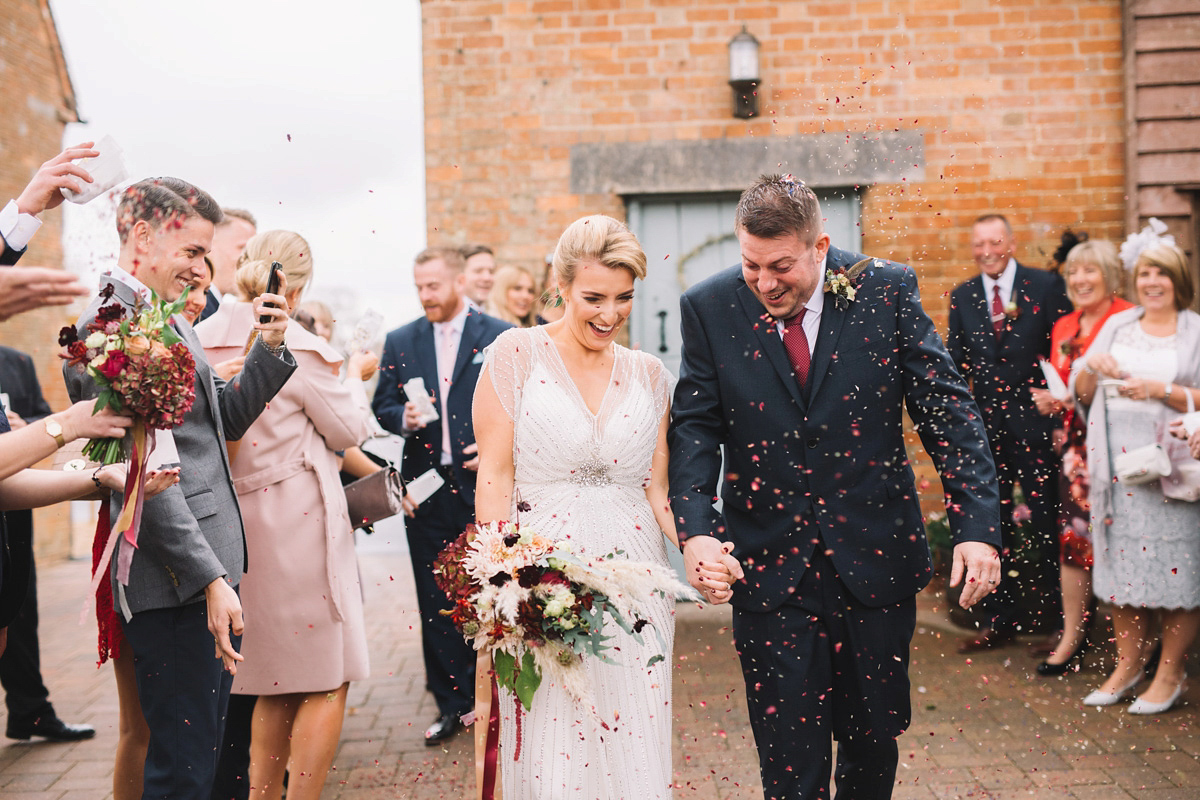 I'm very much in love with the floral displays created by The Basement Florist – they so suited the autumn day with the mix of colours and addition of berries. Think I'm going to add florist as my next new career debut!
"When it came to flowers they had to be messy and fabulous. Noeleen interpreted that brief flawlessly and incorporated pampus grass, feathers, berries and even cactus into her displays."
"From the flowers in my hair to the large centrepieces, she took everything I had shown her and created something even better than I had imagined. Seeing my flower vision come to life was one of the standout moments of my day."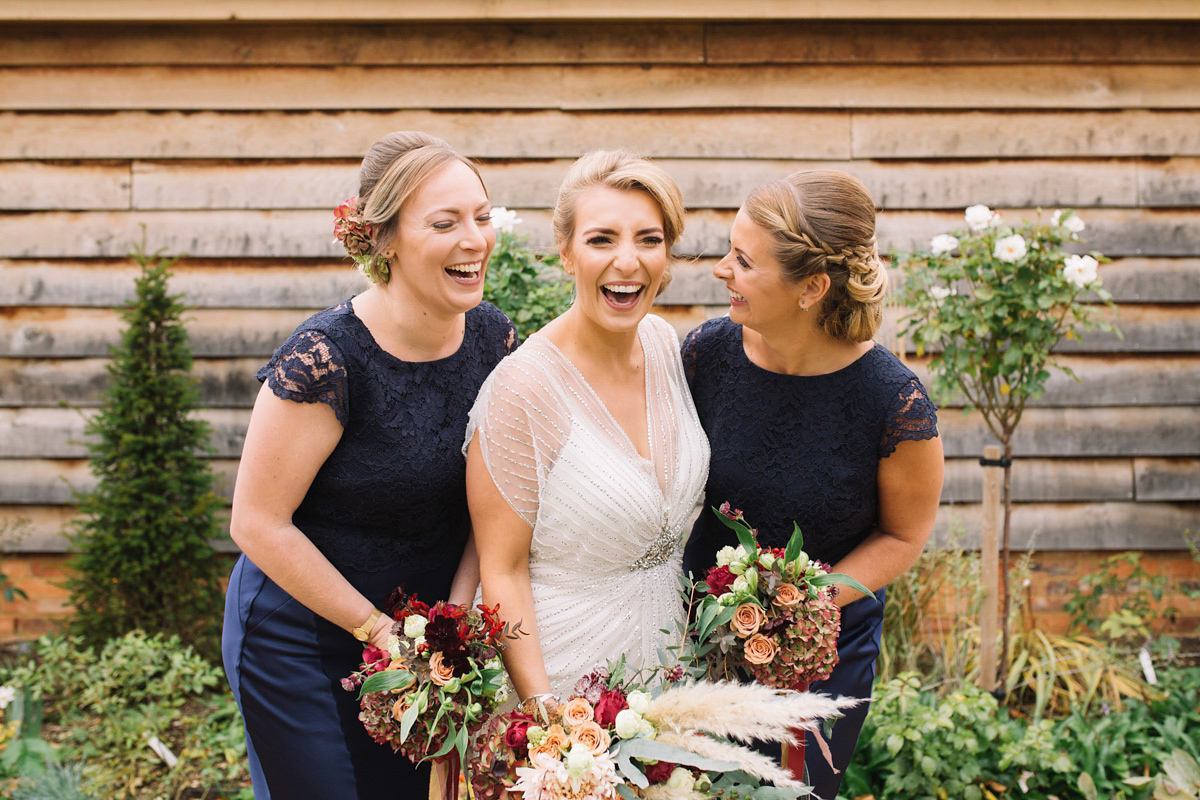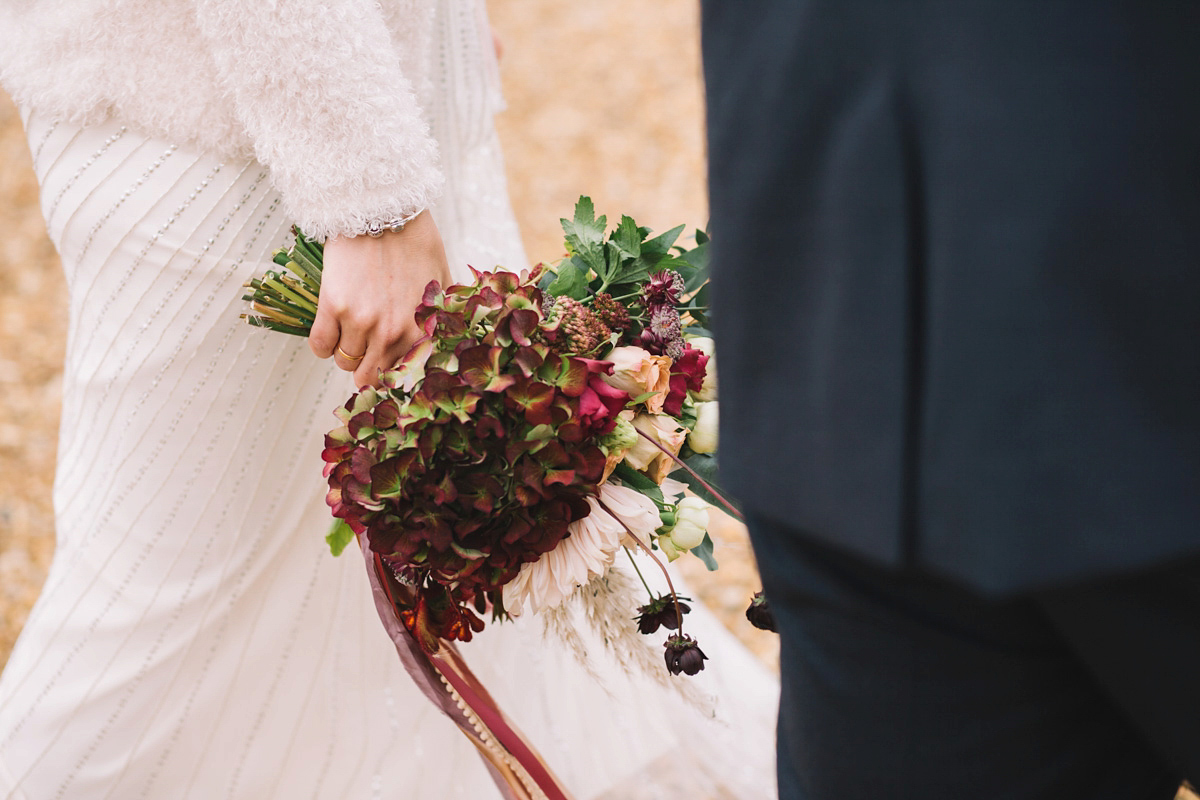 "If I had to pick my favourite part of the day it would have to be the moments I spent with Tom. Our first real chance to catch up was during our photo shoot, it was so nice to be able to take a moment away from it all and have a chat about the lead up and how we felt and what we thought of it all."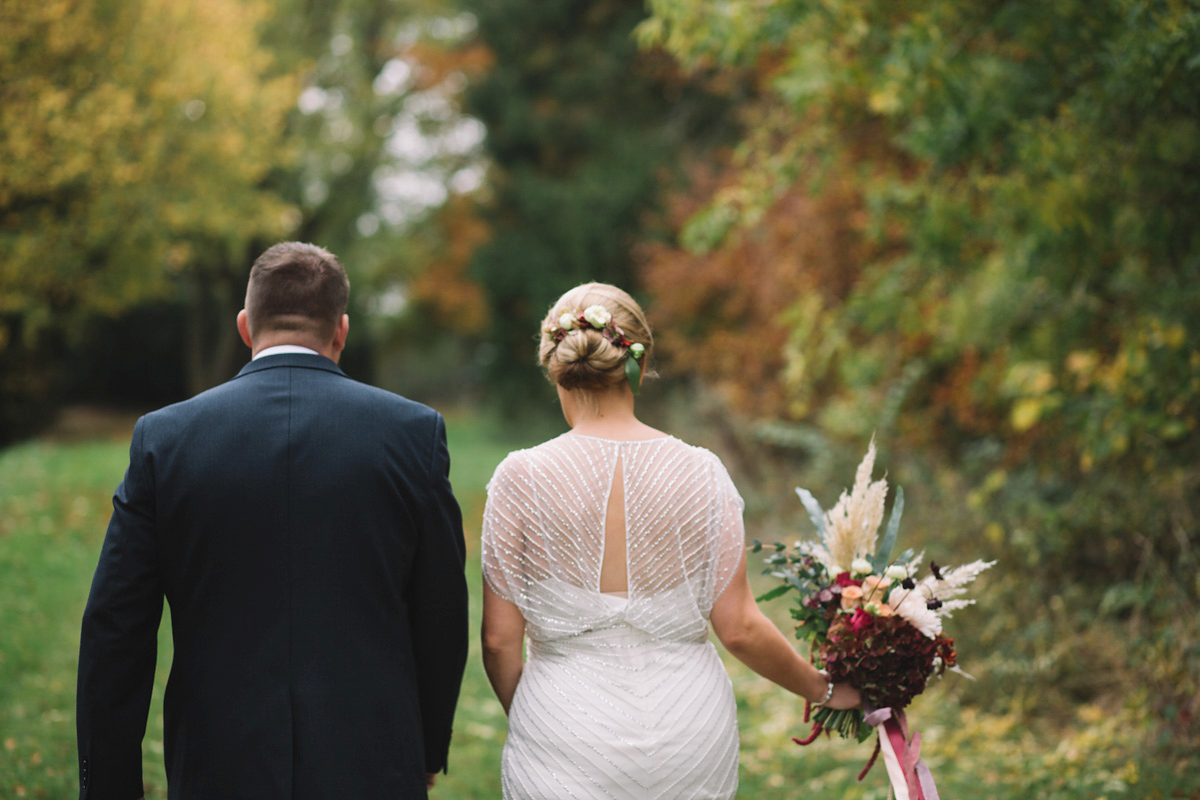 "We were both really excited to hear about the others reactions and feelings. Throughout the day we made sure to keep checking in with each other, it's easy to get swept away with everything going on, each time we had a few minutes together we were both so happy and proud of what we had achieved. We both agreed that having everyone we loved under one roof and watching them all enjoying the day together was such a momentous feeling."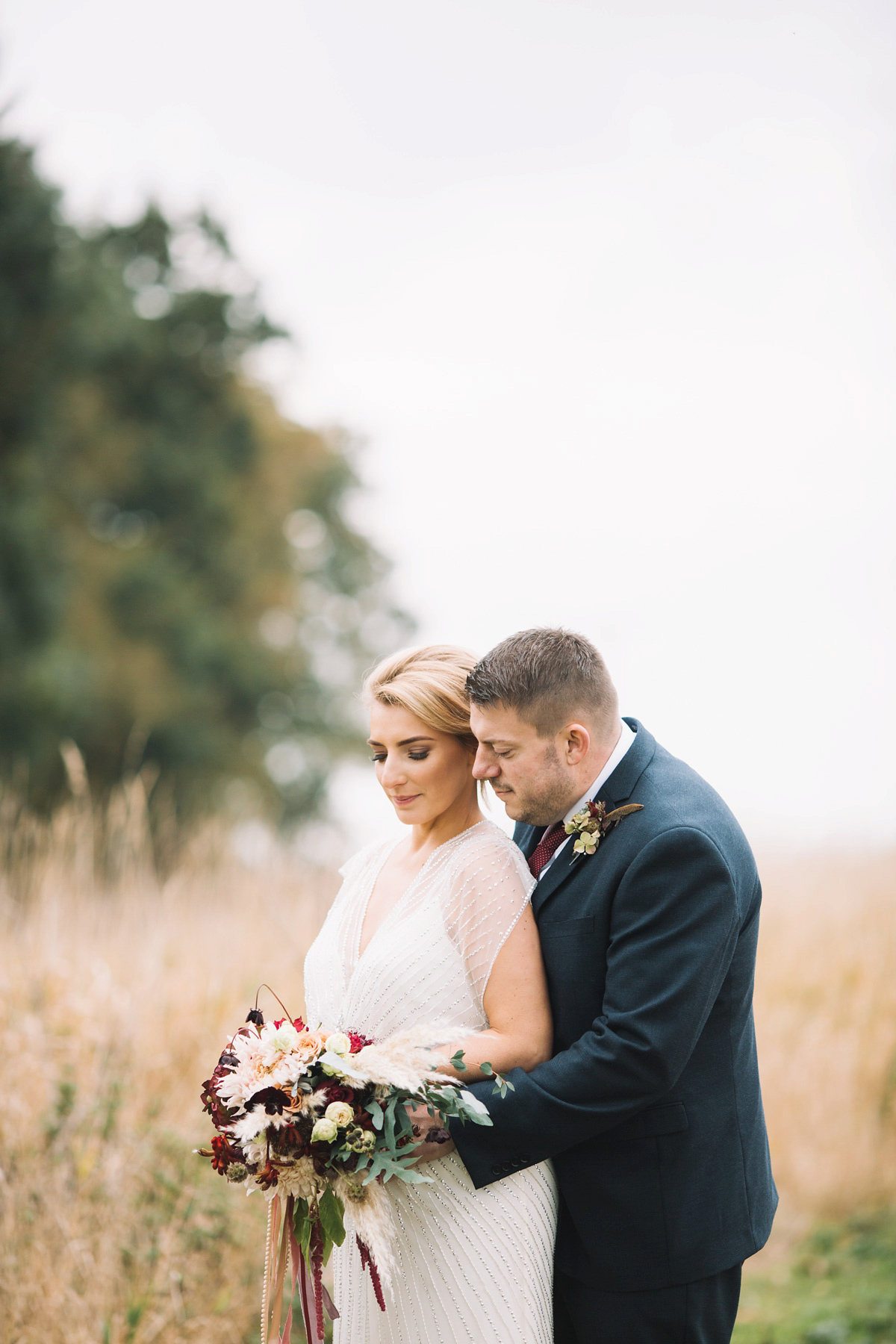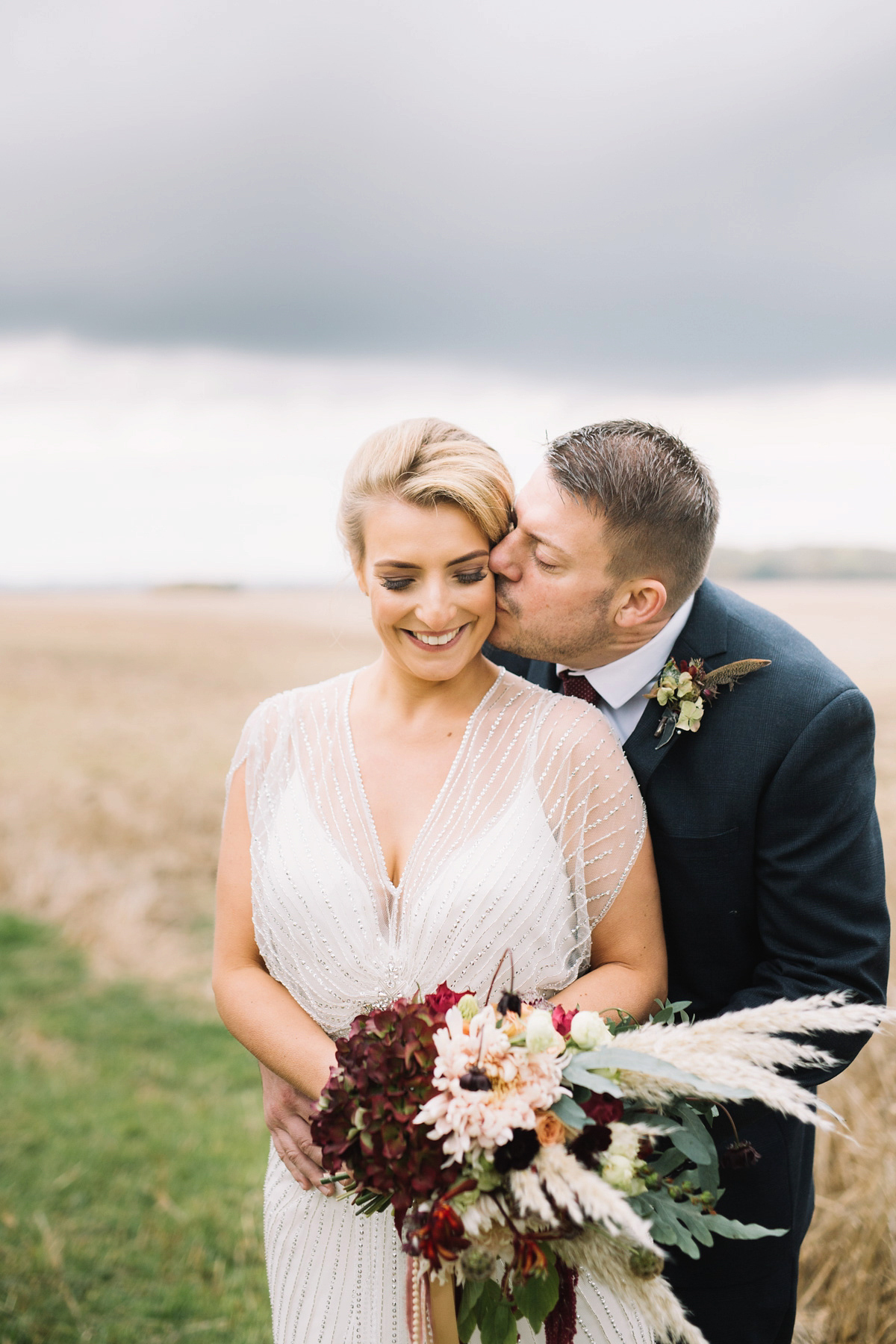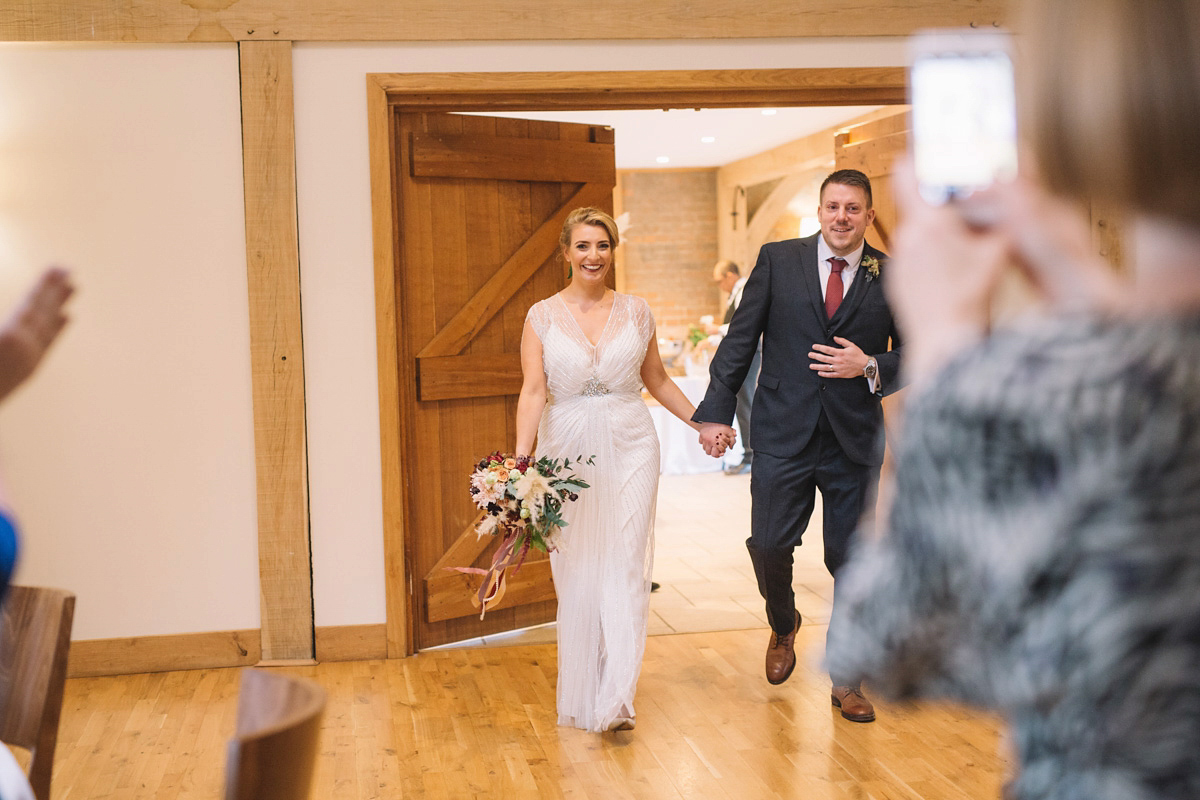 "Steel Strum played throughout our cocktail hour, they were just awesome. I actually stumbled across them whilst visiting my Grandad in Chichester; they were busking in the High Street. I instantly loved them – covering songs from all eras their sound makes you want to get up and dance and they weren't like anything else I had seen before. They put on such a good show and really set the vibe for the evening reception."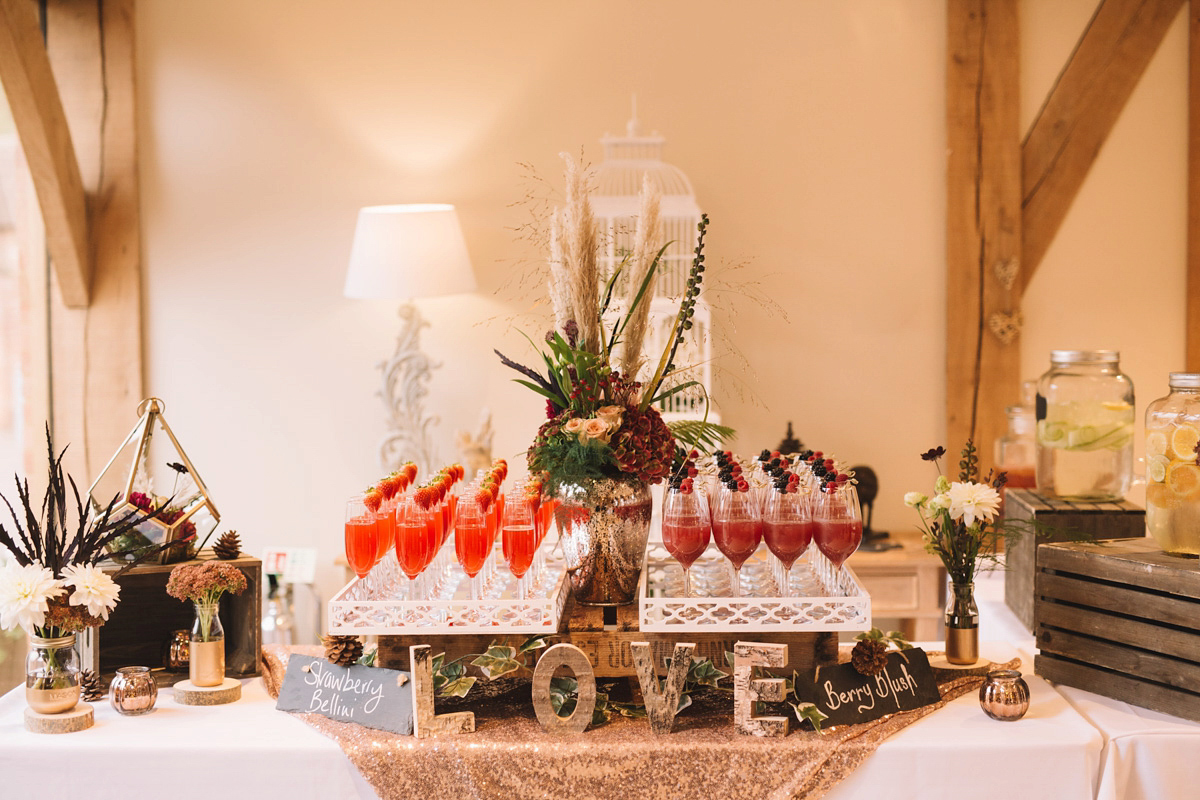 "Throughout our drinks reception we asked Luisa Calvo from Wicked Caricatures to provide caricatures for our guests. Luisa was fab! Her drawings were so impressive and a great memento for our guests."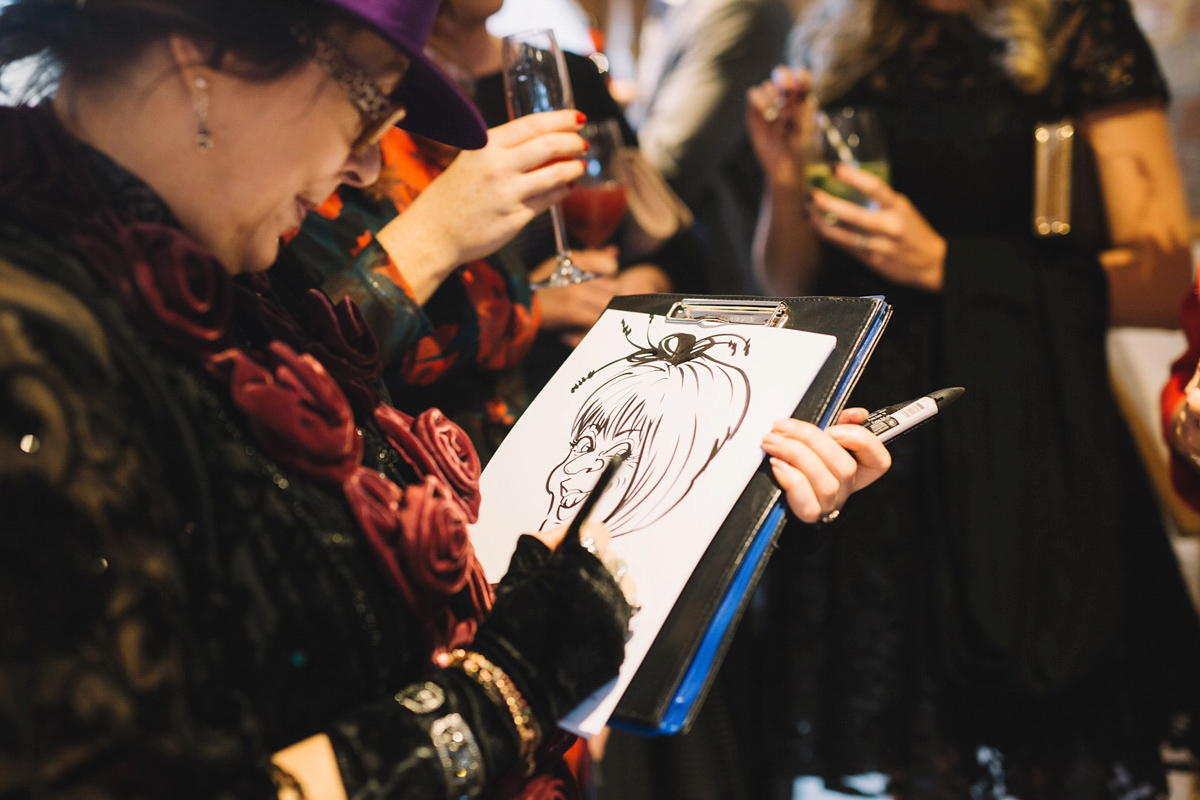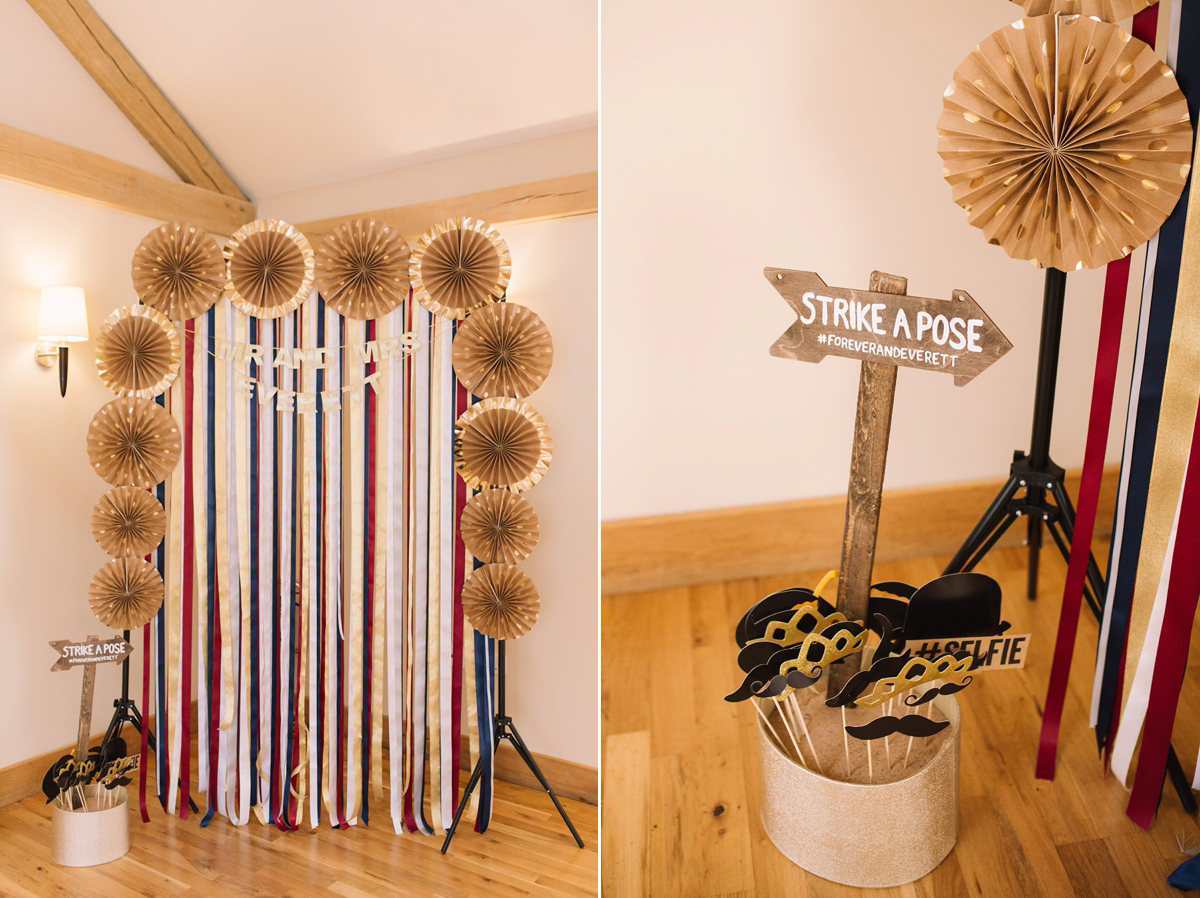 "Being huge cake fans trying to pin point exactly what we wanted was hard, we wanted it all! Jenny at Two Little Cats Bakery incorporated all we asked for and more … a half-naked, cocktail-inspired, raspberry ripple, flower explosion. It was four tiers of total deliciousness! Needless to say not a crumb was left."
The couple knew they'd found 'the one' when it came to their venue; from the moment they drove up the driveway and without looking elsewhere, booked it there and then. From the original features of the Rickety Barn to the more contemporary restoration of the reception building, it was exactly what they were looking for. There is something so lovely about a barn wedding, as the look of the exposed beams is decor in itself, and Kate and Tom just added some DIY pieces in gold that looked so stylish, and by going DIY it also helped with the budget.
"When it came to styling, I wanted to keep the cost down as much as possible. I knew I wanted gold but I found things were either expensive or hard to source so I set myself some DIY projects."
"I bought some mason jars from a cheap home store locally and painted them and my florist then used them as floral displays. I sprayed pinecones gold and one evening Tom and I sat gluing in the name place cards. I found wooden numbers and painted them gold too, and that was our table numbers done. I even made our photo booth backdrop from scratch, all in all costing me around £50. I really enjoyed doing it; all those years of watching Blue Peter as a child had really paid off!"
"We used Papier for all of our stationery, from our invites to our favours and name place cards. Their designs are beautiful, can be personalised however you wish and the quality was brilliant and reasonably priced too."
"Our day was very much focused on our guests, particularly our family. We wanted everyone included, even those who weren't able to share our day with us. Bassmead has a beautiful round table in their entrance foyer; I wanted this to be a real focal point. I picked up gold frames whenever I saw them and asked my florist to create a large centrepiece and then set out searching the family archive for photographs."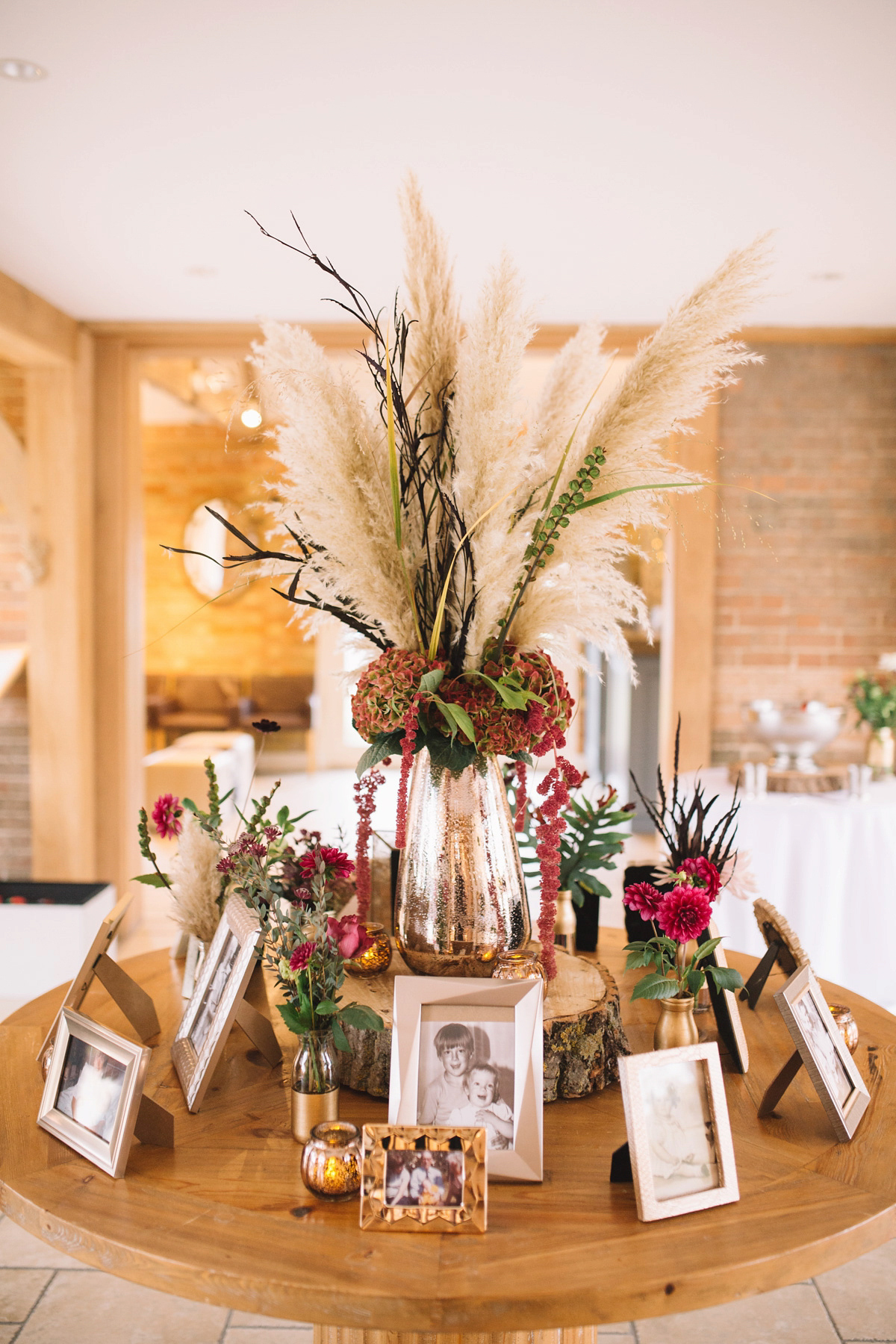 "The pictures displayed our family tree, from our grandparents right down to a photo of us holding Max just hours old – everyone was present. It was such a good talking point bringing back great memories for many of our guests and a way of showing our appreciation of where we have come from and what that means to us."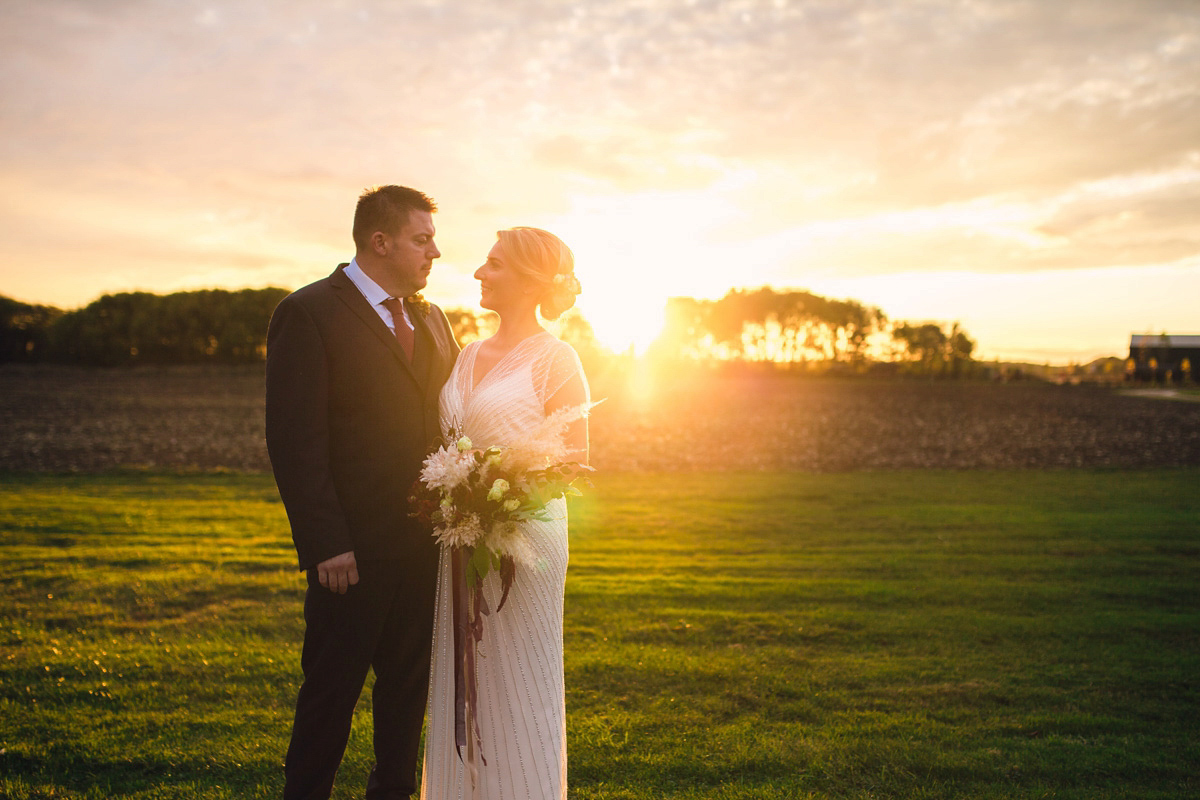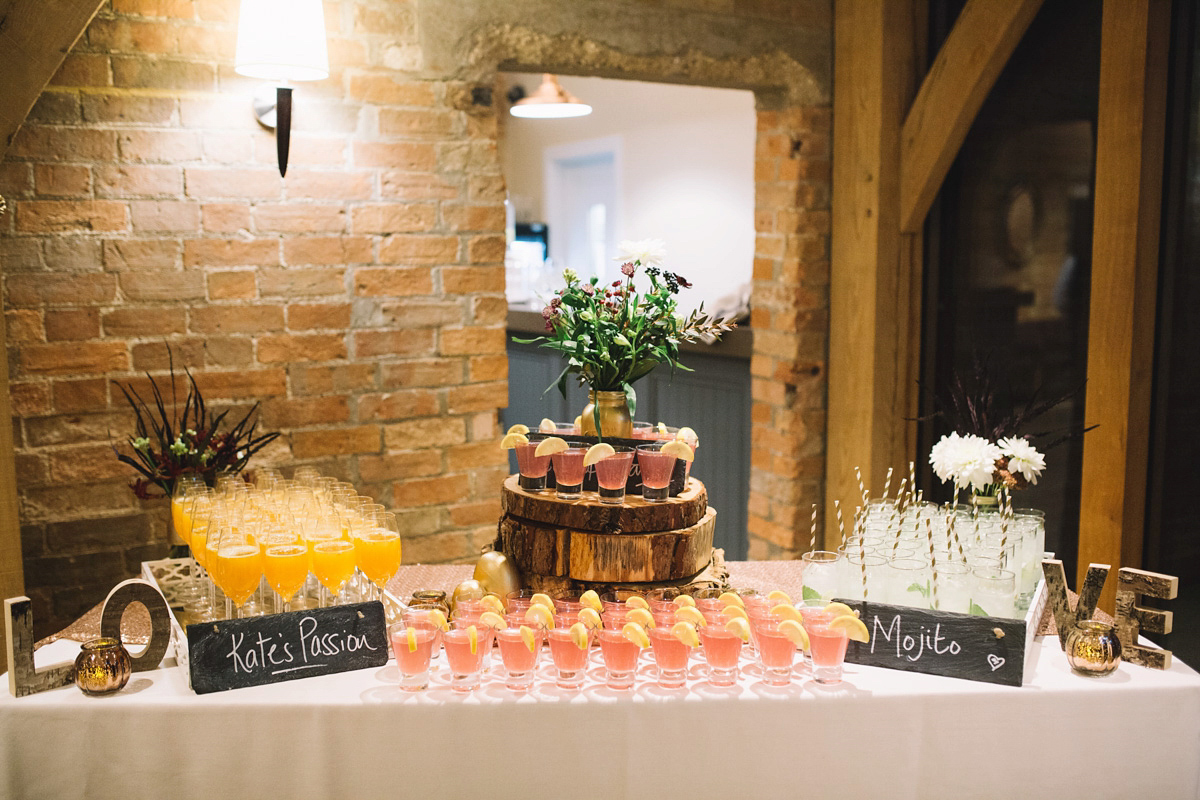 "For the evening disco we used a DJ that used to play in the local bars in Essex when we were growing up; he played all the old school tracks we love. It was like turning back the clock!"
"Our first dance was the acoustic version of My Love by Jess Glynn. The opening line goes 'There's nothing more that I would have that I could need, cause having this means that I've got it all.' The lyrics speak for themselves."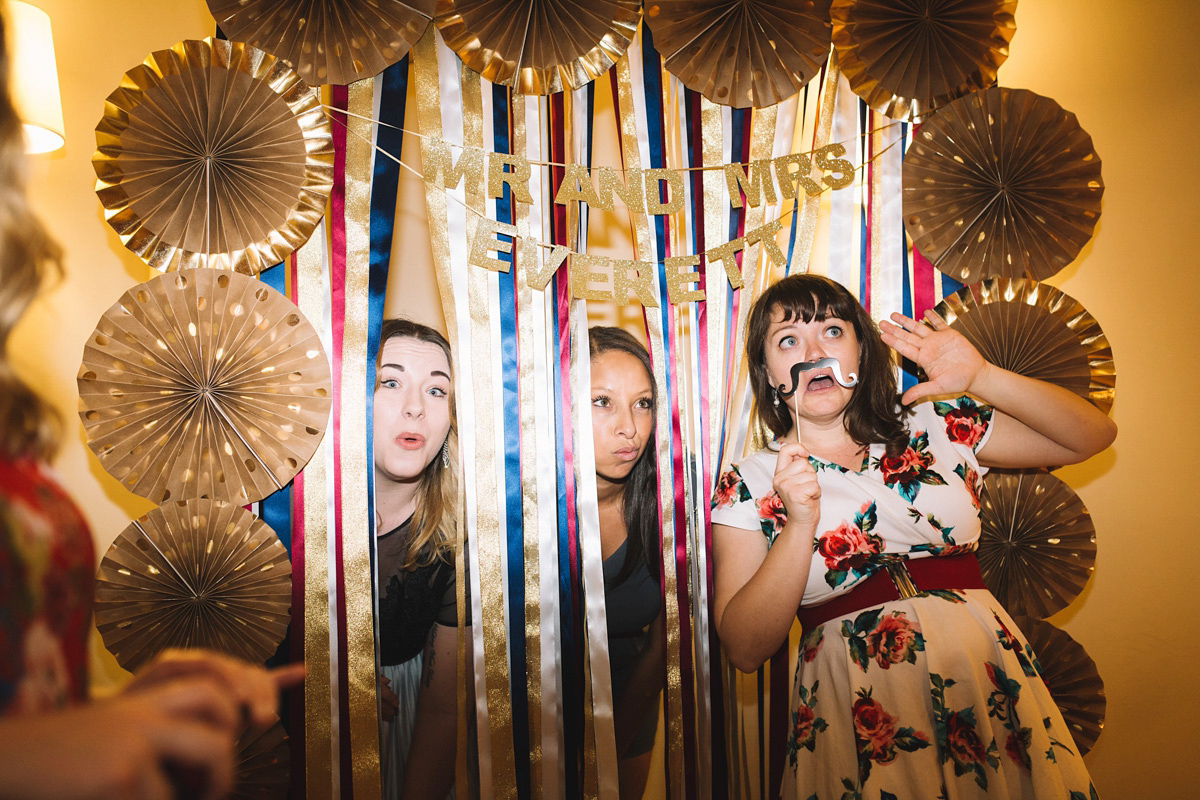 "We had sparklers as favours, which was a little nod to the time of year. They made for a great photo opportunity too."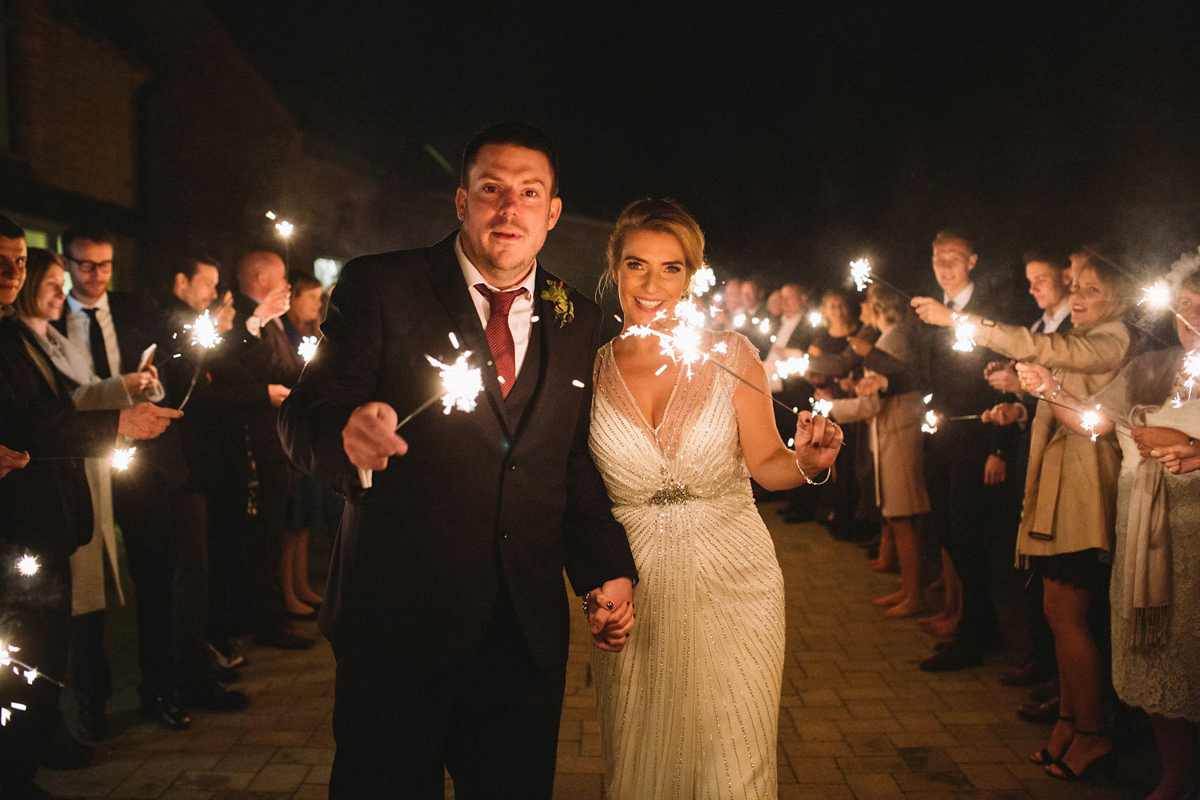 Words of Wedded Wisdom
"My words of wisdom are simply to do what you want. Do you and nobody else! Pick the food you love, the music you love, the venue you love, the colours you love. Do your best not to be influenced by anyone else. It's your day and it should be exactly how you want it. When it comes to making decisions go with your heart."
"Love My Dress was my bible and I stalked your posts daily! It's such a fabulous wedding blog with weddings on all budgets, and people from all walks of life, religions and backgrounds."
Thank you Tom and Kate for sharing your divine day (and allowing me to daydream about glitzy and glamorous beaded gowns as I plan my new modelling career!) and a very big shout out to Cat too for capturing the happy smiles and fun vibes so beautifully.
Bookmark this link to view more simply elegant weddings from our oodles of archives for even more inspo.
Here's to a productive rest of week lovely ones!
Love Jo -xo-