Later today I travel down to Somerset for the wedding of one of my friends from university, so today's wedding is the perfect way to get into the spirit and start getting ready for their day. Our couple, Hannah and Keith Hancox, are childhood sweethearts, first meeting when they were just thirteen, and marrying in a winter wedding on 18 November 2016 at Dodford Manor, Northamptonshire. They chose a loose theme of yellow, navy and metallics to complement their restored-barn reception. Yellow is such a cheerful colour, adding a splash of sunshine and brightness to the gloomiest of days, so if you are a fan of this hue then please do enjoy this wedding with photography by Dominique Bader.
The venue for Hannah, who is a Project Manager at a Graphic Design Studio and Keith, a Graphic Designer who has just launched his own business Lark Design Studio, was the beautiful Dodford Manor. The couple loved it so much they changed their wedding date to ensure they could marry here.
"Originally we wanted to get married on Bonfire Night but after falling in love with our venue and that date already being booked we had to shift our wedding to the week after. From that we had a loose theme of yellow, gold, navy and white. As the wedding planning progressed this relaxed even further from gold to metallic. We were desperate to enjoy everything about the wedding planning and day and so tried to not get too hung up on themes and instead focus on the bigger picture and question of 'does this all go together?'."
Photography by Dominique Bader
Hannah chose a beautiful, sequinned Stephanie Allin gown from our lovely sponsor and Little Book for Brides member Rachel Ash. I love the texture of the bodice and the refined elegance of the beaded top, also from Rachel Ash, which she layered over the gown. Its colour sets off her auburn hair so beautifully, and Dominique Bader has done a fantastic job of capturing its rich hue in the November sunlight. Hannah switched up her look for the evening, removing the sparkling top and adding a belt.
"My dress was in two parts, both of which were bought from the amazing shop 'Rachel Ash'. The shop is full of the most beautiful dresses and Rachel and Ash are super-lovely. I loved my dress! I really wanted something I'd feel comfortable in all day and that I could dance and spin around in. I loved how 'swooshy' my dress was. It was super-light but all the silk tulle layers of the skirt gave it a real princess feel."
"The bodice of the dress was covered in tiny sequins which gave it a really beautiful and subtle shimmer. It was really important for me to feel like myself on the day and the addition of the sparkly t-shirt top really helped me feel like I'd made the dress my own. It also had the added bonus that I could remove it in the evening for dancing, put a sparkly belt on and feel like I had a whole new evening look."
Hannah's accessories were kept simple with a necklace given to her on the day of her engagement and her grandmother's pearl earrings.
"As a present on the day Keith bought me a dragonfly necklace by Alex Monroe. When he proposed he distracted me whilst he was getting the ring out of his pocket by pointing out a dragonfly and convincing me to try and take a photo."
"I wore my nan's pearl earrings as my something old, a garter that my aunts had made for me using a blue antique brooch my mother-in-law had given me as my something blue and then my mum loaned me a small gold guardian angel that she carries with her everywhere that we stitched into the skirt of my dress as my something borrowed."
Like many brides Hannah was unsure about wearing a veil, but decided to wear a Kelly Spence design paired with a sparkling Debenhams headband. Sparkly shoes by Ronald Cartier at Dune completed her look.
Debbie Reed styled her red hair into a lovely, loose natural style with a long swept-over fringe. I love how her hair tone catches the light. Hannah chose to do her own make-up using Bobbi Brown products, and spritzed on Roads 'I Am Dance' perfume.
"I loved the name! I wanted something new for the day and this had a great long-lasting scent and felt a bit unusual."
"I didn't think I'd have a veil originally but as soon as I put my full-length one on I felt like a bride and knew I had to have one."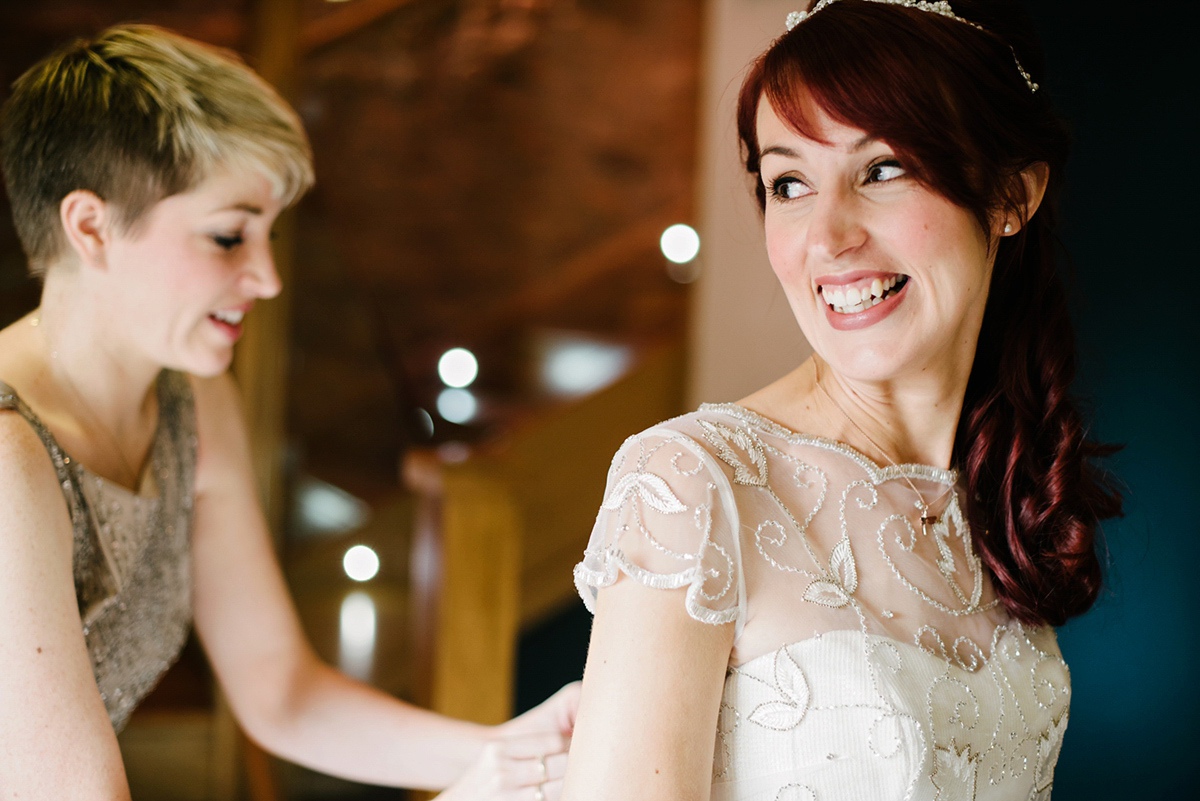 The metallic theme was continued via the bridesmaids' Debut at Debenhams gowns, worn with their own shoes. I adore the fitted sequin design – so lovely for a winter wedding. They added earrings, a gift from Hannah.
"I bought the girls earrings at their gifts. Katy's earring were from Anthropologie and Ruth's little silver studs were from a maker called Wild Fawn."
"We knew when we started planning the wedding what we wanted; somewhere close to our family in the Midlands and easy to travel to from London where we're based. A venue where we could do the ceremony and reception all in the same place and somewhere that had a relaxed and informal feeling but felt quite modern. As we were getting married in November it was important that everything could happen indoors as we expected the weather to be grey, cold and rainy!"
"It really helped us to have quite a specific list as it narrowed our choices down pretty quickly and we ended up only looking at two venues. Dodford Manor won us over with their beautifully restored barns and attentive staff."
Being in the graphic design industry, it was only natural that their stationery would be designed by themselves. How beautiful is it with the bold yellow typography?
"Keith designed everything for the day. We used my hand writing for the large text and numbers which Keith manipulated and typeset when creating all the stationery."
Hannah entered the ceremony with her dad, to the sound of 'At Last' by Etta James.
"It was a bit of a joke that it has taken us thirteen years to get married! We met at school when we were thirteen but started seriously dating when we were sixteen. We both went to different universities but managed eight years of long distance before eventually moving in together and making the move from Bath to London."
"We got engaged in August 2015. Keith had been trying to get a bespoke ring made for me for about six months before he actually asked me! He proposed in my favourite spot in Hampstead Heath; he'd even managed to smuggle a bottle of Champagne into his bag for after. We were engaged for just over a year before getting married."
The couple personalised their ceremony with their own promises, and exchanged simple rose gold rings. Hannah chose this as her favourite part of the day.
"The best part was definitely getting to the bottom of the aisle, looking at Keith and being so, so happy that we were there saying our vows and getting married."
"We wanted the ceremony to last as long as possible as that was the most important part of the day to us. We chose the longest options for the vows and also made additional promises that we wrote ourselves."
Keith's sister read a letter that Ronald Reagan wrote to his wife Nancy to mark their twentieth wedding anniversary in 1972.
"My Darling Wife,
This note is to warn you of a diabolical plot entered into by some of our so-called friends — calendar-makers and even our own children. These and others would have you believe we've been married twenty years. Twenty minutes maybe — but never twenty years. In the first place it is a known fact that a human cannot sustain the high level of happiness I feel for more than a few minutes — and my happiness keeps increasing. I will confess to one puzzlement but I'm sure it is just some trick perpetrated by our friends — I can't remember ever being without you and I know I was born more than twenty minutes ago. Oh well — that isn't important. The important thing is I don't want to be without you for the next twenty years, or forty, or however many there are. I've gotten very used to being happy and I love you very much indeed.
Your Husband of twenty something or other."
"My brother surprised us by writing his own reading which was beautiful; it was completely perfect for us and was the best wedding present."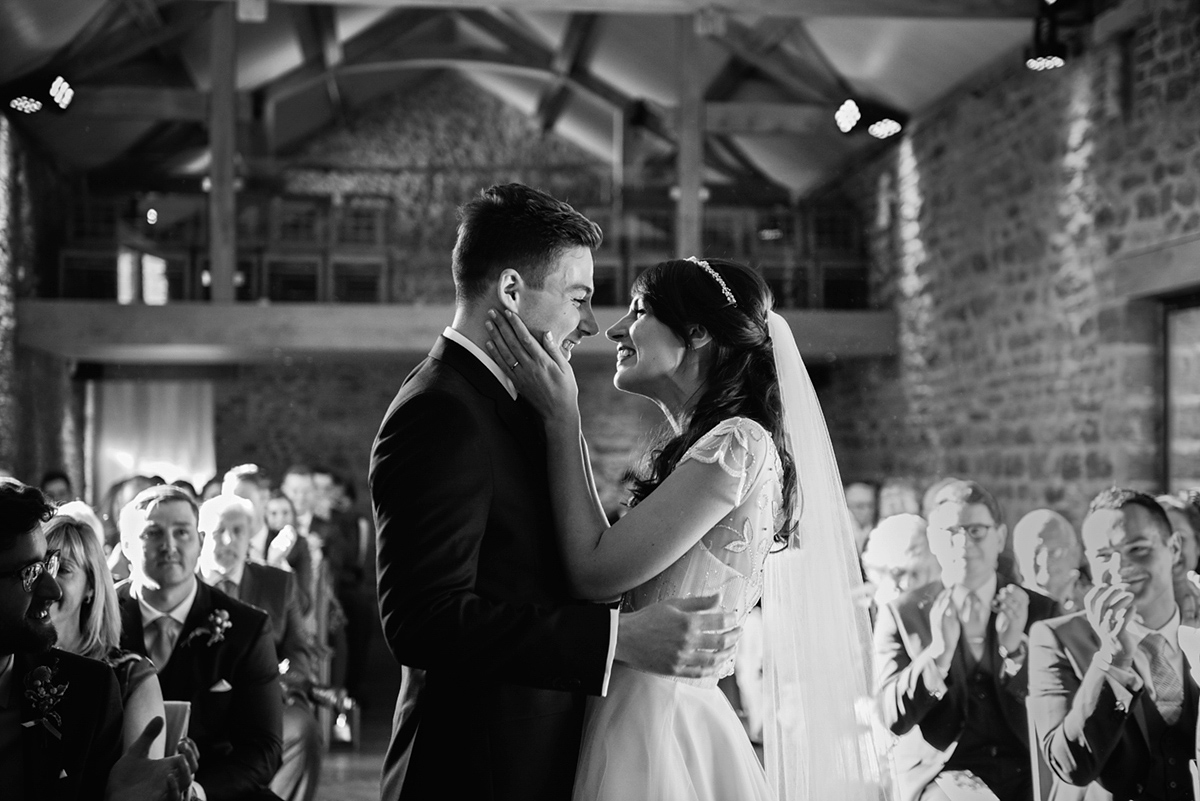 Working with her godmother on the wedding flowers gave Hannah complete freedom to choose the blooms that she loves and that meant something to her. The whites and yellows are so fresh and pretty, and the trailing yellow ribbons just gorgeous.
"I had so much fun with the flowers as my godmother did them all. I was lucky enough that we were able to go to the flower market a few months before the wedding and buy lots of different things so we could practise and make up bouquets and table decorations. It was such a great way to rule out things and introduce other bits. We chose to have lots of greenery including asparagus fern as both my nan and great-nan had that in their wedding bouquets. We kept the bouquets neutral and included pops of colour in the table arrangements. I loved what my godmother did with the button holes and the chair ends, especially the use of the ribbons."
The couple chose Dominique Bader to capture their day. We have been so lucky to feature some of her work in the past, and I love the intimate nature of her photography; you can see more of her work here.
"We knew when we started planning the wedding that we wanted Dominique to capture the day. I'd seen a couple of other weddings she'd photographed online and fallen in love with her timeless style and storytelling. Having her photograph our wedding was a present to ourselves. We knew that the photographs of the day would be with us forever and felt it was really important to capture the day perfectly."
"Dominique is AMAZING, we couldn't recommend her enough. She is warm and funny and deeply cares. She bought out the absolute best in us and made us feel really comfortable and the photos capture everything about the day that made it so very special to us. We also ransacked our parents' gardens for flowers which we dried out to make the confetti."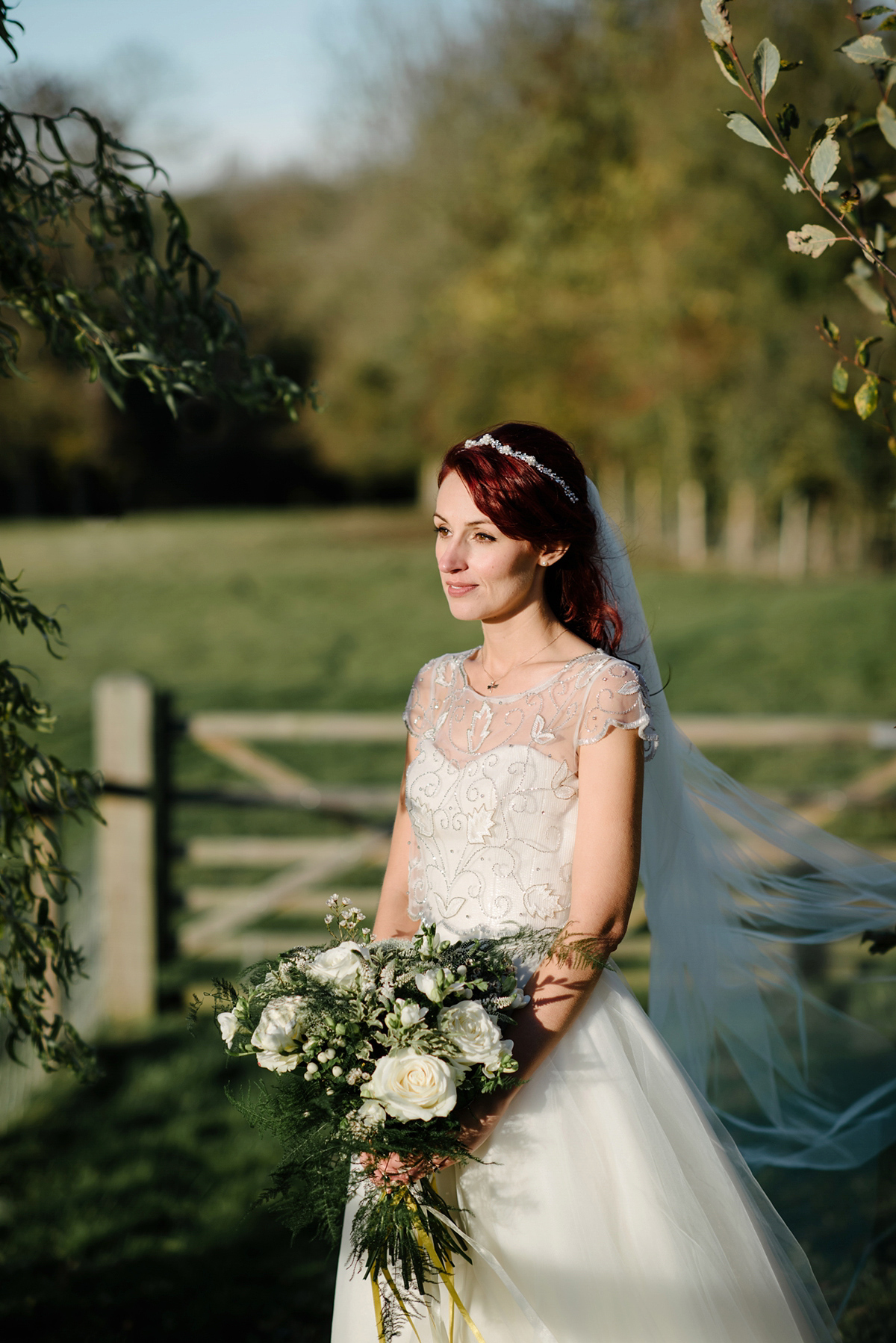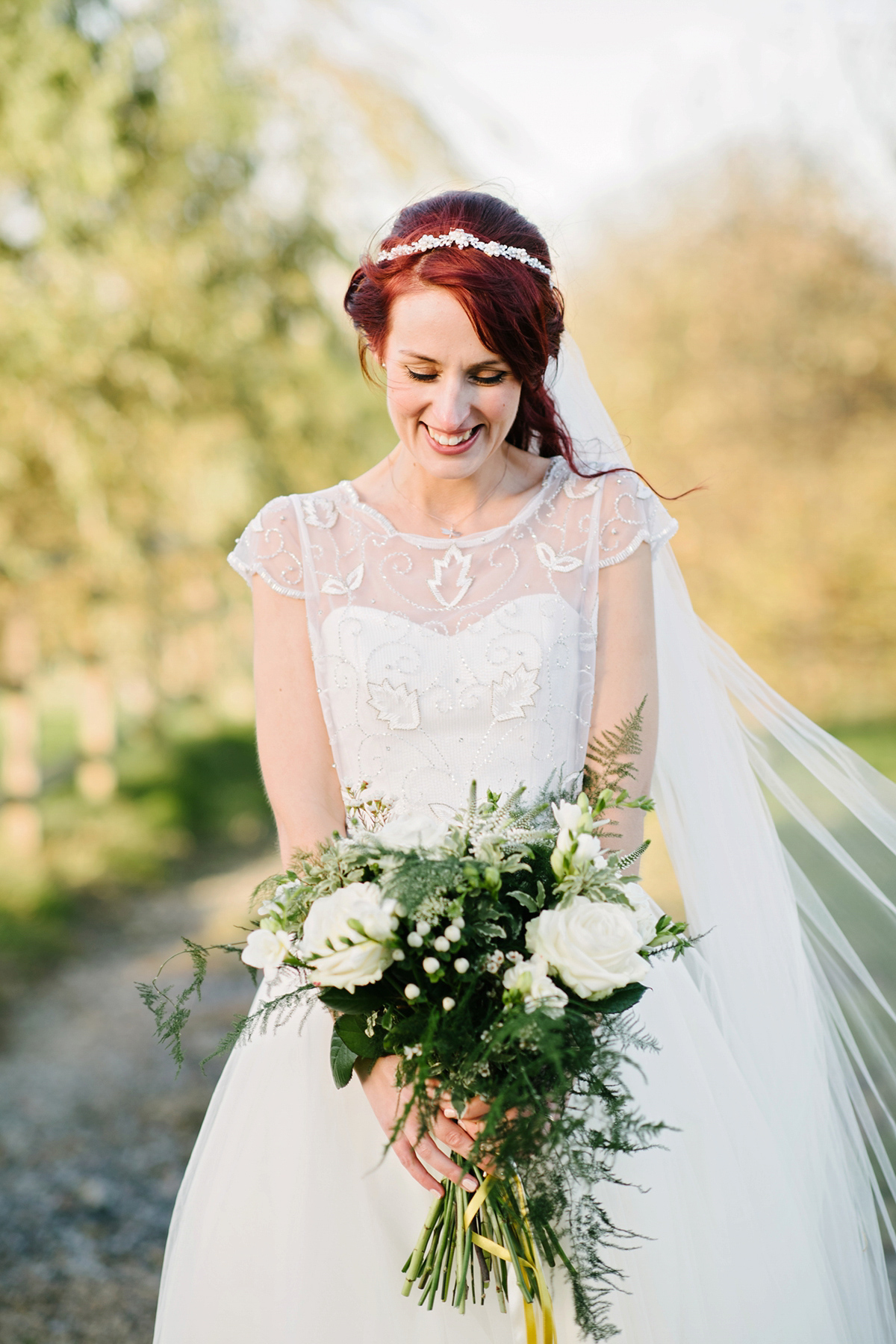 After the ceremony the couple celebrated with their guests over a wedding breakfast in the beautiful restored barn at Dodford Manor. They decorated the barn to fit their theme with paper tinsel sprayed gold, and glass candle-holders decorated with gold glitter. My favourites though are the vases of fresh flowers in white and yellow; so timelessly pretty.
This pretty tiered cake was made by Hannah's brother, and decorated with fresh flowers.
"My brother and his partner made the cake. It was amazing. They did three different flavours: chocolate, lemon and a Victoria sponge and decorated it with beautiful edible flowers."
Entertainment came from The Blue Rinse, with the first song being 'Coming Home' by Leon Bridges. I love the idea of a home-made photo-booth, constructed by Hannah's dad.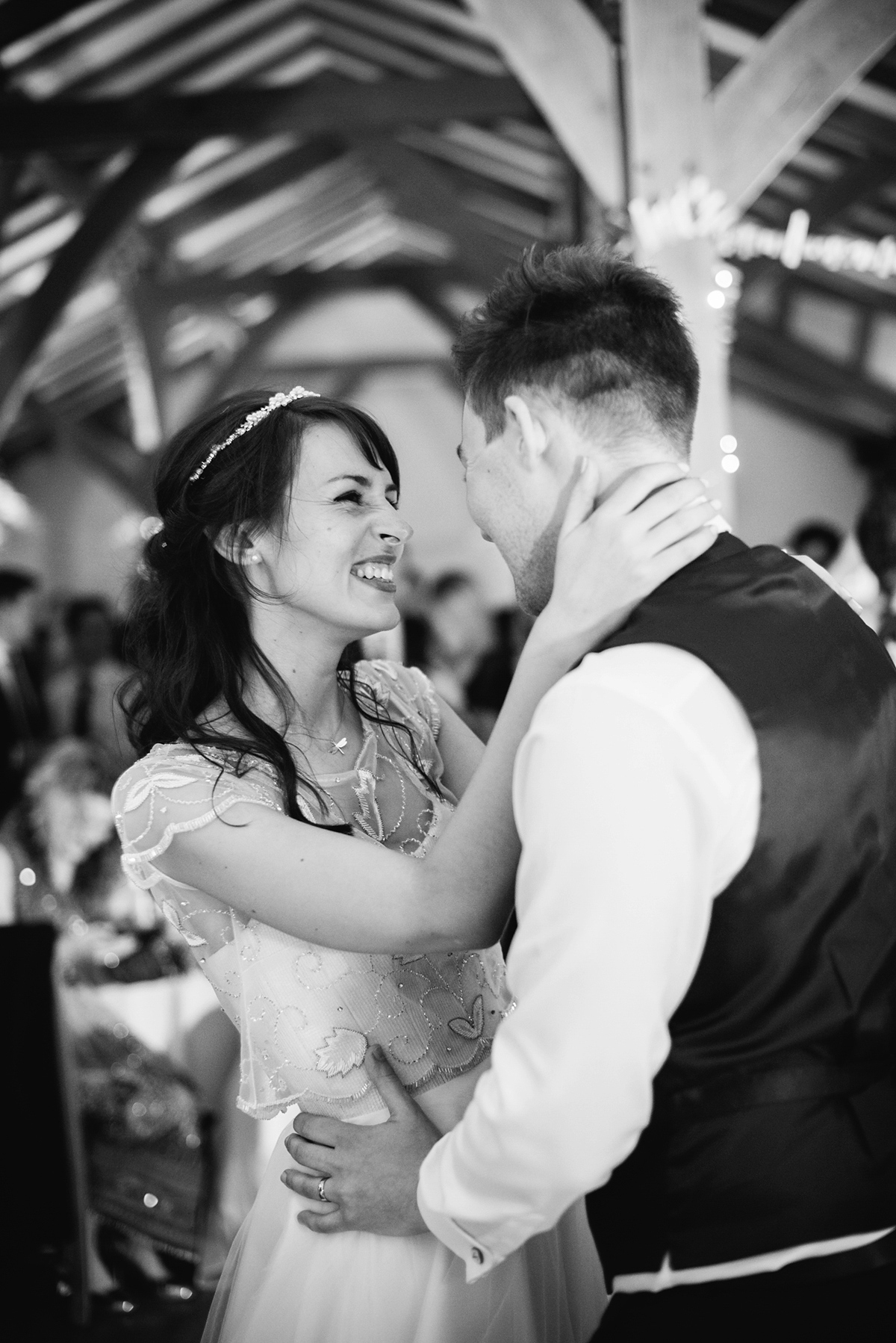 Words of Wedded Wisdom
"Don't sweat the small stuff and remember why you're getting married in the first place."
Hannah and Keith, wishing you many years of happy marriage ahead of you; thank you so much for sharing your wedding with us. And extending our thanks to Dominique Bader too, for her beautiful photography.
Wishing you all a very happy weekend. I cannot wait to see my friends make their own vows tomorrow.
Ele xx