Good morning beauties – and welcome to our beautiful wedding blog this fine morning. Here's hoping the sun is shining on you today. I had to be responsible for preparing this particular wedding feature – the photographers were the frankly wonderful Big Bouquet and the stationery designers were Swash and Fold.
There's one incredibly talented individual behind both of these businesses and his name is Ian Davenport. He also happens to be the developer (technical geek extraordinaire) who created and who continues to develop this very wedding blog you're reading right now. Let's all cheer for Mr Ian Davenport for basically being a multi-talented genius, shall we?!
Ian and his lovely wife Emma, who together make up wedding photography team Big Bouquet, were lucky enough to be asked to document this gorgeous celebration back in Spring. To cut to the case, I'd already spotted a preview image from this wedding on Instagram and had basically threatened to never speak to Ian again if he didn't let us share on Love My Dress – but it turns out lovely bride Nicola, a Primary School Teacher, is rather a big fan of Love My Dress already. HOORAH! Nicola tied the knot with husband Ross, a Sound Engineer, on 22nd April this year at St Michael and All Angels Church in Hinton Admiral, near Christchurch. The couple went on to celebrate with a reception at Barford Park, Downton Nr Salisbury.
"When we first got engaged, we just thought of everything that was 'us' and went from there. We wanted everything to be meaningful to us, for example, we both love music and festivals, so we wanted the day to be full of that atmosphere without feeling too 'themed'. Ross, who owns his own production company, built two stages – one for our main band in the evening and one for our friends to play on outside, open-mic style!"
Photography by Big Bouquet
Nicola's beautiful gown was the 'Fleur' design from the Secret Garden collection by London based Naomi Neoh, which she paired with a matching lace jacket. Both the dress and jacket were purchased from the Anna Bridal boutique in Ringwood.
We are huge fan girls of Naomi Neoh here at Love My Dress. Naomi's signature style is so utterly romantic – you must follow her on Instagram if you aren't already – the images of her gowns are dreamy and capture so much beautiful movement in the luxurious fabrics she works with.
"I found Naomi Neoh when looking through Love My Dress. I had no idea where to start when it came to dresses to begin with, but the blog really helped to see what dresses were like in real life."
"My dress was everything I imagined! I really wanted something that felt timeless, a touch of vintage without feeling too old-fashioned. I'd always loved looking at my grandmother's wedding photos from the 1950's and certainly had this in mind when I first started looking."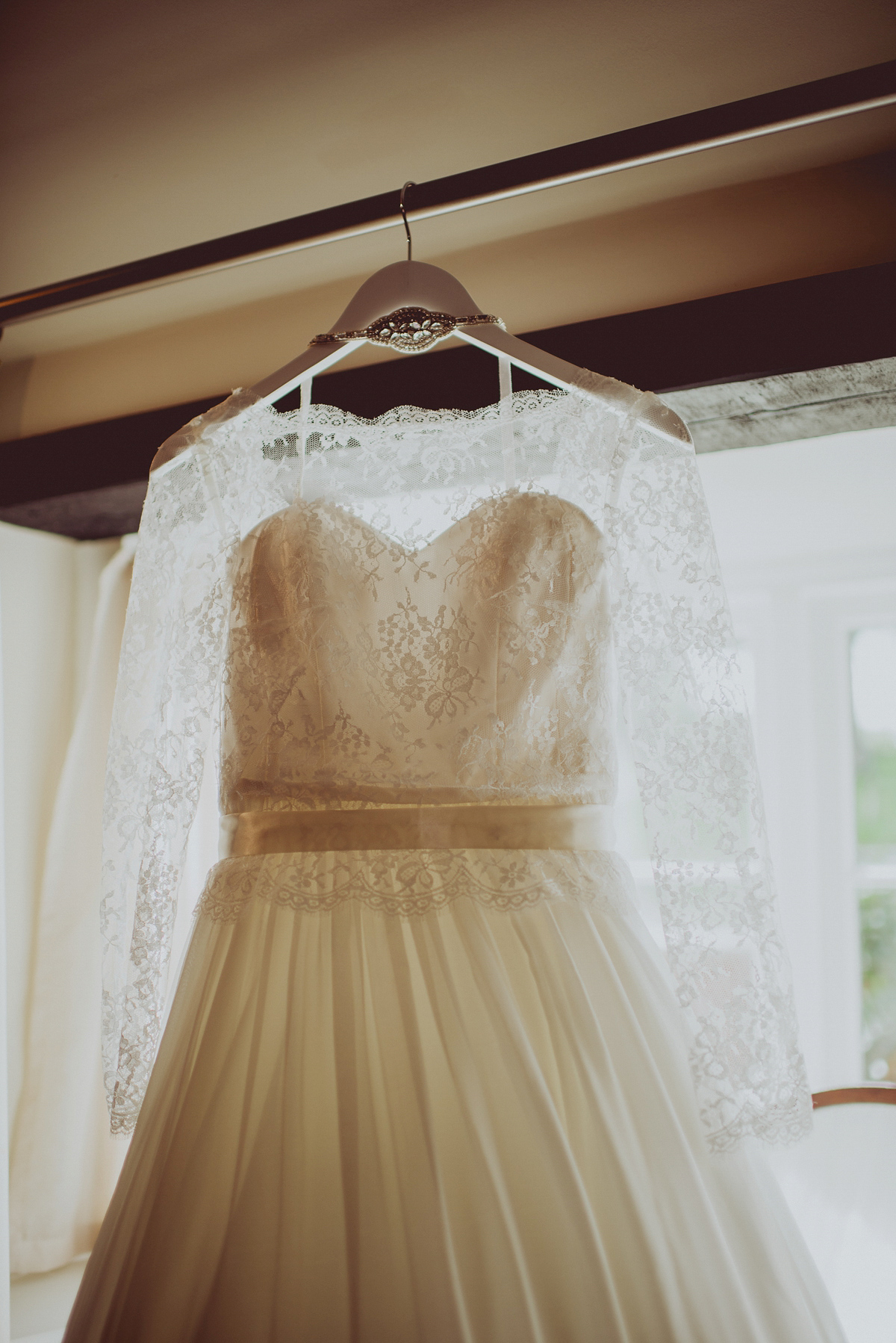 "I wore the 'Eva Duck Egg' shoes, by Emmy London. I discovered them through Love My Dress, just like I did my dress designer, and could not stop thinking about them.
I'd always wanted blue shoes as my 'something blue' for the day and nothing else compared. I was really worried about walking in heels all day but they were so comfortable and I felt very 'supported' in them."
"I managed to wear them all day and never got around to changing into the slippers we had bought for everyone to dance in! As a girl who loves her shoes, these were something extra special, and the team at Emmy were so lovely and helpful."
"I was so nervous about having my make-up done, especially as I don't tend to wear a lot, and am certainly not very creative with it. Both Caroline and Elke of Amazing Face made me feel so comfortable, and I was so pleased that I still looked like 'me' whilst feeling so glamorous!"
"They really helped to create a calm atmosphere in the morning, no one was stressed at all and we could all just focus on the excitement."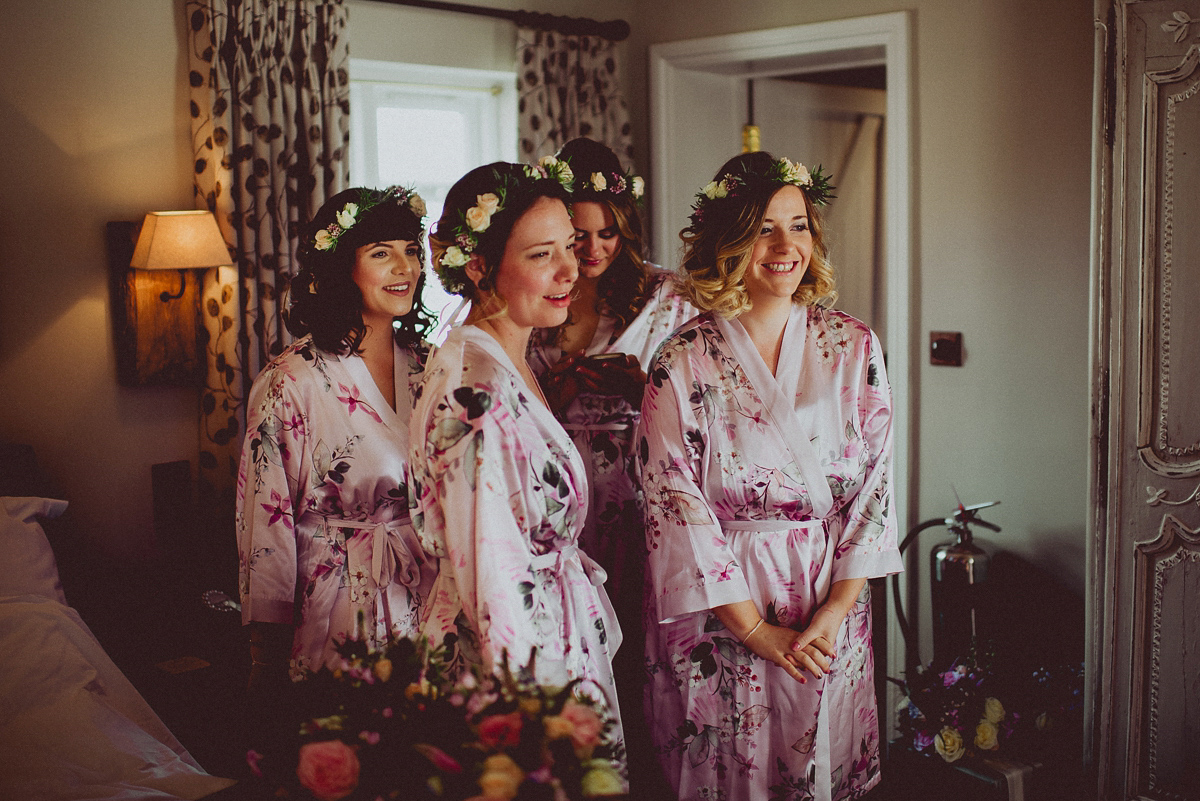 "Scent was Something I never would have thought about, had it not been for the closed and private Love My Dress Facebook group."
"We were just going to wear our every-day scents, but then a suggestion was made that we wear something special, to remind us of our wedding day – lovely advice! We went for Chanel no 5 L'Eau and Chanel Allure Homme Blanche."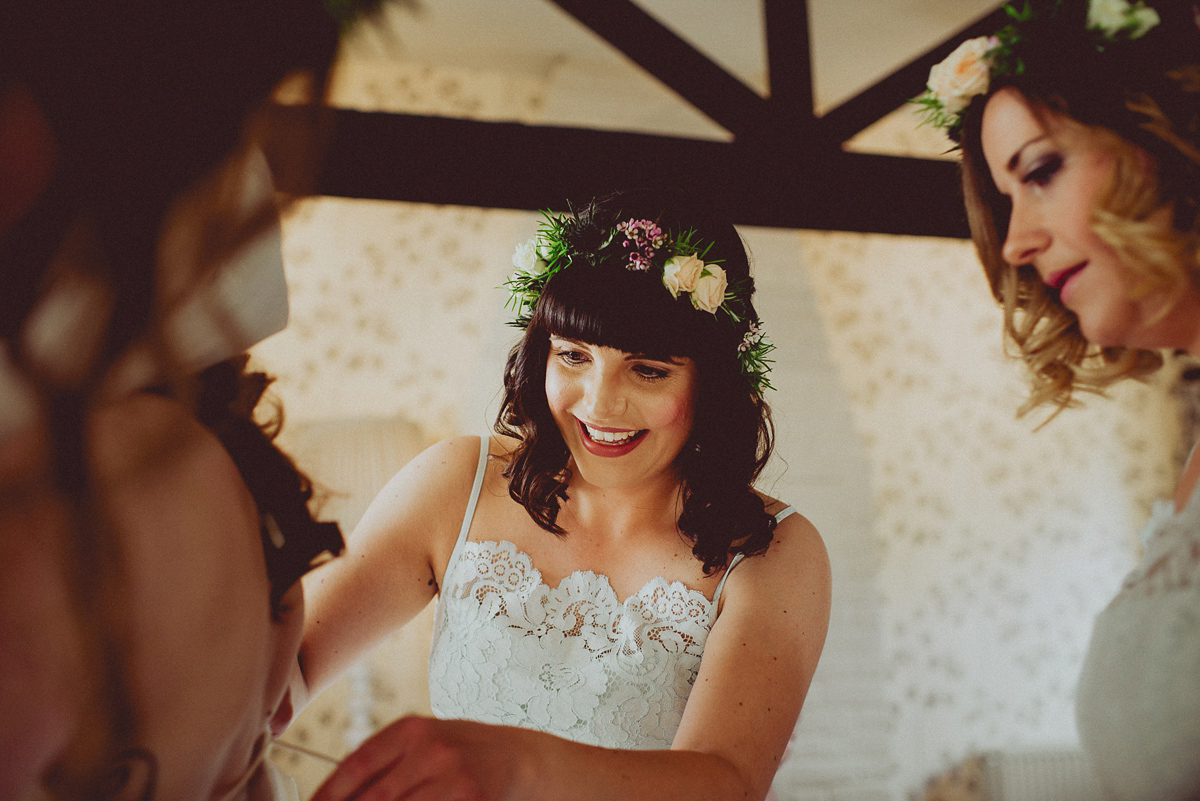 "My bridesmaids  dresses were from Ted Baker with pashminas from Phase 8 and glitter bow shoes from Irregular Choice shoes. The dresses were in a very pale mint colour which was perfect. I was so happy when we found them, and even more so when everyone said they liked them. I was really worried about finding dresses for everyone when I first started looking.
One of my bridesmaids lives in America, so I was very relieved when she managed to get one too! They had lovely lace detail on top (which mirrored my dress a little) and were such a nice fit."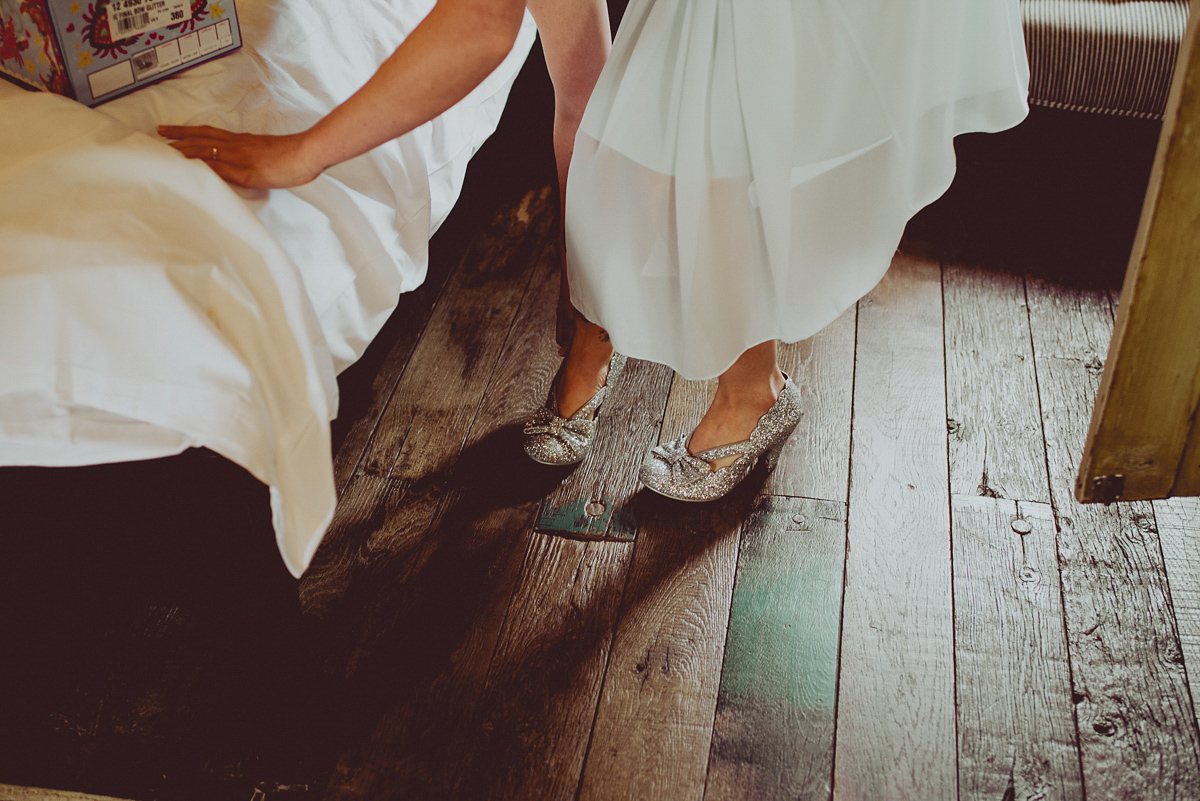 "I wore two of my favourite pieces of Tiffany jewellery, my earrings were 'starfish' as I love the night sky and Ross loves the sea, we always said it's a little symbol of us both. My dad bought me an aquamarine bracelet years ago, so I had this as my something old."
"I couldn't believe it when I found Anna Bridal stocking several of the designers I'd liked and it was only down the road! It was the most beautiful boutique, just like what you imagine! I knew this would be where I would find my dress."
"Anna was wonderful, it was such a unique experience and she was so understanding of all the emotions of being a bride. She spent so much time getting to know me and was so knowledgeable about all the dresses. I described our wedding plans so far, and about my own style."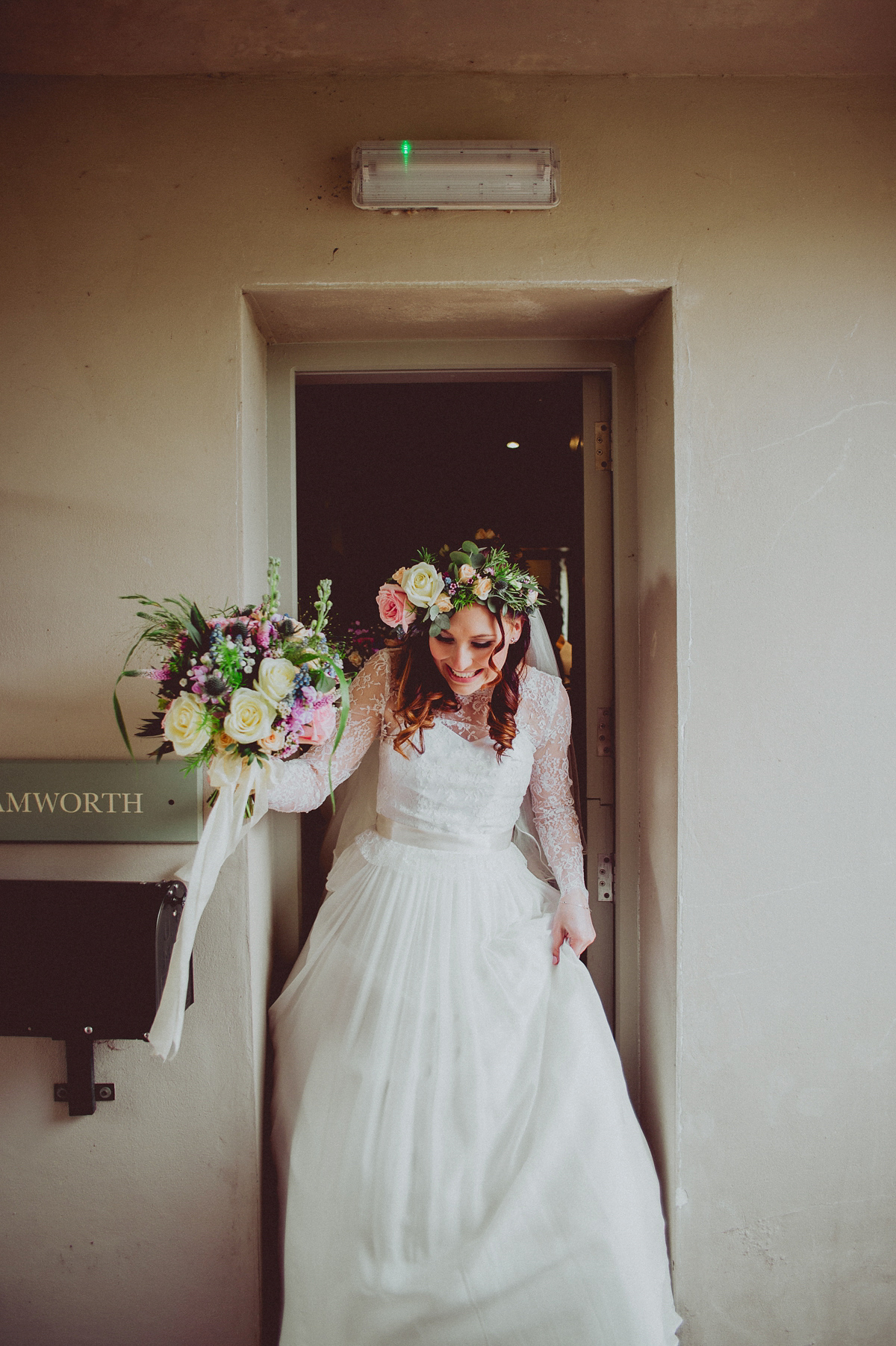 "Anna really listened to all the details and said she knew exactly which dress I would end up choosing, but wasn't going to say, as she didn't want to influence my decision. Needless to say she got it right, and it was the dress of my dreams!
As I walked out of the dressing room and saw my mum and bridemaids all burst into tears I knew it was the one. It was such a special experience."
"The fabric was so flowing and gorgeously soft. I loved how the train flowed behind so naturally, it was so elegant and felt truly special. It was also very comfortable to wear. The clever design was perfect for an April wedding, where it could have been any temperature!
As the jacket was 'detachable' it was like having two dresses in one, so I could change the look for the evening just by adding a belt."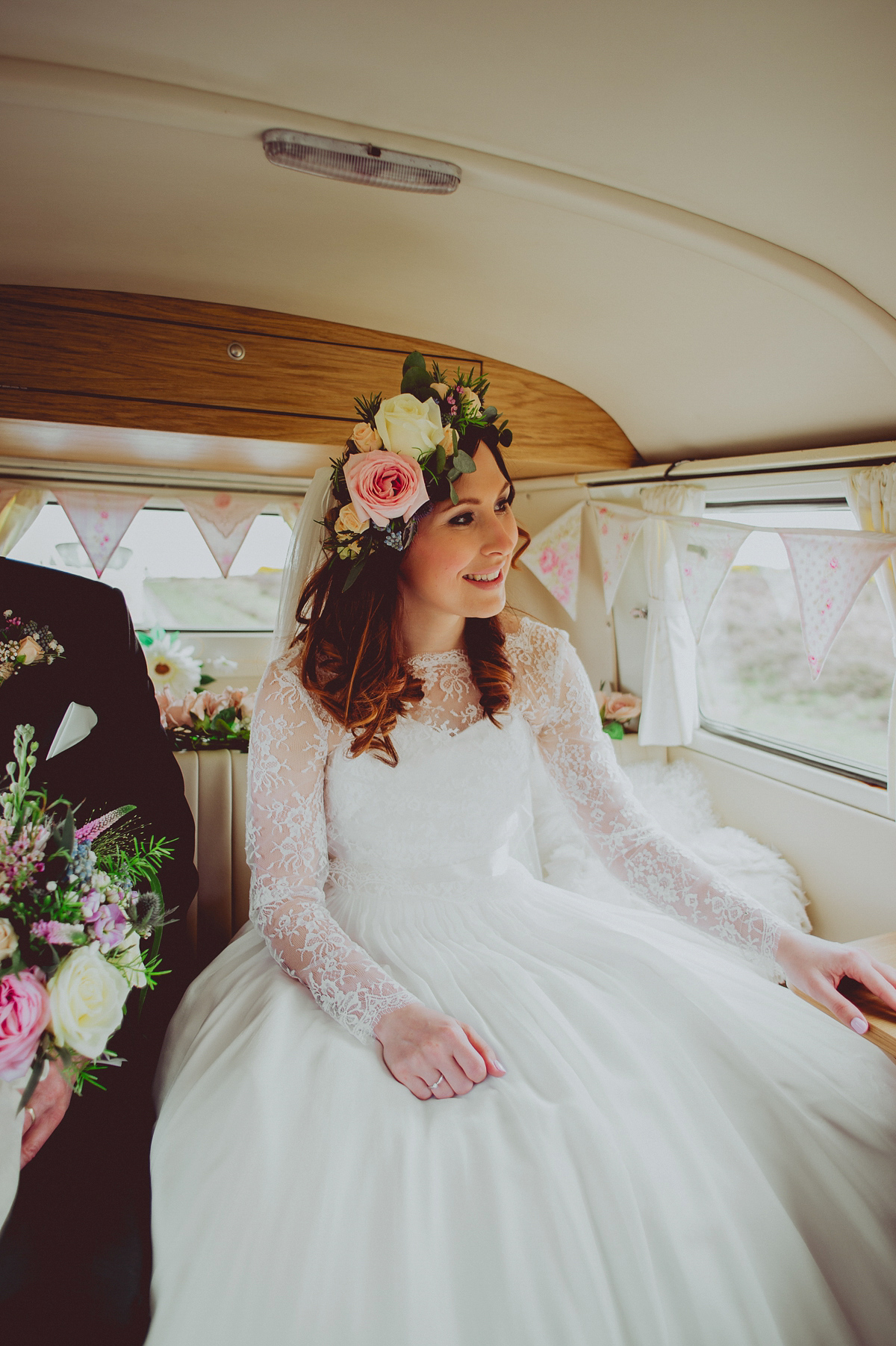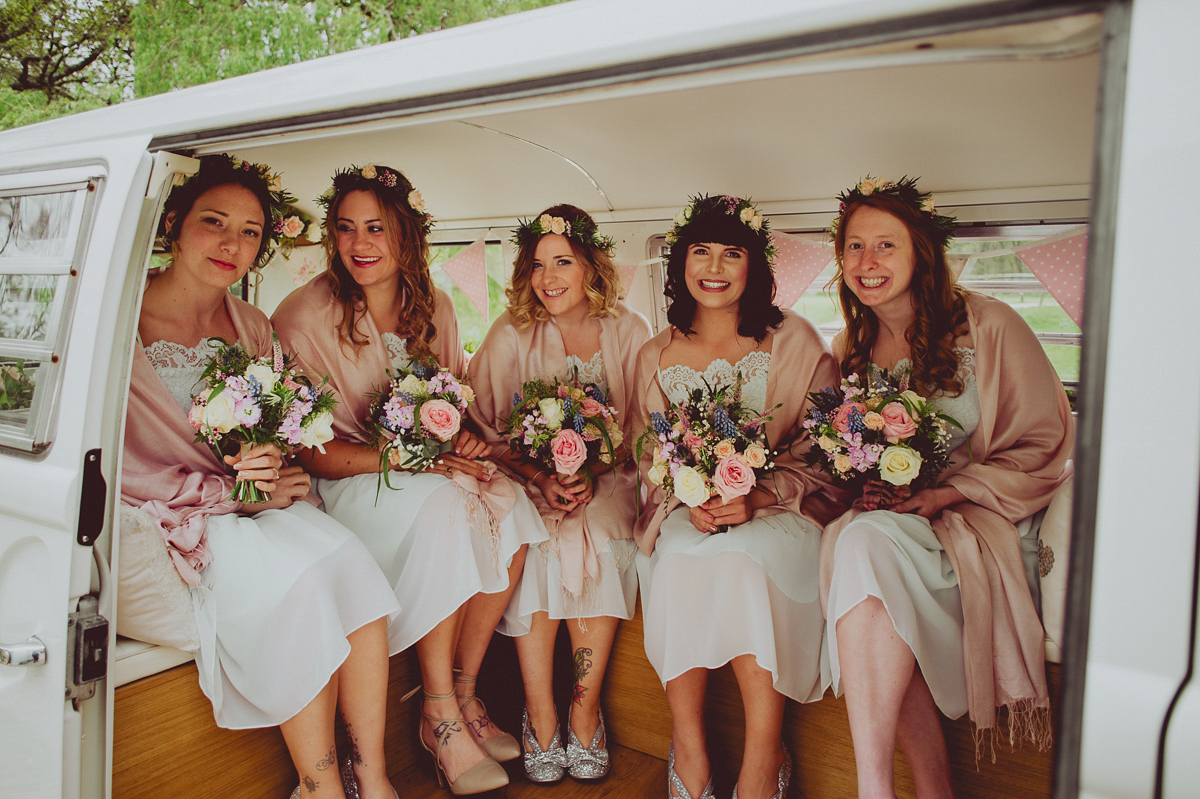 "I wore a flower crown made by our florist,Jennifer Poynter. My mum always spoke about having real flowers in her hair when she got married, so I always liked the idea, plus it fitted in well with the festival vibes!
My bridesmaids arranged for us to learn how to make flower crowns as one of the activities on my hen do (The Makery in Bath) which was so much fun, and was also a lovely little link, though we didn't really fancy the pressure of making our own for on the day!"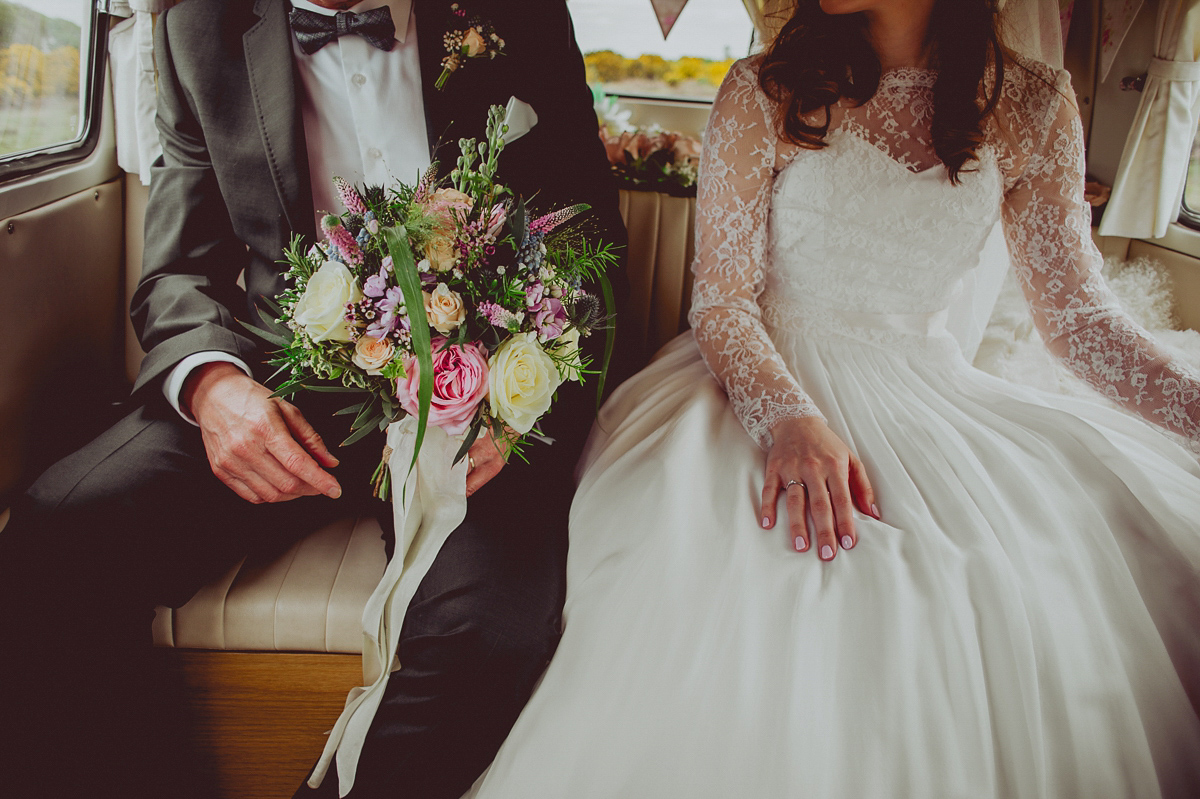 "It was really important for both of us to have a church wedding. My great uncle is a Vicar and had married and christened everyone in our family. We were both heart broken when we realised he would not be able to travel for our day.
We were very lucky to be a part of a wonderful parish, with a very inspiring Vicar, who made it just as special."
"In my last year at The Arts University in Bournemouth, I lived in a very legendary student house, known as 'The Castle'. One of my very dear housemates, Ben, brought a rather tipsy Ross home in the very early hours one morning and woke us all up, and then he never really left!"
"After graduating, I moved to New York and as I was leaving Ross told me how he felt. I thought he was joking! He wrote me letters and sent me mixtapes whilst I was over there and I realised how much I missed him.
When I came home I knew it was meant to be. Ross proposed in Summer 2015 on Porthminster Beach in St Ives, which has always been one of our favourite places."
"We let our little flower girl choose her own dress and couldn't believe it ended up being Ted Baker again! I also had my two cousins as 'grown-up flower girls', as I really wanted to find a way to involve them.
They had Ted Baker dresses too, in the same mint colour as the bridesmaids, but a maxi style with a floral pattern on the bottom. They also had Grecian style flower crowns, with more foliage to suit the dresses."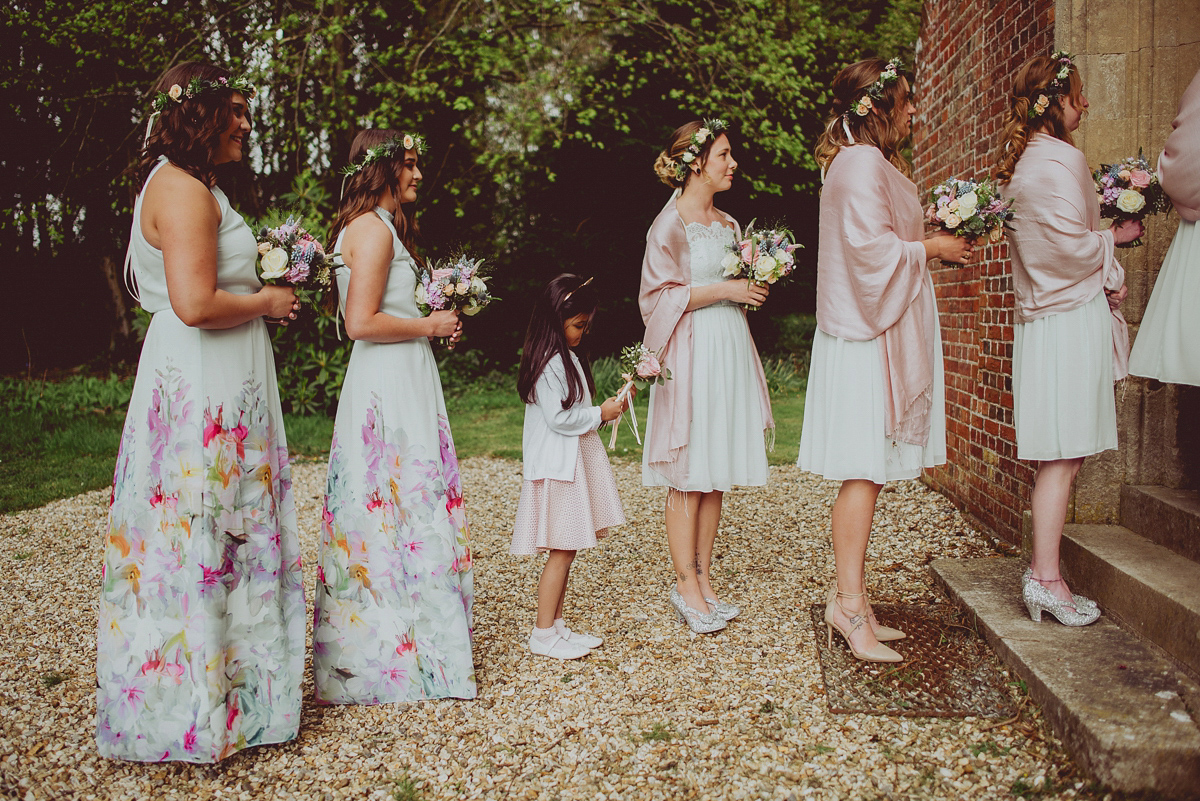 "My little maids wore flower crowns supplied by our florist – she made smaller, more delicate versions of mine so they fitted in really well."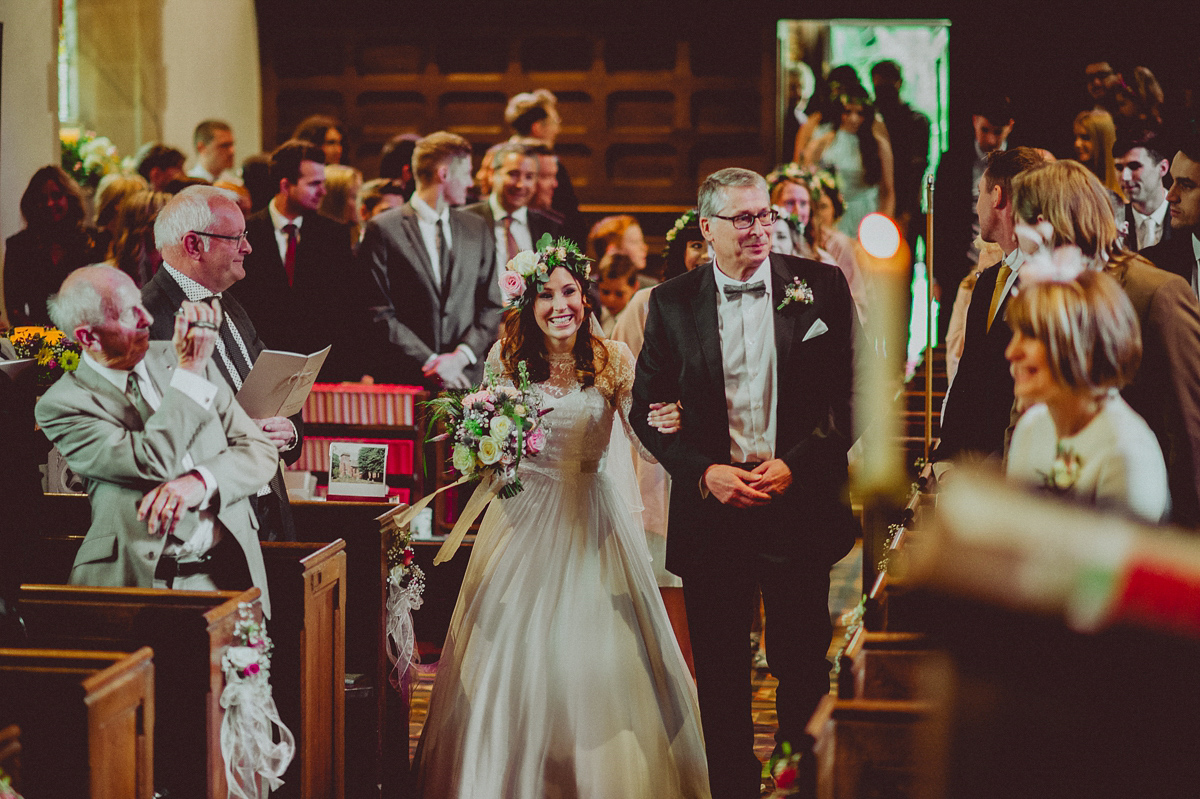 "My dad walked me down the aisle and it was such an emotional moment. This was however the only part of the day that went a bit wrong! Ross recorded some acoustic versions of our favourite songs for the church, and despite it all working perfectly that morning, as soon as I arrived it wouldn't play!
Everyone found it really funny given Ross' job, and we were all stood just outside the church watching him frantically trying to fix it! Luckily, we had an organist who was more than happy to play 'Here Comes The Bride' – back to tradition again with this one!"
"We stayed with the traditional church vows. We loved the moment at the church where our vicar asked everyone for their support, and everyone joined in saying 'we will!'. Our Vicar was great, and set such a celebratory atmosphere."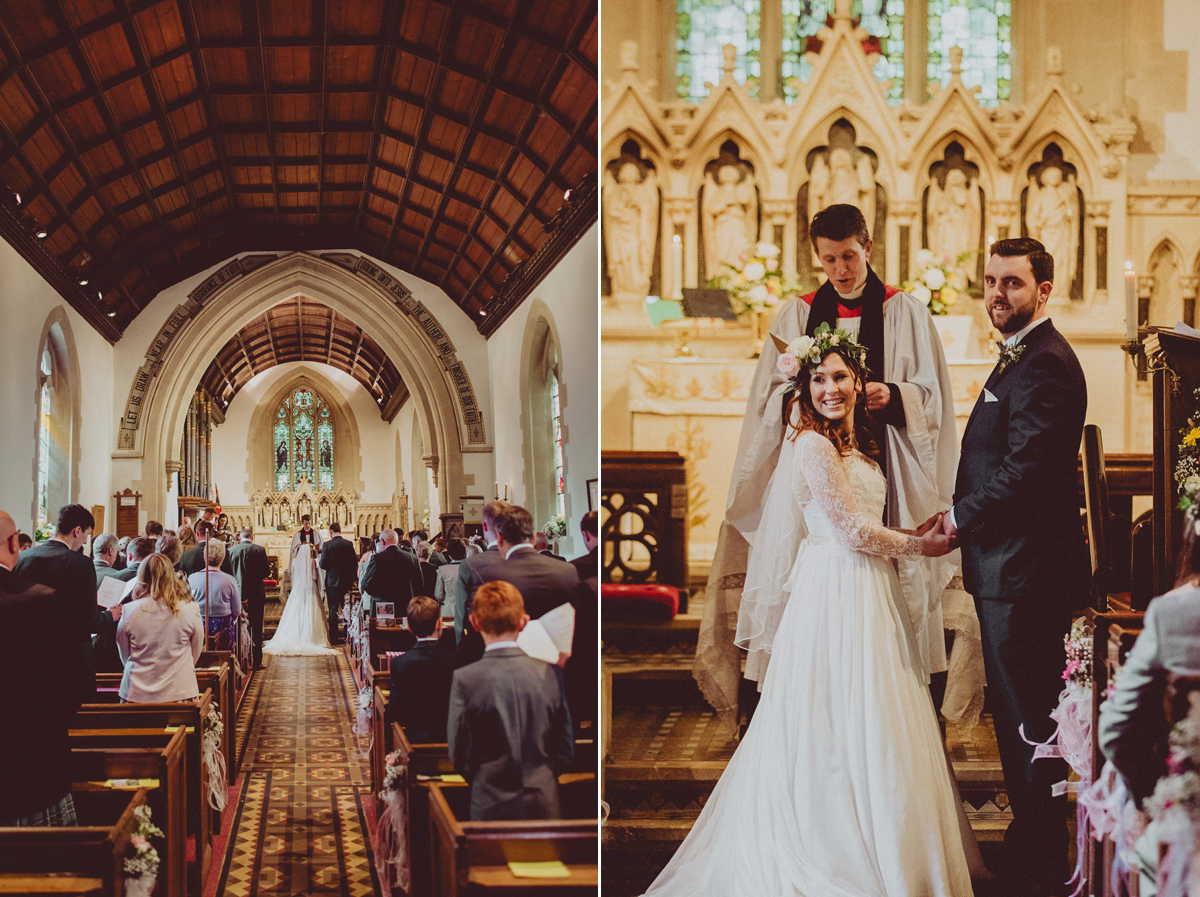 "We had three readings at the church. My brother read a message on behalf of our Reverend, Uncle Roy, who sadly could not have been there to take the ceremony. It was a lovely moment as we could still feel he was a part of our day. One of my bridesmaids, Katt, read from Corinthians as our bible reading.
We chose this as it was a classic reading for a church wedding. Her reading was so full of love, and everyone could feel her emotion from it."
"Those were my first tears of the day. Ben (our friend who introduced us) chose to read 'Make You Feel My Love', by Bob Dylan. We'd always wanted a song as a reading but could never find quite the right one. We were so touched that he'd thought of something so meaningful."
"We chose both of our rings from Tiffany, which felt right because of the significance of New York in our story. Ross wasn't sure about wearing a ring at first, but now he says he couldn't imagine being without it."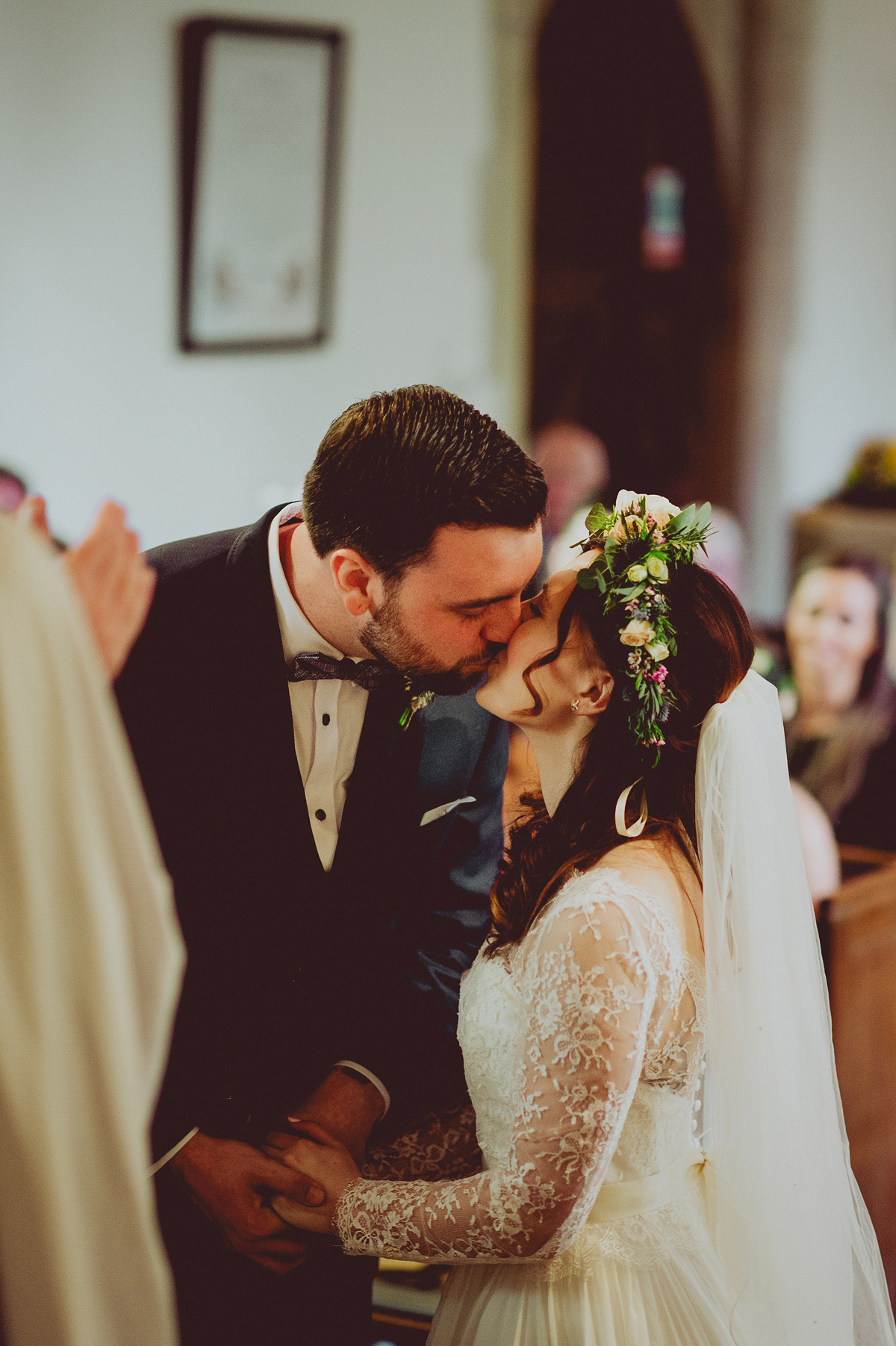 "We made our own Order of Service using custom stamps from The English Stamp Company. We had great fun spending a day embossing. One of my talented bridesmaids illustrated all our favourite gin bottles for the table names.
They were beautiful and everyone was so impressed."
"We both said how we loved the moment we walked back down the aisle as the ceremony finished. I held my bouquet up in the air and everyone was clapping and cheering. It was such an amazing atmosphere and we loved seeing all of our friends and family together and celebrating with us.
We also loved the moment we arrived at the venue, seeing how everything had all come together was amazing."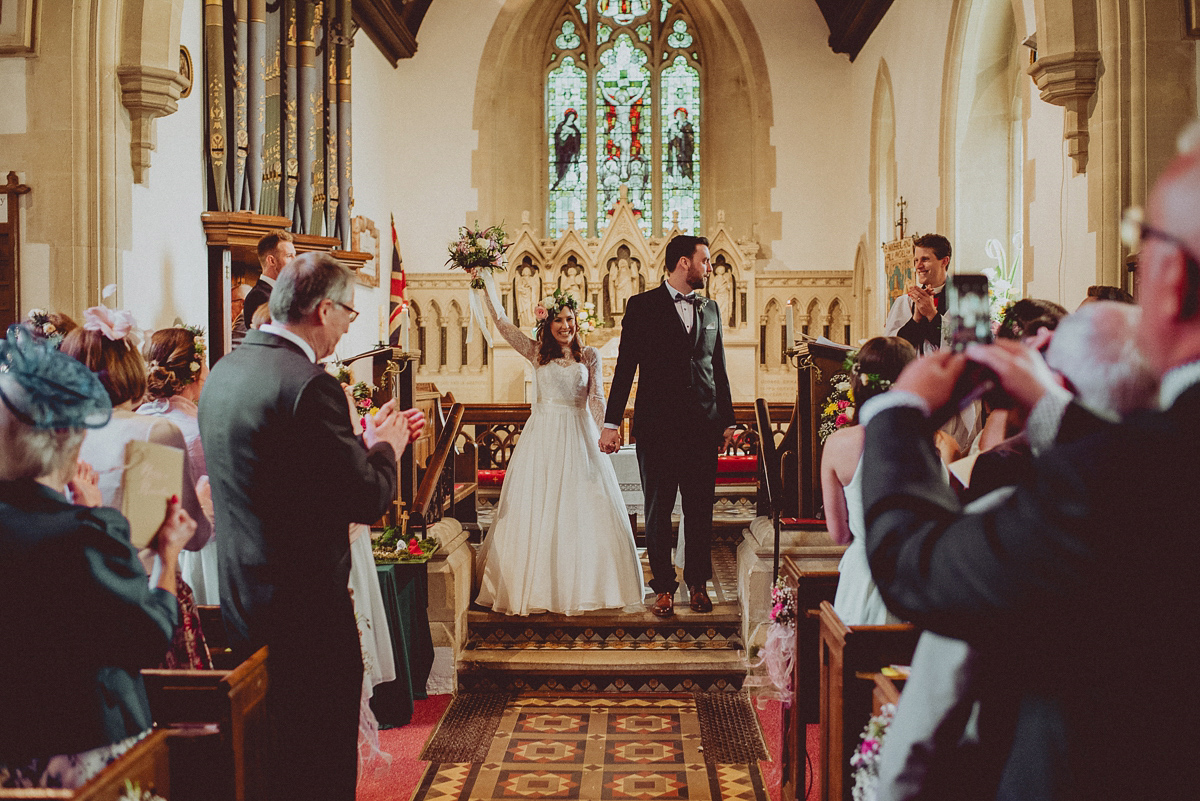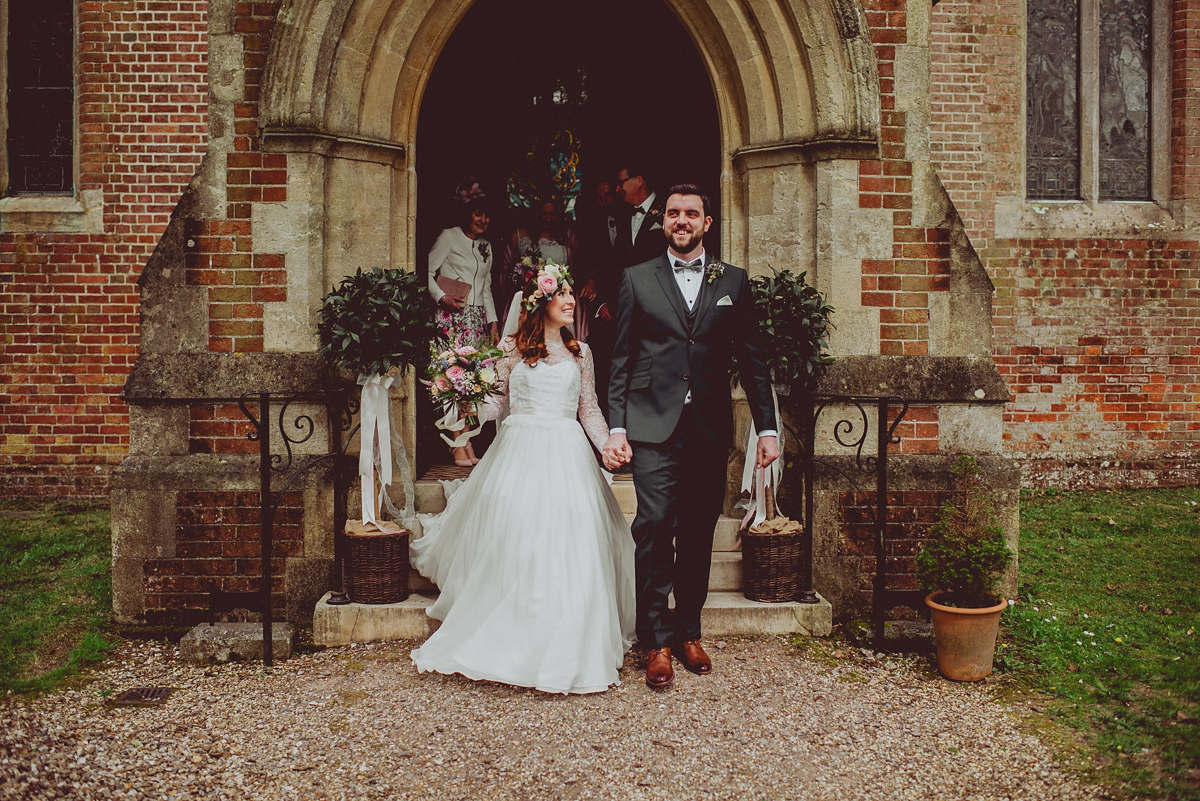 "We used Shropshire Petals for natural petal confetti – They really saved the day when we needed a last minute order for confetti cones as the ones we made got damaged. Lovely as it's all eco friendly too."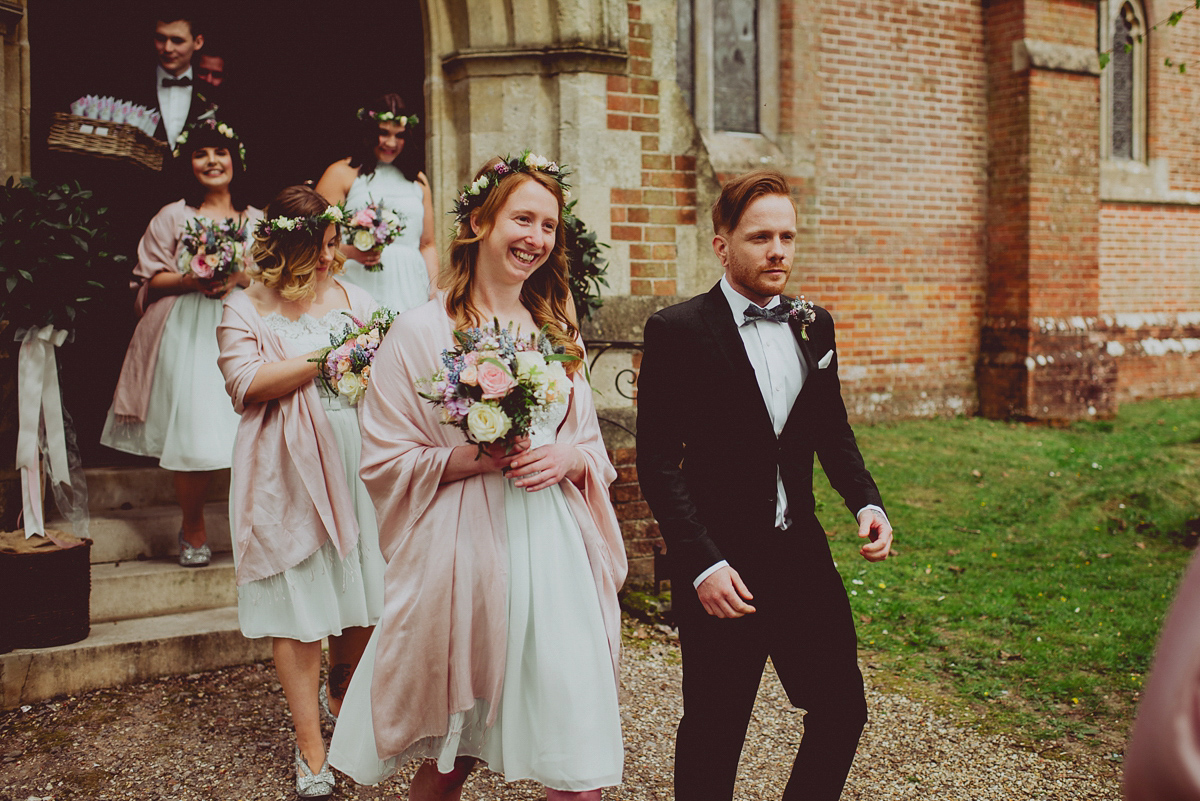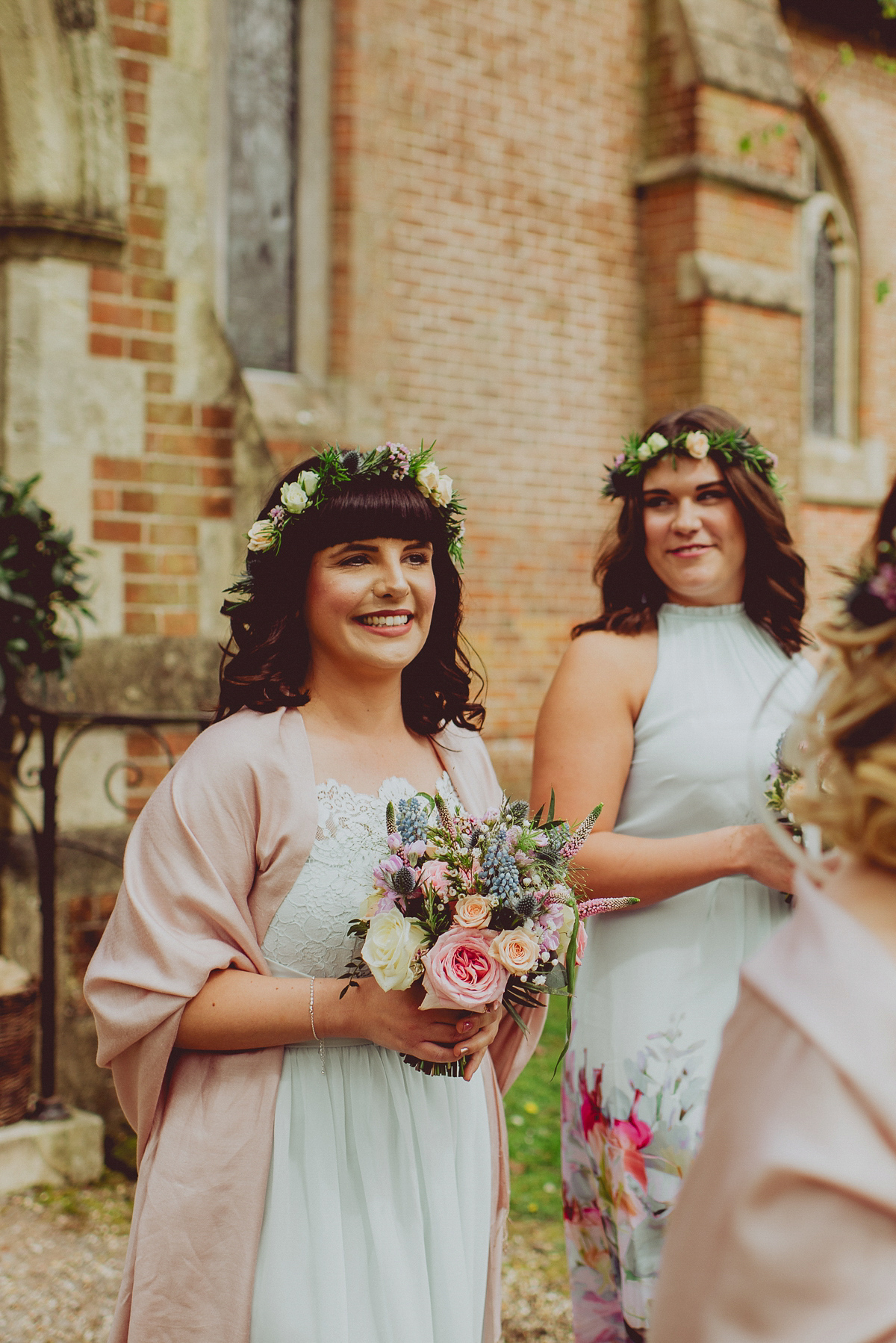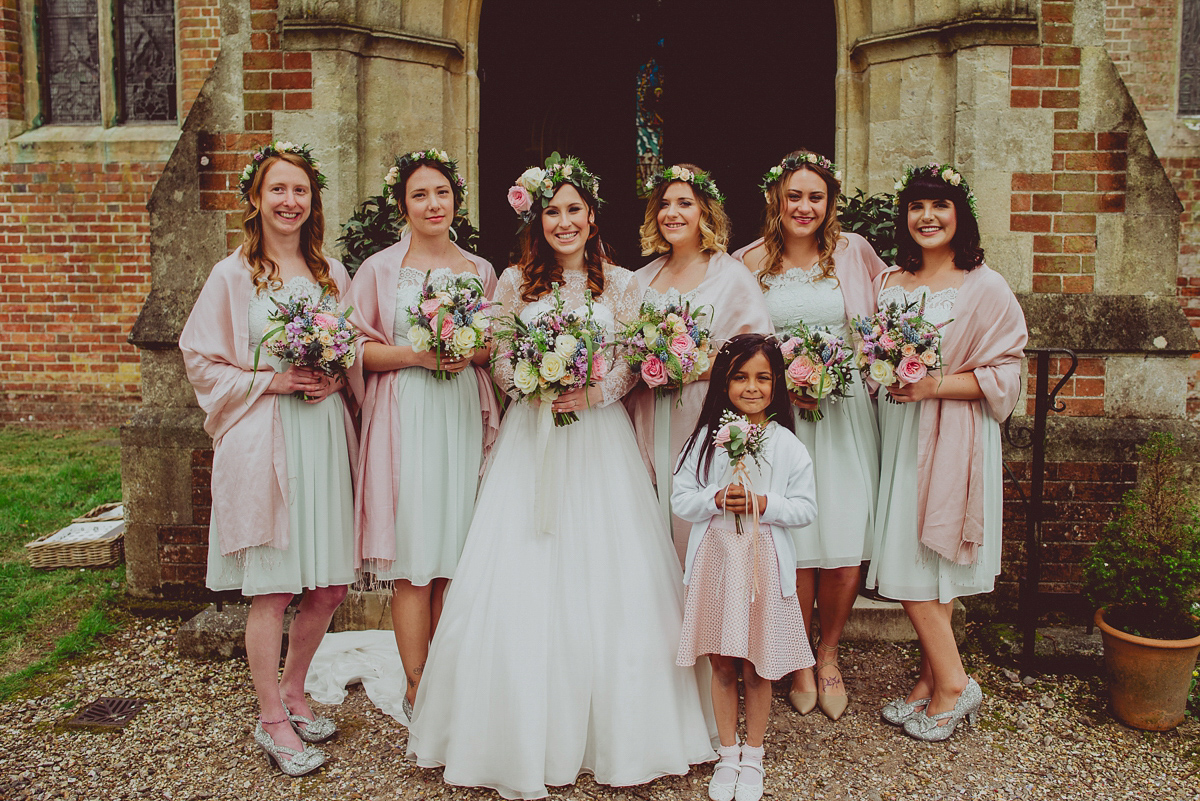 "We did not officially have a videographer, but had a little surprise after our wedding. Two of our dear friends run a wedding videography company. They make beautiful wedding films on vintage cameras. We absolutely love what they do, but didn't really want to ask them to work on the day, as we wanted them to enjoy being guests for a change! However, they gave a camera to their daughter, our little 6-year-old flower girl, who filmed throughout the day."
"A couple of days after our wedding they shared a lovely video they had made. Not only was it so magical watching the story of our day, as much of it was filmed from a child's perspective we saw our wedding through her eyes. It brought so many memories back, and was the most precious gift they could have given us."
"We hire  two campers from Dorset Dub Hire to take the bridesmaids and us to the church and venue. They looked great, but I was mostly happy that my dress could fit in so easily without being squashed!"
"We also hired a 1960's Routemaster bus via First Choice Wedding Cars, to take guests between the church and the venue. We didn't want the journey to feel like a bit of a lull in the day after all the celebrations of the church so we thought this would be a good way to keep everyone together.
Apparently everyone started singing the hymns again on the way, so it definitely kept the celebrations going!"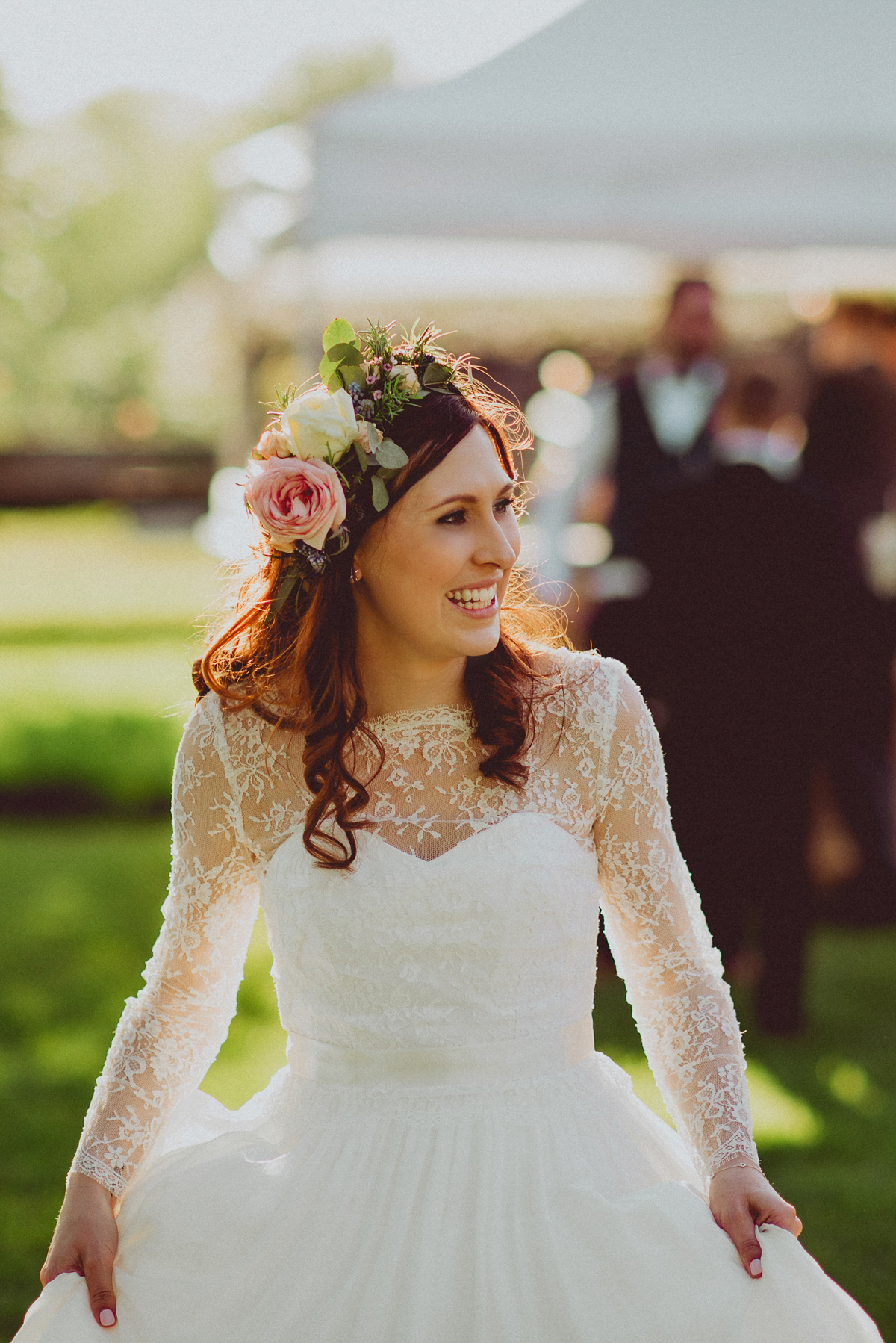 "Once we started to look at wedding blogs, we realised you could be really creative and do whatever you wanted, which is why we loved our venue. As it was dry-hire, we had it from a couple of days before and could be really involved in bringing it all together."
"I wasn't too fussed about the idea of having a strict colour scheme, I just wanted everything to tone together. We took inspiration from where we live (near the beautiful New Forest and the seaside) so we went with coastal colours with rustic touches."
The couple were lucky enough to have former Great British Bakeoff winner, Frances Quinn, create their cake.
"A couple of years ago, Ross met Frances whilst doing the audio for The Cake and Bake Show's live demonstrations. He asked her about wedding cakes and stayed in touch. We were both so excited as we are such big fans of the show. We used to try and complete all the technical challenges at home!"
"We loved the "naked cake" look, and wanted lots of flowers, fruit, macarons and of course, the signature marzipan bees, but we also wanted our cats to be involved in some way. We were both a bit gutted when we realised it wasn't a good idea to take them to the church (!), so Frances made little shortbread versions of them, and decorated the cake with little paw prints too. I loved all these little details that made everything feel 'us".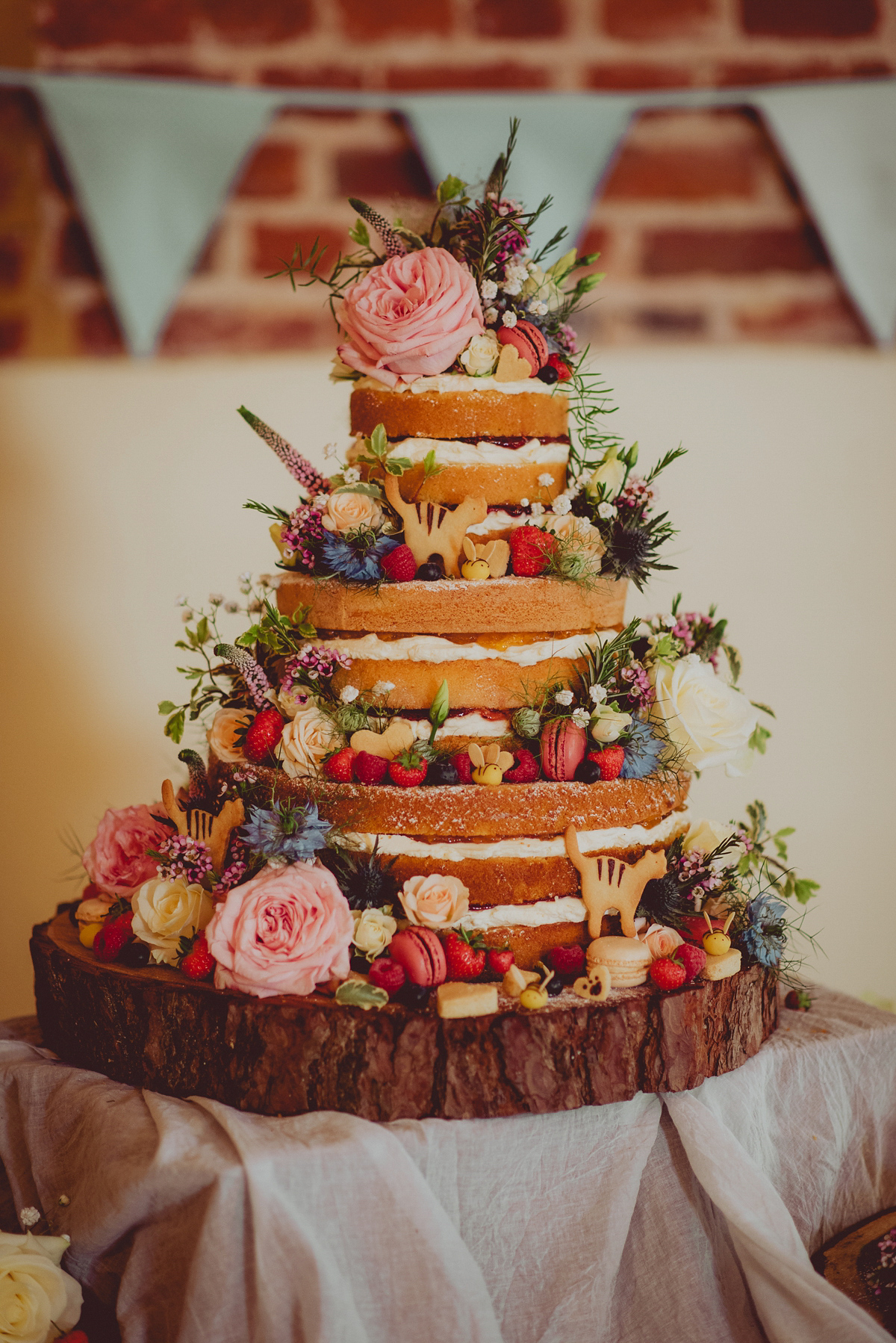 "Our florist, Jennifer Poynter Flowers, was amazing. She really captured our vision and was so creative. The combination of flowers was so unique and the colours worked beautifully. We wanted to keep to our rough style of 'forest and the sea' so she came up with beautiful costal colours, complimented with thistles and stocks, which we never would have thought of.
We had initially planned to decorate some jam jars and be a bit more DIY, but then we thought that flowers were going to be the main decoration, and we really wanted the centrepieces to be a little more grand, so she suggested some stunning candelabras that looked so magical."
"Our invitations were going to be the first thing people see about the wedding so we wanted to make a creative first impression. Our love of music inspired this one again, and Ian from Swash and Fold (who was also one half of our photographers, Big Bouquet) was so enthusiastic about our ideas and made it happen.
The main invites were like the classic 7 inch vinyls, with a floral theme. They even came in a sleeve so they seemed so realistic."
"He came up with so many great little details, such as a restyled version of the Atlantic Records logo, with an R and N. To complement this, the evening invites were styled as gig tickets and they even had the perforated edge. Our RSVPs were like old tapes, and we included a song request for guests to make sure everyone would be dancing."
"Swash and Fold also designed some prints for on the day, such as a welcome poster and a print of the lyrics to our song, which was a nice little personal touch. We also had some little cards made for guests to fill in on the day. They continued with the same floral print, which brought everything together nicely."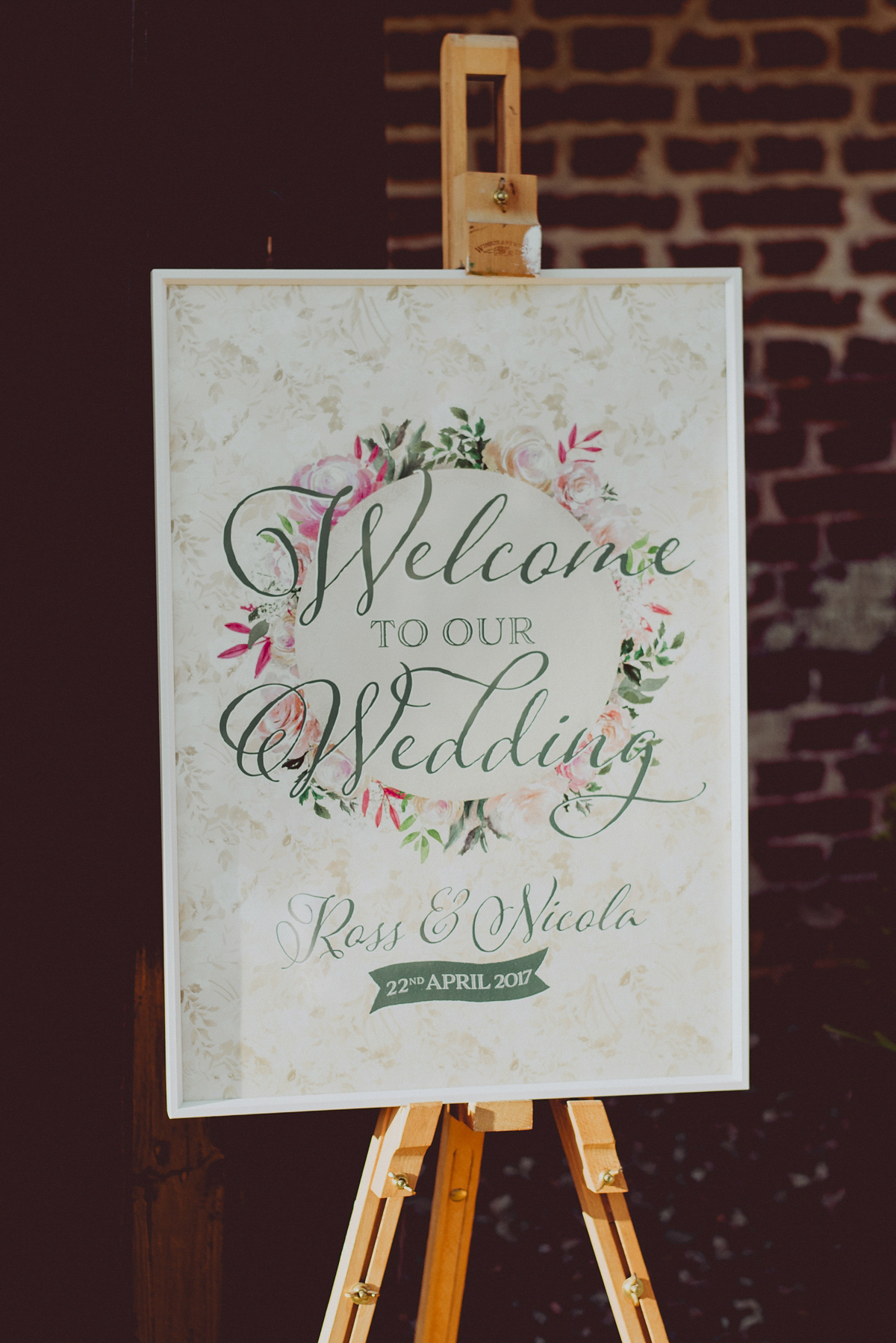 "One of the biggest decisions was lighting, and it took such a long time to choose what would be right for the barn. It was so important to have the right atmosphere, and we also wanted something that would lower the height of the ceiling. We settled with festoon lighting for both inside and out, with a few extra lanterns to frame the area around the outdoor stage.
This worked so well and also kept in with the festival look. I had no idea it was possible to debate so extensively about bulb types and colour of wires though! Along with the stages, Ross set up a proper lighting rig for the stage and the dance floor. We hired our festoon lighting from cinemattag.com."
"One of my bridesmaids is a keen bee keeper, so she made little pots of their honey as our favours. These were a lovely little nod to the marzipan bees on our cake. We got little custom stamps made for the labels."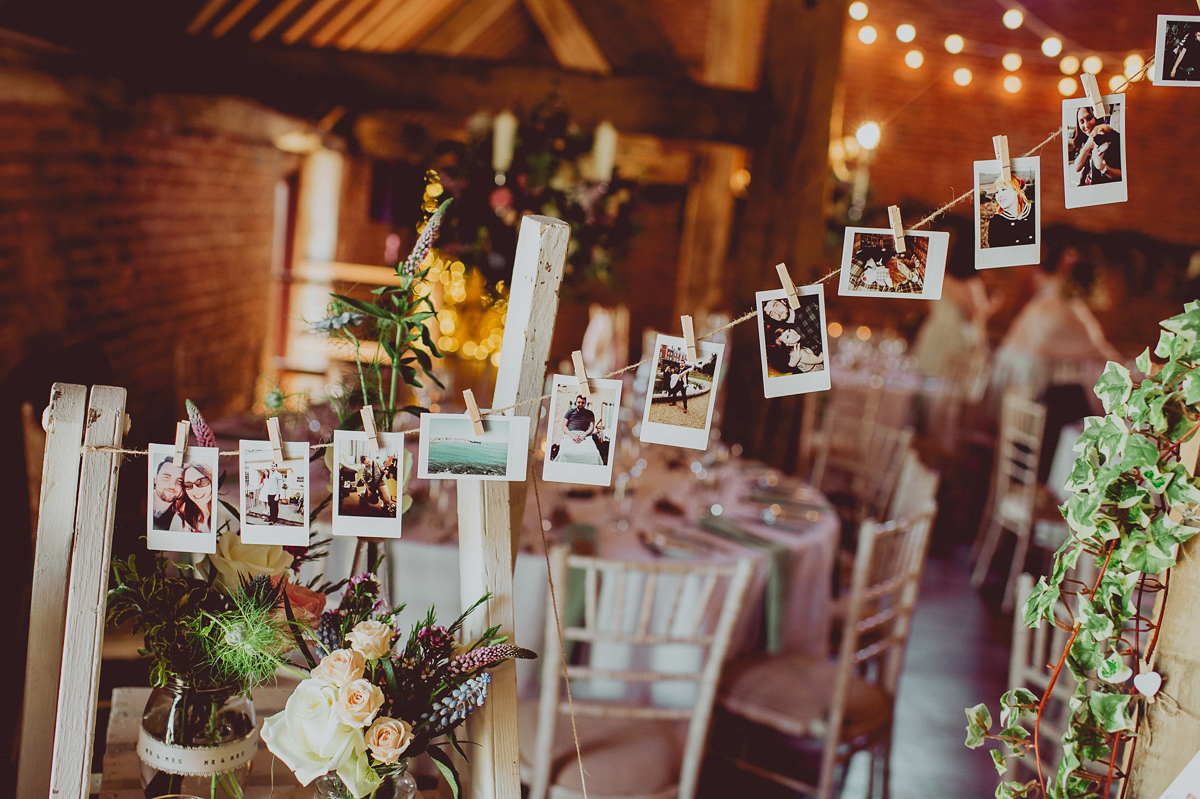 "We still wanted a little DIY touch, so we had some ladders, crates and jam jars that we decorated with flowers from our florist. The table runners were a real challenge, as we just couldn't find the right fabric that had the drape that we wanted."
"We came across Lancaster and Cornish (recommended by the lovely members of the Love My Dress Facebook group, not sure where we would be without them!) who make beautiful, naturally dyed organic cotton voile runners in all the shades we wanted."
"My mum made over forty metres of bunting in different shades of blue. We used it everywhere so we were glad we had plenty."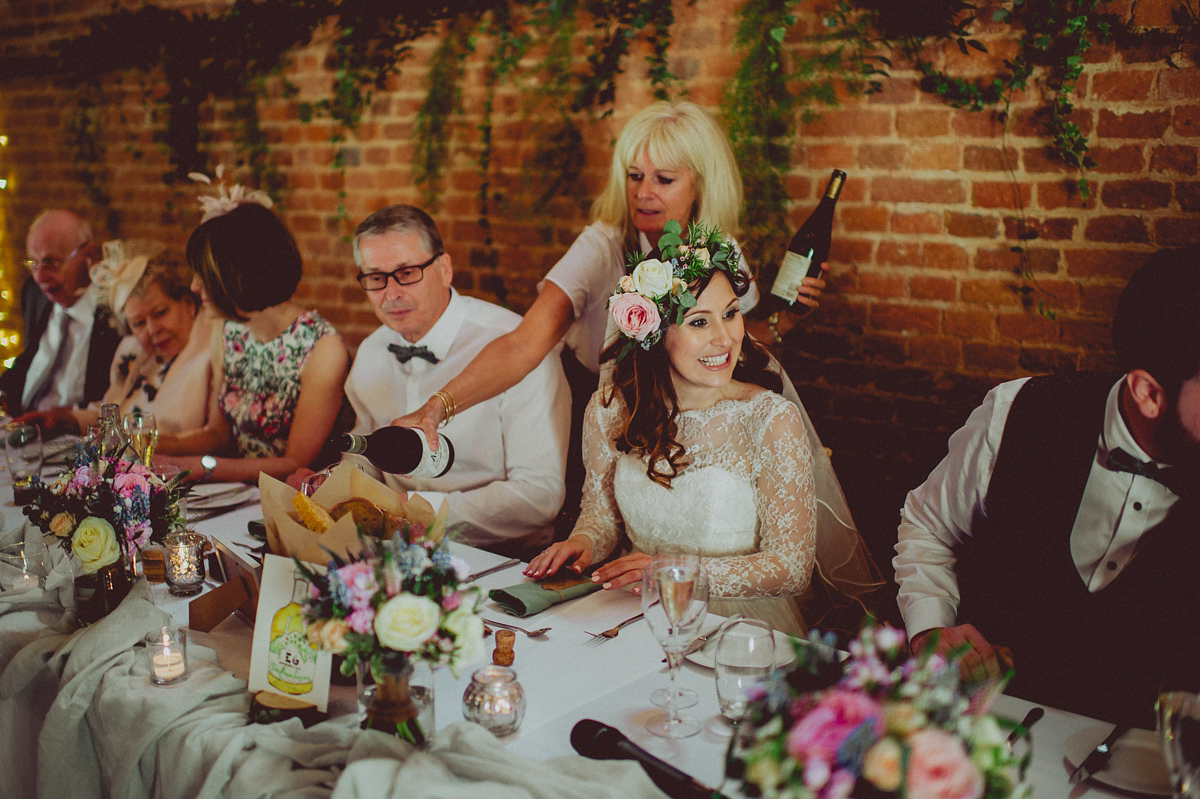 "Ginger Catering did so much more than just provide the catering; they brought the whole wedding together. They had such a good vision for how everything should be organised, which was so invaluable as we did not have any co-ordinators or planners as a part of the venue.
After our first meeting with them we could just see the whole day falling in to place. As we are both vegetarian we wanted everything to be veggie friendly, so they created a bespoke menu for us. It was such a personalised service and we loved all their creative and quirky presentation. It suited our day perfectly."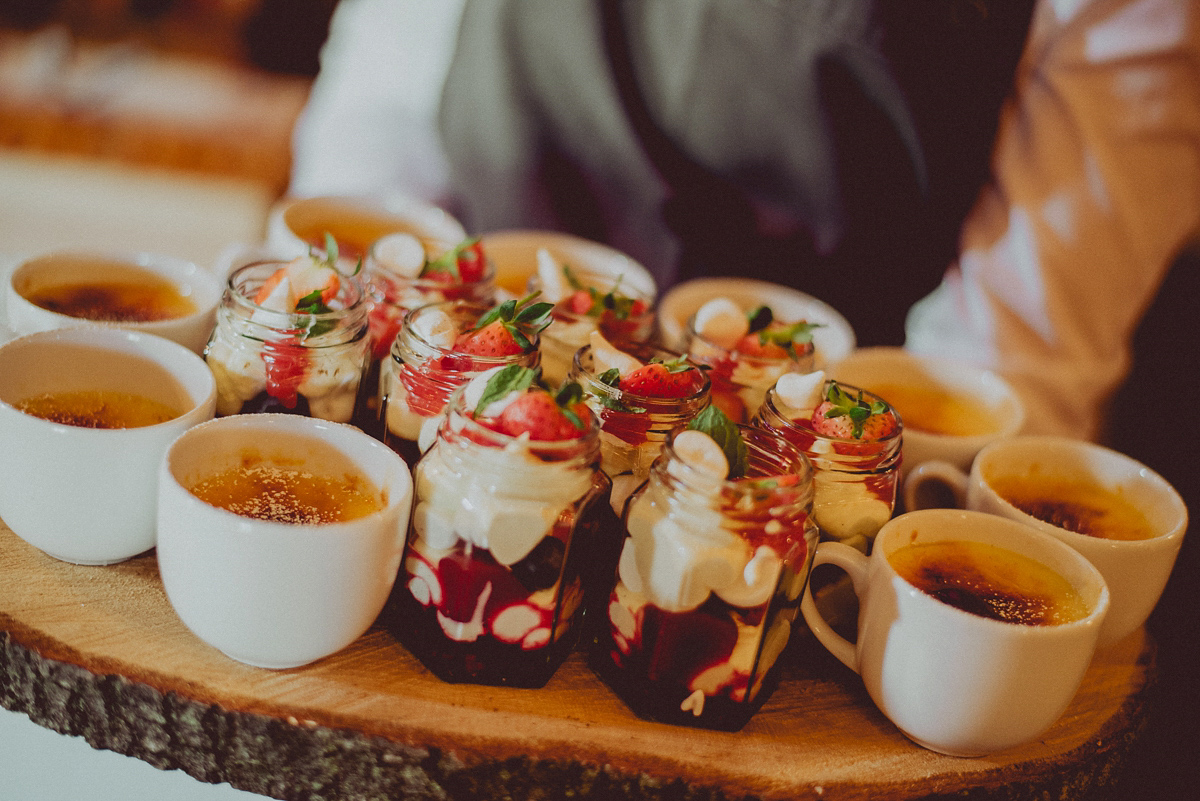 "We really wanted to have a cocktail bar outside, and thankfully the weather was on our side. Eau de Vie Bars tailored the menu to all our requests, making sure there was plenty of gin! They gave the outside space such a good fun atmosphere, and the rustic style bar really suited the barn setting."
"For our evening food, we found Pizza With Love, who served wood fired pizza from a vintage airstream. It really suited the festival vibe outside."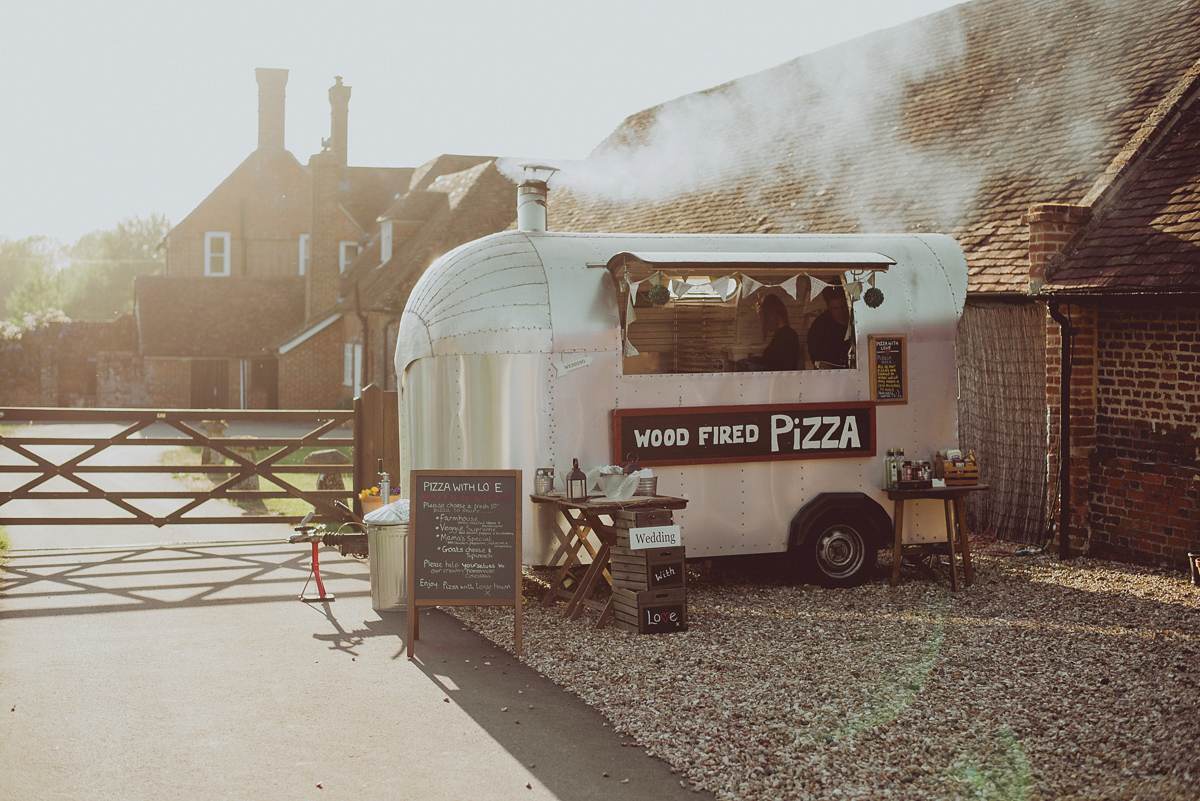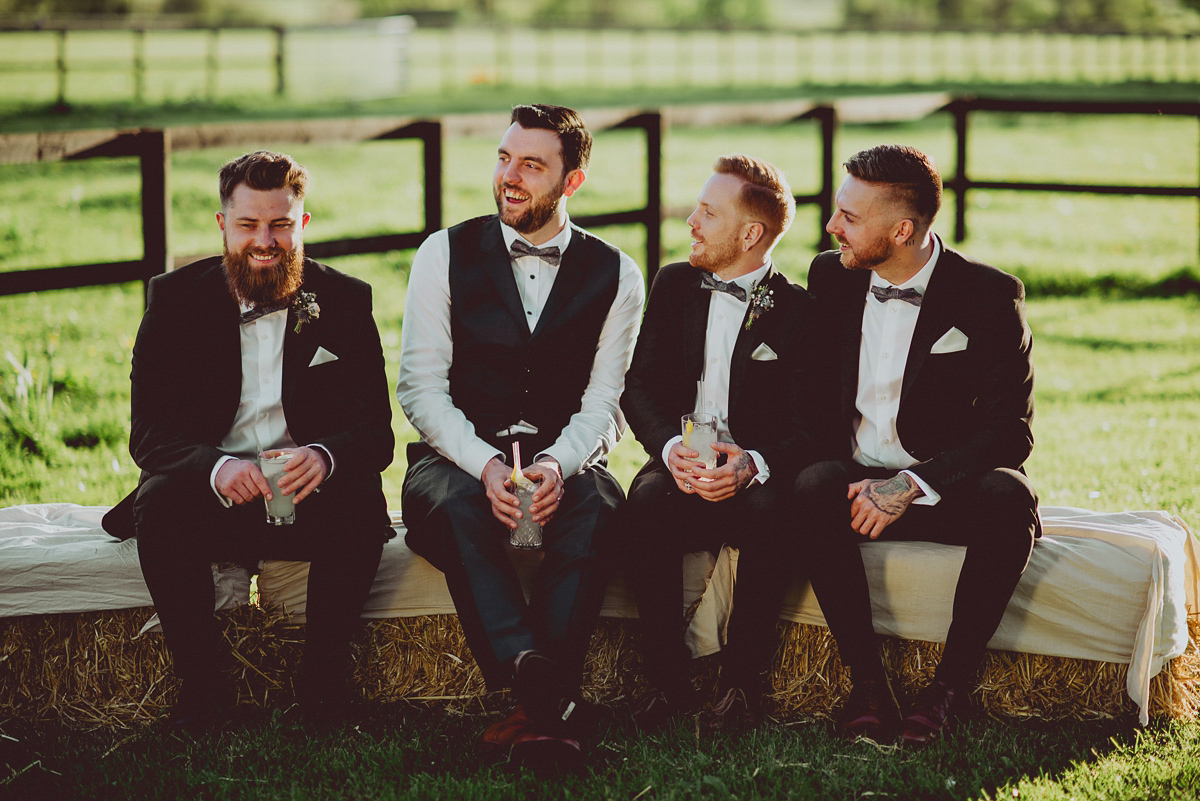 "Our photographers, Big Bouquet, were actually the first people we found (even before the venue!). So much so they weren't even taking bookings for that far in advance. I emailed them to find out when I could book them and made a note in my diary so I wouldn't miss it. We both just knew they were perfect."
"I actually studied photography at university for my original degree, so I think I was very particular about what I wanted. Whilst we needed a handful of 'formal' pictures from the day, we were keen for the photos to represent our memories of the day – us with our friends and family having fun, and their relaxed style really suited this."
"We hardly noticed them ever taking pictures – they really captured every moment so perfectly, and they bring it altogether to tell the story of the day. The photos are all just stunning, and we can't stop looking at them, especially as there are so many details of the day you seem to miss.
We had a pre wedding shoot with them, and this really helped us to feel more natural in front of the camera before the day. This is definitely something we would recommend if possible."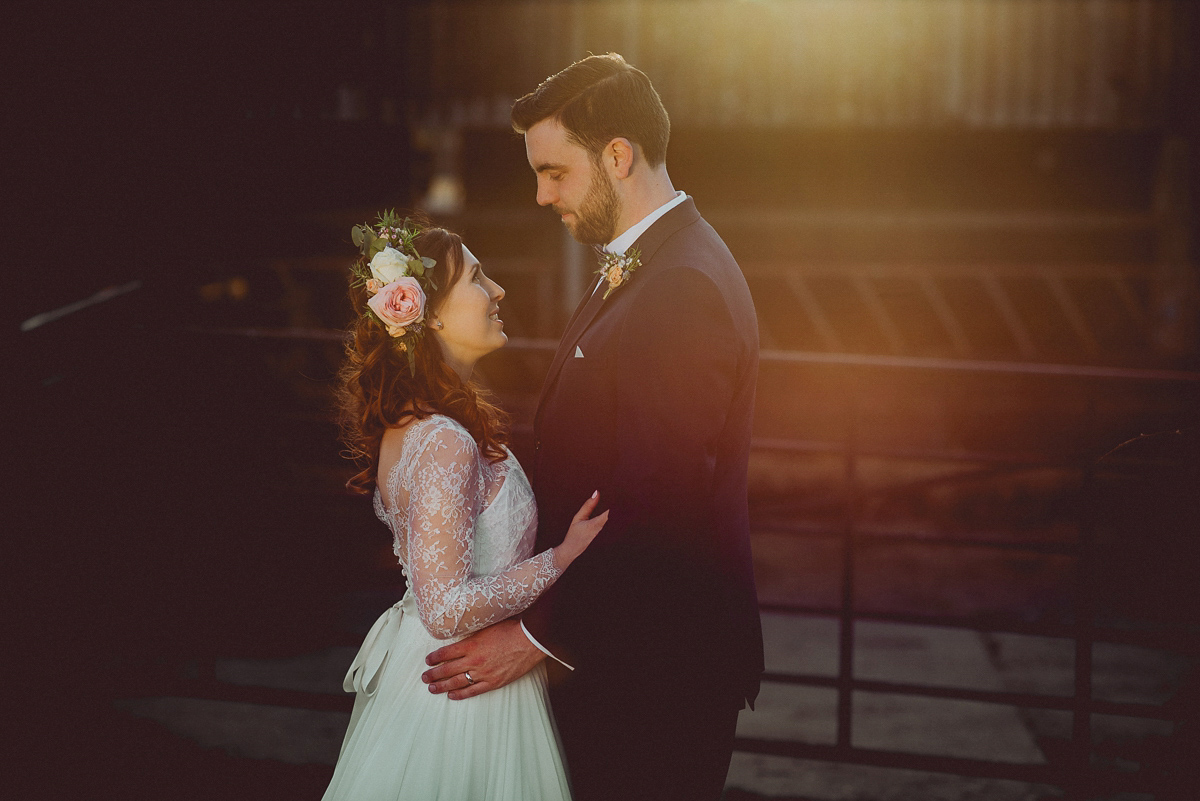 "Budget wise, we certainly went over what we initially intended to spend. A lot of that was down to being a bit naïve initially about how much things cost, and we also intended to do more ourselves than we ended up being able to. We soon realised that everything feels important, and it's really hard to work out what to cut back on."
"We found such good suppliers and we wanted to create our dream team. We also found that doing things yourself in terms of the dry hire venue doesn't necessarily make it cheaper. There were lots of extras we hadn't thought of such as hire of the catering equipment and heating for the barn. It does seem to mount up quickly, but we have both said we wouldn't change a thing."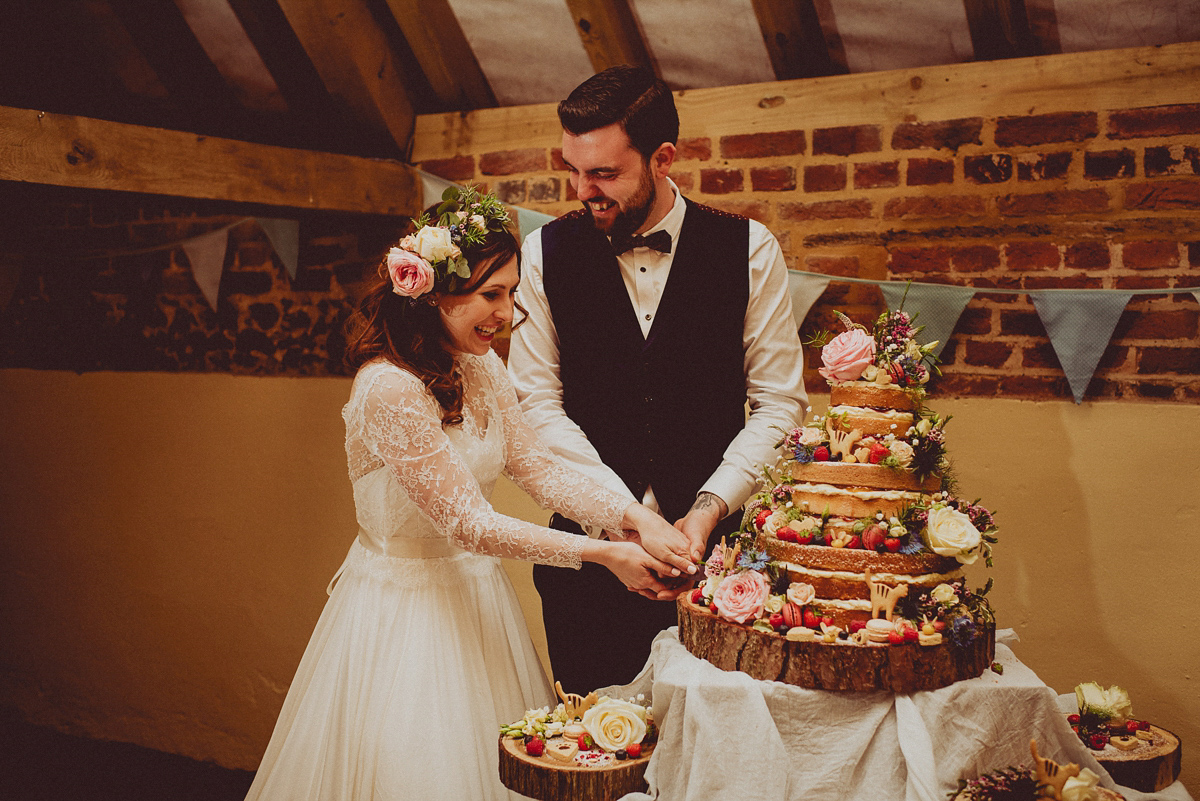 "We chose 'Chase This Light', by Jimmy Eat World for our first dance. We were so pleased that the band learnt the song for us, as it is not a common request. The song has always been "our" song and it meant a lot to us, and we felt the lyrics were perfectly fitting for the moment."
"Another very special moment came from our gorgeous flower girl and her Dad Ben (who introduced us). They both took to the outdoor stage and covered Ed Sheeran's 'Castle on the Hill', which was such a thoughtful and meaningful nod to the place where we had met."
"We have a lot of friends who play music and so many people asked us why we'd chosen to hire a band when we could have pulled in some favours. We decided to have two stages, one for Happy Hour in the evening and one for our friends throughout the day (open mic style).
We thought this would take the pressure off any of our friends having to play for too long and we wanted to make sure everyone could join in with the party too! The band were so much fun! They played a great variety of music, which kept everyone happy and on the dance floor all night. They also didn't mind several of us joining them on stage towards the end!"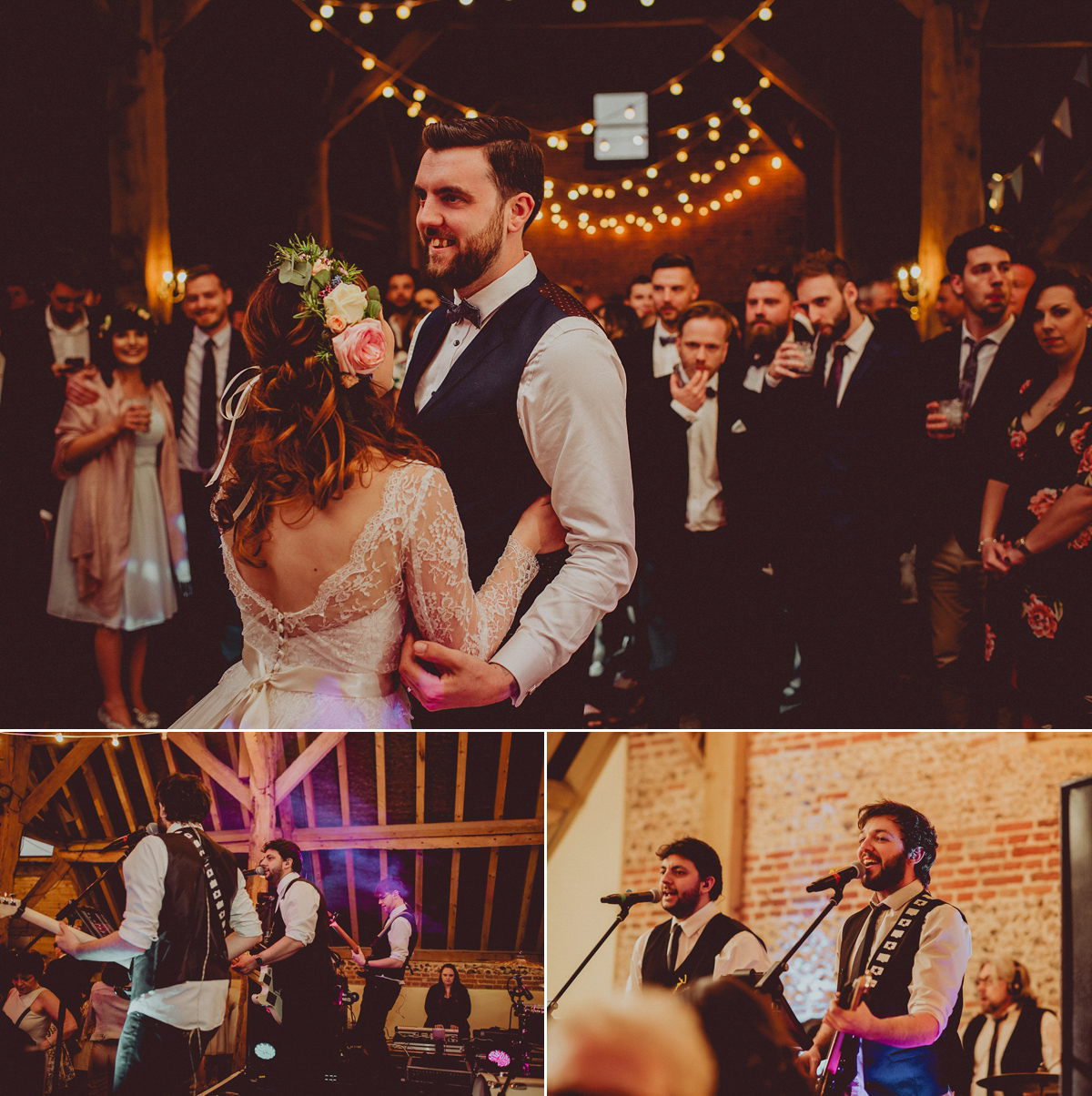 Words of Wedded Wisdom
"Just be you – all weddings are beautiful and you are free to be creative and make it whatever you want it to be. Fill your day with little personal details and enjoy every moment – it goes so quickly.
I was also told to try and look at everyone as you walk down the aisle. Everyone is waiting to catch a glance and you feel so full of love when you see everyone smiling at you."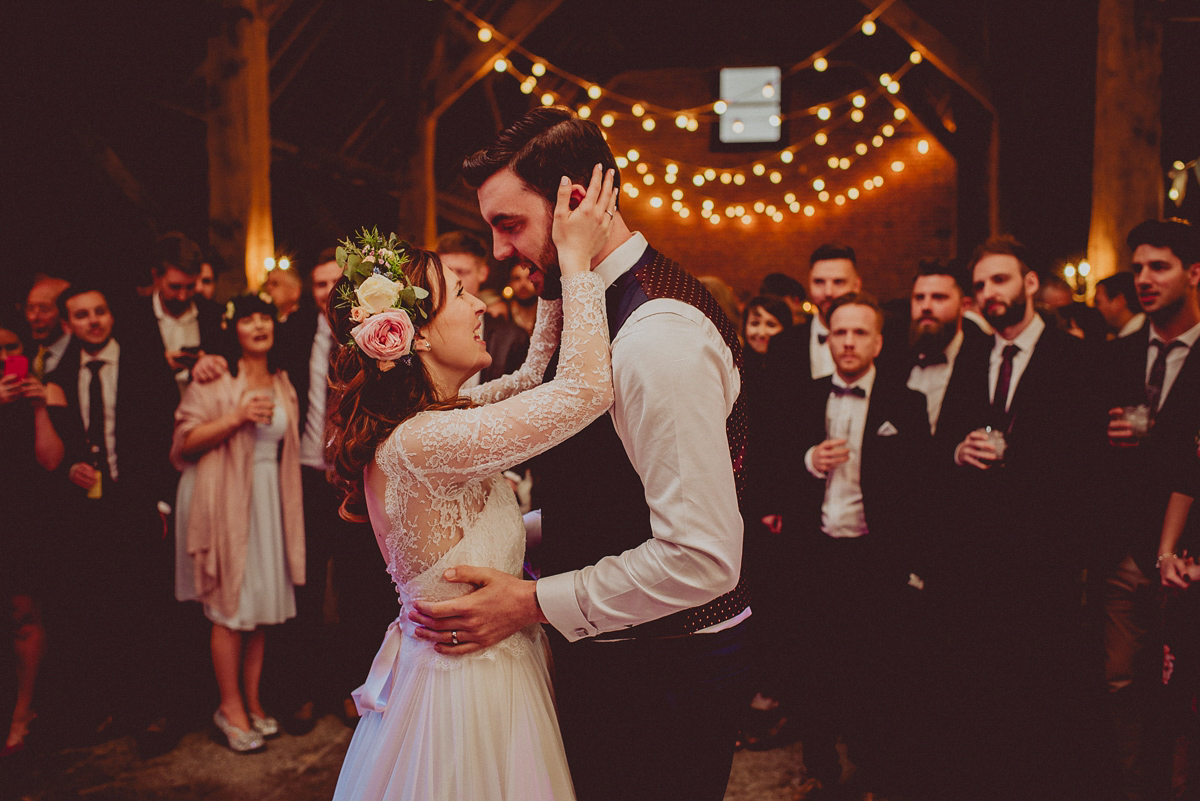 "Try not to worry too much and enjoy the planning process as much as you can. I definitely felt the 'pre-wedding blues' at times and found it quite difficult balancing wedding planning with us both having quite busy jobs. There were so many times I felt we would never get everything done, but it all came together in the end and it was perfect.
I really miss having a wedding to plan now! I would also say make sure you join the Love My Dress Facebook group, as it is such a wonderful, supportive community and makes you realise that there is always someone feeling the same as you."
"Love My Dress was always my favourite wedding blog, and the only one I visited regularly. I loved the variety of weddings and celebration of everything wedding! It was always so inspiring to see all the different choices people had made. I liked the way you could search though the real weddings and articles for certain designers/themes.
Love My Dress has such heart and honesty, beyond just inspirational images. The linked facebook group is also a lovely bonus. Weddings you see in magazines are so styled they often look so unachievable, so just seeing real brides was the best thing."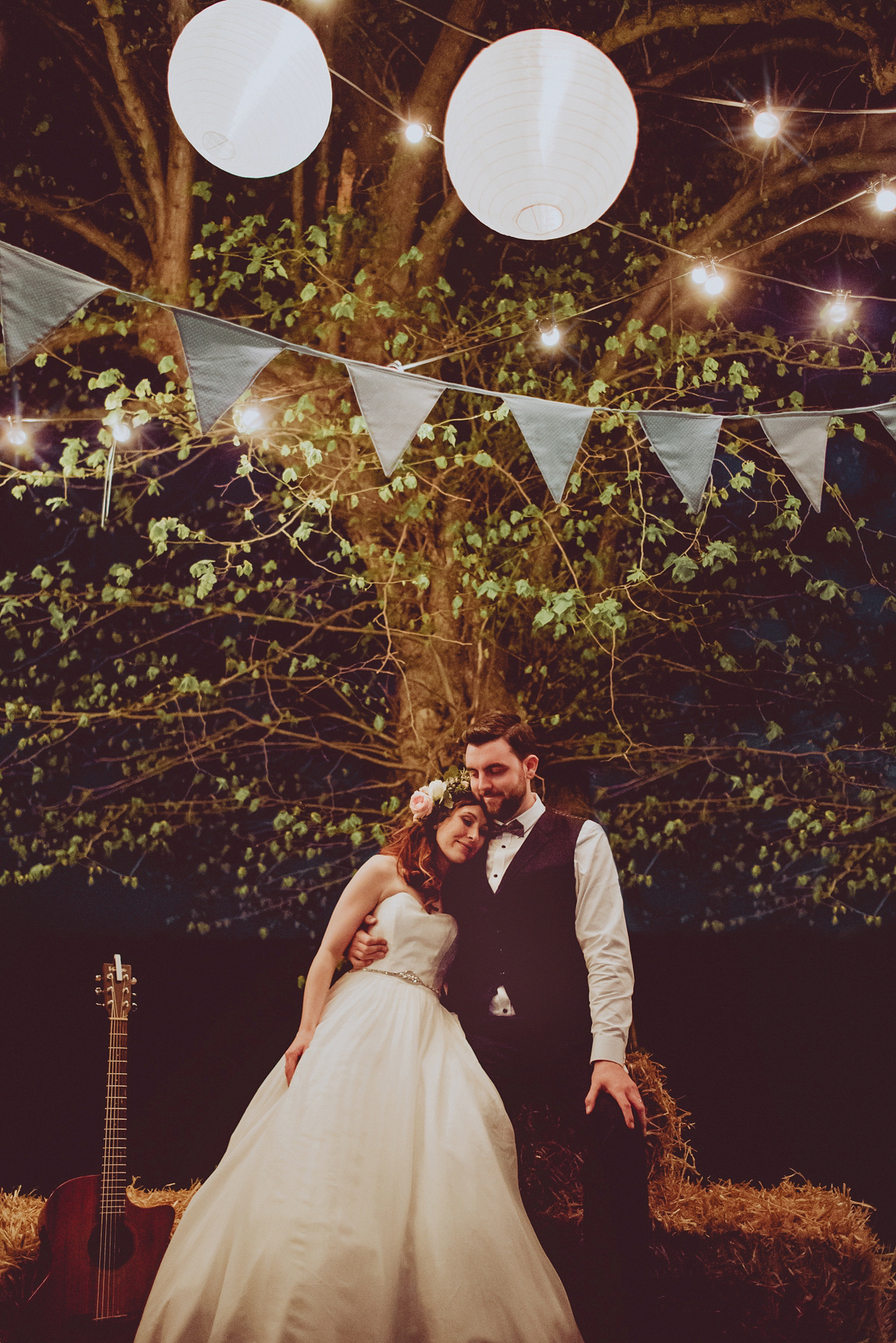 Absolutely glorious, and Nicola, thank you so very very much for your wonderfully kind words about Love My Dress! I'm thrilled you got so much support and found so many amazing supplier recommendations through these blog pages.
Love and thanks to the the rather brilliant Big Bouquet wedding photographers too.
I'd love to hear from any fellow Naomi Neoh brides – are you wearing 'Fleur' too?
Love Annabel