I cannot believe it's June! June to me means warm evenings, picnics in the park, finally wearing the cute sandals that have been languishing in my wardrobe for the past five months, and one other little, tiny, minuscule thing…getting married! It's finally here! I can finally say after several, painstakingly slow, seemingly never-ending years, that this month I am marrying the love of my life. And I feel like I could explode with the happiness of it all.
Sharing a glorious insight into their own blissfully happy day with us today, are the lovely Emily, a trainee clinical psychologist, and Chris, a project manager, who wed on  30th July 2016 at Sprivers Mansion in Horsmonden, Kent. The mansion holds a lot of memories for our couple, who take regular walks through its grounds, and it's also very close to where Emily's dad lives – making it ideal for a wedding after party (an after party which went on until after 5am!)
"Both growing up in Kent meant we have a love for the countryside and wanted our day to reflect that. We wanted to bring the outside in, with the marquee open and for people to feel comfortable enough to roam and explore and come and go as they pleased. Basically a really big country party with decent ale and cider a given. We're both from large families and wanted it to be a fairly DIY job, with everyone chipping in to help."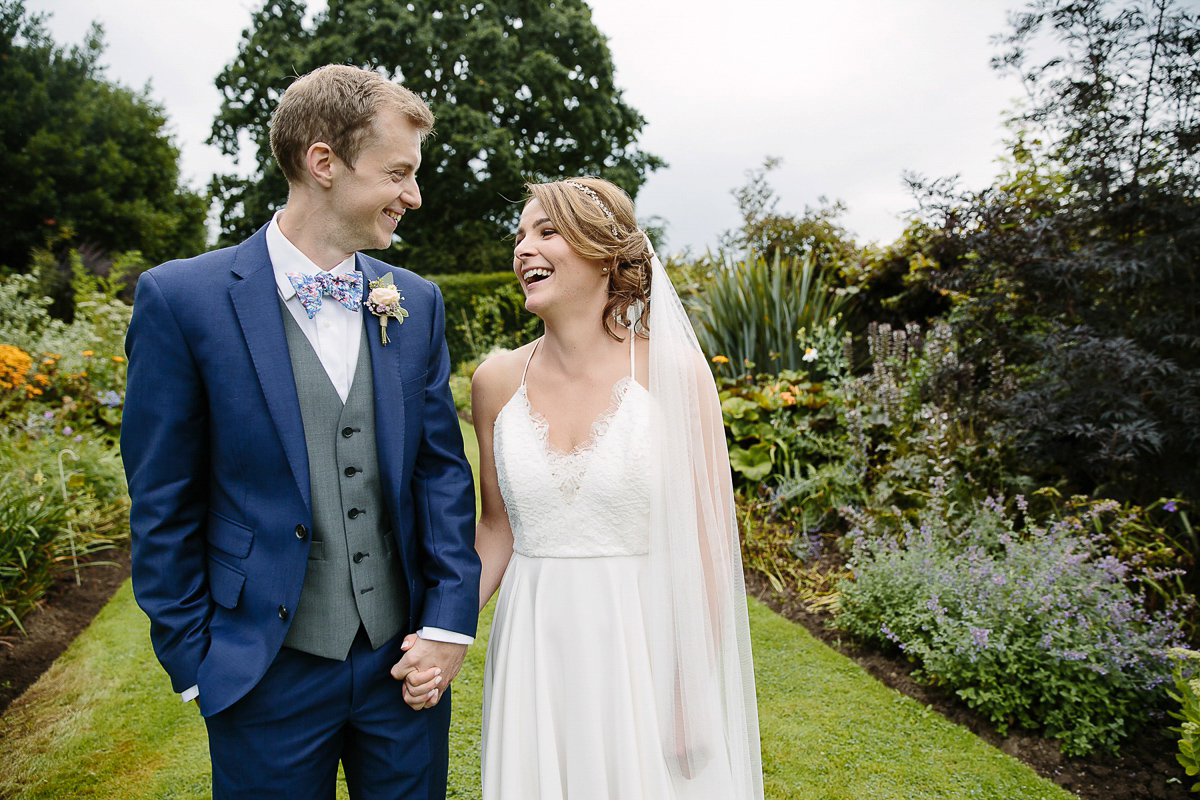 Emily chose the divine 'Mackenzie' gown by Rue De Seine, which she purchased along with her Valentino veil, from Leonie Claire. We love Leonie Claire here at Love My Dress, they stock some of the most beautiful dresses and accessories – in fact I bought my gorgeous lace-edged veil from their lovely boutique, just around the corner from my parent's home. We're super proud to support this sublime store through our curated directory, Little Book for Brides.
"My dress was summery and a little bit different. It was relaxed but classic at the same time. I also wore a hair vine from Twigs & Honey, Chance by Chanel parfum and my hair and make-up were by Samantha of Beauty Call."
The couple chose the inimitable Joanna Brown to capture their day. This incredibly talented lady has captured some of my favourite Love My Dress weddings, from colourful, urban celebrations to intimate, kooky unions.
"From the first time we spoke to Jo, we knew we'd made the right choice. We wanted a documentary style photographer, nothing too formal; someone who could blend in and capture the day as it unfolded and Jo did just that. Not only did she blend in, she became one of the guests and helped make us feel at ease during the day."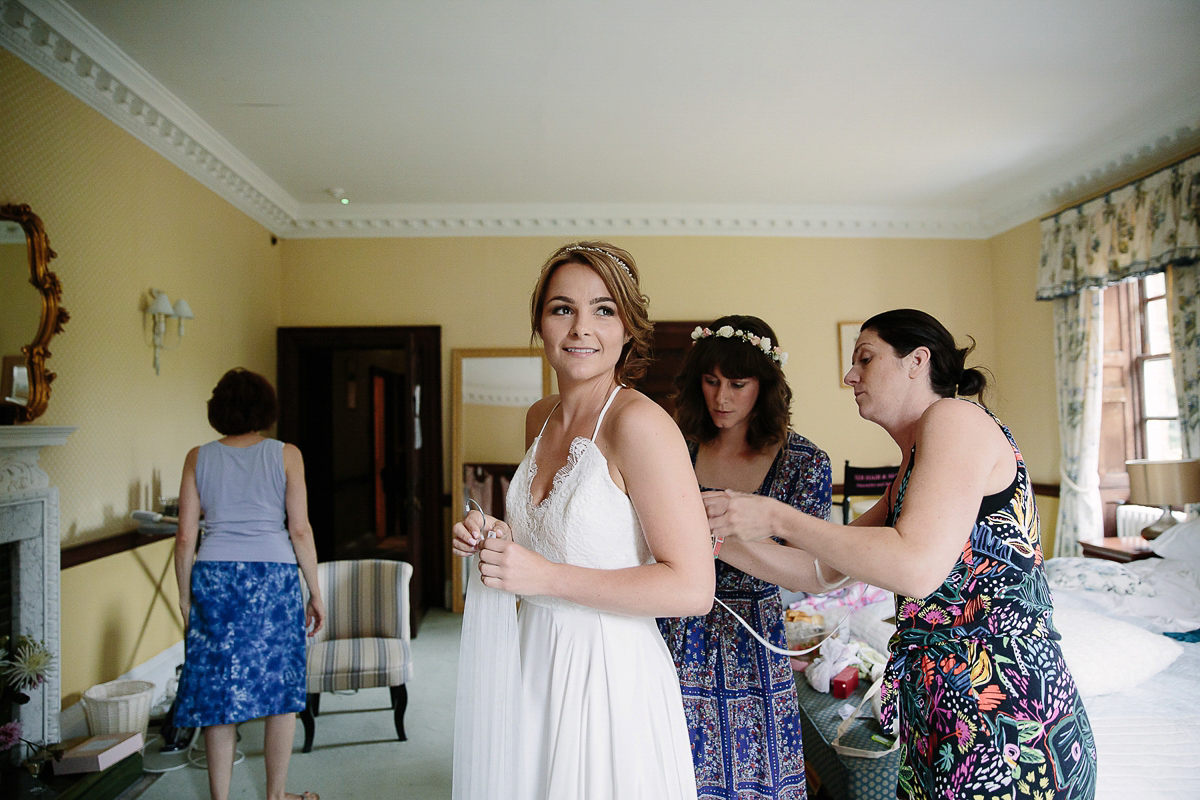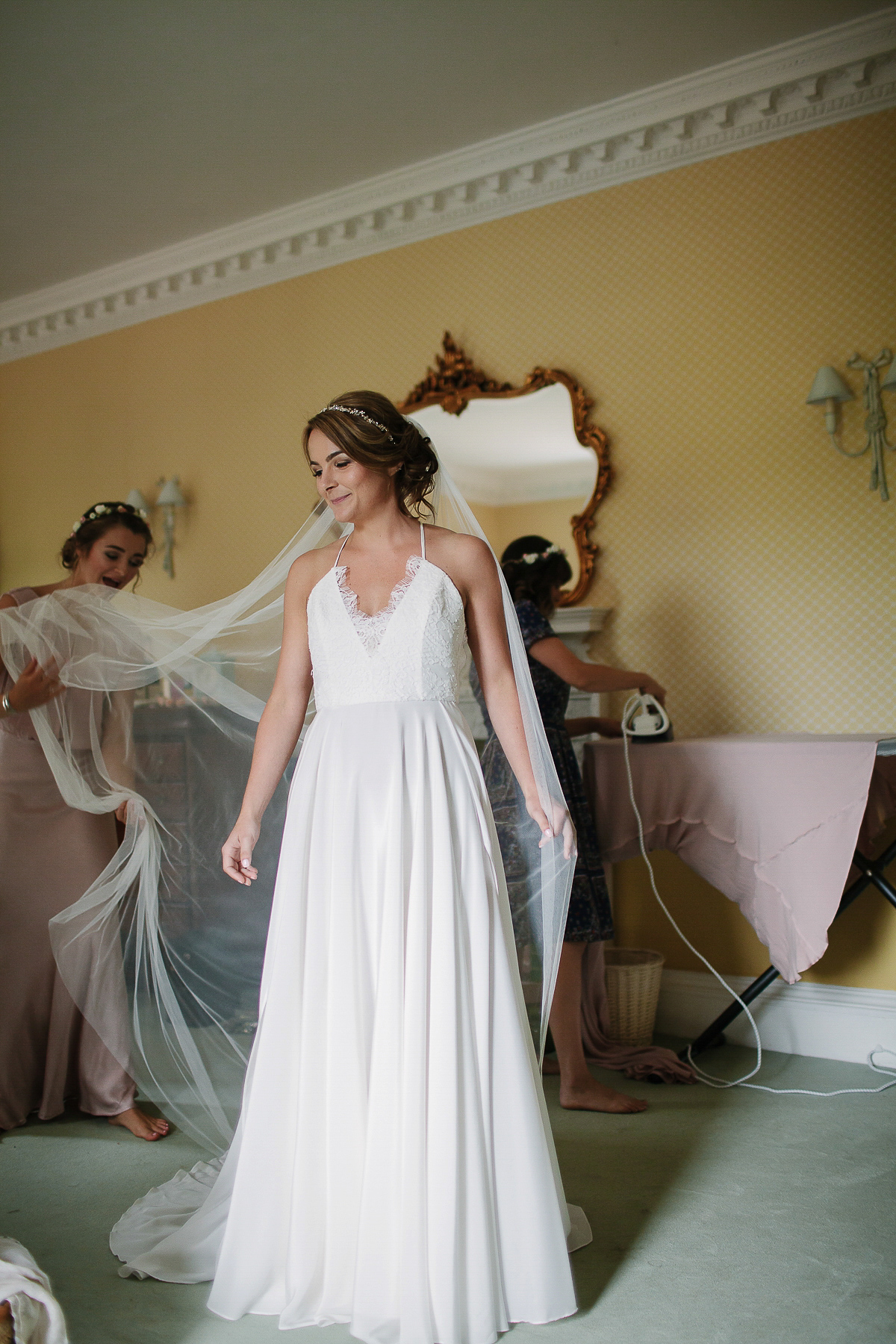 Emily's brother, Tom, drove the bride and her father to their ceremony in their dad's classic black Triumph, such a stylish way to travel. Tom also wrote and performed a beautiful poem especially for the couple, entitled 'Here Are The People' and Emily's dad, Mark, walked her down the aisle to Pachelbel's Canon in D.
I love that weddings draw loved ones together in meaningful, beautiful ways.
Emily's maids looked stunning in the 'Claudia' gown by Ghost, with hair accessories made by one among their number. Monsoon was our bride's go-to for cute flower girl style, another supplier we proudly champion through our sister site.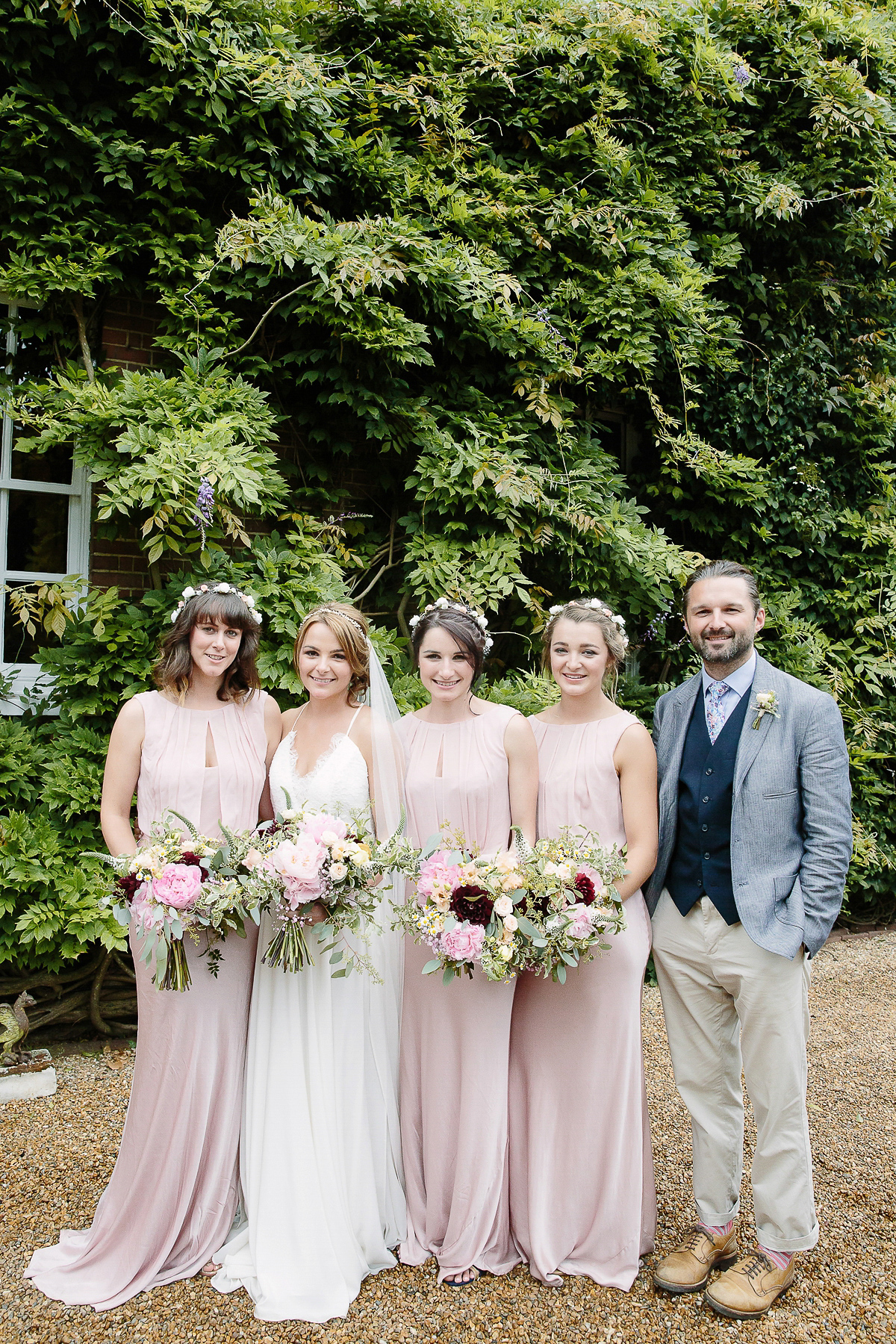 Chris chose a blue tailored suit from M&S Autograph, which he paired with brown leather brogues from Clarks and a bow tie, handmade in Liberty fabric by Emily's mum. I'll hand over to Chris to give us a lovely insight into his and Emily's love story.
"Emily and I first met when we were fifteen. I loved her from the moment I saw her, but we didn't get together immediately. In fact we were best friends for twelve years before we got together properly. We became engaged on the 3rd January 2015; I had booked a trip after New Year's Eve to North Norfolk, staying in a luxury tree house in the grounds of a house."
"We had been for a walk along the coast and came back as the sun was going down. I lit a fire for us and asked if Emily wanted a drink. I'd snuck in a bottle of champagne and hidden it in the fridge, so I came back with two glasses and got down on one knee in front of the fire and asked her to marry me. We celebrated and stood on the balcony of the treehouse on a beautifully clear winter's night, watching the frost settle and the stars in the sky."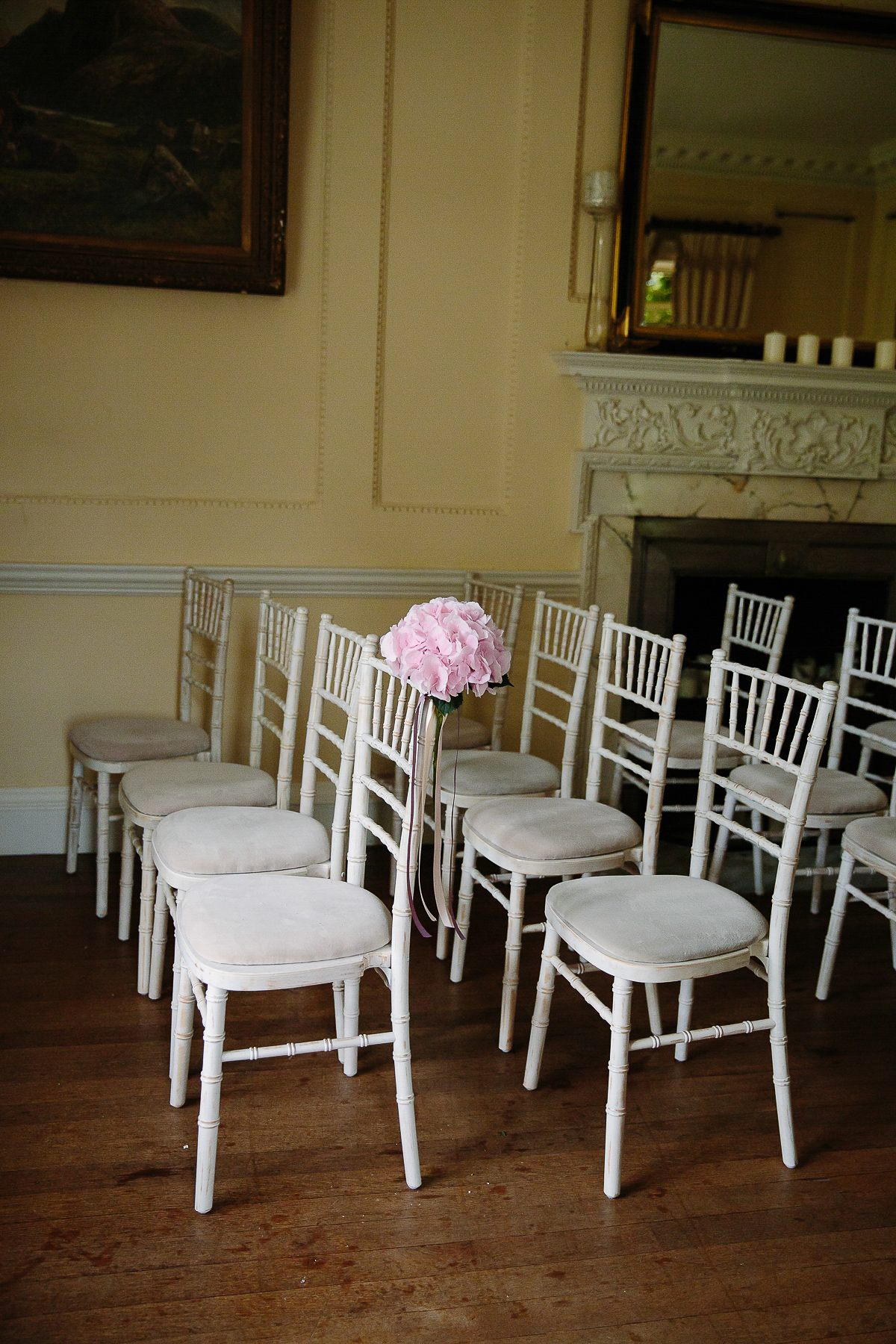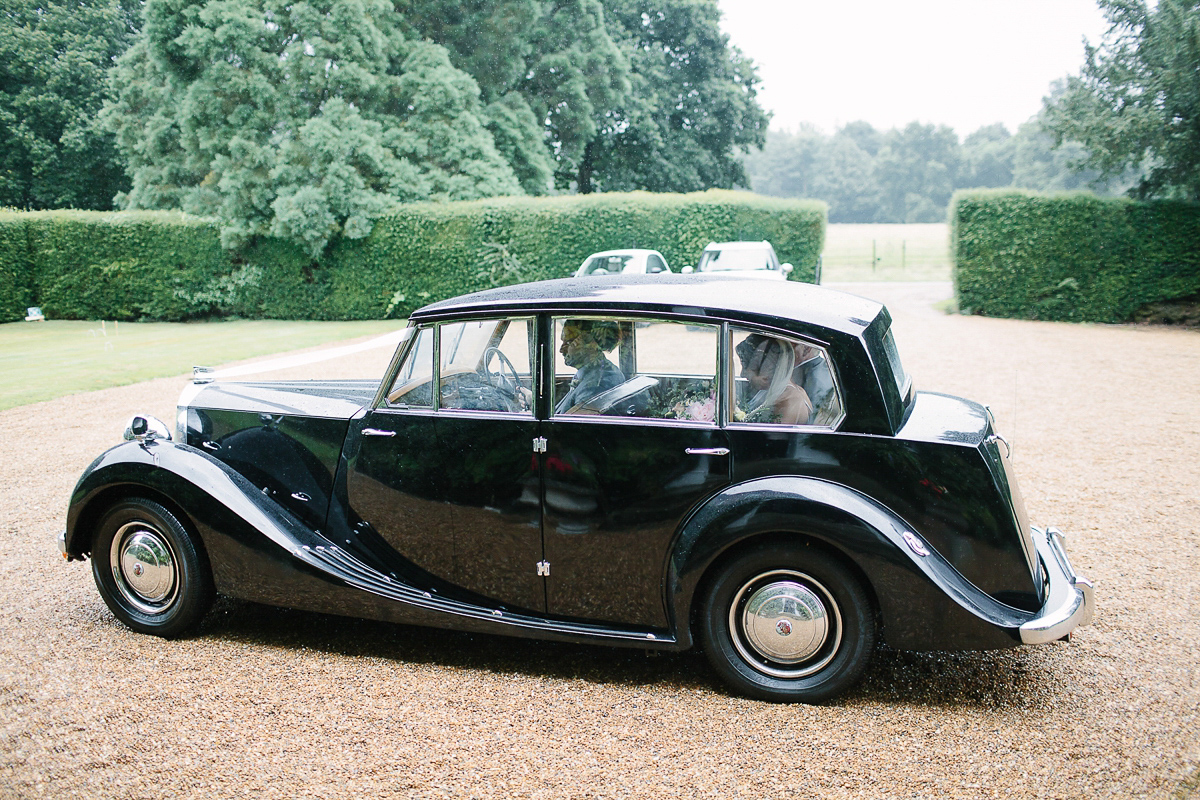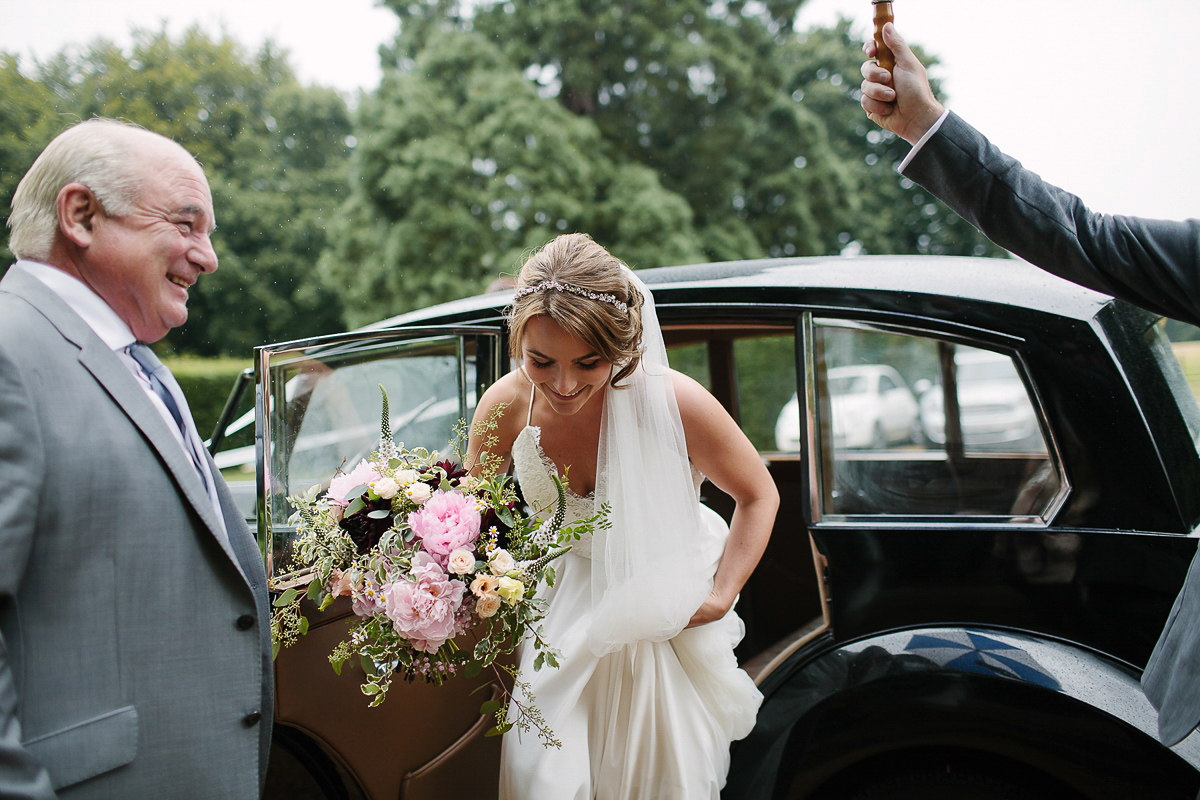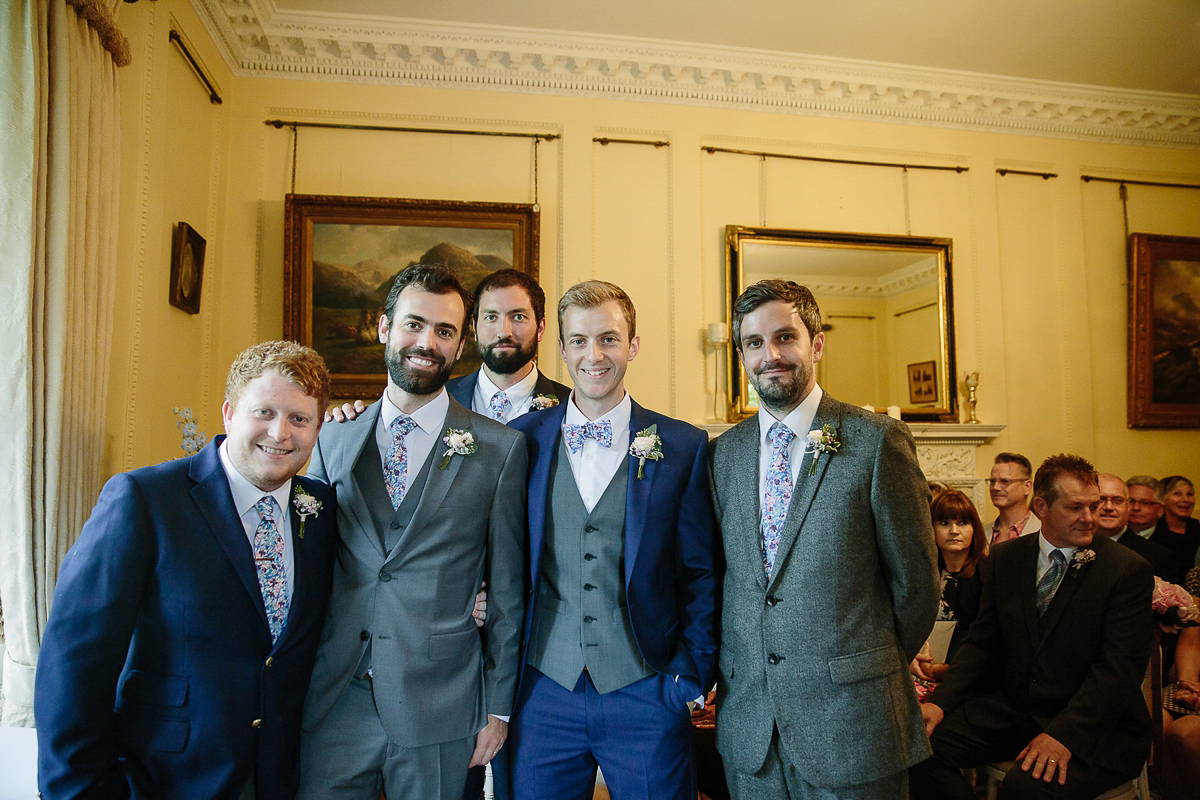 The happy couple exchanged the classic, local authority vows along with their wedding rings. Emily opted for a yellow gold and diamond band while Chris chose a simple yellow gold ring, both purchased from Newman's Jewellers in Brighton.
"The ceremony itself was our favourite part of the day. We both really enjoyed it, it was fun and not as nerve wracking as we thought it would be. It felt special and even though we had sixty people watching us, it felt like it was very intimate. It was also nice stealing moments during the day where it was just us."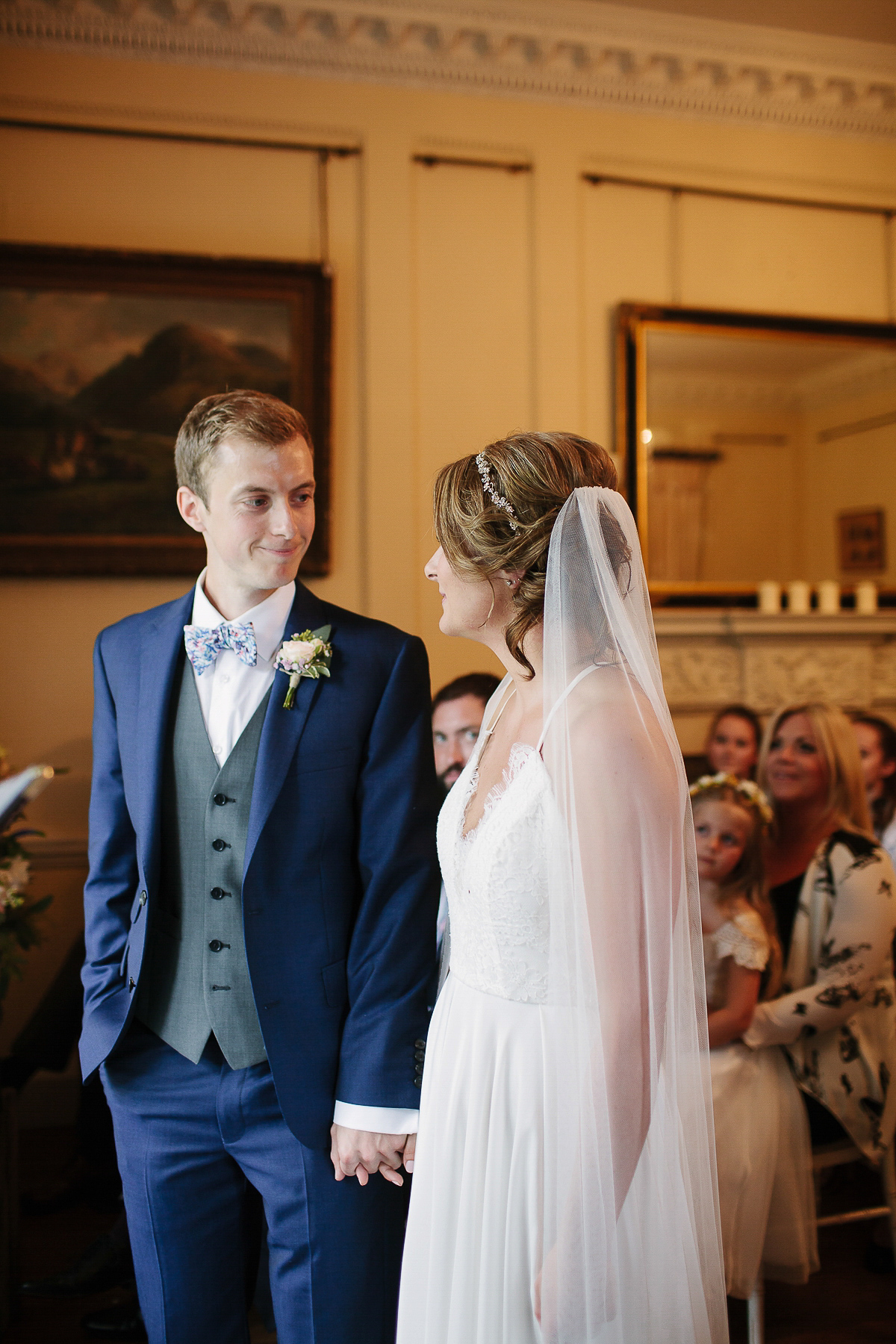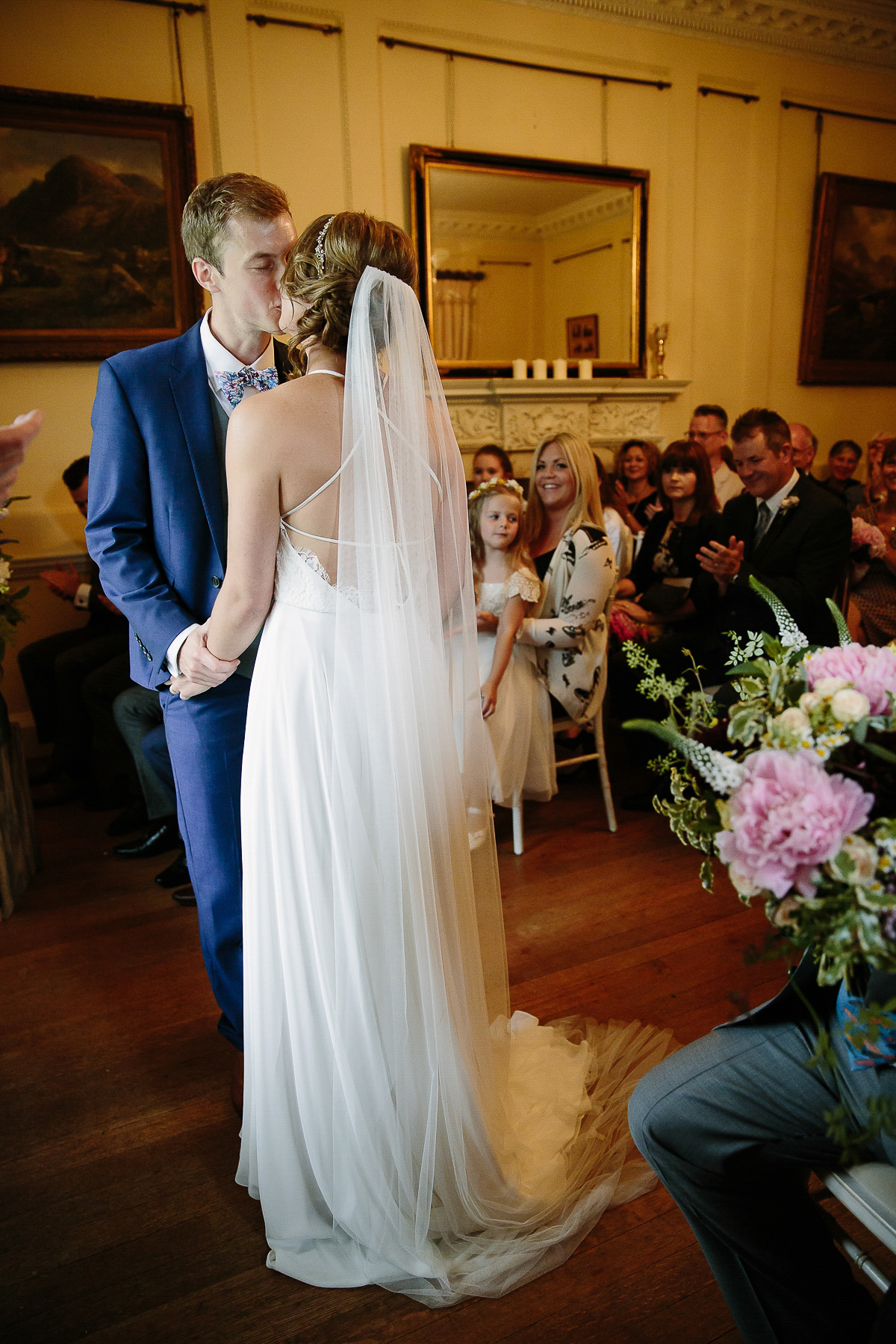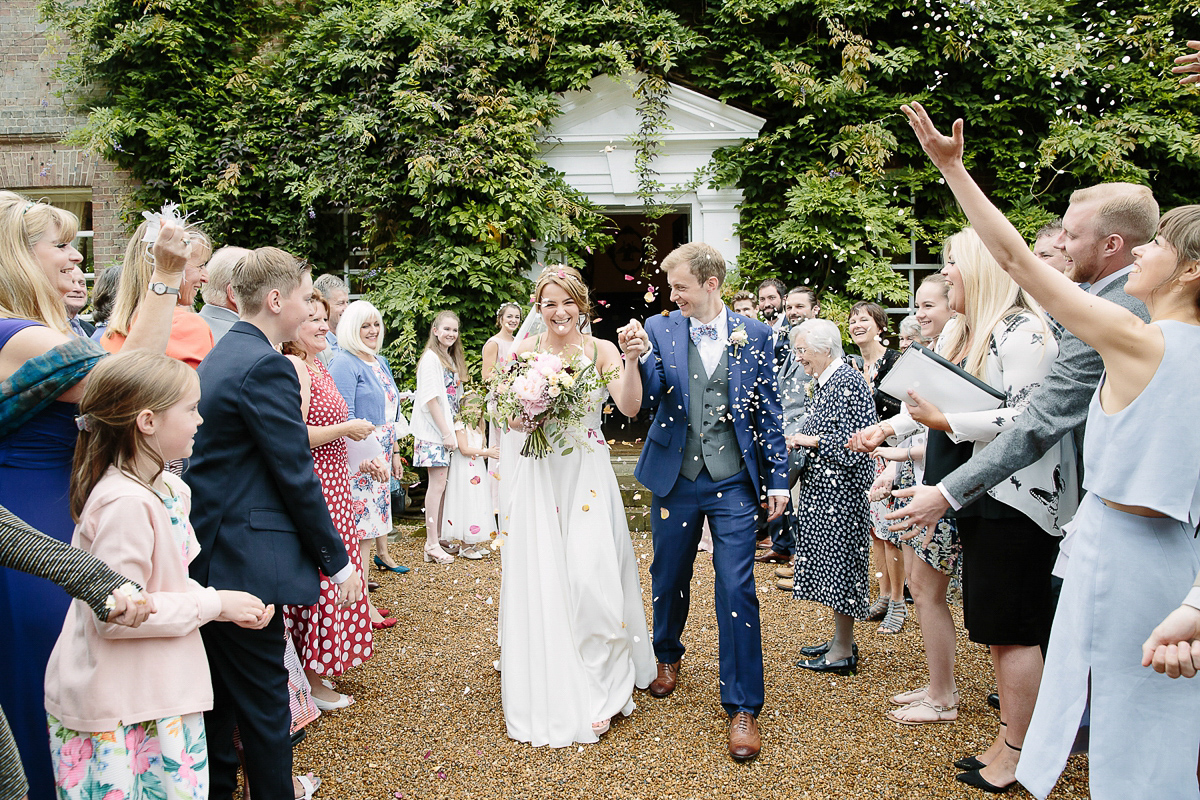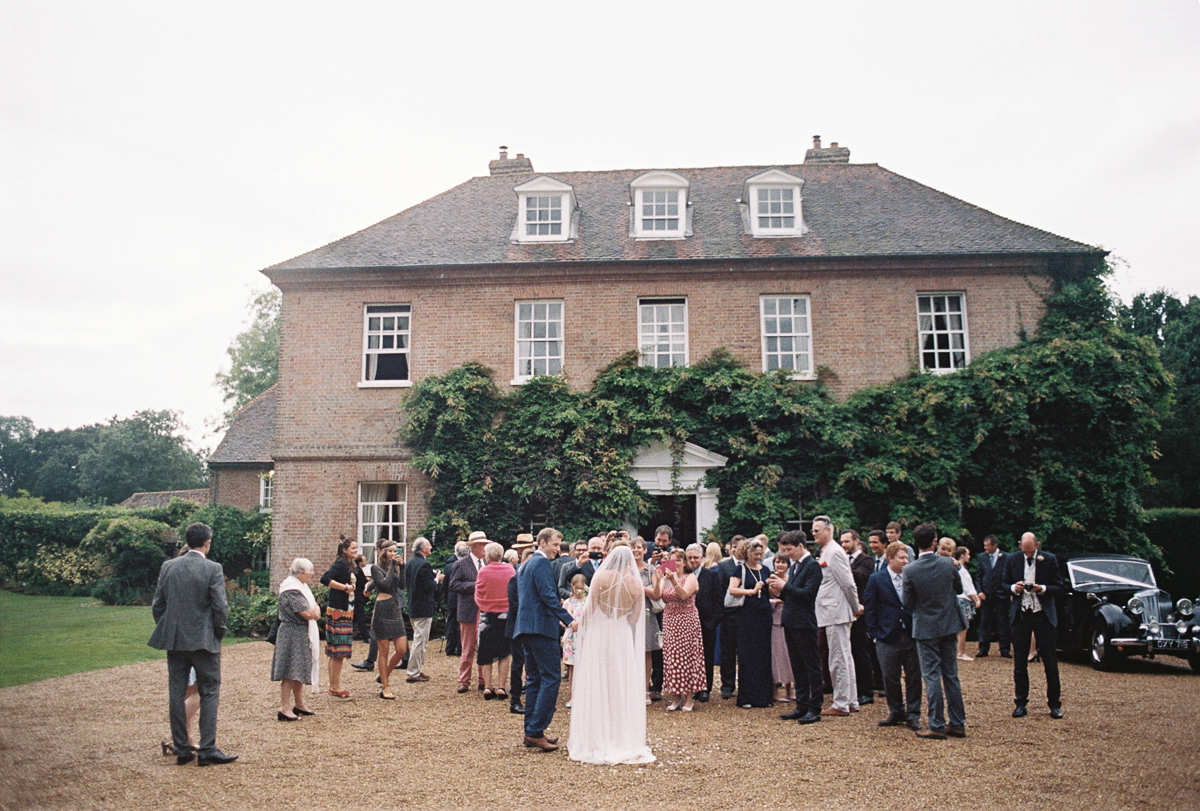 Gwenda Jeffs was responsible for the floral stylings of the day, a mixture of wild flowers and beautiful stems, beautifully setting off the colours of the wedding party's ensembles.
"We chose Gwenda because we wanted to use as many local suppliers as possible. We wanted the flowers to be natural and in season, using a mix of wild flowers and favourites, with colours to help complement the outfits. Gwenda did an amazing job and even had peonies that were in season, which was unusual for that time of year."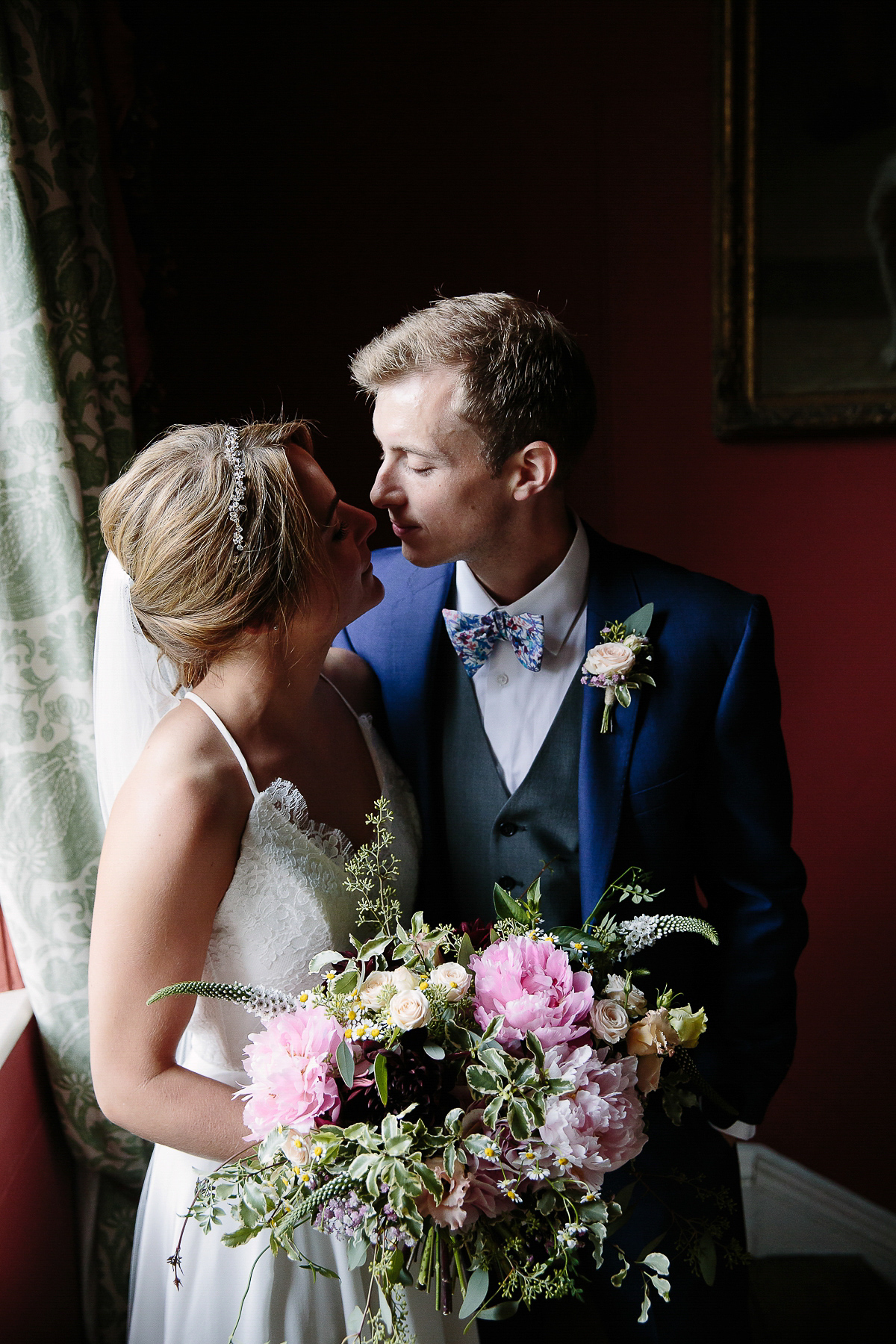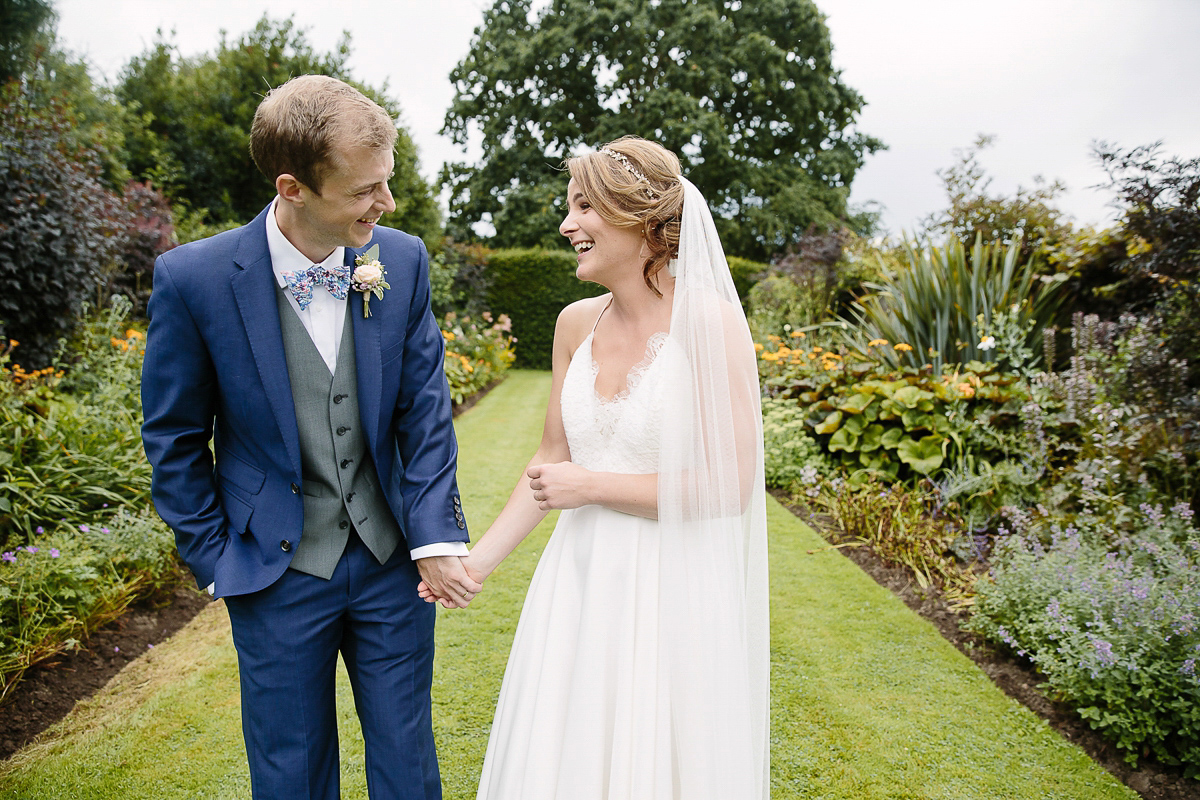 "Emily's step mum, Penny, and sister, Millie, helped to make the table plan and place cards – handwritten labels tied with twine to lavender sprigs. They also laid out orange scented tea lights in various vessels we had collected to give a subtle fragrance later in the evening."
"We put all the decorations up ourselves and opted for a simple theme including gold and silver bunting and foil curtains for the dance floor."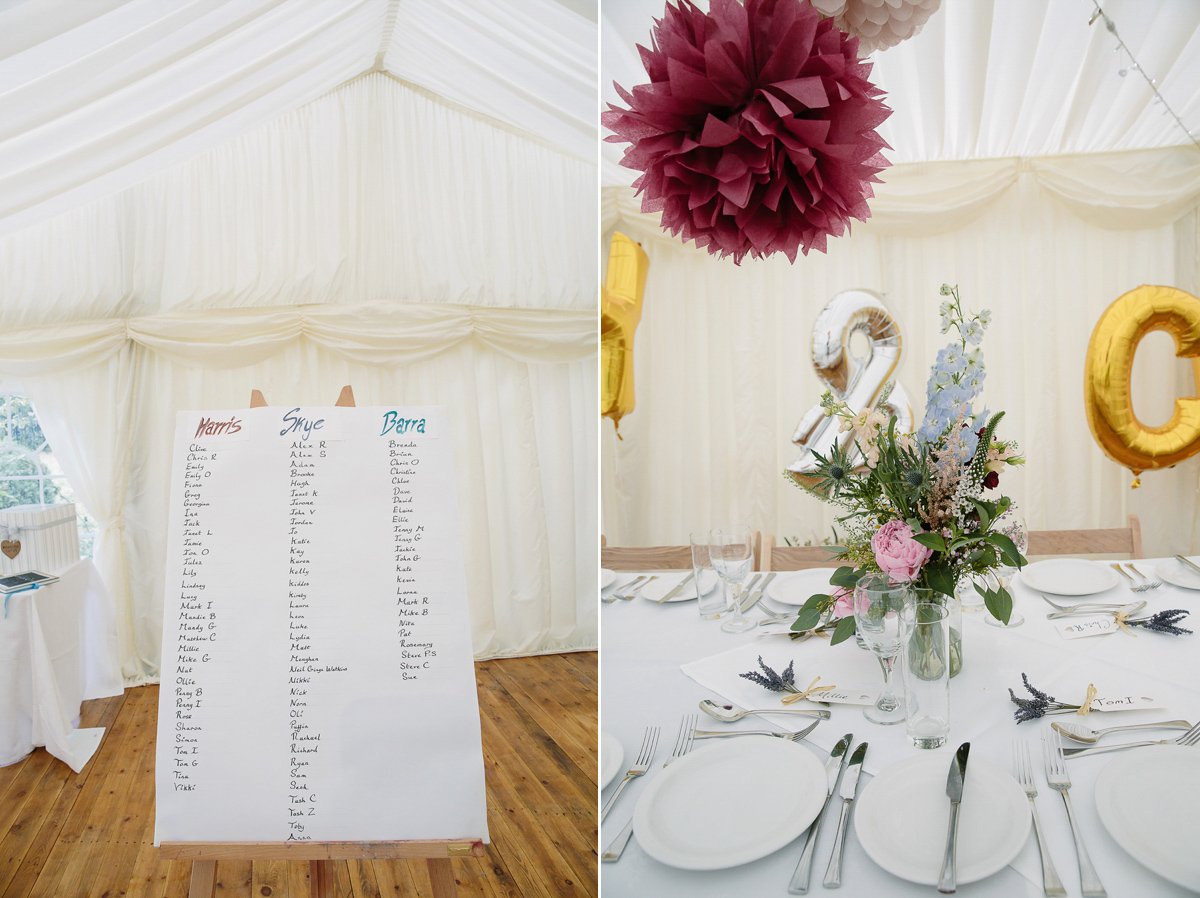 "We wanted to blend all our friends and family together, so we didn't have individual tables, just big trestle tables and big shared plates of food to bring everyone together and encourage good conversation."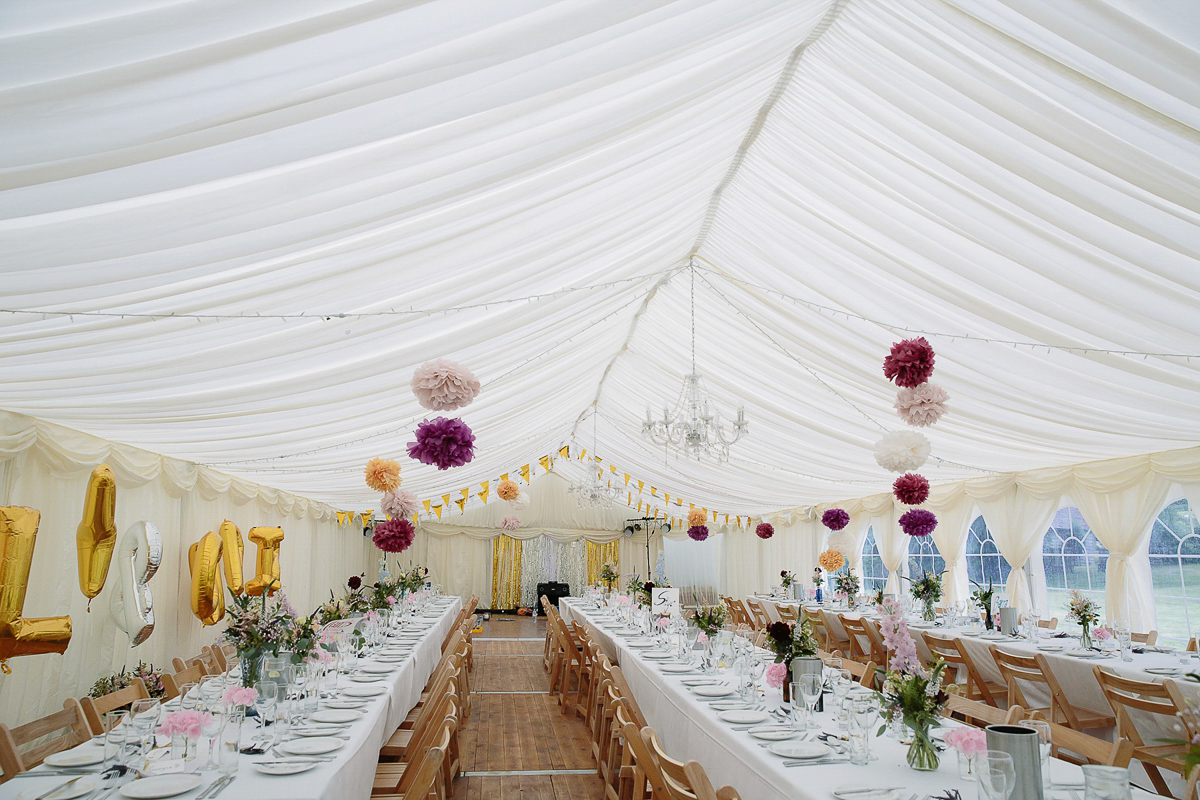 "We wanted to keep everything as local as possible. We are from Kent and now live in Sussex so we chose suppliers from those areas where at all possible. This included all of the booze and evening food. We went to Middle Farm for our cider and got a keg of Harveys beer direct from the brewery. We had excellent help in choosing local cheeses for the evening from the people at the Brighton Sausage Co."
In a true family effort, Emily's mum, Penny, and her sister, Lucy, made the couple's wedding cake; a scrumptious combination of tiers of fruit cake and lime and coconut sponge, smattered with edible flowers.
Catering company Moodies provided a sharing style feast for the guests, combined with beer and cider sourced from local suppliers.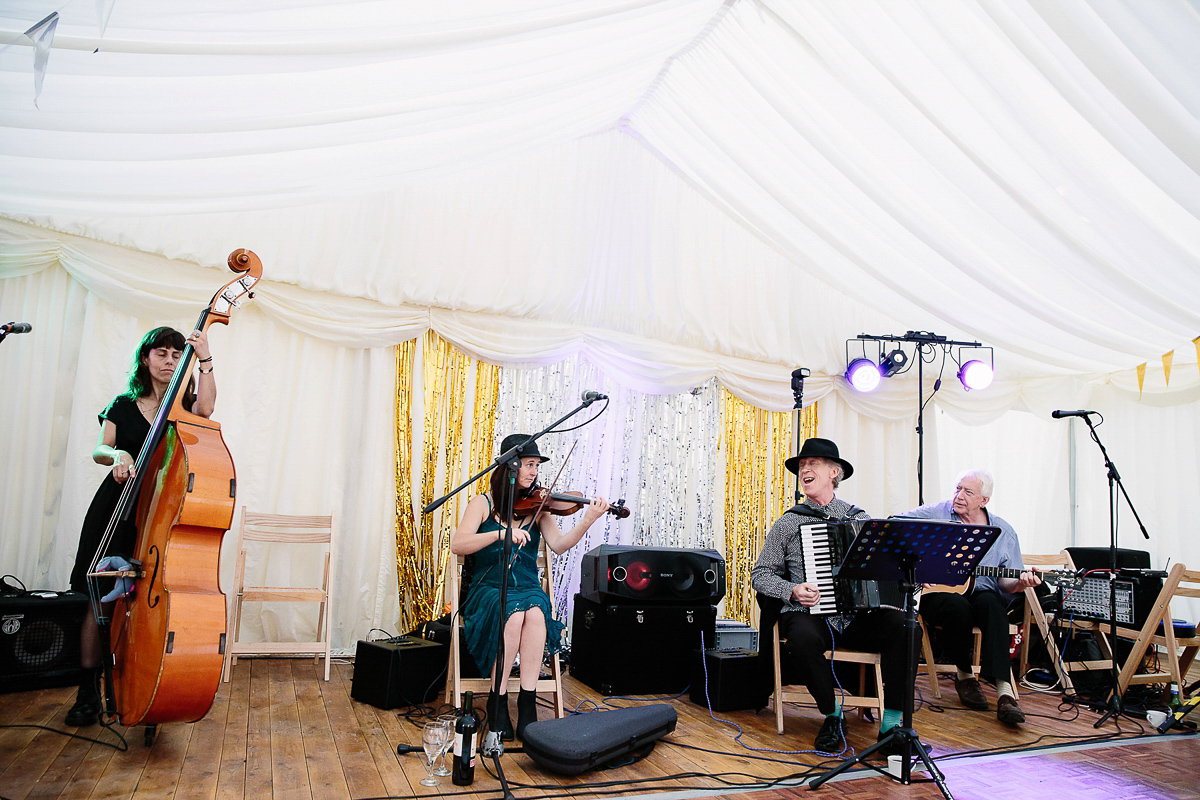 Music was an integral part of the day – guests were treated to the stylings of Leon String Quartet, The Fiddlestix Ceilidh Band and The Flying Ties. I do so love the idea of a ceilidh, they just look like so much fun!
"Our first dance was to Prince's cover of 'A Case of You,' originally by Joni Mitchell. Both of us, Emily especially, are big Prince fans so we found a song of his that we both connected to, and the words and music did just that."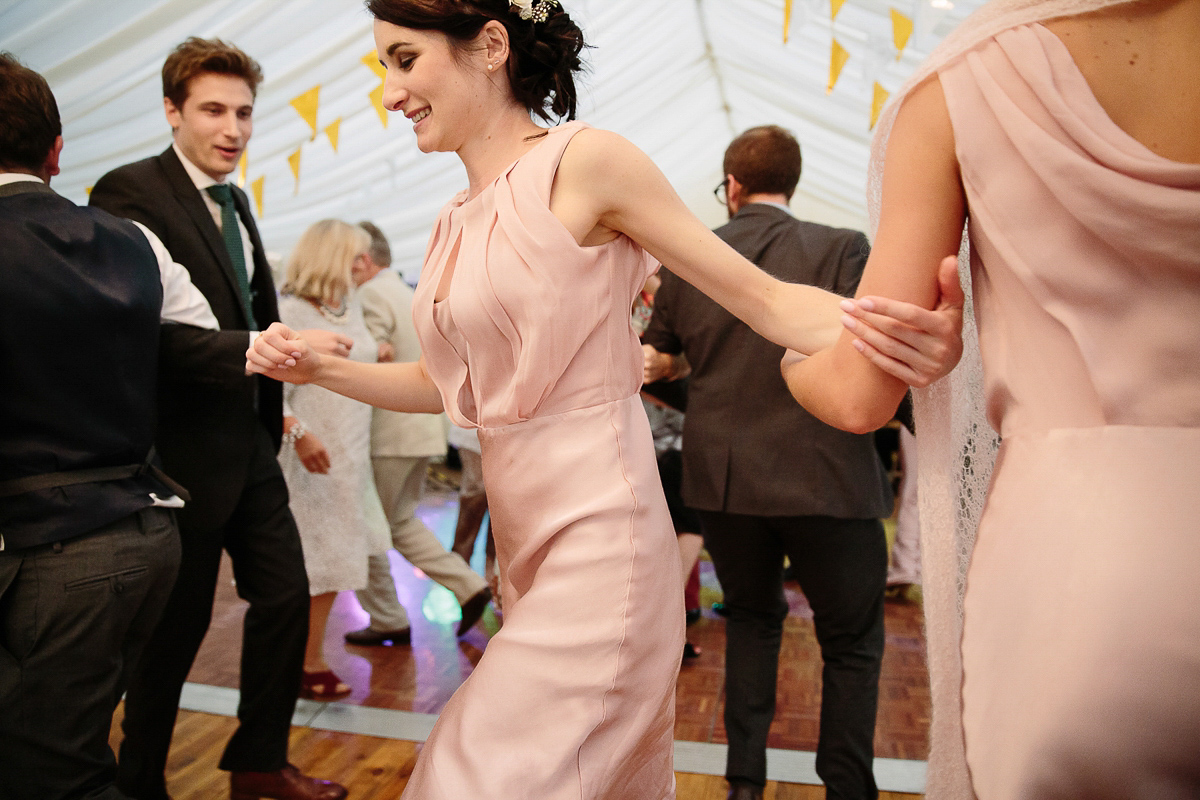 Words of Wedded Wisdom
"Choosing our own suppliers and sorting everything ourselves without a planner gave us complete creative freedom and control, which is exactly what we wanted. But the downside was how much organising and time it took."
"If you're going to take on everything yourself, just remember to give yourself more time than you may think – start earlier, and be prepared for hiccups along the way and roll with it. Always have a back up but don't compromise. Oh, and be kind to yourself and take a break when you can."
I can't tell you how grateful I am to Emily, Chris and Joanna Brown Photography for sharing this wonderful insight into such a happy day.
How are all you June brides feeling? My stomach's doing these weird loop-the-loops, I keep doing giddy little excited dances (which shows the world what a total weirdo I am) and I kind of feel like my heart's going to burst every time I think about June 17th. Eeee!
Love, Em x