I love a wedding that, as well as being extremely pretty, also reflects the couple marrying and their interests.  I also love a winter wedding, so today's beautiful rustic Cornish wedding is just perfect.  Meet Lisa and David, who married on the 28th December 2016 at The Green Cornwall, near Liskeard, in Cornwall.
The couple met at University in Plymouth and got engaged whilst back there on holiday five years later.
"We wanted something with a rustic feel and we made almost everything ourselves so the day also had a very hand-made feel.  We both agreed that our main colour would be navy and that we wanted a winter wedding so this also played a big part when thinking about our table decorations and the colour scheme.  Wool and wood (namely oak) are two materials we both like (I knit and David carves/whittles) so they were a key starting point and it developed from there. We kept a scrap book for ideas and let the decorations develop very organically, involving friends and family. We had people chipping in to make everything from wool pom-poms (a replacement for confetti) to table decorations and bunting and this made the day feel even more special as so many of the guests had a direct hand in making the wedding."
Photography by Enchanted Brides
Today's lovely images are by Jo of Enchanted Brides Photography.  I just love the way she has captured the wintery light and the bright chillyness of the day.
"Jo was literally perfect.  The photos are amazing and she has captured the feel of the day better than we could have hoped for. We can't thank her enough and would recommend her very highly."
Lisa's gown was a Zac Posen design called 'Truly' from David's Bridal.
"It was the first trip I had made to try wedding dresses on and didn't really have any intention of buying that day, as it was still two years before the wedding. I really just wanted to have a look at different styles to get an idea of what would suit me. However, having tried at least one dress in all of the different shapes available I found my dress and it was perfect. It had lace detailing on the bodice and buttons all the way down the back – two things I had really wanted. So in a fit of decisiveness, I bought it!"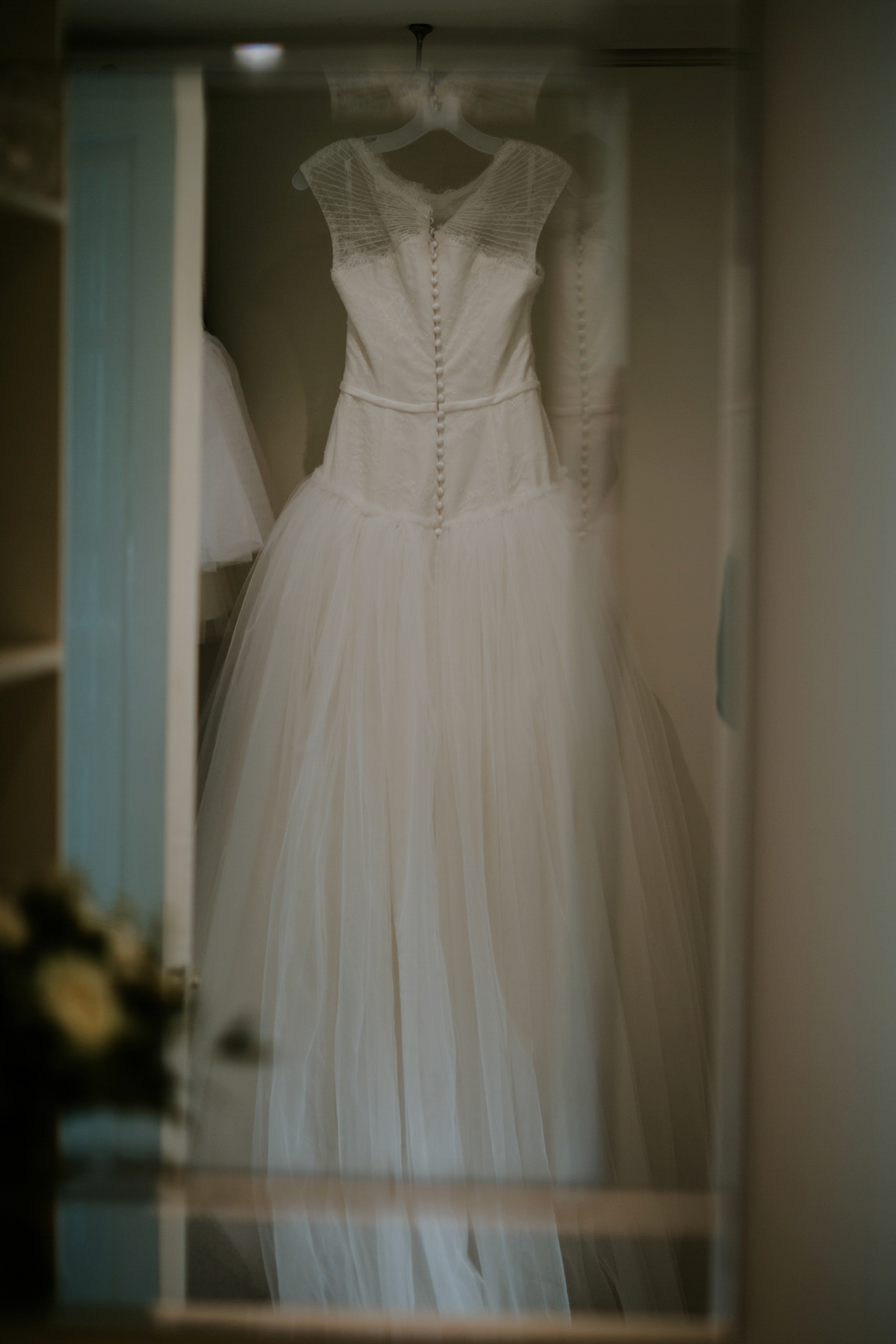 Lisa looked beautiful in a tulle gown with lace detailing, which she wore with a beautiful pair of Rachel Simpson 'Victoria' shoes in ivory, purchased from Elegant Steps.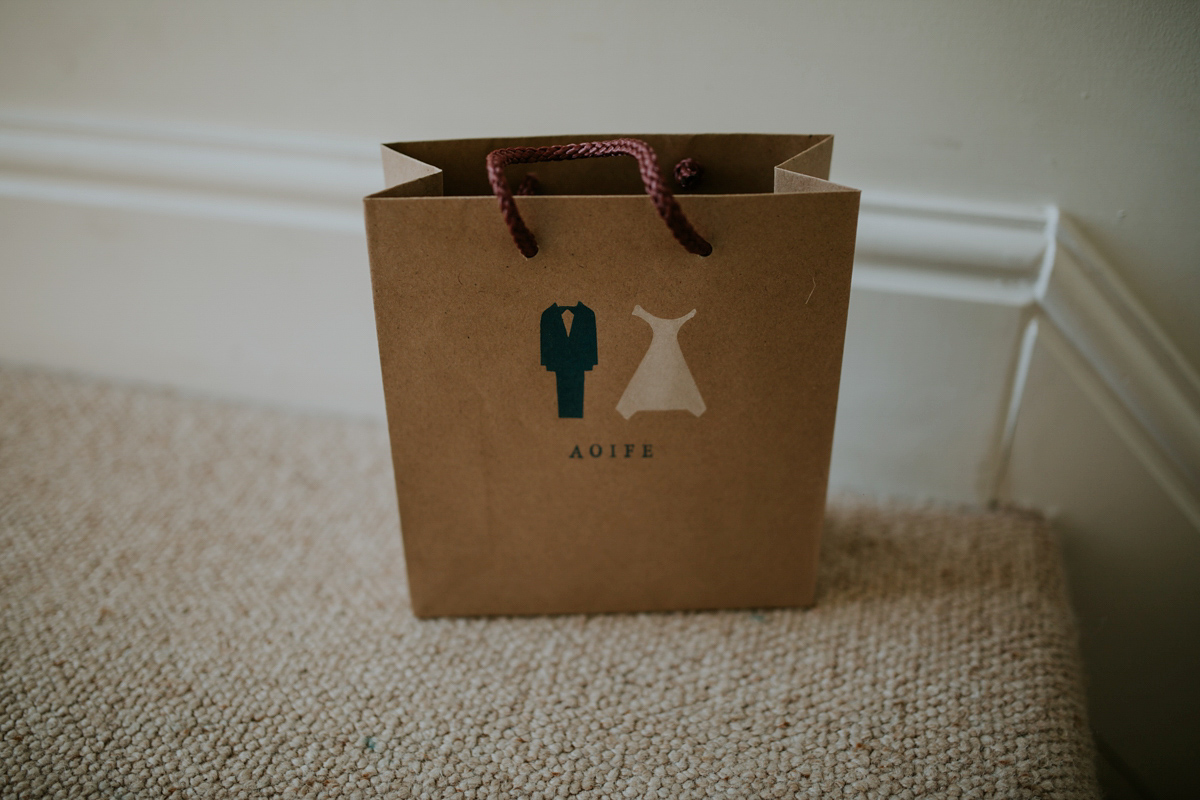 Lisa's delicate hair vine was from Natasha Lou Bridal on Etsy, while her earrings and bracelet were from Tiffany and Co.
Hair was styled by Kathryn Elizabeth Hair and Beauty and the ladies had their make up done by one of the talented bridesmaids.  For scent Lisa chose Pomegranate Noir by Jo Malone.
The gorgeous flowers were by Full Blooms in Liskeard.
"We wanted the flowers to have a wintery feel and to incorporate the blue of our colour scheme, which is why we really liked the blue thistle.  We also loved the simplicity of the gypsophila for the bridesmaids and button holes."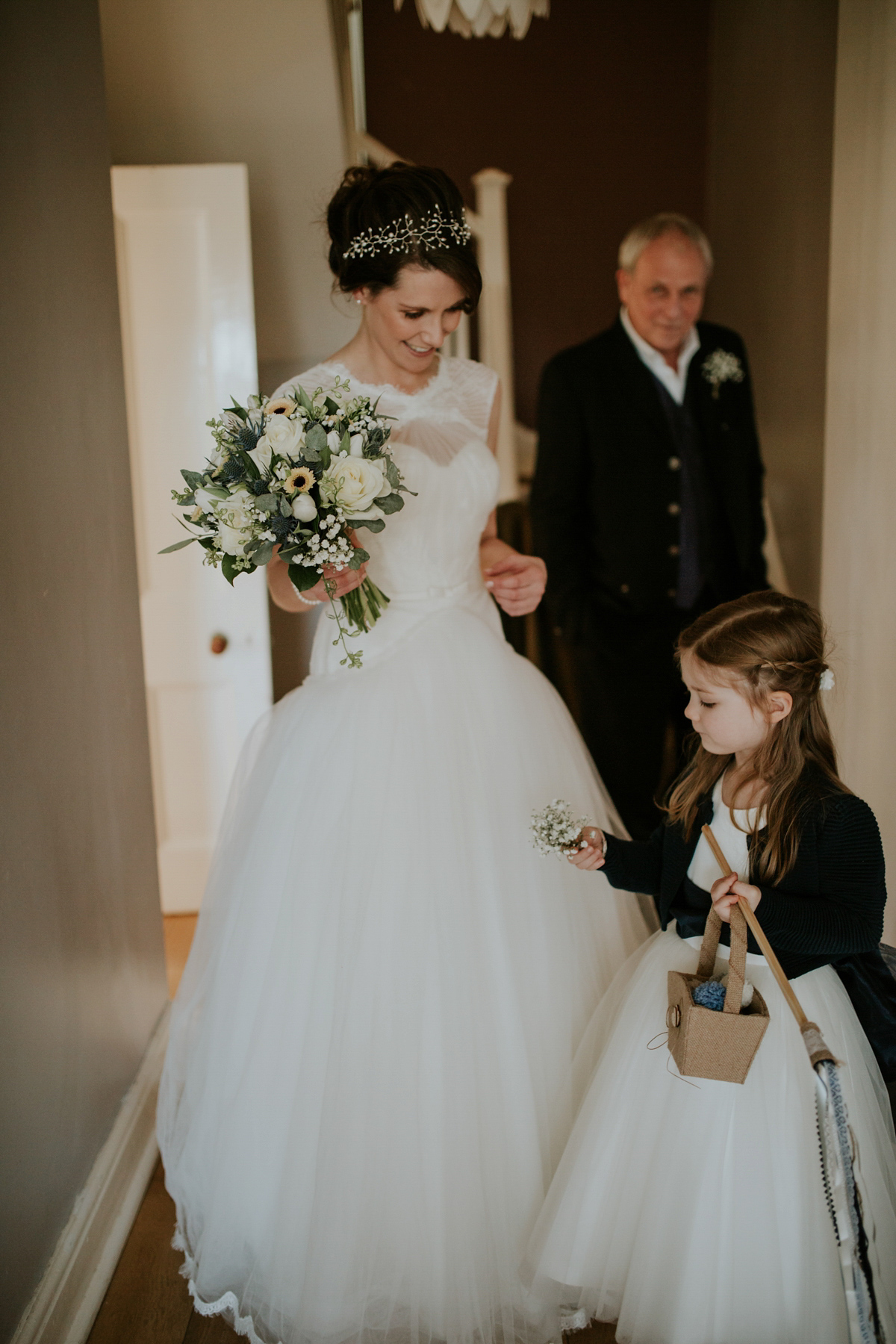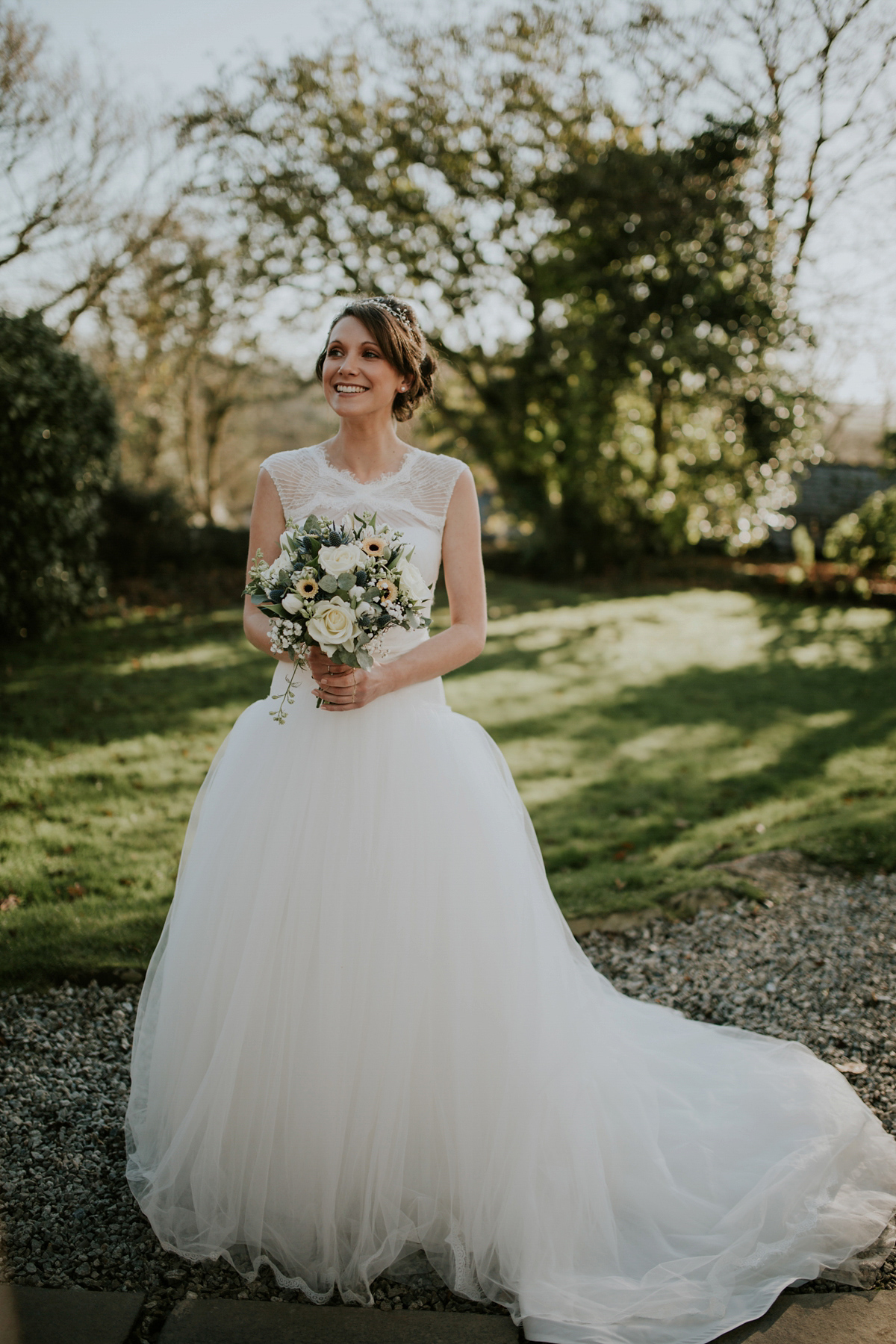 David looked very smart in a blue herringbone plaid tweed suit from Jennis & Warmann, paired with accessories from Serene Handmade on Etsy.  I do love tweed and its is perfect for colder times of the year.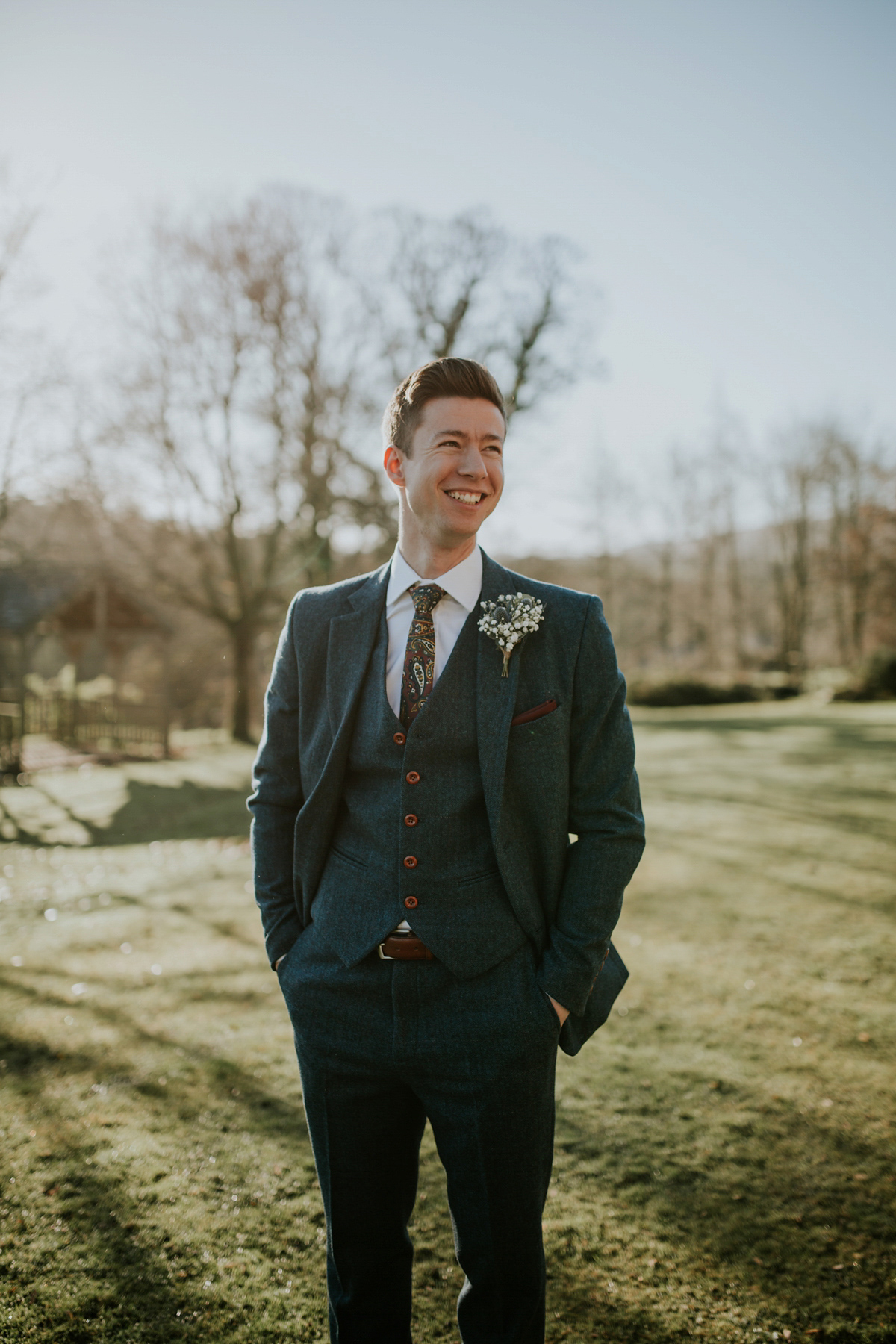 Lisa walked down the aisle alongside her Dad to 'Stand by Me' by Ben E King.
Lisa and Ben picked three readings for the ceremony, all chosen because of the sentiment behind them.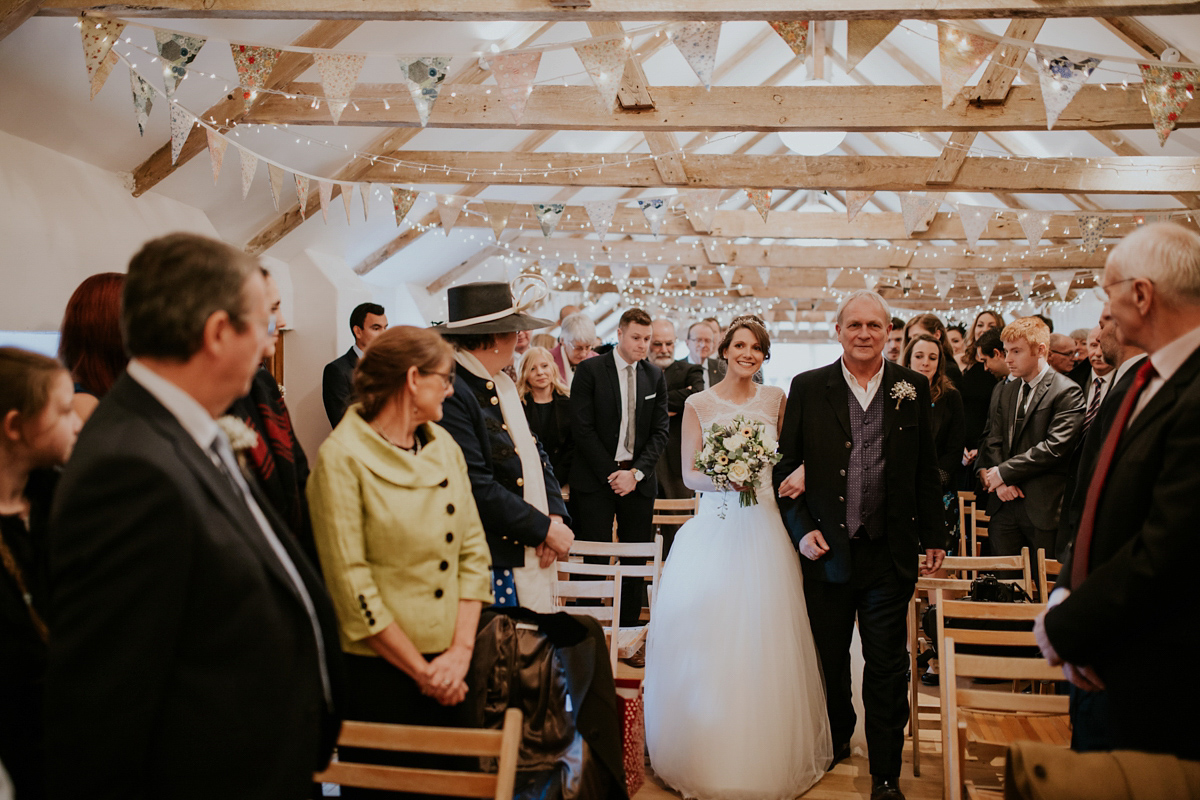 "For readings we had 'A Lovely Love Story' by Edward Monkton (the first time I read this it made me smile and I knew we had to include it as it made me think of David), an extract from 'Captain Corelli's Mandolin', (my favourite book) and an extract from 'Us Two' by A.A. Milne."
The couple exchanged rings- Lisa's from Tiffany, to match her engagement ring and David's an heirloom handed down from his grandfather.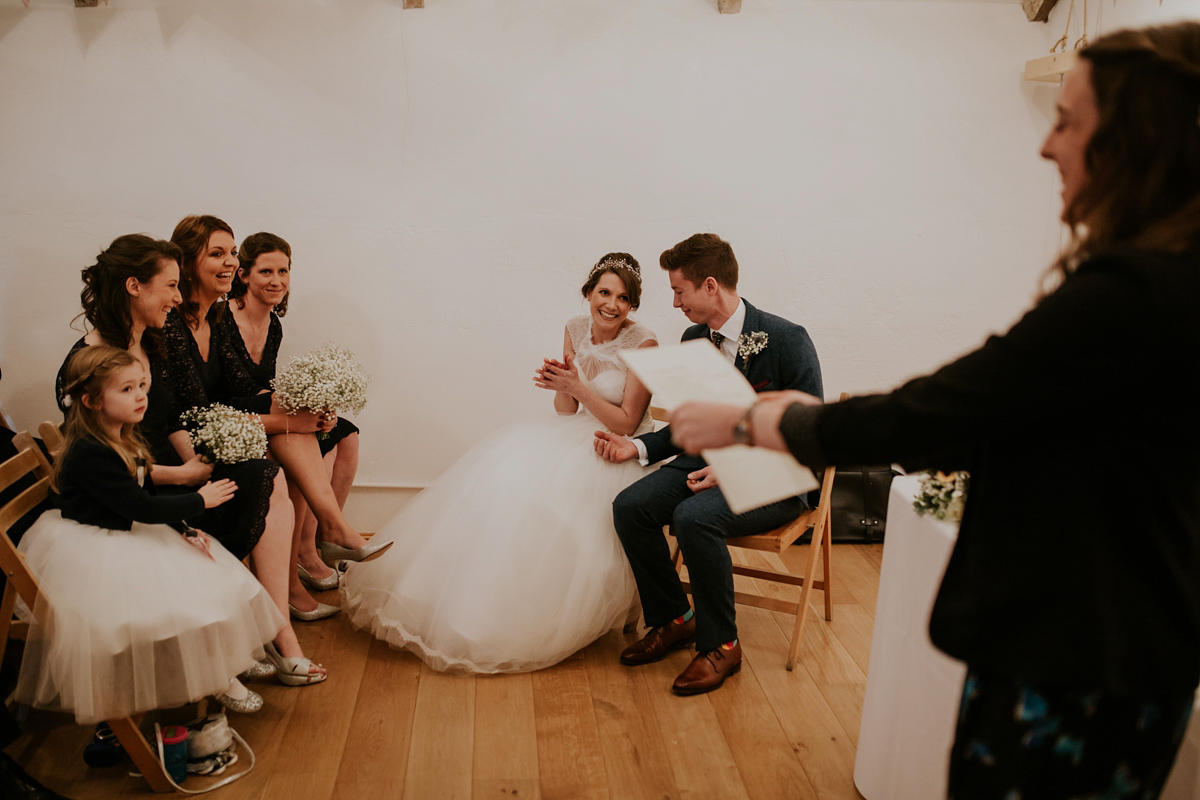 The bridesmaids looked very elegant in lace-sleeved navy blue dresses from Monsoon, worn with shoes from Monsoon and Dune, hair accessories from Accessorize and bracelets from 'Oh So Cherished' on Not On The High Street.
The little flower girl looked extremely cute in a dress from Demigella.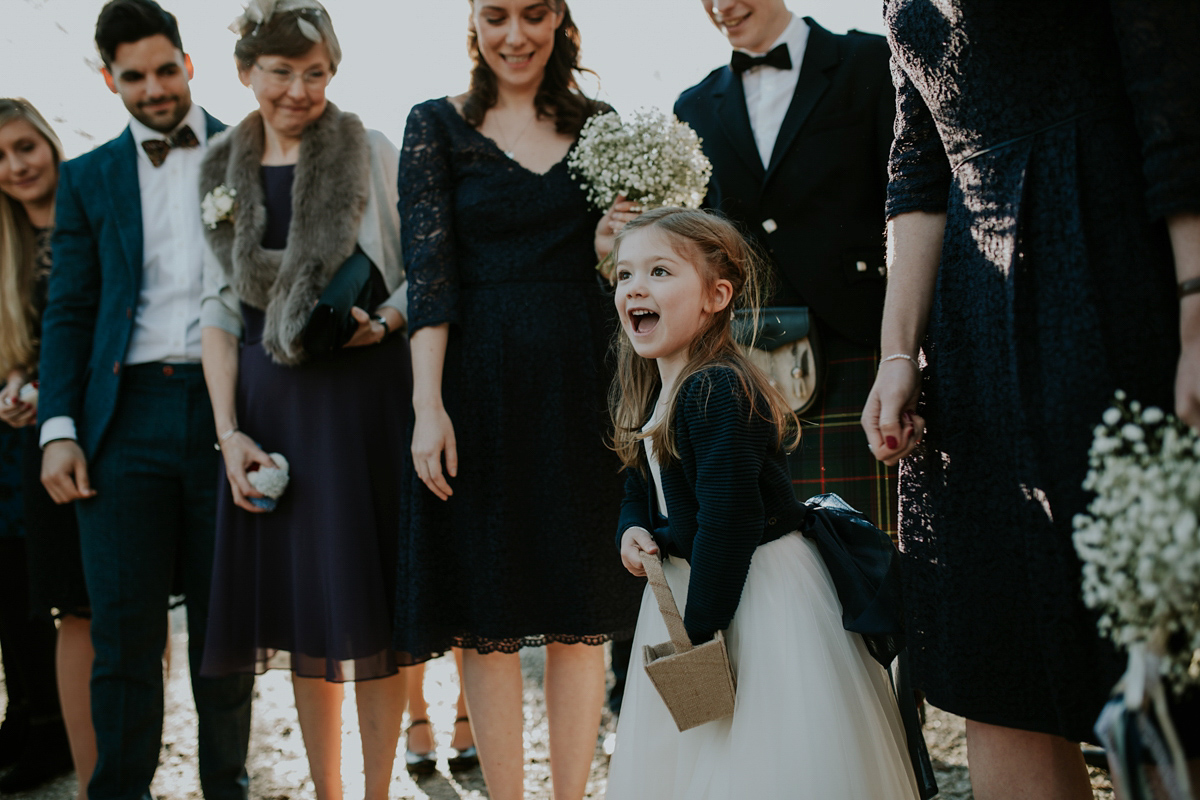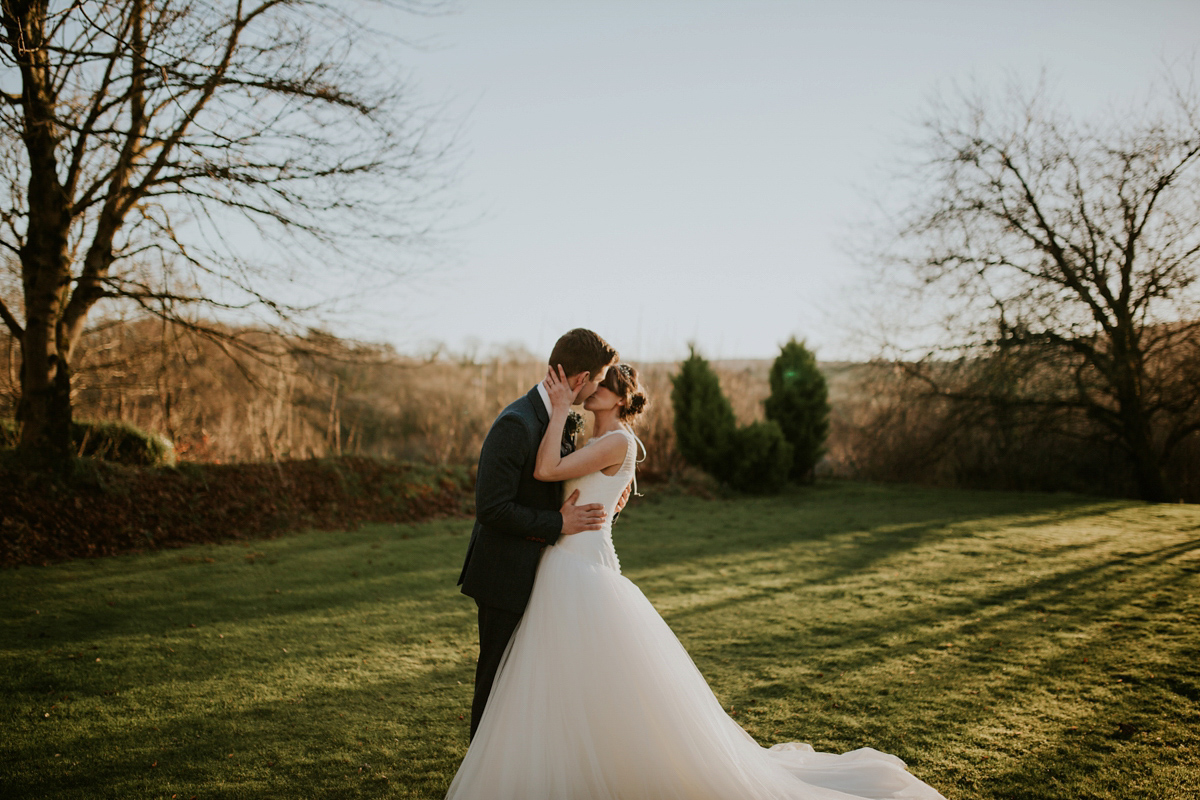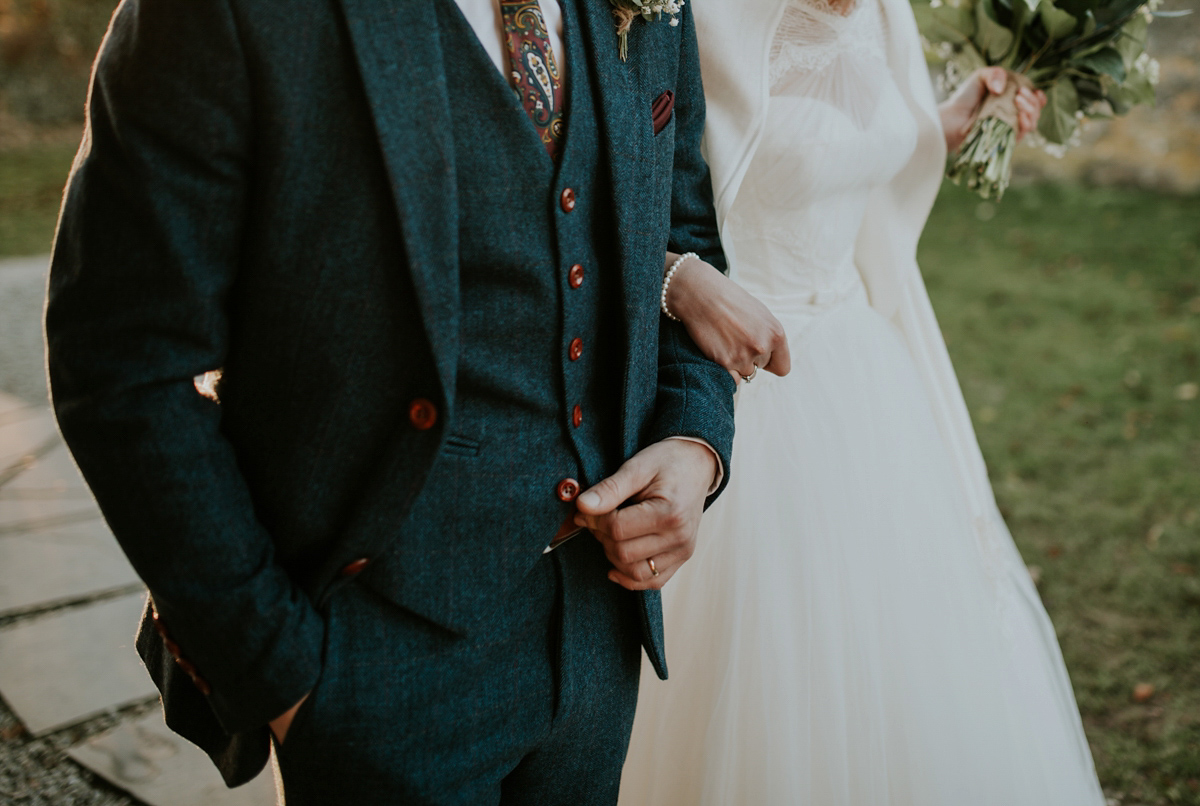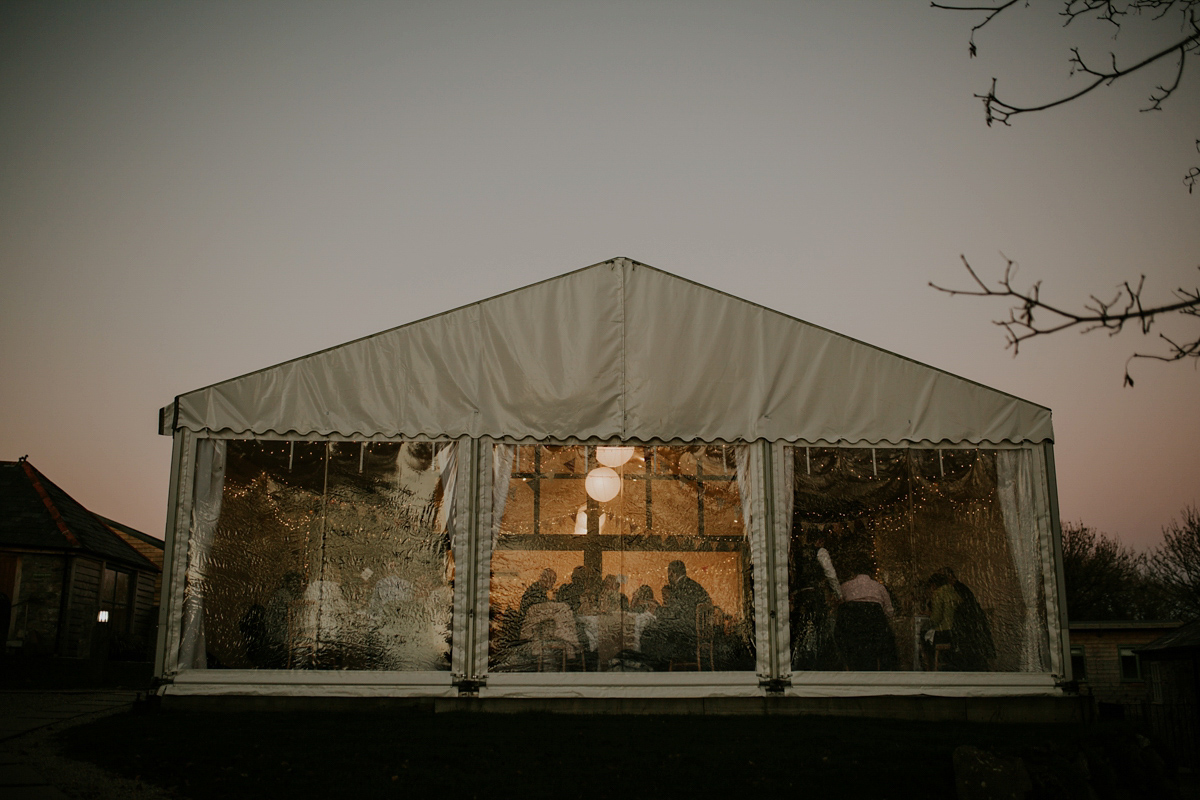 "When we got out of our car on our first visit to The Green Cornwall we knew straight away that it was where we wanted to get married.  It was beautiful and we fell in love with the setting immediately. It was really down to earth and matched what we had planned for the day."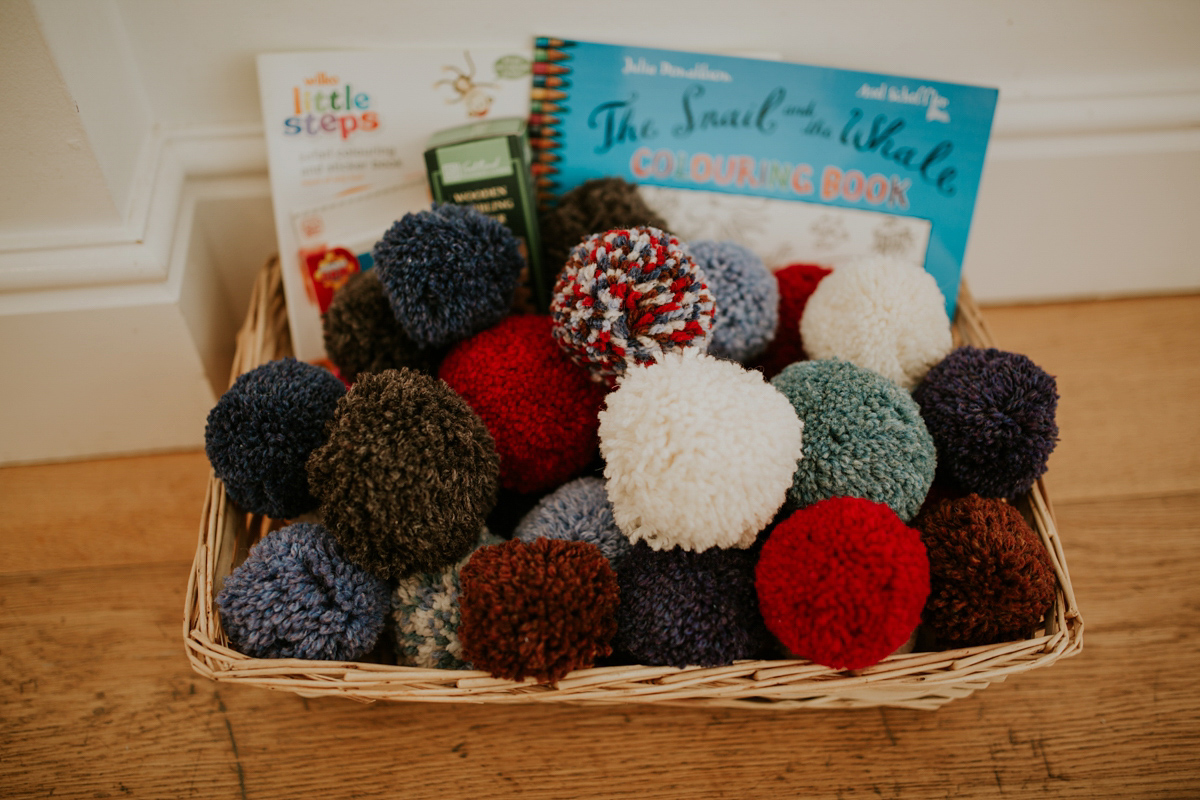 As a nod to the wood theme, guests were given acorns from Tree Seed Online in miniature jam jars as favours, to go and plant in their own gardens.
Decor was also wood themed, with wood slices on the tables and hessian table runners giving the wedding breakfast a forest air.  Stationery was hand-made by Lisa and David, using stamps from The English Stamp Company.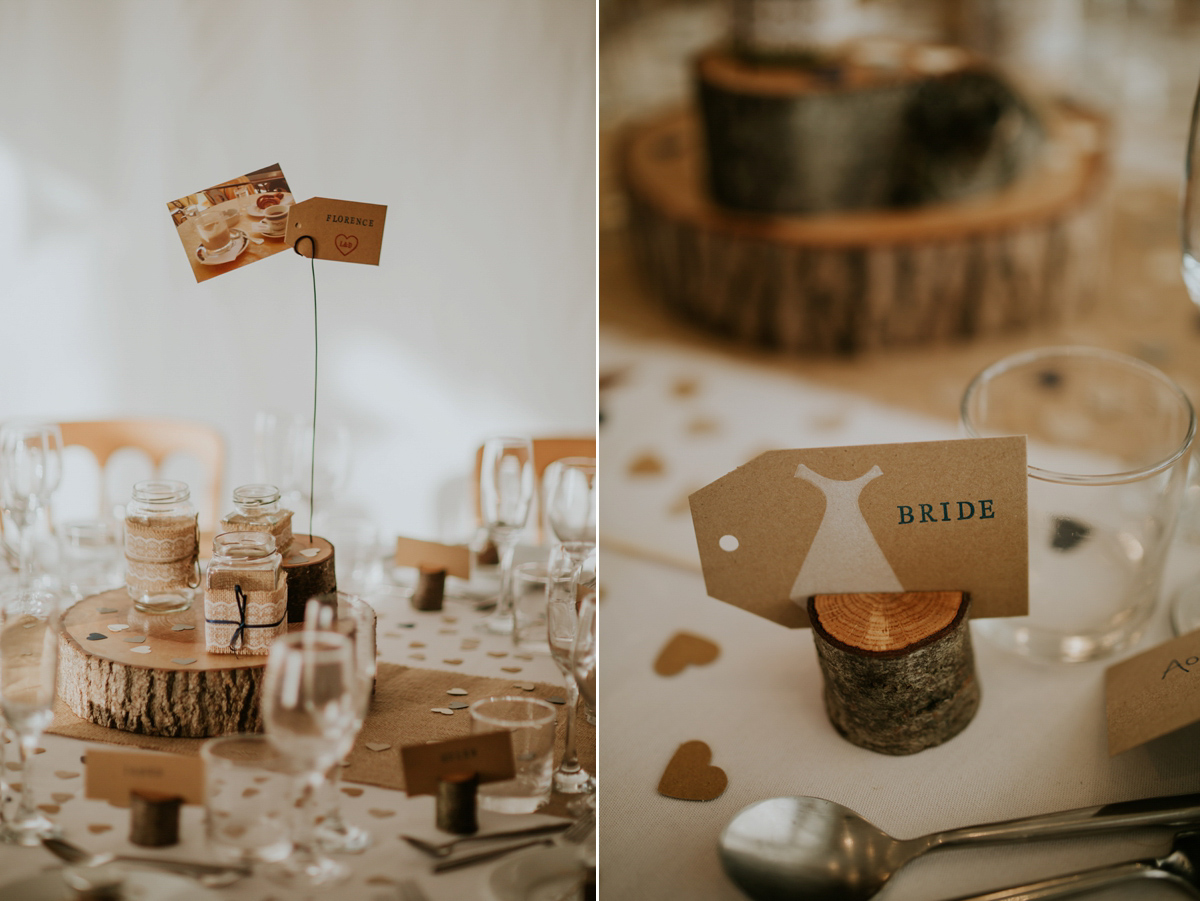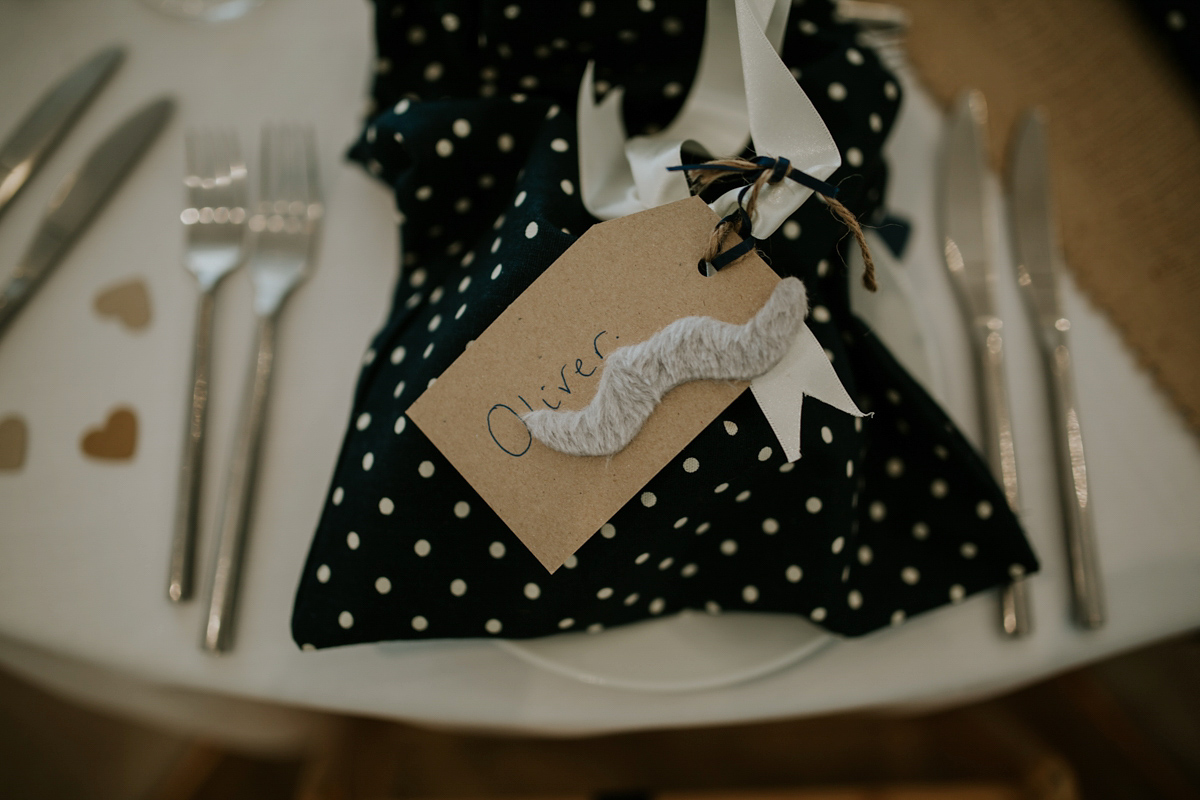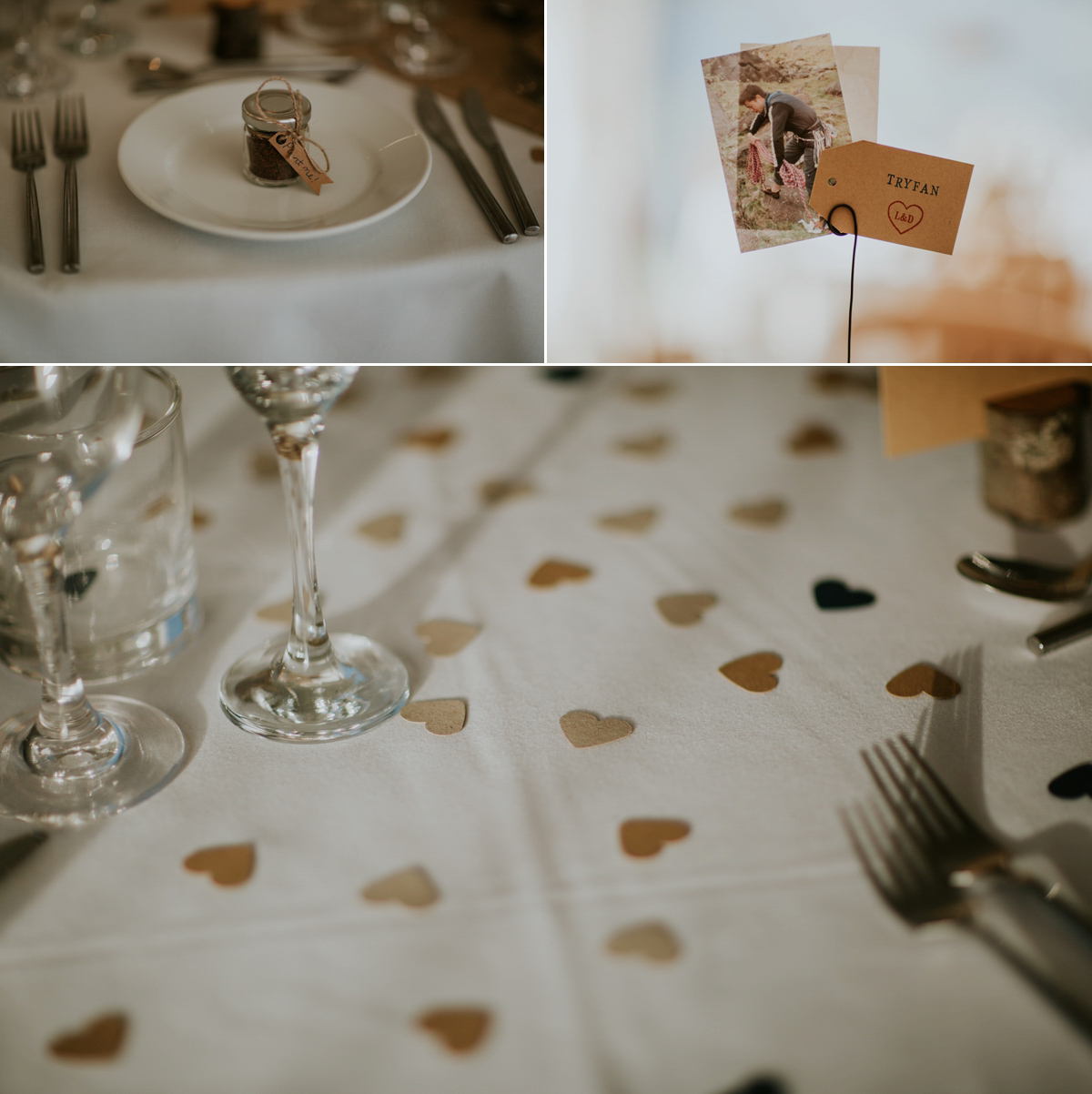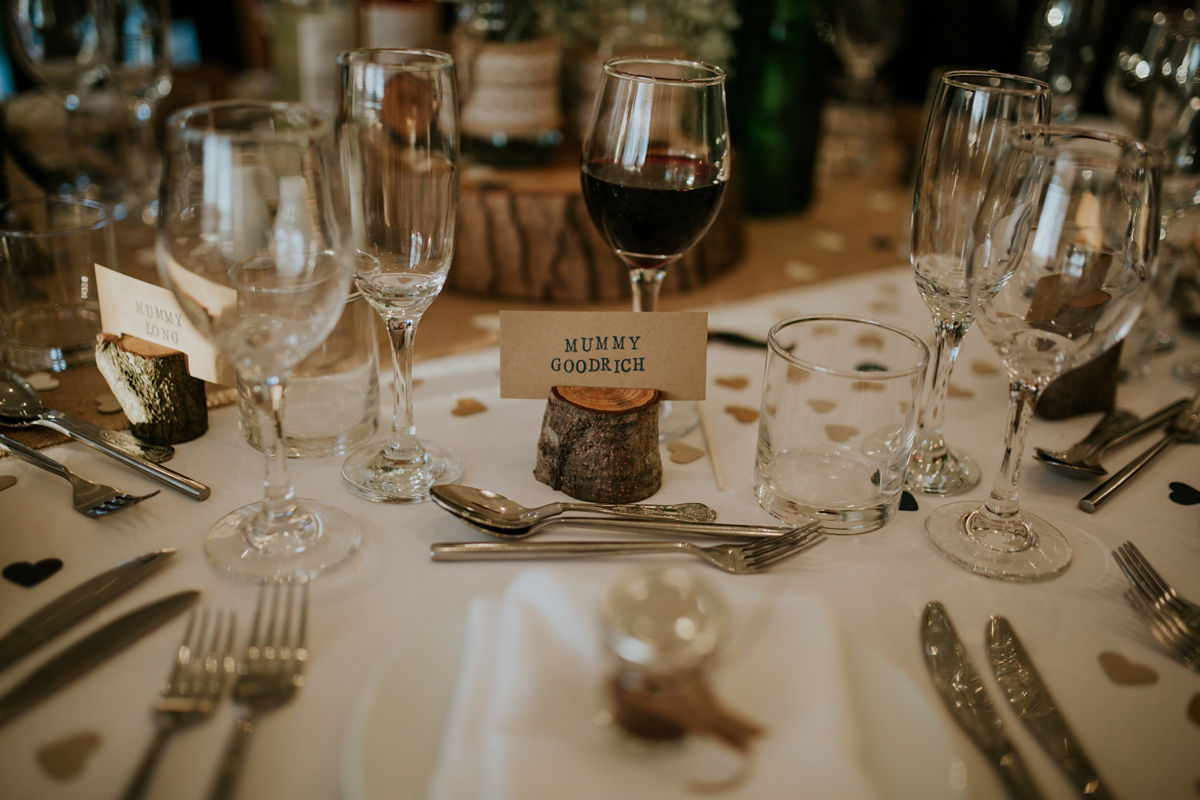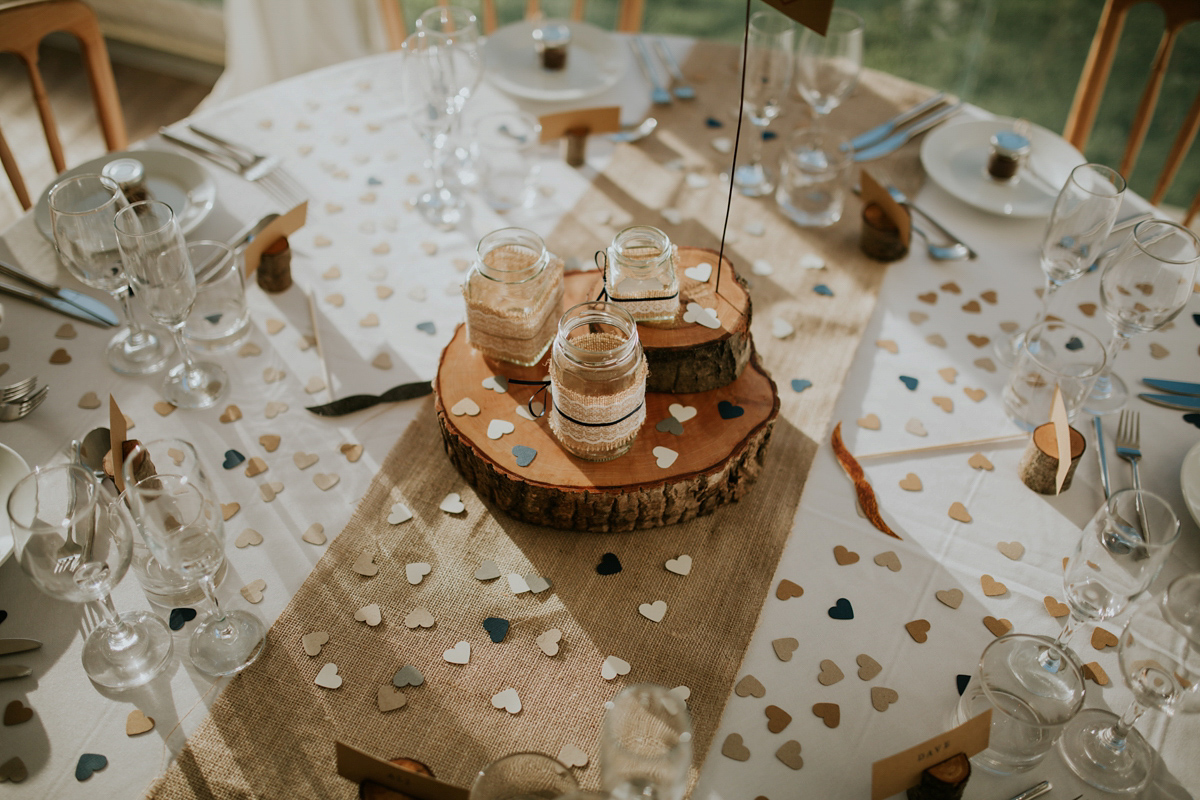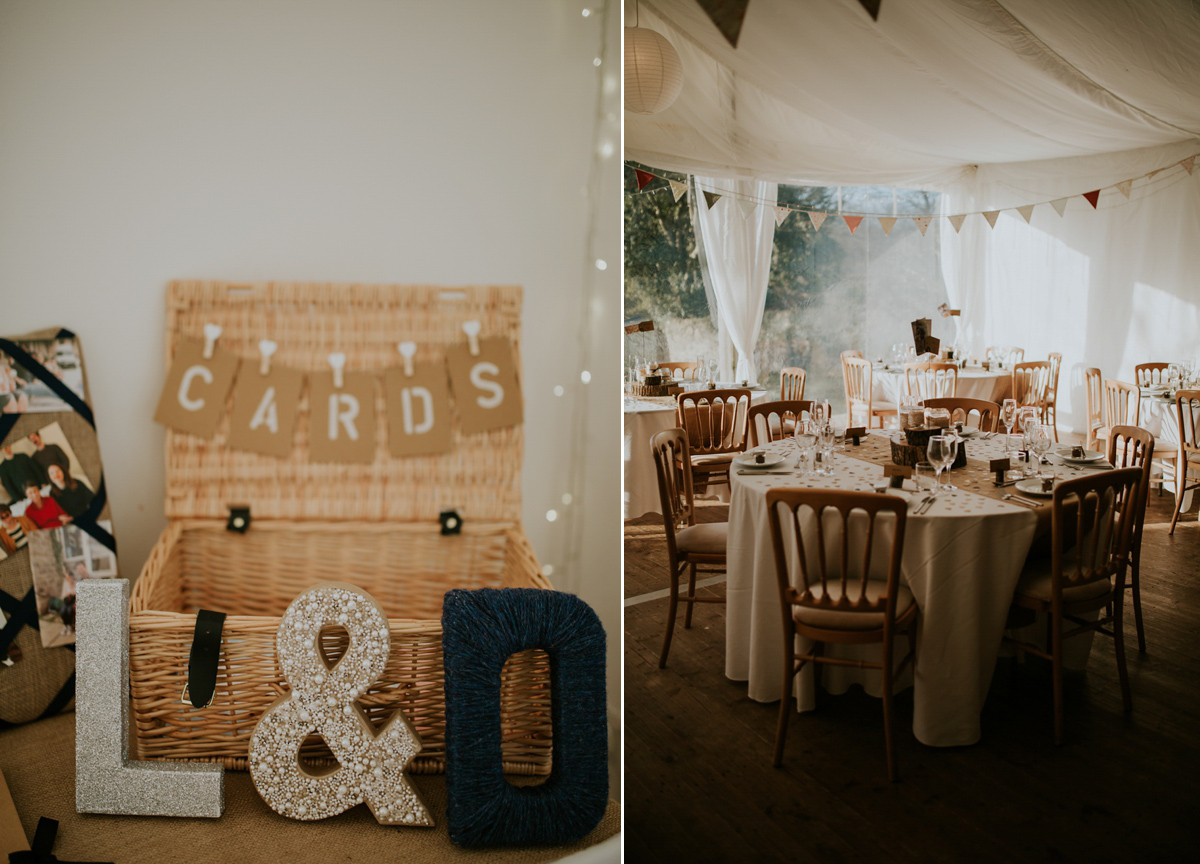 The personalised cake was the work of The Little Lark Cake Company.
"We were torn between having a classic cake or having something which was a little bit different.  We liked the idea of having the cake that represented Plymouth Hoe, a favourite place of ours and the place where we got engaged.  In the end, Emma helped us incorporate the two ideas beautifully.  From the front, we had an ivory cake with edible lace, hessian and blue ribbon to match our theme.  On the top of the cake we had a sugar Smeaton's Tower (the lighthouse from Plymouth hoe).  When we turned the cake around, the cake was iced to represent the hoe: green for the grass at the top, grey for the stone steps and sea front, and blue at the bottom with the waves of the sea."
Musical entertainment came in the form of a ceilidh, provided by the wonderfully named Splann, while the newly weds had their first dance to 'Kissing You by Des're'.
"The soundtrack from Baz Luhrmann's 'Romeo and Juliet' featured heavily throughout the wedding."
"It's very difficult to pick one favourite moment – we loved the whole day.  However, if we had to choose, I (Lisa) would pick walking down the aisle and seeing David at the front while David says the first moment he saw me in my dress. We wouldn't change anything, although we would have started making everything a bit earlier on!"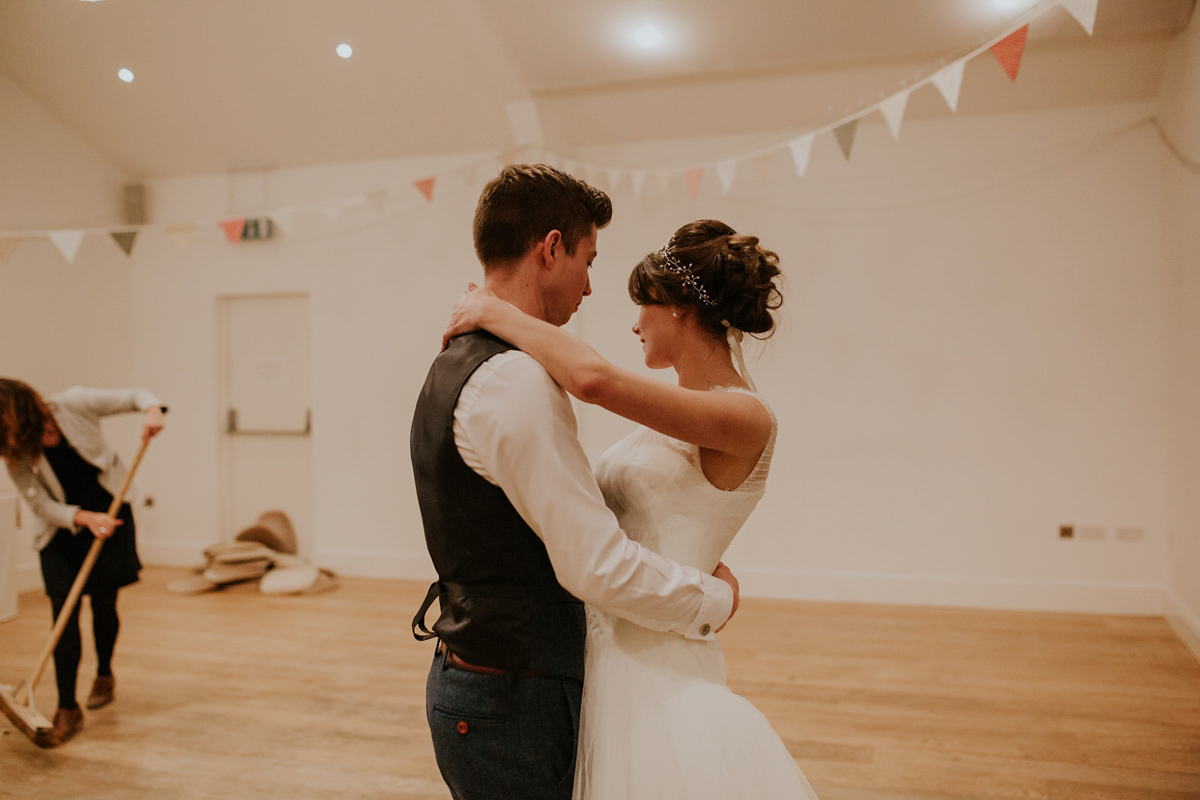 Words of Wedded Wisdom
"Firstly, take the time to organise and plan everything out in detail, then delegate.  On the day, if you have a few key people who know about the plans and can then deal with anything that arises, it means less for the bride and groom to do. We found that a time plan for the day before and day of the wedding invaluable.  Choose your bridesmaids and groomsmen carefully, as if you want to involve them this way they need to be dependable, you must trust them to act on your behalf and involve them in the planning quite early on so that they know enough to act on your behalf on the day."
"Secondly, everyone told us that the day goes really quickly and is over before you know it. The best thing we did was to actually take some time away from the wedding as a couple, to just sit and chat, reflect on the day and unwind. We had a solid hour in the evening where we left the dancing to grab a bite to eat and relax together, before going back to the party.  It made a real difference."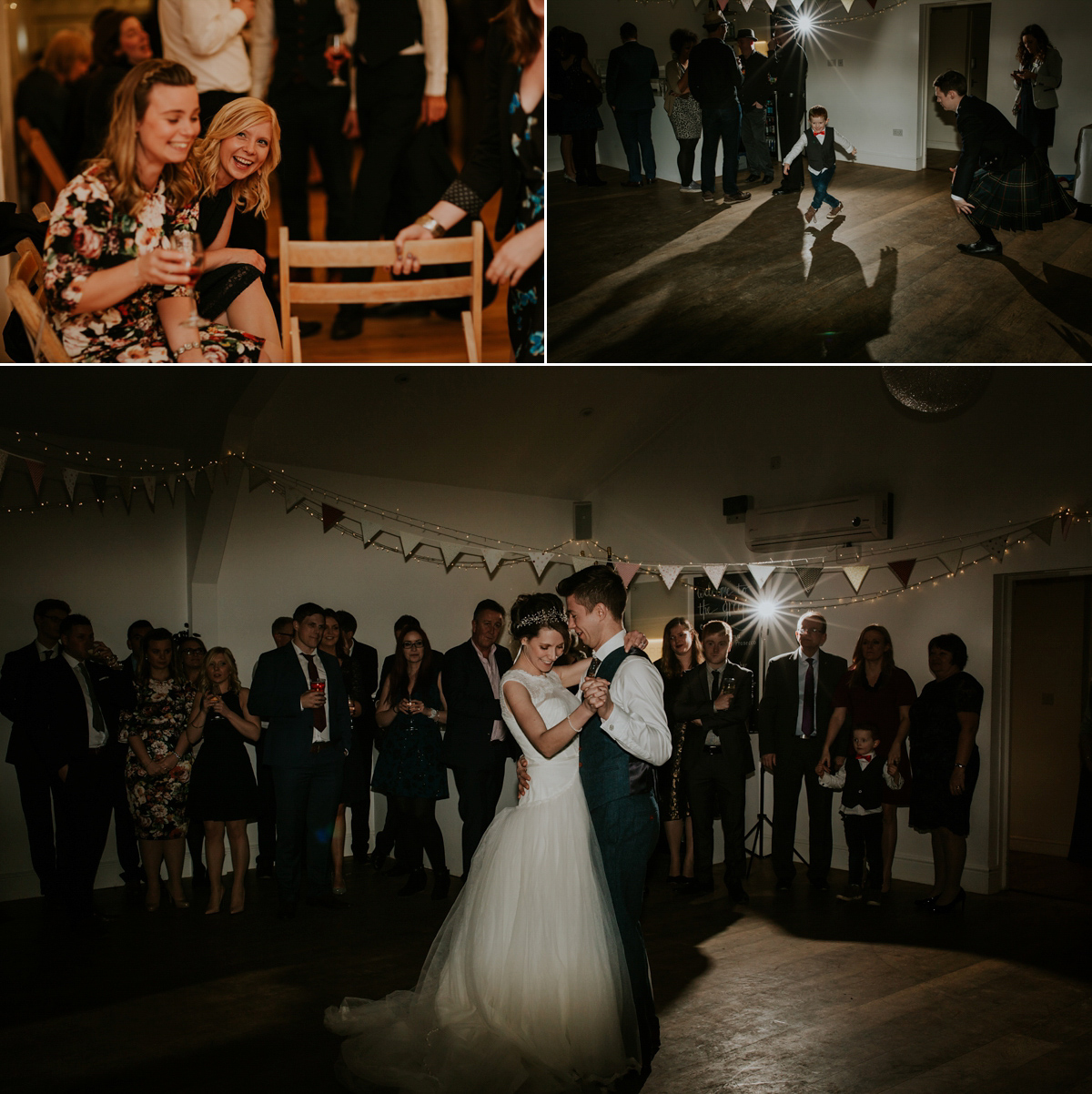 Huge thanks to Lisa and David for sharing this beautiful wintery day.  Many thanks also to Jo of Enchanted Brides Photography for sharing her work.  For some more gorgeous Cornish weddings, take a peek here.
Much love,
S x