It's my absolute pleasure to be sharing this gorgeous wedding with you all today. The bride Laura is part of our closed Facebook community of brides and I also follow her professional work as a seamstress on Instagram, so it's wonderful to see her wedding to marketing manager Sam in all its glory.
The couple said their vows at St Michael's Church in Newhaven on the 22nd of October 2016 and held their reception at Newhaven Fort which is such a cool venue tucked into a hill on the south coast. The bride made her own, totally stunning dress and Shelby Ellis took these delightful images.
"Autumn is our favourite season, I love autumnal colours and the cosiness of the season so I've always wanted to get married in the Autumn. We're both very laid back so we knew we wanted a really casual and relaxed day. We had a small budget of £5k, but as we have a lot of family and friends, we ended up with over 120 guests so had to really rely on the help of family and friends to help us stretch our budget as far as we could. It was a very DIY wedding." 
Photography by Shelby Ellis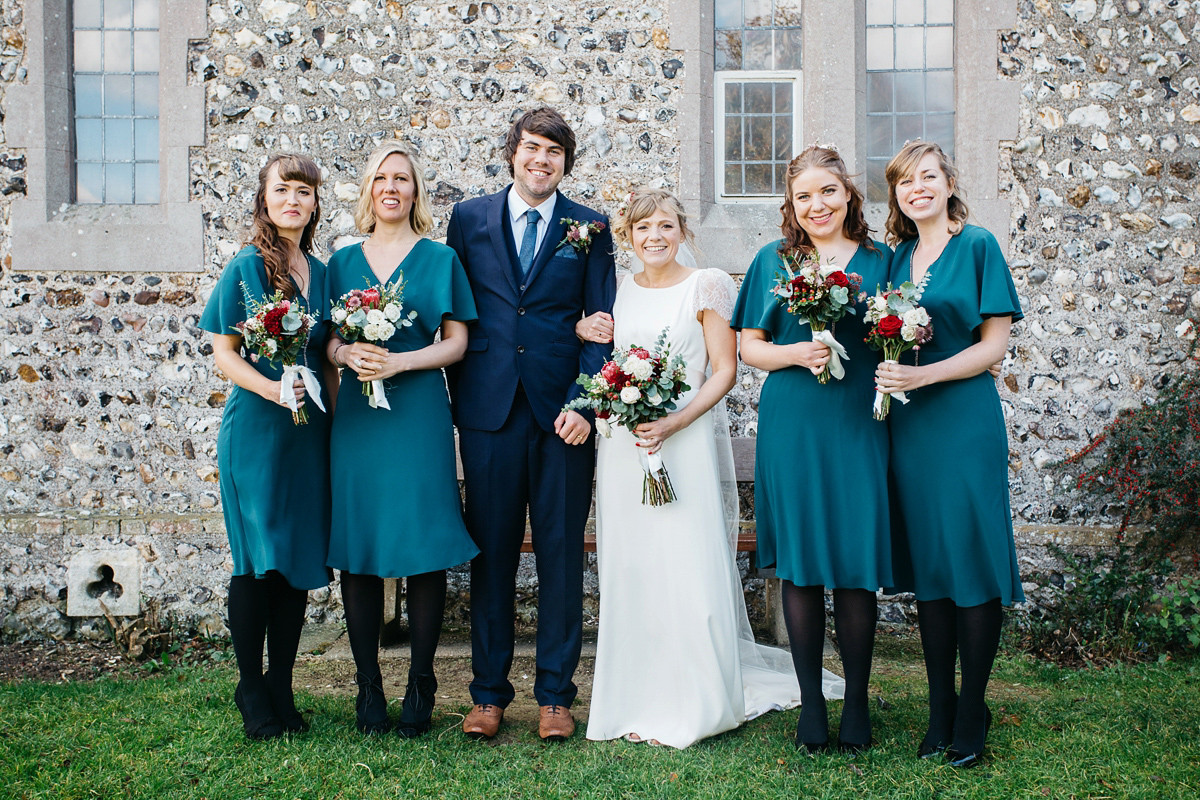 Laura and Sam chose Shelby Ellis to photograph their wedding and the images are beautiful. I love the shot of Sam smiling when he sees Laura for the first time and after the ceremony it's hard to find one where the newlyweds aren't grinning from ear to ear.
"Shelby was a last minute booking. We were going to ask family and friends to take photos but after putting in so much time and money we realised that we actually did want to make sure we had photos to remember everything. It was the best decision ever, Shelby is amazing and we love our photos so much."
"Laura looks absolutely stunning in her dress. As a self employed seamstress under the name Laura Jones Alterations, it made sense for her to make her own dress and it certainly paid off. The dress is simple and understated with beautiful detailing and suits her perfectly."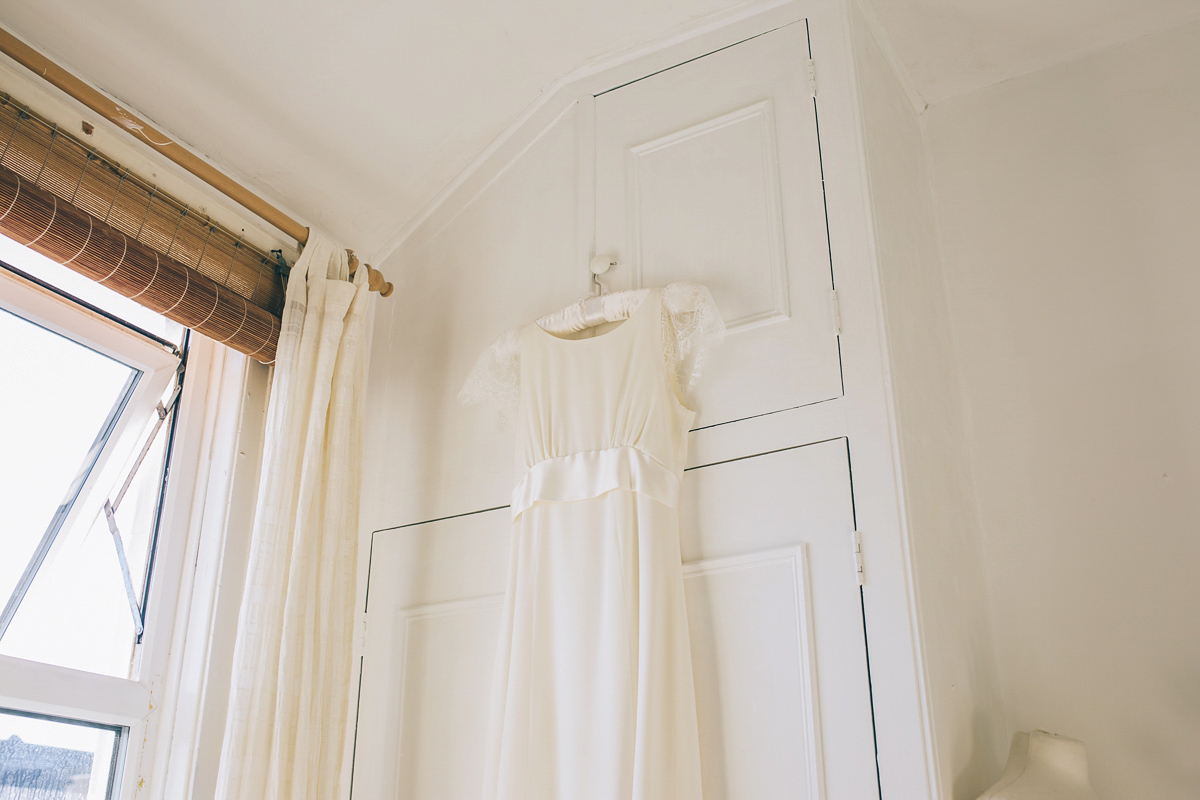 "I've always loved making clothes so I knew I would make my own dress. I wanted something simple and comfortable, I bought gorgeous drapey satin back silk crepe on a shopping trip to Goldhawk Road, the lace sleeves were a last minute change, I was waiting for the lace to arrive four days before the wedding!"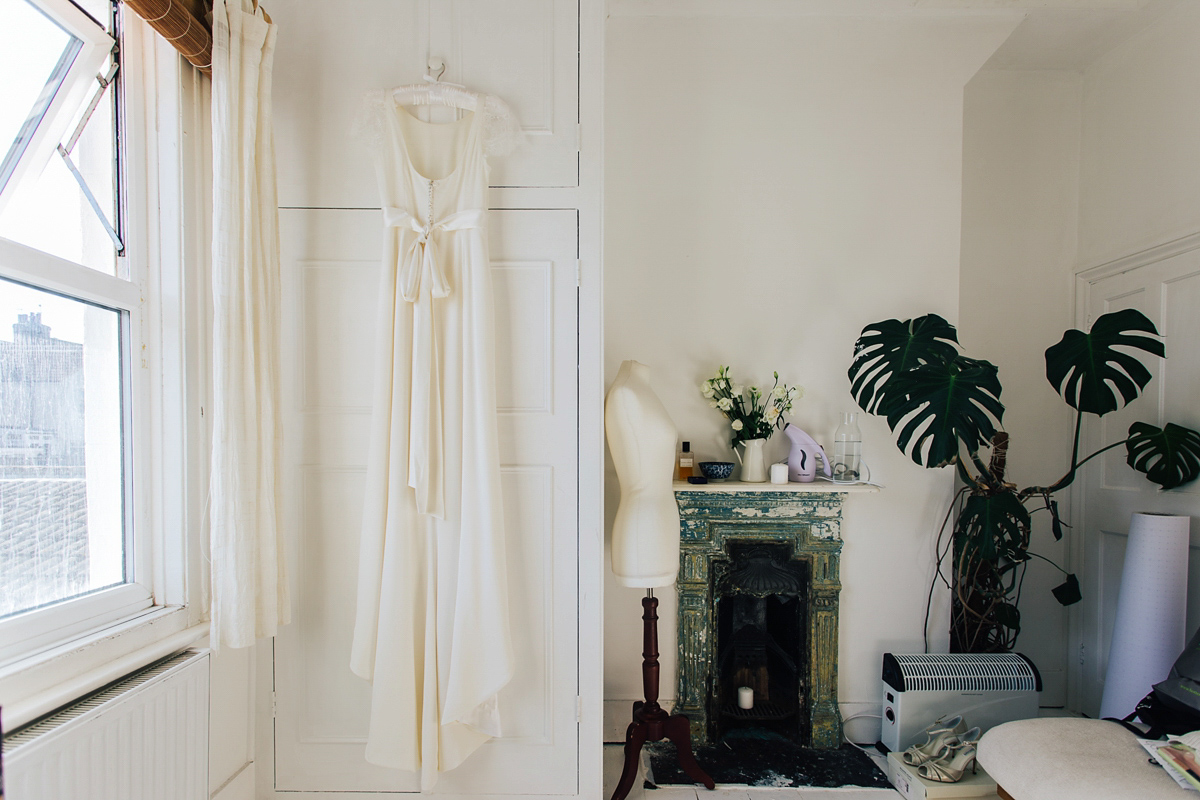 "I fell in love with my Benjamin Adams shoes after seeing a post about them on the Love My Dress® Facebook group. I added flowers leftover from making the bouquets to my hair. I didn't wear any other jewellery, except plain diamante studs from Accessorize."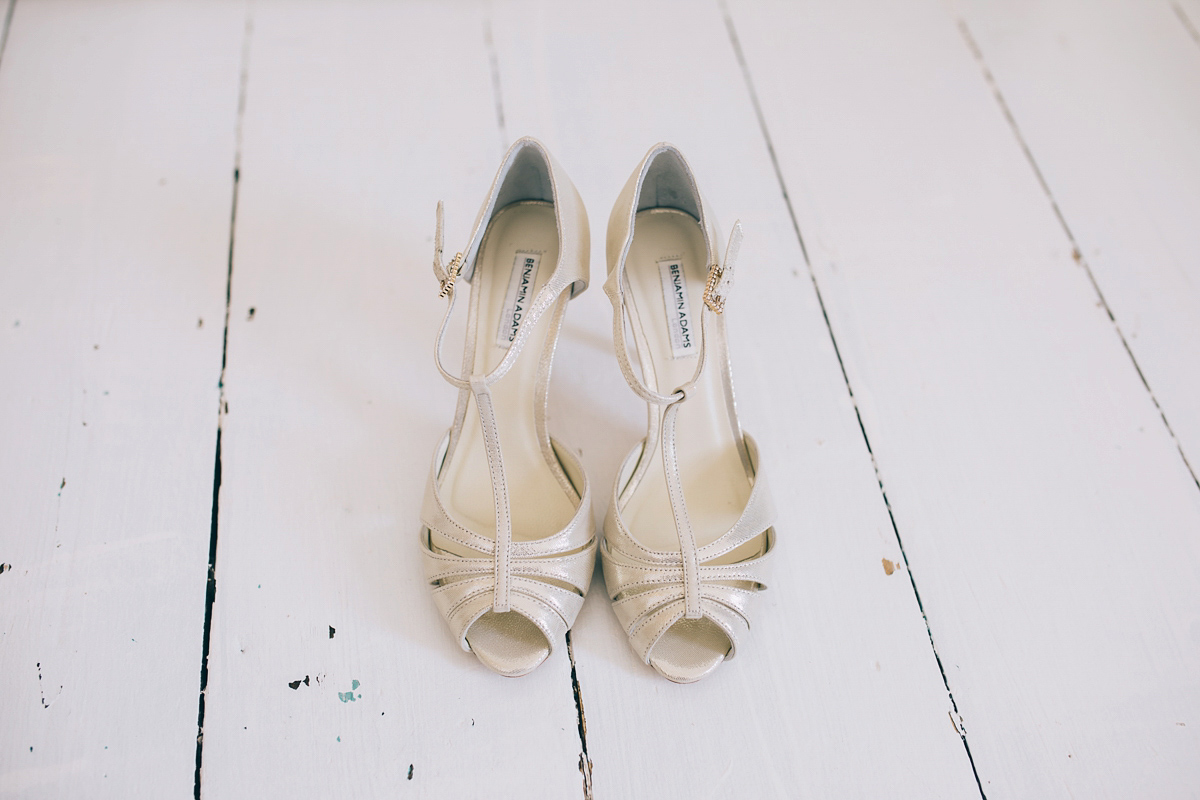 "My amazing bridesmaid Chrissie did my make-up for me and Sam's dad's partner Sarah is a brilliant hairdresser. She did all of our hair as a wedding present."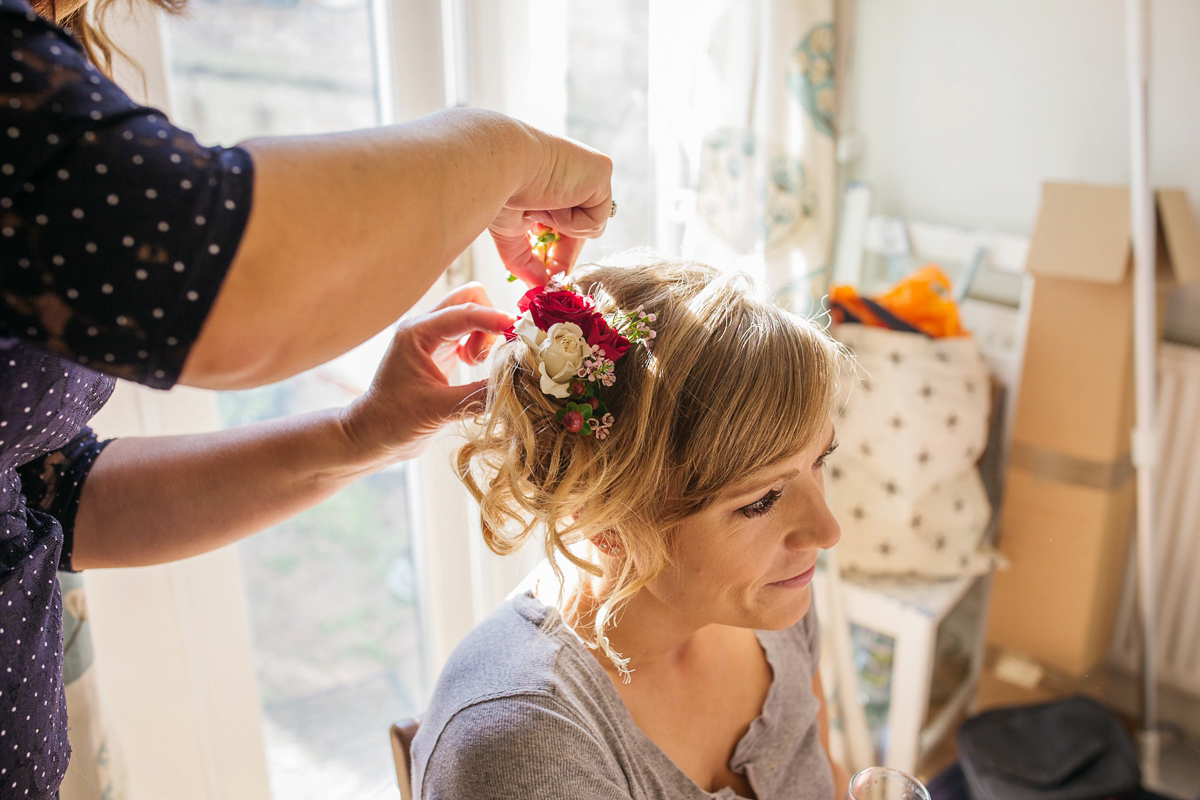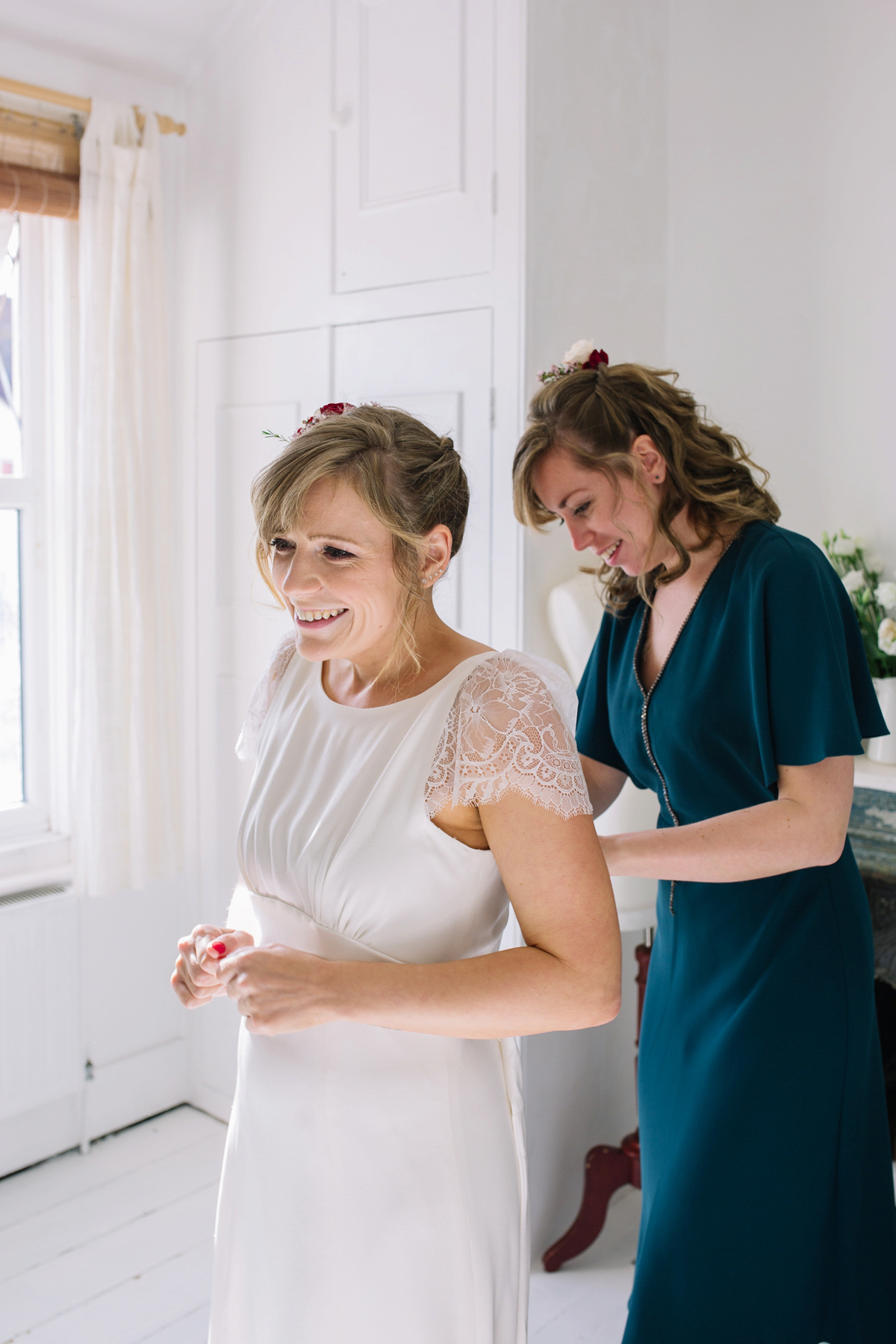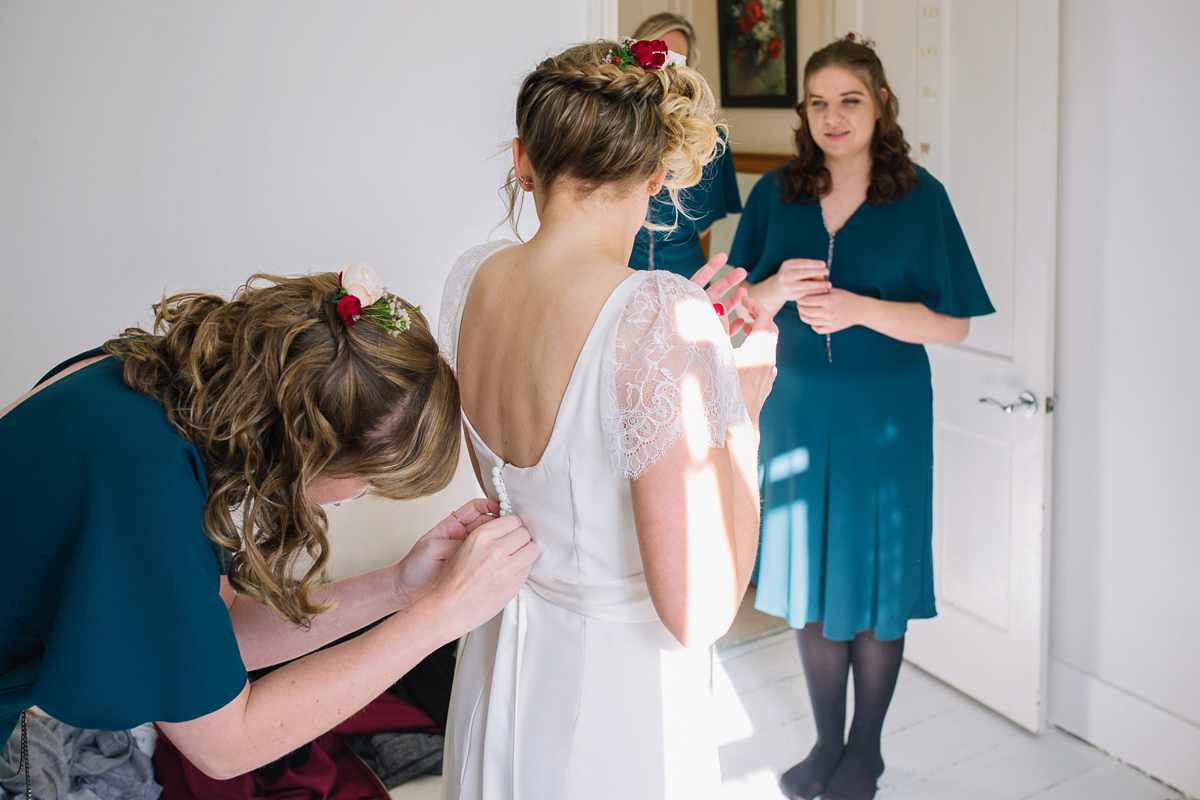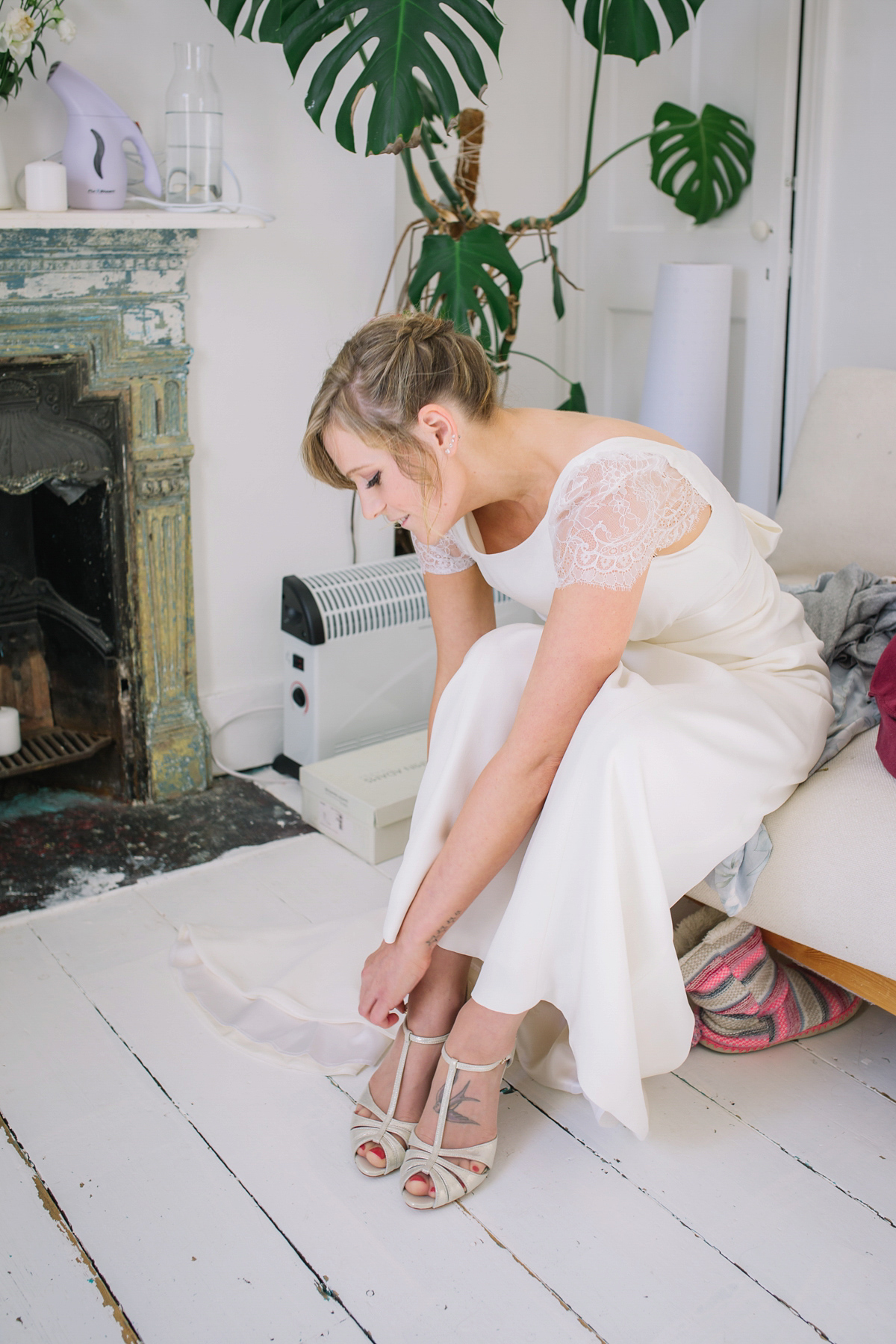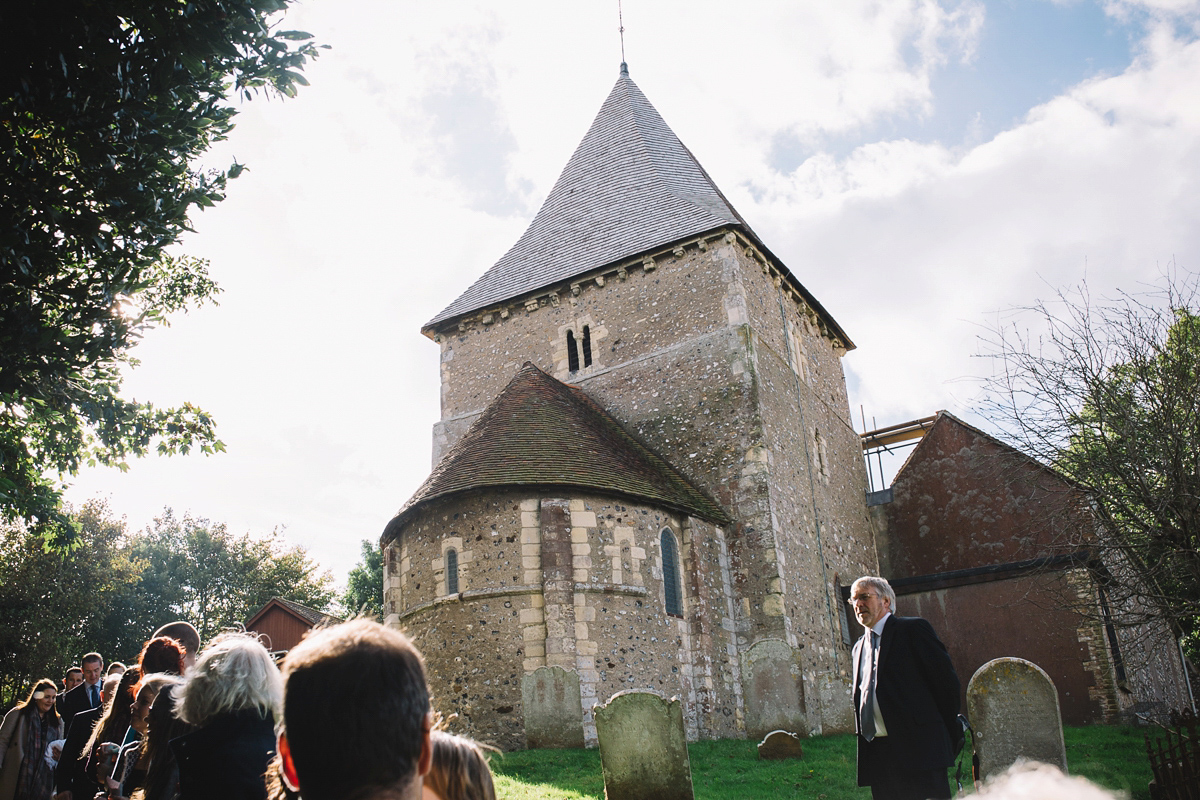 "We met on my 31st birthday in a club in Cardiff. At the time I lived in London, and Sam in Brighton, and we were both in Cardiff visiting friends. We were both just having a fun night dancing and joking around and didn't plan on ever seeing each other again, but we took a photo on Sam's phone of the four of us, and the next day we internet stalked them, found him on Facebook, and contacted him to ask for the photo!"
"We started messaging and the rest is history. We got engaged on a family holiday in France after a lovely meal, just the two of us. Sam got down on one knee in the car park afterwards which doesn't sound very romantic but it was very low key and exactly what I wanted. We got married just over a year later."
Laura's mum Jane walked her down the aisle to a piece of classical music she had chosen for her daughter.
"My mum loves classical music so we let her choose the music for the church. Sam's aunt Lisa read a short poem, and my aunt Gillian Allnutt read a bible reading. Gillian is a poet and won the Queen's gold medal for poetry this year, her reading was amazing the whole congregation was in raptures! I'm very proud of her and it was lovely for her to be able to do the reading for us."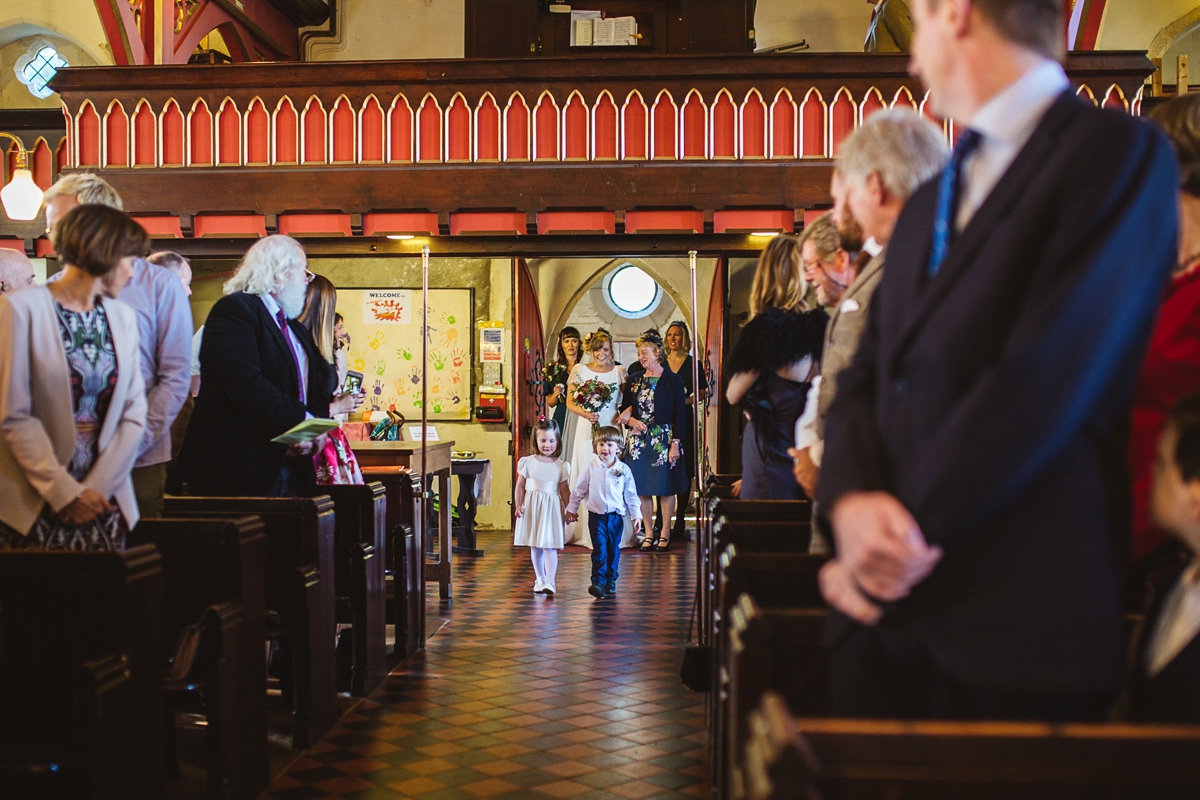 "We had our ceremony at our local church, St Michael's in Newhaven. Sam's family for generations have had their weddings, christenings and funerals there so it was lovely to get married somewhere with so much family history. The reception was at Newhaven Fort – an old fort, now a museum, on the cliff edge above Newhaven. We knew we didn't want a traditional 'weddingy' venue and the fort was perfect, we didn't even consider any other venue. It's such an interesting place with the cliffs, and tunnels for people to explore."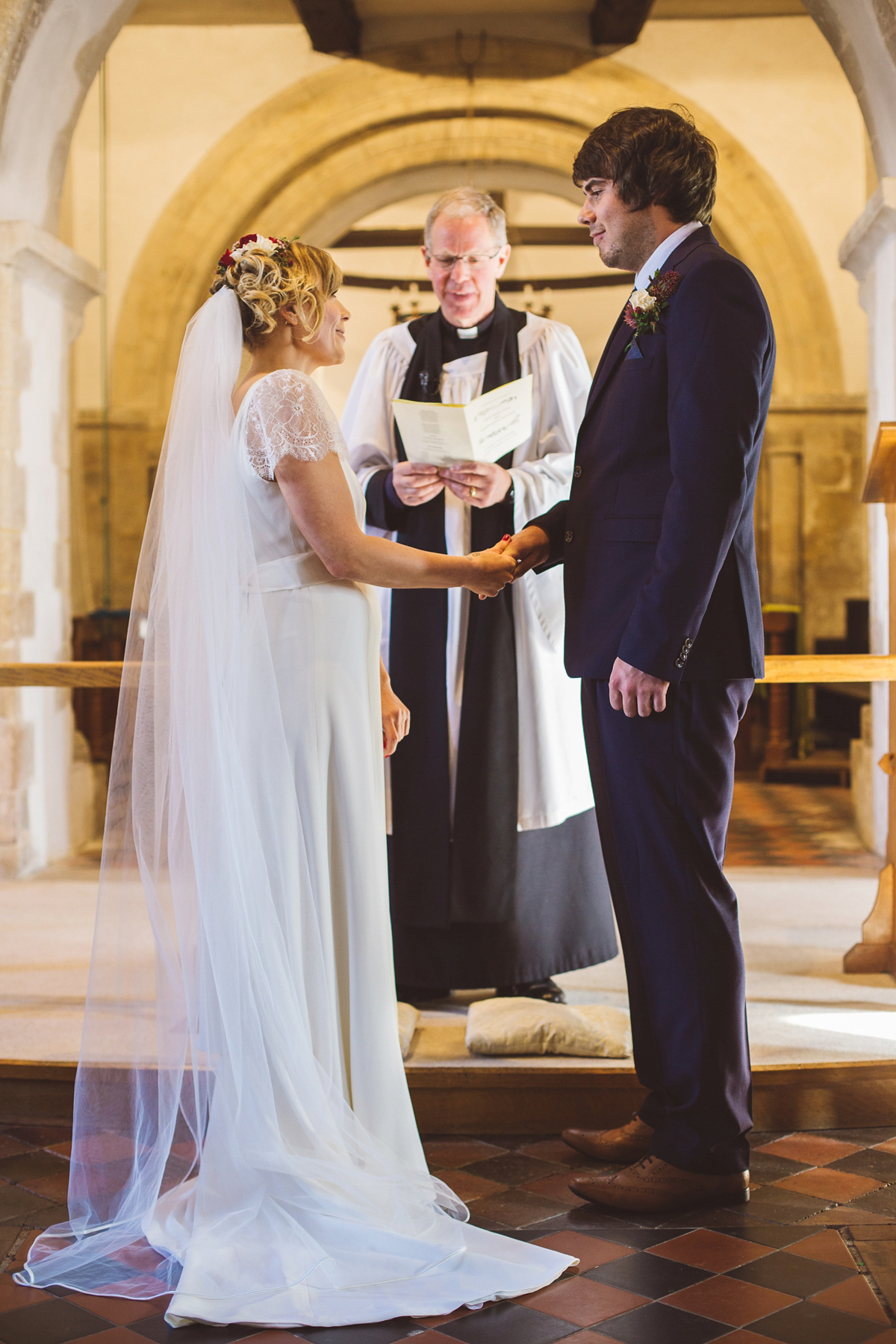 "We bought our rings secondhand from a little shop in the Brighton Lanes. We both wanted very simple and traditional, yellow gold bands."
"The ceremony was my favourite part, reading our vows to each other. I'd been so stressed about organising everything and suddenly it was here and we were properly getting married and I could relax knowing the only thing we had to do now was to have fun."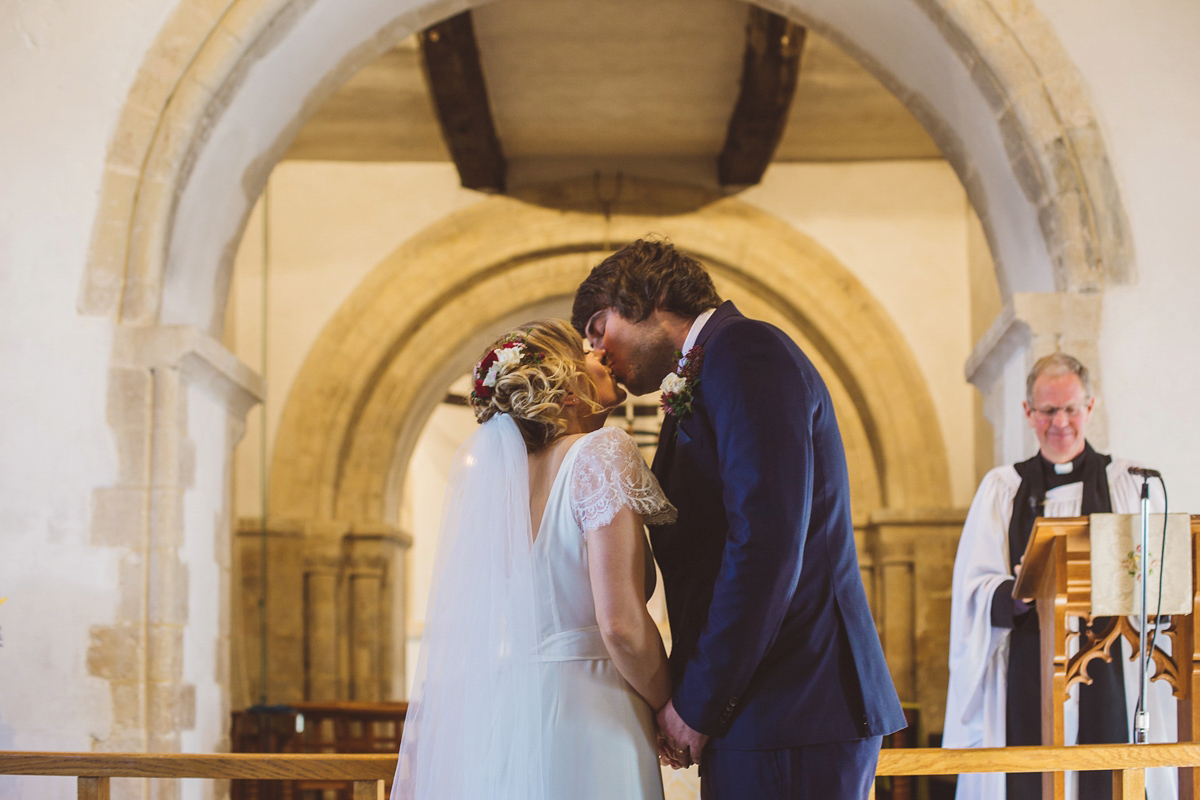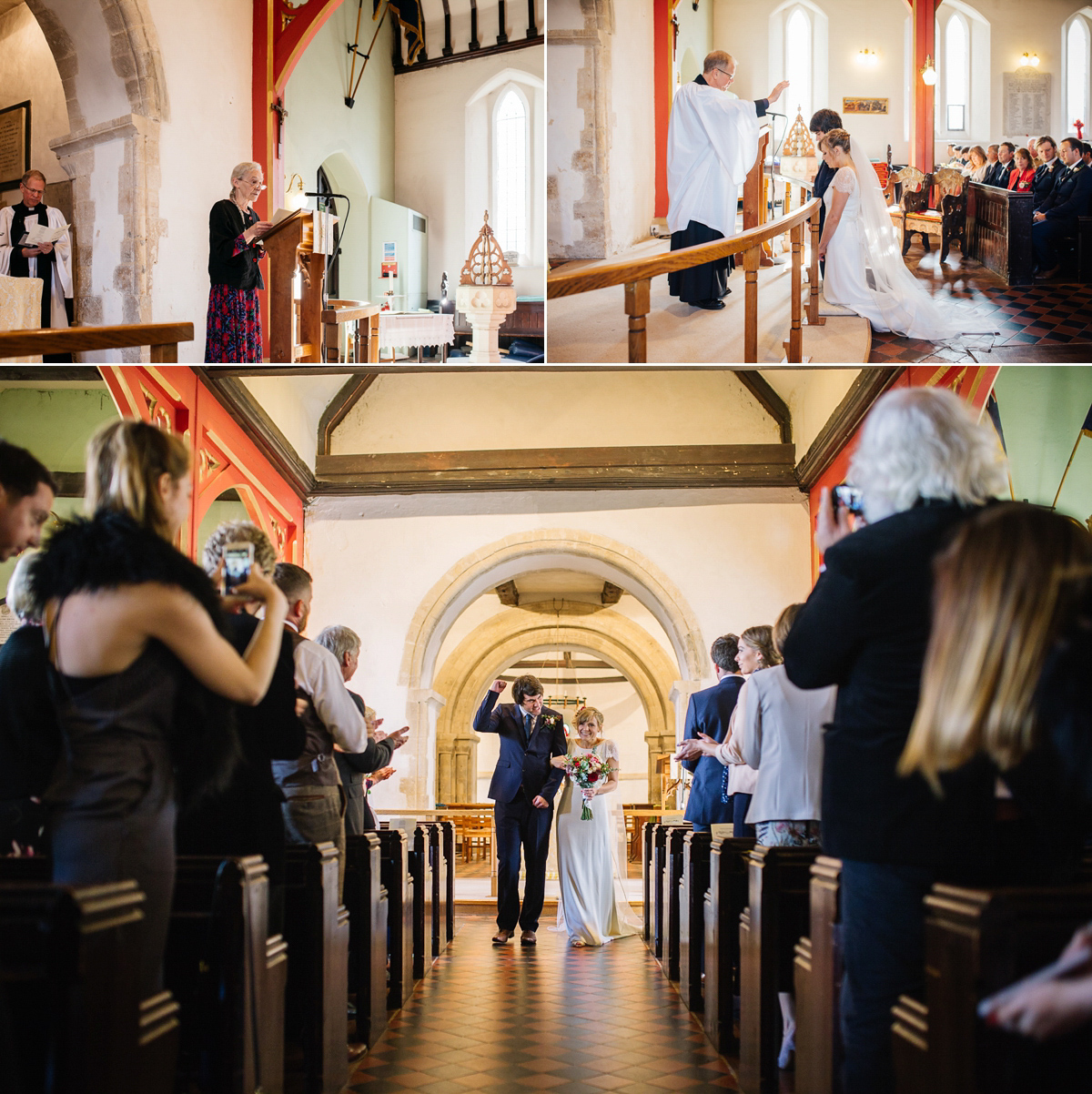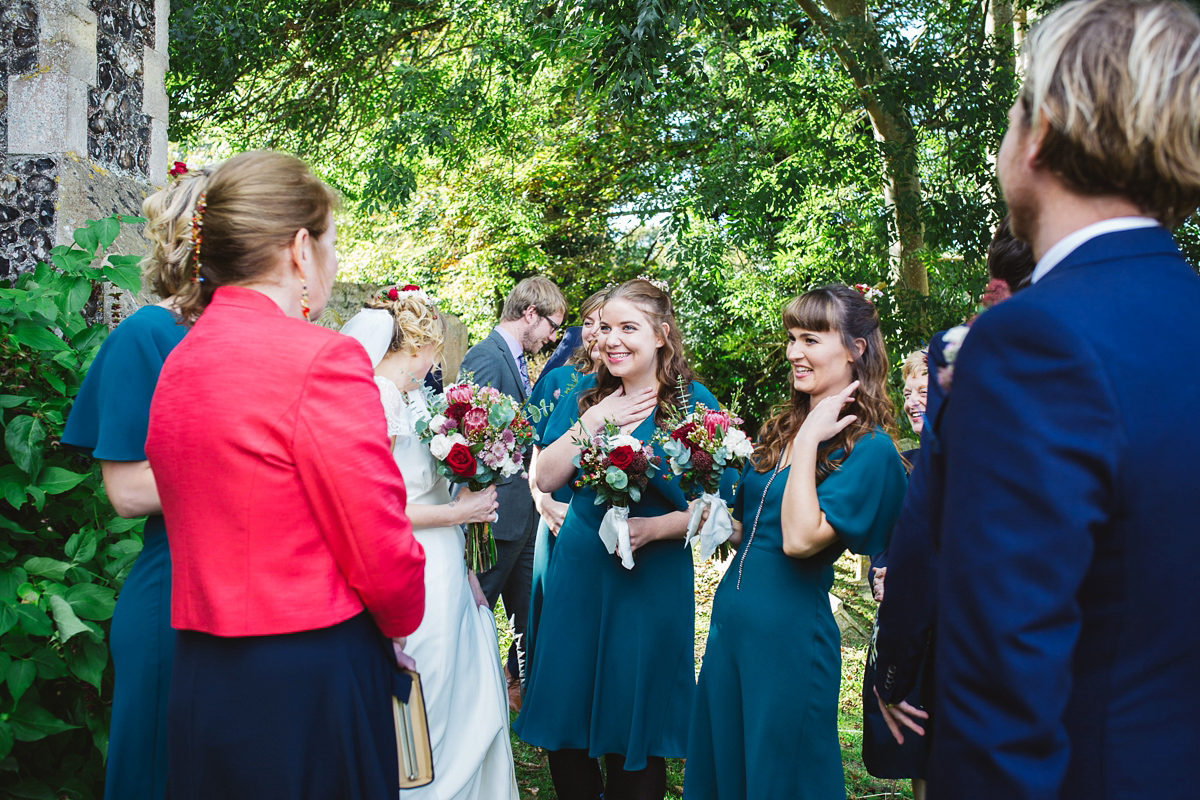 One of Laura's first purchases were the gorgeous bridesmaids dresses from Warehouse. The ladies all wore black tights and shoes with flowers in their hair, while the flower girls dress was made from the same fabric as the bride's dress.
"I loved the dark green colour and the simple shape, I knew it would be flattering to all my girls. My bridesmaids were my two best friends from uni, and Sam's two sisters. My sister gave birth the week before, so sadly she wasn't able to make the wedding. It was such a stressful few weeks in the lead up."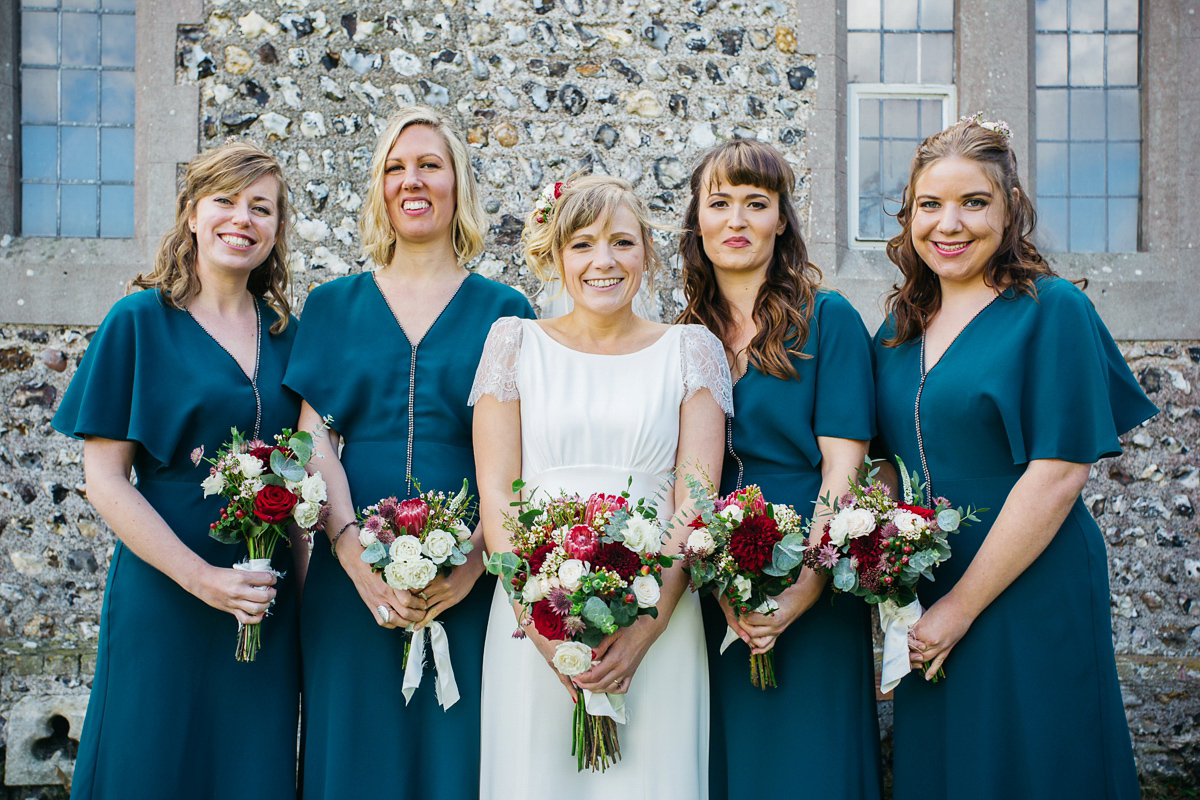 The couple decided to save money by doing the flowers themselves so off Laura went with her mum, at the crack of dawn, to New Covent Garden Flower Market two days before the wedding.
"We spent £200 on the flowers and had so much leftover. I really wanted autumnal colours, lots of dark reds with cream and a lot of greenery. The main flowers in our bouquets were big proteas, with lots of green foliage – eucalyptus and little lilac waxflowers with some ivory and red roses. Me and my mum worked all day making the bouquets and the buttonholes while watching cheesy wedding movies, it was great."
"Sam, his five best men and his dad all got their suits and ties from Burton. They were such a bargain – if you bought the suit you got the shoes for free, and if you bought five suits you got another one free. We saved a lot of money thanks to that."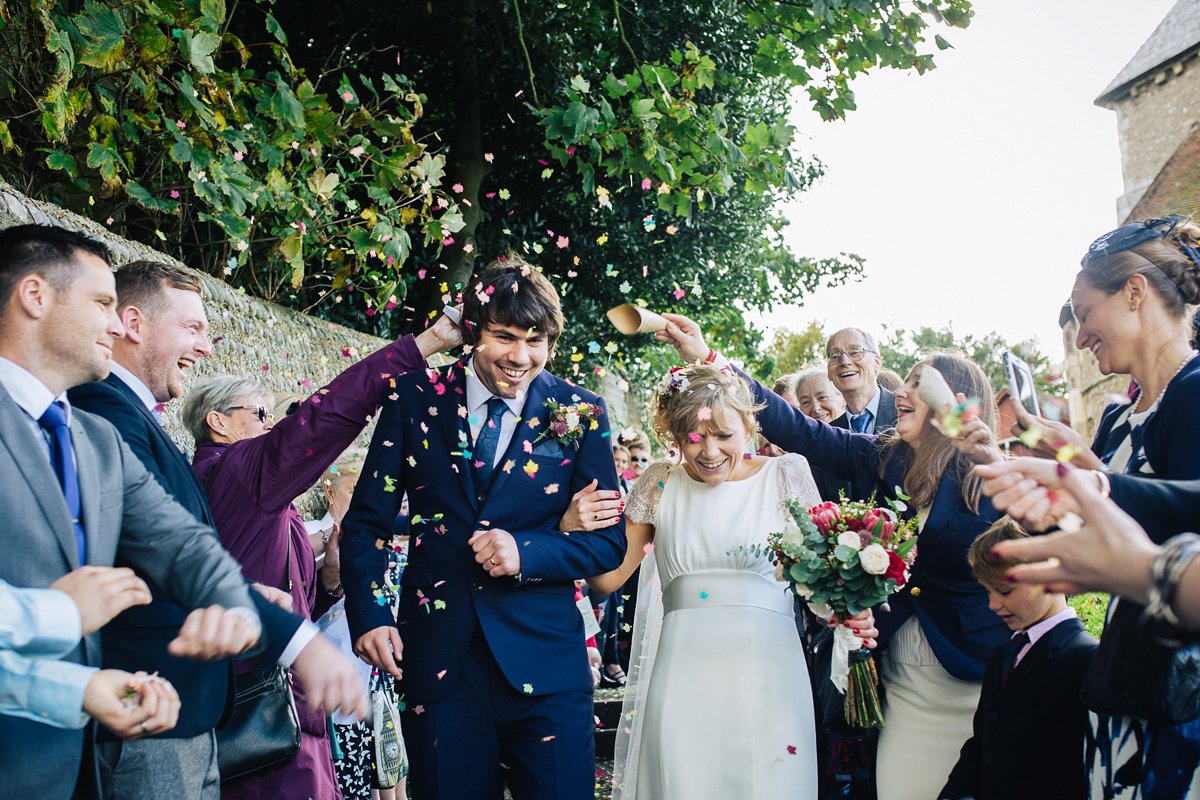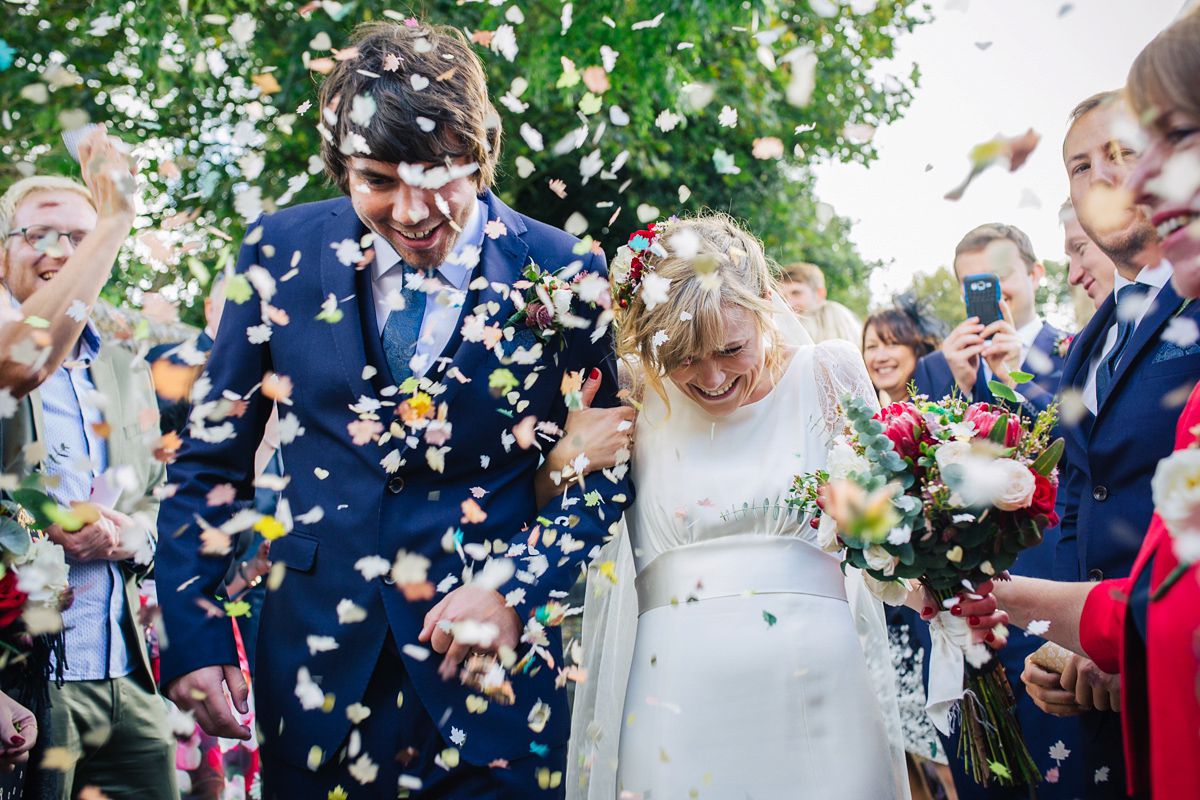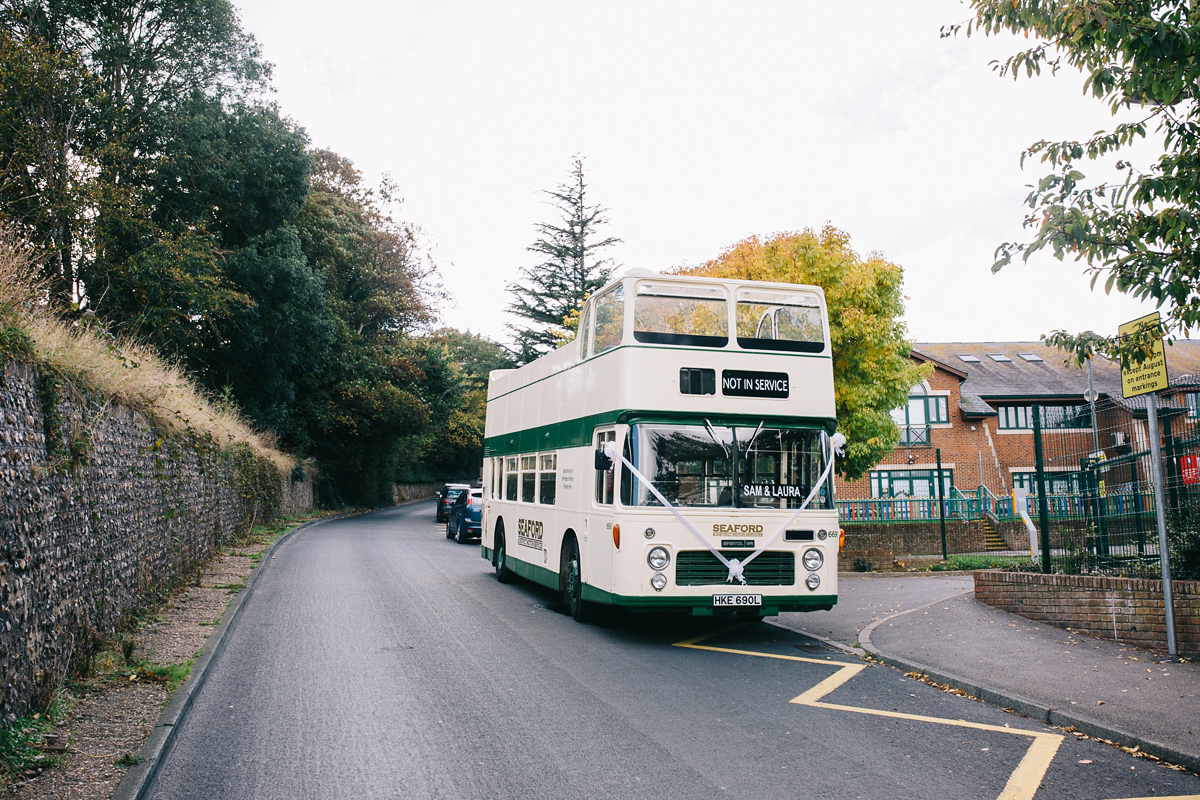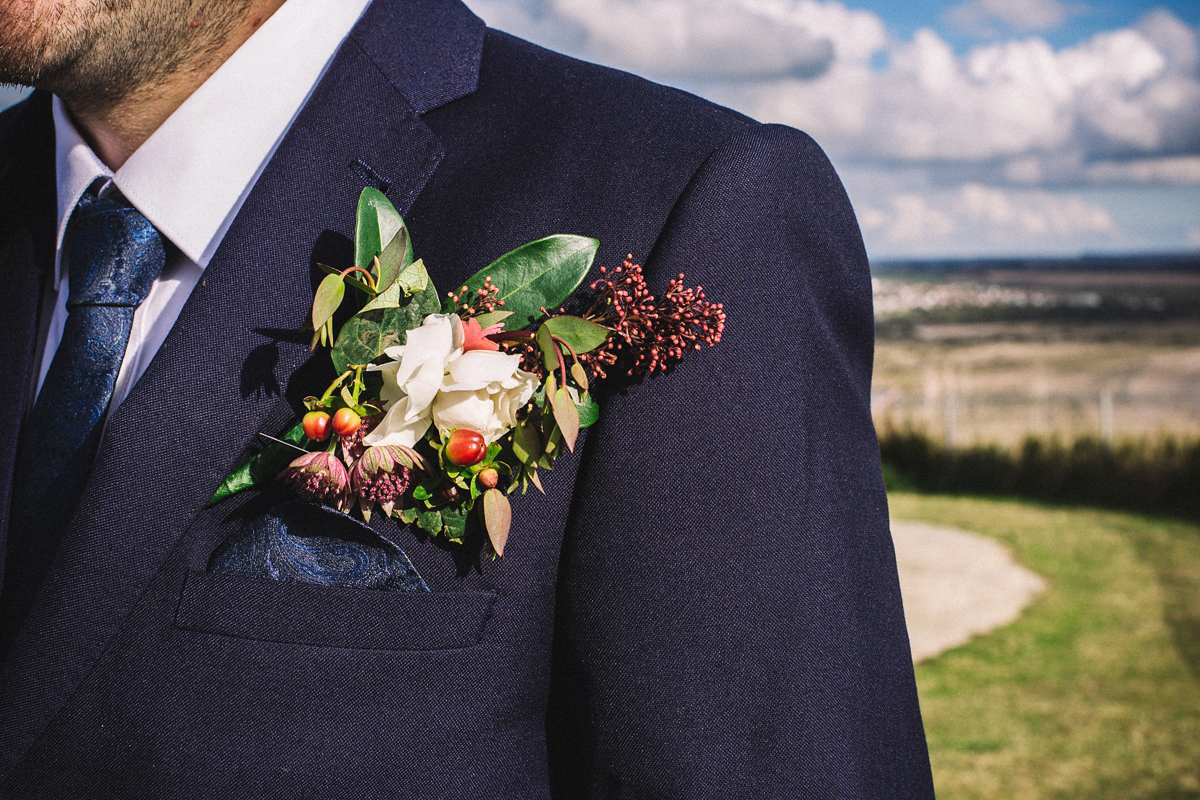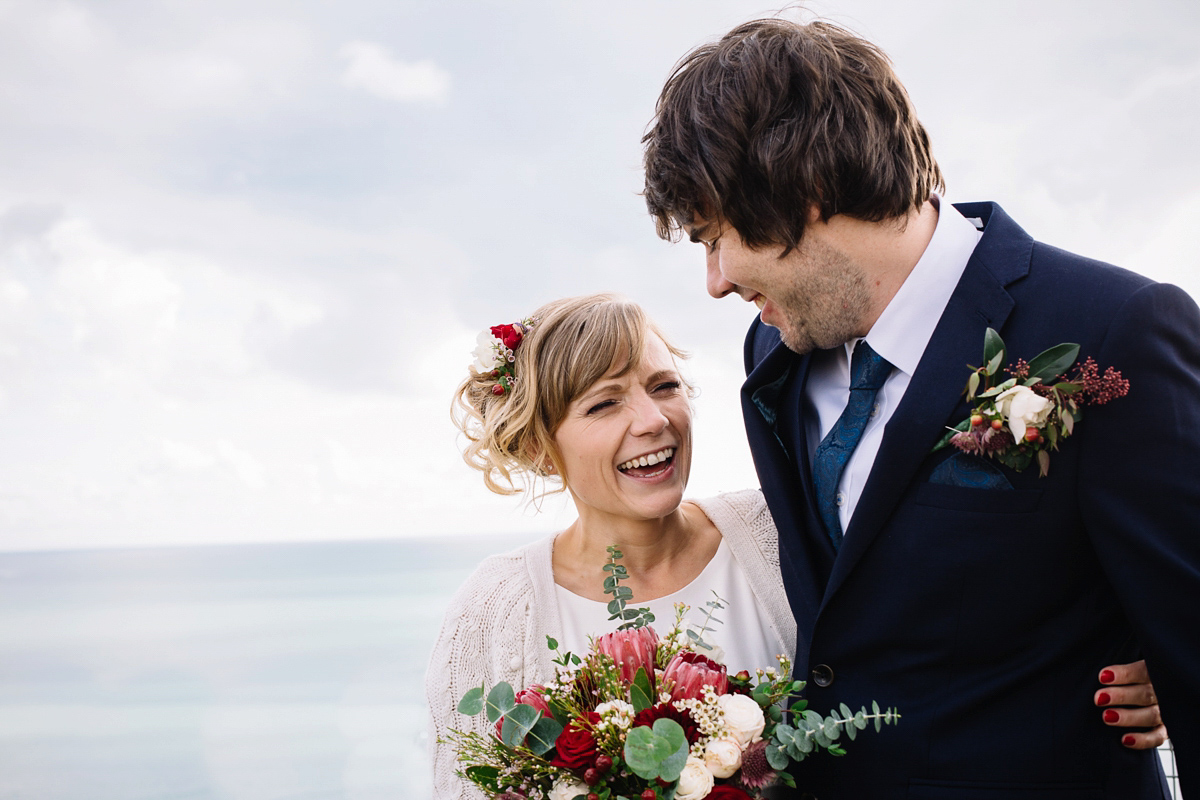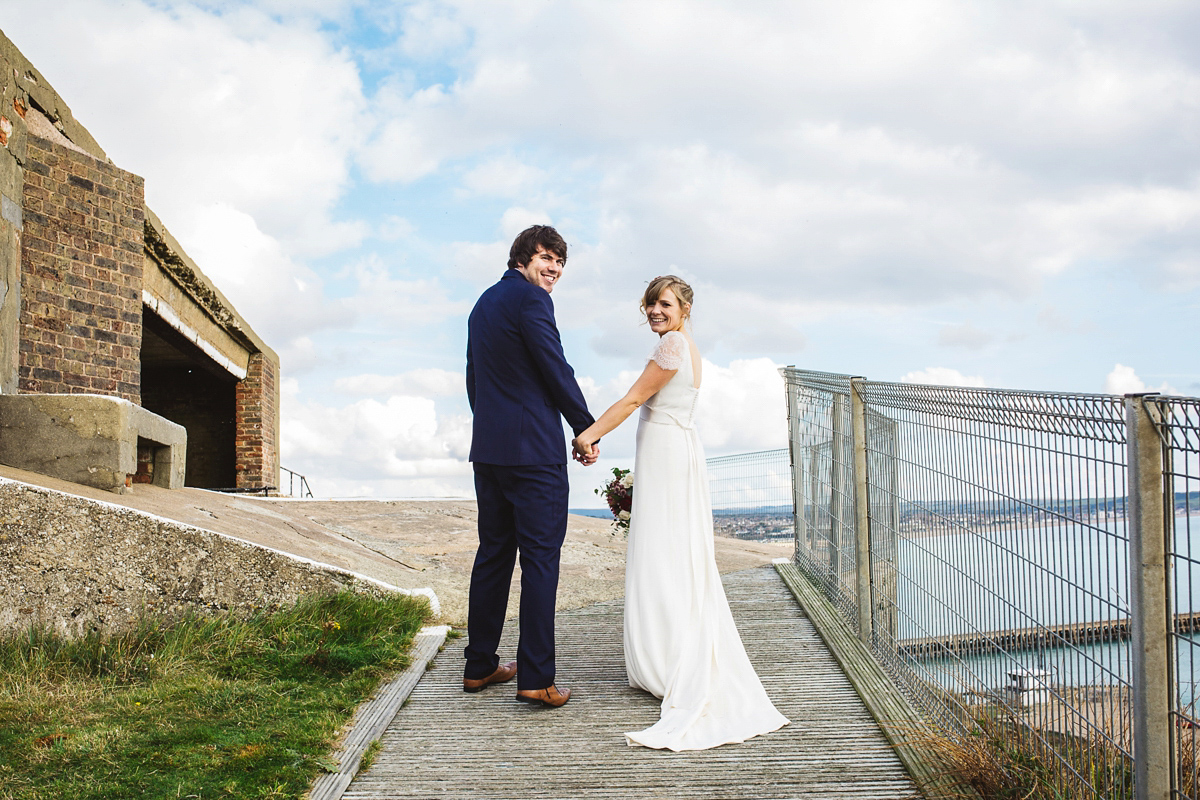 "The Romney Hut at Newhaven Fort is basically an empty corrugated iron aircraft hanger. We hired festoon lights and hung them in a canopy across the ceiling and down the back wall. It was expensive but totally worth it, as the lights were our only real decoration. We hired tables, white fold down chairs, and white tablecloths to make the space brighter (as there's no natural light) and the festoon lights gave it such a cosy intimate feel."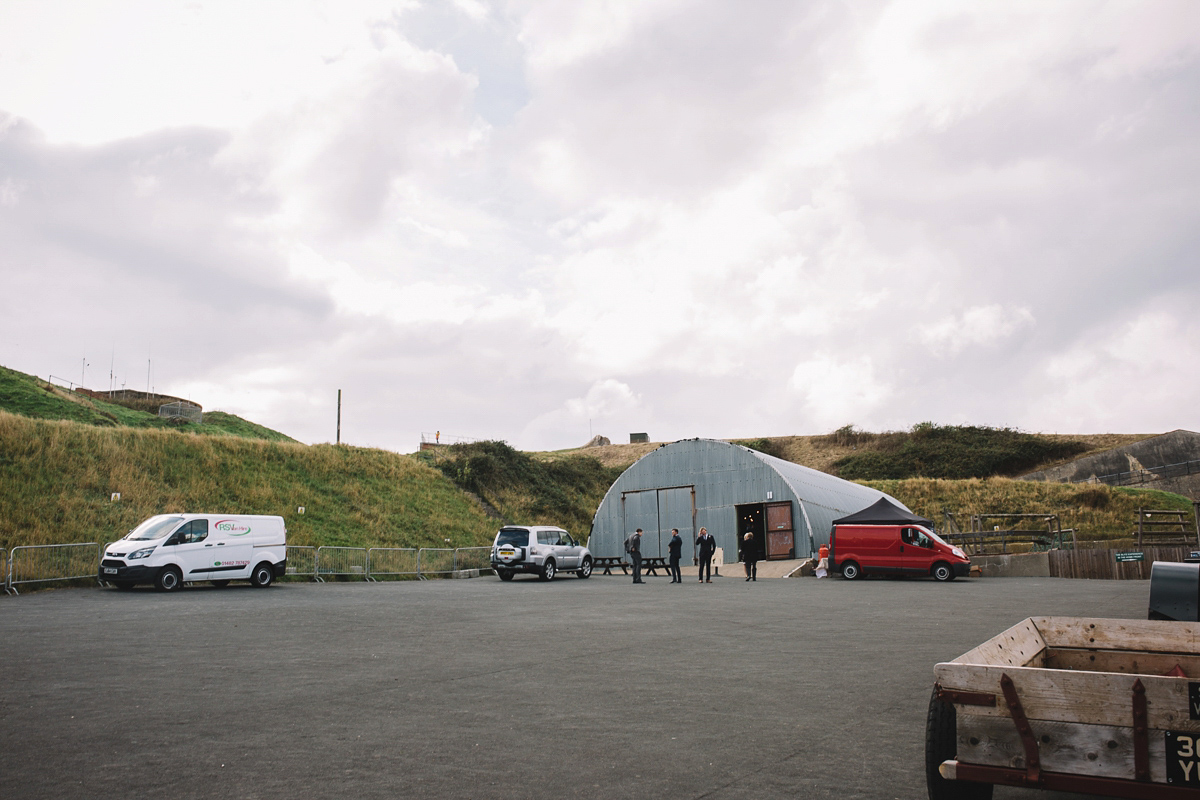 "For the centrepieces we planted up heathers and purple cabbages and arranged them with random autumnal bits from home – pinecones I'd picked up on holiday, mini pumpkins, apples and battery tea lights. We wanted the simple décor to feel relaxed, we never felt like it had to be a perfect day."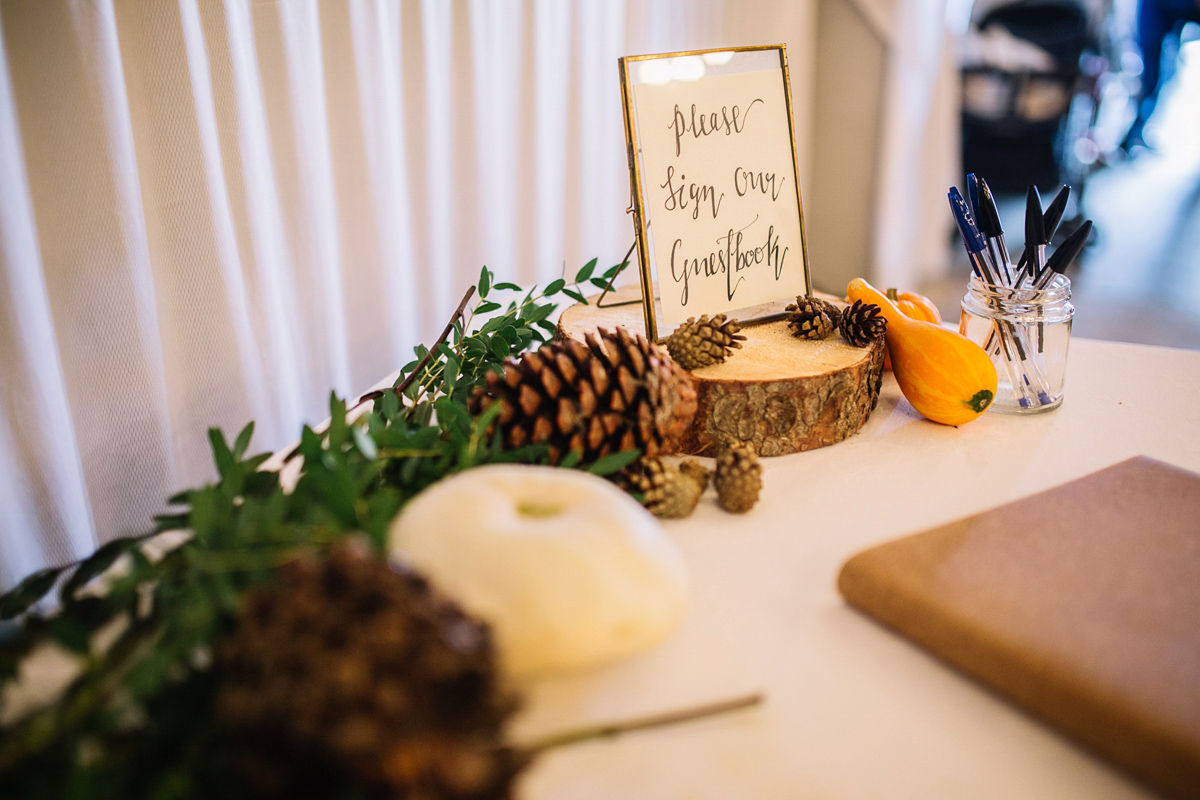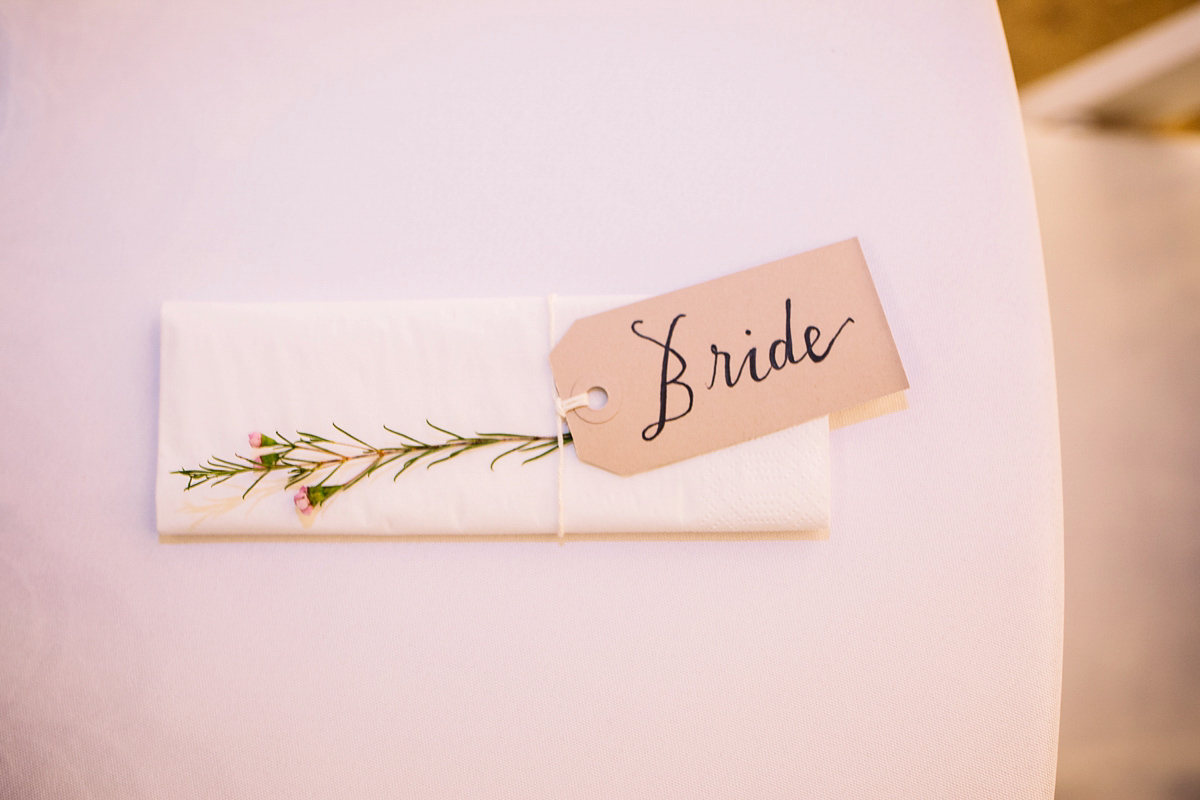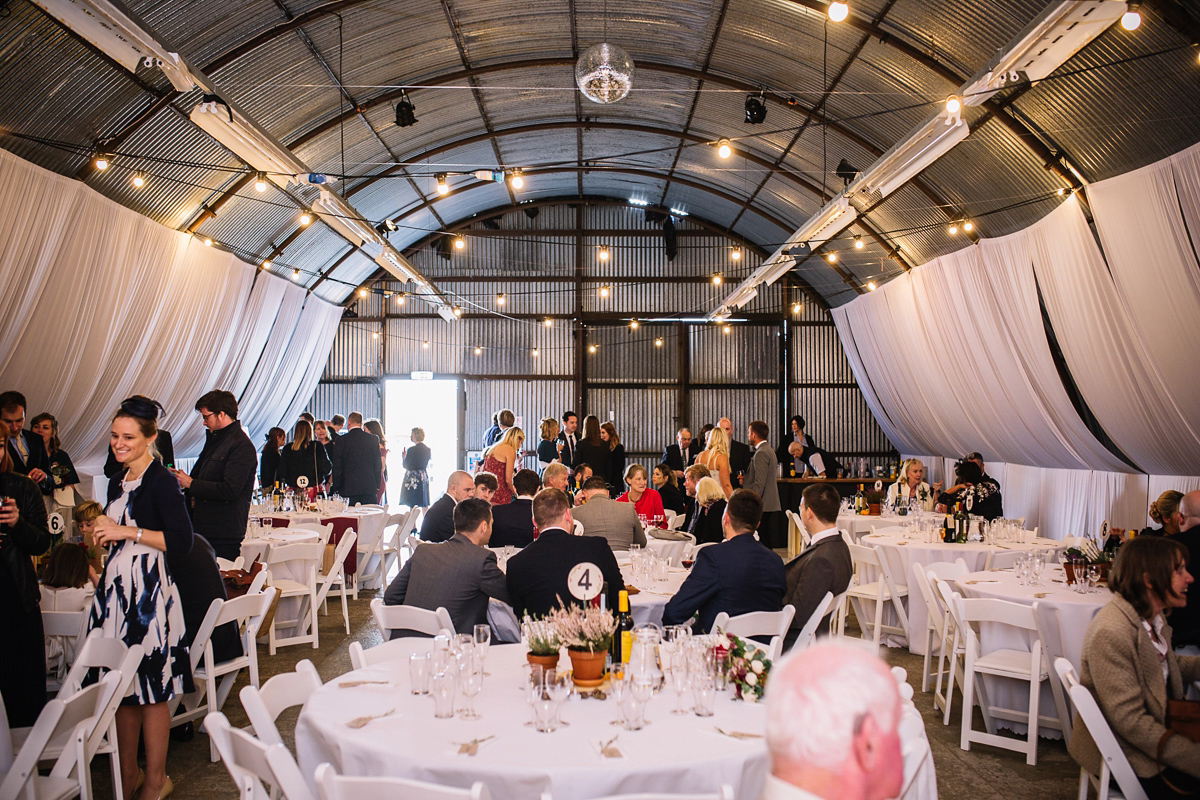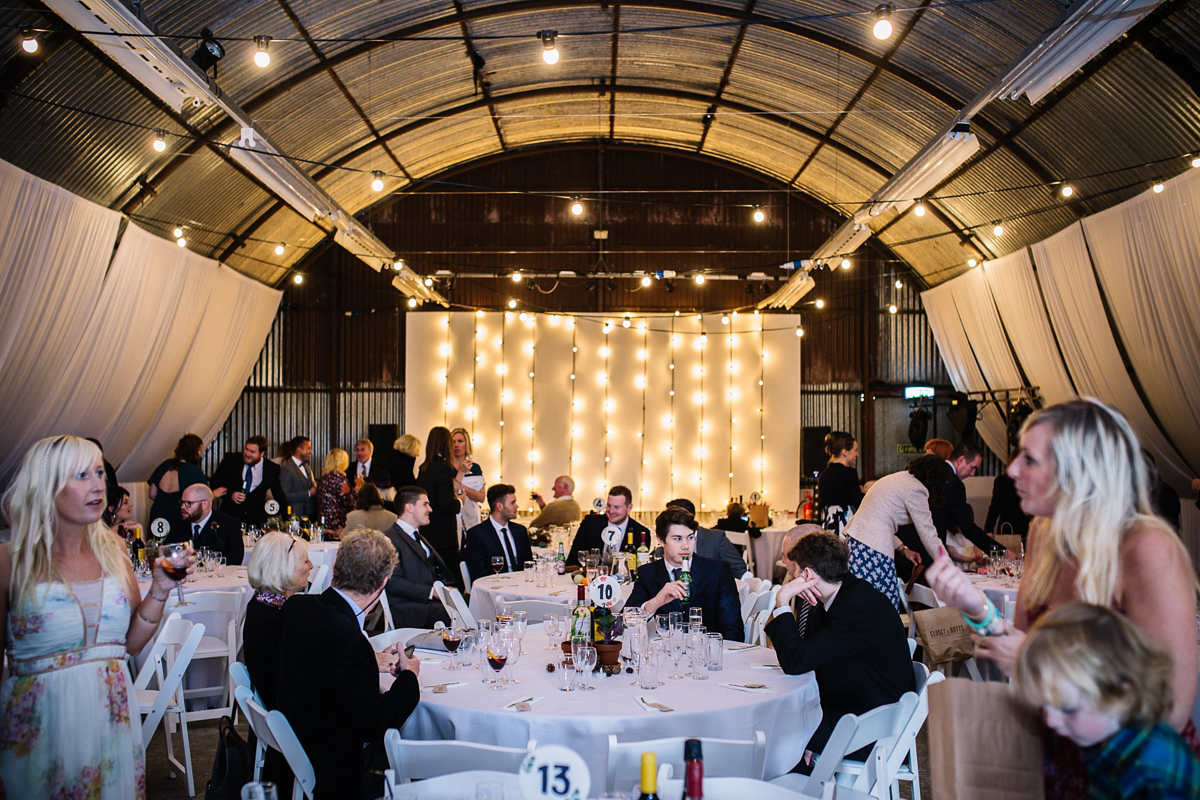 "We made all the stationery ourselves. My very talented sister Clara illustrated a design of autumnal leaves and berries which we used on the invitations, our table plan, card box, and around all the table numbers. We made the invites and order of services ourselves using Excel to keep everything as simple and low-key as possible."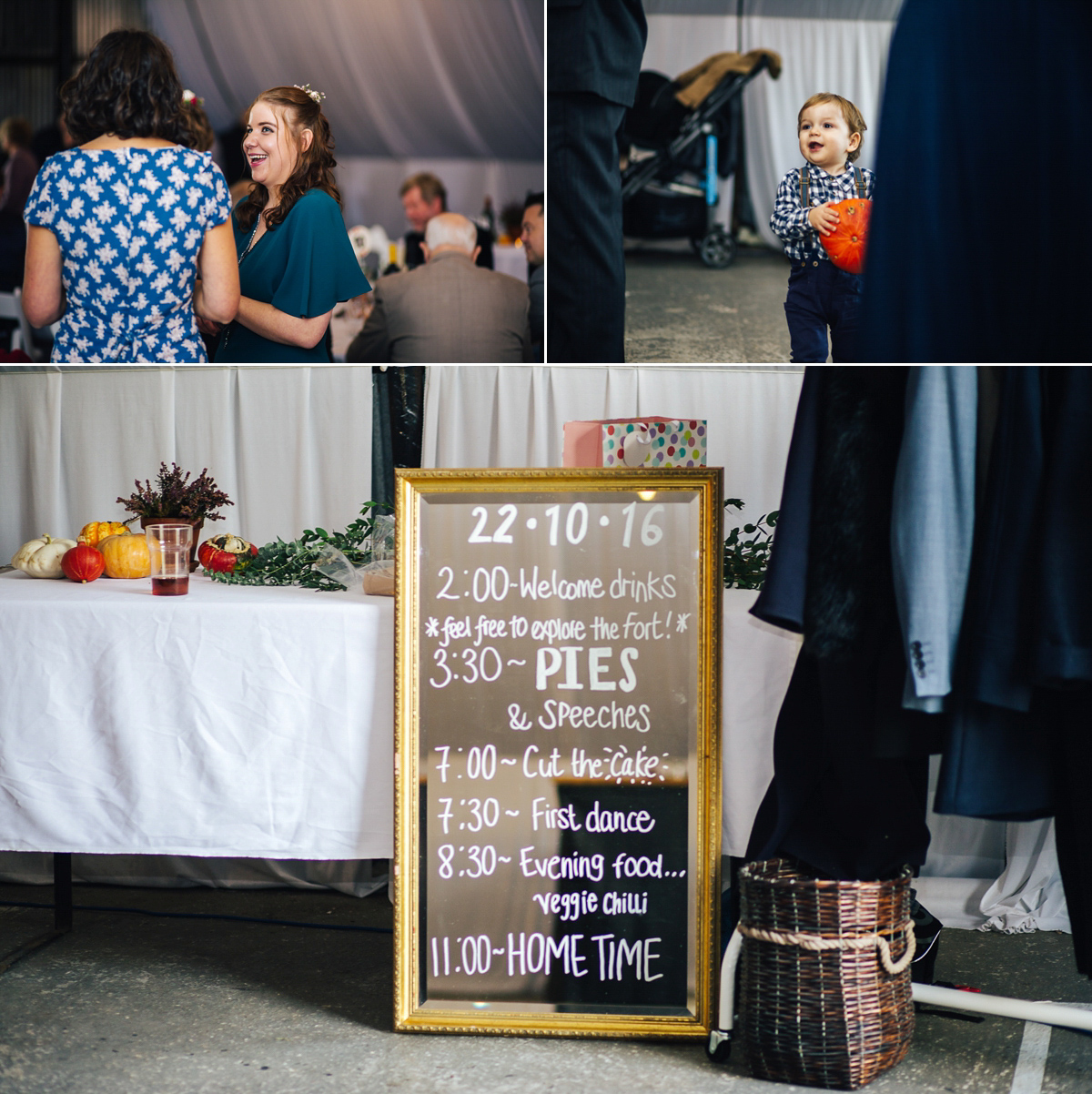 "We hired a mobile bar, and asked them to serve mulled wine, my favourite Autumn tipple, as a welcome drink. For food we had a Bob's Hogs van serving pie and mash, with mushy peas and gravy and chocolate cake for dessert. We love comfort food! In the evening we had a veggie chilli, made by Sam's brother in law Jim. I wish we had asked the pie man to check with the fort that their electrics could support his ovens along with the music, lights and bar. As it turned out, the electrics tripped several times and all the lights went out!"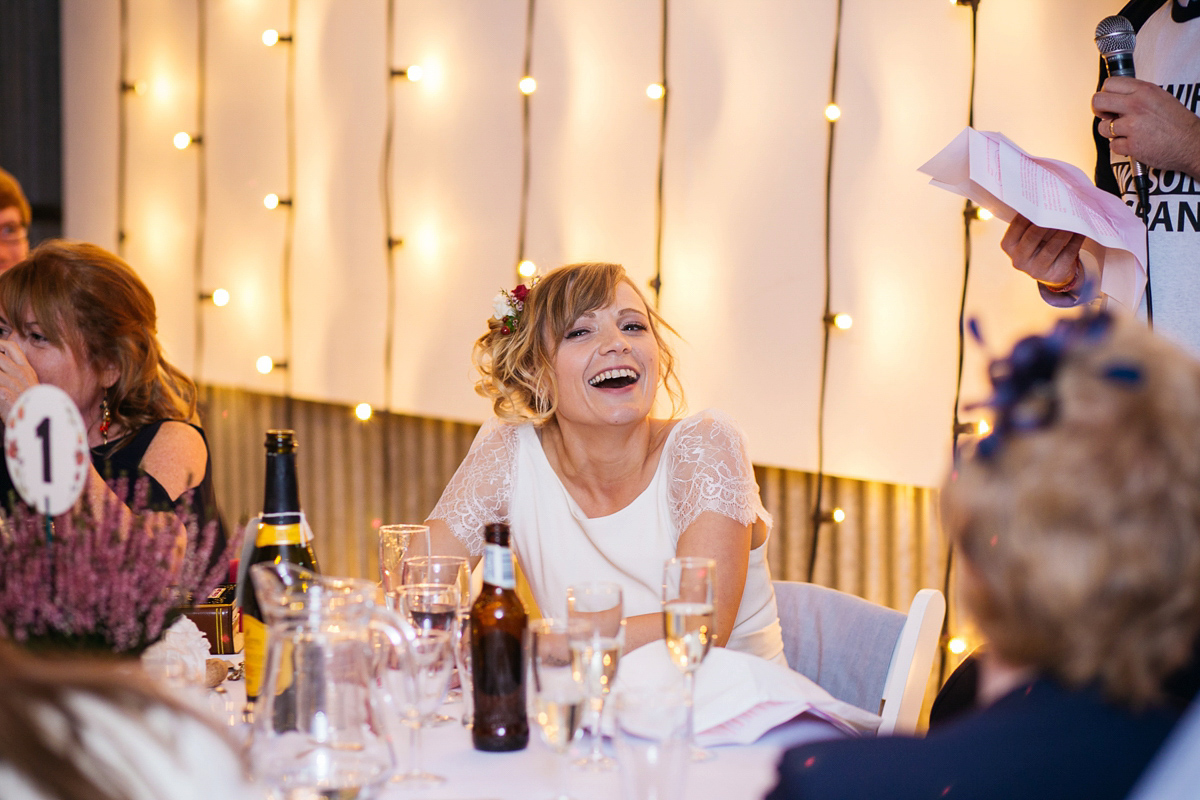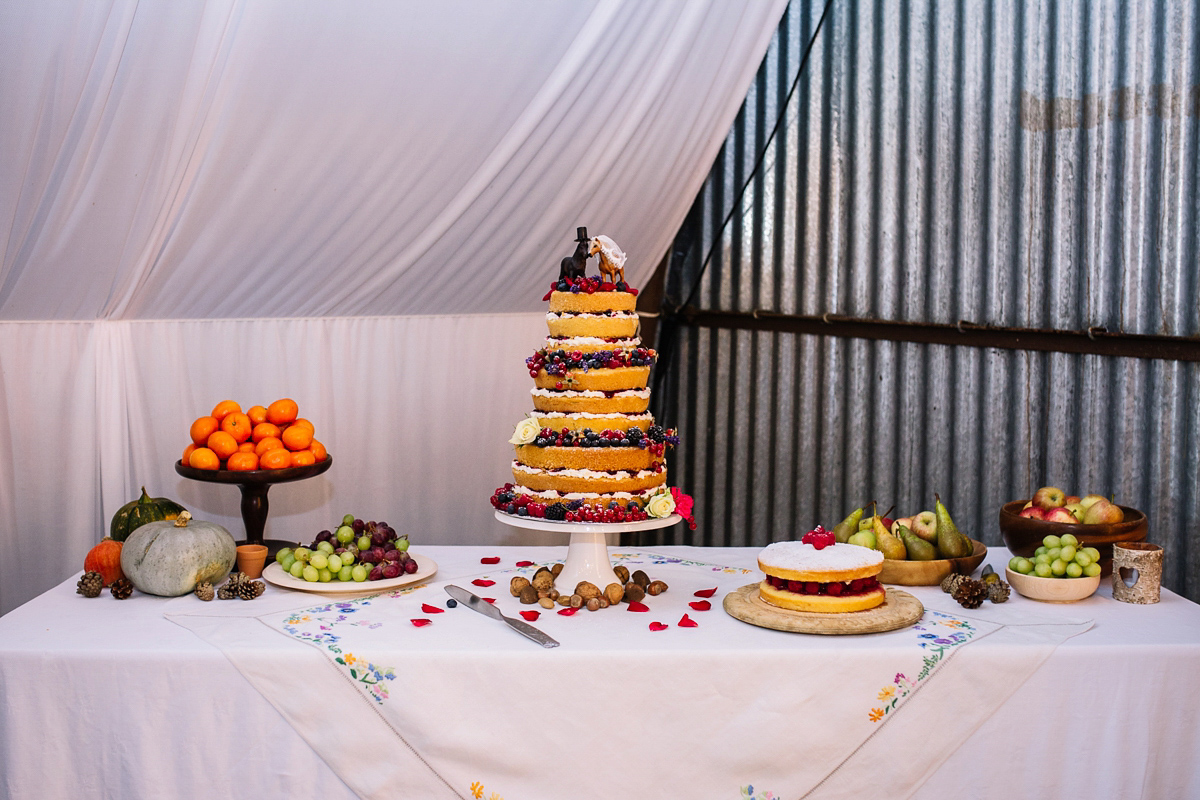 "I love cake so one of our first wedding planning decisions was asking Sam's Aunty Sue to make our cake. We showed her some pictures and she made the cake even better! We had a delicious naked Victoria sponge with blackberry jam and lots of berries surrounding each tier. Sam's nickname is Horse, so I made a Mr and Mrs horse cake toppers."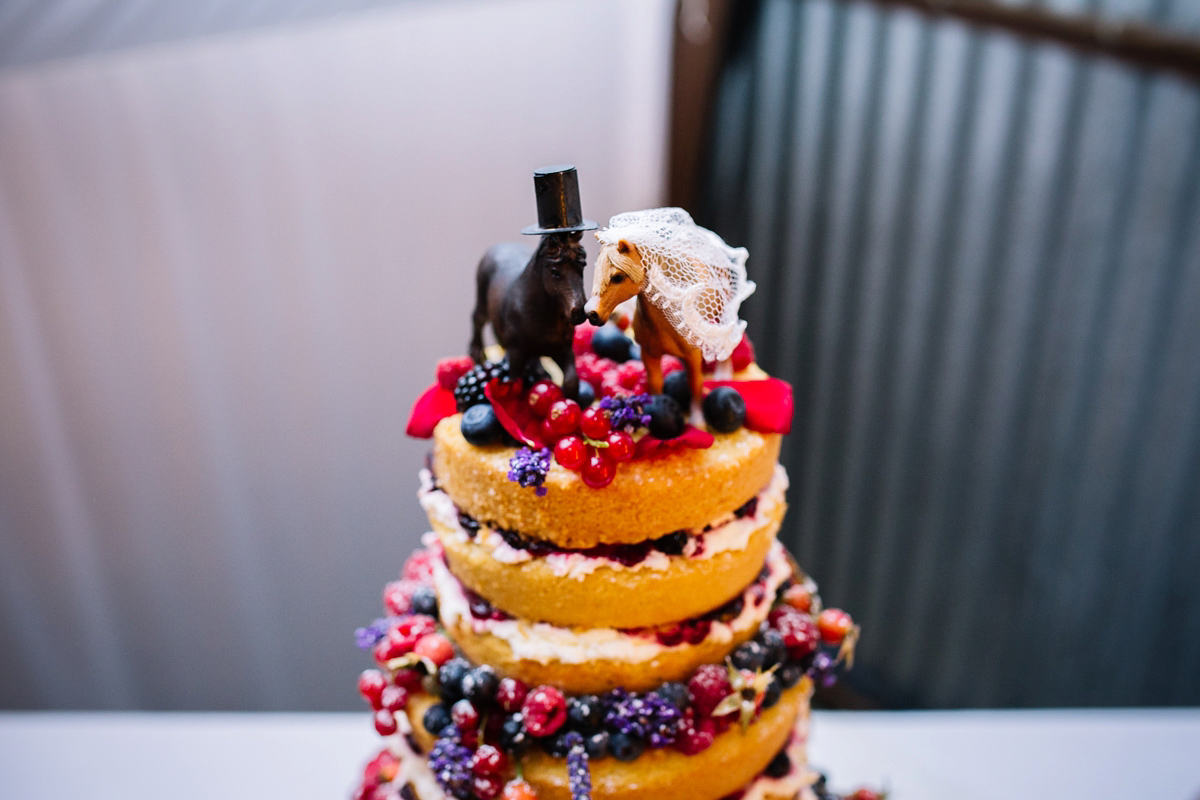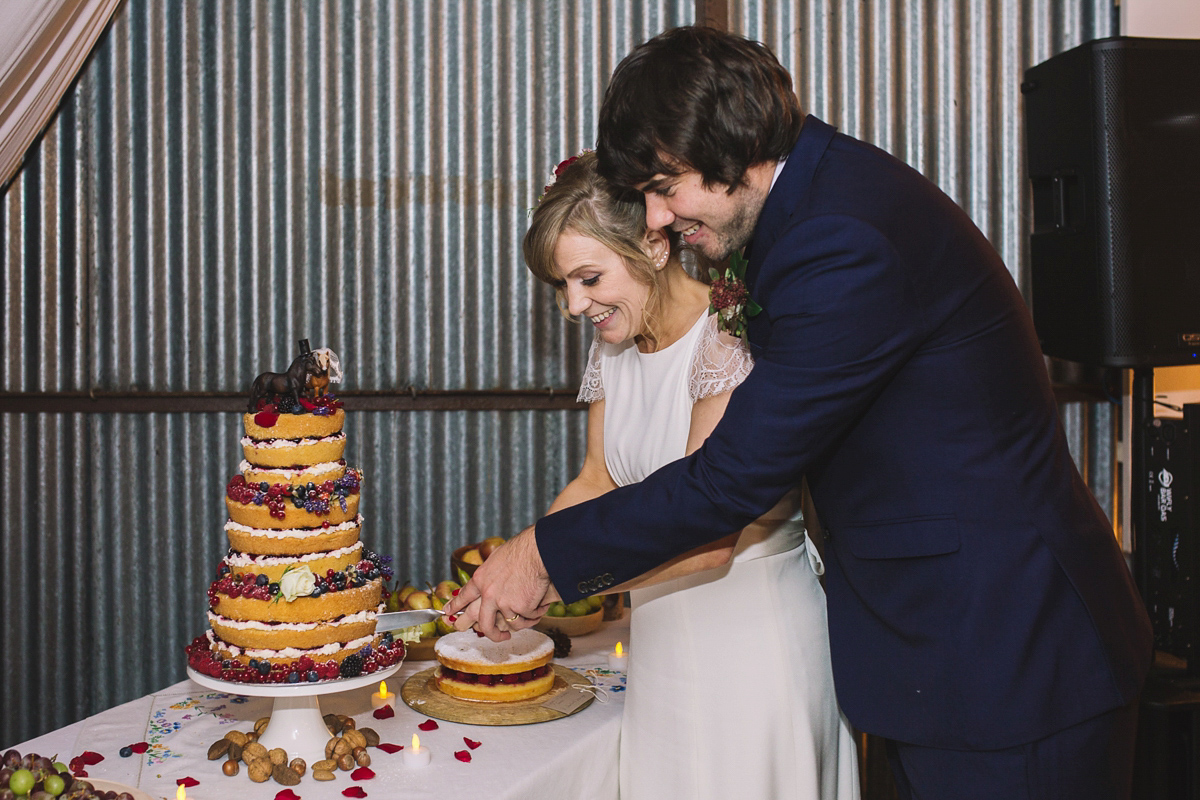 "I was dreading the first dance, as I hate being the centre of attention, so our main focus was finding a song that was really short. We danced to the theme from the tv programme 'The Detectorists' by Johnny Flynn. It's such a sweet little folky song, and only two minutes long."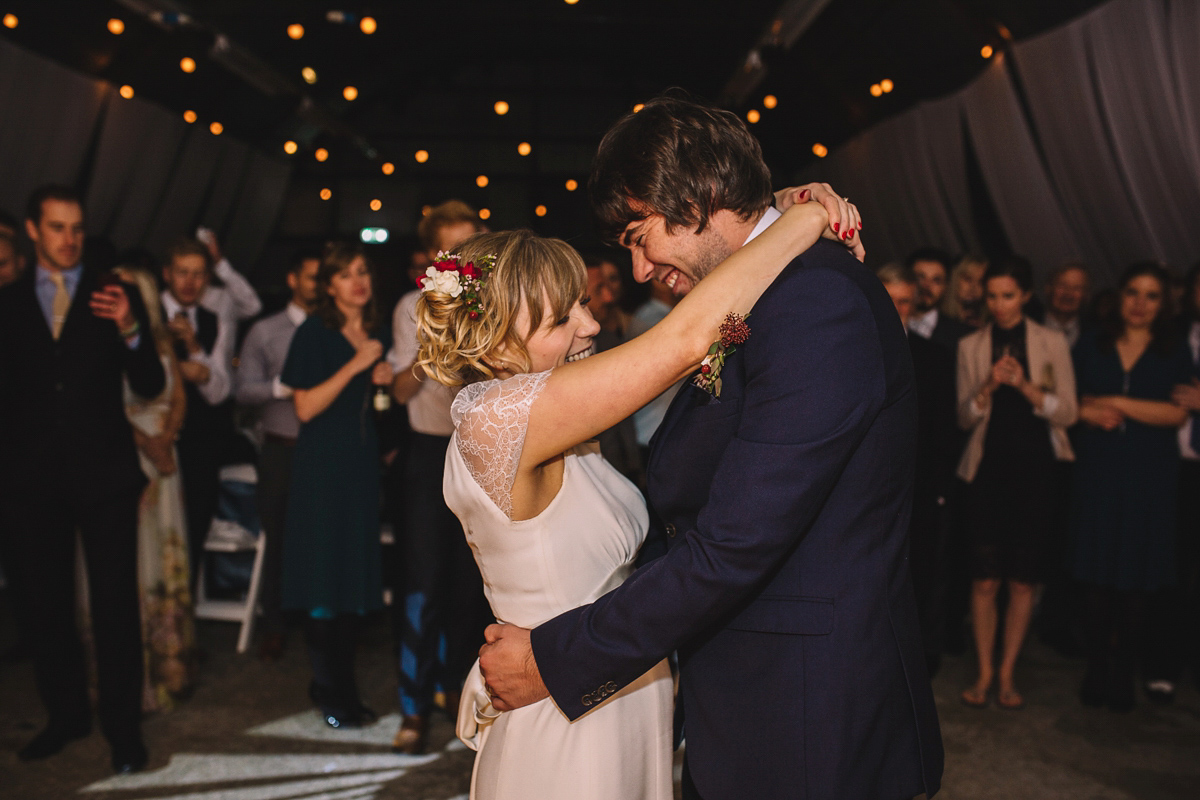 Words of Wedded Wisdom
"My advice would be to focus less on the little things and more on you and your guests enjoying the day. We tried to think of it as a big party with all our favourite people coming together to celebrate our happiness. That's what's important at the end of the day."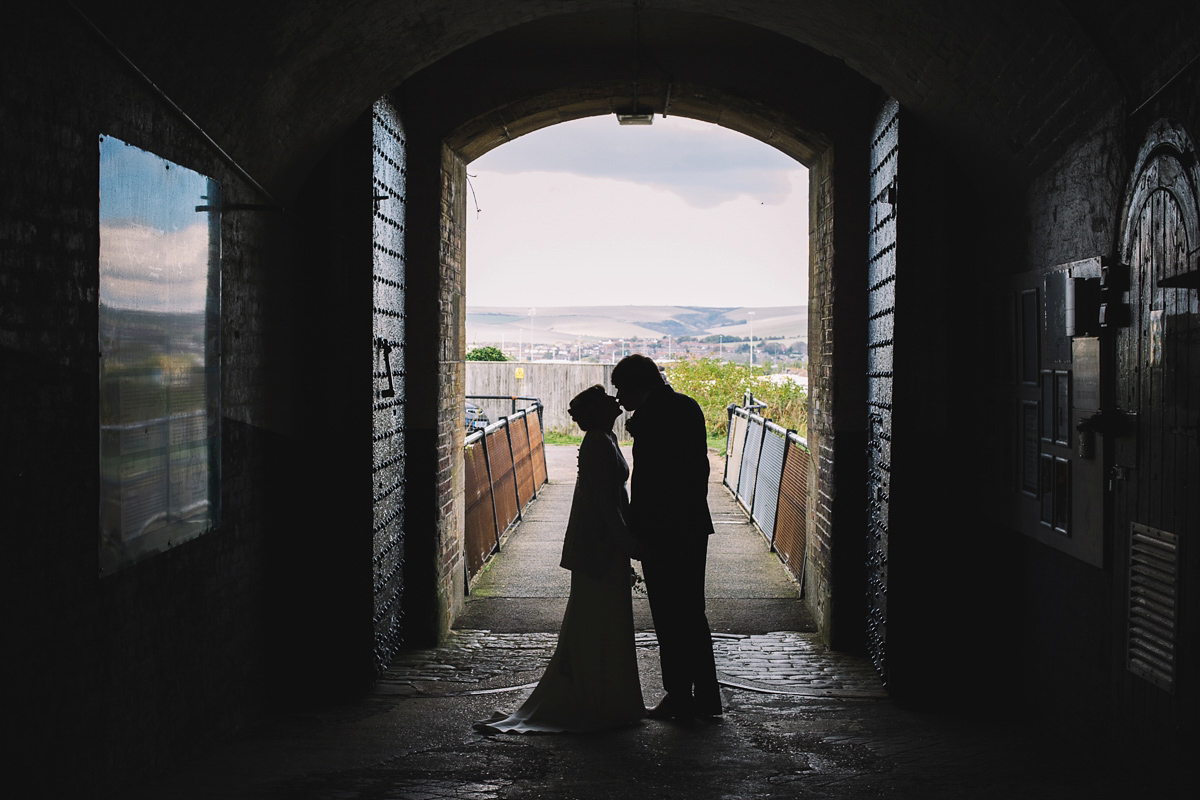 What a lovely, lovely day – our love and thanks to Laura and Sam, as well as their wonderful photographer Shelby Ellis.
Love Caoimhe xx