Good afternoon dear readers – if you love wedding dresses then this feature is a beautiful little weekend-treat come a few days early!
Today, the wonderful Russell from Blackburn Bridal is with us to tell us all about an amazing new label he's welcoming to his boutique, and, to give you all the details of a celebratory designer event that we think you'll want to pop in your diaries. But first, let's find out more about Alexandra Grecco, the exquisite new bridal fashion label, now available at Blackburn Bridal.
Before we start, I should declare that I'm extremely fond of boutique owner and stylist Russell Blackburn; he has an innate eye for great fashion and style, he possesses an in-depth knowledge of all things bridal and, when it comes to helping brides look good, Russell has years of experience.
Add to that the fact he's just plain bloody lovely, so, when he chooses a new designer to bring to his fantastic Blackheath based boutique, then it's well worth standing up to take notice. Russell and Blackburn Bridal are leaders in their field. And as you'll see, Alexandra Grecco is a most exceptional addition to the already impressive list of designers you'll find at Blackburn Bridal.
Over to you Russell…
Russell, tell us a little more about the Alexandra Grecco label…
Alexandra Grecco released her first ready to wear collection in the spring of 2010, finding inspiration in the designs of eras past and cinematic landscapes, real and imagined. In her work, she has found herself drawn to classic, feminine designs that, while rooted in nostalgia, achieve a sense of timelessness.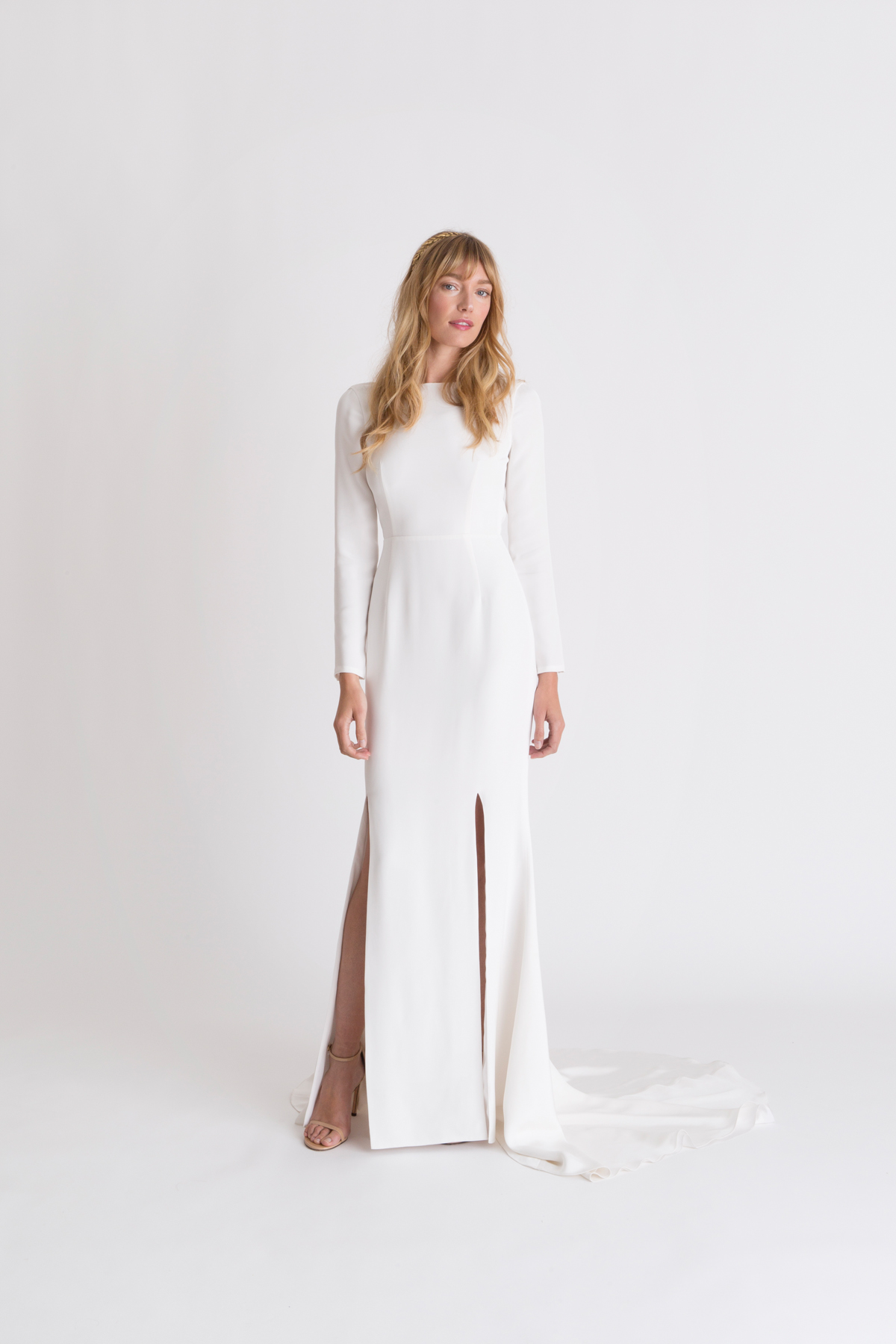 Looking for a gown in advance of her own wedding in 2013, she saw an opportunity to create a bridal line of her own and pair her aesthetic with high-quality fabrics and intricate hand-embroidery. Launching in July 2014, the Alexandra Grecco bridal line features ethereal gowns for the less-traditional bride.
Why did you select this label for Blackburn Bridal?
I just love the clean lines and simplicity of the dresses. The silhouettes are soft yet sculptural and really work to show off the female form. I felt we were missing this modern yet classical look from our collections and believed that Alexandra Grecco would sit well within my boutique and compliment our other designer collections.
What's the overall style and feel of the collection?  
The Alexandra Grecco collection has some really lovely clean lines overall with some subtle details that really make each gown stand out. It has an effortless, relaxed feel that will appeal to brides looking for a less traditional style wedding dress.
What styling cues run through the collection?
The silhouettes are classic with a modern twist and yet the pieces are totally timeless and stand on their own. The collection features a lot of silk crepe and some pieces embroidered with just enough delicate sparkle. Soft fitted styles and A-line silhouettes feature heavily throughout the collection.
Who are brides who you can imagine wearing these gowns?  
There are a huge variety of brides who wear Alexandra Grecco but, overall, she is a confident woman who believes in less is more and values the quality of craftsmanship and fabrication.
Tell us more about the designer event that you're hosting…
I am hosting a one-week event showcasing the Alexandra 2017/18 collection from the 1st Sept to 8th September. It will give brides the opportunity to see and try the new Stardust collection. We are encouraging brides to get booked in early, as there has already been a LOT of interest in the collection.
As an incentive we will be offering brides ordering a gown during that week a generous gift that will make the experience even more exciting.
There are no photos with those IDs or post 681450 does not have any attached images!
To book your appointment for the Alexandra Grecco event at Blackburn Bridal, get in touch via 020 8297 1188 or email the boutique – [email protected]
If you'd like to find out more about Blackburn Bridal, the designers and services offered or the boutique itself, do visit their beautiful website.
Love,
Annabel x