Happy Monday lovelies, I hope you're all well? I'm still (as slowly as I possibly can) floating down from the cloud of the wedding and honeymoon and enjoying the happy little jolt every time I tick the 'Mrs' box rather than 'Miss,' using my new surname at every opportunity and looking at our wedding photographs every. damn. day. 
Today I'm delighted to be sharing the gorgeous Spring wedding of Mr & Mrs Woodfine Jones, which took place at Studland Bay House in Dorset on 1st April this year. Our bride works in marketing while her groom is a buying manager, and it's no April Fools (sorry, couldn't resist) when I say that this wedding is heavenly – a golden-lit, colour-pop celebration filled with love and a seriously divine beaded gown.
"We didn't have a theme as such, but I wanted it to be classic with lots of warm light from fairy lights, upside-down colourful Indian hand-embroidered umbrellas floating from the ceiling, clear balloons and confetti-filled balloons floating from chairs and eclectic colourful flowers on the tables."
Photography by Emma Gates
Mrs Woodfine Jones headed to Cerimonia in St Albans for her dream dress, and fell for a beautifully intricate beaded number by Eliza Jane Howell.
We are just a tiny bit in love with this talented designer here at Love My Dress, and immensely proud to champion her through our curated directory, Little Book for Brides. Eliza's creations transport you to the 1920's and 1930's in the most exquisite fashion.
"I loved the back and the beading detail of my dress. My veil is my family's own and has been used through the generations for over 100 years. It's handmade Victorian lace."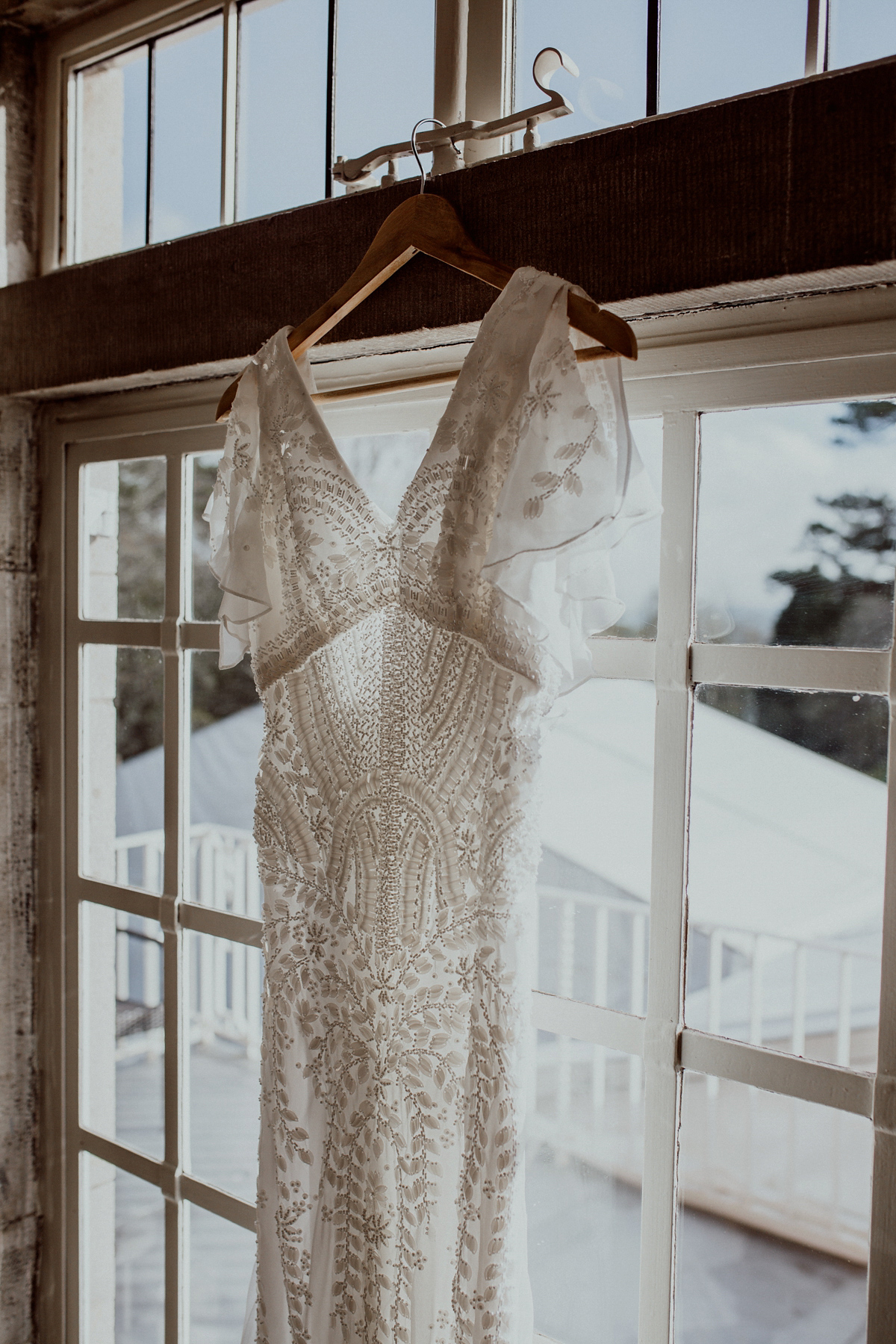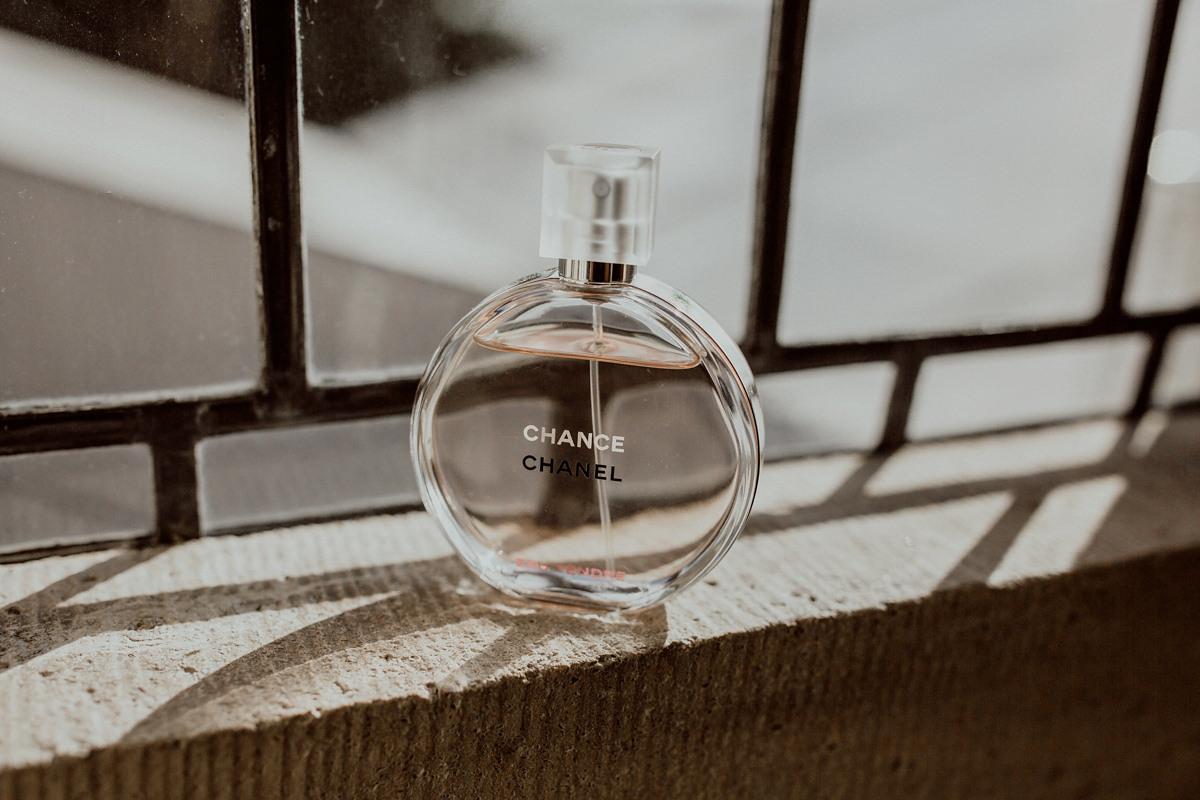 The bride chose metallic heels from Dune and accessorised with a necklace she already owned, a thin gold chain and heart pendant from Portugal, a sweet nod to her mother's heritage.
This talented lady took care of her own big day make-up while Amazing Face took care of her loose tumbling waves. A final spritz of Chanel Chance finished off her look.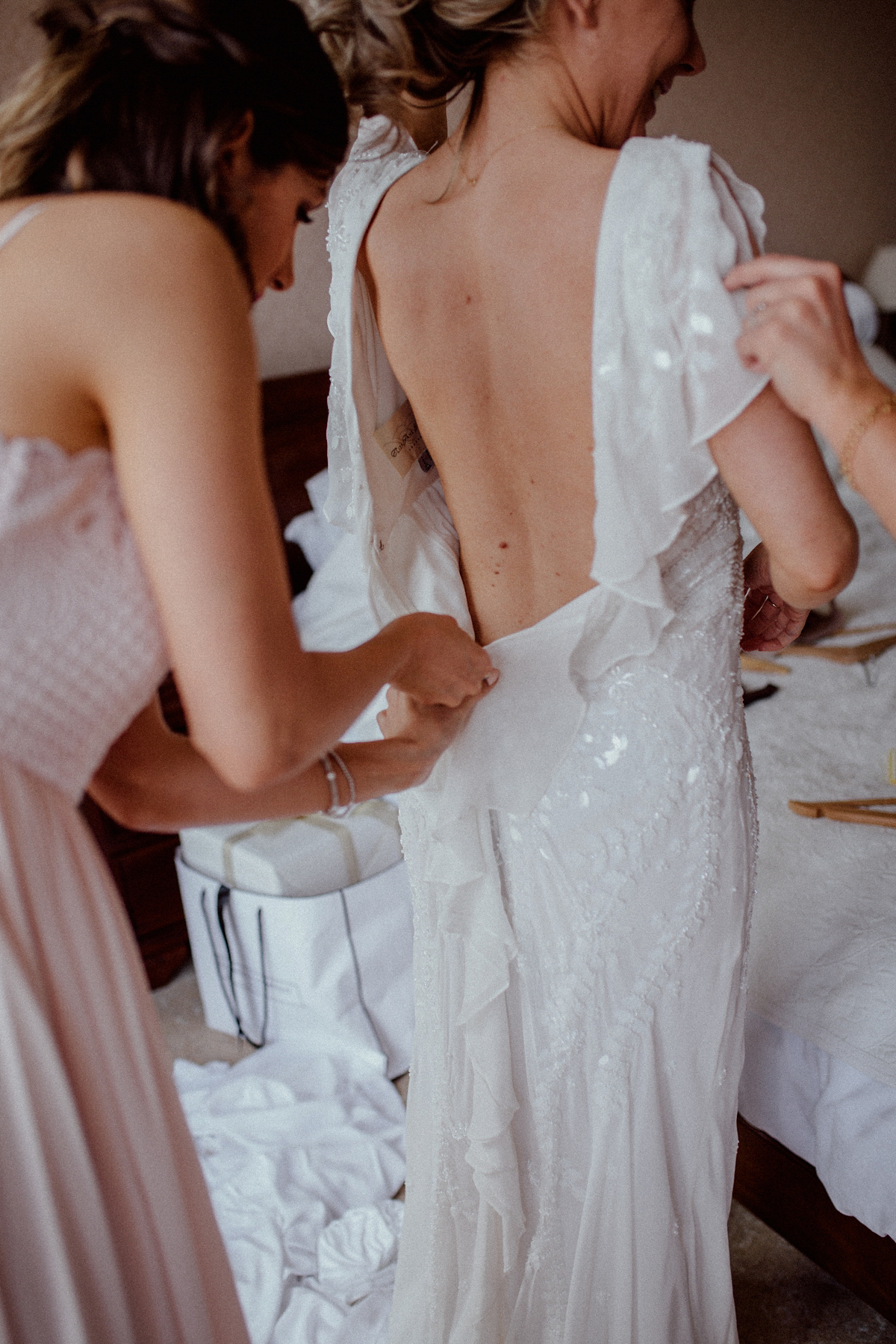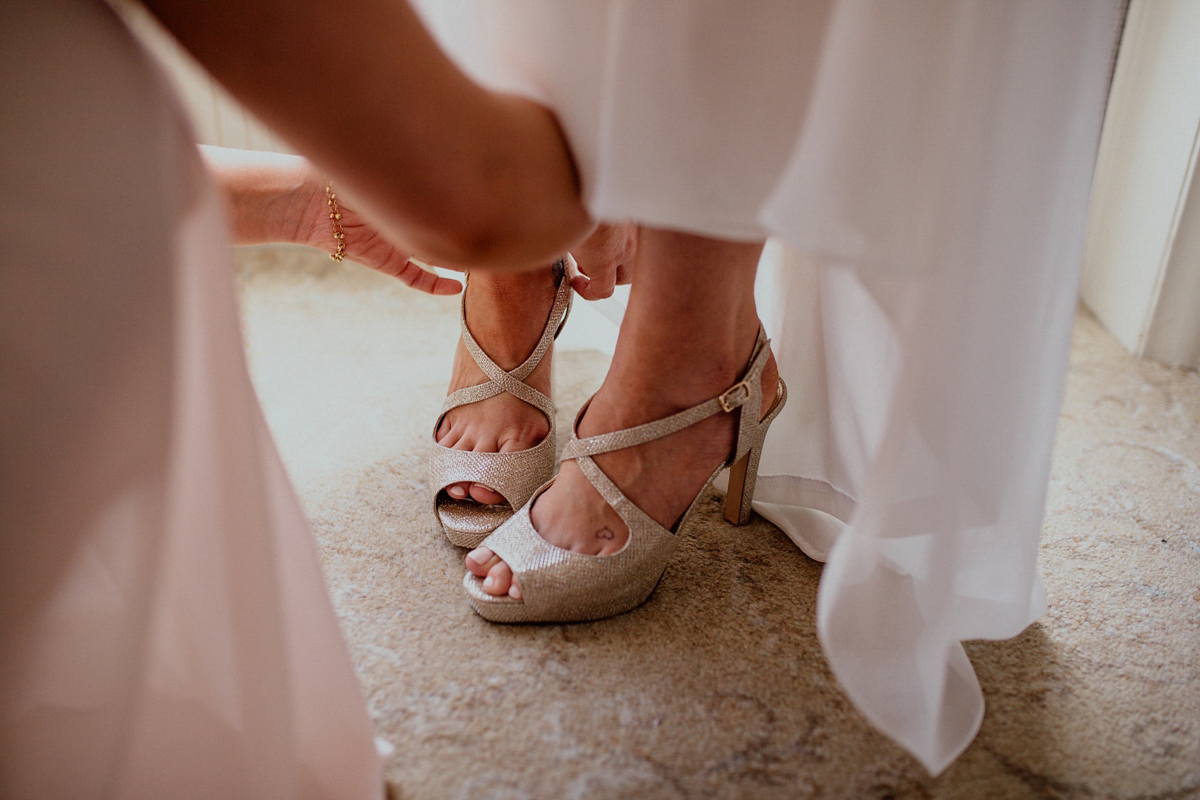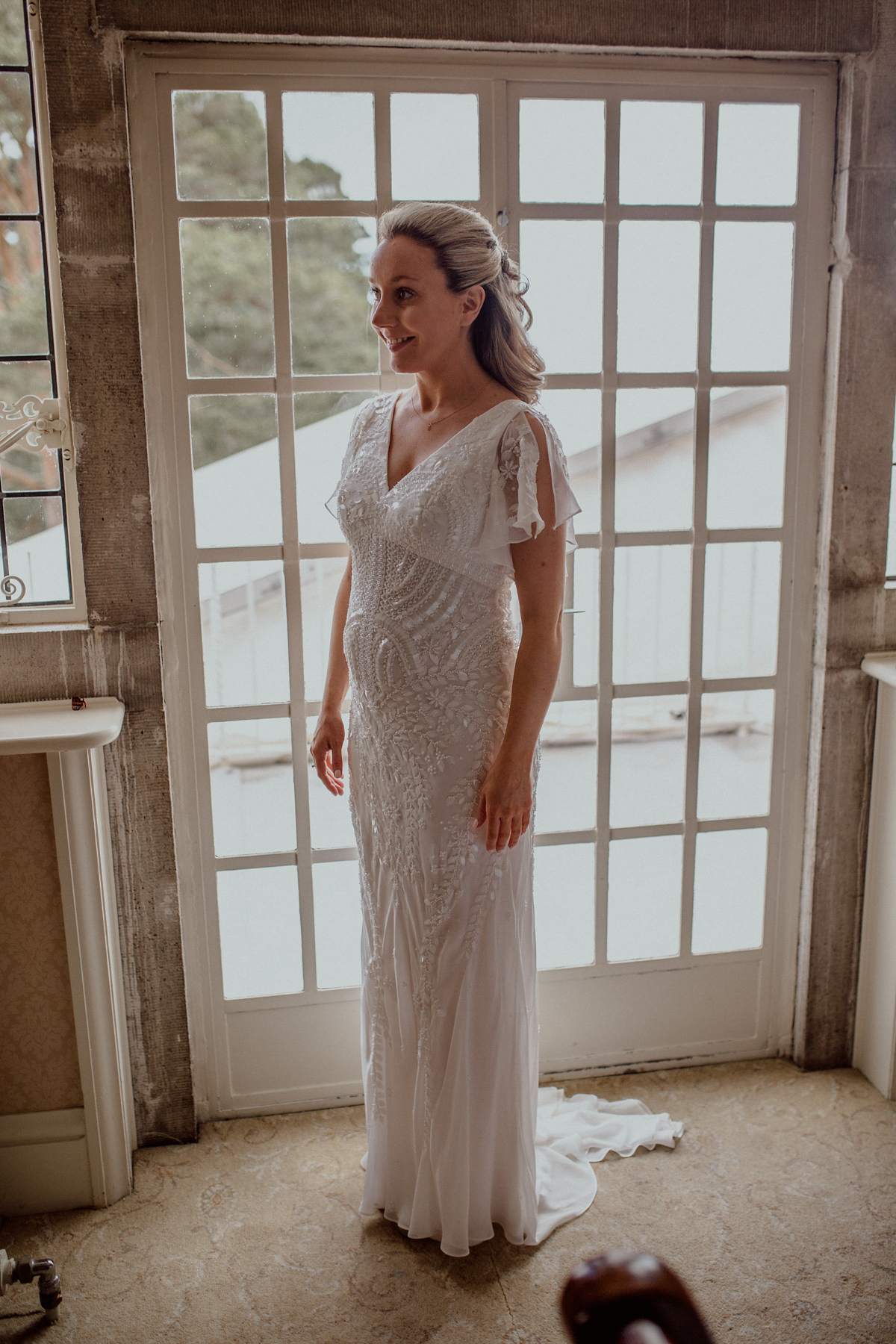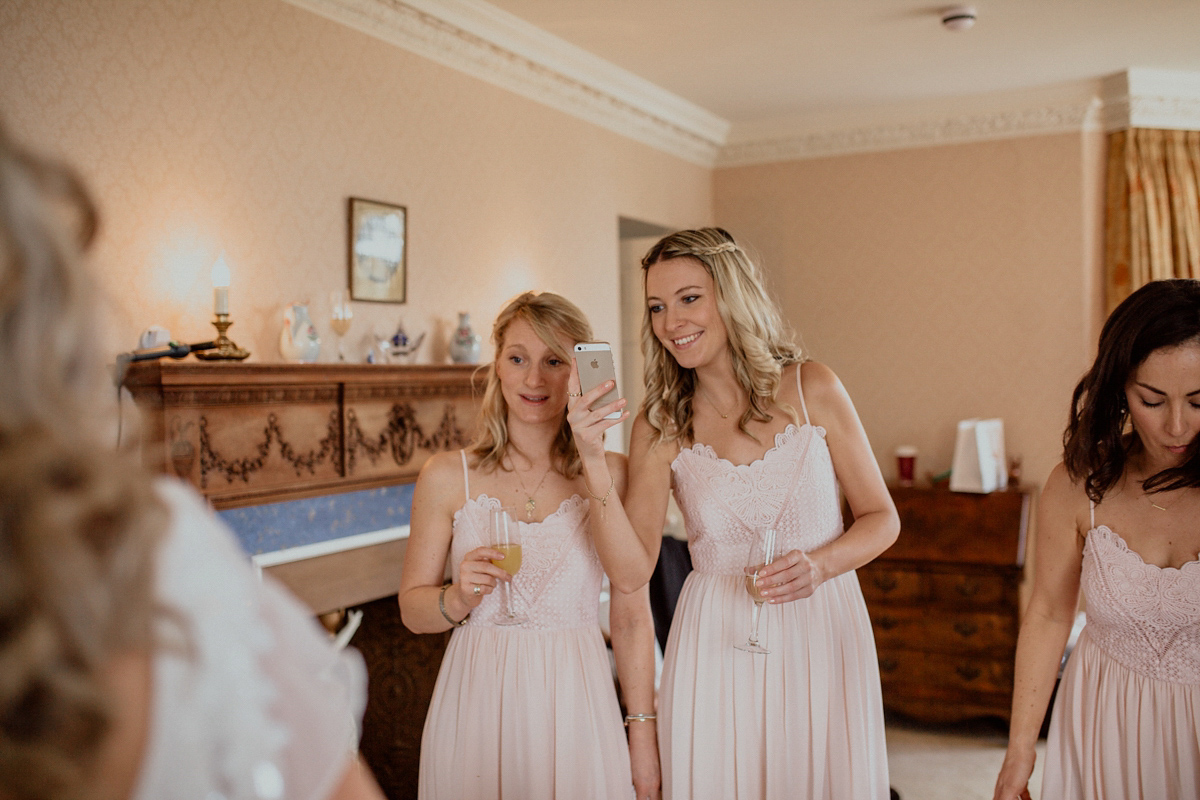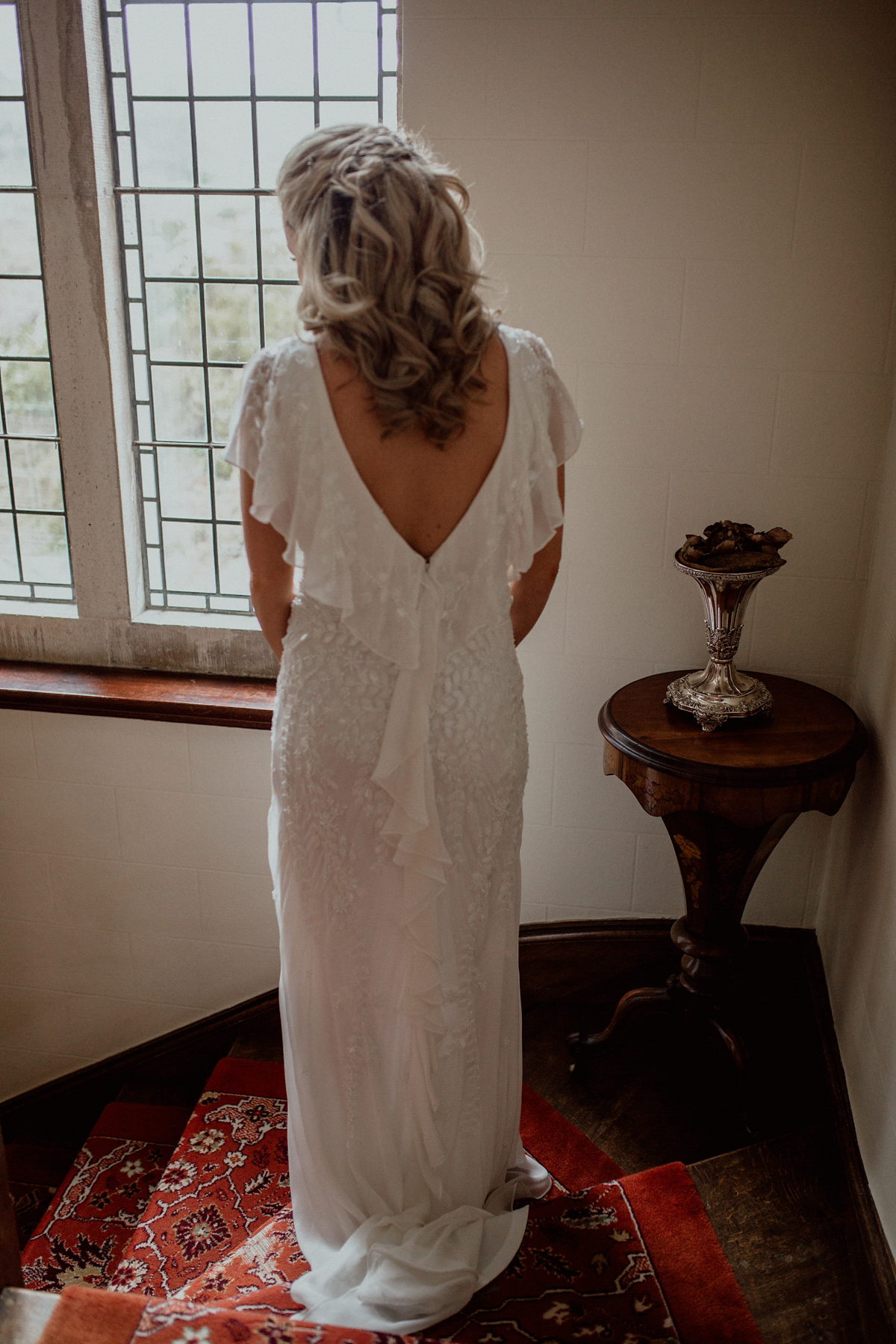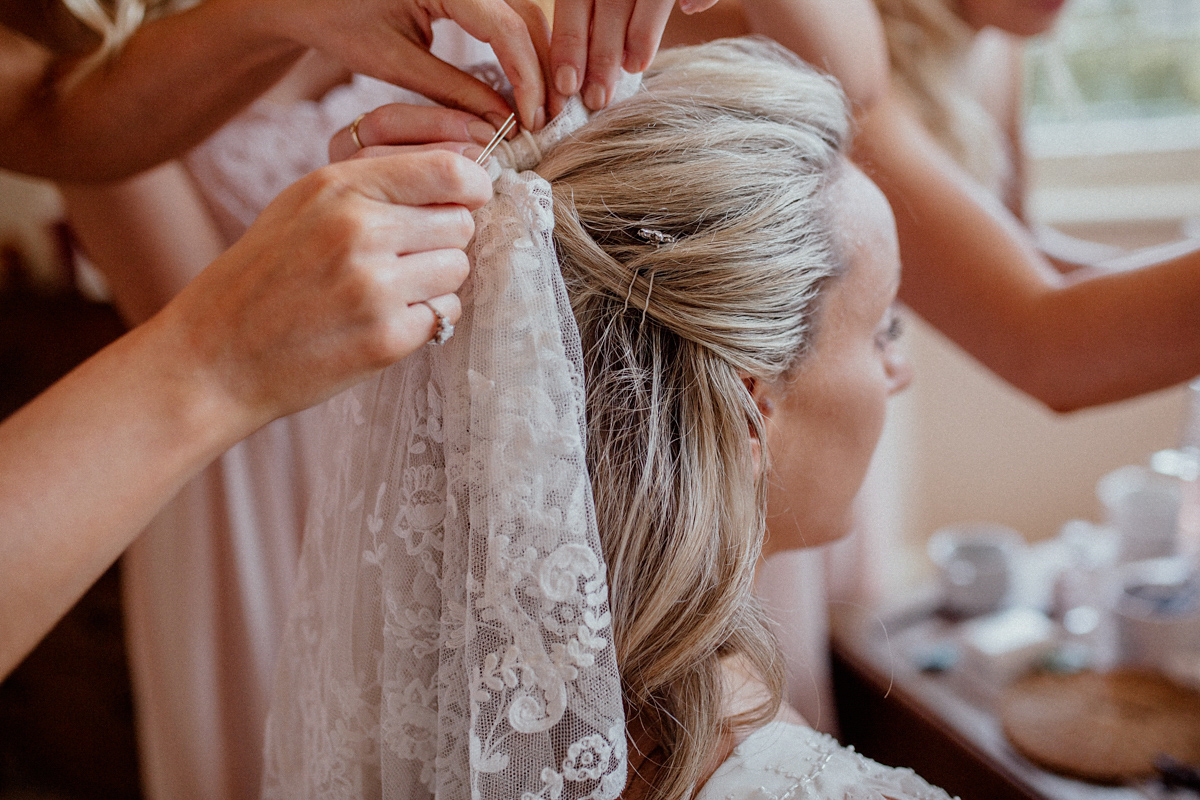 That veil truly is a work of art – a delicate, stunning piece of craftsmanship that so wonderfully complements our bride's detailed dress.
I love the idea of an heirloom item, passed from female hands to female hands – generations of women wearing something so filled with memories and meaning.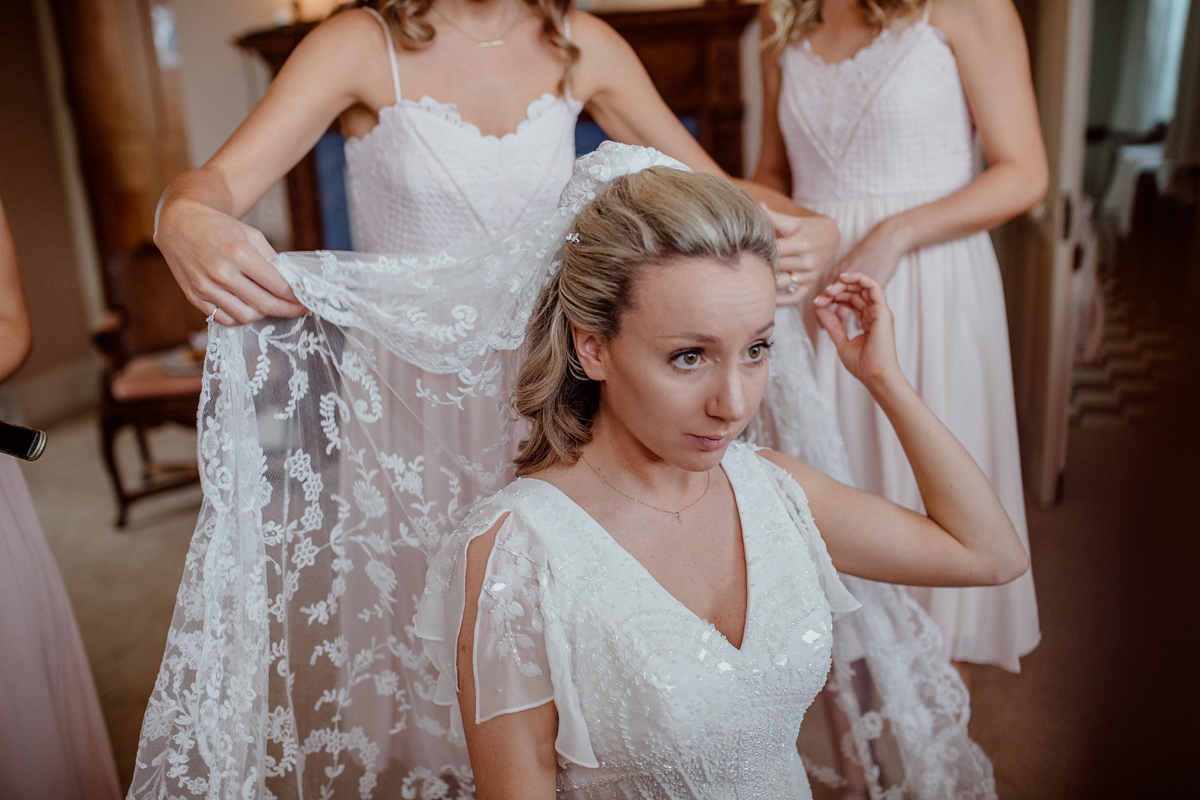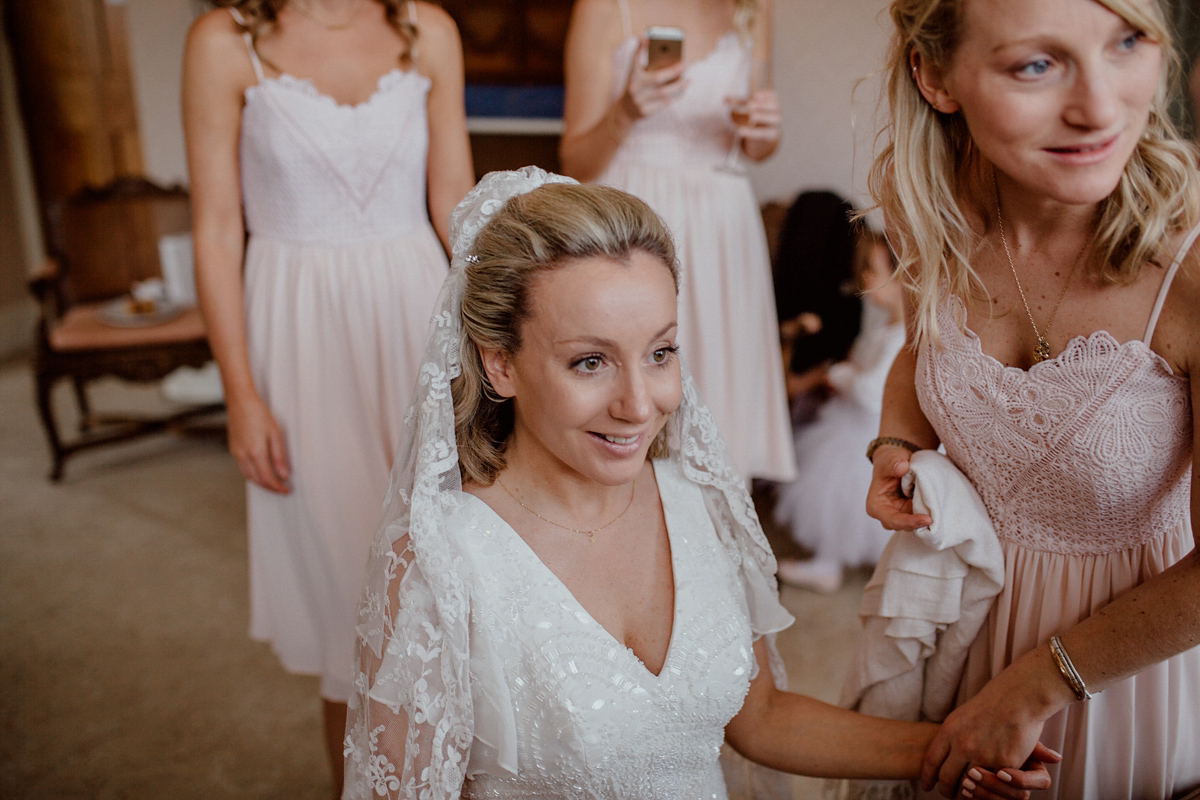 "My bridesmaids wore their own shoes and dresses from M&S and the flower girl's tutu dress was from eBay paired with a cardigan from Debenhams."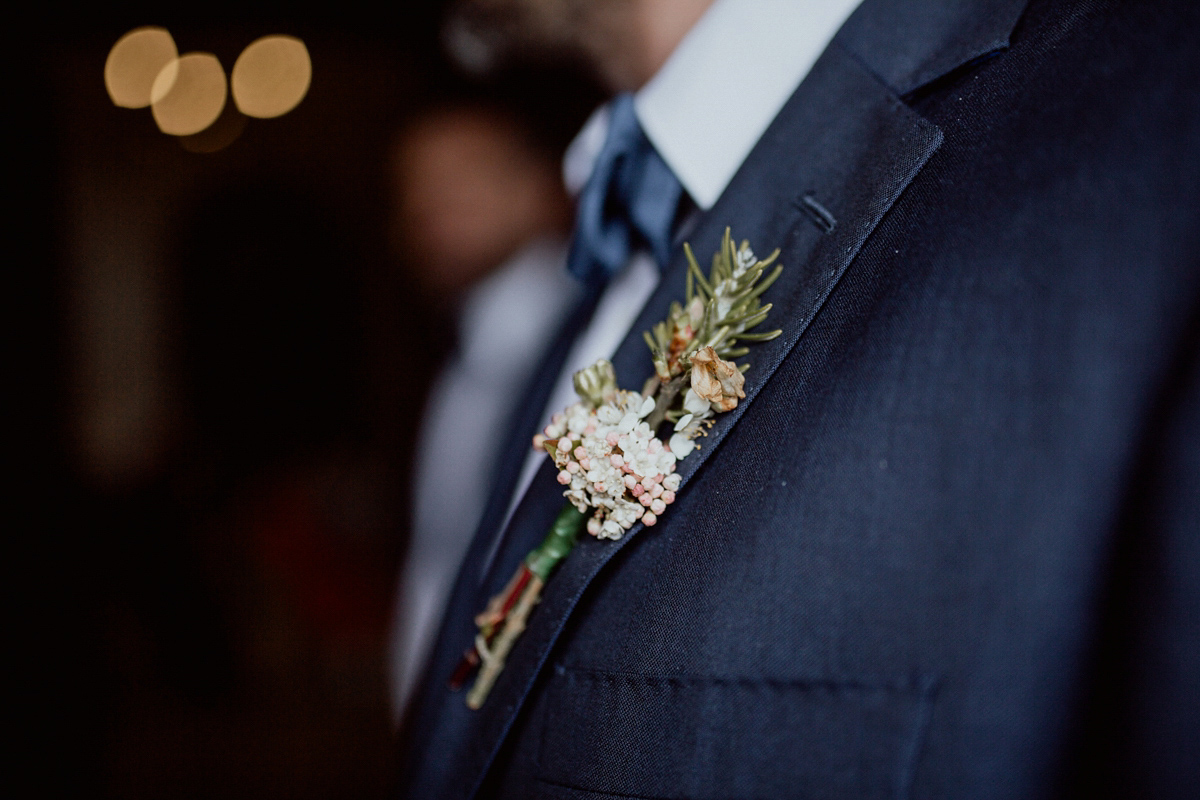 Our bride and her girls carried some seriously beautiful blooms, arranged by the über-talented Charlie at  The Real Cut Flower Garden, sourced locally in Dorset. This is a florist with a genuine love for flowers, growing her own beauties and styling the most exquisite bouquets.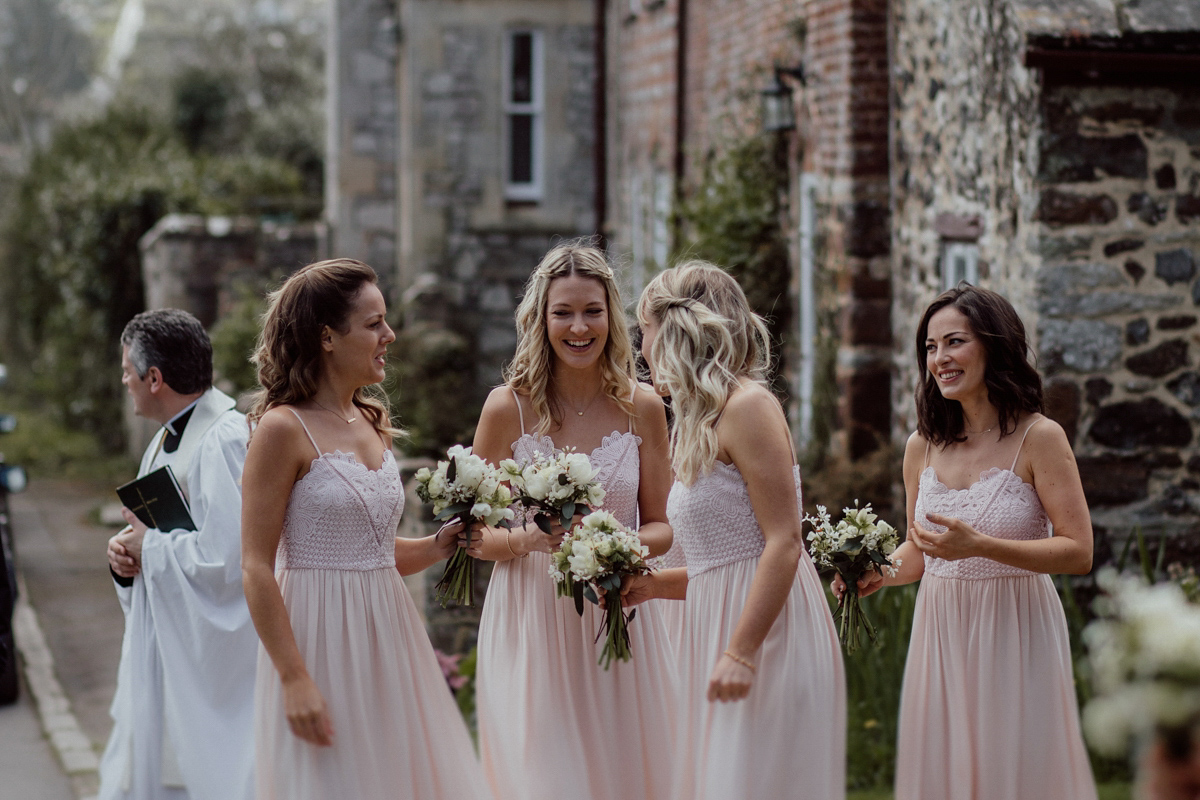 I particularly adore the blousy anemones and fresh green foliage, these simple, clean colours echoed in the groom's buttonhole against his ensemble from Reiss and T.M. Lewin. You can read more about her homegrown ethos on Charlie's Little Book for Brides listing.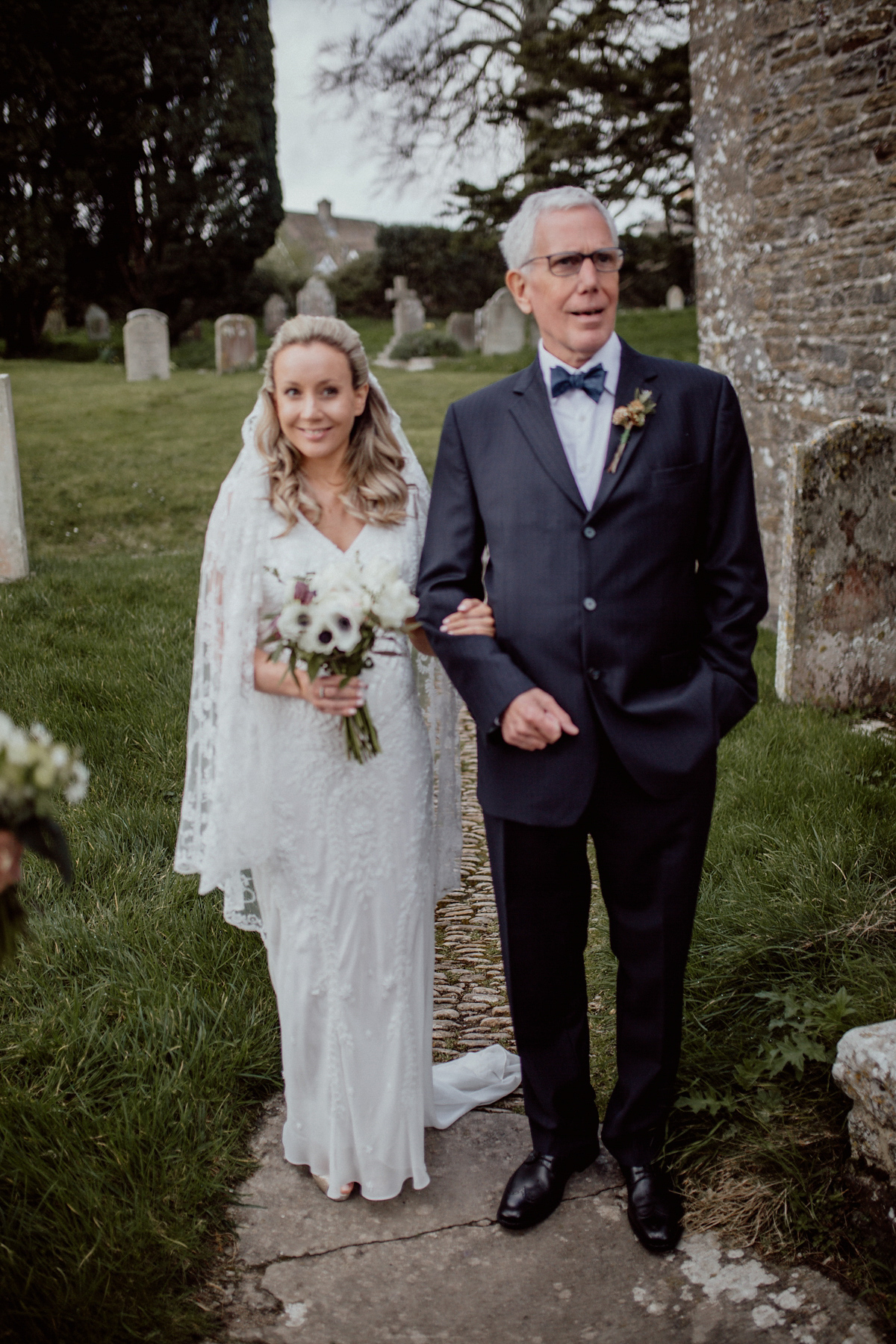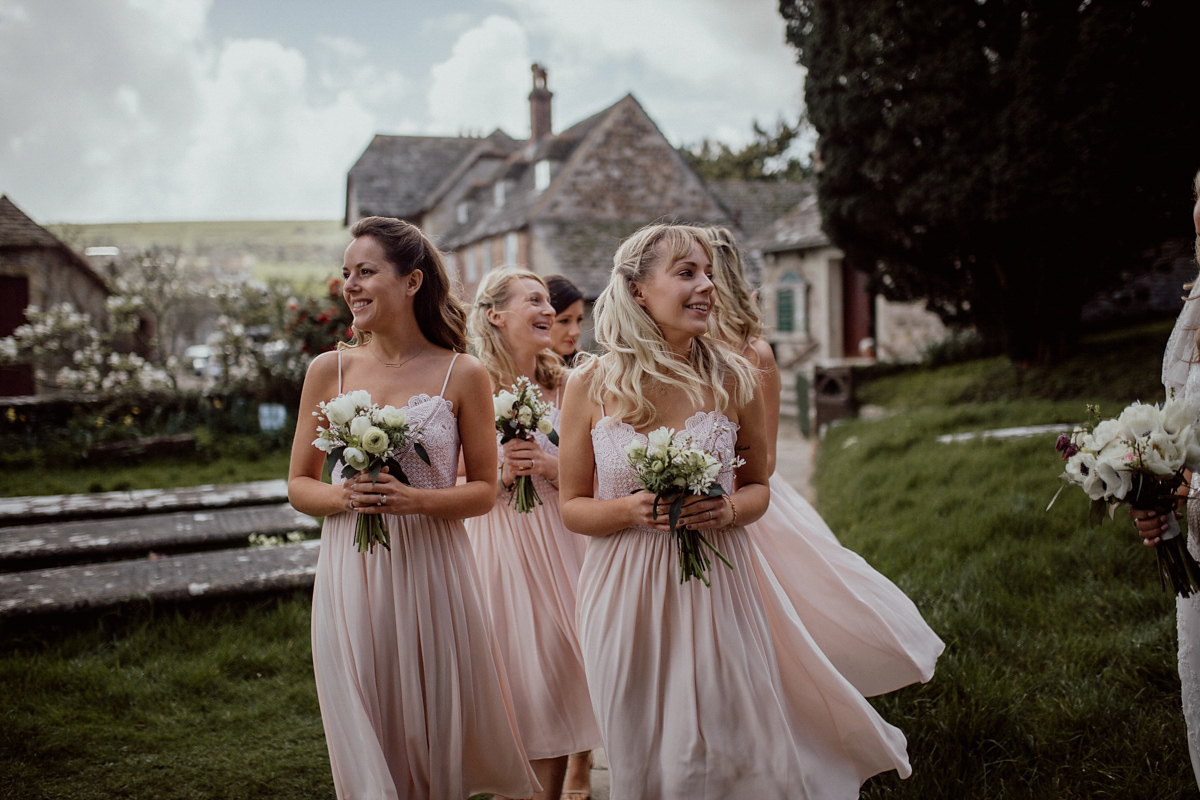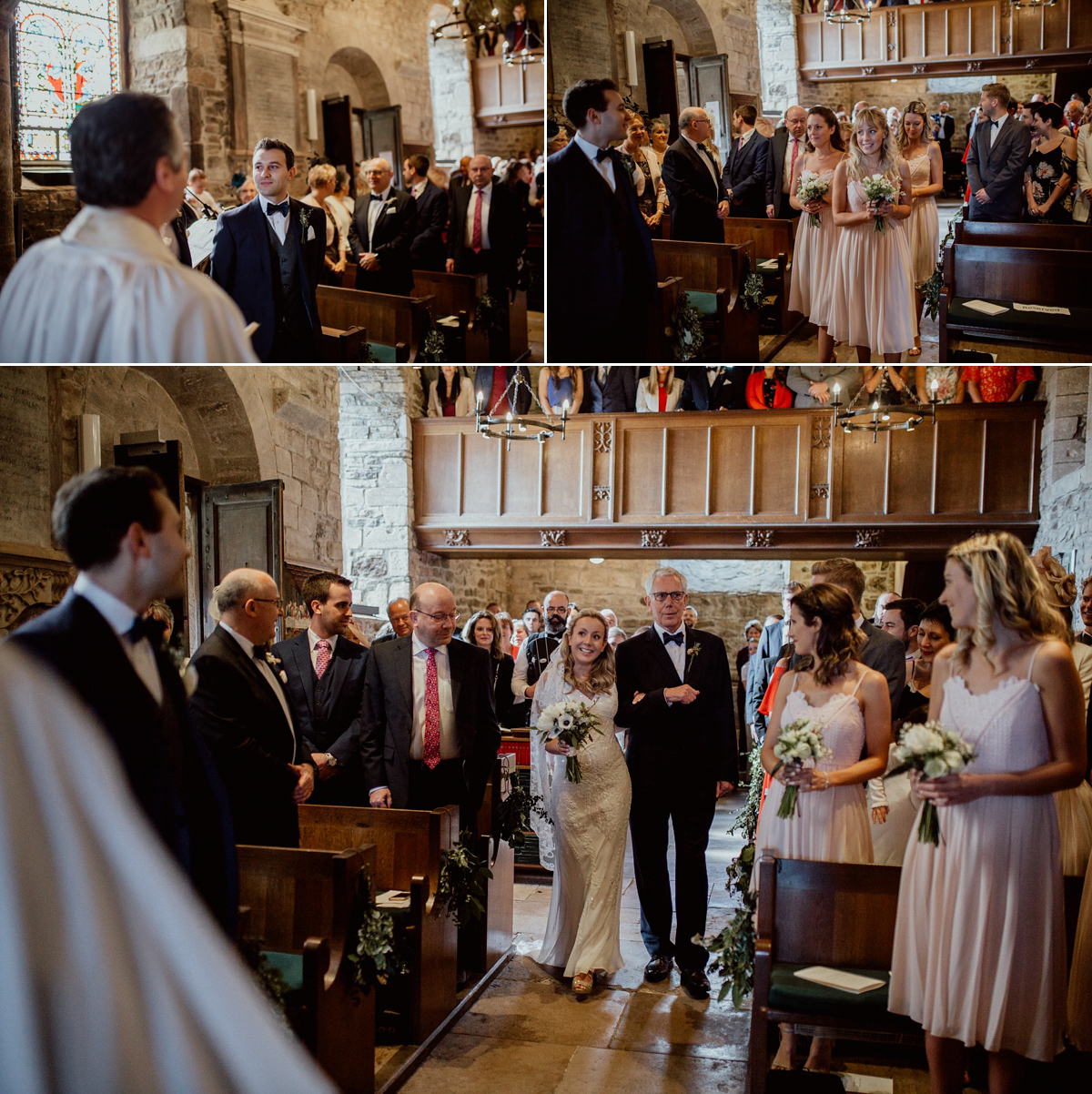 "We met in London on a night out while celebrating my sisters 30th in a pub. My whole family were there and we got talking that night and exchanged numbers – meeting the family straight away didn't put him off! He proposed five years later and we got married seven months after that."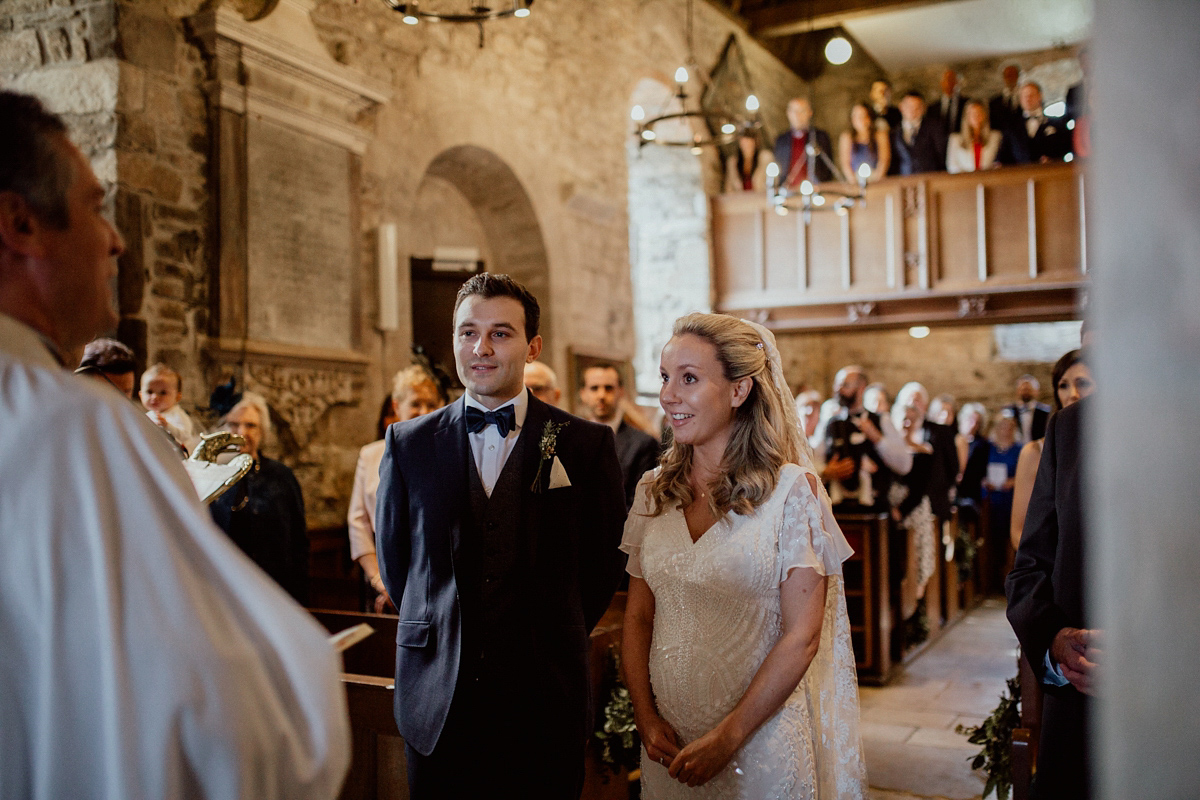 The beautiful bride walked down the aisle with her father to The Beatles 'In My Life' towards her dapper fiancé, preceded by her gorgeous bridesmaids, who also gave an emotional reading of Emma Salmon's 'The Future', during the ceremony…
In my future I see you and me,
And a house and garden filled with trees.
I see dinner parties surrounded by friends,
And a vegetable patch we love to tend.
I see cosy nights in front of the fire,
And a four-poster bed for when we tire.
I see our kitchen which will be the heart of the home,
And a Victorian bath brimming with foam.
I see muddy wellies by the front door,
And the kids eating cookies and asking for more.
I see nights in the garden camping under the stars,
And shelves full of mismatching local jam jars.
I see family picnics outside with the dog,
And a little blue shed containing the logs.
I see us sat by the window watching the snow,
And reading the papers and learning to grow.
I see pictures of family in quirky frames,
And letters on the kids' doors spelling out their names.
I see laughter, pain, kisses and tears,
And helping each other to confront our fears.
I see you as my friend and also my lover,
Your confidant and your children's mother.
I see a wonderful future for you and I,
And it's cloaked in love until we die.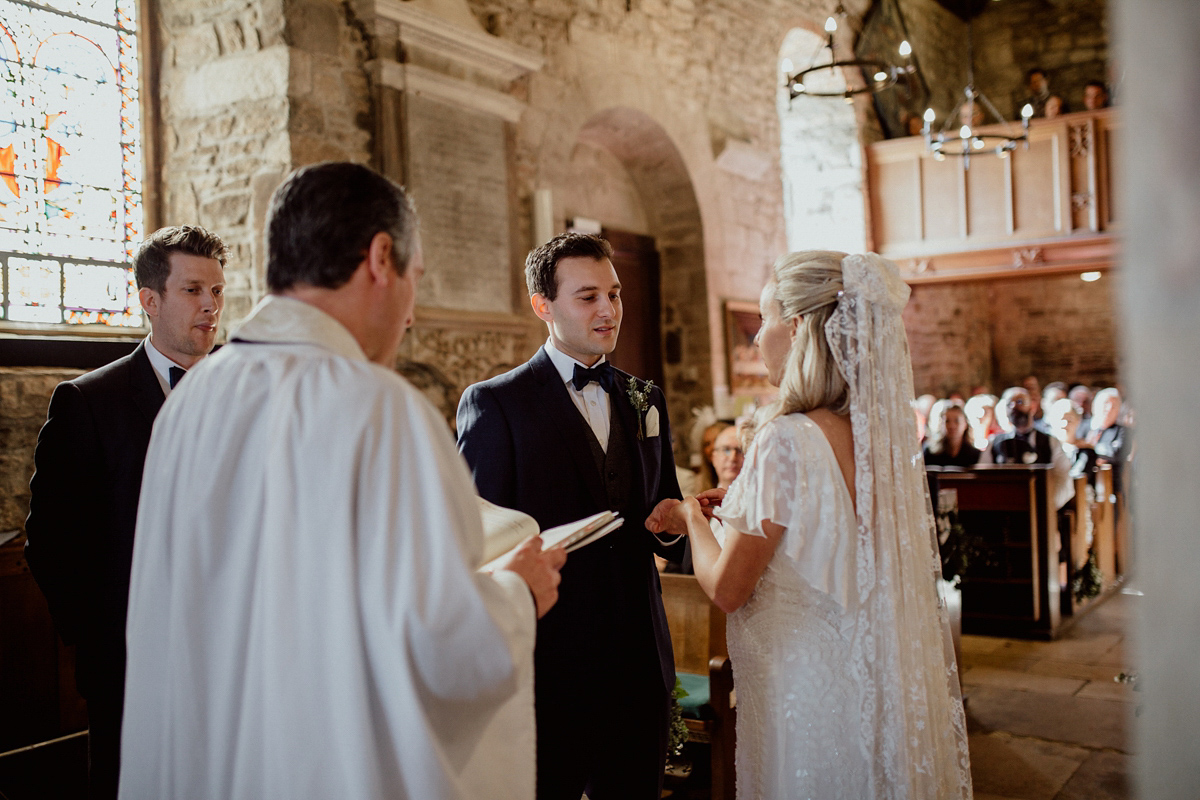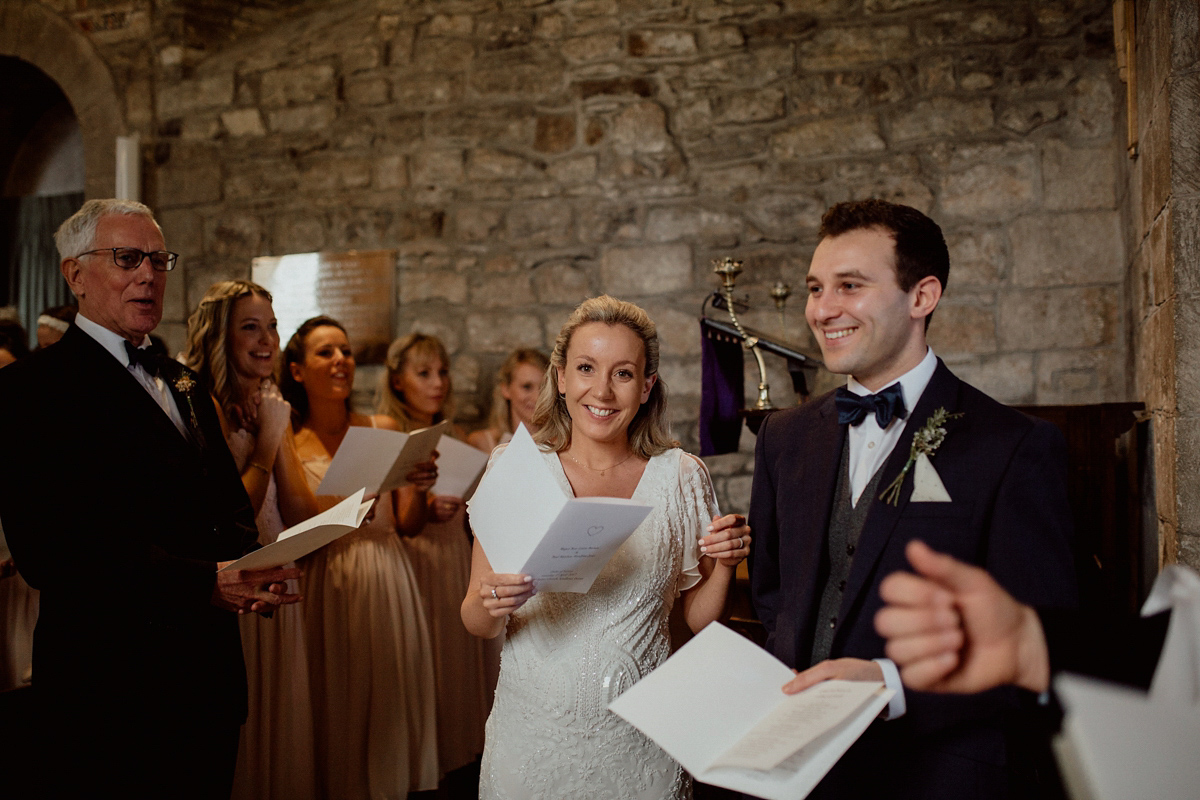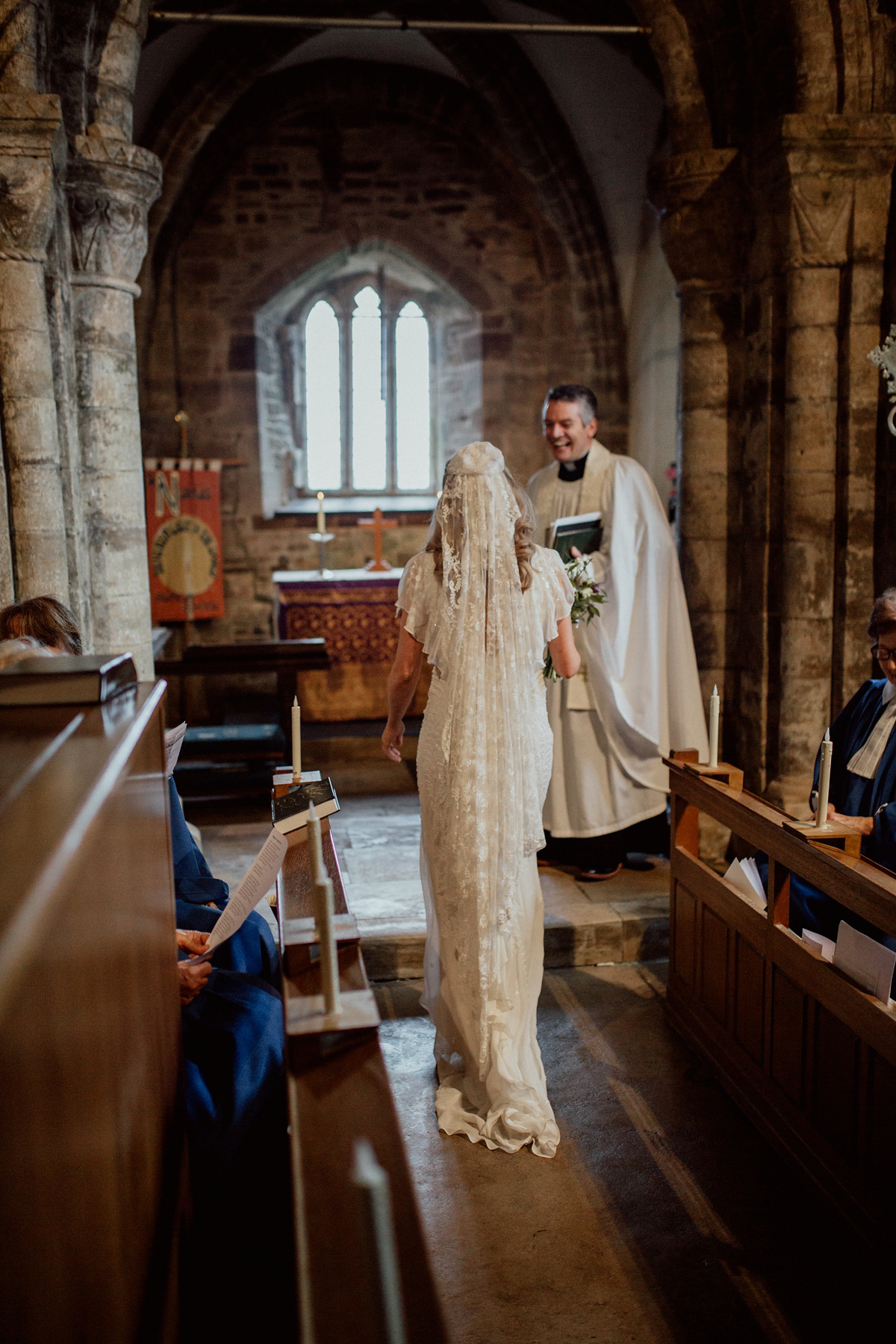 The newlyweds gleefully exchanged rings; one which was in the bride's family and another purchased from London's Hatton Garden, before making their jubilant exit into the fresh Spring air as Mr and Mrs, and on to their reception at Studland Bay House.
"Apart from the fact that we got engaged in Studland at the nearby Pig on the Beach Hotel, we loved the fact it was near the coast. The house has fantastic views of the sea and you could see the Isle of Wight from our bedroom window. The garden was scattered with pine trees, which reminded me of Portugal where my mother is from. Studland Bay House was stunning and had nine double bedrooms which we had all our family stay in as well as the best man and his fiancé."
Emma Gates has captured some truly beautiful moments in subtle, reportage style, from the guests milling serenely in the flower-filled gardens, to heavenly couple shots of the newlyweds walking hand in hand through the golden Spring light.
"We love our photos. We haven't stopped getting compliments from friends and family who love them all too. Emma really captured our day beautifully."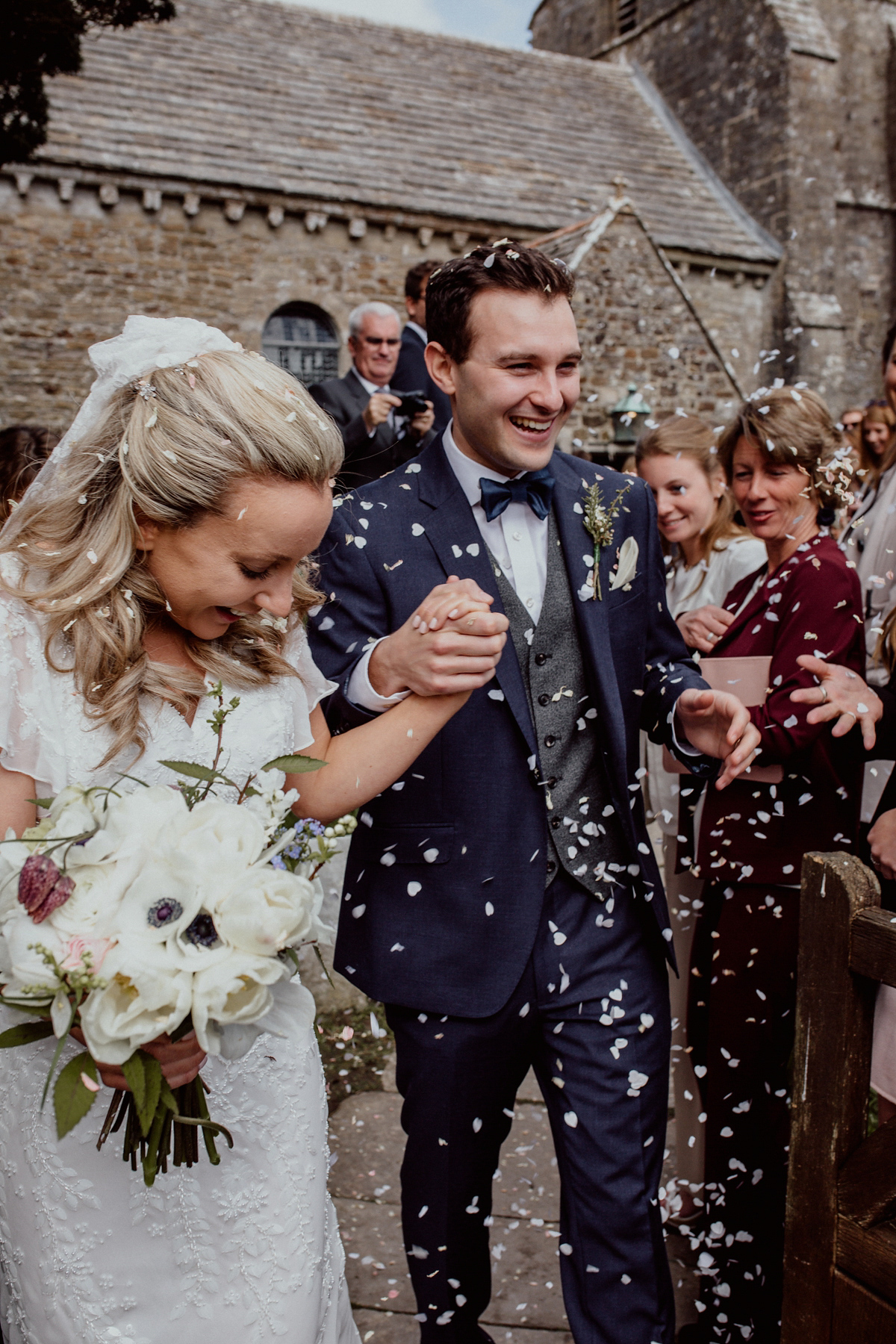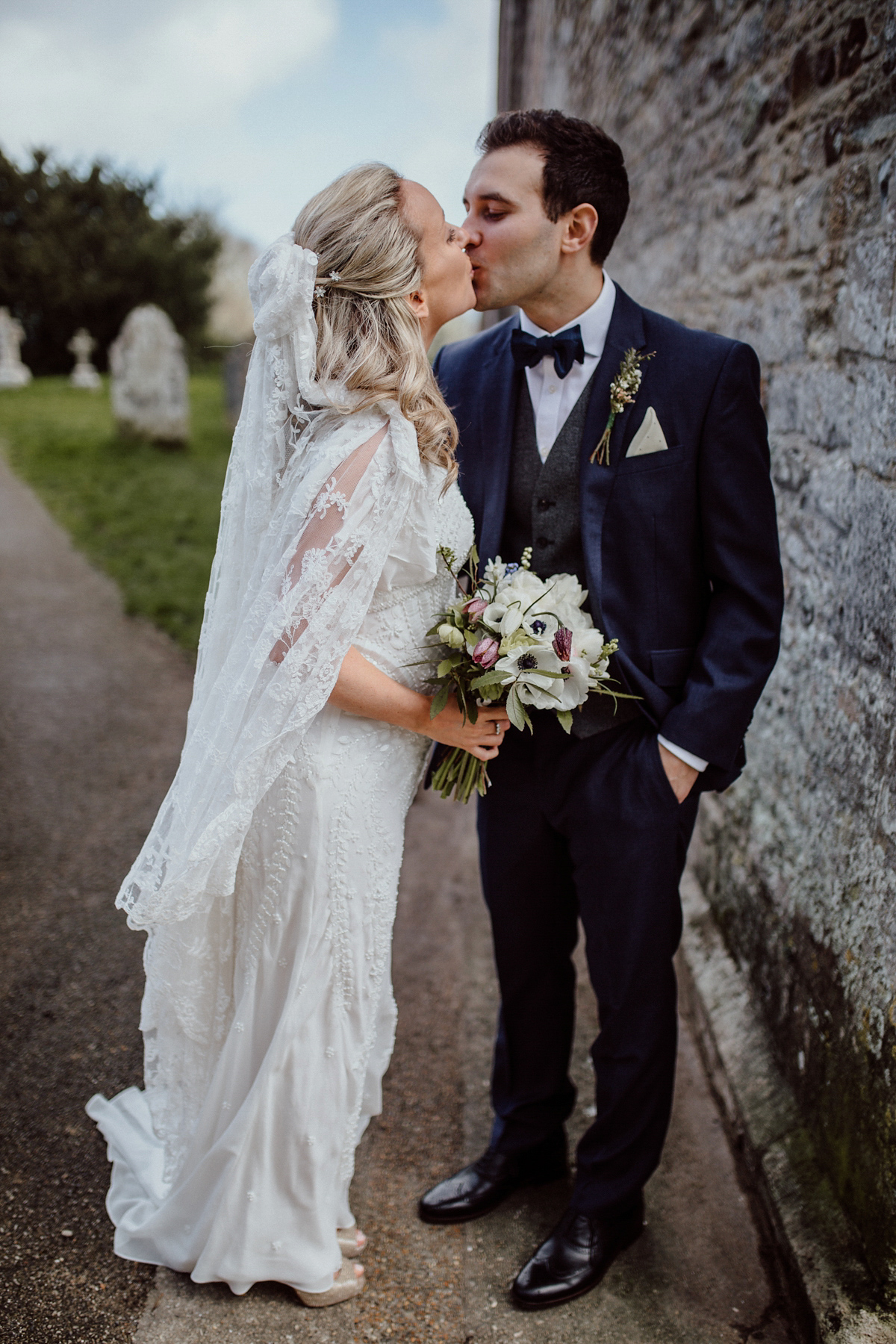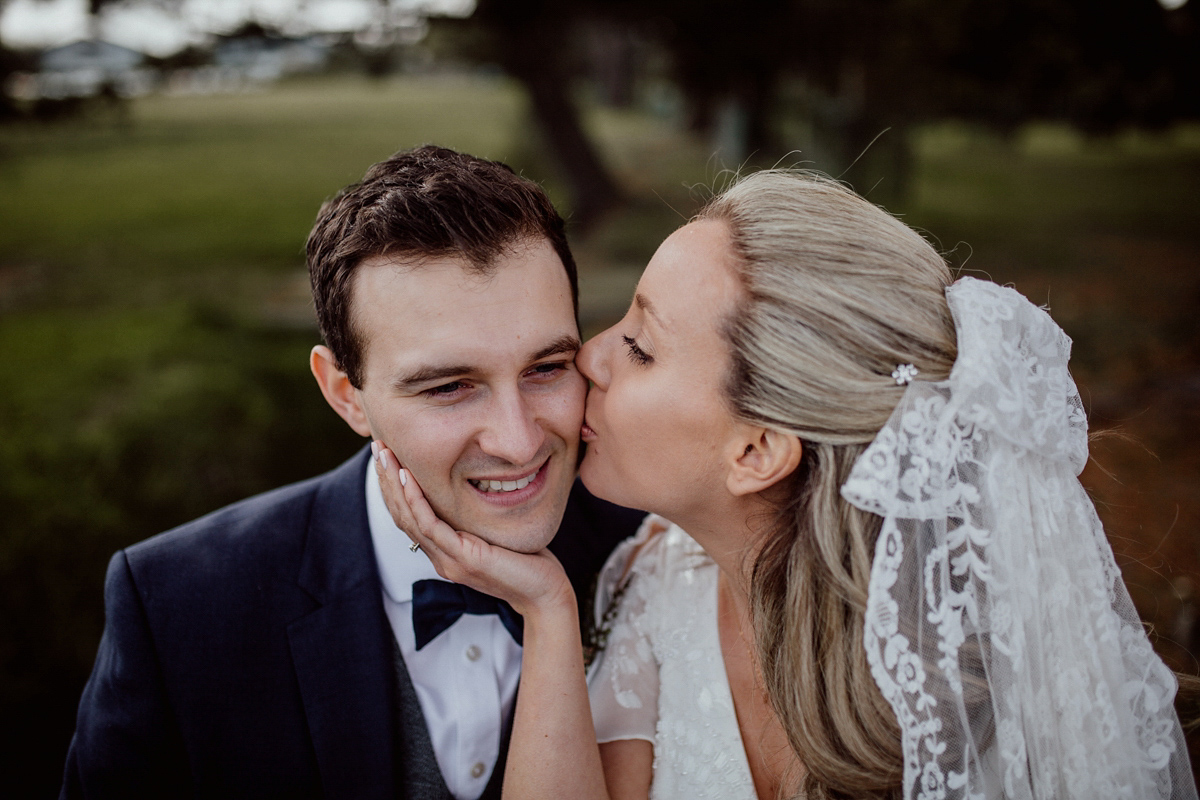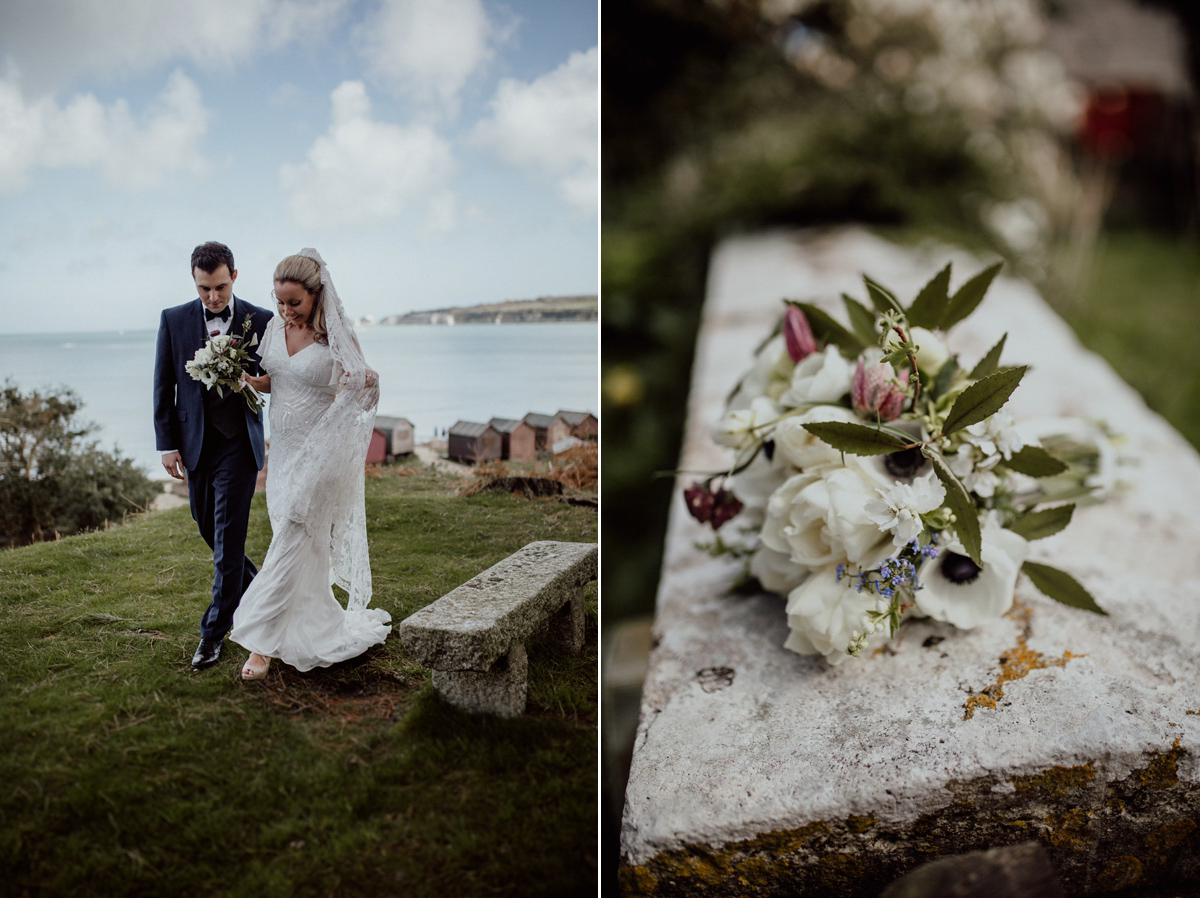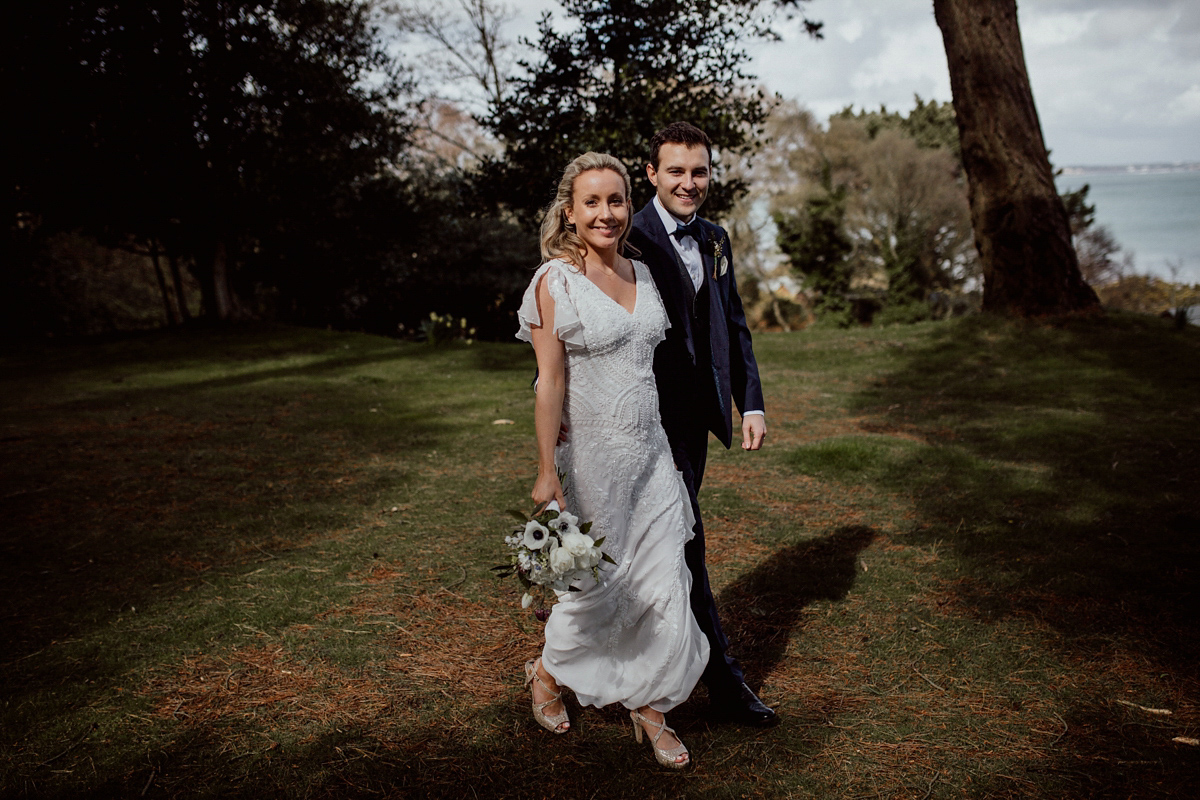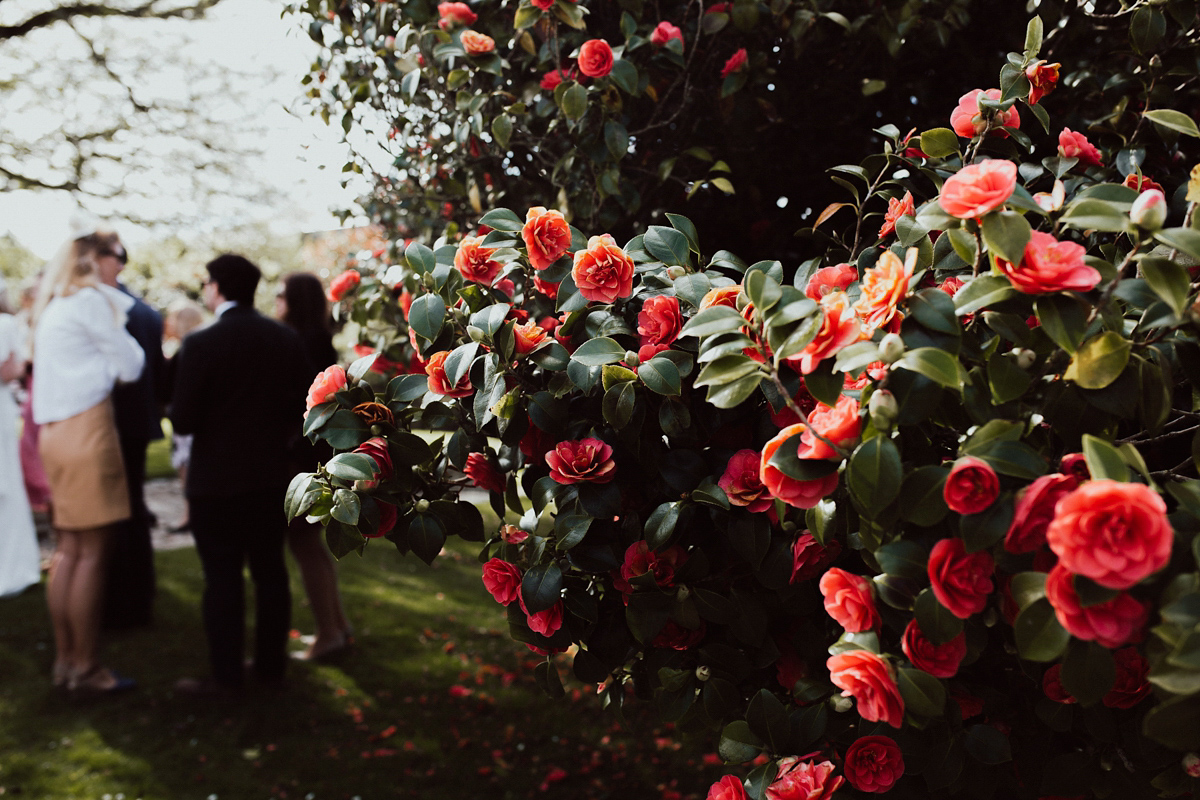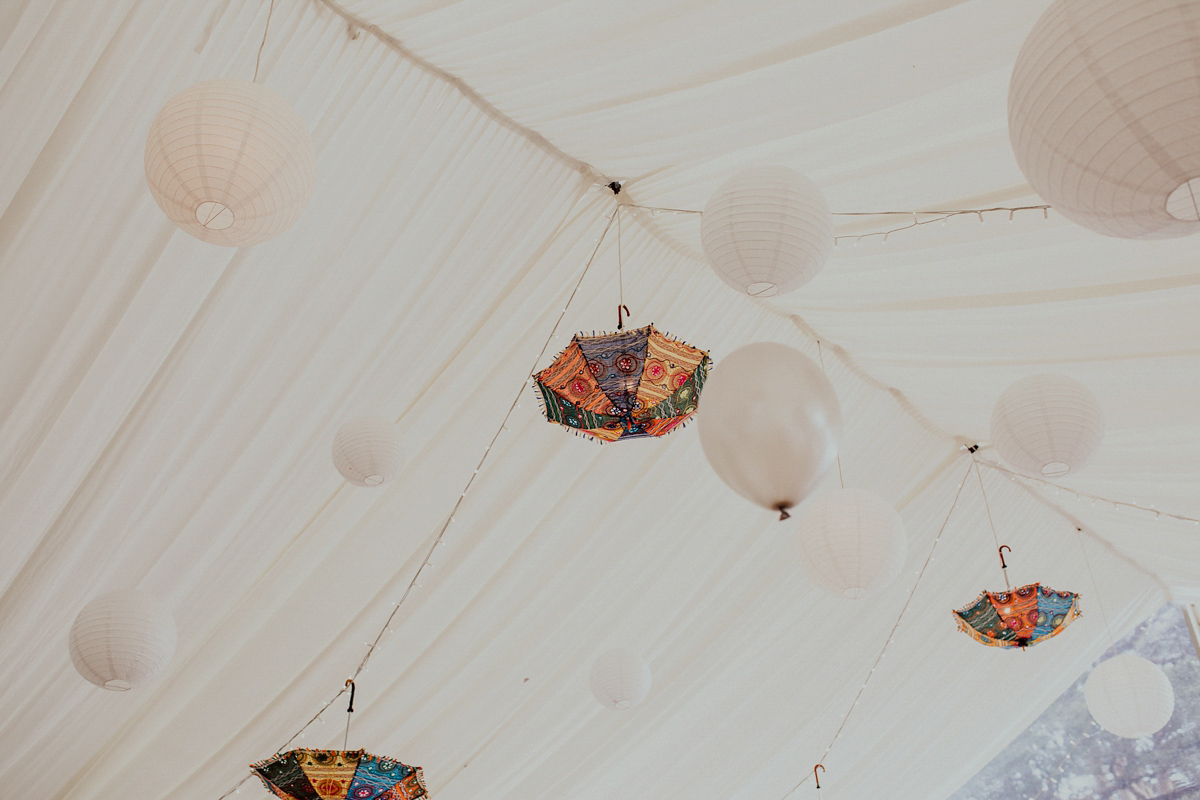 Catering was all taken care of in-house while talented friends and family provided the wedding cake and the stationery. The couple gifted their loved ones with port wine, provided by a friend with a vineyard in Portugal.
"We had a beautiful handmade naked cake with edible flowers on a tree trunk piece, which the father of the groom cut and sanded himself. Our Indian hand-embroidered umbrellas were from eBay and we had confetti balloons and 'LOVE' balloons which we hung over the bar in the corner of the marquee."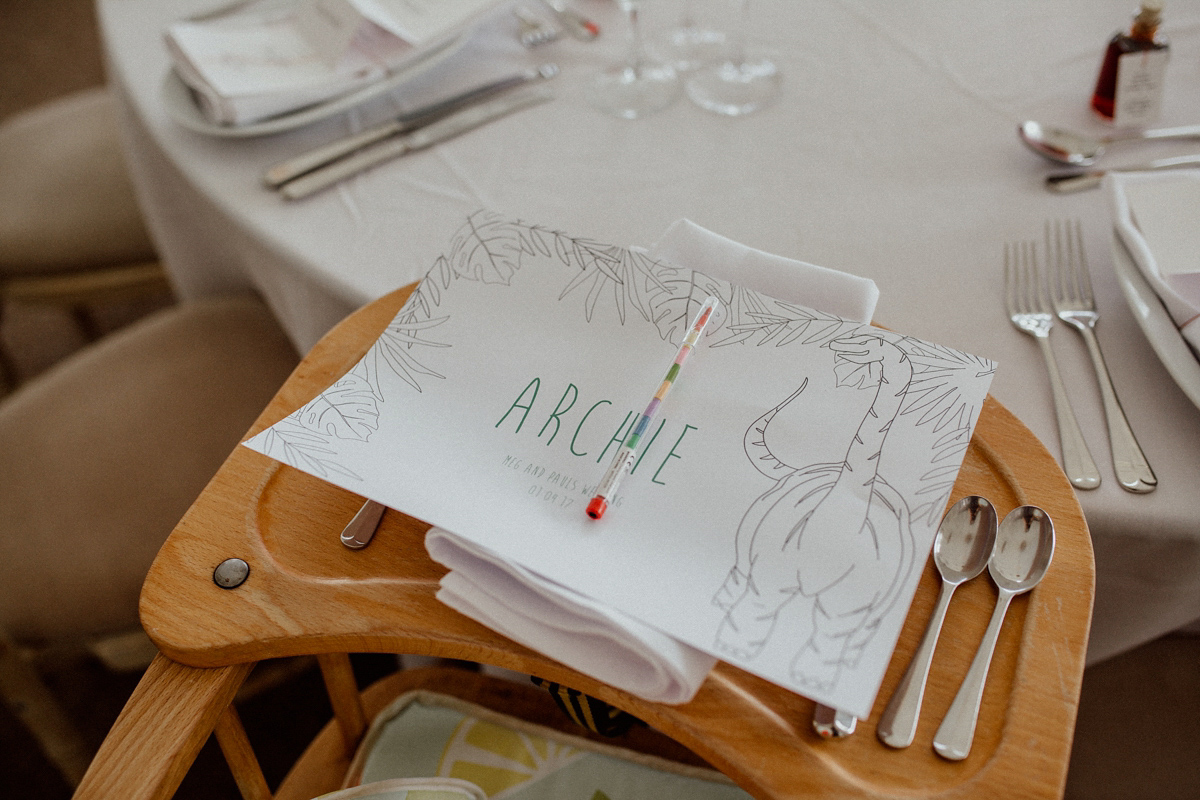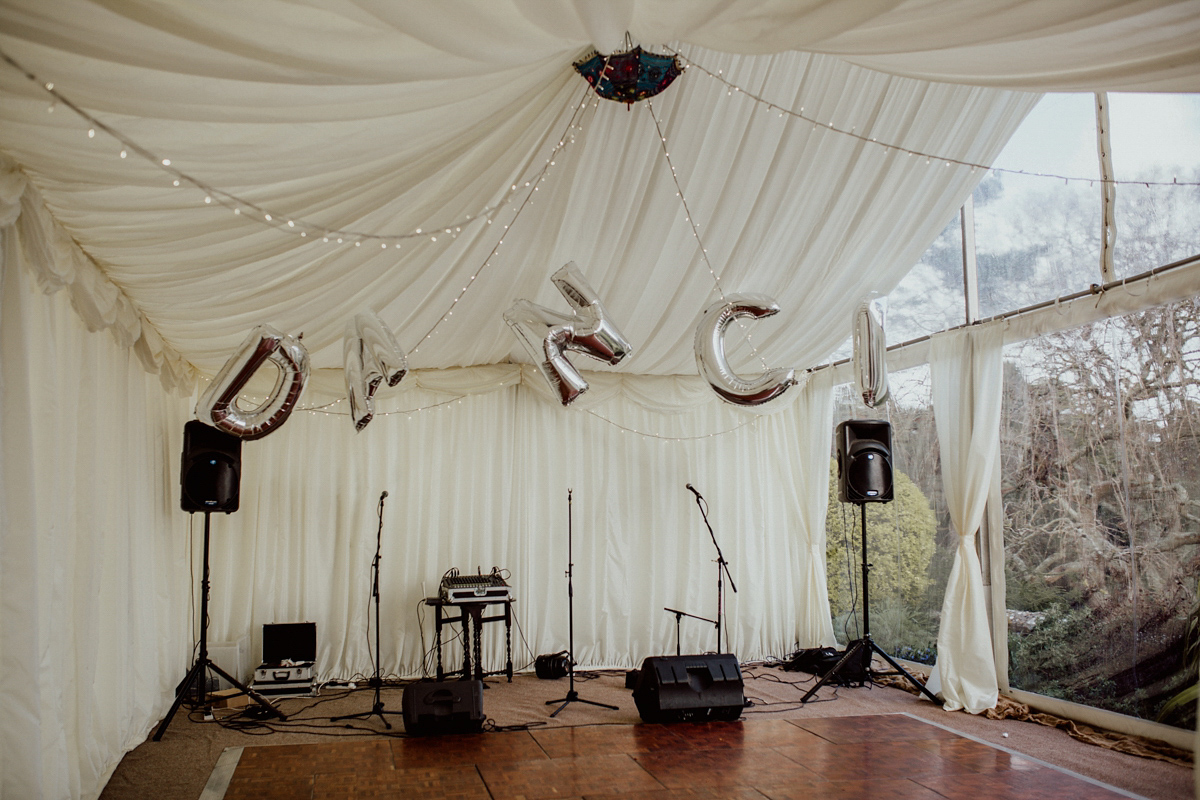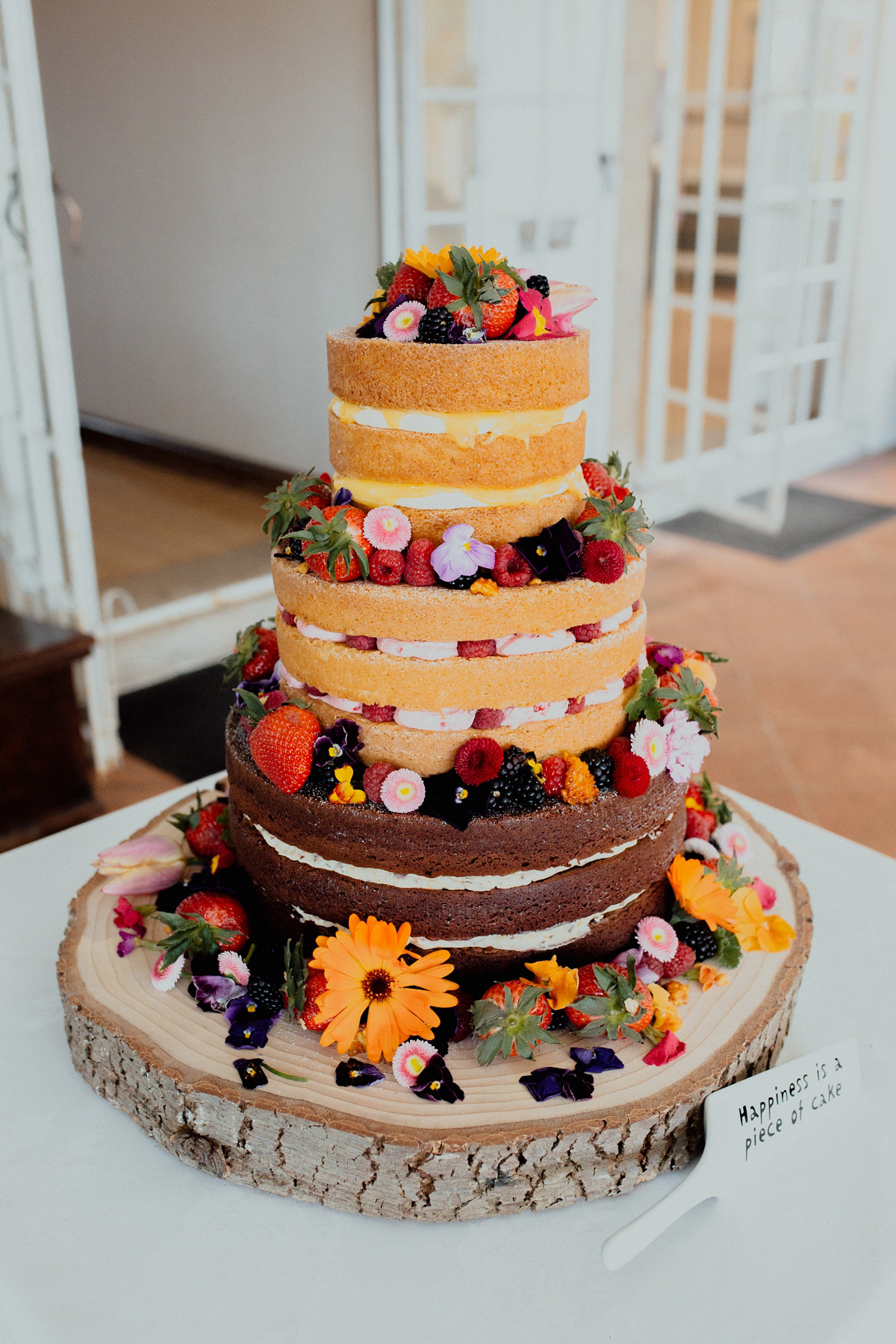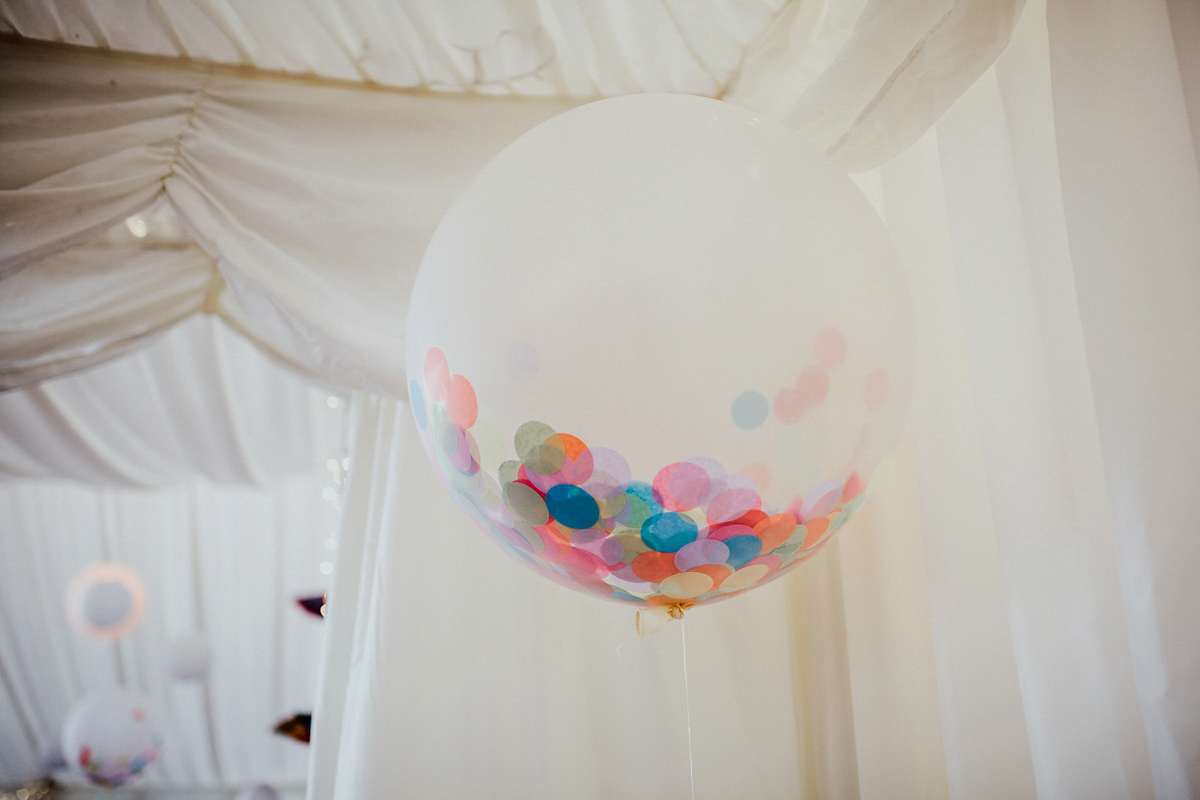 Keeping it in the family (seriously, what a talented bunch) the couple danced the night away with their friends and families to the musical stylings of the groom's brother's band, 'Dry Clean Only'.
The newlyweds took to the dance floor to sway to Me and Mrs Jones by Billy Paul and were soon gleefully joined by what looks like their entire wedding party.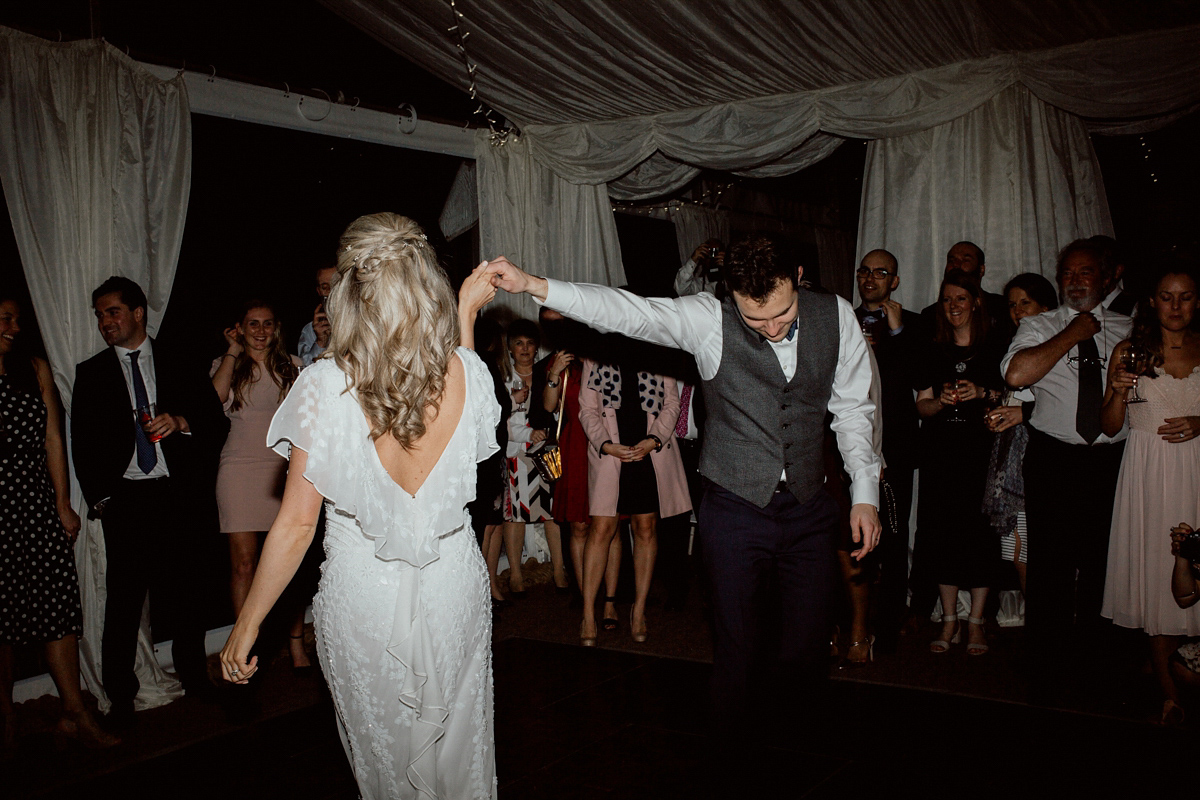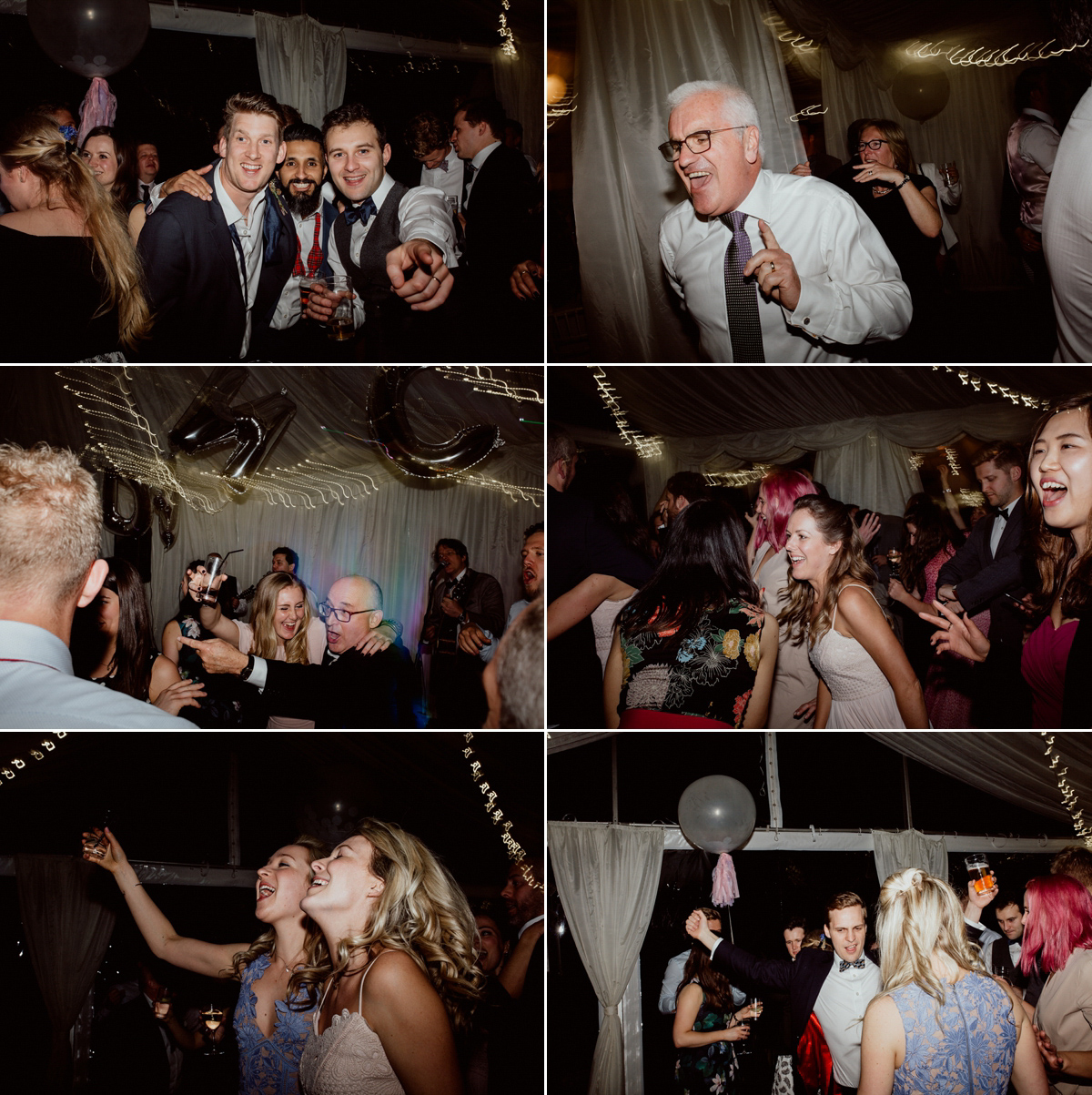 Words of Wedded Wisdom
"Overestimate, then you won't be disappointed! Also, negotiate for everything, there is nothing lost in asking for a better price, even if you don't get it."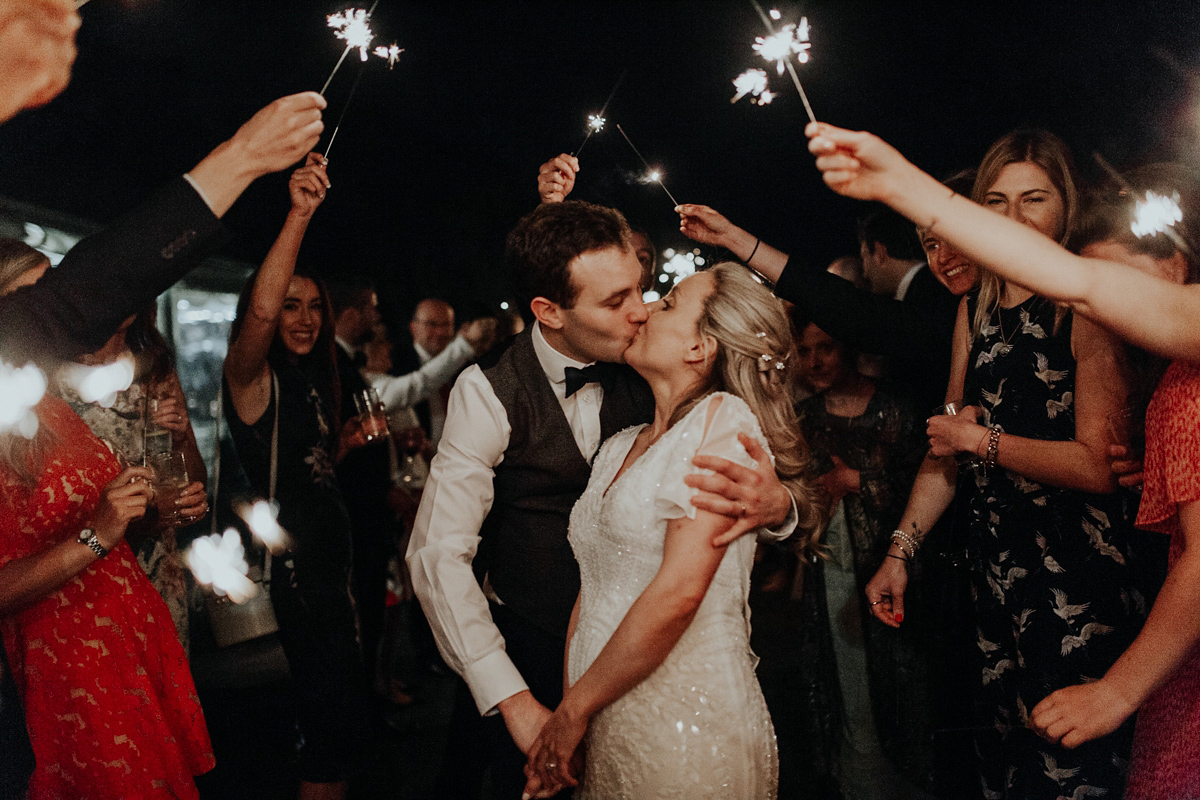 A girl after my own heart! I can't tell you how much money you can save by negotiating with suppliers and really prioritising what's most important to you as a couple. And as for overestimating…I'd second that piece of advice too.
Certainly if it helps your lovely brand new father-in-law avoid a trip up to the top of the mountain to raid your neighbour's restaurant on an emergency beer run because your guests drank Tuscany dry (and your dad single-handedly wiped out Italy's entire stock of limoncello).
A huge thank you to Mr and Mrs Woodfine Jones and the talented Emma Gates Photography for sharing this gorgeous day with us all.
With love,
Em x