I never can quite get over the amount of skill and passion that our couples have here on Love My Dress – we're so lucky to be able to feature so much of this talent.  Today's wedding is an absolute beauty – very unusual, but so gorgeously done- its almost a work of art.
David and Michelle married at Sheffield Botanical Gardens on the 18th of September 2016, followed by a reception at a warehouse space called Peddlar, also in the city of steel. David is a barrister and Michelle a fashion designer and Michelle has just started a new business called Wild and Untamed which was inspired by their wedding.  The couple met at a warehouse party, so using Peddlar at 92 Burton Road for their reception party was a perfect choice.
"We had a game of two halves with our wedding.  I am from Sheffield and as a child I used to visit the Botanical Gardens which is a beautiful Victorian glass house filled with huge tropical plants and the grounds themselves are absolutely stunning with ancient trees, tropical fauna, Victorian fountains and an unusual bear pit.  I have really fond memories of going there with my Grandad so its a very special place."
Images by Eclection Photography
"The day we were married was the hottest day in September for some years and most of our guests wore grey or pale dusky blue so the setting looked like something out of a Victorian film, it was beautiful.
The colour palette was a really important part of the concept, I wanted everything to feel like there was layer of dust covering it, with everyone and everything in cream and pale grey and then I wanted a big burst of colour to come in from my husband's suit."
Michelle made her own amazing dress – what a talented woman!
"It was almost in parts Pre-Raphaelite, a tried and tested theme of fusing old and new, but completely personalising it.  The dress was an antique cream and I created a geometric beading pattern for the upper part."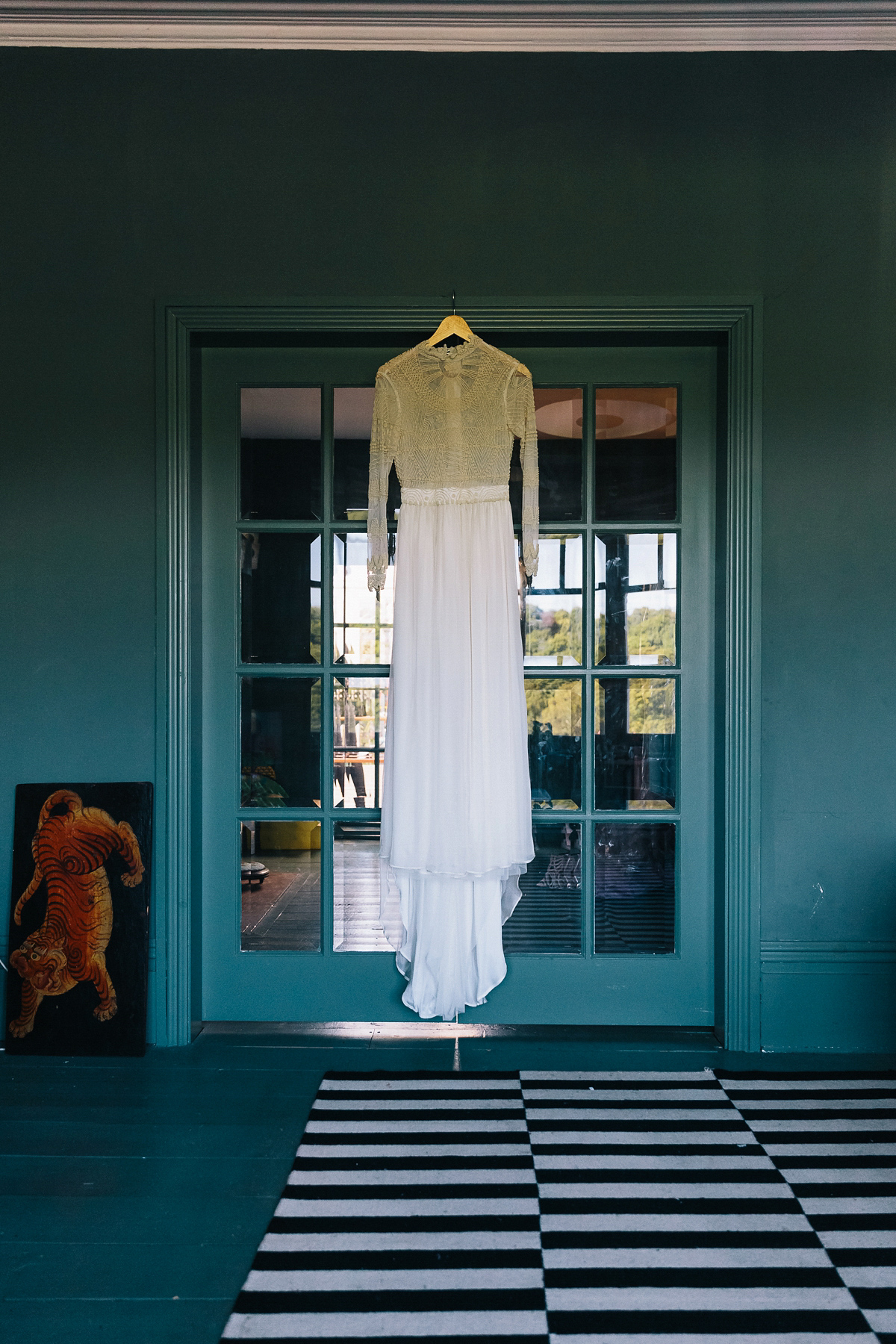 "The skirt was five layers of silks and I had mine and David's names and the date of our wedding embroidered onto one of the layers, it was really comfortable and I felt amazing."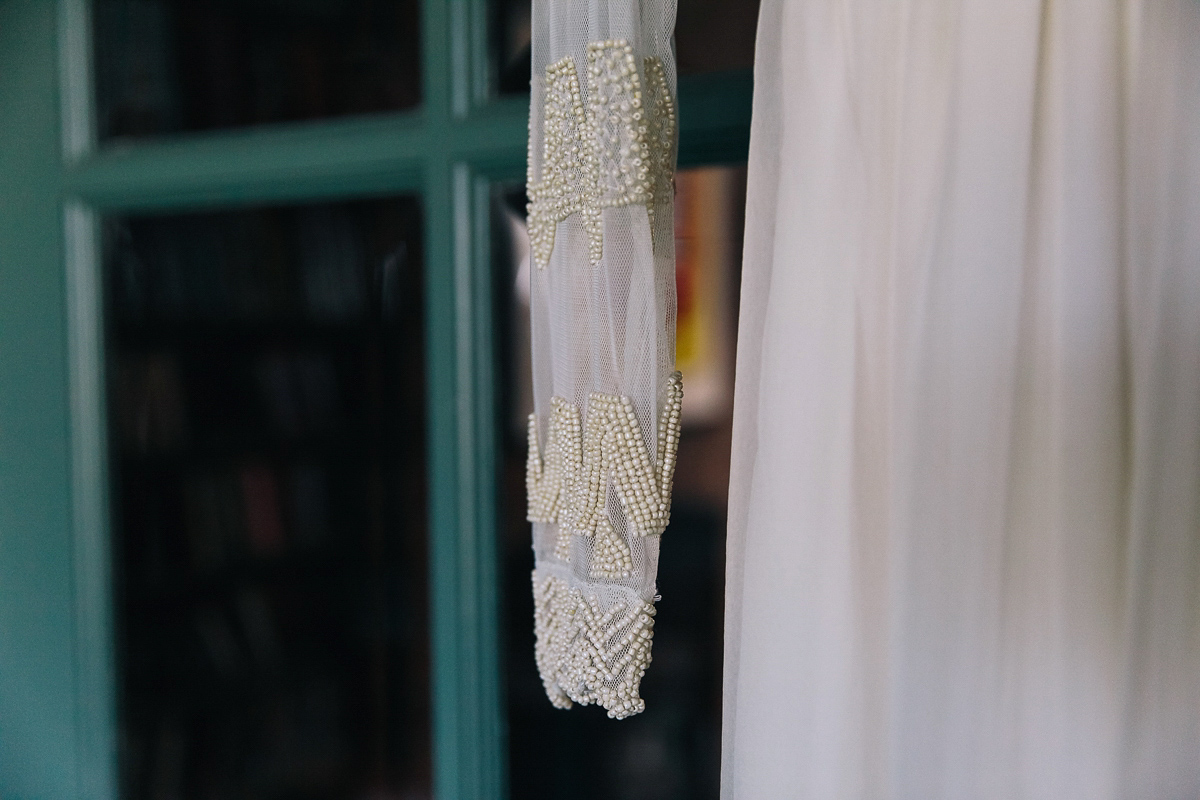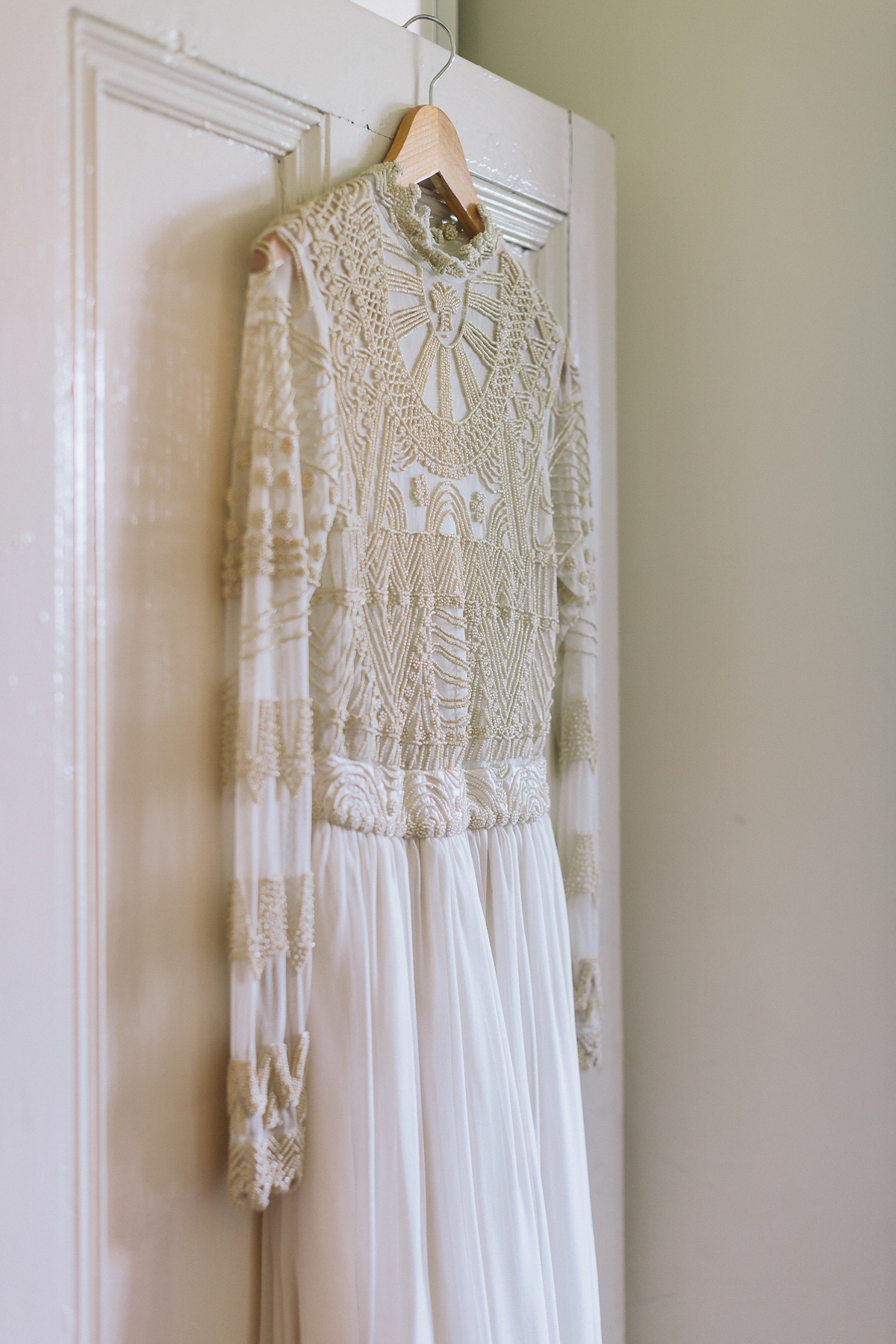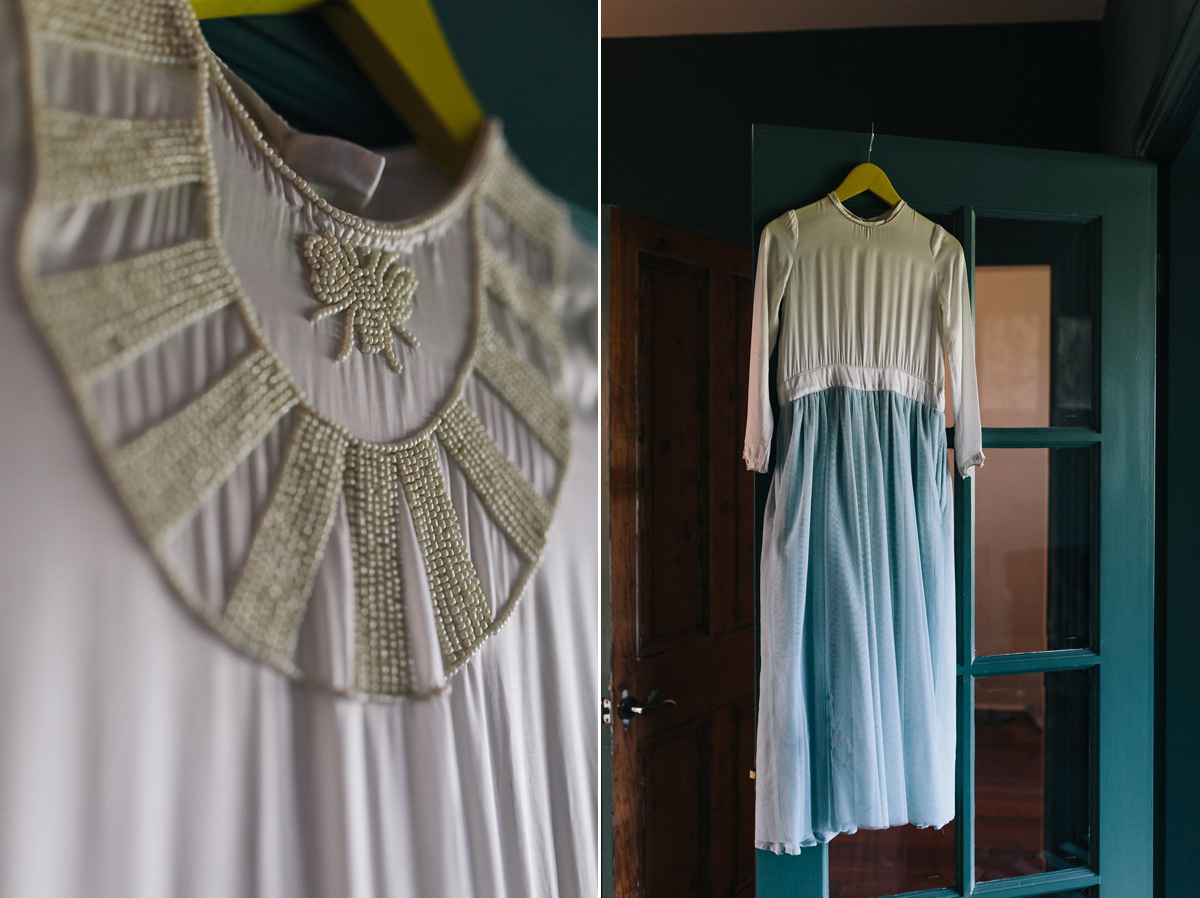 For scent, our bride simply had to go for Wild Bluebell by Jo Malone and for earrings she chose a pair she made herself from long white feathers- a lovely link to the bridesmaid's feather crowns.
"My seven year old daughter and her friends all had a hand in designing their dresses. They had six layers of tulle and silk in the skirts which were light grey and light blue, so after layering them up, the effect was a vintage blue mix, and each of the flower girls had their names embroidered on the dresses for a personal touch"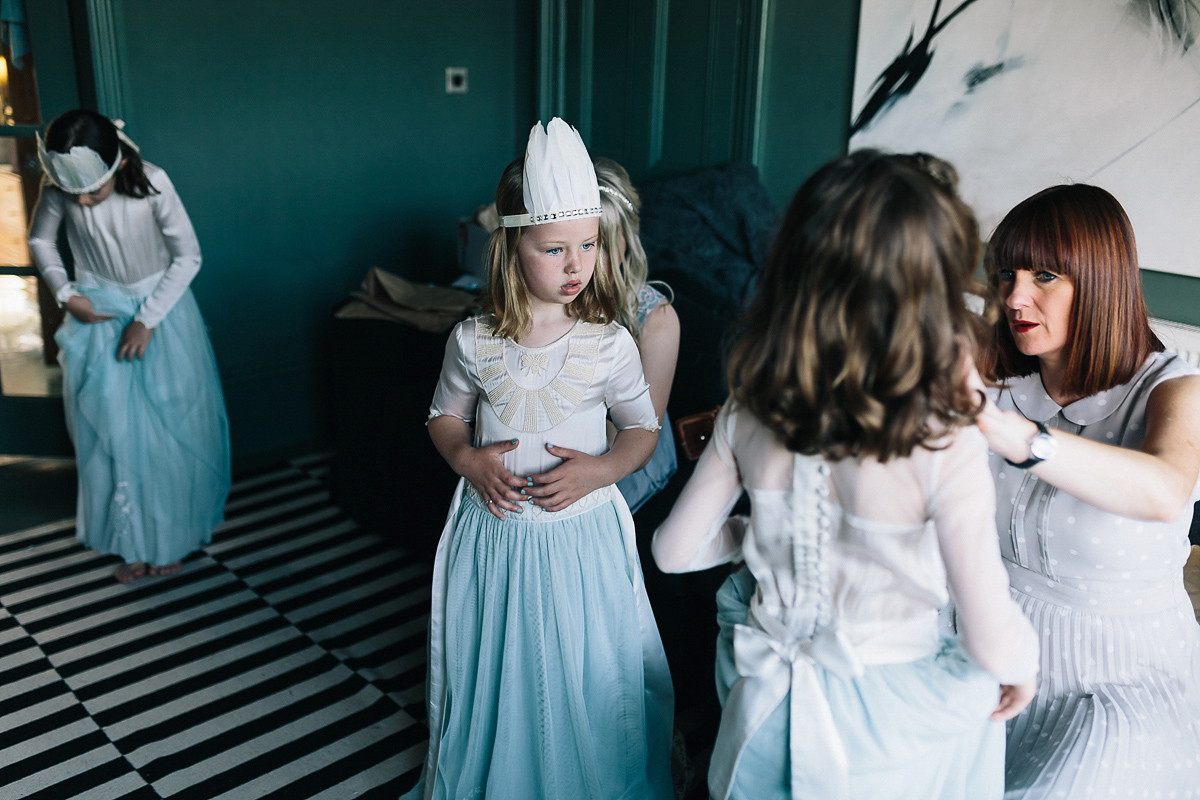 "The top section of the body was cream silk and georgette with light beading. They looked like princesses but not in a twee way."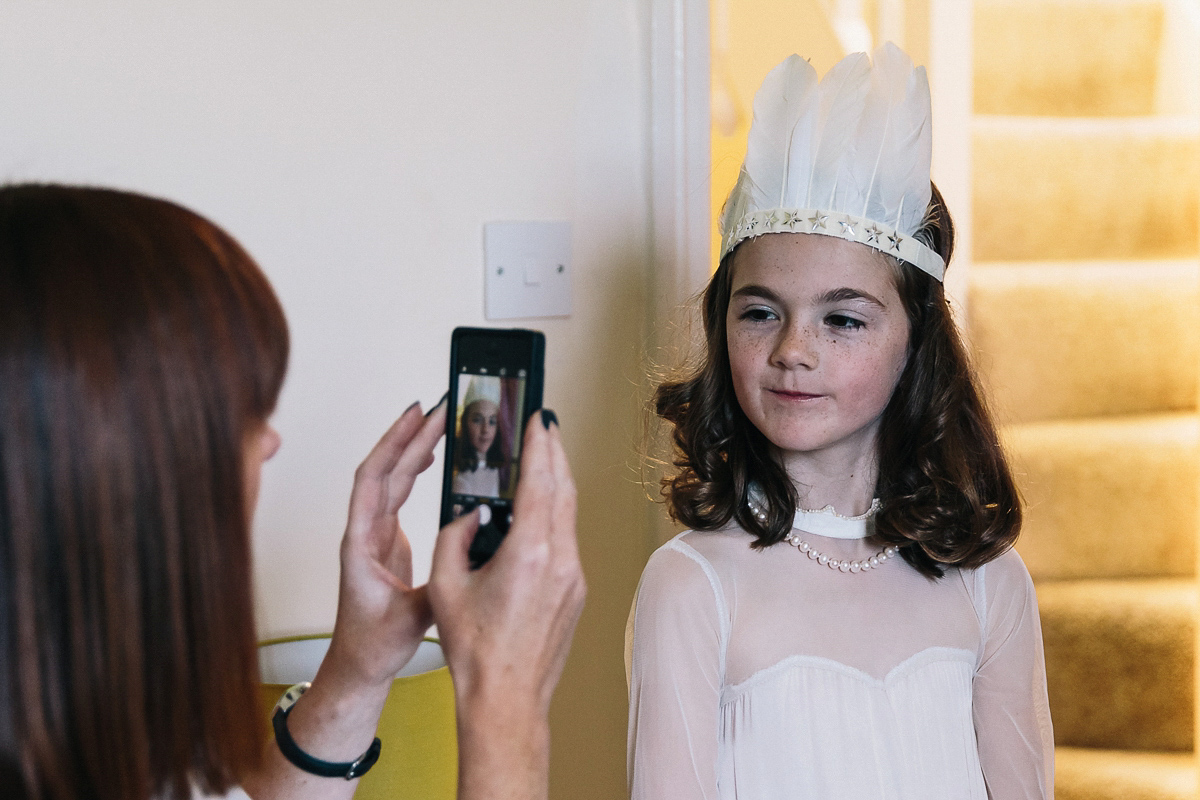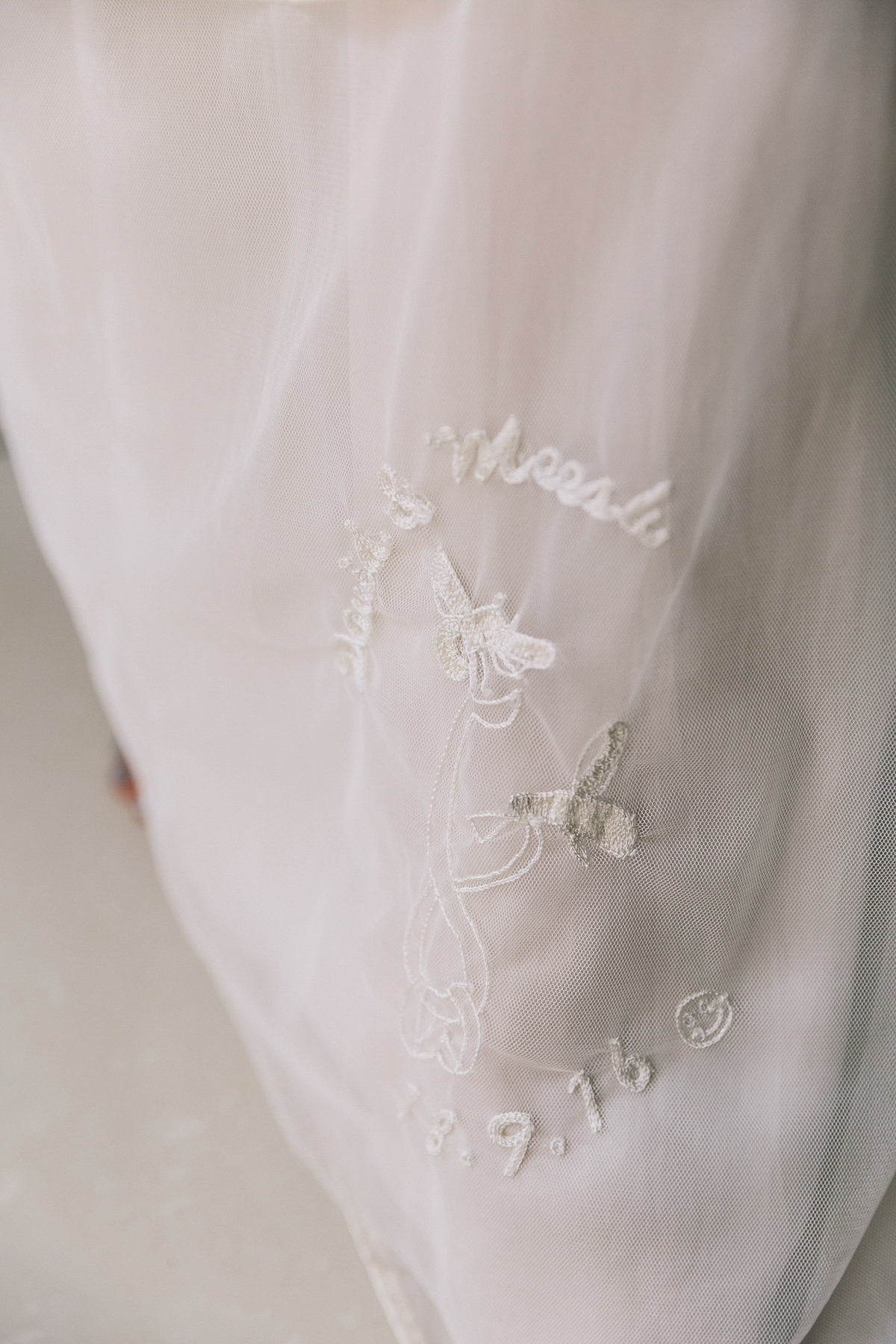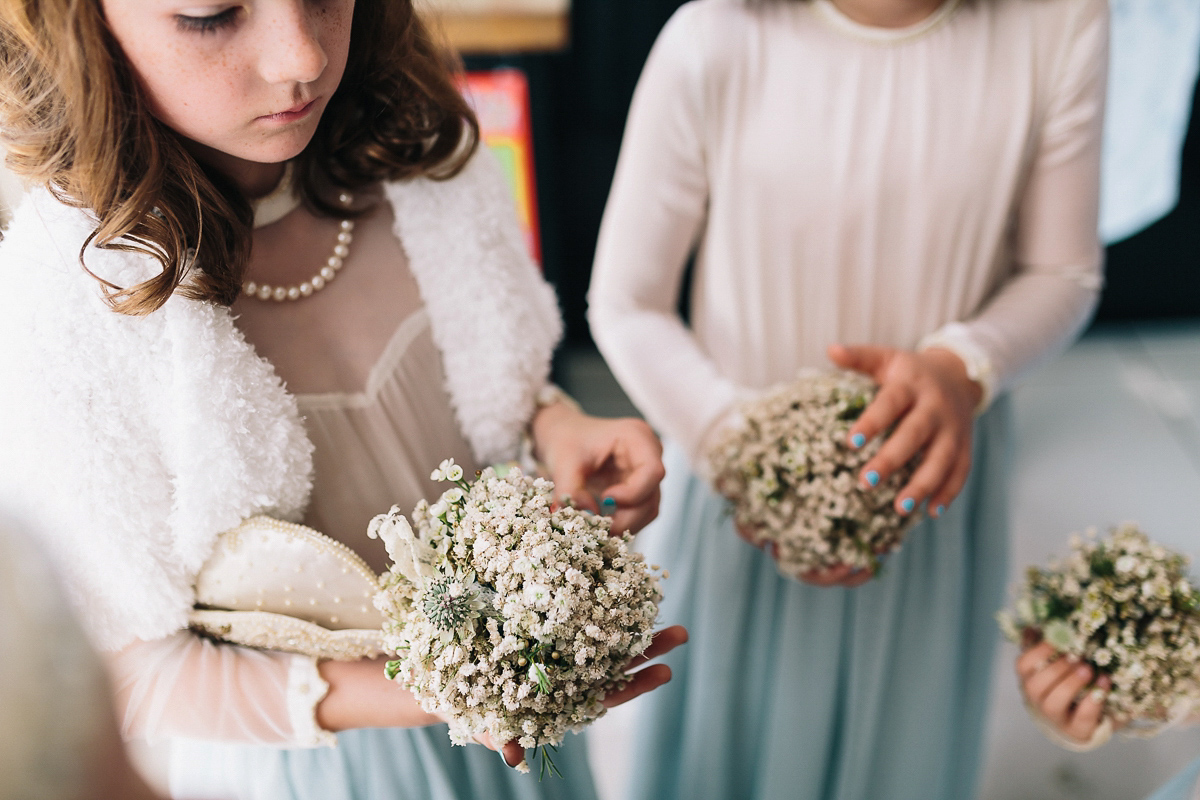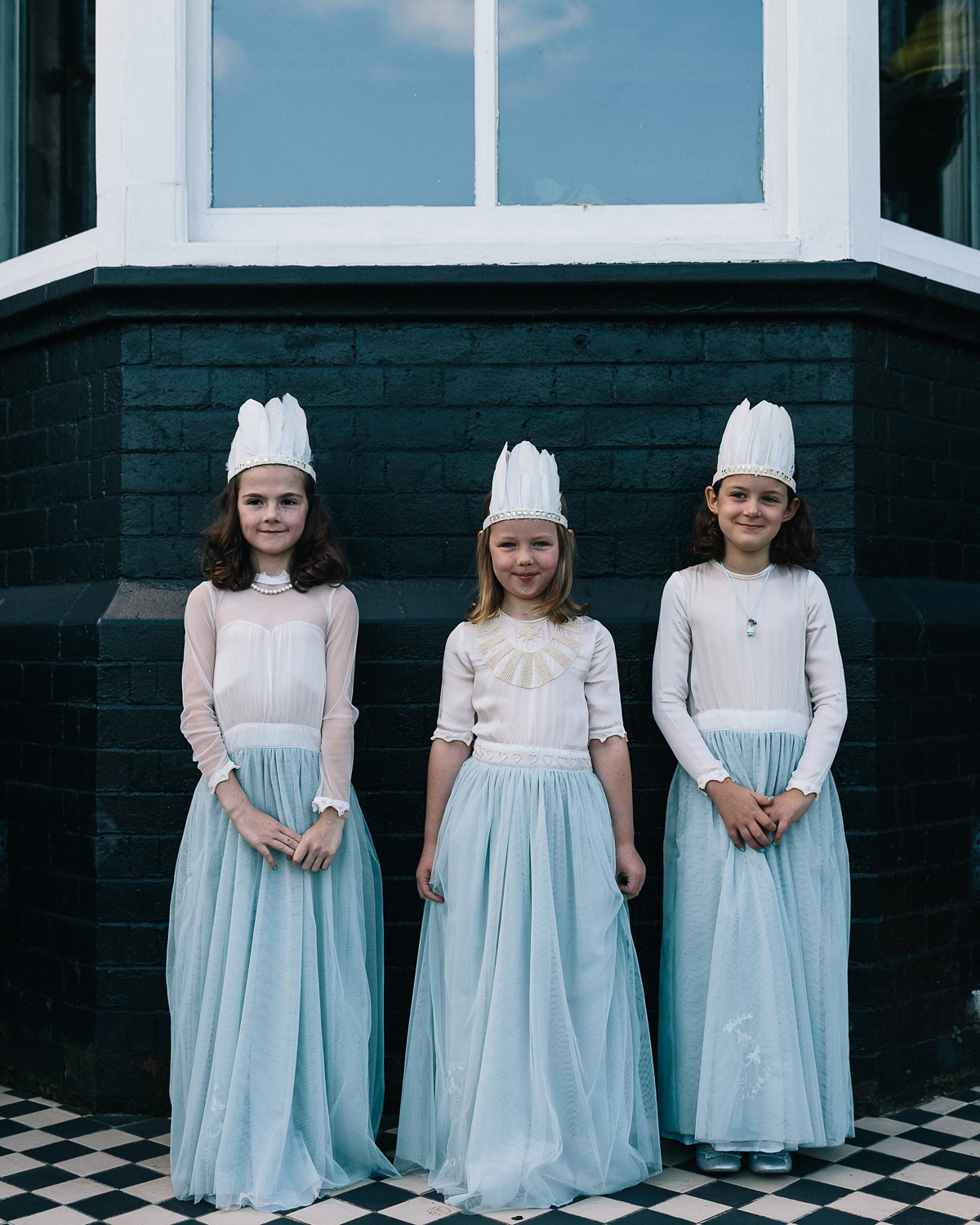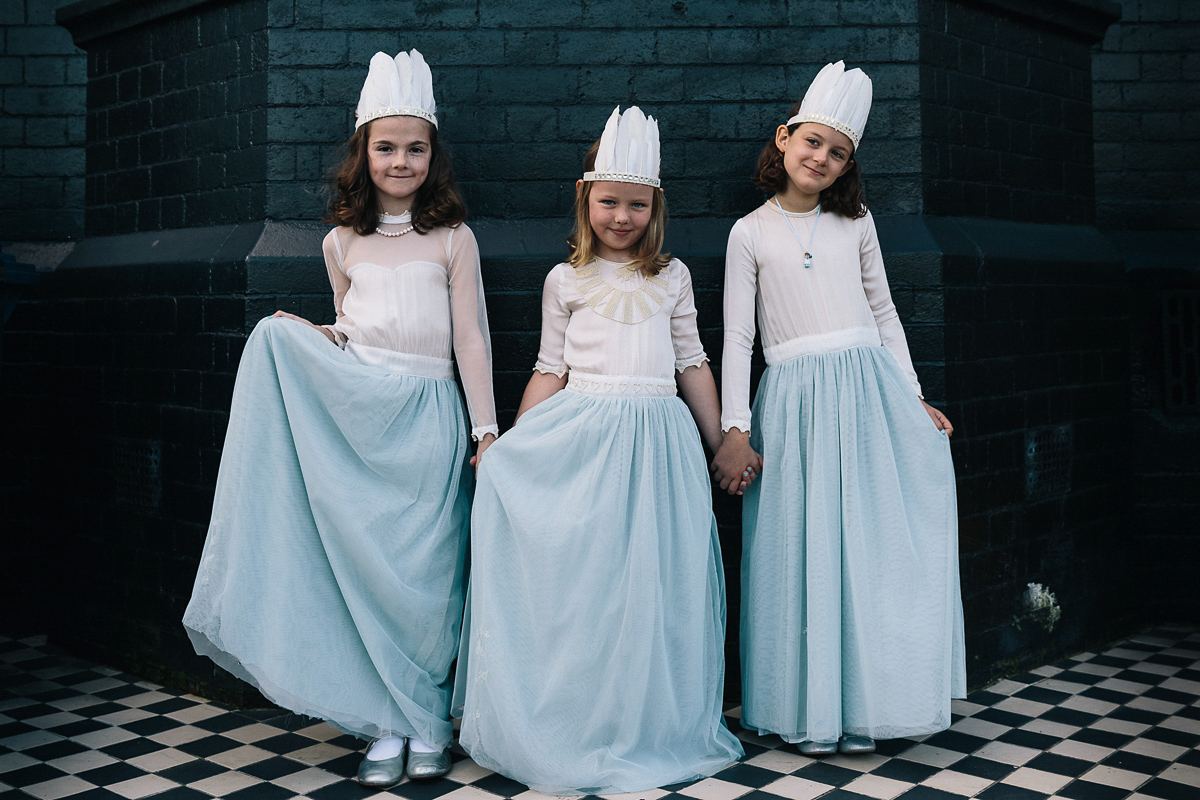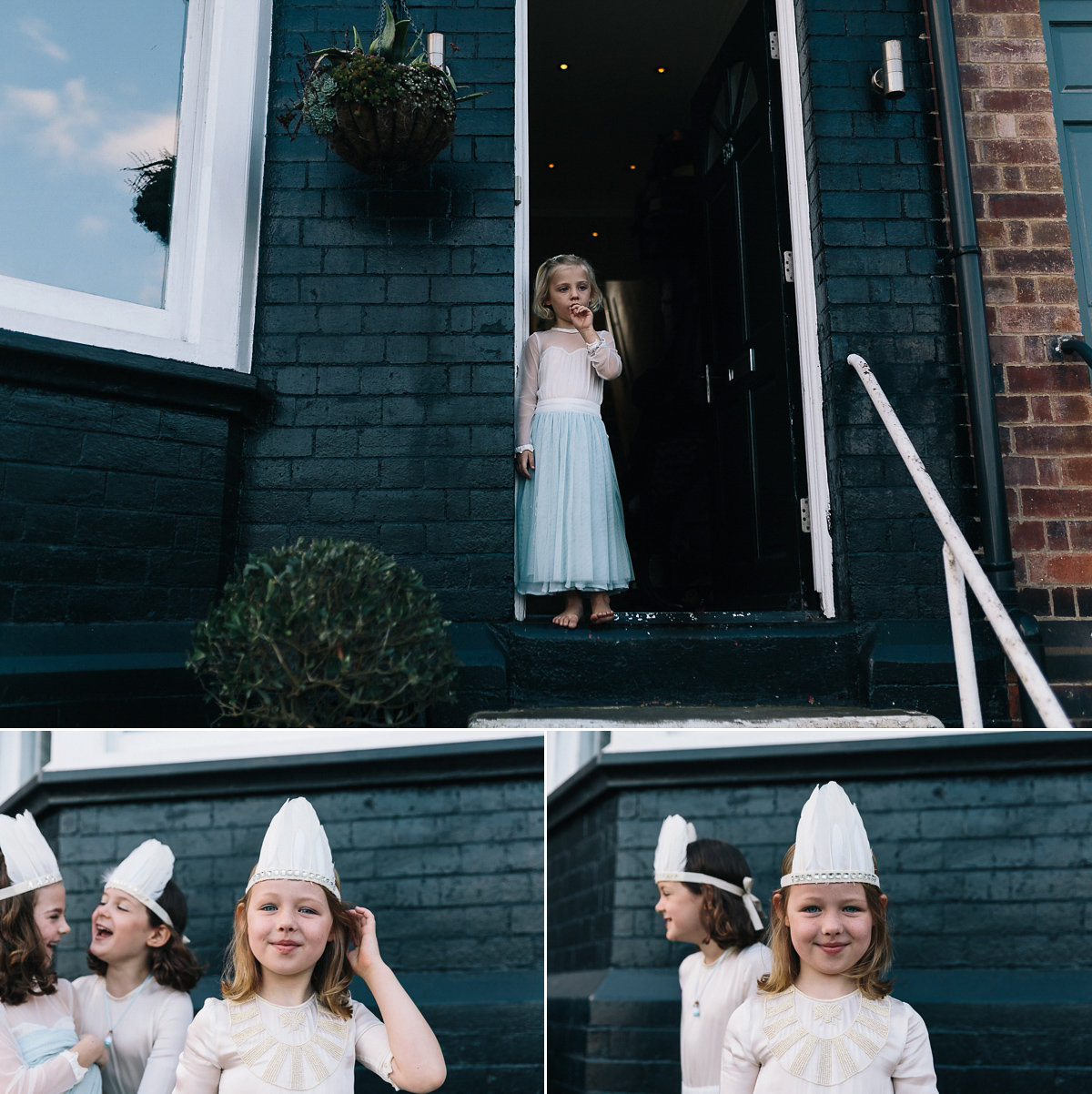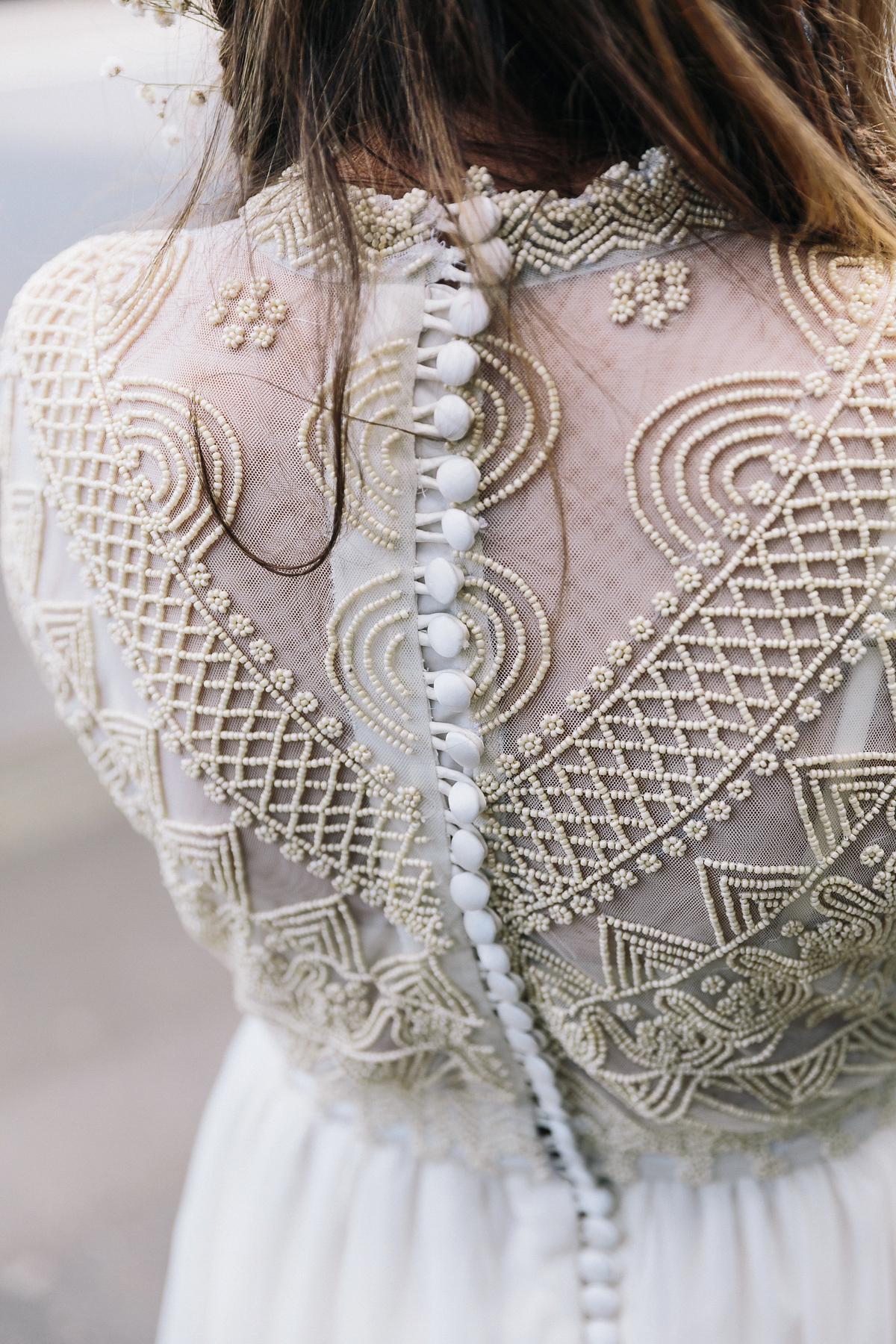 Makeup was the work of Laura Taff and hair styling was by Taylor Taylor in Sheffield.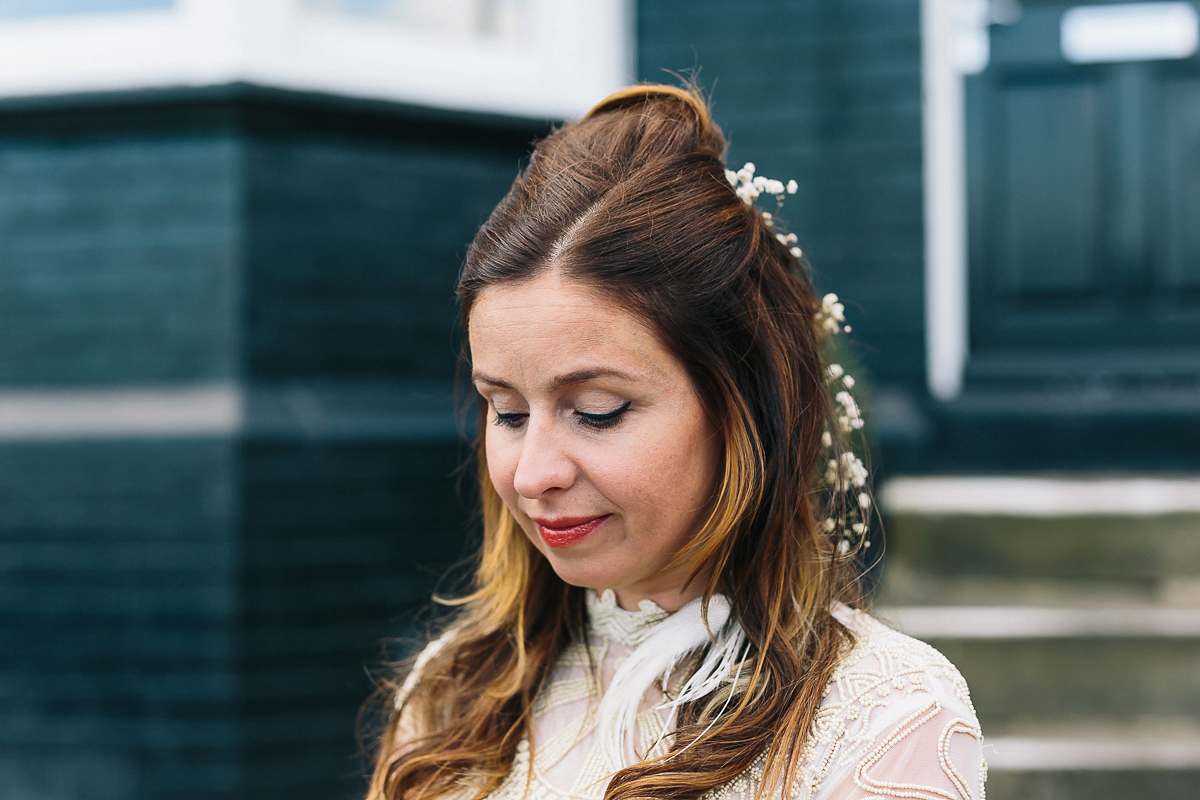 Instead of a veil or headpiece Michelle chose to wear a flower corsage, from Moss and Clover which was made up of wild flowers and pheasant feathers.  An incredible piece.  On her feet she wore cream suede sandals by Schutz.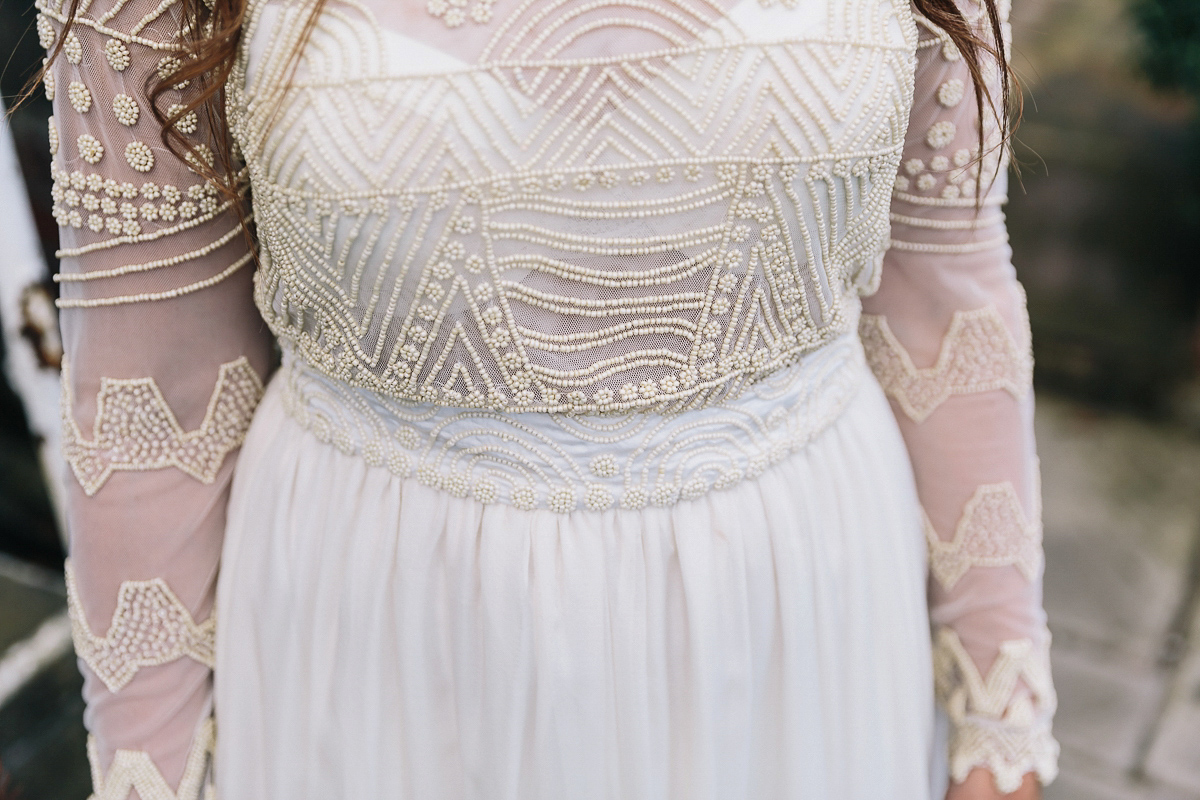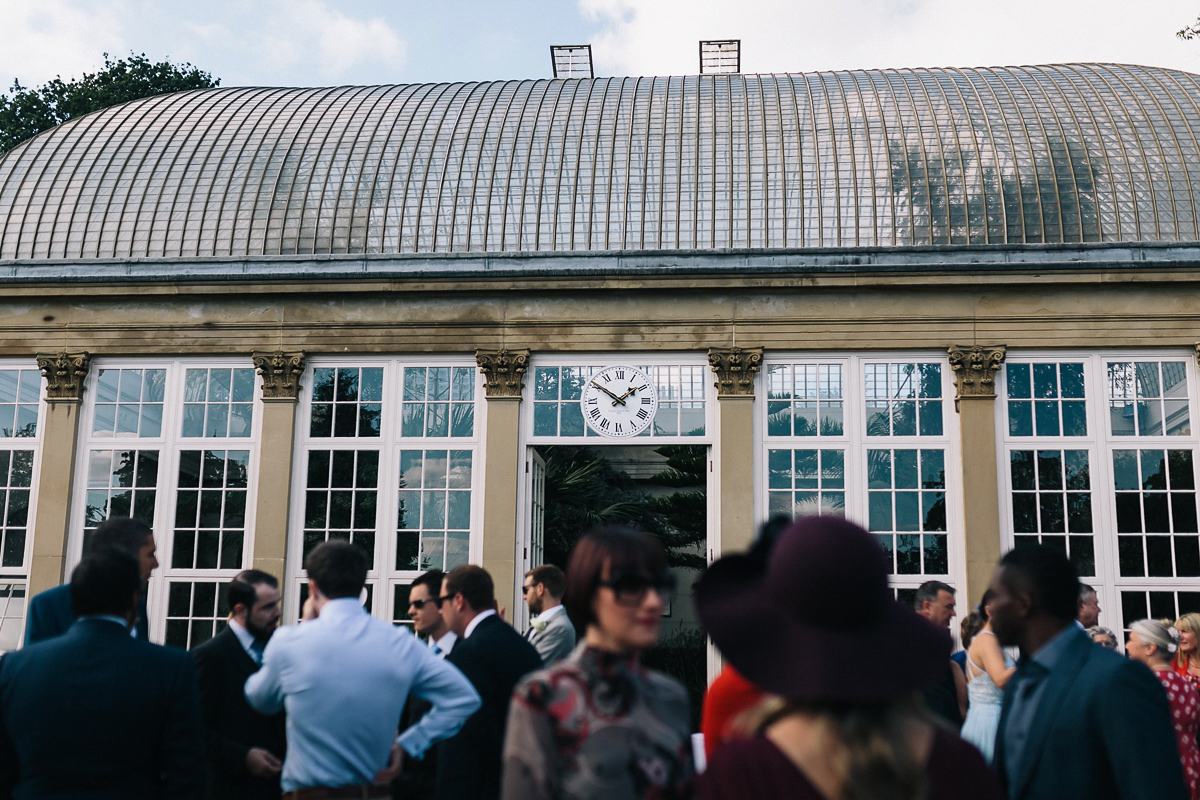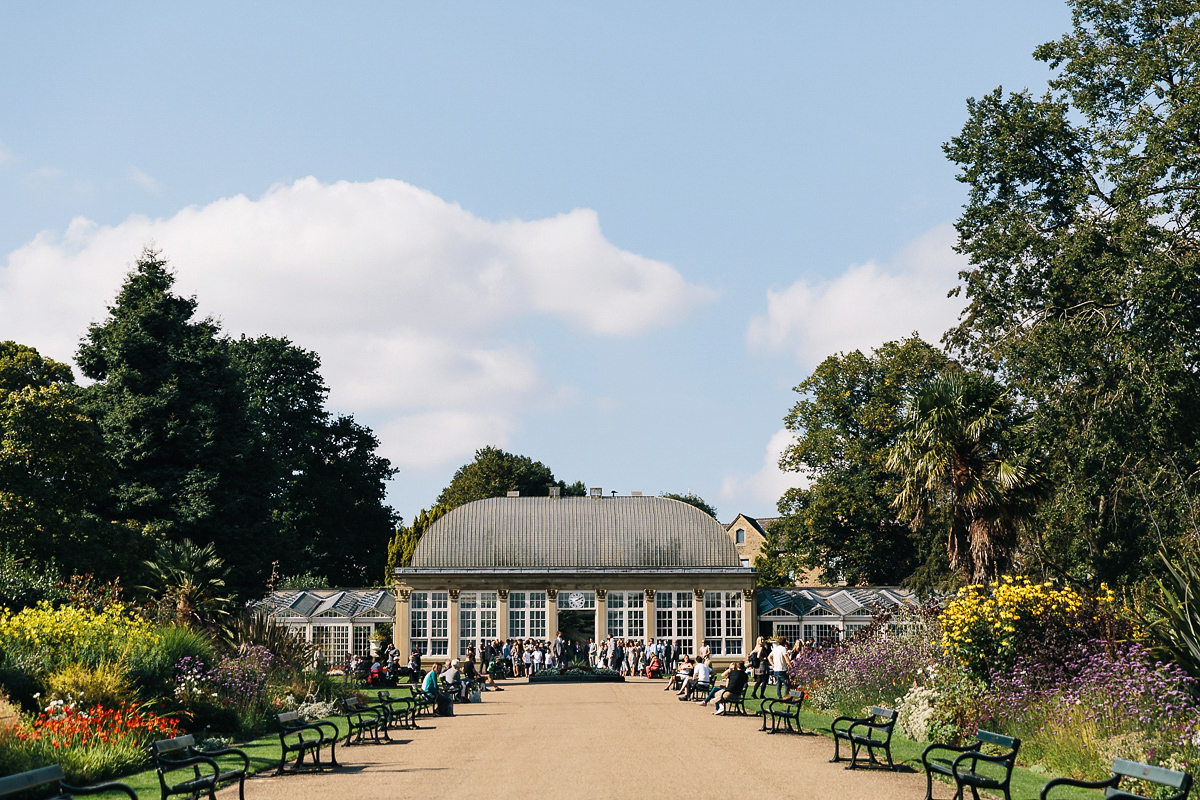 "I wanted the big burst of colour to come in from my husbands suit, so he wore a beautiful bespoke suit made from a silk wool blend in an electric vivid blue, made by Timothy Everest– it was impeccably made.  I wanted him to stand out and he did- he has very blue eyes so he looked very handsome."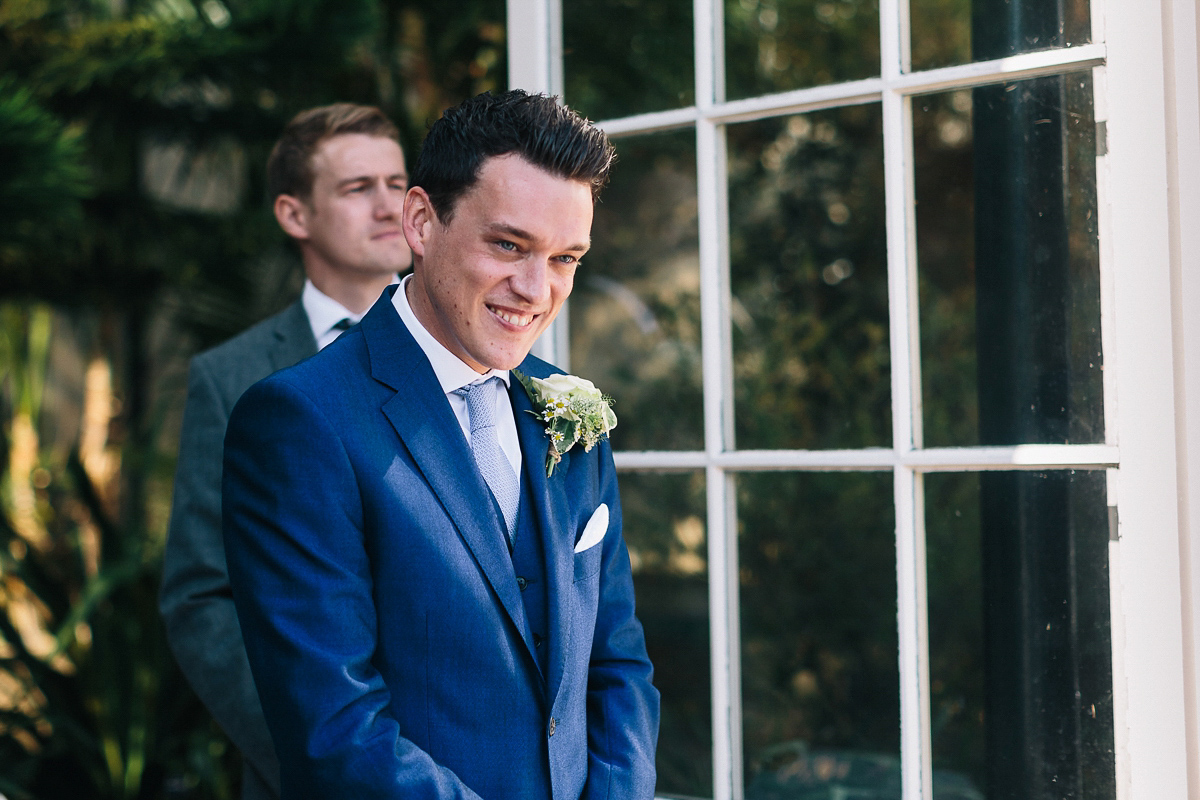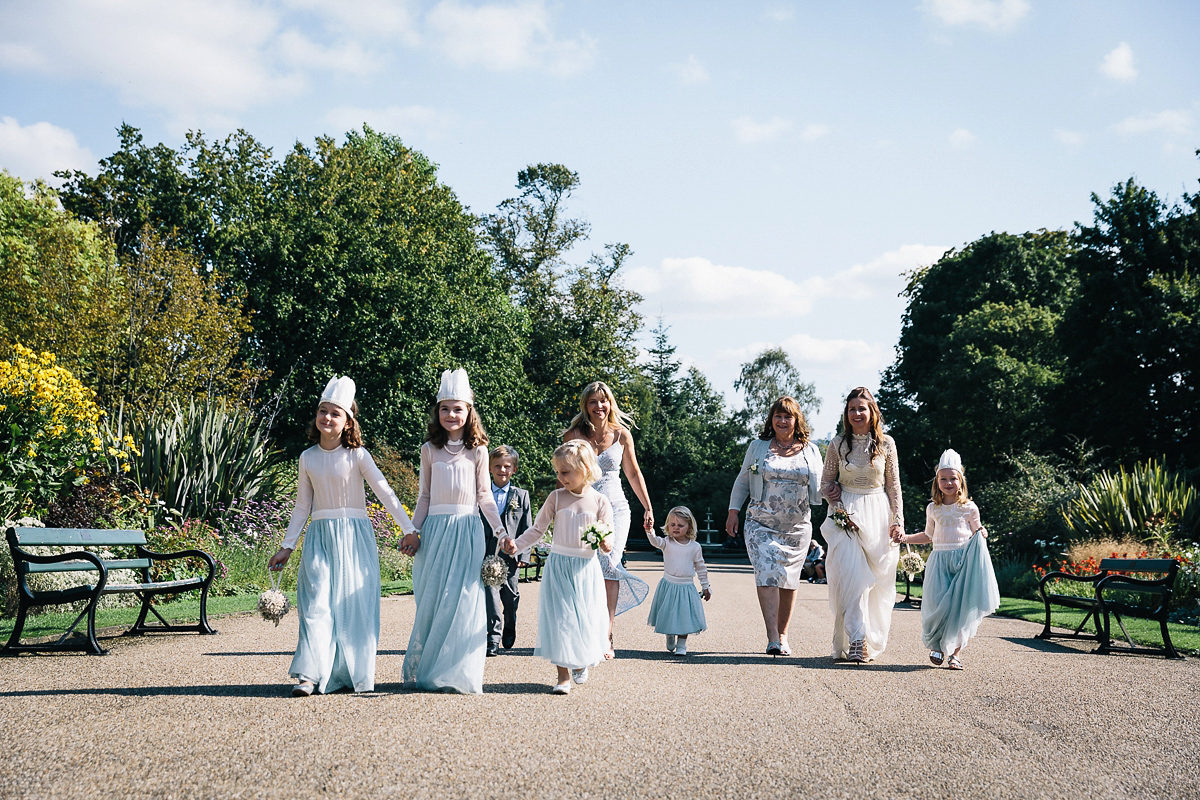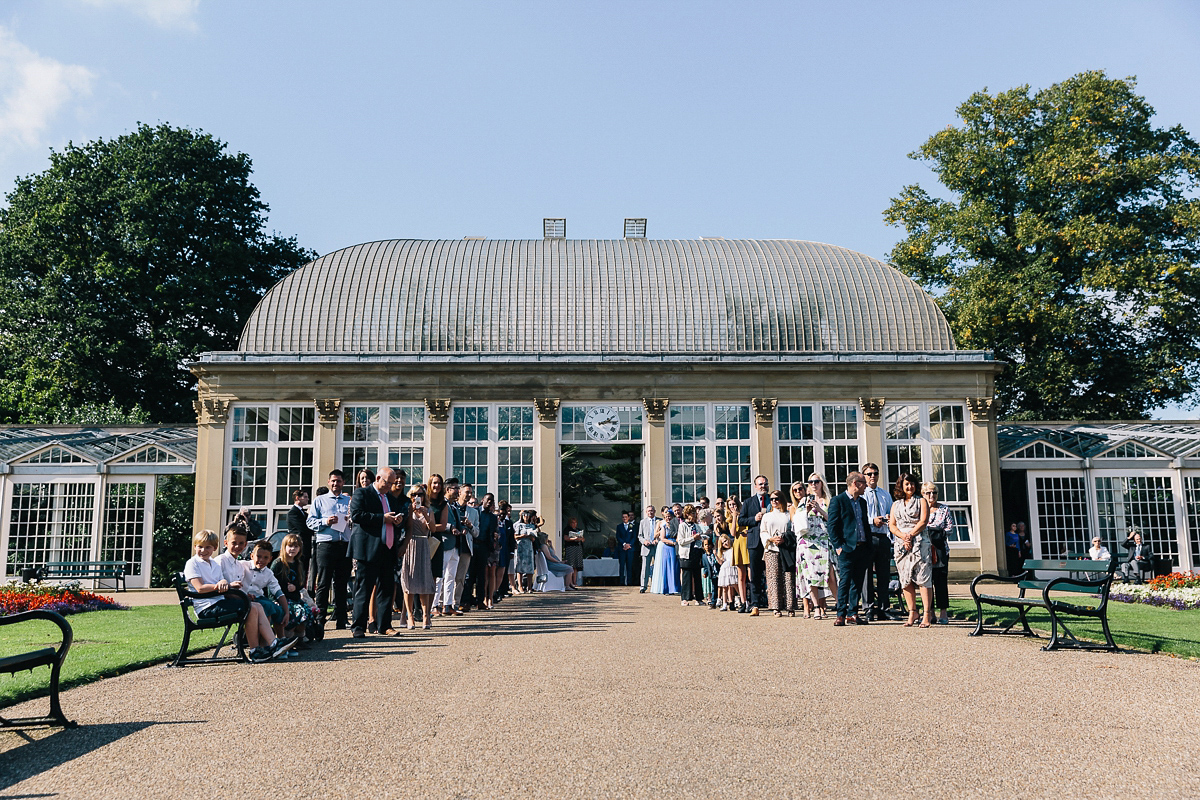 Michelle walked down the aisle with her bridesmaids to the summery sound of 'All I Need' by Lou Rhodes.
"I remember standing at the bottom looking at our 5 minute walk up towards the Victorian glass house where our ceremony was due to take place, the sun was shining and I could see David and all our friends at the top and the happiness of the day hit me.
I felt no nerves just joy as I held my daughter's hand and looked around at our troop, all as happy as each other as we walked up the aisle together. Some people said it was like watching an ethereal version of the Reservoir dogs walking up the aisle!"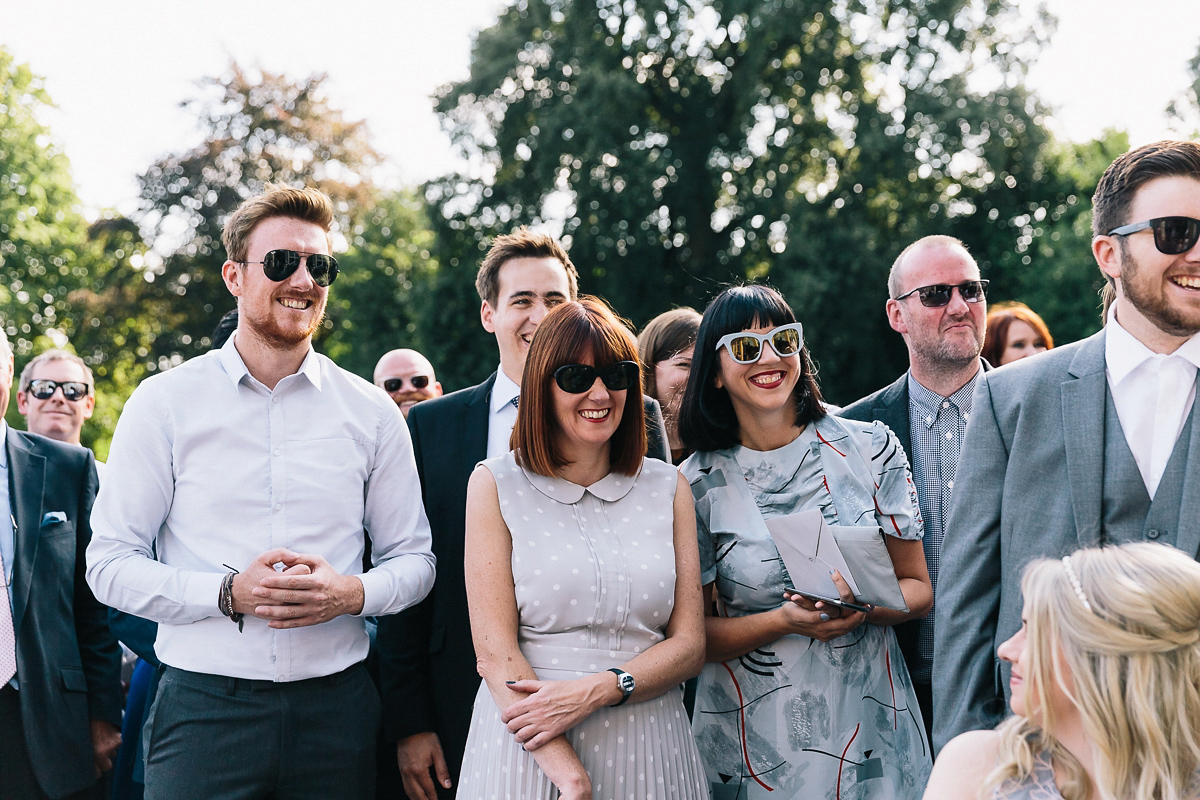 Michelle and David exchanged rings from Tiago, Sheffield and had rings designed especially for them.  Michelle designed a very chunky platinum ring with opposing facets of high shine and dull while David chose a wide ring with a hammered effect.  They were both delighted with the finished results.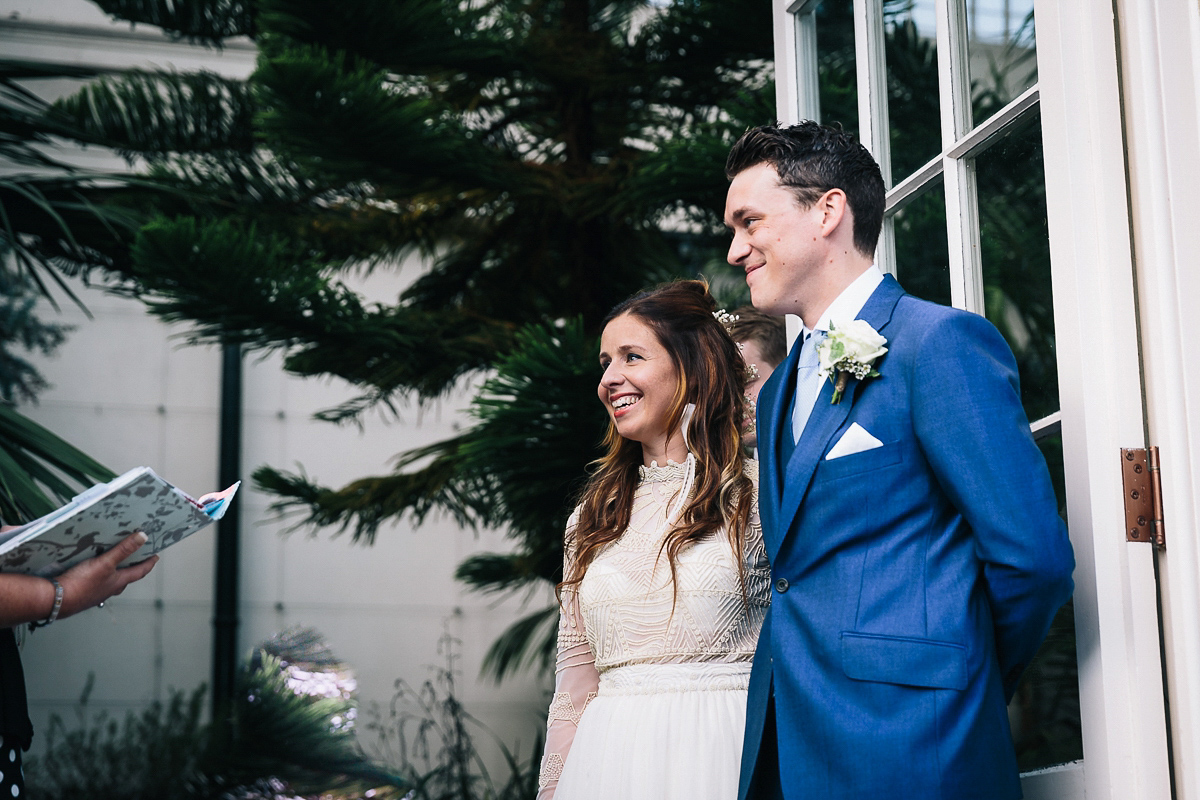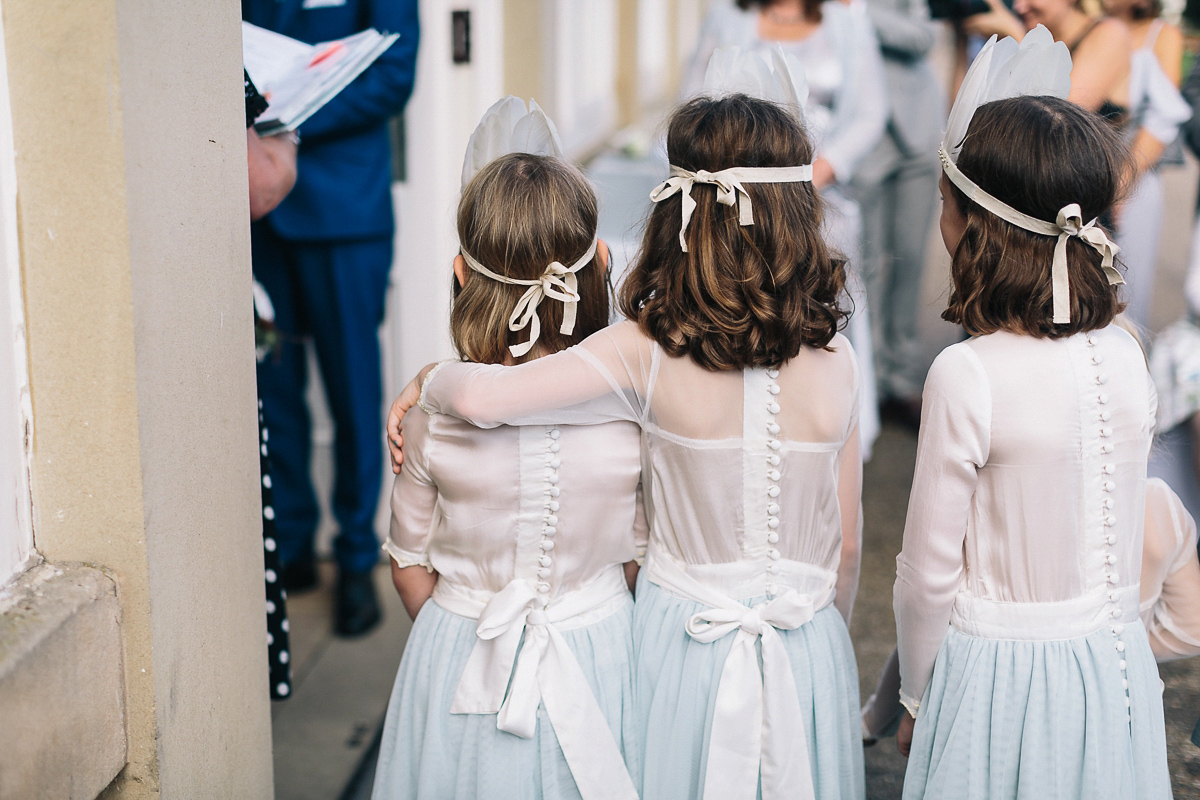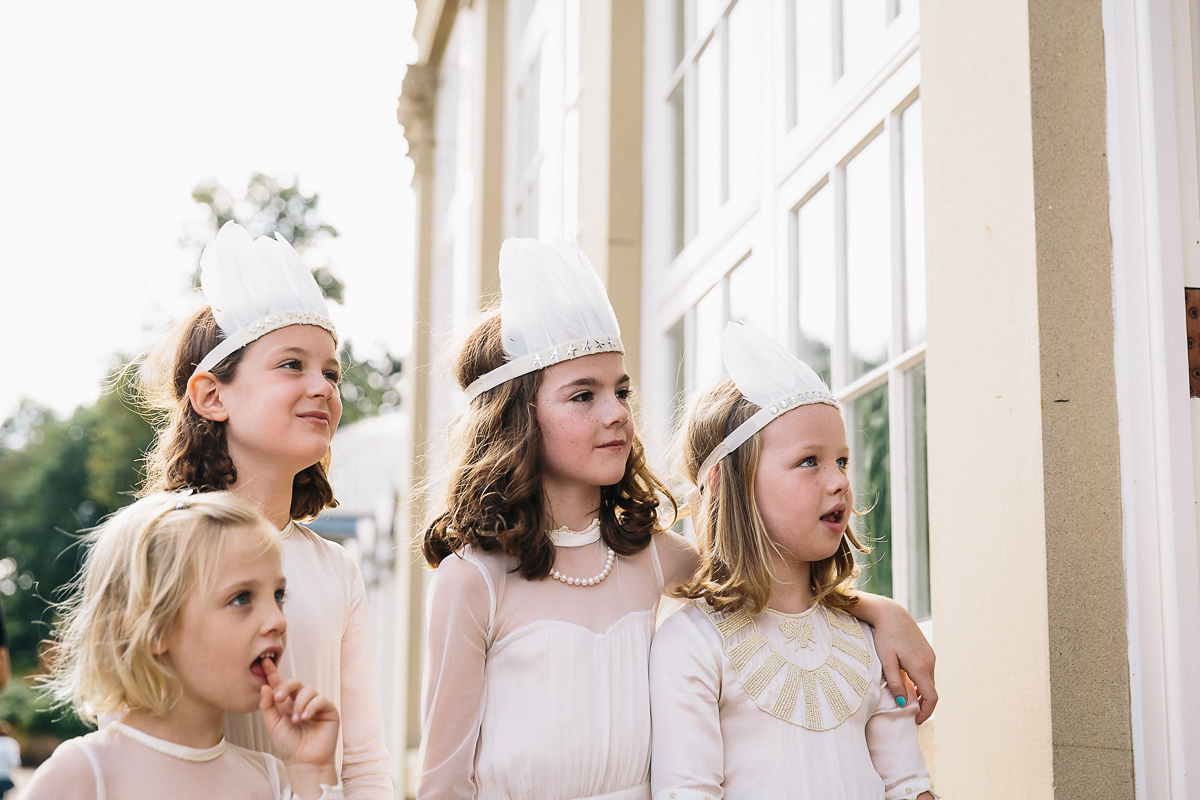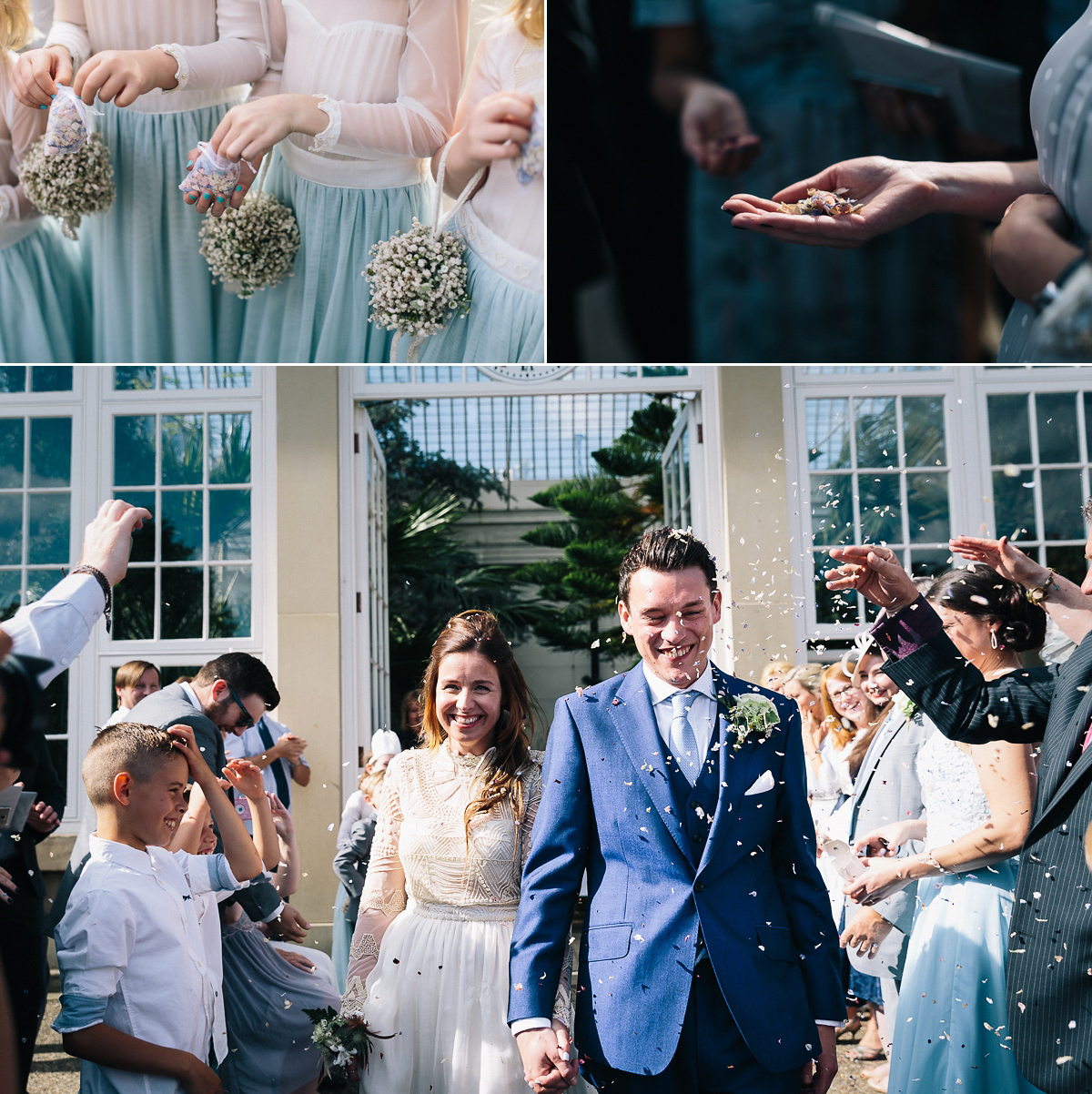 Today's beautiful photography is by Heather Shuker of Election Photography with second shooting by River & Fern.  I love the realistic, pictorial style of storytelling Heather has.
"Heather was totally amazing on the day, I've seen her at work a number of times and have seen her amazing take on modern wedding photography before, so it was an obvious choice to ask her to be the photographer for our day."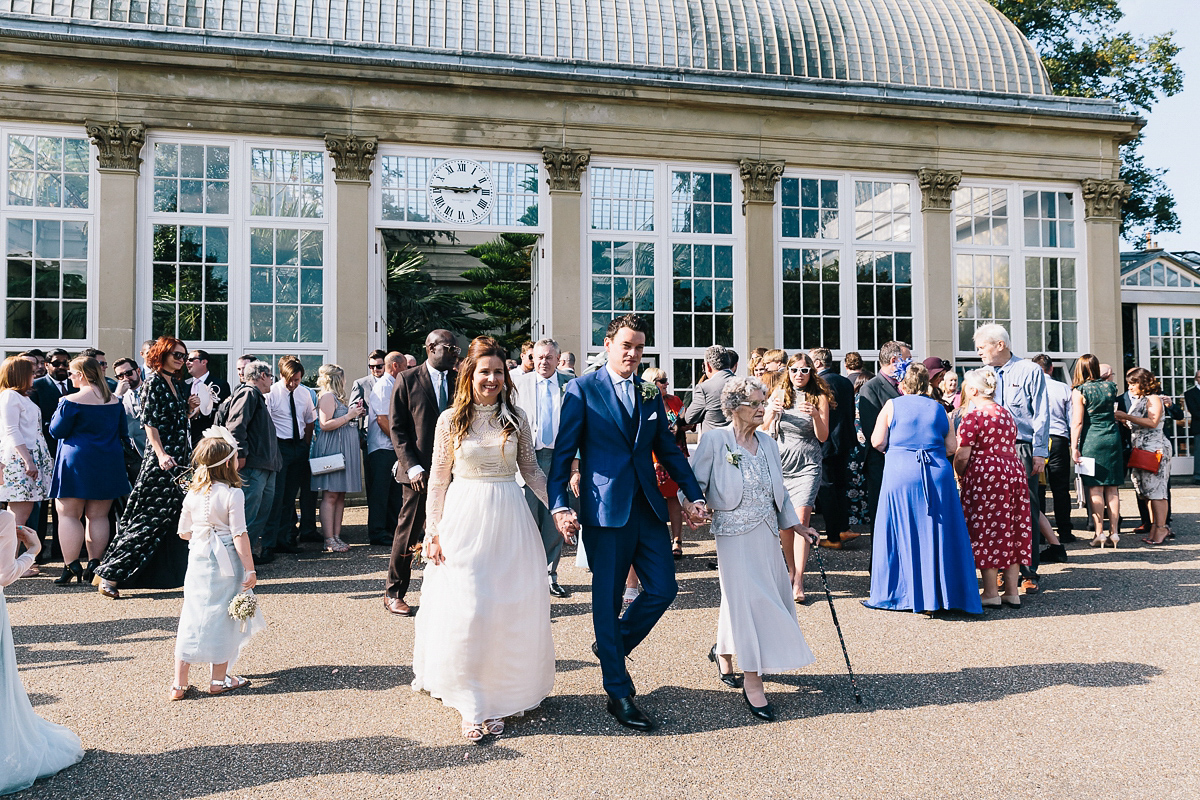 "It started with a consultation to discuss the basics, then we had a separate day out. The first location we chose was very pretty, lots of glass, tropical plants and the sun shone brightly, it looked like a Victorian film set."
"Heather managed with humour and ease to co-ordinate over a hundred of our guests as they tottered around with prosseco in their hands.  She played that difficult role of being there at exactly the right moment for all of the key shots, but blending into the party, so the photos capture the natural joy and beauty of the day, which is exactly what everyone wants from a photographer."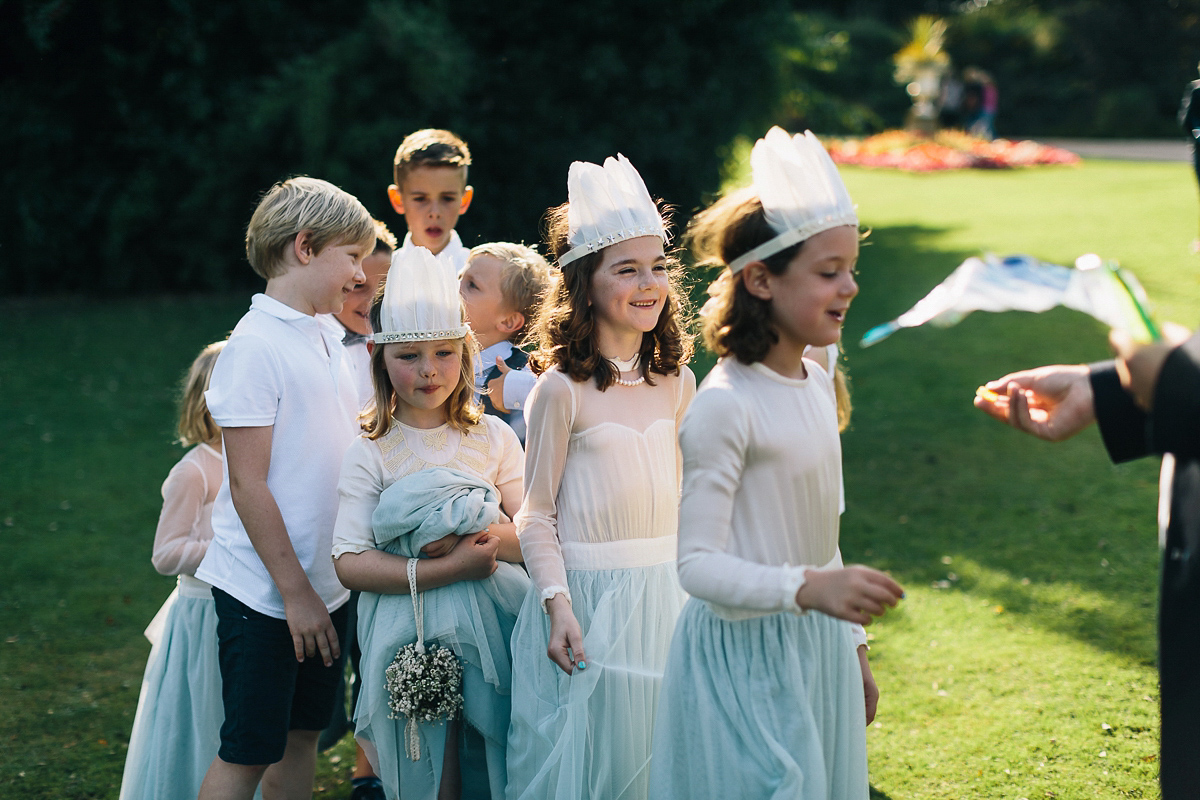 "Some of my favourite photos of the day (apart from our actual vows) were the photos of our guests smiling and looking so happy for us both, as we gave our speeches.  Heather really captured the love in the room- such special moments. Heather comes with the highest recommendation from us, she's an incredible talent."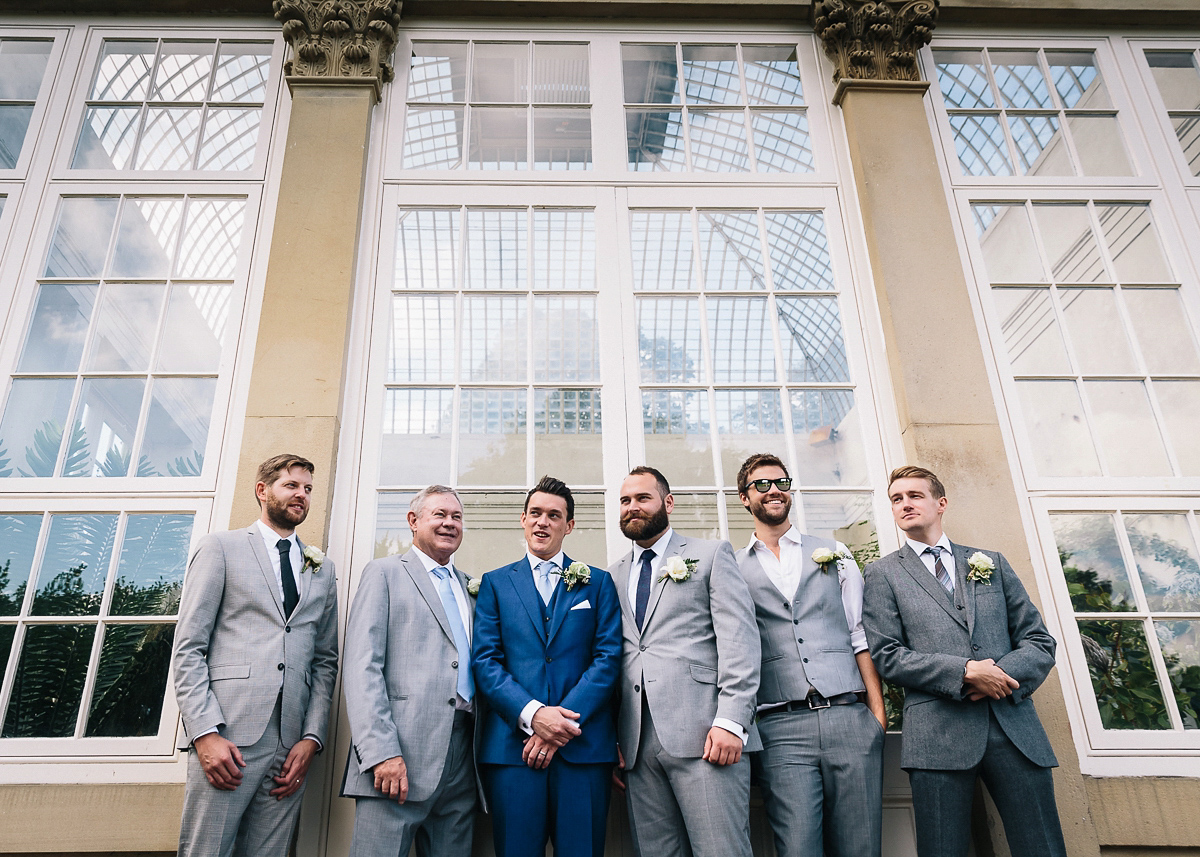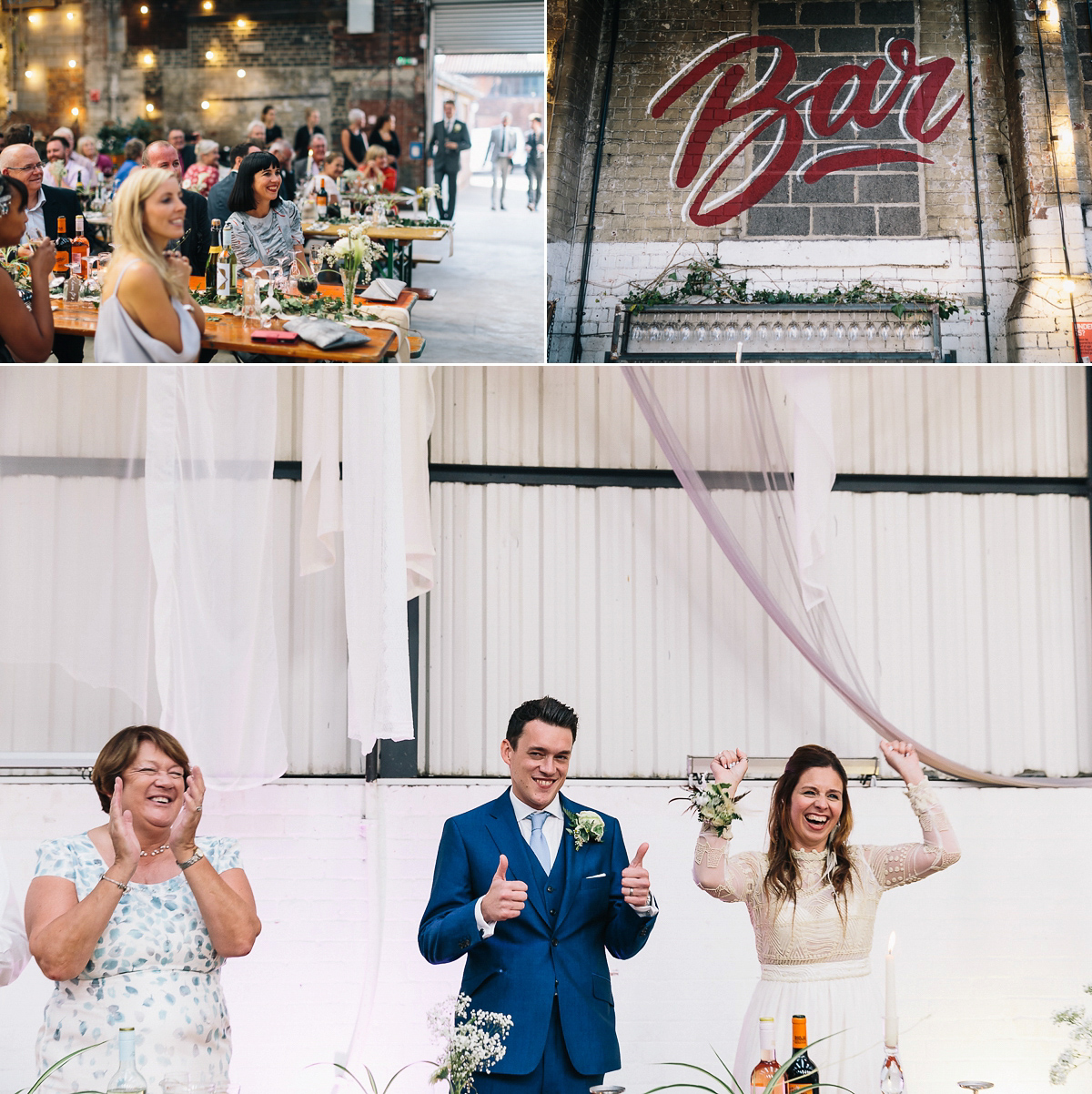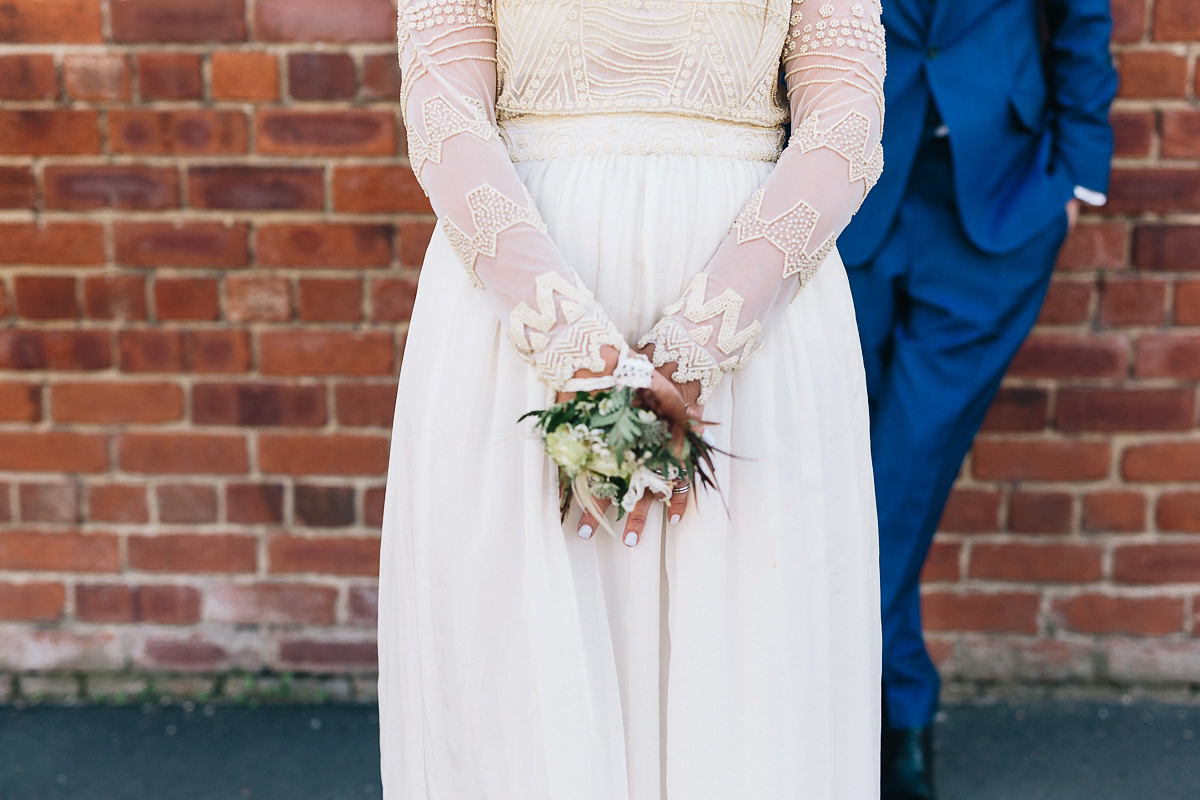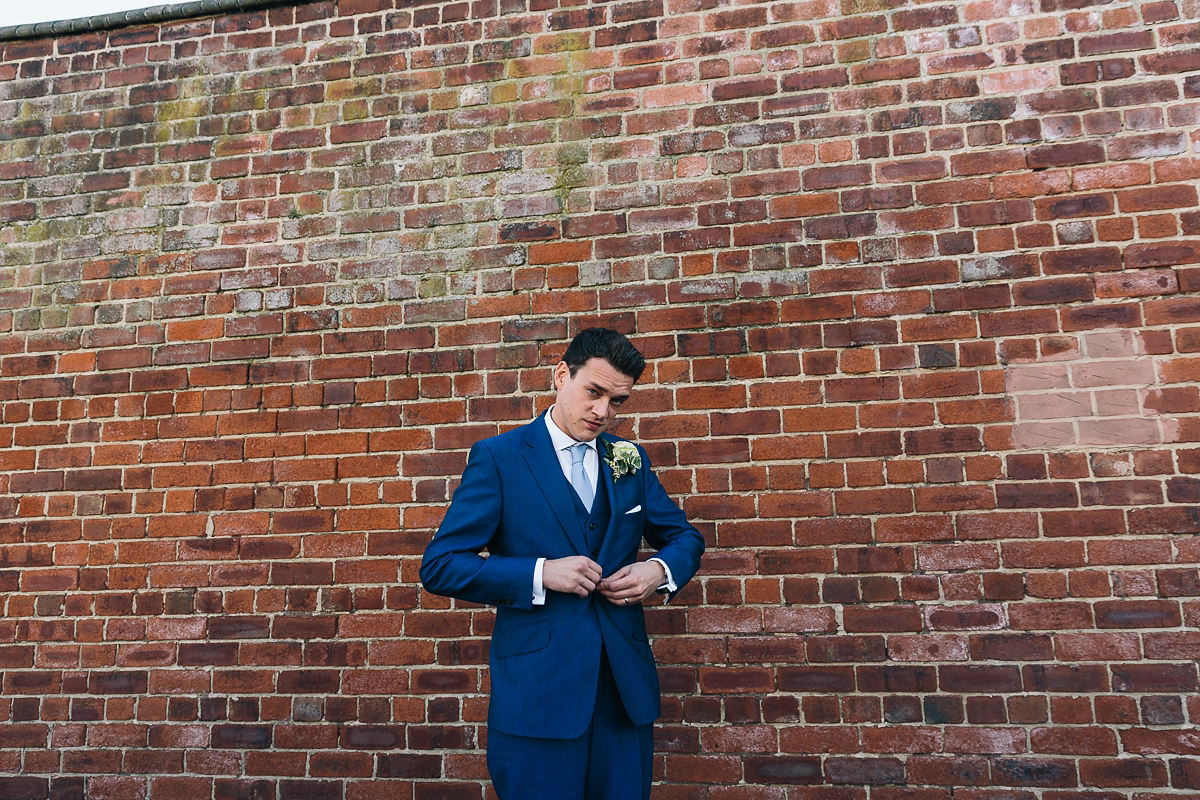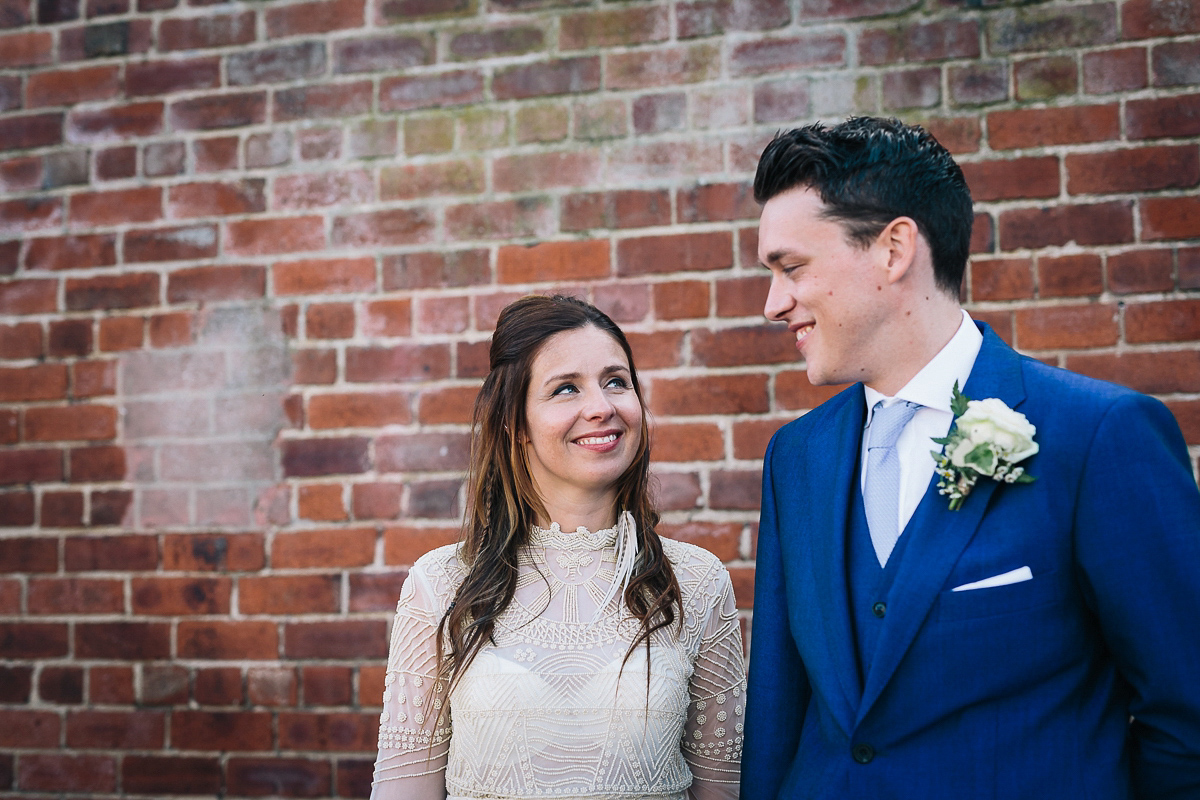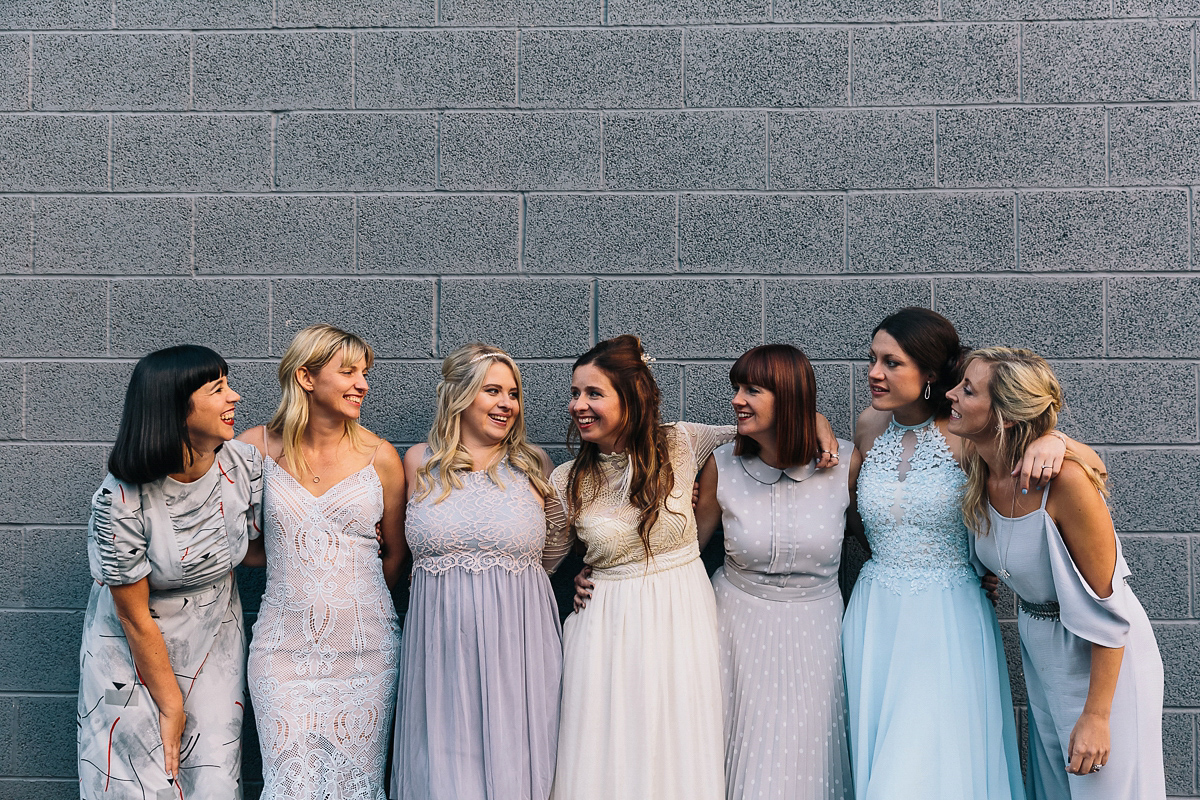 "As myself and David are really into clubbing, the warehouse at Peddlars seemed an obvious choice for us and our guests, somewhere for us all to really let our hair down."
"The room was decorated with swathes of floor to ceiling tulle, silk and lace and whatever else I could find and there were lots of lights of every description- fairy light, festoons and softening uplights as well as table lights to soften the room and create zones."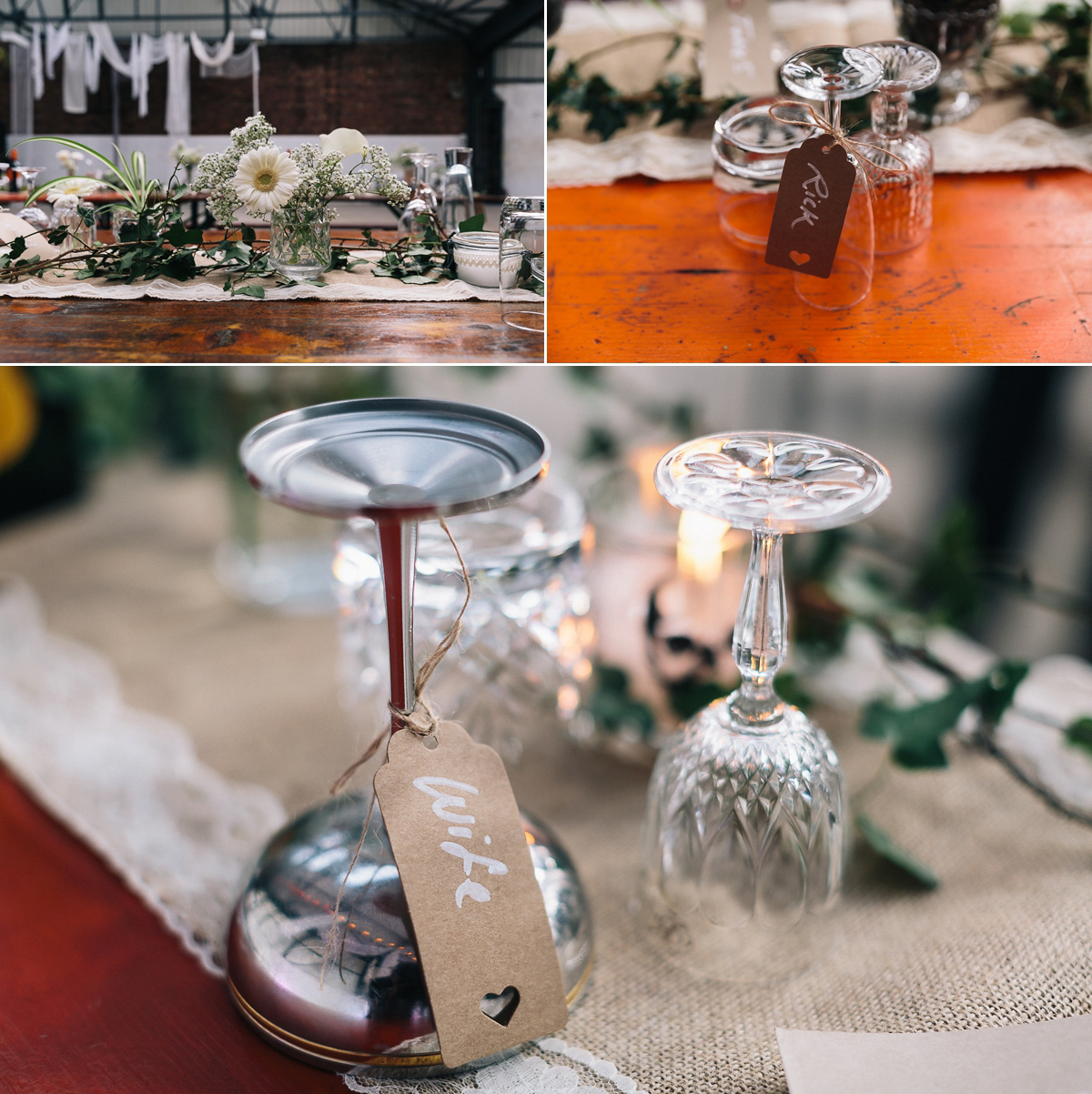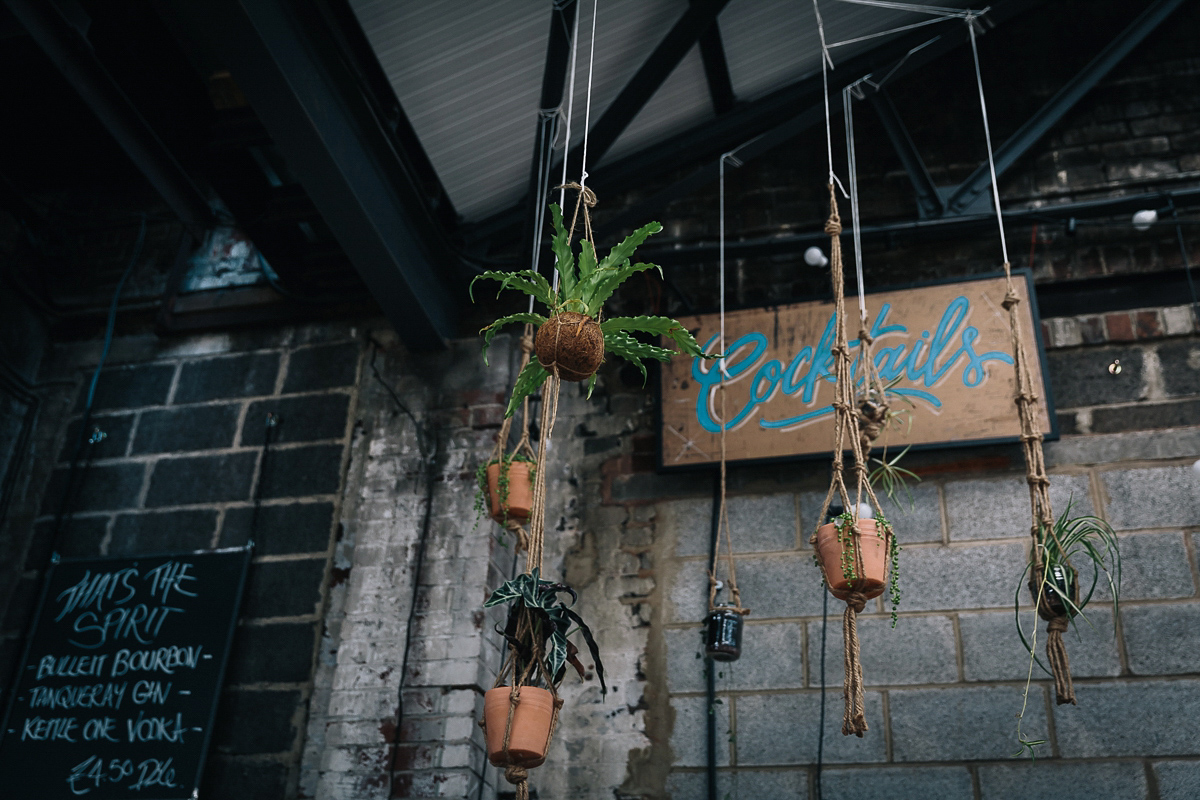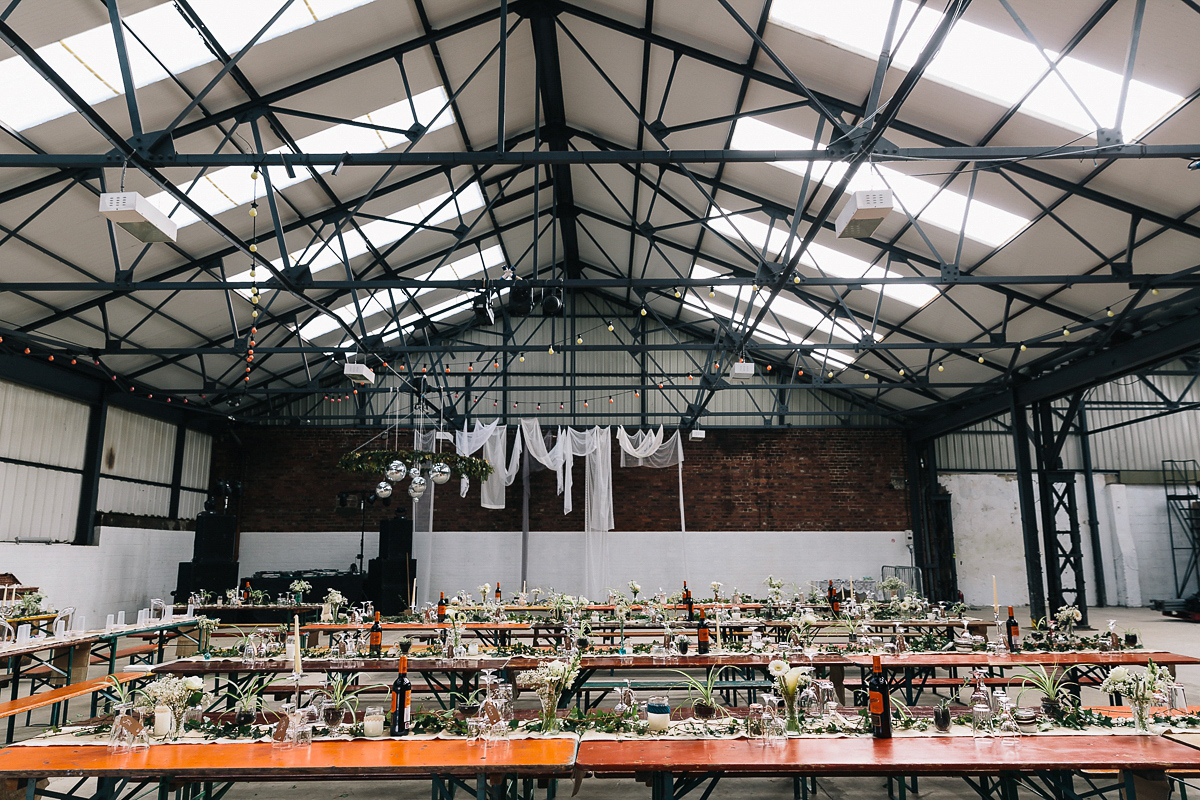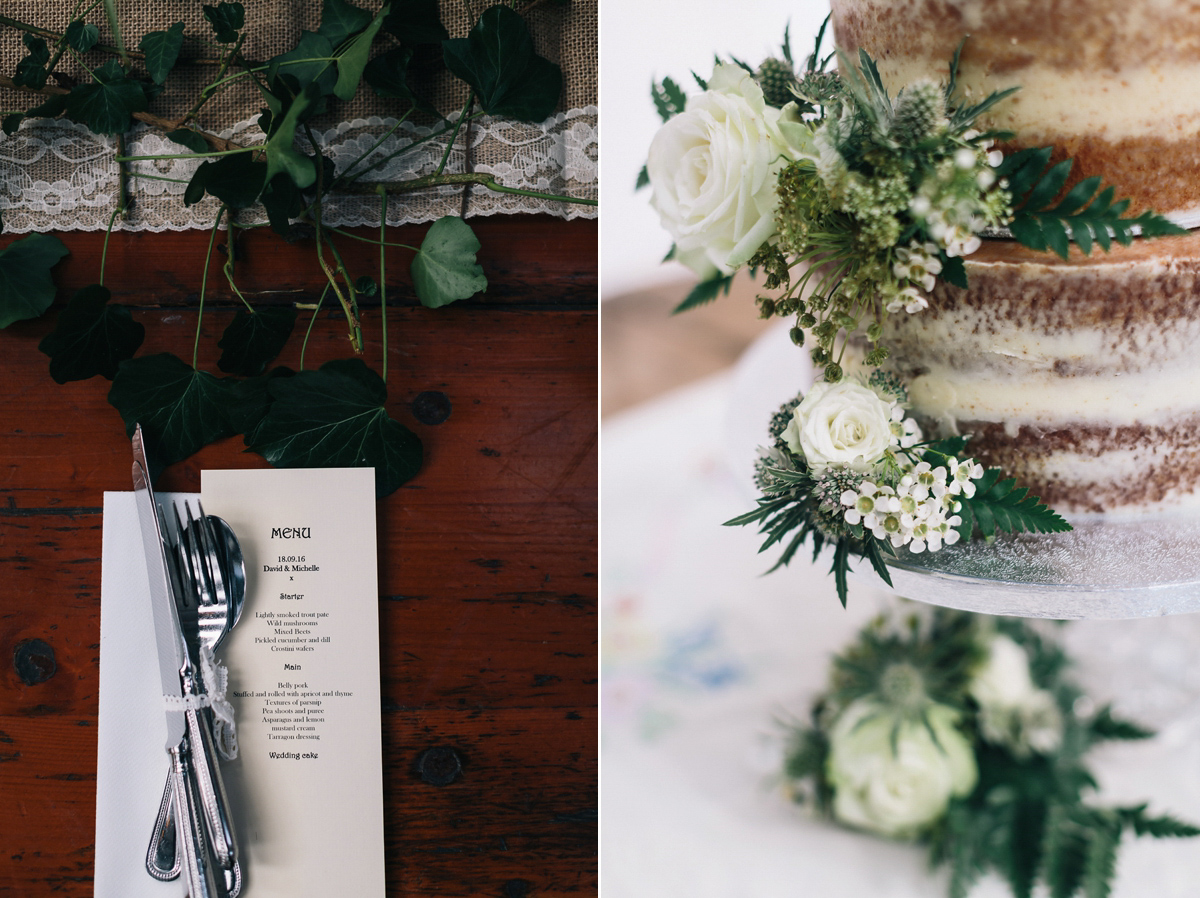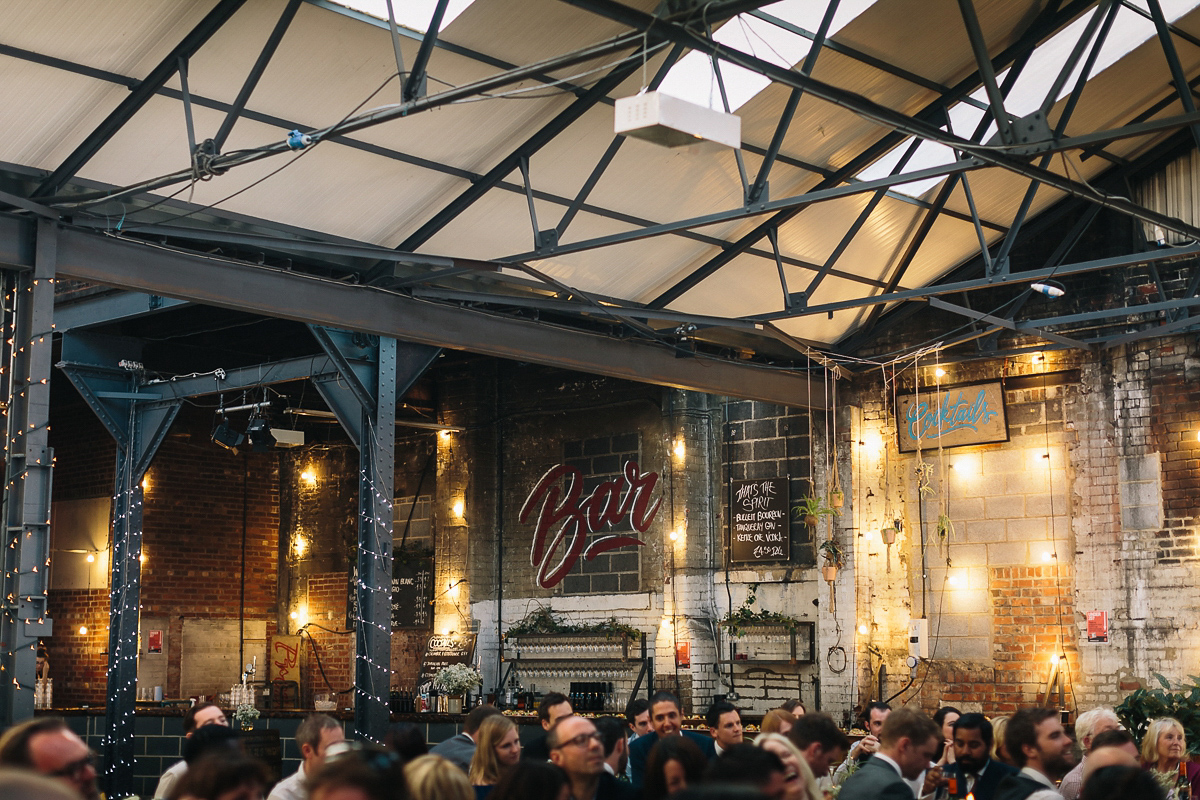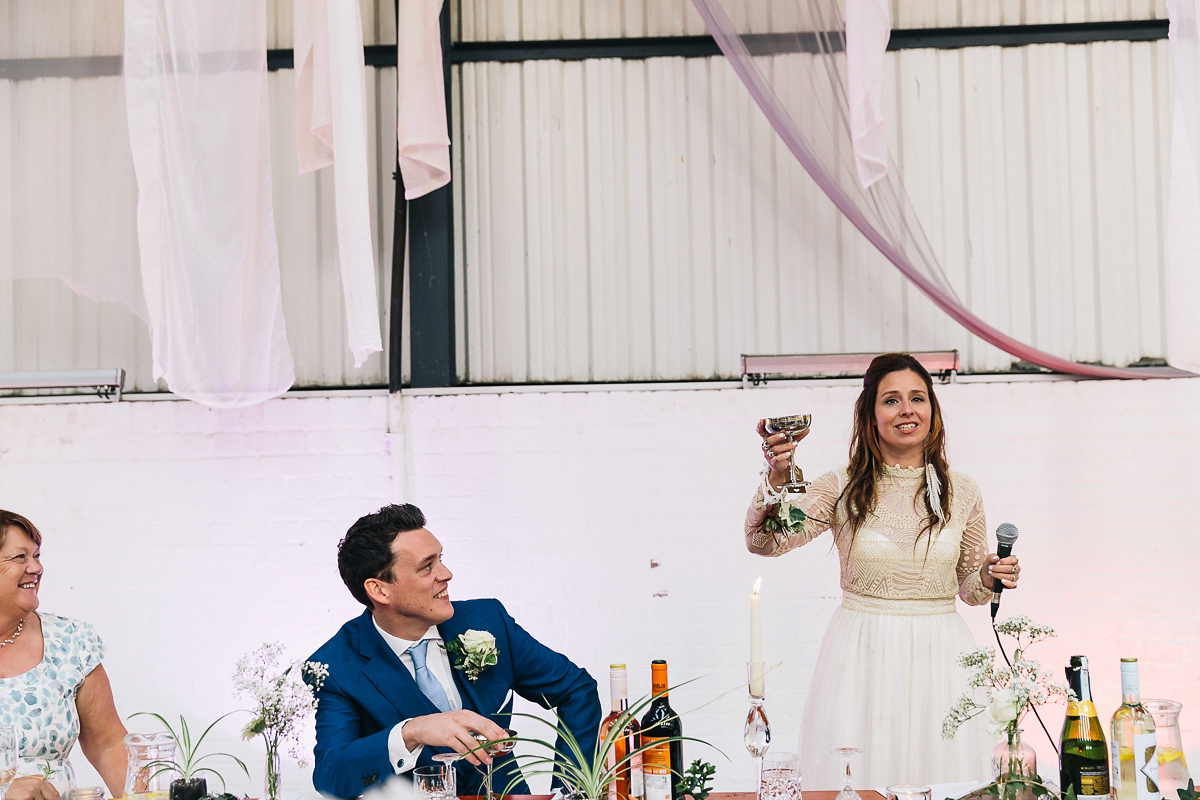 Catering was the work of friend Paul Infanti while the woodfired pizza later on in the evening was supplied by Nether Edge Pizza.  The beautiful cake was by Cake Booth, decorated with flowers from Moss and Clover.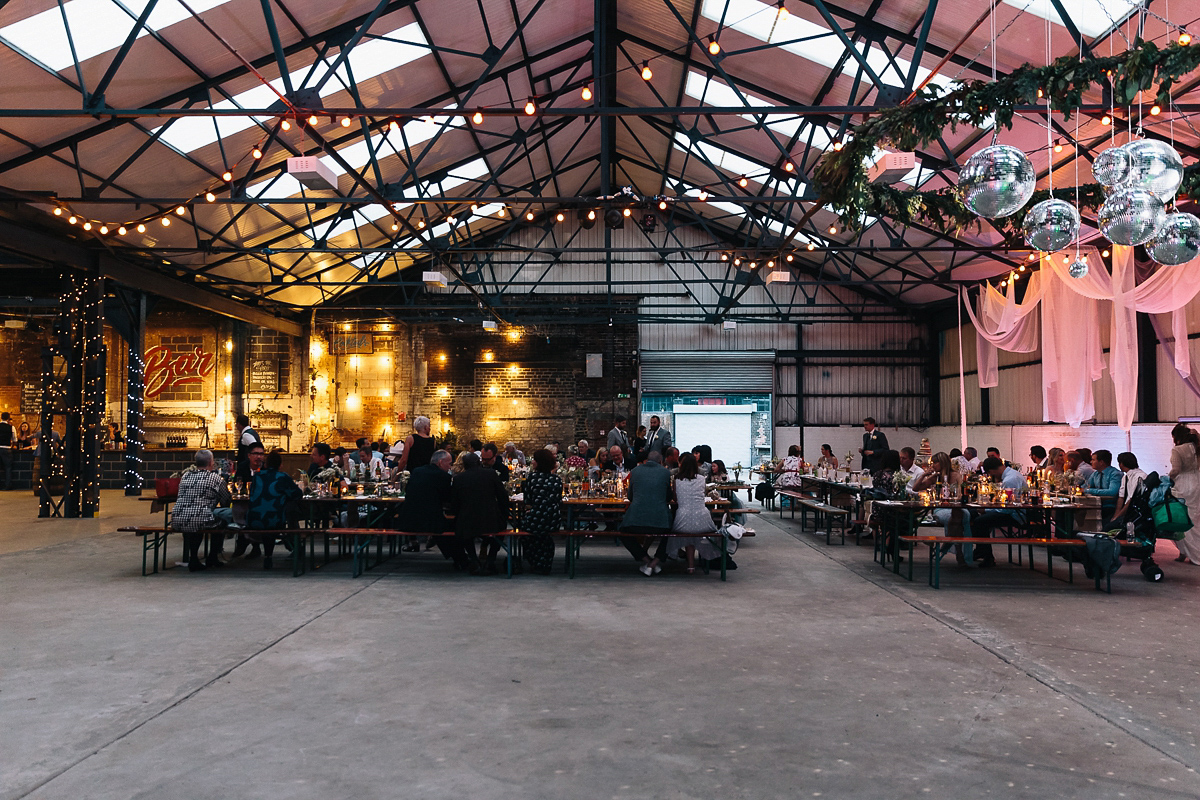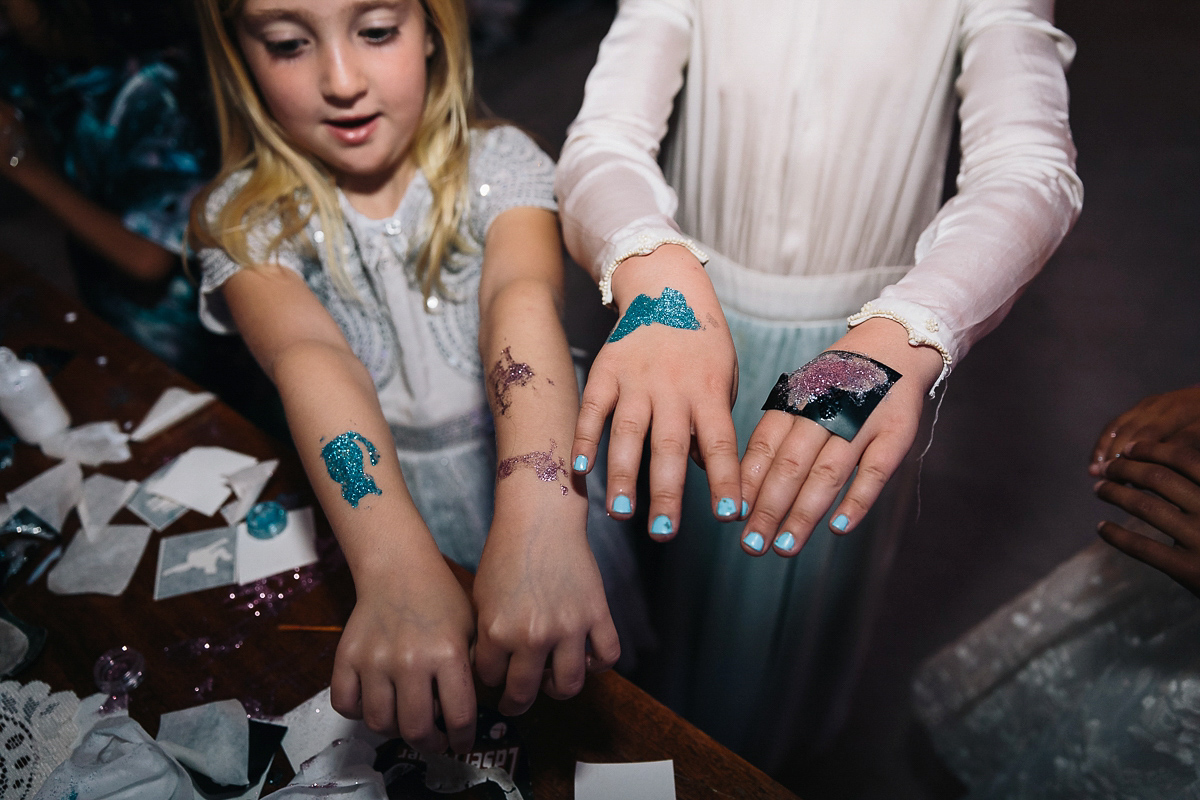 "No celebration would be complete without my collection of disco balls which were set at various heights and sizes above the dance floor.  The long trestle tables were dressed with spider plants in vintage vessels and hand made candles filled with orange and jasmine scent, that myself and my family spent a few months growing, making and collecting. The finishing touch came from the hand picked ivy which we gathered from the woods in the rain the day before."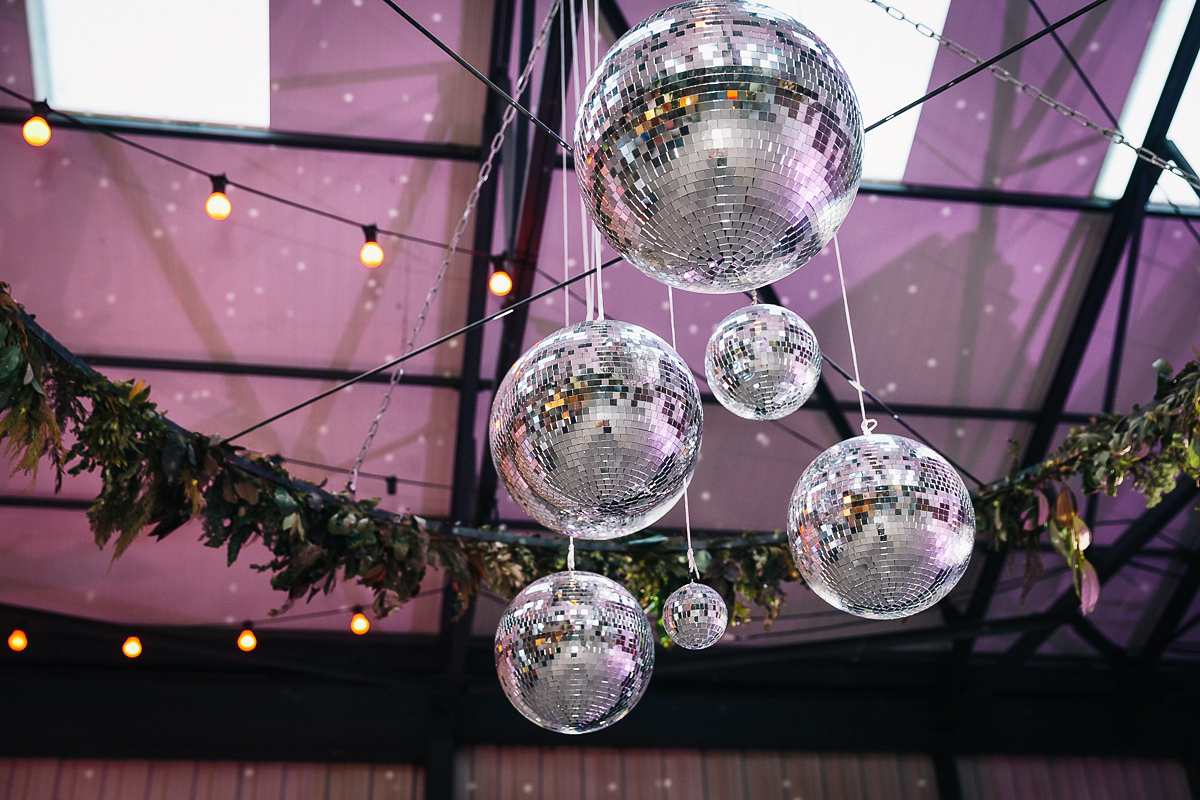 "Our friends DJ'd, the wine flowed, we had cocktails and local Sheffield beers at the bar.  For the little and big kids we had a great big white bouncy castle from Event Tech and a sparkle glitter tattoo table which all doubled up as a crèche for the evening."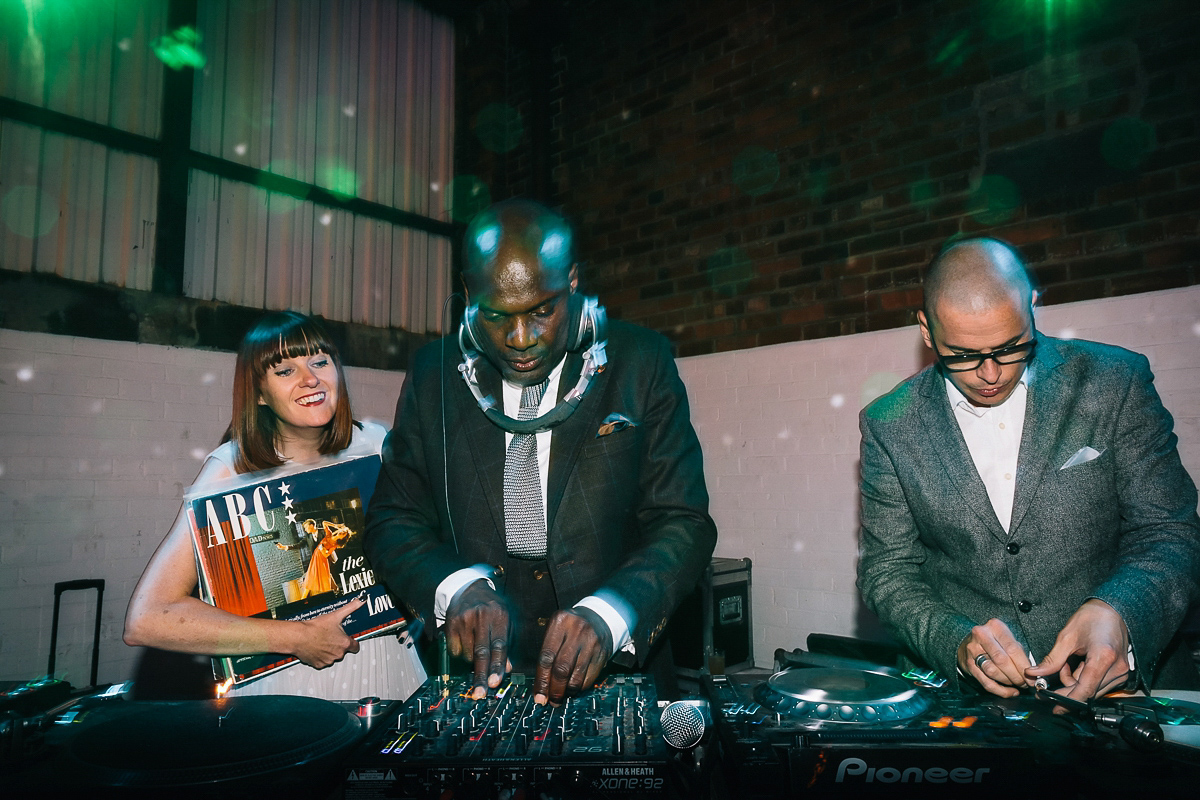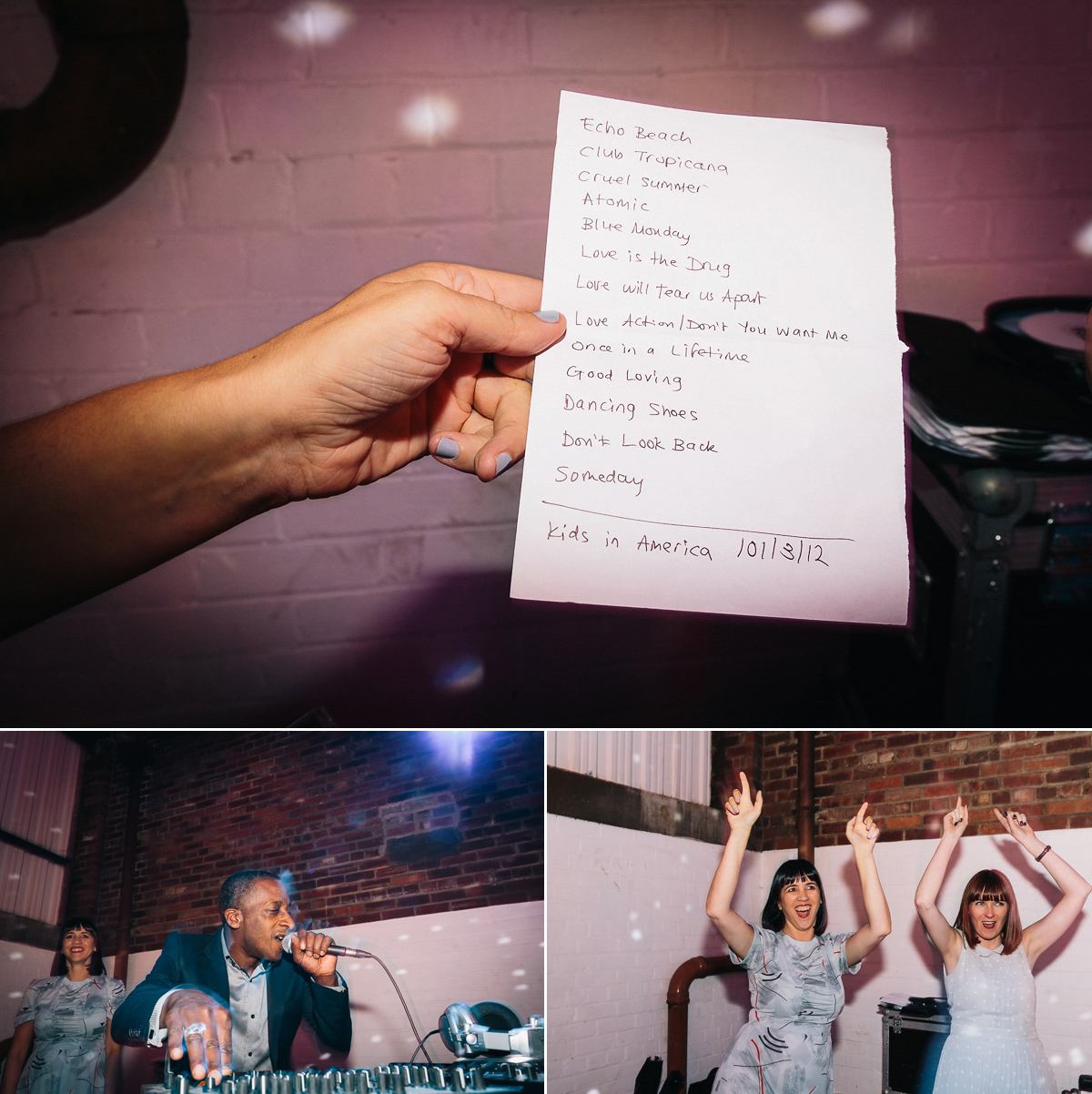 Words of Wedded Wisdom 
"We spent a lot of money, probably a bit too much, but we had everything that we wanted and it was such a brilliant day so we don't regret it."
"I did most of it myself but on the day I let go of everything as I had delegated everything I needed to.  So my advice is plan, so that on the day you don't need to do anything other than enjoy it, because it goes in the flash of an eye."
Thank you to Michelle and David for sharing this most glorious and beautiful wedding day.  This is the first time reception space Peddlar at 92 Burton House Road has been featured on Love My Dress, but we have a handful of other lovely weddings at Sheffield Botanical Gardens, if you would like to take a peek.
Much love,
Shona x