Hello lovely ones – thank you for dropping by Love My Dress. One of the very best parts of this job is that we occasionally get to treat you lot to something wonderful – a beautiful treat, a way of us saying thank you so much for visiting and supporting our beloved wedding blog.
We've teamed up with our absolute favourite lady, Kate Halfpenny of Halfpenny London to bring all you brides to be an incredible opportunity to win the value of £2,500 towards any dress from Halfpenny London, including the full choice of gowns from the latest 'Garden After The Rain' collection, or to put towards the cost of a bespoke dress, designed from scratch, just for you. How incredible is that? This is a genuine once in a lifetime opportunity to win something absolutely fabulous with a genuine high value.
Now anyone who knows anything about Love My Dress probably ought know that we are deeply in love with the Halfpenny London brand. We're also exceptionally passionate about championing brands that are dedicated to British design and manufacturing, just like the Halfpenny London brand is. Another reason we adore the Halfpenny London brand so much is for designer Kate's ability to effortlessly dress women of all kinds, shapes, sizes and body image hang-ups, transforming them through choice, luxurious fabric and expert craftsmanship into confident bridal goddesses on their wedding day. As a skilled designer and celebrity stylist, Kate has an innate understanding of the female form and knows exactly how to accentuate those best bits and make her brides literally shine.
I caught up with Kate this week to chat about life, love, weddings and marriage. At the end of our interview feature, you will find our competition entry form with instructions for completing your entry. Sending endless amounts of love and good luck to you all ladies, we are extremely excited already that we'll get to announce the winner in just over a months time!
Images in this feature are from the 2017/18 'Garden After The Rain' collection by Halfpenny London.

1. Kate, you are well known for releasing collections with a signature modern bridal and fashion forward style, but not everyone is aware that you also provide a bespoke service, allowing brides to work with you to create a dress from scratch – can you tell us more about this, i.e., what's involved in the bespoke design process?
Creating a bespoke gown is such an exciting process – it's a perfect way to unleash your wildest dreams and make a dress that has all the elements you love without compromise.  I often get brides saying that they love elements of various dresses but if only they could make a few changes or add bits of one of my dress styles to another. With a bespoke creation you work closely with me and let those creative juices flow but guided by me and my years of expertise.
2. How much does your bespoke service cost and what is involved in the process?
The cost starts at £5,000 upwards. It involves the design process where we work out the silhouette and the style and then we create a mock up called a 'toile', using calico fabric, or an alternative that represents the silk or lace – this helps us to get the shape right. We then revisit the fabrics and details, look at bespoke embellishments and, if the client wants it, details like beading etc. Brides ordering a bespoke gown can expect to have 5 fittings or more depending on if the dress has an inner corset or any structure etc – the more complex the gown. Our aim is to ensure an absolutely perfect fit and to leave the bride feeling incredible when she steps into her dress.

3.  What do you love most about the bespoke creative process?
I love working so closely with my brides and I'm always so inspired by the wonderful women that come into my boutique. It's incredibly rewarding for me personally to be able to make their dreams come true and realise their creativity. Often, brides can't imagine that there doesn't have to be compromise and they can have exactly what they want. They may have confidence issues, or be nervous about showing parts of their body in a gown, but time and time over, they complete their experience with Halfpenny London with a confidence boost. Every single one of our brides looks exceptional in her dress.
4. What would you say to those brides who know they want a beautiful dress but simply have no idea where to start in terms of style?
We have a huge and diverse collection in the boutique which have many styles and silhouettes so you can start there looking at options. I spent twenty years as a stylist dressing many different women, so I don't just have one person or body shape in mind when I'm designing. I'm used to working with women of all shapes and sizes and it's that which thrills me. I take the greatest of pleasure being able to help women find a shape that flatters them.
When it comes to bespoke and creating a gown from scratch, it's helpful to use dresses in my collection for inspiration, or to help identify aspects that do work for one particular body shape, and others that don't.  The mock up fittings will be about creating a shape that perfectly fits your wonderful body.

5. Talking about your latest collection, which we introduced our readers to back in May, tell us more about this collection and how it represents the current evolution of your brand.
The 'Garden After The Rain' collection is just a step on from my past quintessentially British collections and it shows a more brave and bold edit of stunning dresses. There are more dresses than separates this season with lots of layers.  As always, we have used special and incredible luxurious fabrics teamed with amazing cuts. I'm absolutely obsessed with fabrics – selecting new fabrics for each new collection is one of the most exciting parts of my job.
6. Do you have any classic designs that you carry forward from season to season?
We have many timeless designs in the collection that will always be available, some are from 2005 when I first launched. It's exciting to see brides choosing them now. These are gowns that never age in style and always look incredible.

7. For those who have never visited, tell us about your beautiful London atelier? What can visitors to your boutique expect?
You can expect to be greeted by a warm and friendly stylist that will help you find styles that you love in a completely relaxed and un-intimidating environment. They'll challenge you to try shapes and silhouettes that you weren't sure of too – what this does is reiterate that you've chosen the perfect dress. It reaffirms that you have no regrets that you didn't try on a big tulle skirt or a slinky silhouette.
8. What kind of prices do gowns in your current collection start from?
There are satin dresses for just under a thousand and lace tops from £950 so you can totally build a look for £2,000. Or less if you just want a simple slinky number.

9.  Of all the designers we've supported and worked with, you have always struck me as a 'woman's woman' – accepting and celebrating women in all their forms, shape and size! So often we hear of brides struggling to diet to achieve a wedding look or fit into a dress, what would you say to those brides?
I would say to those brides to find a dress that works for you now, and not to stress about losing unrealistic amounts of weight ahead of your wedding simply to fit into a dress on the day. Of course getting healthy and keeping fit is one thing but putting pressure on yourself to be something and someone you're not, usually, is pointless. Celebrate who you are now!
There are many styles at Halfpenny London that can work on all shapes of women. I'm by no means a small woman myself – I'm around a curvy size 18-20. I know the horror it instils in brides of bigger sizes to even try on samples in their size, when most sample sizes are in a 10-12.  Because of this, we've put some larger samples through into production for our new collection. We also have some size 18 gowns in our beautiful London boutique for ladies to try on. The White Closet, one of our mega stockists in Manchester and Liverpool are also stocking some of our collections in larger sizes too and this really is incredibly exciting for our brand and our brides. We really don't want any bride to ever feel that they are excluded because of who they are.

10. You're about to celebrate the 2nd birthday of your beautiful little boy – whose image we enjoy seeing on Instagram. Has becoming a mother had any impact on how you run your business and design for women now?
I can't lie; I've never felt the challenges of juggling quite so much since I entered motherhood. That said, it drives me forward every day and I very genuinely feel so blessed that I get to be a mum and run a business that I adore. It took five years to get my son, so the challenges of making a baby, let alone having one and managing day-to-day, were present for a long time in our lives.  Life is all about balance and being the best at everything you do, and I truly believe that's all we can do.
I certainly take my hat off to working mums, I don't know how you super mums all manage with more than one!
11. Do you have any key advice for brides just starting out in the search for their gown?
Do your research, have a look at some designers and styles you like, give yourself plenty of time, but not too much or you'll just end up confused.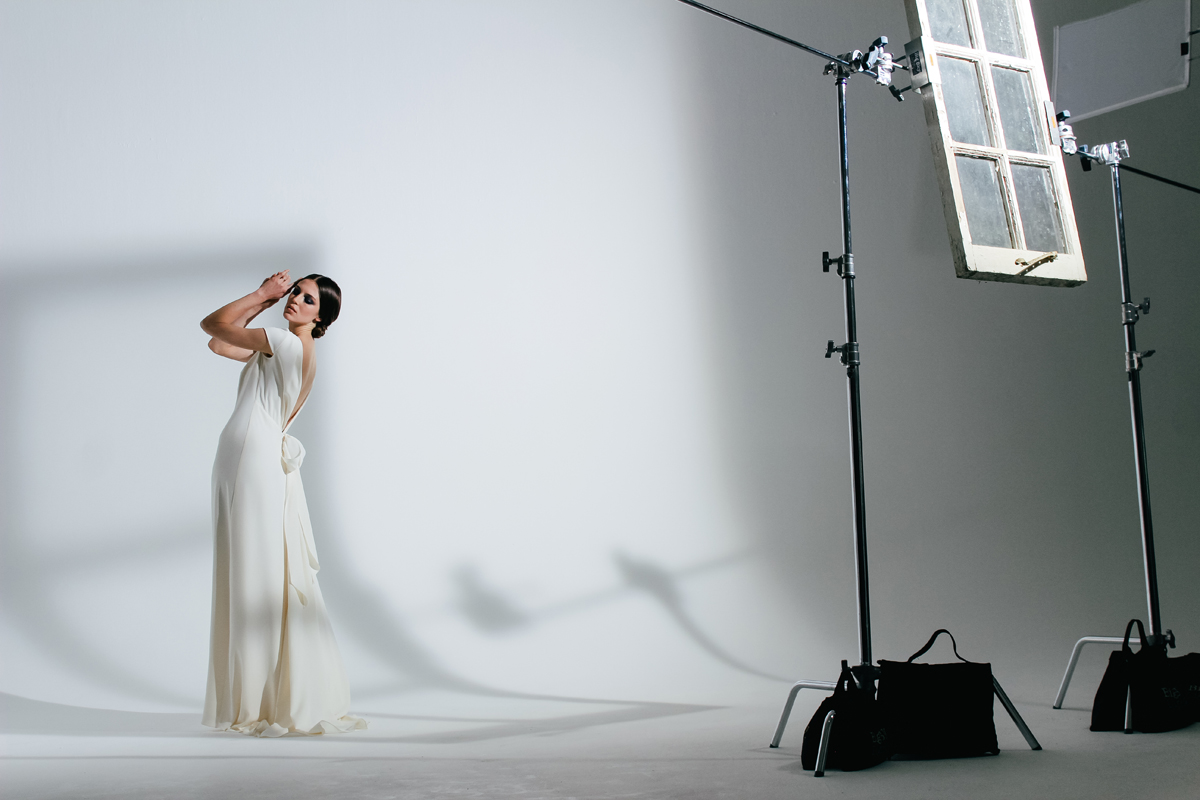 12. What's the best general wedding advice you can provide?
It's the one time you and your partner get to do exactly what you like. So do what you want and how you want it. There are always ways of cutting corners to bring the budget down without impacting on the essence and sense of celebration of the event. Prioritise and ask friends to help. Everyone loves a good wedding!
13. And being happily married yourself now for several years, what piece of marriage advice would you share with our readers?
It's all about communication, love and staying in love. I'm so lucky to be married to a true romantic who inspires me every day. He's a creative too so understands my world. From the big things to the little things James is always there to jump in. Being married is the best thing in the world!

14. And finally, what really sets your brand apart, what do you consider makes Halfpenny London so special?
We make dresses for real women from all walks of life who want to look and feel incredible on their wedding day. We're a luxury British made bridal company with so many stunning wedding dress combinations you'll be spoilt for choice.

OK ladies, now it's your opportunity to enter our competition to win £2,500 towards any dress from the Halfpenny London collections, or, to put towards the cost of a bespoke gown, which you will work with Kate on designing from scratch. Simply follow @HalfpennyLondon on Instagram and complete the form below, no later than midnight on Sunday 27th August.
We've allowed an extra long entry period for this competition to take into account the holiday period.
GOOD LUCK!
Annabel xx
Terms & Conditions
Gown must be ordered by the end of January 2018.
The winning figure of £2,500 towards your dress fee does not include alterations.
The capped value of the prize will be £2,500. Any gown can be ordered, be it off the peg, made to measure or bespoke – but if the value of the gown exceeds £2,500, the balance will need to be settled in full, by the winner, before gown production commences.
The prize winning dress cannot be refunded or exchanged.
Only one competition entry per person will be accepted.
Anyone located anywhere in the world may enter this competition.
Overseas shipping charges will apply.
Where possible, Kate Halfpenny will see you for your first appointment. Kate does not work weekends at the moment.
Entrants must follow @halfpennylondon on Instagram to qualify.
Emails will be retained by both Halfpenny London and Love My Dress® for mailing list purposes. We promise never to share your contact details with any third party.
The deadline for entry is midnight on Sunday 27th August 2017.