There's always something extra-nice about writing up a wedding at a venue I know or have visited, as I can truly appreciate what the bride and groom have done to the place to make it theirs.
Today's gorgeous flower filled day at Wrest Park in Bedfordshire is one of these- maybe you have been to this English Heritage property too?  Rowan and Phil married in the orangery at this beautiful historical site on the 2nd June 2017 surrounded by their family and friends. The day was planned by Helen Hopkins of Pudding Bridge and captured on camera by Binky Nixon and the truly stunning florals throughout are by our Little Book For Brides member, Violets and Velvet.
"We wanted to the day to be really fun and relaxed, like long summer days spent with friends and family.  It was really important to us that our guests had an amazing experience, filled with lots of lovely food and drink, entertainment and fun so this was a key feature when planning our day.  We wanted to bring the outside inside so florals were a big focus, along with informal style seating and fun elements like the table plan where we used mini polaroid pictures of our guests. We were looking for a venue that was close to our families and where we grew up and we fell in love with the Orangery and beautiful gardens at Wrest Park."
Photography by Binky Nixon
I am completely in love with Rowan's elegant lace dress, which is by White Rose Bridal and purchased from Ann's Bridal Room in Leighton Buzzard.  The lace overlay is just exquisite.
"Going into the process of choosing a dress I knew a lot more about what I didn't want than what I did! Unsure about what would suit me I tried on lots of different styles and in the end there were two that I really loved, both had a similar top but very different style skirts.  I had to choose by leaving the shop and waiting to see which dress was the one I kept thinking about!"
"I chose to have a full lace overlay as I always knew I wanted lace to be incorporated – the scalloping on the sleeves, neck-line and skirt were my favourite part of the dress.  Under the lace I had sequined underlay which made the dress shimmer; the simplicity of the shape allowed for both the lace and sequins."
On her feet Rowan wore a pair of chunky gold heels from Office, while for jewellery she opted for a pair of 1970's vintage earrings from Berganza of London, which were a present from Phil.  In her hair she wore fresh flowers and her hair and make up were the work of Lucy Beesley.
The bridesmaids looked fabulous in a variety of colours and dresses, all within the same colour palate of pale blue and pink.  The dresses were from Needle and Thread, Topshop, ASOS and Coast.
Phil looked smart and summery in a bright blue suit from Suitsupply, paired with a pink and white tie by Liberty London and shoes by Joseph Cheaney.  The best men and groomsmen also wore Liberty ties in two different prints, all handmade by Kaye H Textilles on Etsy.
"Phil and I grew up in the same area and so knew each other as teenagers; we used to hang out in the same bars and shared a number of friends.  Over the years we continued to have mutual friends but didn't really see each other until we sat together at one of those mutual friend's birthdays in 2015.  We arranged to meet again after the party and have been together ever since.  In August 2016 we decide to have a last minute trip to Bruges, which as it turned out was less last minute for Phil as he proposed on the Saturday night in the sunshine by the canal."
The day was recorded in glorious technicolor by the talented Binky Nixon.  Take a look here for some more of Binky's beautiful work.
"Binky has worked at Wrest Park several times before and her style of photography was perfect for our relaxed day.  She captured everything so beautifully."
Phil and Rowan chose to have their day captured on film as well and Pedro Portela was the man for the job.  Take a peek here for a clip of their wedding video.
Rowan and her maids travelled to the ceremony in cars hired from Exsequiuk and Rowan was then accompanied down the aisle by her father, to 'First Day of My Life' by Bright Eyes.
The happy couple chose two readings- the first by Mark Twain a 'Letter to his wife to be Olivia Langden', which was chosen as Phil enjoys American literature and Mark Twain in particular, and the second 'Love' by Roy Croft- a beautiful poem with a heartfelt message.  Their favourite verse is the first, which states:
I love you not only for what you are, but for what I am when I am with you.
"Phil wanted a simple platinum band and chose to use the same jewellers where he had bought my beautiful engagement ring – A&S in Hatton Garden.  I wanted my wedding ring to be unique and unusual so after lots of research I went to Tomfoolery Jewellery in Muswell Hill. They had so many lovely options to choose from but as soon as I put mine on I knew it was the right one."
"Our very favourite part of the day was the ceremony; it was so special to be surrounded by all the people we love yet also feel like it was just two of us in our own bubble."
The flowers at this wedding really are something else.  I'm overwhelmed by the amazing displays created by Sam Cotterrell of Violets and Velvet.  The sheer quantity of flowers used is stunning and the colours and way they are displayed are just incredible.
"Sam's style perfectly complimented the feel of the wedding and on the day the blooms were everything we had hoped for- especially the flowers by the fireplace, it really felt like we were outside."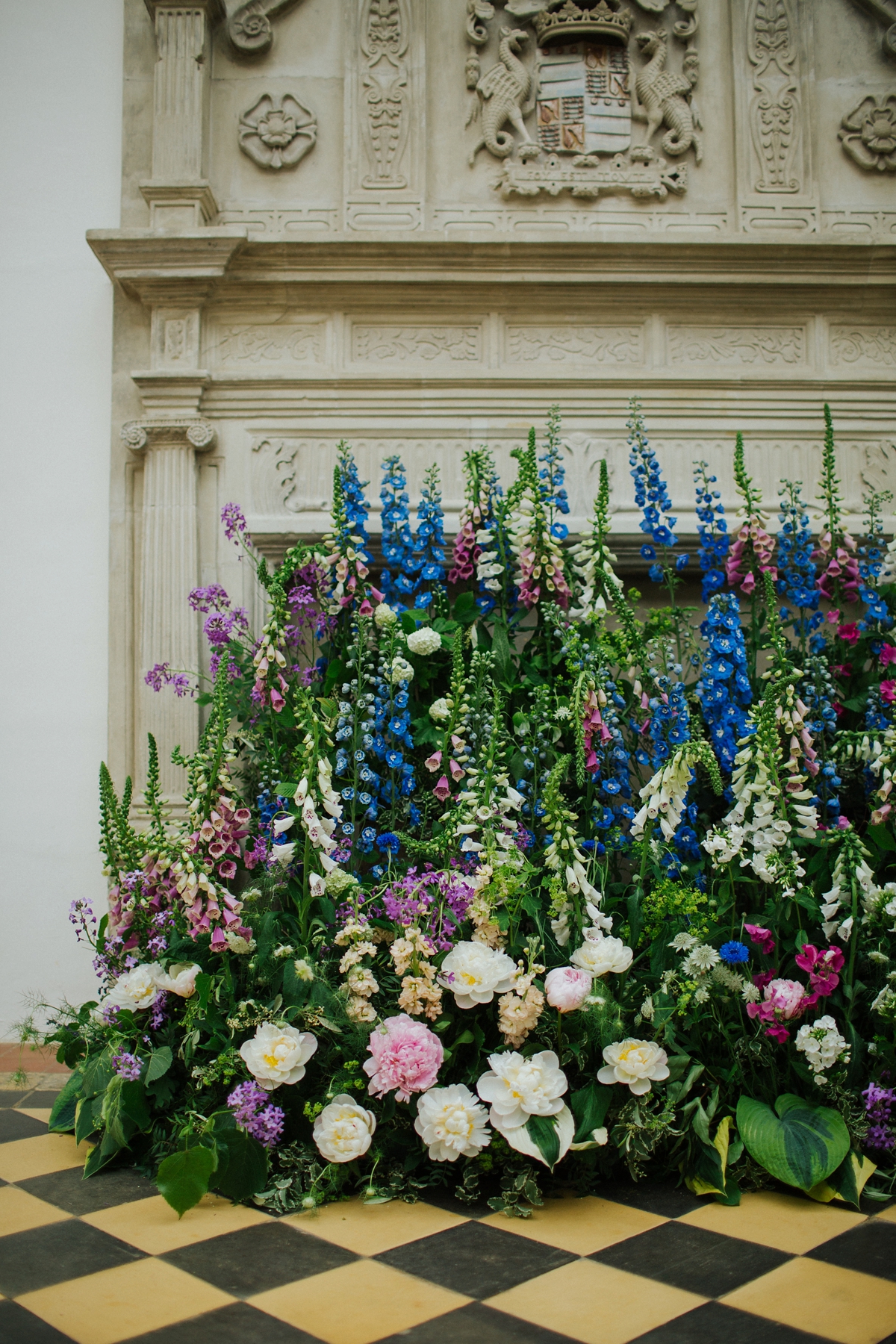 Aside from the incredible floral decor, Rowan made a giant mirrored table plan with photos of each guest and her parents created an incredible structure for the reception space.
"My parents constructed a silver sequin covered wall (we named it the disco-ball-wall) that stood behind the band and allowed for all the lights to be reflected back onto the dancing guests and surrounding walls."
Oh my word, that cake!  The swoonworthy cake was the work of Seasoned Events, who also did the catering. The beautiful chair was supplied by our fave specialist vintage furniture supplier, Kate, of Vintage Style Hire.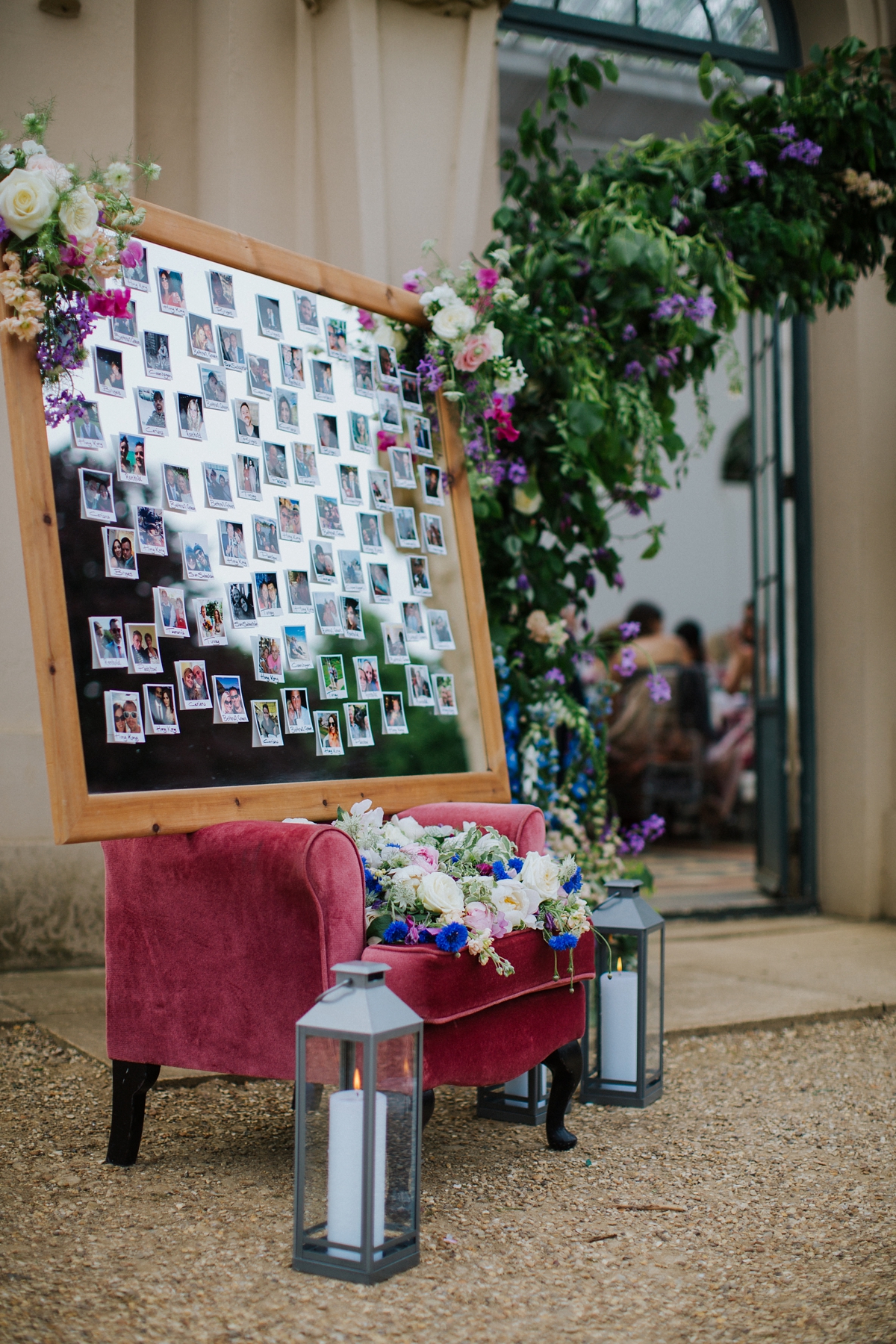 "We didn't want a traditional wedding cake so thought instead that the meringues with strawberries and cream would better compliment our summery day and they looked fabulous on the stand." 
Entertainment came in many forms.  Rowan and Phil chose acoustic duo Lone Pepper Duo for the drinks reception, band Smooth Sailors for the evening dancing and a photobooth by Belle Studio which came in a fabulous 1950's airstream caravan.  Guests were also treated to vintage garden games from Tilly's Garden Party Games and as the weather stayed fine, everyone was able to party both inside and out long into the night- the perfect summer wedding.
Words of Wedded Wisdom
"We were very lucky to have an incredible wedding planner who took away so much of the stress for us throughout the whole process.  In particular, having someone there on the day who had created the schedule, could keep things on track and help to solve any last minute issues really ensured that we got the most out of our day."
"When choosing your venue consider if there are elements of the day that are important to you but that may somehow be restricted by the venue, for example table formation (long vs round), placement of flowers or the ability to hang/attach things from the walls or ceilings."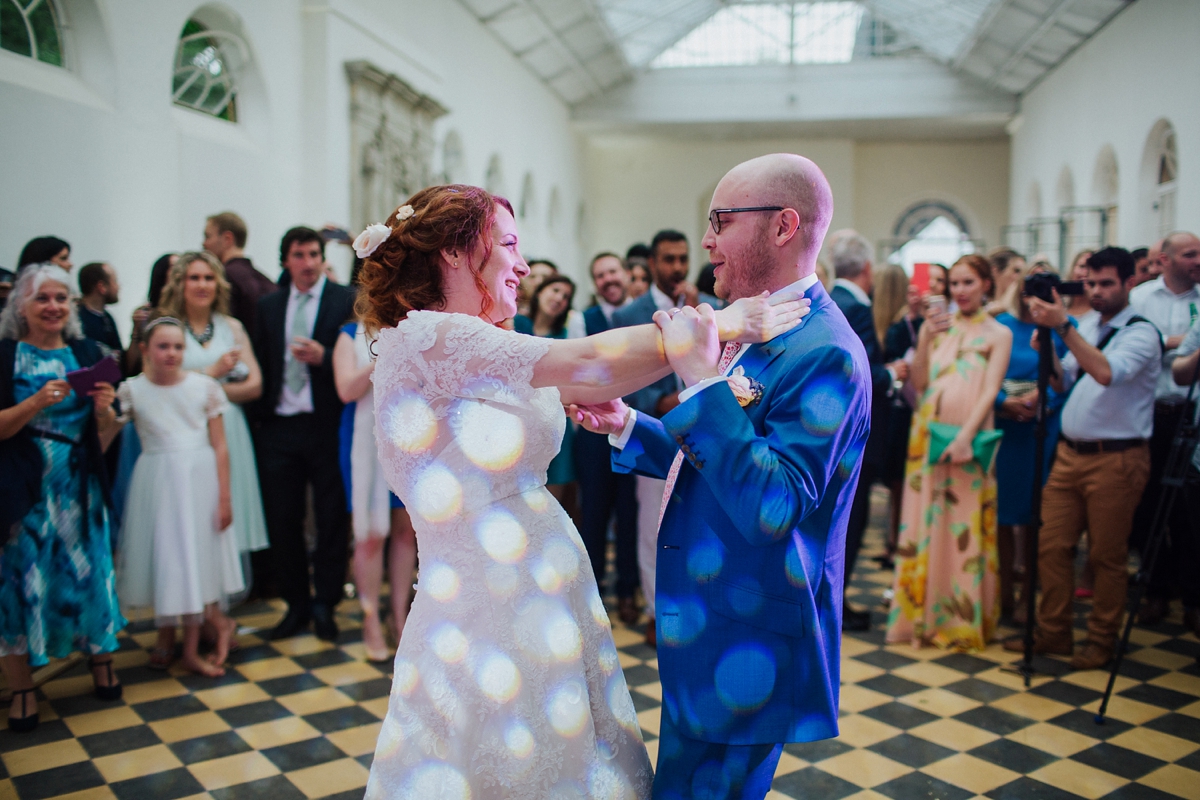 So many thanks to the new Mr and Mrs Haddon for sharing this absolutely stunning day with us all- definitely one for my favourites list!
Much love,
Shona x