Smiles are one of my favourite things in the world. There's nothing greater than when you're having a crazy day and you get a big beamer from a friend or even a stranger; it's an instant mood lifter.
When I first saw these images by One Thousand Words Photography and the winning grins of the bride, groom and all of their special guests, I felt like I was part of their big day and (my husband will confirm this) broke into a spontaneous jig around the kitchen. On the 24th of September 2016, Jonathan and Chloe married at St Andrew's Church, then headed just a short distance to the majestic Lulworth Castle for their flower-filled celebrations. I promise your breath will be taken away when you view the incredible floral displays.
"Our day was inspired by bohemian luxe, natural foliage-led flowers, lots of colours, and lots of greens in a range of shades – a riot to celebrate such a happy day! We also really wanted our wedding day to be fun and relaxed for our guests, so tried to plan around this."
Photography by One Thousand Words Photography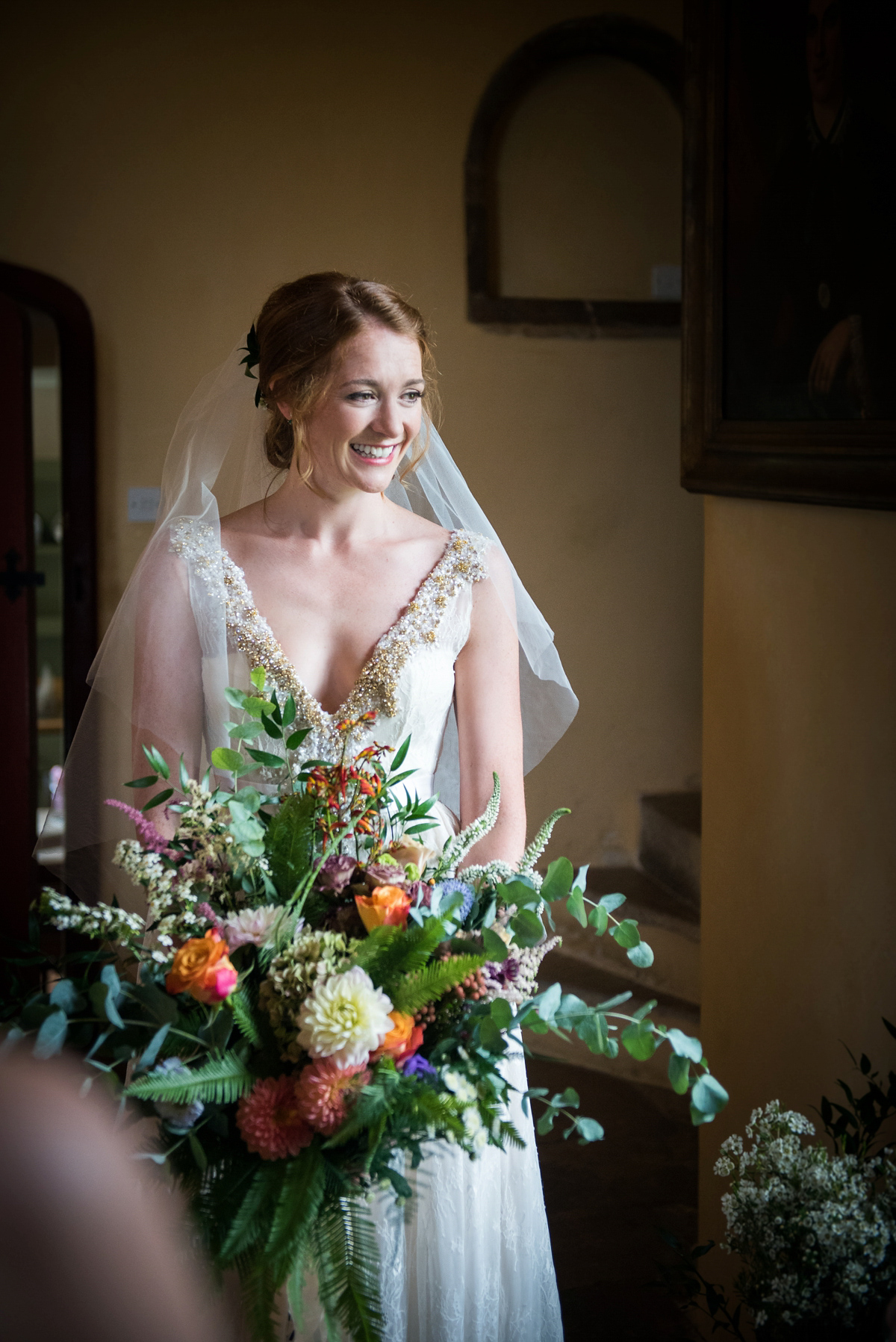 Chloe's absolutely divine dress was the 'Isla Rose' style by Ruth Milliam Bridal Couture via Waterloo Wedding Wardrobe and the floaty, almost regency-esque style stood out for her. As each dress is bespoke, Chloe was able to have the dress altered to create her dream wedding dress; removing the sleeves, extending the train, changing the colour to a champagne lace, and adding lots of gold beading and a belt.
"I first met Ruth at the National Wedding Fair – she was just starting to launch her brand and her romantic and flowing designs really appealed to me. She happened to be doing a trunk show at Waterloo Wedding Wardrobe, a lovely shop in Waterloo owned by Coralie, which I knew well as several of my friends had purchased their dresses here in previous years."The stunning bride added a simple waterfall veil by Sassi Holford and a very comfy pair of 'Gold Peony' heels by Harriet Wilde (and these talented two are also lovely members of our Little Book for Brides resource – you can view their listings here and here).
Jonathan surprised Chloe on the morning of the wedding with emerald and diamond earrings as her something new, she wore 'Modern Muse Nuit' by Estee Lauder as her scent, and flowers and foliage in her plaited upswept hairstyle by Laura McKenzie, with make-up by Tara Sanger.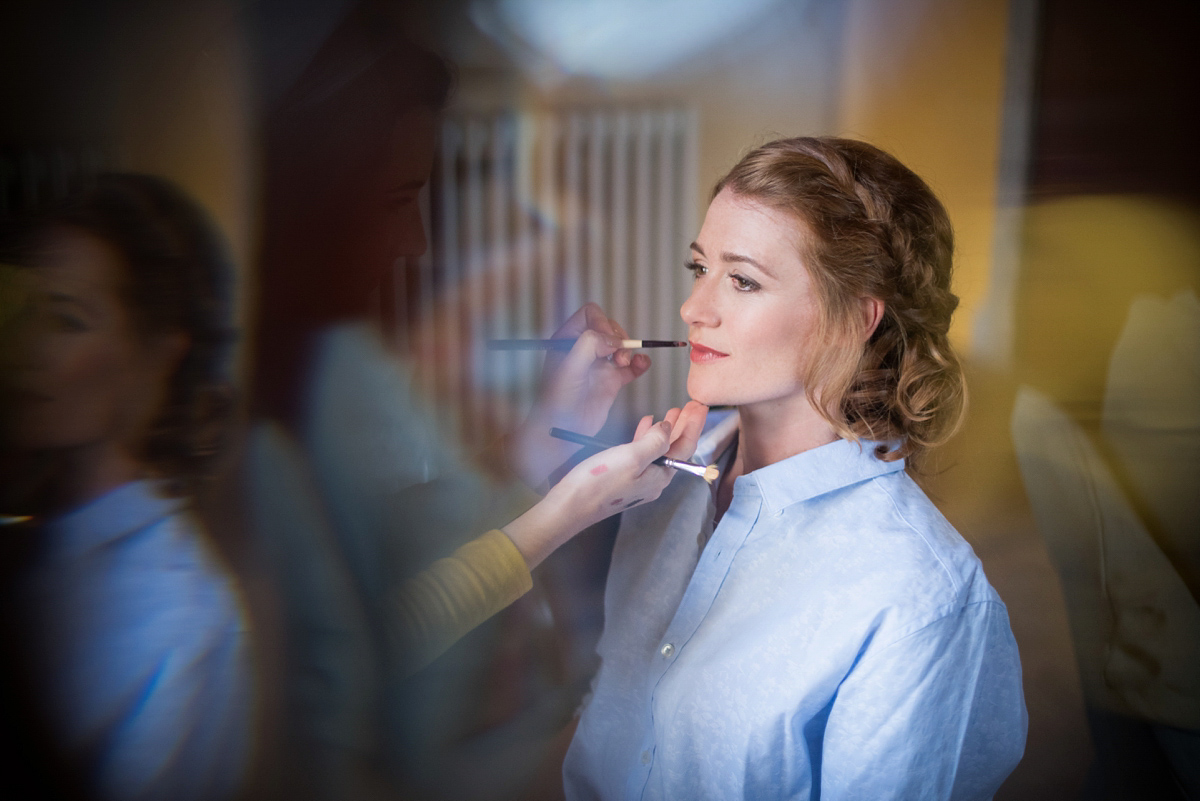 "Ruth's dresses seemed so different from all of the traditional wedding dresses that I had tried on. It was very easy to wear too and such a fantastic experience working on the design with her and the ladies at Waterloo Wedding Wardrobe."
"Coralie and Gail provided great advice throughout the whole process, even spending hours the day before I collected it ironing the underskirt."
"I loved my dress so much! I loved the detailing/beading on the neckline and the back, which glowed in the candlelight. I loved the warm champagne colour of the lace and I loved the cut and the neckline (and the slit at the front so I didn't stand on it the whole time!). I also loved how different it was to many of the ones that I have seen my friends get married in. In every way it was my perfect wedding dress and fitted our venue perfectly."
Have you discovered the talent that is twobirds Bridesmaid? If not, I urge you to check them out now – they are a part of our most helpful Little Book for Brides bridal resource, see their listing here – and have loads of brilliant ways to style gowns for your maids.
Chloe's gorgeous maids (including two of whom were pregnant and look so beautiful!) wore a range of styles in blues and greens, their own gold shoes so that they were comfortable, and pretty flowers in their hair.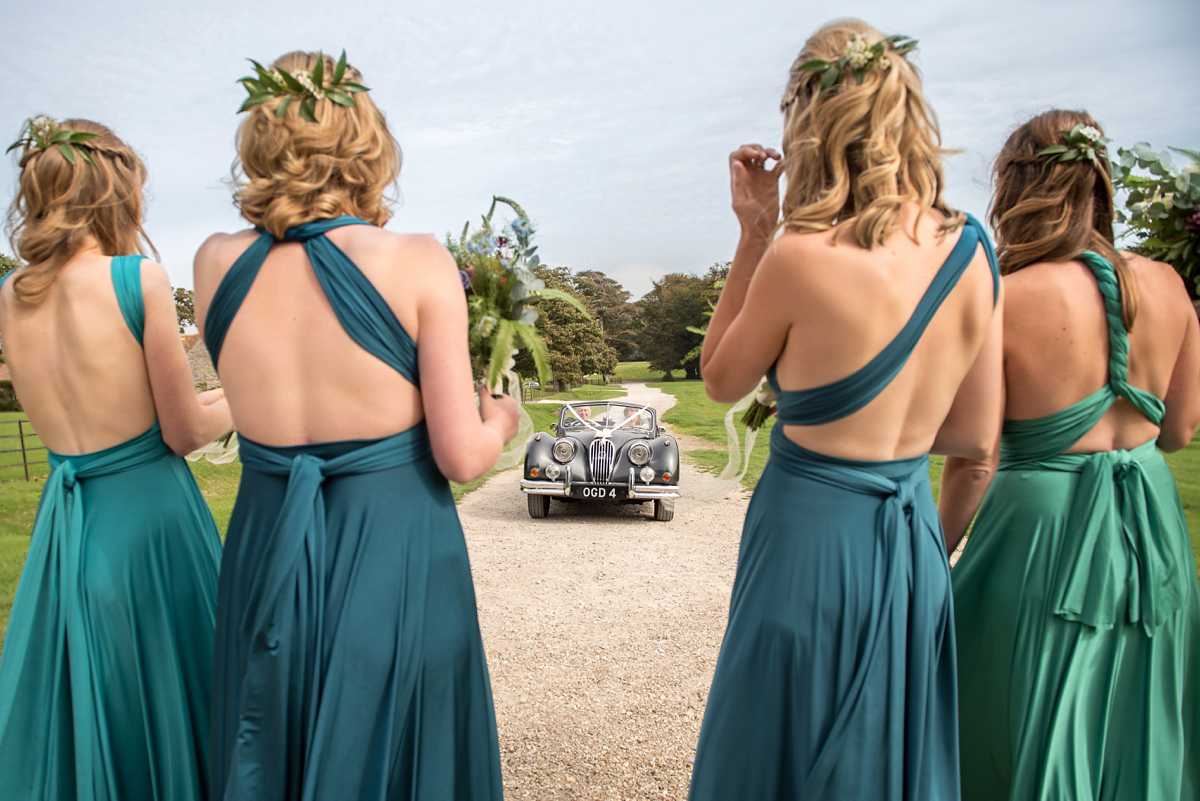 "We used my dad's Jaguar XK140 as our transport. Dad accompanied me for the aisle walk to 'Canon in D' – it is such a classic. Walking down the aisle and seeing Jonathan beaming at the other end was my favourite moment; it was such a mixture of excitement, nerves and anticipation!
We had the Stringendo string trio play in church for the processional/recessional and during the signing of the register. We walked out of the church to the 'Bare Necessities' from the Jungle Book."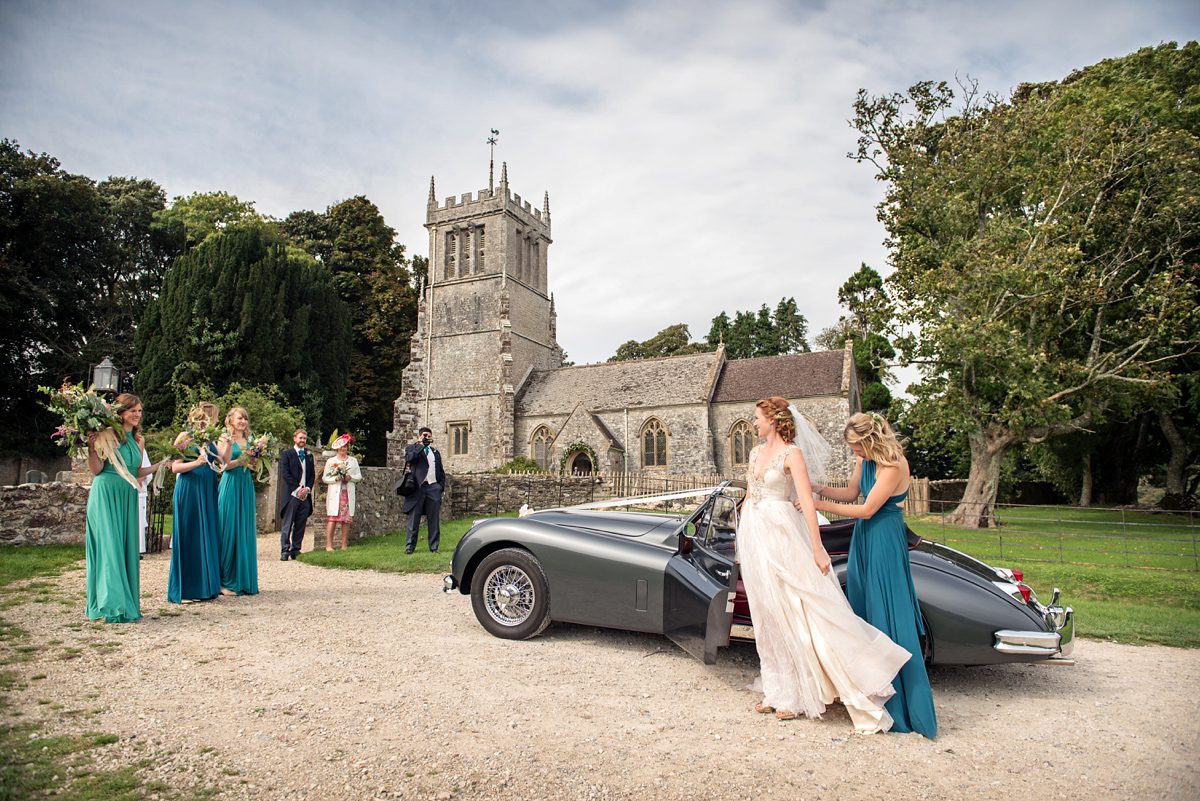 "Jonathan's family are Catholic and so we asked Father Mark from their local church in Kent to participate in the service alongside the Church of England vicar. This worked really well and we really felt as if we were bringing the two families together."
"We also love the hymns in church so actually chose four and had two religious readings and one poem: 1 Corinthians (abridged), a classic wedding reading (and for a good reason!), and Song of Songs 2 8-13; 8:6-7. The poem 'Perfect for Me' by Ron Pope is one of Jonathan's favourite songs. We really liked the final verse…"
And I'd just like to say
I thank God that you're here with me
And I know you too well to say you're perfect
But you'll see, oh my sweet love, you're perfect for me.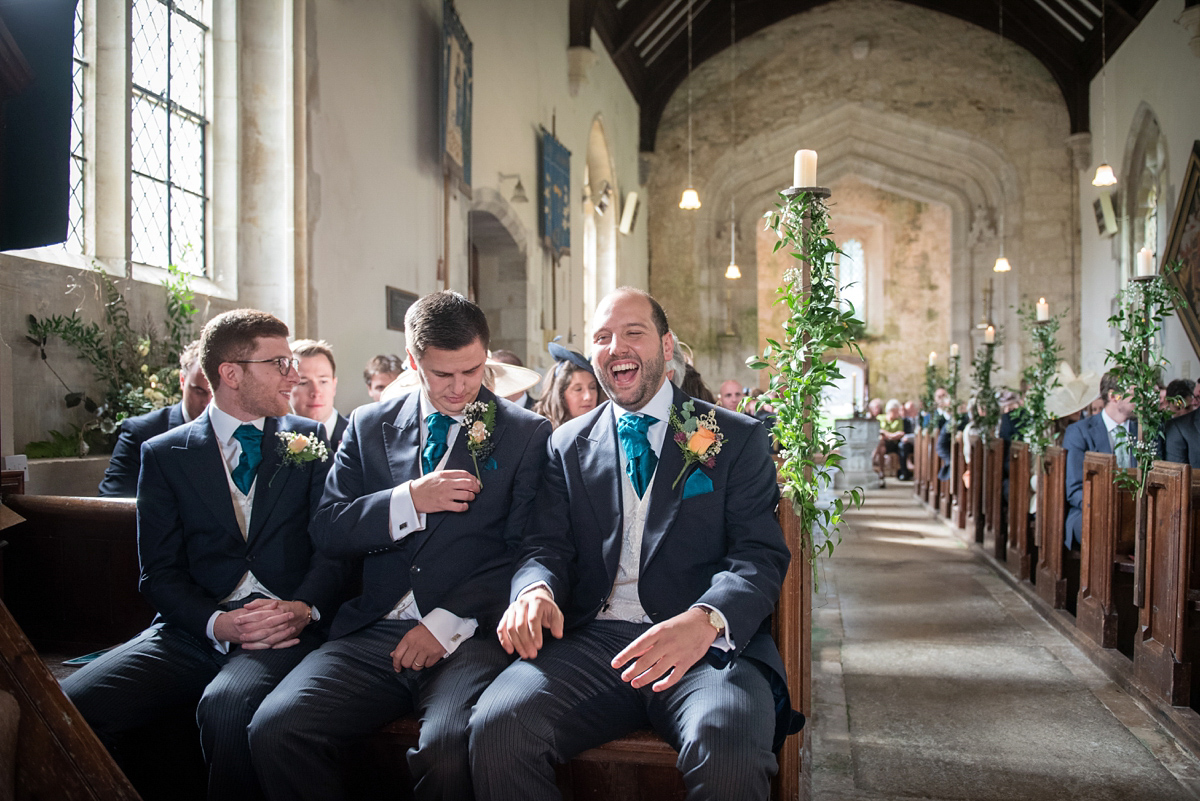 "Lionel Wiffen, a jeweller in Hatton Garden that had been recommended to Jonathan, made our wedding rings. He designed and made my engagement ring and earrings too."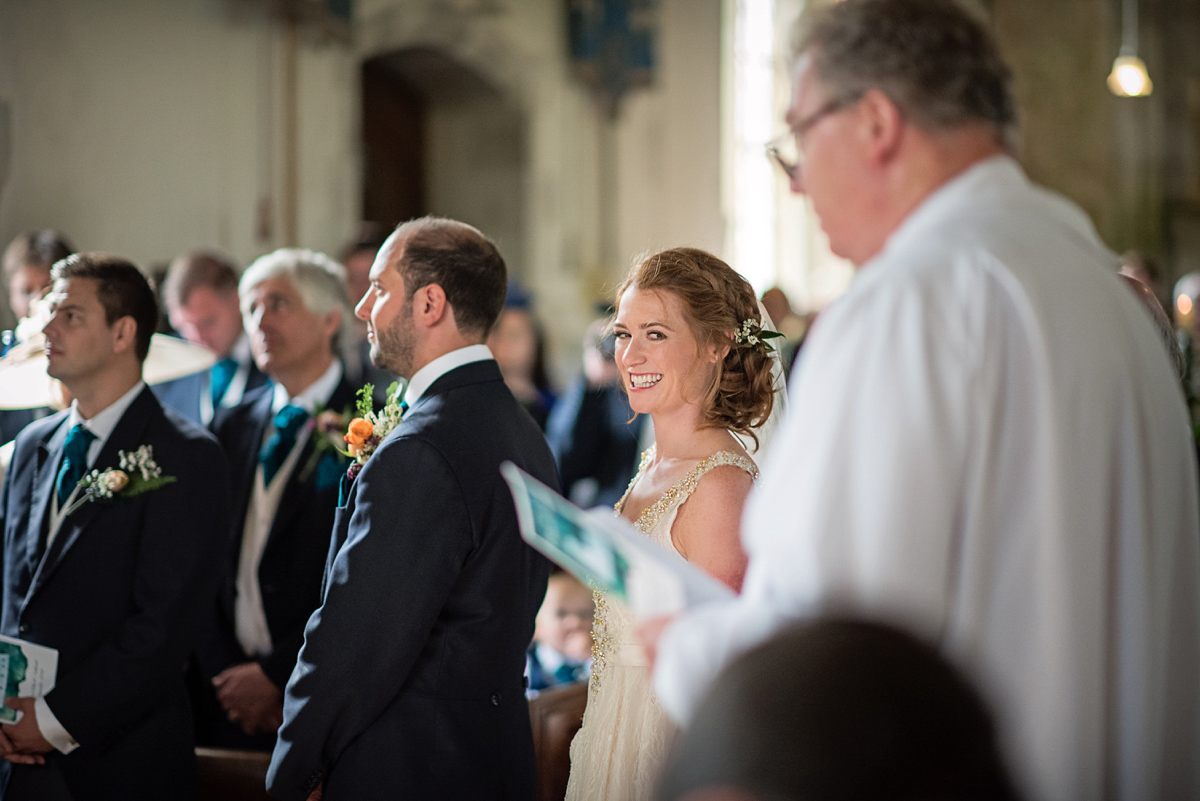 The groom chose his attire from Moss Bros, another fantastic Little Book for Brides affiliate – see member listing here. The shade of green that was chosen for the ties and pocket squares really pops.
"Jonathan wears a suit every day to work so he chose tails in order to feel different. I bought Jonathan a 1960's classic gold Omega watch as a wedding present. It was a complete surprise but seems to have gone down well as he wears it everyday!"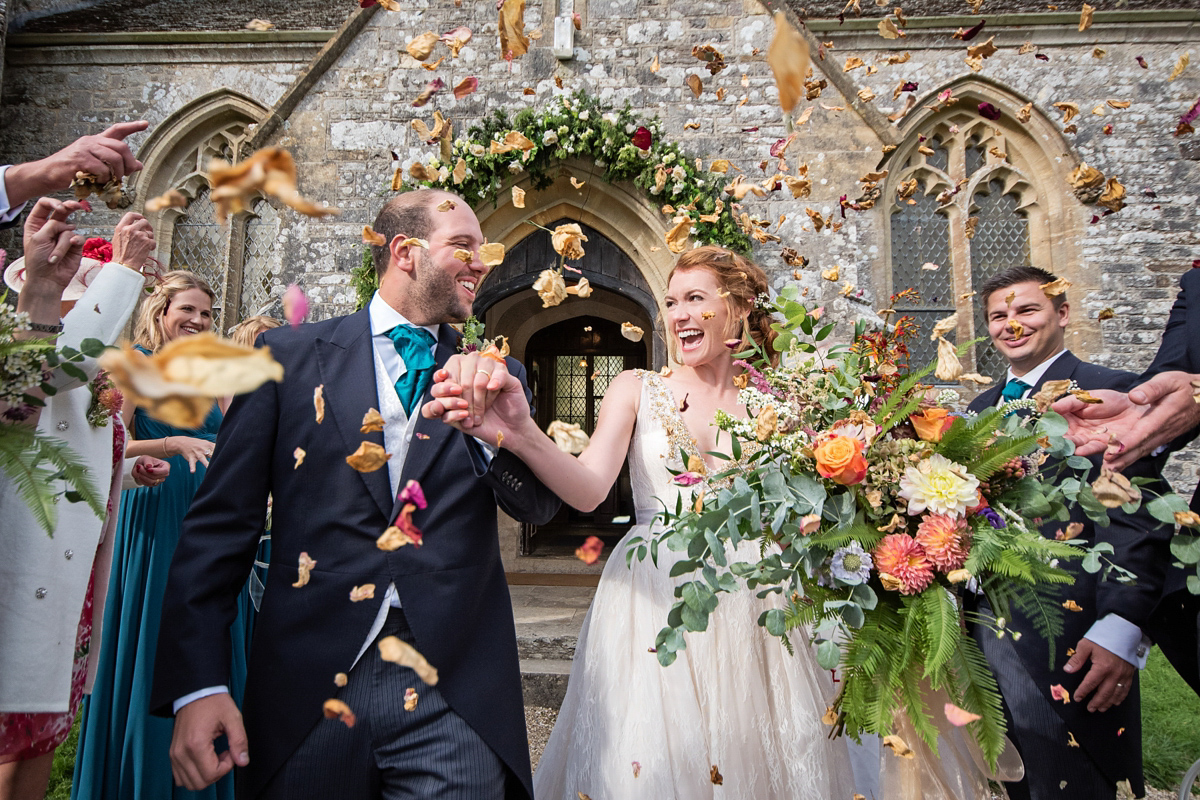 "We met Murray and Tom from One Thousand Words Photography at the Lulworth Castle wedding fair. They were so friendly that we booked them there and then! They were great to work with and took some lovely natural shots of the day. We were really pleased."
"As soon as we saw this gorgeous venue we knew that it was perfect for us. The incredibly pretty church is only 50m away from the reception venue, with beautiful views down to the coast and across the fields. The venue is a stunning stone mock castle which suffered a serious fire in the early 1900's that burnt down much of the inside structure. Today the building is mostly used for events and forms a fantastic blank canvas for a proper party. We could just imagine the rooms with a live band and the dance floor packed."
"Dorset is also one of my favourite places in Britain. It was so great to be able to find a venue that we knew our guests would love and where they could spend a fabulous weekend in stunning surroundings."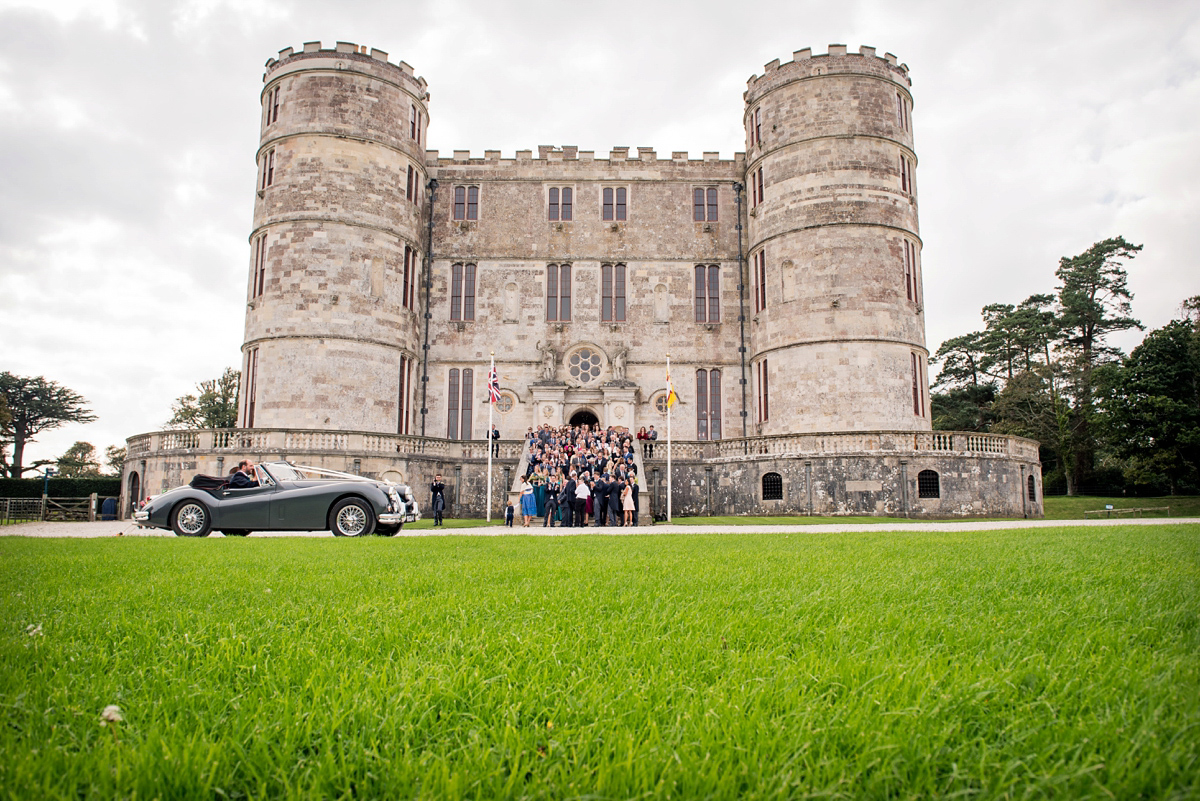 I am completely blown away by the delightful florals and the lovely ladies who helped out totally nailed the brief.
"The flowers were prepared by Anna Ardolino and Teresa Brown – Jonathan's mum and close family friend. They used lots of foliage picked from my aunt's garden in Dorset, combined with a huge array of flowers from Covent Garden Flower Market. We were looking for a wild, unstructured and natural look, as if they had been gathered from a meadow."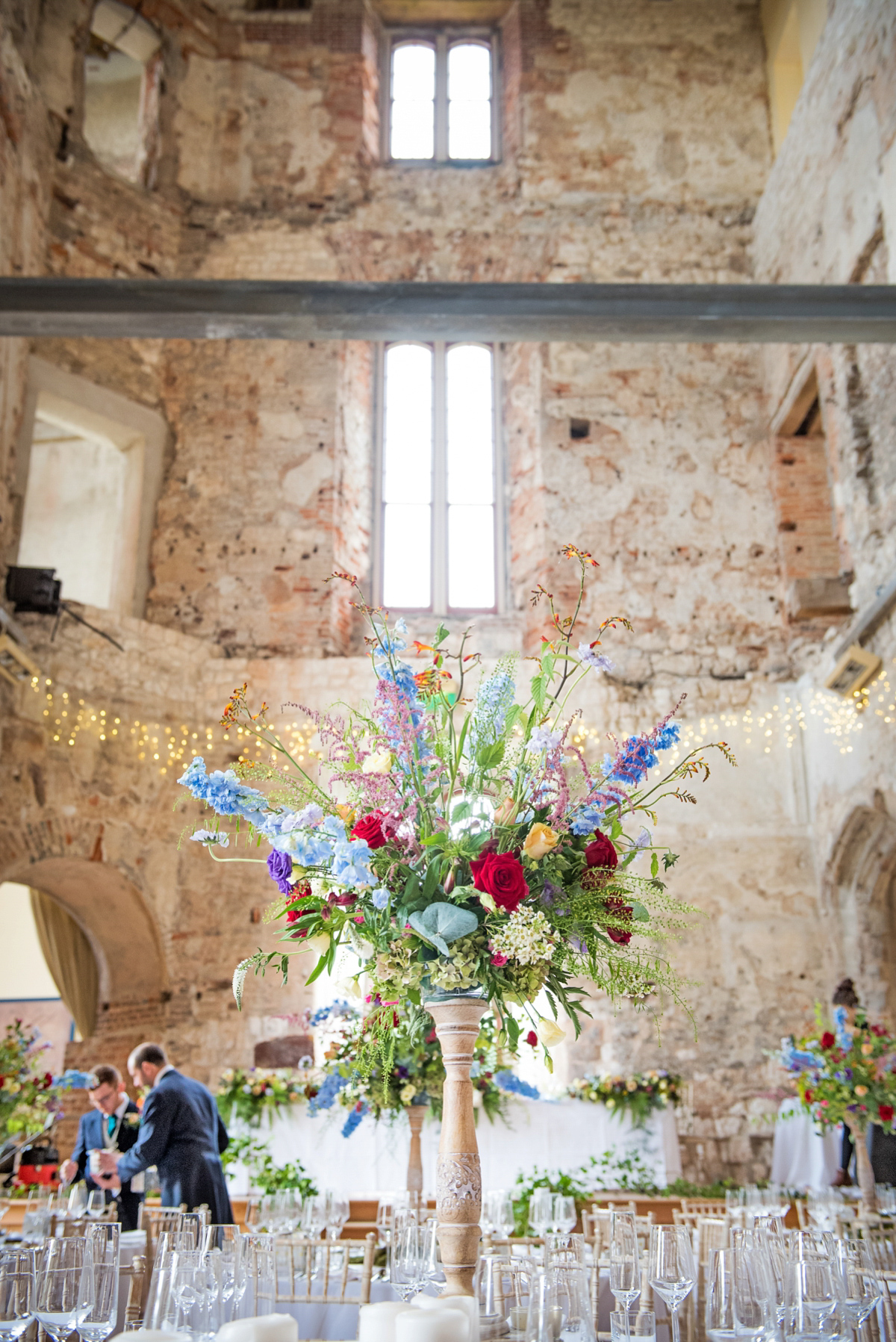 \
The sweet little helpers look utterly adorable – the pageboy wore his own wee suit and the flower girl's donned pretty white Etsy frocks and floral crowns.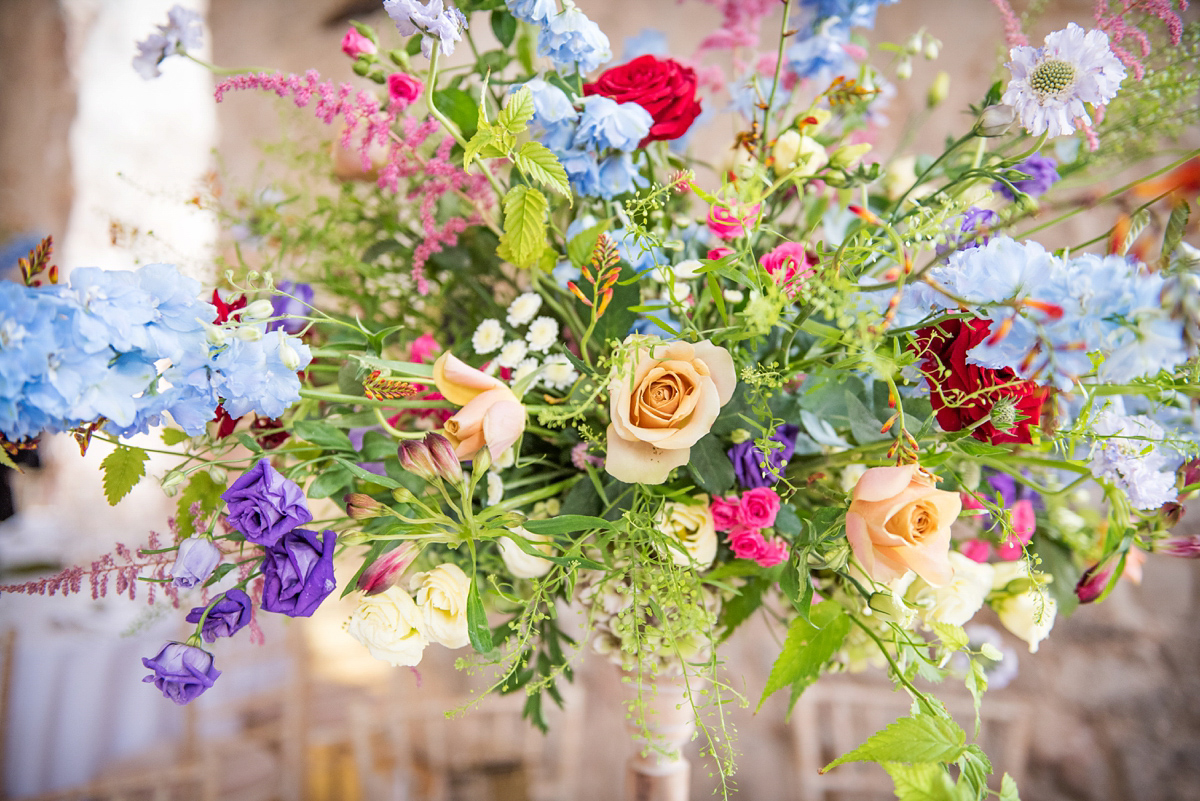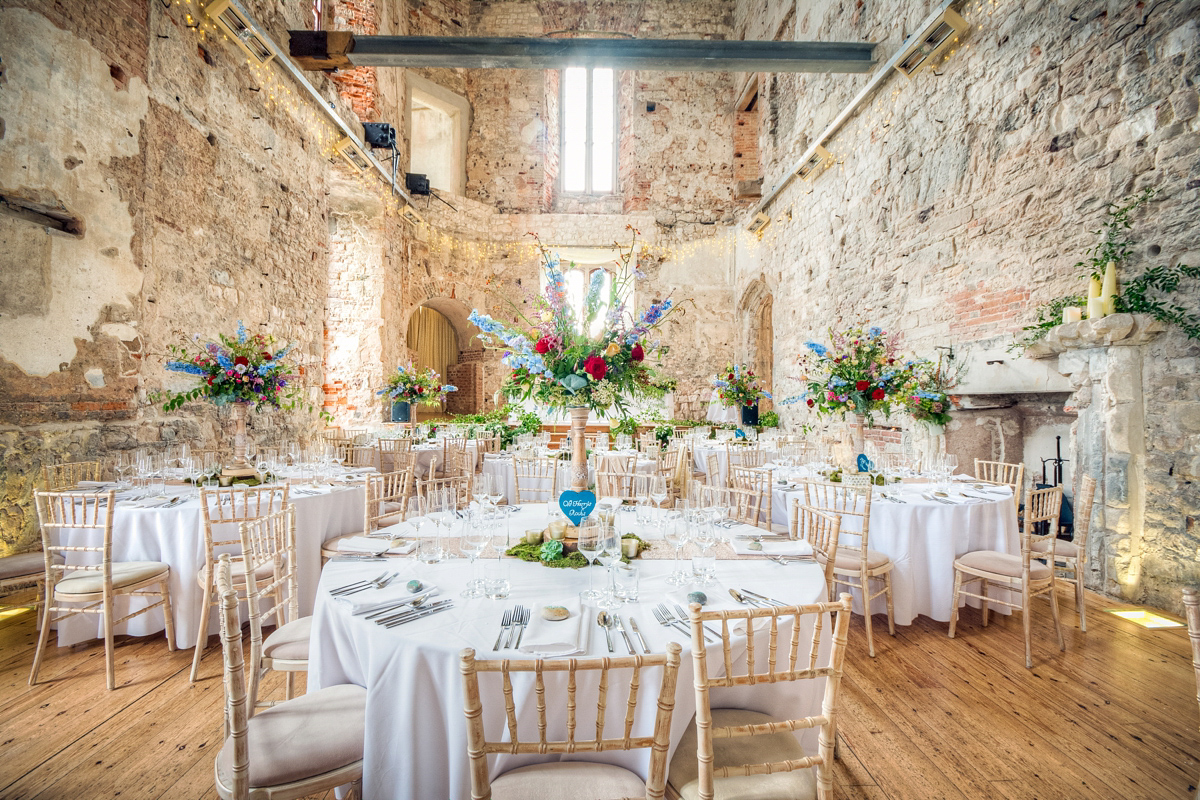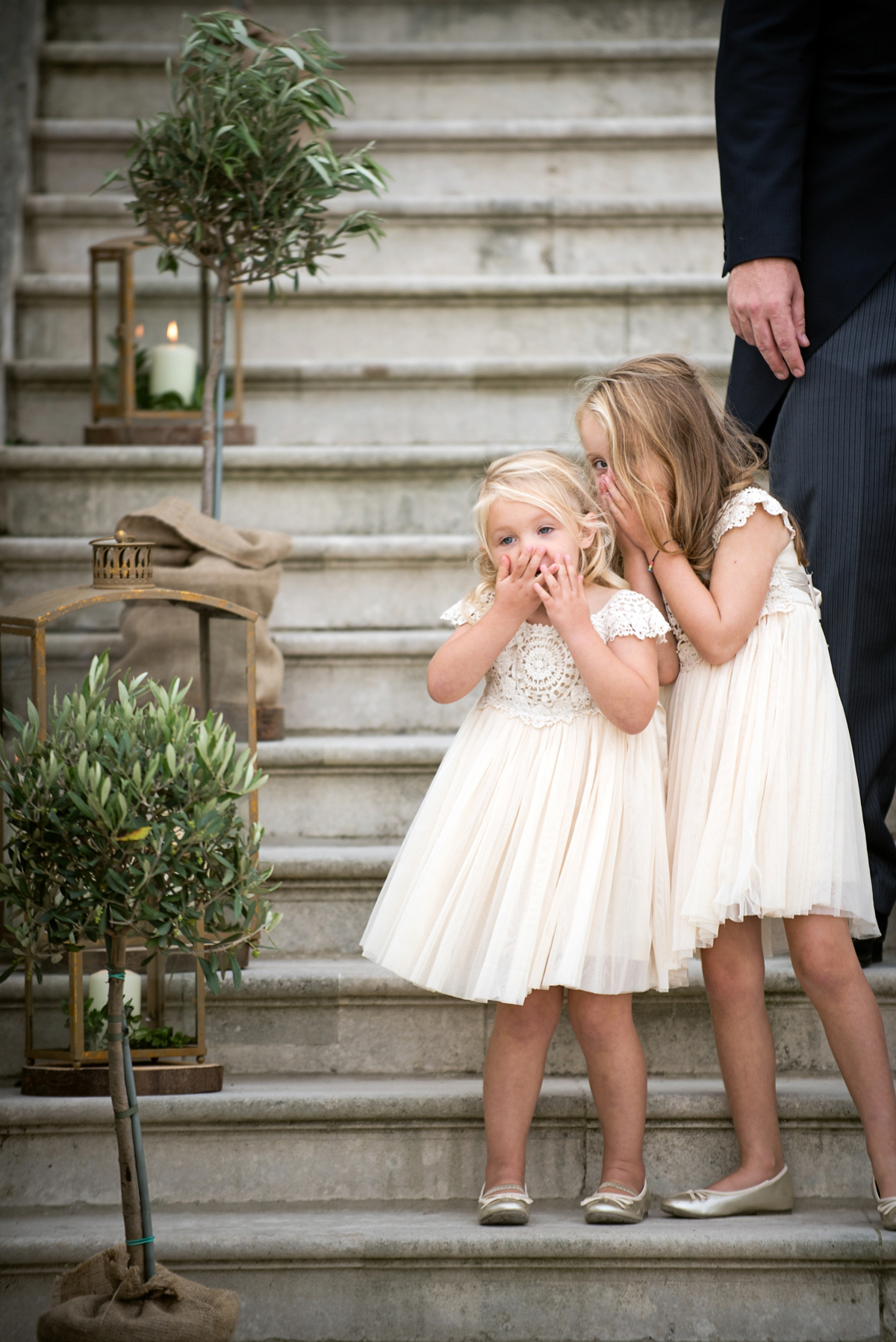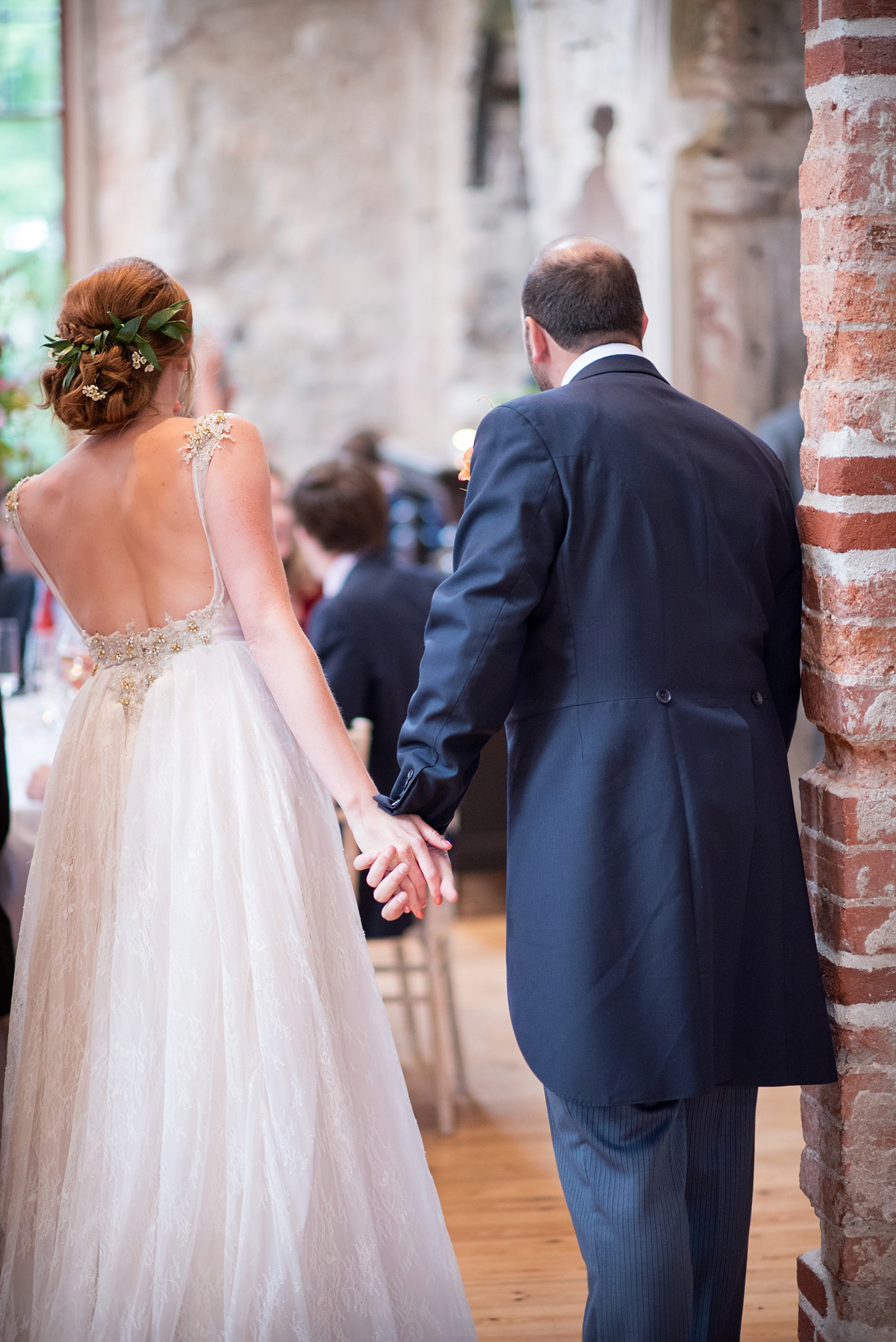 "We really wanted our guests to be involved throughout our wedding so we chose to have a carve your own main course of lamb. We invited one person from each table up to the front to pick up a present that had a chef's hat and apron inside. This got everyone really excited as they realised what they would have to do, and then our caterers from Nomad brought out huge platters of lamb. We think it worked really well and everyone seemed so happy and having fun."
"We didn't do individual wedding favours, but Jonathan made homemade bottles of limo cello which were given out to each table just before the speeches. For the groomsmen, bridesmaids and key helpers we asked the local Smithbrook Glass Blowing Studio to hand make bespoke gifts for each. The boys got paperweights, whilst the girls and ladies received gorgeous glass vases."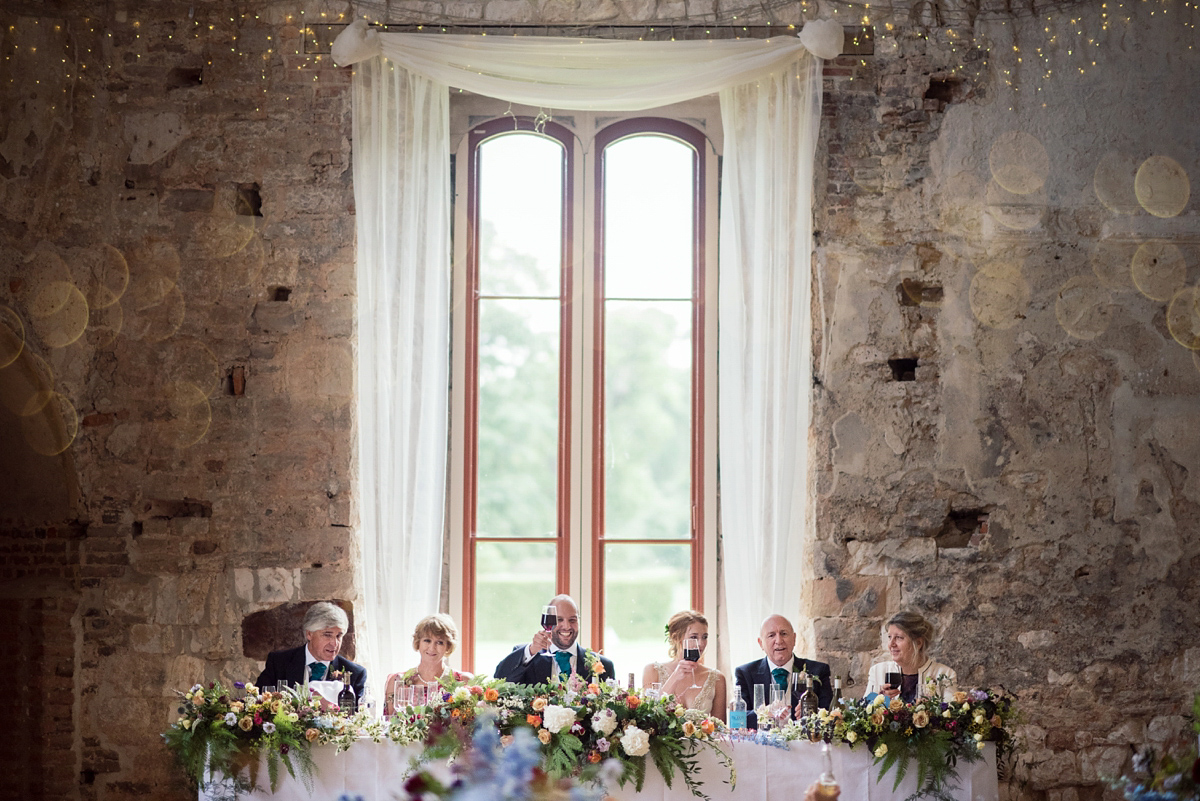 "Nomad helped us with some of the larger decor items. They brought in the coloured uplighters and the large birch branches which we used as trees in order to give the decorations more height. As the ceilings are so high we were very conscious of ensuring that the decorations were not dwarfed. The venue is quite an empty space and so both of these helped create a more intimate atmospheric feel to the day."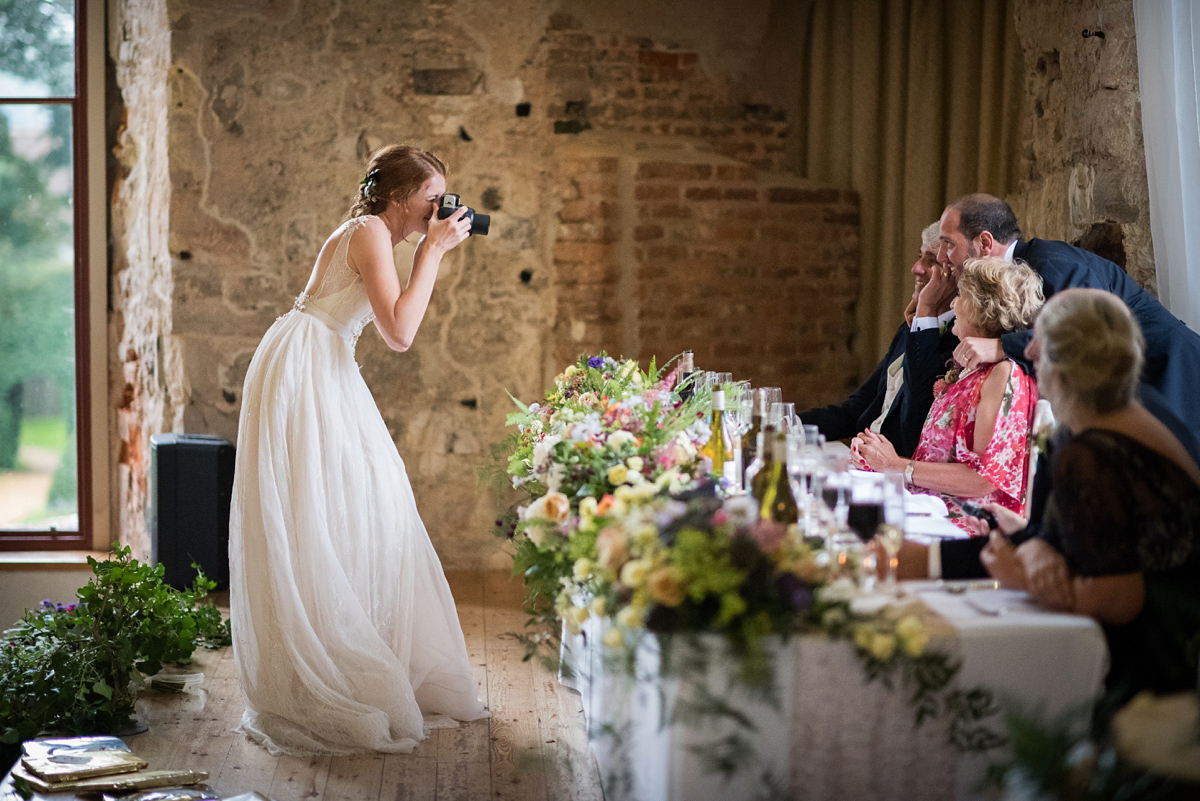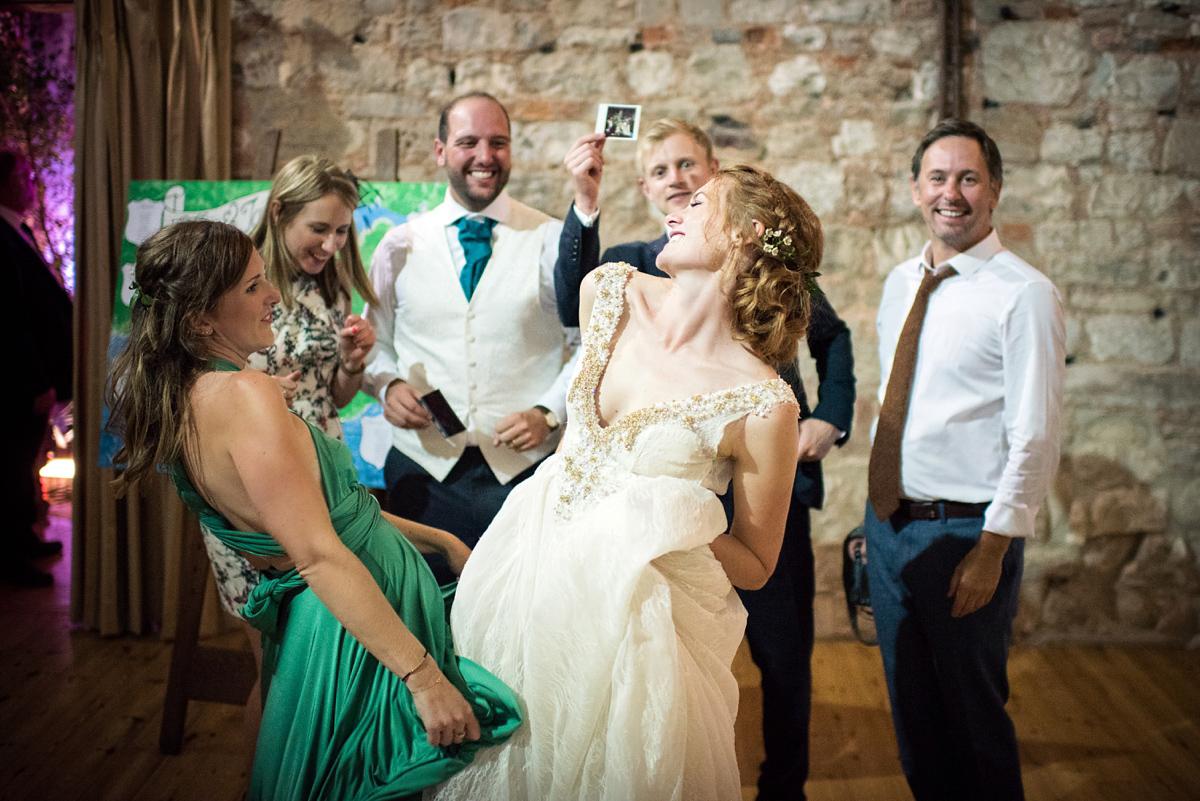 Chloe and Jonathan chose The I Do's band to play in the evening, after seeing them at a friend's wedding, and their first dance was to 'Stand by Me' by Ben E King. And there was a brilliant surprise for guests with spectacular fireworks by Firework Solutions – what a way to end the celebrations!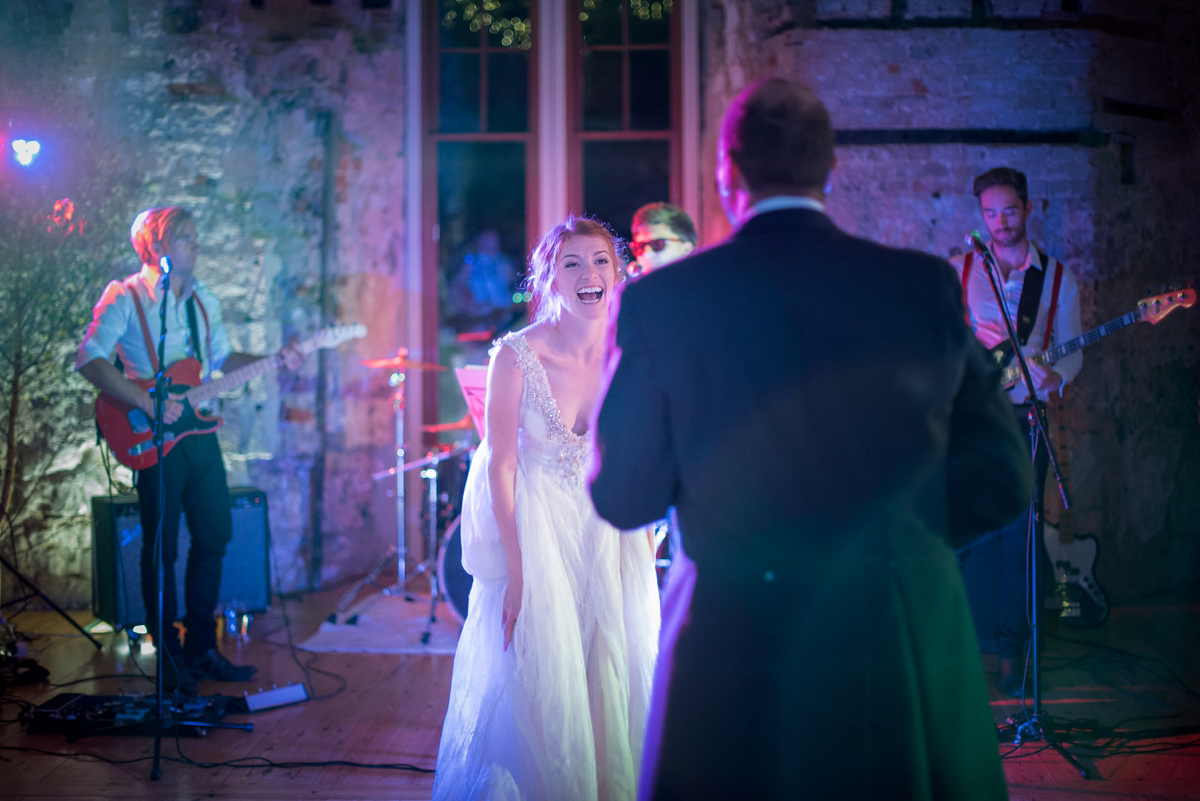 Words of Wedded Wisdom
"Communication is key. Make sure you walk through every last detail with your caterers and key suppliers. Really highlight the important 'must haves' to them so that they know they are important. The day will never go completely to plan though, so just go with it and enjoy!"
"I was not keen on having a videographer at the wedding as quite often they seem to be quite intrusive. Instead, we used Shoot It Yourself, which allowed us to get some great footage, but with our friends and family filming so it was more intimate. The video editing that they have done is great too; almost a behind-the-scenes wedding video."
Smiles really are infectious aren't they? I'm sure Chloe and Jonathan's delightful day has given you all of the feels and provided loads of inspiration. Sending a very big thank you to Murray and Tom from One Thousand Words Photography for capturing and sharing all the happy moments.
Hope the wedmin's going well for everyone who's currently amidst it – go forth and conquer, it is so worth it in the end!
Love Jo -xo-