How's your week going lovely ones? I absolutely insist that you take a tea break, find a comfy spot, and settle in as you soak up these simply divine photos by A Thing Like That Photography of the wedding of James and Claire.
As soon as I saw the images taken during golden hour of the ceremony set against the backdrop of the London city skyline and read about all the little touches paying homage to Claire's Danish heritage, I was hooked. Claire is a university lecturer and James is a company director and the groovy couple married on the 25th of March 2017 at the uber modern Ace Hotel in Shoreditch, London. The couple were keen for a stylish urban setting and, having frequented the hotel numerous times for celebrations and Claire living around the corner, wanted to tie the knot somewhere that reflected their lives and the places that have been a part of their relationship – and keep it intimate and very personal.
"We were keen that the wedding be very urban and very much focused on London as a setting. We wanted a cool, hip and relaxed vibe with lots of greenery – and we love the design, style and mixture of vintage furniture with more contemporary materials and decor. Finally, we were keen that our wedding be all about us and our relationship, rather than about any religious or institutional idea of marriage, so things like personalised vows, lots of speeches, and a very small, intimate size, were things that guided us from the start."
Images by A Thing Like That Photography
Claire chose the 'Anya' dress by  Indiebride London, bought from their Brixton studio. Claire found out about this stunning range via our handy bridal resource – see the Little Book for Brides directory listing here – and be sure, if you haven't already, to check out our Look Book for even more Indiebride gorgeousness. This minimalist style suits Claire to a tee, don't you agree?"Originally I set out to find a non-bridal dress, and I tried on lots of designer ready to wear gowns, but nothing was quite right – I struggled to find something with impact that didn't make me look like a wedding guest rather than the bride!"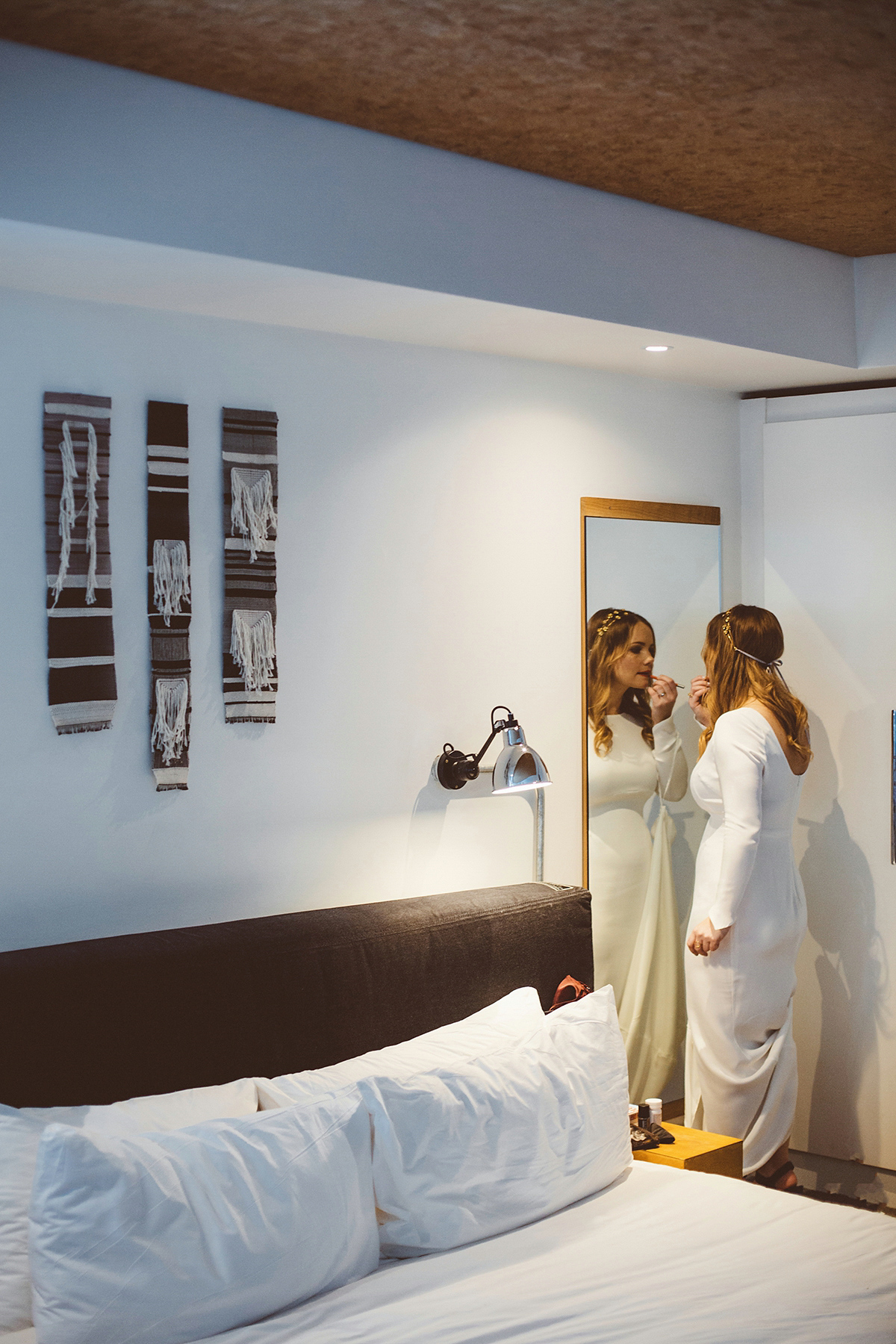 "I didn't see myself as a traditional bride and my usual style is quite minimalist and Scandinavian influenced. When I came across the Anya dress online I could immediately see myself in it – it was almost like a bridal version of my normal personal style. I love the utter simplicity of it, and found it really striking in how unadorned it is."
"I had the dress made to measure so it fit me perfectly, and I was able to get the standard plunging V at the back taken in so I could wear supportive underwear."
"I was really happy with it on the day, I felt like me and I felt like a bride, but I also felt cool!"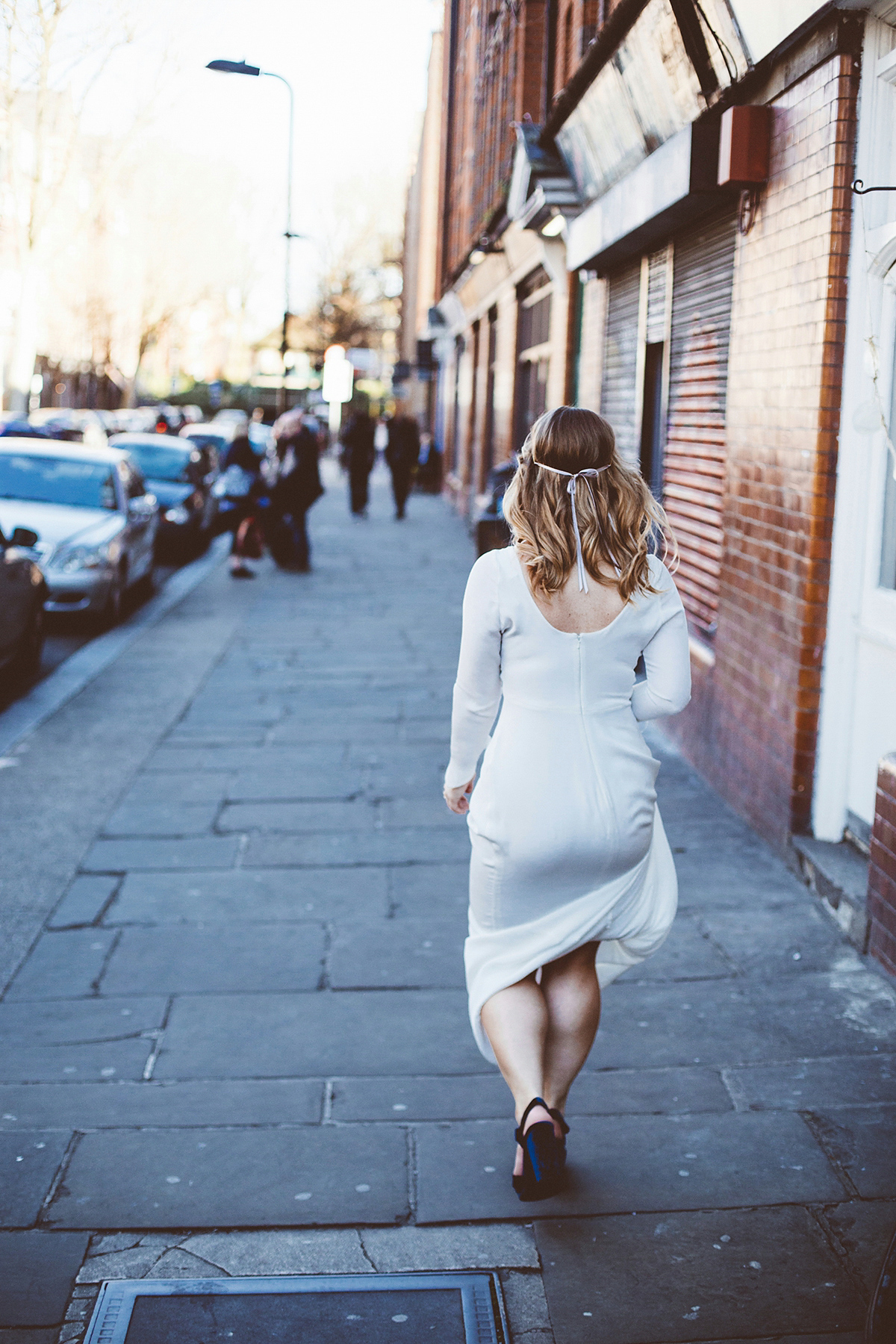 "James, his brother and his dad all had suits made by Beggars Run. James had a deep navy corduroy, which he styled with a white Acne shirt, a pocket square from Drake's, shoes from A.P.C. and no tie – for a really modern, clean look."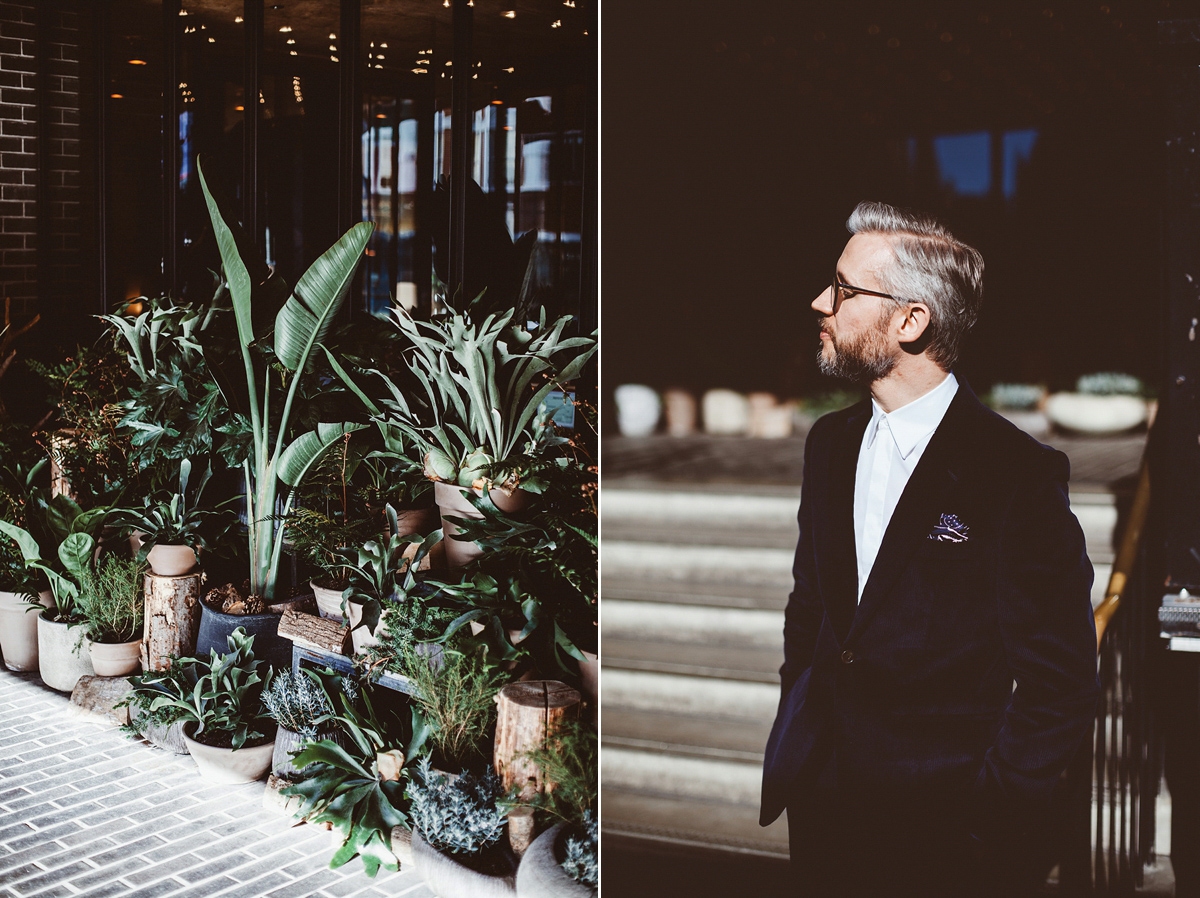 Are you thinking of doing a first look for your big day? I just love the look of love on the groom's face upon first sight of his beautiful bride.
"We really loved our First Look, which we did around the corner from the hotel at a bandstand in a place we've always loved. It was really fun and quite funny – with all the random onlookers – but also a really lovely intimate moment. We sat and exchanged cards, spending some time together before the madness of the wedding was such a good decision."
"I had an image in my head of bright turquoise velvet block heels right from the start, as I thought they'd be an amazing contrast to the plain white dress. I looked everywhere and tried lots of designer shoes on, but couldn't find anything that fit the bill. Then one day I stumbled across the absolute perfect pair on the Next website! They were the perfect height, really comfortable and a total bargain."
Claire and James met via the interwebs – see here for more little love tales of couples who married online – and James surprised Claire with a special bespoke ring.
"We met on Guardian Soulmates in 2012. We got engaged in April 2016 while on holiday in Lanzarote, so were engaged for a little over a year. James completely surprised me by proposing out of the blue while we were lounging around the pool having a drink before dinner."
"He'd been working for months on a bespoke ring designed by Rachel Boston. He chose a beautiful cognac diamond which Rachel had described as 'freckly' – which he chose to match my own freckles! It's flanked by two small triangular diamonds on a double gold band, reflecting my love of all things geometric."
"I spent a long time looking for something to wear in my hair that was feminine and bridal, but simple and not too sparkly. I found this piece by Jennifer Behr via Net-A-Porter. I had planned to take it off after dinner and mess my hair up a bit, but I completely forgot – the sign of a good wedding!"
"I walked down the aisle with my father which wasn't something I had originally intended to do – I don't really like the symbolism of being 'given away'! However, when I told him we were engaged, the first thing he said was that he couldn't wait to walk me down the aisle, which was extremely touching. I'm so glad I did, it's a lovely memory. I entered to 'Nothing's Gonna Hurt You Baby' by Cigarettes After Sex – one of our favourite songs which has such a perfect sentiment for a wedding."
Claire wore Atelier Cologne in Orange Sanguine layered over her favourite Aesop Rind Concentrate body balm and continued her minimalist theme by not wearing any jewellery.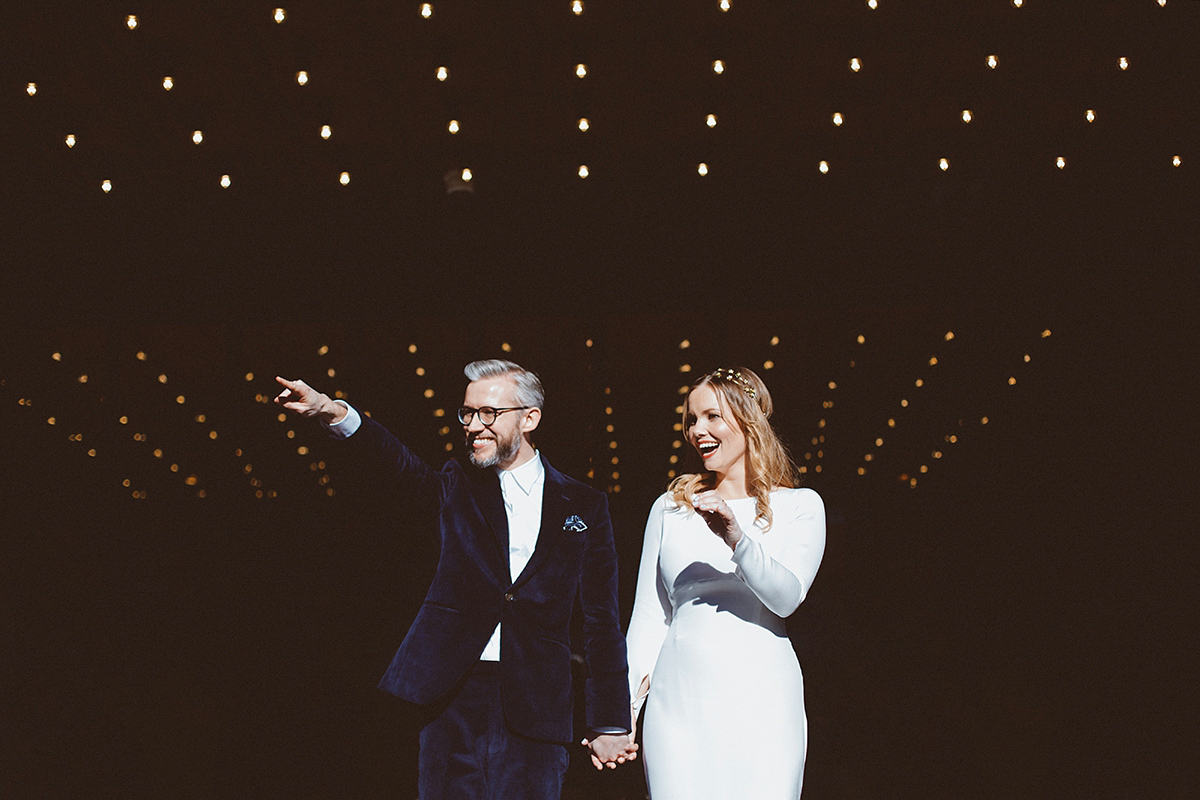 Claire designed all of the stationery on Photoshop and InDesign and had them printed on printed.com. And with the venue being such a stylish setting, decor was already sorted.
"The view from the 7th floor event space of the Ace Hotel overlooks the city so perfectly – the skyline was the backdrop and such a great talking point for our guests."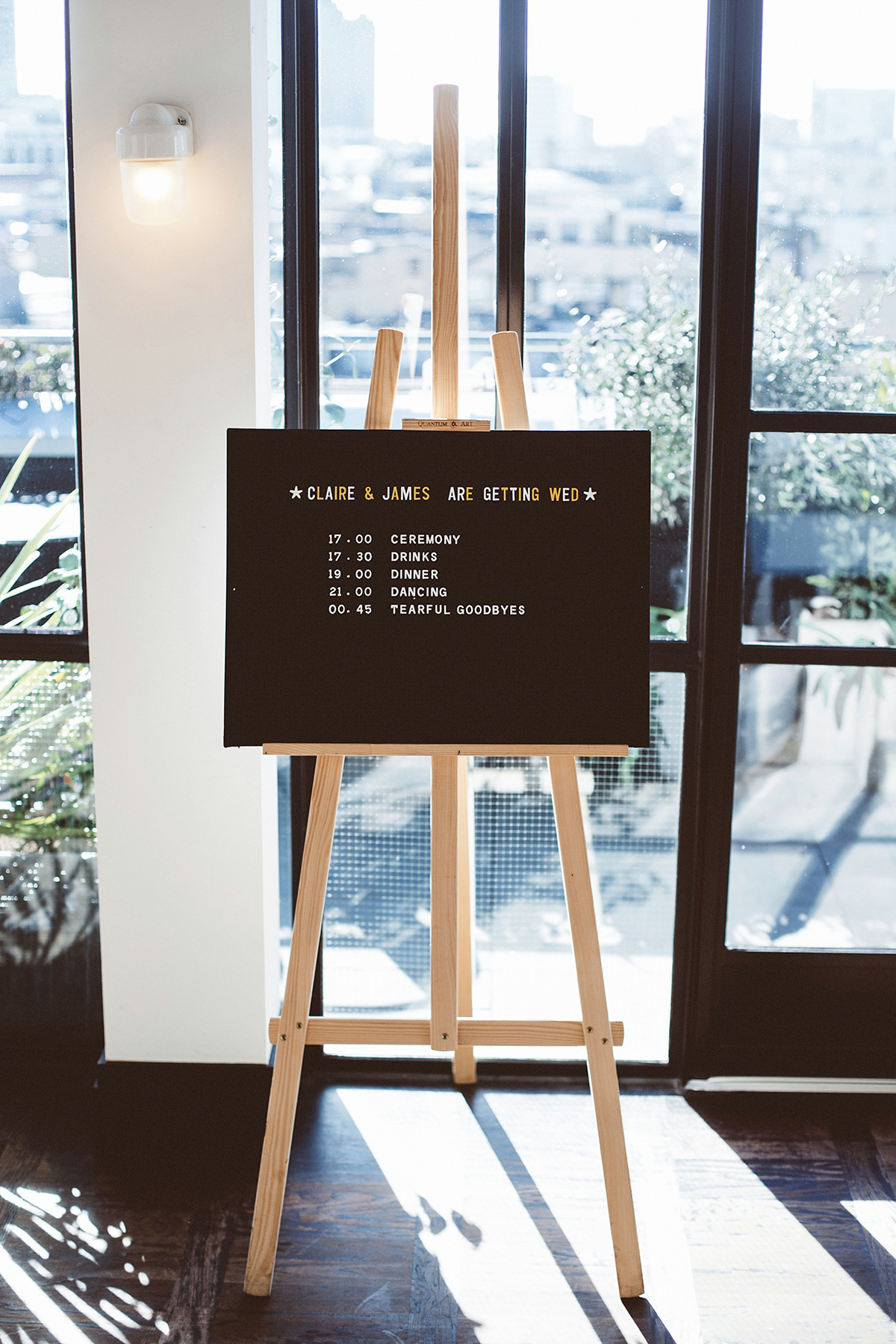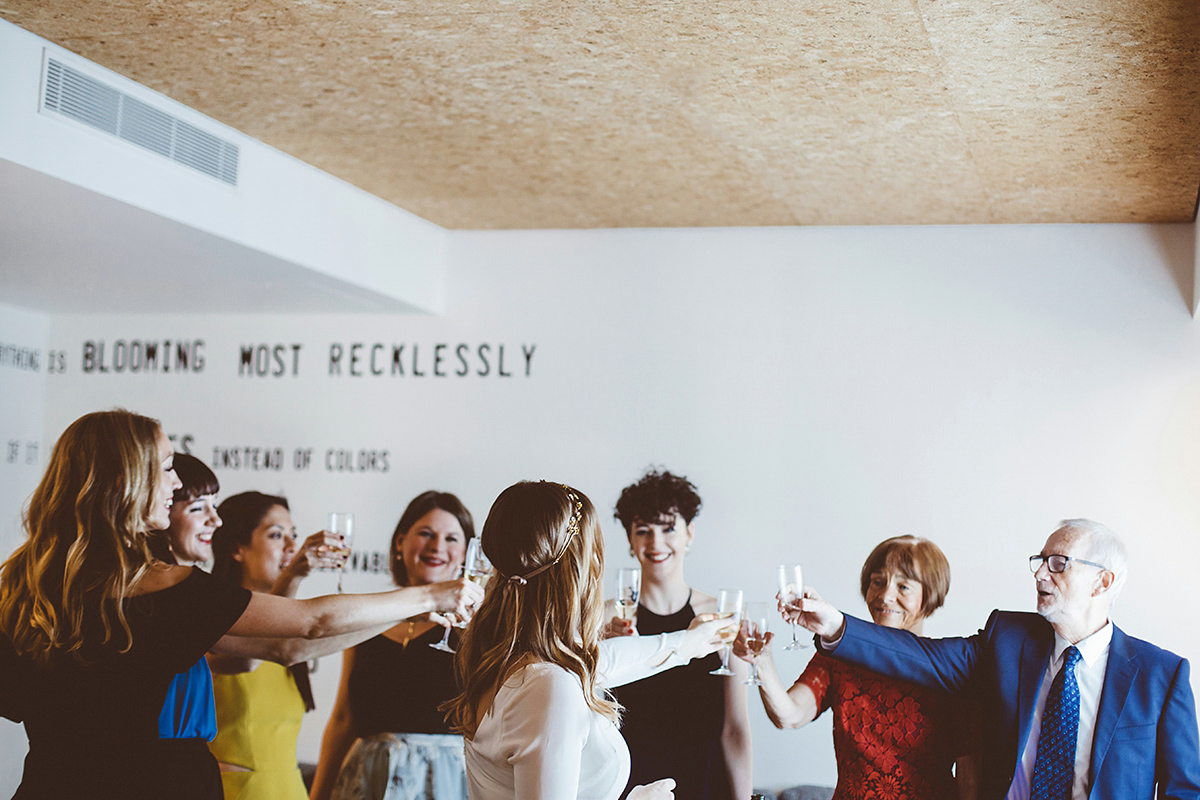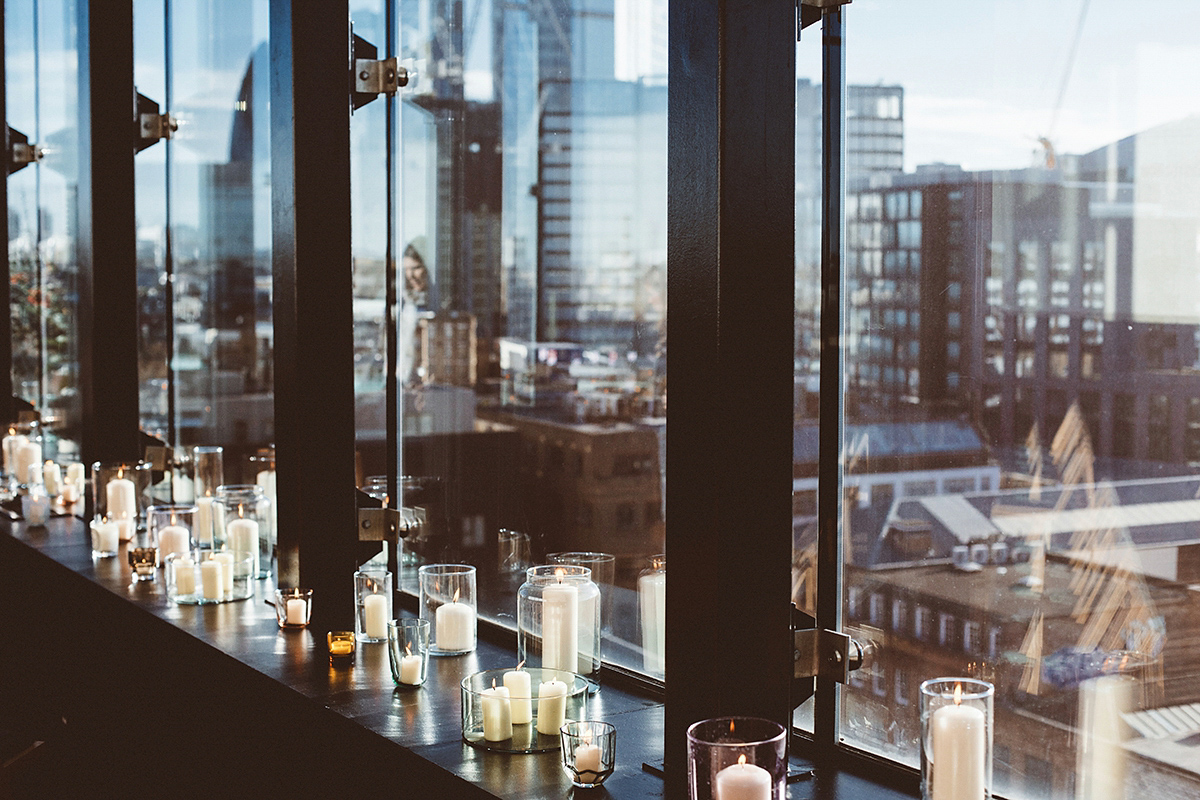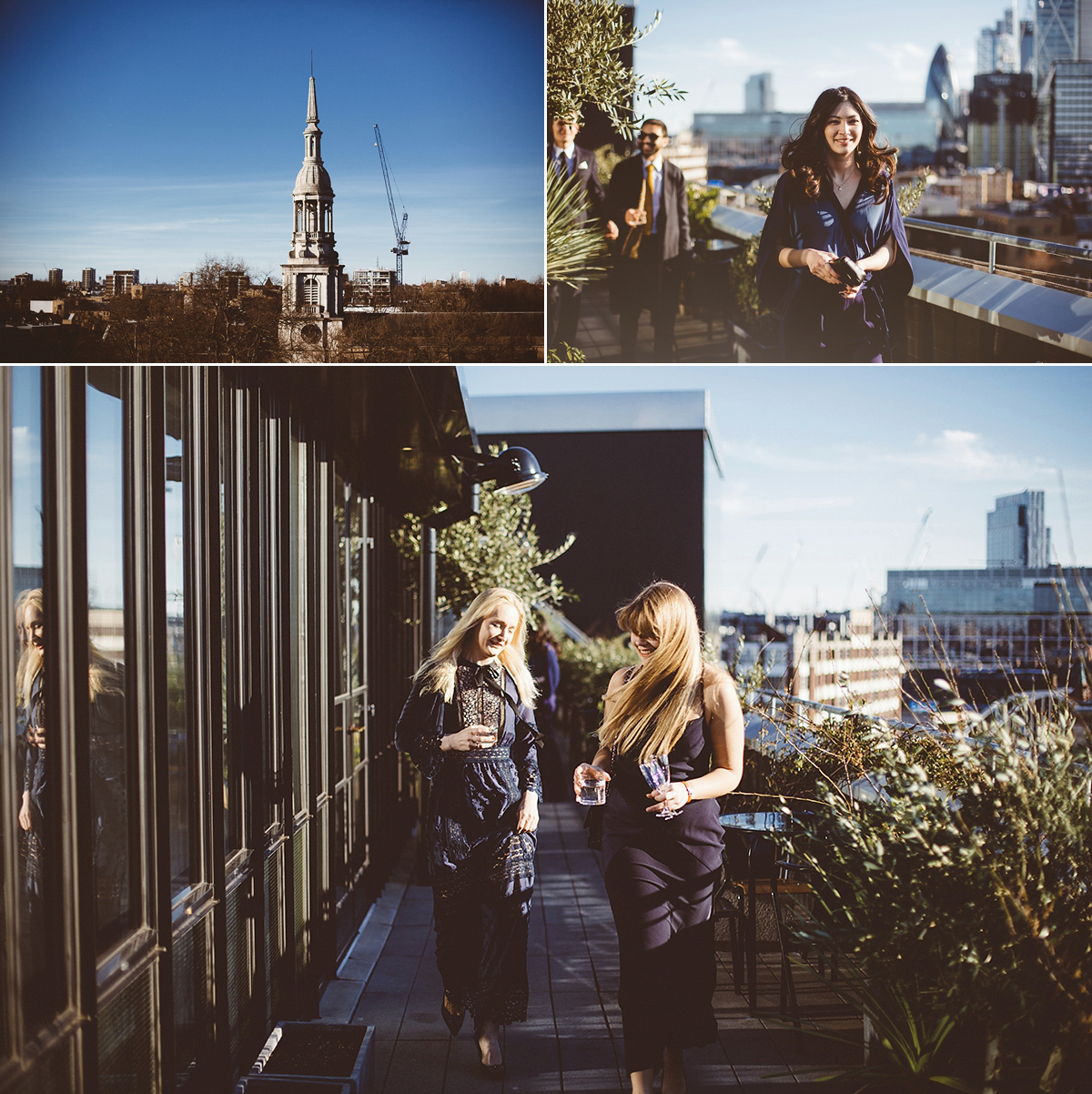 I'm a little bit in love with the three adorable flower girl's attire – and they look so darling in their little flower crowns!
"The younger flower girls wore navy velvet dresses from Next, and the older one wore a sequin navy dress from Monsoon. They all wore matching sparkly cardigans from Next. Our fantastic florist Wild Renata Flowers made flower crowns for the flower girls tied with navy ribbon."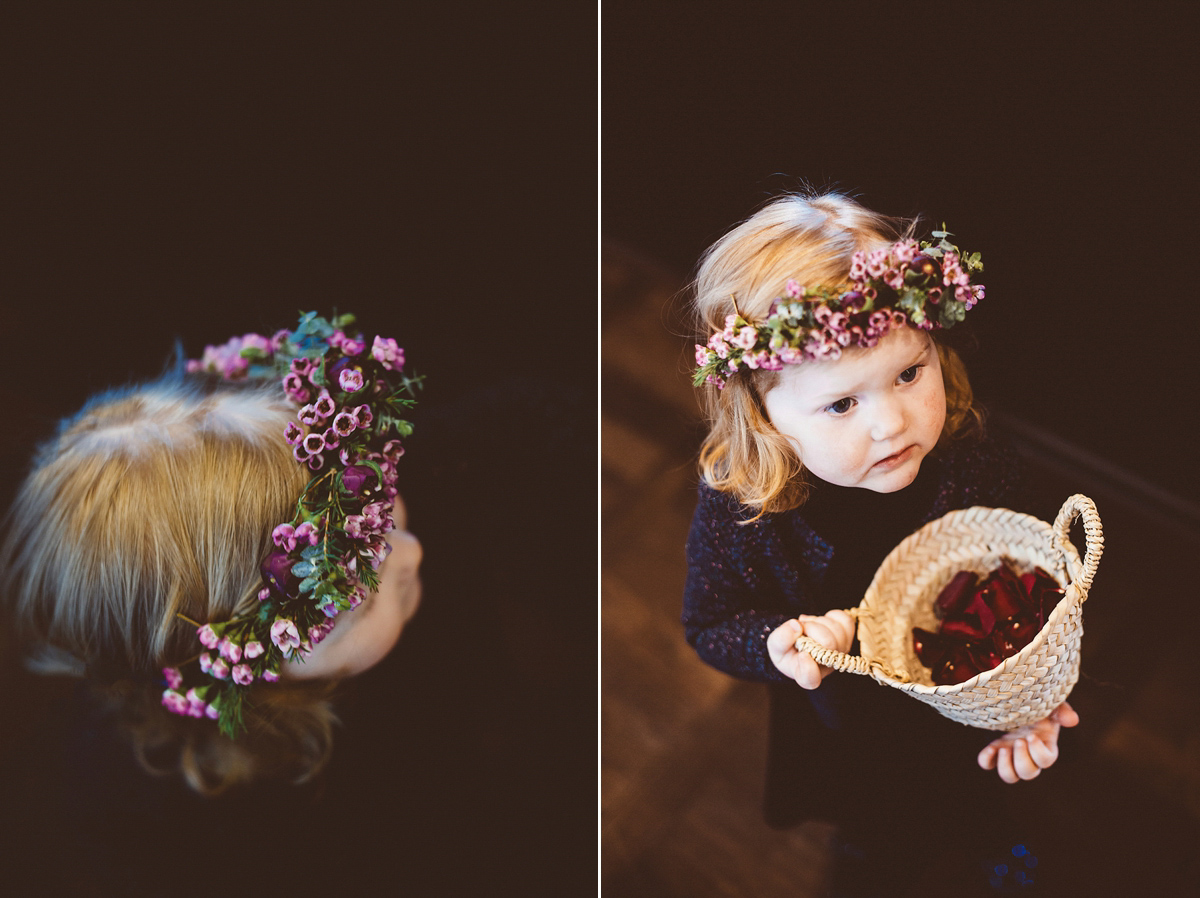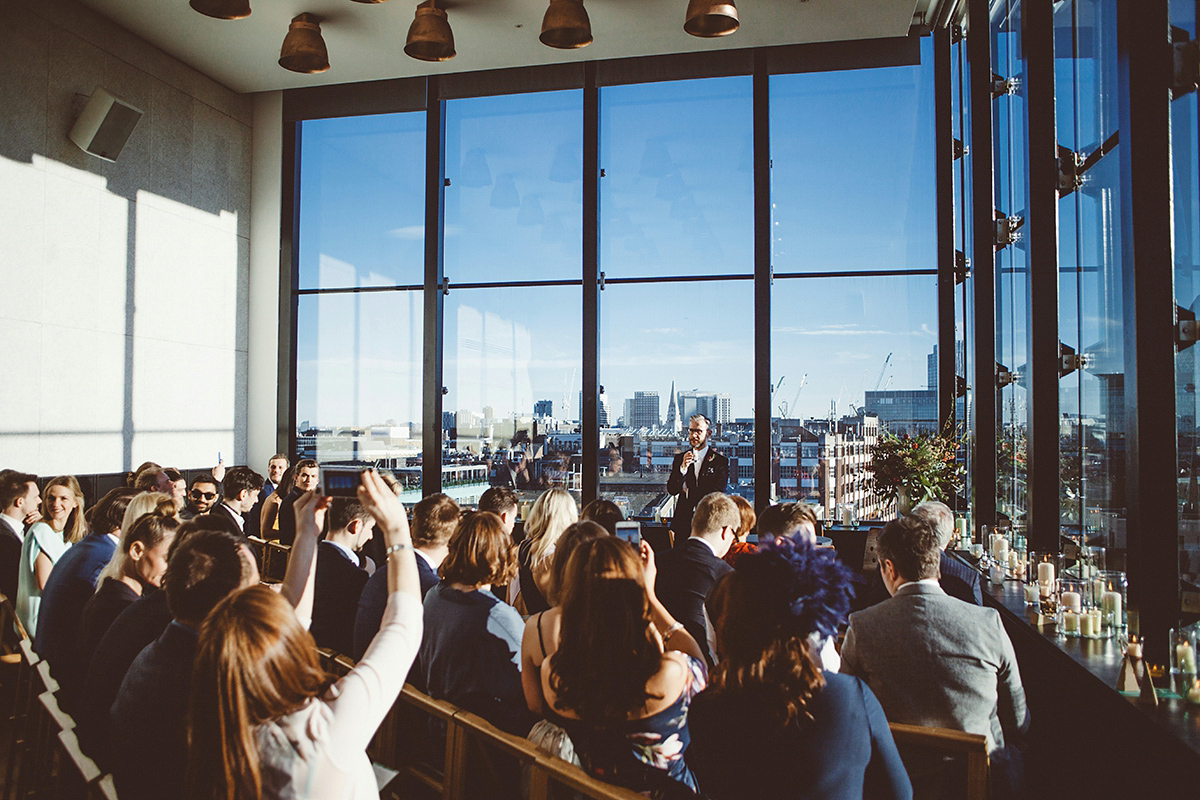 "We wrote our own vows, secretly, so they were a surprise on the day. We agreed a rough length and that we'd be as personal and open as possible. We're both into writing and always make a real effort in writing each other letters and cards – so this was important to us. It was probably the most special part of the whole day as we both really poured our hearts out. I broke into tears halfway through mine, which I really didn't expect – it was such an incredibly intense emotional moment!"
Rebecca Rees and Heather Birnie of A Thing Like That Photography caught the couple's day so beautifully.
"I found Rebecca's work after hours of scouring Instagram for wedding photographers and we both really loved her relaxed documentary style. We met up before the wedding to discuss the day and felt she understood our vision really well."
"Initially we weren't keen to have any posed family photos, but Rebecca persuaded us to have just a few and we're so glad we took her advice. On the day, Rebecca and Heather were barely noticed by us or our guests. We were nervous about having such a small wedding with three cameras around, but in reality they melted into the background."
"We're ecstatic with the photographs and have had amazing feedback from everybody we've shown them to. They really capture the atmosphere and ambience of the day and some beautiful candid moments."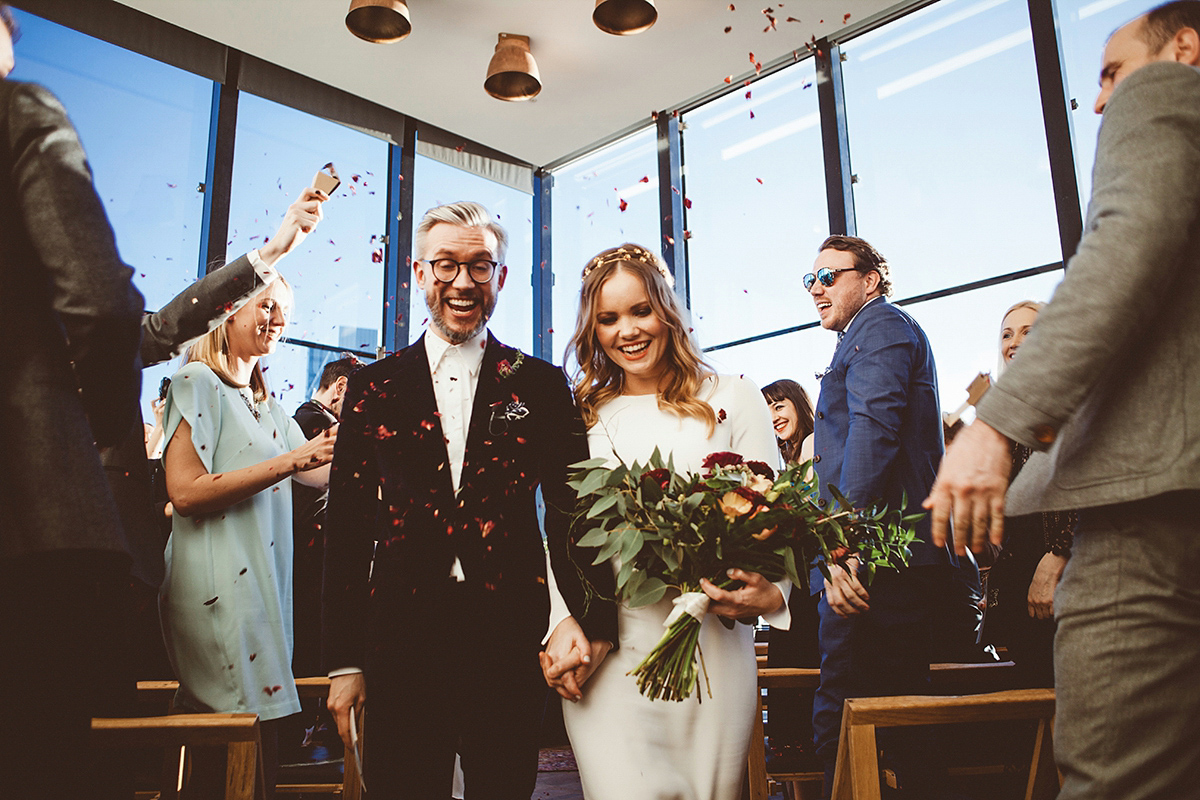 "I found Victoria Ralph's website when I was desperately looking for a wedding hair stylist after my own hairdresser could no longer do it. I ended up having Vicky cut my hair a few times in the run up to the day, and completely fell in love with her approach to hair – she does that cool, undone look so well and refined it perfectly for the wedding.
Lauren Oakey did my makeup, which was absolutely on point and lasted all night. I met her through Sali Hughes, the Beauty Editor of The Guardian – Lauren often does her makeup for her column."
Dan from Shoot Me Now Films is a part of our Little Book For Brides community – see Dan's listing here – and it was where James and Claire discovered his excellent work.
"We love Dan's films and he really put us at ease when we told him our many reservations about having a wedding video! He's such a nice guy and was great to have around on the day."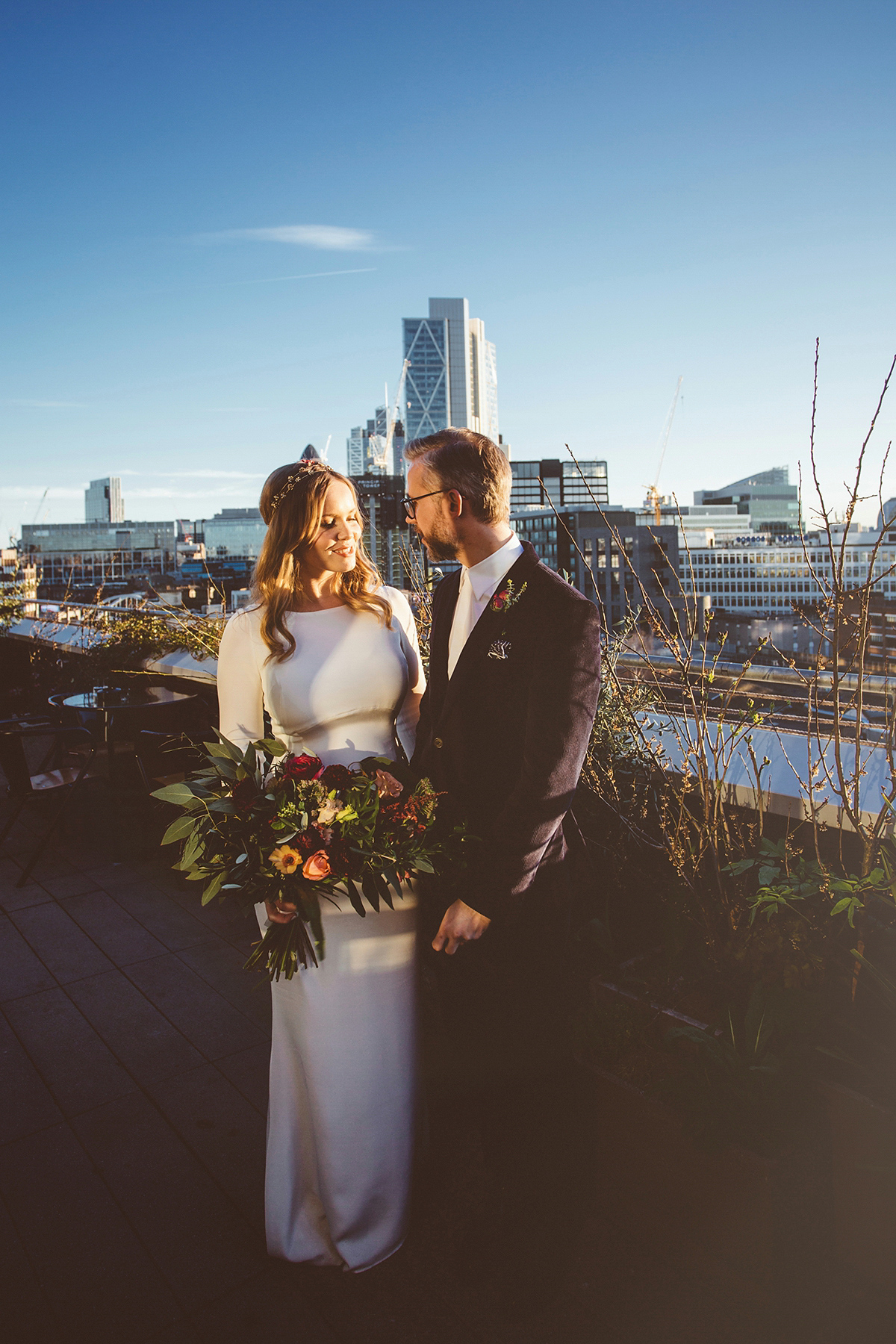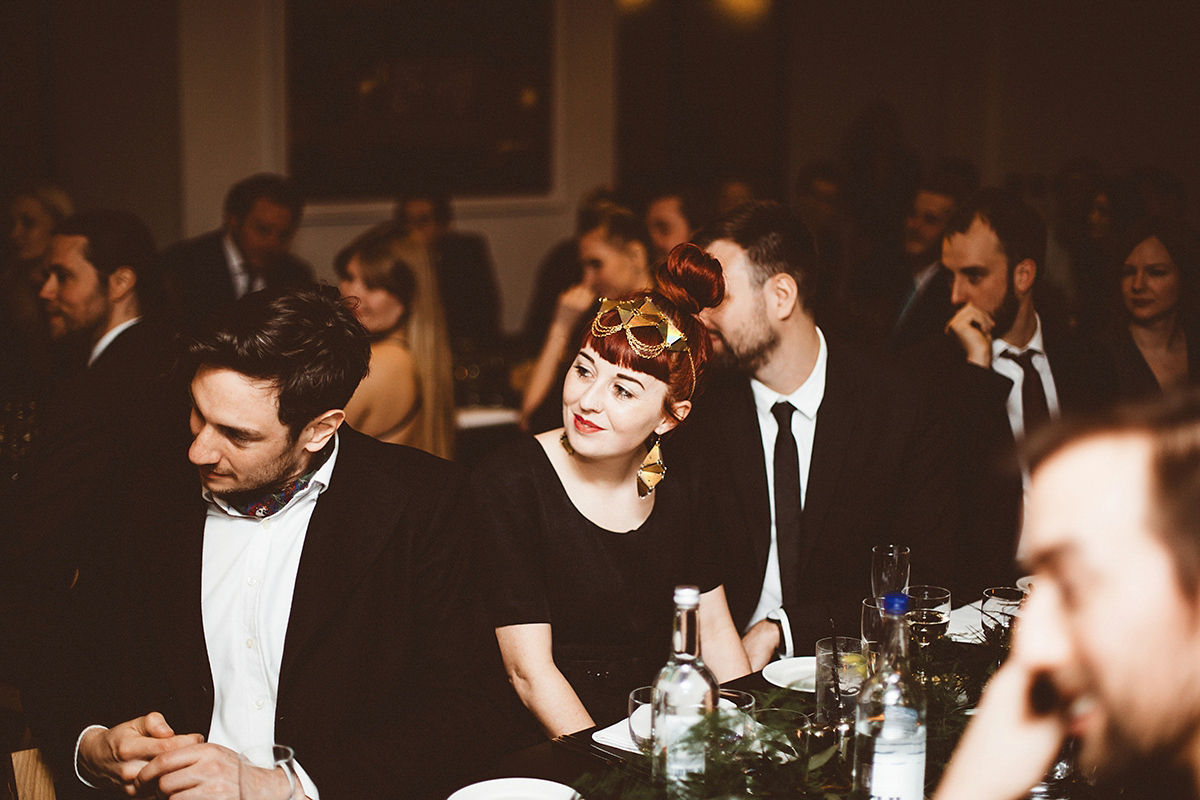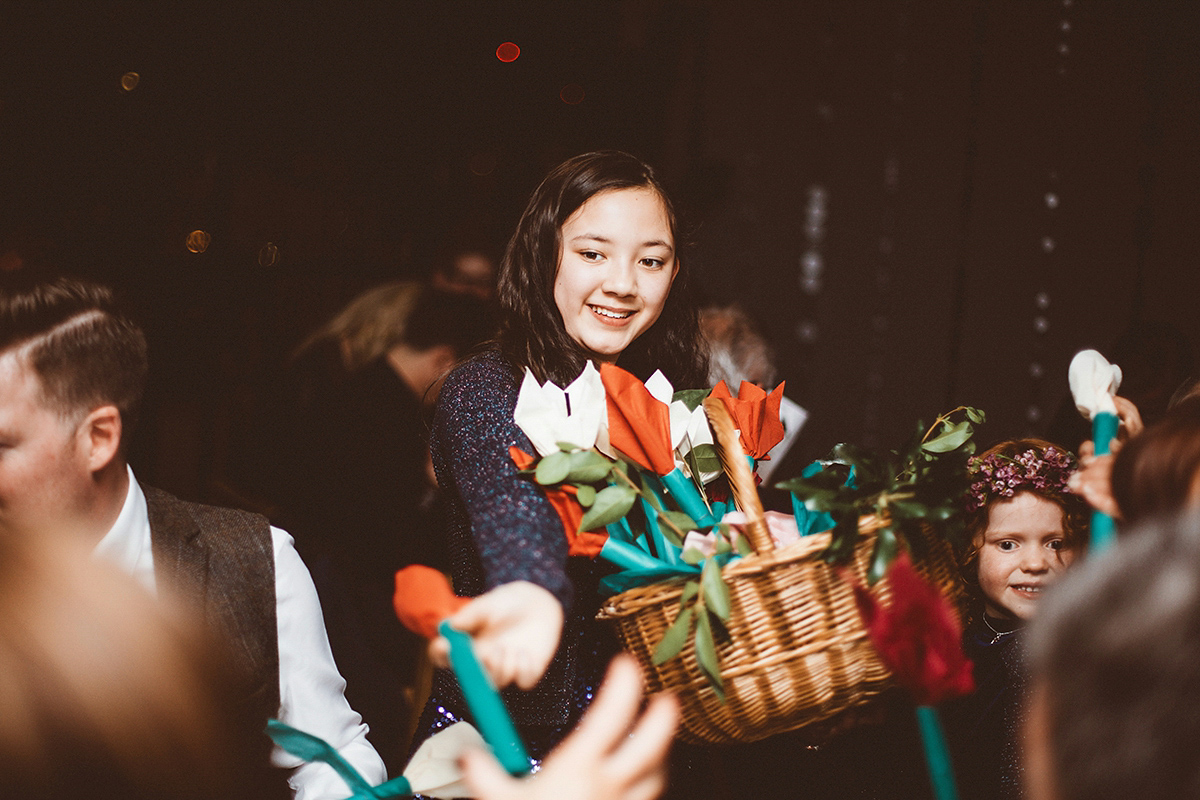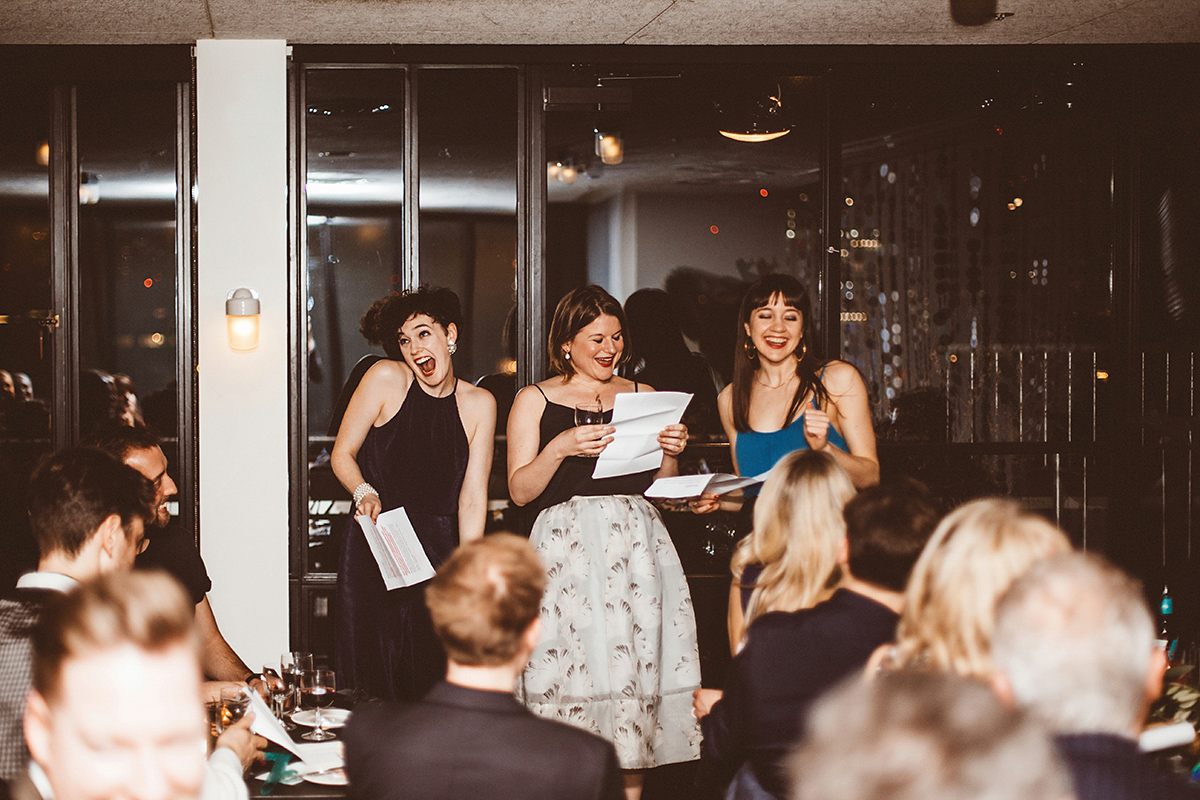 Catering was by the very cool and laid back Hoi Polloi crew at the hotel. And the couple decided not to go with a wedding cake, instead chosing utterly delectable Danish treats.
"We decided that we didn't particularly want or need a cake, especially as we were having a three course dinner, it was one of the wedding traditions that we didn't mean much to us. Instead, my mother, who is Danish, sourced us some absolutely epic Danish pastries."
"Luckily a proper Danish bakery had recently opened in London (Ole & Steen), and she was able to get five long pastries which she decorated with traditional Danish flags. We served them alongside traditional Danish chocolate marshmallows (flødebolle) from Scandi Kitchen."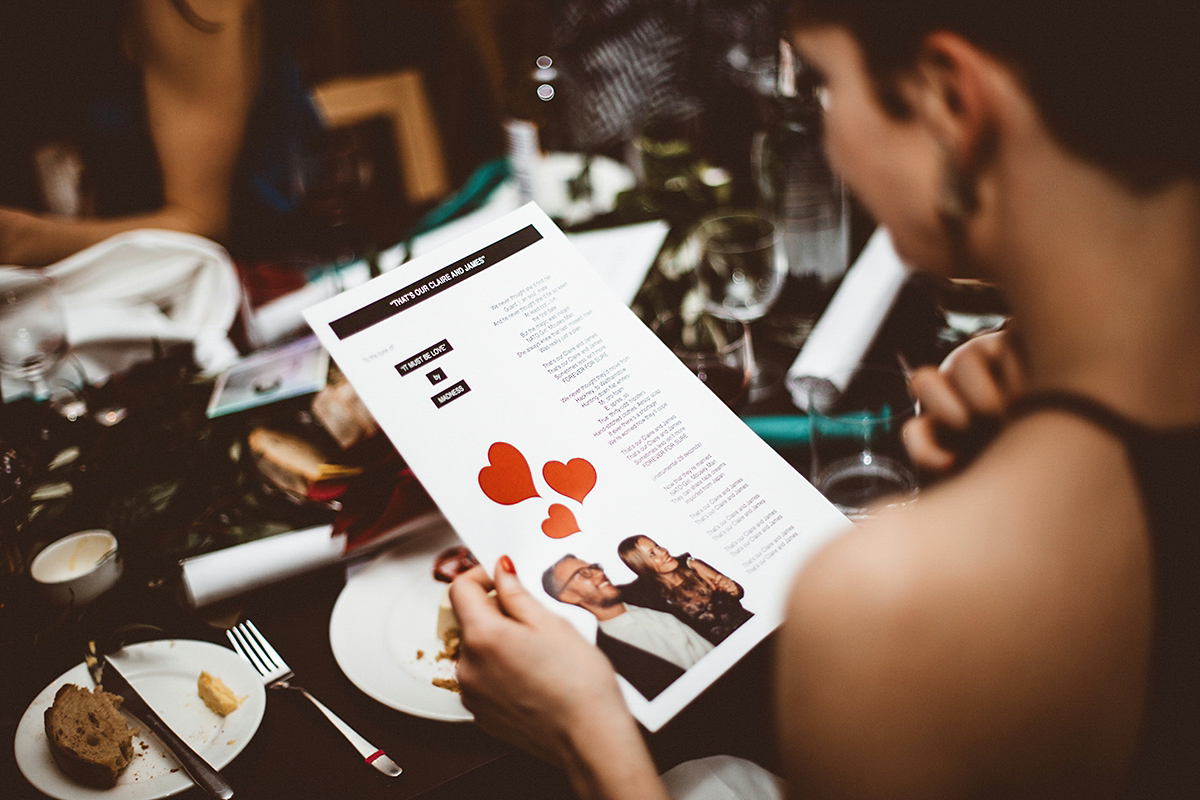 Wedding Smashers performed for the guests – as did the talented groom, who surprised his bride with a song.
"Before our first dance – 'I Love You, Honeybear' by Father John Misty – James surprised me by singing a song, accompanied by his father on guitar! It was one of the absolute highlights of the wedding as I had no idea he it was going to happen."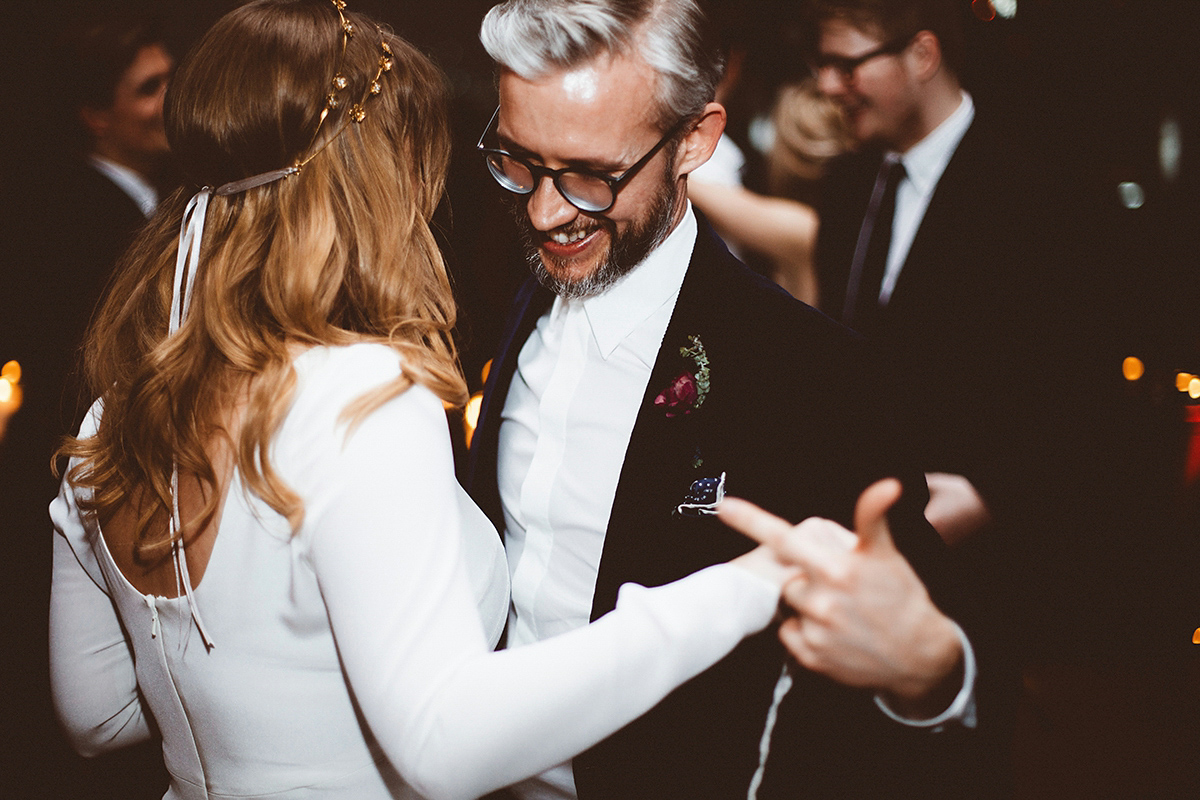 "After dinner he ran off pretty quickly and everyone was ushered into the main dancing space. I was prevented from going in and really had no clue what was going on! Finally, I was let in, to find James against the backdrop of candles and the skyline, singing a song that means a lot to us (and I also have words from engraved in my engagement ring) – 'Navy Blues' by Pearly Gate Music. It was completely magical."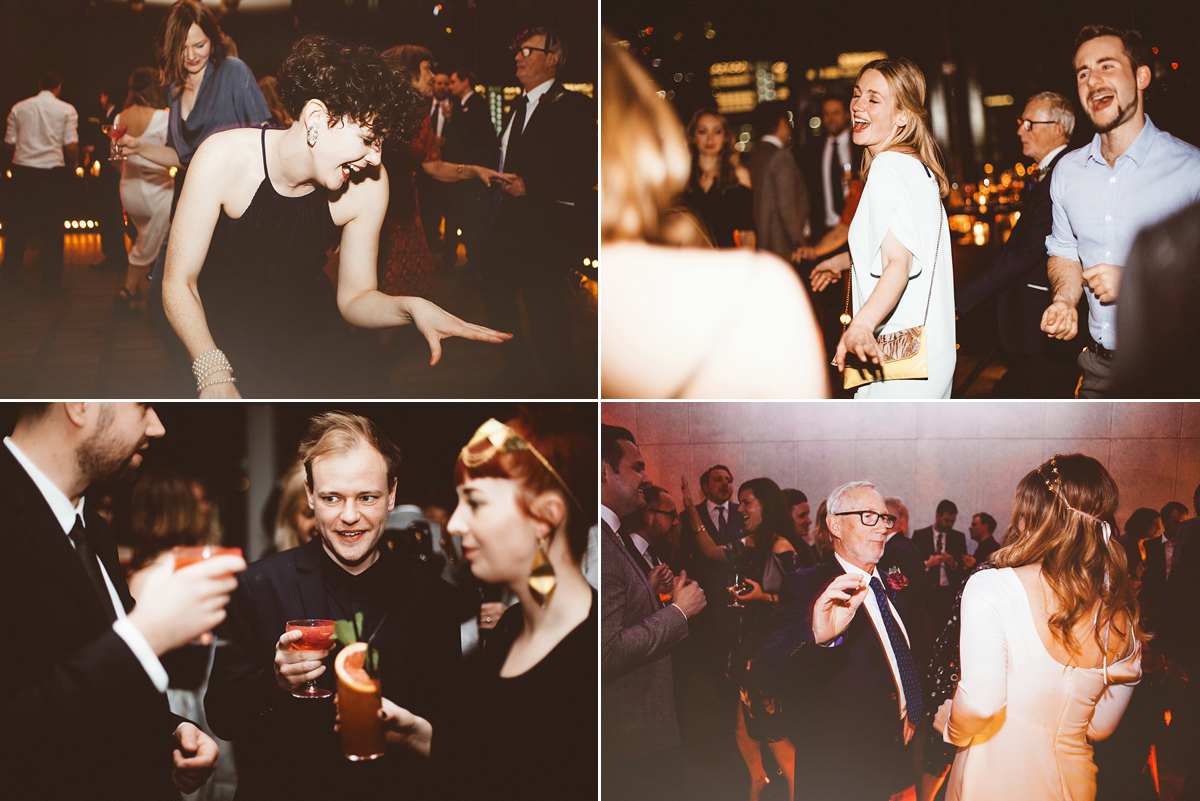 Words of Wedded Wisdom
"It's an often-repeated cliche, but have the wedding you want as a couple, rather than the wedding you think you should have, or your parents want. We thought really hard about why we were having a wedding and what elements of a traditional wedding meant something to us or would be fun. We didn't do anything for the sake of it. I would also say that over-analysis of every little thing is not only super stressful but a waste of time!
Yes, some people notice lovely details and if these are things you enjoy doing then go for it, but really it's the big things and the emotion of the day that really makes it. We were so glad that we'd focused on celebrating our love, rather than fulfilling some ideal or image of a wedding."
"We have both been to weddings in the past that have felt really long, so it was important to us that it was quite a compact day. We had our ceremony at 5pm, which meant we had amazing 'golden hour' light and just enough time for drinks after the ceremony without it feeling dragged out. It also meant I had lots of time to get ready so I didn't have to start at the crack of dawn.
I looked at Love My Dress a lot in the planning – it's the real weddings that are the draw and the fact that it's updated daily is absolutely amazing. I lost interest in other blogs that didn't have new content as regularly. I love the constant stream of real weddings and the huge variety of venues and styles."
Oh dear. After hearing all about James and Claire's big day I've just looked through my pictures of the most magical times I spent in Denmark discovering my heritage (and local delicacies!), so of course I'm now craving Danish pastries and chocolate marshmallows! It's on my to-do list to trek to Ole & Steen on the next trip to London for a cinnamon bun!
I've utterly adored preparing this feature and thank you both for transporting me right back to the cobbled streets of Nyhavn with brightly coloured houses along the harbour in Copenhagen.
Sending loads of thanks also to A Thing Like That Photography for capturing such gorgeous moments of the beautiful newlyweds – and bookmark this link to discover even more modern weddings from the LMD archives.
Love Jo -xo-