There's something magical about Scotland, and particularly the Scottish isles. Today's bride and groom Fiona, a user researcher, and Euan, an architect tied the knot on the stunning island of Jura last July and it is utterly breathtaking.
They said their vows as the rain hammered down outside, then celebrated with a colourful and fun-filled reception at the village hall. The gorgeous images of courtesy of the wonderful Lisa Devine.
"We were looking for an island location in Scotland and a friend's family run the Jura Hotel, so it seemed like a good option. We had been before and loved the remoteness and beauty of Jura but choosing a venue that's hard to get to was a tough choice and did add some stress to the planning, but in the end it was totally worth it. The location made the wedding – we were very very far away from the reality, stress and phone reception of the city."
Photography Lisa Devine Photography
Deciding to eschew the traditional options, Fiona opted for a skirt from the Needle and Thread Bridal Collection with a stunning top designed and hand embroidered by Chloe Patience.
"I tried on a few wedding dresses but they all felt quite formal and so I decided I would prefer a skirt and top combination, both for the look and comfort. I approached Chloe as I'd seen her embroidery work before and loved the effect she creates with different textures and materials – her attention to detail is impeccable. We started with a vague brief and she worked with me to understand my style and translated it into a beautiful piece that's now a unique memento of the day.""We met in 2003 at university in Dundee, were friends for a few years and eventually got together in 2006. Eight years later we were settled in Edinburgh and had just bought our first flat together when Euan proposed in our new empty flat."
"I genuinely wasn't expecting it so it took us about six months to decide whether to elope or have a wedding… in a way we ended up doing was a bit of both, it just wasn't a very well kept secret!"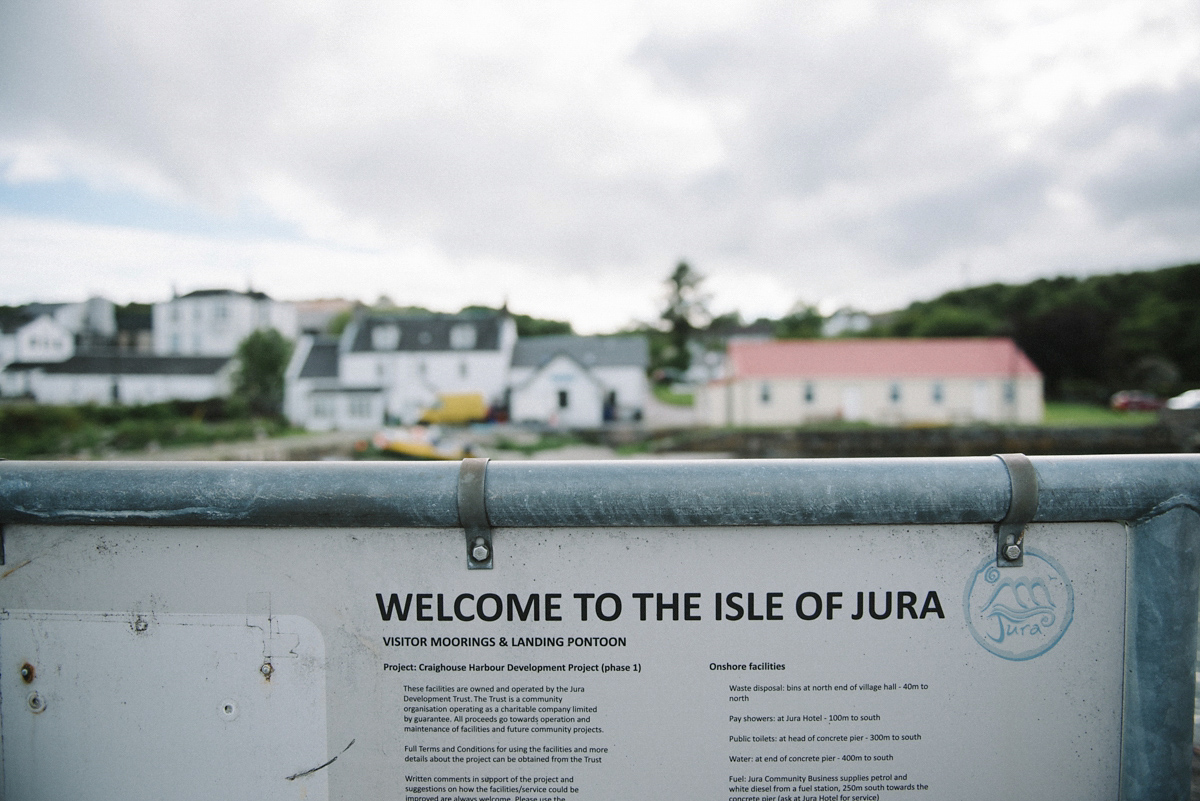 "Neither Euan nor I like being the centre of attention so we didn't want a day focused on us. We organised a party that we would like to go to, which turned into a weekend away with our close family and friends."
"There were elements of tradition, and that was important to us, but on the whole it was informal and that reflects our approach to most things. We are both quite creative and we had some fun with the planning, including a few crazy ideas that never came to fruition."
Fiona's friend Karen made her flower crown with flowers supplied by Myrtle & Bracke, the florist who made her beautiful bouquet of seasonal flowers.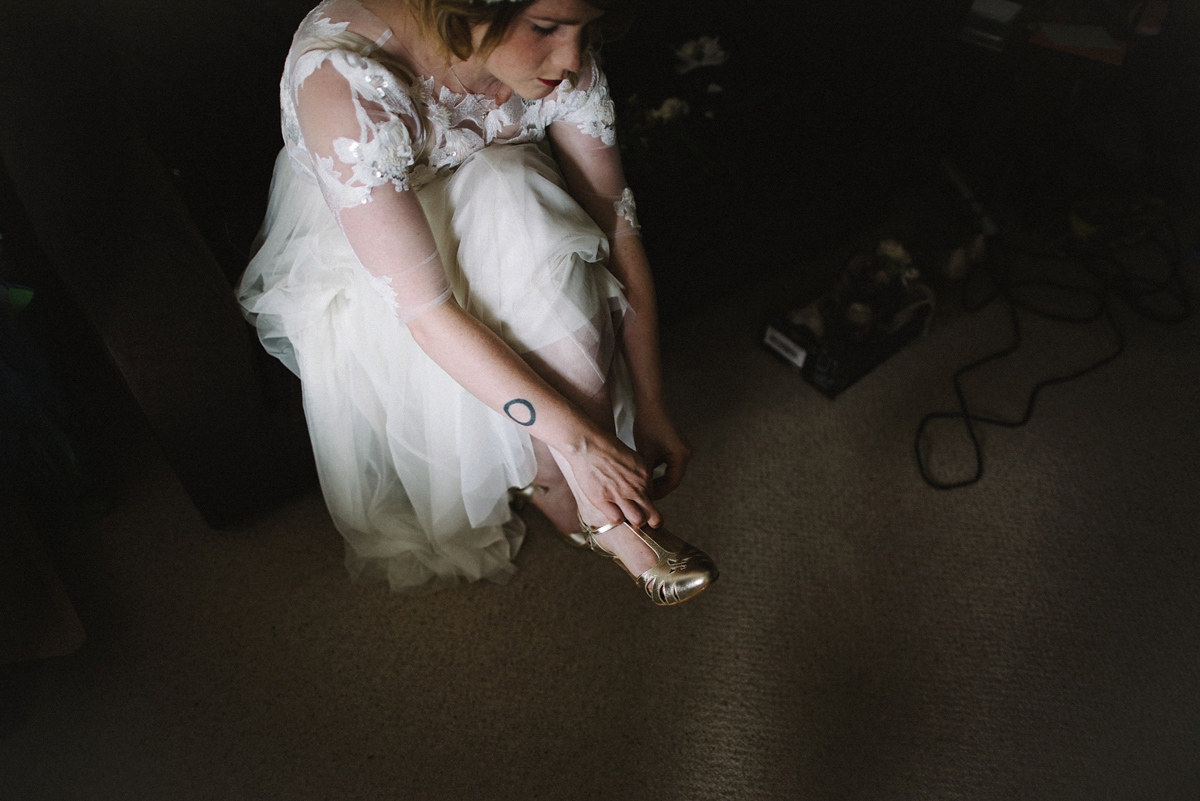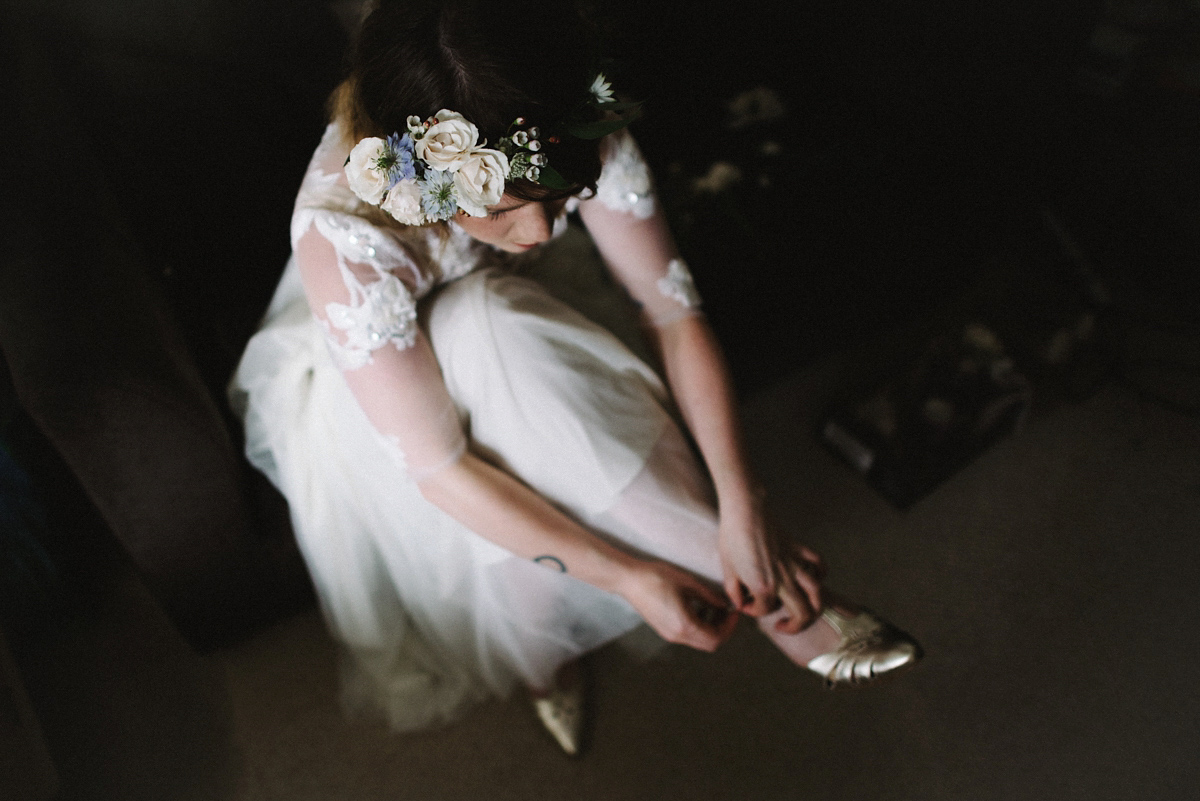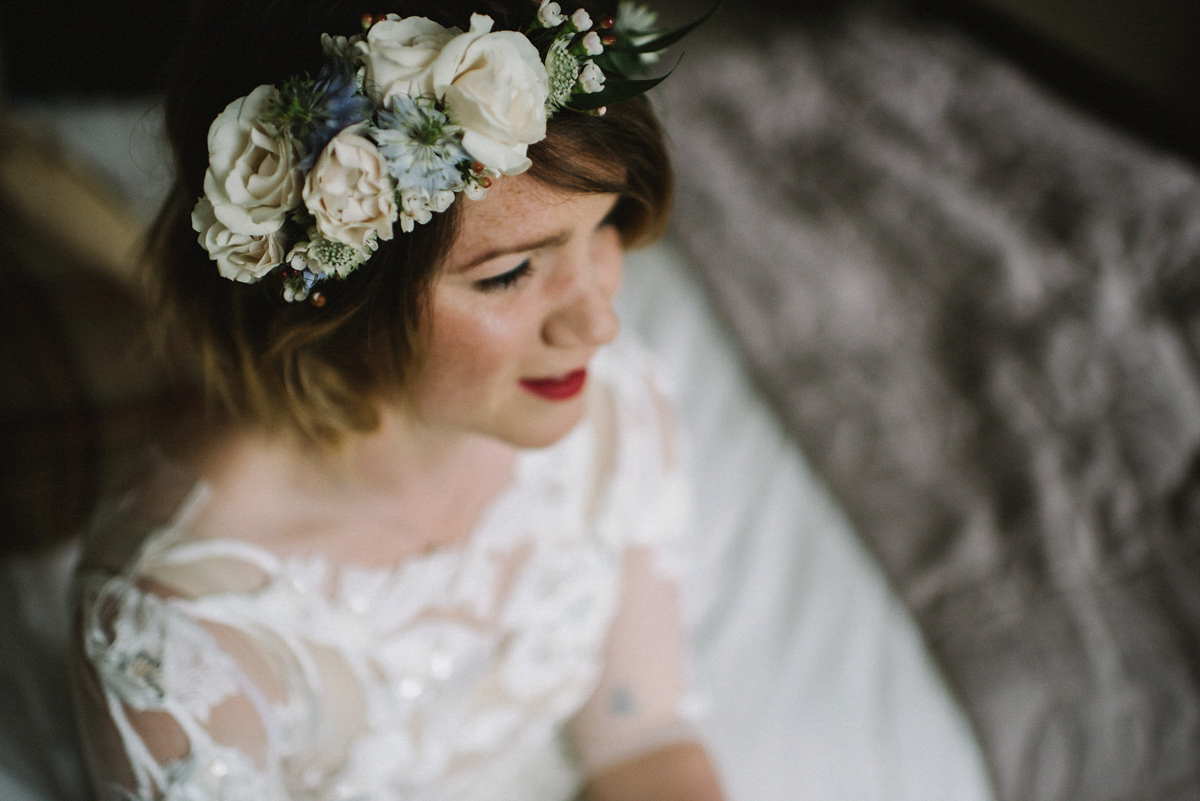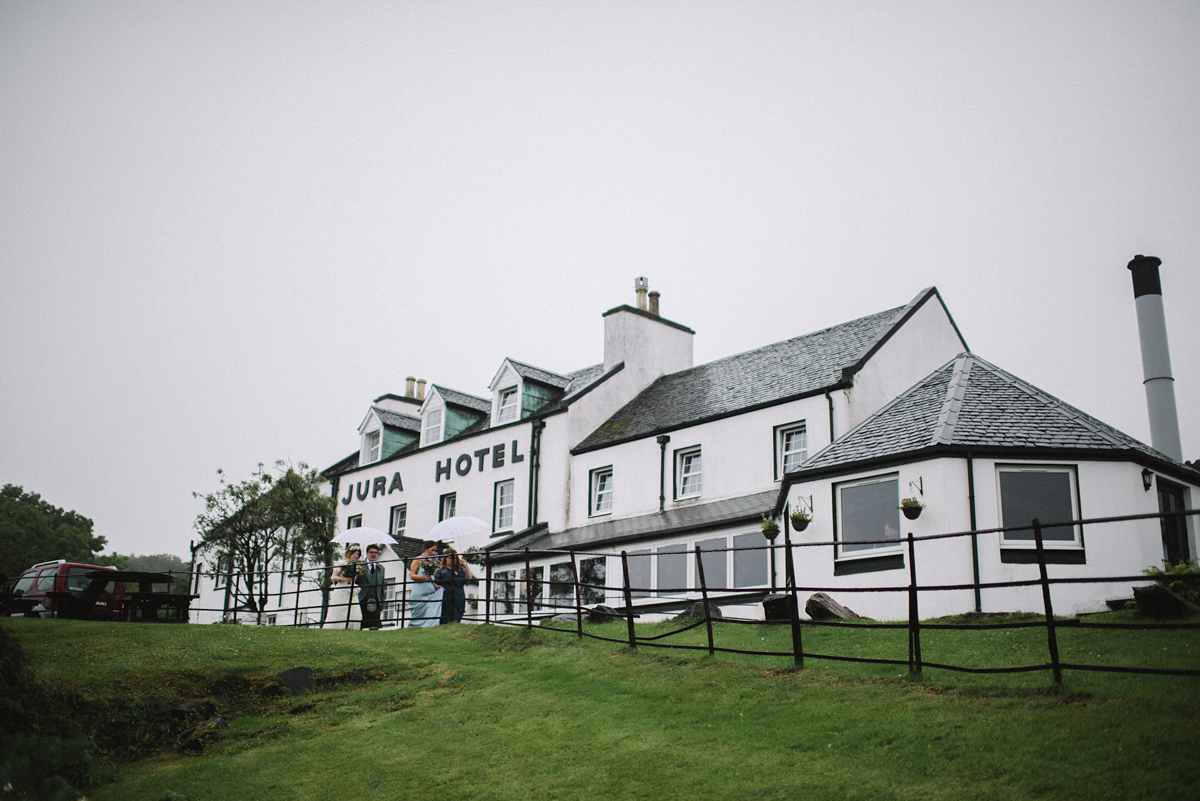 "The bridesmaids each chose their own dresses. I was happy for them to pick something that suited them individually, and didn't have a specific colour or style in mind."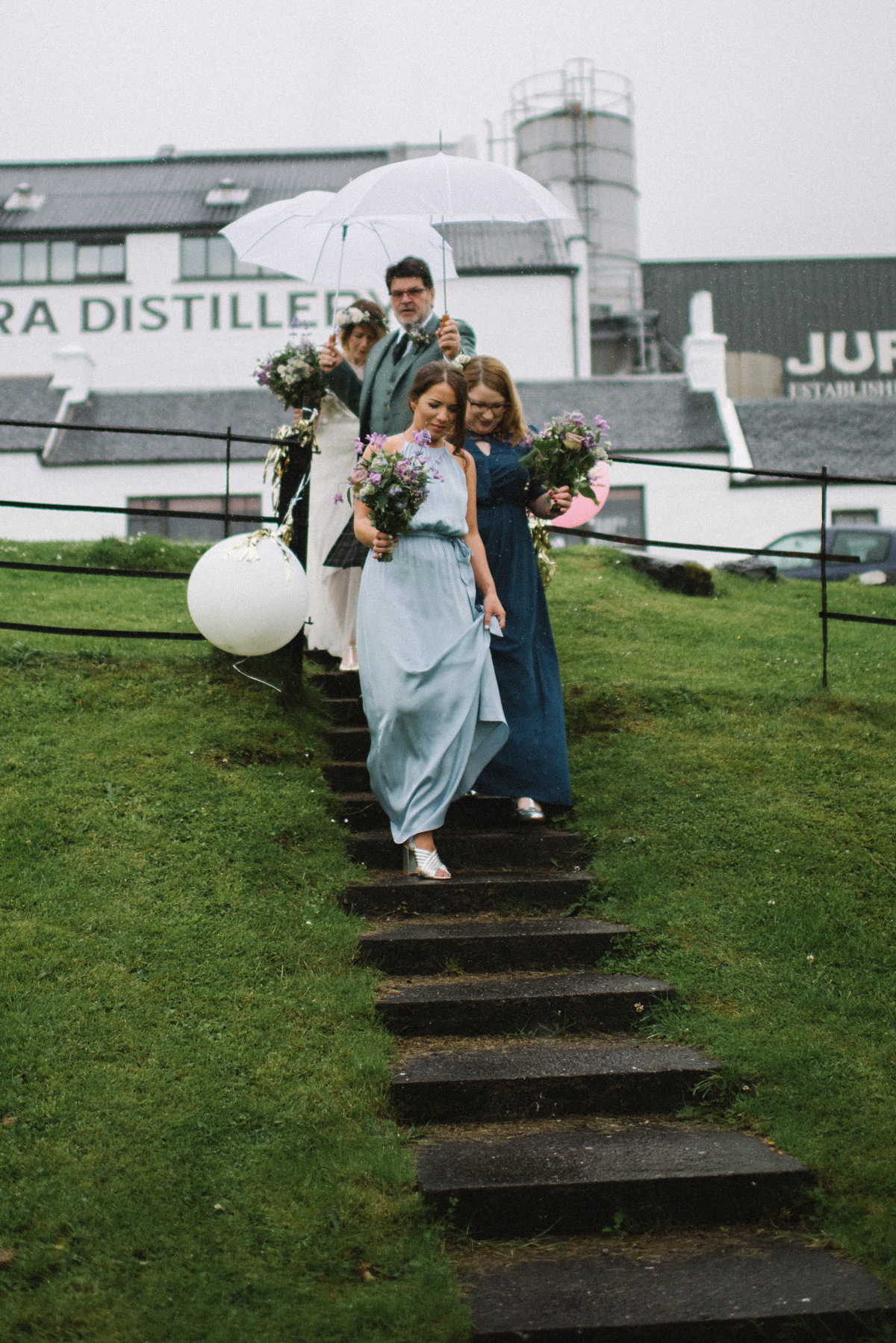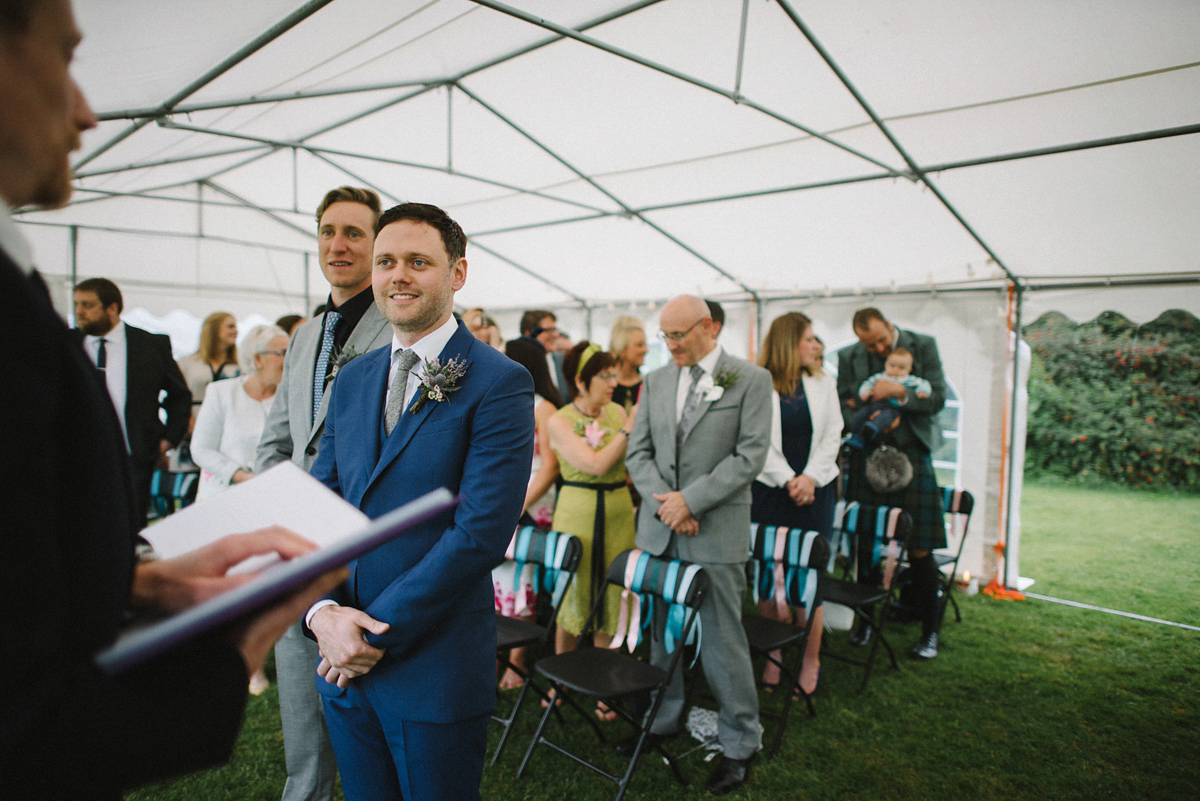 Fiona walked down the aisle accompanied by her father and her two sisters who were bridesmaids 'At Last' by Etta James.
"The song was a subtle reference to how long it took Euan to propose, but really it's just a beautiful atmospheric song – the torrential downpour that accompanied the song wasn't planned, but definitely added drama to the ceremony."
"We had a humanist ceremony and each wrote our own vows. We'd been together for nearly ten years, and know each others strengths and faults quite well! There was a light hearted feel to the vows, but it was ultimately about making a promise to be kind and look after each other no matter what."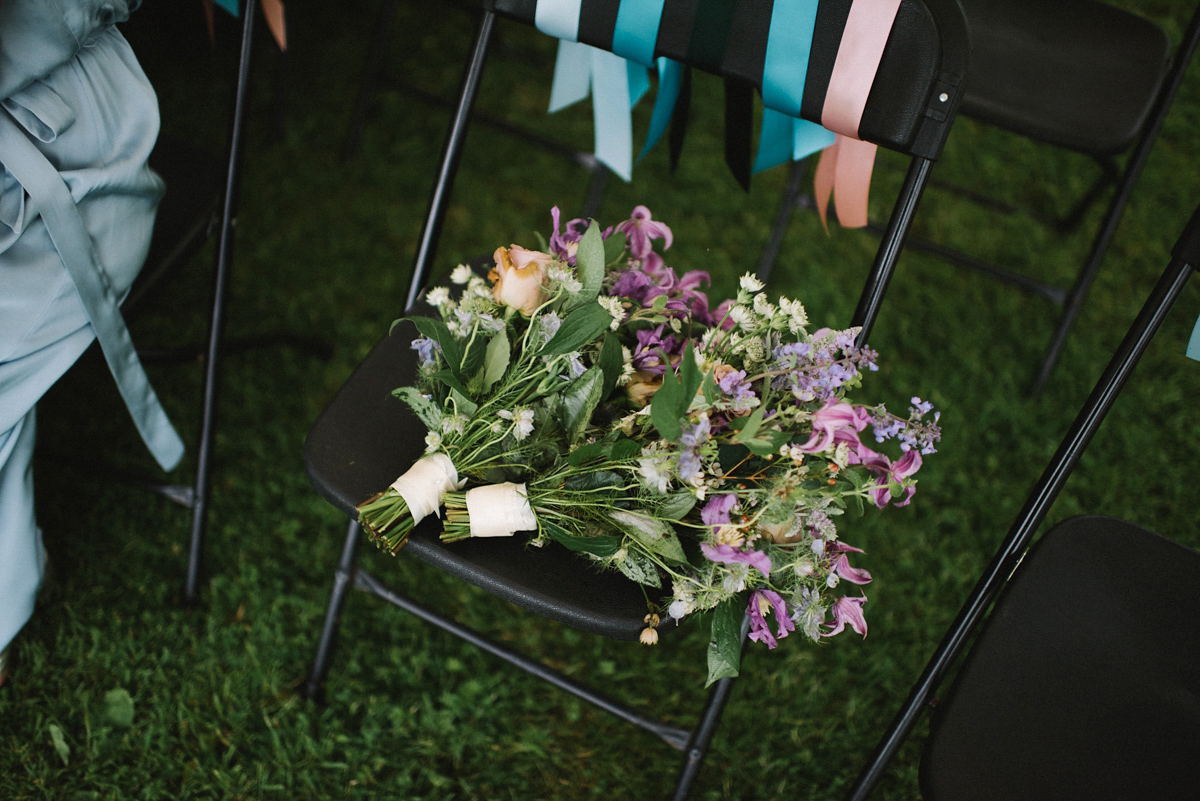 "We had a friend read out the lyrics to Leonard Cohen's 'Dance Me To The End Of Love' (below) and Euan's sister read 'I Wanna Be Yours' by John Cooper Clark. We felt both were really beautiful sentiments about the longevity and complexities of love, without being too soppy."
Dance me to your beauty with a burning violin
Dance me through the panic 'til I'm gathered safely in
Lift me like an olive branch and be my homeward dove
Dance me to the end of love.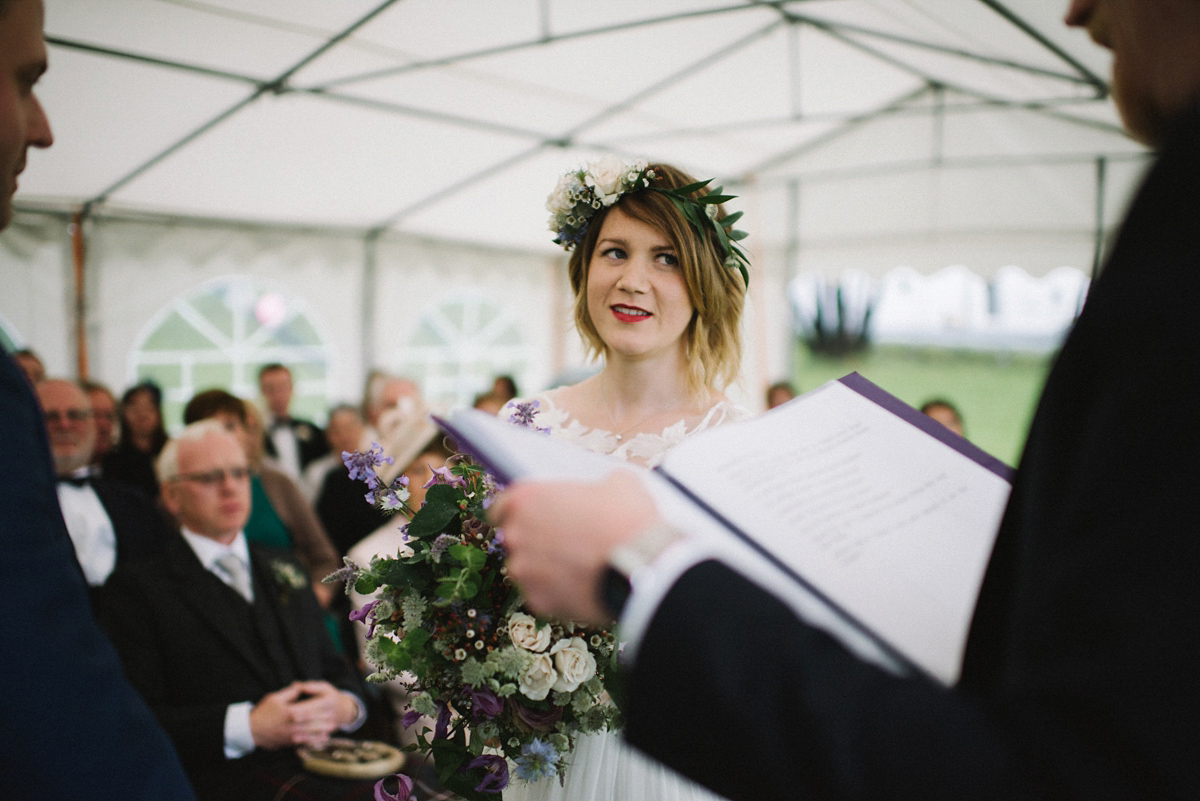 "My wedding ring was commissioned from Sarah Brown who is from Islay (the island beside Jura). Her work is inspired by nature and the sea but I also just really loved the delicate style, and she created a unique piece to fit around my engagement ring."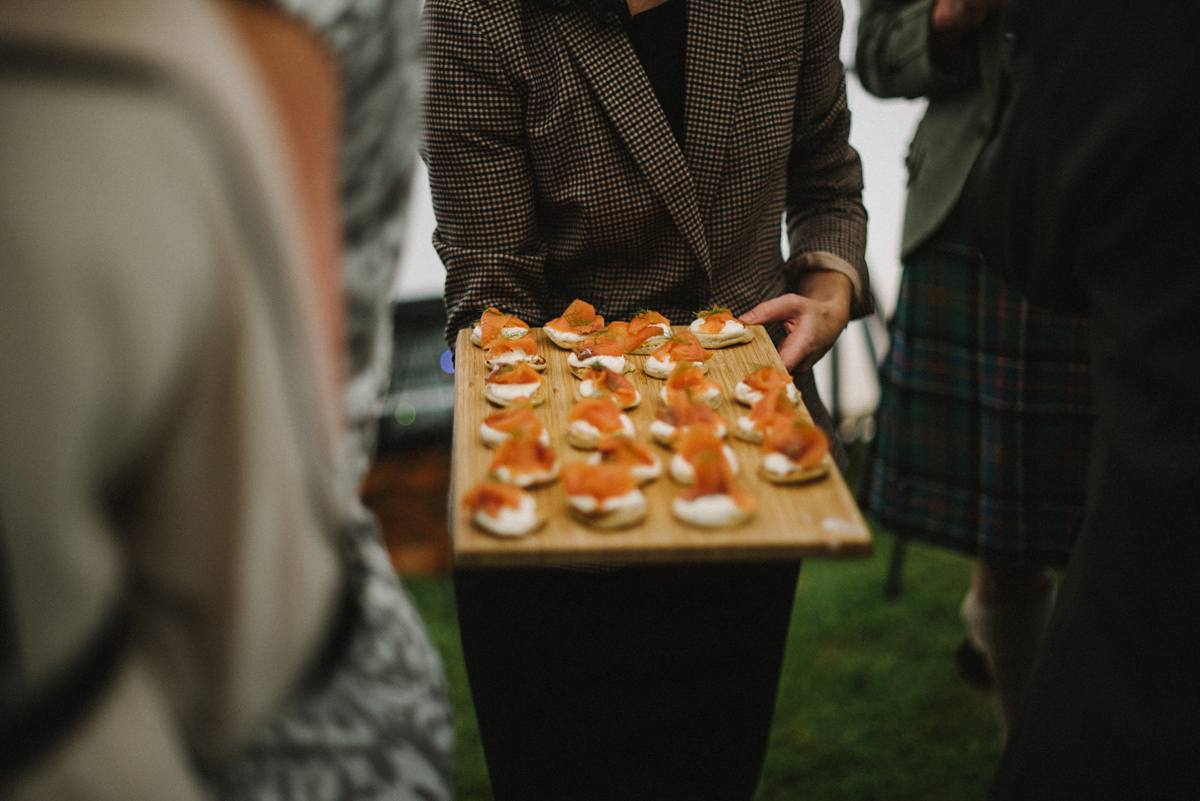 There's a beautifully atmospheric feel to Lisa Devine's images.
"We met Lisa at a wedding fair and loved the natural, almost photo journal style of her images. She was also incredibly friendly and down to earth, and made us feel looked after and at ease. We were never bothered about staged photos and just wanted someone to capture the day, almost from a guests perspective."
"Lisa went above and beyond what we expected – she was so relaxed with us and all the guests which really comes across in photos – she caught the atmosphere of the weekend perfectly."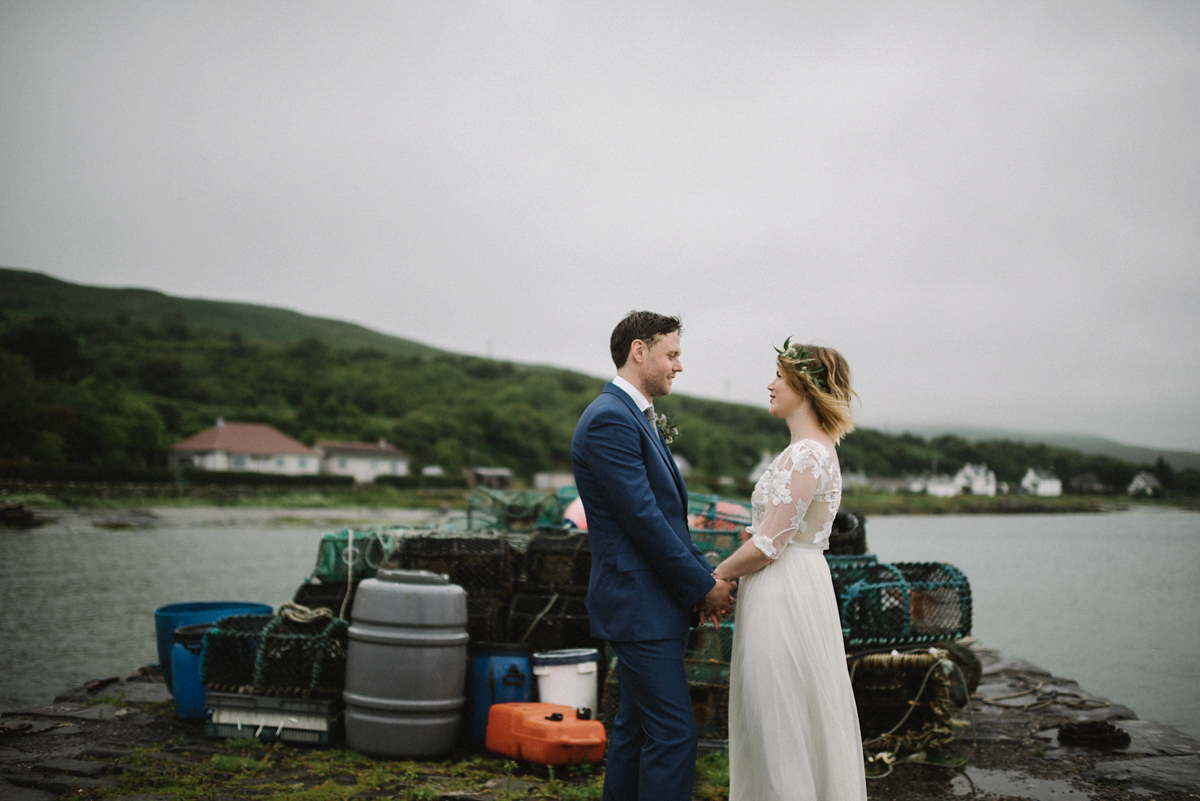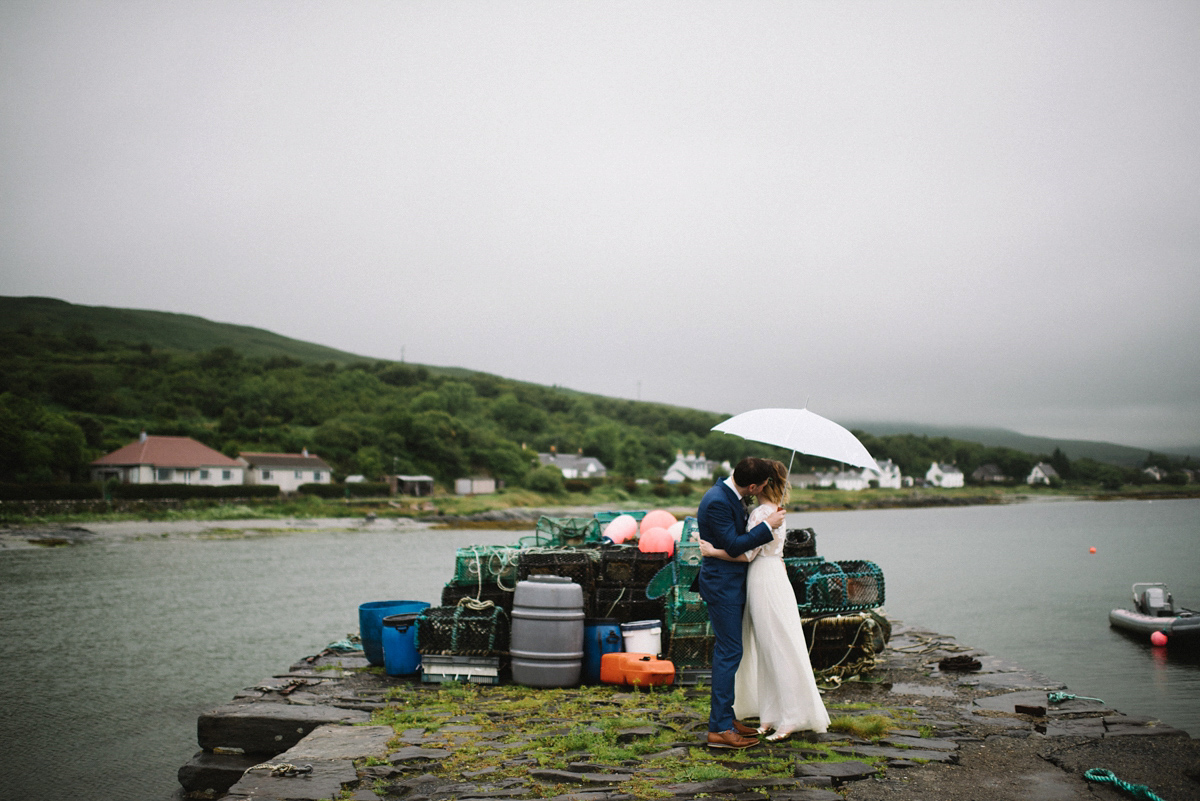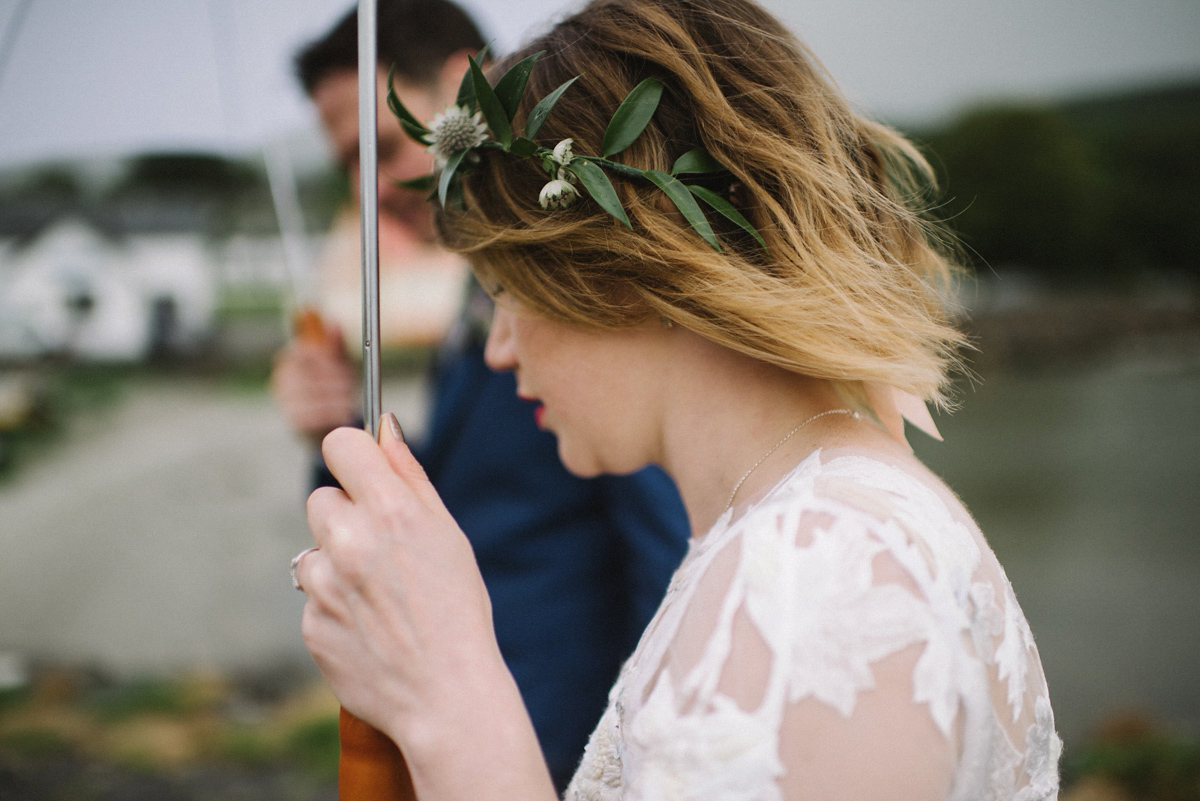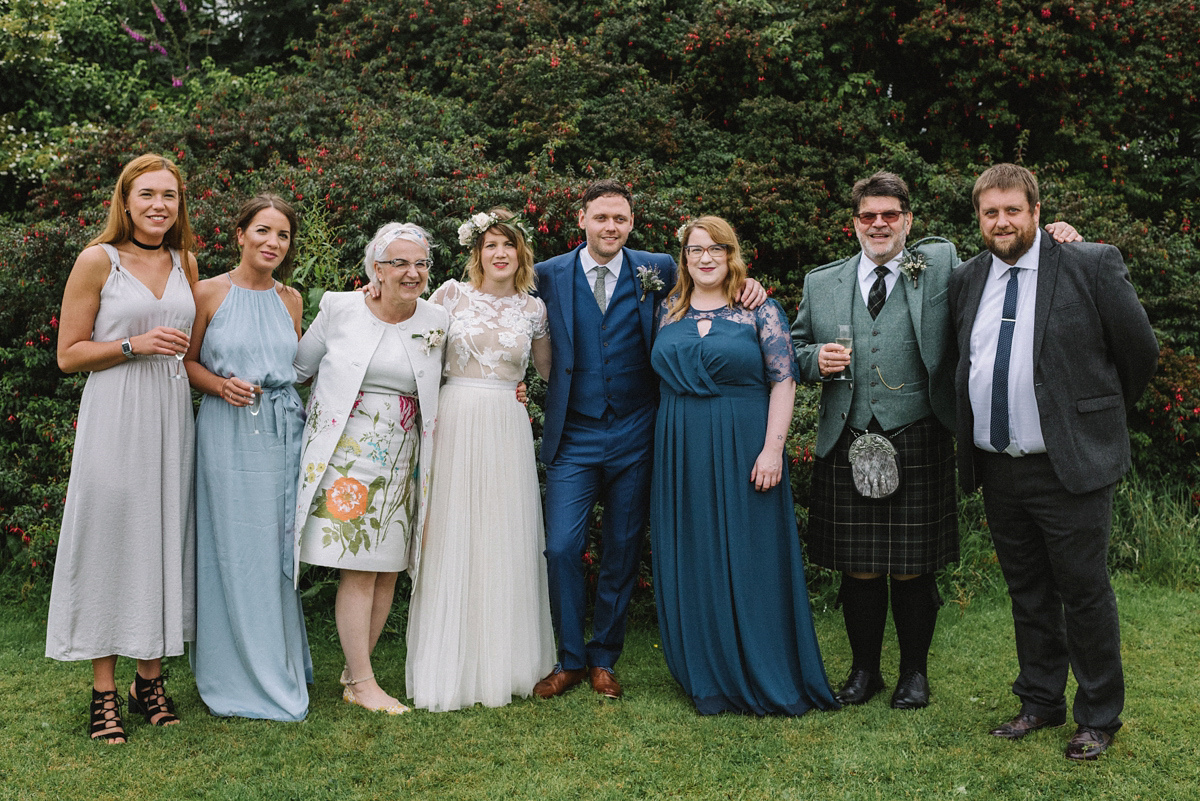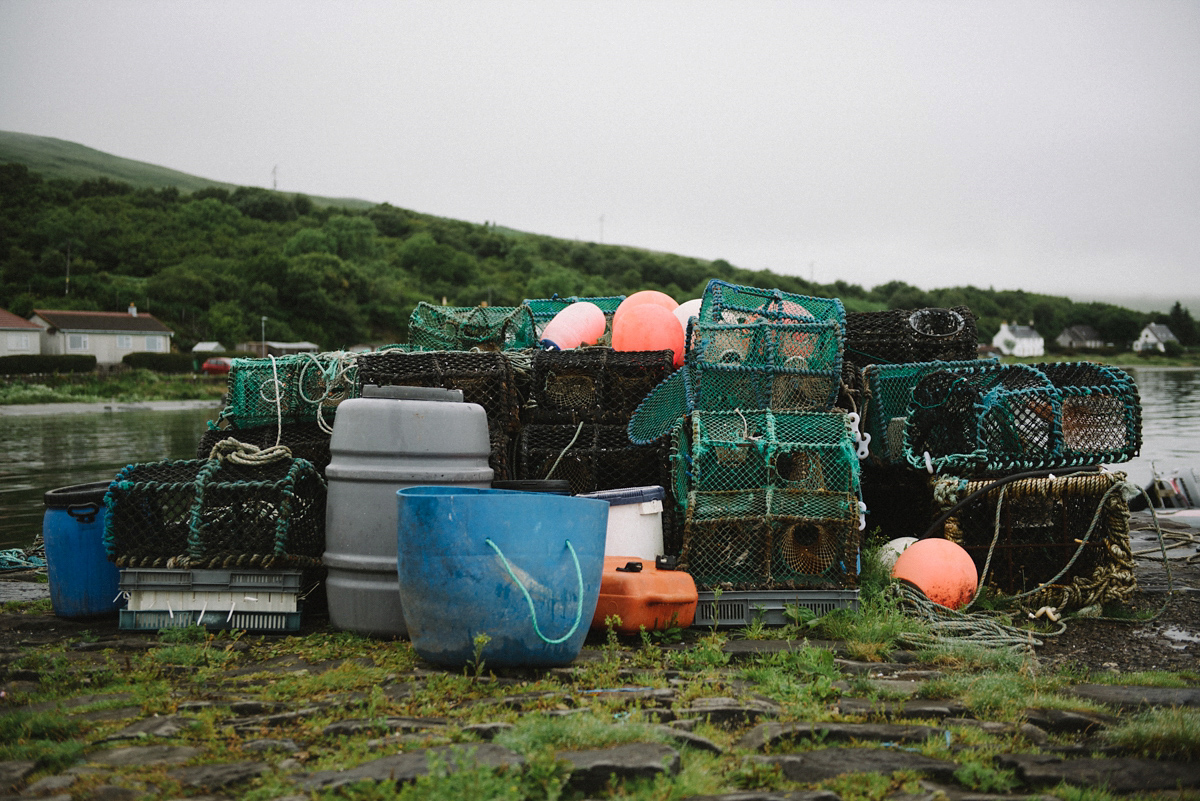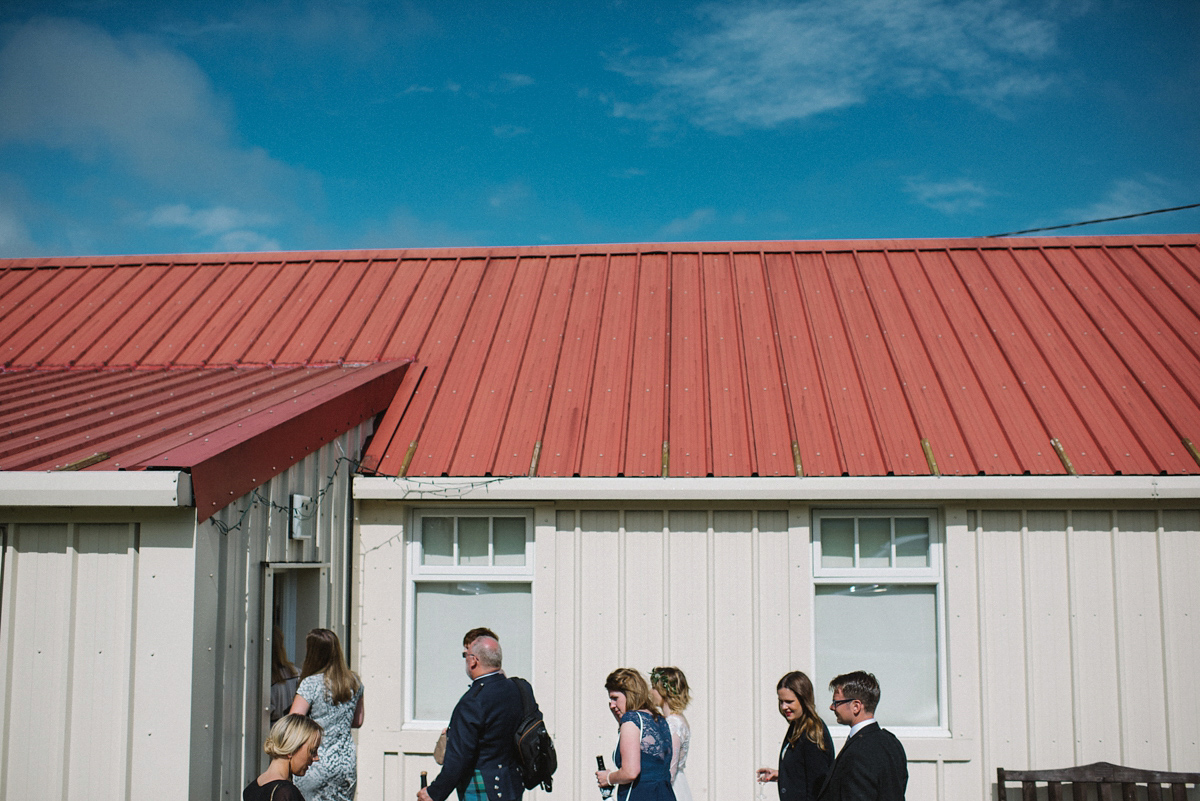 "We wanted to honour the traditional, almost retro feel of the village hall, and I'm a big fan of bright splashes of colour but there wasn't a colour scheme or style as such. We'd only visited the venue a few months before the wedding to measure up and get a feel for the place. We made everything ourselves, with a lot of help from friends and family – everyone got involved the day before to help decorate the village hall. We bought lots of lights, ribbons and streamers and it all came together quite organically in the end."
Stuart, the head chef at Jura Hotel put together a fabulous menu for the weekend, including a banquet style sharing meal for the wedding breakfast.
"We wanted to include the amazing local produce that Jura is famous for. We had starters of fresh crab, then big sharing platters of local venison, salmon and langoustines. The langoustines were caught on the morning of the ceremony by the local fisherman, and the toasts were all washed down with delicious Jura Superstition whiskey from the distillery next to the hotel."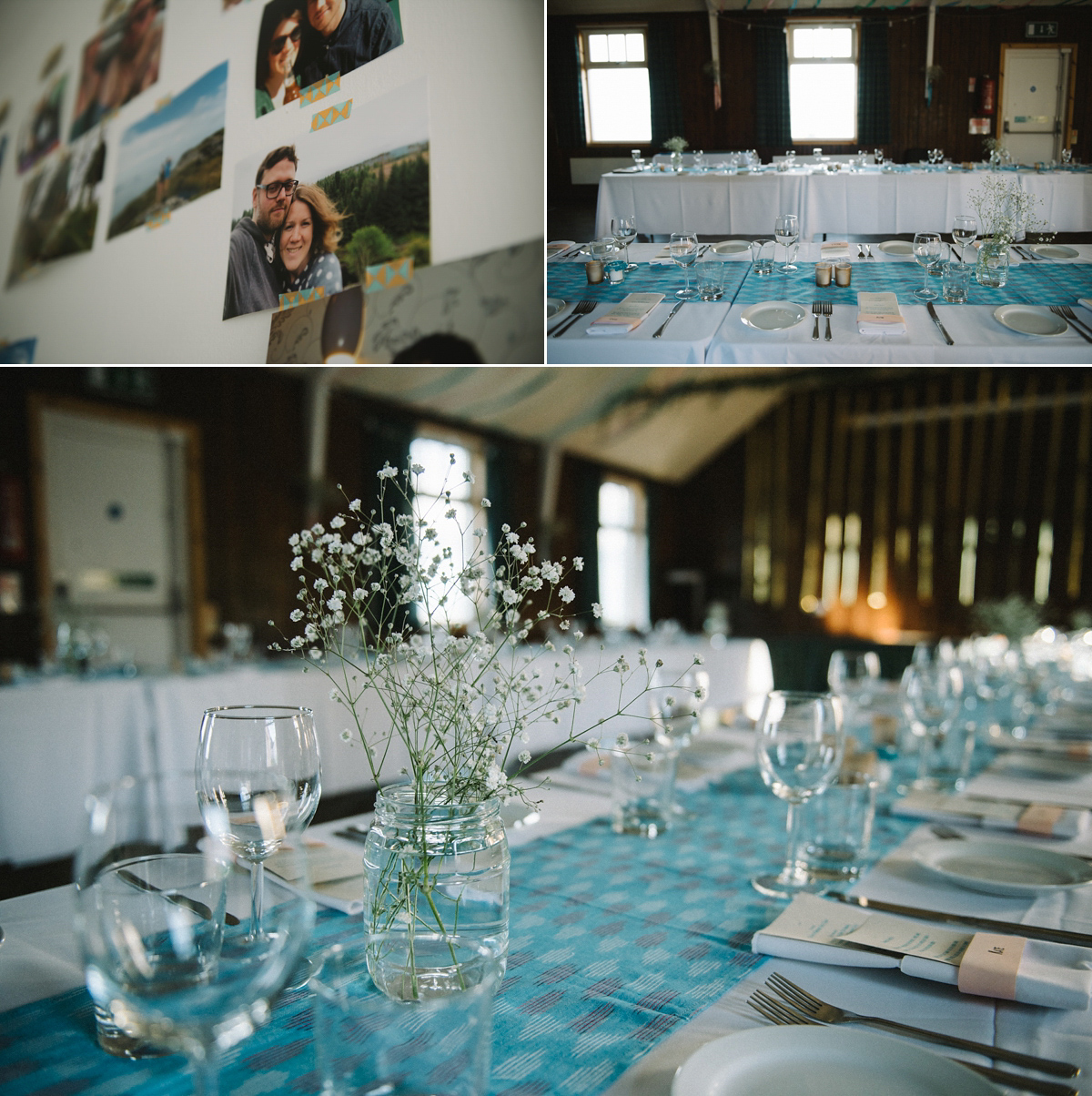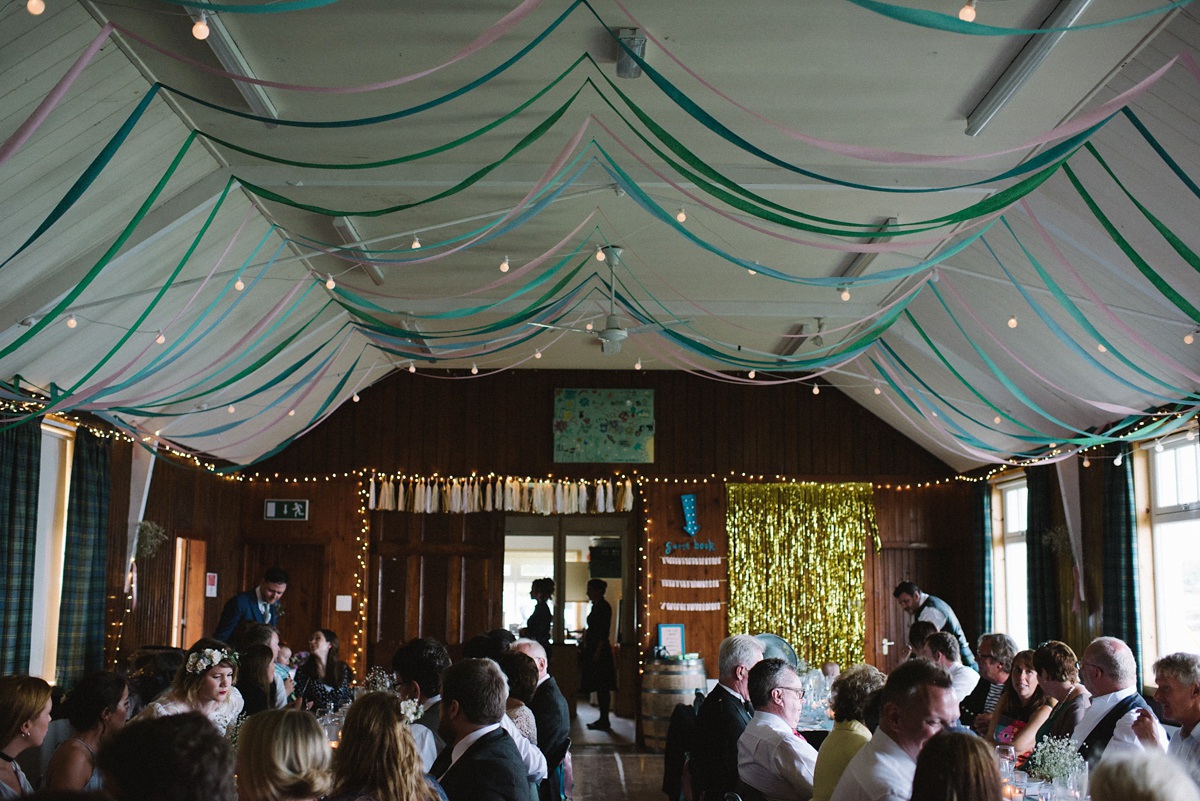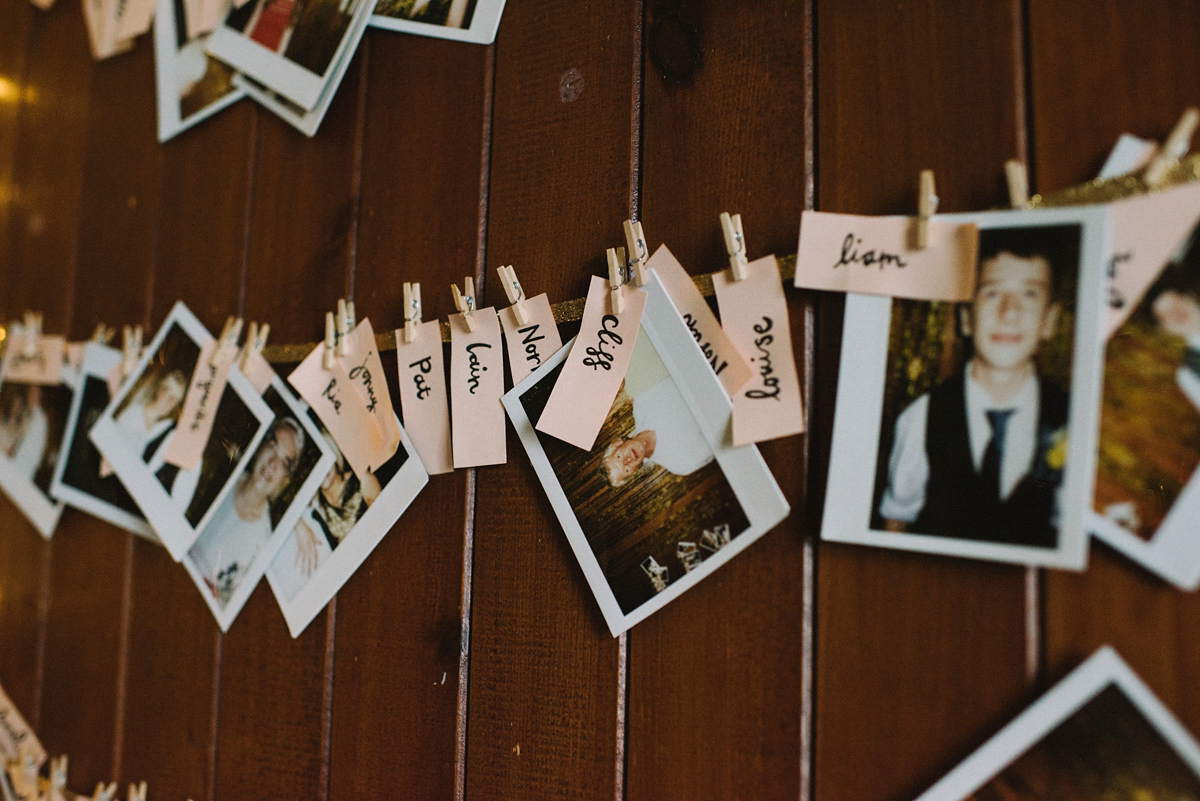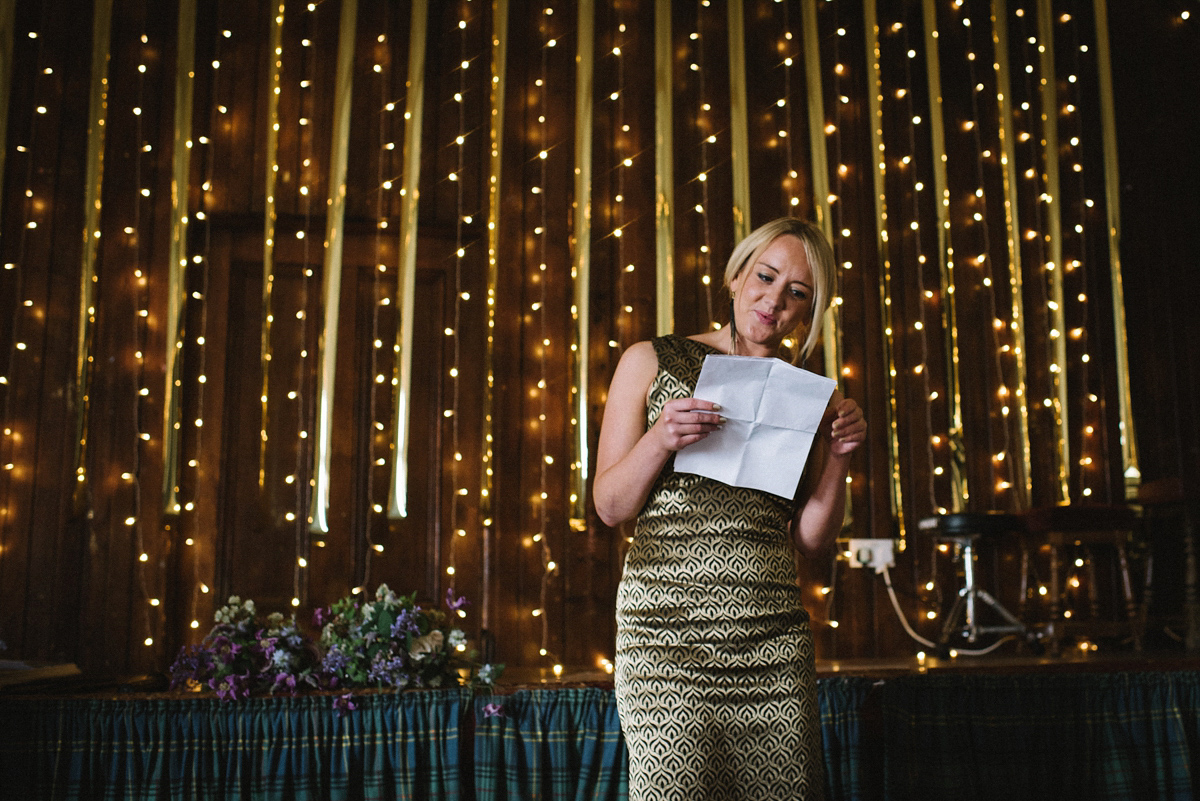 "We had our first dance to 'Ain't No Mountain High Enough' by Marvin Gaye and Tammi Terrell. We were pretty apprehensive about dancing in front of everyone without feeling awkward… in the end we just chose a song we loved and hoped for the best."
"Our DJs, PinUp Nights, were brilliant. I don't think the dancefloor was empty for the entire night and there were points where the entire wedding was up dancing. We gave them a few of our motown and soul favourites and they took it from there."
"It's hard to choose a specific 'best bit' – the whole weekend was amazing fun, and a rare opportunity to have our close family and friends spending quality time with us for a whole weekend. That's what made it really special."
WORDS OF WEDDED WISDOM
"Plan a gathering you would love to go to, and don't worry about all the stuff that doesn't really matter. If everyone is having an amazing time with the people they love, no-one cares what colour the napkins were. If you want to plan a wedding on a budget, you have to prioritise what's important to you and stick to your vision."
"We wouldn't have necessarily done anything differently, but it was a logistical challenge getting all the guests, decorations, outfits, cakes, flowers etc. onto a small remote island with limited accommodation and transport options. The islands work to their own time, which is part of the charm that drew us there, but caused a few frustrations."
"We had to limit our guest list to under 60 people, because that's how many beds were available. In the end, that was a perfect number of guests – we felt like we could spend time with everyone who came."
"We had about £10k for our wedding budget, which seemed like a lot of money until we started spending it. We prioritised food and drink above all else – we figured if people were well fed and well oiled everything else would go ok."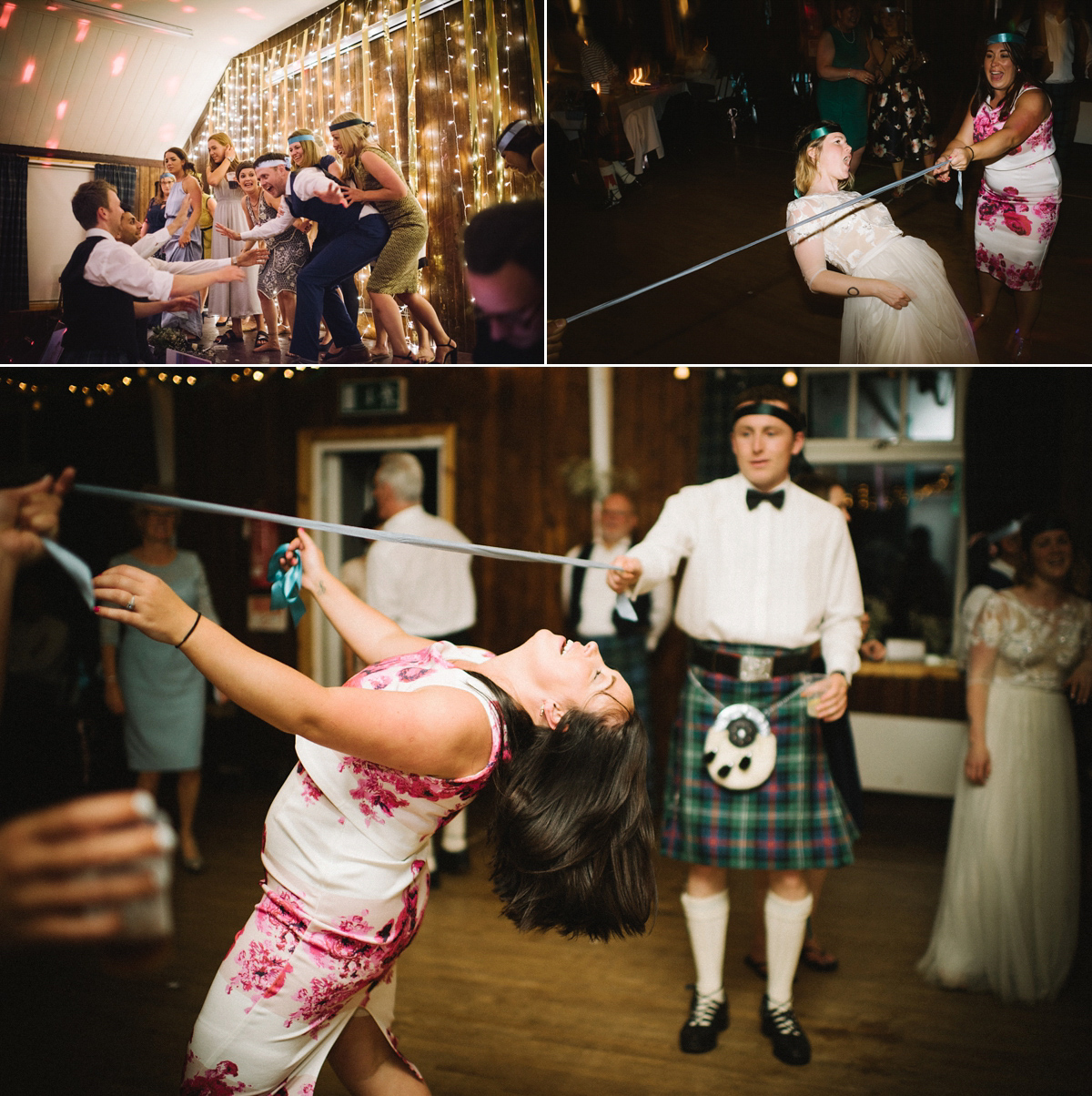 Congratulations Fiona and Euan, and such perfect advice. Thanks also to Lisa Devine whose images are absolutely stunning.
Love Caoimhe xx