For my 18th birthday my Mum and stepdad took me to a restaurant located a few miles away from our home in Northumberland.  It hadn't been open very long and although Mum and I had treated ourselves to lunch there once or twice, I hadn't been in the evening before.
The food was lovely and the decor at night blew me away- every possible area was adorned with twinkling fairy lights and candles flickered on all the tables.  It was of course, The Treehouse at Alnwick Garden.  I don't think the Treehouse had a weddings licence back then, but I remember thinking even then it would be the most wonderful space for a party, with huge chairs made from wood, screens and ceilings overhead made from branches and a roaring fire in the centre of the room.
Jess and Chris, who married at this gorgeous venue on the 29th of April 2017, obviously loved it as much as I do and also came across the venue for the first time on a birthday trip for Jess.
"We didn't really have a specific style for the day in mind, just wanted something rustic and we both like reading and stories so used that as a little bit of inspiration."
Photography by Andy Turner Photography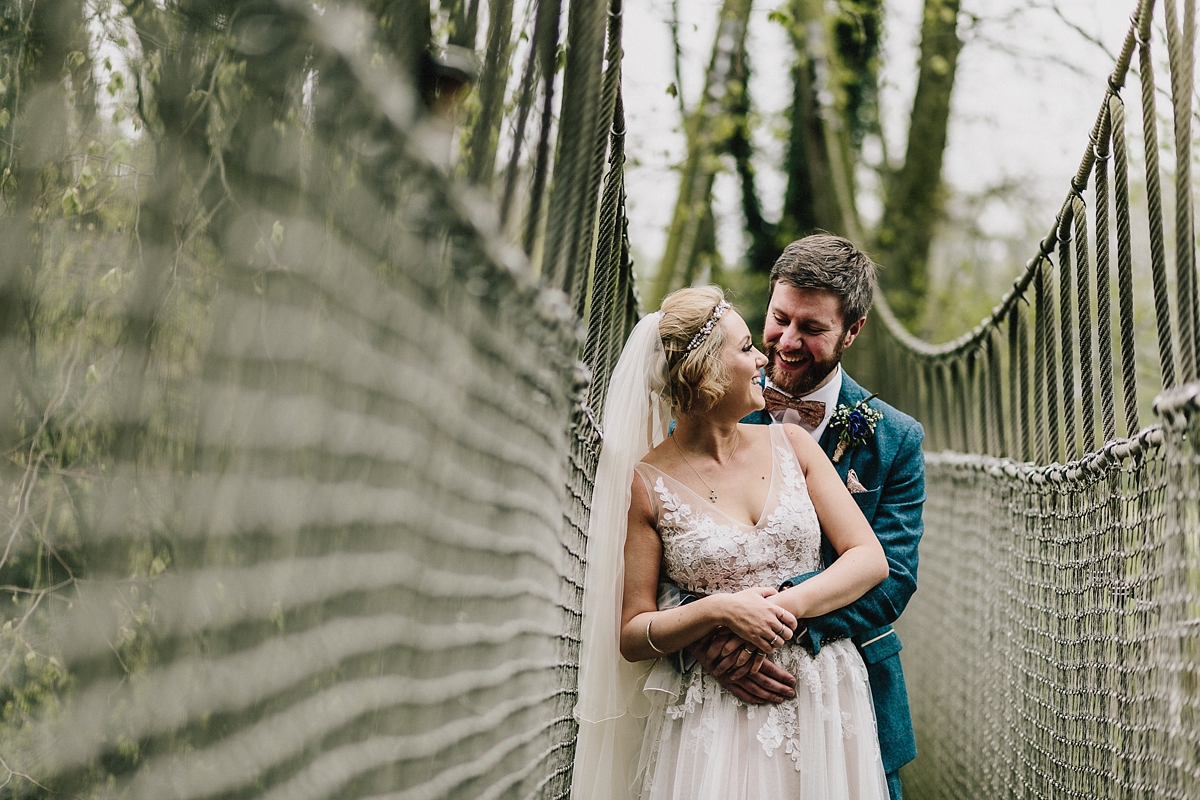 The couple met in the time-honoured way, in a bar and became engaged while on a winter city break in Rome.
"The Treehouse is quirky and informal and we wanted a unique space. We had visited for the brides birthday a few years before and remembered it being really special."
Jess looked beautiful in 'Willowby' by Watters, which she purchased from Mia Sposa Bridal in Huddersfield.  She paired the floaty gown with a bespoke veil from the same shop.  I do love all the light floating fabric and the contrast of the gauzy overlayer and the heavier lace on the bodice.
"It was light and comfortable and fit perfectly with the venue.  I also loved the fact the silk beneath the lace was a different colour, which made it unusual."
Jess wore a gorgeous pair of pale pink shoes by Kate Spade, each with a bow on the ankle, while her headpiece came from Ivory & Co via Mia Sposa Bridal.  For jewellery she chose a necklace given to her by her grandparents and for scent she borrowed a spray of Chanel Coco Mademoiselle from her Mum.
Jess did her own hair, while make up was the work of Stephanie Wilson.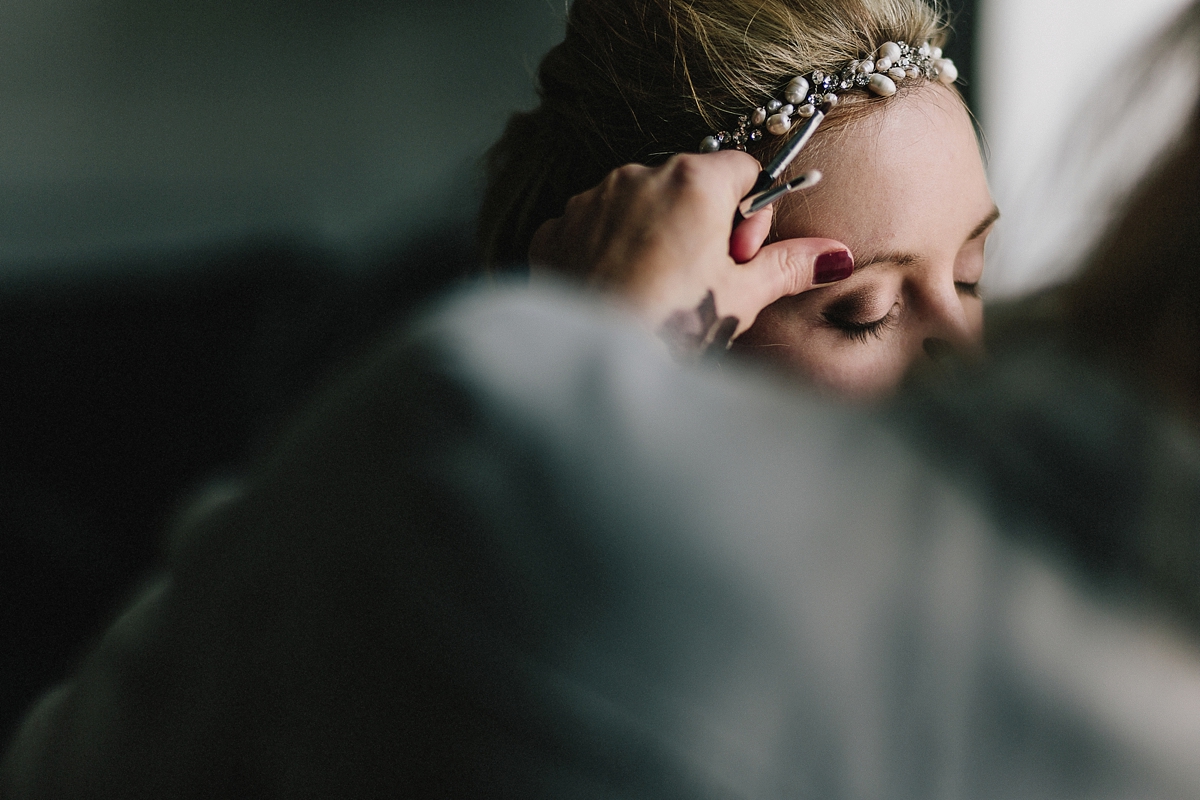 The three adult bridesmaids looked lovely in different dresses from Ted Baker, while the younger bridesmaid looked equally pretty in a pale pink dress from Monsoon.
All four maids accessorised with real flower crowns from Simply Flowers in Alnwick and each also wore a bracelet and earrings bought for them by Jess as thank you gifts from Silk Purse Sows Ear on Etsy.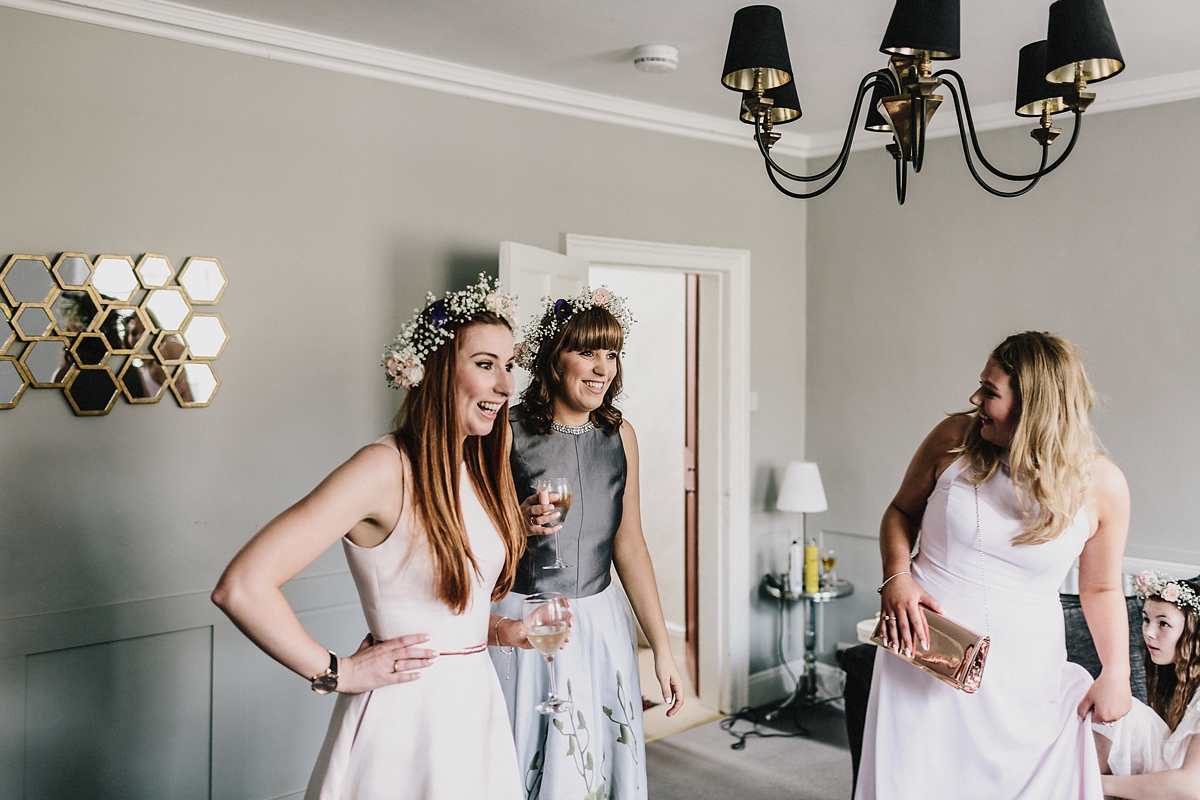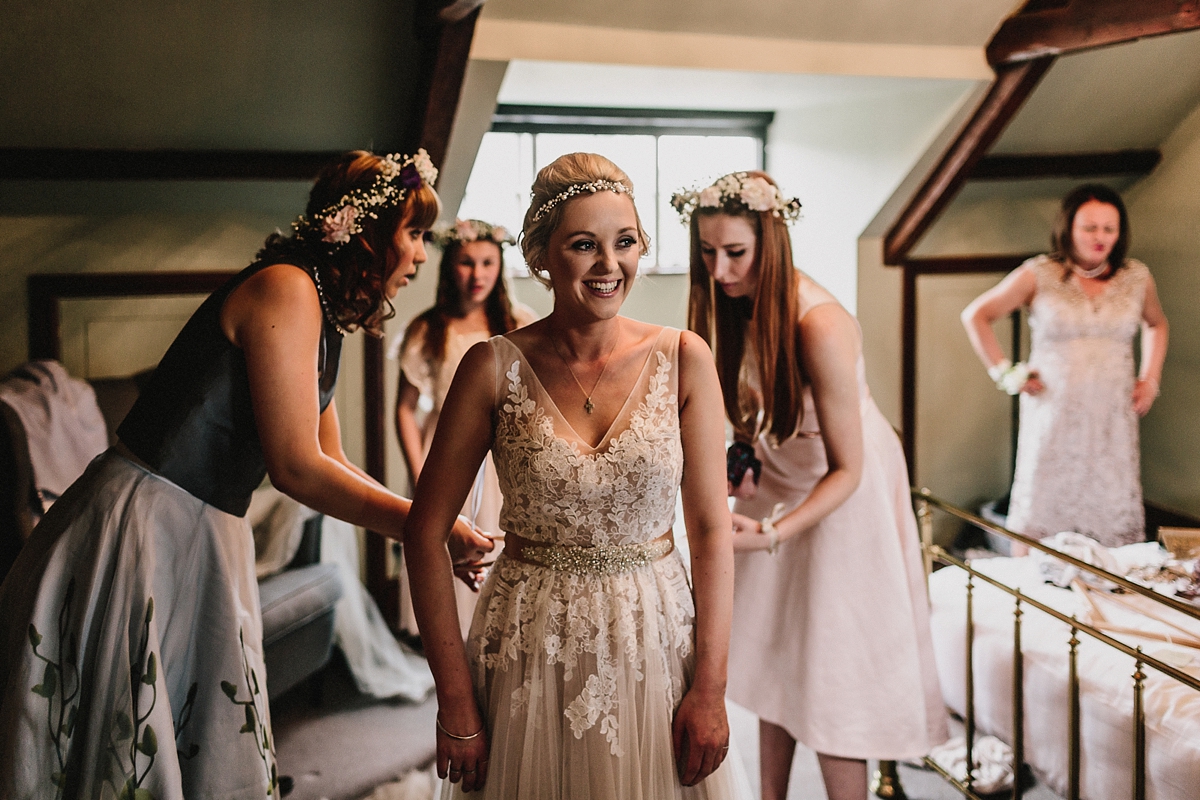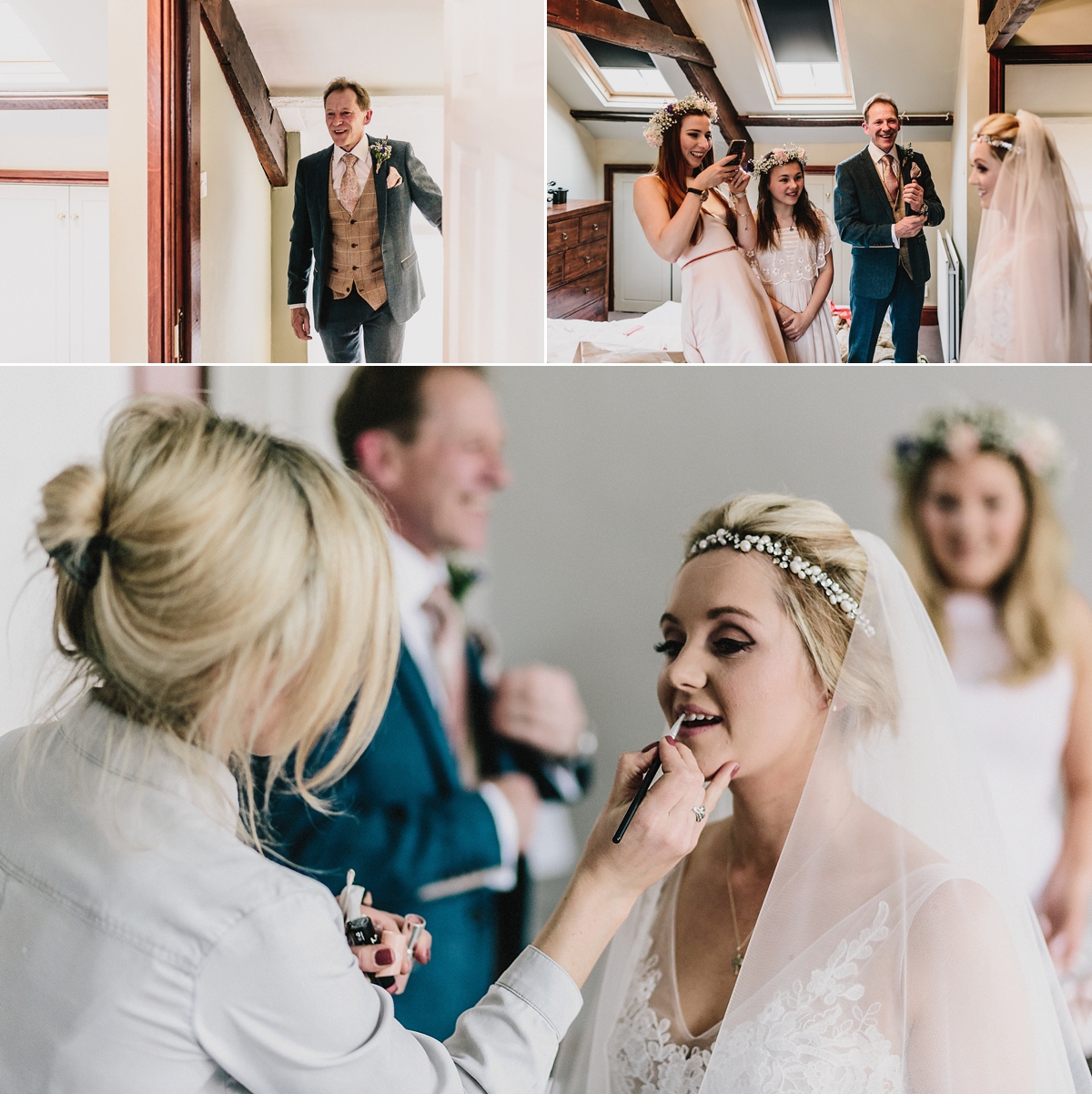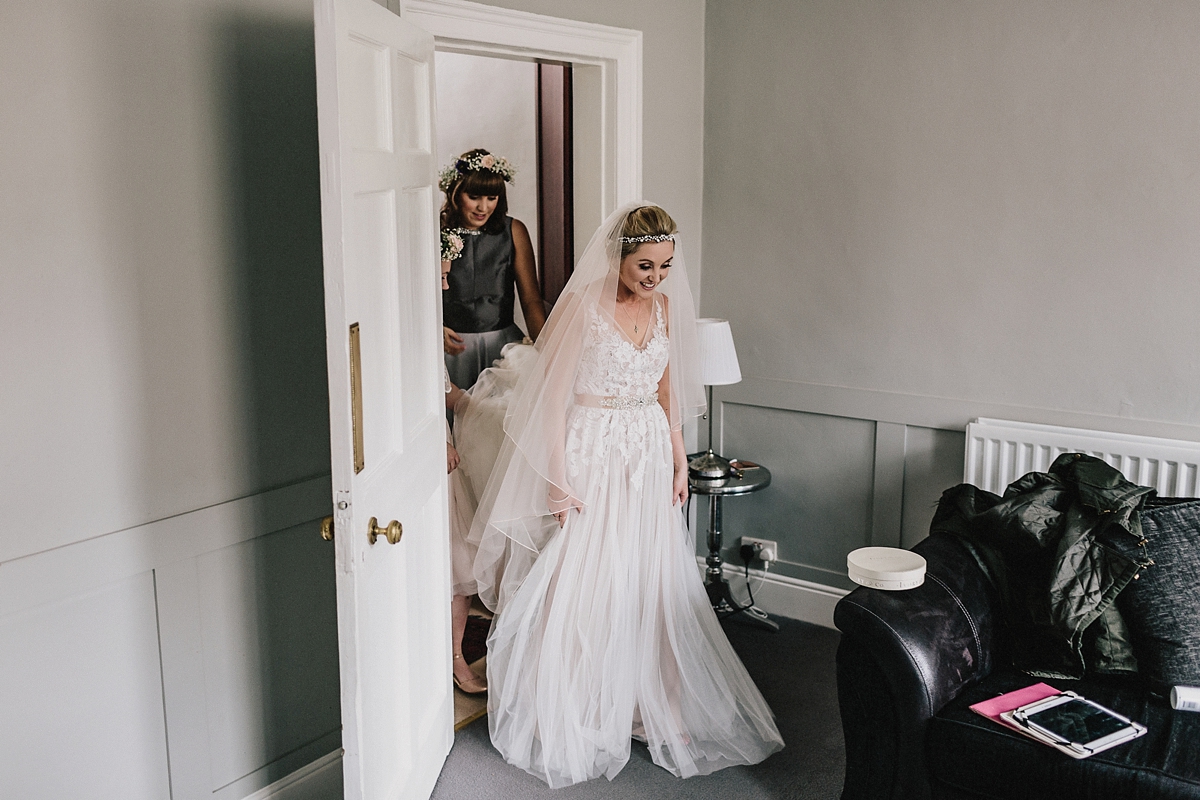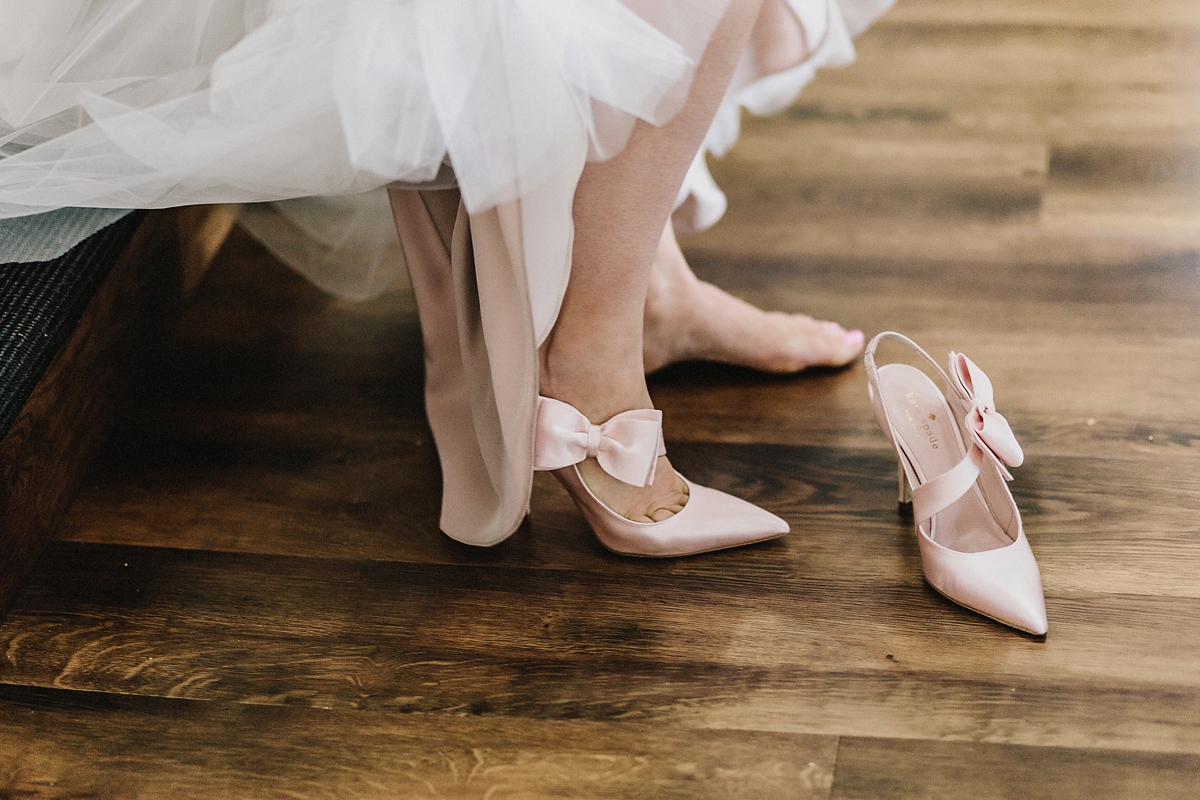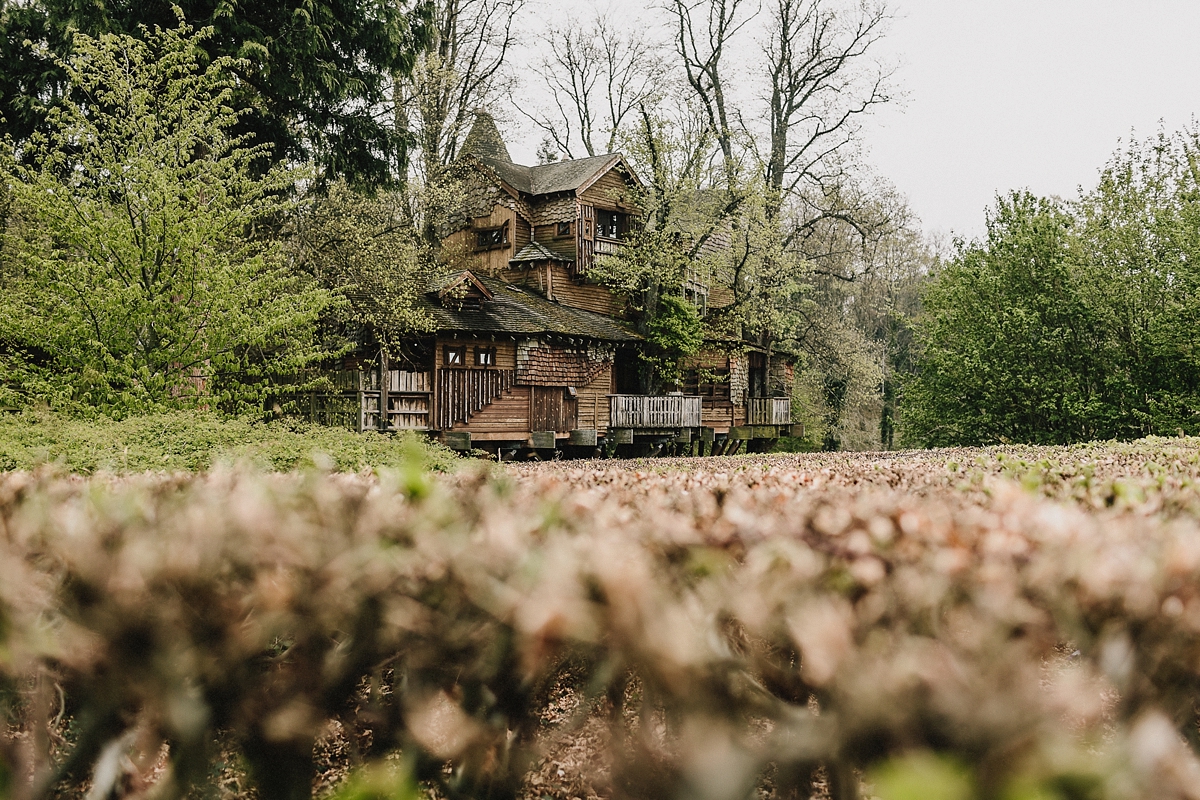 Jess arrived in a classic VW convertible Beetle, hired from Brooklands Wedding Cars and was then accompanied up the ramp to the Treehouse and down the aisle by her Dad to 'Anyone Else But You' by The Moldy peaches; the song is featured on the movie Juno.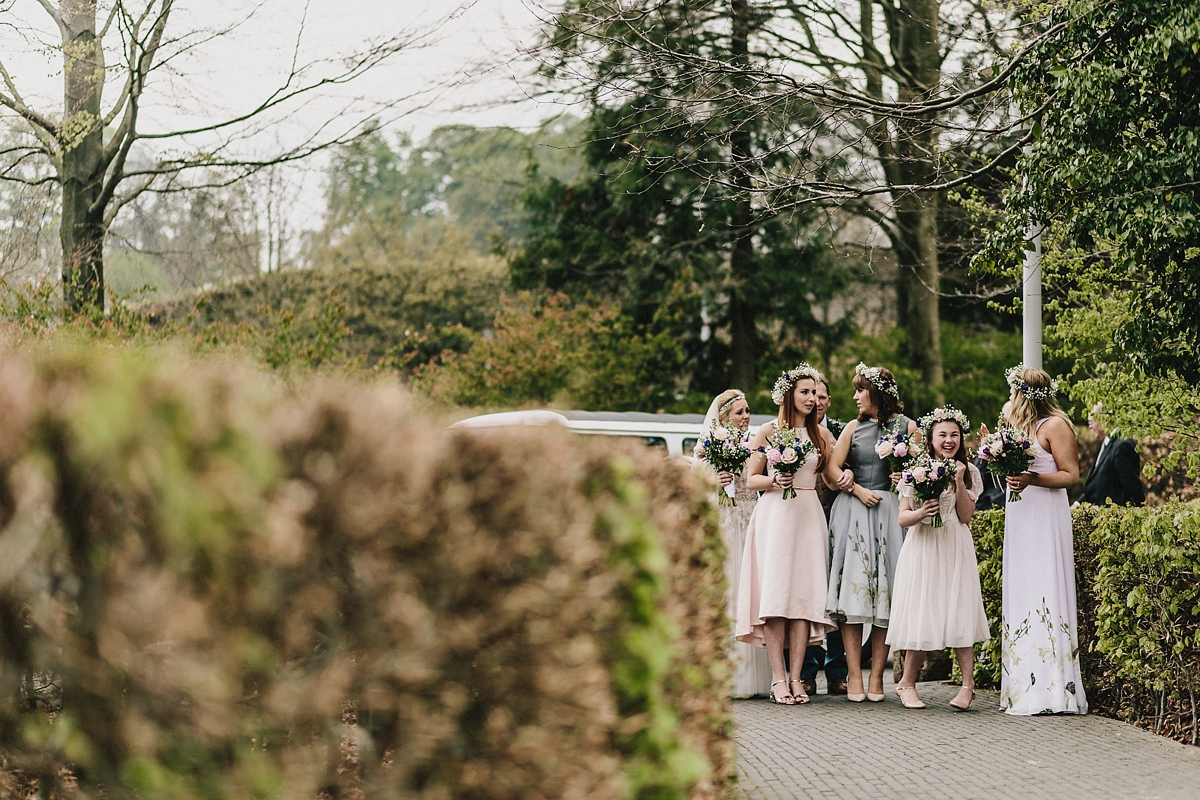 Chris looked swish in a blue tweed suit from Marc Darcy, worn with a wooden watch from Jord which was a wedding gift from Jess, and a bow tie from Tie Room.
As well as the bridesmaid's gorgeous headpieces, the ladies at Simply Flowers also provided the stunning bouquets, in shades of pink and purple.
"I know nothing about flowers and didn't really know what I wanted so went with a few inspirations style pictures from Pinterest of wild flowers and the types of colours I wanted and they managed to perfectly create exactly what I had in my head."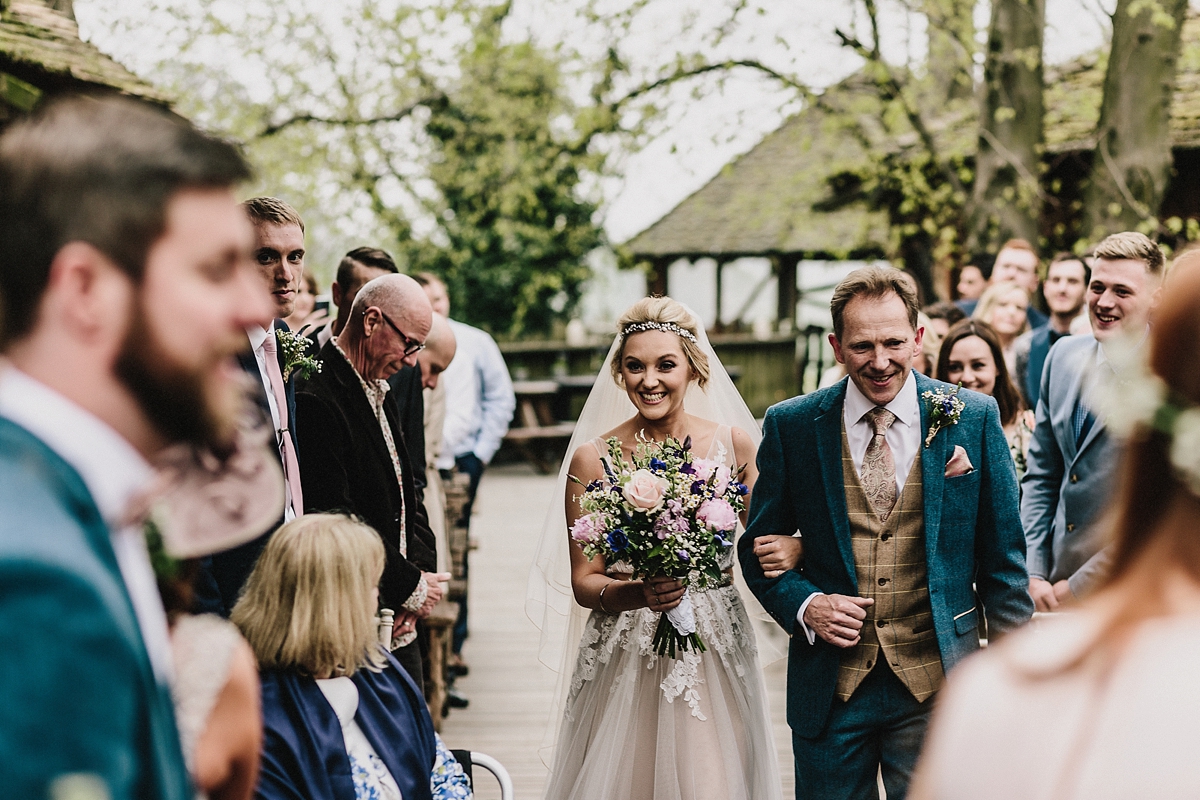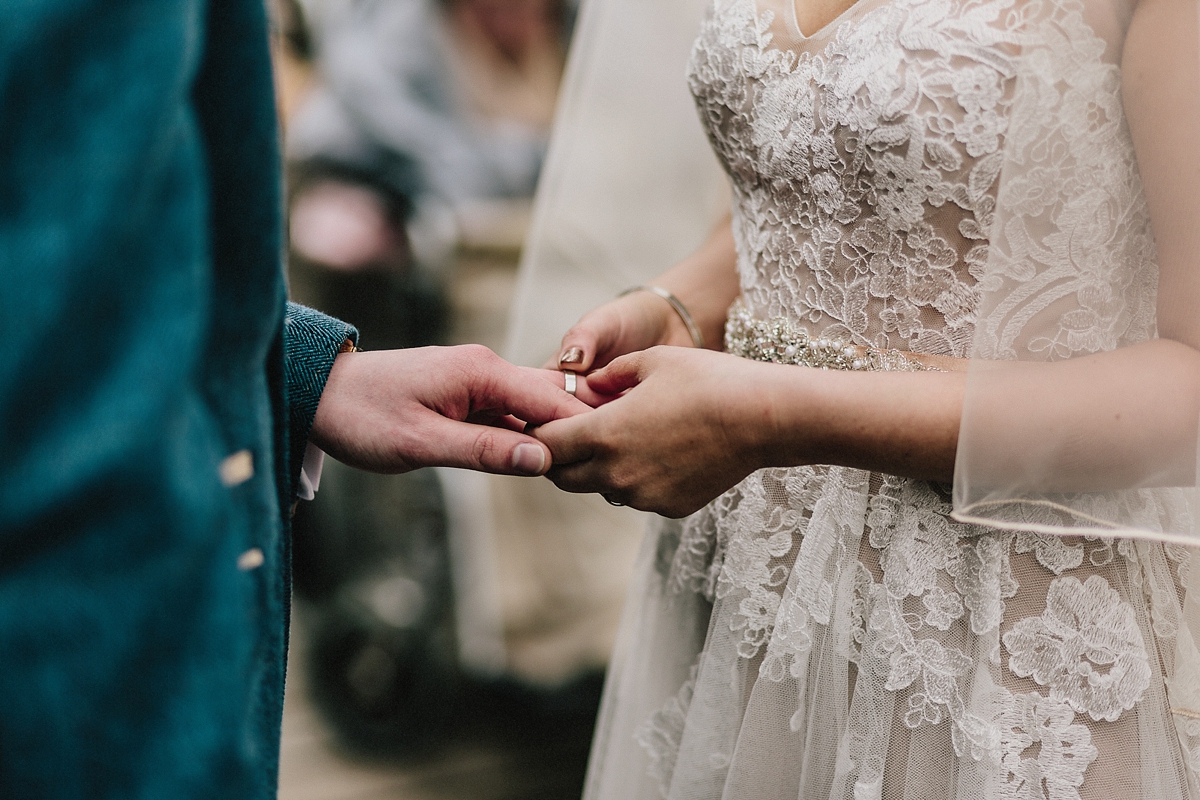 "My favourite part was probably the ceremony itself- the registrar from Northumberland Registrars was amazing, she was so informal and made everyone feel really relaxed as well as bringing some humour to the occasion which was lovely."
"The only thing I'd do differently is have the band for the whole of the evening do as we had only booked them for the first half and they created such an atmosphere it was a shame when they had to leave."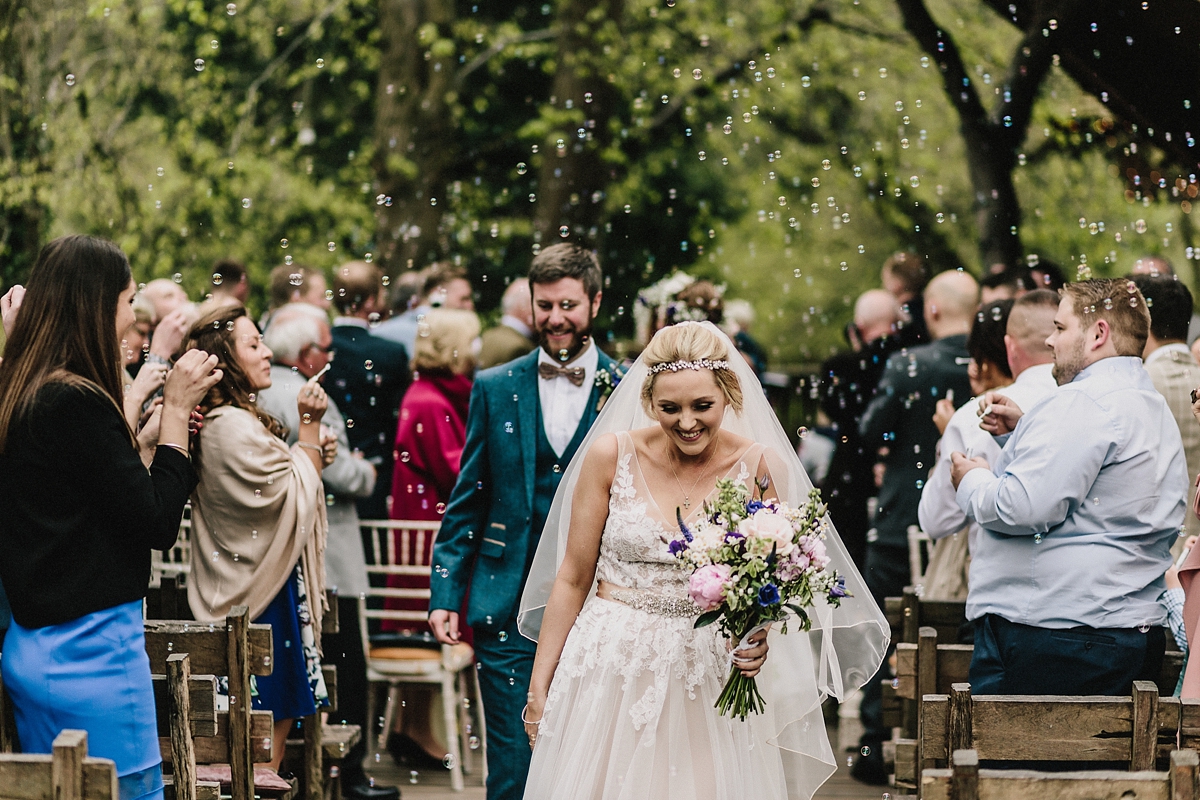 The talent behind the lens was Andy Turner, who is a new and very welcome addition to Love My Dress.
"Andy was honestly amazing.  I absolutely hate having my picture taken and was dreading having to pose for hours having loads of photos taken on the day (and eating into our precious party time) so when Andy said he only does a small handful of staged photos I knew he was the right choice."
"In the best possible way I genuinely never even noticed he was there half the time and the results are incredible."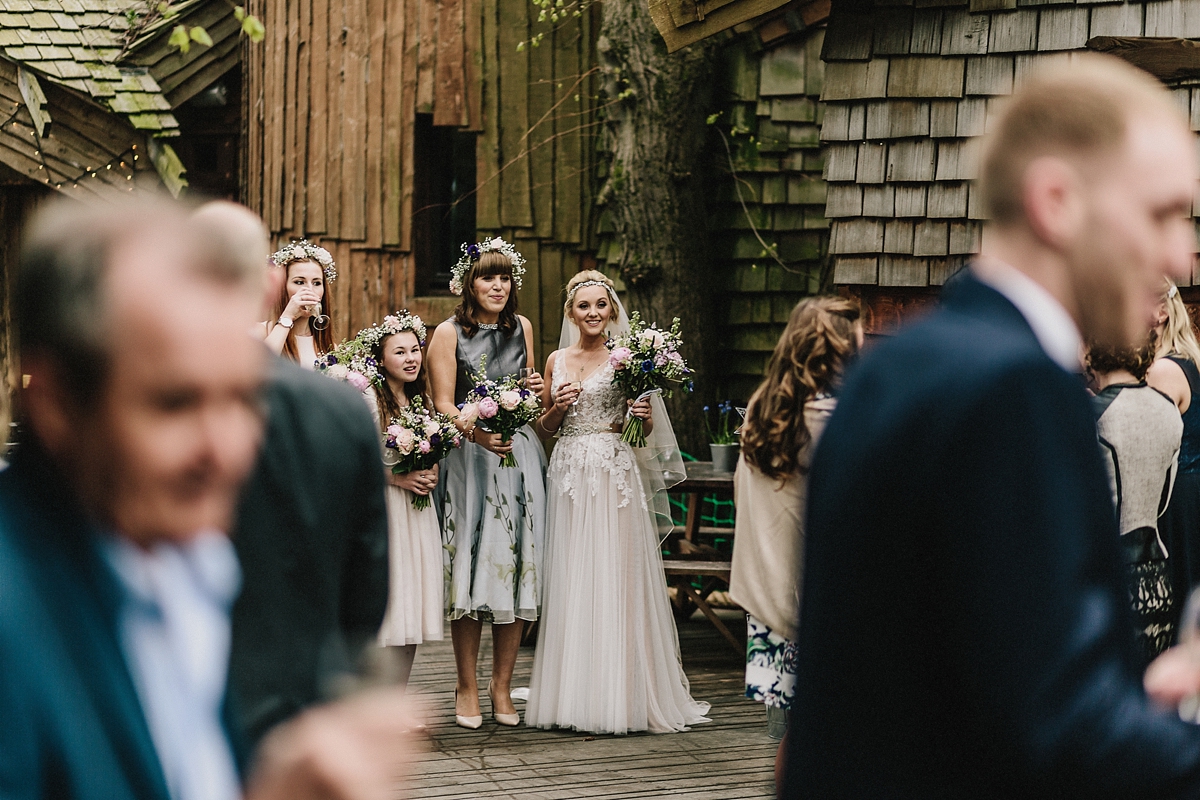 "As the venue is already so special we didn't want to or feel the need to add too much to it but I did hand-glitter around a hundred jars for flowers and tea lights for the tables, registry signing table and bar area."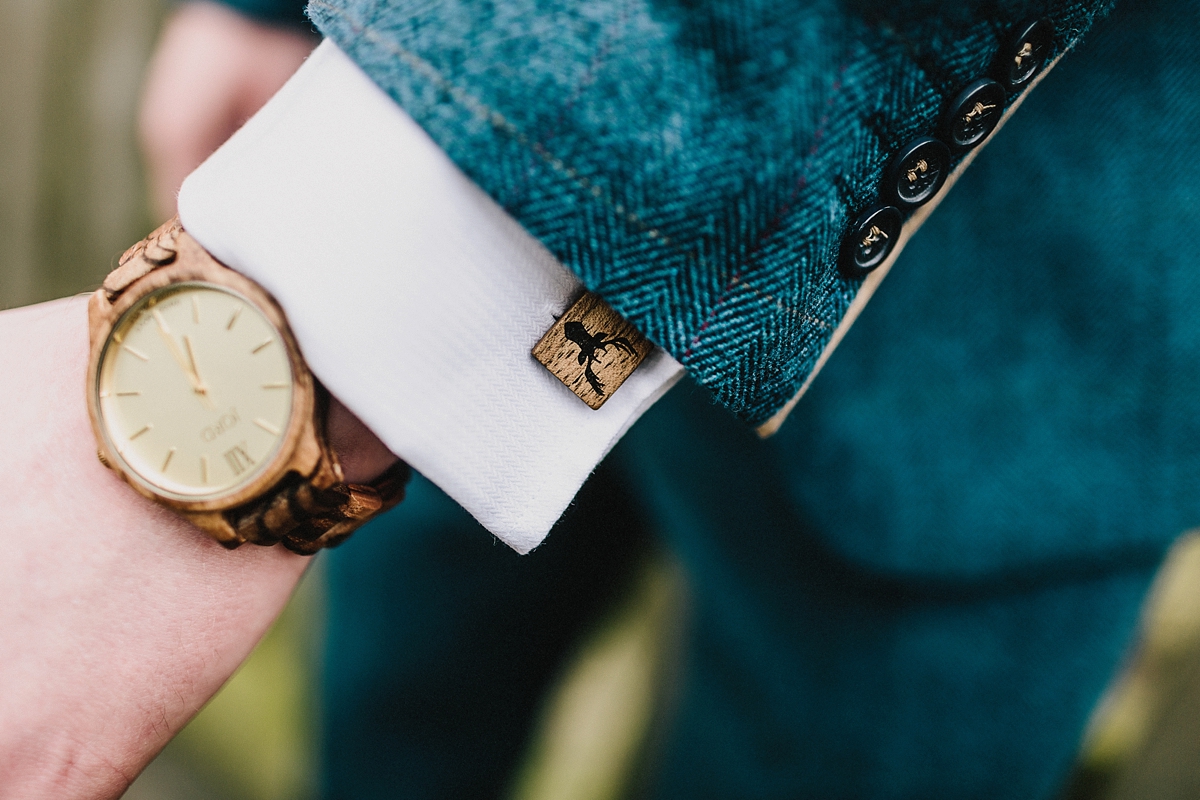 For favours the couple gave each guest a classic, second hand Penguin novel, to continue the book theme.
"A friend designed and produced our invitations for us which were stencil-cut in the shape of a tree.  Everything else I did myself, including hand writing everyone's individual menus as bookmarks to go inside their second hand penguin book wedding favours which also doubled as place names and the table plan."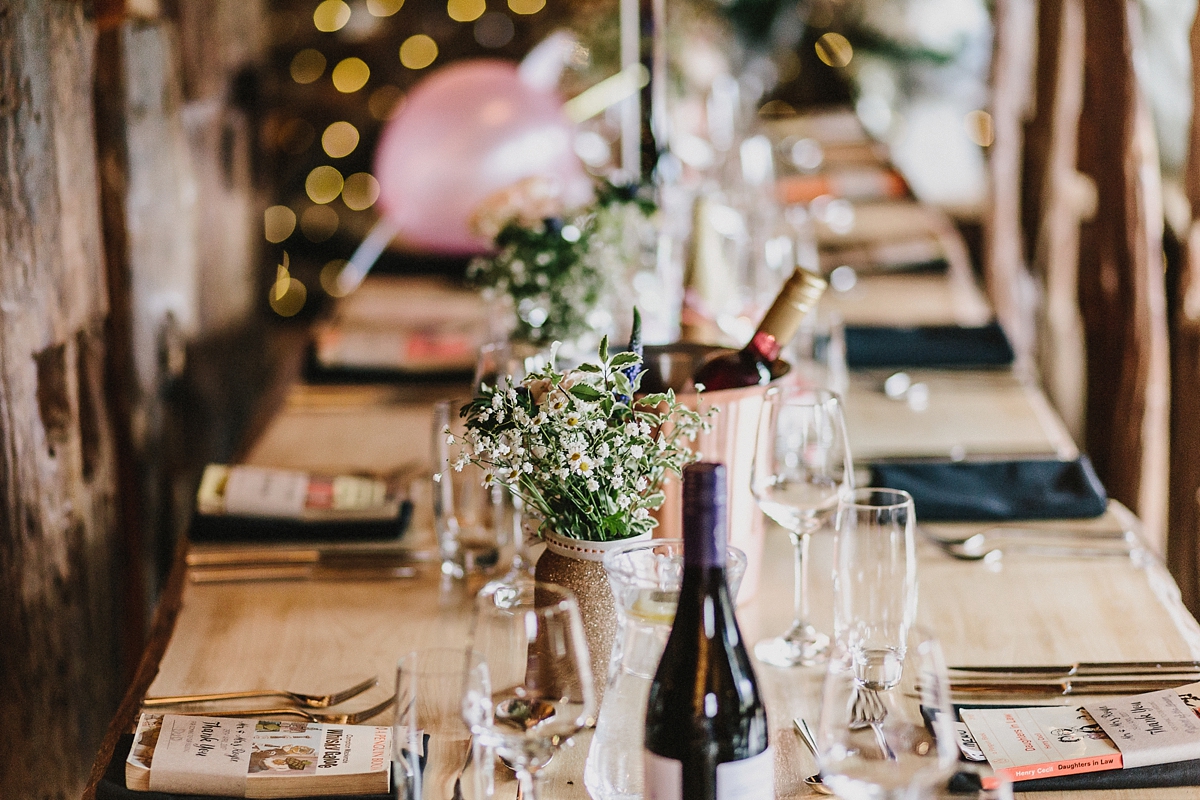 The cake is absolutely astonishing- I was searching for the maker as soon as I saw it and cannot believe that it wasn't made by a professional.
"Chris's sister Sarah made the cake.  When I saw it, it made me cry.  We wanted something to fit in with the style of the treehouse and I'd seen a tree stump cake on Pinterest which I sent to her as inspiration only – what she produced on the day was incredible!"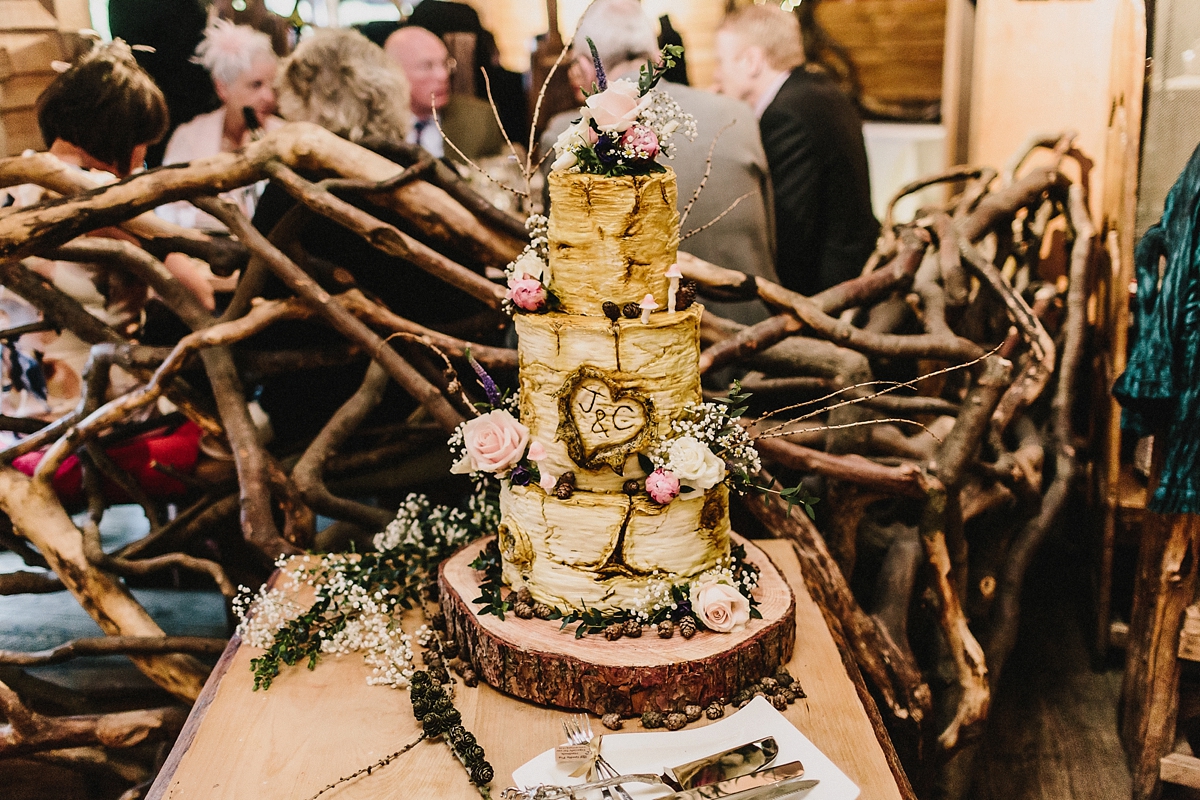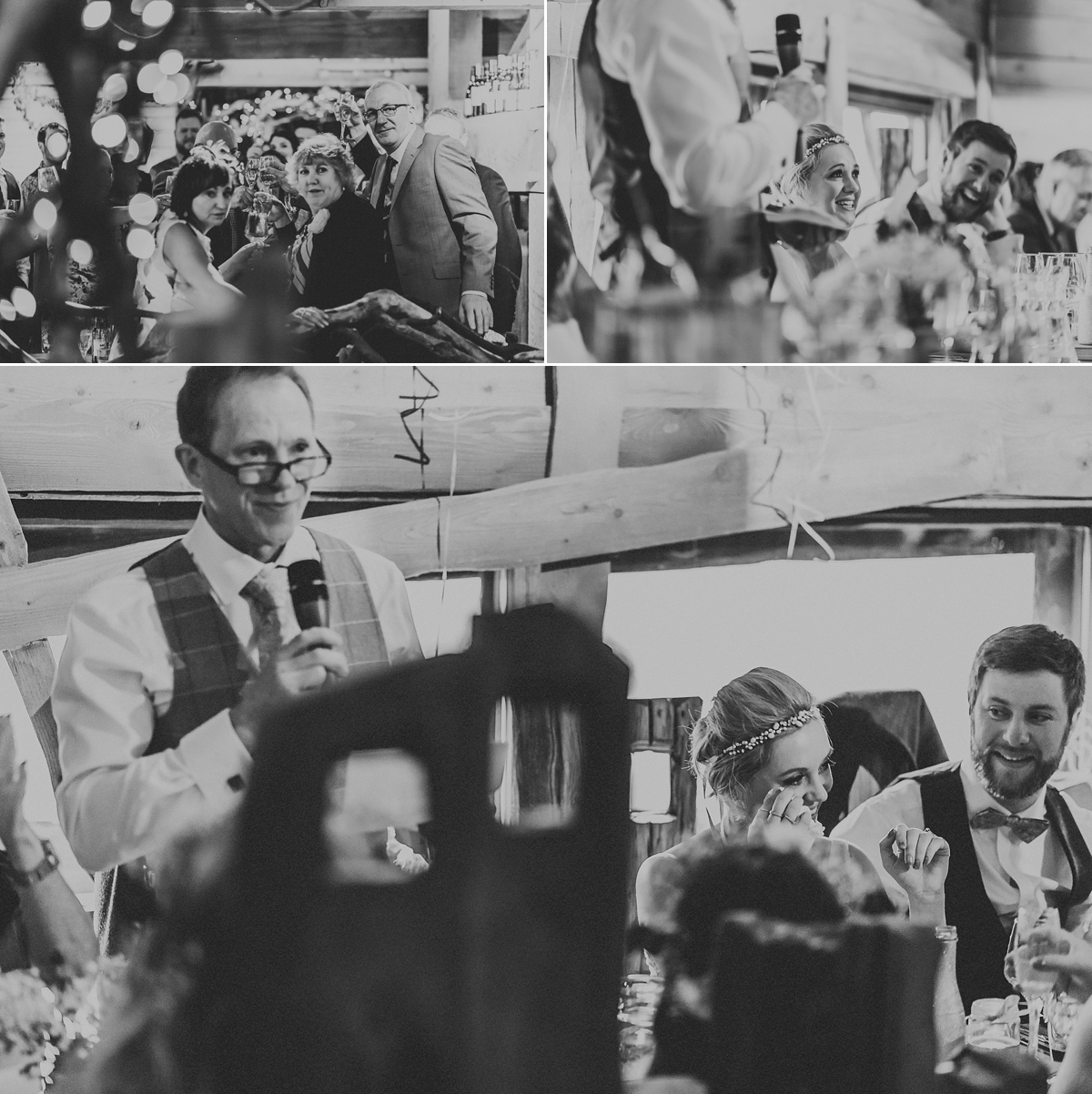 Two-piece band White Feathers provided the evening entertainment and kept the dancefloor full to bursting.  Jess tells us that they created the most wonderful atmosphere.
"I loved the whole day. We didn't get married until 5pm which meant we had the whole day before to relax.  Our guests were all travelling quite far which meant most of them made a weekend out of it and came up on the Friday night before the wedding. We literally took over the small town of Alnwick."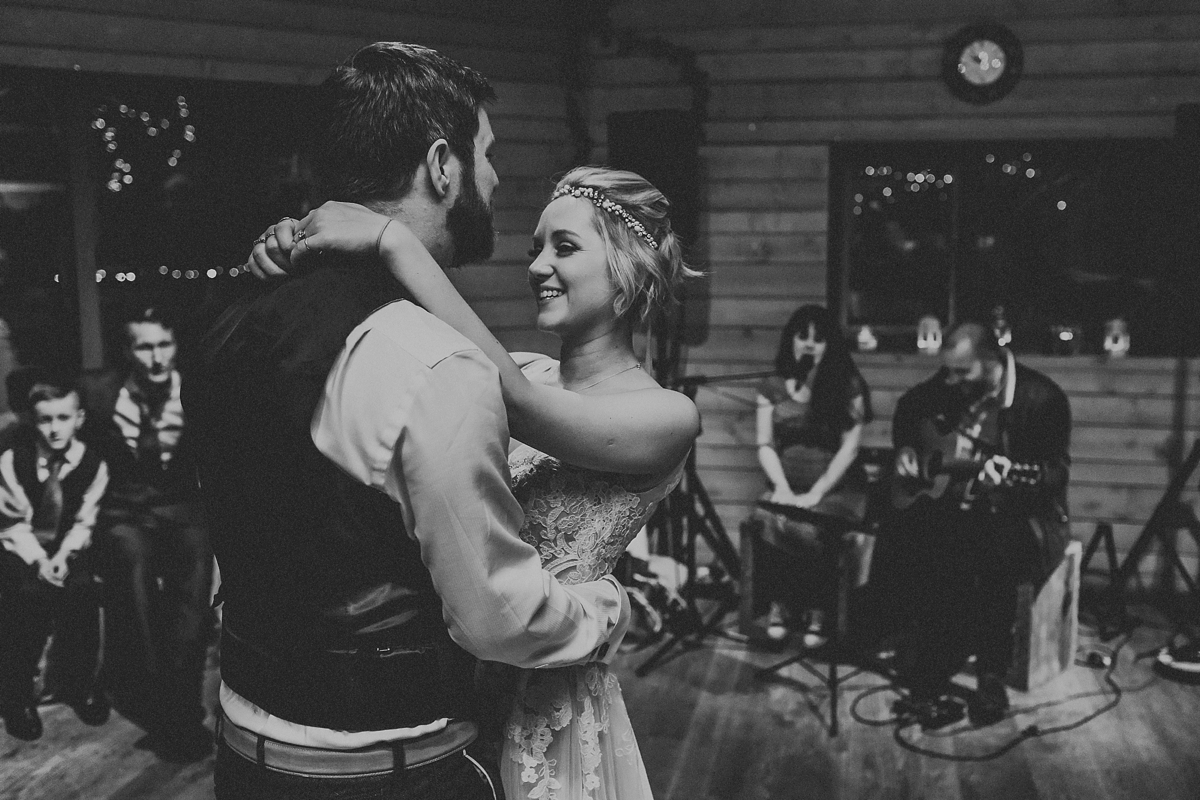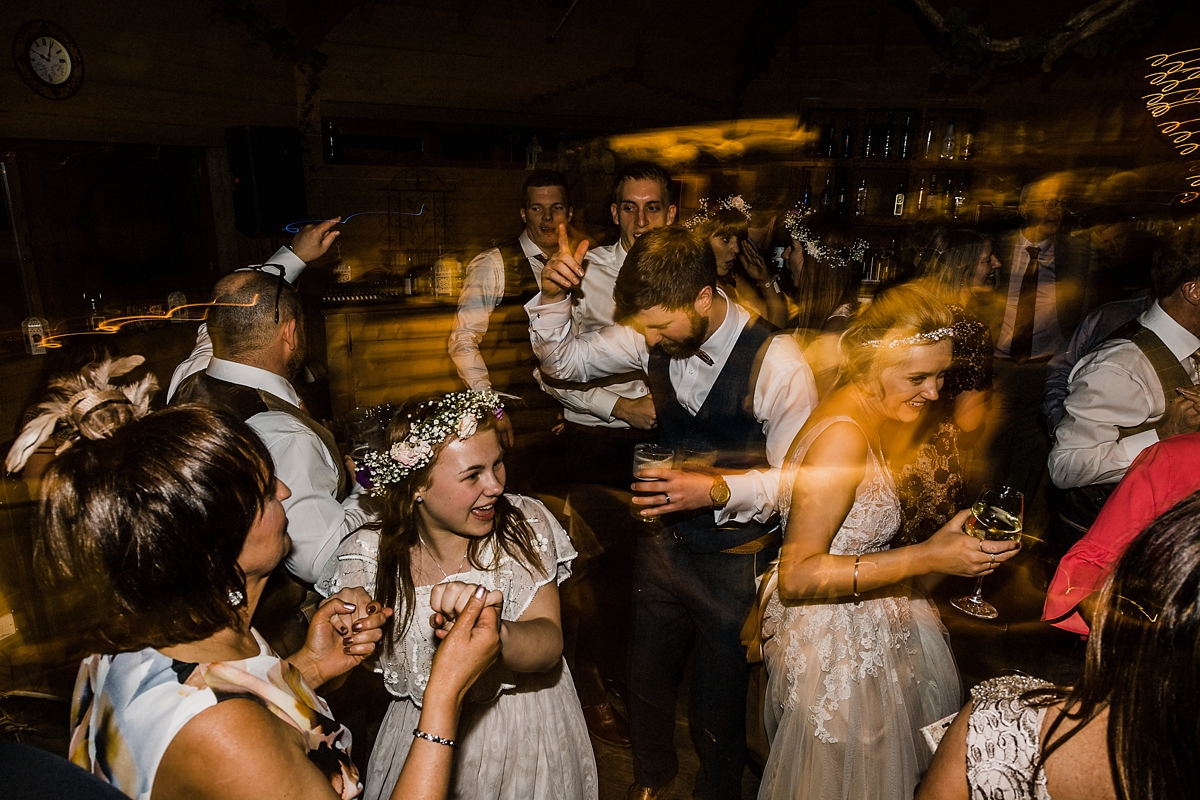 Words of Wedded Wisdom
"Enjoy the build up – don't wish for the day to be here too quickly, enjoy the planning, family and friends excitement and the general buzz about the upcoming nuptials."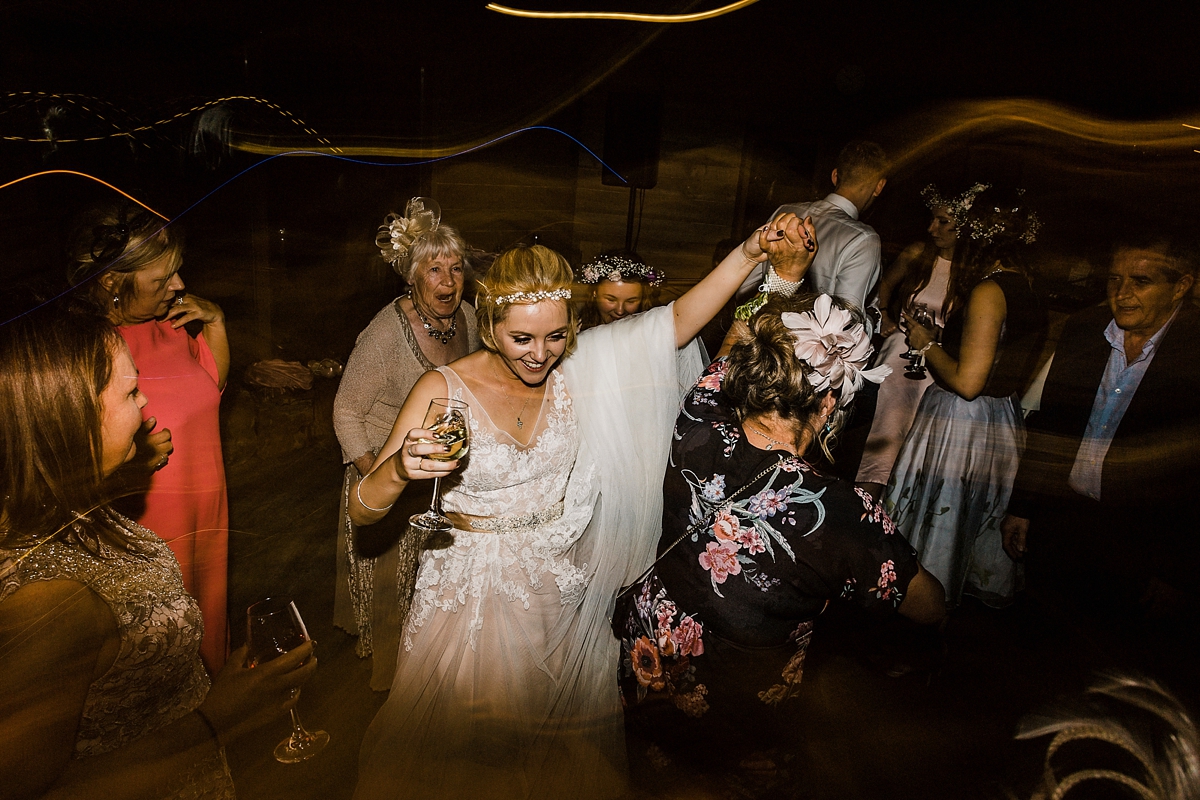 The Treehouse is one of my favourite UK venues.  For some more weddings which have taken place here, take a peek here, while for more Watters-wearing brides, have a look at this link.  Huge thanks to Jess and Chris for sharing their beautiful treetop nuptials.
Love Shona x