Hi there lovelies. We are sharing the beautiful wedding of Hannah, a marketing manager, to her American husband Ivan, a solution's architect today. The couple met in Atlanta and just a year later Ivan moved to the UK to be with Hannah.
They tied the knot at St Salvator's Chapel on the 20th of August 2016 and celebrated their marriage at Kinkell Byre, St Andrews. The space at the byre is truly stunning, with lots of foliage and a cosy rustic feel, inspired by their Italian travels and the bride's heritage. As well as the gorgeous images by Photos by Zoe, there's also a film by CineMate which really gives a sense of the day. Enjoy.
"We wanted a traditional wedding that was relaxed and full of personal touches that our families and friends would enjoy. My dad's family are originally from Italy and Ivan and I have loved our holidays there so we tried to bring some Italian elements into our plans."
Film by CineMate Films
"We designed the stationery together and this helped us to settle on colours, inspiring everything from our  flowers to the bridesmaids' dresses. I also became slightly addicted to reading Love My Dress on my commute. It really helped to inspire ideas about how to use the space and shape the day."
Photography by Photos by Zoe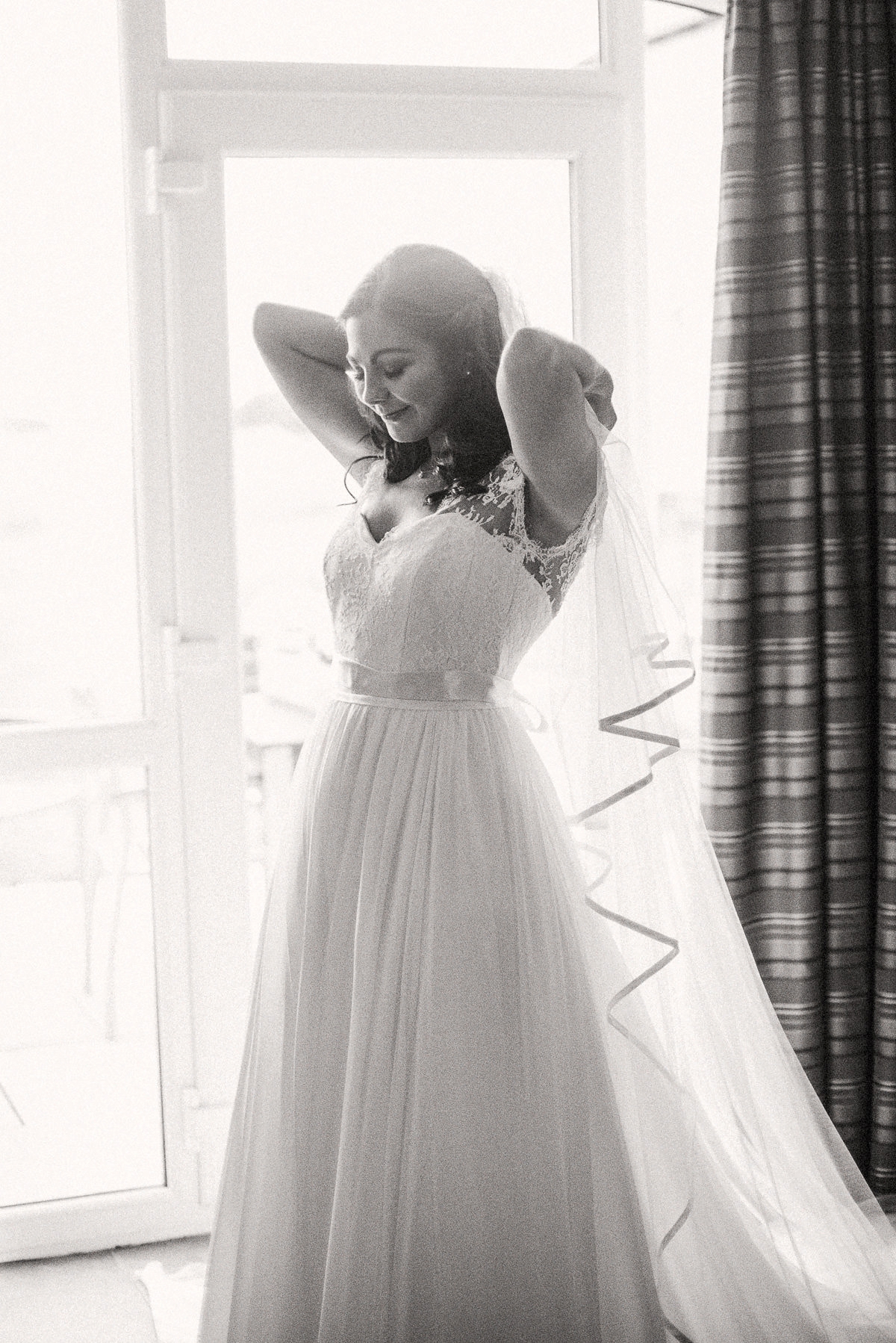 Hannah discovered Naomi Neoh through Love My Dress and adored her romantic, feminine style. She went to Mirror Mirror bridal boutique in London and found her dress which she paired with a beautiful V-neck Jacket and an Italian lace veil. Hannah's necklace was a wedding gift from her husband.
"I liked how soft and light the dresses looked. When I tried the Fleur dress on I immediately felt at ease in the shape and style. I loved how the silk skirt fell and moved and thought it combined both the traditional and more relaxed vibe we were planning for the day."
"We met five years ago in a coffee shop in Atlanta when I was on a study year in America. Ivan introduced himself to me by guessing my name. It was an incredible trick/performance, and I didn't find out until many months later how he did it. It truly was love at first sight; we both left that day knowing we had met each other for a reason. I returned to the UK a month later and we stayed in touch.
Ivan moved to the UK a year later and we've been together ever since. He proposed in 2015 in Scotland, and we got married 18 months later."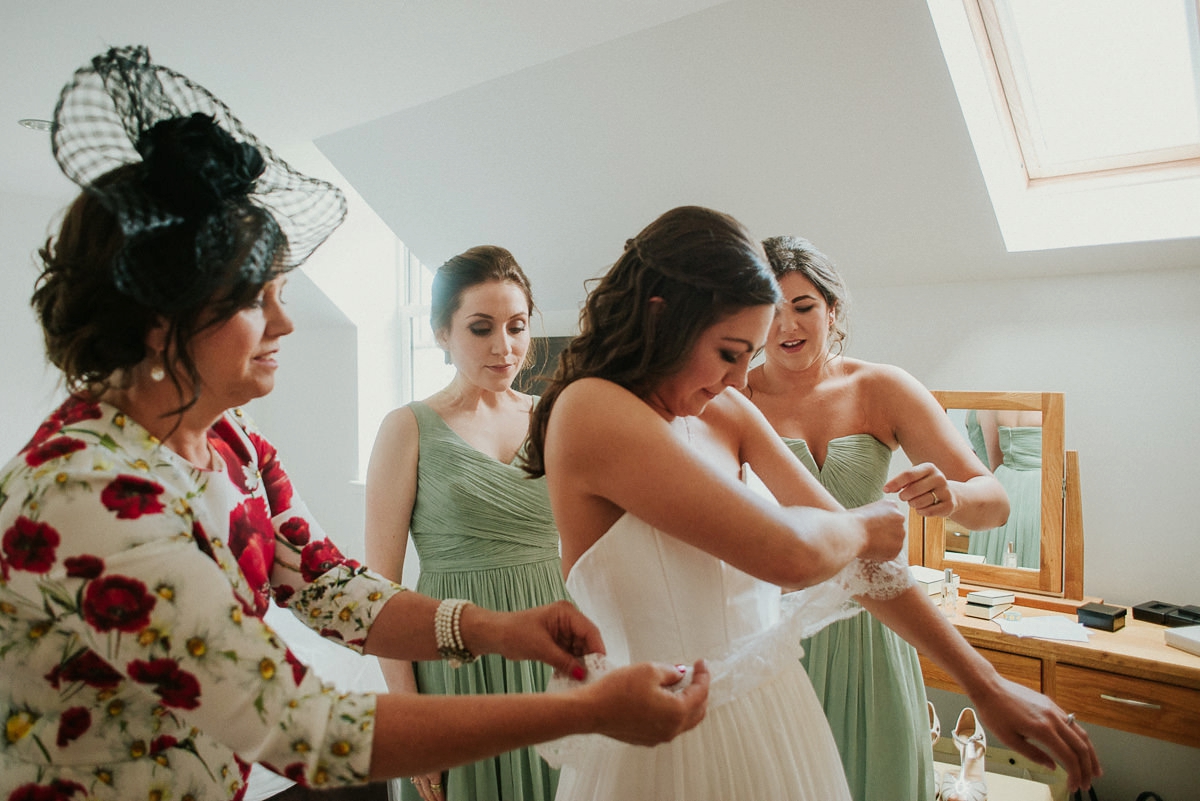 "At first we weren't sure where to get married. Ivan and his family are from Slovakia, but live in America, and we both had close friends and family travelling from around the world to be with us. I studied in St Andrews and it's close to my hometown so I felt very at home there. We also hoped that our guests would enjoy visiting the Scottish coast (although we did warn them it would be cold even in August!)."
"Sharon and Monica of The Made-up Team were absolutely lovely and helped me to feel calm on the morning, seeking out Prosecco when they could see my nerves starting to build."
"Our makeup and hair survived tears and ceilidh dancing, and along with my dress, I actually felt sad removing it at the end of the night!"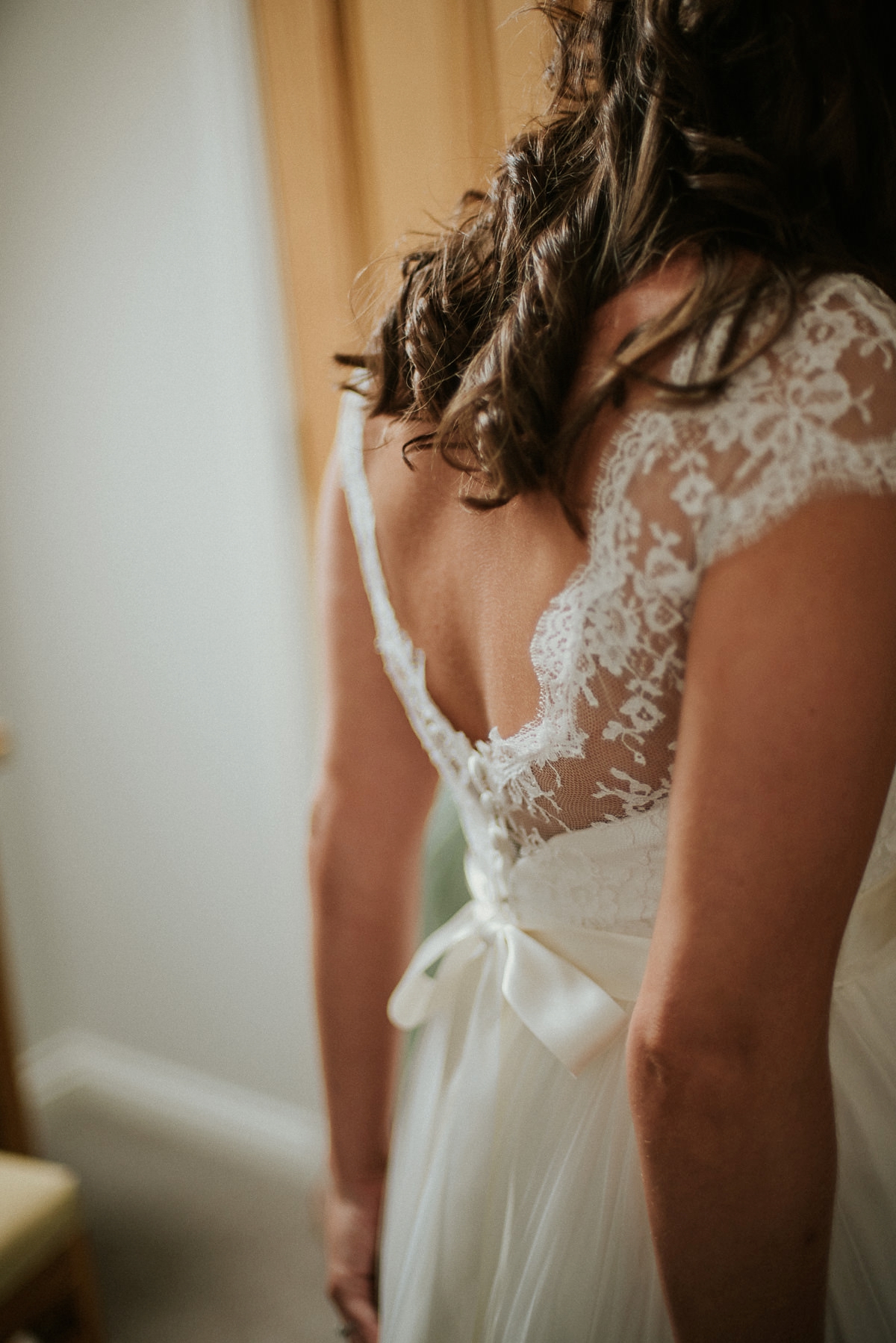 "I loved the idea of a wedding day scent. I am a huge fan of Jo Malone perfumes and after much smelling picked English Pear and Freesia. I love it's fresh, flowery smell and it is such an endorphin boost when I wear it now. Ivan wore Yves Saint Laurent, L'Homme Eau. It was the scent he was wearing when we first met and will forever remind us both of that time."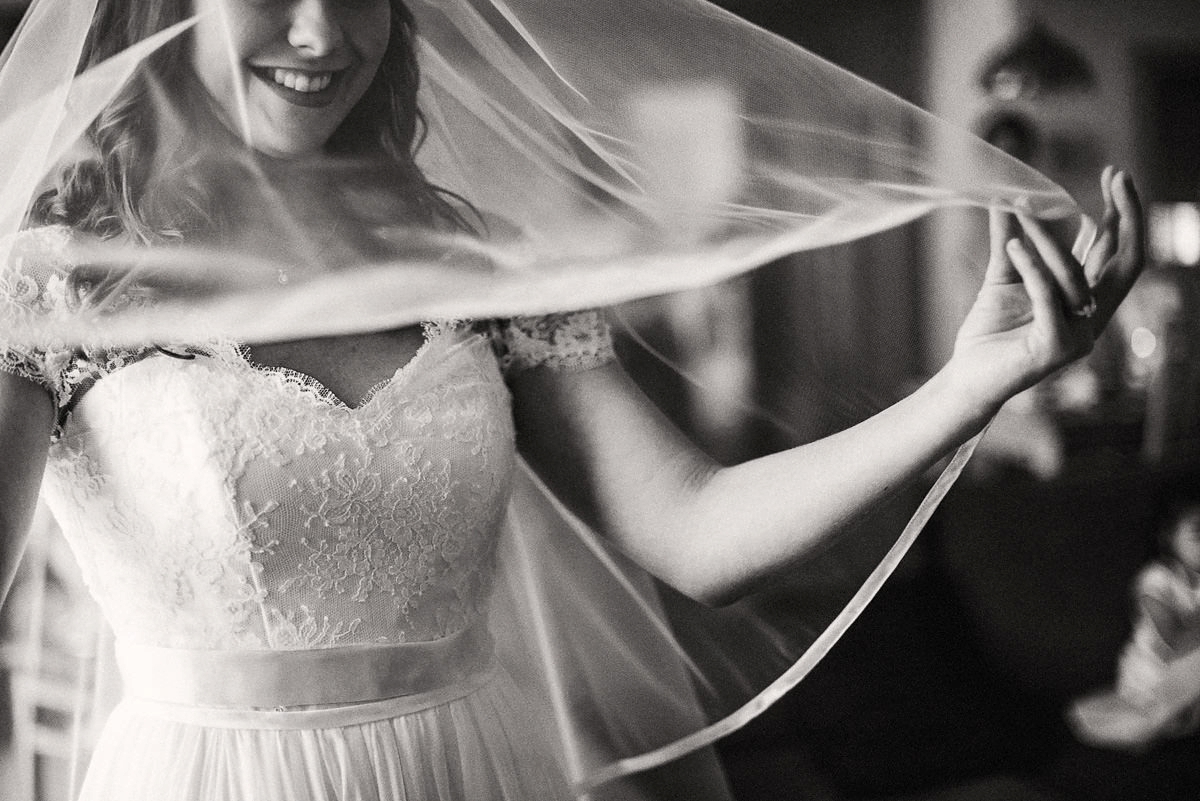 "I wore Rachel Simpson, Mimosa shoes – possibly the most comfortable shoes I've ever worn and the only shoes that I've ever been able to dance in all night."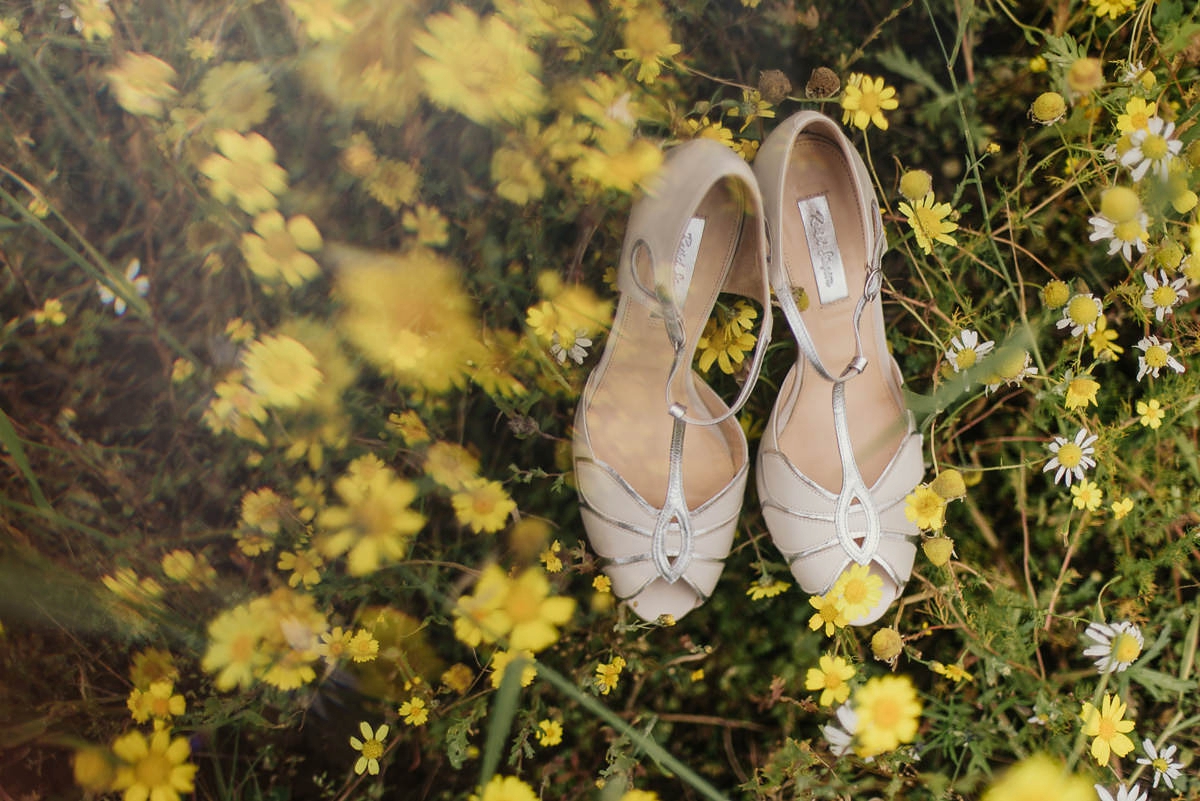 "My cousin and Ivan's nieces were our beautiful flower girls and I was really happy to find a style that worked for them all in Next. I loved the giant bows on the back."
"Ivan and I designed all our wedding stationery. We really enjoyed the process of working out a style that reflected our theme and adapting the designs across cards, signs and menus."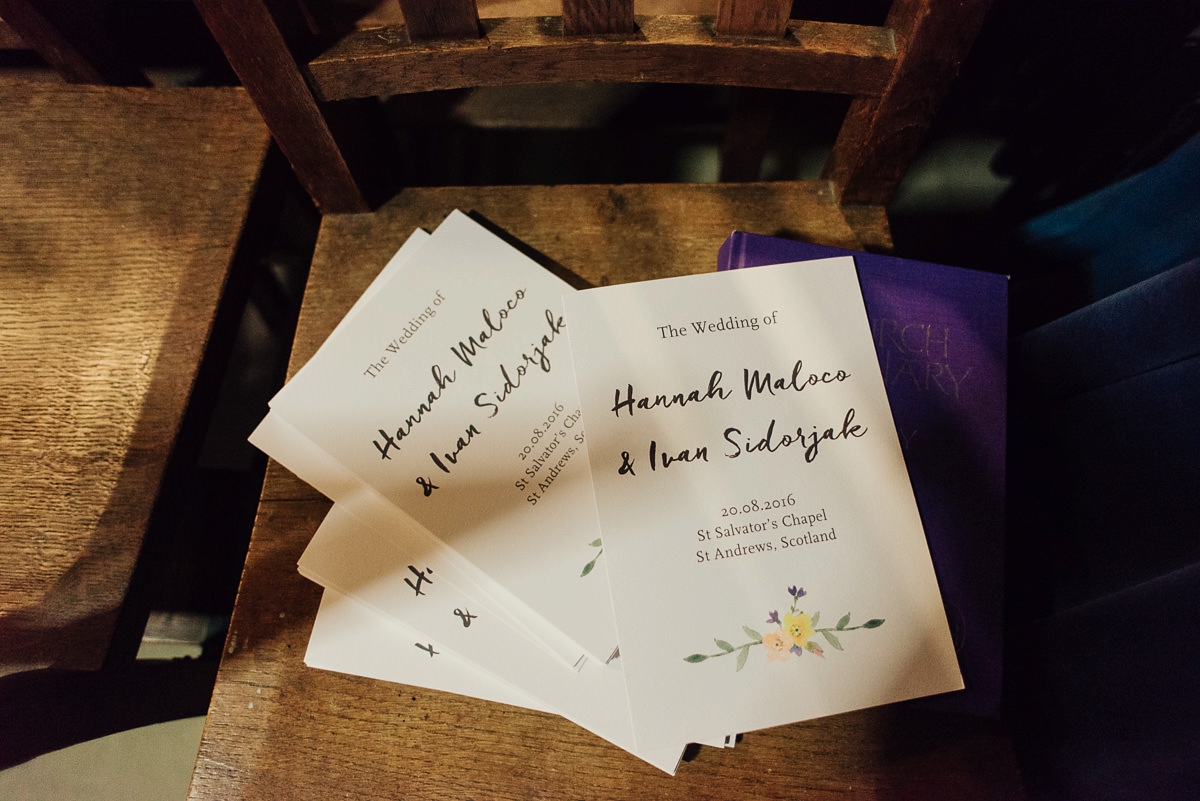 "I was walked down the aisle by my dad, to the traditional Bridal March. It was such a lovely moment and the point that the specialness and importance of the day really hit me. As we had a Catholic wedding we had two traditional readings."
"We chose 'Two are Better than One' from the Book of Ecclesiastes, and 'The Gift of Love' from Corinthians."
"We both loved our wedding ceremony. Once our priest started talking it all felt very calm and real. It was so special to look out and see our family and friends as we exchanged vows. Before the wedding I was worried that everything would pass in a blur, or feel rushed but those moments during the ceremony felt very precious."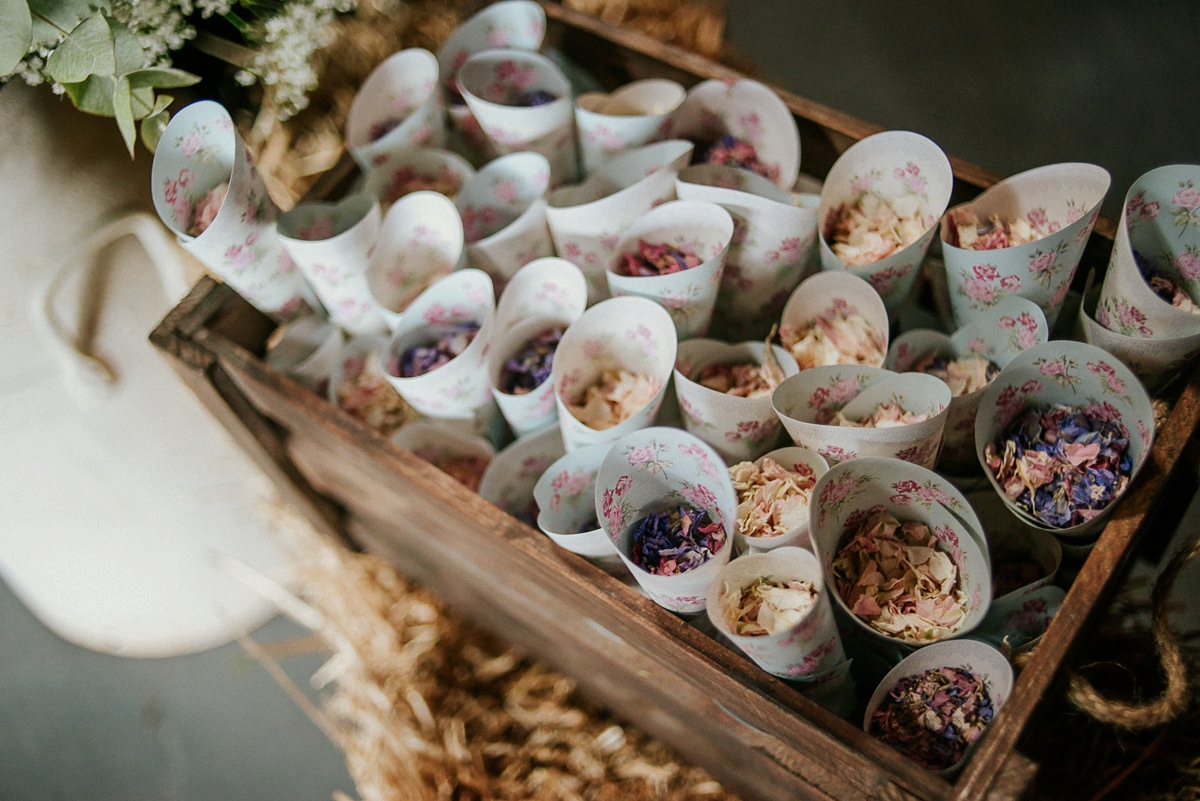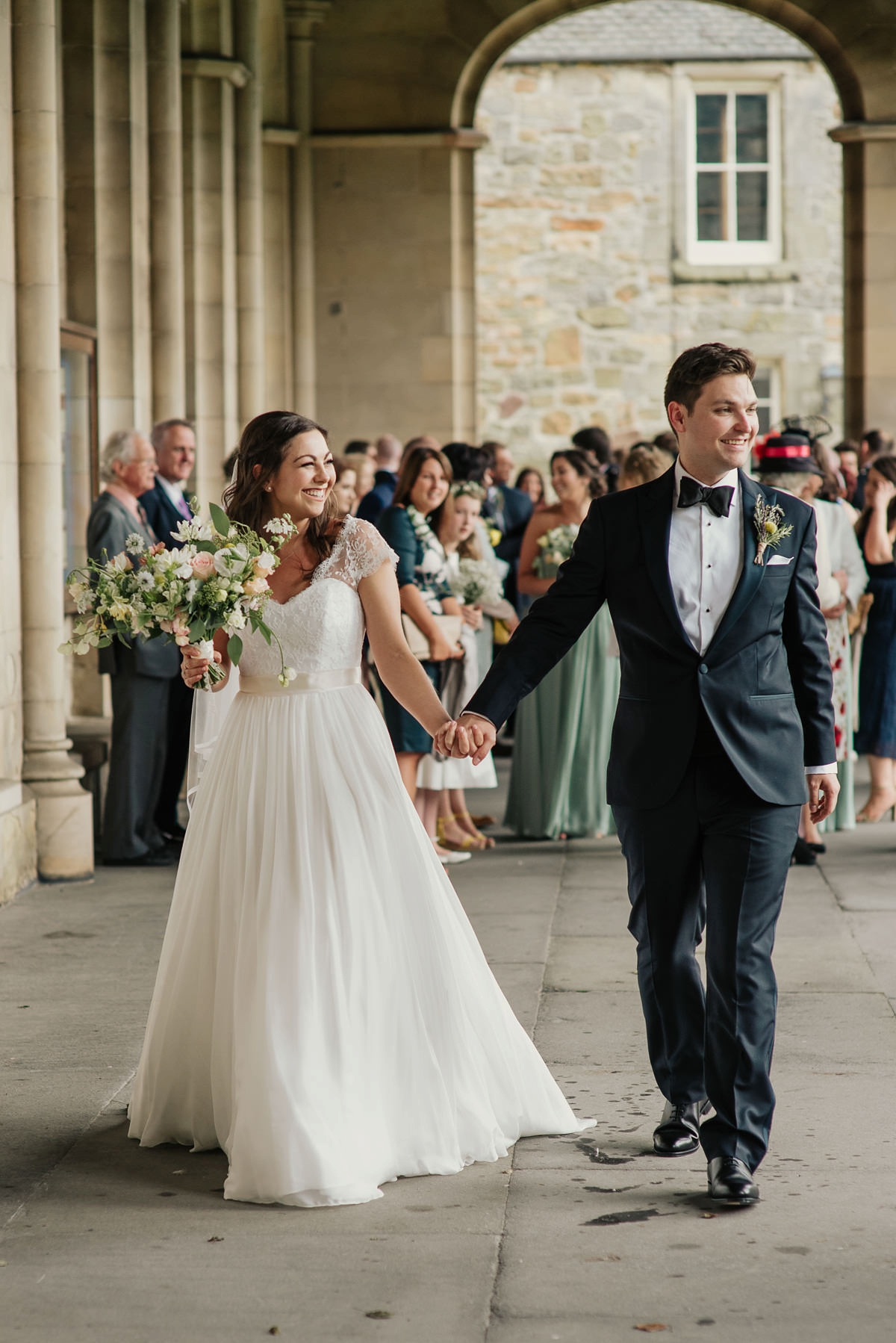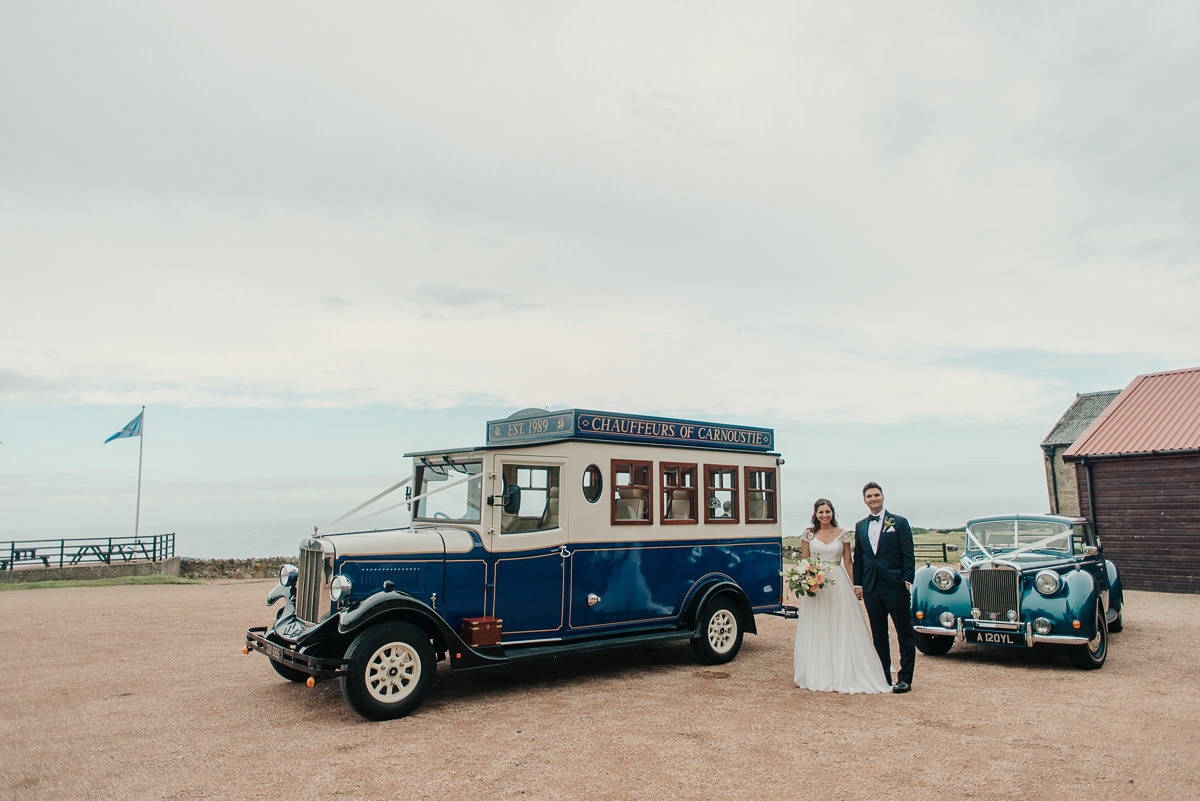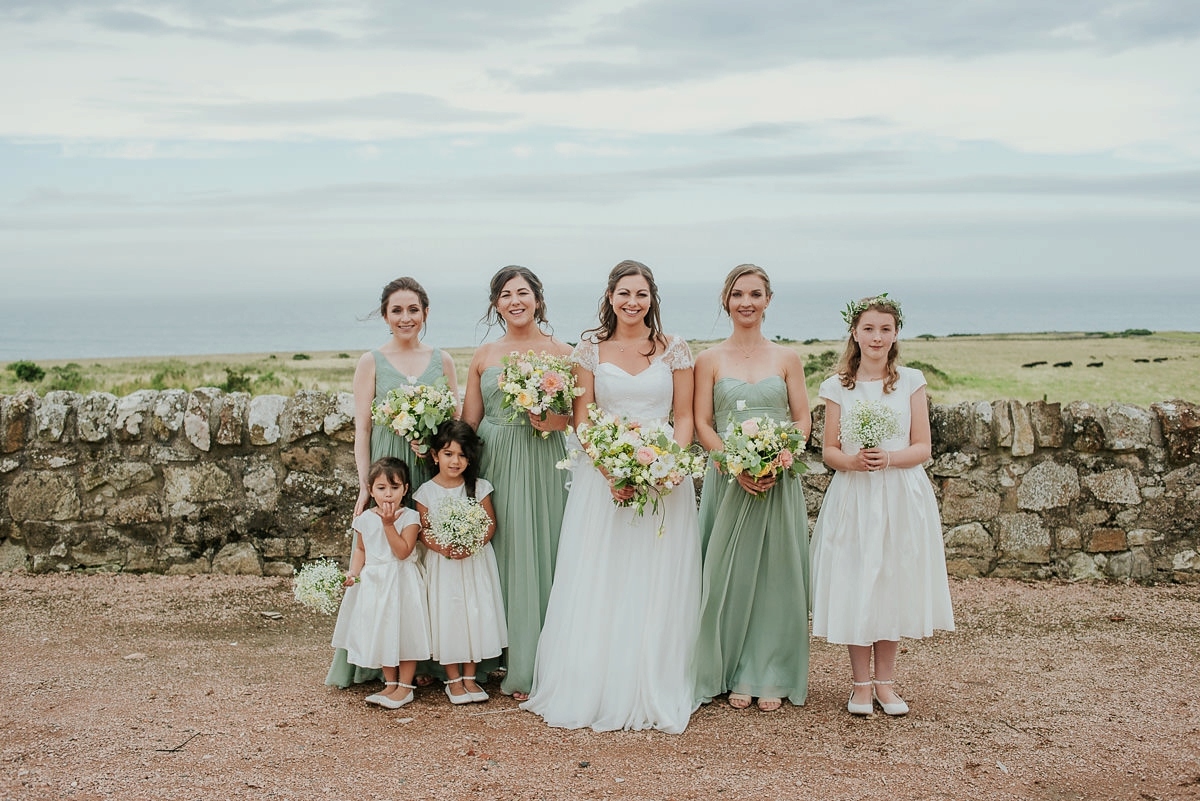 The fabulous Photos by Zoe was the perfect choice to capture Hannah and Ivan's special day.
"Zoe was the first supplier we contacted after we picked our venue. We loved her photographs and after our first Skype chat knew that we were in incredibly safe hands. Meeting for our engagement shoot a few months before the wedding was a lovely way to get to know each other."
"So many of our guests remarked on how much they loved Zoe after the wedding, they even wondered if we had known her for a long time. She made everyone feel at ease and made sure we had time to relax and enjoy the day."
"Ivan and I weren't sure at first if we needed a videographer but we're so glad we reached out to CineMate Films. Our films are an incredible reminder of the day and really captured the atmosphere. We've watched them many, many times since and it is lovely to see some of the moments we both missed at the time."
Hannah's bridesmaids look gorgeous in their light green J.Crew dresses. They ordered a selection of dresses and the ladies' picked the lengths and styles they wanted.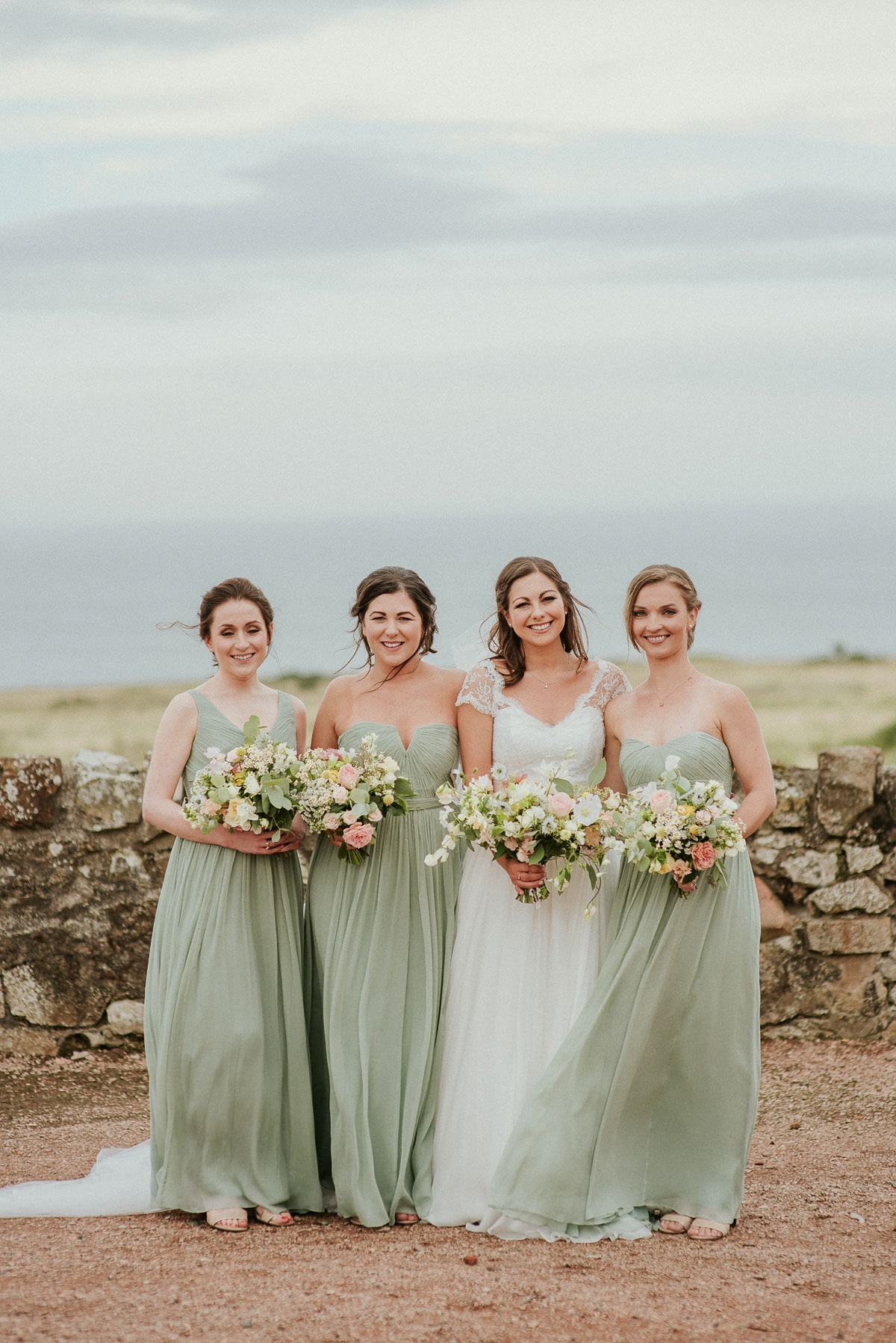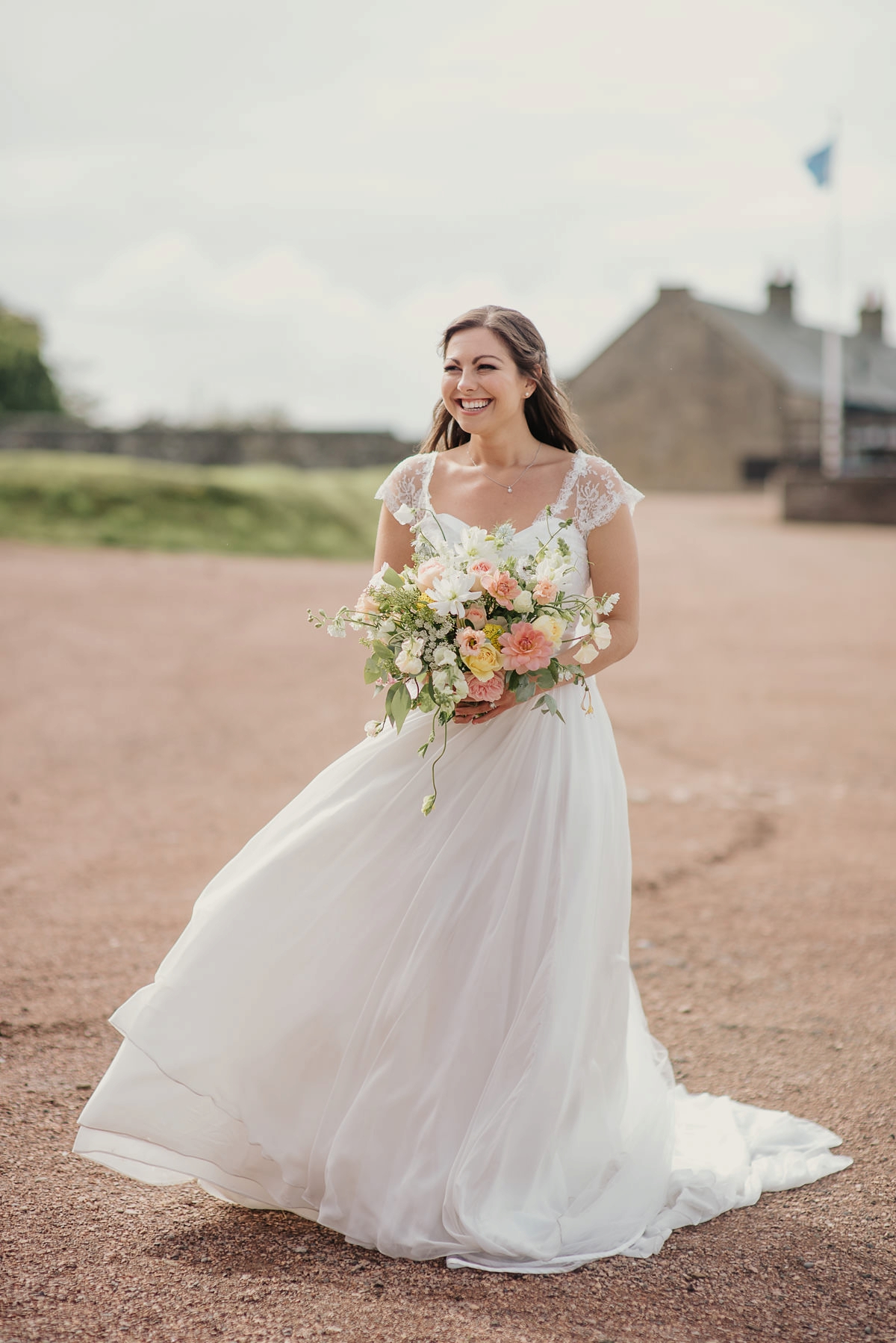 The couple worked with Cath at Blue Poppy to realise their vision.
"Cath's flowers are all grown in her seaside garden which is overflowing with incredible flowers. We wanted to make the wedding feel like a summer garden. Using a lot of greenery allowed us to keep costs lower, and the venue is naturally quite dark so we included lots of light flowers, twinkly candles and fairy lights in our arrangements."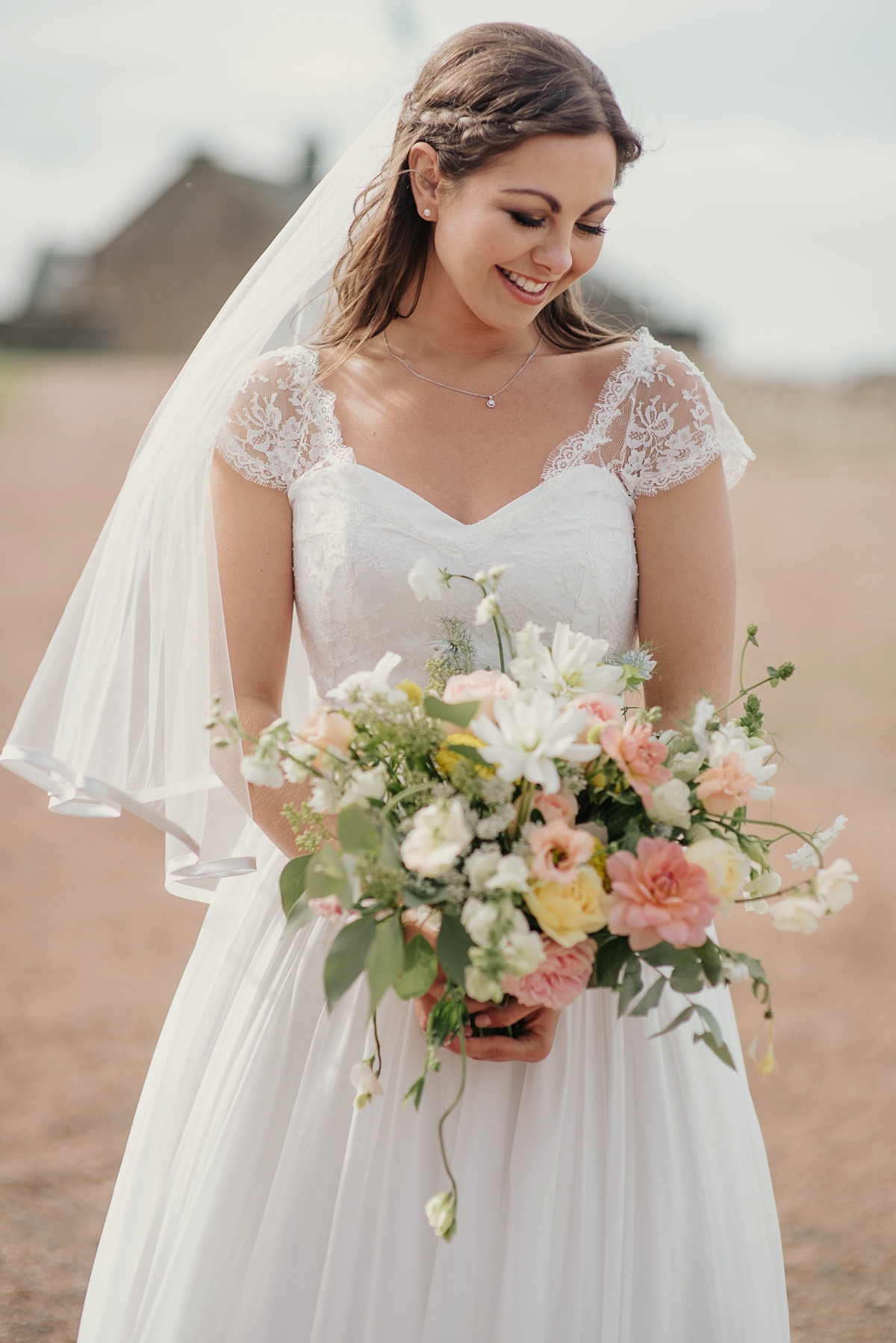 "I spent a lot of time on Pinterest, gathering the colours and styles that caught my eye and Cath did an incredible job shaping those ideas and recommending the best seasonal picks. The flowers on the day looked and smelled amazing."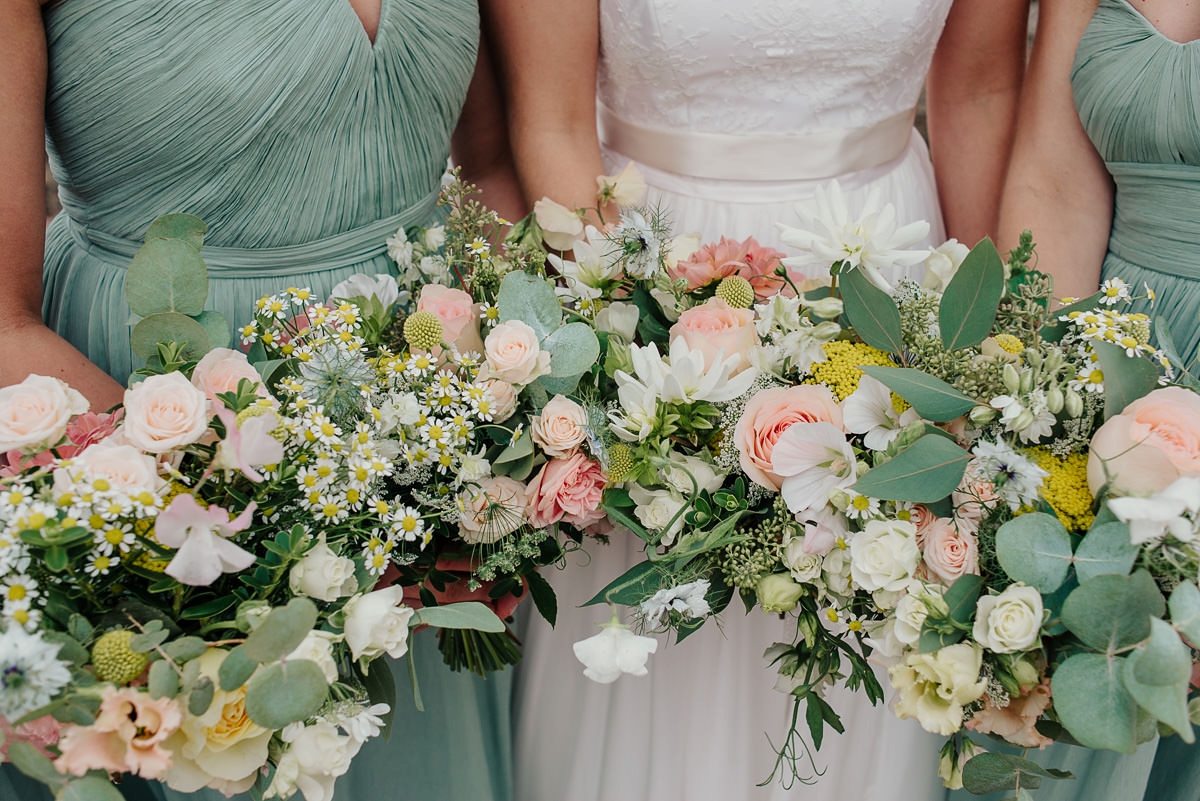 "My Nonna (grandmother) passed away a few months before our wedding. It was a very sad time for our families but she had also told us how much she wanted us to enjoy the day and that she would be there with us. I wore her ring on the day as a happy reminder that she was there and also carried a little photograph of both my grandmothers in my wedding bouquet."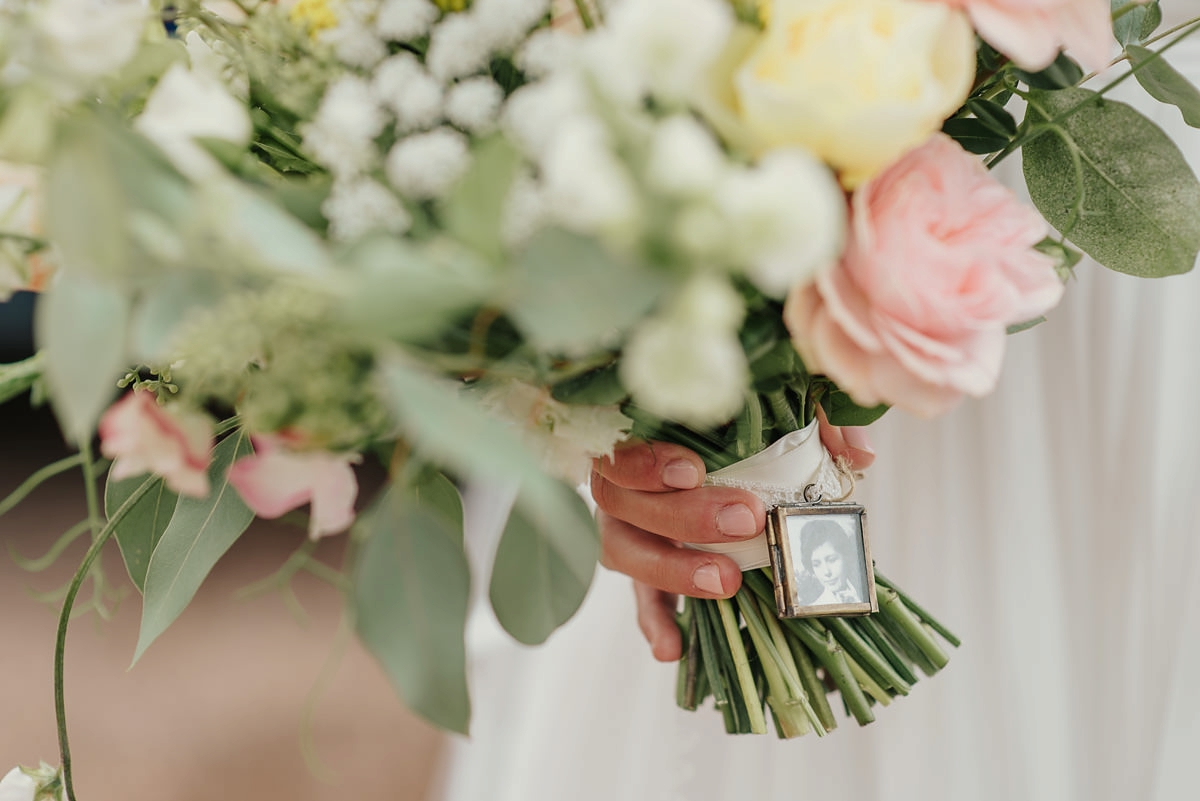 Ivan opted for a tux from Hackett London with a gorgeous pair of Tim Little shoes. His groomsmen were from Australia and America so T.M Lewin's stores around the world meant that their suits and tailored shirts were fitted correctly.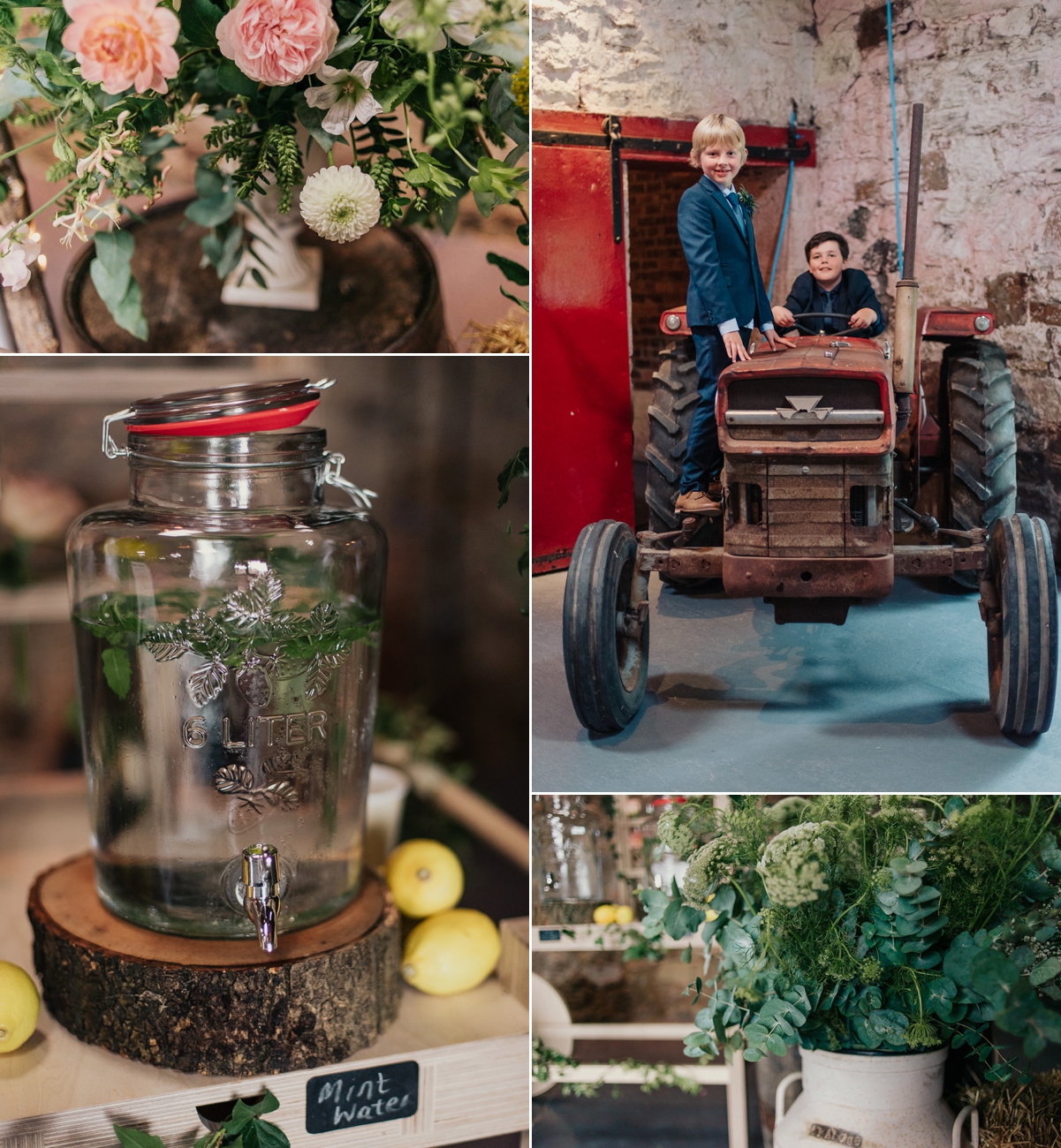 "Kinkell Byre is a big venue and I was worried at first about it feeling too vast for our guests. We collected lots of props and spent a lot of time thinking about how best to divide and use the space. We were very lucky to have the help of my uncle, an art technician, who created our large letters, photobooth and drinks carts as big key pieces."
"We designed lots of signs in keeping with our stationery that were then painted by my mum. The cost of draping the venue was very high so instead we bought lots of white paper bunting and used this to dress the space."
"We decided that long, communal tables would help bring everyone together and it was in keeping with the relaxed family atmosphere we wanted. Using foliage runners, sliced tree trunks for our platters and brown paper menus we tried to bring elements of the Italian outdoor restaurants we love into our setting."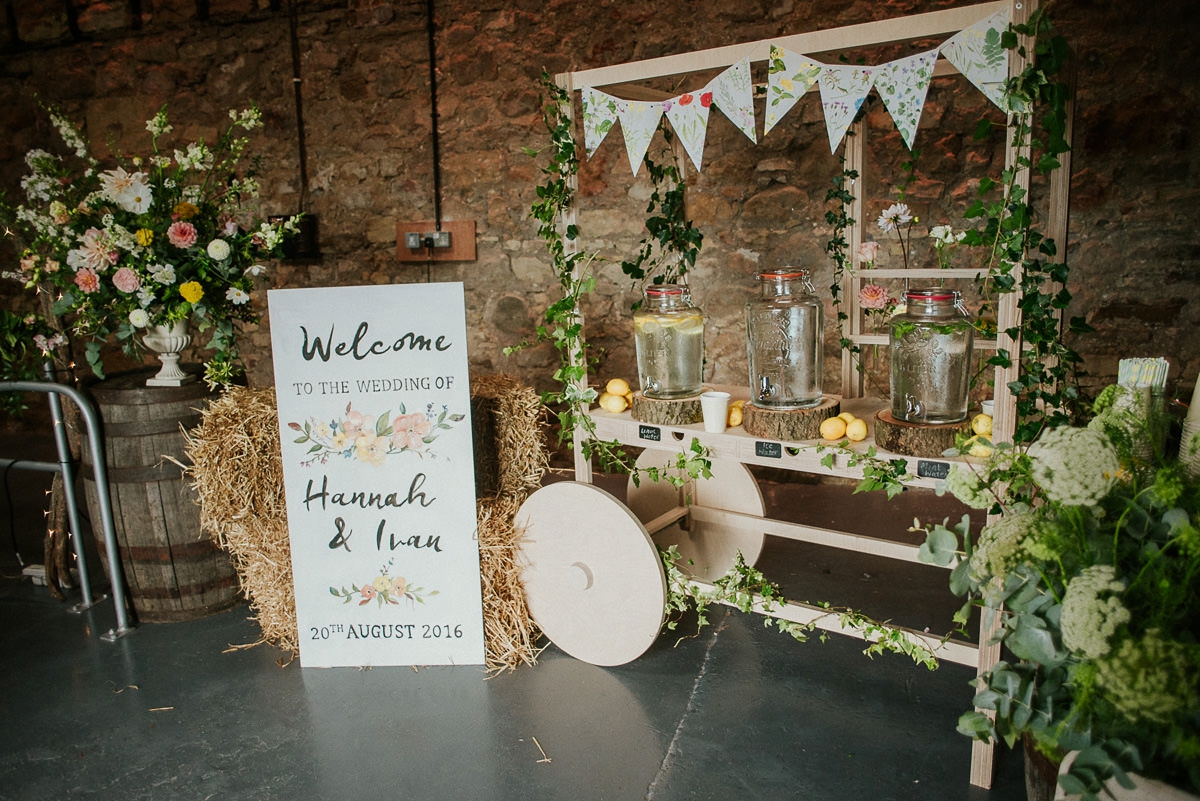 "Our families, bridesmaids and groomsmen were a huge help setting everything up. My dad was chief ivy twister, decorating the venue with greenery, Ivan's groomsmen repositioned hay bales and we all spent a lot of time winding fairylights around things. It was lovely to see everything come together."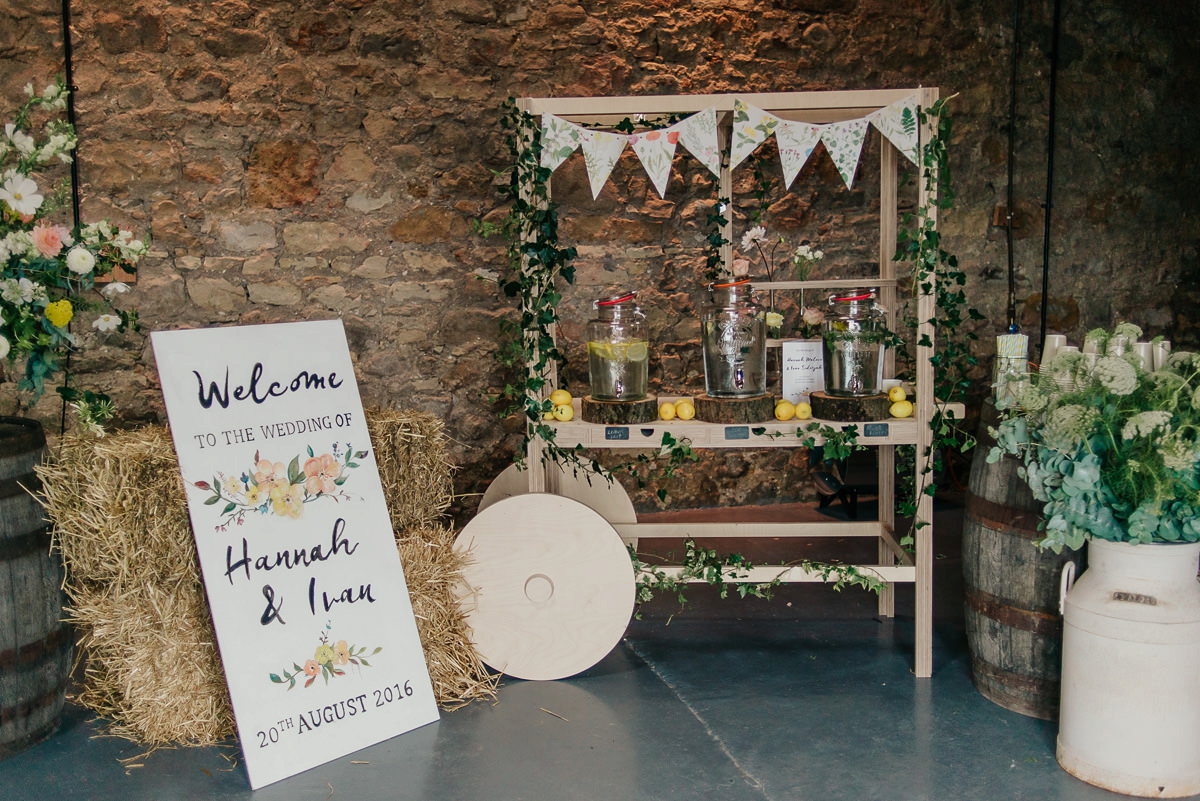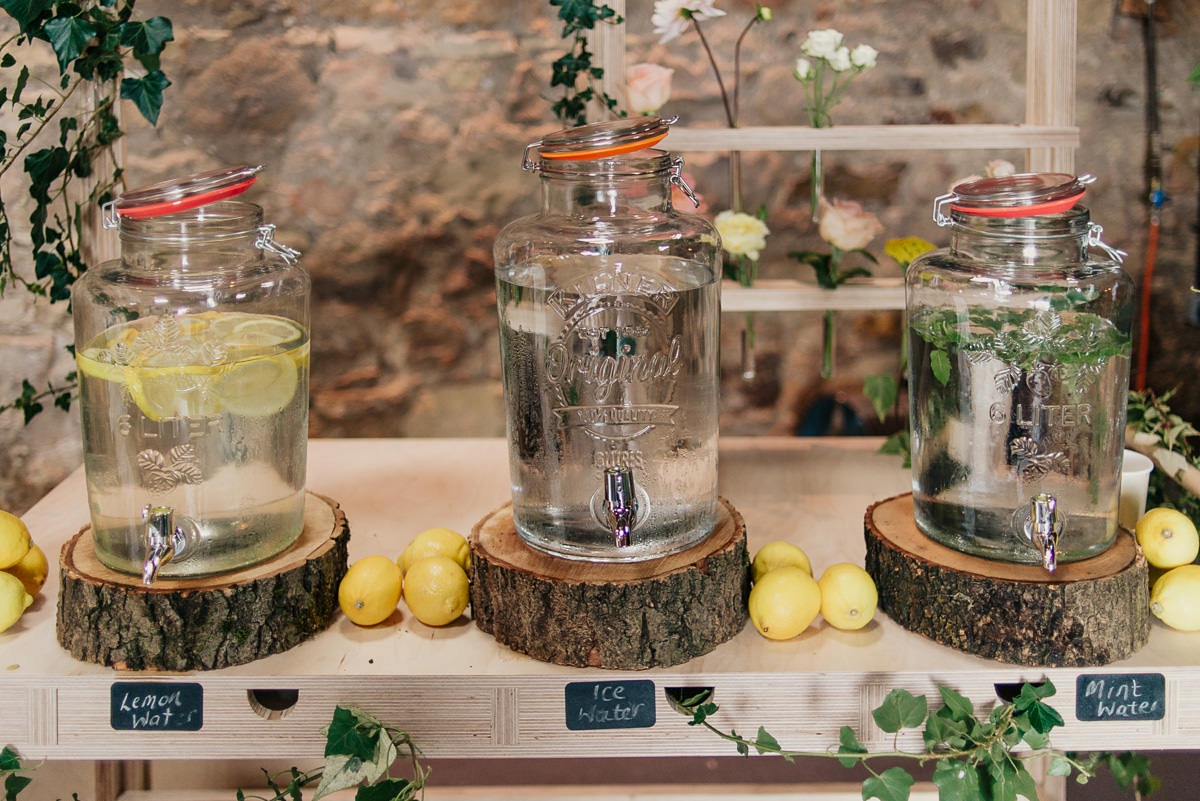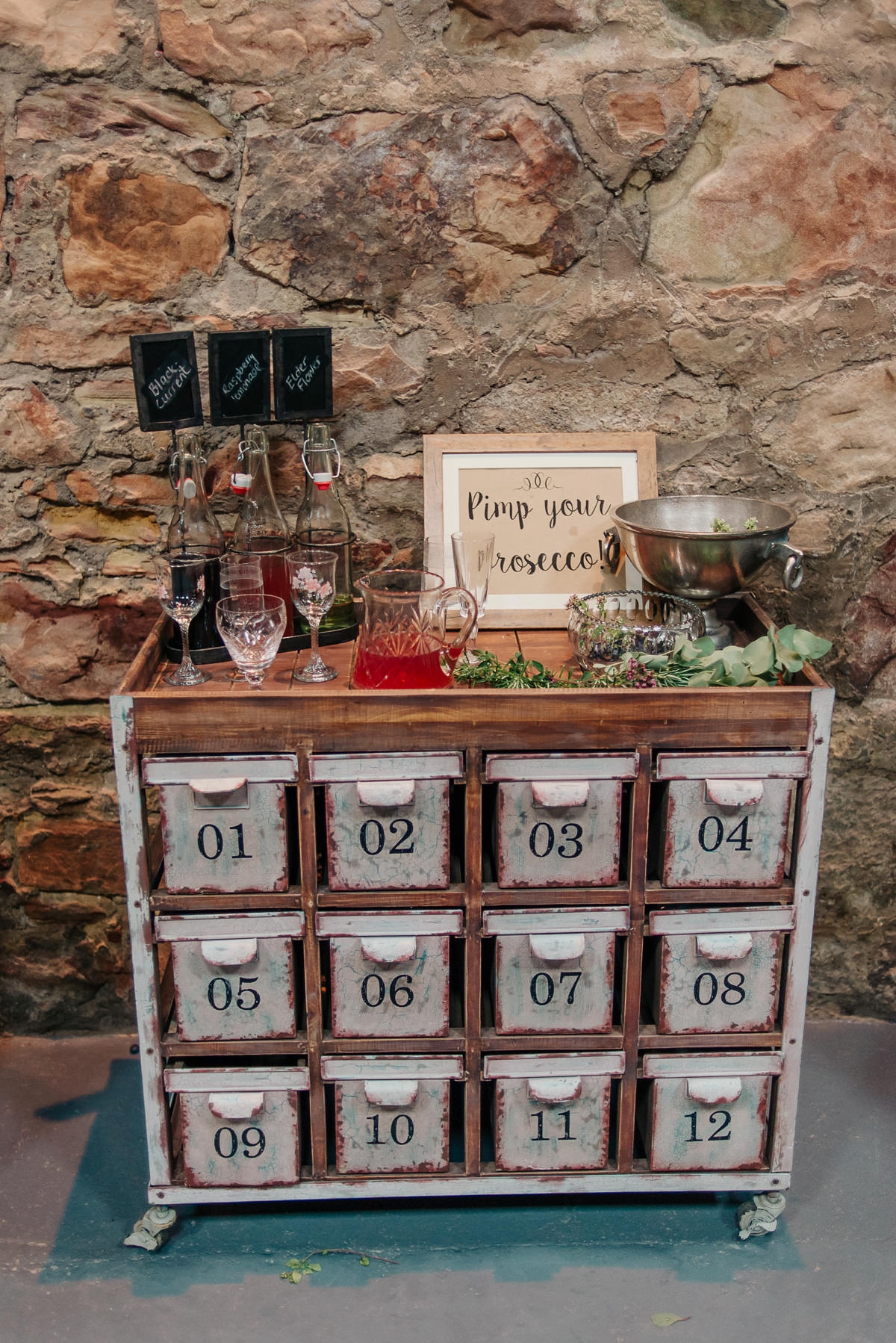 "Both of our families love food and our mums are fantastic cooks who love entertaining big family gatherings. We really wanted this to carry through to our wedding and loved Lazy Sunday's ethos of 'feasting without the fuss'. We discussed the Scottish, Slovak and Italian flavours we loved with Carol and she brought all those influences into our meal. My only regret is that we didn't get to eat more of it!"
"Lazy Sunday also offered to help coordinate on the day and I'm so glad we took them up on this offer. Our coordinator Jen was such a great help, not only helping things run to plan but also handing us Prosecco, saving us a buffet plate for later and even suggesting a first dance confetti throw when we forgot to use it earlier in the day."
"We gave our guests clay heart decorations stamped with 'Love' in English, Italian (Amore) and Slovak (Laska). Led by my mum we spent the Christmas before the wedding stamping, varnishing and threading them and placed them as part of the table setting on the day."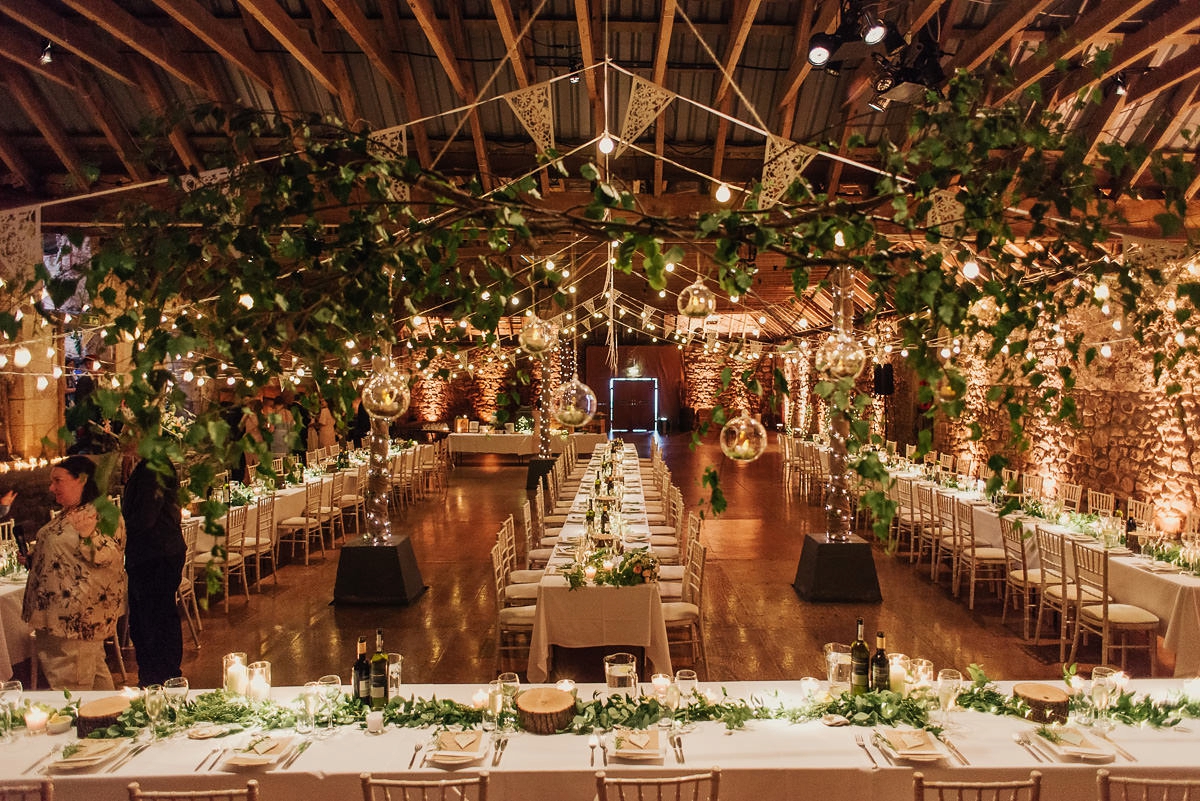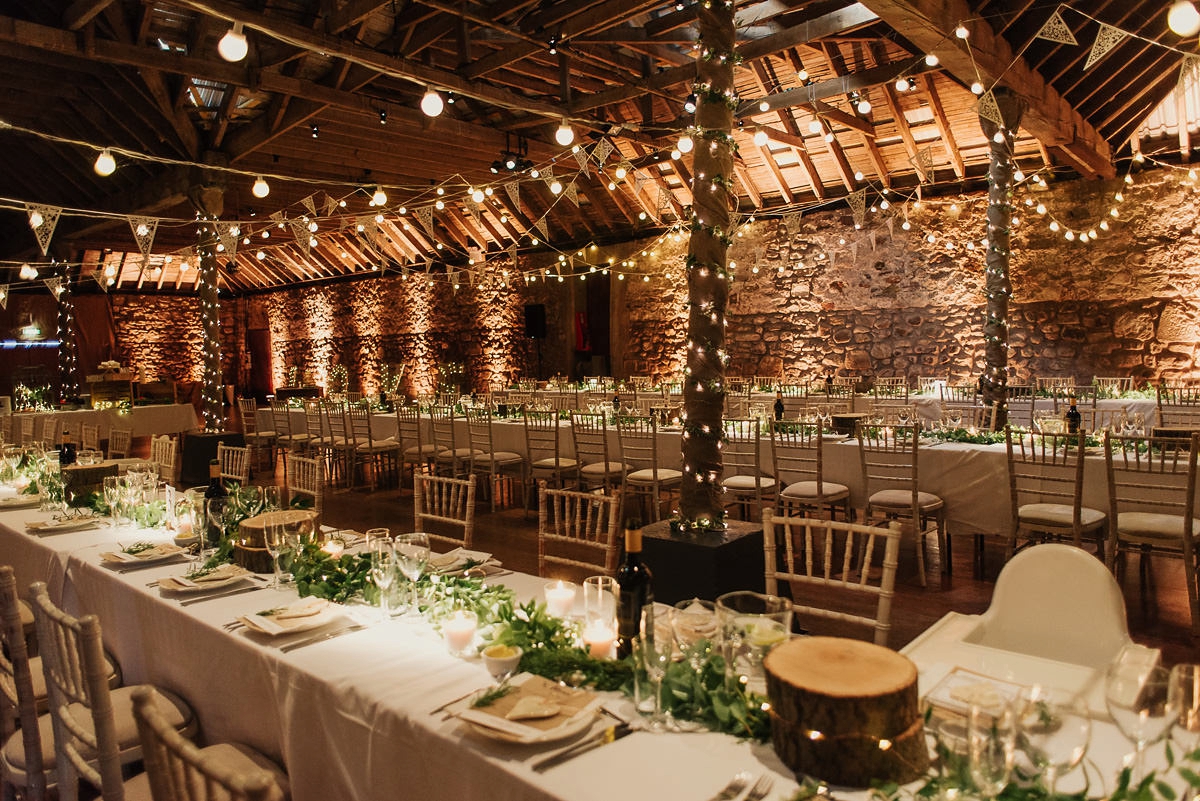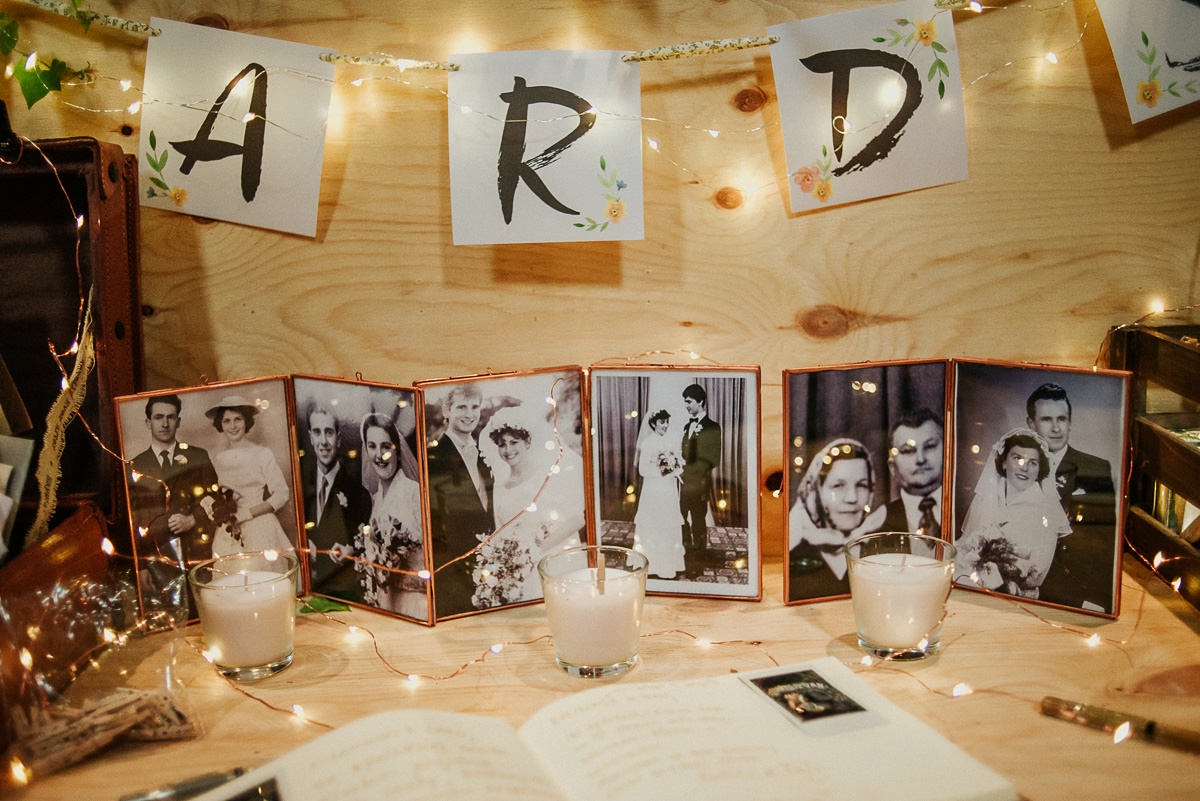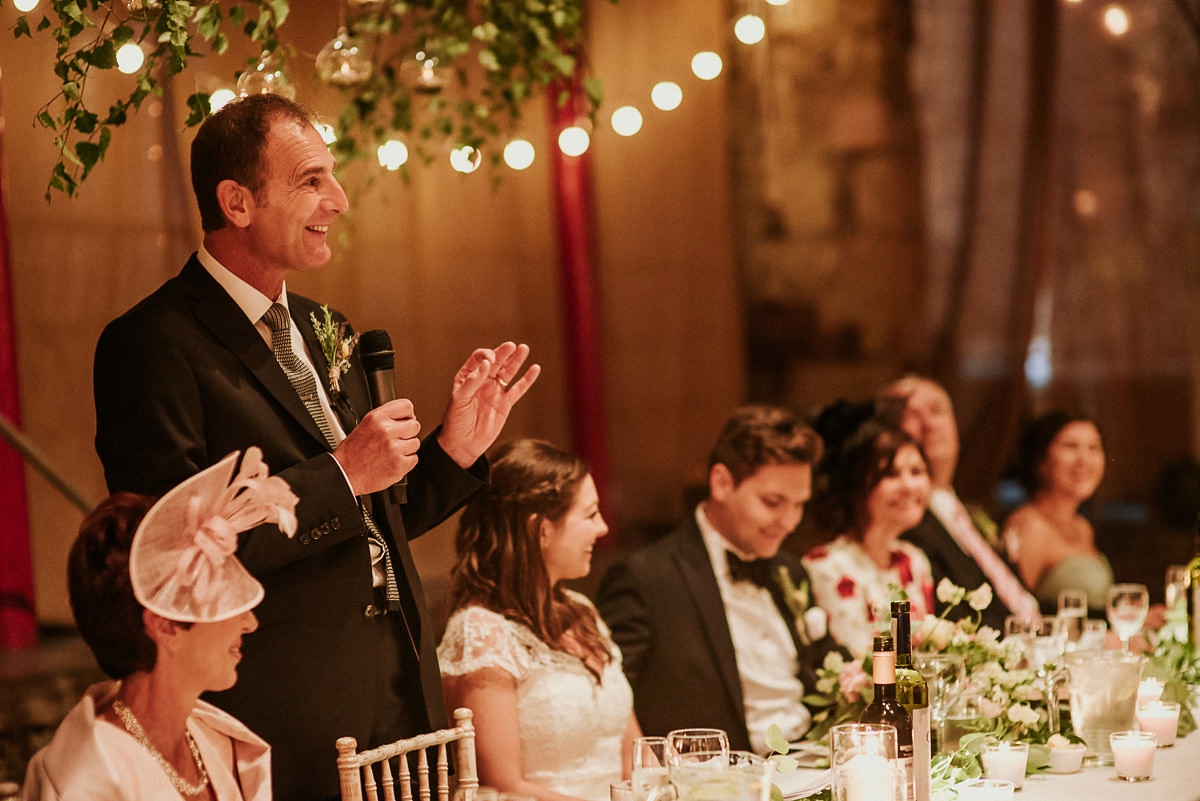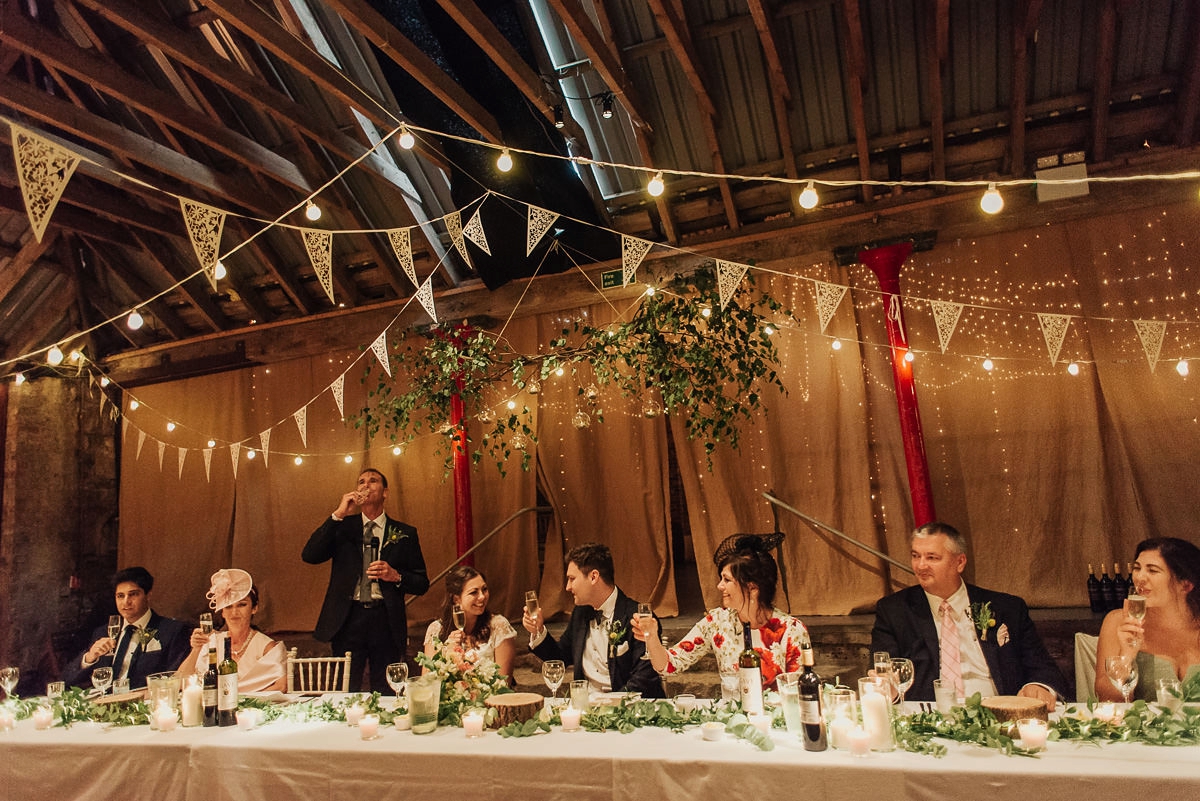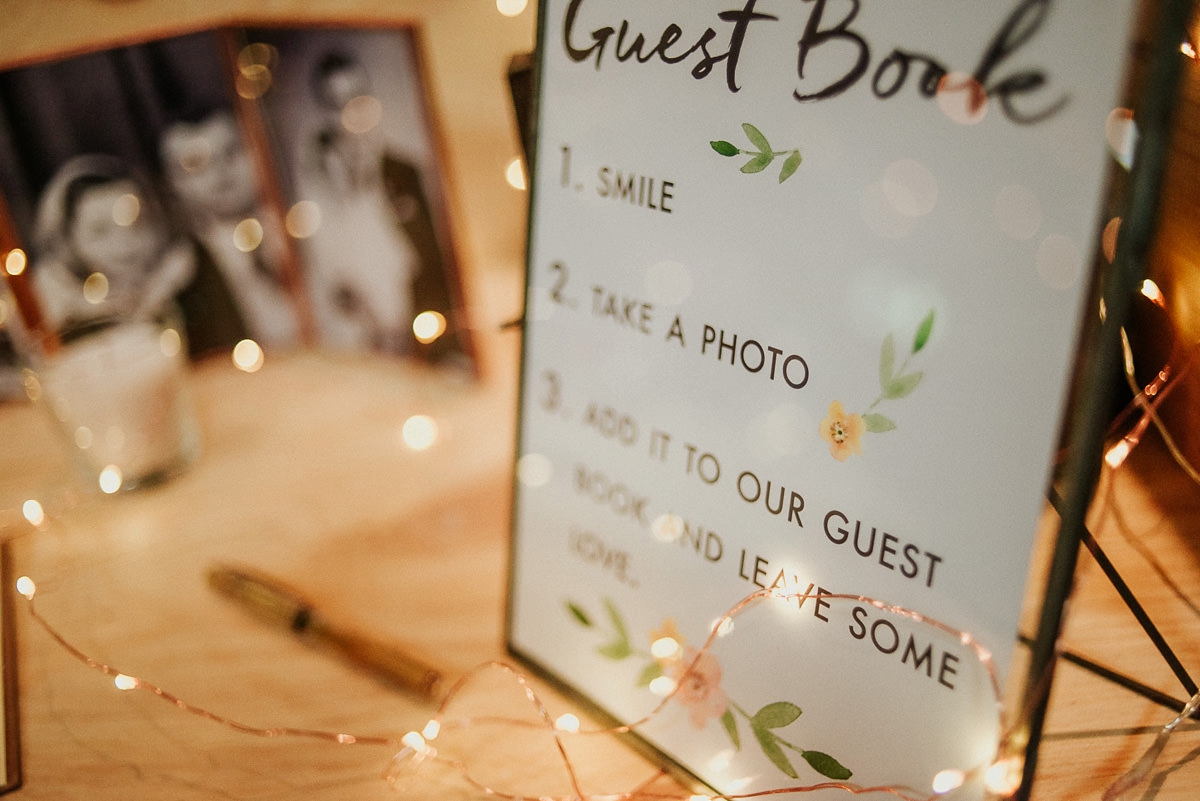 "Our families all contributed cakes. Ivan and I picked our favourite desserts and cakes themed around places that meant the most to us. We had a Georgia peach tart (to symbolise where we met), Amalfi lemon tart (as a reminder of our Italian holidays), Ivan's mum made the most delicious Kremesh (a Slovak dessert cake) and my mum made a traditional fruit cake that my bridesmaid, Kari, beautifully hand painted for us."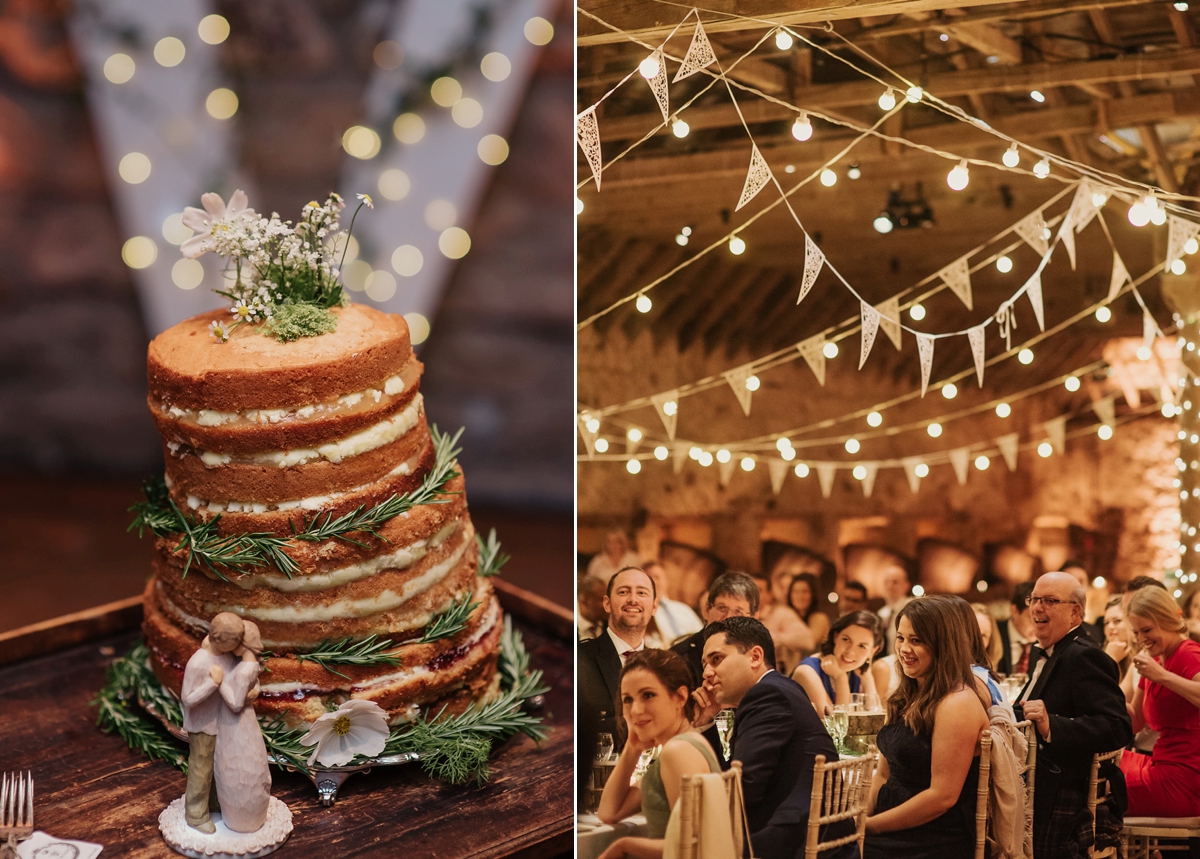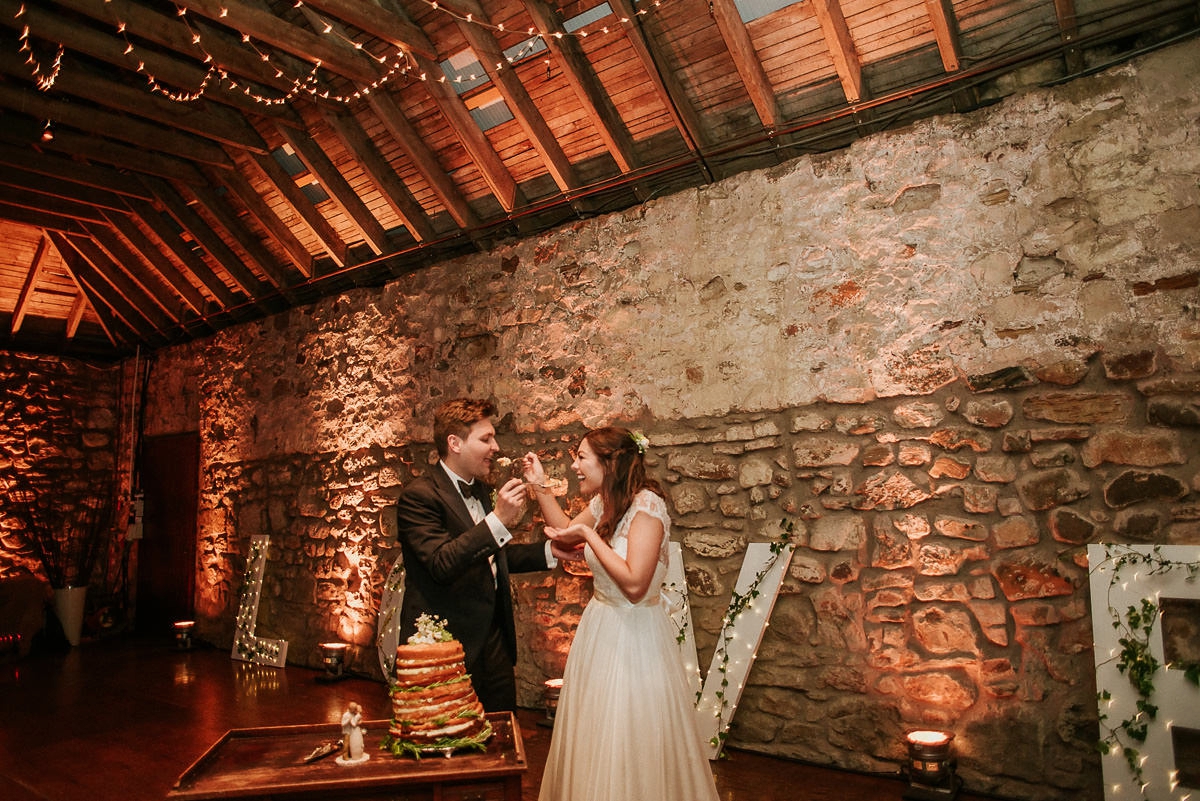 "Our first dance was to Tom Odell's Real Love. I loved the moment just after we finished, when our band launched into another song, the dance floor was suddenly full and it all felt so full of fun and happiness."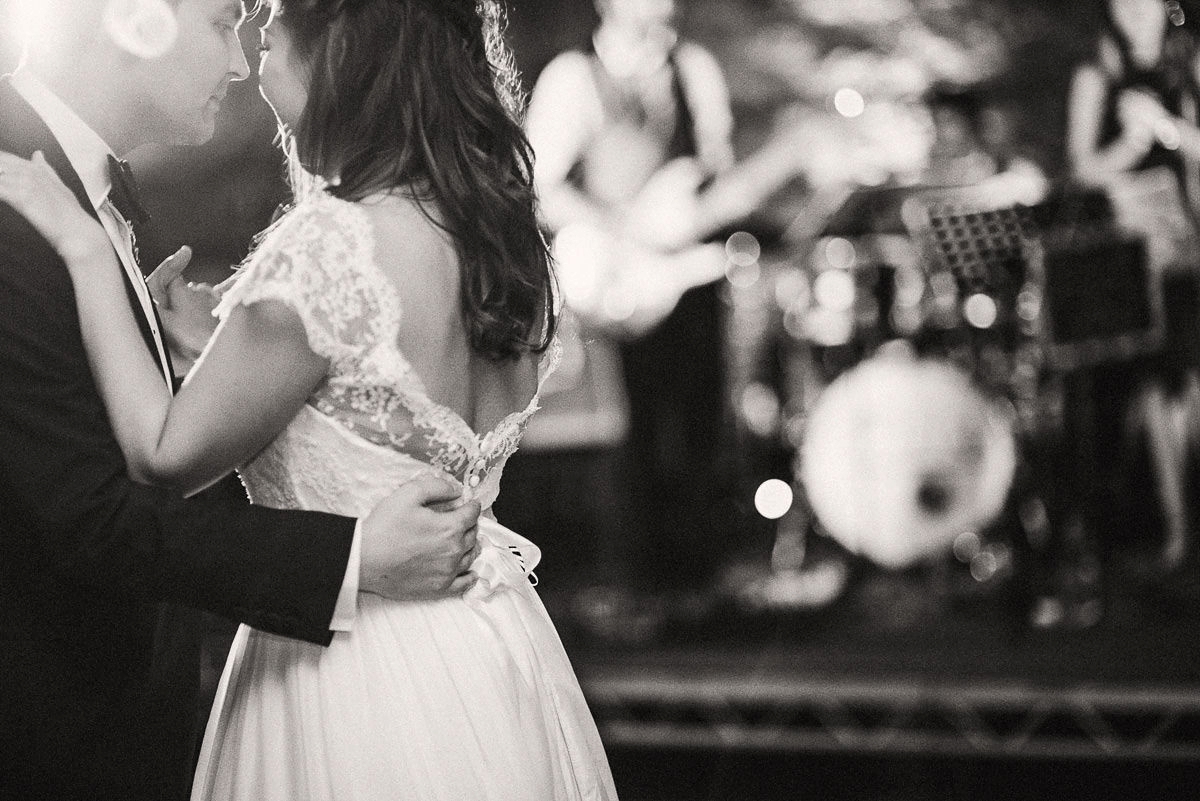 "We had so much fun dancing with all our guests. Our band Cut the Cake played a mix of classics, modern feel good music and some ceilidh numbers, that all our guests loved. Some of my favourite memories from the day are seeing everyone having a great time dancing together and I can't thank them enough for making the music and mood perfect!"
"A few nights before the wedding we sat with our families and put together a long spotify playlist of our favourite music to play throughout drinks and dinner. It was a really simple and nice way of setting the atmosphere and adding a personal touch before the band arrived."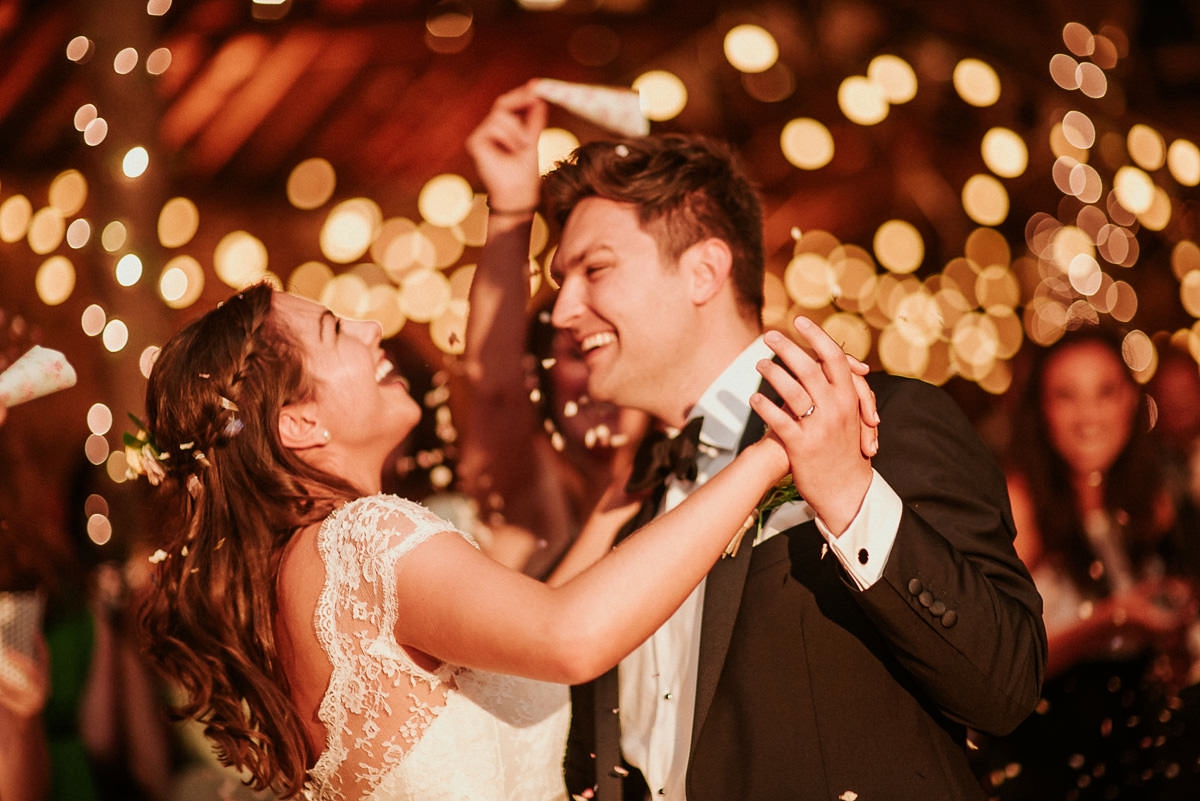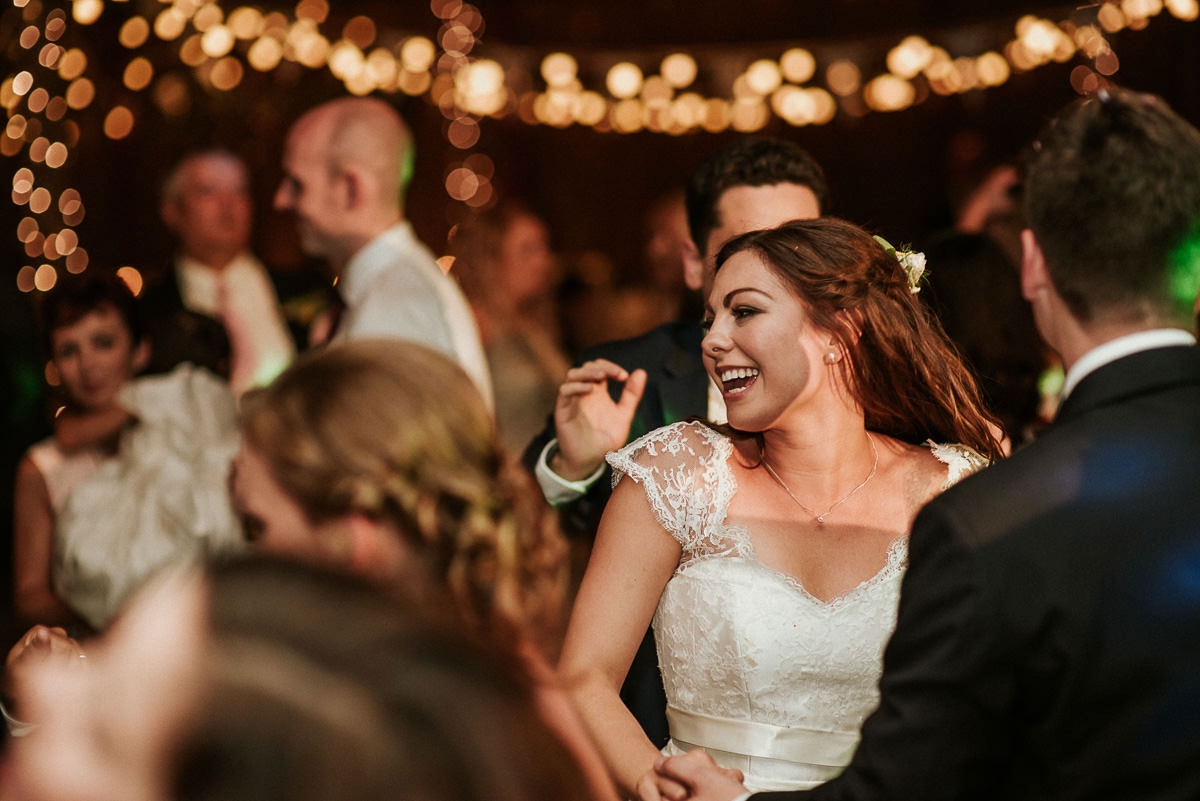 Words of Wedded Wisdom
"Ivan and I made an effort to share the day together. During our dinner courses we went around the tables together and spent time talking to all our friends and family. It was lovely to be able to go away from the day feeling we had enjoyed everyone's presence without missing out on each other."
"If you can, offload the stressful timetabling thoughts to someone else for the day. As we weren't in a traditional wedding venue with inhouse staff our caterer helped us with this. I wasn't sure we needed it but for the small extra cost I'm glad we did. It was nice that neither we nor our families had to worry about what time it was and if we needed to be doing something."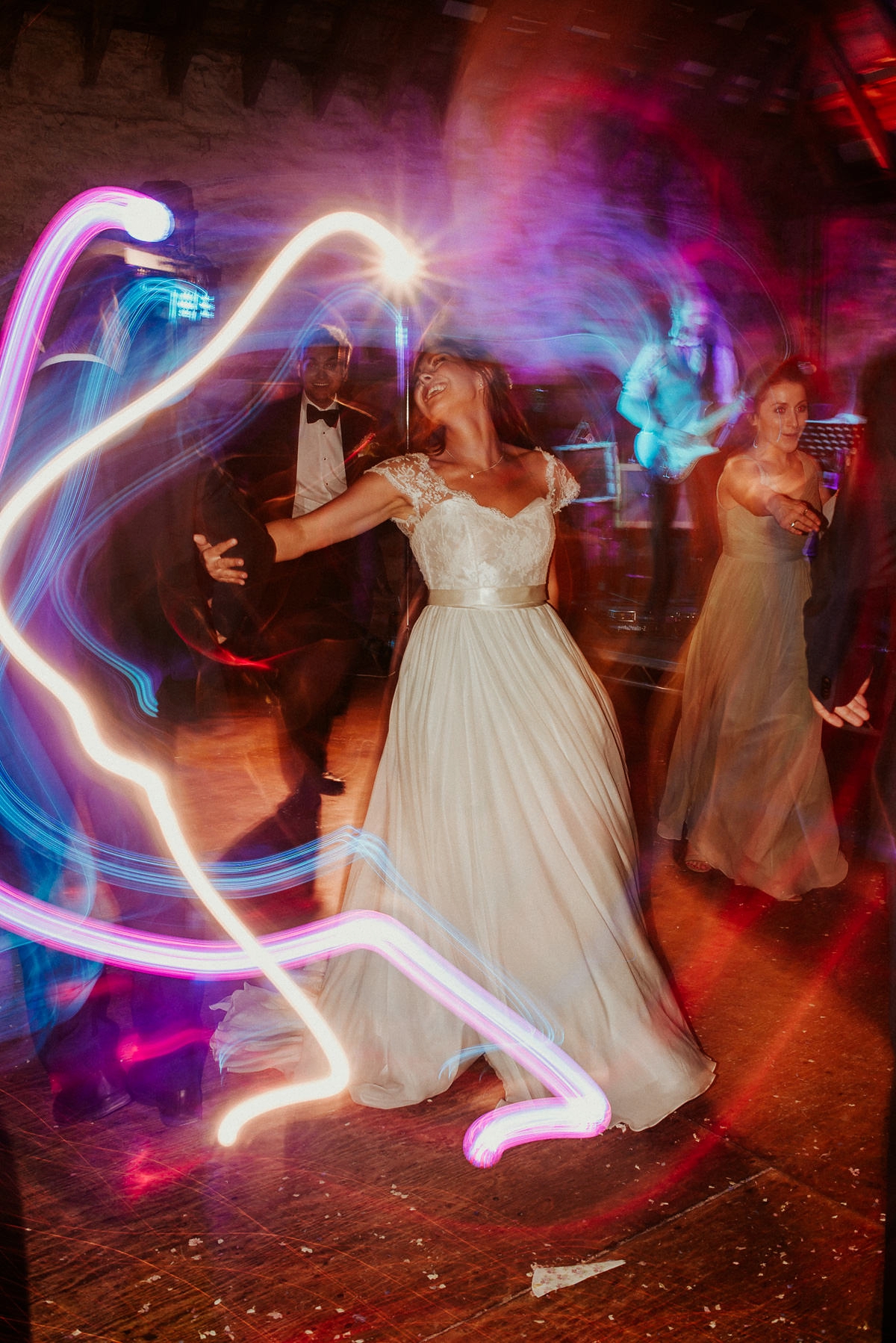 Congraulations Hannah and Ivan, and thank you to Zoe for the beautiful images.
Love Caoimhe xx