Today's wedding is a real celebration of English spring and summertime flowers, so much so that if you didn't know that Belsize Park is in London, you would be forgiven for assuming that this wedding took place in the depths of the countryside.
When I first saw these photographs by Sarah Ann Wright I was absolutely blown away by both the modern and beautiful lacy bridal separates and the gorgeous, opulent blooms; tulips, lilacs, anemones, David Austin roses, peonies and hellebores. The styling for this wedding is just divine, so I wasn't surprised to learn that bride Sarah is both an event stylist (check out her website Love At First Sight Styling)  and florist. I hope that you all can take a few minutes out of your day to soak up the beauty of this wedding.
Sarah and Pete married on 14 May 2016 in a beautiful springtime wedding at Camden Town Hall, with an intimate reception for sixty five at The George in Belsize Park, North West London. Springtime flowers and foliage were the main influences for the wedding and venue styling, and Sarah drew on a soft, pretty colour palette of Nordic blue, white and touches of peach for an elegant and timeless feel.
"I sought to create a timeless elegance that was botanical rather than feminine, and include a few whimsical touches. I wanted a scheme that was fresh, spring-like, and not tied to a particular era or trend."
Photography by Sarah Ann Wright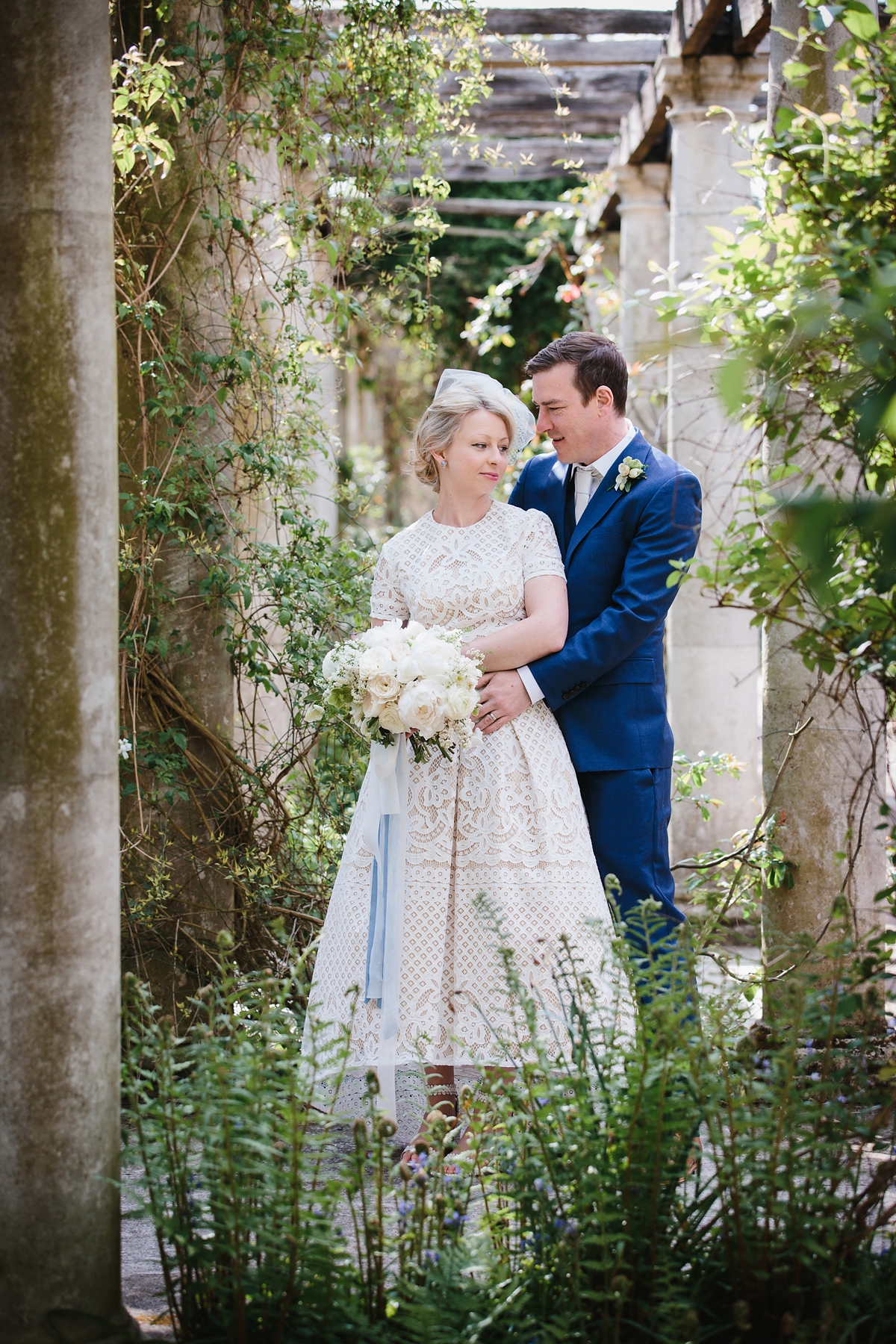 Sarah's stylish and modern bridal separates were by Australian label Lover the Label…
"I'd visited bridal stores in London and Sydney, and felt defeated trying on regular wedding dress as they were all too sparkly, too voluminous, or too expensive. I was in Sydney at the time when I decided to pop into the Strand Arcade – a beautiful Victorian shopping mall in the city centre where Lover has a fashion boutique – hoping I might find something off the rack. I knew a full-length skirt wasn't for me, as I'm only around five foot, but I didn't want a standard short dress either as they're almost always a retro aesthetic."
"This was one of the few high-low styles available at the time and I loved the subtly angled hem. I also knew I wanted a full skirt and sleeves, which was proving impossible to find among regular bridal labels. I was looking for lace, but couldn't afford delicate Chantilly lace gowns, so this was an alternative with a geometric design, which I loved. I wanted to make the skirt full, mirroring the Dior New Look of the 50s, so I had a high-low crinoline made via Annabella Designs which was perfect.
Annabella did a fantastic job making it to mirror the hemline of the skirt; it gave it just the right amount of 'pouf'."
"One of my favourite moments was waiting for the ceremony with my bridesmaids and flower girl, who were my two sisters, niece, and one of my best friends since high school who came from Australia for the wedding. It was such a special time together, in a room at the Town Hall. I was early, due to sticking to the schedule probably a bit too much! I was there long before Pete. We were chatting, sharing funny memories, we said a prayer together, and were entertaining Ida, who was only three at the time. It was lovely."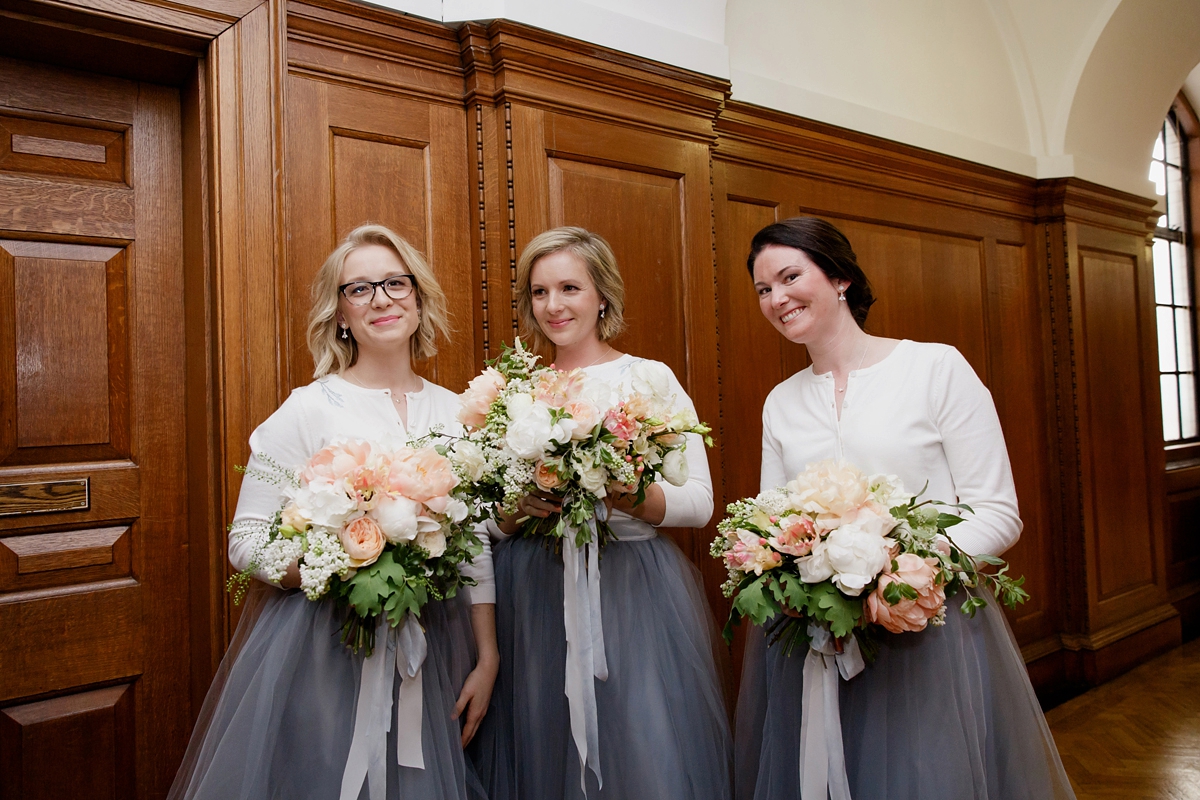 Sarah's bridesmaids wore a combination of a blue tulle skirt and fitted camisole top, a really dainty, pretty look which is carried through by the trailing ribbons on their bouquets. Their jewellery was customised by Sarah to match the overall aesthetic of the day.
"I love the femininity of my bridesmaids full tulle skirts (the opening scene of Carrie in 'Sex & The City' captured my imagination in the 1990s, and I've loved the look ever since), and thought they would look lovely in a soft grey/blue with ivory camisoles and cardigans. I found the skirts at Alexandra Grecco, a New York designer I've admired for a long time. The cotton-blend cardis and silk camisoles were from Boden and I embroidered flowers and foliage onto them in blue/grey thread to personalise them for each bridesmaid, and replaced the buttons with delicate pearl buttons from Liberty."

"Our ceremony took place at Camden Town Hall, London. The reception was at The George, Belsize Park, London. We chose The George first. I was in Australia at the time and we had already spent two months searching for a beautiful pub in London that could accommodate sixty five guests, but was also affordable (a tough ask!)."
"I saw photos of The George on Instagram and asked Pete to go that very evening. After his visit he told me I'd love it, so I trusted his judgement. The staff were friendly and the pub was spacious, and we could hire the entire venue for the day, which was something many other pubs couldn't offer."
"Choosing the Town Hall for our ceremony was pragmatic, as we wanted the ceremony venue to be within easy reach of the reception, and there were few licensed venues near Belsize Park that were within our budget. Again, I was led by photos of the Town Hall's interior in my decision-making process, as I was on the other side of the world at the time."
The couple made some small amendments to the standard civil service wording to make it more personal to them, and exchanged rings;  a slim white-gold band from Grays Antique Centre just off Oxford Street for Sarah and a titanium band by Ernest Jones for Pete.
Sarah wore a simple birdcage veil by Melinda Rose Design, combined with a floral hair comb she made herself using a branch of blossom, some clematis and foliage.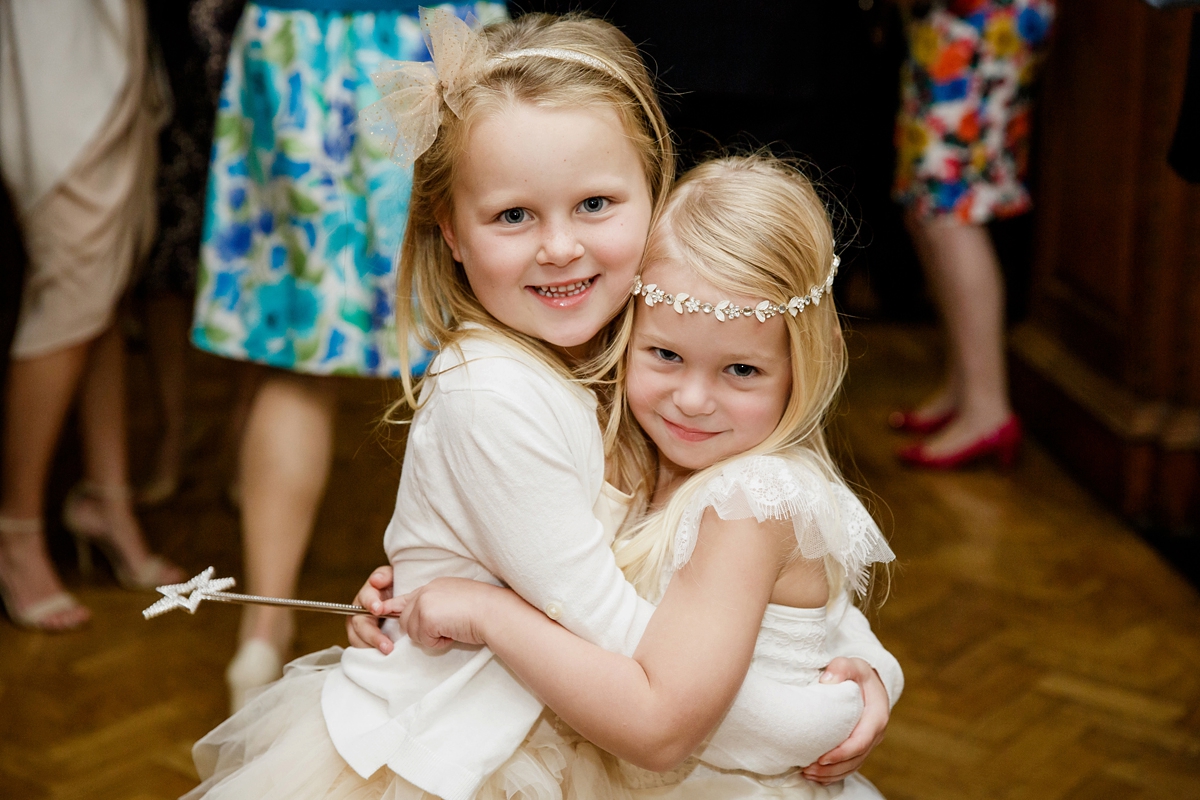 Sarah, who is a florist and event stylist and also works part-time as a magazine sub-editor met Pete,  the general manager of a garage (but looking to move into the arts) in October 2014 via website Tastebuds, which links members based on their interest in music. Naturally, flowers were the star of the venue styling and the bride put them together herself.
"I was the florist for my wedding, with help from my mum who is also a professionally-trained florist, and a friend I worked with at a London flower shop. I chose spring blooms, such as parrot tulips, white lilac and anemone, combined with flowers I've always associated with the beauty of England, including David Austin roses, peonies, ammi, astrantia, hellebores, astilbe and clematis I grew in my garden."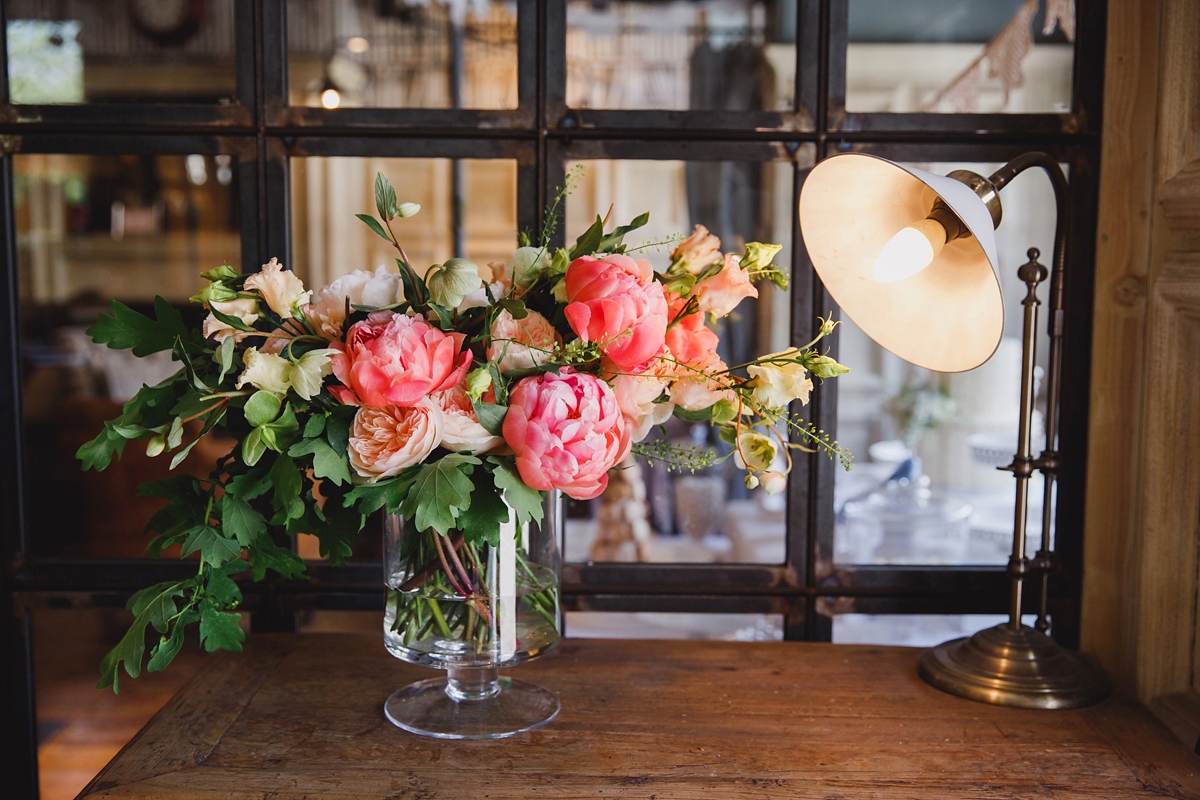 Pete's blue Reiss suit matches the Nordic blue of the bridesmaid's skirts so well, and looks fresh and smart. As he is a big music fan, he chose the music for Sarah to enter to; an instrumental version of 'We Have All the Time in the World'.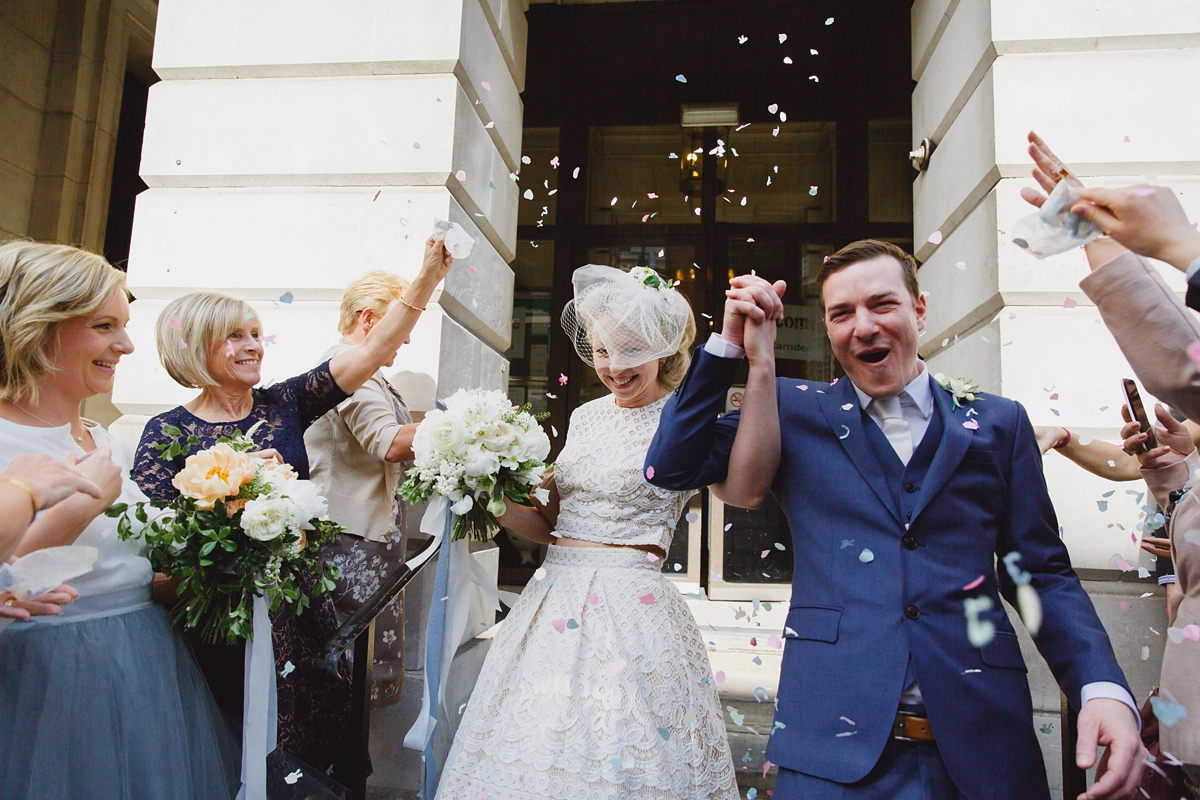 Photographer Sarah Ann Wright's work has a really clean, natural and fresh feel. She has captured the bright spring sunshine perfectly, and I love the newlyweds' outdoor portrait shots.
"Sarah Wright was our photographer. I found her on Instagram, and loved the way she captured light in her atmospheric shots. I knew, after meeting her, that she would be a lovely presence on the day, and her fee for 10 hours coverage was much more affordable than other photographers I͛d received quotes from. She even included an engagement session, where Pete and I met her in Shoreditch for some candid shots which were stunning."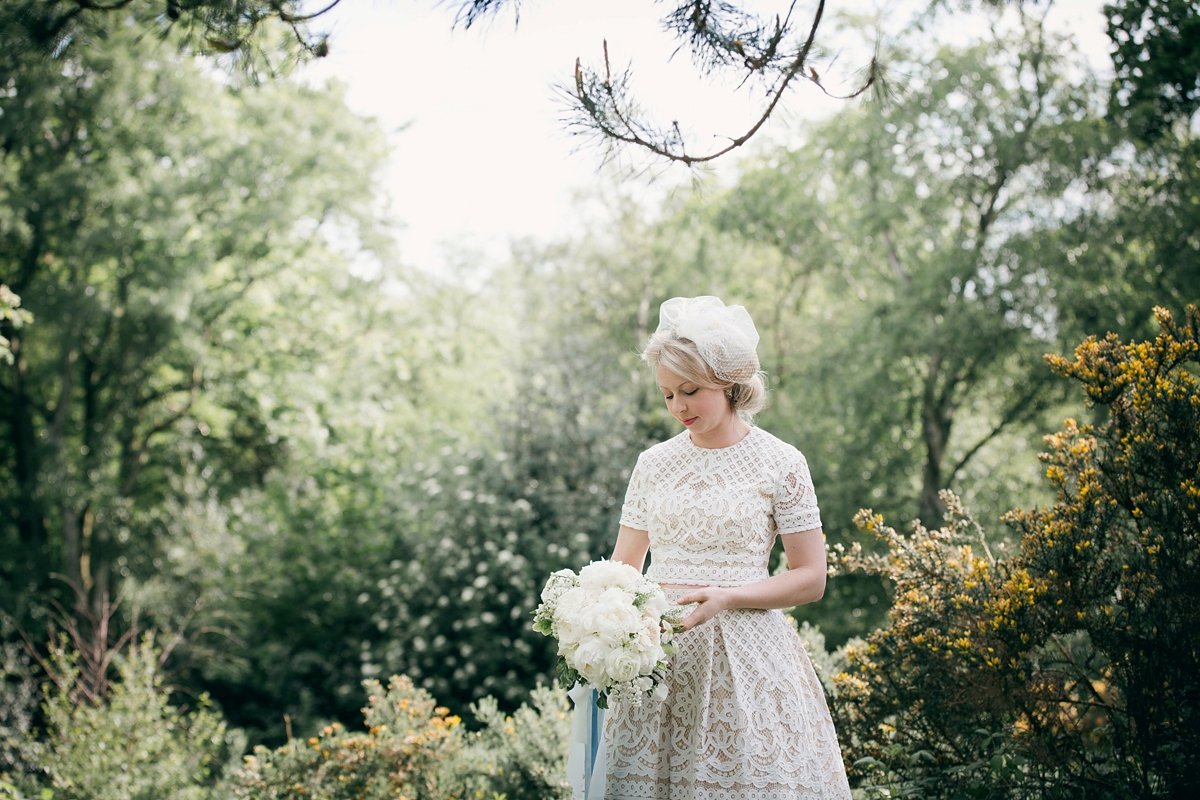 The little flowergirl, Sarah's niece, wore a pretty tulle dress to match the bride's by Australian children's label Tutu Du Monde.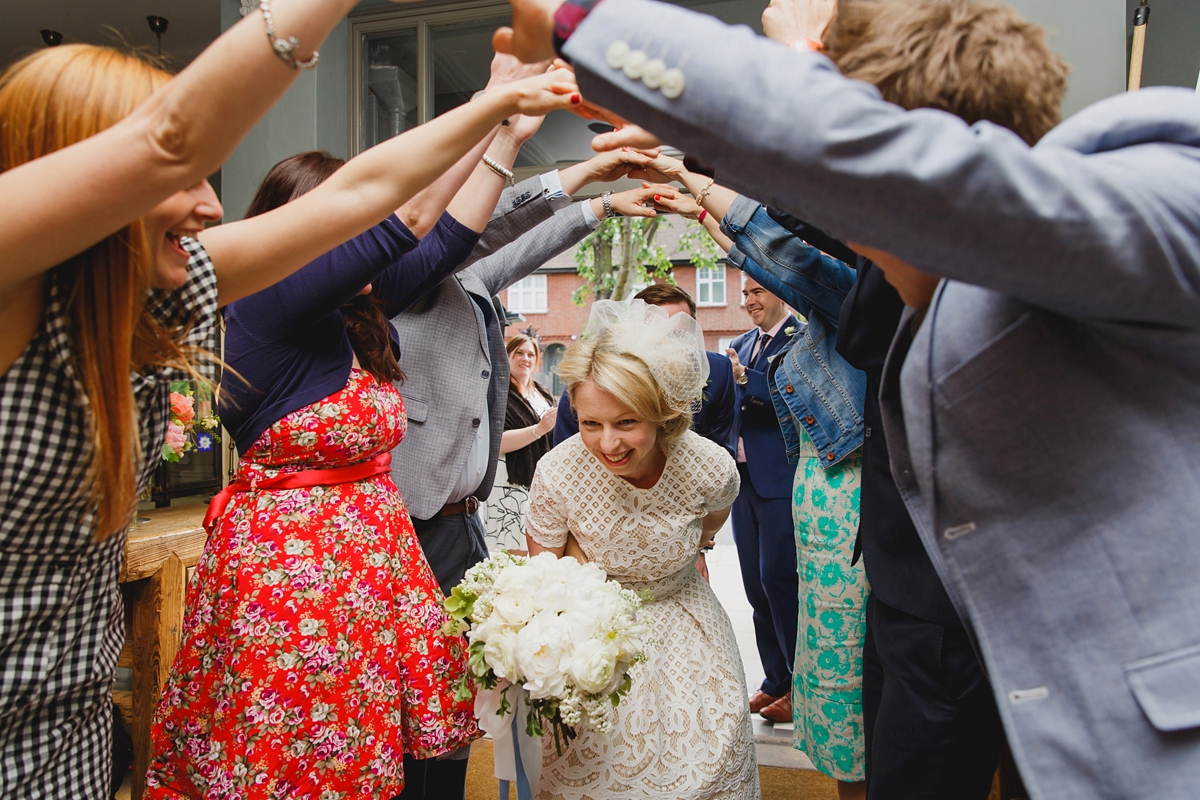 The wedding reception took place at Belsize Park pub 'The George', which is just between Hampstead and Camden. The beautiful dark wood interior is really freshened up by Sarah's springtime flowers in white, ivory and peach. Apart from the flowers, very little additional décor was needed, and the sweet table took centre-stage.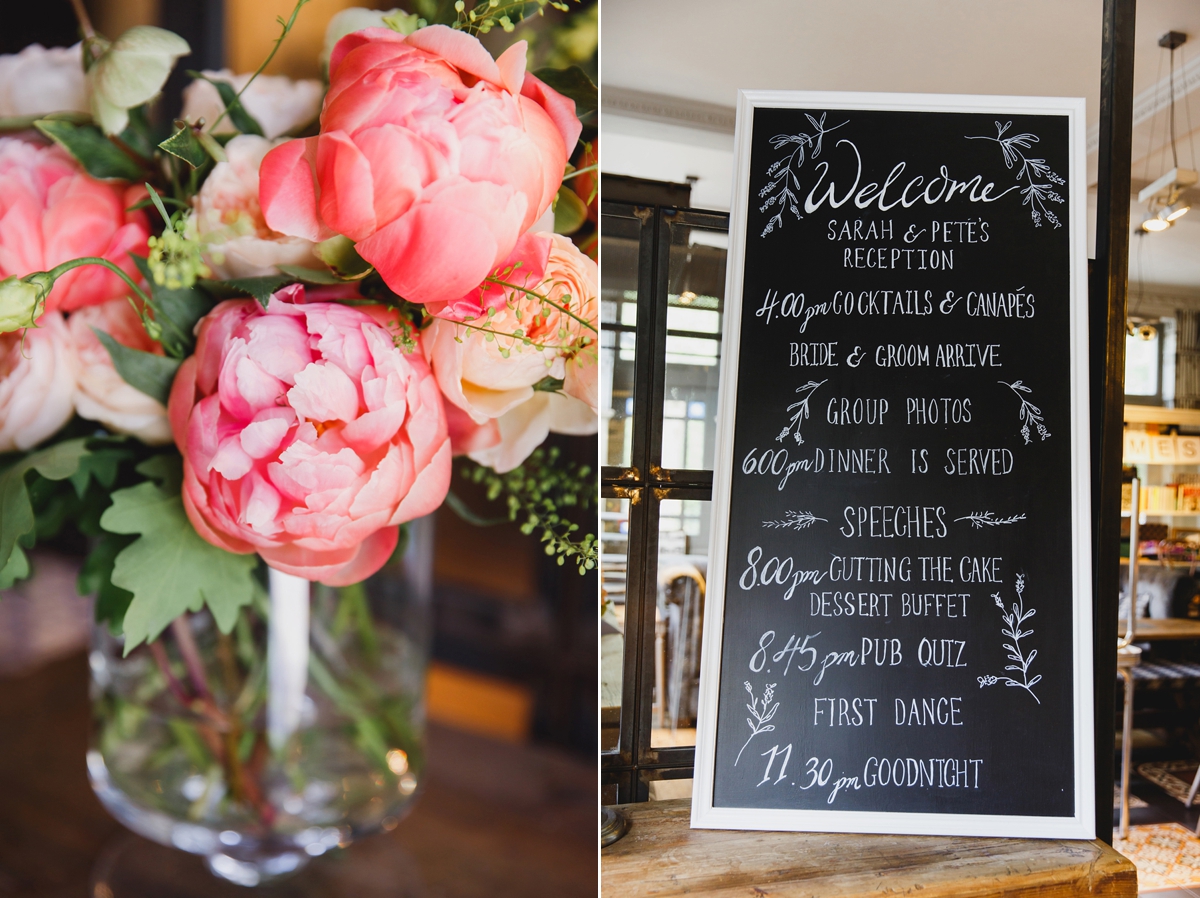 Pete and Sarah really wanted to create an informal and sociable atmosphere so opted for sharing platters to start to encourage their guests to mingle and chat with each other. They also created a glorious sweet table, heavy with treats, which doubled as favours for the guests.
"The pub provided the food for our guests. I suggested a grazing table – with crates and wooden boards on a long table laden with olives, cheeses, antipasti and breadsticks – which was a new idea to them, so I was a little uncertain about how it would turn out, but our guests loved it. They loved it so much, there was nothing left for us to snack on when we arrived after having our photos taken!"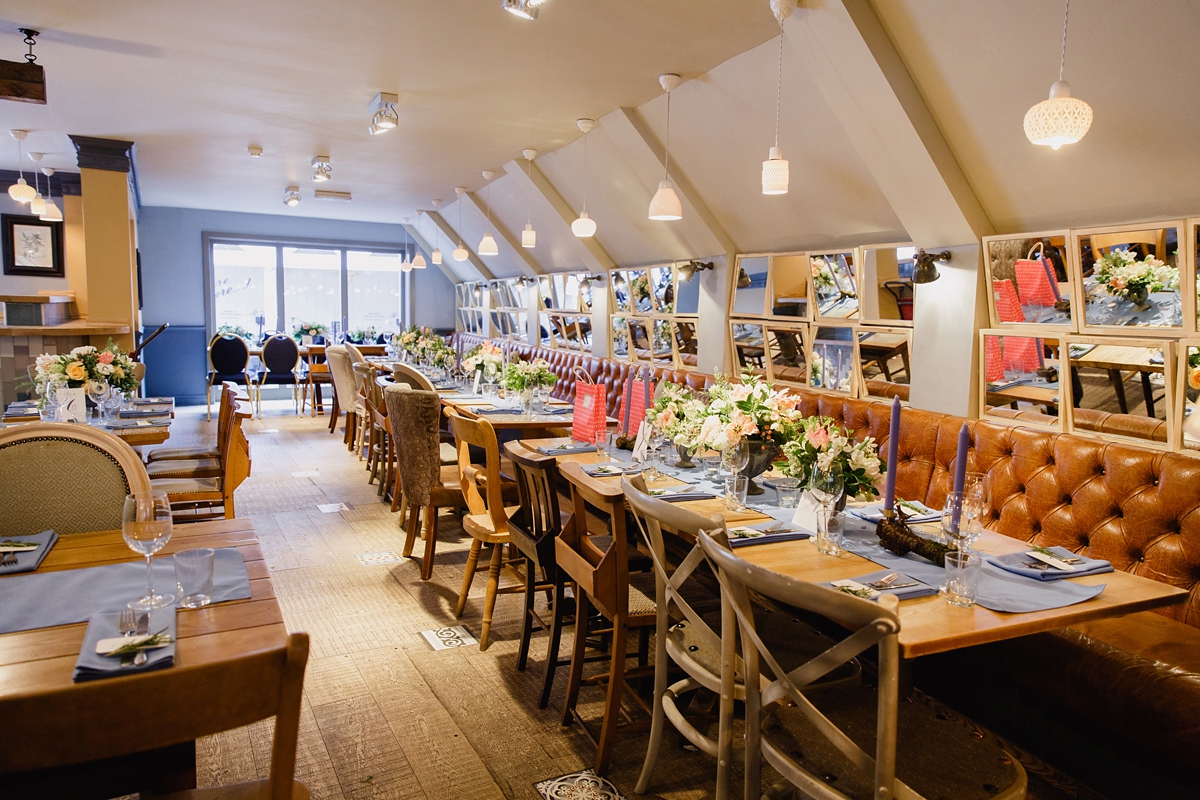 "Above the sweet buffet I strung lengths of bunting made from antique doilies. I've had this for several years, as one of the items I hire for events, and decided it would look pretty above the table, and was a little different from the regular triangular pennants."
"The grazing table was in place of a seated starter, to avoid having people seated for too long, and the main meal was roast pork or baked fish. Dessert was a buffet, again to get people up and socialising. I sourced the macarons from Ladurée then made a tower from them with foam from Hobbycraft and royal icing I piped myself. The doughnuts were from Crosstown Doughnuts and the sweets from a sweet company in Australia. The pub also made mini cheesecakes."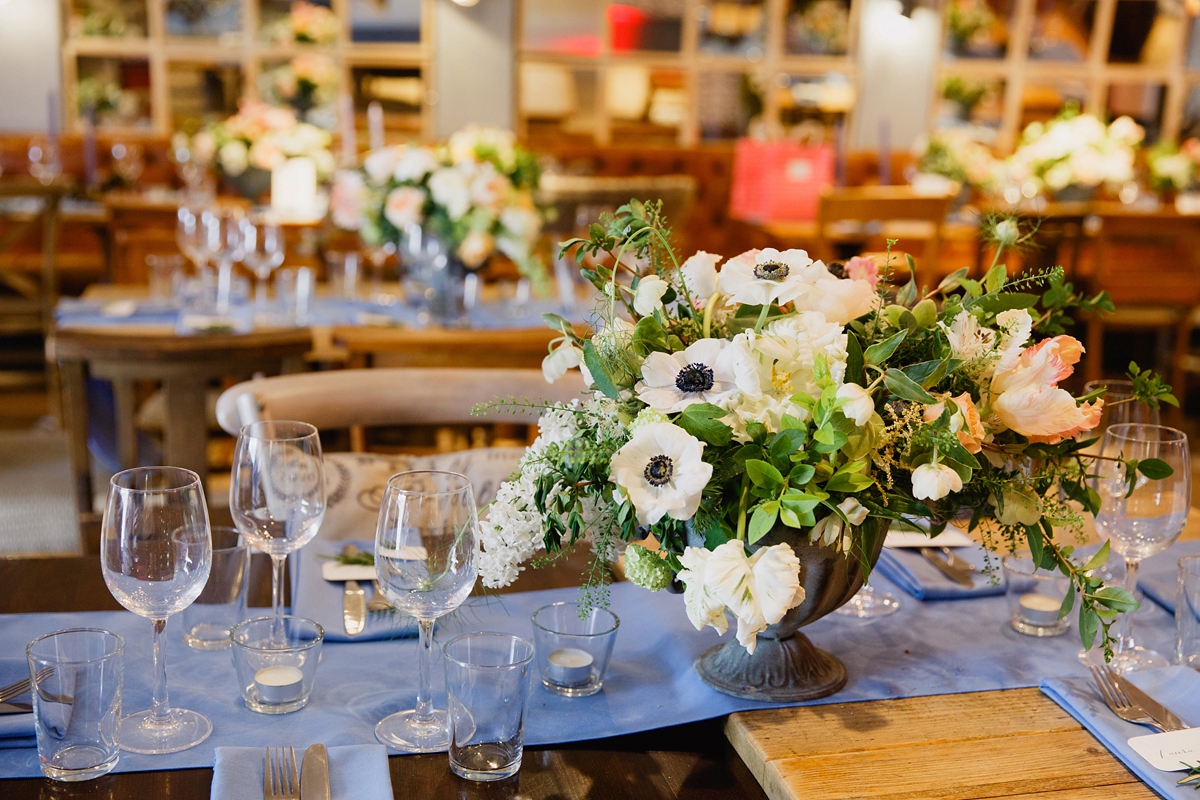 "My sister makes wedding cakes and spent hours crafting our two-tier lemon sponge with a raspberry and mascarpone filling in the kitchen of the house we rented for my visiting family to use the week of the wedding. She brought her favourite baking tools in her suitcase from Australia!"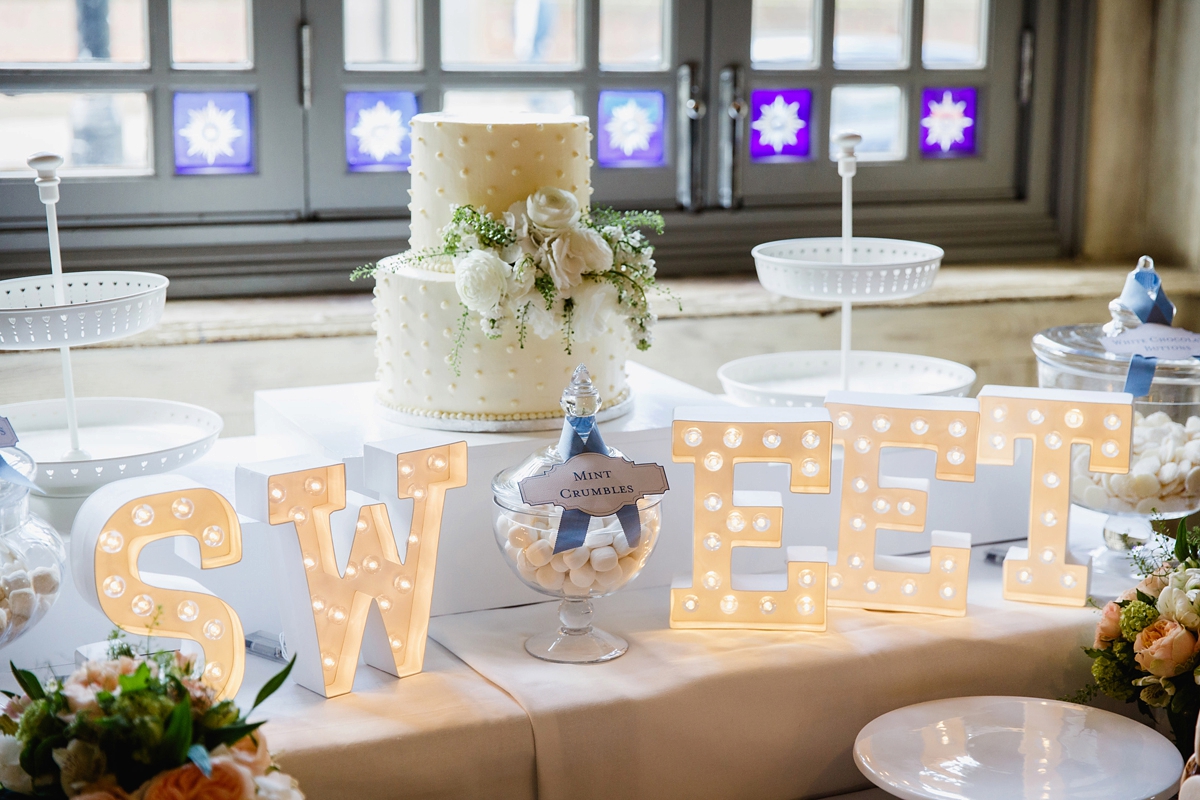 Pete was in charge of the music for the evening party and to continue the social atmosphere, the guests participated in a pub quiz.
"Pete is a music geek like no other and an amateur DJ, so he arranged the playlist. His DJ friend manned the decks for the night. We also incorporated a pub quiz, as they're something we both love, and our guests all formed into teams to play. It was lots of fun, and the winning team won a round of Champagne. I also arranged a Polaroid camera and made a flower wall so guests could take photos of themselves in front of the wall then add the photo, and a message, to our guest book."
"We had dance lessons and couldn't settle on a favourite song as we have so many. We were going to choose Bruce Springsteen's 'Dancing in the Dark', but the beat was too fast, so we chose 'Archie, Marry Me' by Alvvays who are our favourite band. We loved the tempo, the sound and the lyrics, even though it's about someone who doesn't want to get married!"
Words of Wedded Wisdom
"Budget generously for flowers and décor. I'd suggest around 10% of your overall wedding budget as the cost (even the wholesale cost) of flowers, linen hire, vessels for flowers, ribbon for bouquets, labels for a sweet table, etc, all add up and are the things which give your wedding a cohesive look and theme."
"In retrospect, I'd have arranged for more people to help me, with practical things, and saved some money by choosing different suppliers – such as the post box we used for cards, which I didn't realise could be found locally until after the wedding. I'd also try to worry a little less as everything works out, more or less, in the end. I'd also invite more evening guests, but that was a foreign concept to me at the time, being Australian."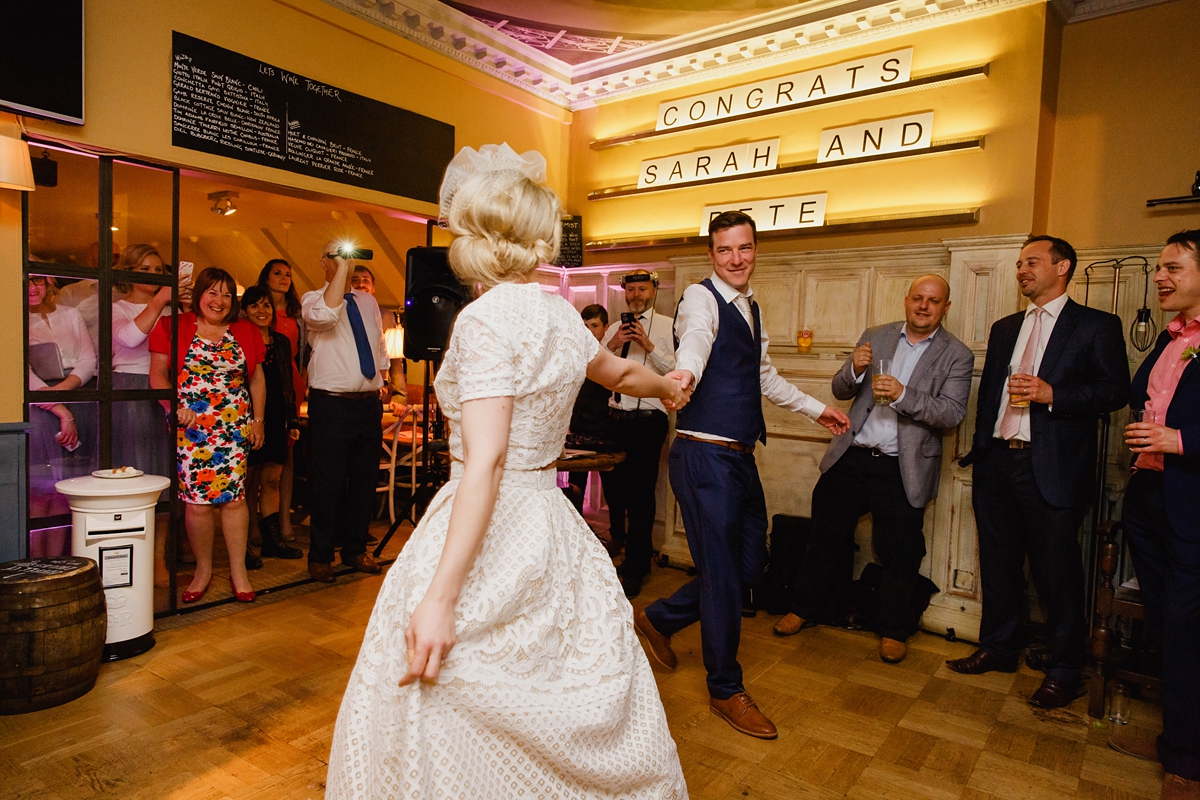 Sarah and Pete, I have really fallen in love with the organic and natural feel of your wedding, especially the beautiful springtime flowers. Sending many congratulations to you and thanks for sharing your wedding and its details with us. It's so lovely to see Sarah Ann Wright's work on Love My Dress again, so thank you for sharing these photographs today. If you love this fresh style, then we have plenty more springtime weddings to inspire you here.
With love
Ele xx