I am a big fan of an outdoor wedding and I love festivals, tents, yurts, huts etc of all kinds, so today's music themed, papakata based day is right up my street.  Meet Sarah, a recruitment manager and Rob, a finance manager, who married on the 22nd of April 2017 in Sarah's Mum and Dad's garden in Mattingley, Hampshire.
The day was captured in glorious colour by the lovely Claudia Rose Carter, a beloved member of our Little Book for Brides and a very talented woman indeed.
"Music was our big inspiration for the day – we both love house music and festivals and wanted a playful, outdoorsy vibe a world away from any sort of formality."
Photography by Claudia Rose Carter
Sarah wore 'Lauren' by Eliza Jane Howell (another of our wonderful Little Book for Brides members) which she purchased from Bridal Rogue Gallery, Chiltern Street, London.  I do adore EJH dresses- they're just so beautiful and elegant but not at all stuffy.  Sarah paired her gorgeous gown with a custom-made veil from the same store and beaded shoes from Pink Paradox."I wanted a dress that would be suitable for a church ceremony but was still very much a party dress.  I loved the 20's silhouette and the V neck line which were both very flattering.  The fact that it was beaded head to toe just made it stand out for me."
In her hair Sarah wore a slide from Accessorize (something new) which added perfectly to that 1920's vibe while for jewellery she chose a bracelet that belonged to one of the bridesmaids (something borrowed) and earrings from H&M, as well as a diamond necklace given to her by Rob for their first Christmas (something old).
Hair and make-up were the work of Melissa Clare Makeup.
The three bridesmaids looked very elegant in navy blue- one in a lace maternity bridesmaid dress from eBay and the others wearing white tops and handmade bespoke navy silk skirts, designed and sewn by a local dressmaker that Sarah found via a community noticeboard app.  Tres chic!
Meanwhile, Rob looked smart but relaxed in a blue suit from Reiss, worn with a dark red tie.
"We met ten years ago in the Ministry of Sound.  After lots of adventures through our twenties including travelling and renovating our new home, we got engaged in early 2016.  We set the wedding for April 2017 to give us some time to plan it and to try and get ourselves some spring sunshine for the day – luckily the weather came good."
"We chose the venue for a couple of reasons – it's over the road from the church in the village that I (Sarah) grew up in, plus the garden has held many a massive party over the years so we knew this was going to be the best one yet."
Sarah and her maids carried beautiful bouquets from Moutan Flowers, while the church and table flowers were put together by family friends with blooms sourced from the Dutch Masters flower market.
"The flowers were picked for their vibrancy – bright pinks and yellows, something to really stand out.  I didn't want anything pastel anywhere!"
Sarah's dad accompanied her down the aisle to an instrumental version of 'For the Beauty of the Earth' by John Rutter.
Sarah and Rob chose two readings, the first, John 2: 1-11, 'Jesus attends a wedding at Cana' and the second 'Love' by Roy Croft.
To cement their vows, the couple exchanged rings from Hyde Park Design.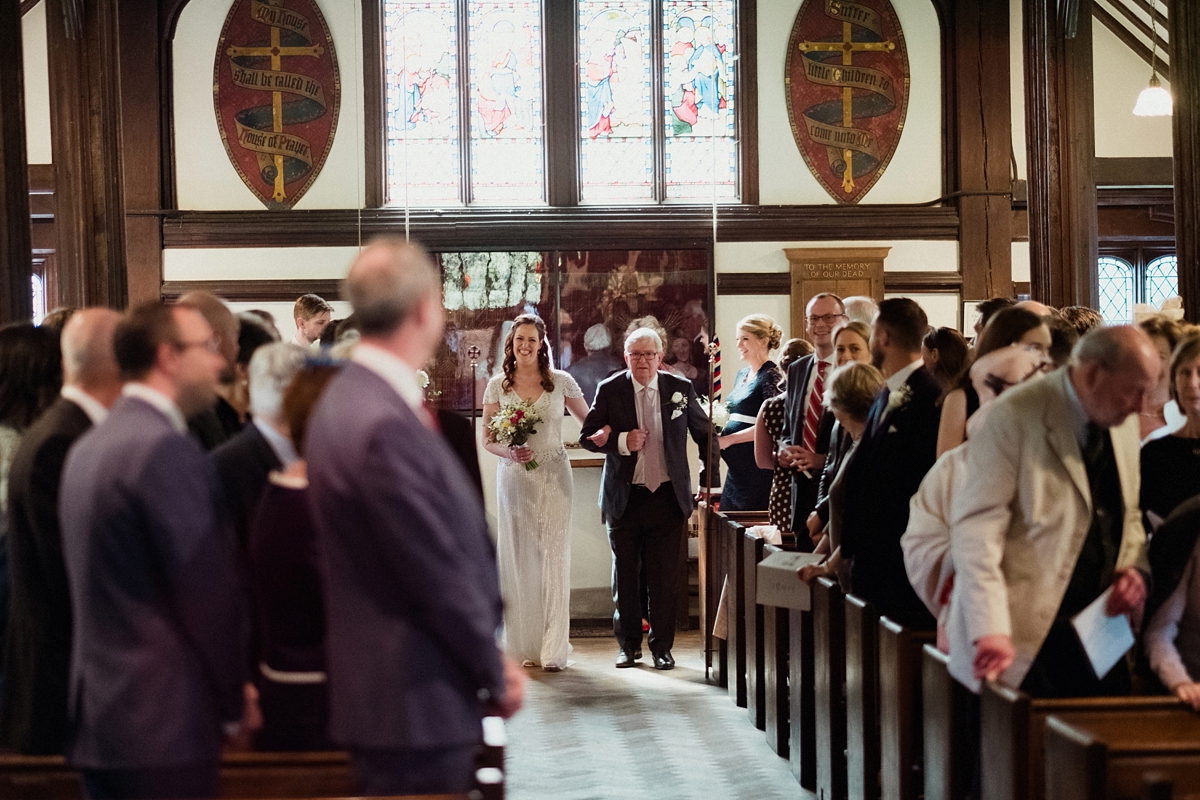 "Our photographer was Claudia Rose Carter – here's the recommendation I wrote for her; 'Claudia, you were a dream to work with from the moment we first got in touch.  We wanted someone who understood the balance of traditional with informal, detailed but relaxed, someone artistic who allows a sense of humour in their shots. You are all of those things and our pictures are amazing. You fitted seamlessly into our day and your photographer's sixth sense allowed you to be present for, and capture, little moments that are so special for us and our families. Thank you so very much'."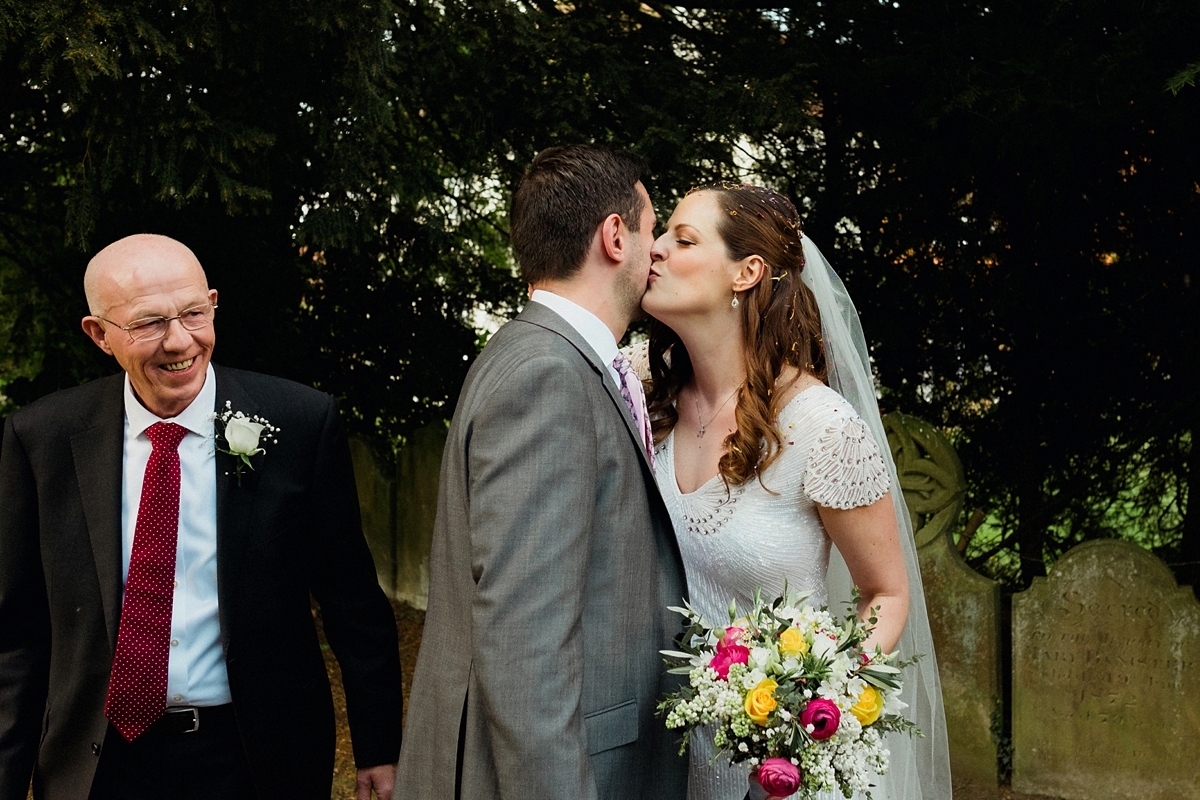 To help decorate the fabulous tents, Rob's mum handmade 170 meters of bunting, while his dad helped them build and install their own gin bar!
Catering was the work of Ministry of Food, who come incredibly highly recommenced by Sarah.
"I cannot recommend the team at Ministry of Food highly enough- incredible service levels, amazing quality food and nothing is too much trouble.   They have a relaxed approach but are so, so professional too.  They were absolute superstars."
"Our cake was from Odiham Cake Company who we chose because they have an amazing reputation locally and we had tasted one of their incredible creations at a friend's wedding."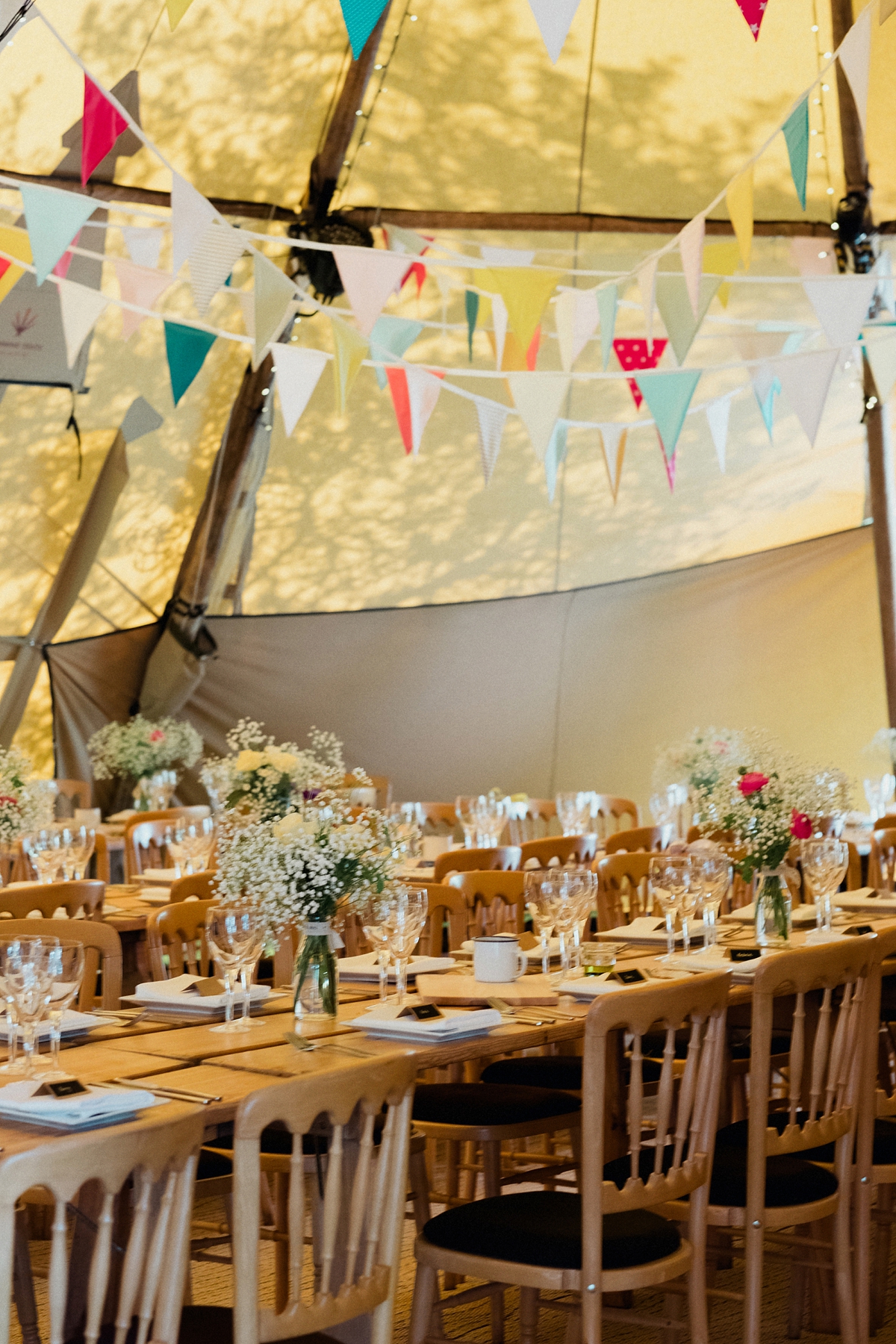 The newlyweds shared their first dance to classic house track 'To Be in Love' by Masters at Work and they and their guests danced the night away to music provided by Event Music Services.
"'To Be in Love' is one of the most seminal house music tracks ever made and the lyrics are just perfect. 'To be in love with you is everything….'"
Words of Wedded Wisdom
"Enjoy the process!  It can sometimes be a year or two in the making, so have that glass of wine whilst you're prepping / crafting / spreadsheeting.  
Stop for lunch, involve friends, play your wedding playlist over and over in the car when you're running the million errands and also, be led by your gut – do whatever feels right, whether this means doing it yourself, asking someone else for help, doing something a bit nuts or just keeping things simple."
"Finally, be decisive. There are lots of decisions to make and a million options out there, but if you've a gut feeling about something, just go for it, don't dither.  It will help you enjoy the process as much as the day (although nothing will beat the day."
So many thanks to Sarah and Rob for sharing their wonderful day- this is a wedding I would have loved to have attended for sure.  If you have a little spare time, take a peek here for more weddings beautifully photographed by Claudia and here for more brides in Eliza Jane Howell (just beware, you may be some time).
Much love,
S x