Good afternoon lovelies. I have a bit of a confession to make; over the past few days, we've been trialling a new format for our real wedding features – one that means the majority of images are located at the end of each feature, in gallery format. It turns out however, that this new format isn't proving incredibly popular with our lovely community of readers.
For a number of years, we've received feedback on how people love how we format our real wedding posts – each feature tells such a beautiful visual story and you guys love how we intersperse images with text in long-view format, as opposed to positioning a few images at the top followed by one big chunk of text.  Don't fix what isn't broken, I hear you say. And I couldn't agree more, but we also have our advertisers to consider, and ensuring their adverts are accessible and appealing to our readers is of absolute priority to the basic existence of our beloved wedding blog. It is this that led us to try an alternative method of formatting our wedding features a few days ago. But facts don't lie, and the facts is, after reading the response to my request for feedback this morning, that you guys really really want the old format back. And to be perfectly honest, so do I!
All our real wedding features will continue to be interspersed with adverts – I know you understand the reasons why and it was most heartening today to read feedback saying how helpful those adverts are. Our goal, always, is to entertain and inspire our reader community with beautiful stories and content. We know how important it is to get that part right and in that respect, thank you for bearing with us through this little hiccup as we attempted to explore some alternatives.
So, let's move on to this afternoon's utterly exquisite wedding, shall we?
Eyewear designer Amy married Investment Banker Leigh on 11th June this year. Amy's divine embellished Temperley London gown epitomised the modern, understatated glamourous vibe of the day, which took place amidst the most splendid backdrop and majesty of Rowallan Castle in Kilmaurs, Scotland.
"We had a lot of different influences that we wanted to be reflected in our wedding; the ceremony itself was Humanist, which in Scotland is legally binding. We absolutely loved this and our celebrant who encouraged us to include as much as we wanted of our personalities and cultures."
Photography by Caro Weiss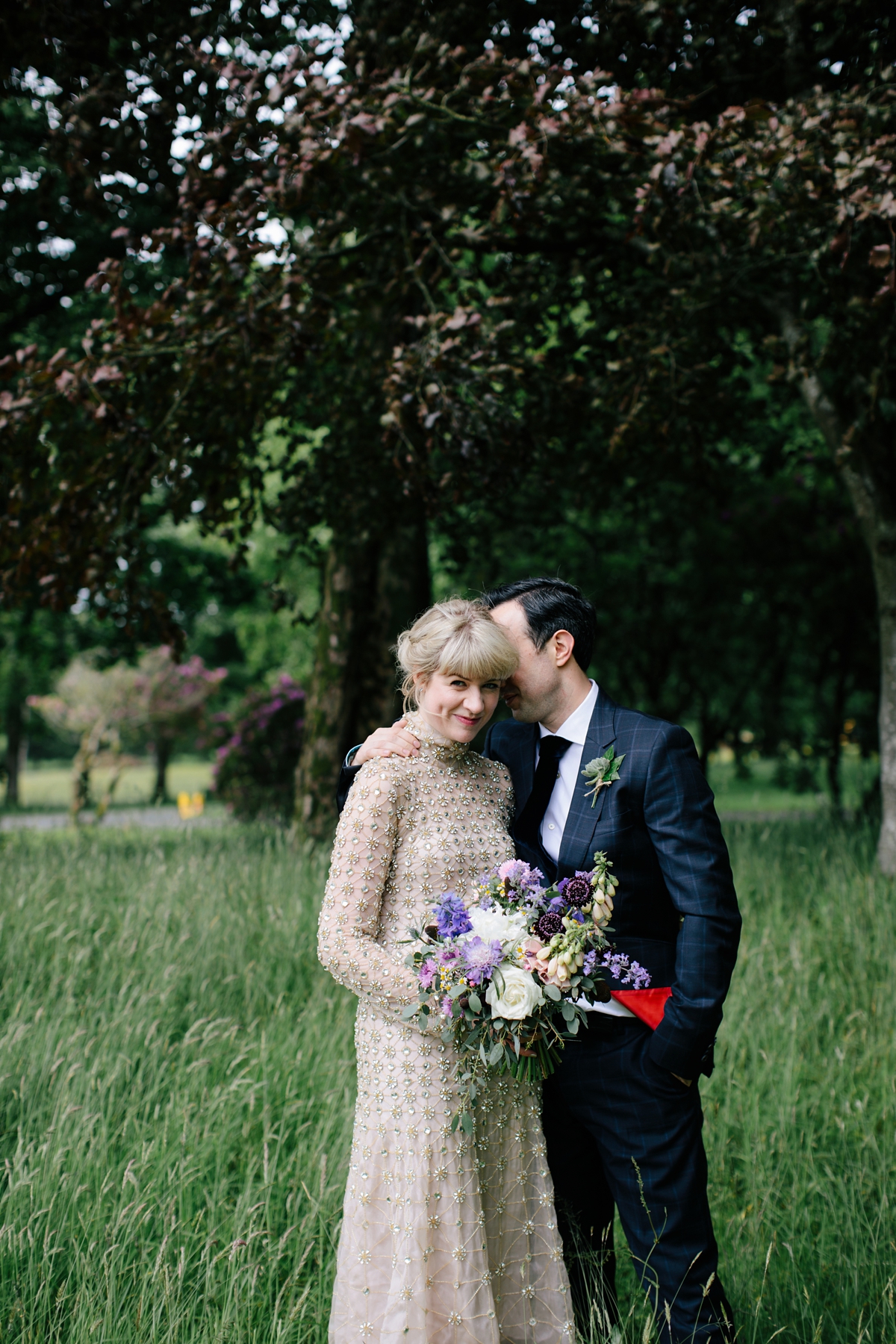 It is always such an enormous delight to be able to share the work of Caro Weiss – we've been doing so for years now and as time passes by, Caro's images become only more and more beautiful.
"When researching photographers, Caro Weiss's portfolio was absolutely perfect for us. Looking thorough her wedding portfolio pics we thought it was more like looking through an editorial and we are so incredibly happy with how she has captured our wedding. We did not want posed photographs and preferred little intimate moments to be captured, which has most definitely been the case."
Amy's exquisite beaded and embellished gown was a purchase from the Temperley London boutique on Bruton Street, London.
"I didn't want a traditional wedding dress and didn't try any on. I saw this in the window of Temperley in Mayfair one evening and fell in love. I called the shop the next day and put it on hold. It turned out that it was the last one left in the company. It was my mothers 60th birthday the following week and we were going out for dinner nearby so we swung by the store and I  tried it on. Seeing my parents reaction was brilliant – i knew it was the one I wanted. It was the first dress i tried on and I only tried one other on."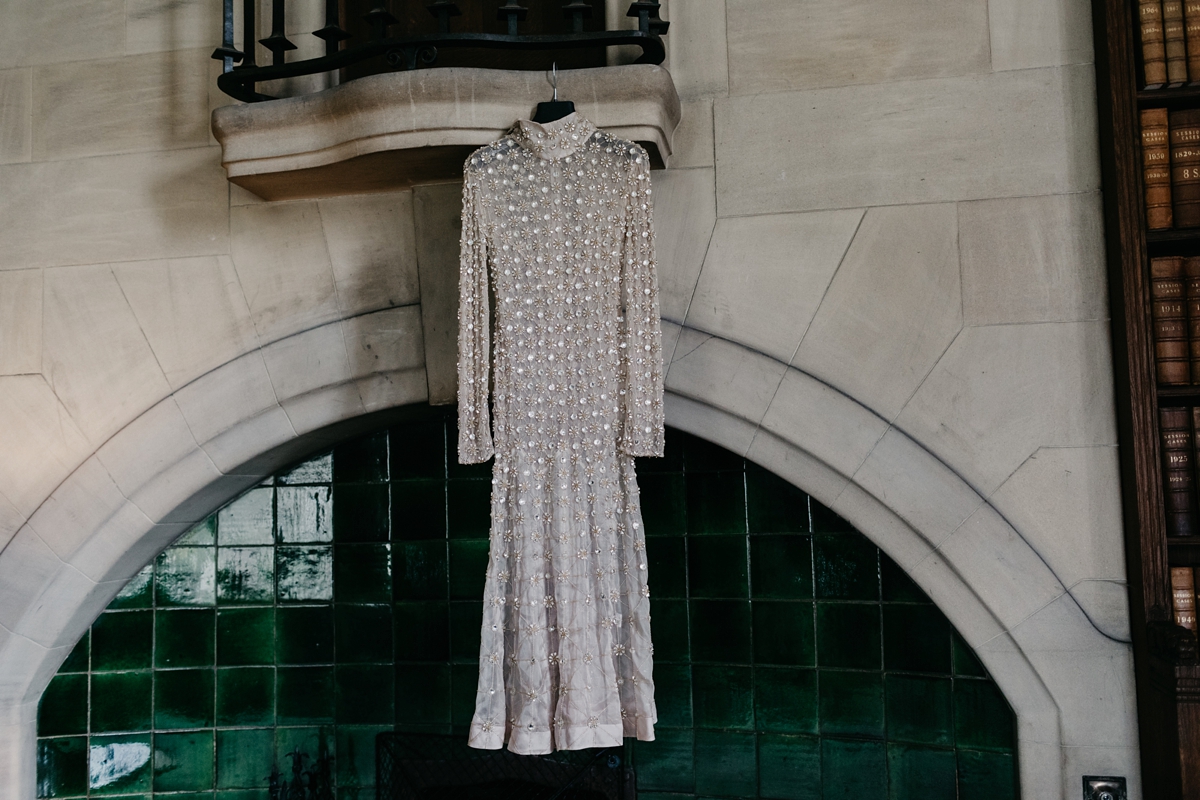 "My cousin Alice Jarman is a make up artist and did myself and all the bridesmaids make up. She's wonderful, fast and uses such interesting brand as she has super sensitive skin herself is always looking for 'cleaner' products. Hair was styled by Shona Duncan at Enhance Hair, Glasgow."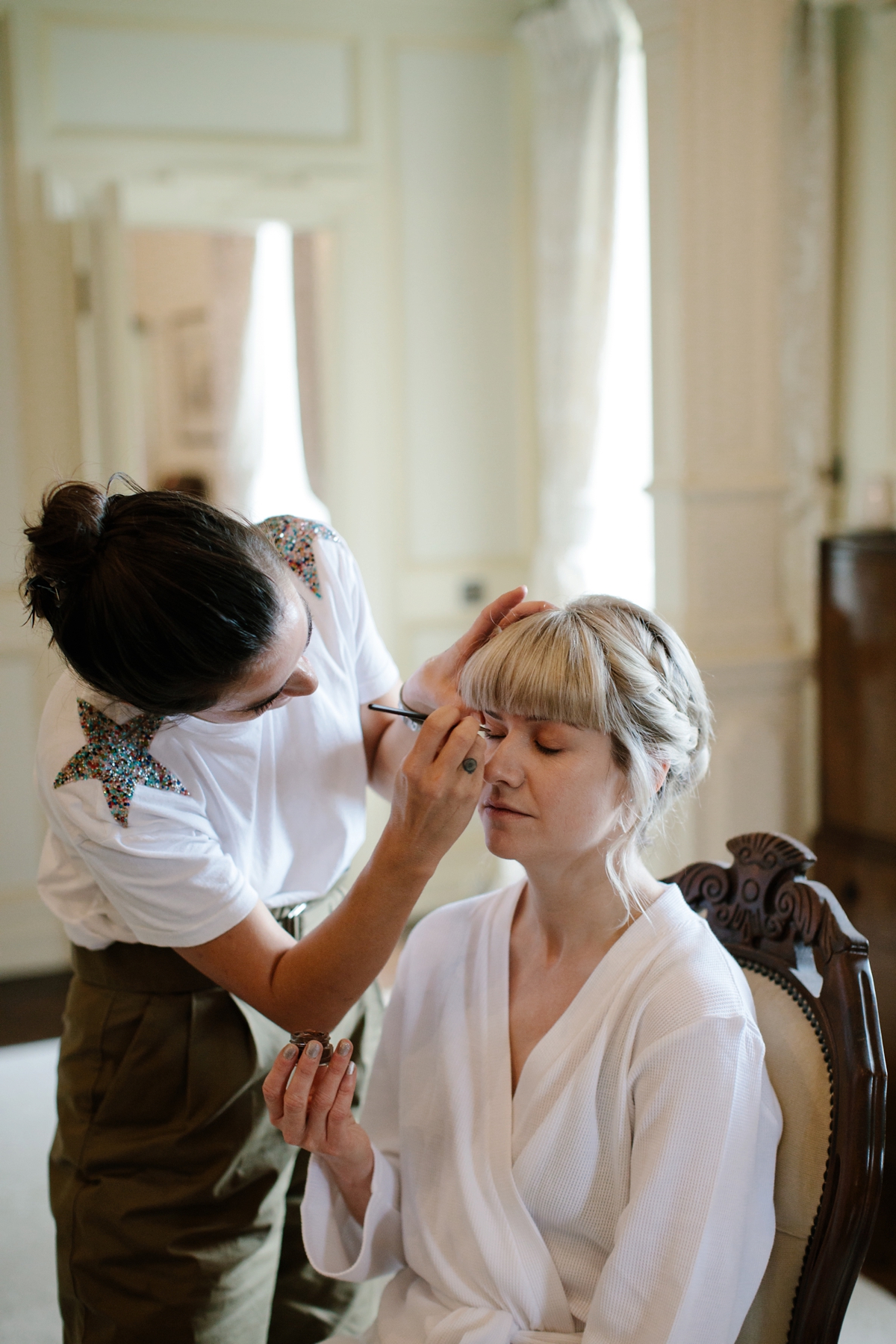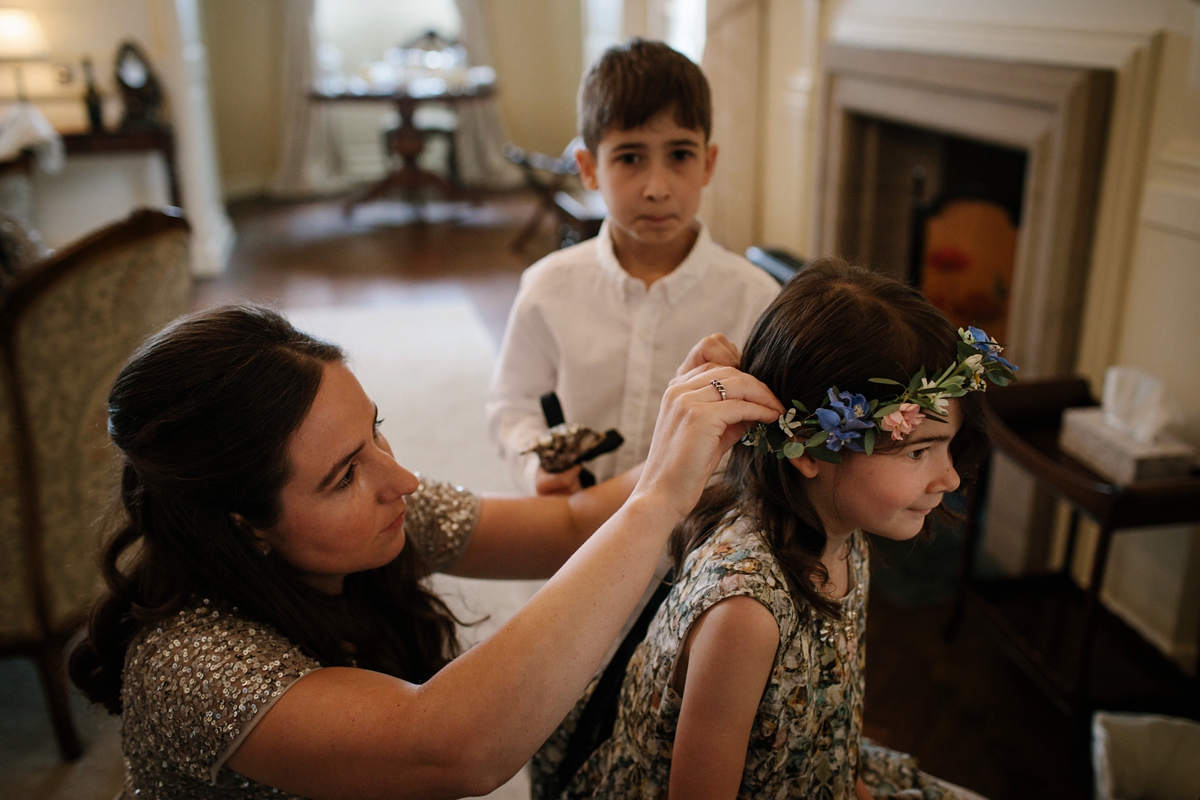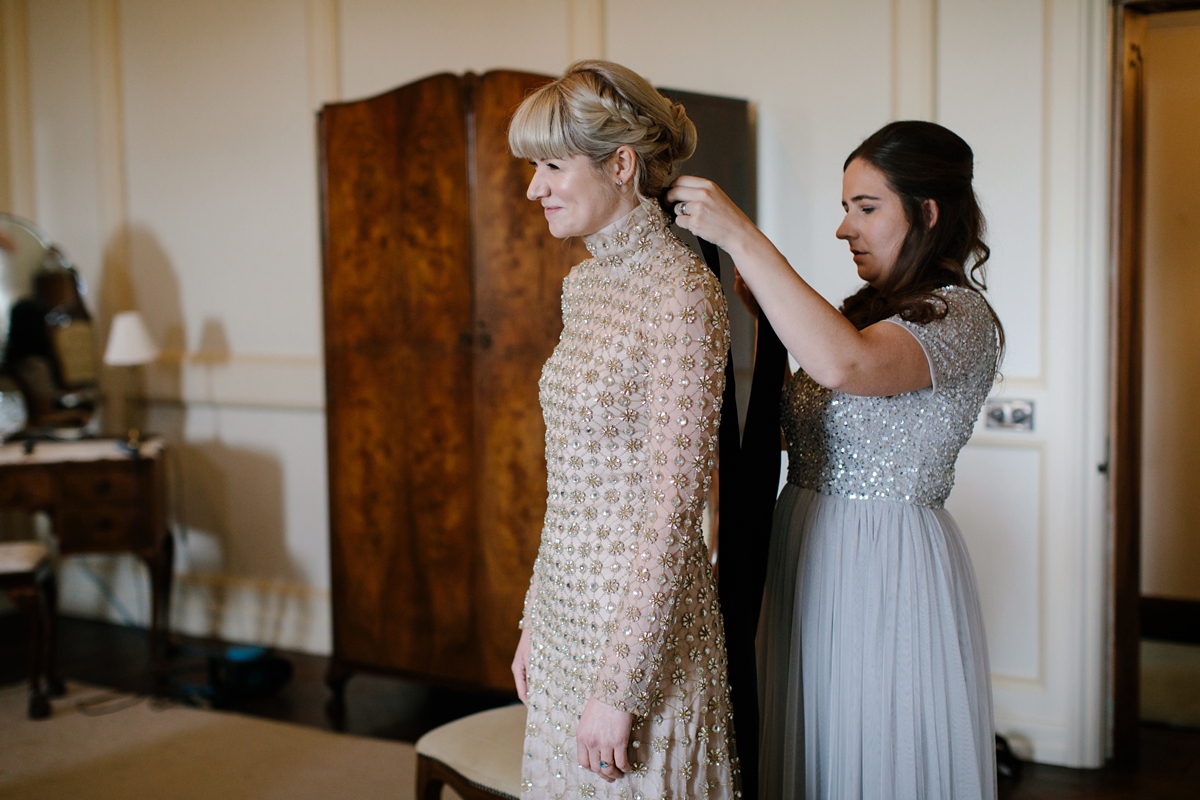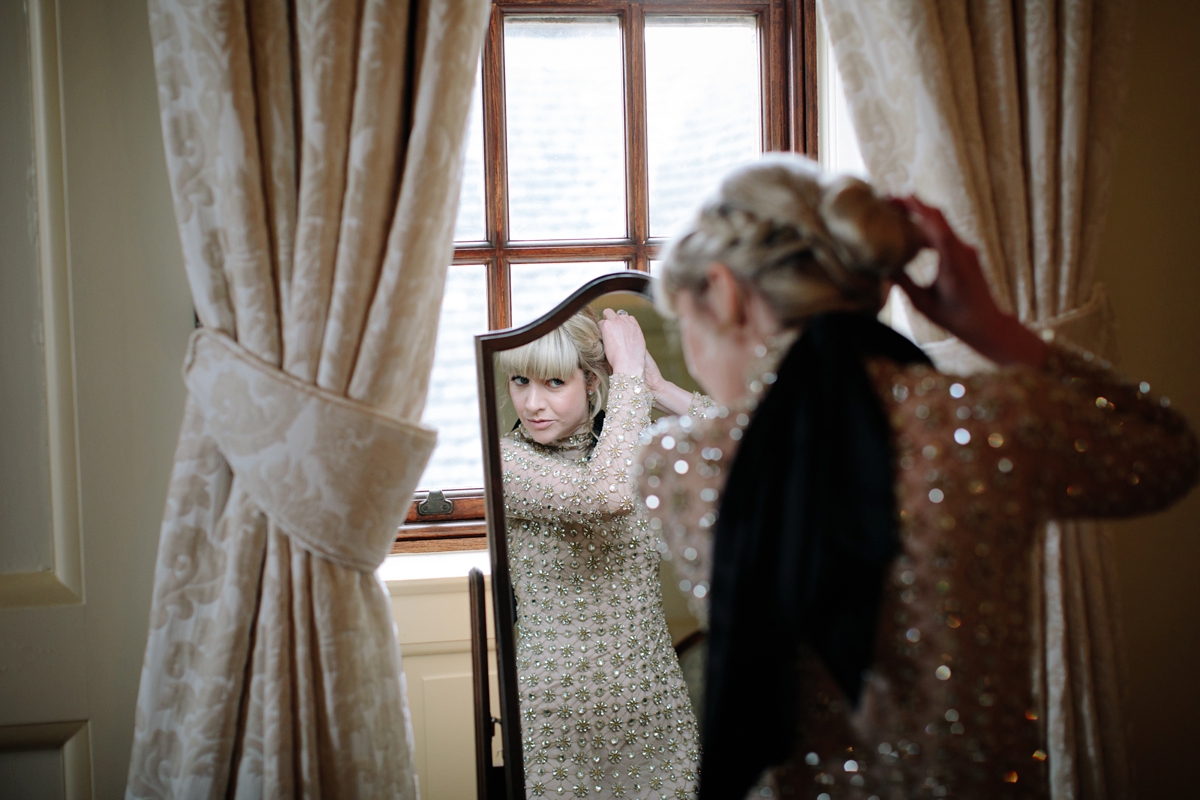 "I usually wear Diptique Philosykos and decided to stick to this as I just love the scent.  Leigh gave me a pair of bright blue aquamarine and diamond stud earrings on the wedding morning. They are stunning and match my engagement ring."
"My wonderful friend Joann found my Uterque shoes for me – my dress had a long black bow at the back and the sandals also have black bows on them."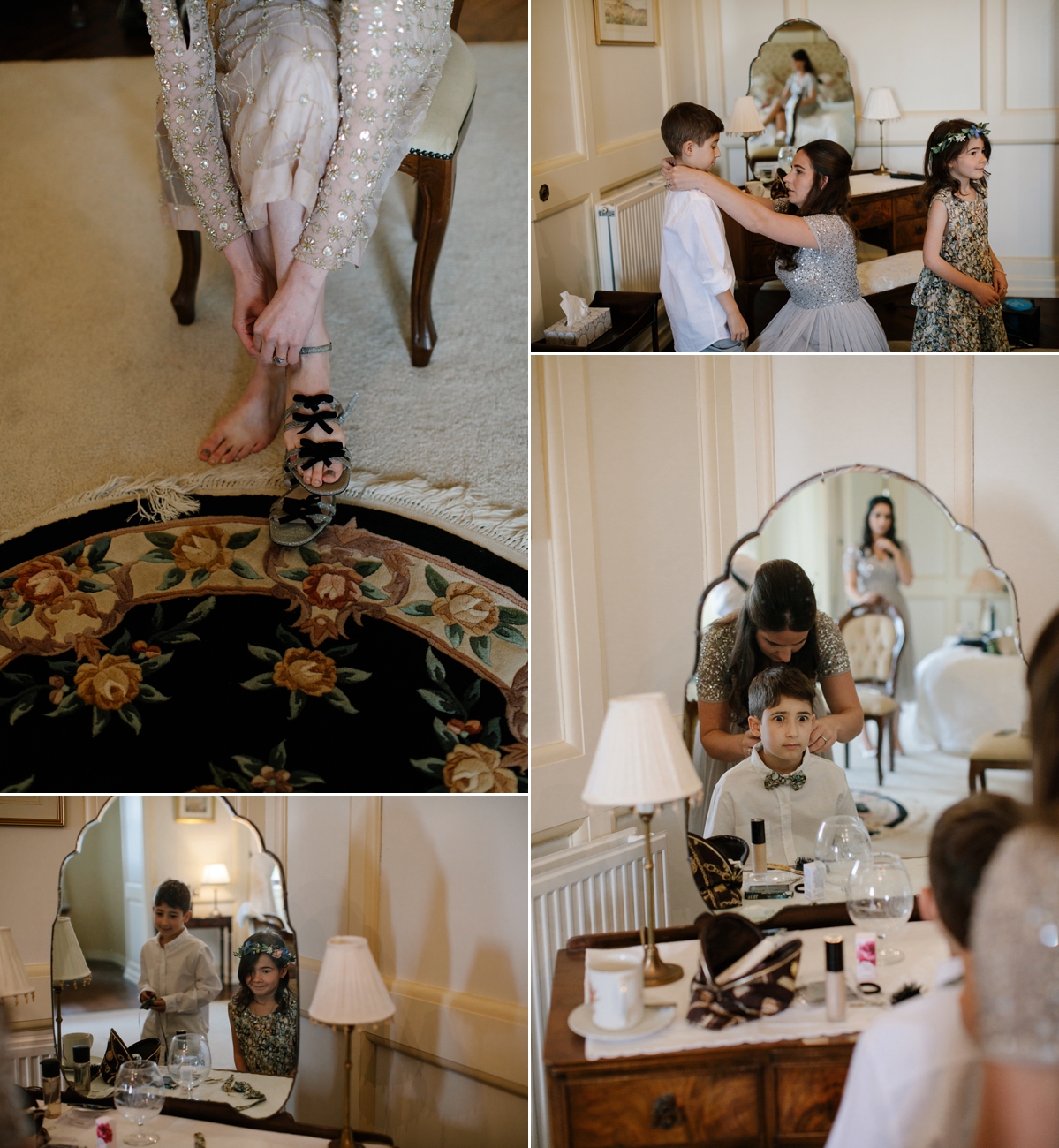 "Leigh is from Glasgow and I am from London. We went to see many venues in London first, but nothing stood out to us and we liked the idea of friends and family staying over somewhere so we didn't just all go back to our houses after the wedding. We began to look at castles in Scotland and did a weekend road trip where we visited six different venues across Scotland."
"Rowallan was actually the first castle that we looked at and we were blown away by the way the owners have decorated and maintained both the interior and exterior of the castle. It felt casually grand."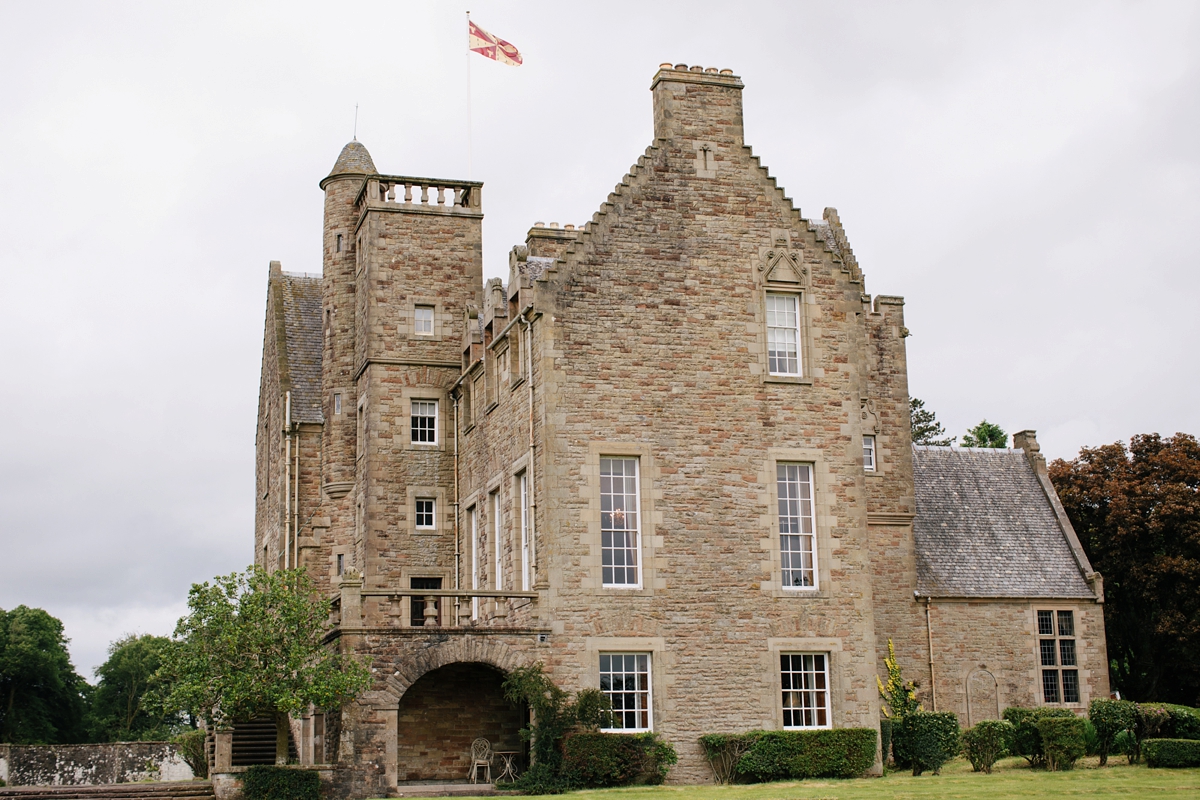 "I was very open to my four bridesmaid to have different dresses but they all liked the same one! A dress with a silver grey tulle skirt with silver sequin top section. Its from the Maya range at ASOS."
"I love to make things and decided that I would make my niece a dress. I bought printed Liberty fabric and followed a tiered dress pattern. I had to get my dress taken in so used the spare gems to sew on the dress."
"I also added a black ribbon at the back to look like my dress. I found some great silver sandals with pom poms on in Zara Kids. The florist made a floral crown for her to wear too.
My nephew wore a Zara white casual shirt, Zara grey chino short, grey converse trainers and I made him a bow tie with the same Liberty print fabric as his sister, the flower girls dress."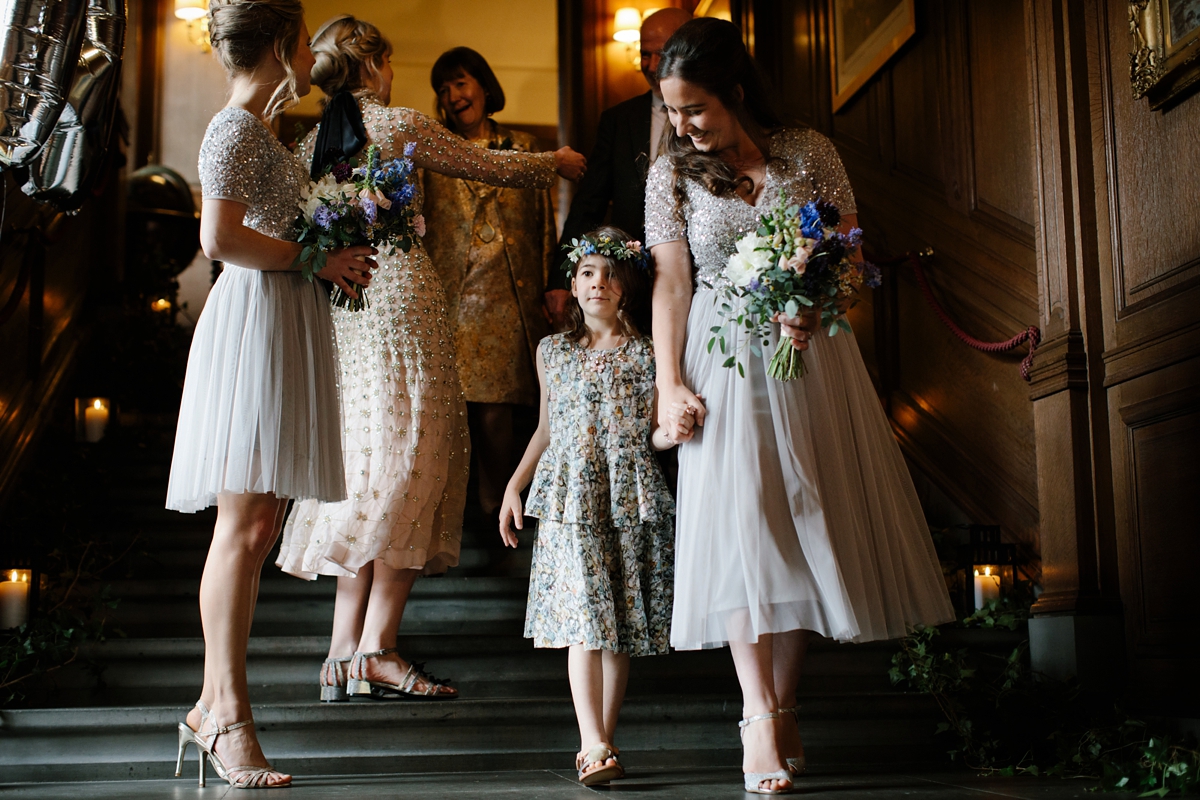 "Although Leigh is Scottish and usually wears a kilt for formal events, he decided he wanted to wear a suit for our wedding. He wanted a dark tartan suit and we found his in the Paul Smith store on Albemarle street, London. He also wore a Paul Smith white shirt, a navy thick velvet Lanvin tie that we found in Liberty, pale blue Falke patterned socks and navy Lotus brogues."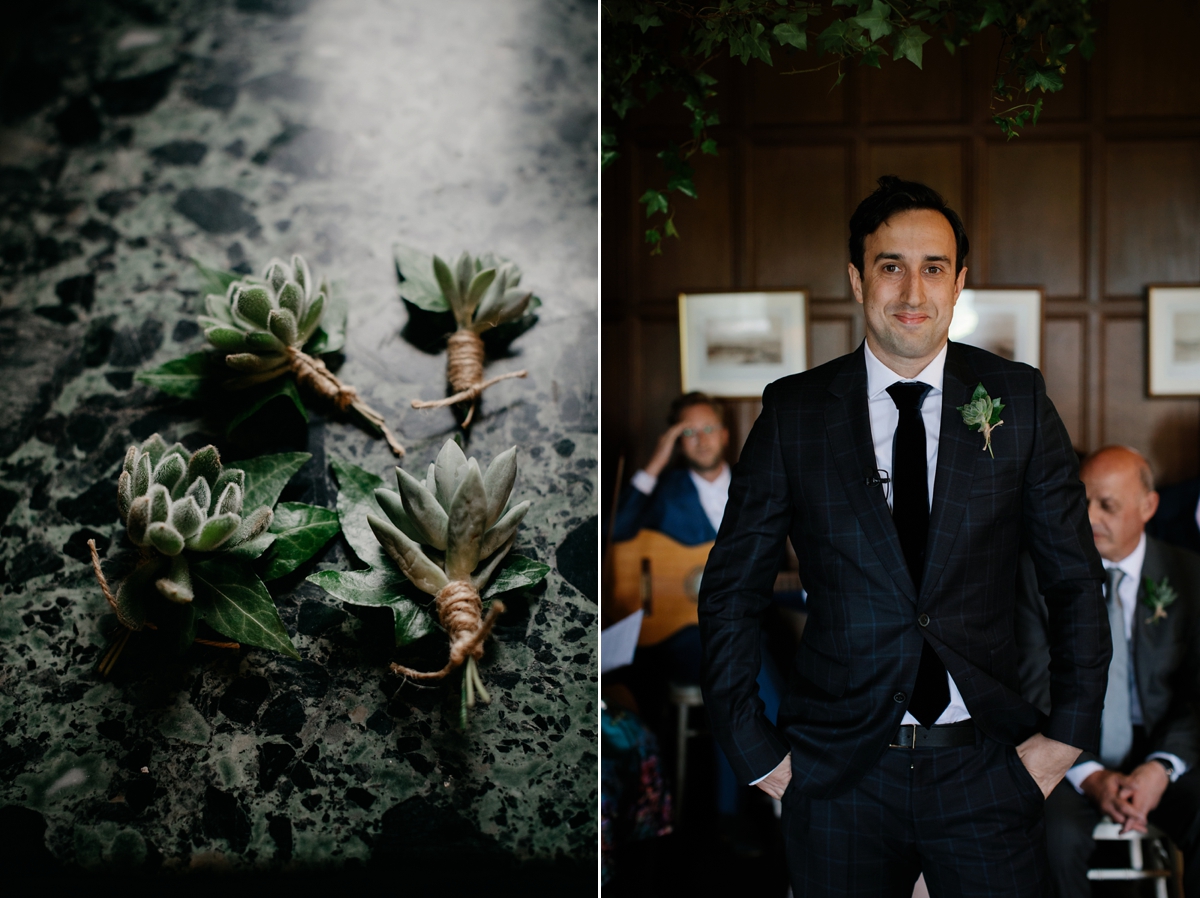 "My father David accompanied me into the ceremony – to the sound of my best friend from school, Faye, singing Nina Simone's Feeling Good. She was accompanied by two other friends playing the guitar and violin."
"We were married under an ivy chuppah as Leigh is Jewish. We included the tradition of hand tieing. Leigh smashed the glass after the ceremony. We wrote our own vows which included Leigh promising to buy me a dog in the future! It was a ceremony full of laughter and warmth."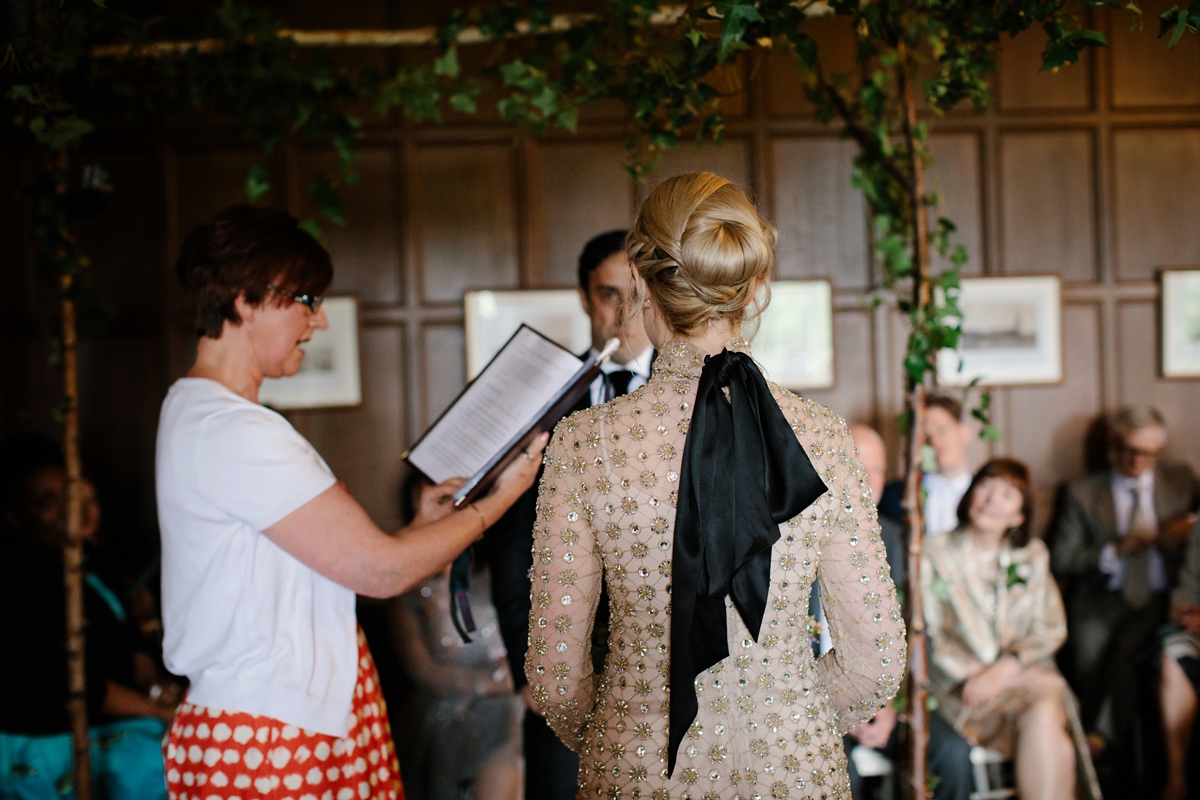 "As we had a Humanist ceremony, our vows were completely our own. We had two short examples of what we love about each other and one example of what we were not so keen on! we wrote these in secret, so it was really fun to hear on the day."
"We then had three promises each that we had written; two serious and one a little more light-hearted. Leigh's promises to me were, 'I promise to always make you happy and never allow dull moments to creep in.I promise that I will make you proud and that I shall never take you for granted. I promise you can have a dog in the future!'"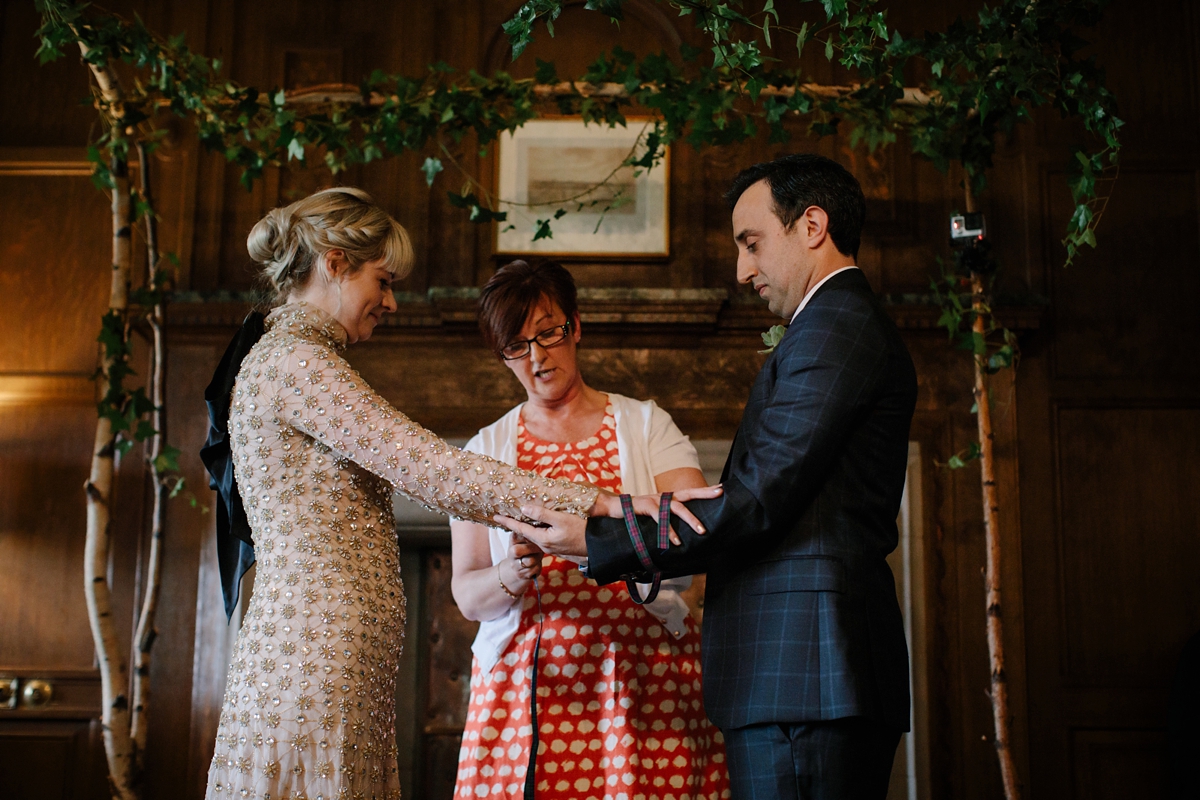 "We had two readings as well – one from my friend Joann who I met when she moved from Hong Kong to the UK in 2011 read a Chinese proverb. The poem comes from Yuefu folk poems of Han Dynasty(221–206)  BC  The hero takes an oath that: Even if the seas go dry and rocks crumble, her love remains firm. The poem is a woman`s warm confession to her lover…"
I want to be your love for ever and ever,

Without break or decay.
When the hills are all flat
The rivers are all dry.
When it thunders in winter,
When it snows in summer,
When heaven and earth mingle,
Not till then will I part from you.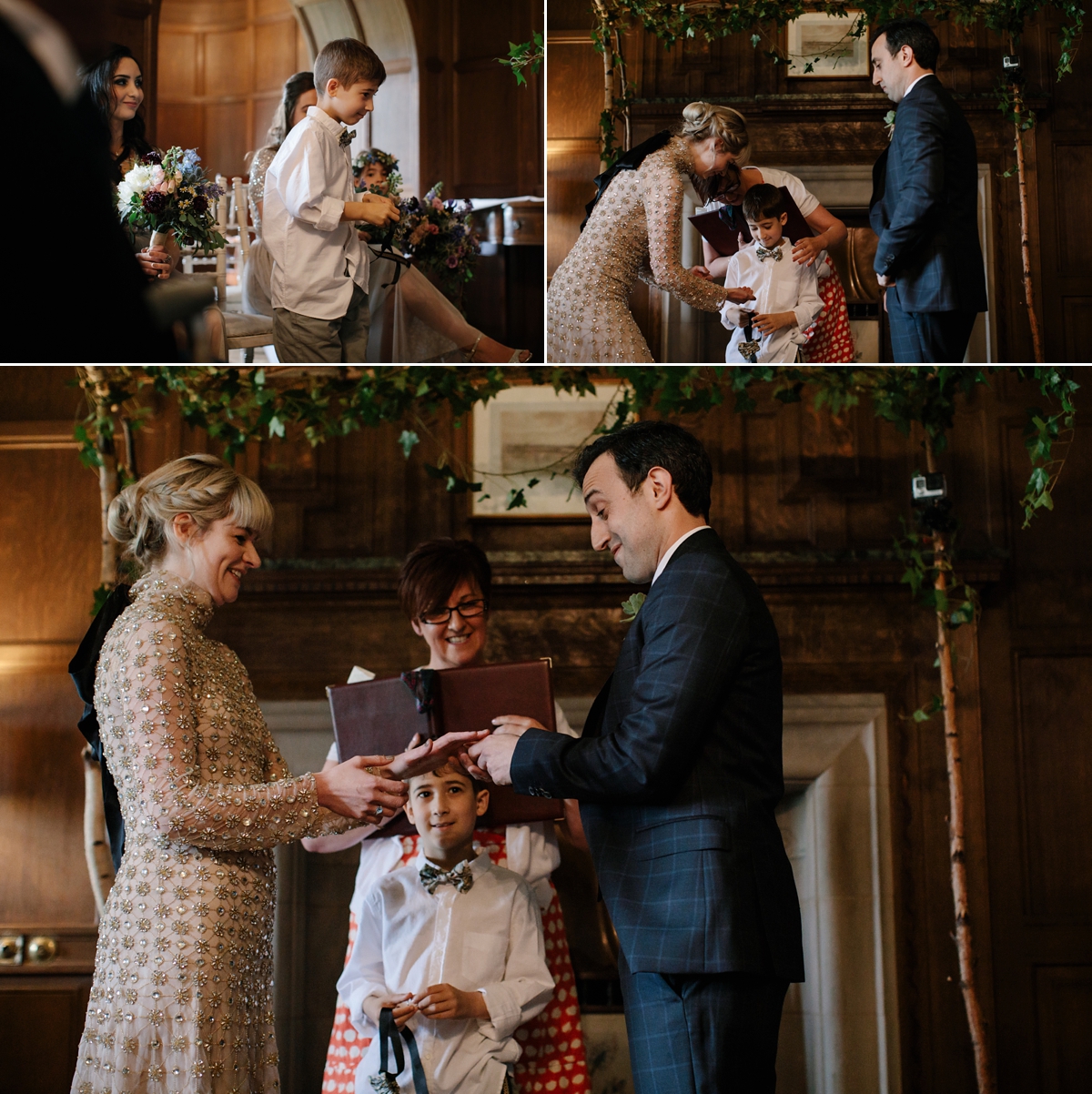 "We both wanted a simple plain platinum band with a rounded edge. Leigh is slightly thicker than mine, but otherwise they are identical. We had 'Feeling Good – 11/06/17' engraved into the inside to remind of us of the Nina Simone song my friends played as I walked down the aisle. Our rings were from Baird & Co in Hatton Garden."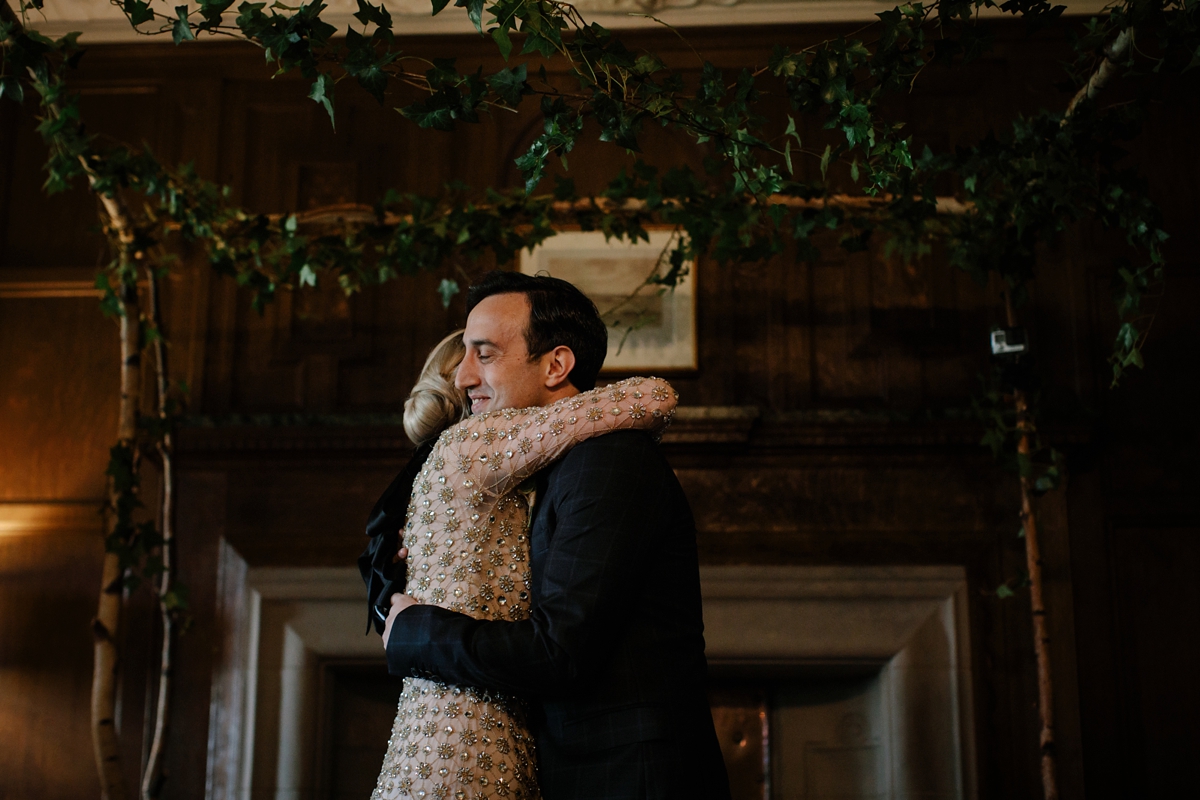 "We have been together for almost three years, but spent the first six months apart as I was living in Italy. We got engaged whilst at the Edinburgh festival late August 2017 and did not want to wait too long before getting married as we were just so excited!"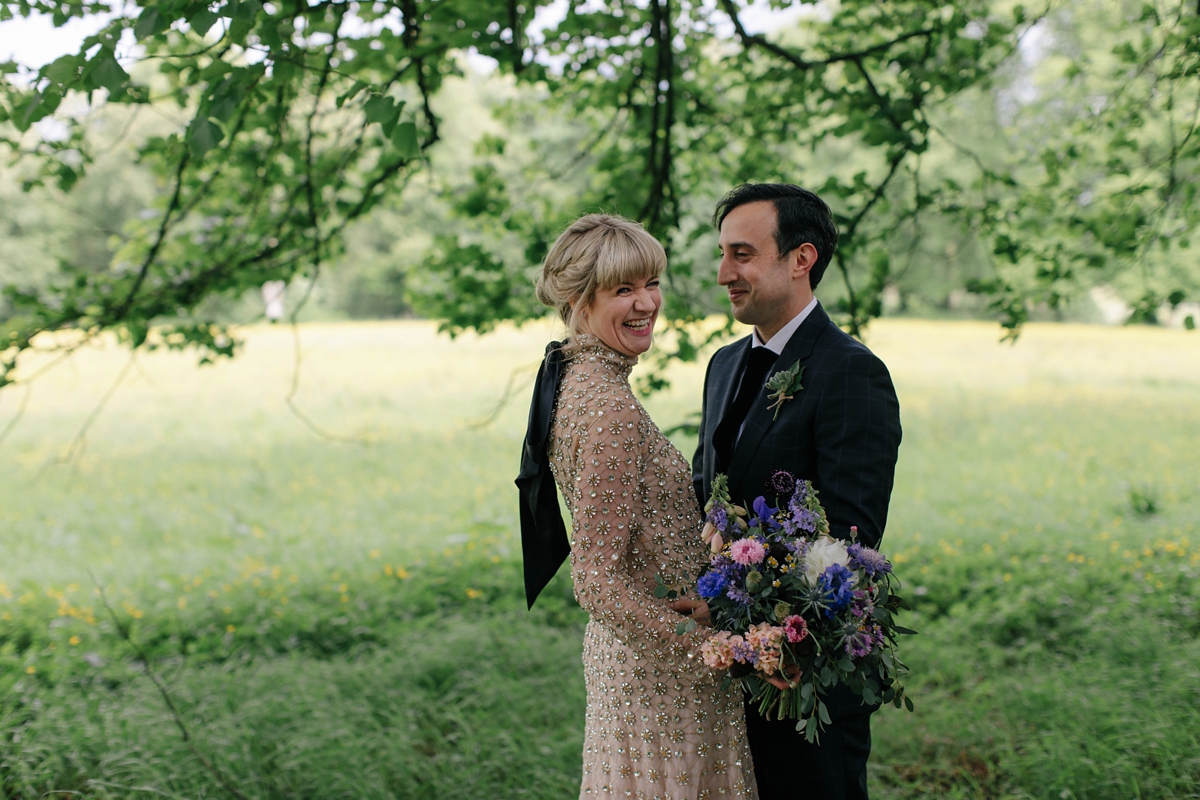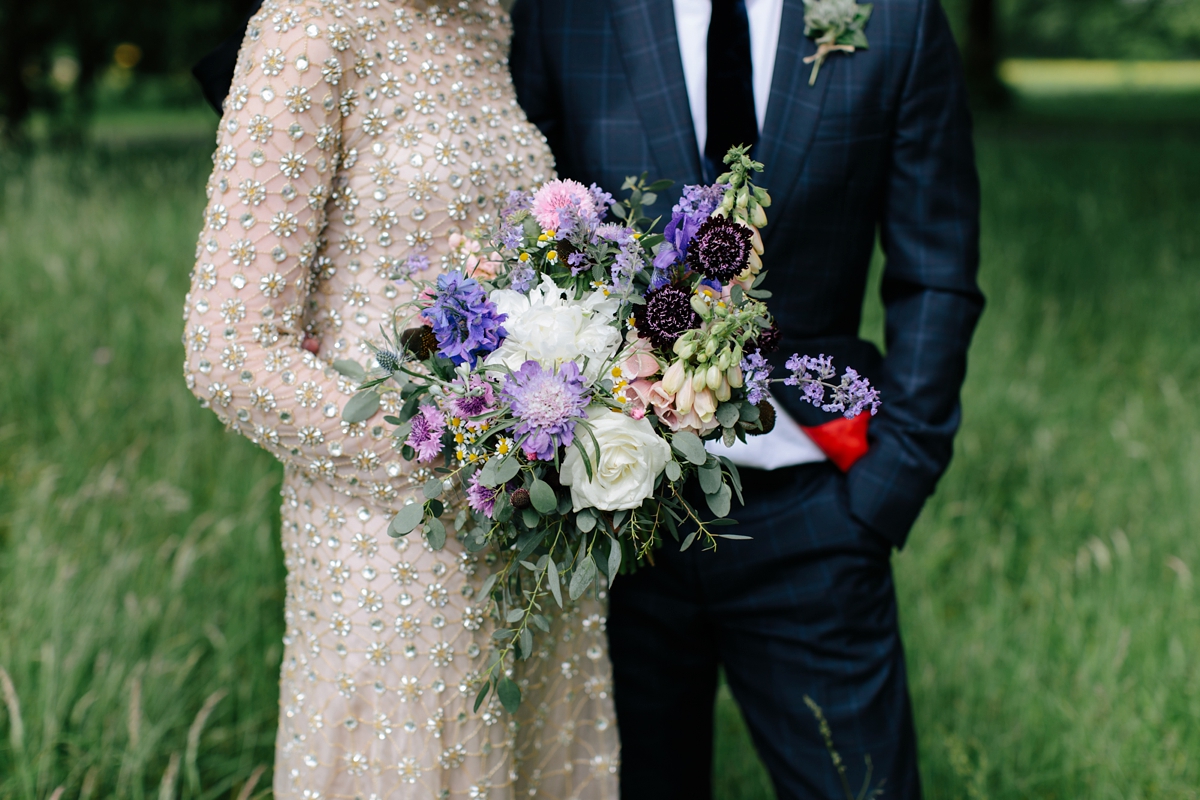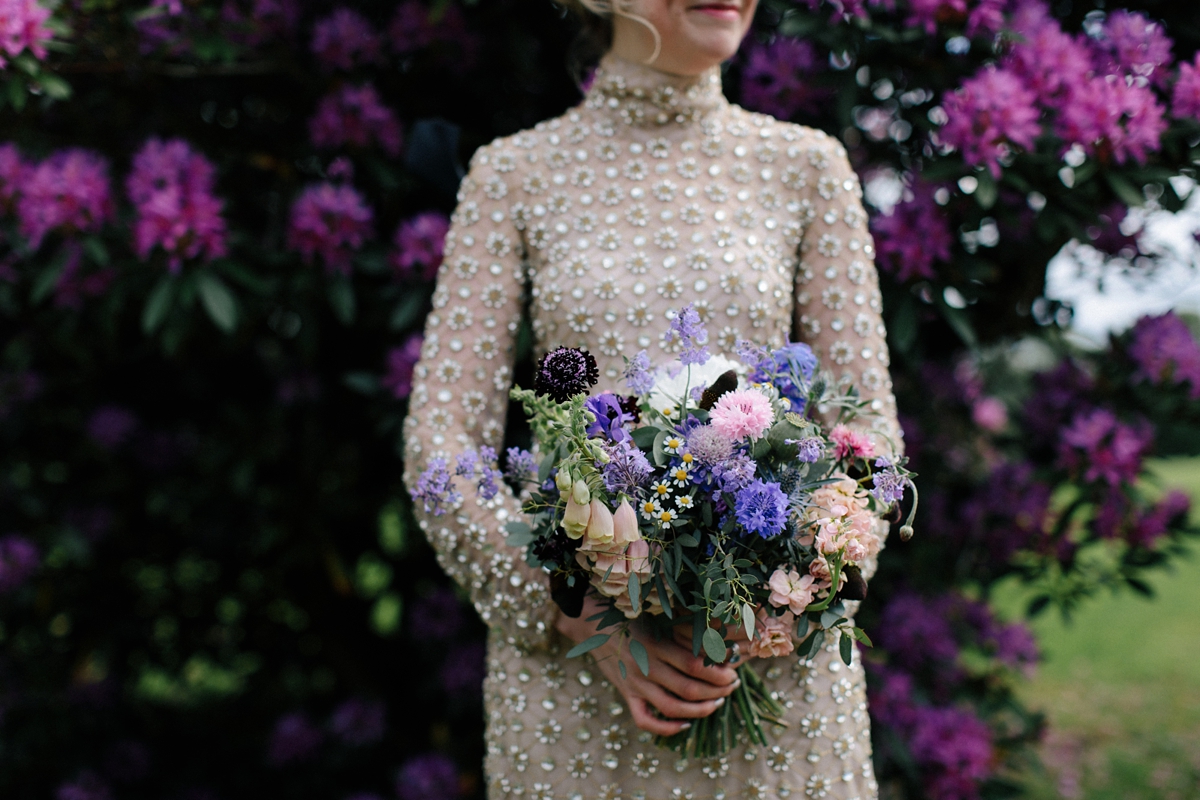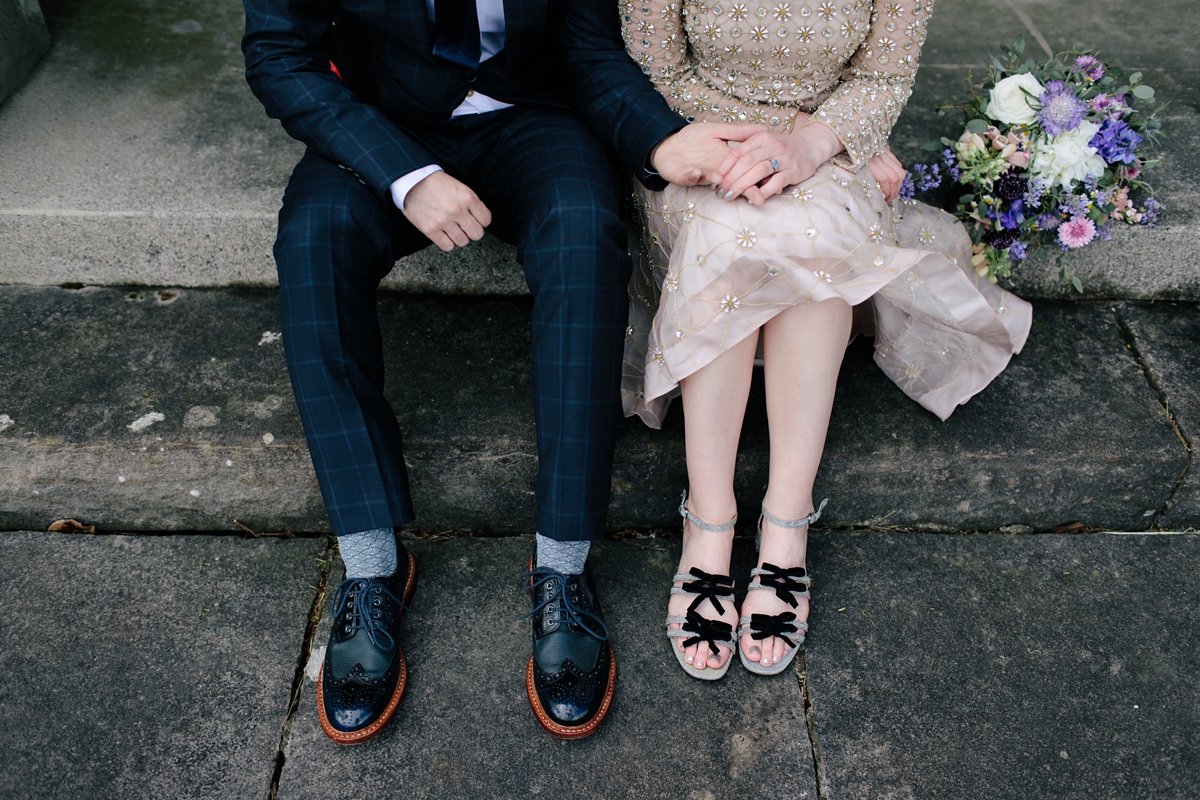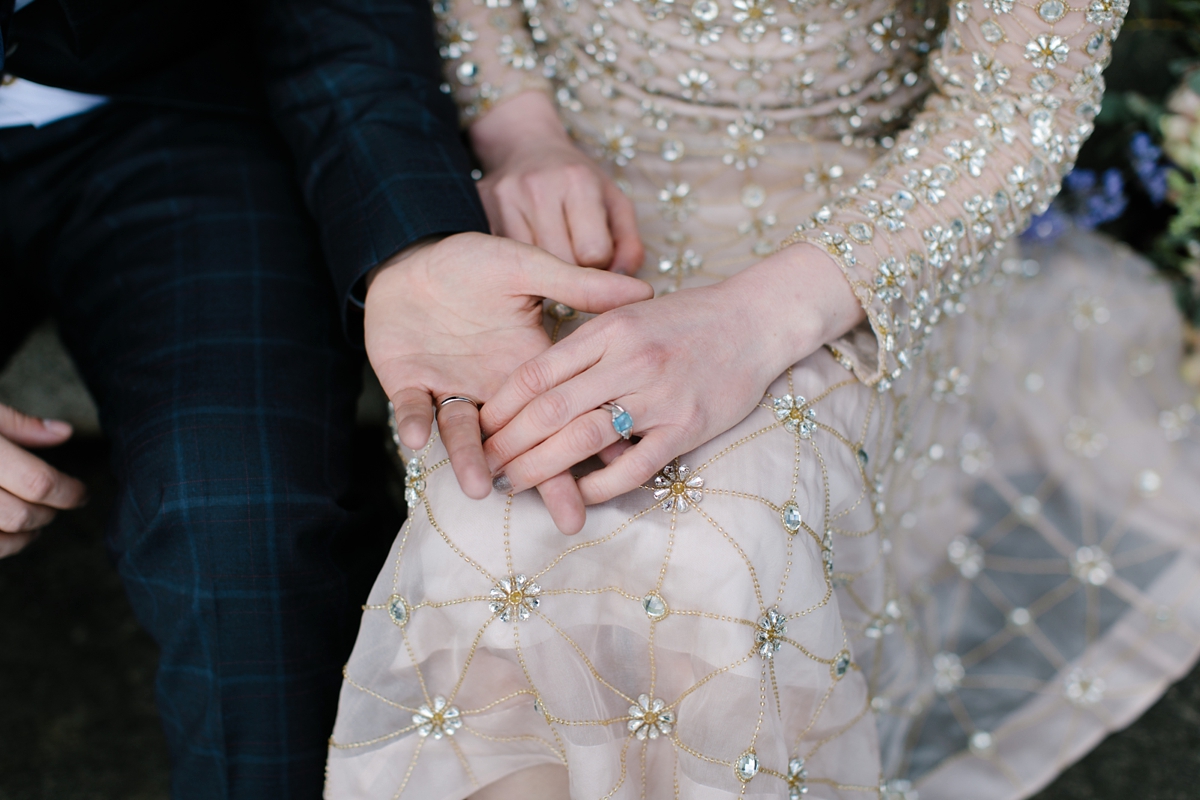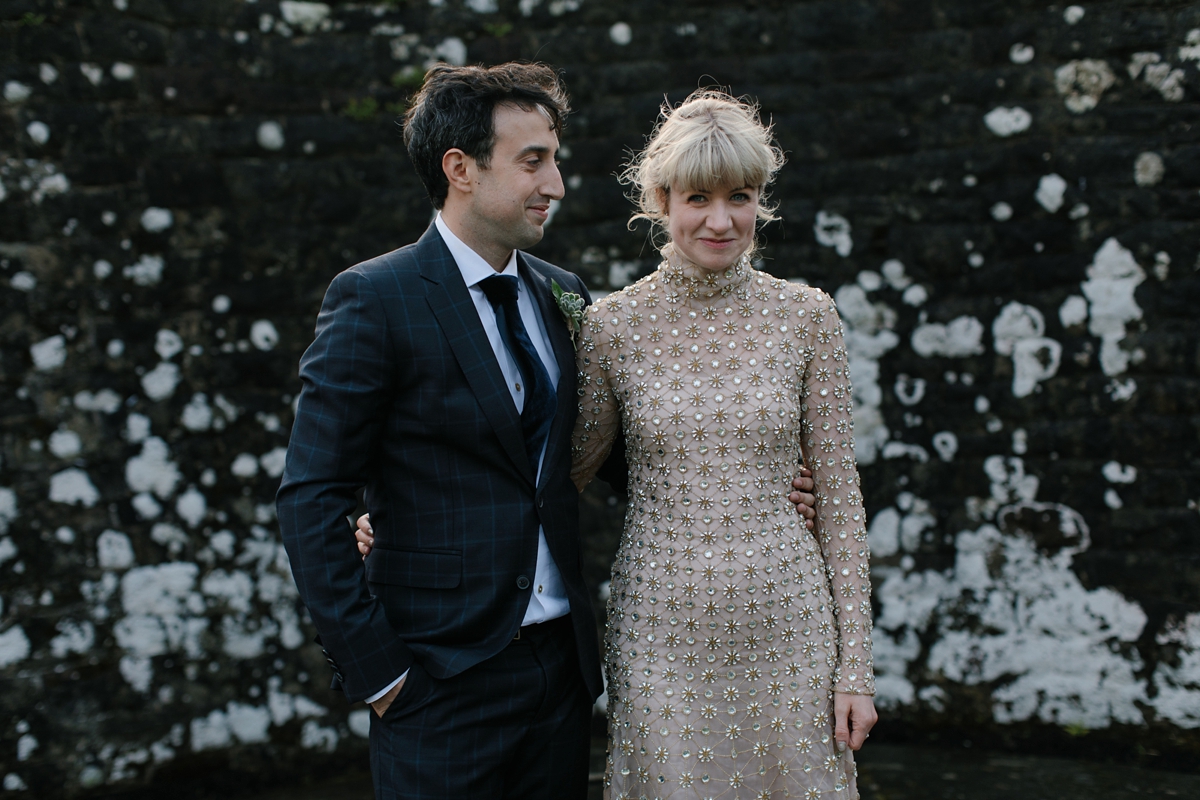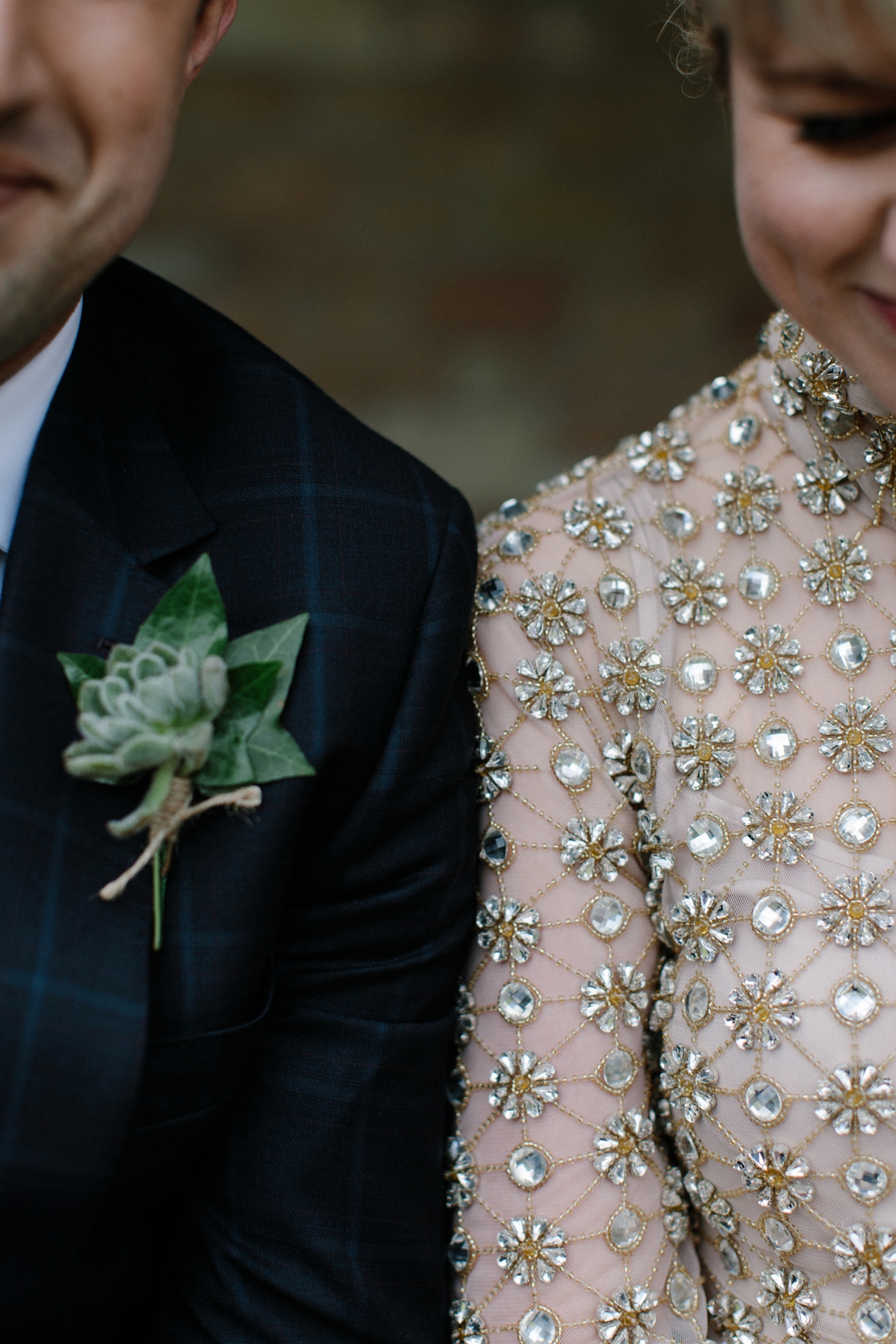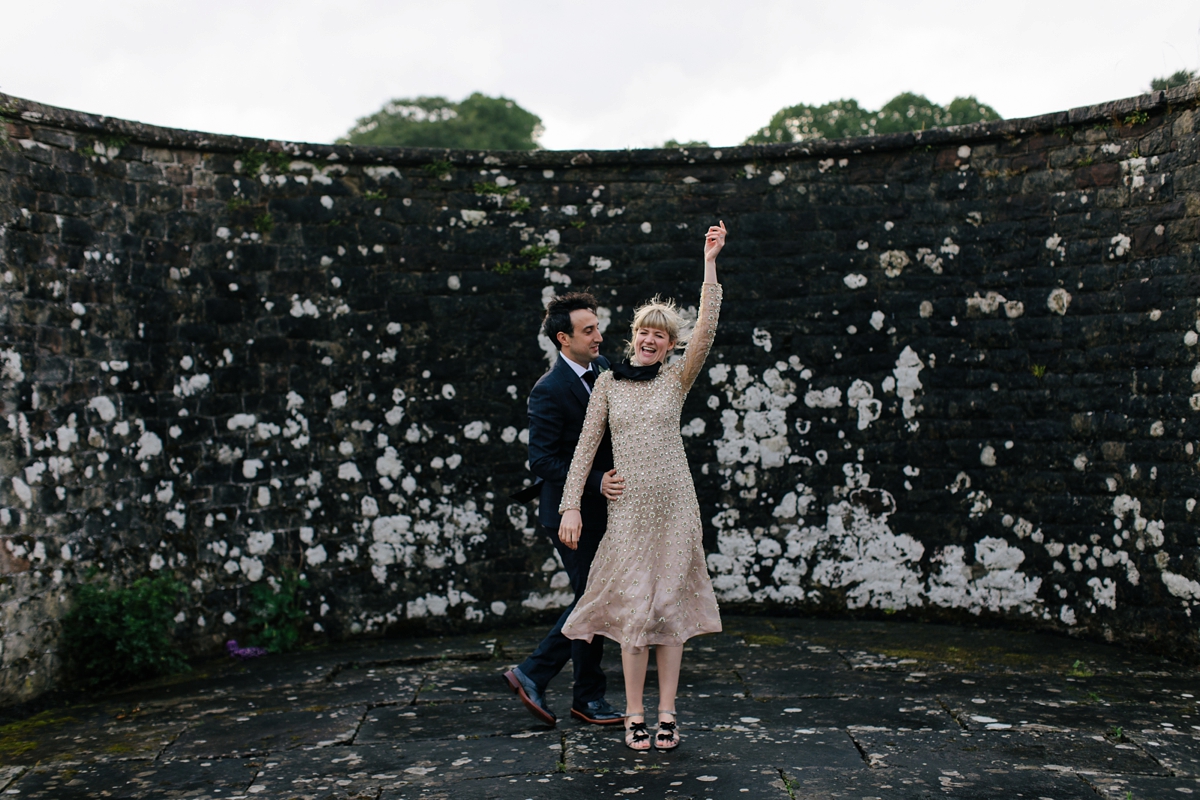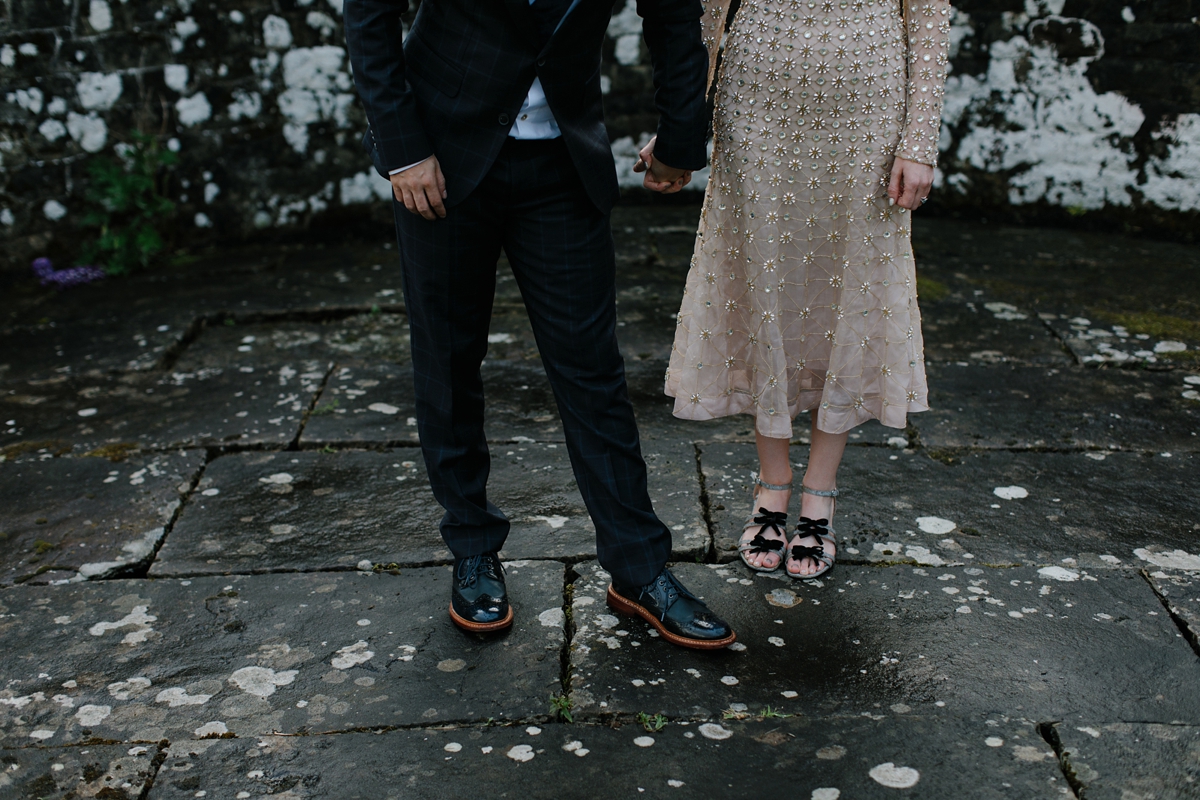 "We did everything ourselves from London – we only visited the castle once again after viewing it for food tasting. In terms of decor, we had trailing ivy up the main staircase of the castle and giant foil gold and silver HOORAY balloons."
"We provided hand made tablet from Arran as favours – this was located at each place setting."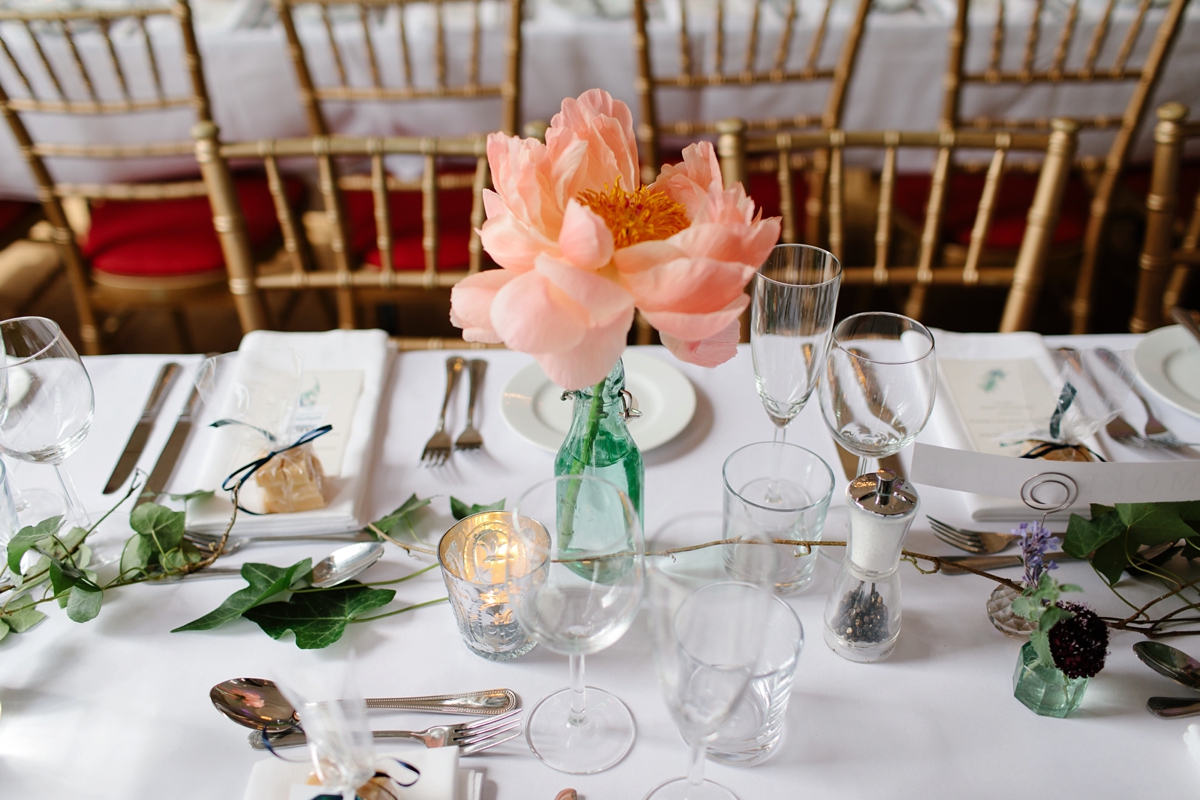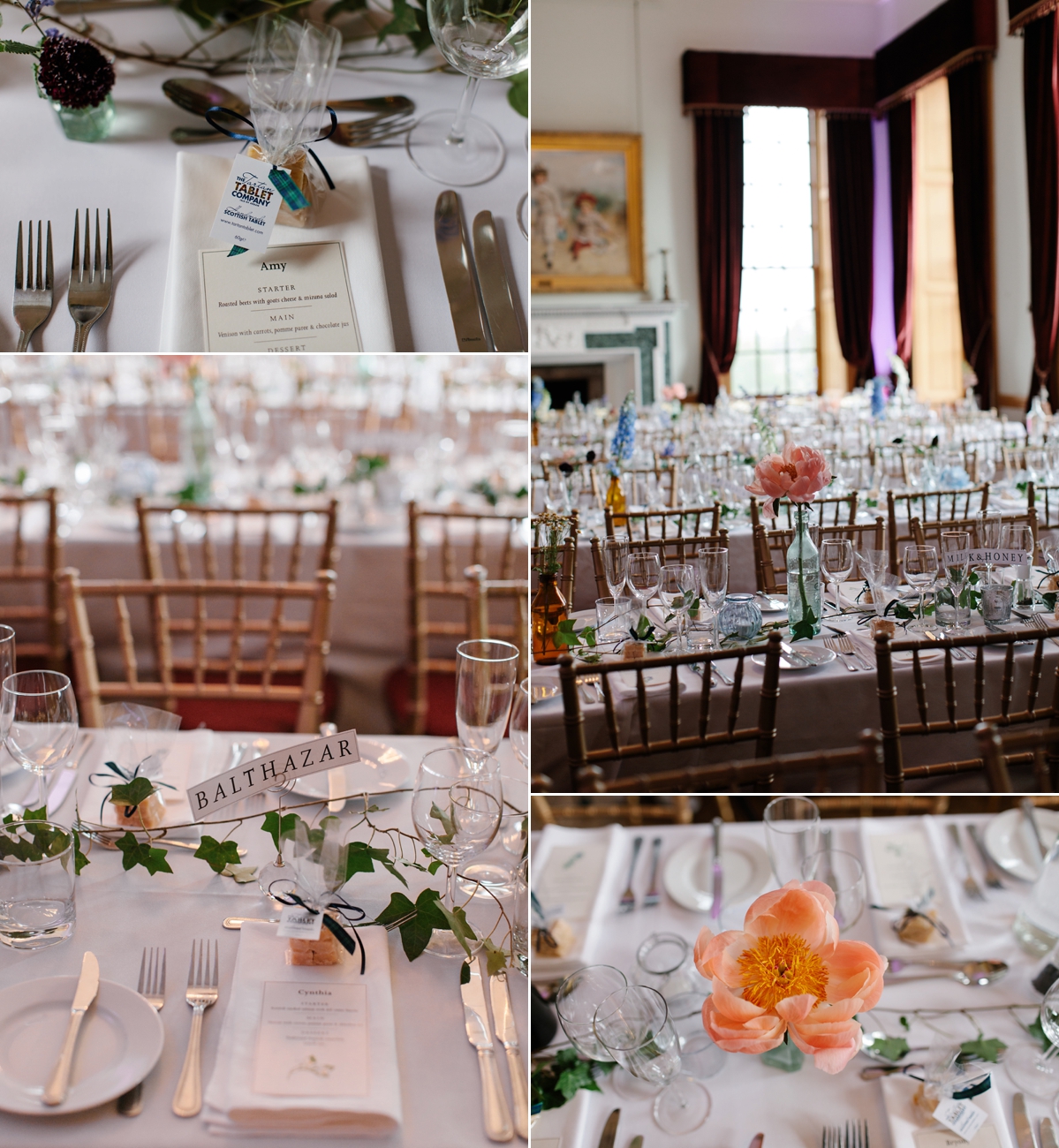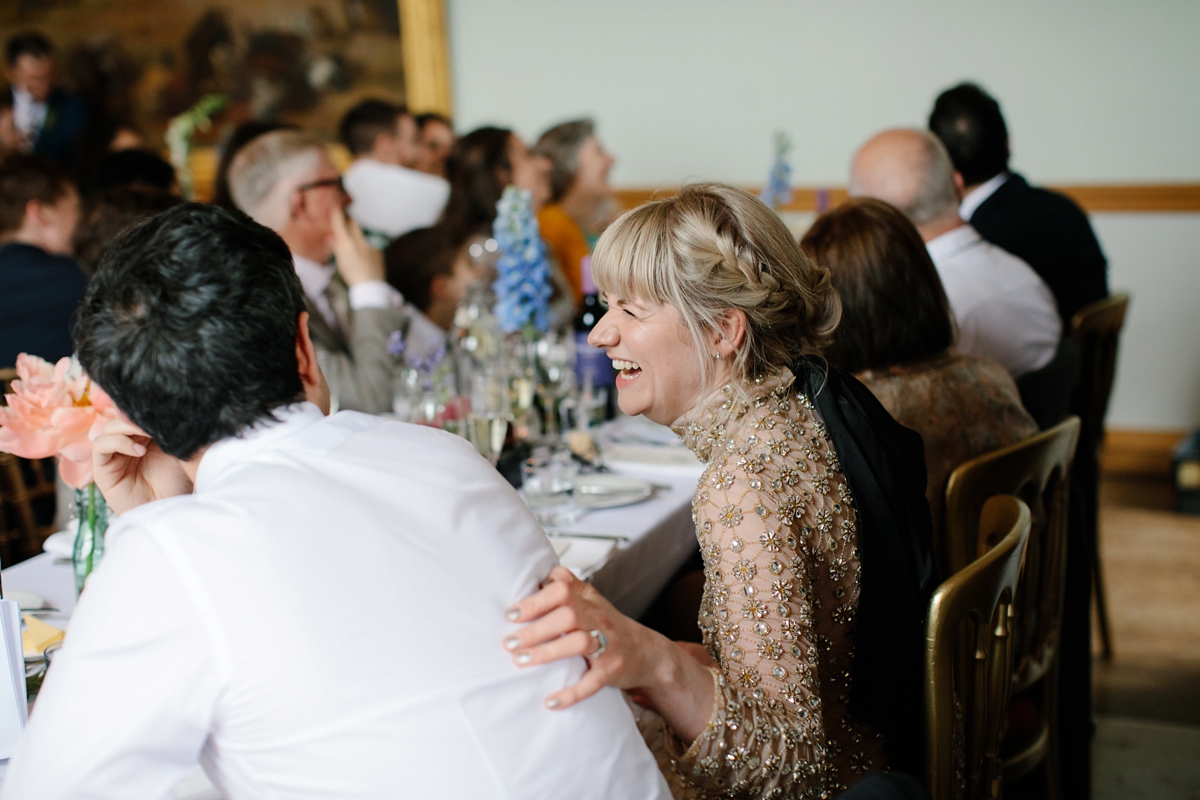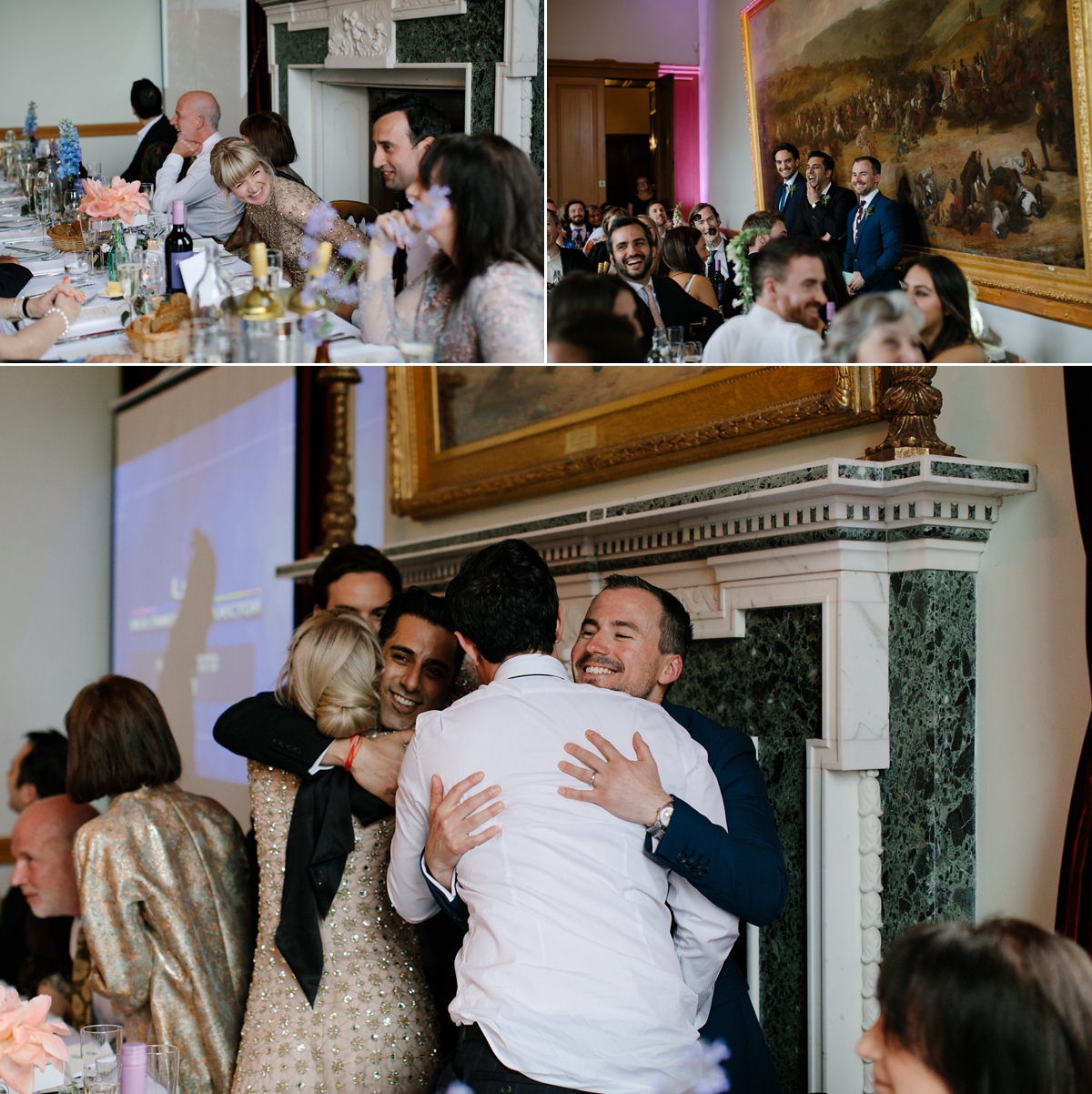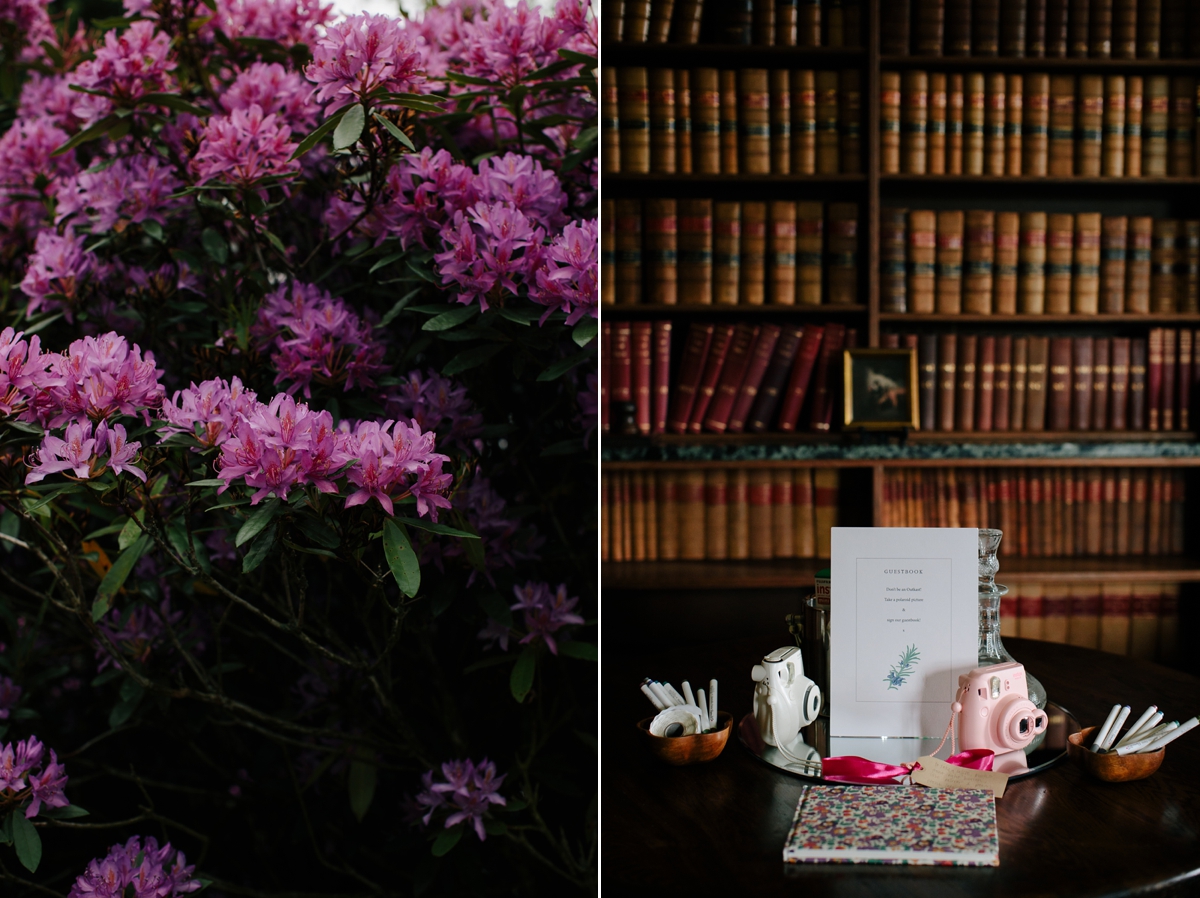 "The Glasshouse Restaurant at Rowallan Castle did the catering in-house. Had lots of ideas of what we wanted to eat and the chef was wonderful at interpreting our ideas to create a bespoke menu.
For our drinks reception we wanted to have an Italian style happy hour with aperol spritz and Cichetti as we spent our first few months together when I was living in Italy."
"Leigh would visit most weekends and we'd spend much of our time in wine bars drinking spritz and eating Cichetti! Our main meal was a traditional Scottish affair with smoked salmon, venison and cranachan. We also had a cocktail bar in the library serving espresso martinis and old fashioneds."
"We found Bakery 47 online and I fell in love with the dreamy photos on instagram. They bake all sorts of amazing breads and cakes and also make wonderful naked and semi-naked wedding cakes. We fell in love when we went for a cake tasting session – they are so so so tasty!"
"We didn't want anything too fussy style-wise and went for a 3 tier cake with victoria sponge, carrot and pecan, and beetroot berry and chocolate, topped with a floral topper by the florist."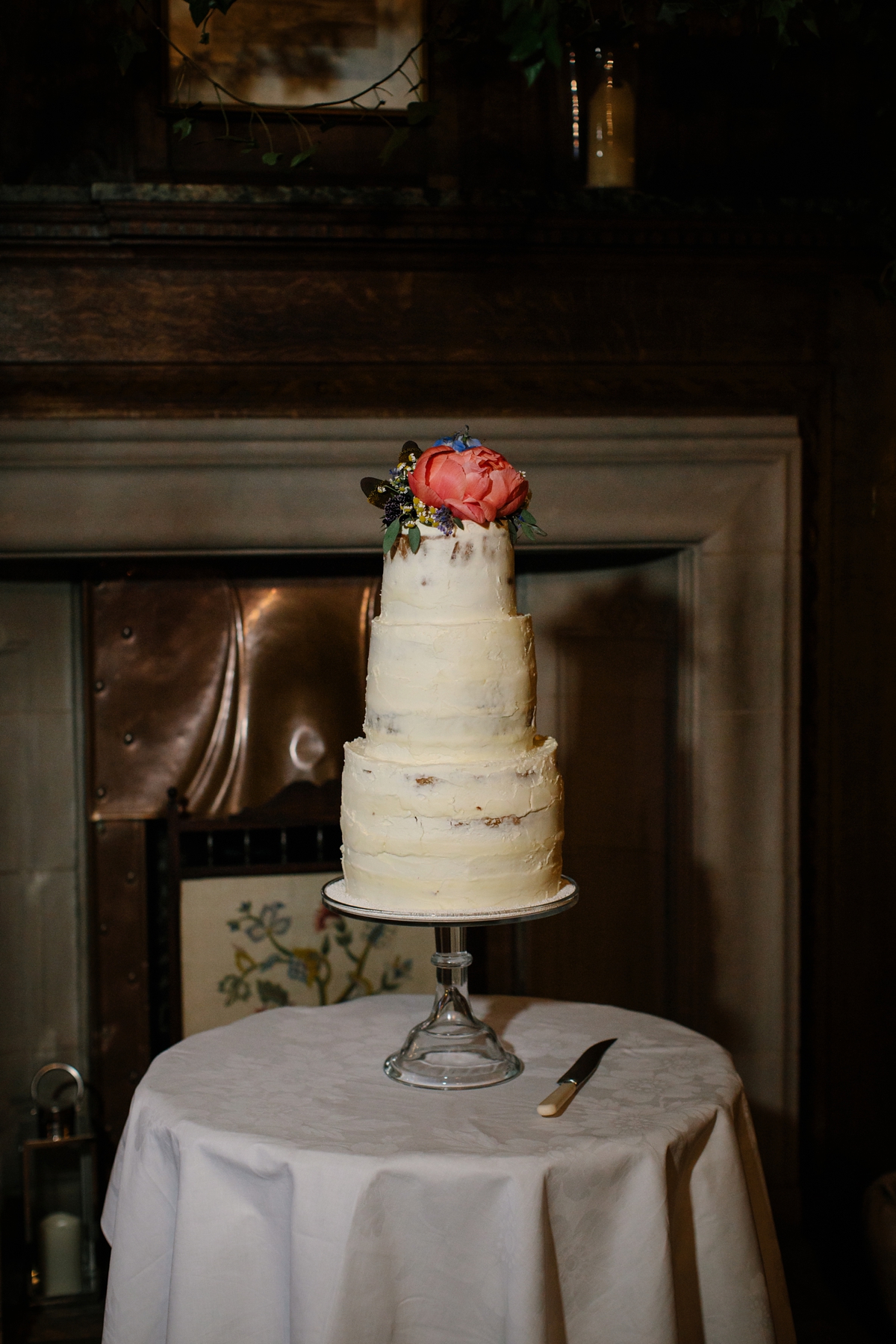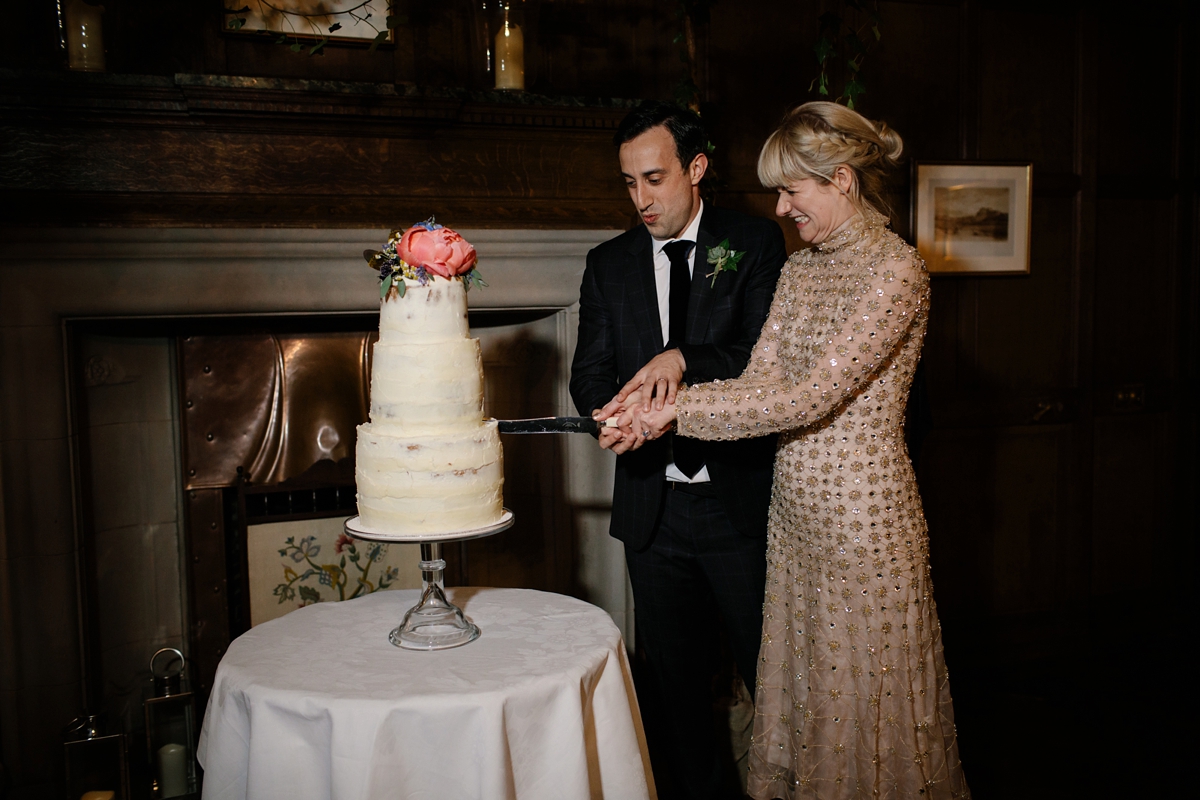 "For the party, my friend's amazing wedding band Sexy Rumours travelled up from London and played fun 70s, 80s and indie disco all night. They also played Hava Nagila and we had lots of chair dancing. They had the dance floor full all night!"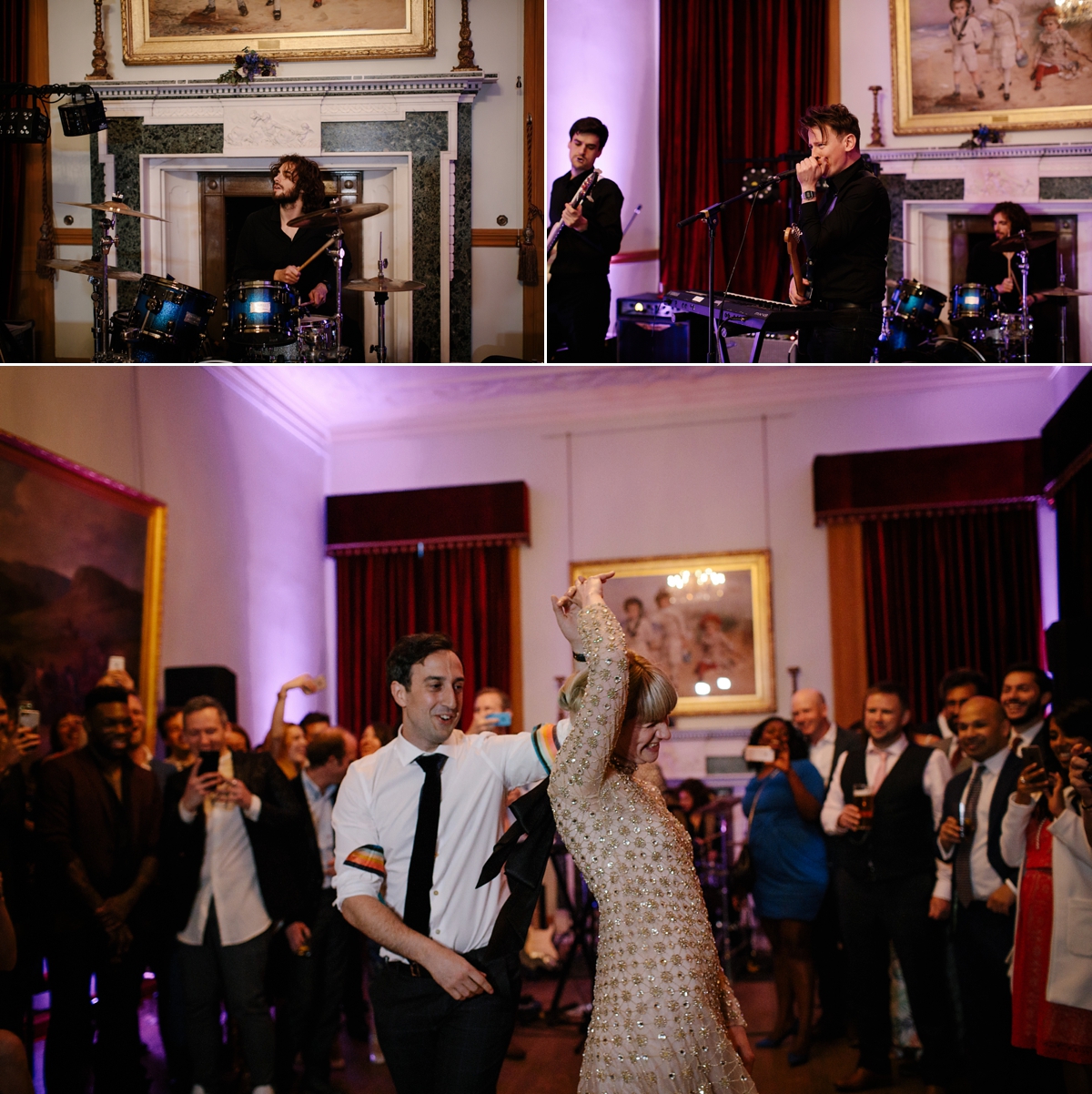 "Our first dance was to a version of 'Simply The Best' by Tina Turner, performed by our band, 'Sexy Rumours'. We are awful at dancing and so decided to learn a short routine to surprise our guests."
"My friend Sharol is a professional dancer and choreographed a brilliant routine for us. We picked Simply The Best because its simply a brilliant, fun song!"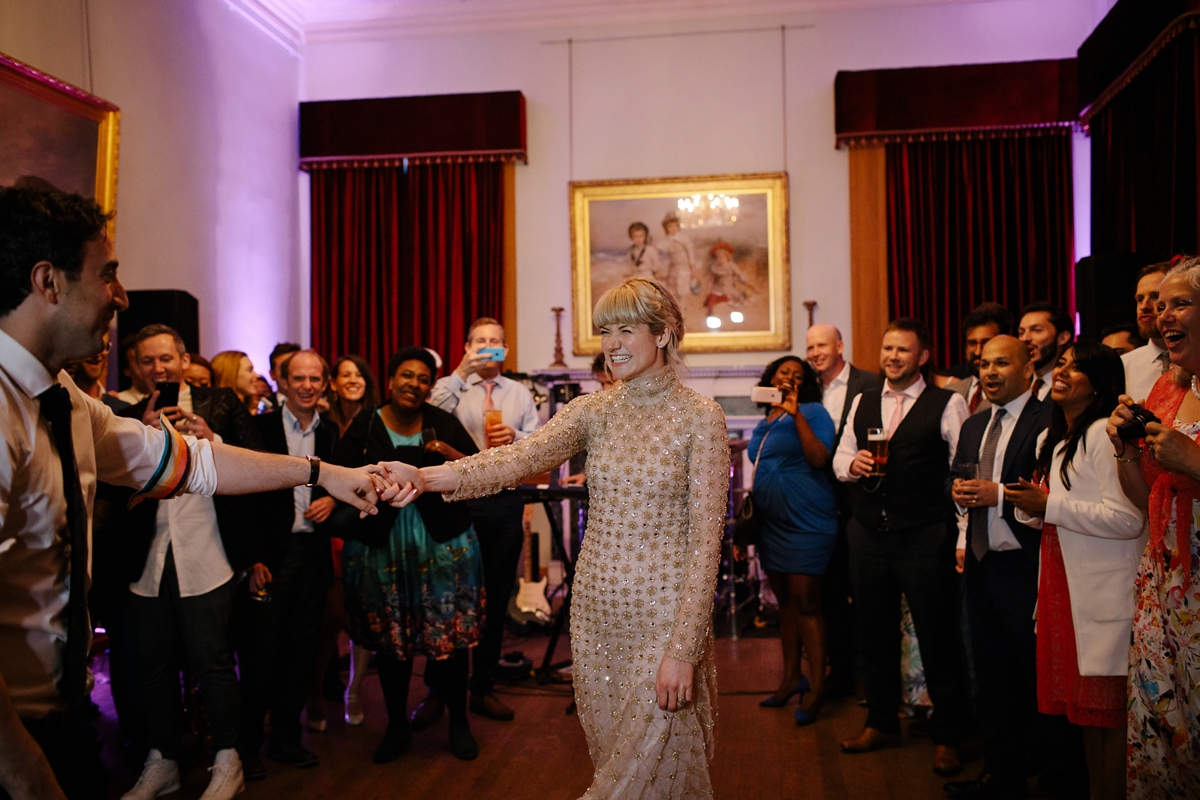 "John of John Carroll Photography was our film maker and was great to work with. We were so nervous about having a videographer but had so much pressure from friends and family to get one. We skipped beforehand to understand more about John's style – he put us completely at ease and said it would not be intrusive and that we wouldn't even notice."
"We have had so many guests asking if we had a videographer as they didn't even see him. We can't wait to get the edited video back!"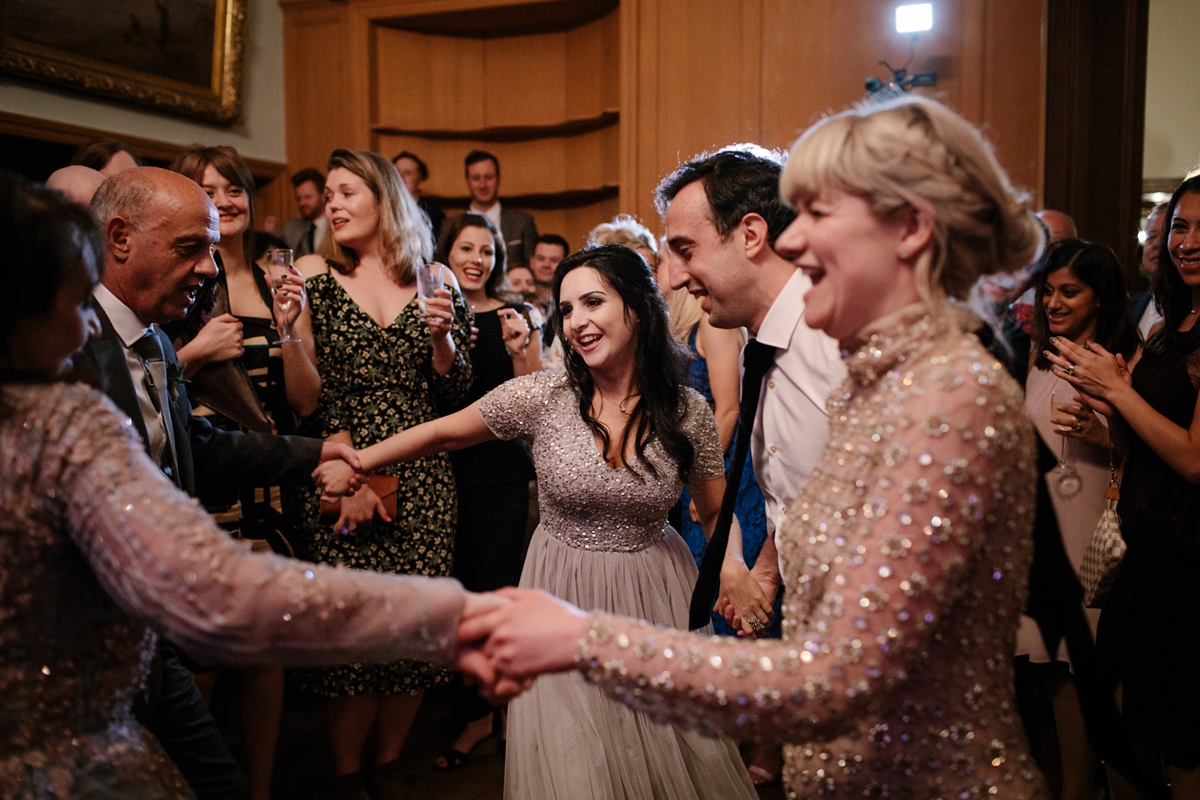 We don't have a favourite part of the day. It was all amazing and exceeded our expectations. It may sound cliche, but just having all your favourite people in one place is the best thing. The only thing that didn't go to plan was that the service could not take place outside as it was so windy and rainy….but we did choose to get married in Scotland!"
Words of Wedded Wisdom
"We went into the whole process with the idea that we just wanted a fun day. We didn't take anything too seriously. The whole idea of getting married is obviously a serious one, but once we'd decided upon this commitment, we decided to have fun with everything else.
Going out to meet with suppliers and contacts we found was the best way to find people that we liked. Its much easier face to face and to see the environment that they work in. It turned out to be the smaller companies or individuals that we preferred and were more creative and exciting to work with. I heart flowers was chosen over another larger company for example after a visit to Sophies studio – we sat sipping tea with her. She works from a wonderful creative hub and we could really feel the passion that she has for her work."
"Many of our friends have said it was one of the best wedding ceremonies that have been to – Lorraine the celebrant was incredible. Light-hearted and warm. I think writing our own promises really added to the personal feel.
Keeping our guests entertained was key to the day running smoothly. Most of my friends have commented that there was always something going on, which they loved – be it chair dancing or the cocktail bar, they felt excited and entertained."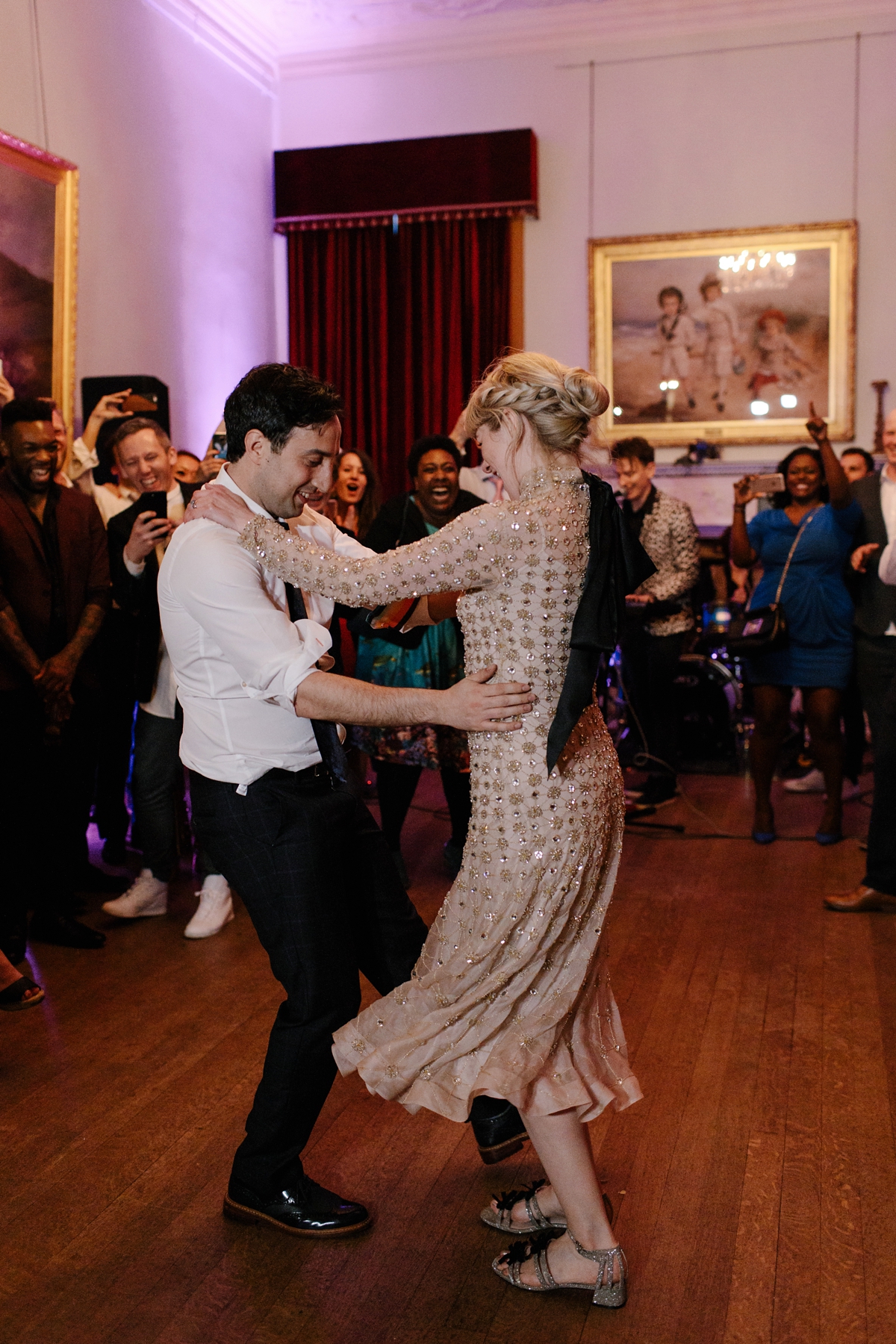 Love and thanks to Leigh and Amy for sharing their beautiful wedding day, and our enormous gratitude as always to the exceptional photographer, Caro Weiss for showing so much loyalty to this blog and sharing all her most wonderful images.
Love Annabel x