Working to support our lovely wedding suppliers on Little Book for Brides on a day-to-day basis, I am constantly blown away by the talent and creativity out there.
The same goes for today's bride Livvy, who made her gorgeous, pastel-toned wedding gown herself, as well as create so many details for the wedding reception along with groom Ben, including renovating the wedding car, providing the food and putting together the flowers. Fans of bright, jewel-inspired colours, please feast your eyes on the multi-coloured joy that is this wedding.
The couple married on 2 July 2016 at St John the Evangelist Church, Sutton Veny, Wiltshire, followed by a marquee reception just by Ben's family's sawmill. The couple put together their day, inspired by the Wiltshire countryside and their shared love of antiques, in just three weeks. Whilst Ben works in the family sawmill business, Livvy is a costume maker so making her own wedding gown and the bridesmaids' dresses in her favourite materials was inevitable. Livvy's bridesmaids wore a rainbow of jewel-coloured gowns in a simple, strappy design; so joyful, they reflect the diverse colours of the wild flowers and the marquee's decor.
Photography by Kismet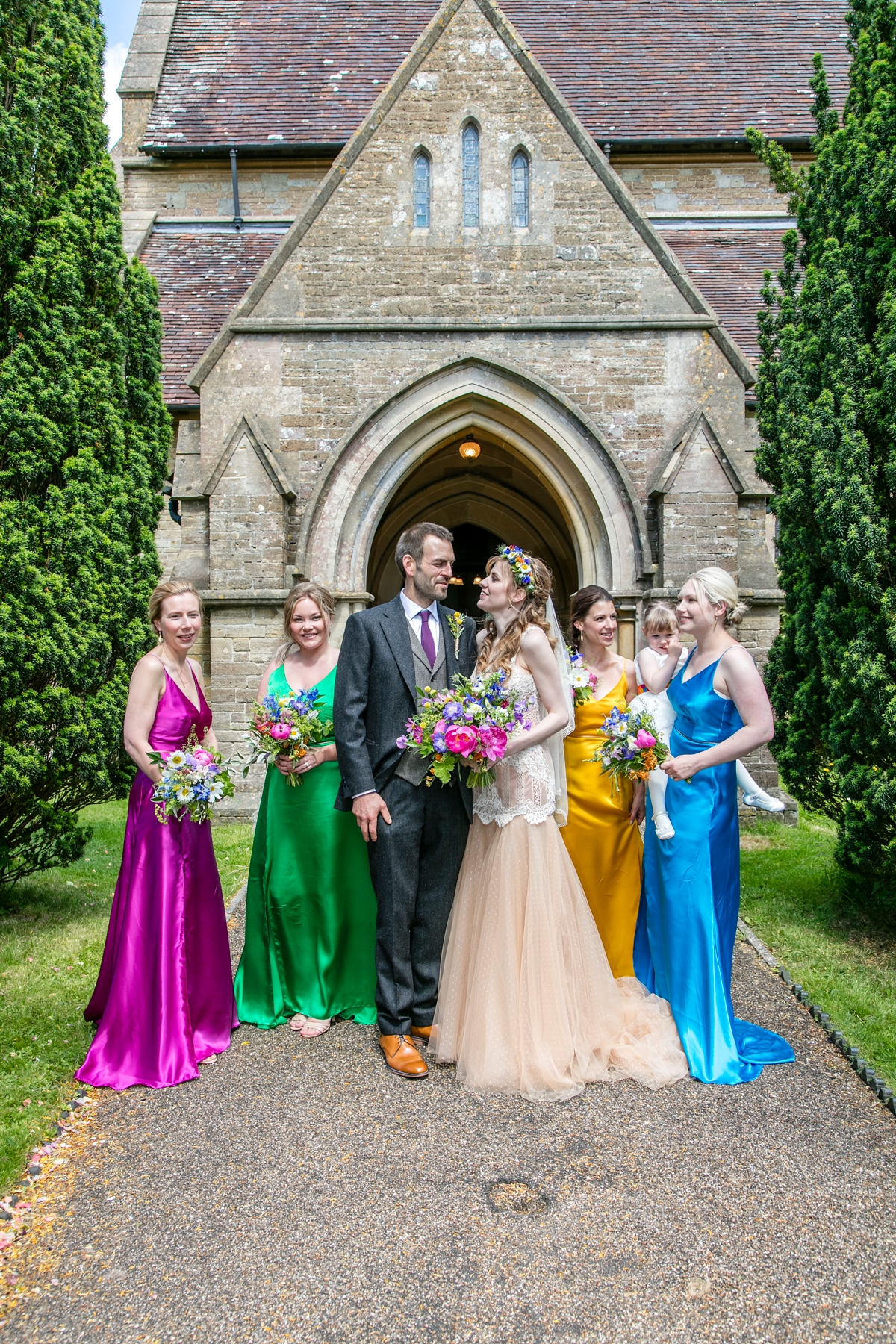 There's a wise warning about taking out wedding insurance below. Sadly, we do hear stories that have involved very last minute venue changes…
"Our reception venue changed at the very last minute due to unforeseeable circumstances so we had just over three weeks to find a new one. Ben suggested having it in his field next to the family sawmill. He and his brother went to work on tidying it up in preparation for the wedding. We were lucky to get a marquee at such short notice and I am so glad the venue changed as it was the perfect venue for a country wedding. We have an allotment at the top of the field so every time I visit it, I can look out over our wedding venue and it reminds me of our very special day."Livvy and Ben met dancing and got engaged whilst on holiday. Livvy's gold and diamond antique engagement ring is so beautiful, and looks wonderful with her bespoke wedding ring.
"Ben and I met at an Argentine tango class in Bournemouth. We both really loved the dance and after many trips with tango teachers to congresses we became a couple, and still dance tango together. It was of course a natural choice for us to dance the tango as our first dance."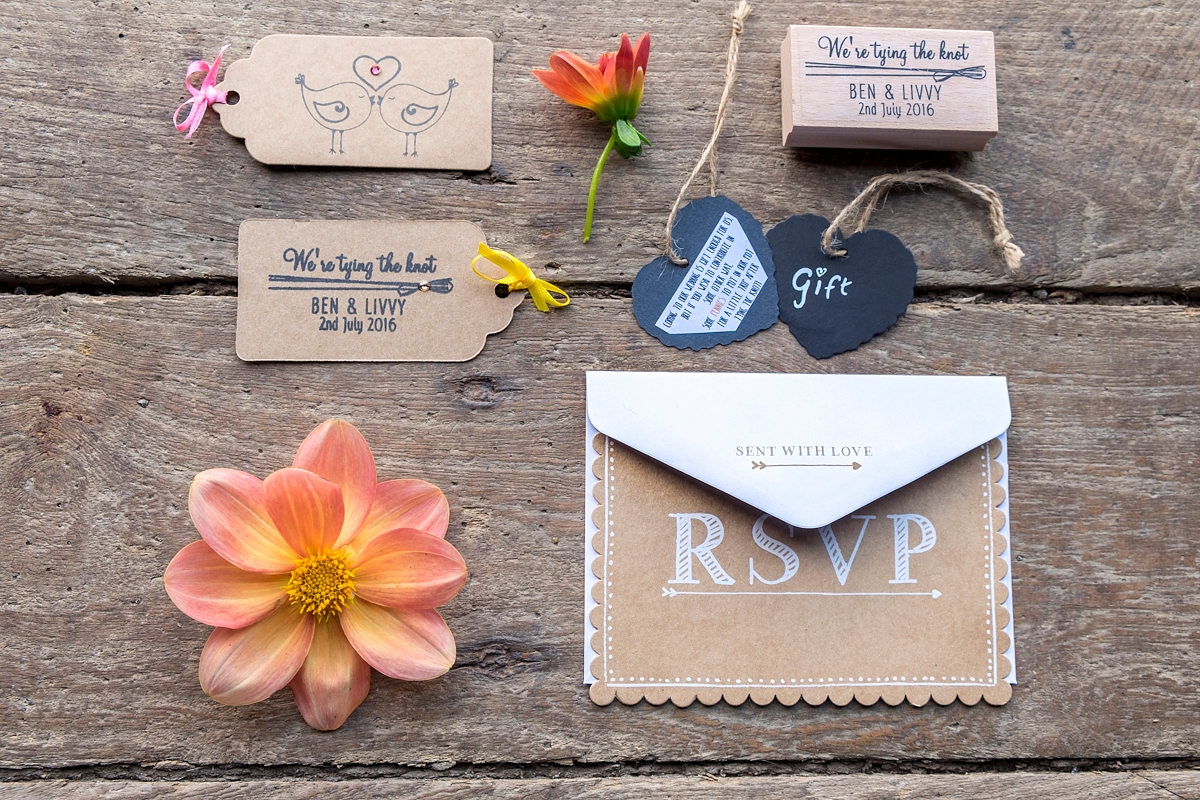 "We have now been together just under five years. Ben proposed on a beach in St Martins in the Caribbean whilst on a cruise with friends. I knew that he was going to propose but had no idea when or where it would happen. I chose my engagement ring – I wasn't going to but I fell in love with an antique one."
The bride and groom are truly a DIY couple and as well as hand-making many of the styling elements themselves, they recruited family and friends to help them out.
"We designed our own stationery. After working out the layout of the invite on the computer I printed onto fabric and sewed the edges. It was all very DIY. We decorated the stationery with buttons and coloured string."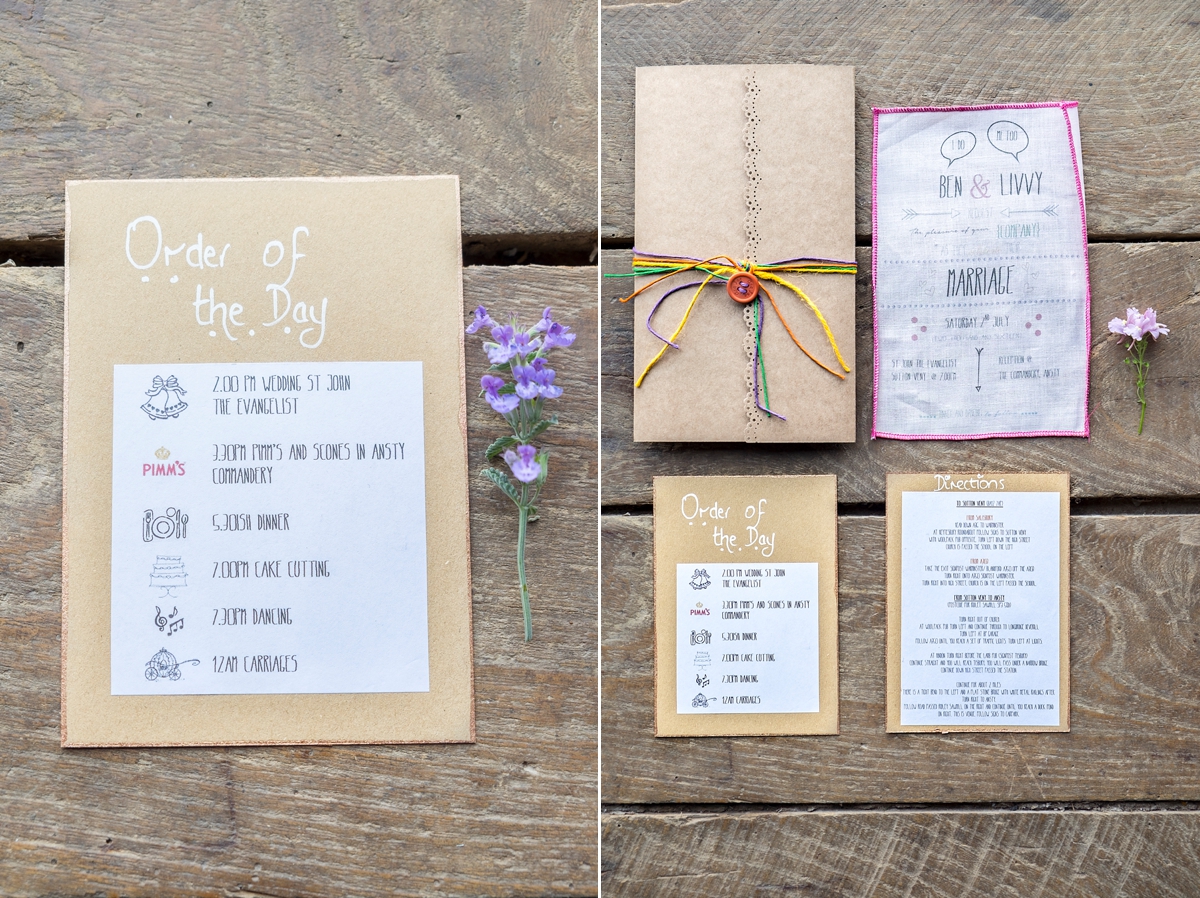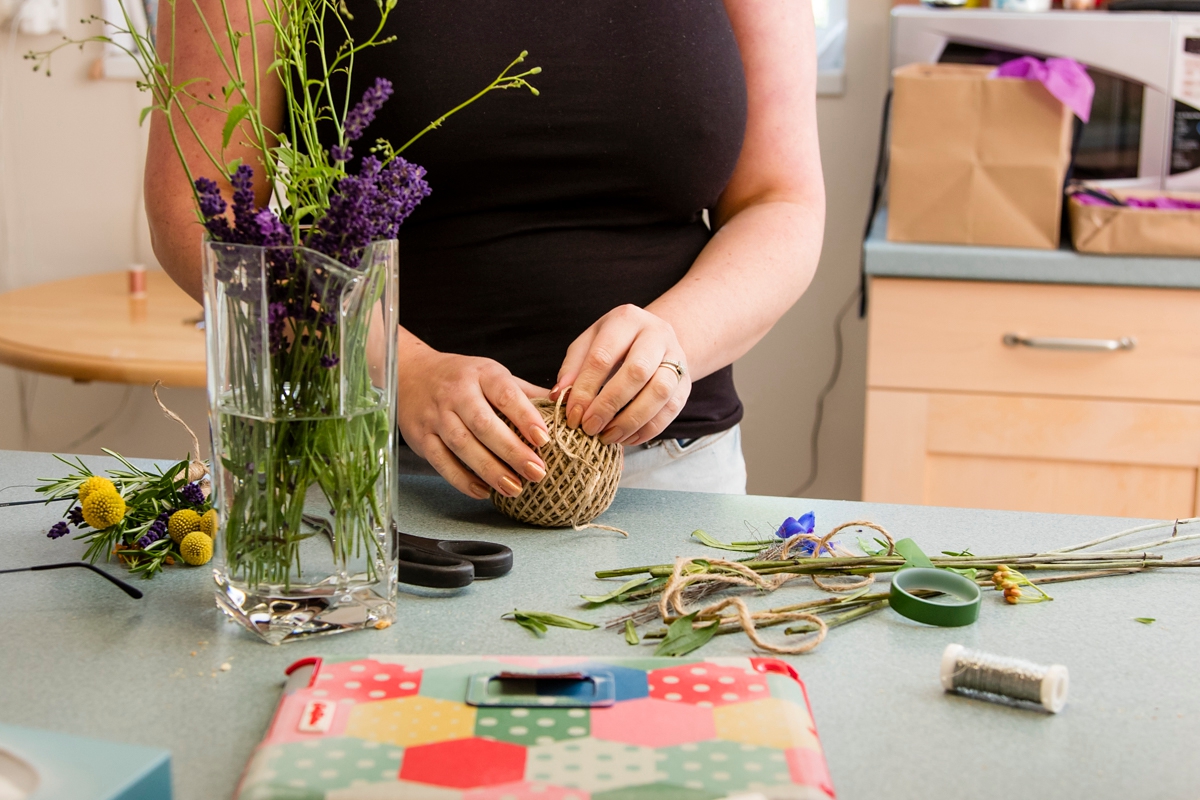 Livvy's waist-length veil was a last-minute addition.
"I bought lace for the dress that I didn't use and I didn't have a veil or time to go and get fabric. I held it up on my head and thought it would be perfect, which it was. I love the length as it doesn't detract from the dress."
She added gold Rainbow Club shoes and a floral headpiece created by Bramble and Wild, as well as instantly recognisable earrings by Amanda Coleman. I was delighted when I saw these sweet, gold field mice earrings; Amanda is a designer local to me, and I'm lucky enough to own a beautiful silver swallow necklace and earrings by her.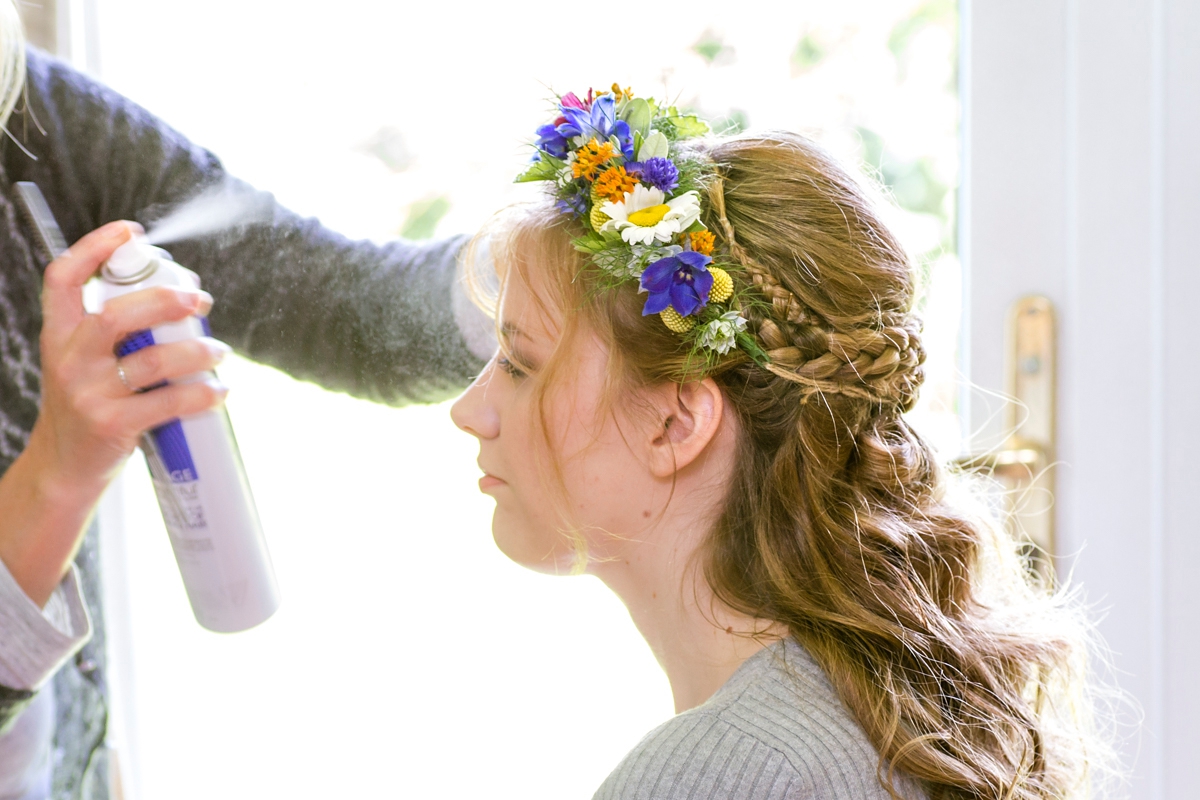 The bride's hair was in a half-up, half-down style, with braids and flowing curls to set the tone for the relaxed and natural day. Meanwhile, a bright pink lip added a touch of glamour and brightness.
"Linda Denmead did our hair. She was a friend who we met through dancing and did a brilliant job. I loved it. She had to get us all done then rush home to get ready to come to the wedding."
"The dress was made by me. I also had a friend, Tanya, who helped make the dress and stayed up till five in the morning with me hand-sewing lace onto it the day before my wedding."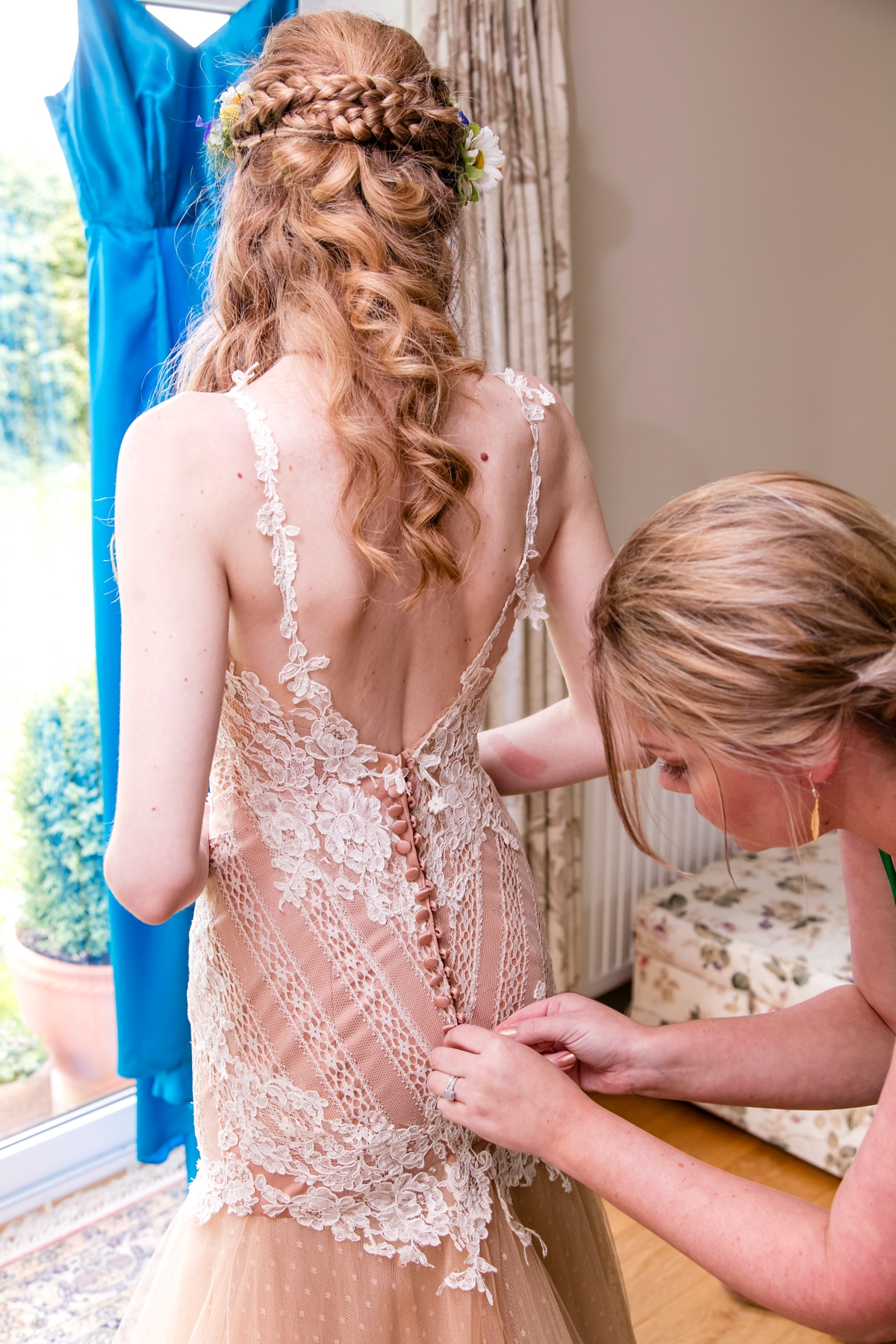 "I wanted a coloured wedding dress as white and ivory don't suit my skin tone, and I went for a nude palette with layers of beige, nude, green, pink and apricot-coloured tulle from Goldhawk Road in London. I bought lace and crêpe fabric from Broadwick Silks and Misan Textiles in Berwick Street, also in London."
"I was sewing my dress on the morning of the wedding and finishing my veil whilst having my hair done! I love the fact that I have a unique wedding dress that is entirely my personality and exactly what I wanted."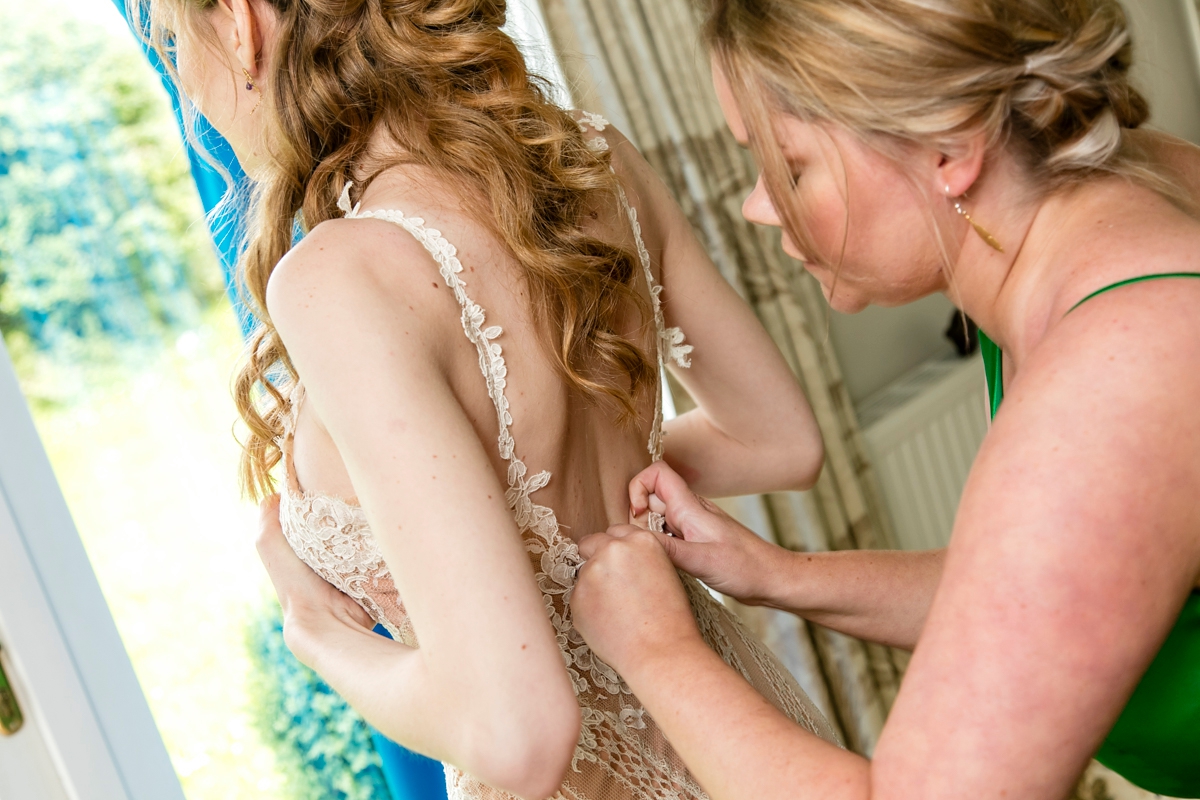 "I don't like formal flower arrangements, preferring the just-picked-from-the-garden look. I wanted a very informal country floral style and used old milk churns as props with lots of wild flowers and foxgloves with pops of bright colours. One of my bridesmaids grew the foxgloves especially for us in her garden. The venue and church flowers were arranged by my mum in the milk churns and jam jars and Ben's sister planted up two old tree trunks with flowers that she lit up at night with battery-powered tea lights which looked amazing."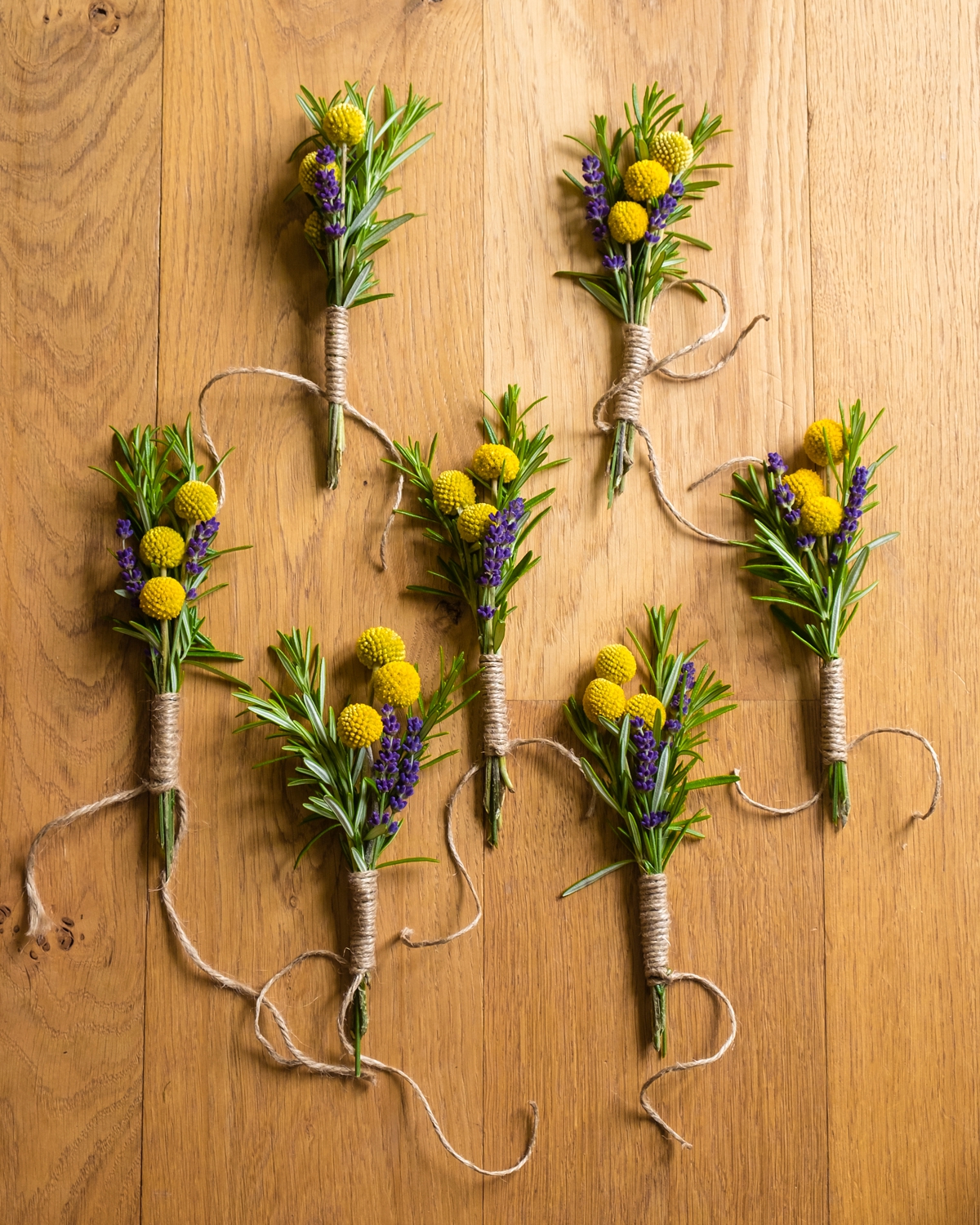 "My mum did all the flowers at the church and the venue, which Ben's sister Susan also helped with. She also did the buttonholes with help from a few bridesmaids. Making the bouquets was going to be too much so we got them from Bramble and Wild. The venue flowers were created by my mum, family and friends using flowers from Triangle Nursery and local gardens."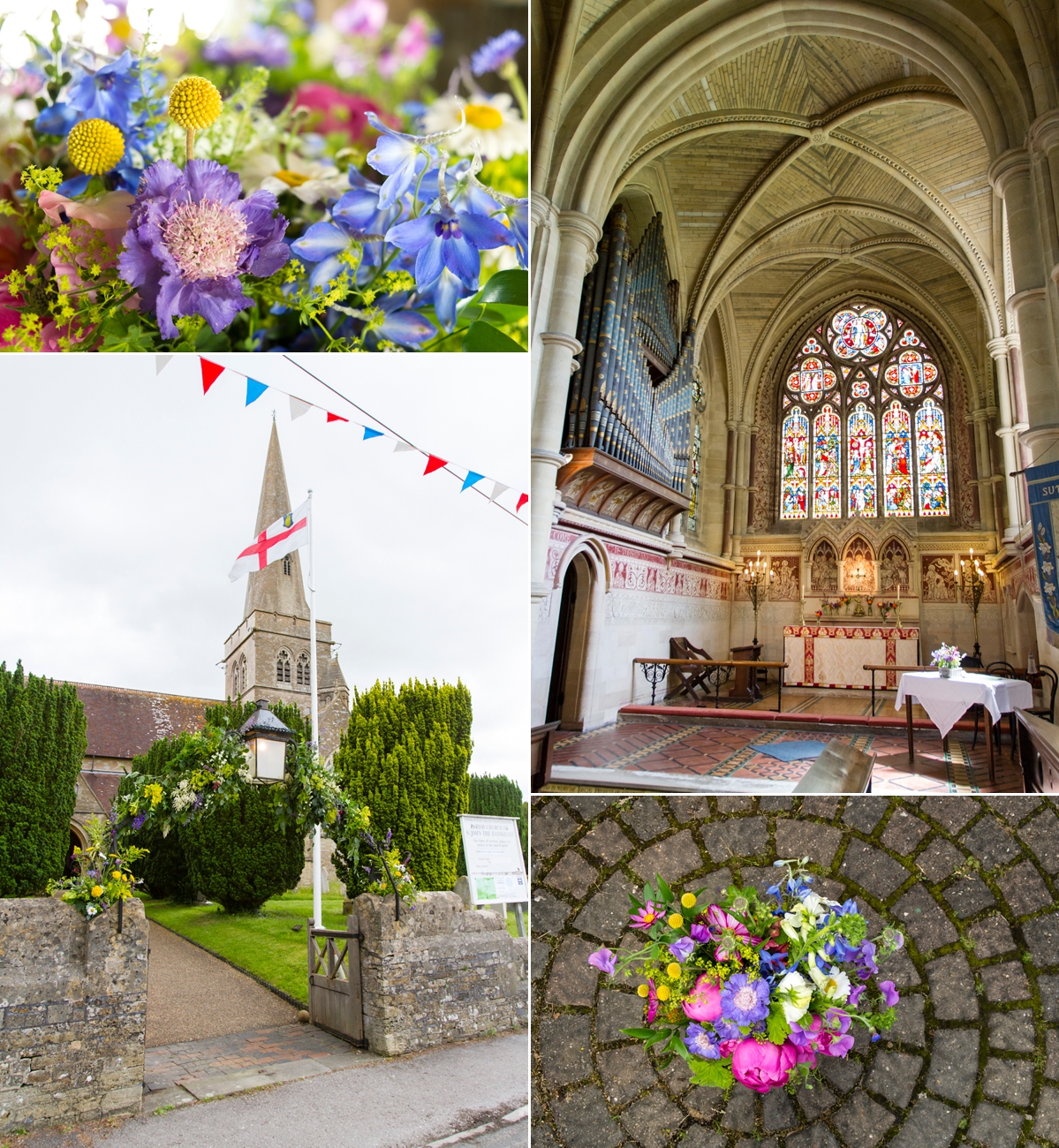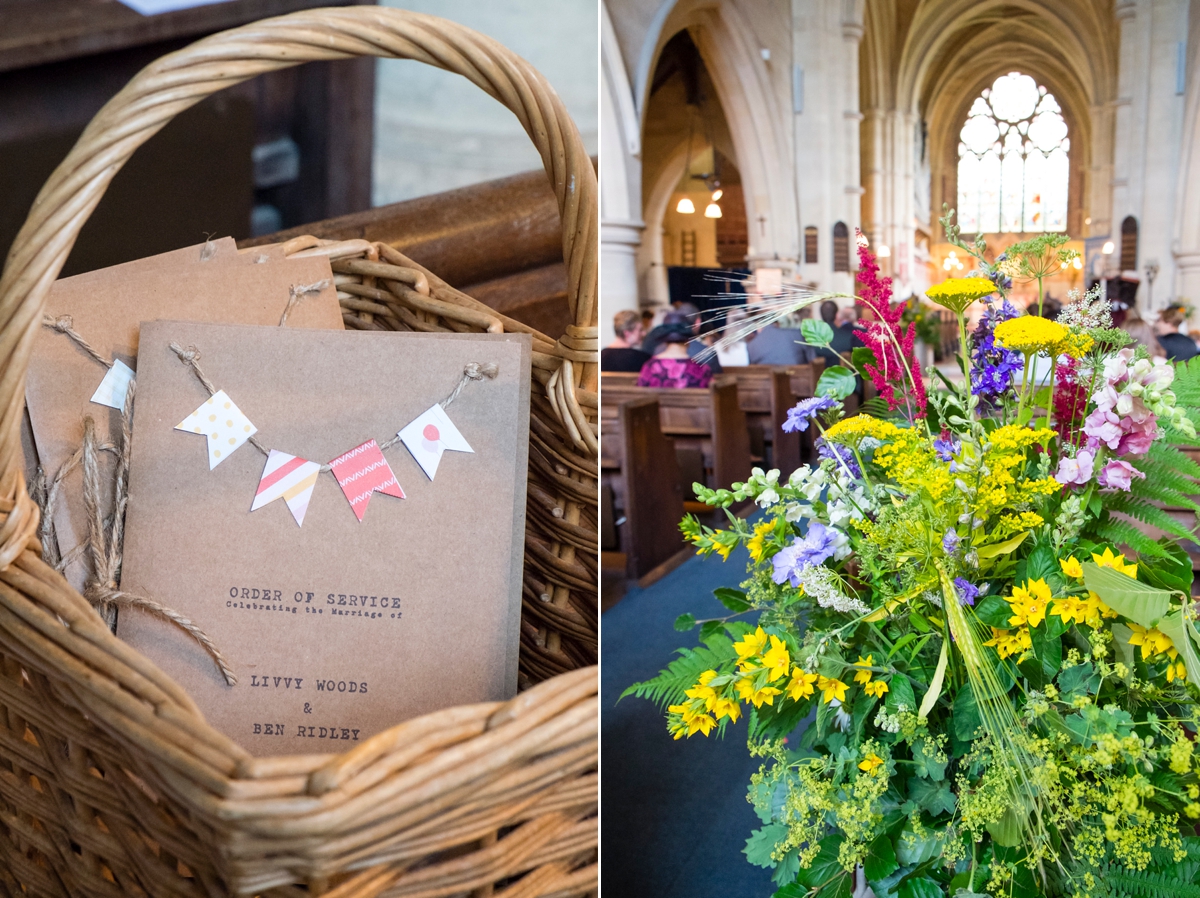 The bride travelled to the church with her dad in a Landrover renovated especially for the day.
"We arrived at St. John's Church in Ben's dad's Landrover which Ben learnt to drive in. Ben loves Landrovers and uses his own almost daily and wanted to refurbish his beloved dad's for our day. He took it apart to rebuild some of the body work, then painted, cleaned and replaced parts so that it was good for us to arrive at the church for the wedding. It also fitted in well with the rustic country style of a wedding that we wanted."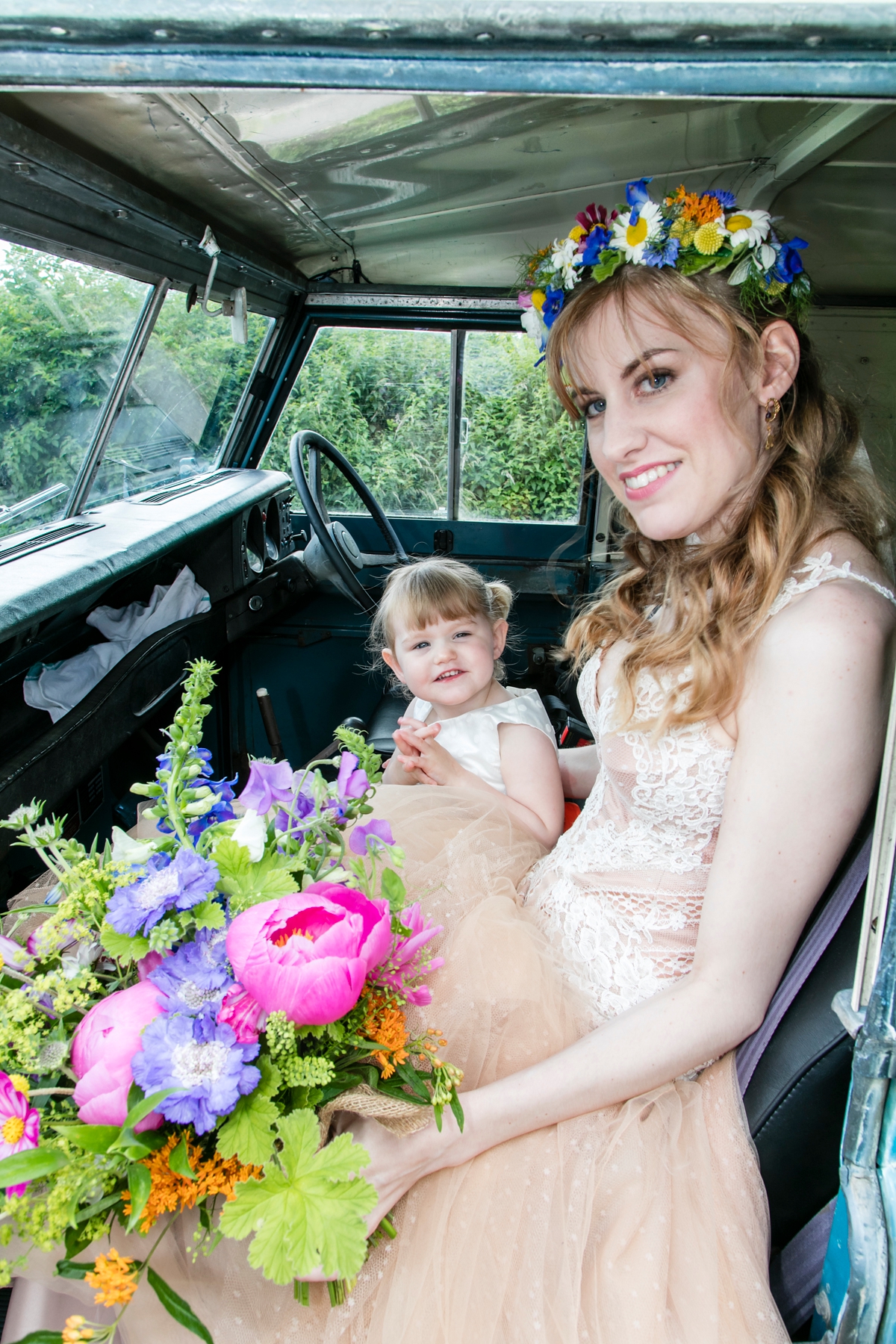 Livvy walked down the aisle to Peter Gabriel's 'The Book of Love', adapted for the church organ, before exchanging vows with Ben. They chose an unusual reading by Einstein, feeling that it reflected them as a couple.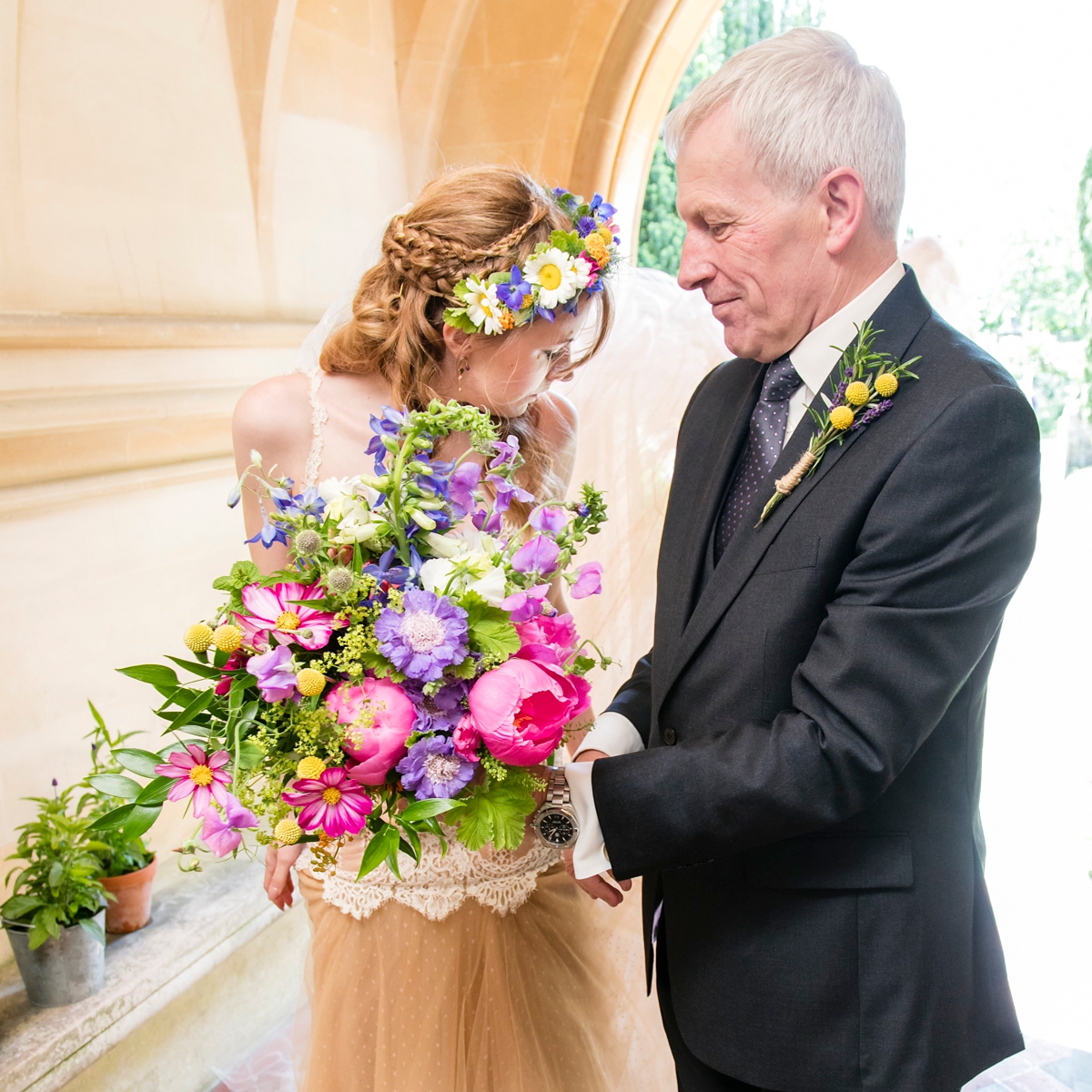 "We struggled with readings as neither of us are particularly romantic, but we did find one by Einstein called 'Gravitation' which summed us up well."
'Put your hand on a hot stove for a minute, and it seems like an hour. Sit with a pretty girl for an hour, and it seems like a minute. THAT'S relativity.'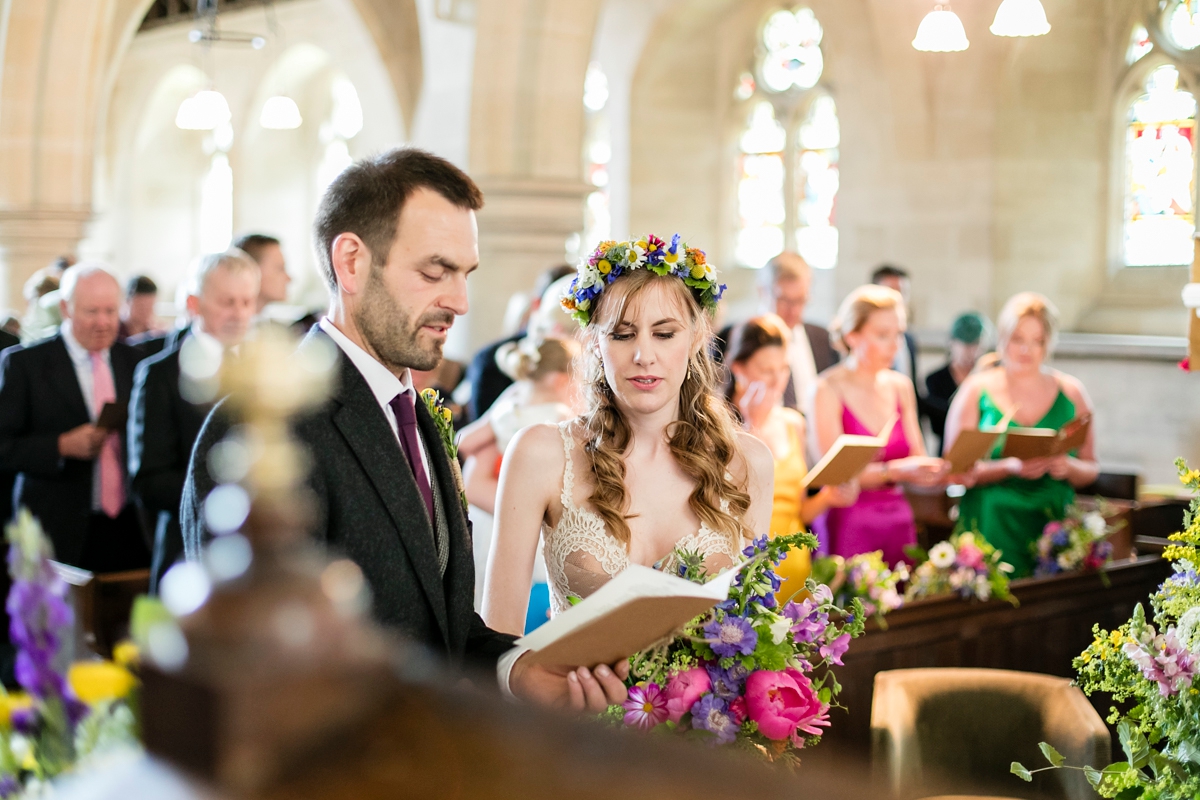 Rings were designed by the couple, and bought at Salisbury jeweller Tribbeck's.
"Ben's family have been going to the family-run jewellers for years; they are very personal and helpful. I had my wedding band made to fit around my engagement ring so had great fun designing it with them. I chose rose gold after they suggested it."
"I was struggling with yellow gold as my engagement ring is antique, so is well worn and the gold was too shiny. Also, Ben chose a ring that was silver with a rose gold band through it so we thought it would tie in."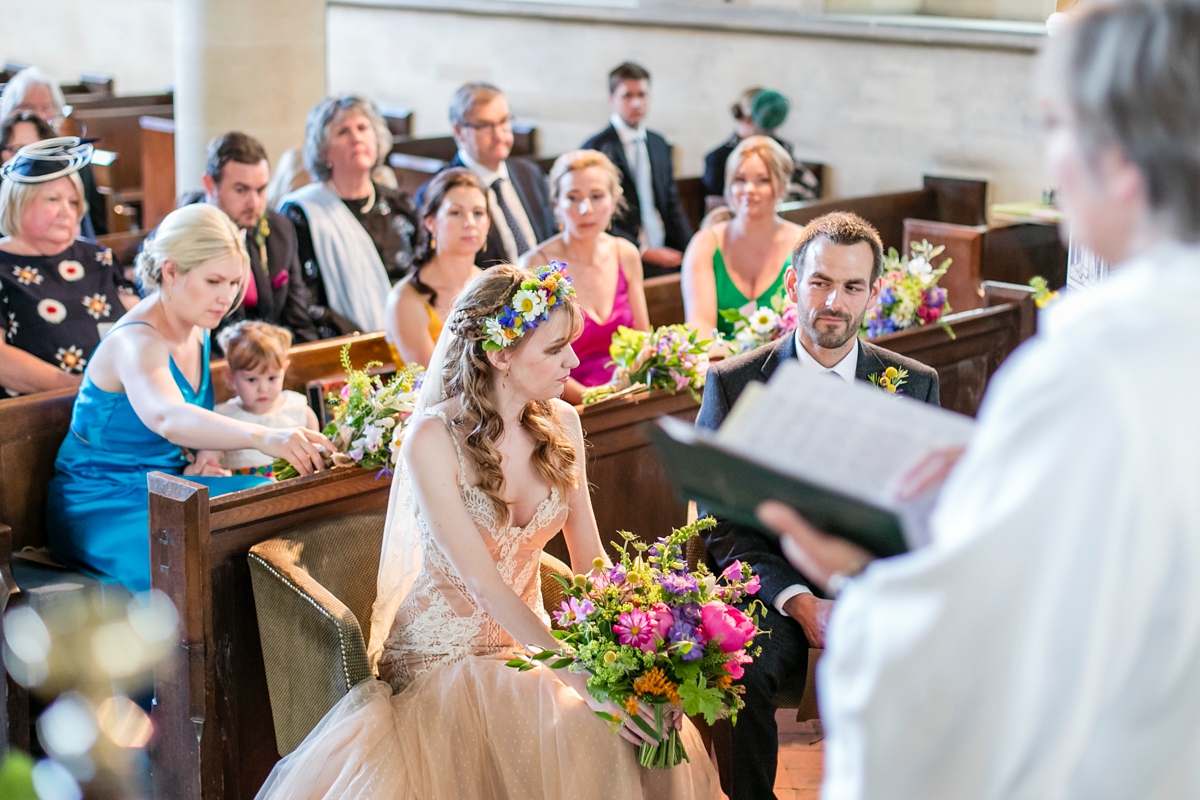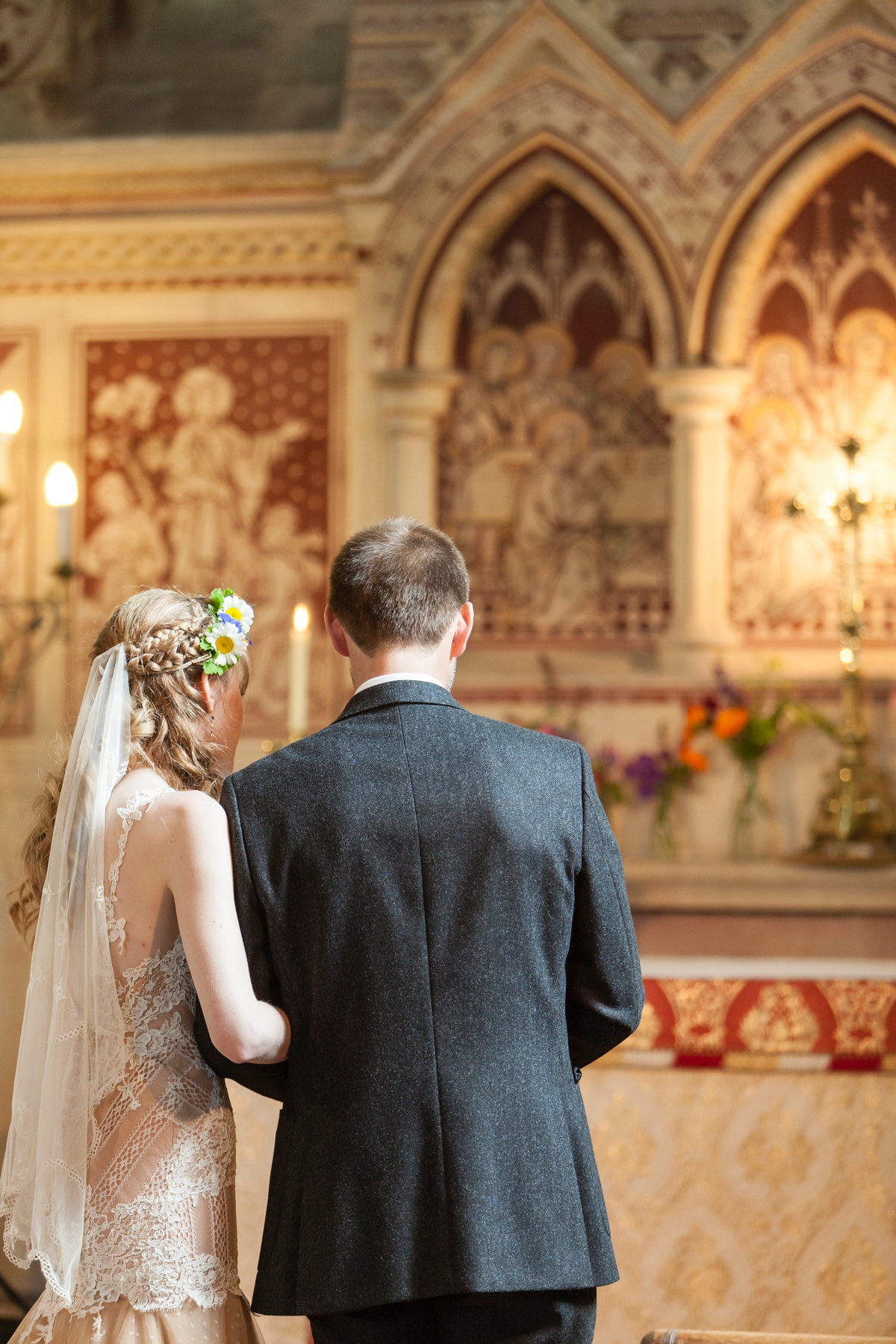 Ben and Livvy chose Kismet Photography to record their day. They have done a wonderful job of capturing the last-minute alterations of the gowns, as well as the vivid colours of the flowers.
"Absolutely amazing photographers, everyone said how nice they were and how great the pictures were. We aren't a photo-friendly couple but they made us feel very relaxed and captured the day so well. My favourite ones are at the alter in the church."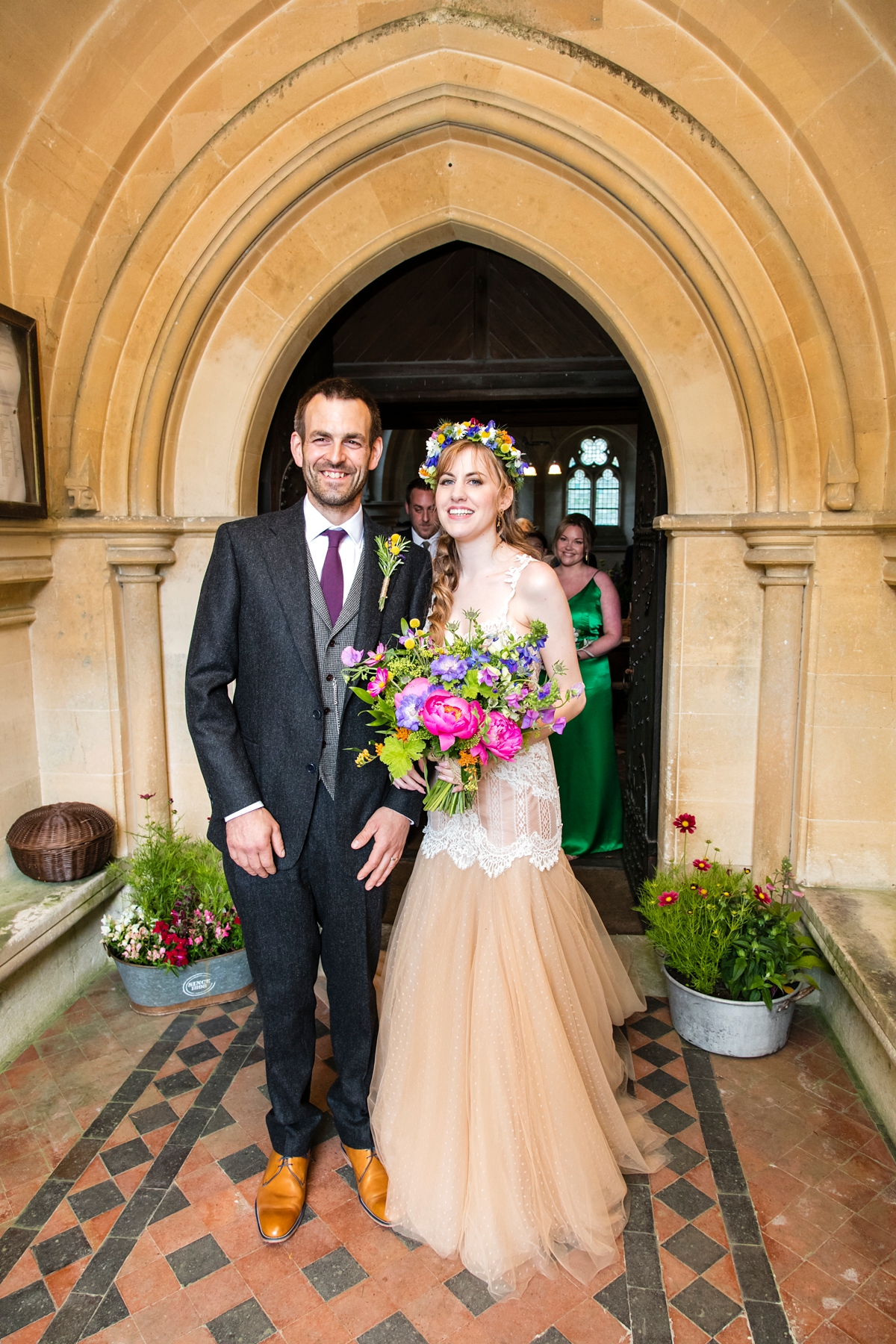 Groom Ben wore a three-piece suit from Regent Tailoring in Salisbury, adding a vintage-feel with a pocket watch and brown leather loafers. His shoes really tie in with the nude colour of Livvy's gown.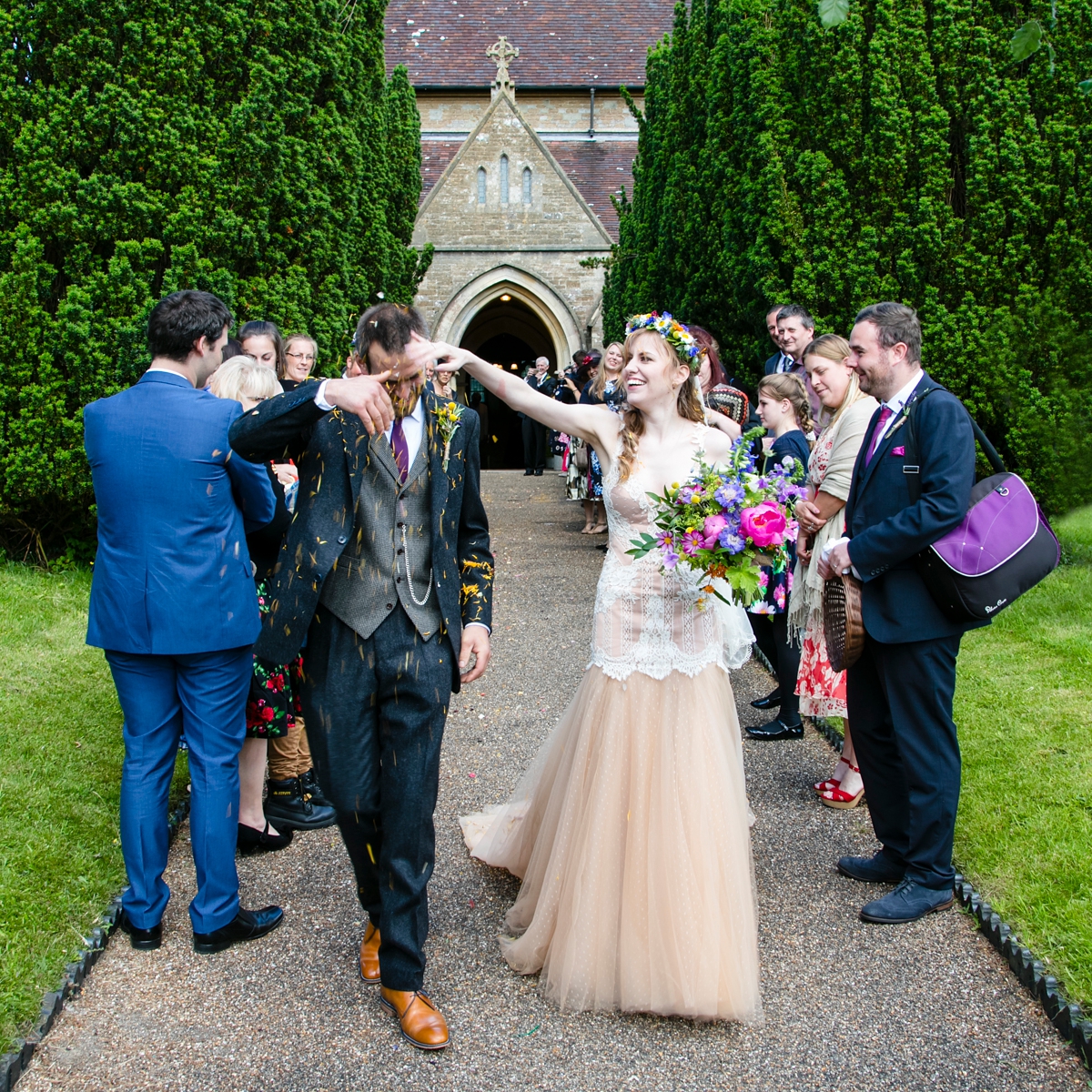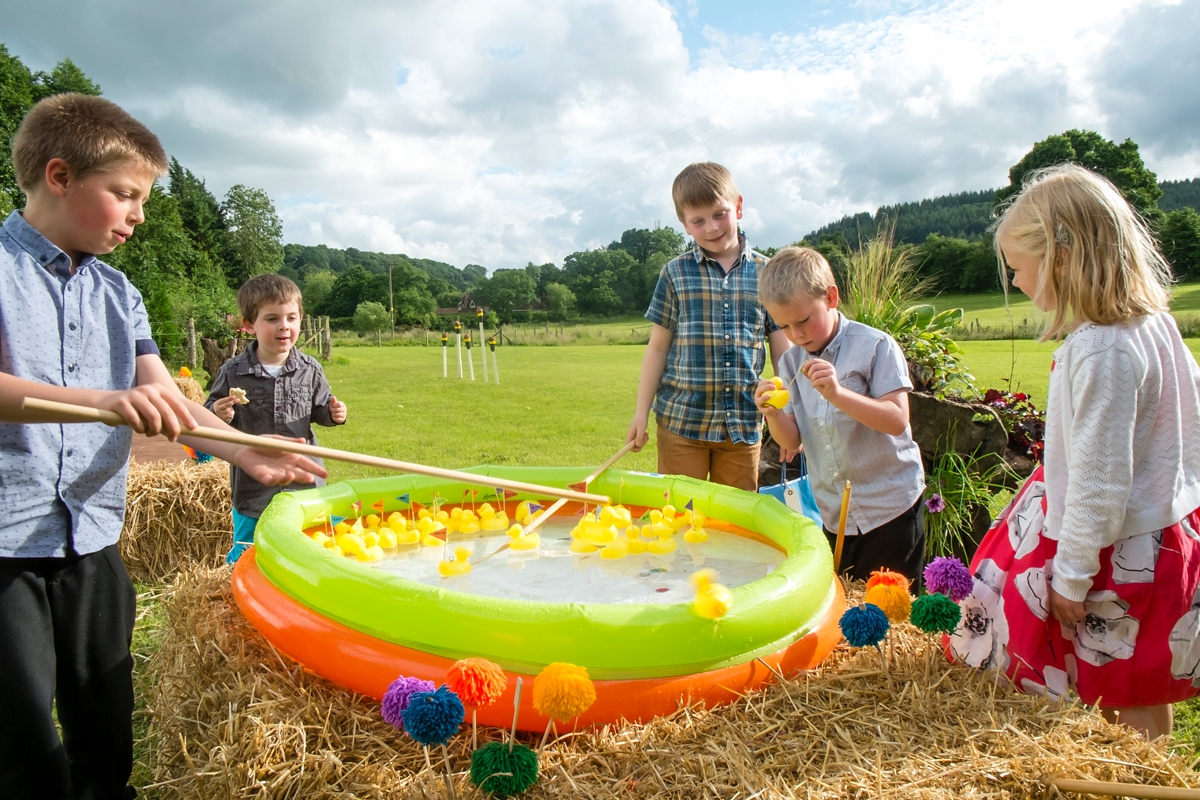 After the ceremony the newlyweds and their guests travelled to their marquee reception.
"The drive back from the church was my favourite part, as the scary part of standing up in front of everyone was over and we had half an hour to ourselves."
I love the bright bunting and flowers which adorn the marquee – so summery and cheerful. There are so many interesting details as well, donated by family and friends, and the traditional games were a great way to keep younger guests entertained.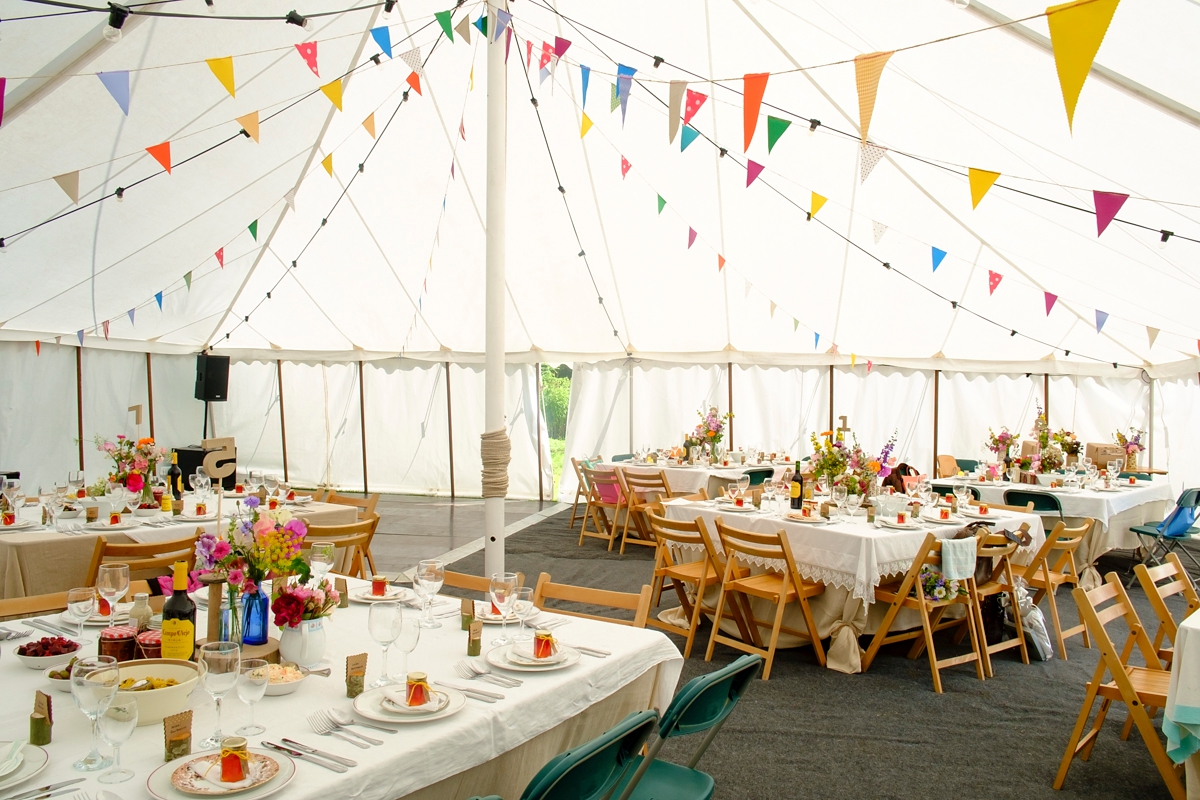 "The inspiration for our wedding styling came from our personal interests; we both love old, unique things and our home is filled with old suitcases and eclectic objects from flea markets so we wanted to translate that into our wedding. We wanted lots of wood as Ben works in his family-run sawmill so he made a lot of the things like the table card names and the signs."
"We are very DIY and wanted our wedding to have that feel, so everything we could do we did with the help of friends and neighbours who made pompoms, bunting and hook-a-ducks for our seating plan. I sew for a living and was inspired to use big wooden bobbins for the table numbers."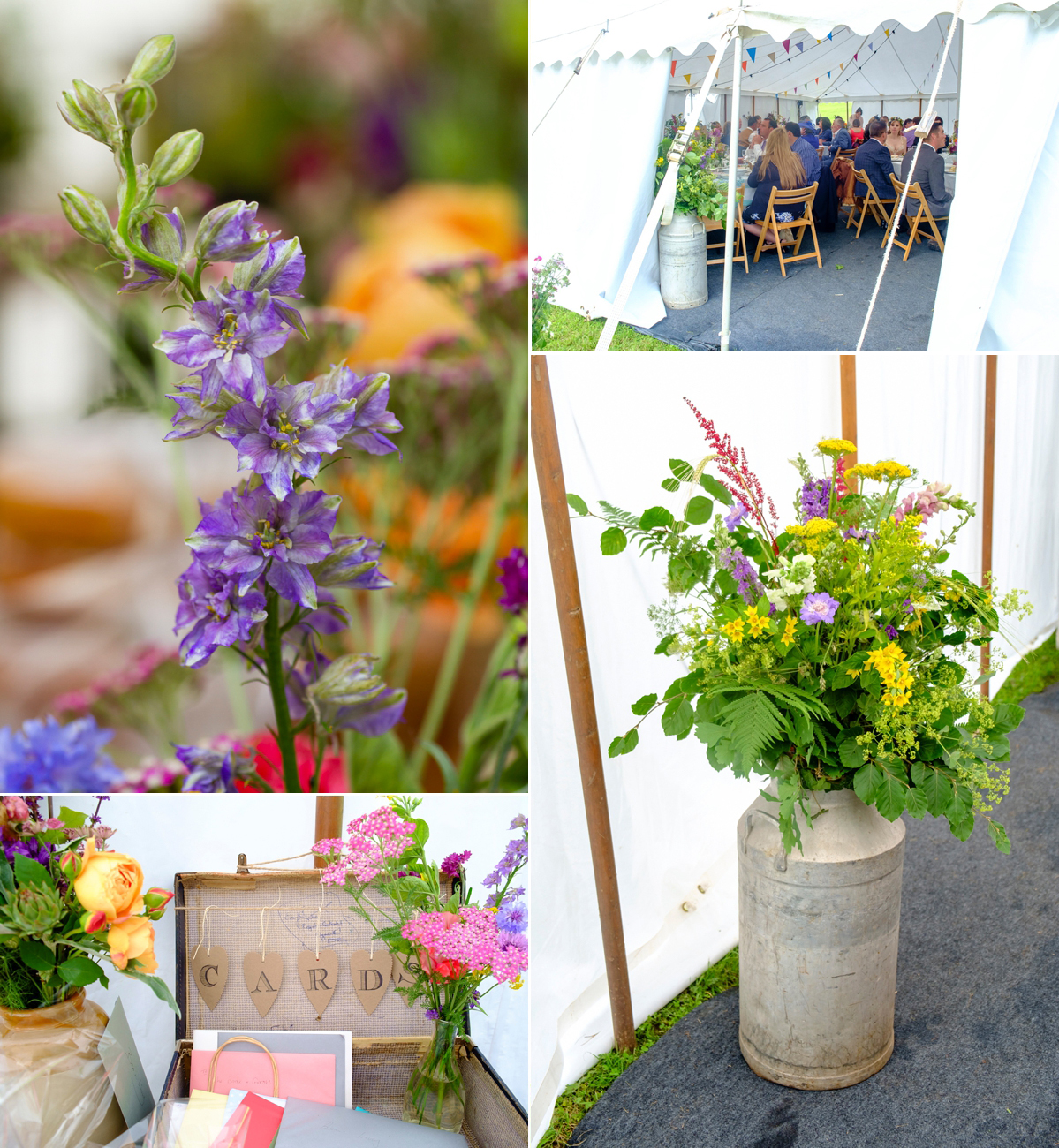 "We had friends making bunting and pompoms to decorate the venue, and hired festoon lighting. We also collected vintage pots, urns and bottles to put flowers in. We had straw bales outside for people to sit on with hessian coffee sacks on top. My favourite was the hook-a-duck seating plan which was a hit with the children. Ben cut some rings of wood which we stacked on the table with flowers and old bobbins on top of, along with making some wooden candle holders."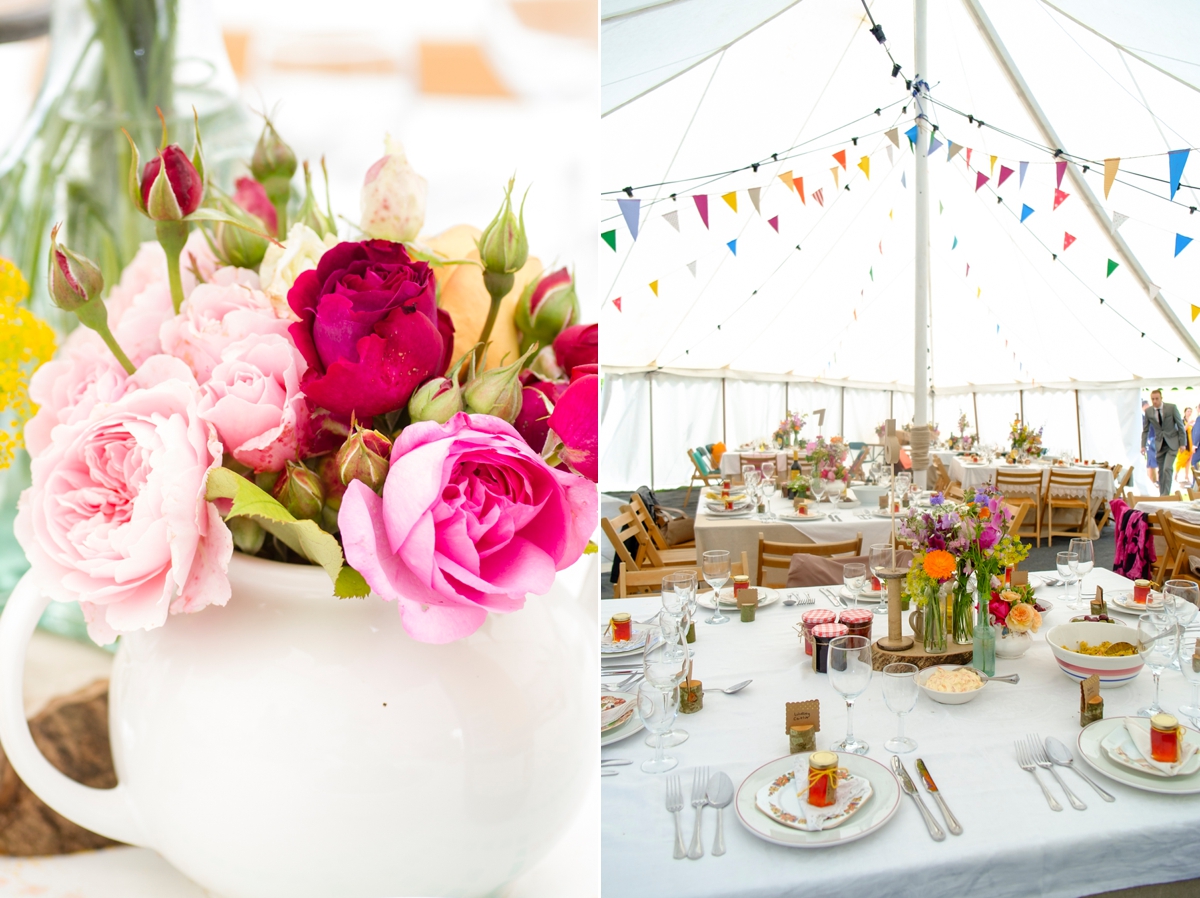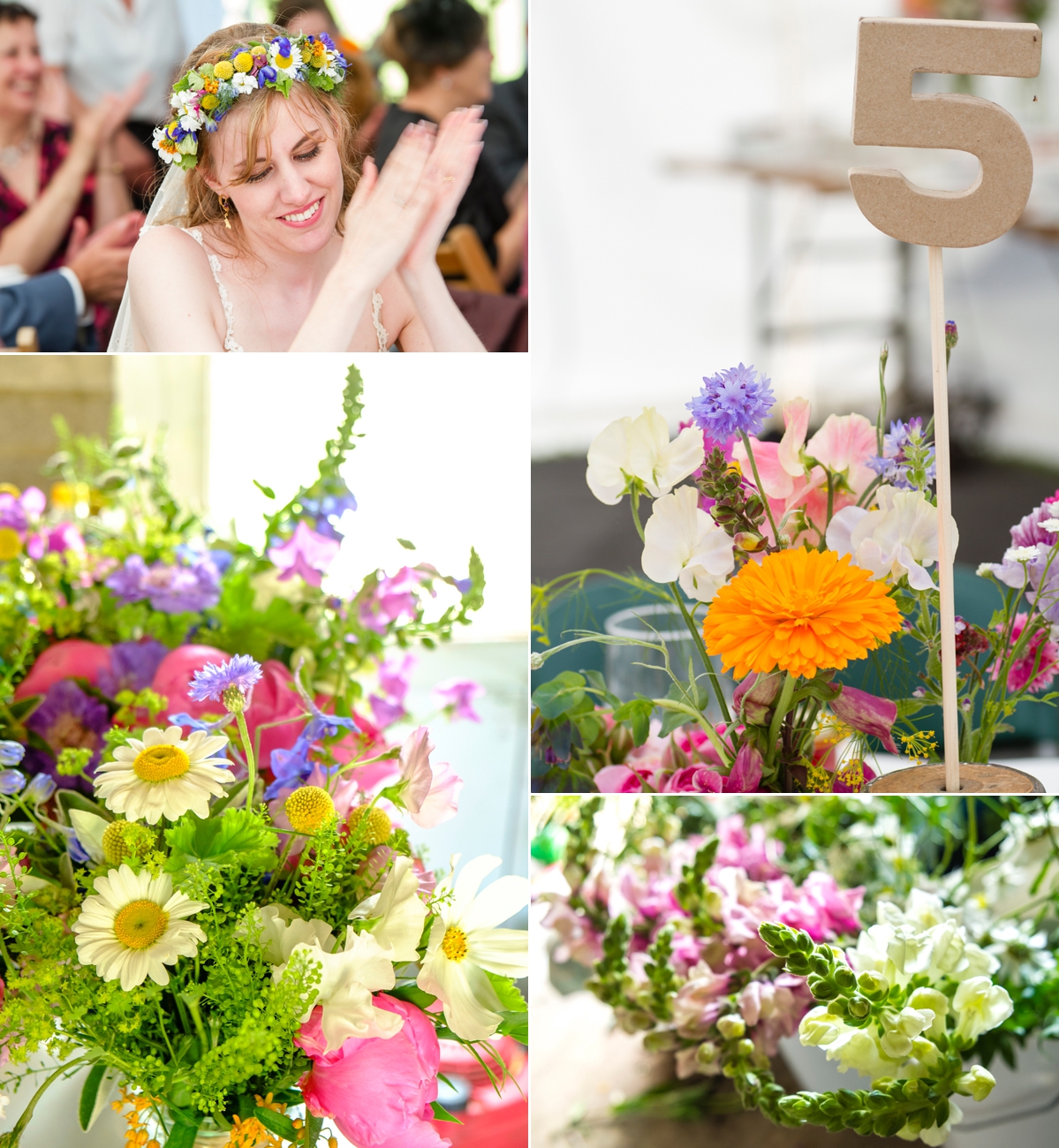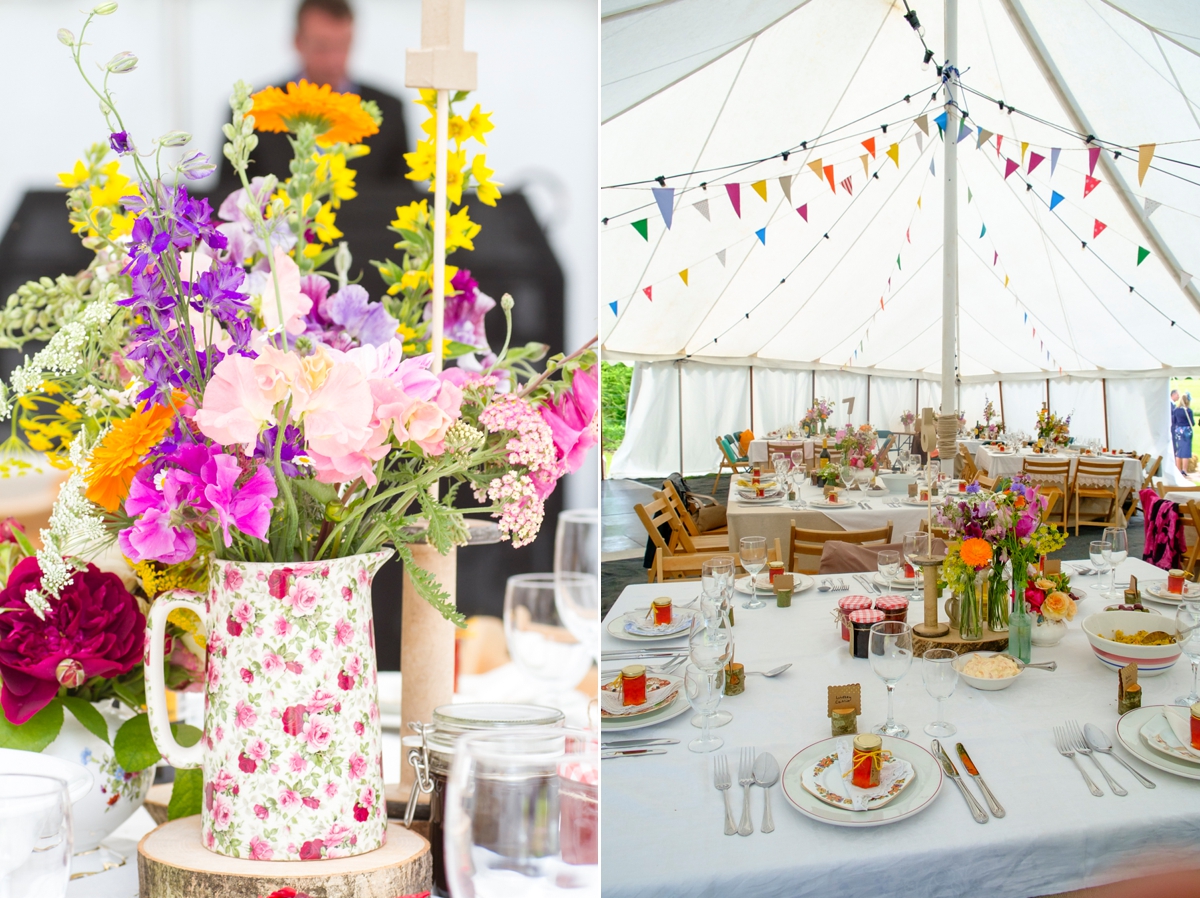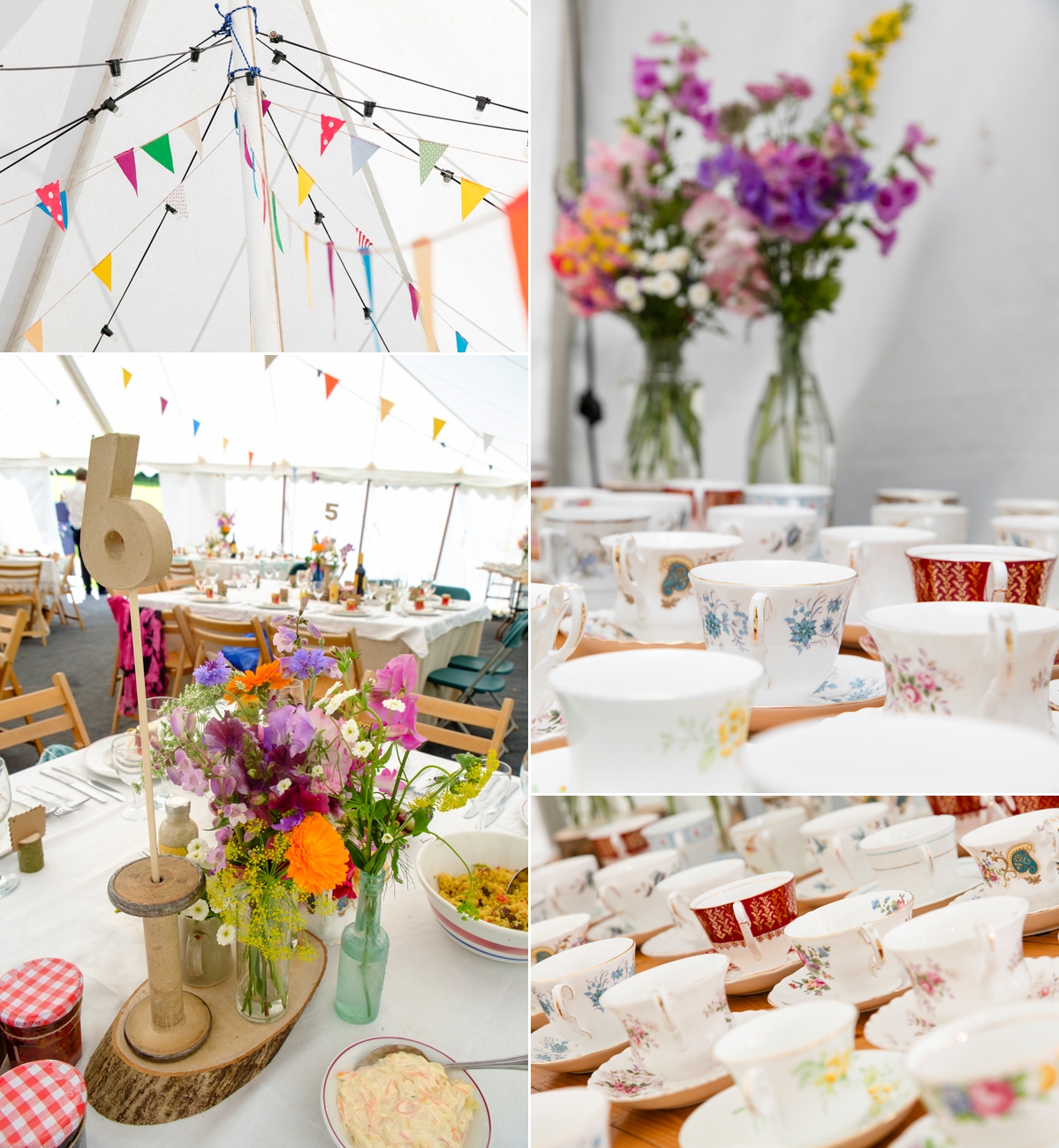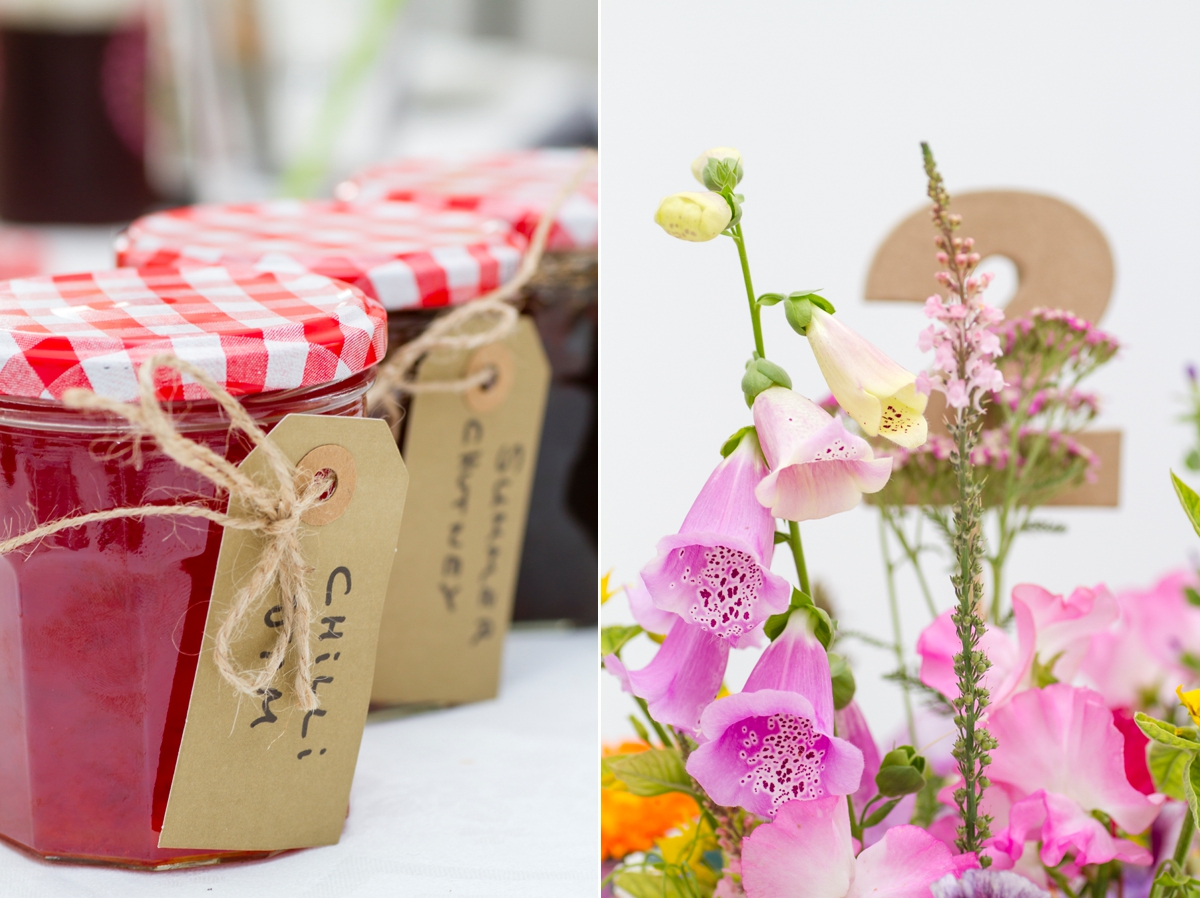 The Victoria sponge cake with its super-cute bird decorations was made by Livvy, whilst Ben and his family put together a home-made feast for their guests.
"Ben did all the catering himself with the help of his family. We had a picnic-style dinner with quiches, Scotch eggs and cold meats, along with homemade chutneys made by my mum. She  also made the chocolate brownies, one of the options for dessert – the other being Ben's Eton Mess."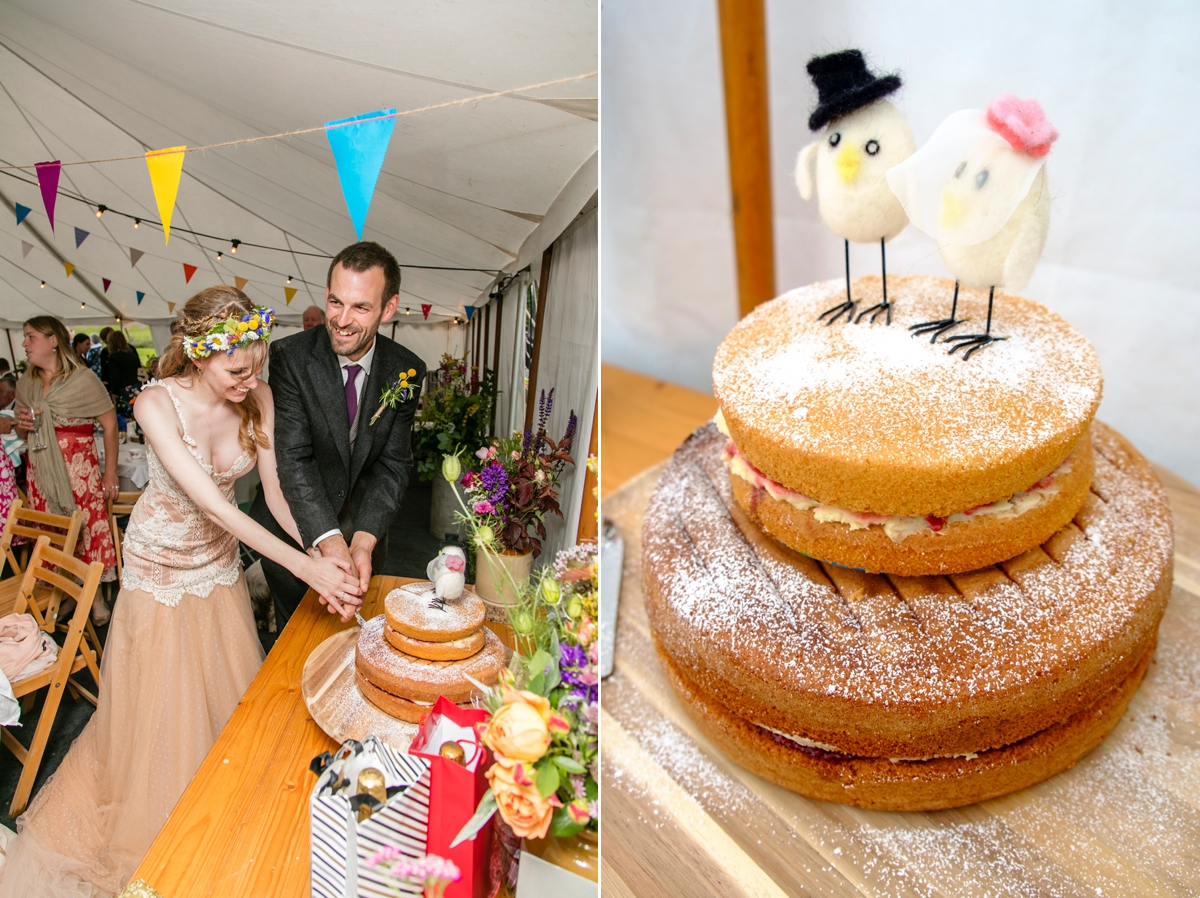 It was natural that the couple's first dance be an Argentine tango. I love Livvy's second outfit of the day; a short, flared dress and emerald green dancing shoes.
"We danced to a version of 'The Sound of Silence' from a band called Disturbed. It's not your traditional wedding song, but both Ben and I dance Argentine tango and we are not a romantic couple so didn't want a soppy song. It's a very powerful, emotional version of the song, which traditional Argentine tango is. Our dance teachers helped us with it so it means a lot to us. Ben really likes the Simon and Garfunkel original, and I think you can interpret the song however you want."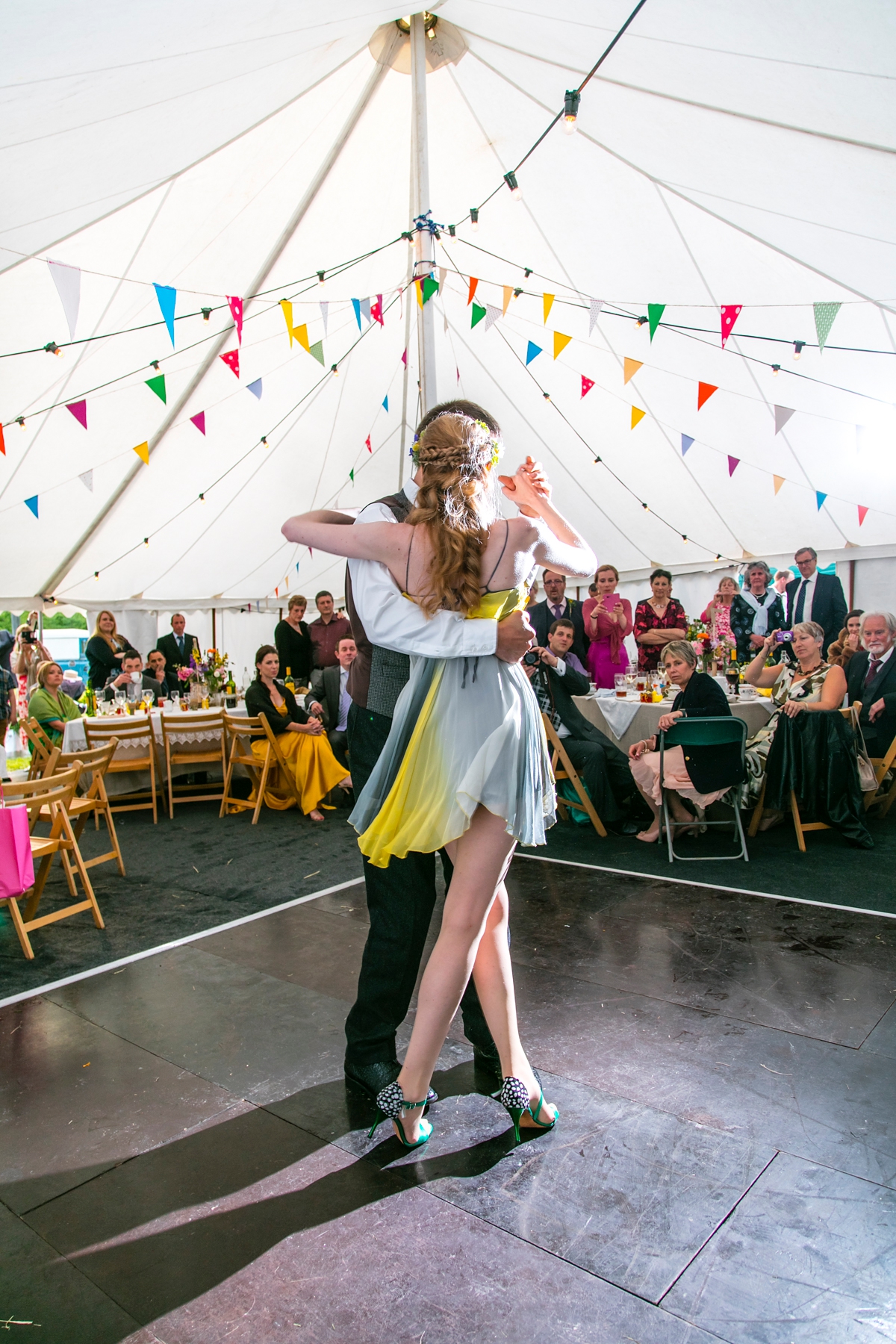 Words of Wedded Wisdom
"Don't be afraid to do things yourself. A lot of money can be saved DIY-ing a wedding. Even if you think you are not good, everyone can do something. Rally friends around as well for a craft day – it's surprising how many people have hidden talents!"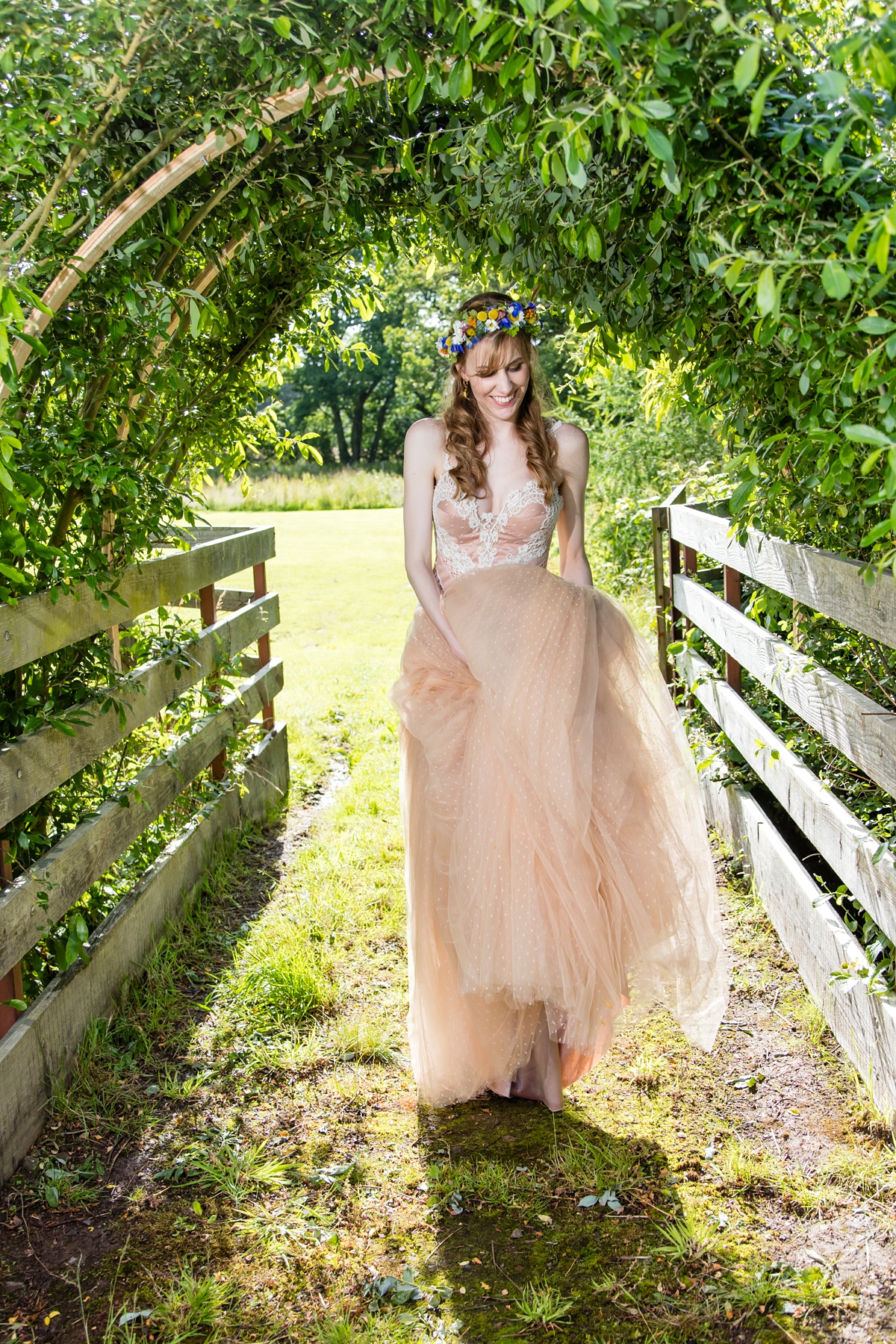 Livvy and Ben, I'm so inspired by the beautiful hand-made details of your wedding day, and your incredible dress-making skill and talent too! Wishing you many congratulations, and sending thanks to Kismet for their glorious work.
Ele xx