Little lovelies, get set to meet this gorgeous pair who tied the knot earlier this year on the 24th of March 2017. David is a police sergeant and Joanna is an account director for a digital marketing agency.
Springtime was the inspiration behind the couple's beautiful flower-filled day, with the ceremony at St John the Baptist in Elmore, followed by the reception at Elmore Court – a stunning 750-year-old country house in the Cotswolds and a part of our handy Little Book for Brides resource. They also hired Barncastle in Pitchcombe to get ready and use as a base for the weekend.
"We wanted to embrace spring. I'm into all things vintage but not in an over-the-top way. I'd like to think our home is country farmhouse chic and I wanted that to come through in our wedding, to be a true reflection of who we are and what we like. I went around in lots of circles, bought things I never used and finally settled on beautiful Victoria Ware jugs with peach David Austin Juliet roses to die for."
Photography by Aga Tomaszek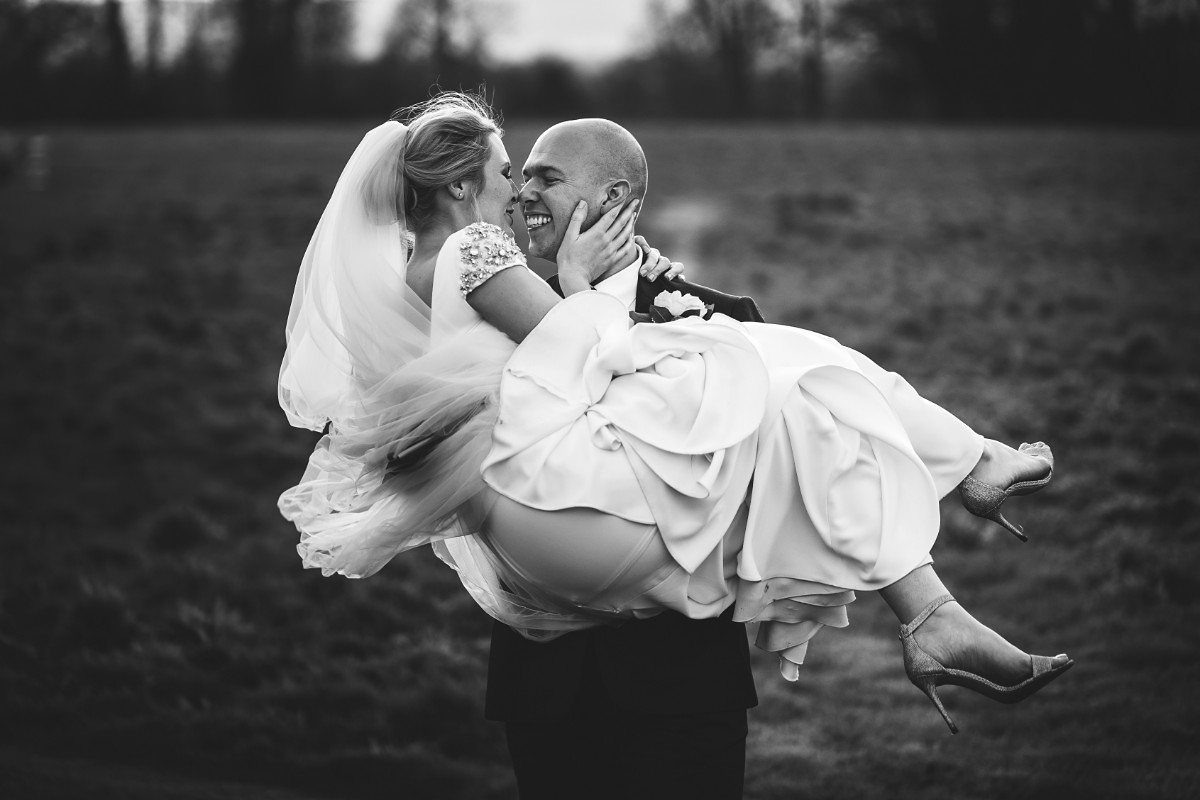 Joanna donned the bejewelled and effortlessly elegant 'Orville' dress by Pronovias from Teokath in Wimbledon. The stunning bride found her dress offered the glamour and grandeur to suit the church, and the lightness to suit the party. But the whole dress-finding experience wasn't as wonderful as she first thought it would be.
"I'd actually fallen in love with Orville's slightly cheaper sister 'Tatiana', another Pronovias dreamboat. As a size 14 I really struggled finding sample dresses I could actually do up. I'd found the dress (Tatiana) in a local shop and was about to press the button, when the lady called me a 'bigger girl' – so the credit card returned to purse and cue the search for Tatiana in another shop."
"When I finally tracked her down in a size 12 in Teokath in Wimbledon, I had the experience I'd dreamt of. The dreamiest assistant named Levi helped me find the one. When I was trying on Tatiana for what I thought was going to be 'the feeling', 'Orville' popped her beautiful jewel-encrusted shoulder in my direction and it was love at first sight. I loved the simplicity and elegance this dress offered, the shape it gave me, and the fact none of my friends had married in this style of dress."
"The tailoring was so important to me. I'd actually lost a reasonable amount of weight so the dress was initially too big (the dream!!), however the style of the dress meant it needed to fit perfectly and thanks to four rounds of alterations by the wonderful Chambers Bespoke Tailors, it fit me like a glove."
"I can't rate Teokath highly enough, especially as I changed my veil choice a week before the wedding and they were so accommodating! I had ordered a cathedral veil, which I still wanted, but I changed my mind to want the two-tier – I had a moment where I couldn't bear to miss out on the 'flip the veil' moment. And it was one of the best decisions I made."
Joanna complemented her attire with heels by Nine West, simple diamond earrings brought by David and given to her on the morning of the wedding, and a stunning hand-made hair comb.
"I wore a beautiful handmade hair comb made by my super talented mum (who had never embarked on such a mission before!). There were spare beads left over from my dress, sent by Pronovias in Barcelona. My mum took it upon herself to create the comb – it was stunning and magical that she had gone to the effort."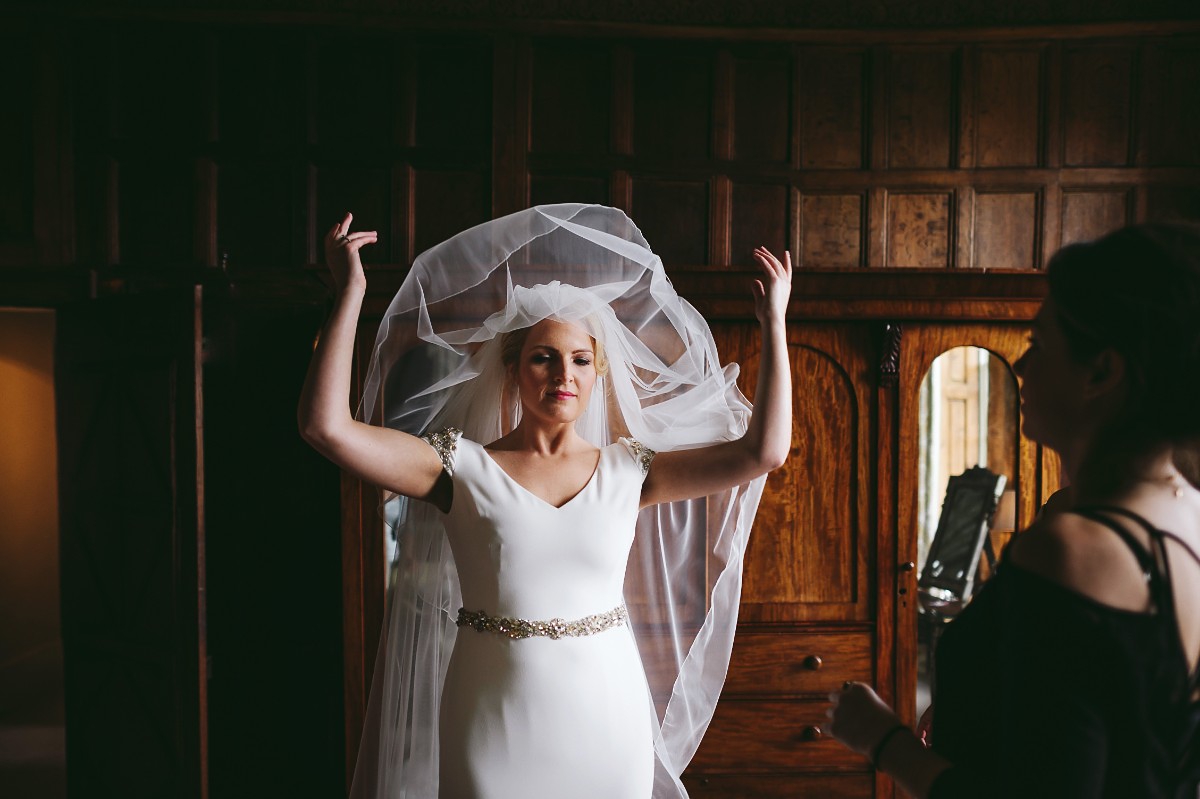 Joanna's maids looked simply gorgeous in Topshop heels and off-the-shoulder gowns from Coast – and Harriet Cook from HC Brides was the expert behind hair and make-up.
"Harriet was a dream – she captured exactly what we all wanted and made us all look the very best versions of ourselves. I couldn't have asked for more from my MUA and I'm so grateful she made each and every woman in my bridal party feel a million dollars."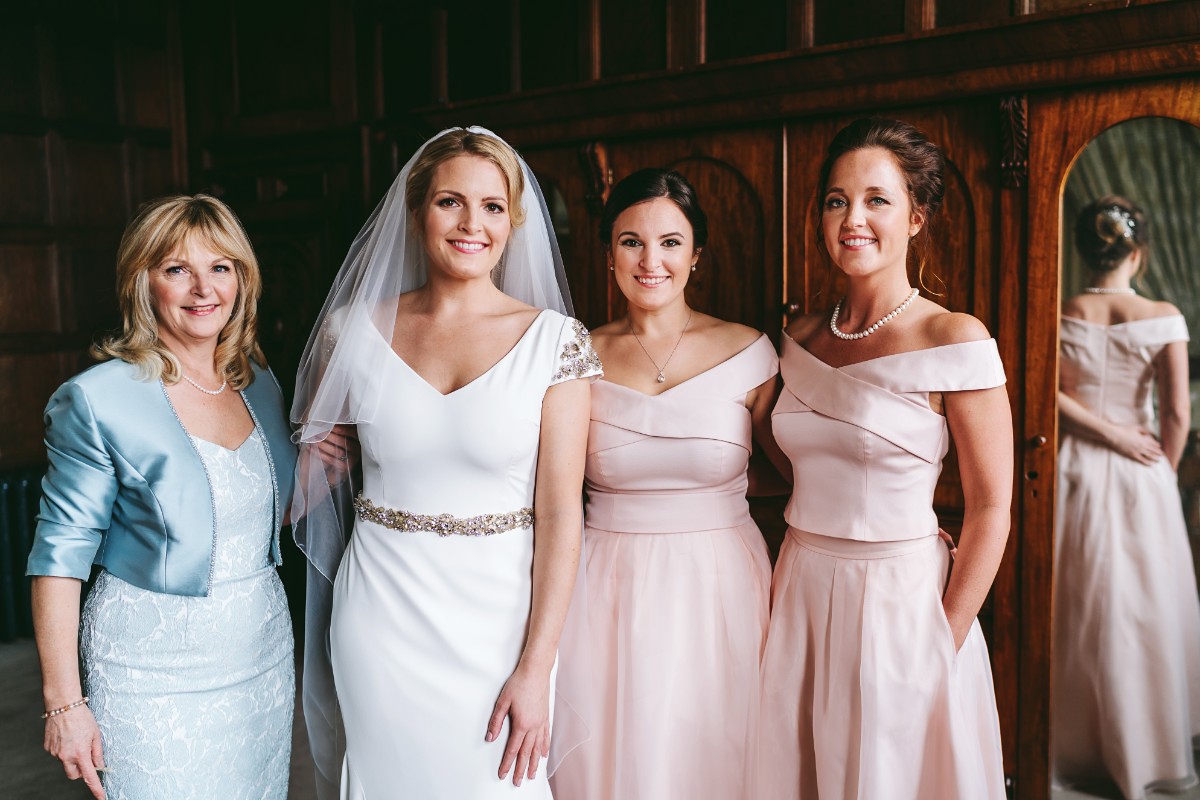 "We met in All Bar One in Putney on a boozy bank holiday weekend in May 2013. David claims to have never bought a woman a drink (not sure how!) and so I ordered a double gin! After dating in South London, we moved into our first home in Surrey in December 2014, and after an impatient wait on my side, got engaged just over a year later.
Dave proposed to me on a walk around our local park in Reigate – walking around the lake he dropped to one knee and presented the most beautiful engagement ring. We were married just over 12 months later."
The couple arranged a few methods of transport – an old vintage bus by Alex Cars to transport everyone from the church to the venue, as well as David's dad's much loved cream TR4 and a Derby Bentley, which belonged to a family friend.
"We chose to get married in a church as we felt it offered a slightly deeper union and a tremendous setting. Neither siblings had chosen to get married in a church and we felt that, although important to us, it was also something our families would enjoy – and they did. We enjoyed spending time making a connection to the parish and how wonderful the service was as a result of that."
Gail of Eden Flowers was the talented force behind the incredible florals.
"Gail has arranged flowers for my family for years. She once had a shop that she recently closed to focus on weddings. Her style is impeccable. She spent hours with me talking about what I wanted, looking on Pinterest boards to make sure we had the right flowers, texture and colour for my vision. She came to the venue and dressed numerous items and she nailed it. I couldn't have been happier with the flowers, which as she knew, were of huge importance to me."
"My dad Phil walked me down the aisle. He looked terribly serious! David re-wrote a reading called 'Falling in love is like owning a dog'. He tailored most of it to mean something about us – it was delivered perfectly by my aunty Diana and was just perfect."
David chose a palladium ring by Alan Bick in Hatton Garden and where Joanna's engagement ring was from. Her wedding sapphire band was designed by friend Lucy and beautifully complemented the diamond engagement ring.
David chose a most stylish Charles Tyrwhitt suit, with pocket-square and tie by Moss Bros. The groomsmen also wore Moss Bros – another of our treasured Little Book for Brides members – and their grey three-piece suits perfectly complemented the groom's attire.
The striking images of David and Joanna's big day were caught by Aga of Aga Tomaszek Photography, who really impressed the couple with her hard work and style.
"Aga was AMAZING – totally nuts and beautifully talented. Her photos tell our story. She never misses a shot and works her butt off to capture every smile, tear and detail."
"Our table plan and place settings were a lot of work but so worth it. Using the pretty common Polaroid look, we used website Square Snaps and then hand-labelled them with a dymo labeller – it took hours if not days!"
"We had photos of people in funny poses and if they were older, on their wedding days or years gone by. It was loads of fun and loved by all."
"Pimp My Prosecco was an idea I got from a fellow bride in the closed the Love My Dress Facebook group – I even borrowed the vintage drinks trolley from her!"
"The wood in the table centres feels like something that was easy to source – but it wasn't. We ended up begging a tree surgeon friend for the wood, then asking my grandad and dad to slice it using a chainsaw!"
"We also had a trike that I'd bought from a garage sale. My dad helpfully upcycled the bike, giving her a full once over including new handgrips and tyres. The florist dressed it beautifully – in the day it held confetti outside the church and then the evening it was loaded with blankets to be beside the fire pit. It was probably a pain for my dad to do, but was a real focal point for the festivities."
Joanna and David's stationery, characters of the couple teamed with pretty flowers, was hand-illustrated by Joanna's colleague Richard's wife Mariko – and the parents of the bride made the Somerset sloe gin favours.
"They agonised over whether it was too tart, too sweet or just right. And on the night, it was just right. Branded with our J&D emblem, everyone loved them, and it was blamed for many a hangover the day after!"
Jane Collins from Just Beautiful Weddings created the couple's absolutely scrumptious naked cake.
"Jane's cake was delicious. It was important to David that we went for a naked cake, incorporating as many flavours as possible. We had chocolate, lemon, carrot and vanilla. Choosing a naked cake suited the venue and the style of the wedding perfectly."
Harpist Jemima Phillips and the Perfect Day Party Band provided entertainment for the guests – and the newlyweds twirled to the tune of Al Green's 'Let's Stay Together' for their first dance.
Joanna raved about the speeches as her favourite memory of the day, with the inclusion of a funny skit by her friend Hannah.
"The speeches were wonderful. My dad was great, Dave was heartfelt yet witty, the best men were on point but the one that blew me away was the one I least expected. My close friend Hannah had been asked to do a 'skit' or speech dubbed 'the best Han'. We wanted her to do this to add a different layer to the speeches, take the piss out of me a little and she nailed it."
"She started nervously before asking maestro to 'hit it'. She then proceeded to rap a completely re-written version of 'Ice Ice Baby' – every word and lyric having a meaning to David and I. It was sensational – everyone was loving it and it took the whole room by surprise. It was a very special moment for me."
Harpist Jemima Phillips and the Perfect Day Party Band provided entertainment for the guests – and the newlyweds twirled to the tune of Al Green's 'Let's Stay Together' for their first dance.
"I don't think I'd have done anything differently – everything was simply perfect. The sun shone, the venue was exceptional, food amazing. Oh actually, I would've made sure I'd found time to eat some of the delicious evening food!"
Words of Wedded Wisdom
"If it's not there on the day, no one ever knew it was supposed to be. Despite being obsessed with detail I don't believe I ever got stressed as I kept reminding myself of this. And enjoy it – you ideally only plan a wedding once – and it's so much fun!
I loved looking at real weddings on Love My Dress and getting ideas for my own. I was obsessed with the Facebook group – such a refreshing bunch with real comradery amongst briefs."
"I'm glad we stood by our no kids policy – and despite huge backlash we received an apology from family members afterwards to say it was the right decision."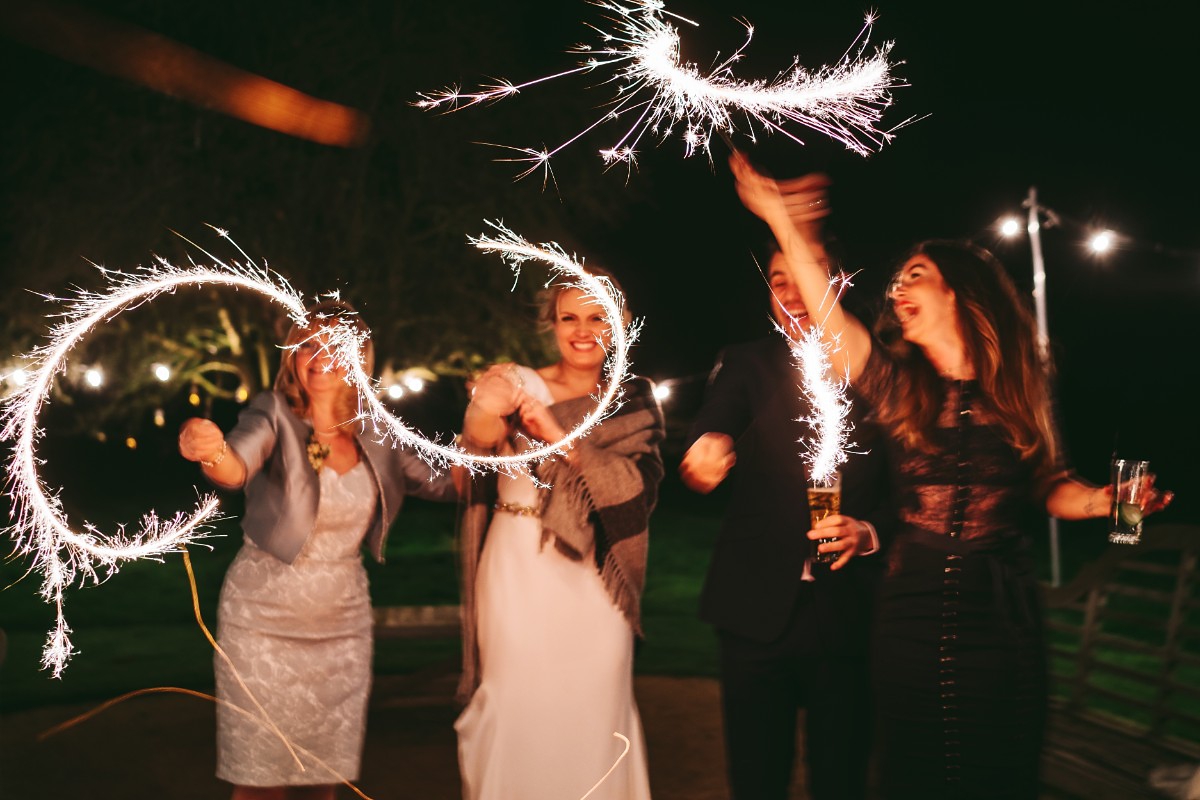 Thank you David and Joanna for letting us all have a sneak peek into your most delightful day and it's so wonderful to hear how much the LMD Facebook group helped out in the lead up – there's such a brilliant sense of community, love and genuine help from all of the members. Also, I'd like to send a very big thank you to Aga for sharing the couple's stunning photographs and beautifully capturing all of the love, light and laughter.
If you've taken a fancy to Joanna's simply stunning dress, be sure to have a look at more gorgeous Pronovias designs we've previously highlighted on the blog.
Love Jo -xo-