Now I know I'm a married woman now and I shouldn't be saying this…but I have the hugest crush on today's über-cool bride! From her chunky fringe and sweet little nose ring, to her stunning choice of gown and wildflower inspired blooms – Rebekah is all kinds of lady goals. Sorry, let me reign myself in and tell you that I'm actually here to celebrate the absolutely joyful union of my aforementioned girl crush, Rebekah, a user experience consultant, and her love Francis, a software engineer, who wed on 22nd April this year at Belmount Hall in the Lake District.
Their day was a inspired by the Danish concept of 'hygge' – that cosy, comfy phenomenon that's been sweeping across Europe like a much-loved fluffy cardigan complete with a steaming hot chocolate and a whole bunch of flickering candles. Yep, next time you're snuggled up with your love to binge-watch Netflix, grab a snack and throw on that lived-in jumper that your mum keeps nagging at you to throw because it's full of holes (just me?) and get 'hyggelig' – it's legitimately a thing. And I love it.
"Our day was inspired by the Danish idea of hygge and quality of presence, so feeling relaxed and connected were top priorities for us, along with a nod to nature and a slightly bohemian vibe. Where possible we sourced food and drink locally. We had a keg of Lakeland Gold from Hawkshead Brewery, our macaron tower was from Kendal and we had gingerbread from Grasmere. My flowers were seasonal with a wild flower theme, and we reused the bouquets as table centres to reduce waste."
Images by Paul Joseph Photography
In case you're not already hooked (seriously, who am I kidding?), I'd like to take a moment to tell you that these sublime images are the handiwork of the wonderful Paul Joseph Photography. We love Paul's work here at Love My Dress – crisp, clean, full of light and liberal smatterings of love and humour – there's a reason you'll find so much of his work on our blog, and his name up in lights on our sister site, Little Book for Brides, too.
"Paul and Kelly made our wedding day so special. They are creative, fun, talented, and hard-working. All our guests commented on how brilliant they were. We'll treasure the memories they've so faithfully captured of our day. They're an outstanding team."Now on to that heavenly gown! Rebekah chose the Chloe by Rue de Seine, a embroidered vision of loveliness with delicate long sleeves, a high neck and keyhole back. And don't even get me started on that intricate train, flowing over a bias cut slip. Our gorgeous bride paired her dress with shoes from Alexander McQueen and a spritz of botanical No. 15 by Liz Earle.
"So many thanks to Rebecka and Flic at Jean Jackson Couture, Manchester, it was a joy searching for my dream dress with them. Flic recommended trying on the Chloe gown by Rue de Seine and it was love at first sight. I could wear that dress day and night. It's so comfortable and makes me feel amazing."
Dashing Francis chose a beautifully cut suit from Boglioli and Bertie shoes, set off perfectly by his fun Happy Socks and wildly beautiful buttonhole.
The couple turned to Maxine at Flowersmiths in Bolton to create their floral arrangements – bursting with fresh foliage and dainty wildflowers, there's a real sense of the Scandinavian Midsommar about these gorgeous blooms.
Rebekah did her own make-up, while her plaited up-do was crafted by Jemma Orr, bringing out the honey tones in her dark locks. I so love the shots of the bridesmaids, looking gorgeous in their softly-hued Dorothy Perkins dresses, helping Rebekah into her gown.
There are some seriously sweet bouncing curls and pretty frocks on those mini maids too – so adorable in their Monsoon frocks.
Newly-wed, the lovebirds basked under expansive blue skies to soak in the euphoria of what they had just experienced together. The Lake District is truly such a beautiful part of the world, it's obvious why so many of our Love My Dress brides have wed there.
"We love the Lake District and both spent a lot of time there with our families as children. Belmount Hall was everything we wanted in a venue and such a beautiful setting. The team absolutely made our day – we couldn't be more grateful. The food was fantastic and in the days leading up to the wedding they were so helpful and reassuring. We are so grateful to all our suppliers. They made the day perfect."
"We're both from Bolton and as children grew up in houses less than a mile apart. The first time I introduced my mum to Francis she knew exactly who he was because he went to the same nursery as my sister. Cringe. It's funny because when we met on a night out with friends in 2012 we thought it was for the first time – but maybe it wasn't? We got engaged in late 2015 after taking a secret trip to Hatton Gardens in London to pick a diamond together."
"My brother walked my down the aisle – my dad passed away a few years ago – to Taylor Swift's State of Grace. The ceremony was full of emotion and happiness – there wasn't a dry eye in the house. We live in Salford so chose a poem by John Cooper-Clarke as one of the readings in our ceremony; 'I wanna be yours'."
I adore this poem, it was actually the inspiration for my own wedding vows to my husband – all straight-up, honest, everyday love in all its forms. Laced, on my part at least, with a thick Northern accent (and quite a few choked back tears), which is exactly how this prose was meant to be spoken.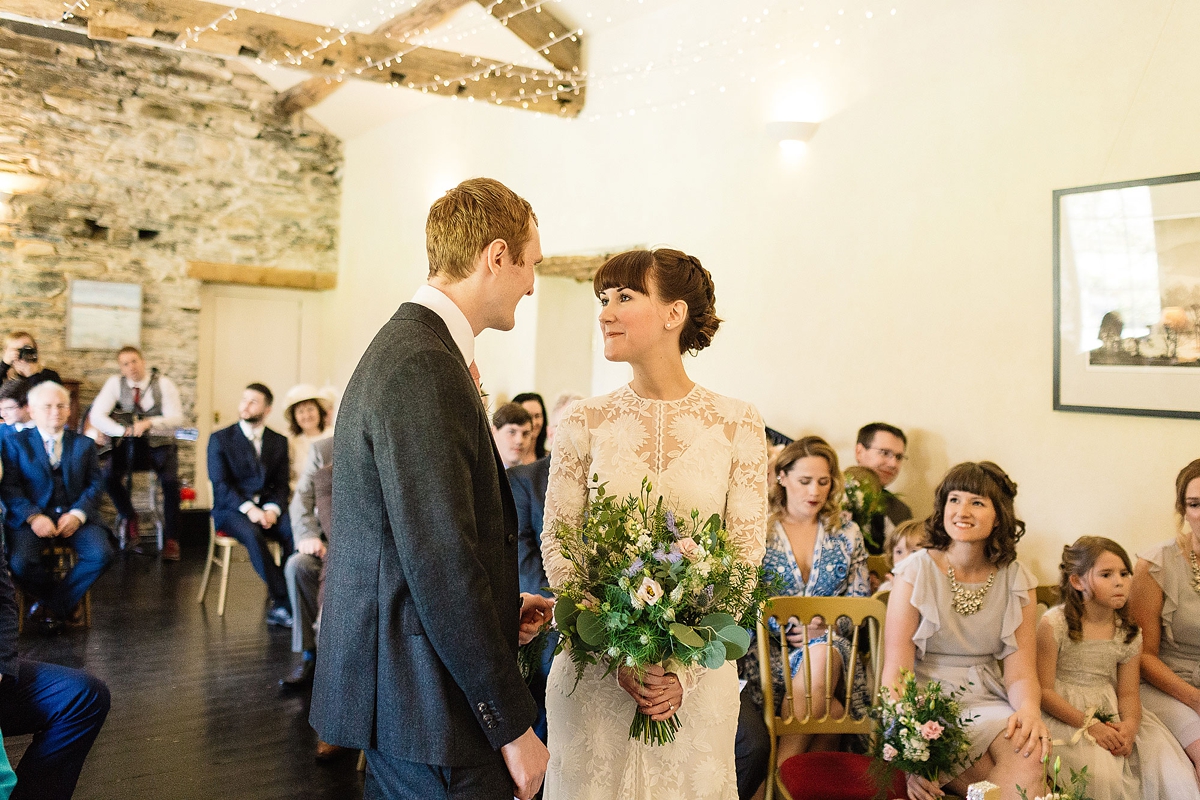 Rebekah and Francis returned to London's Hatton Garden to purchase their wedding rings from Diamond Heaven, sealing their love surrounded by their friends and family, and serenaded by musician, George Simpson. That just married joy as Francis punches the air and Rebekah holds her blooms aloft is the stuff dreams are made of.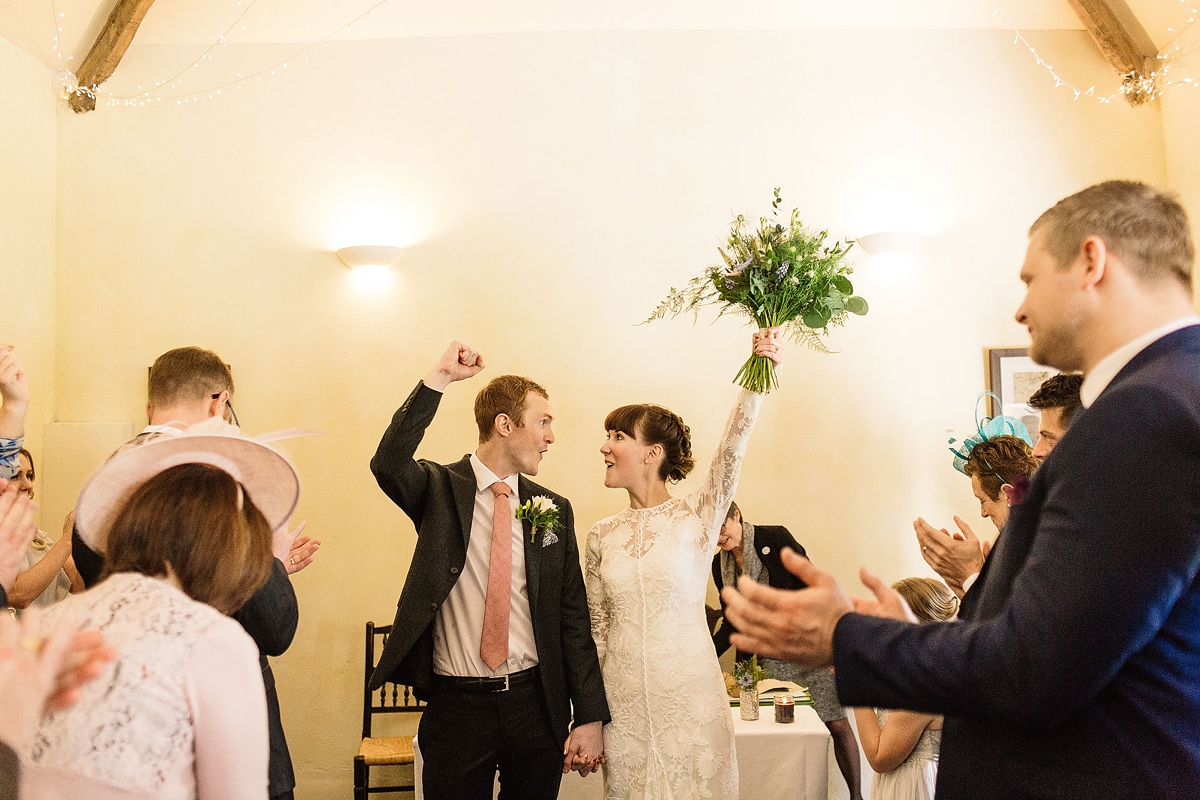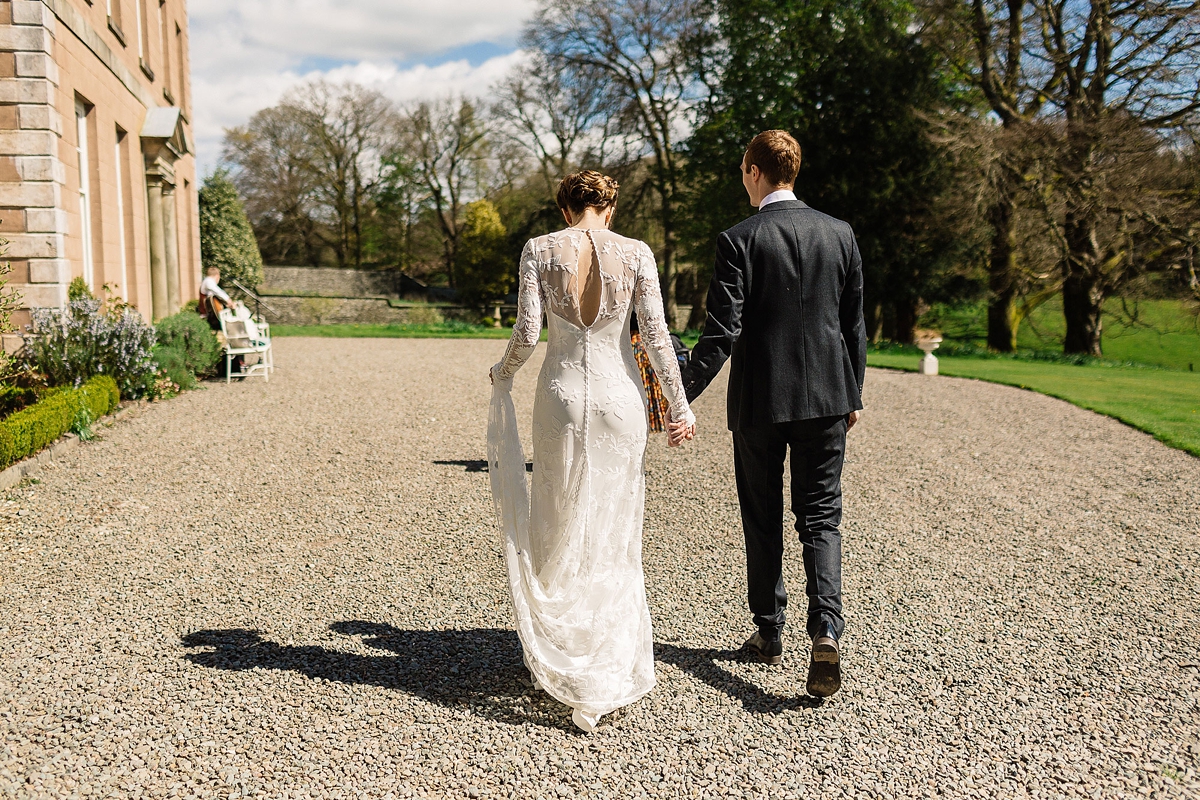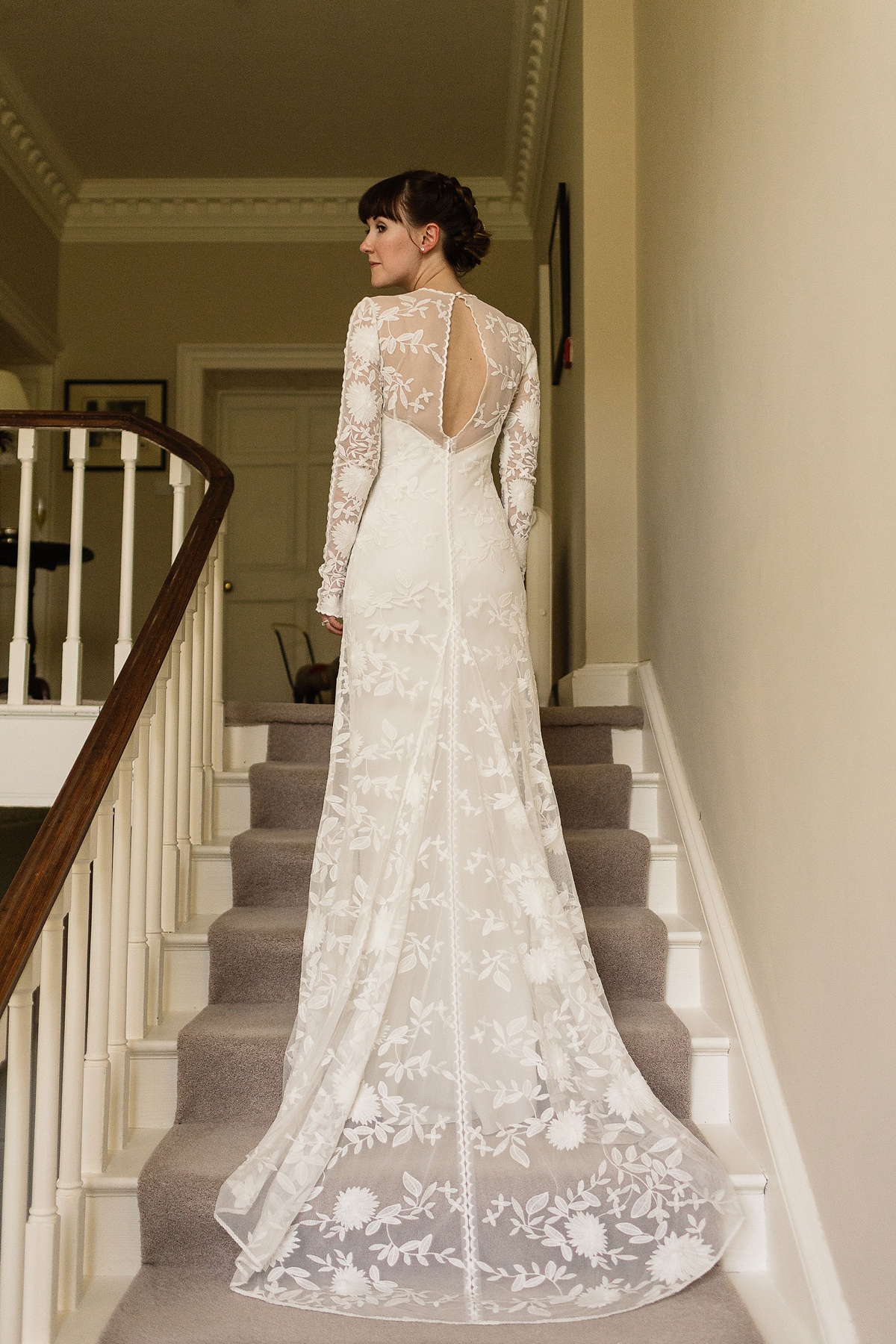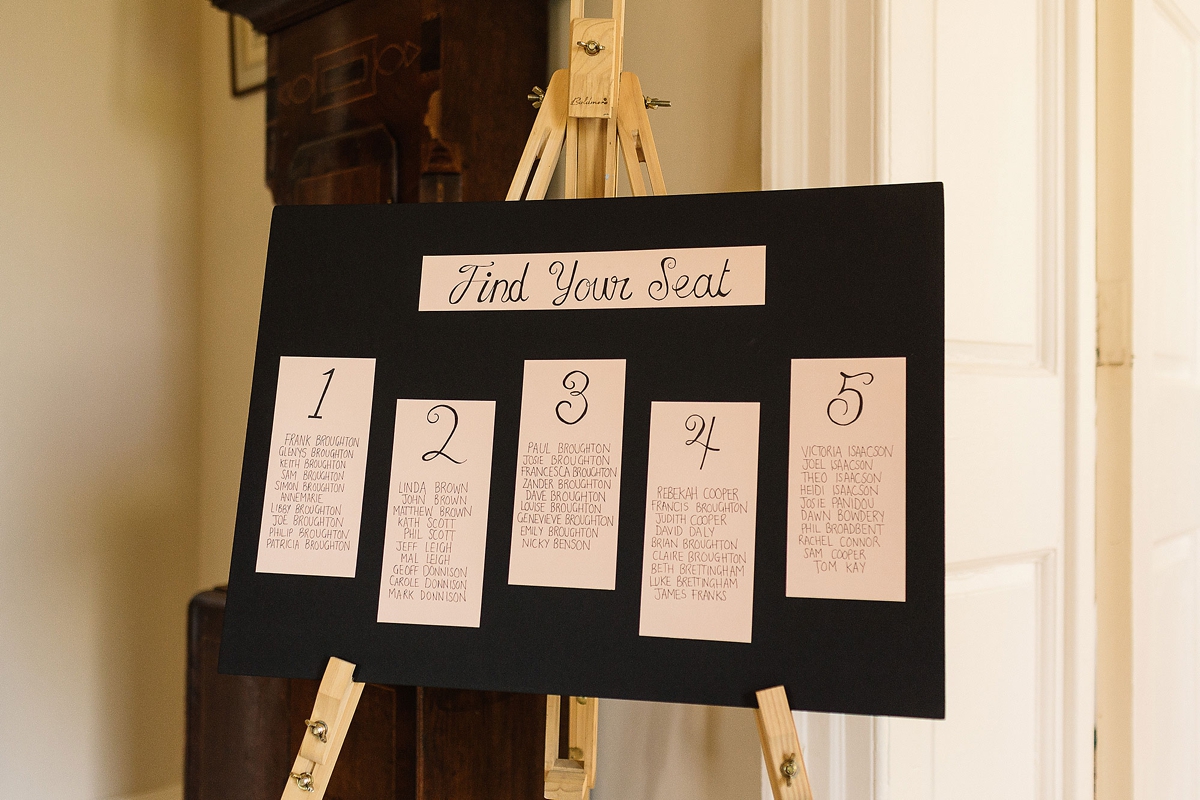 Keeping their day simple and sustainable, Rebekah and Francis recycled the bouquets as table centre pieces and sourced almost all of their food locally.
Not only an environmentally conscious choice (fewer food miles!), but one that has given their day a real air of authenticity and charm.
The couple sourced their scrumptious macaron tower from Macarons by Al Strong in Kendal – such a lovely alternative to a wedding cake, and supplied their guests with delicious gingerbread from the famous Grasmere Gingerbread shop. It's seems only reasonable that their loved ones retuned home via the shop after the wedding for more.
"We chose John Martyn's, 'Couldn't Love You More' for our first dance. Our first proper date was to a Ben Howard gig and his cover of this song helped us discover the original version. It's such a soulful song."
Words of Wedded Wisdom
"Prioritise your well-being in the days before and make sure your nearest and dearest are on board with supporting that. I felt so relaxed and happy the registrar couldn't believe I was the bride when she came to check in before the ceremony. I was happily swanning around in my dressing gown about eight minutes before I was due down the aisle."
"Also be optimistic and don't sweat the small stuff, it makes things that go wrong easier to laugh about (like not buckling my shoes properly and tripping up the stairs on arrival)."
"We wanted a simple wedding and so we came in under budget. I'm so glad we invested in the things that mattered to us the most. There was a point where we culled our spending and realised we'd simply gone into too much detail and could save money by trusting we'd spent the bulk of our savings on the right things."
I'm a little bit smitten with this lovely, laid-back affair. A huge huge thank you to the gorgeous Rebekah and Francis for allowing us to share this beautiful day. And of course our very heartfelt thanks as always to Paul Joseph Photography for these divine captures.
If you've fallen head over heels for Rebekah's embroidered gown, take a look at our beautiful ranks of Rue de Seine brides for more boho-style delights.
With love,
Em x