I'm a child of the 70's and thus a hippie at heart. I remember raiding my mum's wardrobe and stealing this incredible boho long-sleeved dress that I wore at every opportunity, along with her sky-high platforms, until the cheesecloth material fell apart.
Yes, there was a ceremony and many, many tears. So I completely understand why the beautiful bride featured here in these joy-filled images by the one and only Caro Weiss Photography – and a treasured part of our Little Book for Brides member – chose to wear her mum's fabulous 70's frock (complete with a cape!).
Book editor Ellen married farmer and artist Reuben on the 17th of September 2016 in an outdoor woodland ceremony at her parents' home in Perthshire, Scotland, that was filled with the myriad of colours of autumn.
"We wanted the day to be relaxed, informal and fun for our guests too. We felt having an outdoor civil ceremony already took us a step closer to this and we were able to choose all aspects of our ceremony with our registrar, which was fantastic. Visually, we wanted a rustic, eclectic feel and also wanted to reflect the woodland surroundings with autumn colours, wood and flowers."
Photography by Caro Weiss Photography
"One of the best decisions we made for our wedding was choosing Caro as our photographer! She was brilliant from our first email conversation through to the end of the day. We are so delighted with her photographs; they make us smile every time we look through them.
We're both a bit self-conscious in front of the camera, but Caro was super relaxed and we barely noticed her taking photographs, even during the more intimate moments like getting ready and on our post-ceremony walk around the woods."Are you in utter love with couple's incredible autumnal florals? Fiona and Natalya from Pyrus are the creative geniuses who prepared the flowers for the ceremony, Ellen's beautiful rustic bouquet and gorgeous flower crown, Poppy the flower girl's crown and wand, the buttonholes, and a flower collar for the couple's dog Spud.
And that stunning ceremony backdrop? Reuben designed and built the 'altar' using antique sash window frames they brought over from Ireland, which Pyrus transformed into a magical setting.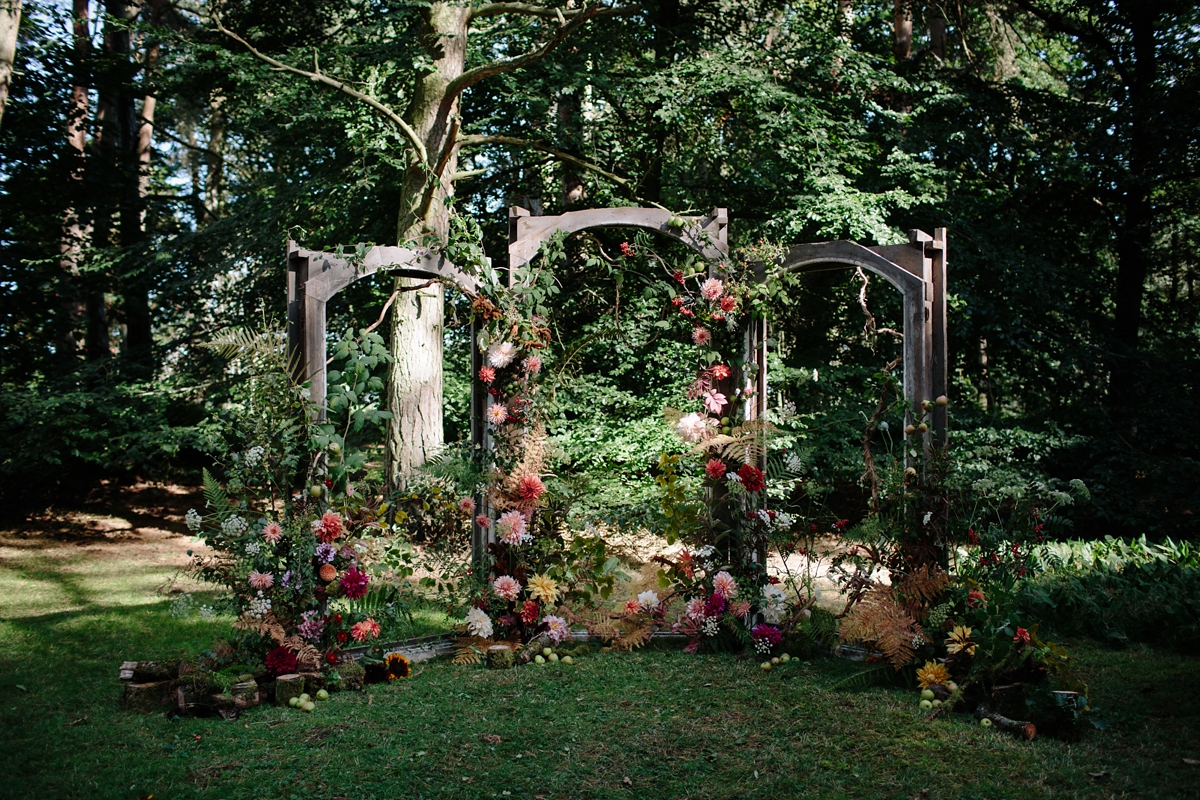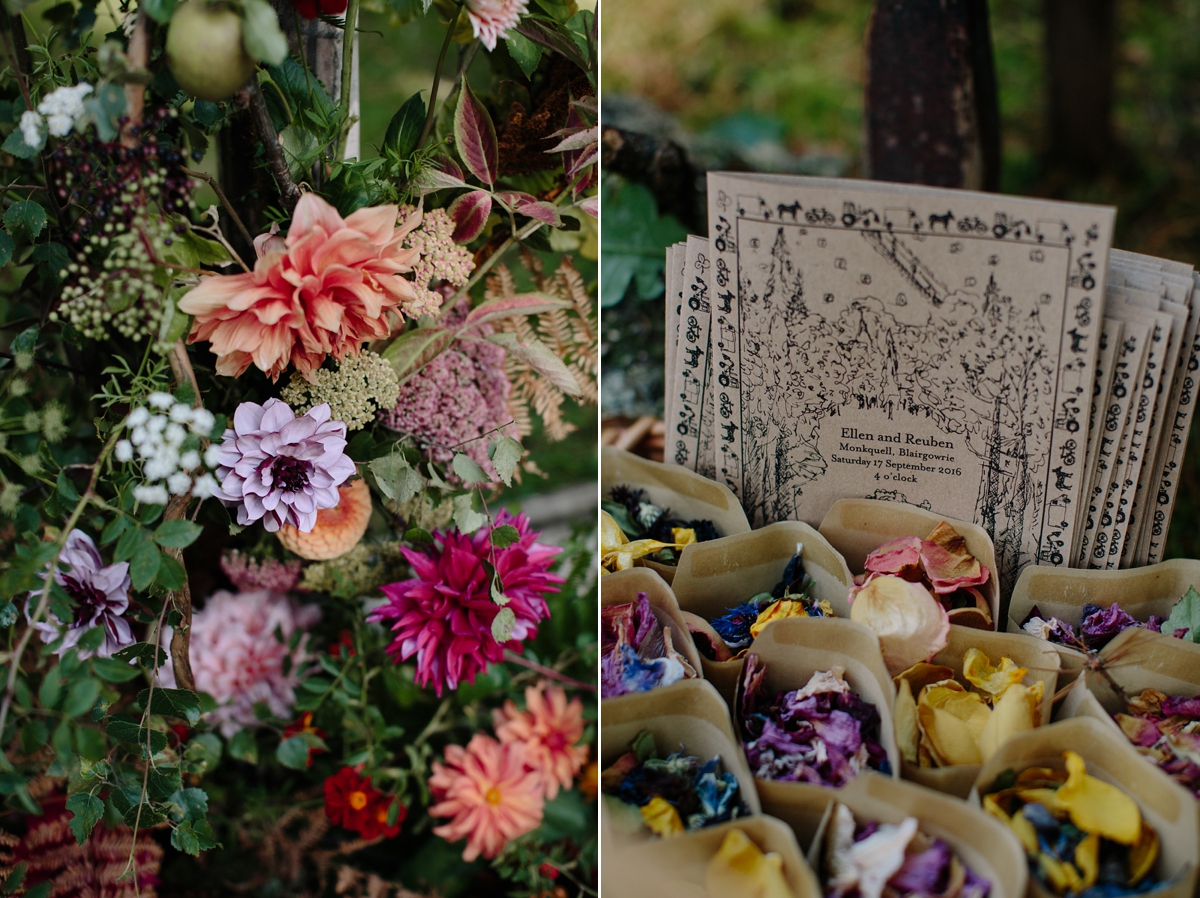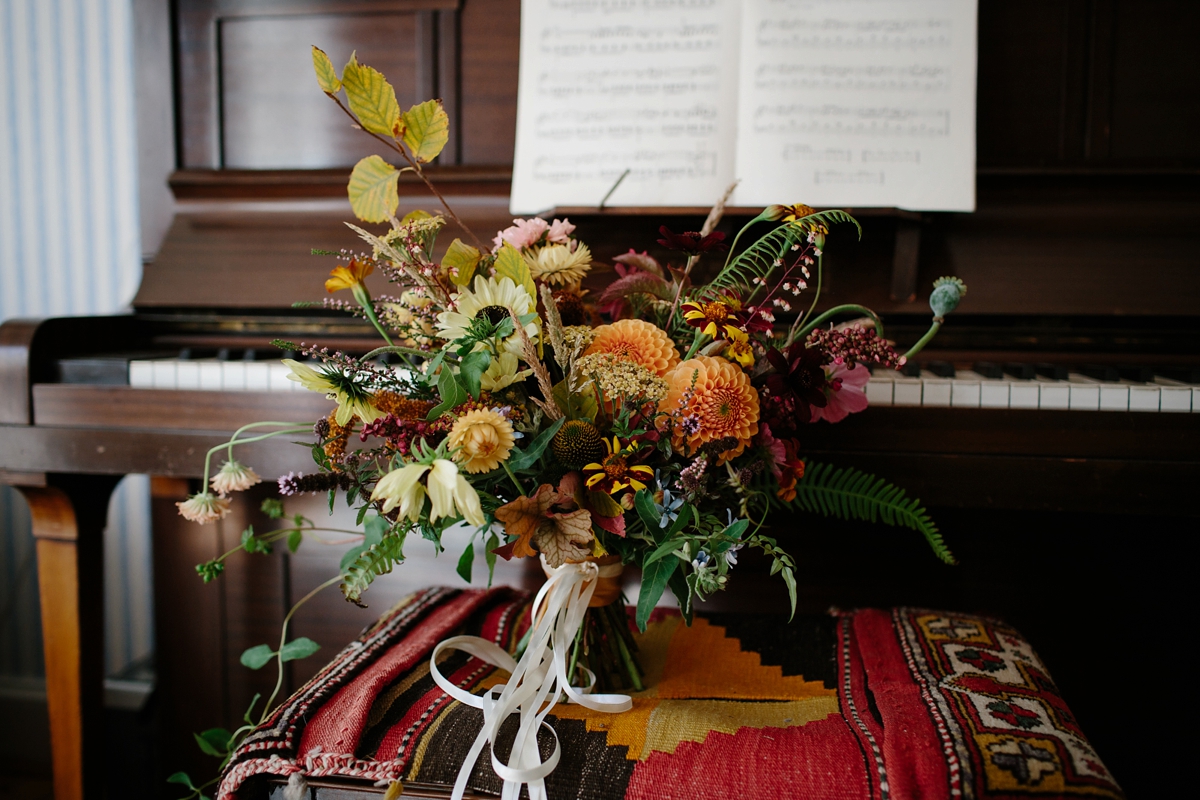 "My mum and I had met Fiona and Natalya for a coffee in Edinburgh several months earlier and felt totally confident leaving the flower design up to them."
"We were very vague in our brief – I showed them my dress for colour, said we wanted it to be natural and autumnal – and left the rest to them. They also grow their own flowers, which is lovely."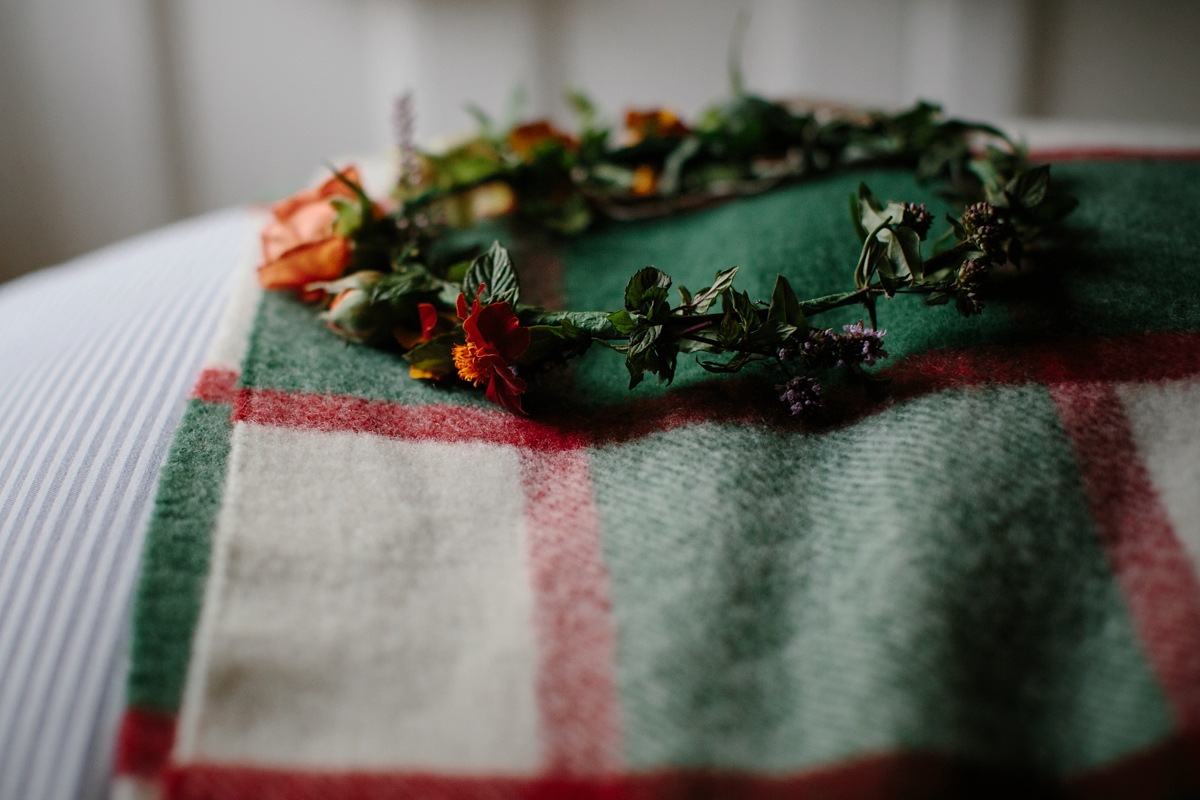 Reuben and Ellen designed the wedding invites and other stationery bits and bobs themselves. Creative Reuben did the drawing, with letterpress printing by Glasgow Press.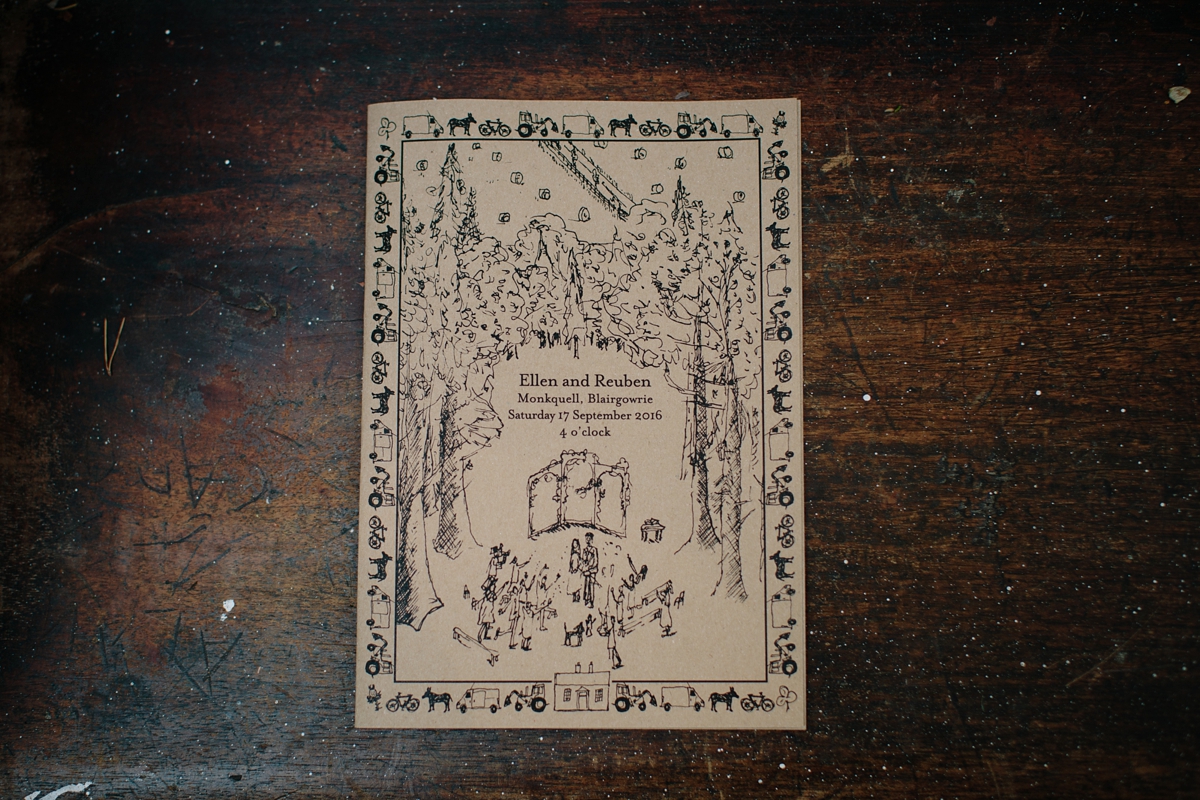 "I did my own make-up – I don't wear very much normally, so I didn't want to wear loads. I went to Bobbi Brown for a makeup session a few months before and ended up spending (what seemed to me) a small fortune on products – but at least I still have them."
"I borrowed my mum's wedding dress, which she had made for her in the 1970's in Hong Kong. I had the cape altered a bit (it was longer and previously had a hood too) and the neck loosened at Pan Pan Bridal in Edinburgh"
"I've always loved my mum's dress, so when we got engaged, and the first time I went home to my parents', I tried it on and was delighted that it fit almost perfectly."
Ellen added a pair of Anthropologie wedges, a spritz of 'Elle' by Emporio Armani, and the most delicate floral crown made by Pyrus, her florists.
"I didn't wear any jewellery – I had had my engagement ring polished when we went to pick up my wedding ring, so I wanted to keep it clean for the wedding and didn't wear it in the run up. I put it somewhere safe but completely forgot where, so I couldn't find it on the wedding day! (it showed up afterwards…)."

"We have lots of mutual friends, but Reuben lived in rural Ireland and I lived in London. Having crossed paths several times previously, we met properly in Dublin at our mutual friend Hannah's 30th birthday party."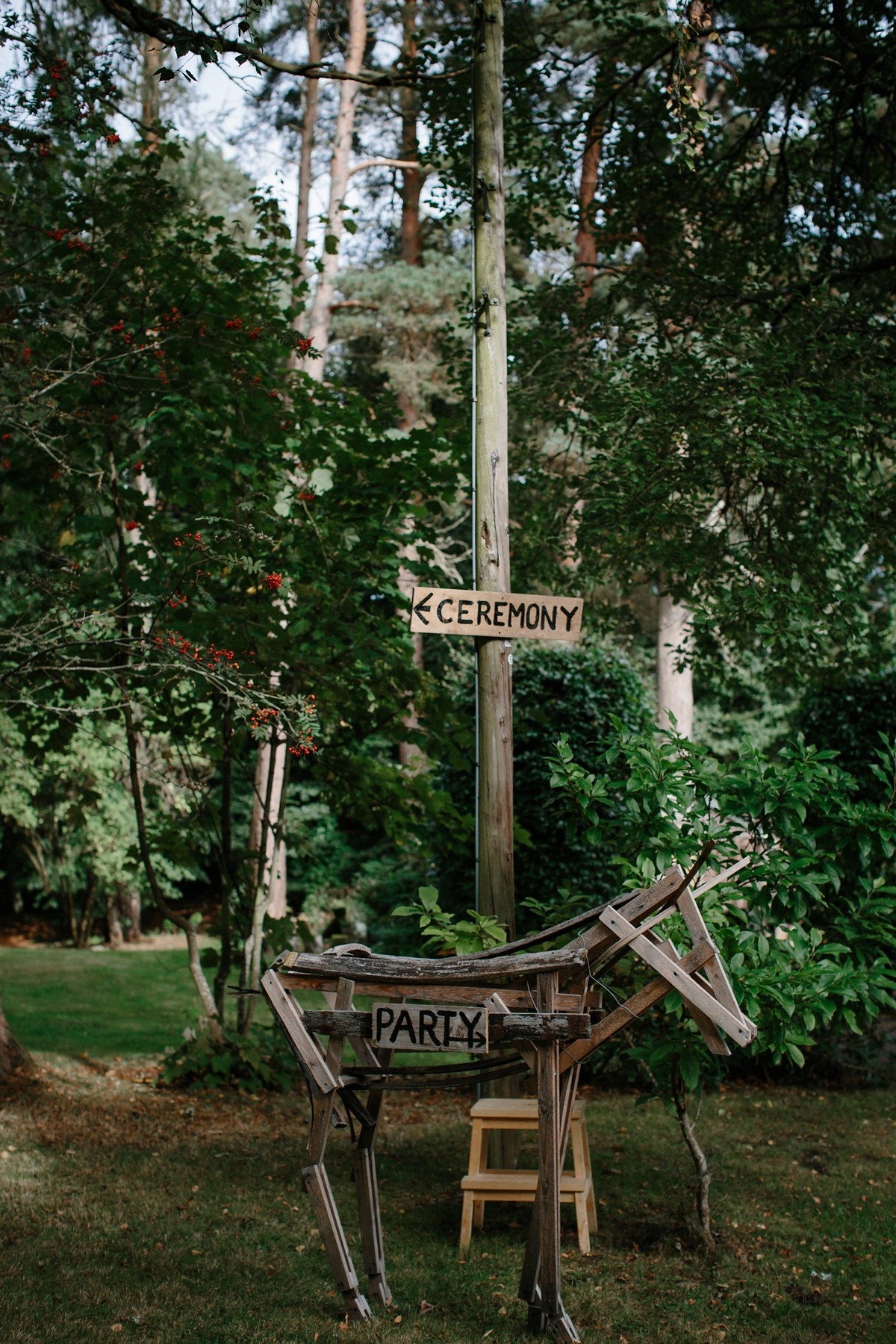 "After two years of long-distance between Kilkenny and London, I decided to make the move to Kilkenny and join Reuben on the farm. A few months later, but before I moved, Reuben made a surprise visit to London and I found him waiting for me outside my office."
"We went to his sister's exhibition in South London, then out for dinner and finally – on the tube home – Reuben wanted to get out at London Bridge 'for some air'. We walked across the bridge late at night and he proposed on the pavement about halfway across. We got married just under a year later."
Ellen's proud dad accompanied her for the walk down the aisle in the magical woodland setting to the sweet sounds of a jazz trio.
"During the ceremony we had a jazz trio from The Copper Cats, who played so beautifully. They played 'All of Me' when I was walking down the aisle, 'Dream a Little Dream of Me' when we were signing the register, and 'In the Mood' at the end. Then the full five-piece band played during the drinks."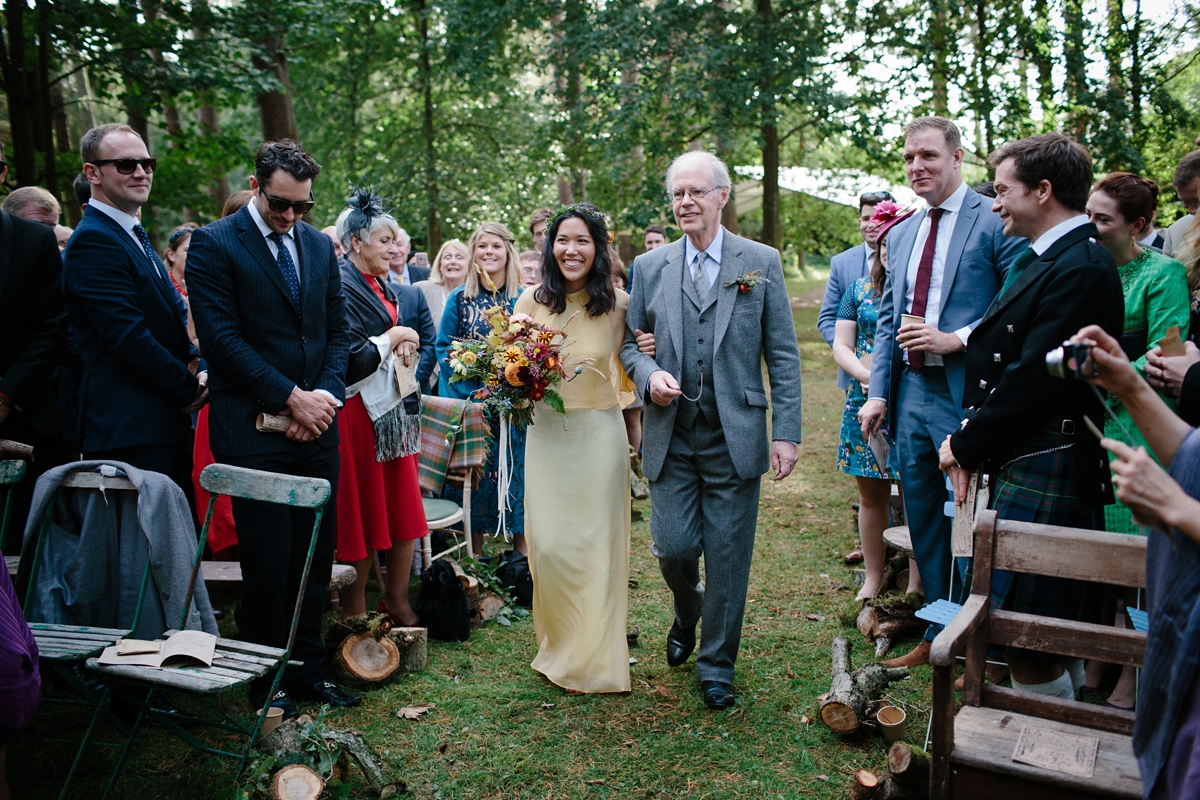 "My sister opened the ceremony by welcoming everyone and then (surprisingly) got everyone to stand up and do some ballet moves as she and I used to love ballet when we were little – and Reuben went to ballet too. Our friend Hannah, whose birthday party we met at, read an extract from Julian Barnes' 'Levels of Life', and Reuben's sister Phoebe chose and read a poem by Thomas Hardy, 'Great Things'."
"Most of the planning focused on the party side of things. But the ceremony really was my favourite part. It was amazing to have everyone there with us, and it just felt really happy."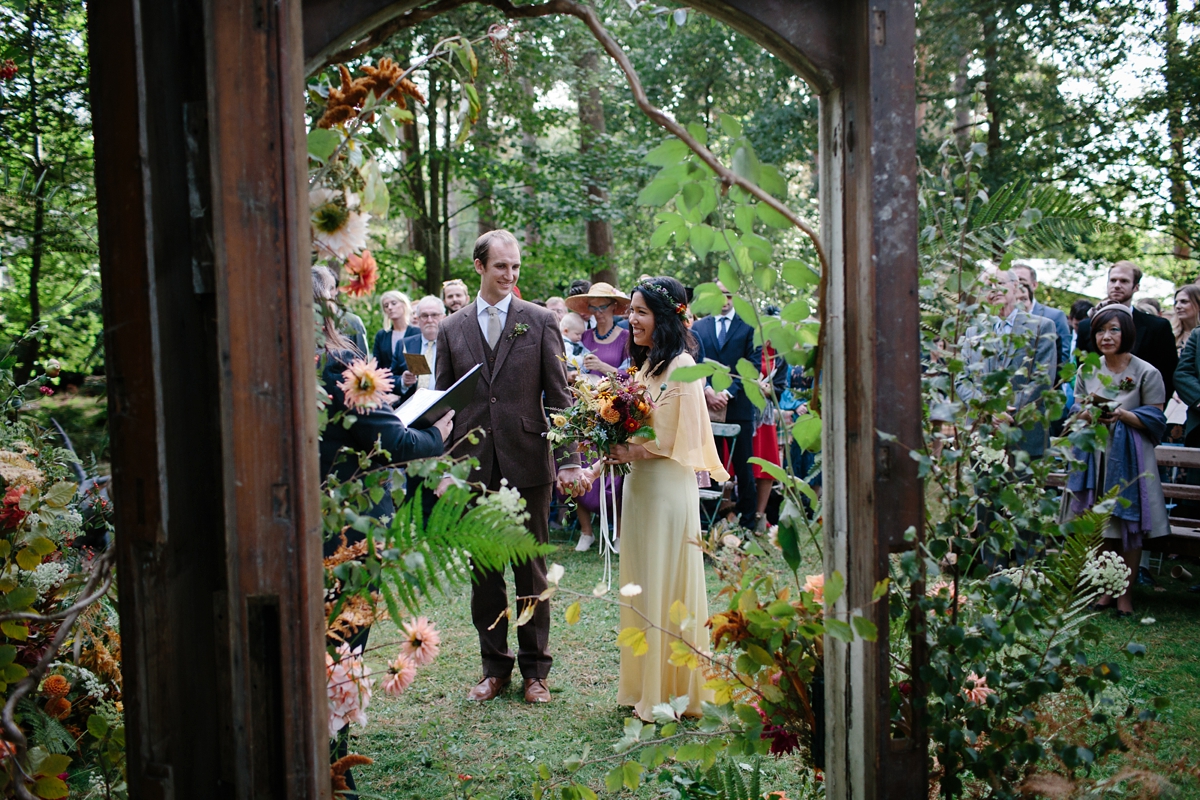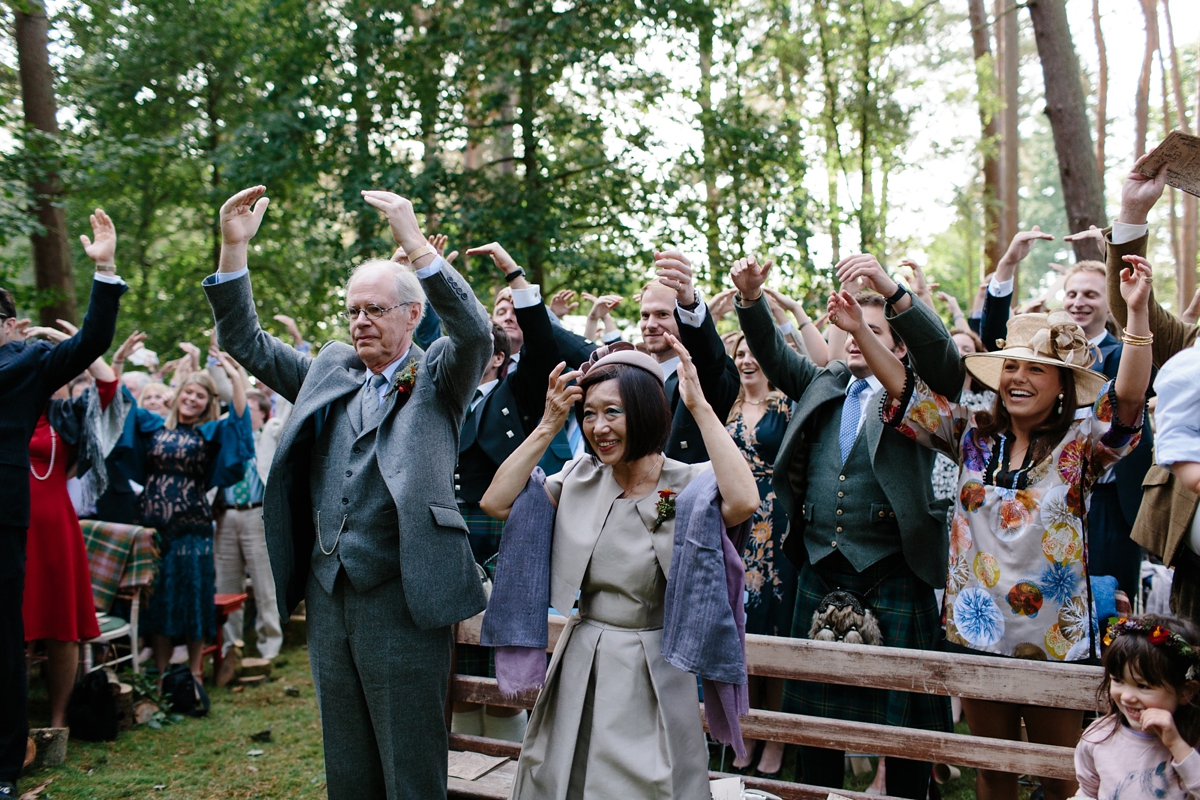 "We both wanted to get very narrow rings, which all the jewellers didn't recommend because they might wear down easily. But in the end we decided to get narrow ones any way, and if we need to replace down the line, that's fine."
"Mine was made by a Kilkenny goldsmith called Rudolf Heltzel from whom Reuben also got my engagement ring, and Reuben's was from a jewellers in Kilkenny called Lorimat."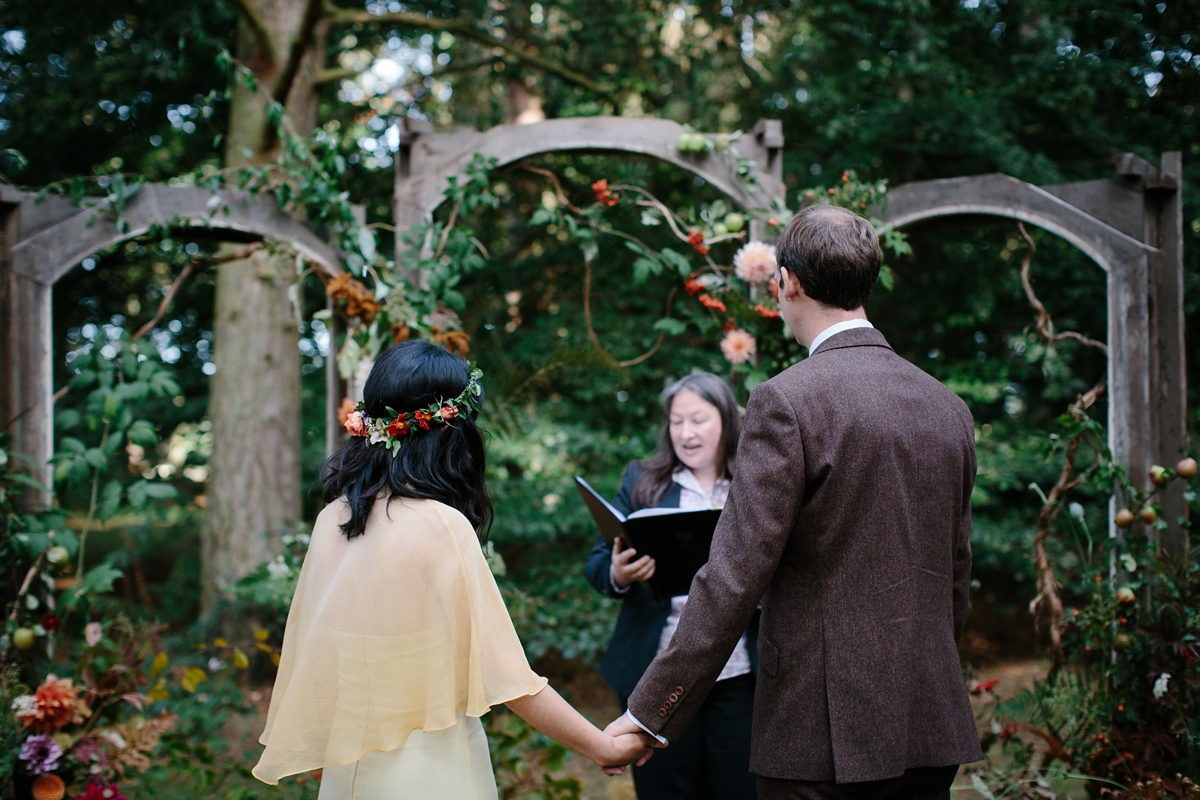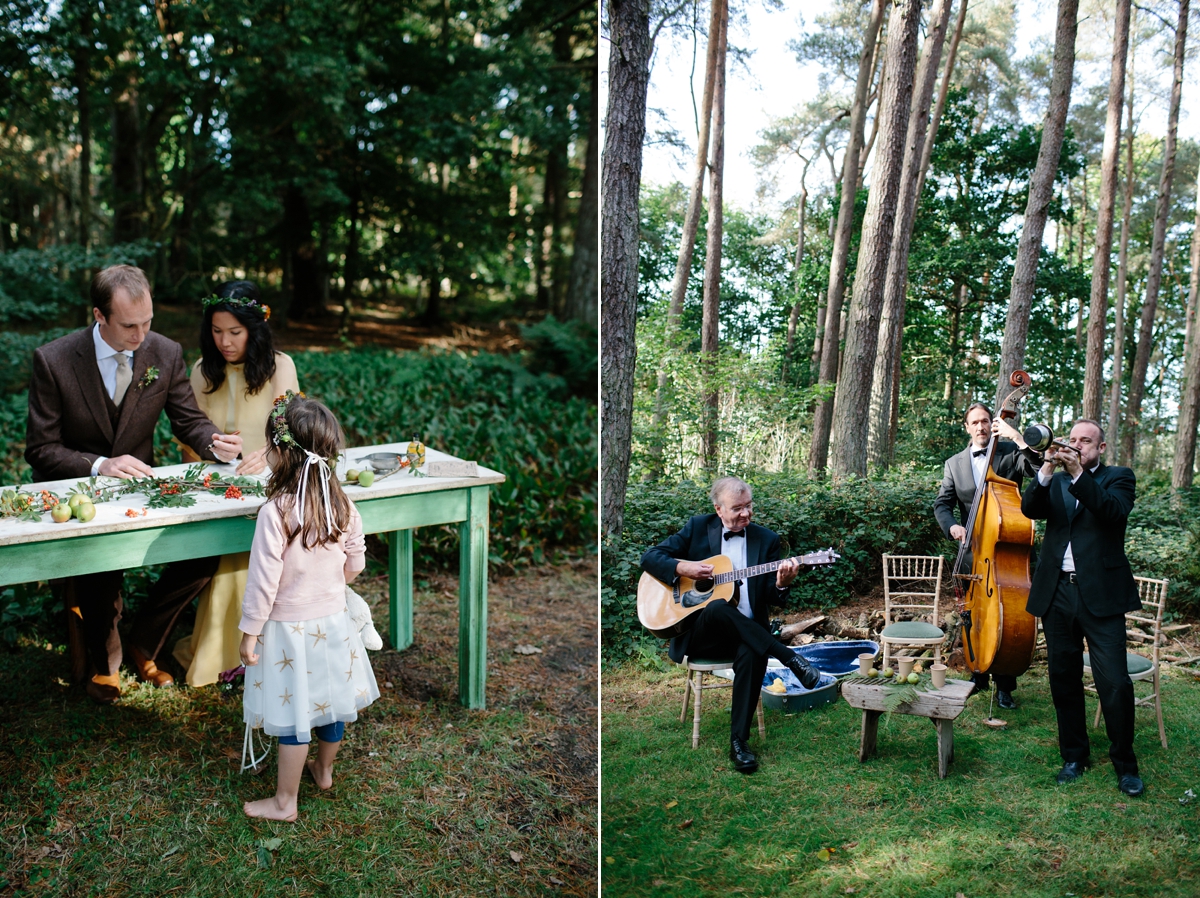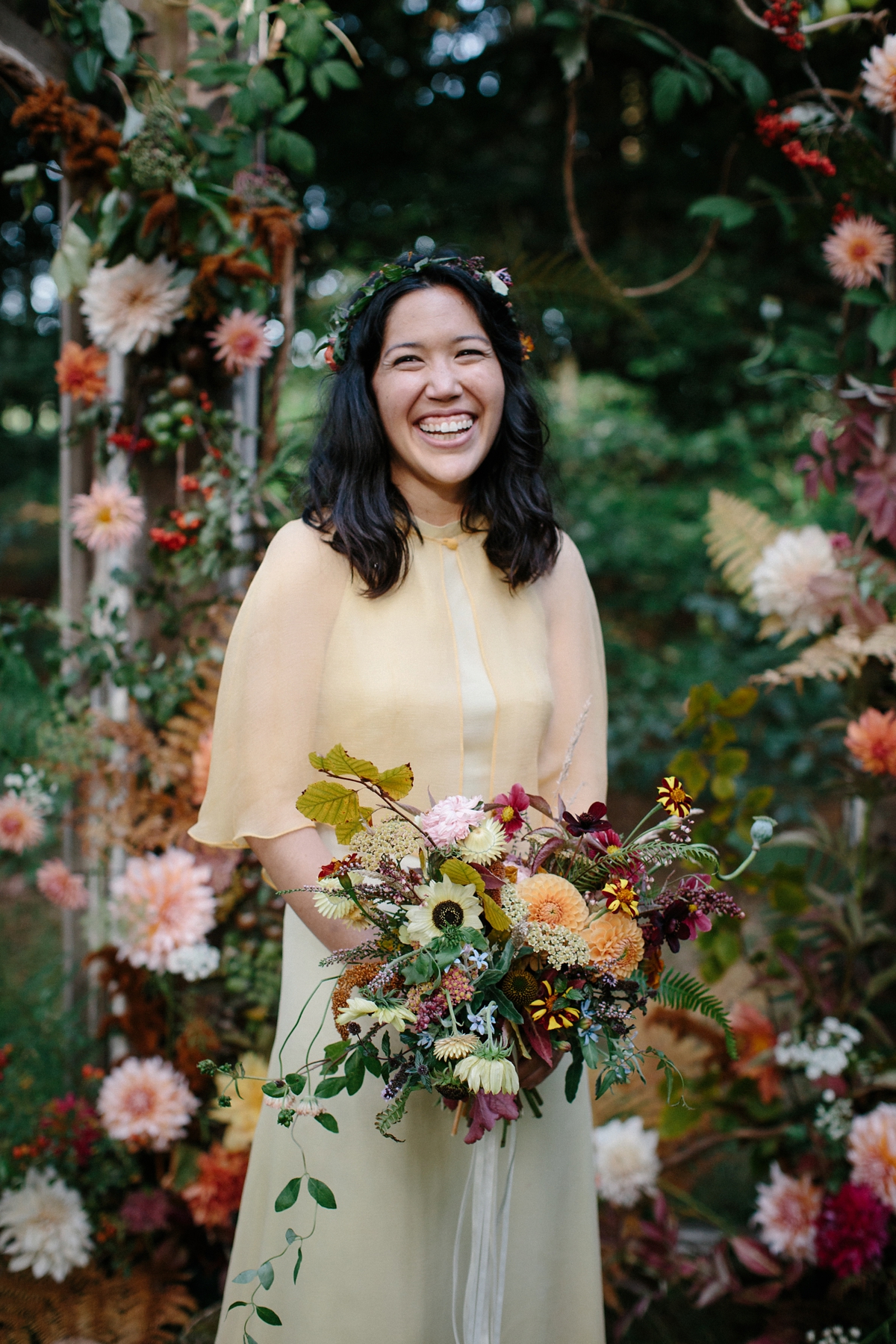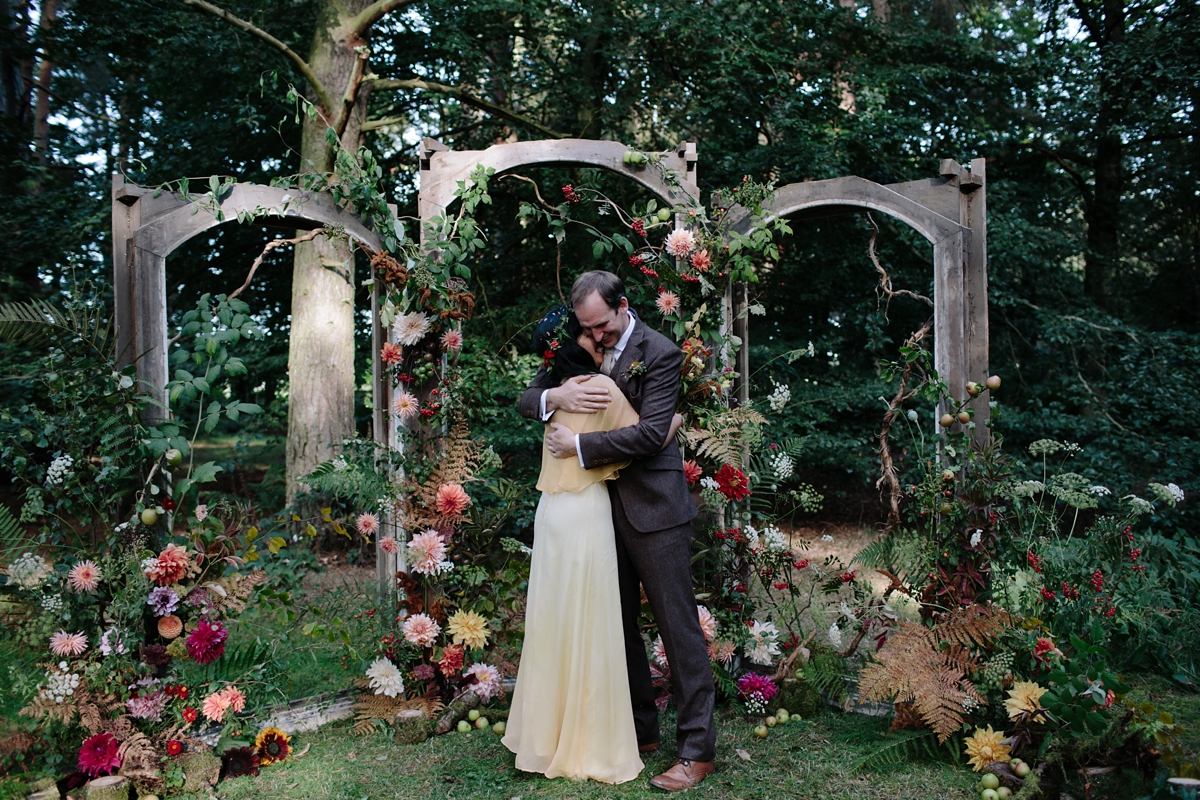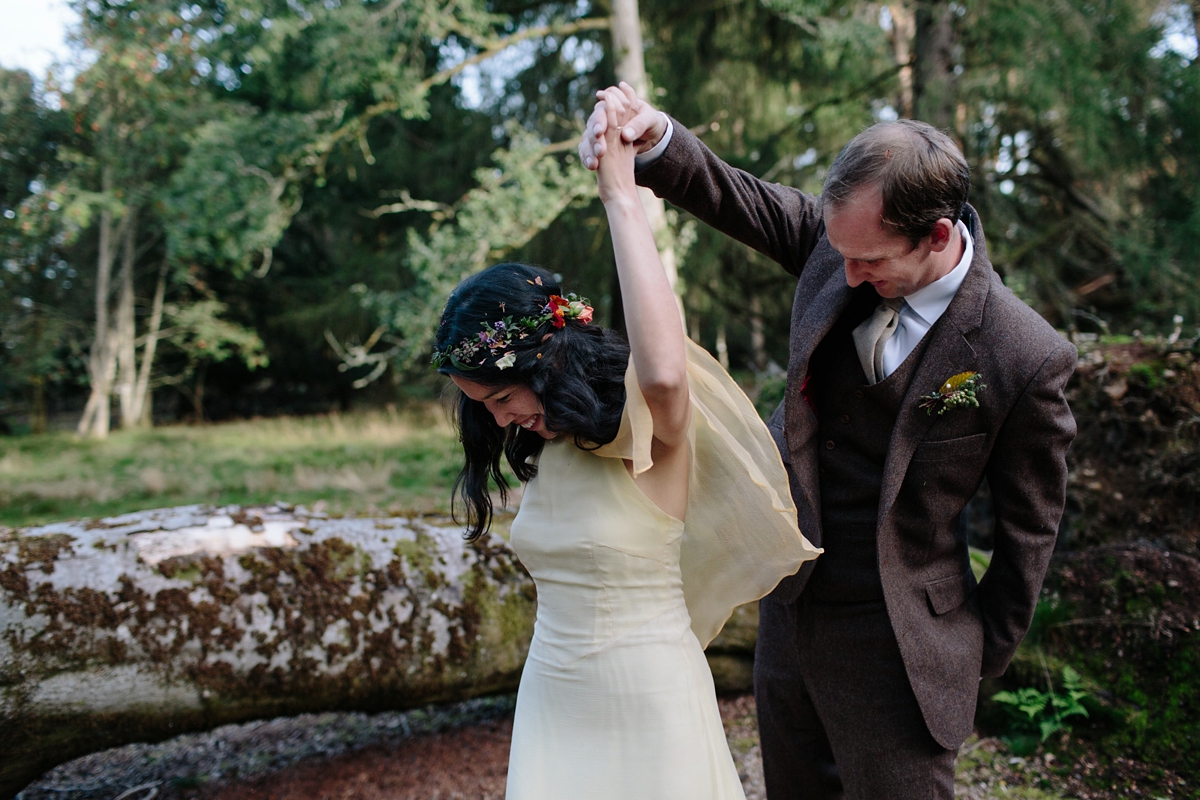 "Wild Rover Food were one of the first suppliers that I knew we wanted and I am so happy that they were able to make our date – they were brilliant. They set up their field kitchen in their Land Rovers outside the marquee and did all the cooking from there."
"Their system of serving is nice and informal – we nominated a person per table to collect the communal dishes and then serve it family-style at the table. They also are great at sourcing fantastic food from Scottish producers. My one regret about the wedding is that I was so distracted by everything going on that I don't think I fully appreciated eating the food."
"The marquee was from Inverhall Marquees, and it was a beautiful traditional tent, with a big window wall on one side. It was great to see it going up in the garden the week before the wedding as the anticipation built."
Ellen and her mum got stuck in with beautifying the marquee by preparing the flowers (with a lot of help from family members). There's nothing greater than home-grown blooms for that just-picked look.
"Fiona and Natalya from Pyrus recommended flowers we could grow in my parents' garden that would flower for the wedding, so we grew a lot ourselves."
"Friends and family also donated flowers from their gardens. I panicked last minute that we wouldn't have enough, and ordered some Cornwall-grown flowers from Flowers by Clowance and a couple of buckets of mixed foraged flowers and foliage from Michelle Morton at Cordon Farm."
"I really wanted to do a hanging floral installation, so watched Youtube videos (courtesy of Sarah Raven) about how to make hanging balls, and my brother-in-law connected them all with hazel branches. We were still setting up a couple of hours before the wedding."
The main décor for the marquee was the flowers – and the couple also hired wooden trestle tables and other bits and pieces from Virginia's Vintage Hire, festoon and a bit of disco lighting (and a generator) from Arkwright Generators, and some trees from their local garden nursery, to cleverly create a woodland setting indoors.
My mouth is positively watering at the sight of the couple's divine cake – yum!
"My friend Helena Mortensen made an incredible four-tiered naked cake. Each layer was a different flavour: carrot, courgette and pecan, lemon and poppy seed and vanilla."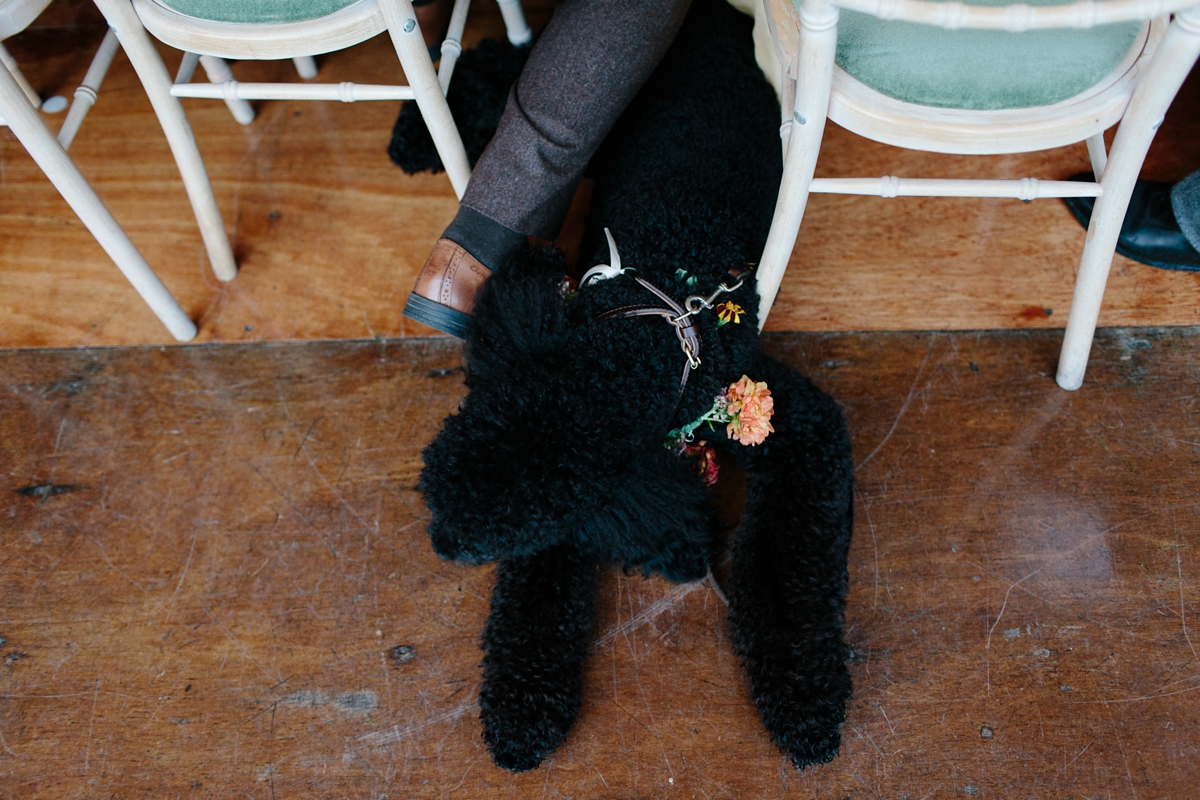 "For dancing, we had The Wee Small Hours, who I cannot recommend highly enough. We really wanted to have a mix of ceilidh and disco, and they were able to switch between the two easily."
"They were great fun, got the crowd going and played a brilliant mix of not-too-cheesy music that everyone could dance to. And they were super helpful with the set-up too. We chose a Scottish reel, Strip the Willow, as our first dance so that we could get everyone up and dancing straight away – and dance with everyone."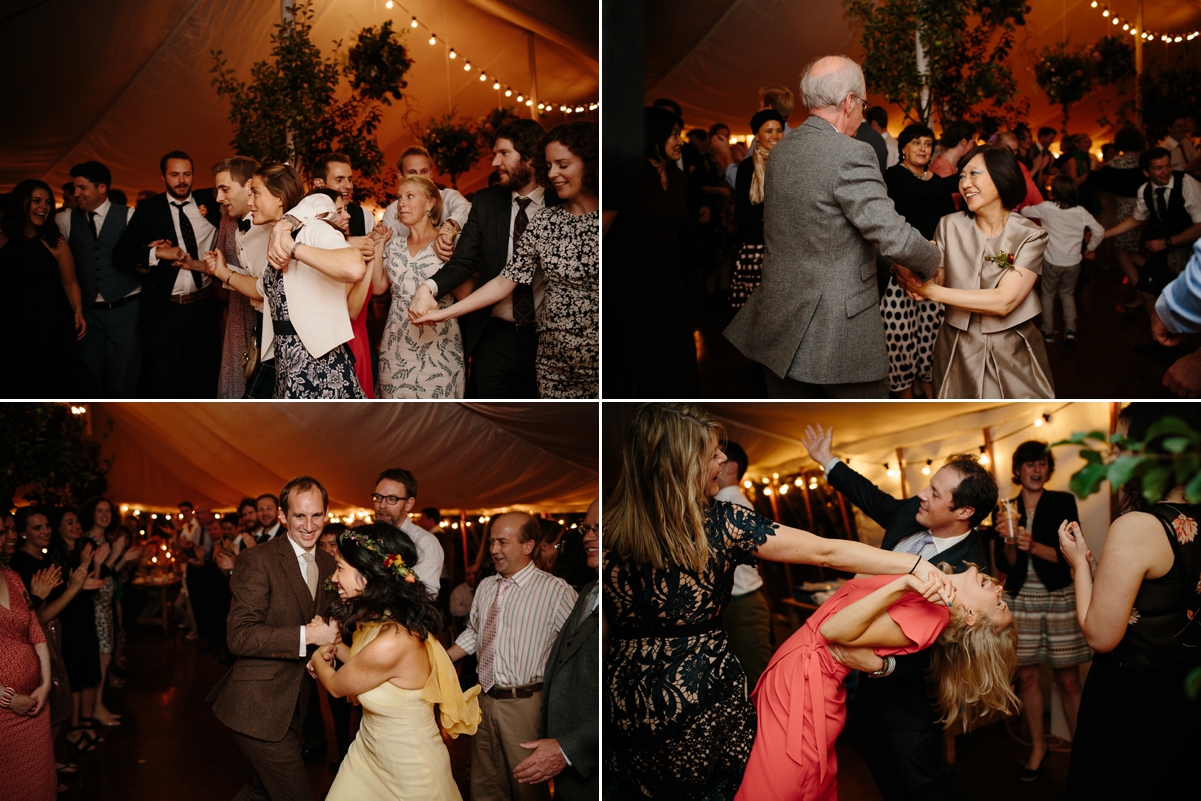 Words of Wedded Wisdom
"The whole day is so much fun! So don't worry too much about little details that no one else will probably notice. I wanted all our ceremony seating to be mismatched and old benches, even if that meant some people were standing, but my mum thought differently and in the end we added regular chairs so everyone could sit down – and it was much better that way!"
"Go with suppliers who you like – if you get even a slightly bad feeling about them then don't go with them, as they will probably add stress to the process in the long run."
Ohhh Caro, you've done it again – the love between Ellen and Reuben simply oozes in these divine images. Thank you for sharing their amazing day with us, and thank you to the gorgeous couple for the sneak peak into your simply beautiful wedding. I'm now on a mission to raid the local charity shops to find myself another knockout 70's dress!
And if you're looking for even more autumn inspiration, take another look at one of the most lovely weddings we've ever shared – this autumnal wedding with Pyrus blooms and a bride in a jumper. It's a firm favourite and I bet you anything you'll seek out your comfiest knit whilst perusing over a hot cup of tea.
Stay warm and enjoy the rest of your Sunday lovely ones.
Love Jo -xo-