Happy Saturday lovely readers.  Is anyone at a wedding today?  We have the last of our 2017 weddings to attend next weekend in beautiful Yorkshire and I'm really looking forward to it.  I've not yet been invited to a destination wedding, but after seeing today's beautiful photographs I definitely live in hope!
Meet Amy, a home curator for Not On the High Street, and Phil, a sales director, who married on the 17th September 2016 at the gorgeous Chateau St Privat des Pres in St Privat des Pres, France. The day was planned by Laurence Beal of Marry Me in France and photographed by the talented Antony Merat.
"We're both sun bunnies and knew having small families that we could easily have a wedding abroad; the South of France seemed like the perfect place as that is where we had become engaged.  After finding our venue we were really led by that in terms of styling."
Photography by Antony Merat
Amy researched dress designers through Love My Dress and came across Charlie Brear, one of our very favourites.  Amy fell in love with Charlie's designs straight away and purchased both her gown and veil from the flagship London store- isn't the lace of the gown just stunning?
"I loved so many dresses and had a ball trying them on but the dress I chose was the one that I felt most myself in, but the best version of myself.  It was so beautiful, but timeless, classic and simple at the same time.  It was comfortable whilst being sexy and a little modern with the deep v neck and back.  I knew Phil would love me in it too so once it was on, it was a no brainer.""I did have a wobble having never tried another designer that I particularly liked the look of, and so I did what I probably shouldn't have done and went to an appointment at their showroom after having put the deposit down on my dress.  I needn't have worried though, my instinct was right and after trying on these dresses, I knew I had made the right decision."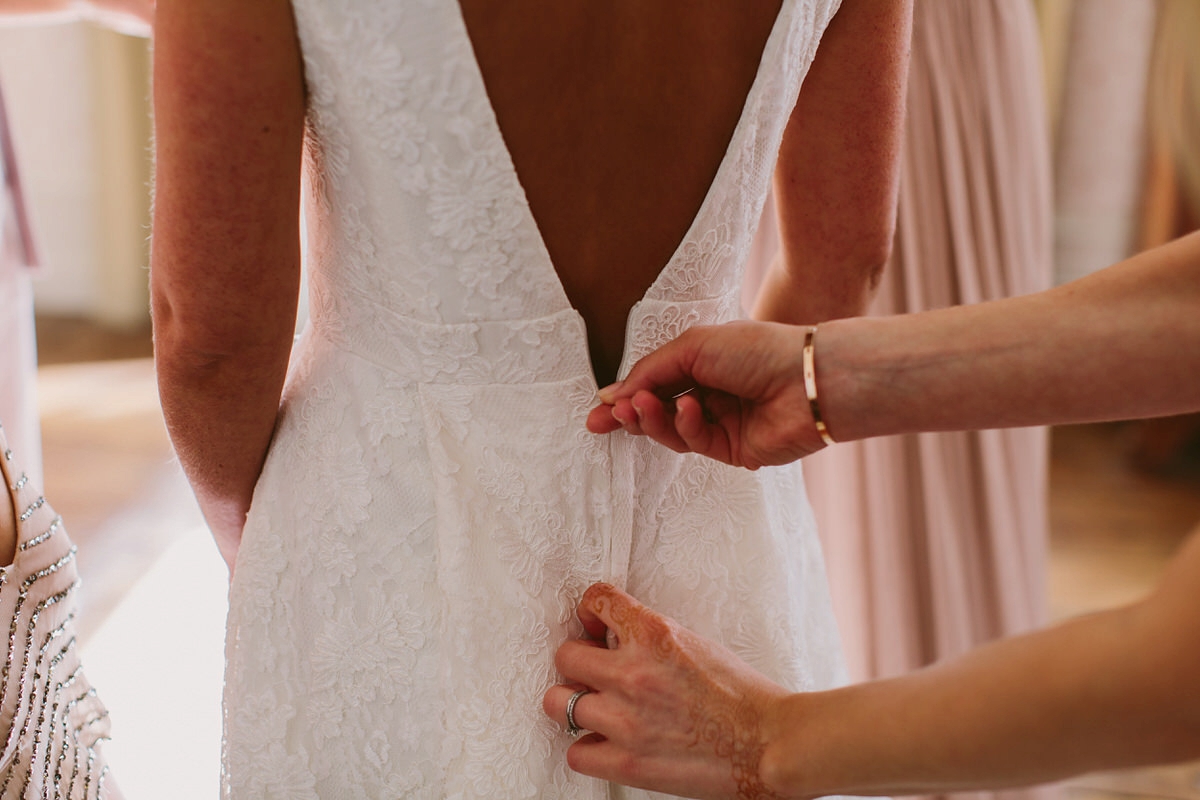 Hair and make-up were the work of Laura Grogan from Nala & Knot.
"Laura is an amazingly talented friend who made me feel the most beautiful version of myself on the day.  She was absolutely fabulous and a true pleasure to have around on the morning, helping us to get ready and acting as a wonderfully calming influence."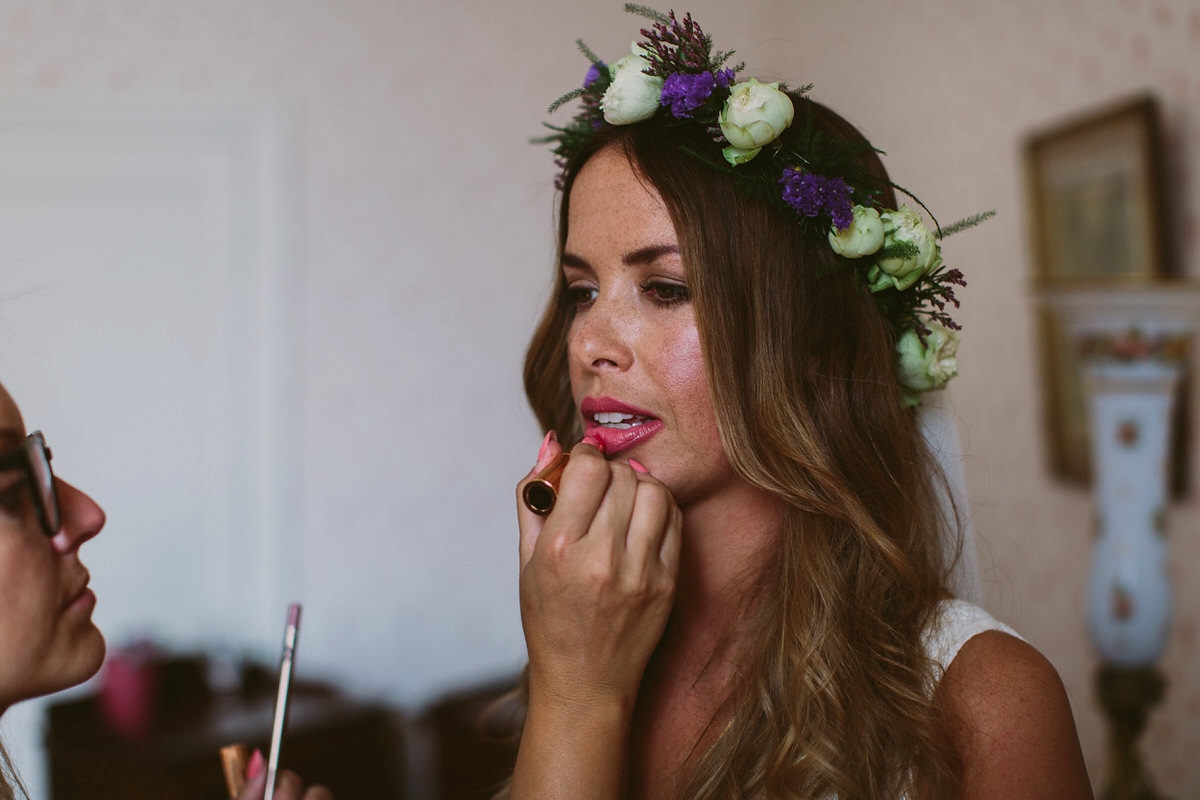 On her feet Amy wore Rockstuds by Valentino, while for jewellery she opted for a necklace by Monica Vinader (a gift from her bridesmaids) and a bracelet by the same designer, bought for her by Phil.  For scent she chose Velvet Rose and Oud mixed with Blackberry and Bay (both by Jo Malone) while in her hair she went for an ultra romantic flower crown.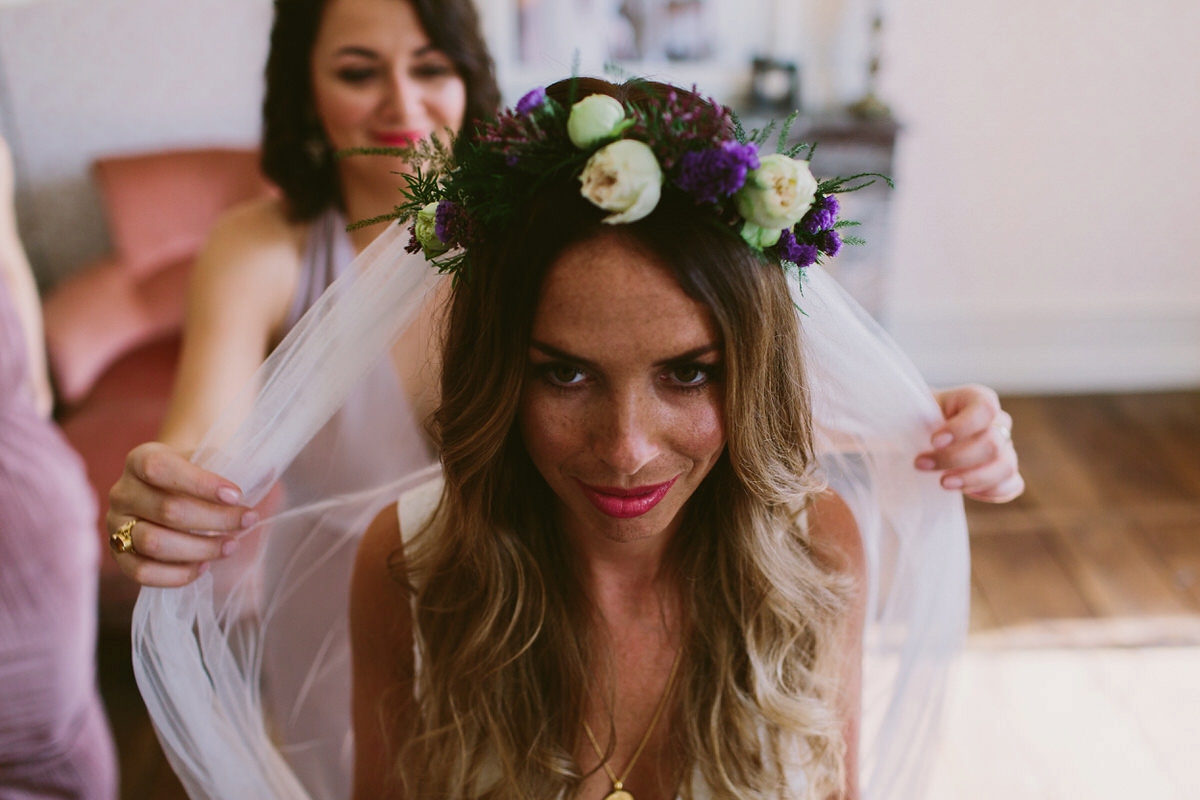 "The chateau was truly beautiful and yet simple and so we wanted to honour this in how we styled our day.  We went quite understated using creams and whites with additions of colour through lavenders (for the French location) and splashes of gold (as I do love a bit of glitz)."
"We didn't want to go too overboard and so we had flowers, a few balloons and lots of candles to really make the venue feel cosy and romantic and our planner had sourced us beautiful lighting for in the barn and in the courtyard which looked beautiful at night."
The incredible flowers (as well as Amy's fabulous flower crown) were the work of Fleurs de Famille.
"We wanted a neutral palette for our flowers, to go with the rest of the décor and venue, nothing too distracting or ostentatious.  I also really wanted a flower crown.  I was most nervous about the flowers as you don't ever actually know how they'll look until the day, but they surpassed everything I had hoped for, especially my crown."
Phil looked very smart indeed in a bespoke suit from Saville Row, which he paired with shoes from Paul Smith.
"Phil and I have known each other since we were eighteen, having met in the first couple of weeks of university.  We were in the same friendship group for a good seven and a half years before we eventually got together, both admittedly being taken by surprise when our friendship turned into something more, and even more surprised when the 'something more' became a serious and long-term relationship.  However now looking back, we can't imagine any other way, and it just seems so right that we came together."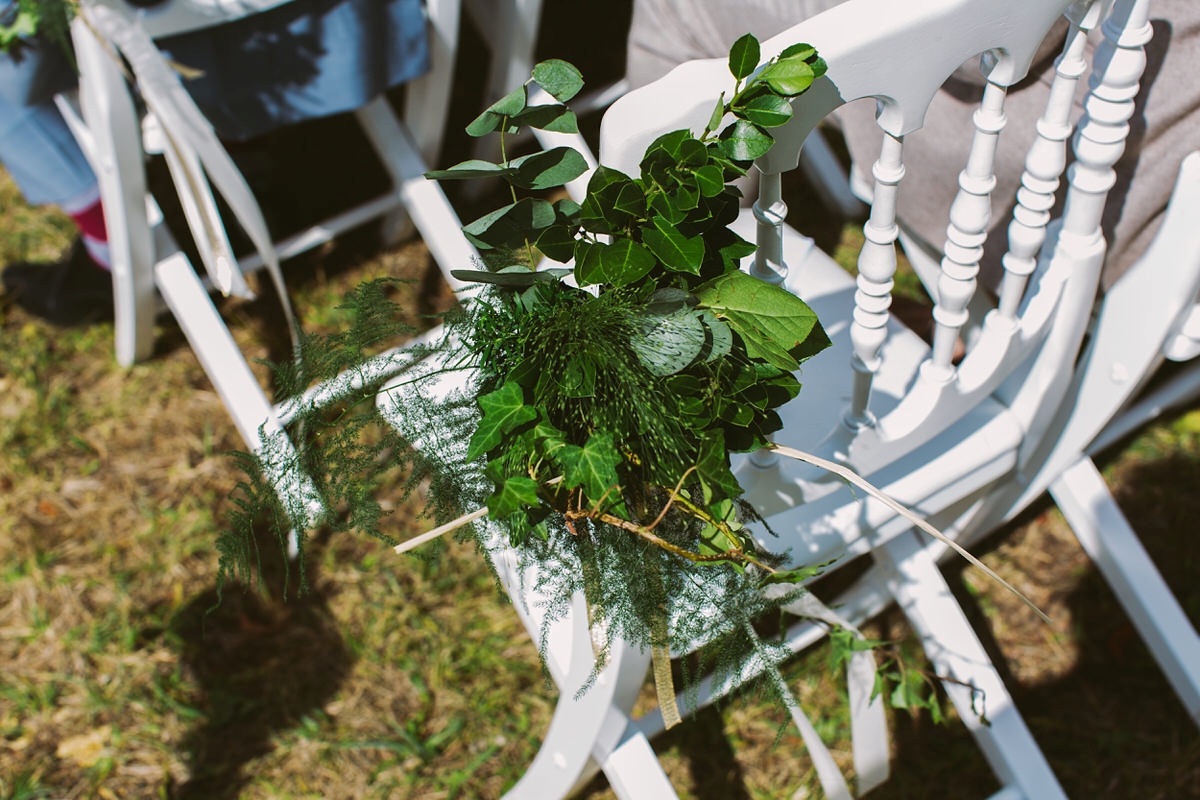 The bridesmaids looked lovely in gowns from ASOS, House of Fraser, Topshop and Coast, which they accessorized with bracelets from Not On The High Street– gifts from Amy.
"We wanted our bridesmaids and groomsmen to feel comfortable, hence the decision for each bridesmaid to pick her own outfit based on a neutral colour palette."
Amy's Dad accompanied her down the aisle to 'Wasn't Expecting That' by Jamie Lawson.  I just love her face as she walks towards Phil.
"Our celebrant helped really personalise our service by sending us questionnaires prior to the wedding which he helped to influence the service.  We had two readings, one of which was written by Sara, one of my bridesmaids (with help from the other bridesmaids).  We are huge Fleetwood Mac fans, so Sara had written a beautiful reading, which was made to tell mine and Phil's story through the lyrics of various Fleetwood Mac songs.  It was so thoughtful and touching, just perfect."
"Our wonderful celebrant presented us with a boxed bottle of wine containing our original ceremony questionnaires, not to be opened before our five year anniversary (or sooner if things ever get tough) which was a beautiful touch."
"Antony Merat's work was exactly what we were after- really beautiful, candid imagery using nature and the landscape to really make each picture unique.  He was fab on the day, making everyone feel at ease and really just blending into the background to achieve some great shots of our families, our friends and us."
"Everyone who has seen our images since has said how truly stunning and unique they are, we are both so unbelievably happy with them.  We cannot recommend him highly enough."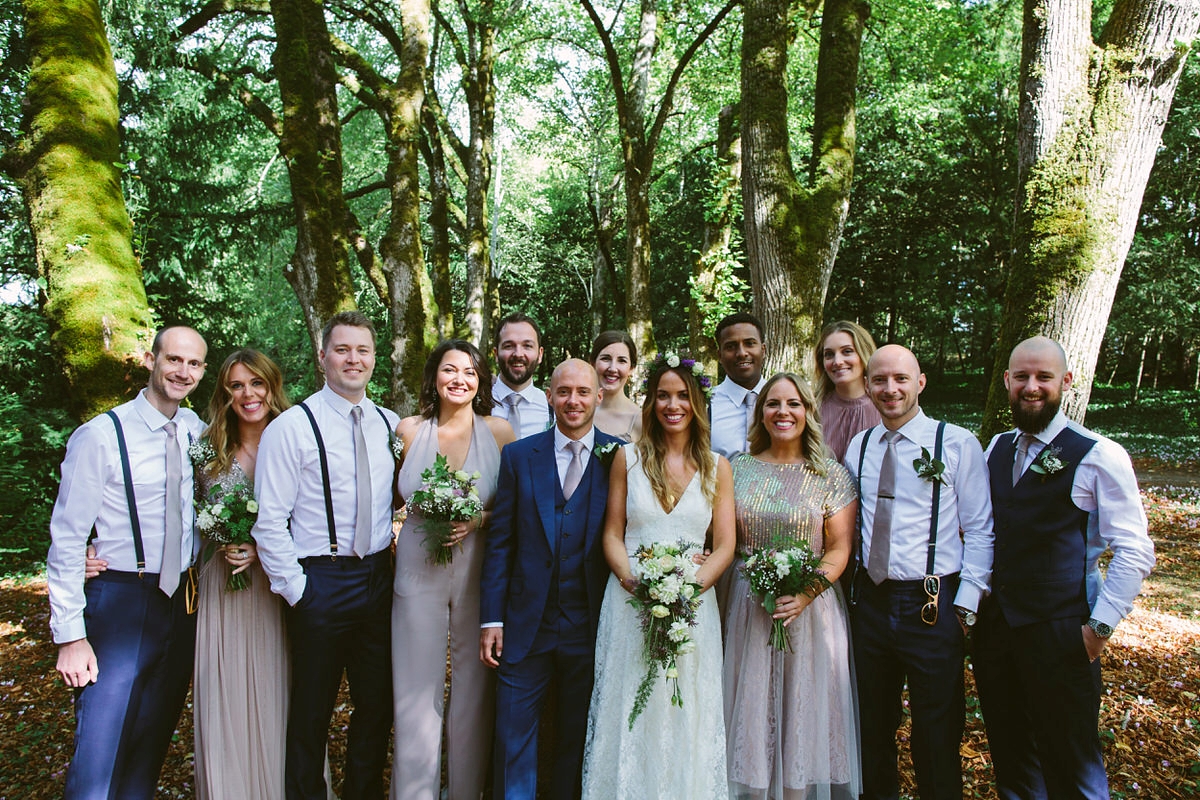 As well as photographs, Phil and Amy decided to have their wedding day captured on film- they chose Denee Motion for the job.
"We tried to reflect who we were through our décor as much as possible; we had a selfie wall as it's a bit of a joke how much we love a good selfie."
"Our table plan was facebook profle pictures to reflect Phil's tech background, we had a selfie station and also a sweet trolley (we both have a sweet tooth)."
"We tried to reflect who we were through our décor as much as possible; we had a selfie wall as it's a bit of a joke how much we love a good selfie."
"Our table plan was facebook profle pictures to reflect Phil's tech background, we had a selfie station and also a sweet trolley (we both have a sweet tooth)."
For cake, the couple chose a croquembouche which was sourced through Marry Me in France, while for catering, they chose another Marry Me in France recommendation.
"Joss was AMAZING! The scallops were some of the best we've ever eaten and the dessert tray was phenomenal.  We went for a tasting at his restaurant in the April before the wedding and we were so excited afterwards as the food was really top notch, the restaurant was beautiful too with a real log fire burning.  It was such a lovely day and a great way to do our tasting."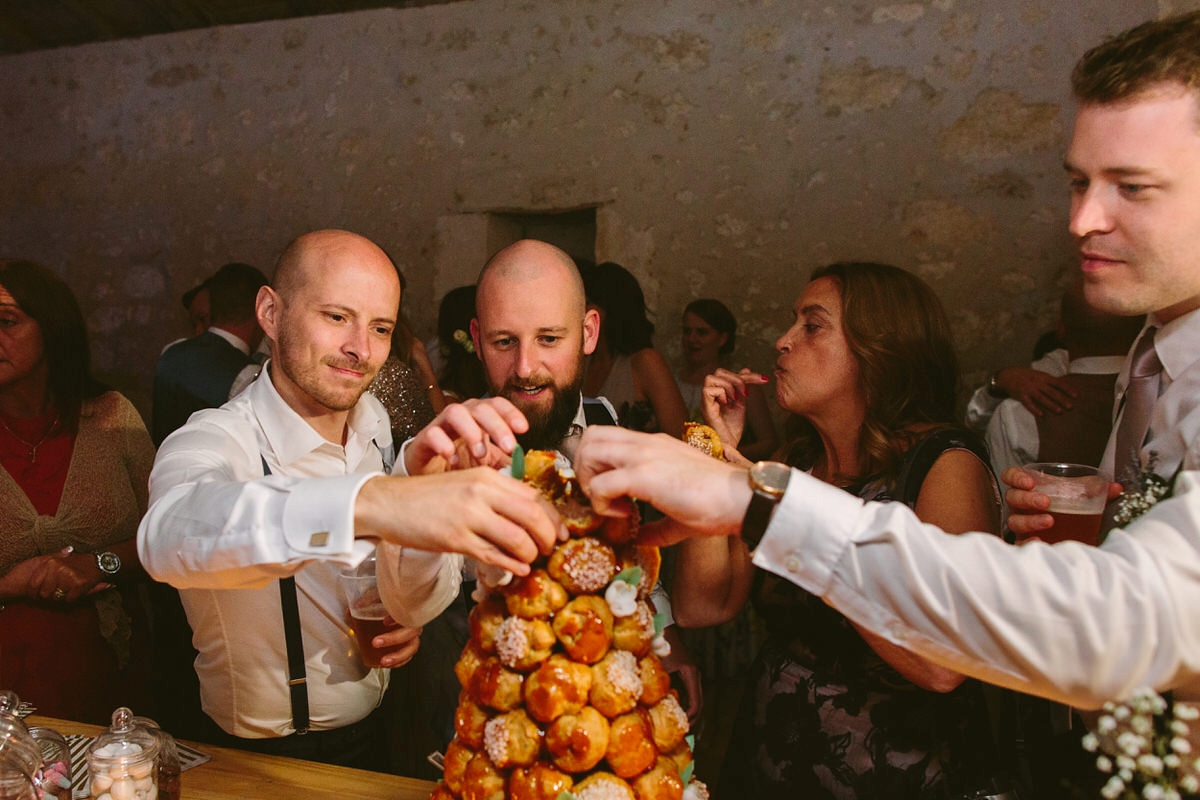 Words of Wedded Wisdom
"Enjoy dress shopping, when again will you get to try on these amazingly beautiful dresses?
Enjoy the planning.  Yes it can be overwhelming and stressful at times but it is a labour of love and on the day you will be so overjoyed by how the biggest job you probably have ever undertaken together comes together so wonderfully for everyone to enjoy.
Do not sweat the small stuff.  How many of the details of other weddings where you are the guest do you honestly remember?"
"Food, music and drink – the three disciples according to any guest.
Take time out to really appreciate the day and your groom. It goes by in an instant and after it has passed you will wish you could relive it over and over.
Relax! There is no need for nerves. I was so nervous walking down the aisle and I needn't have been, I wish I could go back and snap myself out of it and just relish the moment with my Dad."
So many thanks to Amy and Phil for sharing this gorgeous day.  Its brought summer and the warmth of holidays all rushing back as we head speedily into autumn here in the UK…
Much love,
S x