Fist pump the air lovelies, we've made it to Friday! To set you up for the weekend I'm chuffed to be sharing the simply stunning wedding of Rhiannon and James (Rhi and Jim) where colourful blooms, butterflies, bright pink Jimmy Choos and the bride's stylish gown steal the show.
Jim and Rhi recently moved to South Wales (where Rhi grew up) and both run a country pub together in the Vale of Glamorgan. Jim is head chef and Rhi runs front of house and whilst planning their wedding they worked together running a boutique hotel in the Cotswolds. They chose the August bank holiday weekend – 28th of August 2016 – for their nuptials at The Watermill at Priston Mill; a magnificent setting in Bath complete with a huge iron waterwheel. They wanted the day to reflect their personalities, be a relaxing space with tempting cuisine and flowing drinks for their guests, and decorated the venue with loads of colour and homemade arts and crafts.
 "The main theme for our wedding day was that we weren't having a theme! We wanted it to feel like a party and an excuse for all of our family and friends to come together for a good old celebration. We knew that there would be certain expectations surrounding our wedding considering Jim is a chef and all my previous wedding planning experience, so our main focus was to make sure there was good quality food and drink and plenty of it."
Photography by Especially Amy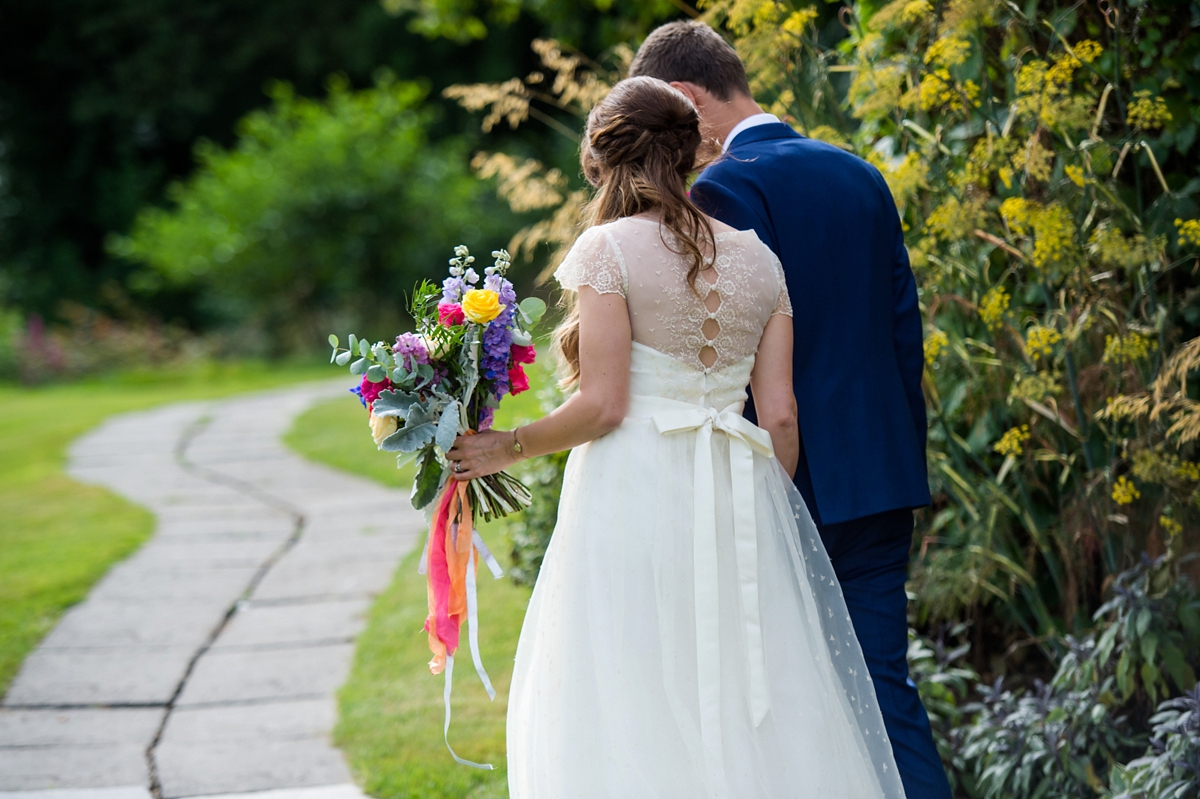 "I met Amy Murrell of Especially Amy Photography during my time as a wedding co-ordinator in the Cotswolds and was always impressed by her work and her kind manner. When it came to choosing a photographer for our own wedding, she was our obvious first choice. On the day, Amy was incredibly discreet and it was easy to forget she was there.
She really did allow us to enjoy the day with our family and friends whilst she wandered around snapping away quietly and capturing the most fantastic natural photographs. We absolutely love our wedding photographs and looking back through them brings back all the lovely memories of the day."Rhi spied her 'Galina Signature' dress in a magazine very early on in the process; loving the detail on the back and how relaxed the look of the dress was. She then went about looking for it in store but couldn't find it anywhere, so decided that getting this dress just wasn't 'meant to be' and settled for a completely different one. However, good news was just around the corner.
"A few months later, I was shopping online for bridesmaid dresses and found the original dress advertised on David's Bridal USA. I dropped them a quick email and they replied confirming they had it in stock and could have it shipped to me from New York. After a lengthy discussion with my mum, I decided to go for it and sent them my measurements."
"A very painful 8 weeks wait later it arrived! I was so nervous opening up the box, I kept thinking 'what if I don't like it in real life?' and 'what if it doesn't suit me?'. I needn't have worried, I loved it as soon as I tried it on and knew it was definitely worth the risk."
"I had to explain to Jim that I now had 2 wedding dresses … luckily he didn't mind. On the day, Jim said that my dress was exactly the kind of dress that he pictured I would be wearing so in the end, I definitely made the right choice."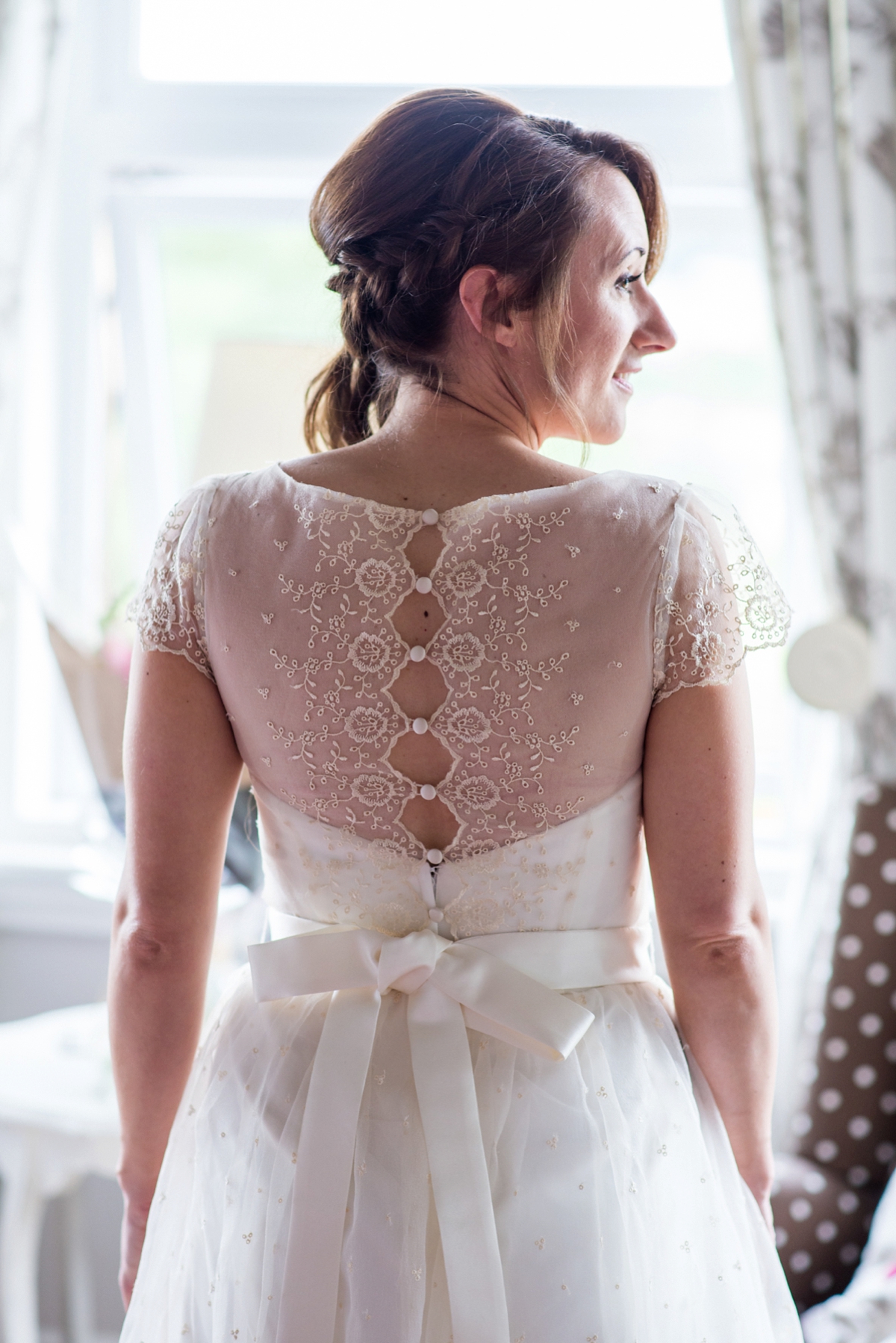 The beautiful bride added a pair of fabulous bright pink Jimmy Choos, her favourite scent Chanel's 'Coco Mademoiselle' and a very special jewellery piece.
"I wore my late grandmothers gold watch on the day as my 'something old'. I was really close to my Grandma, so wanted to wear something of hers to feel that she was part of the day. The watch is so dainty so went well with my dress and meant I had no excuse for being late! Not many brides can say that they wore a watch on their wedding day."
Ohhh lovely ones, don't the gorgeous blooms absolutely pop? What a brilliant job by Jodie from Acacia Floristry.
"Jodie was the perfect florist for me because from the first time we met, she just 'got' me. I was adamant that I didn't just want to show her a picture of a bouquet and ask her to replicate it … I wanted her to surprise me, which is exactly what she did. My only requests were lots of bright colours and some yellow roses as they were my Grandma's favourite."
Rhi's maids donned sparkly grey dresses from Virgos Lounge, grey heels from Dune, and both wore bracelets that were thank-you gifts from the bride and groom. Hair was by Louise Alway and make-up by Sarah Brock.
"As I wanted lots of flowers, I asked my very clever Dad to make wooden planters to line the aisle which Jodie filled with flowers and we spent months collecting gin bottles which Jodie filled with flowers to go in the centre of all of our tables."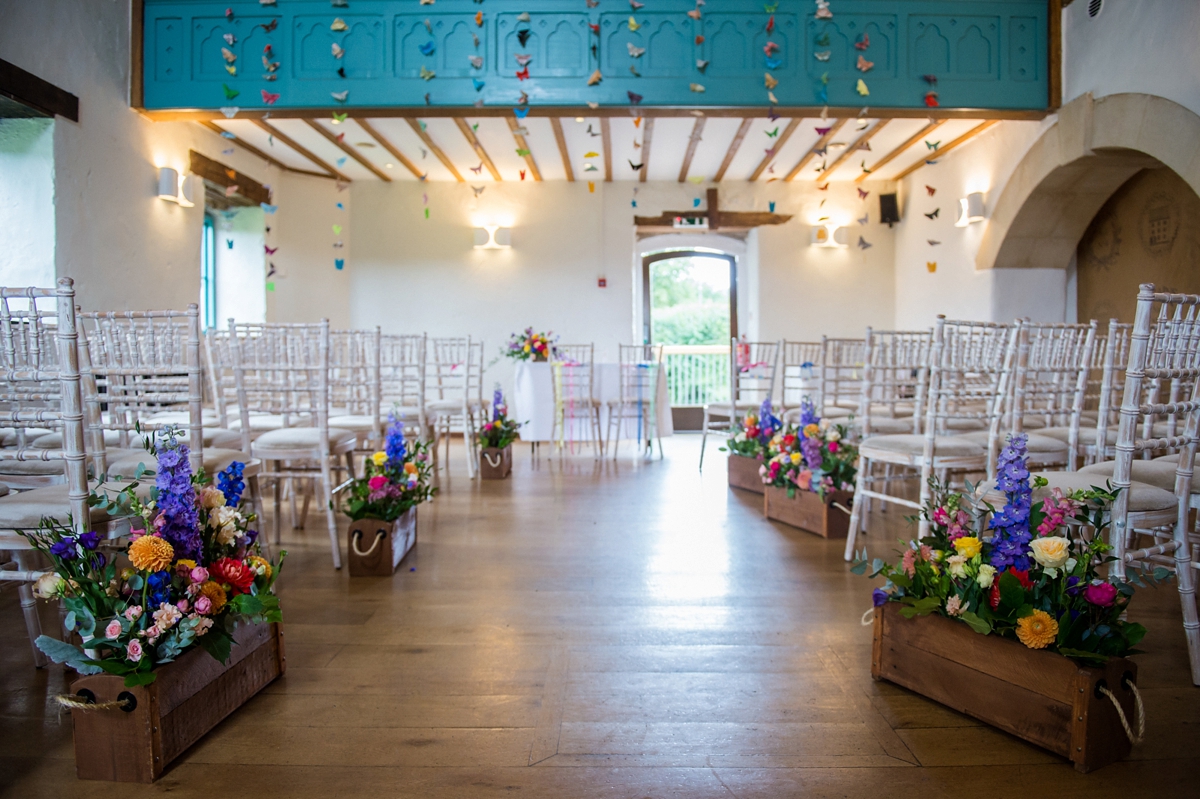 "Jim and I met eight years ago whilst working on a ski season in St Anton, Austria. We were paired together working as chalet chef and chalet host and spent the first few weeks hardly speaking, as Jim was so quiet. We soon became close over our shared love for snow and good food and got together during that season. We ended up doing a further 3 winter and 2 summer seasons together before finally moving to the Cotswolds to 'settle down'."
"I always said that I would know if and when Jim would ask me to marry him. Little did I know that he planned the whole thing and completely took me by surprise on Christmas Eve 2014. He had even chosen the ring after looking on my laptop at engagement ring images I had viewed in the past … scary but very clever! He really did chose the perfect ring for me and proposed outside Malmesbury Abbey whilst we were walking home from our 'pre Christmas' lunch together."
"I then had to go into work on Christmas Day and keep our exciting news to myself until we drove down to my parents that evening to make the big announcement."
"Having been an event planner myself previously, I relished the chance to finally plan my own wedding and thoroughly enjoyed the whole planning process – and one of my closest friends Vicki is a wedding co-ordinator at the venue. I was very lucky to have already worked with most of our suppliers, however I followed all of the real weddings featured on Love my Dress for inspiration for our big day."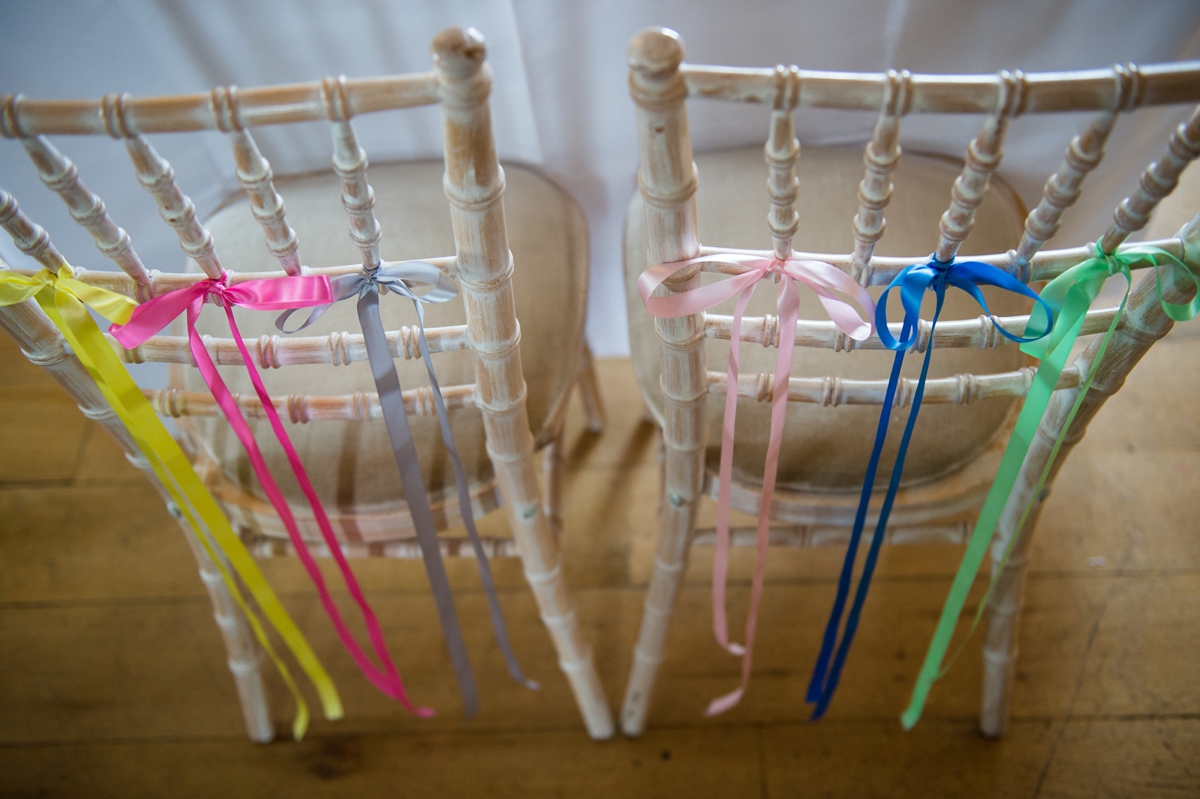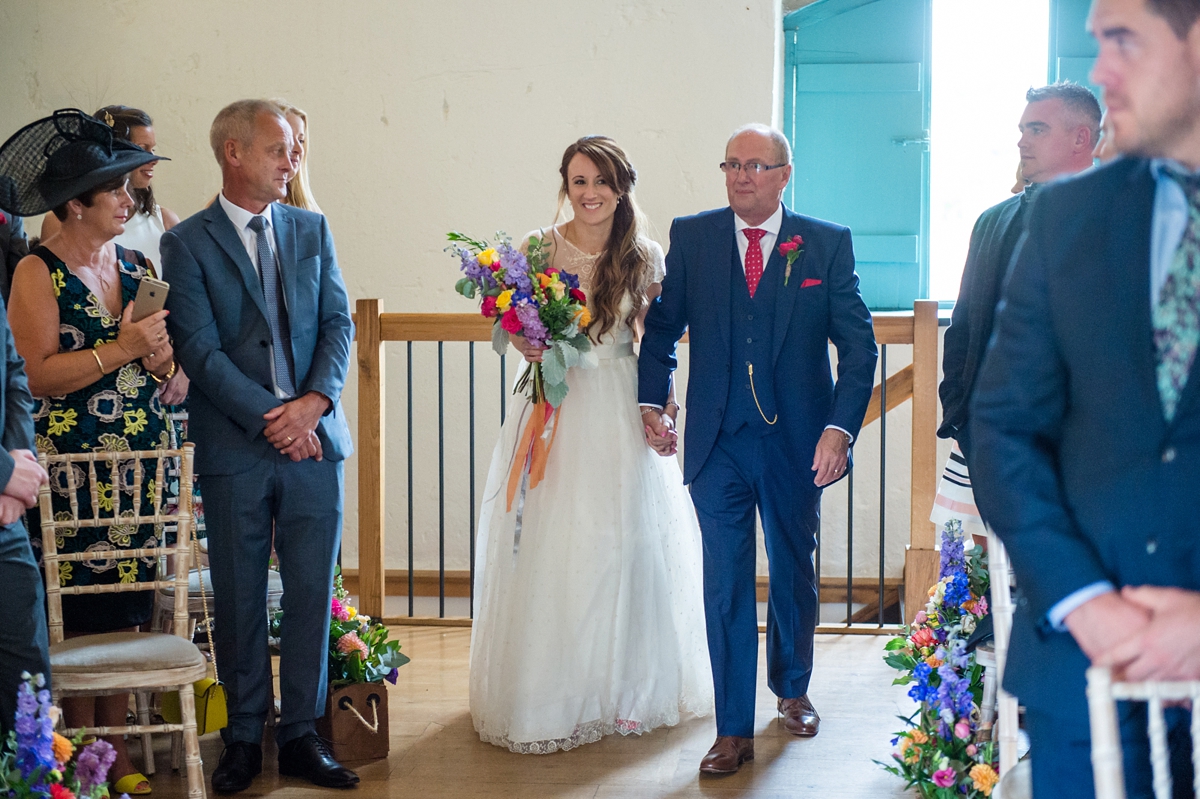 Little Book for Brides member, suave suit specialists Moss Bros, supplied Jim's Savoy Taylors Guild suit. He added shoes by Dune and a pocket watch and cufflinks that were gifts from Rhi's dad that he gave to Jim a few days before the wedding.
"My Dad walked me down the aisle. One of my favourite photos from the day is one where I'm looking at him as we are walking down the aisle towards Jim – I was probably looking at him to check that he hadn't started to cry! My close family friend, Pete Wallace played guitar and sang me down the aisle for the ceremony to 'Here Comes the Sun' by The Beatles. I met Pete and his family while on holiday in Mallorca over 25 years ago. He is such a talented singer and guitar player and I was honoured when he said he would sing during the ceremony."
"Our rings were both from Ernest Jones. Jim found choosing a wedding ring really difficult as he had never worn any jewellery before. We shopped for weeks looking for the right one for him and in the end he chose a brushed titanium ring. Quite early on I liked the idea of having a blue sapphire wedding ring to represent my 'something blue'. I then realised that Jim's birth stone was also blue sapphire so that firmed up my decision to go for it. I love the uniqueness of my wedding ring and also the personal meanings behind it."
"We asked the registrar to read out a story of how we met. He then re-wrote it in his own words and added a few jokes so it was a surprise for us too and made us and all of our guests laugh!"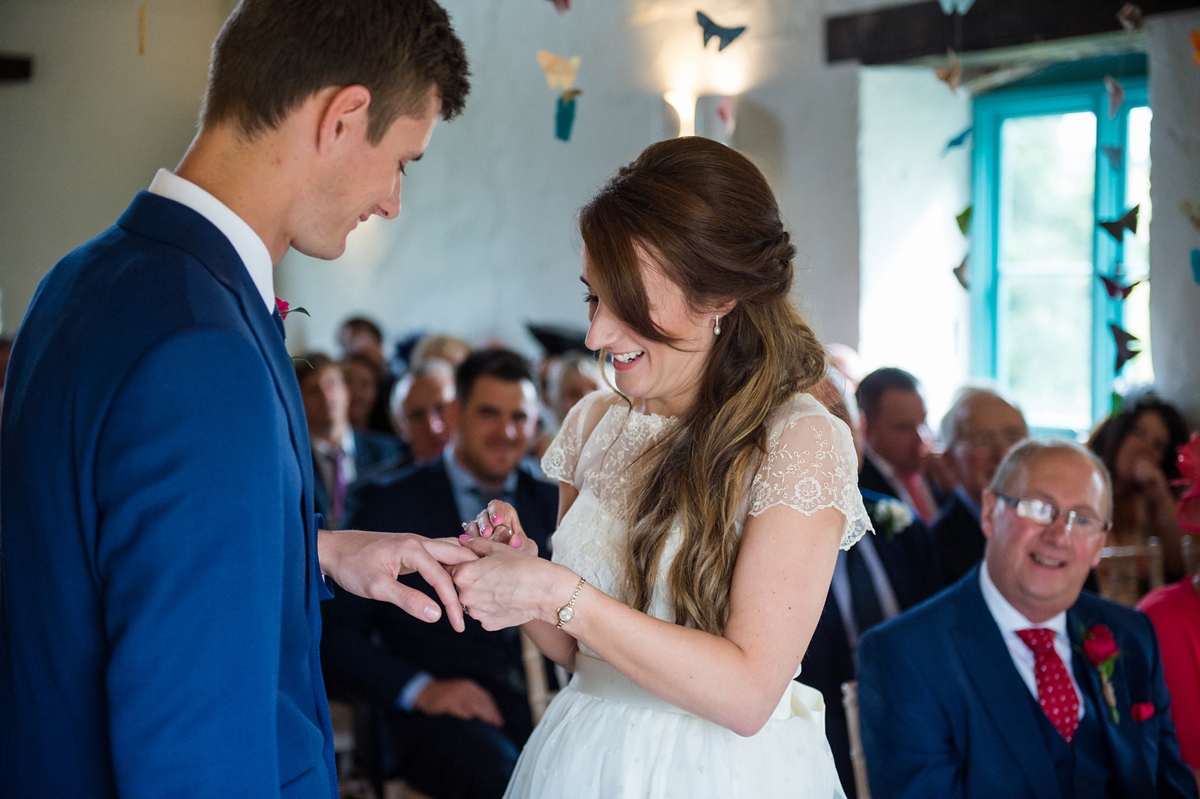 "We had our hearts set on having an outside ceremony and were obsessively checking the weather forecast in the weeks running up to the day. In the end it rained that morning so we had no option but to conduct the ceremony inside but it didn't matter. I was so excited to finally call Jim my husband that I didn't care where the ceremony was held."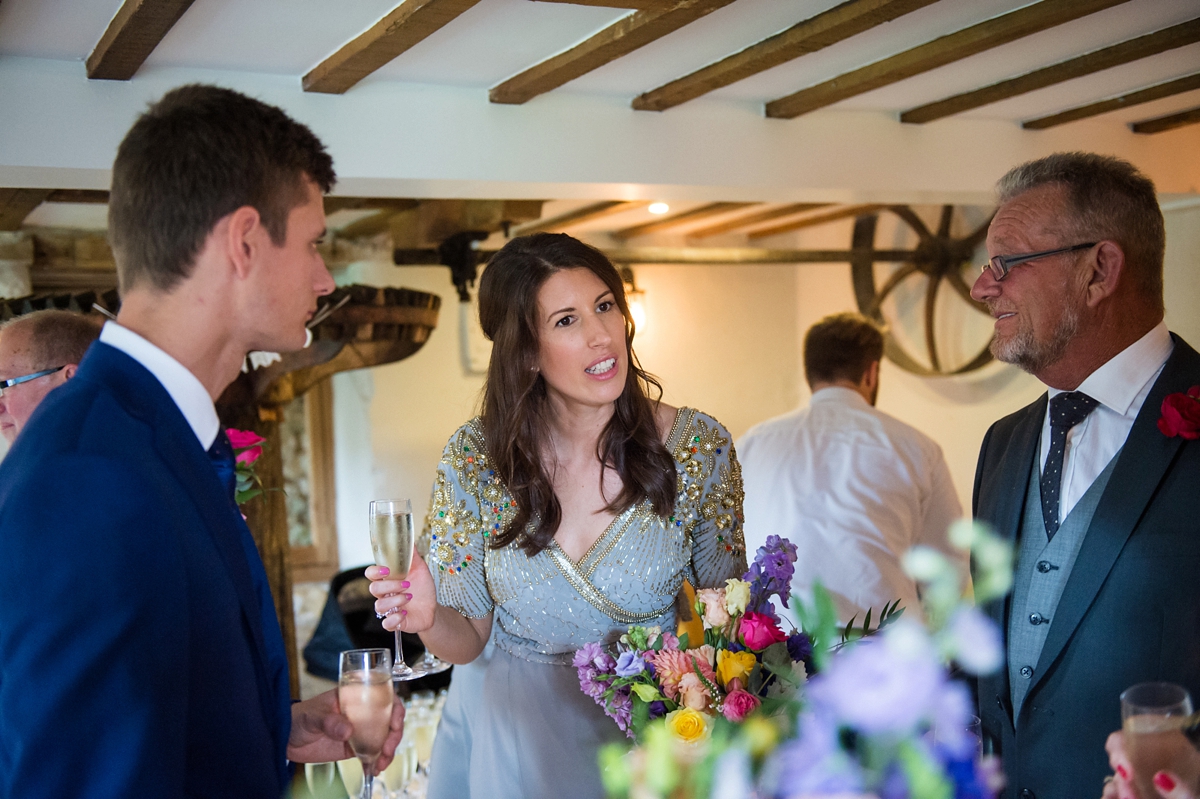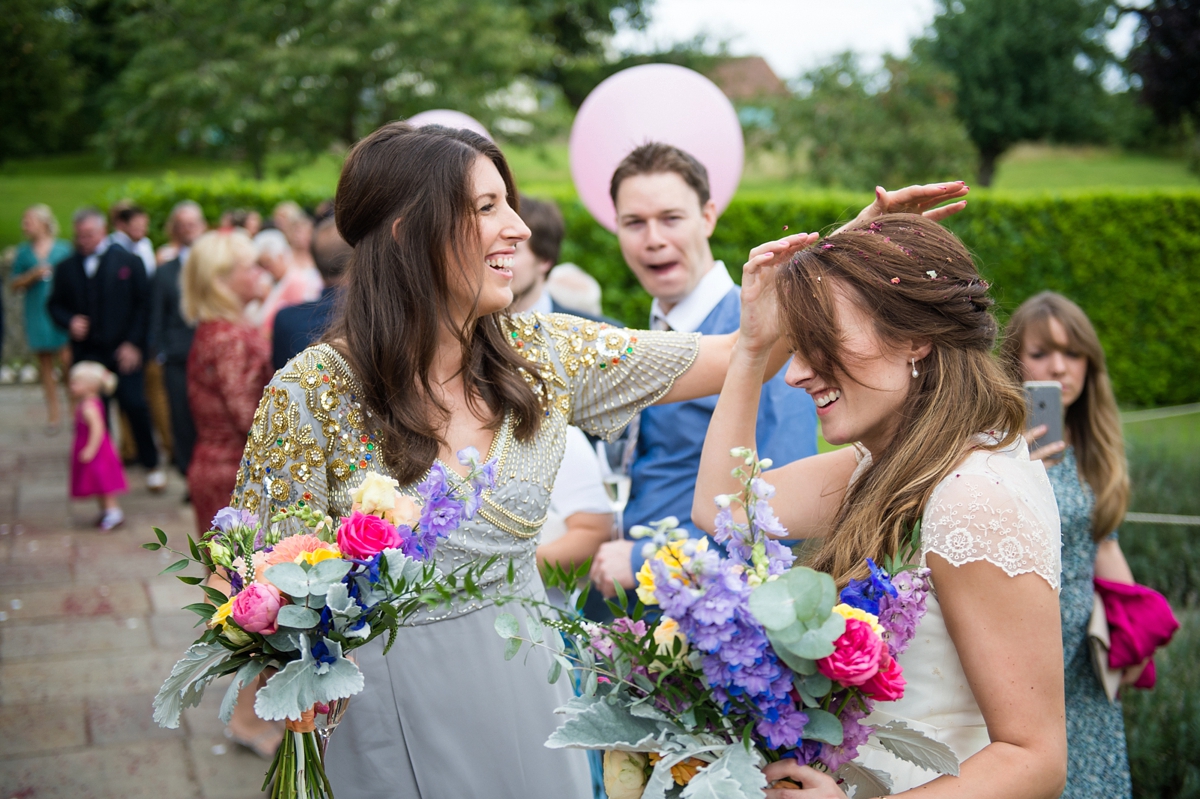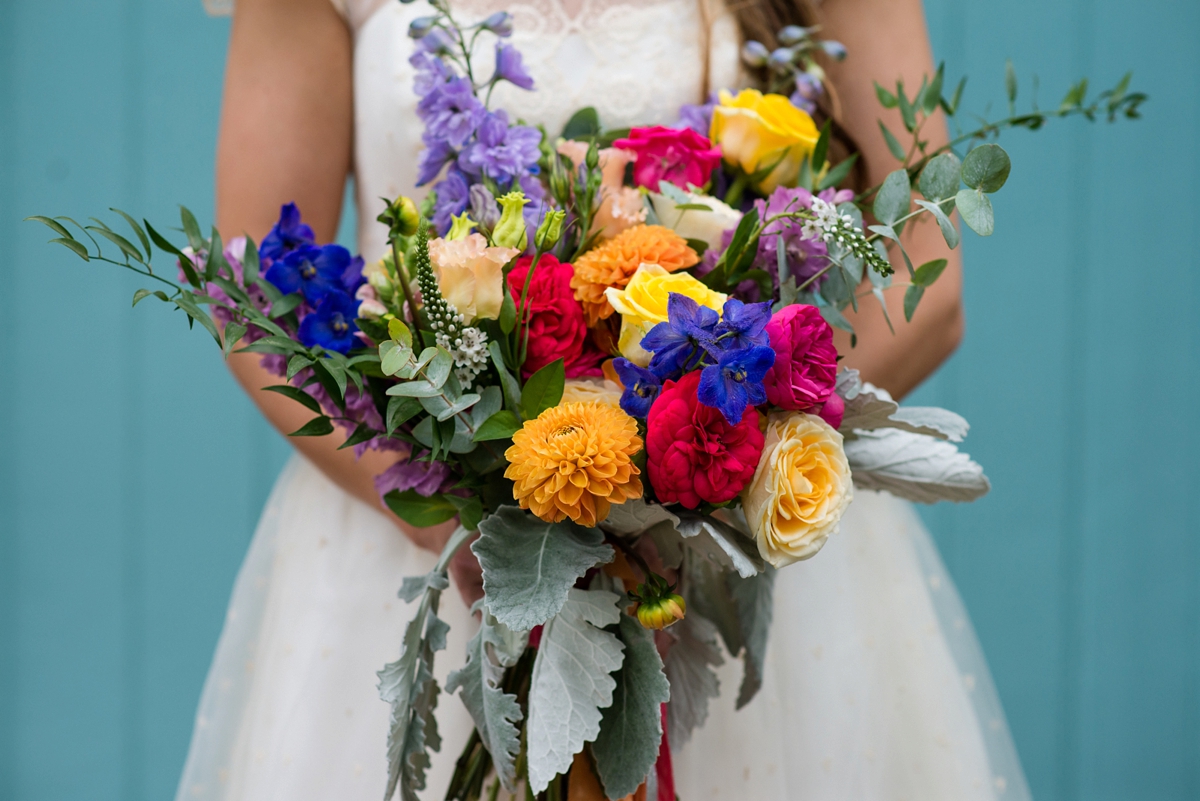 Rhi got crafty and made all of the stationery herself – and she added a quirky touch to the decor with paper butterflies in place of paper cranes. I adore this idea and have a feeling you've inspired an awful lot of future brides here Rhi!
"For anyone who knows me, I absolutely love butterflies so I wanted to incorporate them somehow within our wedding decor. I had seen other weddings who had paper cranes on strings as part of their decor and decided to have a go at making the same using paper butterflies instead. My mum and sister offered to help and together we made hundreds of multi coloured paper butterflies, which my poor mum ended up threading onto strings for me. We had these hanging from the balcony above where we said our vows and I was really please with how they looked."
"We wanted our wedding favours to represent us so we decided on bars of rock from Scarborough (Jim's home town) and mini Welsh cakes (my home country). We purchased the rock ourselves from a little shop right on the sea front in Scarborough and the Welsh cakes were made by Fabulous Welshcakes in Cardiff Bay."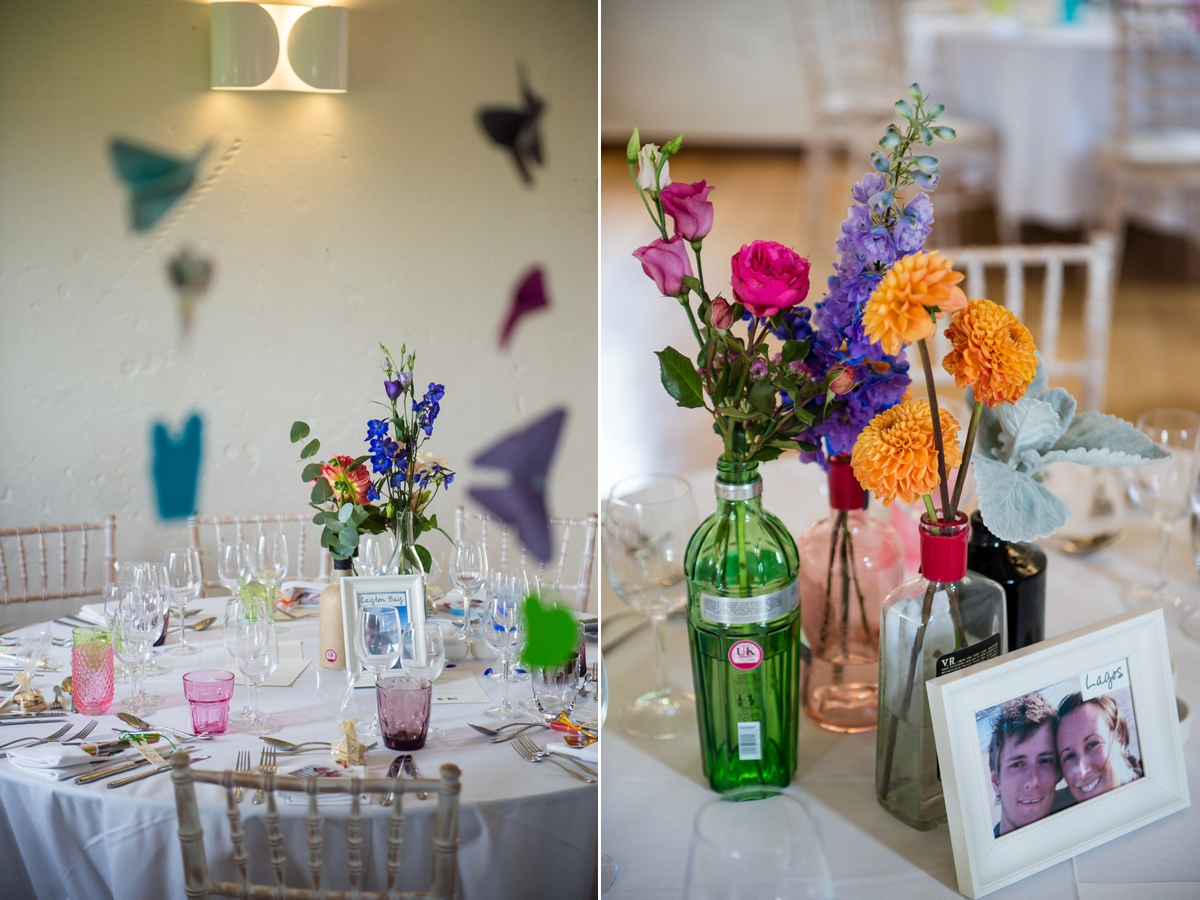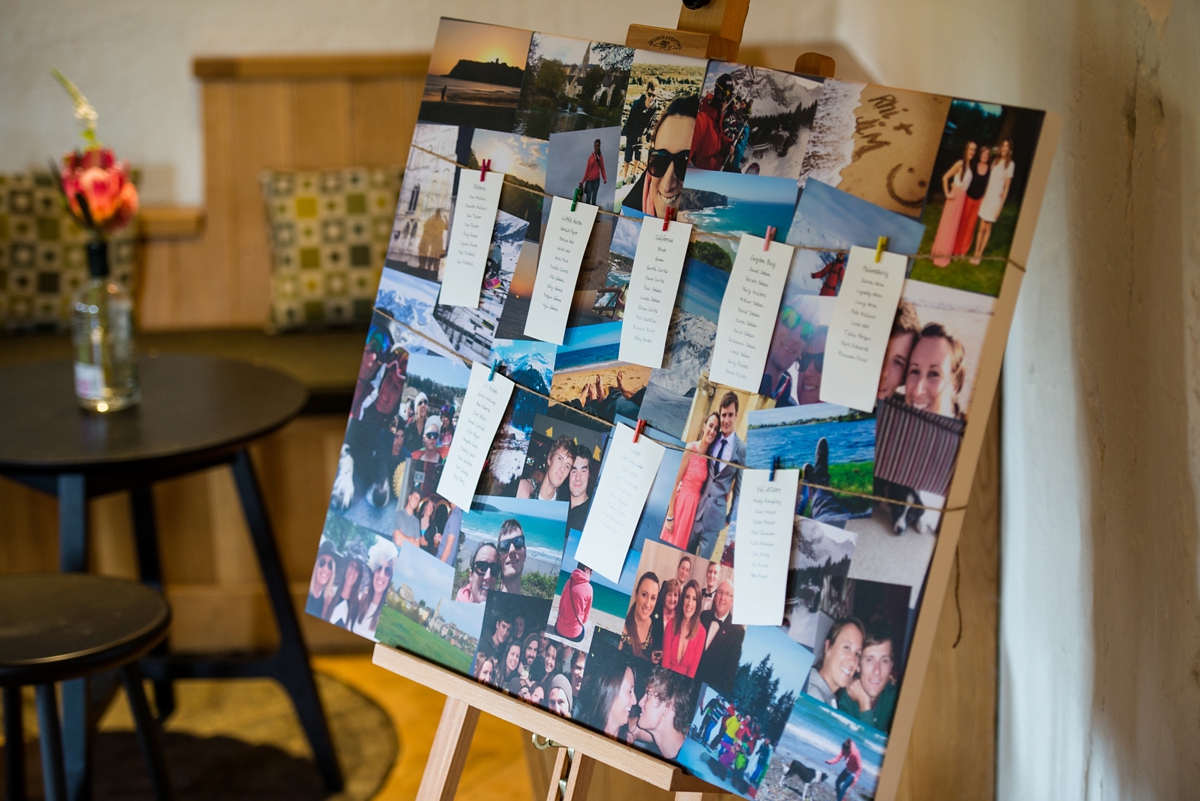 "Another thing that Jim and I are known for is our love of gin (and tonic!). We wanted gin to feature in our day, so we provided our guests with a gin bar during the drinks reception and asked our florist to use the 60 or so gin bottles we collected as vases for flowers in the centre of our tables. My mum's friend decorated two of the gin bottles by painstakingly gluing individual crystals onto the bottles – the two bottles were 'Bath Gin' to represent where we had our wedding and 'Cotswold Gin' to represent where we lived."
The couple's totally tempting cake was by Eirian Curtis of Cherry Blossom Bakes – Rhi's creative sister and one of the bridesmaids, so their cake supplier was the easiest decision to make. The hardest decision was deciding on what flavours they wanted – and they chose delicious 'dessert' flavours of sticky toffee cake (with sticky toffee pudding being Jim's favourite pudding!), lemon meringue cake and rhubarb and custard cake.
"Eirian painstakingly handmade all of the sugar craft flowers herself and used silver leaf on one of the middle tiers which went with the bridesmaid's dresses. The cake tasted just as good as it looked; she really did do an amazing job … and all in-between her bridesmaids duties too."
"As Jim is a chef, we really did feel the pressure of getting the catering right as we knew our guests would have high expectations of the food. We also had a further 10 chefs who were guests at our wedding, so we really did feel sorry for the guys who had to cook for us on the day! We needn't have worried as the food was excellent and all our guests commented on how much they enjoyed it. We choose an informal sharing board style menu, which worked really well with our relaxed style for the day."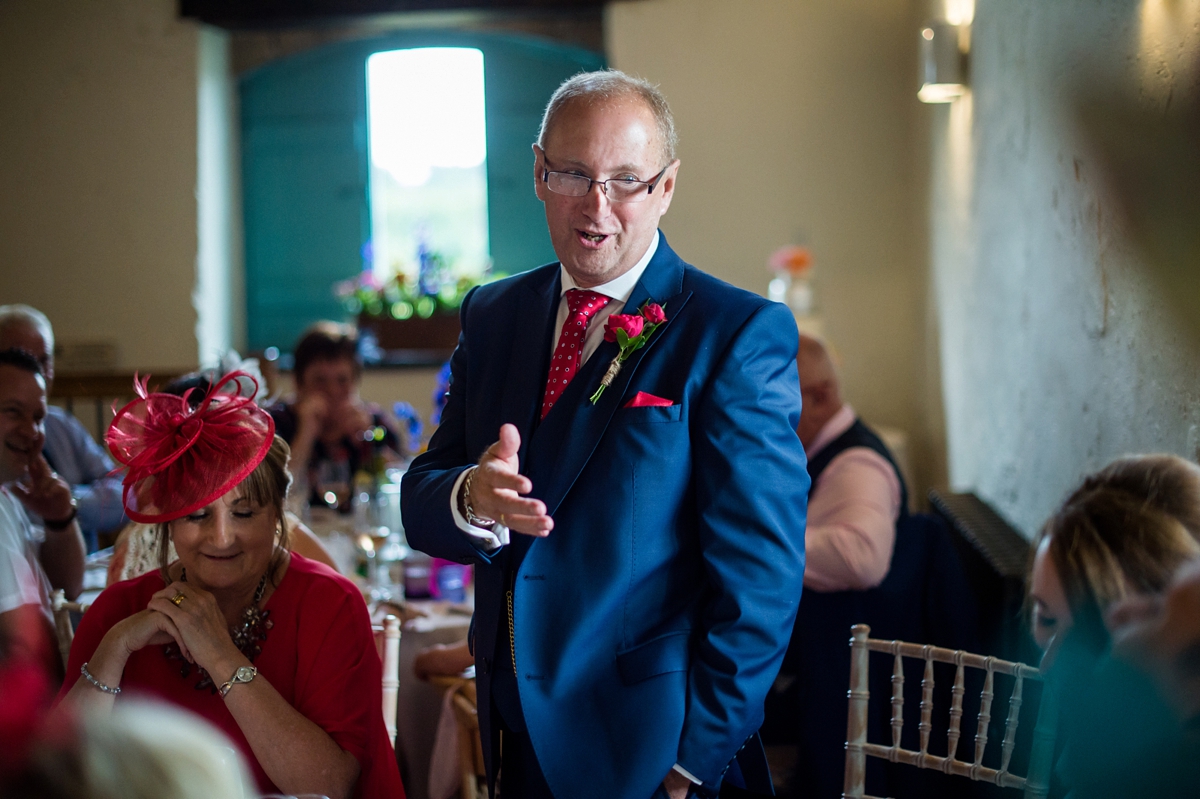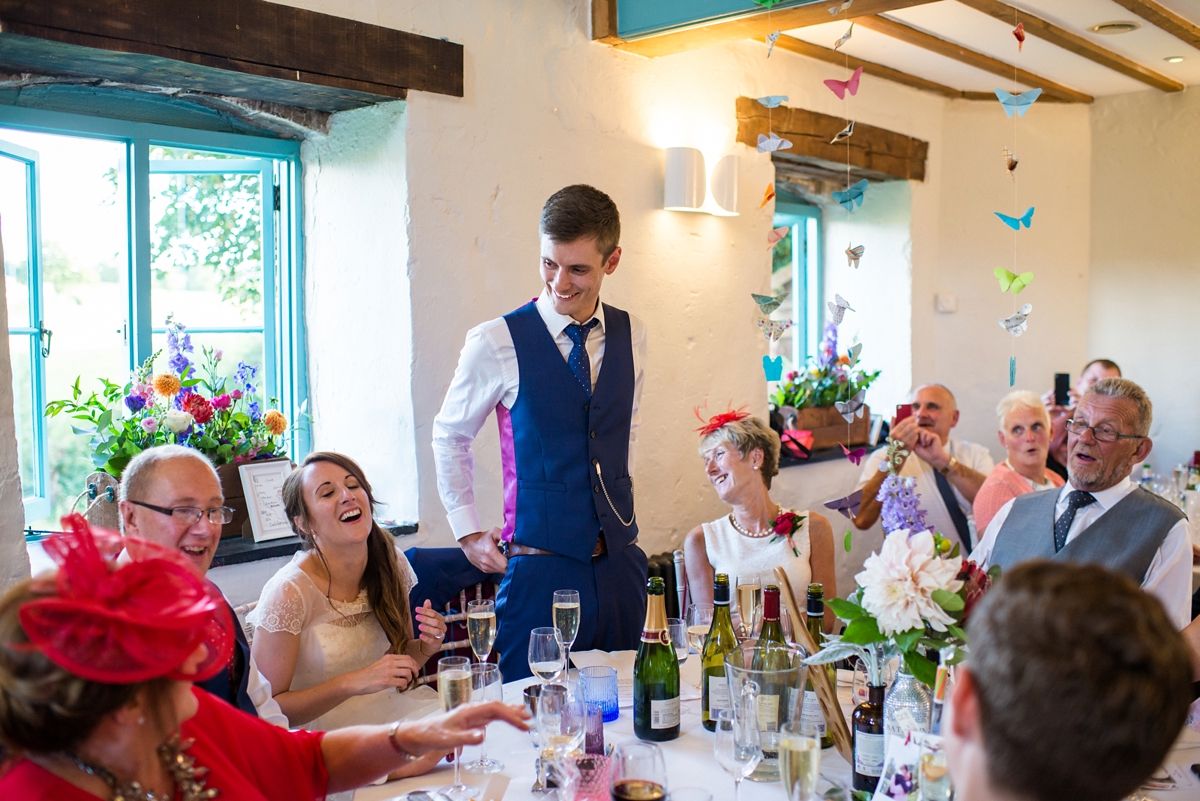 "For the evening party, we had a band called The Hijackers who were amazing and the dance floor was full all evening. When it came to choosing our first dance, the main thing for us was it had to be something happy and upbeat. Jim is a massive Beatles fan, so we knew it had to be one of their songs, but choosing which one was really tricky."
"In the end, we asked our band to play 'I Saw Her Standing There' which was a great choice, as all our guests joined in and it definitely got the evening party started!"
"There were so many highlights to our day that it's hard to pin-point one favourite thing. Spending time with all our family and closest friends was definitely a highlight but saying 'I do' to one another was definitely our favourite part of the day."
Words of Wedded Wisdom
"My main advice would be to try not to get stressed during the planning of your wedding. Things won't always go your way (in our case the weather!) but it's important to enjoy the whole process and to have fun together while planning the day. No couple wants to look back at the run up to their wedding as being really stressful, it goes far too quickly, so enjoy every minute and try to laugh at the little things that don't go to plan."
"Jim and I decided to give ourselves a generous budget in order for us to have the day that we wanted. Having said that, we tried our best to keep below our budget. We ended up going over budget by around £2000 but decided that it was worth it. There were certainly things that we could have changed to keep costs down but we decided not to worry about overspending here and there in order to throw the best party we will ever have!"
There you go – proof that even if it rains on your big day, it needn't be an issue in the slightest. I have so loved bringing you the colourful flower-filled wedding of Rhi and Jim and a massive thank you to Amy for capturing all the delights so beautifully.
If you're thinking of injecting colour into your day, take a look here for even more inspo from the helpful, handy LMD archives.
Have a jolly weekend lovely ones.
Love Jo -xo-